You're finally moving into your dream home, and now you want a sexy interior to match. But, where to start? Modern, traditional, mid-century… the buzzwords of the design world ring familiar, but what do they really mean? And, how do you know which is the best match for you? Knowing the history and nuances of each furniture style is a good place to start, to help you decide which values and qualities most align with your own. To get you started, we've picked out a selection of the most iconic furniture styles to date. Ready to get stuck in?
1.

Traditional Furniture Style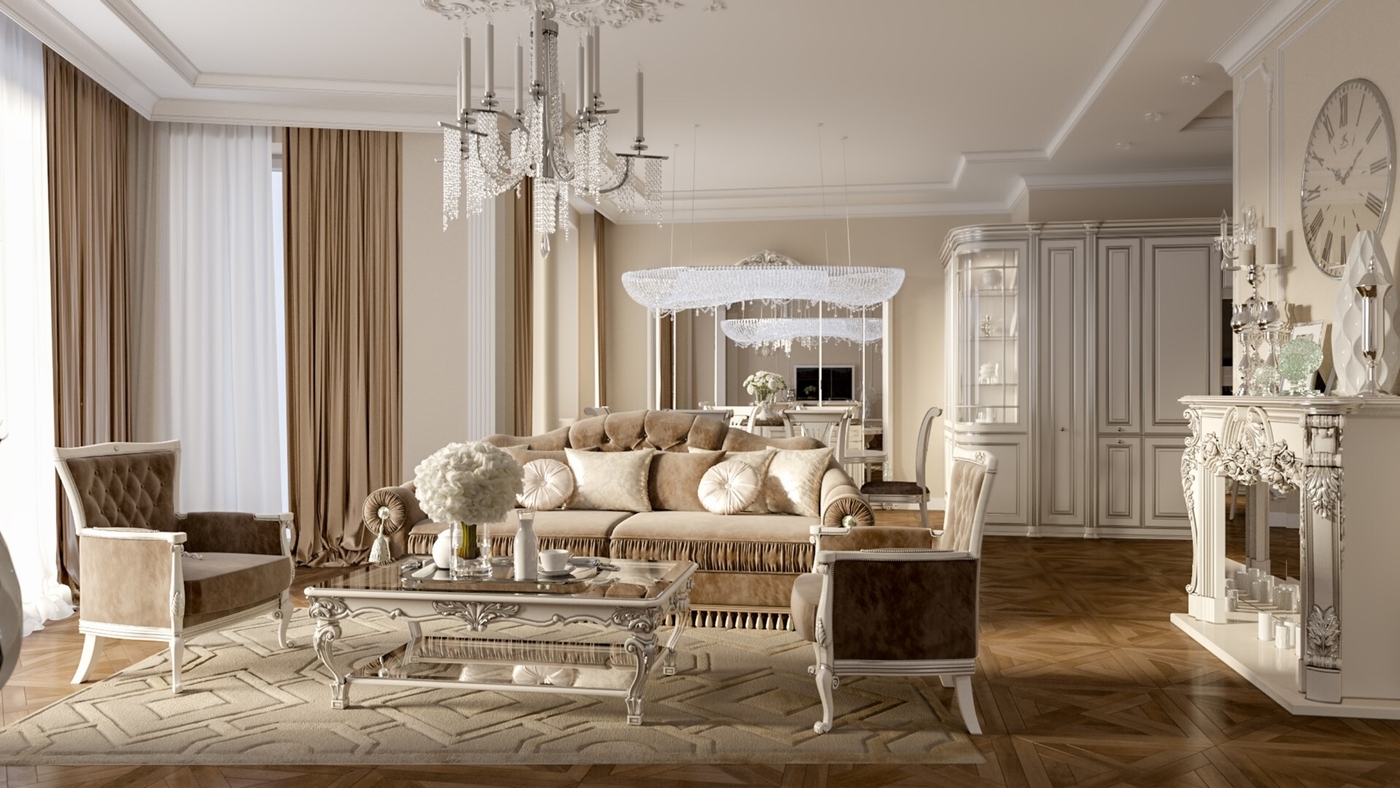 Traditional style furniture takes us on a journey back in time to 17th century Europe and the Jacobean era. In those days, intricately detailed design was considered a sign of status, principally due to the time-consuming craftsmanship each piece required. The ornate, regal style evolved throughout 18th and 19th century Europe, particularly in England and France, leading us to the familiar modern day 'traditional furniture' umbrella term. In fact, contemporary traditional furniture combines the very best of a number of styles that span an expansive timeline, including Baroque, Rococo, Neoclassical and Victorian. The definition of timeless design, the age-old aesthetic continues to thrive, four centuries on.
Traditional furniture revives period property, serving as a gentle reminder to its rich heritage; even in homes where only hints of the previous structure remain, like wood paneling, cornices, or coffered ceilings. Alternatively, used as an accent piece, it can add a formal touch of refined elegance and grace to modern decor. The timeless style welcomes a sense of comfort and familiarity into the home; symmetry and balance lie at the heart of traditional furniture, making it the epitome of consistency, harmony and order. What better way to show off your appreciation for good quality materials and taste for the beauty of old-world craftsmanship?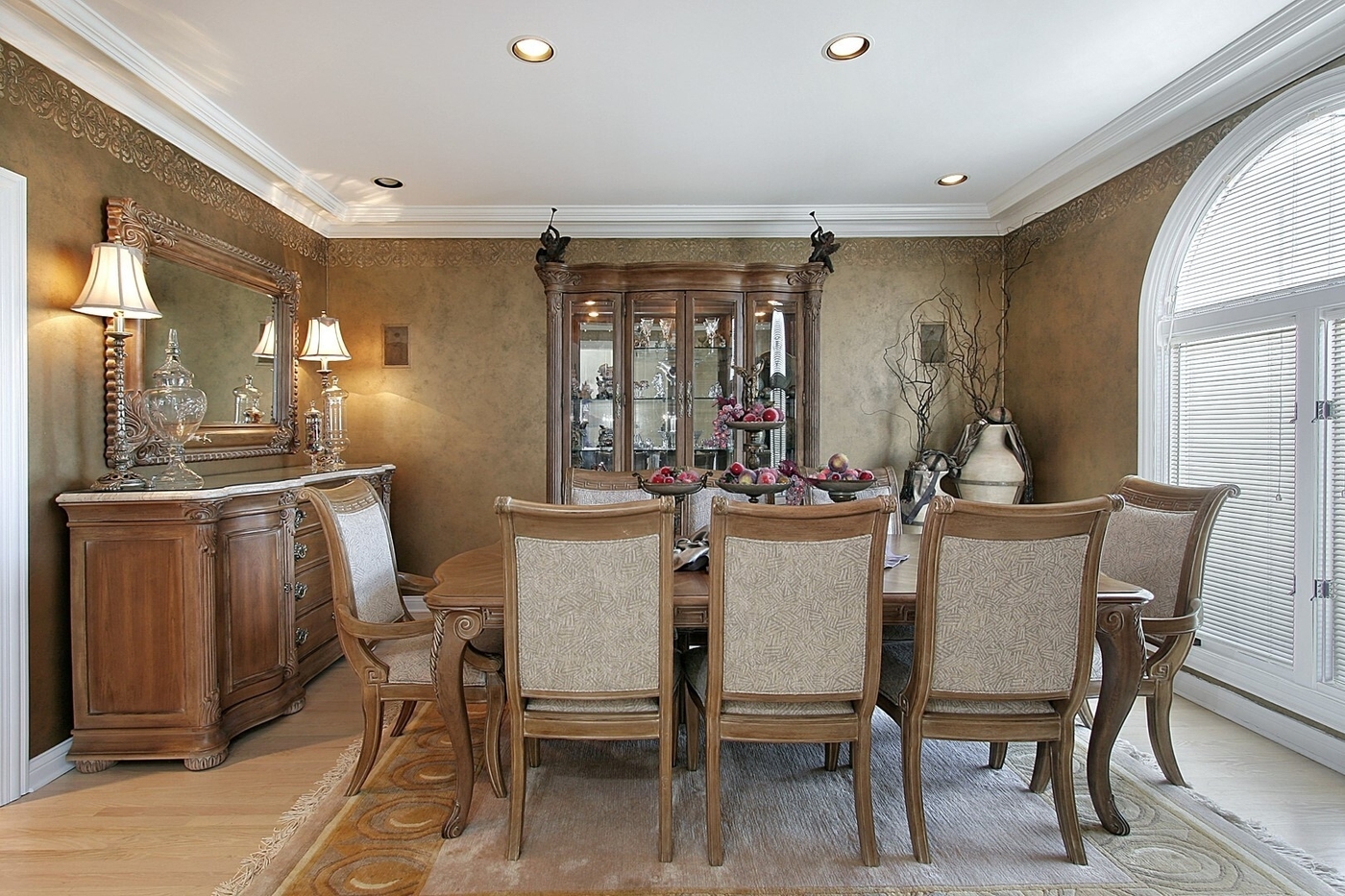 Key Characteristics of Traditional Furniture
Although 'traditional' furniture covers a range of styles, there are some overarching characteristics that we can pinpoint:
Dark wood: Think walnut, cherry, mahogany, and oak.
Gold metal tones: Namely brass, bronze or copper, with a satin finish.
Gentle curves: Rounded edges and curved contours combine with straight lines.
Ornate detailing: Look for intricate hand-carved designs featuring elaborate claw feet, decorative trims and crown molding.
Patterned upholstery: Confident use of color and pattern, like florals, damasks, toile, paisley, stripes and chinoiserie prints.
Rich textures: Plush fabrics include velvet, silk, and jacquard.
Traditional Furniture Pros and Cons
Pros:
Timeless: By definition, timeless furniture is not affected by the passage of time, or changes in fashion. If the past four centuries are anything to go by, traditional furniture will remain a popular choice for generations to come!
Long-term investment: Transcending fashion and generations, good quality materials and high-class craftsmanship stand the test of time.
Unique: One-of-a-kind, original pieces, unlike common, mass-produced furniture.
Sustainable: Breathe new life into old furniture when buying second hand.
Cons:
Price: Traditional antique pieces are more expensive than mass-produced furniture and can be costly to restore.
Size: Many pieces tend to be quite big, bulky and heavy due to their materials.
Traditional Furniture Ideas
2.

Modern Furniture Style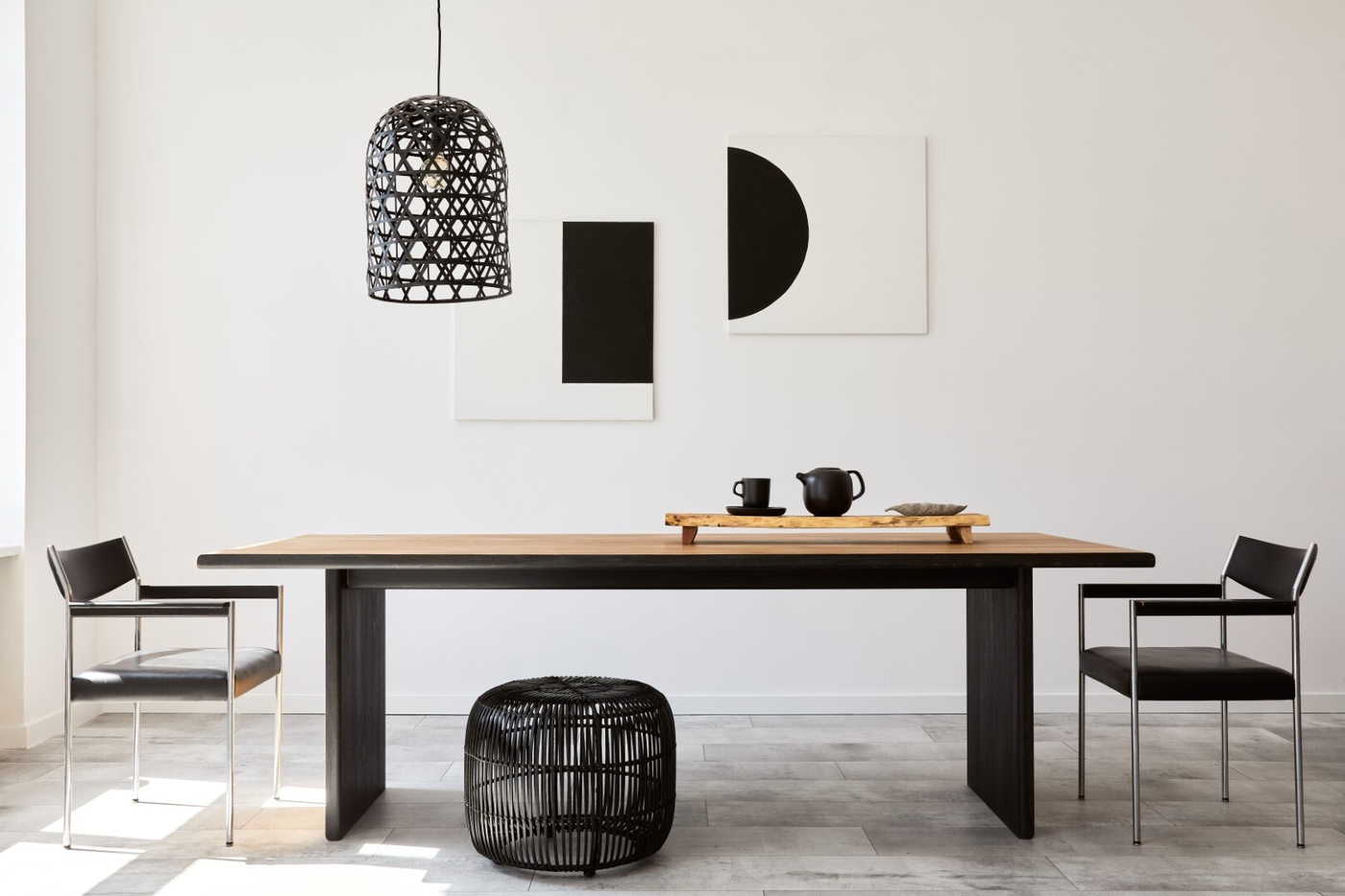 Born out of the Modernist movement in the late 19th and early 20th century, modern style furniture is the product of abstract thinking and technical innovation. With a firm focus on the future, furniture was stripped of its historical baggage (ornamentation), down to its exposed core structure, representing a new essence in design with a form-follows-function philosophy. The result: a style light in form, color and density. Clean lines, geometric shapes, and industrial materials reflected the new machine age in their uniformity and anonymity.
Its pared-back minimalist aesthetic blends in with modern architecture and naturally evokes a Zen-like atmosphere, free from visual noise and distraction. Reduced to the essential, modern furniture's functional simplicity favors small homes, making them feel light and open. Go modern to achieve that ordered, simple, fuss-free, yet elegant lifestyle you've always dreamed of.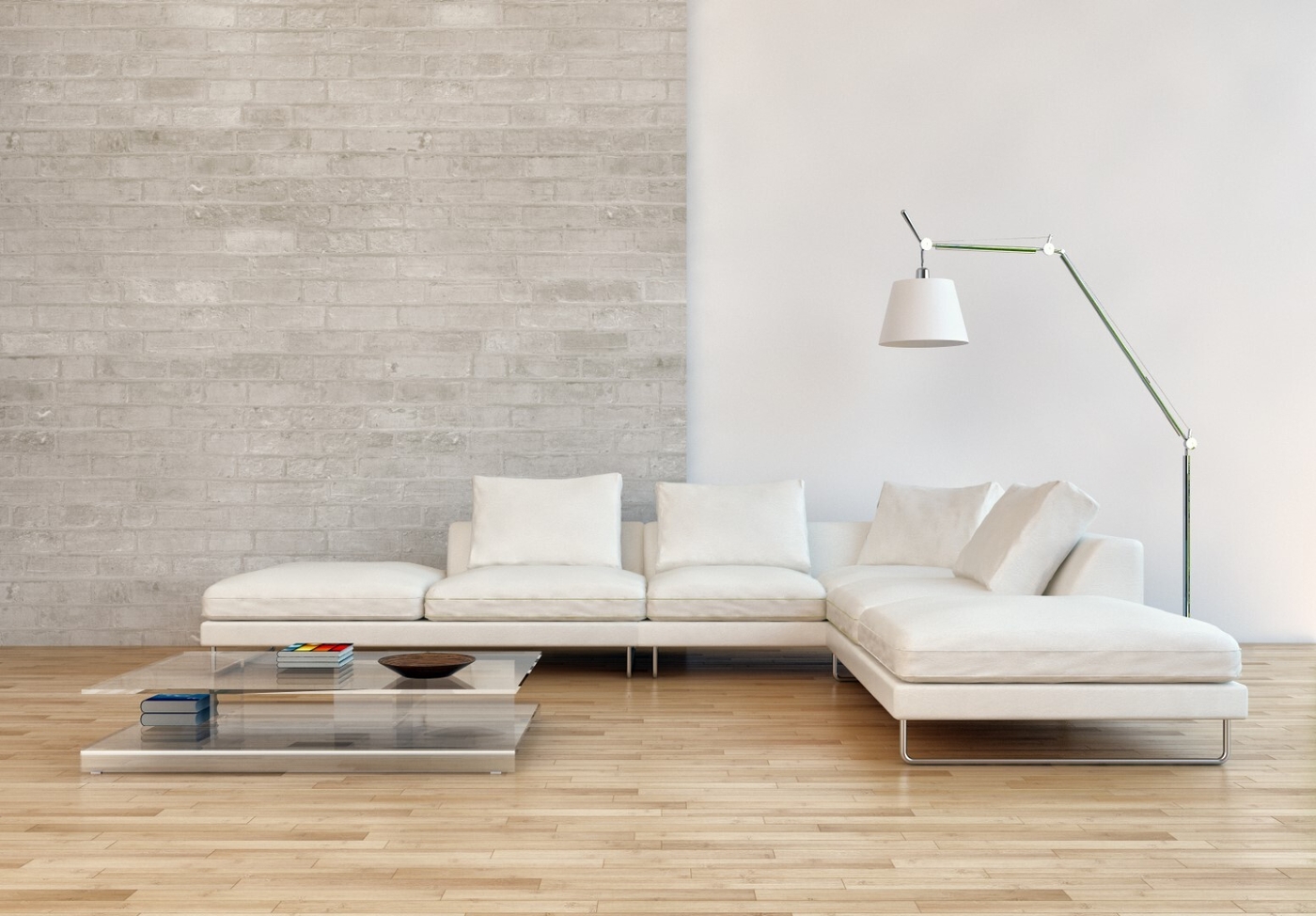 Key Characteristics of Modern Furniture
Clean geometric shapes: Emphasis on straight lines and sharp angles. Expect square-edged sofas, tables and chairs, and accessories with angular details.
Minimal ornamentation: Reduced to their most basic form, free from visual clutter and unnecessary flourishes.
Industrial materials: Polished steel, glass, concrete and chrome echo the industrial age and its processes.
Exposed materials: Put away your paintbrush, this style is all about displaying materials and textures in their most organic form.
Monochromatic color palette: Steer clear of bright colors and pattern, in favor of a subtle neutral palette of white, beige, gray, black, and pastels.
Modern Furniture Pros and Cons
Pros:
Variety: Modern furniture has one of the largest selection of designs.
Size: Suitable for any size home.
Maintenance: It is easy to clean and maintain.
Functional: As well as looking fresh and stylish, functionality and practicality are prioritized.
Accessible: Attesting to its popularity, modern furniture is easy to find and available at all price points.
Cons:
Style limitations: Can look out of place in older properties.
Character: The minimalist style can feel soulless or lacking in character to some.
Modern Furniture Ideas
3.

Mid-Century Modern Furniture Style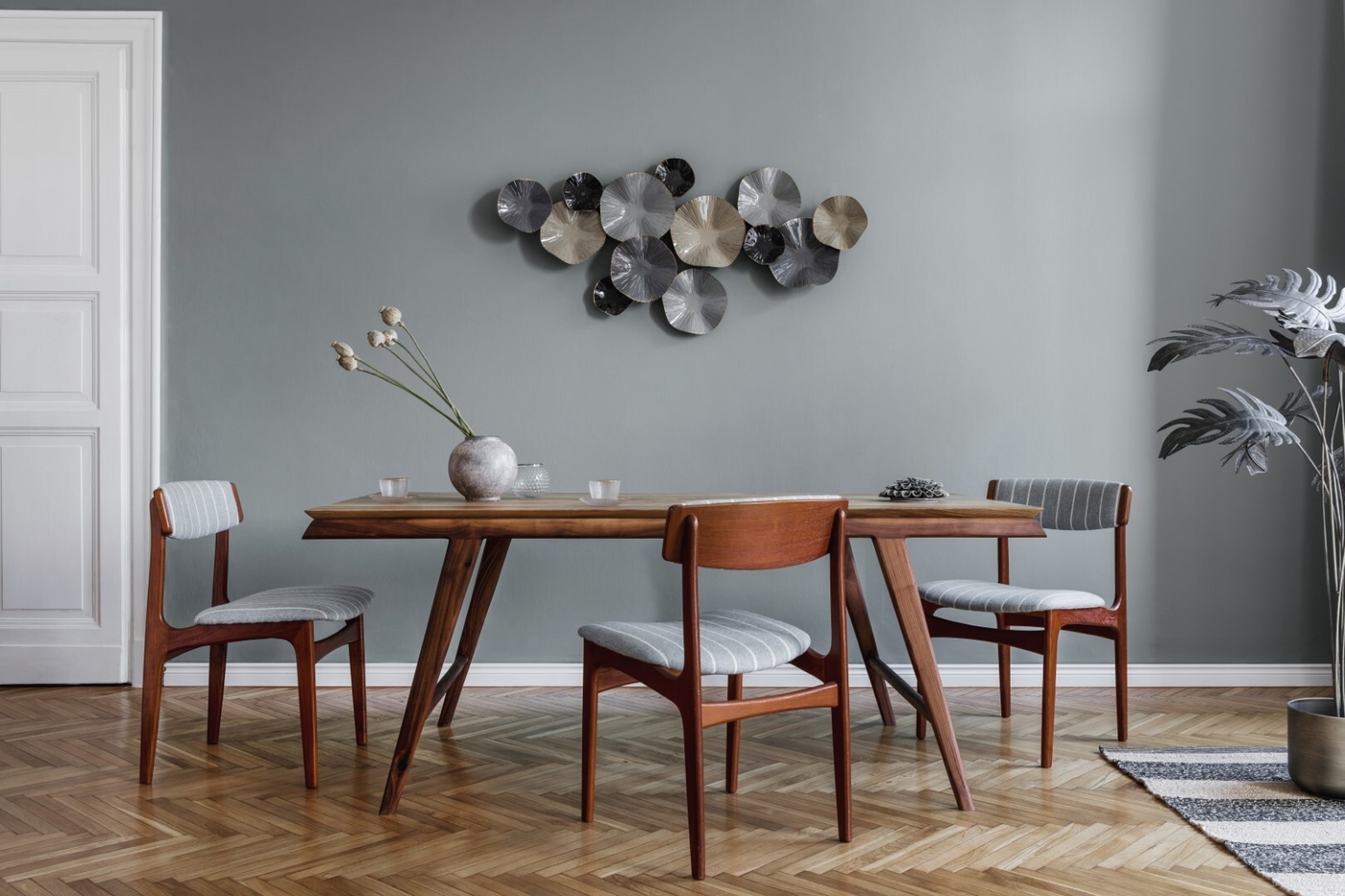 Born out of post-war America in the midst of the 20th century, the mid-century modern style reflects the optimistic and futuristic vision of the time. Purely functional furniture was upgraded to be comfortable and aesthetically pleasing, whilst satisfying the needs of compact urban living. Plus, the rise in mass produced furniture meant fashionable home decor became increasingly accessible.
Originally designed with small post-war homes in mind, mid-century modern furniture continues to suit modern-day urban living and property rental culture. The streamlined functional forms are lightweight and mobile, and support a clean, uncluttered look, yet they also achieve a sense of homely comfort that modern furniture can sometimes lack. Use the style to create a retro look that never tires.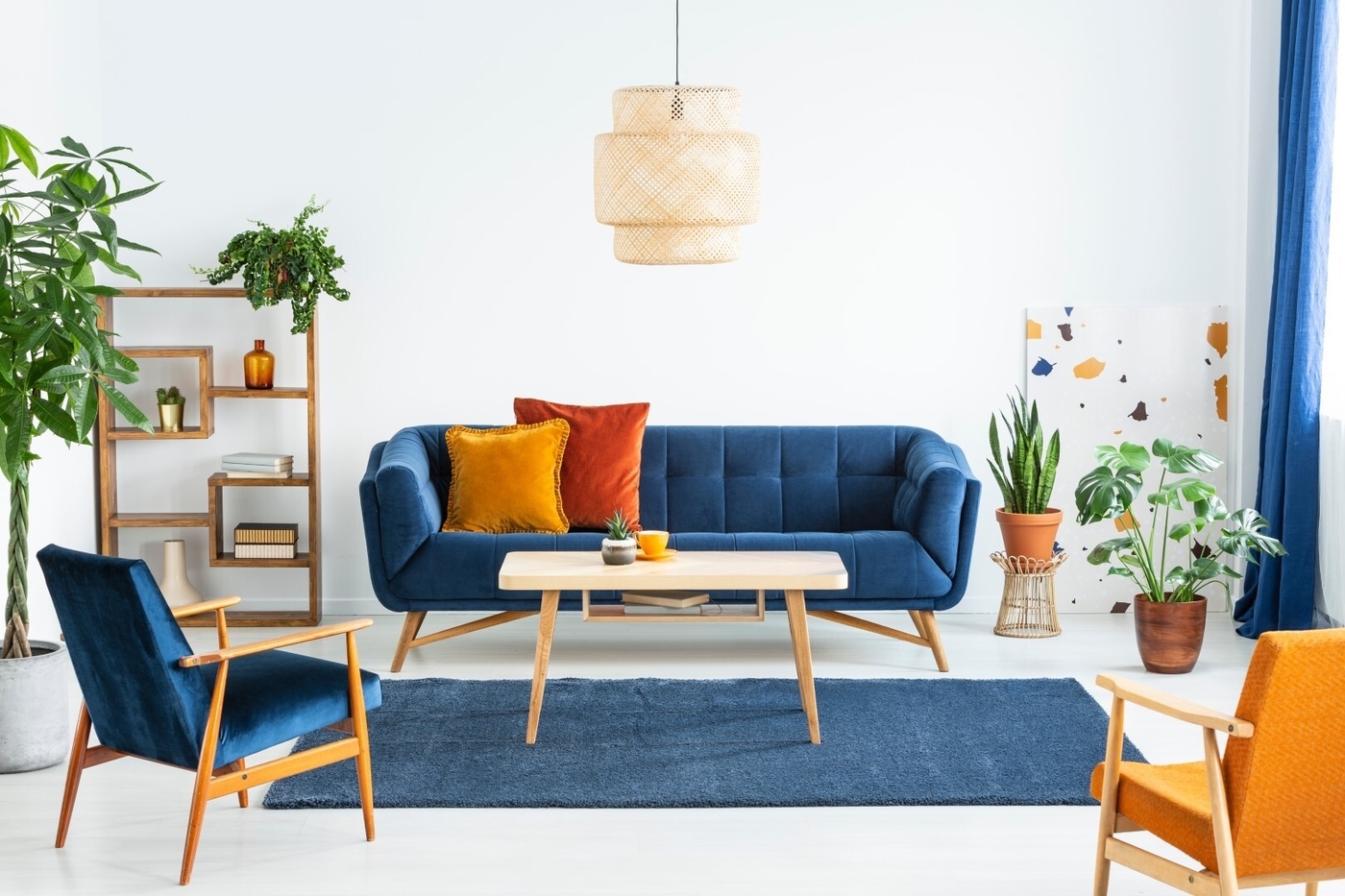 Key Characteristics of Mid-Century Modern Furniture
Streamlined aesthetic: Simple forms, clean lines, smooth finishes, and little to no ornamentation.
Mixed materials: Expect a combination of manmade materials (vinyl, plastic, fiberglass, Lucite) and natural materials (medium-toned wood, glass, metals).
Tapered legs: Furniture with long, slim, round legs that gradually thin as they near the floor.
Warm retro palette: Combine warm, organic colors rooted in nature with industrial white and blue-gray hues. Think muddy brown, neutral beige, warm ochre, mustard yellow, sea-like teal blue, earthy green, and splashes of terracotta red.
Confident prints: Optimistic textile designs include bold geometrics, flower power and abstract patterns.
Texture: Mix bold pattern with textured fabrics, like boucle, velvet, wool and chenille.
Mid-Century Modern Furniture Pros and Cons
Pros:
Timeless: Decades later and the well-designed furniture still feels fresh and modern, effortlessly standing the test of time.
Versatile: The simple, pared-back aesthetic is easy to mix and match with a range of decor styles for an eclectic look.
Accessible: A testament to its continued popularity, it's readily available at all price points.
Cons:
Character: To some, the retro style may feel outdated.
Mid-Century Modern Furniture Ideas
4.

Contemporary Furniture Style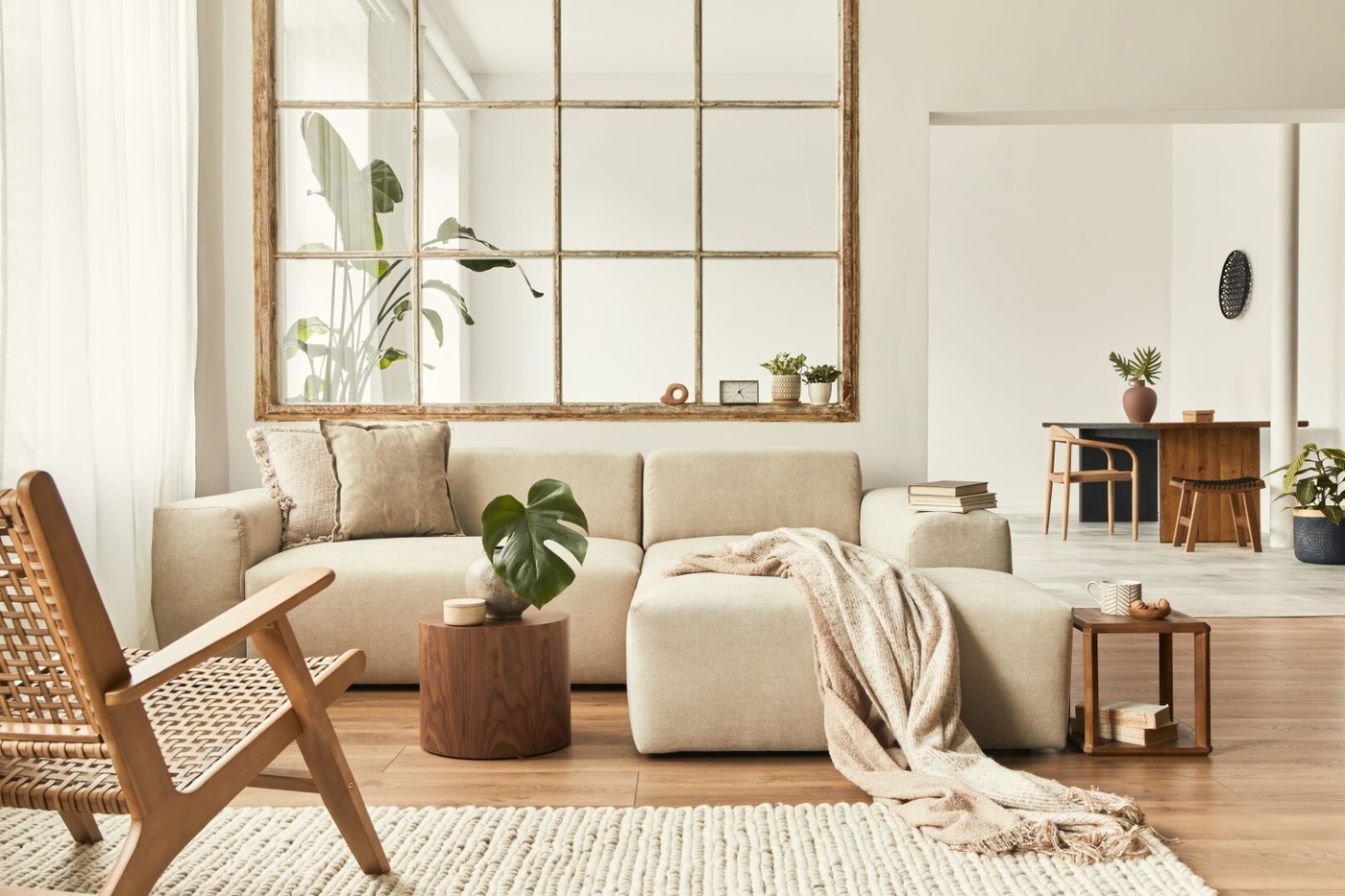 This dynamic furniture style is in constant movement and evolution, by definition. Contemporary furniture takes its cues from whatever is trending 'in the present moment'. The term is often mistakenly interchanged with reference to modern style, yet contemporary design does not adhere to a strict set of stylistic principles, unlike its static friend. The style draws inspiration from history and responds to emergent fashion and technology. It's transient nature means contemporary furniture today will look very different in 50 years time.
Sleek, fresh and bang on-trend, contemporary furniture slips easily into any home; create a chic set up in a modern property, or freshen up the old with a spot of something new. You can blend contemporary furniture with other styles to create an eclectic look by matching up contours, wood tones and color schemes.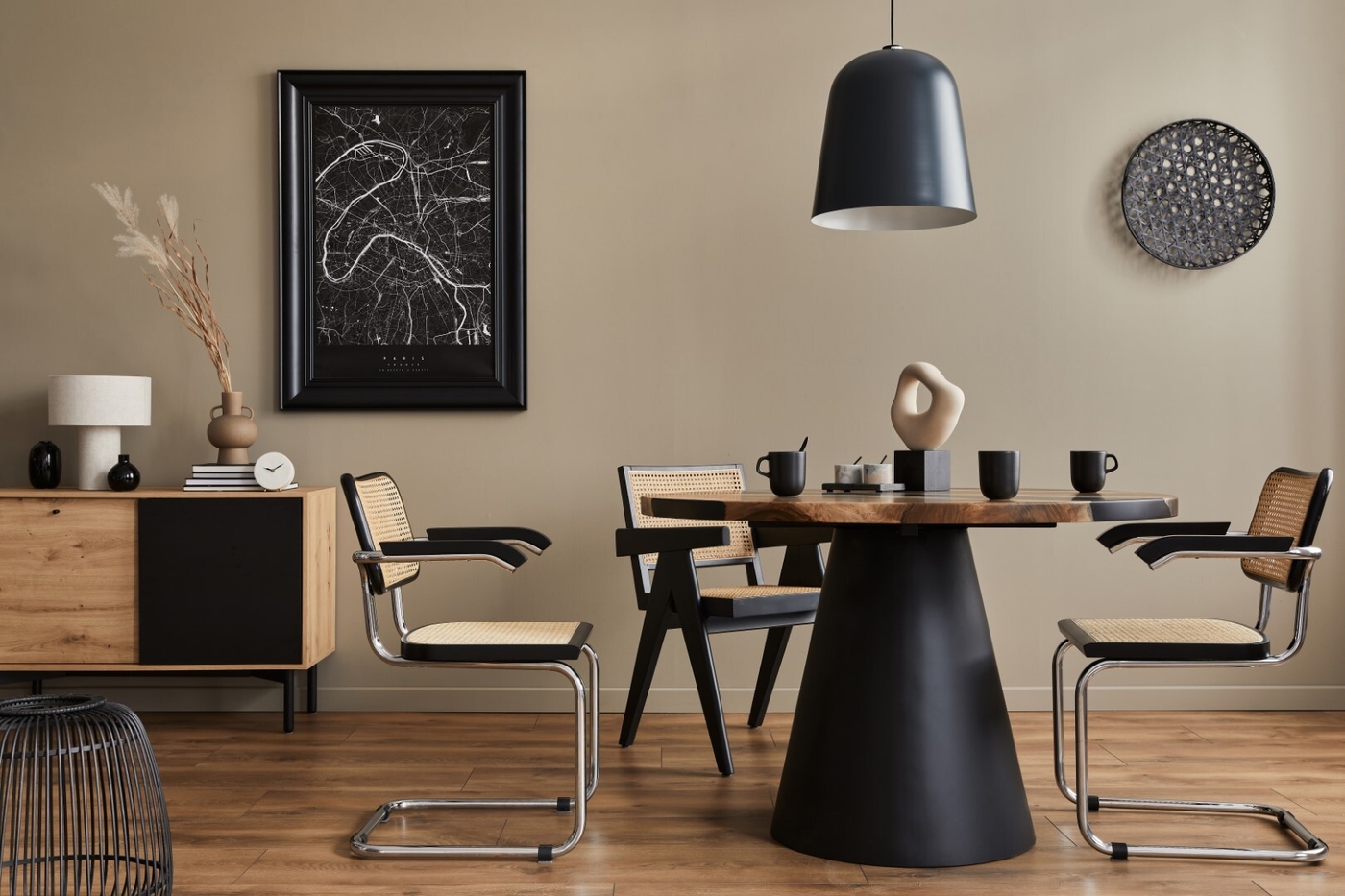 Key Characteristics of Contemporary Furniture
The transience of contemporary furniture makes it difficult to pin down. However, here are some characteristics that are, currently, unmistakably contemporary.
Clean lines & soft edges: The sleek, no-fuss aesthetic borrowed from modern design comes with a twist as reassuring curves replace harsh angles.
Multi-functional: Inspired by modern design's function-over-form philosophy, look out for practical, multi-use furniture.
Sustainable, organic materials: A focus on conscious consumption welcomes natural textures and recycled materials, like reclaimed wood, bamboo, rattan, jute, glass, and recycled plastic and metal.
Quality vintage: Combining the old with the new, the sustainability-induced upcycling trend signals an antiques revival.
Texture: From fixed furniture to upholstery, furniture has taken a tactile twist; look for slat-like grooves on woodwork, and velvet, sherpa and bouclé textiles.
Color: Don't be afraid to use it!
Contemporary Furniture Pros and Cons
Pros:
Versatile: Influenced by the old and the new, it's adaptable to different aesthetics.
Diverse: Encompasses a wide range of designs, shapes and sizes.
Cons:
Transient: Likely to go out of fashion and the same style may not be readily available in the future.
5.

Transitional Furniture Style
Unlike other styles, transitional furniture doesn't belong to any one point in history; rather it is the lovechild of traditional and modern contemporary design. However, the hybrid style can be thought of as reasonably new, having gained rising popularity over the past twenty years. Transitional design strikes the perfect balance between innovation and tradition, and classic and current trends.
Offering the best of both worlds, transitional style furniture might be the answer if you're stuck between modern contemporary and traditional decor. Think modern style with less austerity and more comfort, and a younger, fresher, less stuffy version of traditional design. It's versatility makes it deeply personal. Pick out your favorite features of each style, mixing and matching until you create a casual space that is warm, inviting and, well…you!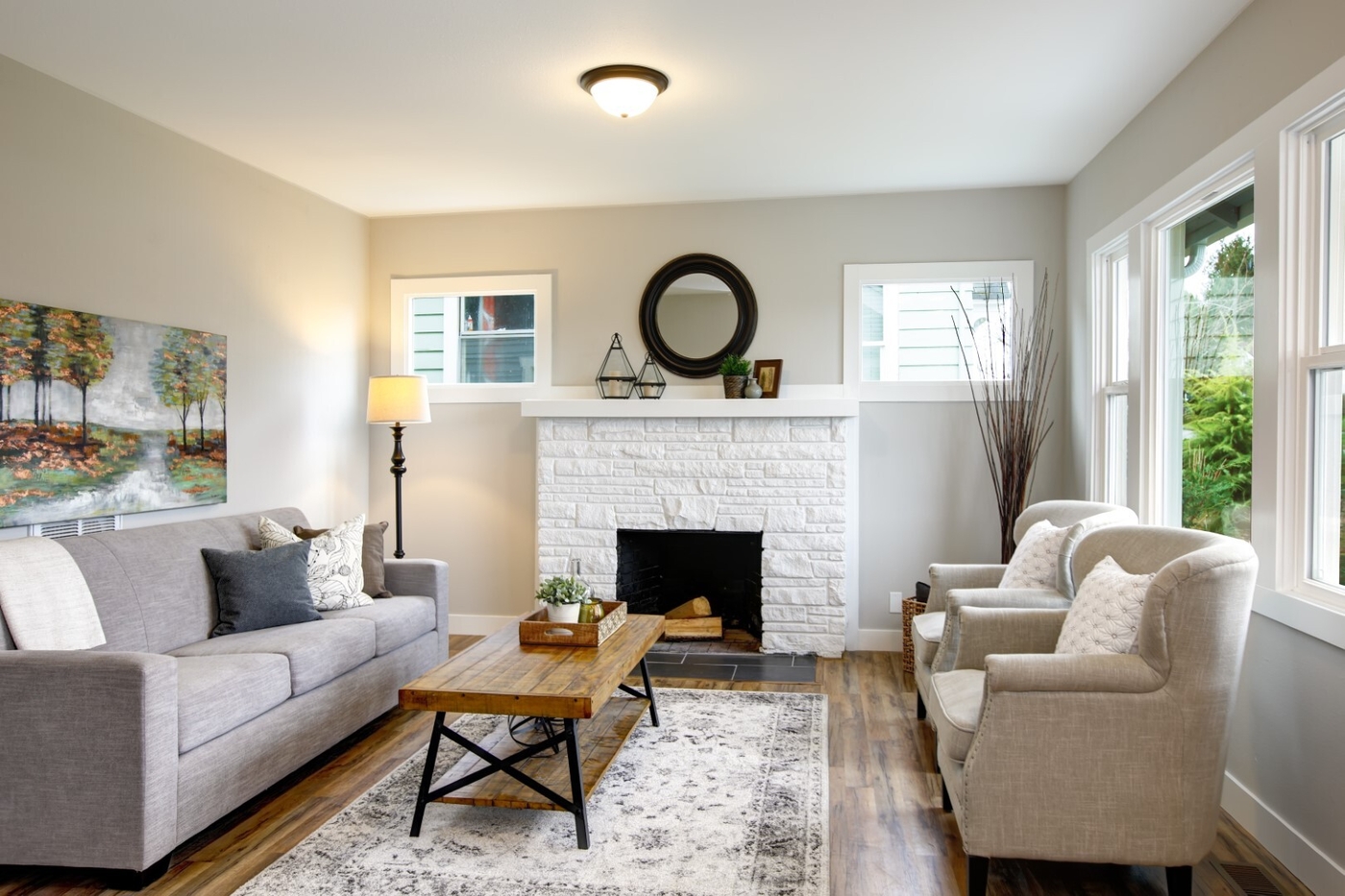 Key Characteristics of Transitional Furniture
Curved & straight lines: Soft curves combine with sleek straight lines, and soft edges overrule sharp corners.
Polished surfaces: Think lacquered finishes, glass, steel and metal.
Reduced pattern: Sparse use of small, subdued prints.
Mixed timbers: Assortment of different wood species.
Little to no ornamentation: Plain and simple forms prevail over elaborate decorative flourishes.
Subdued colors: A toned-down, warm neutral color palette; think cream, taupe and gray paired with low-saturation tones.
Comfort: Plush fabrics, well-padded upholstery, and furniture adorned with plenty of cushions and pillows.
Medium scale: Furniture tends not to be too large, nor too small.
Transitional Furniture Pros and Cons
Pros:
Versatile: The blend of old and new makes it easy to dress up and down, pair with other styles, and provides the flexibility to switch betweena traditional and contemporary look.
Timeless: Enduring pieces that are unlikely to go out of style.
Accessible: Widely available at a range of price points.
Cons:
There are no cons for this style!
6.

Art Deco Furniture Style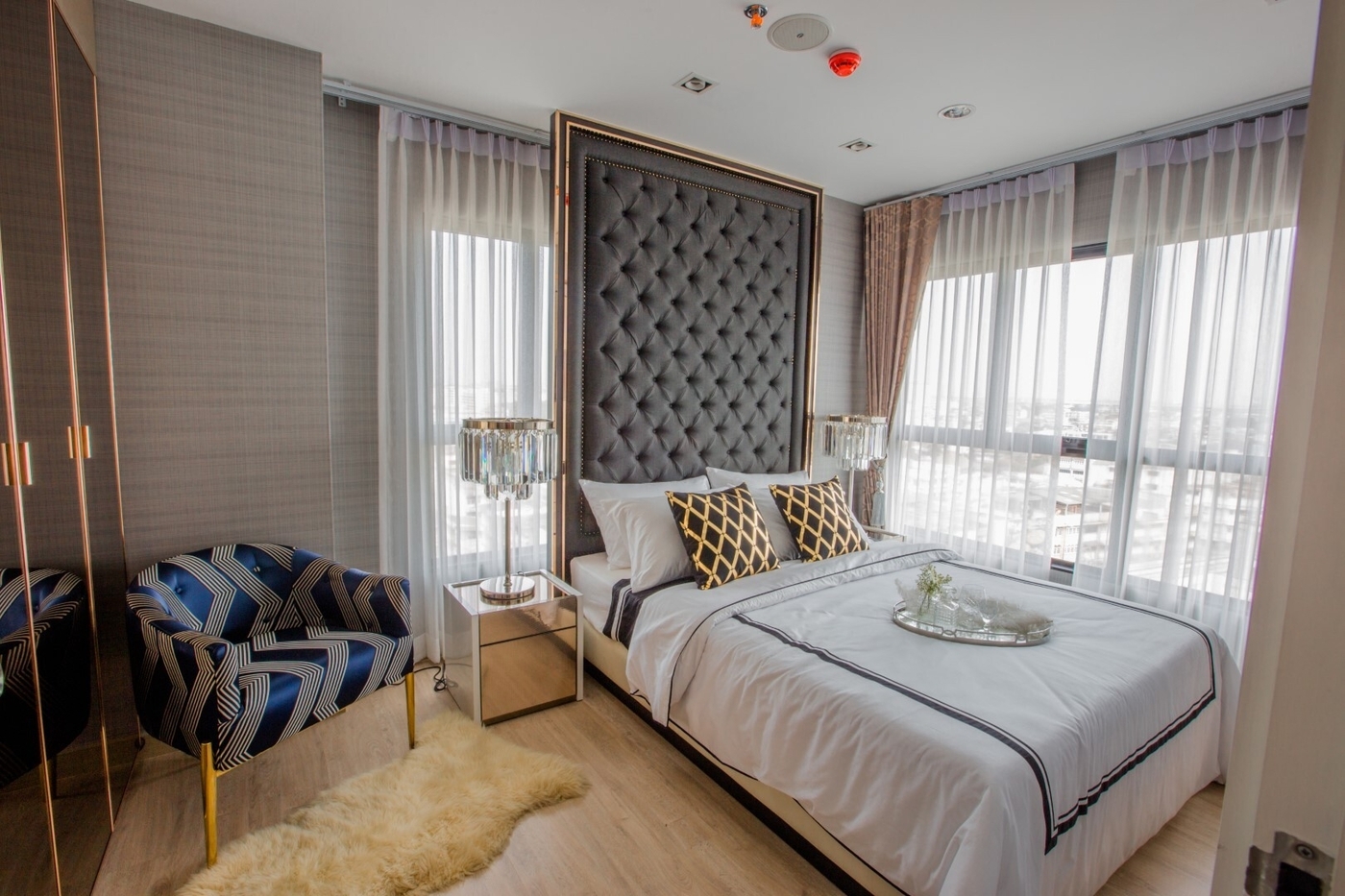 Art Deco furniture is like taking a step into the affluent society of 1920s Paris. The optimistic post-war era is celebrated for its glamor, luxury and zest for life, and the furniture mirrors just that. In light of the decorative arts movement, French artisans and designers reimagined traditional design, creating spirited pieces made of the highest quality, rare materials, like exotic woods, ivory and polished metals. Inspired by the modernity of the machine age, bold geometricpatterns and flawless symmetry, combined with grandiose ornamentation, define the distinguishable, decadent style. Though Art Deco furniture faded out at the outset of World War II, it resurged in the 60s and continues to be highly sought-after today.
If you're one for glitz and glamor, Art Deco furniture is where it's at. Elegant, opulent and wonderfully extravagant, the Great Gatsby-esque style is not for the shy or faint hearted. An effortless showstopper, Art Deco pieces have all the wow factor and exude maximalist style. A symbol of wealth and sophistication, use it to make an eye-catching focal point in a formal setting.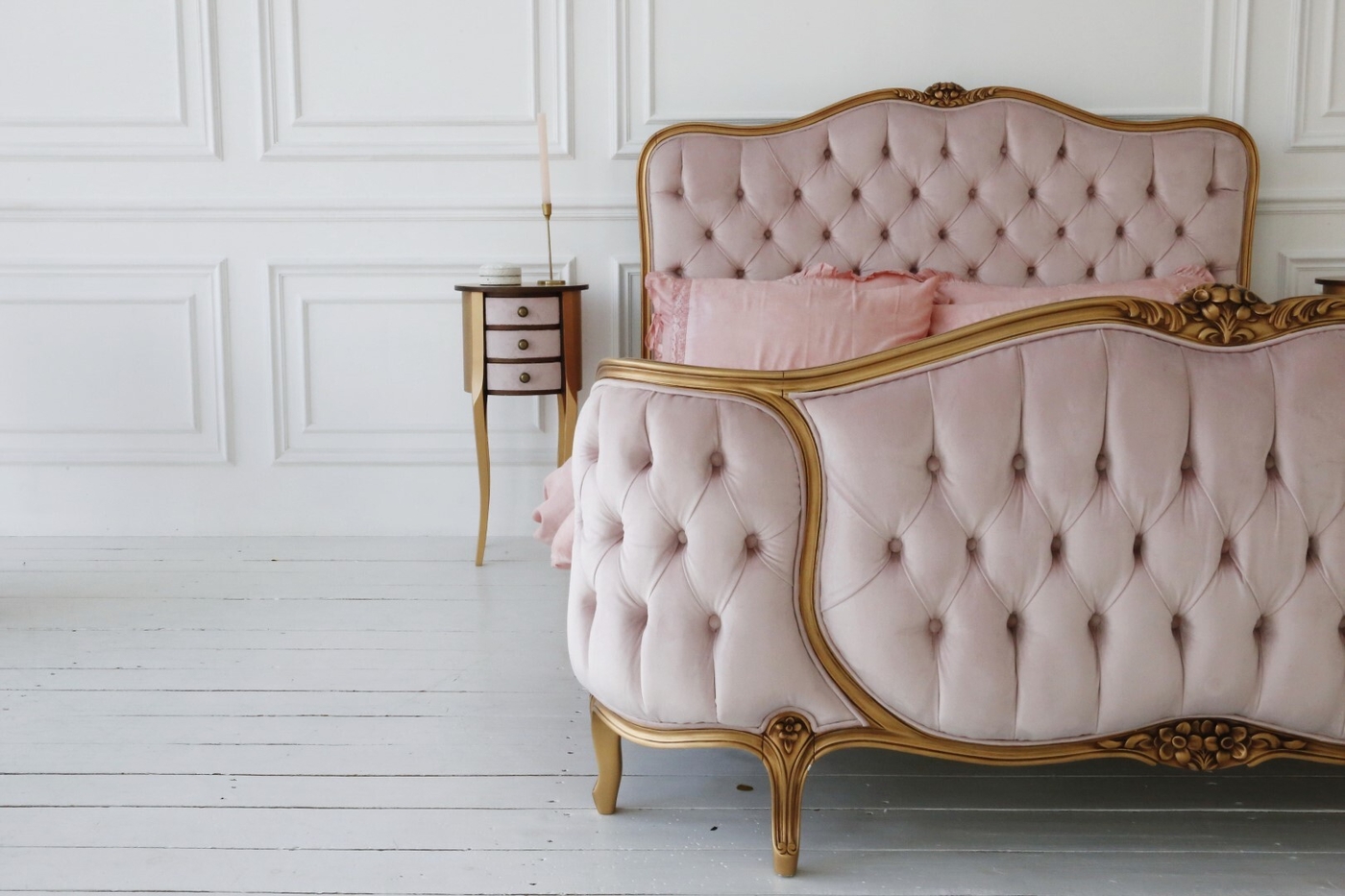 Key Characteristics of Art Deco Furniture
Geometric inlays: Sleek, sharp, machine-like symmetrical forms; common patterns include trapezoids, chevrons, zigzags, and stepped edges.
Sweeping curves: Smooth curves contrast crisp linear shapes in pattern and form.
Nature motifs: Characteristic imagery includes nude female figures, animals, foliage, and sunbursts.
Rich, exotic woods: Think teak, zebra woods, ebony, maple, and mahogany.
Polished, high-shine finishes: Expect marble countertops, lacquered surfaces, mirrors, polished metals, chrome, glass, ivory, and plastics, like Bakelite and Lucite.
Metallic accents: Gold, silver, chrome and brass embellishments.
Lush fabrics: Velvet-clad couches, furs and animal hides.
Vibrant colors: Striking tones include bright and deep yellows, reds, greens, blues, and pinks, as well as soft creams and beiges, set against contrasting black and metallic details.
Bold patterns: Geometric repeats and animal prints prevail.
Large scale: Furniture tends to be streamlined and large in size.
Art Deco Furniture Pros and Cons
Pros:
Durable: Good quality design and solid-wood pieces have unmatched durability.
Decorative value: Makes a strong style statement due to its purely decorative motives.
Versatile: Compatible with both traditional and contemporary decor.
Price: Wide range of designs available to meet different budgets.
Cons:
Stylistic limitations: The definitive look is not to everyone's taste, particularly if you prefer an understated aesthetic.
Visual balance: The style can be overwhelming in excess.
Price: Original furniture pieces are rare and pricey.
7.

Scandinavian Furniture Style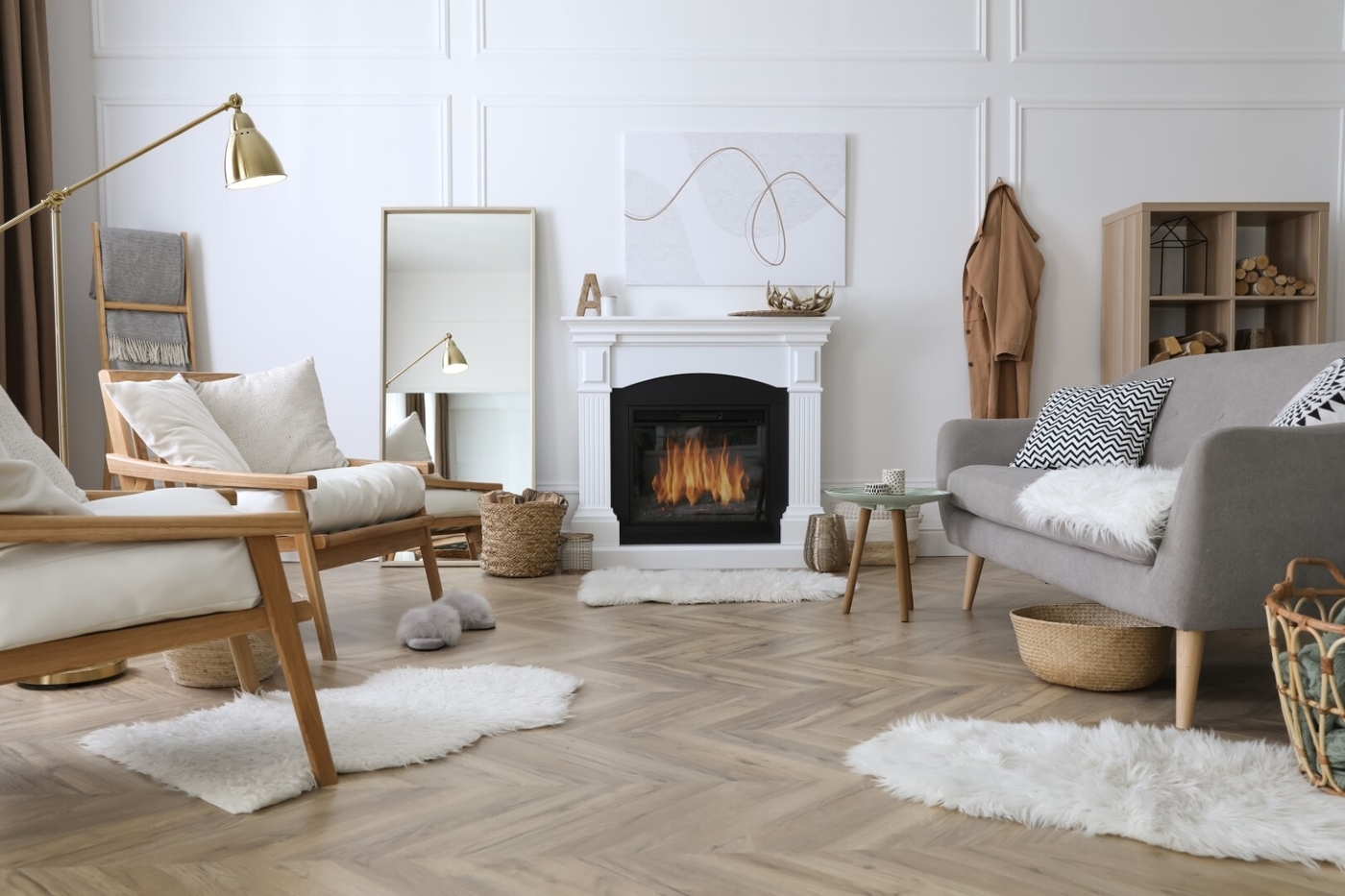 As the name implies, Scandinavian furniture emerged from Scandinavia in the early 20th century where it flourished throughout the Nordic region. It was only in the 1950s that it traveled to the US and Canada, where it gained international recognition, as well as its name. The style aims to improve everyday life through functionality, simplicity, sustainability, and a proximity with nature. Scandinavian design principles also place an emphasis on quality over quantity, with expert craftsmanship and products made to last, in favor of rampant consumerism.
If you want your home to be a serene retreat from the always-on realities of modern living, Scandinavian furniture is a good place to start. Sustainability and wellbeing form part of the style's core values. It's minimalist, clean aesthetic encourages an uncomplicated, clutter-free environment, while it's tendency towards natural materials promotes a deeper connection with nature and a warm and inviting environment, full of vitality. The less-is-more style is also a boon for compact living.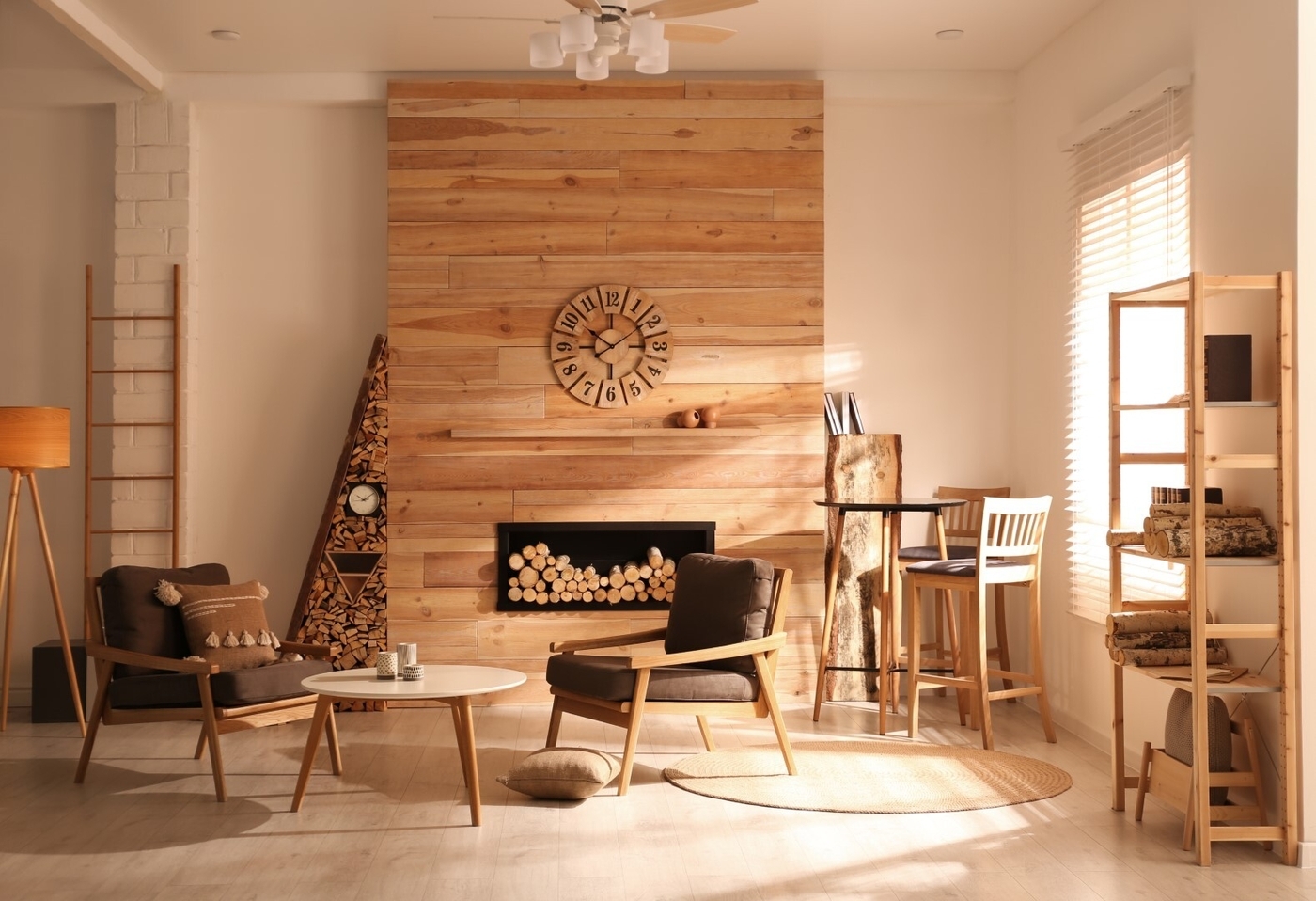 Key Characteristics of Scandinavian Furniture
Muted colors: Think monochromatic, neutral palettes and soft colors rooted in nature, like plush pinks, gray-blues, and sage.
Organic materials: Natural textures take pride of place; namely wood (pine, beach and ash), cotton, wool, and linen.
Functionality: Combining beauty with practicality.
Simplicity: Highlighting high-quality craftsmanship over ostentatious detailing.
Sleek contours: Smooth edges, clean lines and soft curves.
Scandinavian Furniture Pros and Cons
Pros:
Timeless: It will look great in your home for years to come.
Durable: A long-term investment, high-quality furniture made to last generations.
Versatile: The simple, neutral aesthetic is unobtrusive and suits a wide range of decors, and pairs well with other furniture styles, both old and new.
Sustainable: Locally sourced and manufactured.
Local support: A vote of support for craftsmanship and local manufacturing.
Price: Widely available at a range of price points.
Cons:
There are no cons for this style!
8.

Mission Style Furniture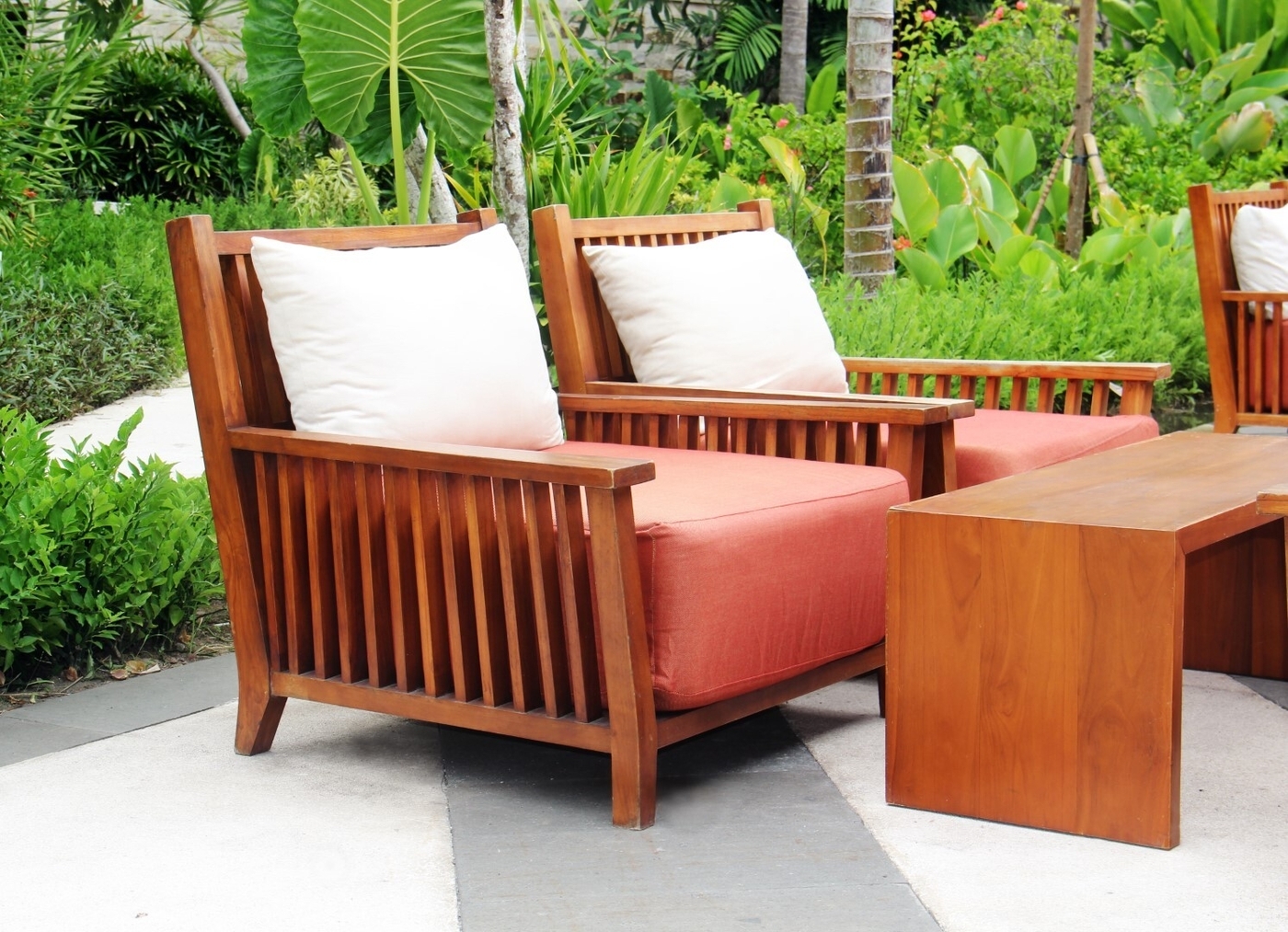 Mission style furniture arose out of the American Arts and Crafts movement during the turn of the 20th century. The movement, originating in 1860 Britain, was a revolt against the perceived ornamental excess of Victorian furnishings and the brutality of the Industrial Revolution, that saw talented craftsmen turned into a cog in the factory of mass-production. The style exemplifies the innate beauty of simple, high-quality local artisanry and the value of good craftsmanship.
Simple, durable and reliable, Mission style furniture is a match made in heaven for the pragmatic homeowner. The utilitarian design does what it says on the tin, providing functional, sturdy and comfortable furniture, guaranteed to last a lifetime. Leaning on the bulky side of furniture, it works best in spacious rooms.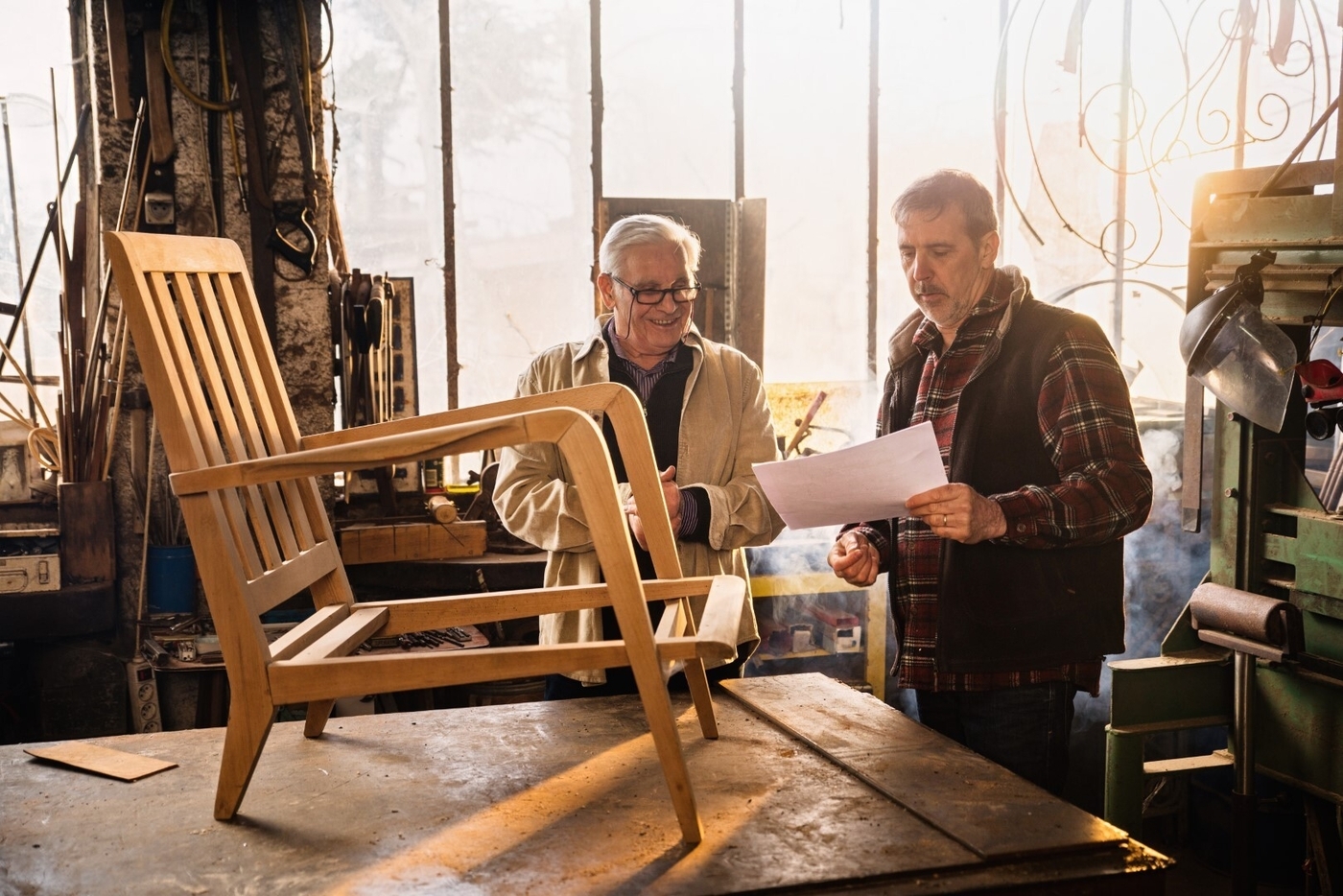 Key Characteristics of Mission Style Furniture
Straight lines: Horizontal and vertical lines, flat planes, rectangular spindles, and blocky 90-degree angles are defining characteristics.
No ornamentation: Beauty is in simplicity; expect smooth wooden surfaces and simple forms.
Stiles: Look out for evenly spaced parallel vertical slats.
Exposed carpentry: Details of its construction, like tenons and dowels, are left on show.
Wood: High-quality, popular hardwoods are the primary material, including oak, cherry, maple, and walnut. The wood's natural grain is a key feature of the design.
Upholstery: Expect long-lasting genuine leather, canvas or plain cloth in a muted, nature-inspired color palette.
Mission Style Furniture Pros and Cons
Pros:
Durable: Built to last a lifetime, or two!
Sustainable: Locally sourced and manufactured, and long-lasting.
Versatile: Simple aesthetic works in both a contemporary or traditional setting.
Cons:
Size: Tends to be quite big, bulky and heavy due to its hardwood structure.
Furniture Style FAQs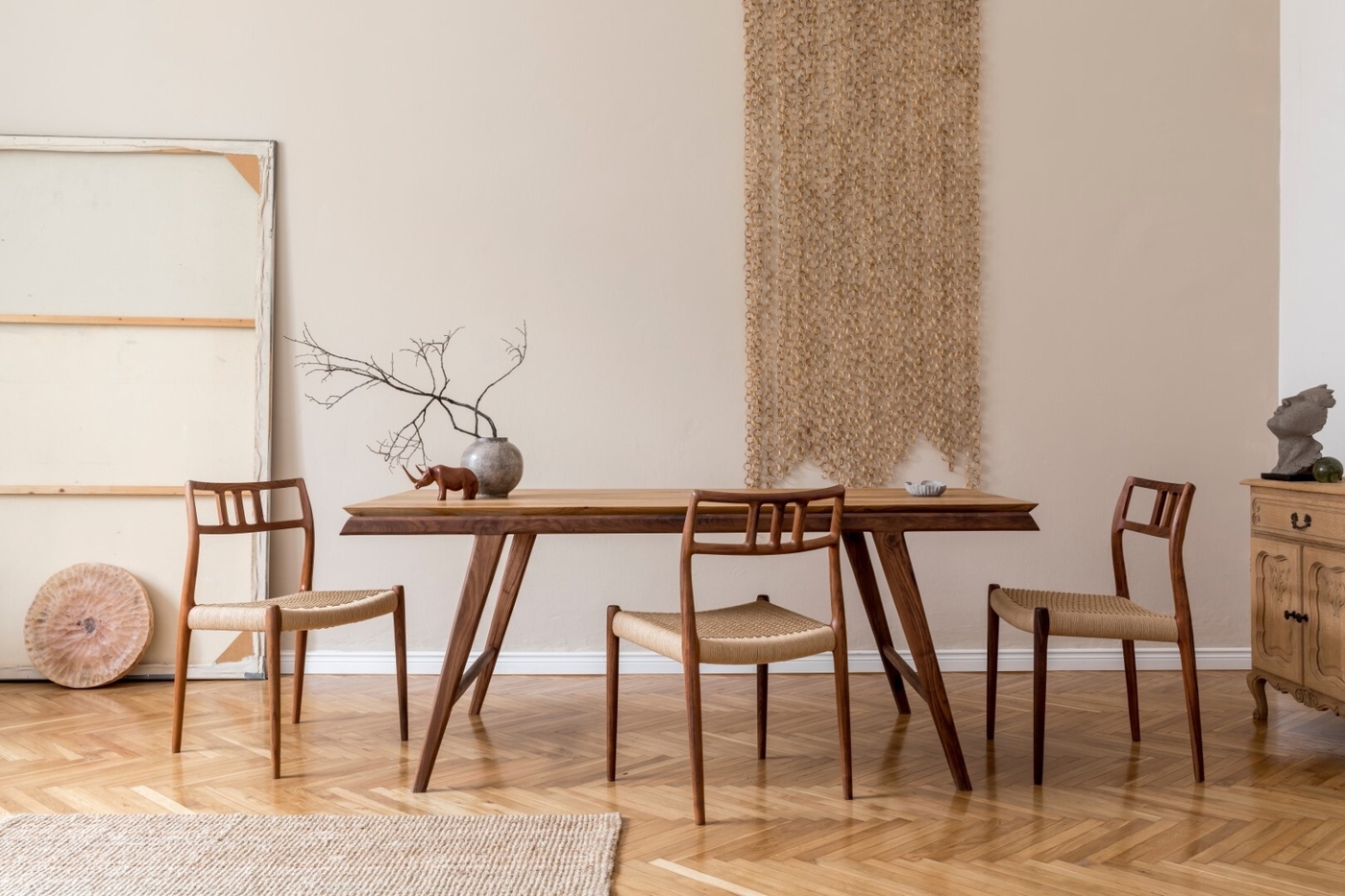 How do I know what my furniture style is?
With time and patience! Focus on your authentic likes, forgetting about 'trends' and other people's personal preferences. After all, you're the one who has to live with it!
Look at what you already have. Grab a pad of post-it notes and go around your home really looking at each individual piece of furniture. Stick a post-it on all of the pieces that bring you joy. Then, look at what they all have in common; perhaps they all have curved contours and a simple aesthetic, or bold colors and prints. Pay attention to texture, form, color, materials, and size.

Consider the mood you want to create. Casual, formal, stimulating, or calm, different furniture styles champion different moods. For example, the glitz and glamor of Art Deco furniture promotes a formal and stimulating environment, whilst the organic simplicity of Scandinavian design contributes a more relaxed, casual feel.

Get inspired: Spend time looking around you. Whilst the likes of Pinterest and Instagram are a great place to start, the excessive parade of highly curated interiors can leave us feeling overwhelmed and even more confused than before. Instead, visit real life places, like design centers, furniture stores, hotels, restaurants, cafes, bars, or even your next door neighbor, taking note of the interiors that inspire you.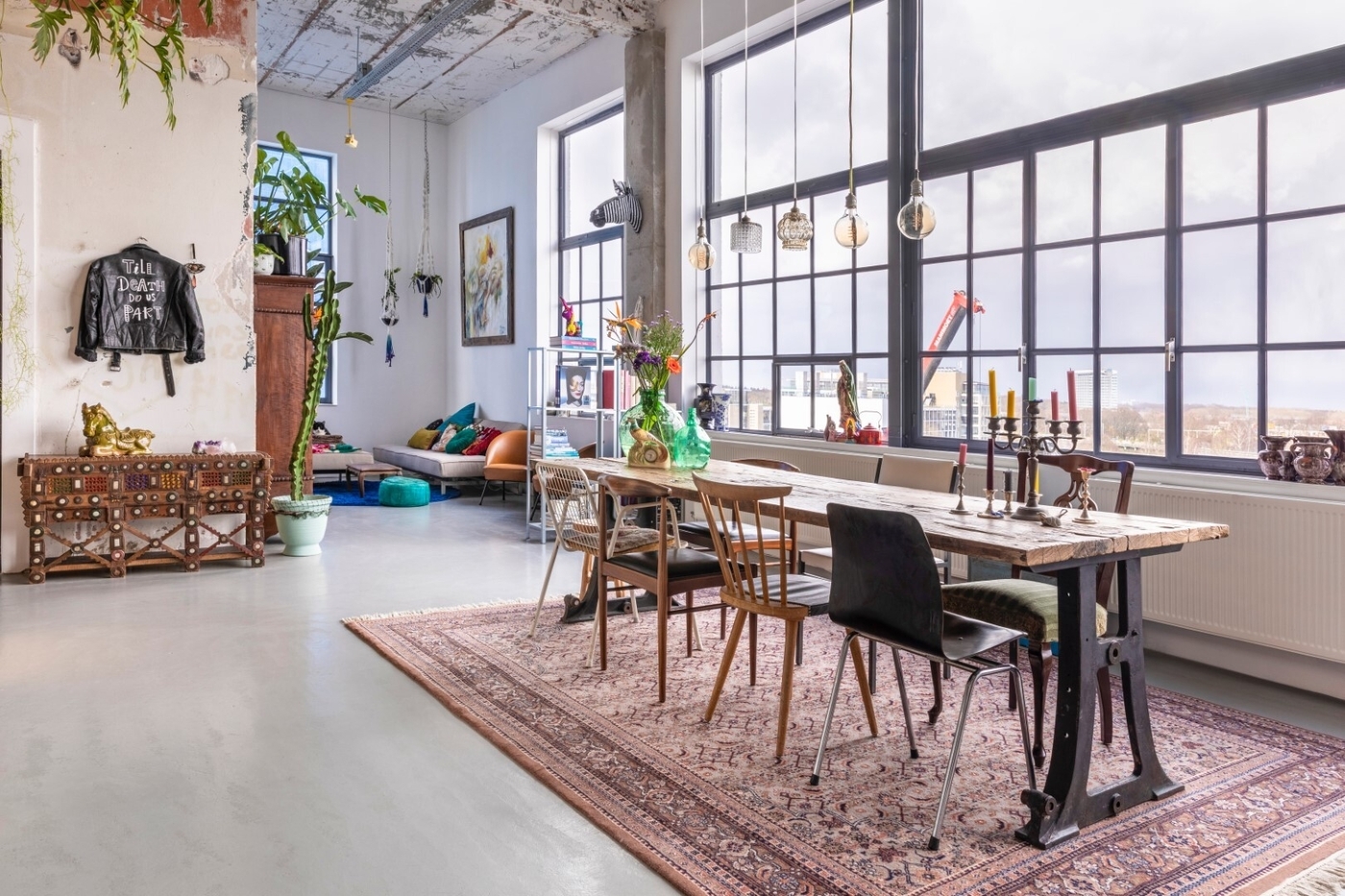 Can I mix furniture styles?
Of course, but do so strategically to avoid your room looking like a thrift store! Here's how to create a coherent, eclectic furniture collection:
Limit your color palette to a few select hues.
Pay attention to scale to create balance.
Pick a hero piece and build your collection from there. Echo similar characteristics in other furniture, without competing for attention.
Use repetition of unifying features, like color, shapes (curves or angles), pattern, texture, and metal finishes. Each piece should connect to at least two other things in the room.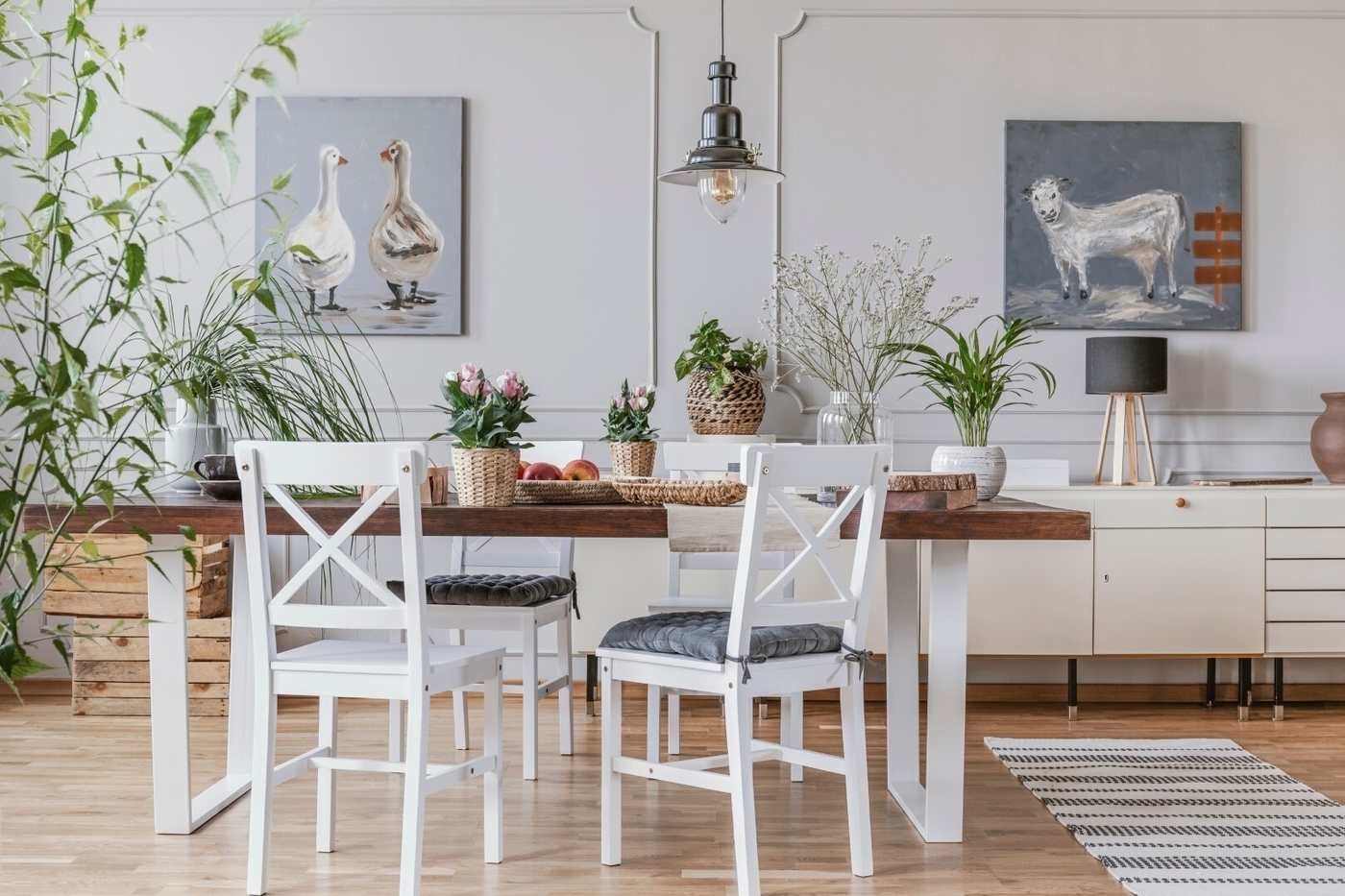 What should I keep in mind when buying furniture?
Size: Always have the measurements of the space you want to fill and a floor plan to hand, to make sure the furniture will fit.
Quality:Check the quality of the manufacturer and the materials, ensuring it is safe, sturdy, and durable.
Comfort & Functionality: There's no point in investing in a nice-looking sofa you don't enjoy sitting in!
Material: Consider the material's longevity and whether it is easy to clean, maintain, or repair, and make sure any upholstery is flame and fire-resistant.
Price: Set a clear budget to help narrow down your options.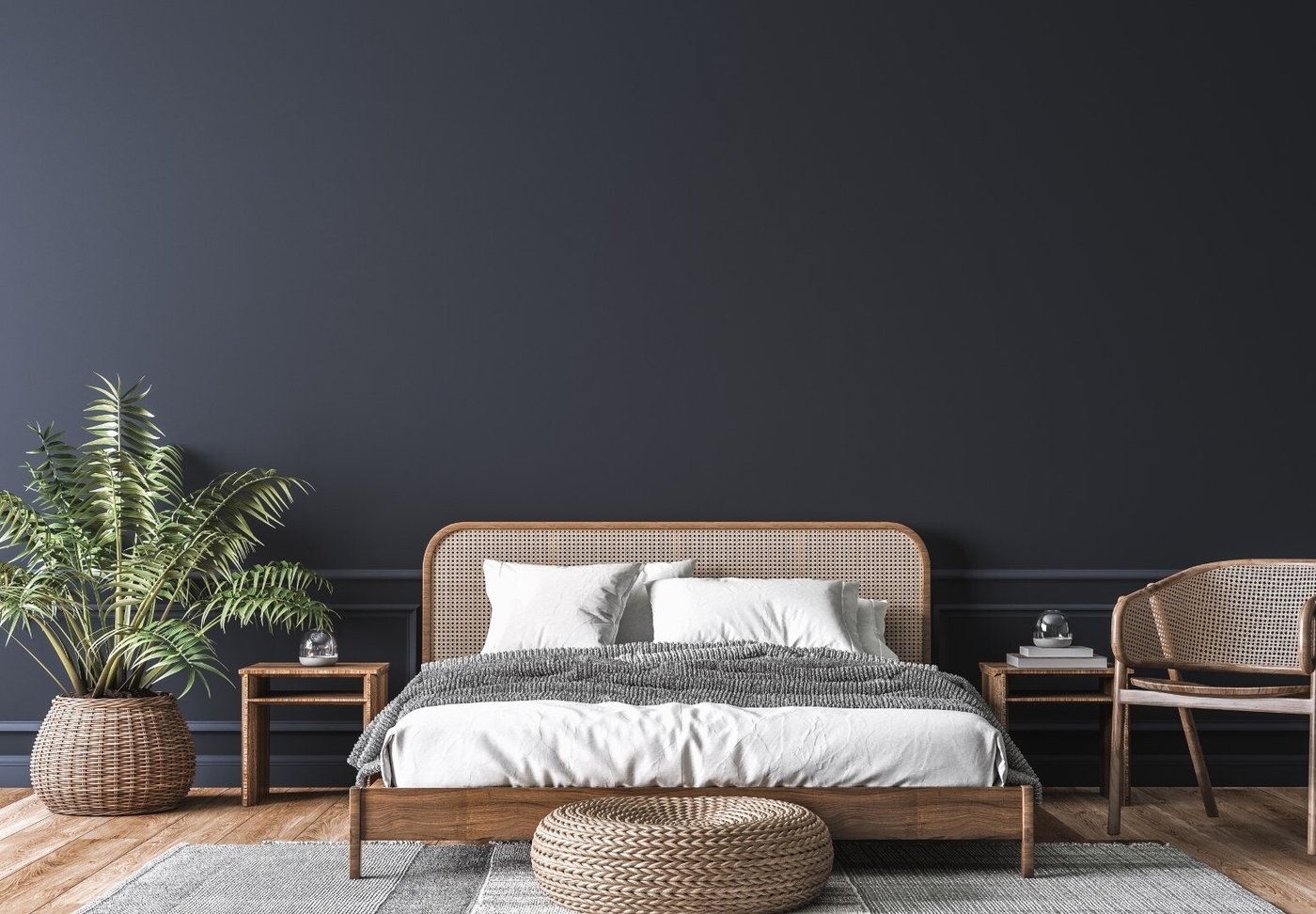 When should I buy furniture for a new home?
If you're moving into your first home, or starting afresh, we recommend buying your furniture essentials before you move in, such as a bed, wardrobe, dining table and chairs. Remember, furniture can take weeks, or even months, to be delivered, particularly if it's custom made, so try to plan in advance and coordinate delivery with your move-in date.
Buy accent and decorative furniture pieces once you've moved in. That way you have less to move, and you will have a better feel for your new space. Don't rush into buying everything at once. You'll get a better result by building a carefully curated collection over time.