The centerpiece of every bedroom, a stylish bed frame instantly updates any space and defines the decor.
As the biggest piece of furniture, the bed inevitably takes center stage in the bedroom. It sets the tone of the space and serves as a point of reference for the rest of the decor. That's why it's important to get the style spot on. Though the bed frame style refers to more than just aesthetics, it should be comfortable, practical, and fitting for your lifestyle.
Feeling uninspired? Think about how you want to feel when you walk into your bedroom and connect with your authentic self. What kind of decor makes you feel most relaxed and comfortable? Scroll through our selection of bed frame inspiration for every decor, and pay attention to what style speaks to you. Perhaps you're soothed by the stripped-down simplicity of a zen platform bed or charmed by the romance of a four-poster canopy bed.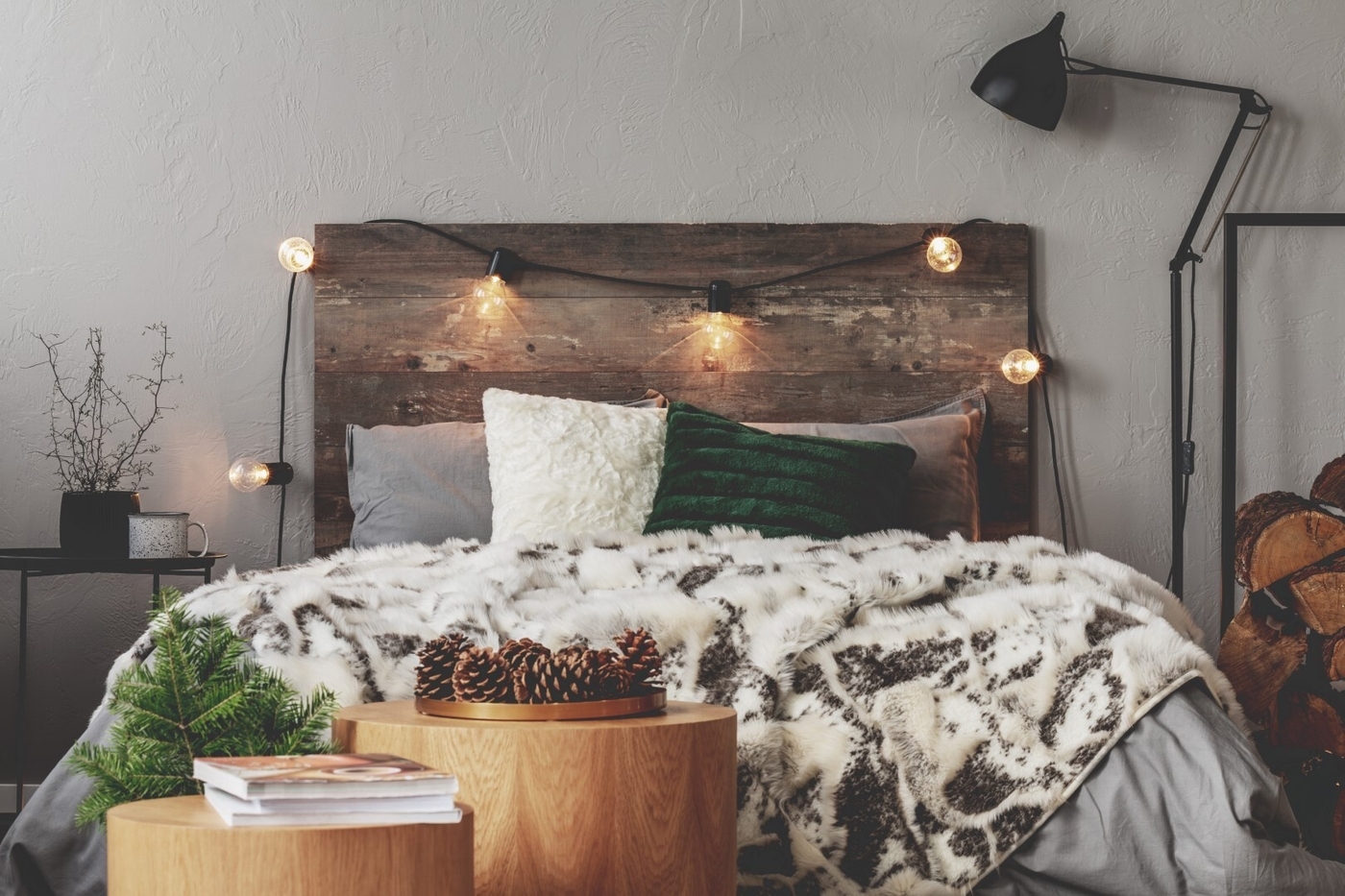 Light an apple-cinnamon scented candle, embrace the after-ski vibes and bask in the warmth and comfort of your cozy rustic retreat. An exposed solid wood bed frame forges an instant connection with the natural world and has a soothing and grounding effect, conducive to deep, restorative slumber. Solid wood provides sturdy, durable, and reliable support for you and your mattress. When sustainably sourced and treated, the non-toxic, natural material is also a great eco-friendly option. And, if you ever get bored and redecorate your bedroom, you can update the frame with a quick lick of paint. Counterbalance the hard, grainy wooden textures with big fluffy pillows, soft cotton bedding, and a thick wool or fur throw to round off the forest-escape look.
2.

Timeless Sleigh Bed Frame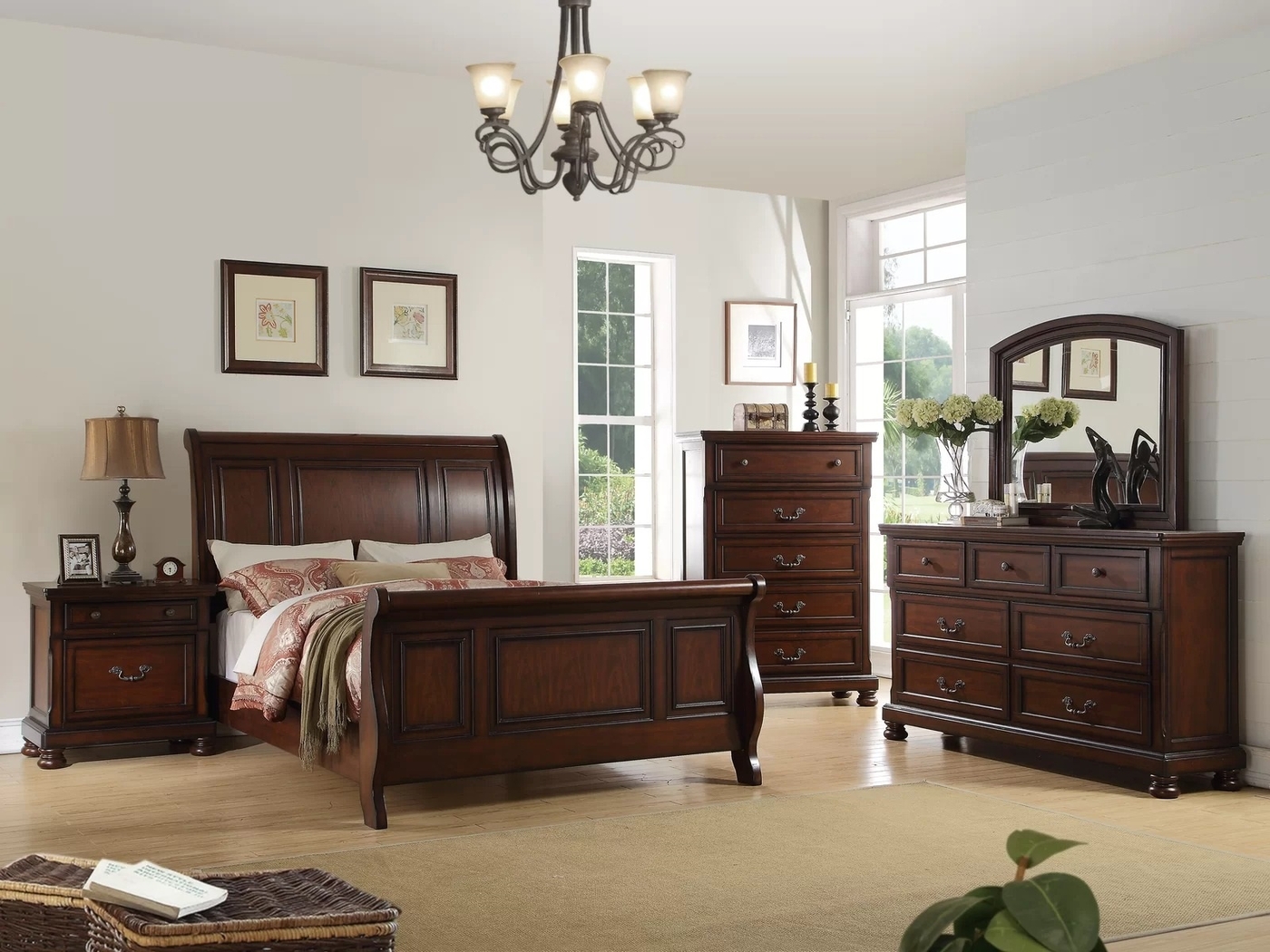 Sleigh bed frames are distinguished by their high headboard and footboard, which give them the sleigh-like shape they are named after. The robust structure offers a cocoon-like experience that lends a senseof comfort, stability, and security to the space. Sleigh beds are typically made of wood and feature elegant curves and a rolled footboard, complementing a timeless, classic aesthetic. Other designs are available with clean lines and a minimalist look to suit modern decor. Bear in mind that footboards limit legroom, so if you're tall pay attention to the bed's length. They also add more visual weight to a space, so sleigh bed frames may not be the best option for a small bedroom. Enhance the beauty of the traditional wooden sleigh by placing it against a deep, warm-toned painted backdrop and pair it with some matching wooden nightstands for a harmonious look.
3.

Zen Platform Bed Frame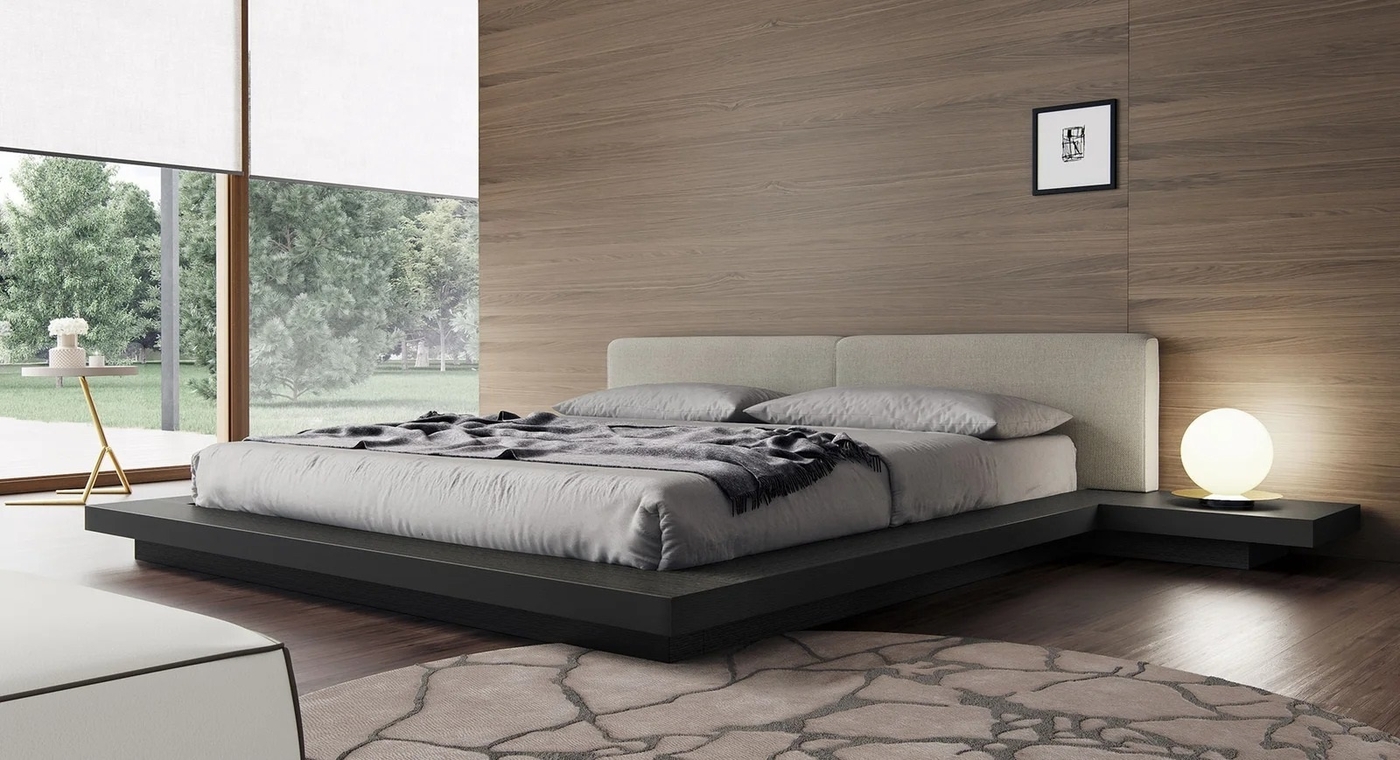 Transform your bedroom into an oasis of calm with an oriental-inspired platform bed. Their modest, minimalist look and low profile give the illusion of a bigger space, free from clutter and distractions, allowing you to relax your body and mind. True to Japanese design, platform beds place a focus on functionality, providing firm and even mattress support, for a guaranteed good night's sleep. For small bedrooms, consider a platform bed with hidden storage to maintain a clutter-free space. Or, fill a large bedroom with a platform bed frame with built-in matching nightstands. The extra width grounds the room and creates a feeling of coziness. Plus, it saves you the job of looking for matching low-level nightstands! Complete the look with a muted color palette, a selection of indoor potted plants, and layers of texture for added interest.
4.

Mid-Century Modern Bed Frame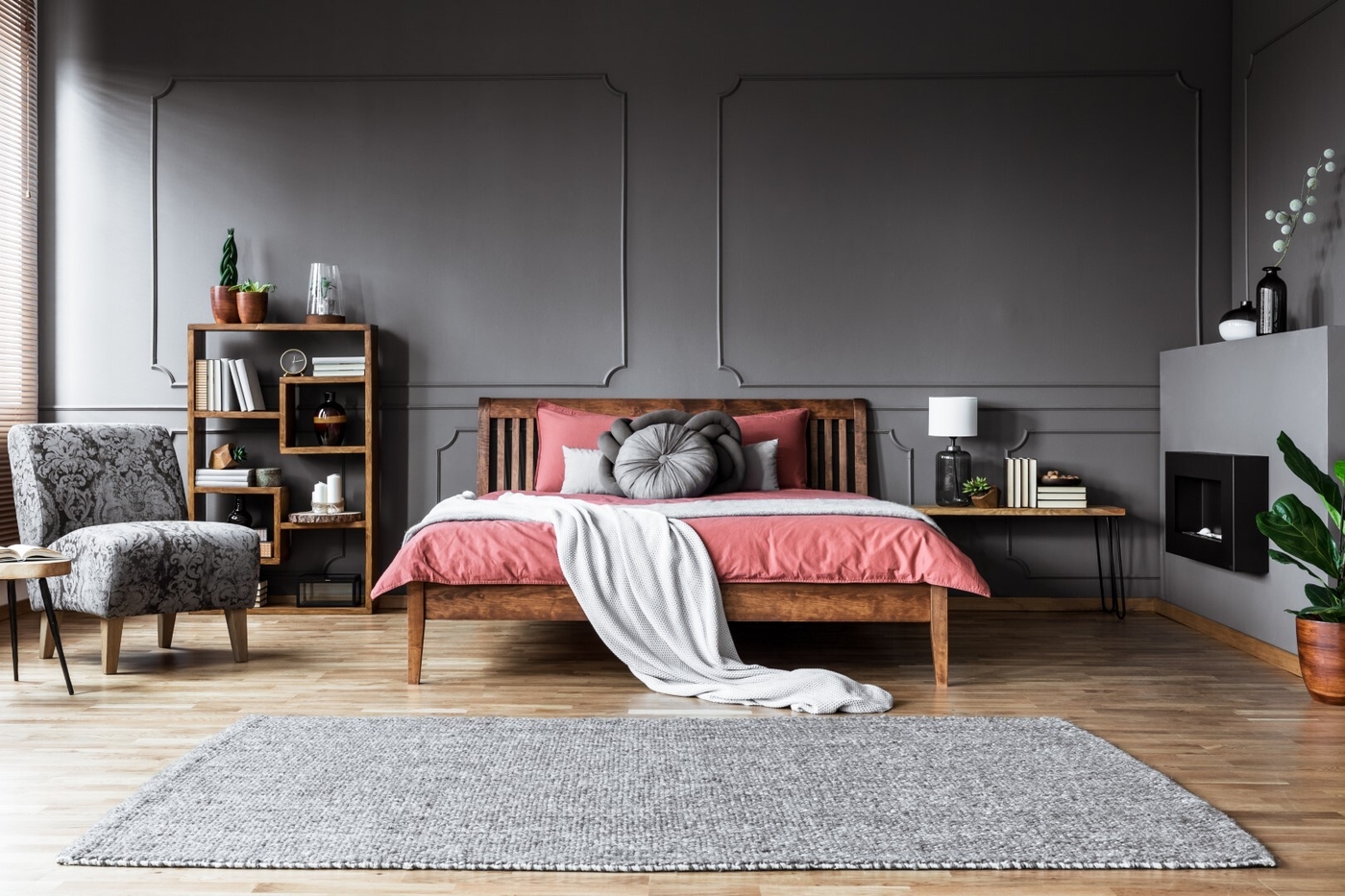 The mid-century modern style is waltzing through the corridors of interior design stores. Fashionable in its elegant simplicity, its streamlined forms are functional and versatile, and can be easily combined with a range of decor styles. Mid-century-inspired bed frames are often made of polished wood, such as teak, oak, or rosewood, and feature slightly tapered legs. Sleek and ornament-free, they are easy to clean and maintain and suitable for small spaces. Like all solid wood bed frames, these bed frames are durable and sturdy, though the quality material, as well as their popularity, means they often have a high price tag. Nourish the retro style with a warm, organic color palette and some bold prints combined with soft textured fabrics, like velvet, chenille, or boucle.
5.

Romantic Canopy Bed Frame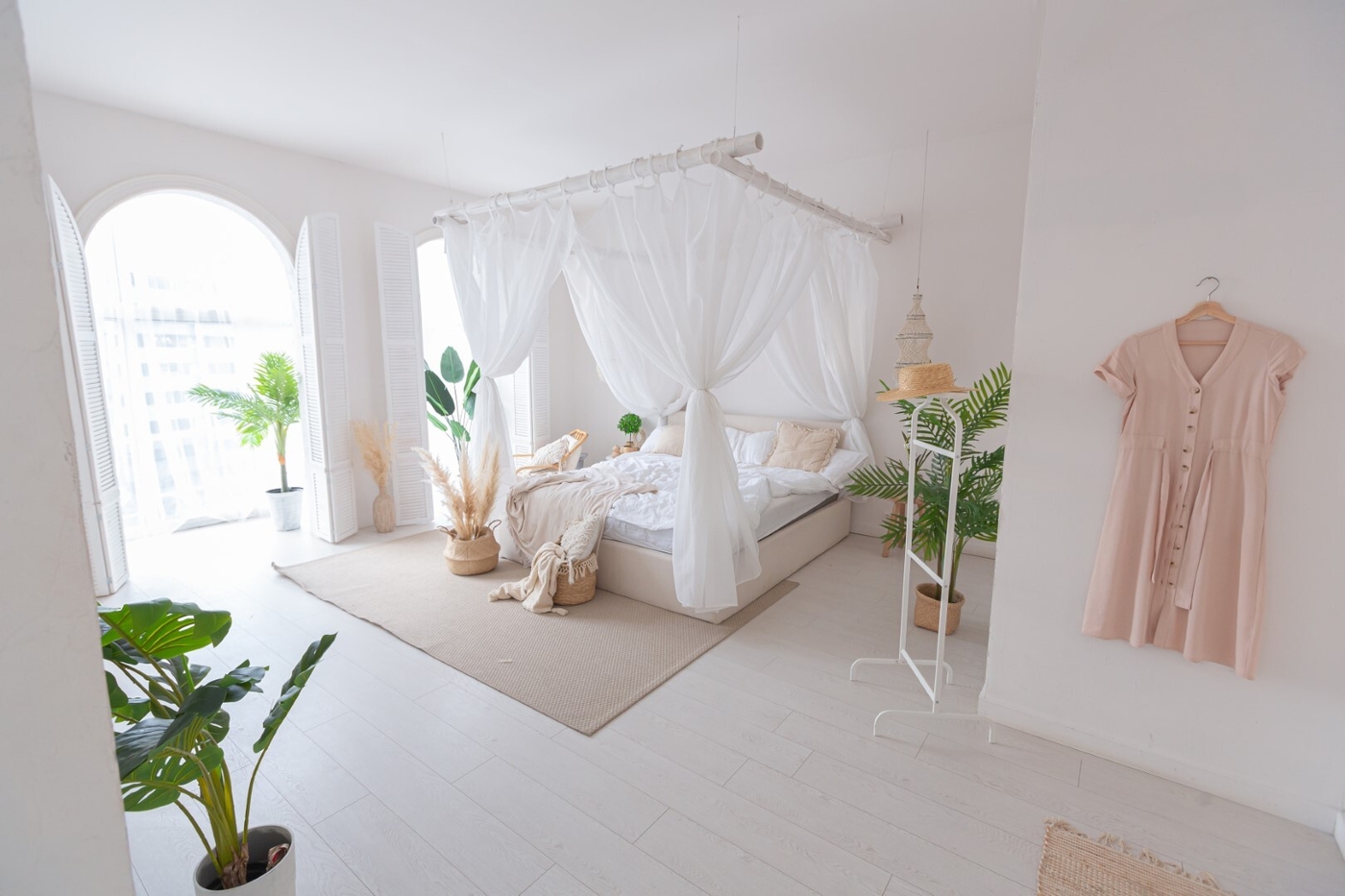 The enveloping design of a canopy bed instantly turns any bedroom into a cozy sanctuary. Also known as a four-poster bed, this design is a match made in heaven for rooms with high ceilings as they draw the eye up and make a distinctive focal point. Canopy beds feature fabric draped over the frame, reducing drafts, increasing privacy, and fomenting an intimate and romantic setting.
Different materials can drastically alter the style and feel of the room. For example, a simple sheer drape creates a bohemian, or beachy vibe, whereas a rich velvet finished with tassels has a classic, luxurious, and dramatic effect. Bear in mind, canopy beds require more maintenance than other bed frames as dust collects on top of the fabric and this may be a burden for some. Due to their grand size, they are also heavy and difficult to rearrange or transport.
The geometric structure of a canopy bed places a strong emphasis on balance, so a symmetrical furniture arrangement is recommended to enhance that equilibrium. Complement the oversized frame with a generous set of pillows and scatter cushions in complementing textures and colors.
6.

Industrial Wrought-Iron Bed Frame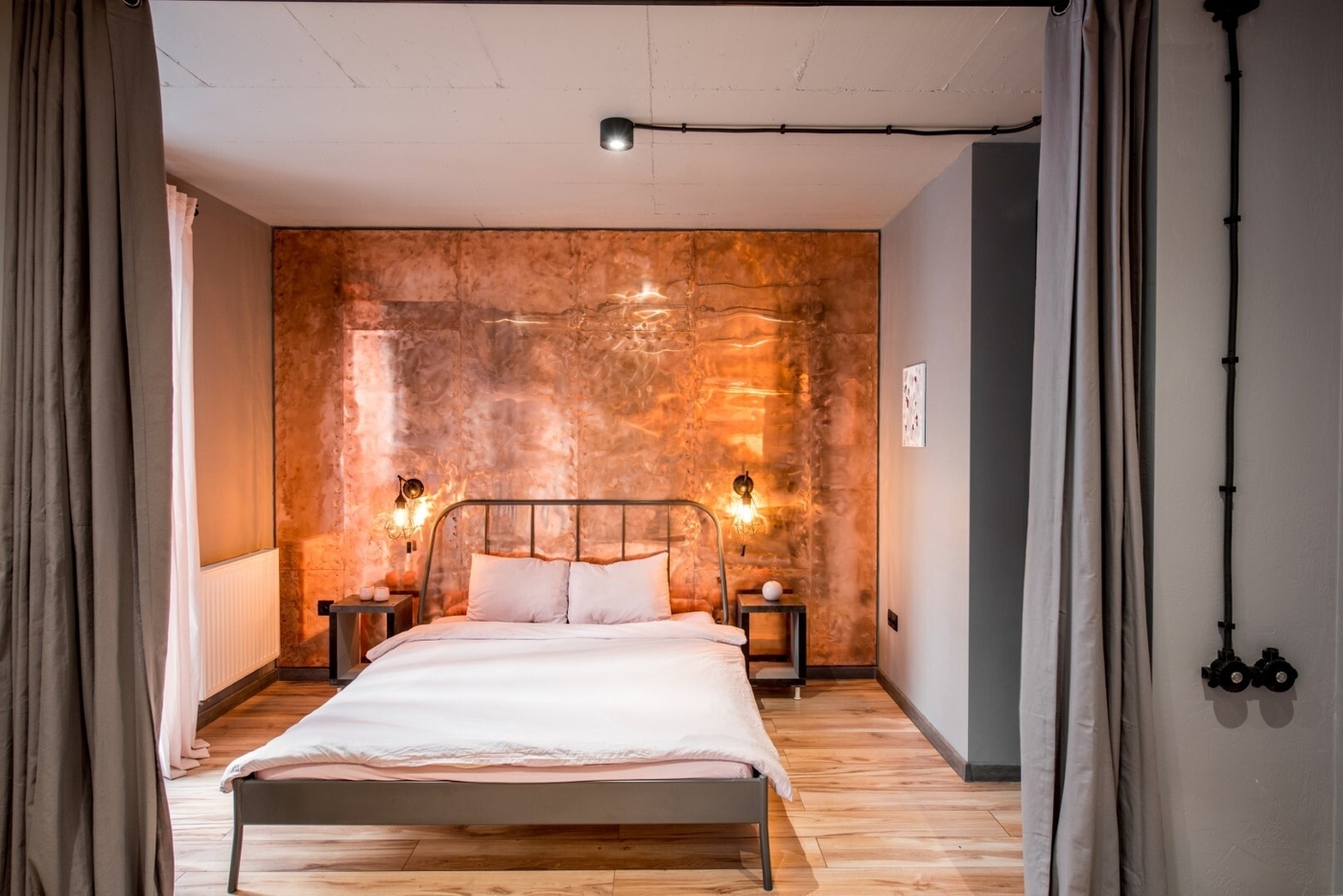 Nothing says trendy like a low-maintenance wrought iron bed frame. Strong, durable, and surprisingly lightweight, when it comes to longevity, wrought-iron runs circles around other materials. Their skeletal, back-to-basic design is versatile and suits classic and modern bedrooms alike, though they look particularly stylish in big, bright lofty spaces. For a stylish, modern industrial look, opt for a simple silhouette, paired with plain, neutral bedding.
Place the bed against an exposed brick or clean white wall with a pair of Edison bulb pendant lights dangling on either side. If you decide to give your bedroom decor an update later on, you can simply paint the bed frame to match. Wrought iron beds are often on the pricier end of the scale due to their high-quality construction and the hand craftsmanship involved in welding. For a cheaper alternative to a similar look, consider a cast iron bed frame.
7.

Chic Upholstered Bed Frame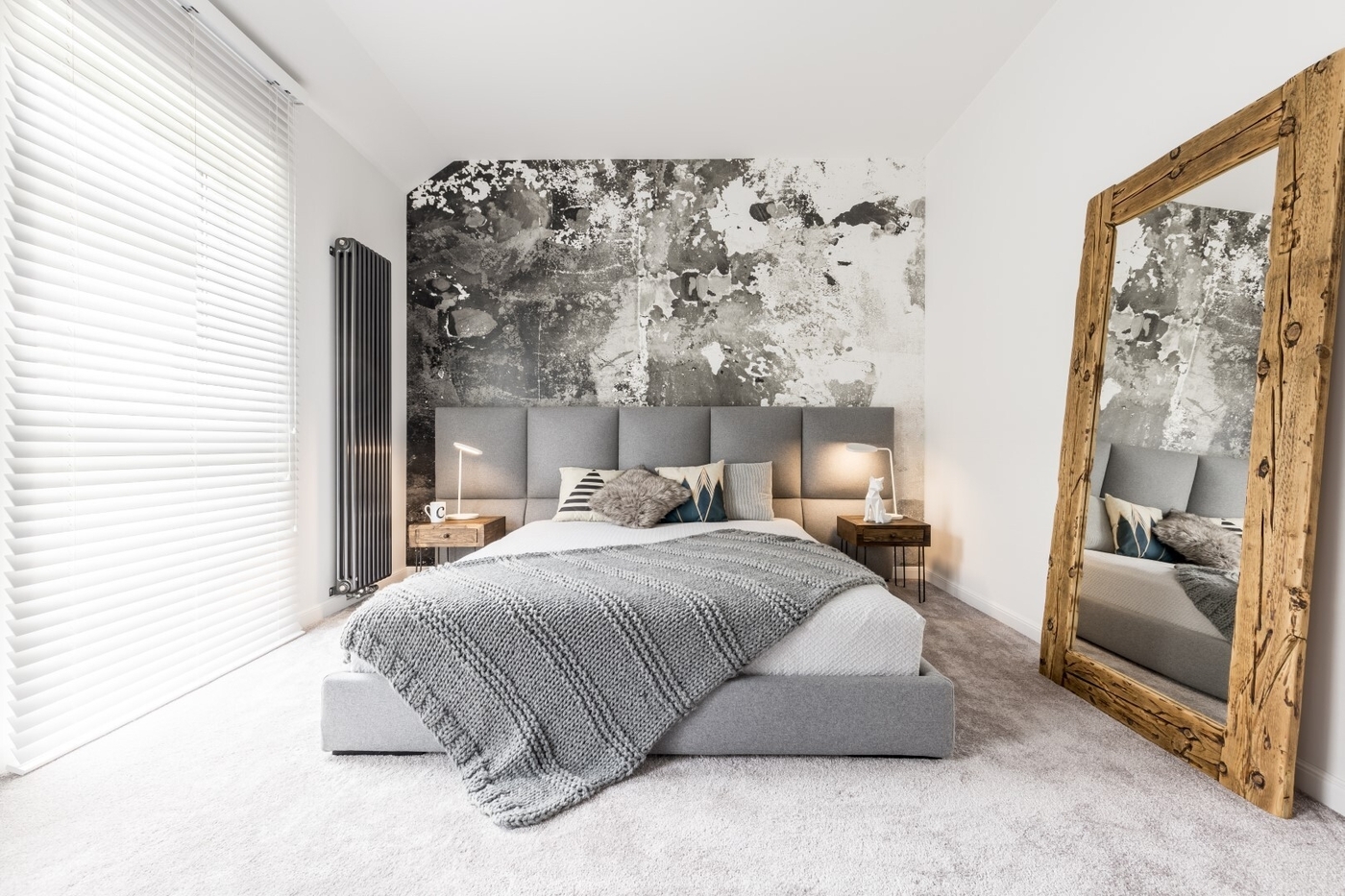 Make lazy Sunday mornings spent in bed with a good book and coffee that bit more enjoyable with an upholstered bed frame and matching headboard. The padded frame enhances the comfort and quality of your downtime, supporting your back and head whilst sitting up in bed, and cultivating a cozy setup. Effortlessly elegant, upholstered headboards are available in a range of shapes and sizes and can be customized with the perfect fabric to suit your decor. For a sleek, modern look, stick to a simple rectangular form. Curved and arched frames and tufted detailing complement a classic aesthetic. Opt for an oversized upholstered headboard covered in a vibrant or patterned fabric to make a dramatic statement and focal point.
Make sure to choose a durable, stain-resistant, and easy-to-clean fabric that will withstand daily use, such as cotton, linen, and chenille. Tightly woven textiles are best for keeping dust mites at bay, while polyester blends, velvet, and leather are stain-resistant. Likewise, dark-colored and patterned fabrics are best for concealing marks and daily wear. Think twice if you share your room with your furry friends as their hair will get stuck on the fabric and it will get damaged from clawing. You can prevent dust build-up and extend the lifespan of your upholstered bed frame by vacuuming it once a week.
8.

Boho-Chic Rattan Bed Frame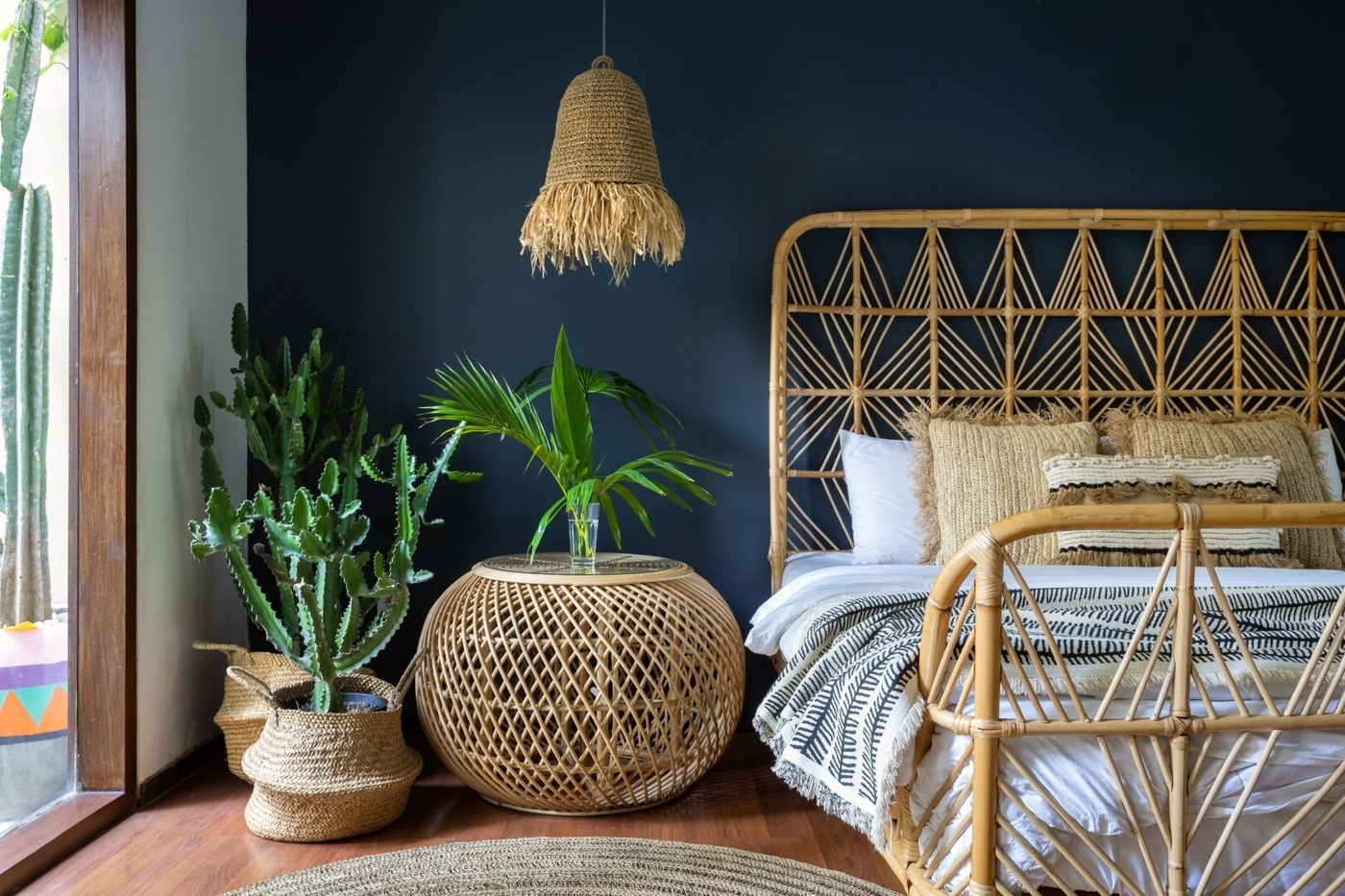 Enjoy a laid-back summer vibe year-round with a rattan bed frame. One of the most environmentally-friendly materials, natural rattan is fast-growing and easily renewable. And, in its purest form, it is 100% biodegradable. Natural rattan bed frames are surprisingly durable, hardwearing, and extremely lightweight, though synthetic or artificial rattan is stronger and withstands more weight.
Their beautiful woven designs permit light to pass through and are a great way to make small bedrooms feel spacious, airy, and luminous. Delicate patterns and natural finishes make a great centerpiece for a young, boho-chic decor and create a comfortable space in which to relax and disconnect. Top off the look by incorporating natural elements and textures with potted plants, organic cotton bedding, a jute rug, and additional rattan accessories, such as lamps, baskets, and mirrors.
What to consider before you make a choice?
At first glance, the plethora of bed frame designs can feel both overwhelming and exhilarating as you visualize how each style would look in your bedroom. But, before you jump ahead, take note of these bed frame fundamentals to narrow down your selection.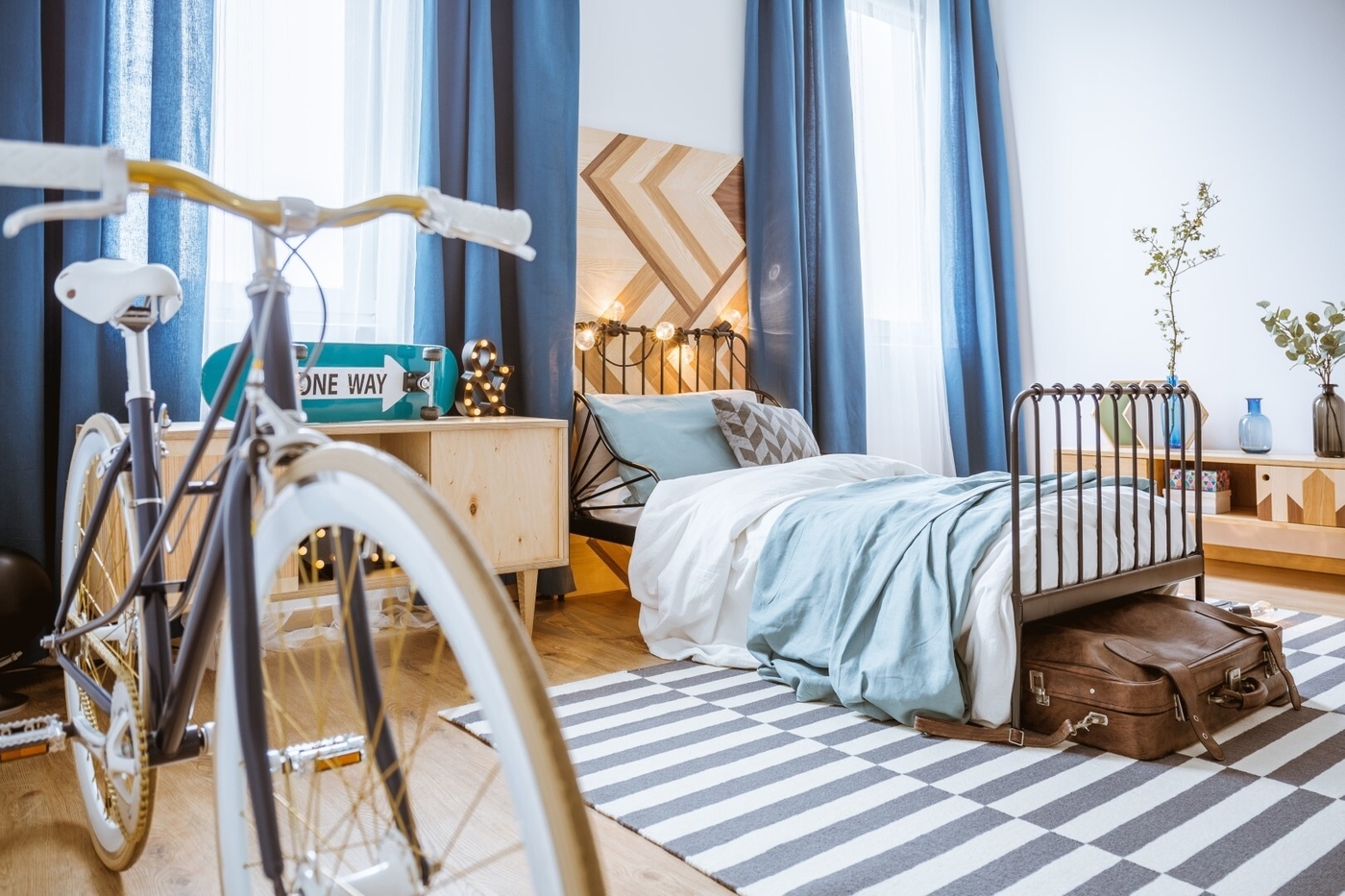 Budget
Reduce your search by setting a budget. Bed frames can range in price from under $100 to over $2000. While it's always tempting to grab a bargain, especially after investing in a good mattress, it's not always your best bet in the long run. What you save in dollars you will likely lose in quality and durability, so make sure to go for the best quality frame within your budget.
Material
The stronger and better the quality of the materials, the longer the bed frame will last. Solid wood is a tried and tested material that provides a sturdy and durable base, beaten only by a metal bed frame, such as steel or iron. Metal foundations also tend to be lighter in weight and resistant to insects, though they are susceptible to rust and squeaking over time. Bed frames made of wood composites or plastic are cheaper, but they are less sturdy, support less weight, and have a much shorter lifespan.
Stability
Rest easy with a solid, well-constructed bed frame. If you've signed up for the challenge of building it yourself, make sure you have all of the right tools and clear instructions to follow. As a general rule, bed frames with fewer and larger pieces are sturdier and less likely to creak or rock from side to side. Always look for a bed frame with wide, robust feet to provide maximum contact with the floor and plenty of support and traction.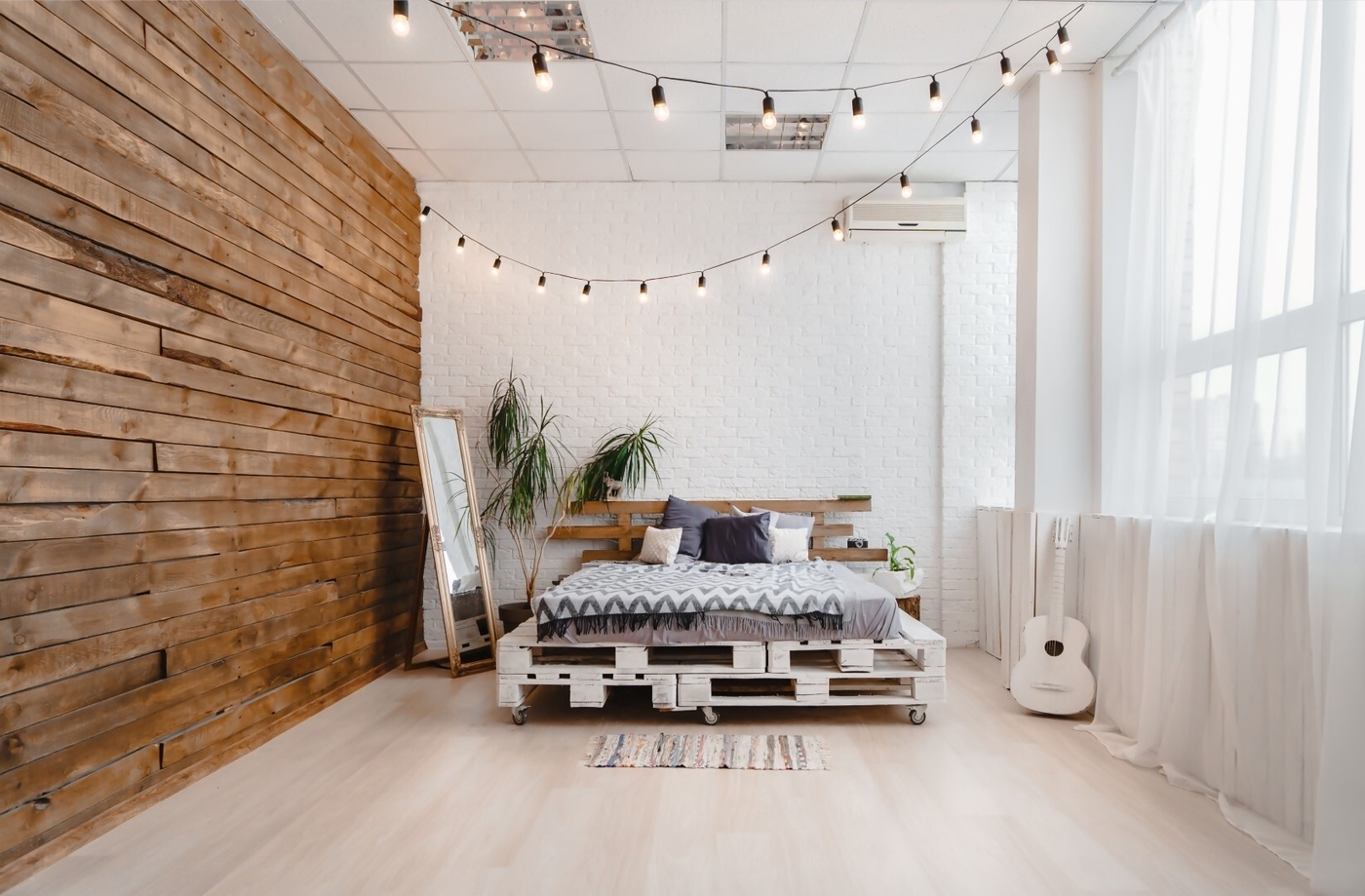 Base
When choosing a bed frame, pay attention to the base. The base is the part of the bed frame that directly supports the mattress. Without adequate support, the mattress will sag and lose its shape. Bed frame bases are available as a slatted base, solid base, box spring, or adjustable base. Certain mattress types are better suited to specific bed frames:
Slatted bases offer the best air circulation and breathability for your mattress, preventing the buildup of moisture and increasing resistance to germs and mold. Slats must be no wider than 2.75 inches, as it could put your mattress at risk of sagging or creating discomfort. Hybrid, innerspring, and pillow-top mattresses are best suited to this type of base.

Solid bases, like platform beds, are strong and sturdy and offer the best support. This base type suits a wide range of mattresses, including memory foam, polyfoam, latex foam, hybrid, innerspring, gel-infused foam, and pillow-top.

Box springs are less common nowadays thanks to modern advances in mattress construction, but they are beneficial for improving airflow, increasing bed height, improving mattress support, and absorbing shock, should you need it. Box springs work best with innerspring mattresses.

Adjustable bed frames are best for people with mobility restrictions, or who suffer from back pain. Memory foam, polyfoam, latex foam, hybrid, and gel-infused foam mattresses suit this type of bed frame.
Storage
Some bed frames come with built-in storage elements like cabinets, drawers, and shelves. This is a great way to maximize space in small bedrooms or studio apartments, as they combine two functions in one without occupying additional square footage. Though predictably, they tend to be heavier, bulkier, and more expensive.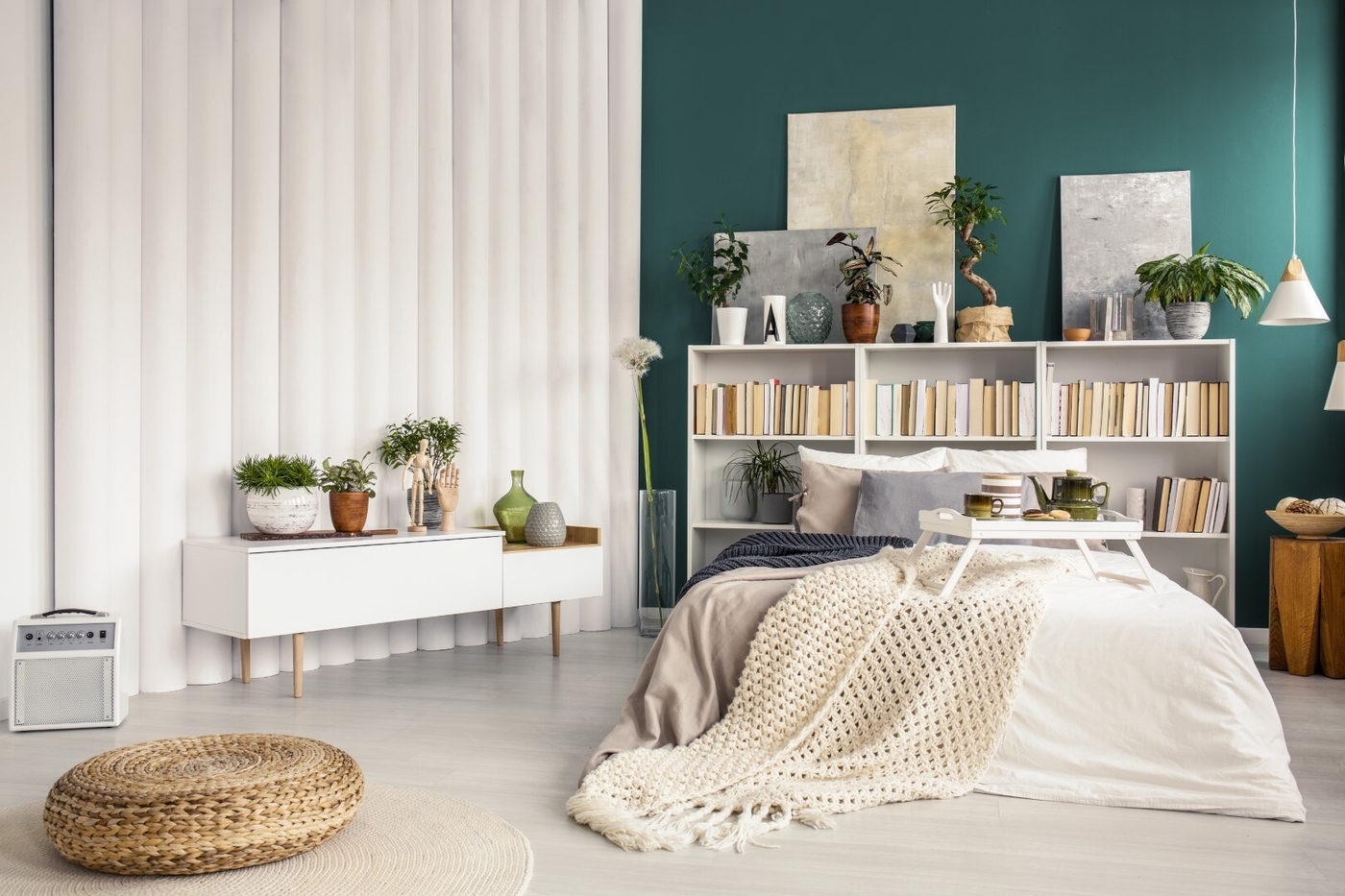 Headboard
Not all bed frames come with headboards and some come with detachable headboards, while others are attached. Headboards play more than just a decorative function; they provide back and neck support, prevent wall damage, and some even offer additional storage. Whether you want a purely decorative headboard or a more functional solution, the choice is yours.
Size
While investing in a plush king-size bed is extremely tempting, bigger is not always better! A large bed in a small room can feel cramped, uncomfortable, and extremely impractical. Make sure to leave at least two feet of space around the bed for walking, accessing drawers, and opening doors. Match the bed frame to the mattress size, or vice versa, and don't forget about the height. You want to be able to climb in and out of bed with ease. A good test is to sit on the edge of the bed. Your feet should touch the floor, and your legs should be positioned at a 90-degree angle.