Our Choice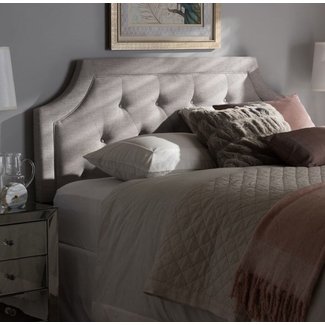 Hermione Upholstered Panel Headboard
This padded headboard provides a romantic silhouette and the upholstered comfort to lean against as you read in bed. Its exquisite curved corners and button tufting provide a whimsical look. The sloping curves of the indented corners give a strong, classic appearance. Two strong wooden posts support this upholstered headboard and, with five pre-drilled screw holes and a two for the bed frame, it can fit just about any configuration. This product does need assembly.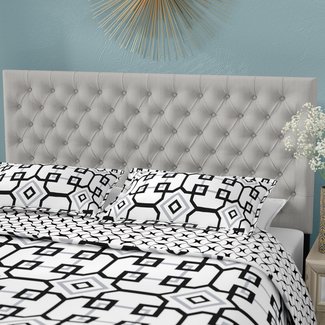 Bennett Queen Upholstered Panel Headboard
Headboards are an easy way to jazz up your bedroom. In master bedrooms, the bed is generally the focal point, and a stunning headboard can make the space stylish and inviting. This piece is stretched over a metal frame and is upholstered in polyester. Button tufting across the rectangular light-grey headboard makes this headboard an excellent choice for modern and classic décors. This headboard fits either a full or queen bed frame and requires assembly.
Therrien Upholstered Panel Headboard
The clean lines and crisp contouring of this headboard make it a spot-on choice for modern or mid-century modern bedrooms. It is either wall or frame-mounted and stands at four feet so as not to overwhelm the space. Two rectangular blocks of foam covered in grey twill run across the dark finish of the metal frame to provide padded back support and a contemporary look that is sleek and refined.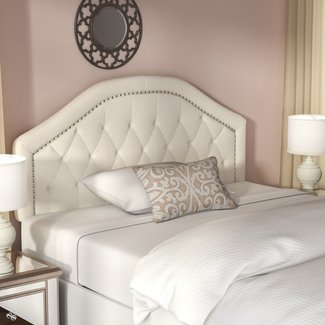 Thelonius Upholstered Panel Headboard
This panel headboard emits a refreshingly romantic vibe with gentle lines and soft fabric over a metal frame. Diamond tufting flecks the fabric and subtle nailhead trim outlines the delicate slope of the headboard. Updating your headboard is an easy way to rebrand your bedroom without a lot of effort or funds. This headboard would pair very well with a whimsical classic motif or nature-inspired modern.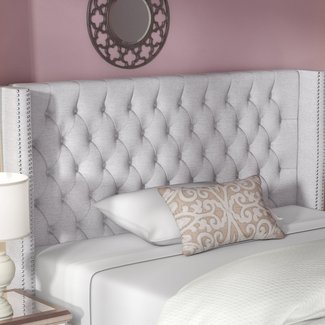 Candice Upholstered Wingback Headboard
This wingback, tufted headboard matches almost any aesthetic by mixing traditional components with a daring new shape and a double row of stylish nailhead trim. Solid-hued linen is stretched over a wood frame with metal legs upholstered in the same linen for a seamless look. A double dose of diamond tufting across the back is a contemporary take on an old classic, and the wingbacks add a modicum of privacy as they wrap around the head of the bed.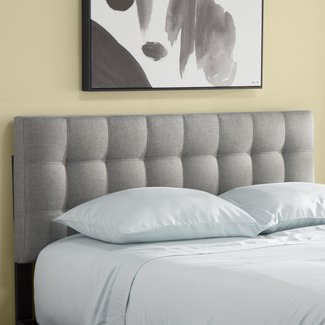 Francis Upholstered Panel Headboard
This modern headboard is a sleek and simple way to spruce up your bedroom. If you don't have a lot of resources, swapping out your headboard is a great way to enliven your sleeping space and add a dash of style. This gorgeous headboard has a rectangular silhouette and biscuit tufting all the way across, giving it a comfortable and inviting feel. Springy foam on a wooden frame is wrapped in easy-to-clean fabric. This product is compatible with adjustable beds.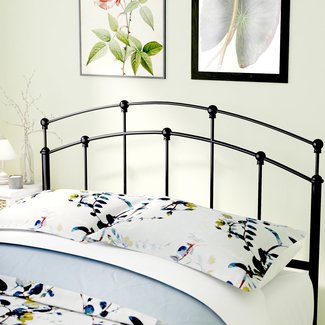 Chu Queen Slat Headboard
This open metalwork headboard elevates any tailored décor with its modern take on a classic style. A gentle slope of black tubed metal is broken up with slatted rods topped with round finials. To create a pulled-together look in any bedroom, pair this streamlined headboard with a colorful throw rug or jazzy comforter and throw pillows. The sleek, simple design adapts to almost any motif and is an excellent backdrop for showier colors and patterns.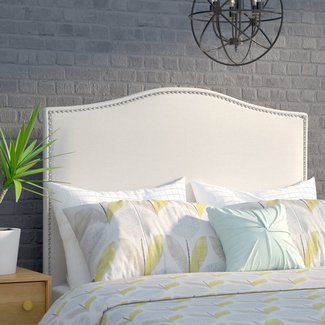 Zoe Upholstered Panel Headboard
A timeless addition to any modern master bedroom, this sleek upholstered headboard is defined by its simple lines and solid background. A true classic with a camelback shape and nailhead trim, this headboard comes in neutral hues to match any color scheme. Set on a wood frame and at a fantastic price, this headboard would pull any room together with its understated elegance and well-appointed details.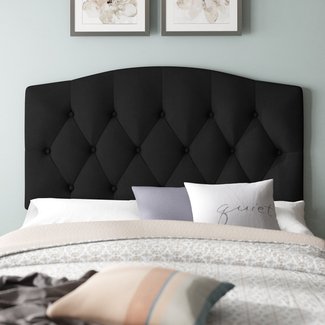 Fuente Upholstered Panel Headboard
This solid black headboard exudes confidence and durability. Upholstered in a polyester blend and set on a sturdy metal frame, this headboard has button tufting in a diamond pattern across its expanse, adding textural details to its sleek style. If you're looking for a headboard to serve as a focal point of your bedroom or the backdrop for flashier colors and patterns, this headboard is perfect. Paired with a showy rug or throw pillows, this headboard is a stand-out.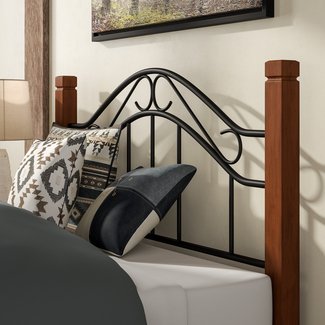 Chittim Slat Headboard
This metal and wood-framed headboard is an excellent addition to a bedroom in a classic or whimsical style. Sturdy wooden posts frame an open ironwork design in the middle for an open inviting look. Showcase the curved design details with simple bed linens and a comforter in a solid color. This headboard is designed to attach to your present bed frame, so updating your bedroom has never been easier.