King Headboard with Storage
A king-sized bed looks unfinished without a headboard. If you read at night, pencil crossword puzzles, or need a shelf for a candle or booklight, then you need more than just a standard headboard.
King-size headboards with shelves and storage come in handy. They offer a shelf to sit your cup down or a place to store your nighttime reading books.
Before latching onto a lovely king-size storage headboard, take into consideration the type of bed you own. Is it a platform bed or a standard height bed? Does your bed accompany a box spring?
Box springs and foundations change your headboard height needs. Measuring the height of the headboard you need beforehand will guarantee a perfect fit for your already owned bed.
If you are starving for ideas, then look no further because we have ten impressive king-sized headboards that offer the shelves and storage space you need.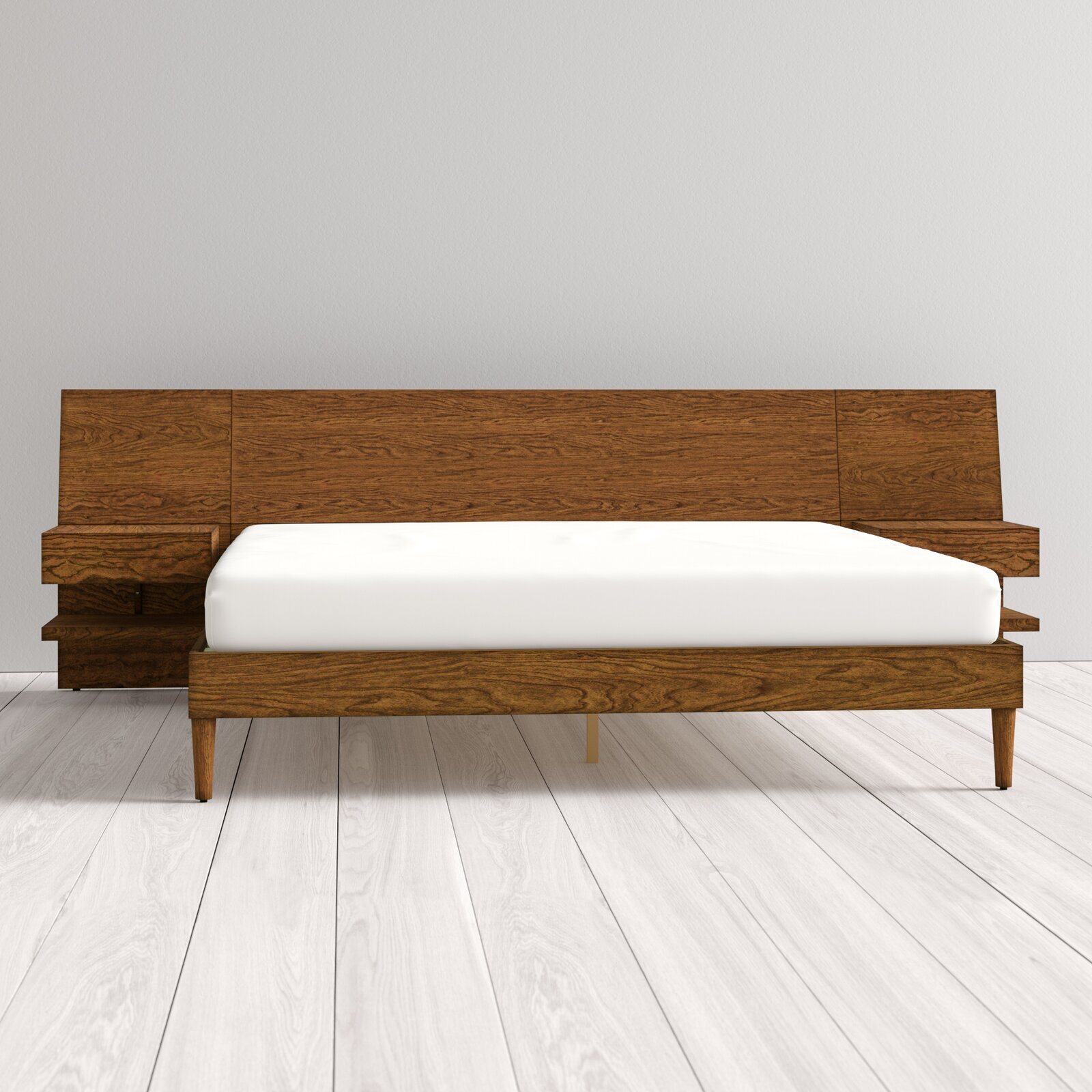 Wooden T frame Headboard with Shelves and Nightstands

Wooden t-frame headboards like these prevent you from buying separate nightstands because your nightstands are built into the headboard. The low-lying and broad headboard gives the illusion of a wider-sized bedroom.
Shelves are built below the nightstands to hold your nighttime reading and word search books out of sight. These types of king-size storage headboards are perfect for people interested in a harmonious design over a hulking display.
For a softer ambiance, find a t-frame headboard with upholstery. Yes, they do have this option!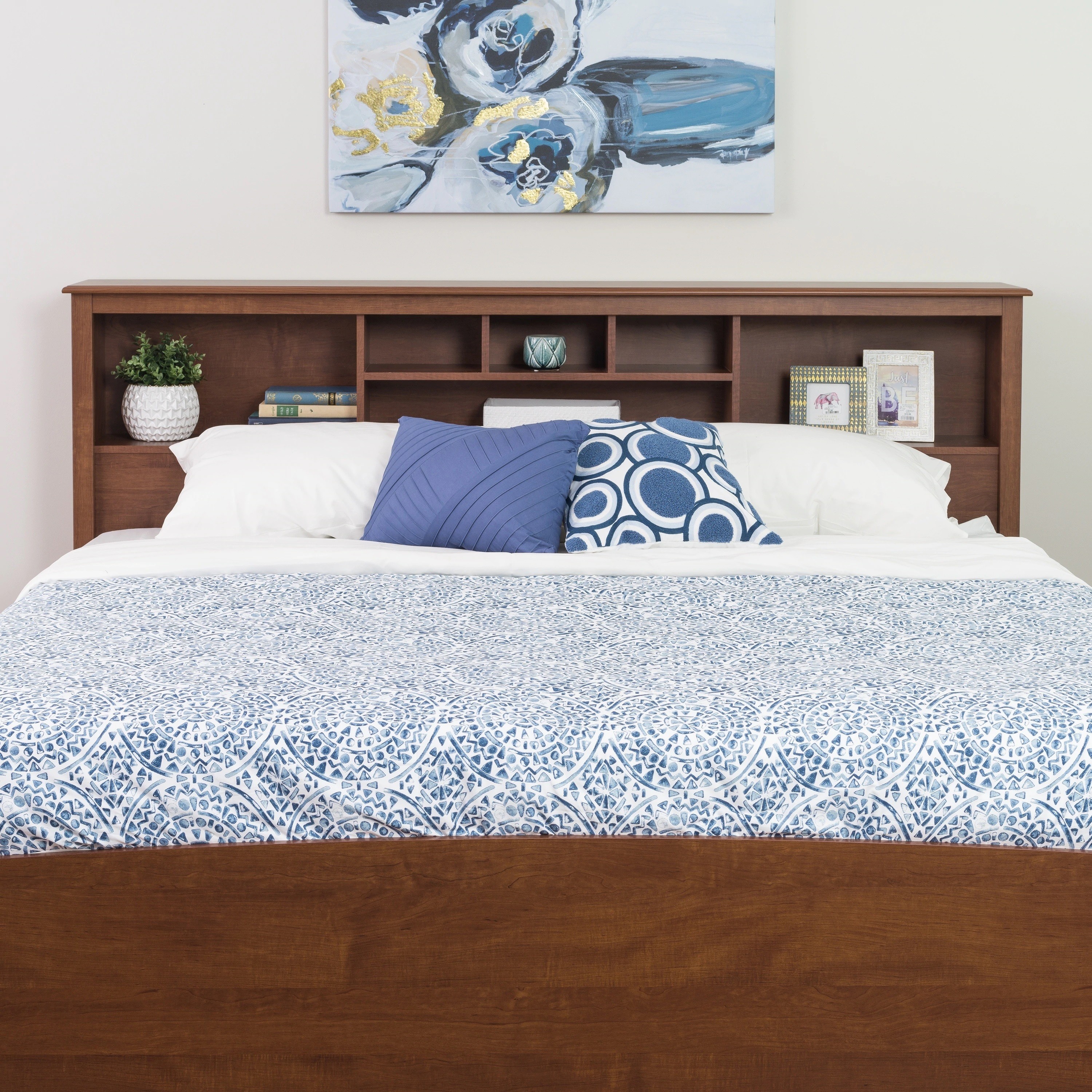 King Storage Headboard with Open Bookcase Shelves

The open bookcase is your standard and straightforward-designed headboard. Open shelving allows you to quickly access items and display small décor pieces like reed diffusers, potted succulent plants, books, and more.
You can find king storage headboards with open bookcase shelving in multiple configurations. Choose a headboard with small square shelves to highlight one small décor piece per square shelf.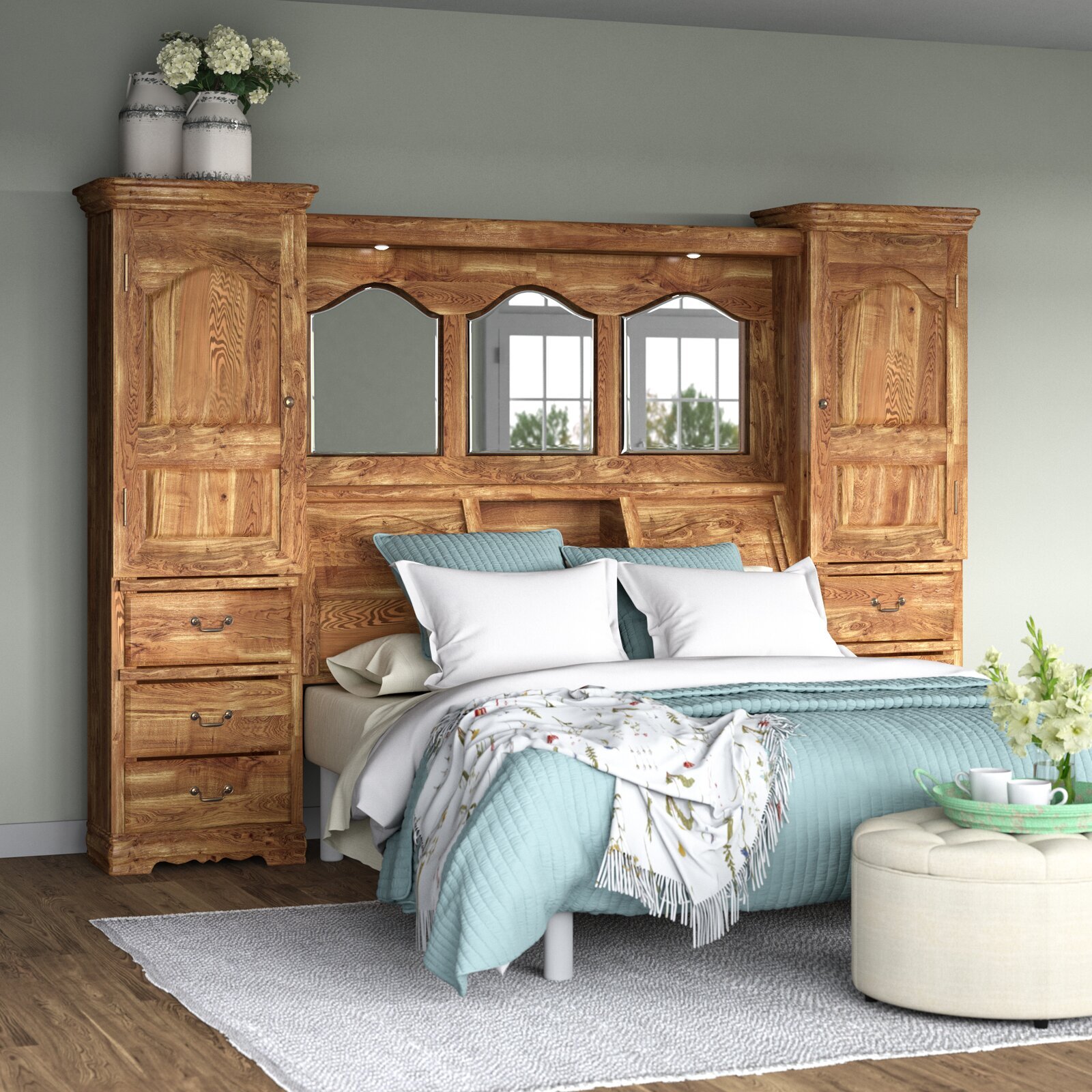 Statement Headboards with Shelves, Mirrors, and Lights

The most luxurious headboard of all is the king-size headboard with storage, shelves, mirrors, and lights. They come with all the bells and whistles you need for storing and displaying any item.
Statement headboards are majestic and look beautiful larger-sized rooms. Find one with built-in mirrors and add glass décor pieces for a more glamorous vitality.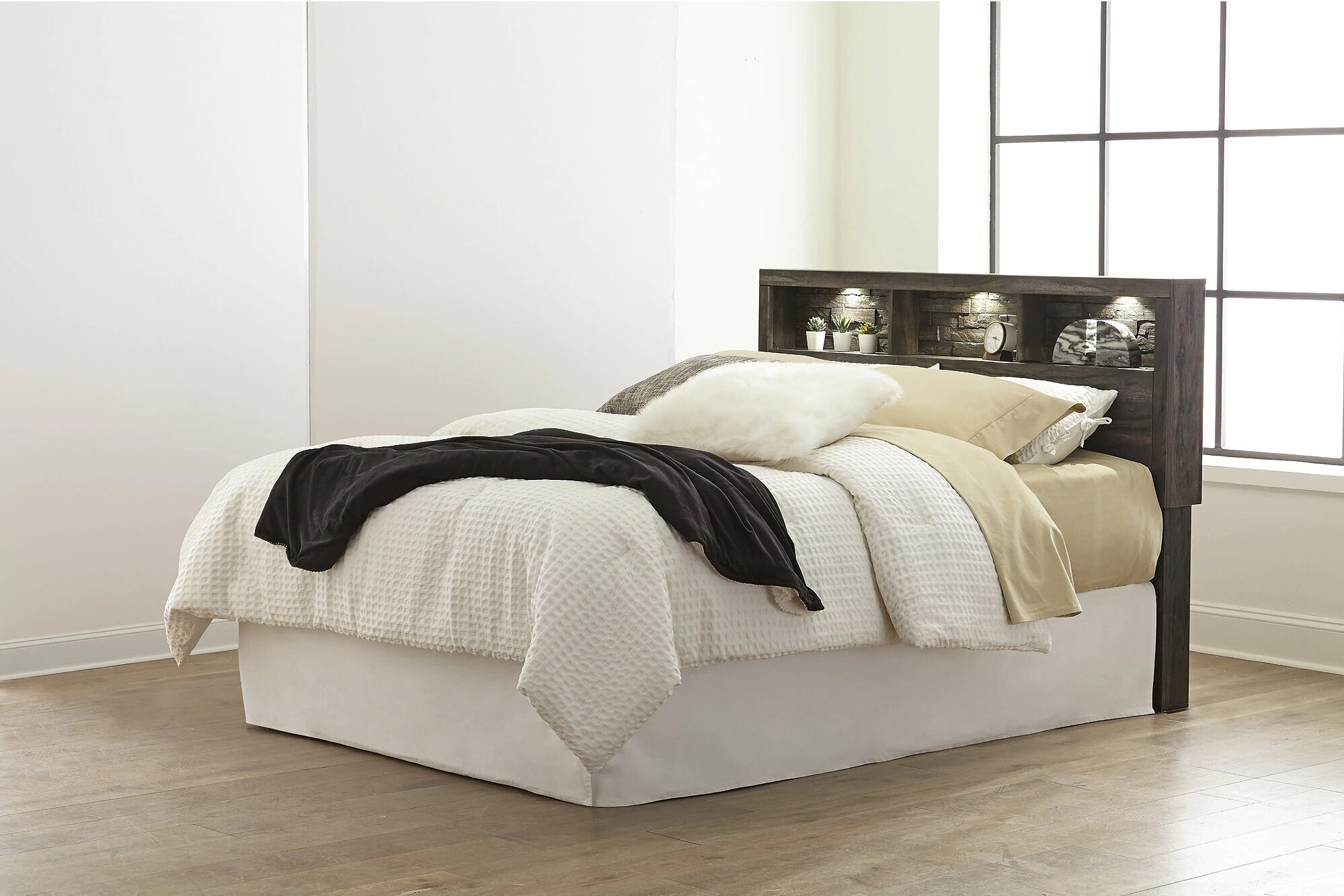 Inline King Size Headboard With Storage and Lights

These types of king headboards come with their very own built-in lights. With built-in lights, you save room on your shelves to store other bedtime items.
Inline shelving creates better flow across a bedroom. Contrasting a light headboard with dark sheets or a dark headboard with light sheets will make your king-size headboard with shelves pop even more.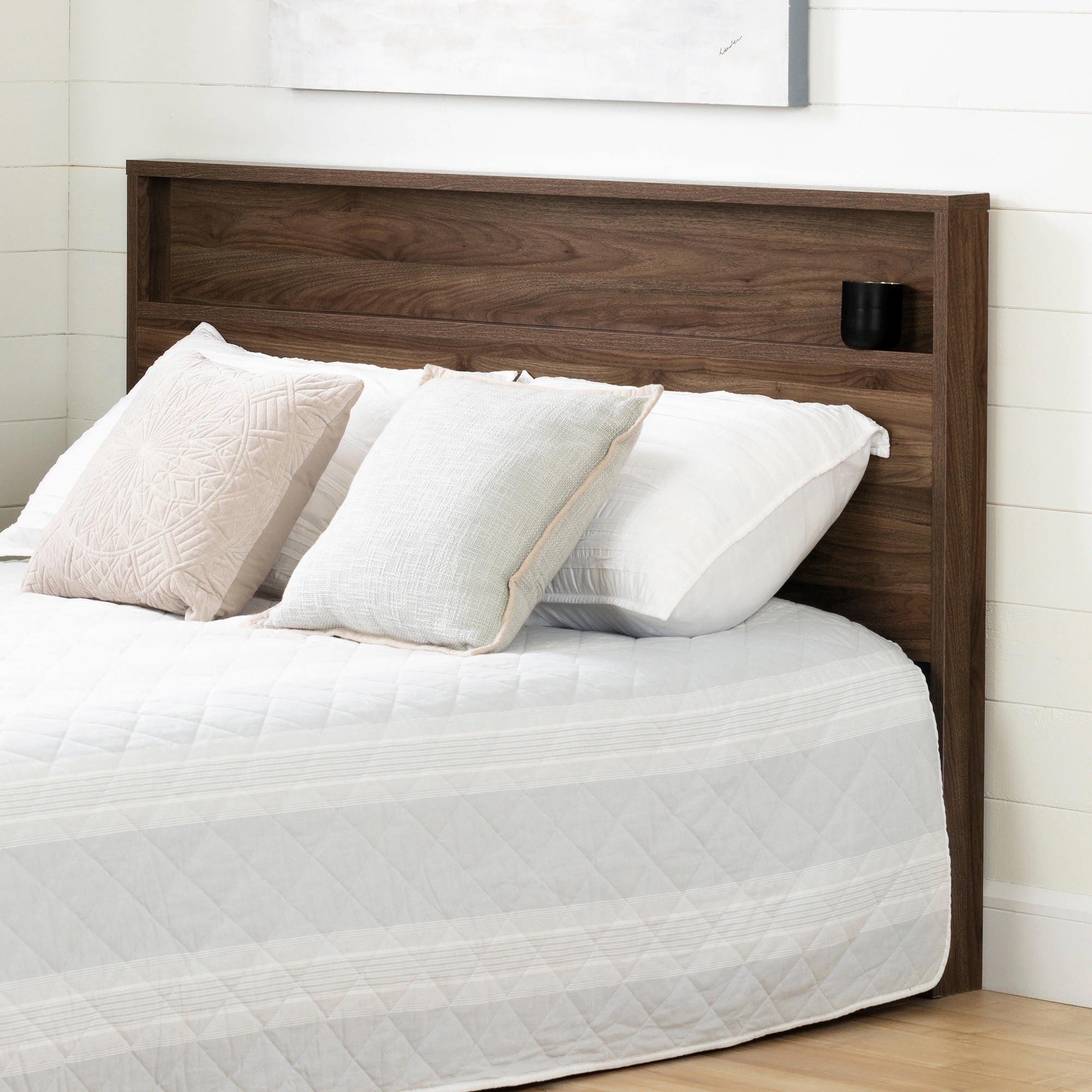 Panel King Size Headboard with Shallow Shelf

Shallow shelf panel king-size headboards are great additions to a contemporary or minimalist-style bedroom. The shallow shelf blends seamlessly into the headboard.
For contemporary style add small and thin décor pieces like picture frames or letters of yours and your significant other's initials. They are lovely on platform beds. Select a taller panel headboard with shelves for a standard height bed.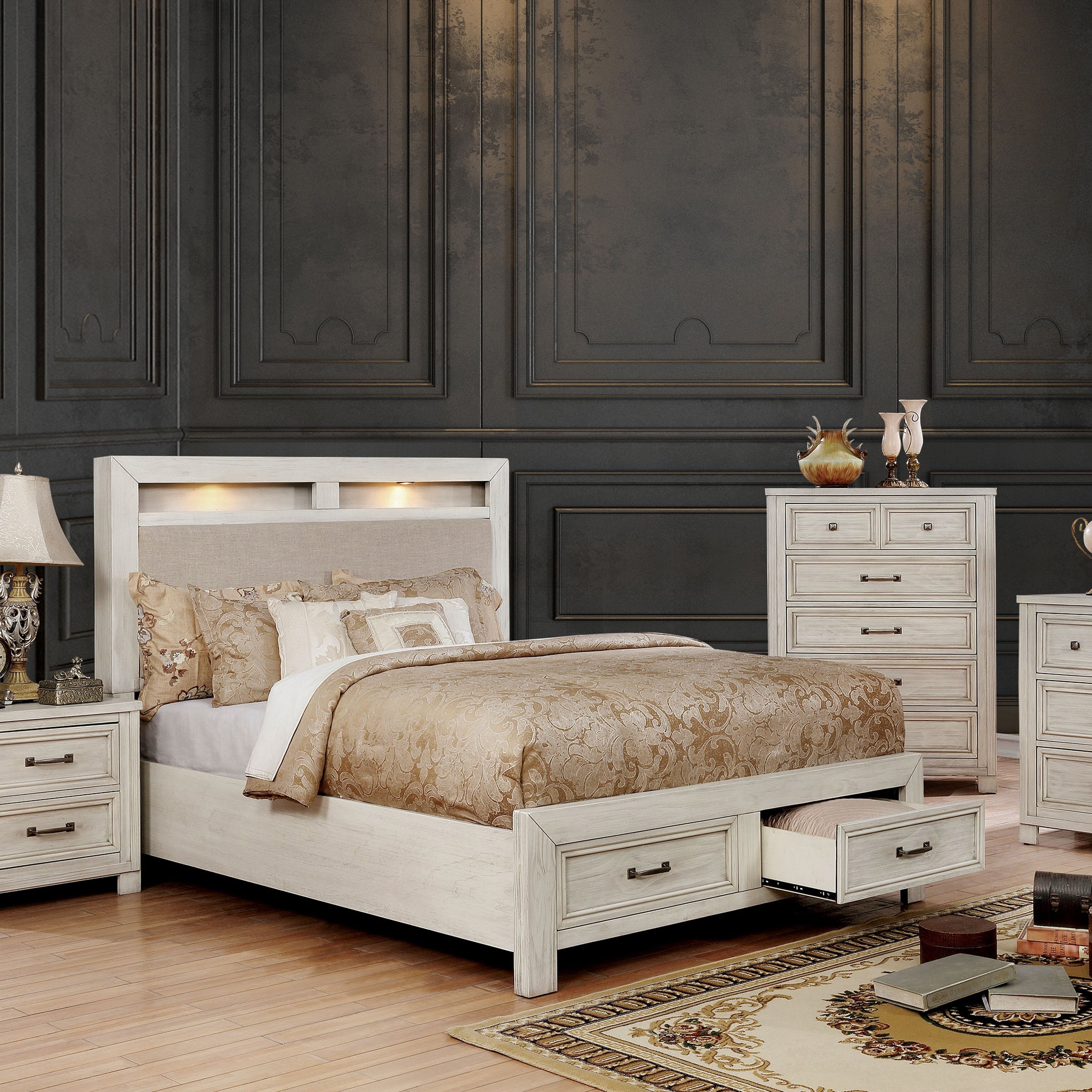 LED Lit Upholstered King Headboard with Shelves

A LED-lit upholstered king headboard with shelves does not reflect light as sharply as polished wood-surfaced headboards. Lights on upholstered headboards convey an easygoing and soothing ambiance.
For an antique, Victorian, or shabby chic style, choose a distressed, white-washed finish. A clean white finish on a sharp-angled headboard is spectacular with transitional or Scandinavian design.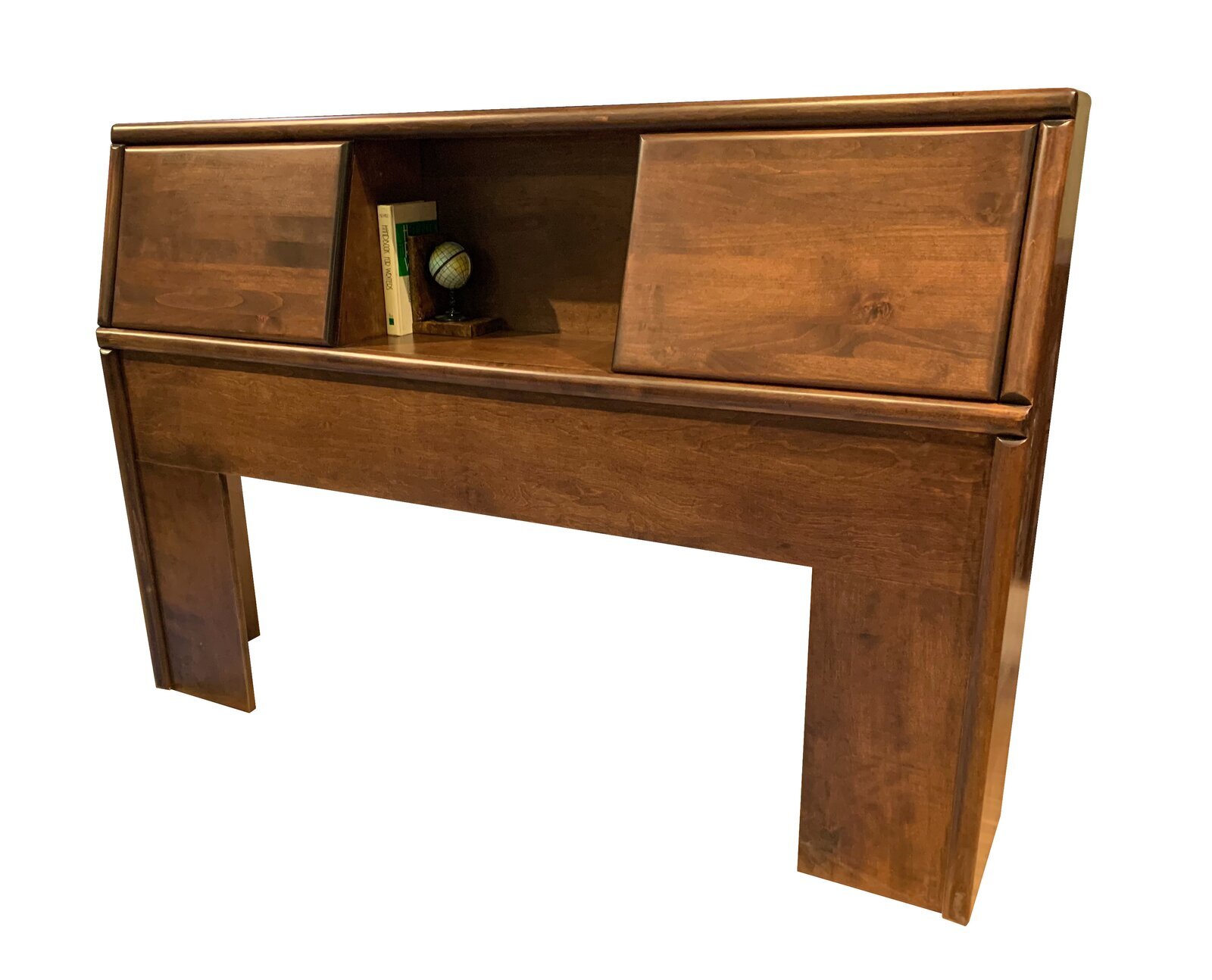 King Headboard with Shelves that Slide

A king headboard with shelves that slide is both a shelf and a cabinet. These types of king storage headboards are useful for hiding some items while displaying others.
You can find a king-size storage headboard without handles, for a smooth appeal, or with barnyard doors, for a farmhouse feel. Some come with one large center shelf while others have multiple shelves stacked on top of one another.
$896.24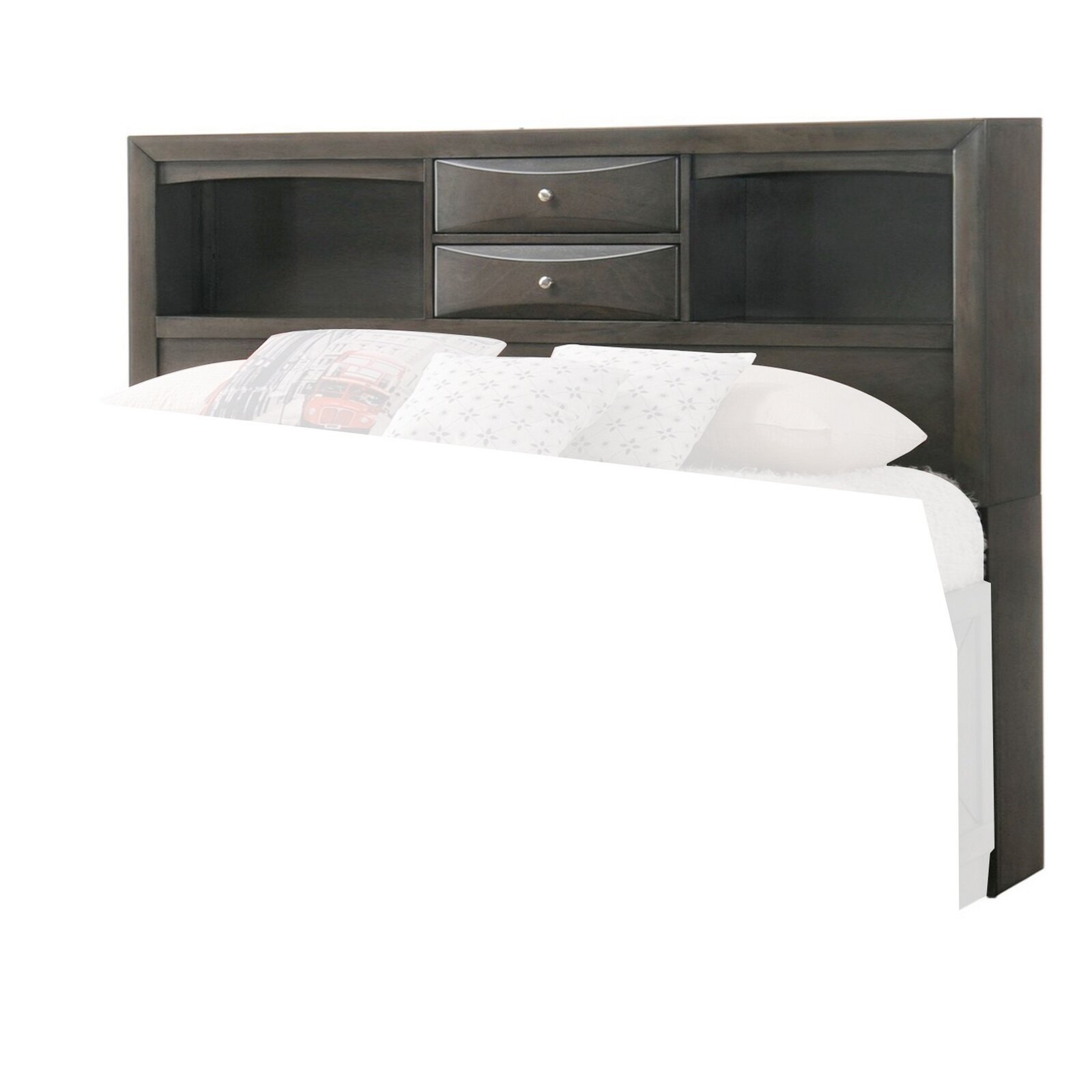 King Size Headboard with Shelves and Drawers

Maybe you own two simple nightstands without drawers or storage capabilities. Headboards with shelves and drawers allow you to still store what you need without having to buy two new nightstands.
Drawers on headboards are beneficial for holding smaller and messier items like mini flashlights, pens and pencils, small books, batteries, Chapstick, and jewelry. Make sure your drawers seal tightly so they don't slide open when you are asleep.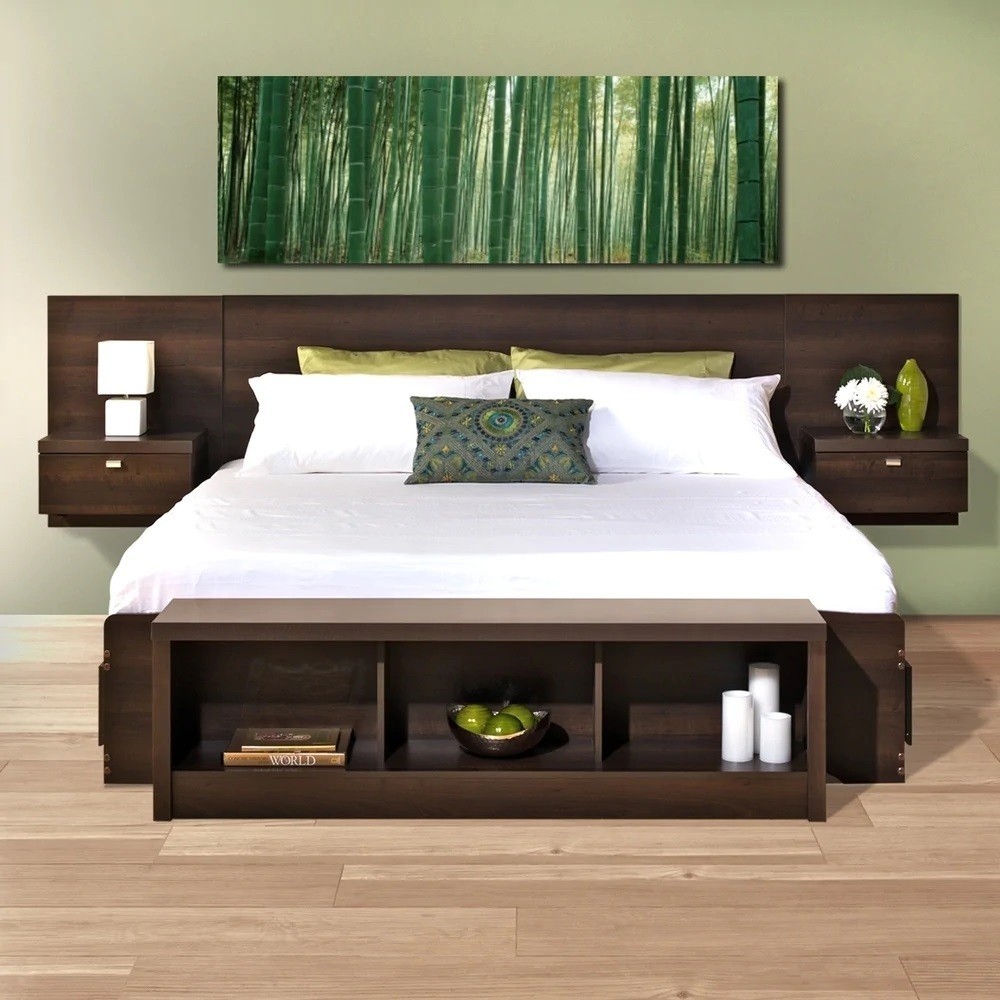 Floating King Headboard with Storage

The floating king headboard with storage types maximizes your available floor space. Built-in nightstands can be used as headboard shelving and finding ones with sliding drawers conceal private items.
Some feature a removable plastic grommet to hide phone chargers and lamp wires. Hang a few same-sized frames inline and above the headboard, for a fuller and taller presence.