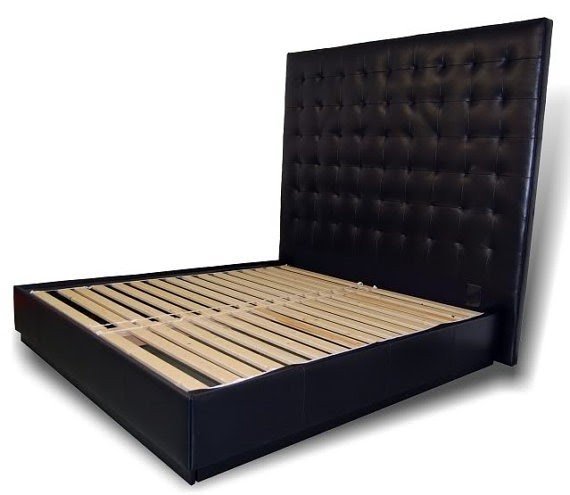 Contemporary black king size leather
Combination of wood with metal elements, and polyfiber foam damper - is a recipe for success. In addition, the bed is very decorative thanks to high king bed leather headboard finished in black tufted leather.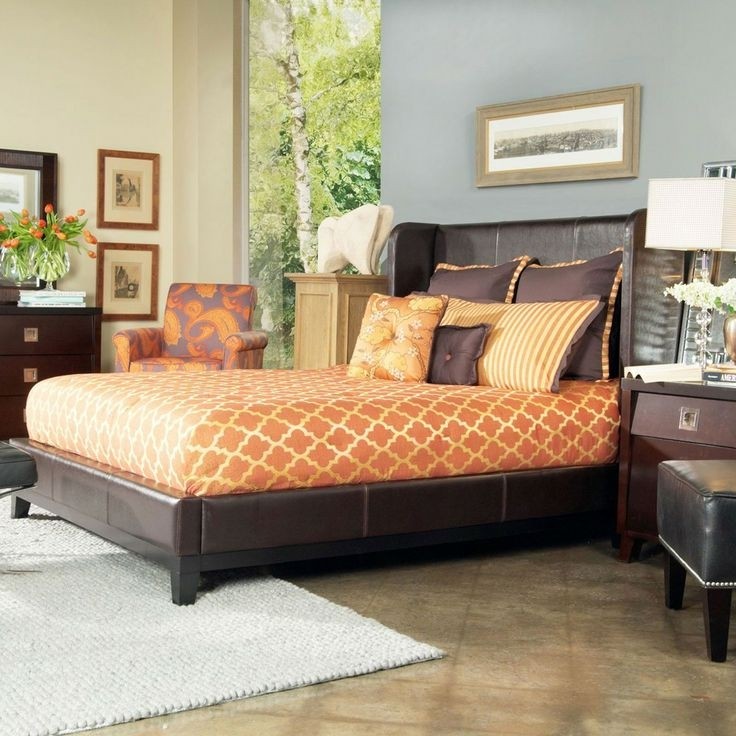 Angelo home marlowe king size bonded leather shelter bed
Combination of high quality brown leather along with mahogany wood? This is a guarantee of an elegant bed and leather headboard for king bed.It combines elements of metal hardware-but remains in tropical style,thanks to the deep chocolate color of the frame.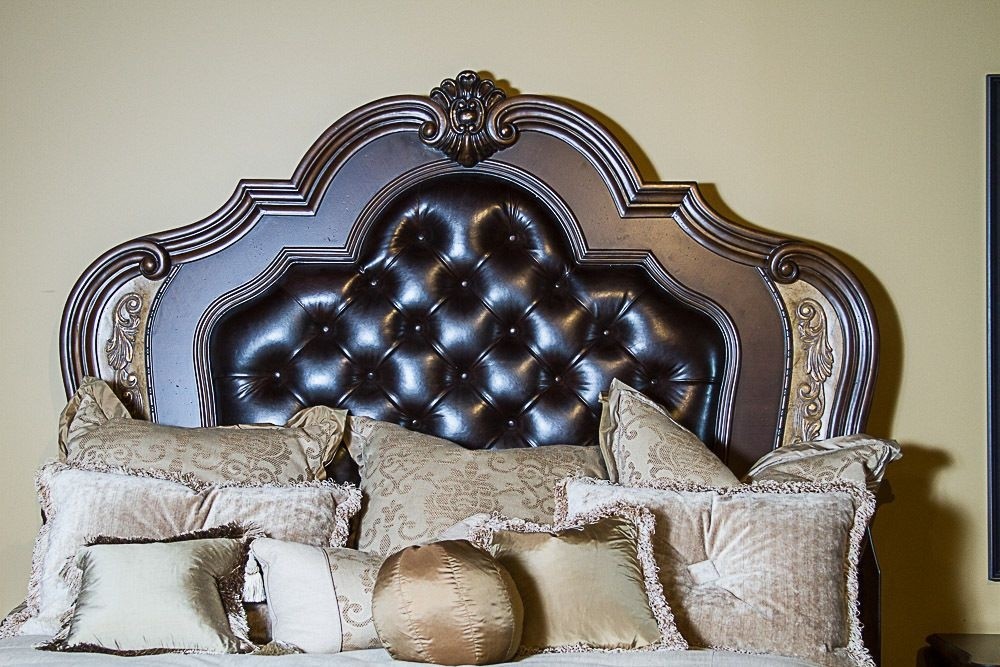 Aico victoria palace leather tufted king headboard
A fabulous headboard in a royal character. It features a wooden frame with graceful, decorative edges and a leather, tufted insert in the center. An ornamental bedding set in neutral colors with a metallic finish ideally matches.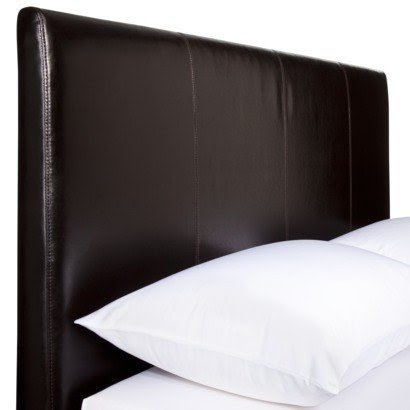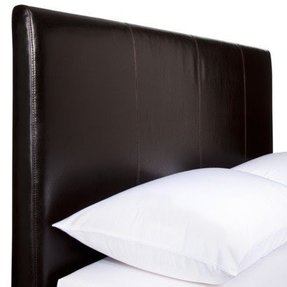 Leather headboards, stylish and comfortable, constitute an exquisitely elegant addition to every contemporary bedroom. This king size one enchants with its deep tufting and sleek black leather upholstery.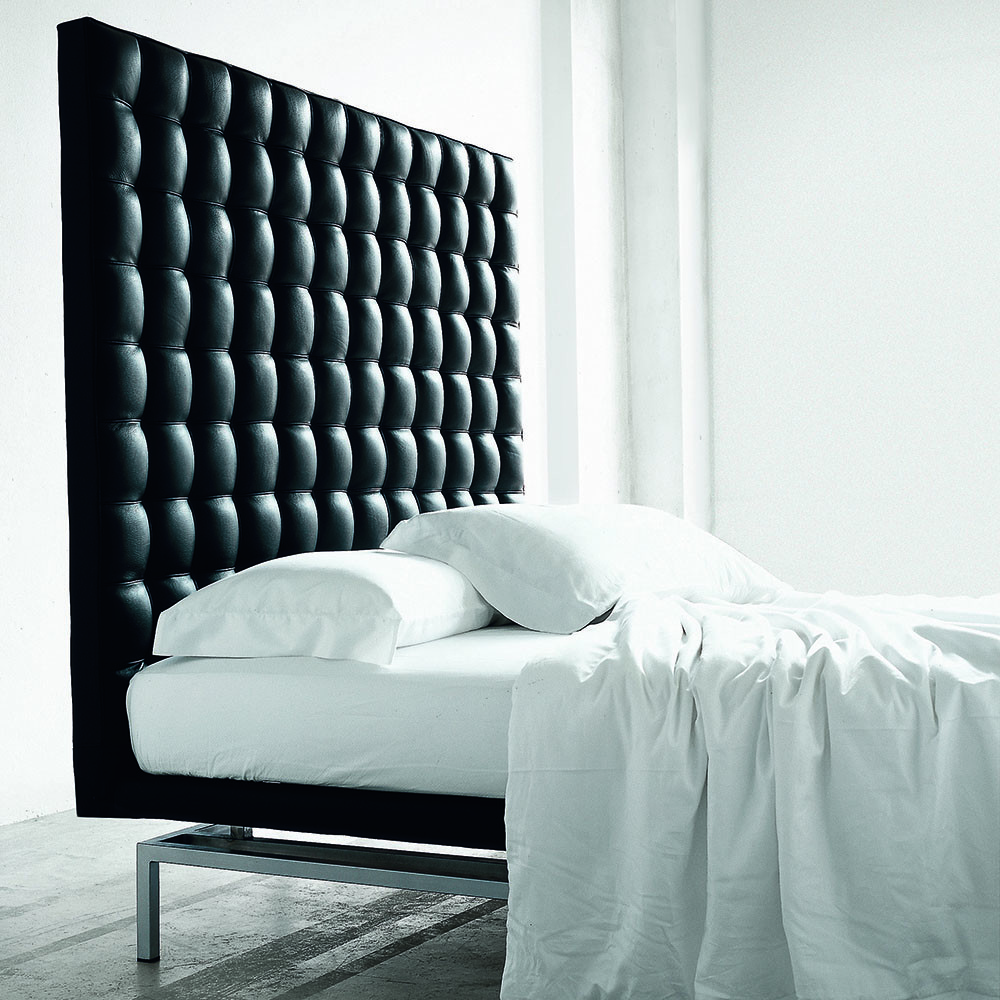 Outrightly contemporary king size bed headboard characterized by deep tufting and sleek black leather upholstery. Rectangular in shape, lacking of any ornaments, it still goes along the line of the newest minimalistic trends.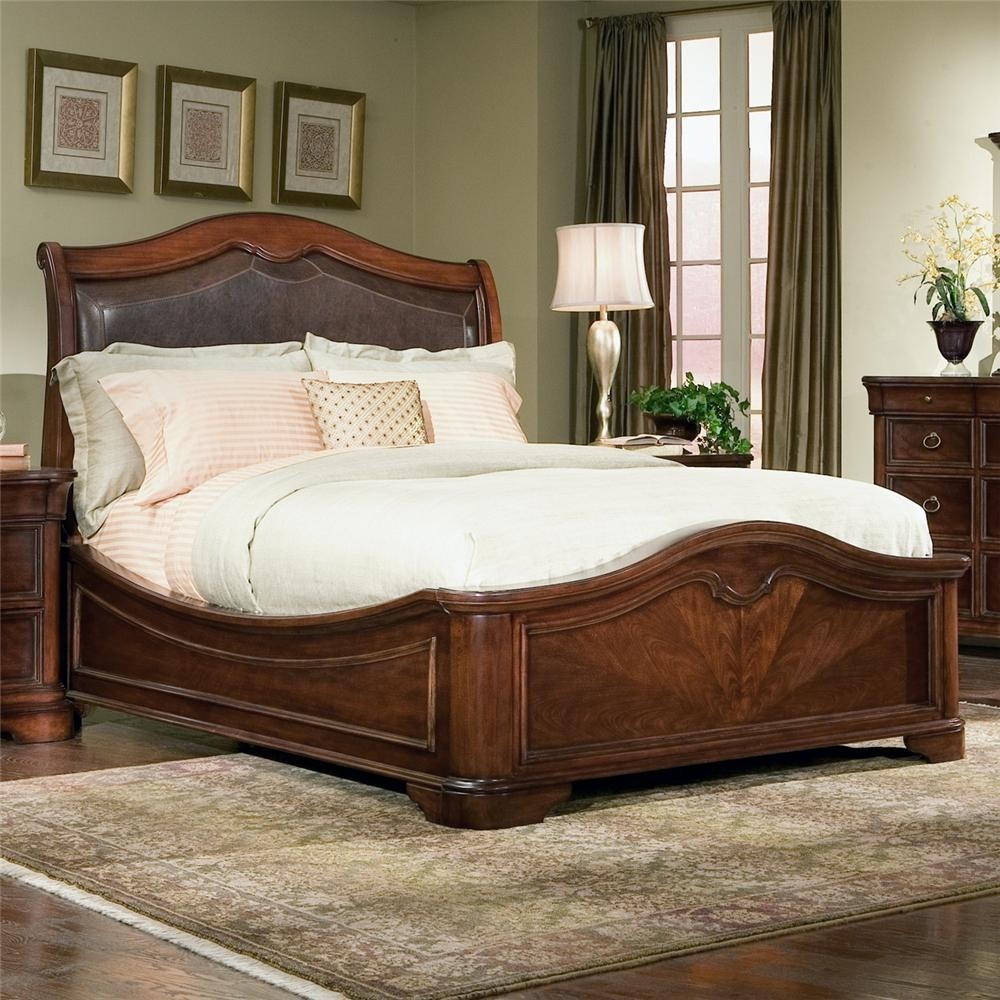 Classic headboard designed for king size beds. This element of bed design features a soft, cushioned surface that assures good comfort and safety. Wooden frame is finished in classic brown color that looks great in any home design.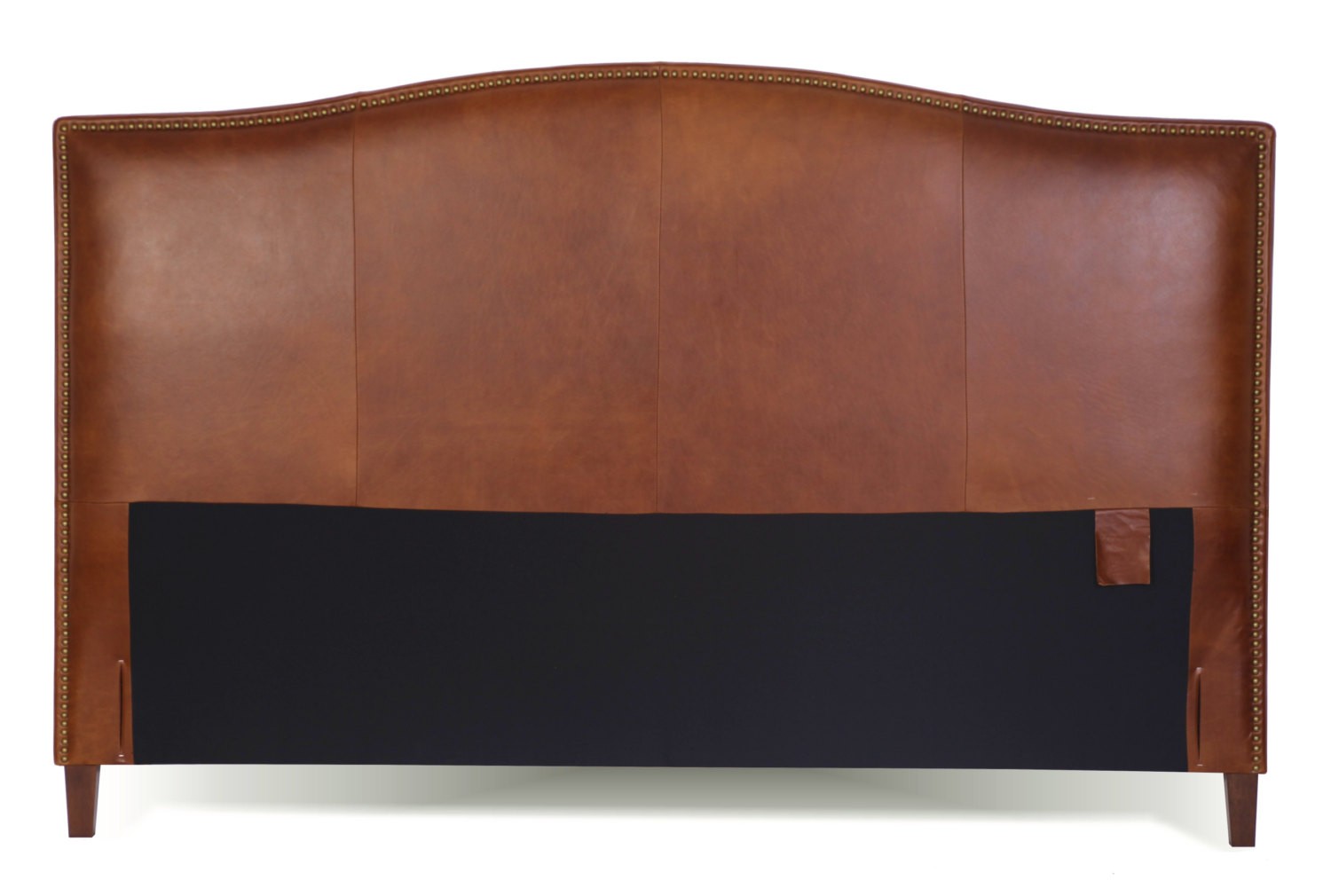 Beautiful king size headboard designed for the modern bedroom. Constructed from wood, the headboard also comes with a little padding and then finished in super modern light brown leather upholstery. You will also get superb stitching along the edges for outstanding elegant appeal.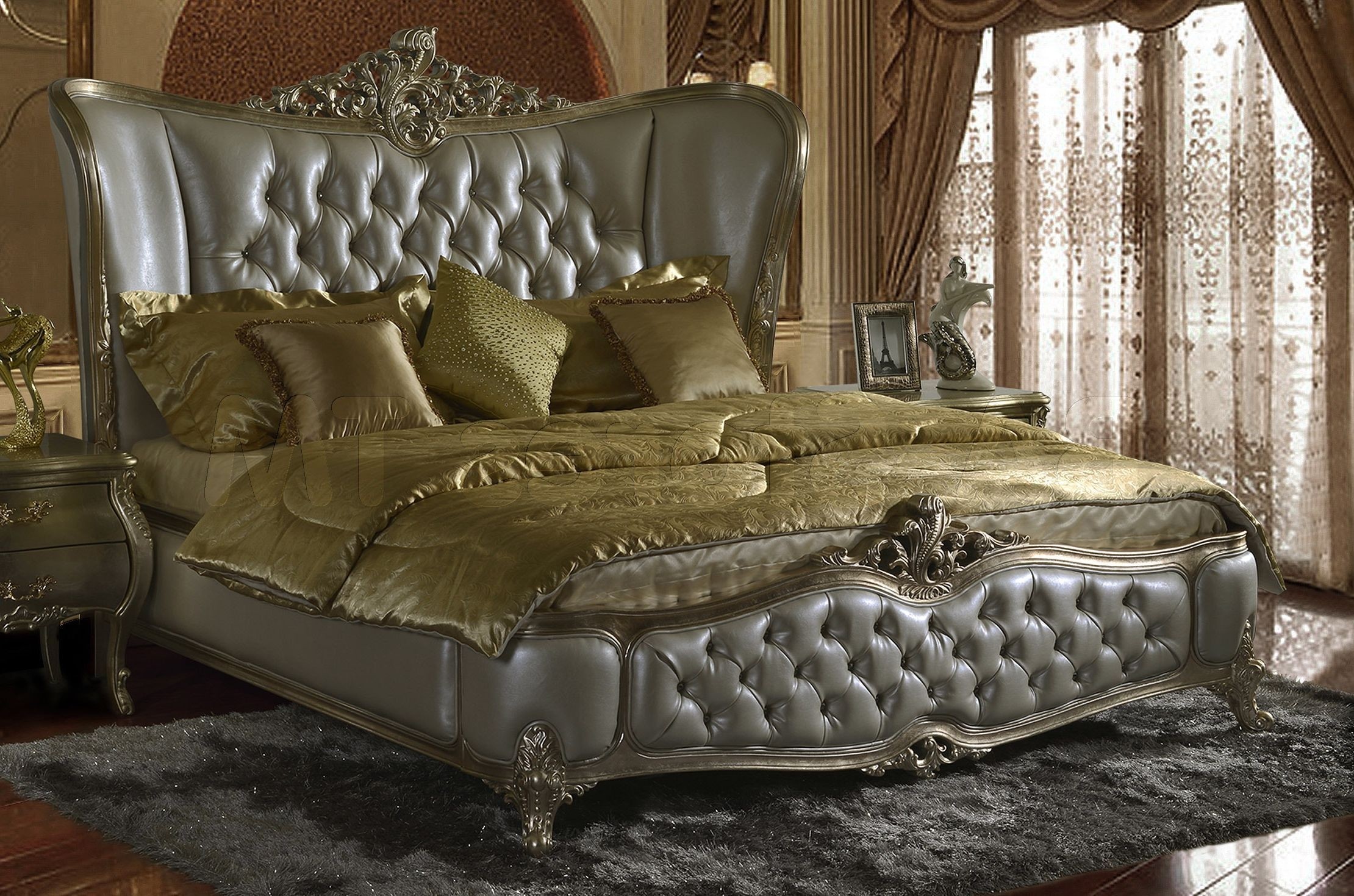 Wanting an elaborate style in a masters bedroom? When a bed showcases a gray leather tufting, meticulous carvings, tall heaboard, let alone old gold bedding, it's just meant to exude royal opulence. No other way left!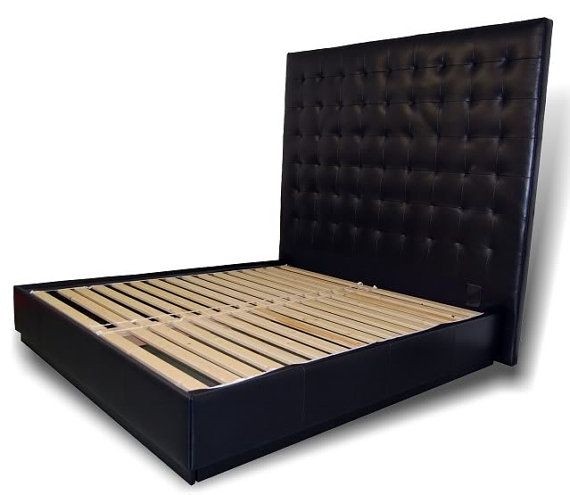 Ultra-modern headboard for your king sized bed. The headboard is constructed from wood and comes neatly padded as well. It's then upholstered in slightly glossed matte black leather and finished in beautiful tuft button accents for that incredible show of modern flair.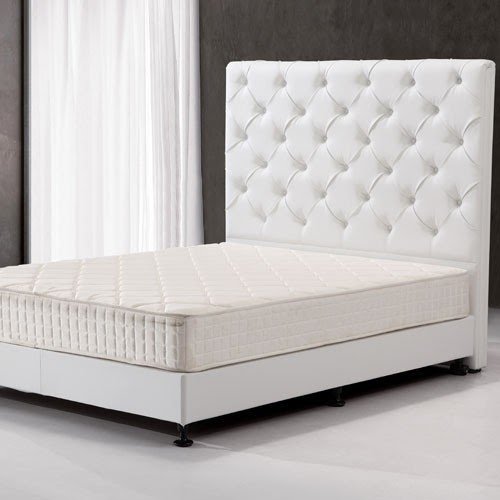 Elegant bed frame in modern form. Construction is made of wood and upholstered with nice touch faux leather. High headboard is finished with decorative quilting. Stylish accent for each bedroom.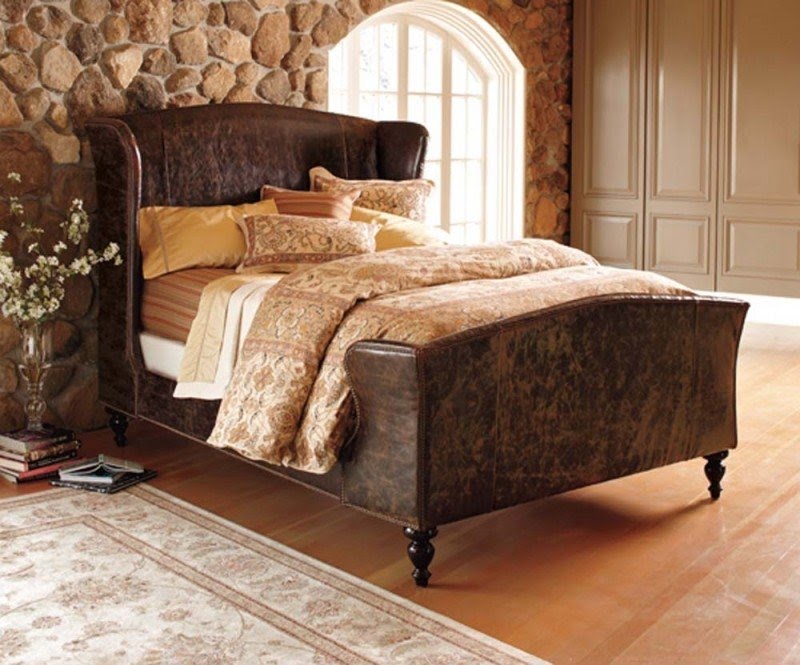 Wingback headboard upholstered with leather. This element of bedroom design is suitable for king sized beds. This supportive element is not only durable, but also comfortable and protective. Its brown color looks great in any bedroom decor.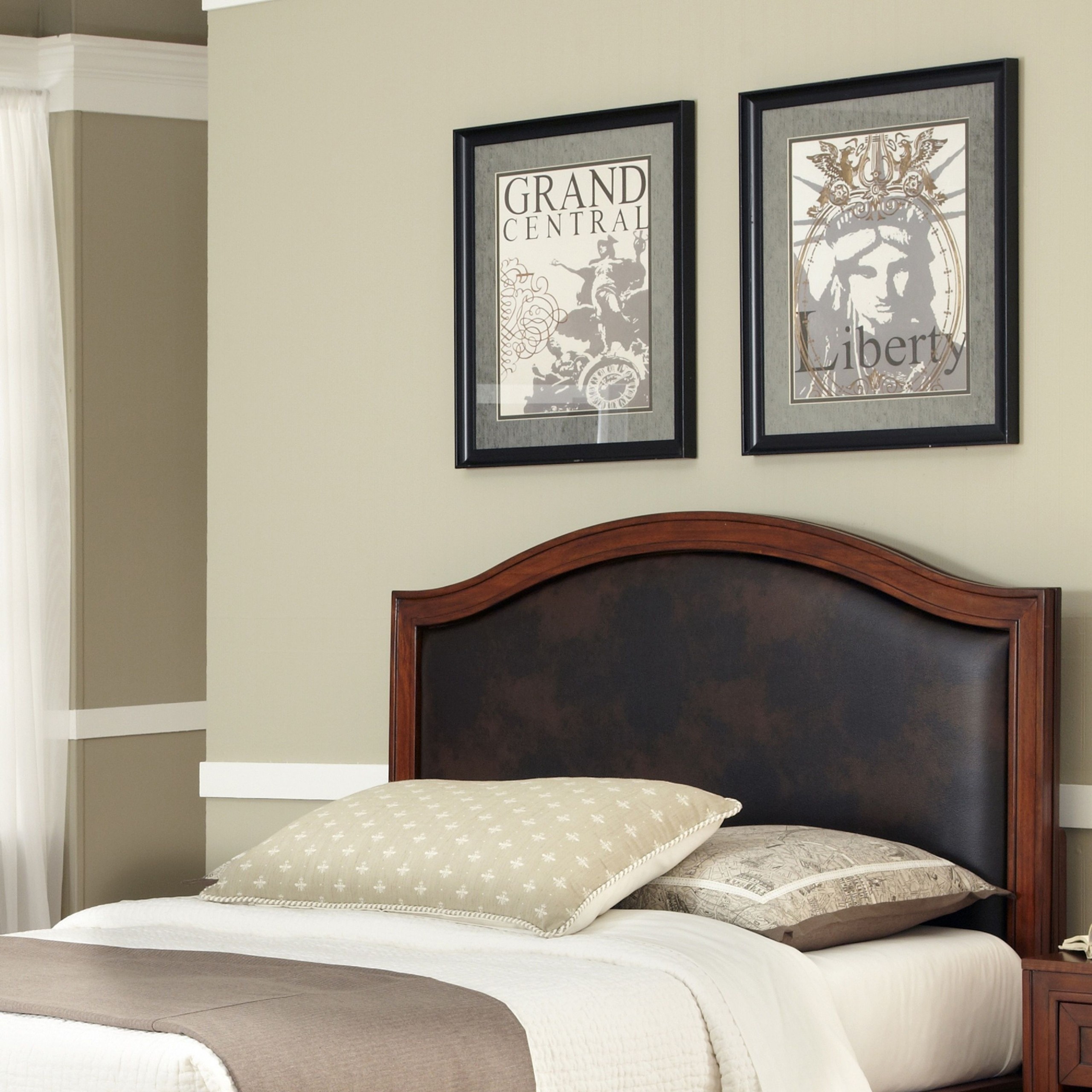 It is a king camelback headboard perfect for your bedroom. It is made of black leather embossed panel. It measures 79 inches wide, 3.25 inches deep and 56 inches high. It looks very elegant and stylish.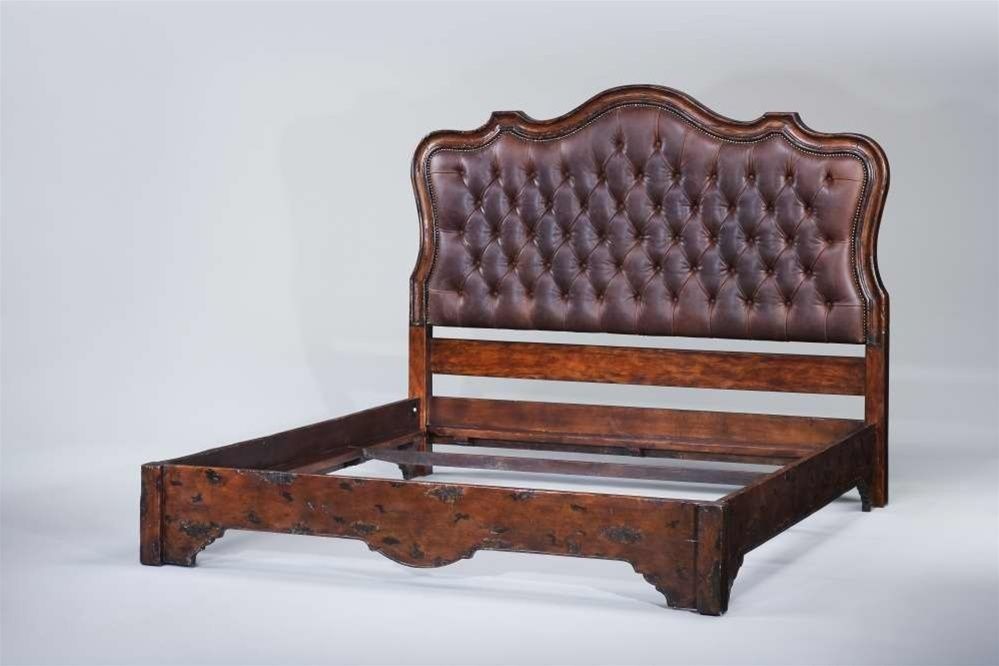 The cherry bed frame with the impressive headboard. The natural dark leather with the decorative hobnails perfectly embellish this piece of furniture. Such a classic thing will look perfect in the old-fashion interior.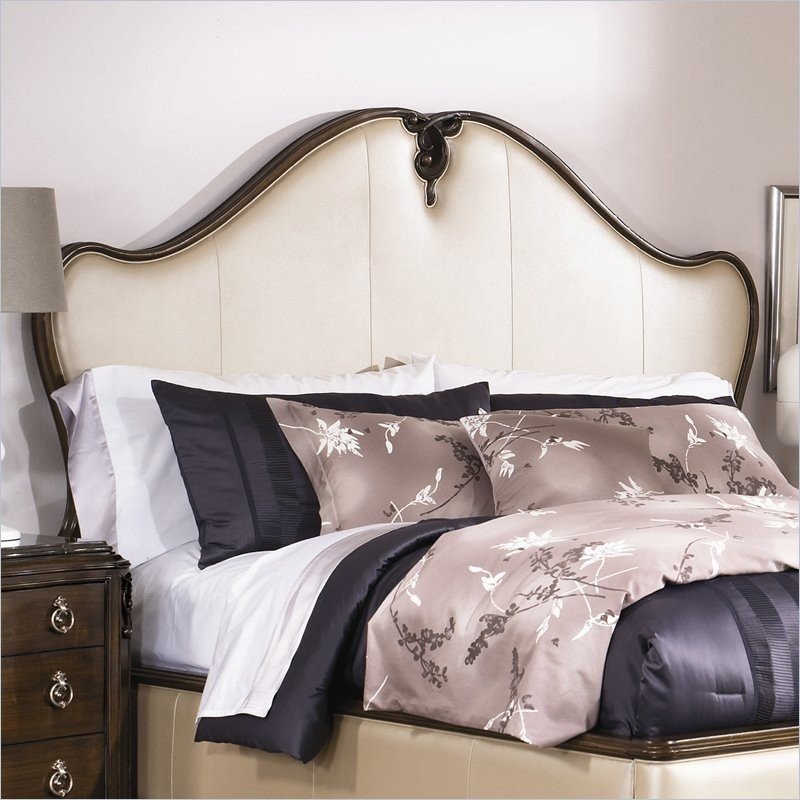 American Drew Jessica McClintock Couture Leather Headboard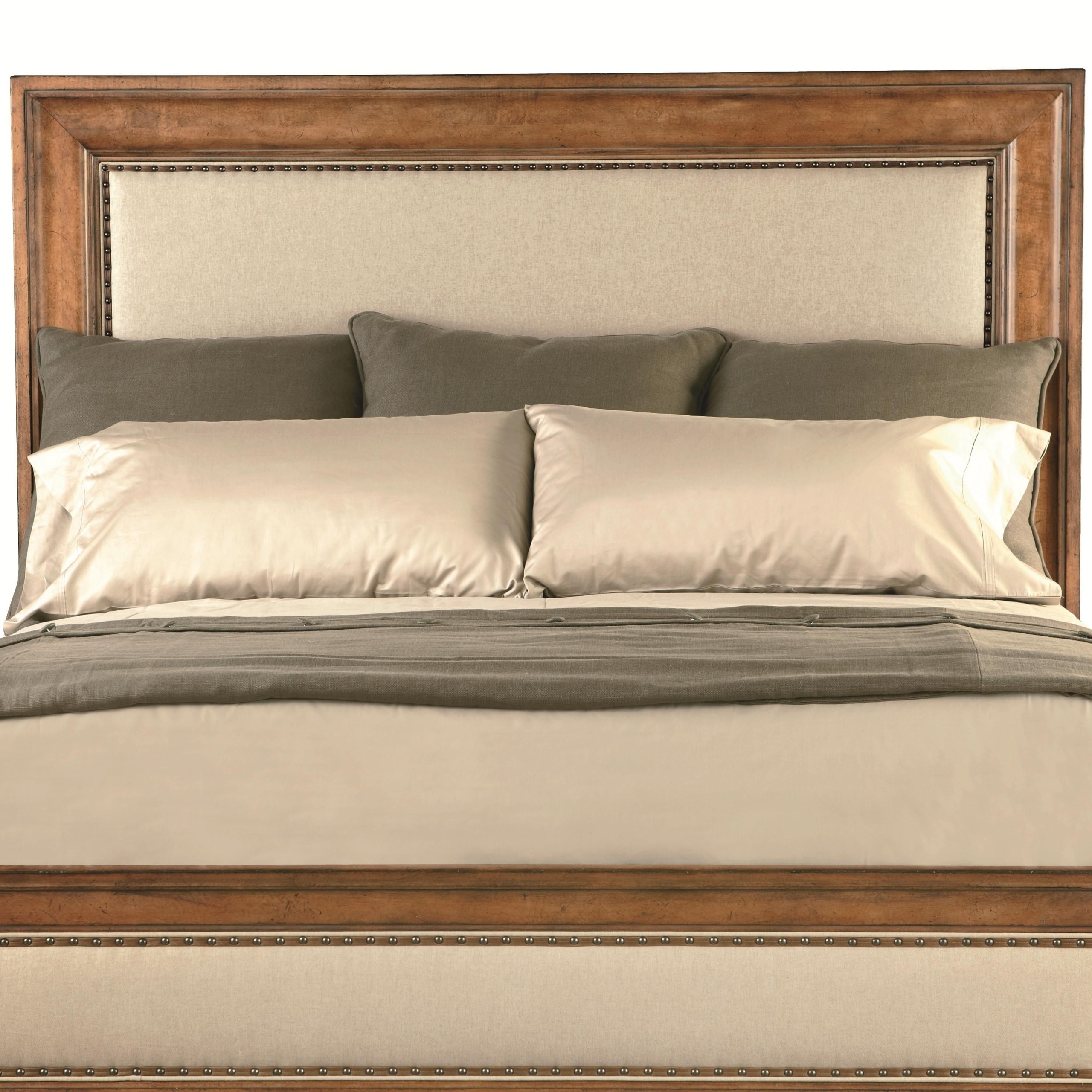 Upholstered headboard with attractive fabric and leather materials. This element of bed includes a rectangular wooden frame and attractive nailheads for decoration. Simple shape and color look great in any home design.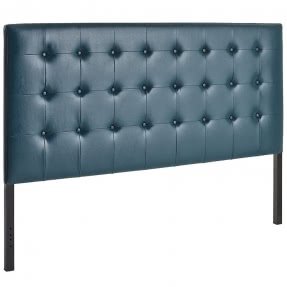 Solid and attractive headboard for king-size beds. This construction based on metal frame features soft padding for comfort and button tufting for more attractive appearance. Its leather upholstery is finished in dark green color.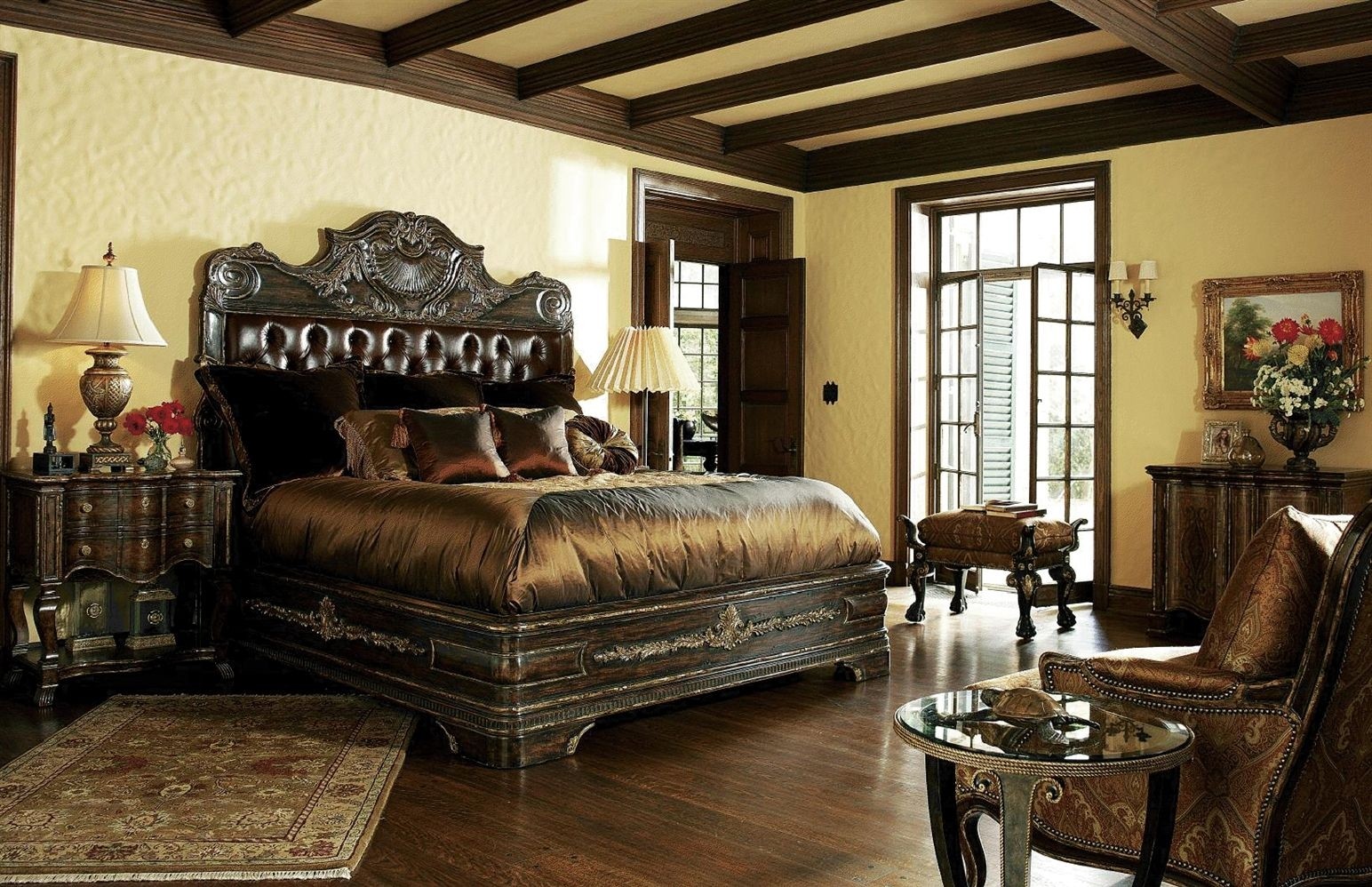 A stunning traditional headboard for king beds. It has a wooden frame featuring a wonderfully arched and curved top part adorned with elaborate carvings. A large central panel is padded and upholstered in elegant brown leather with button tufting.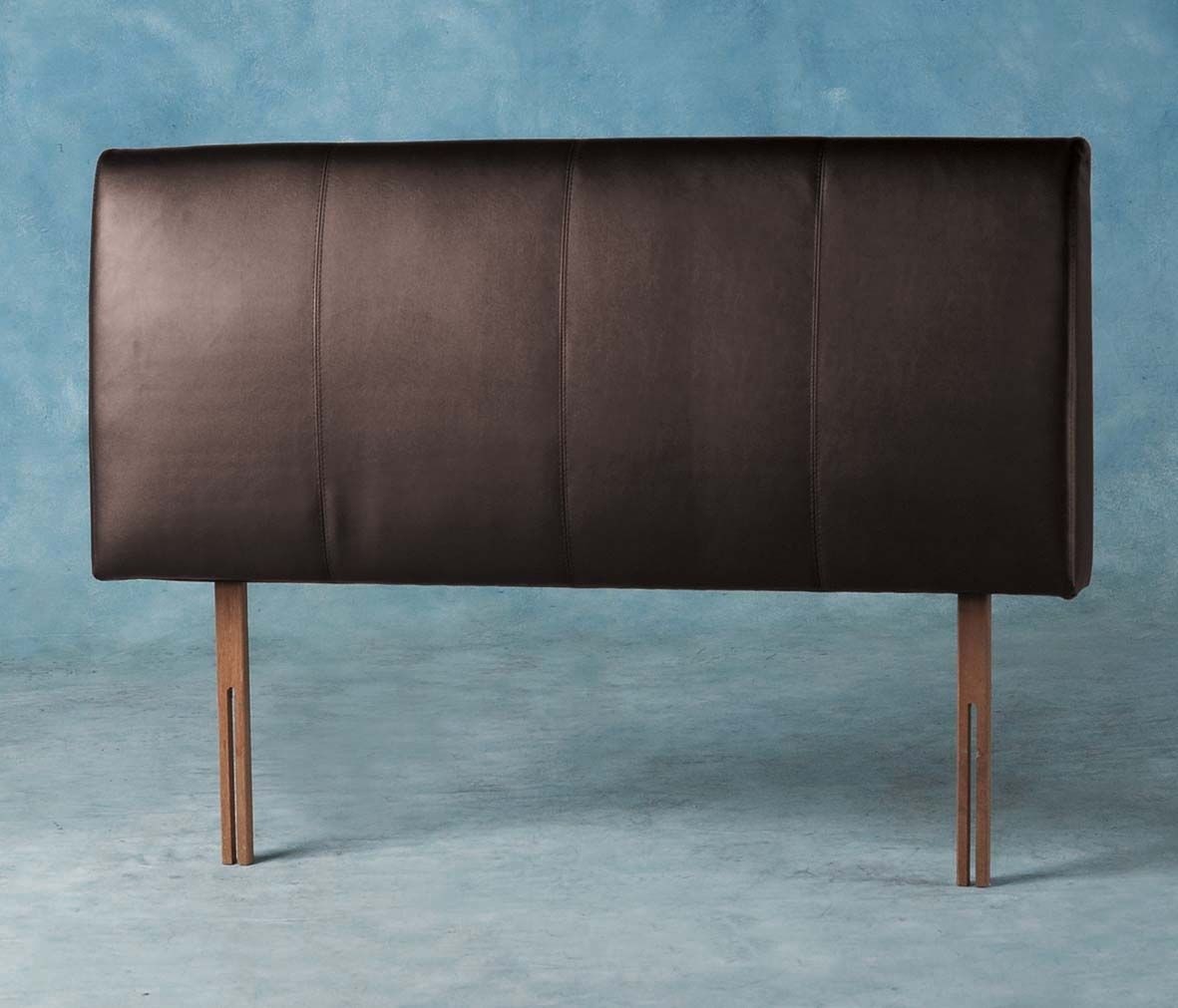 ... faux leather 5 ft king size headboard palermo 5 king size headboard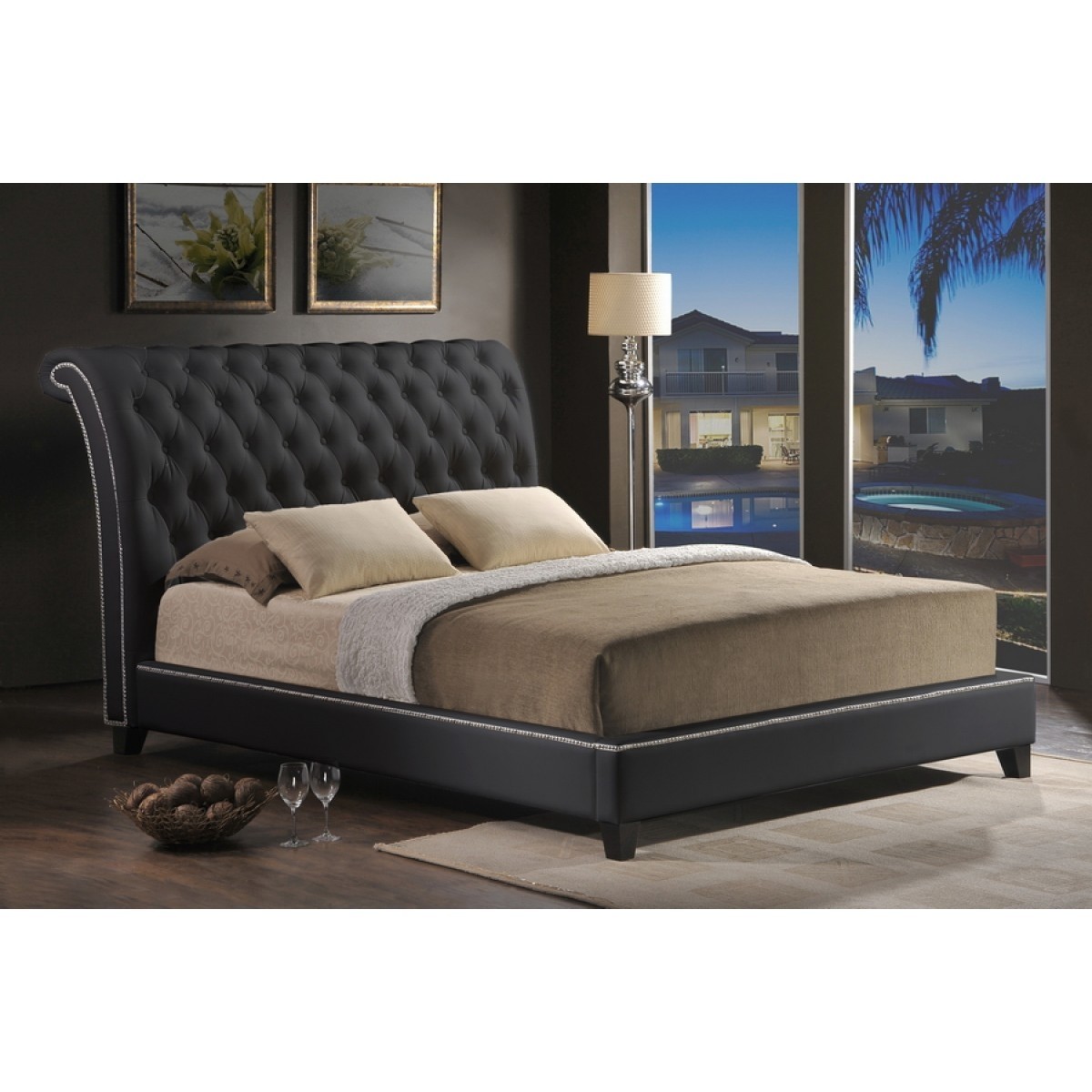 King size bed with a leather tufted headboard. This contemporary stylization is aesthetic and finished in neutral black color. This scroll back headboard features a stylish nail head trim for additional aesthetics.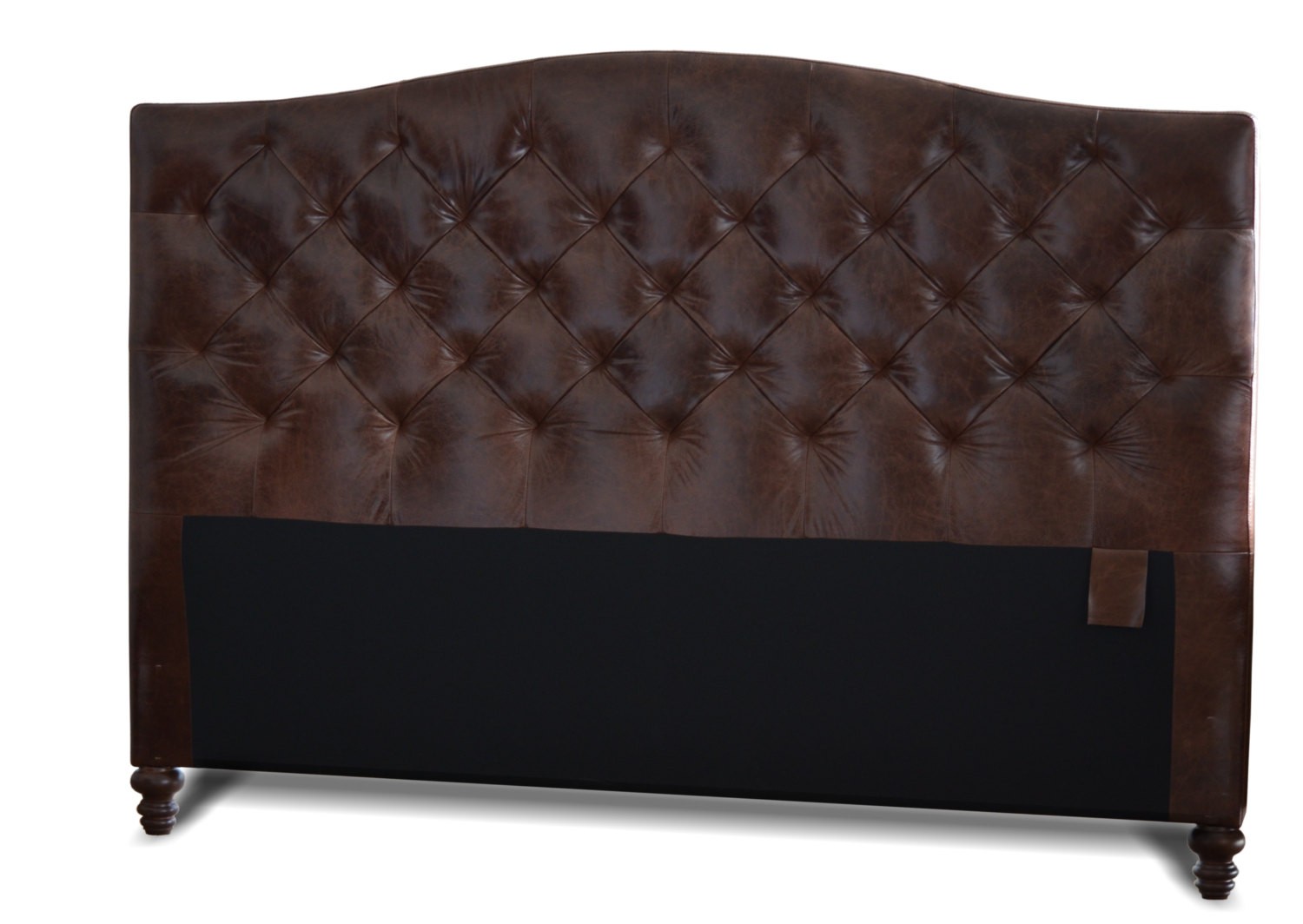 Love my new headboard! Queen Size Jack Daniels Genuine Leather Diamond by AlexAlinDesigns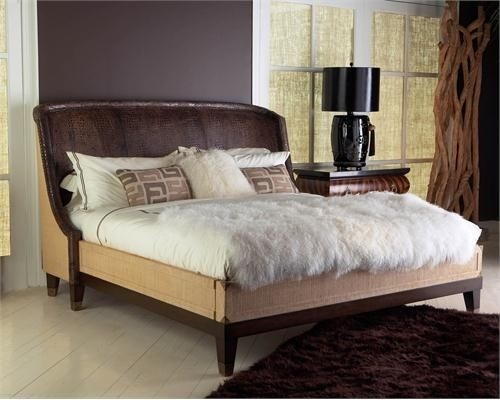 An impressive modern king bed with a sleigh-type frame of wooden materials in warm browns. It has rounded corner posts with low feet. It features a showy headboard composed of padded vertical panels (with grooves between) of dark brown leather.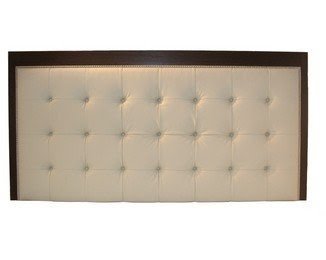 wall mounted headboard wicker headboard wrought iron headboard king ...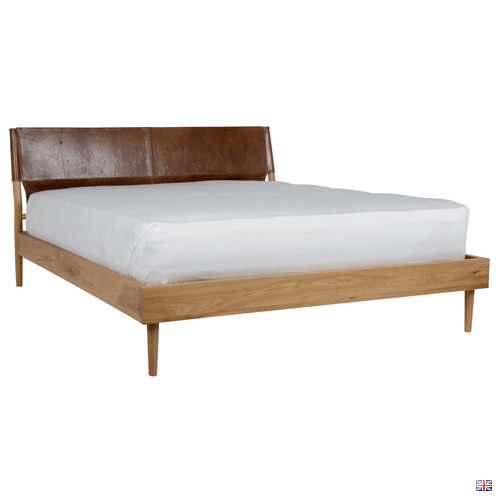 Heal's Nordic King Size Bed With Leather Headboard | Bed Frames | Furniture | Heal's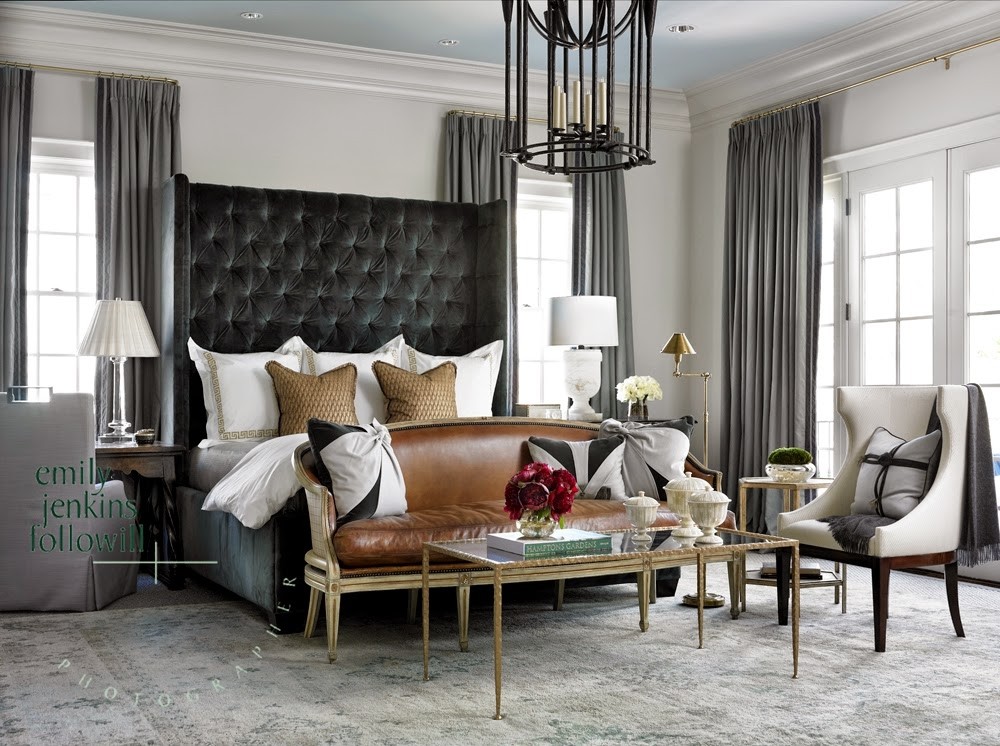 Elegant setup for a bright and classy bedroom with a traditional vibe. The oversized, tall headboard of the bed with a winged design and black, tufted cotton upholstery gives the room a stylish detail which nicely matches with its mood.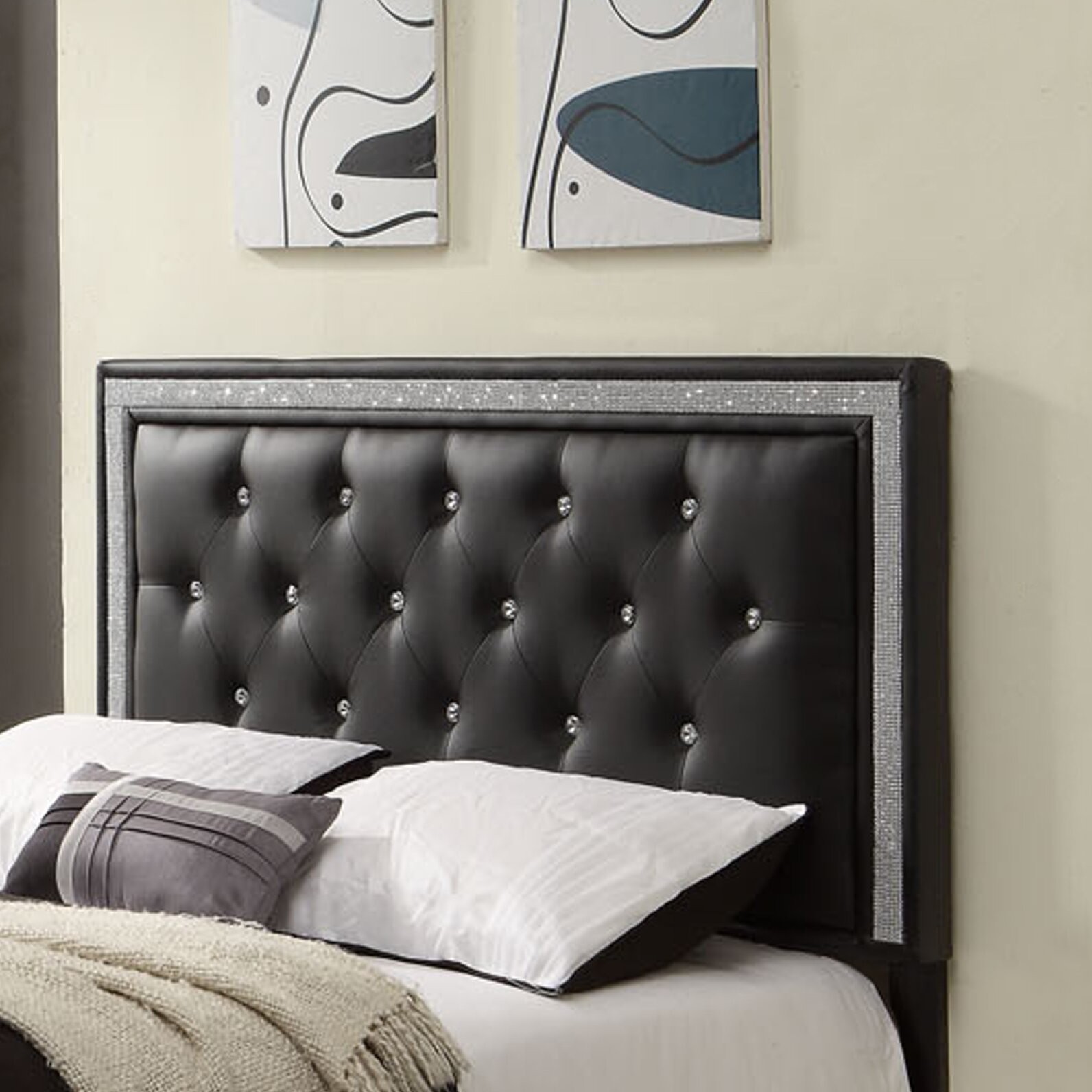 Breen Wood Headboard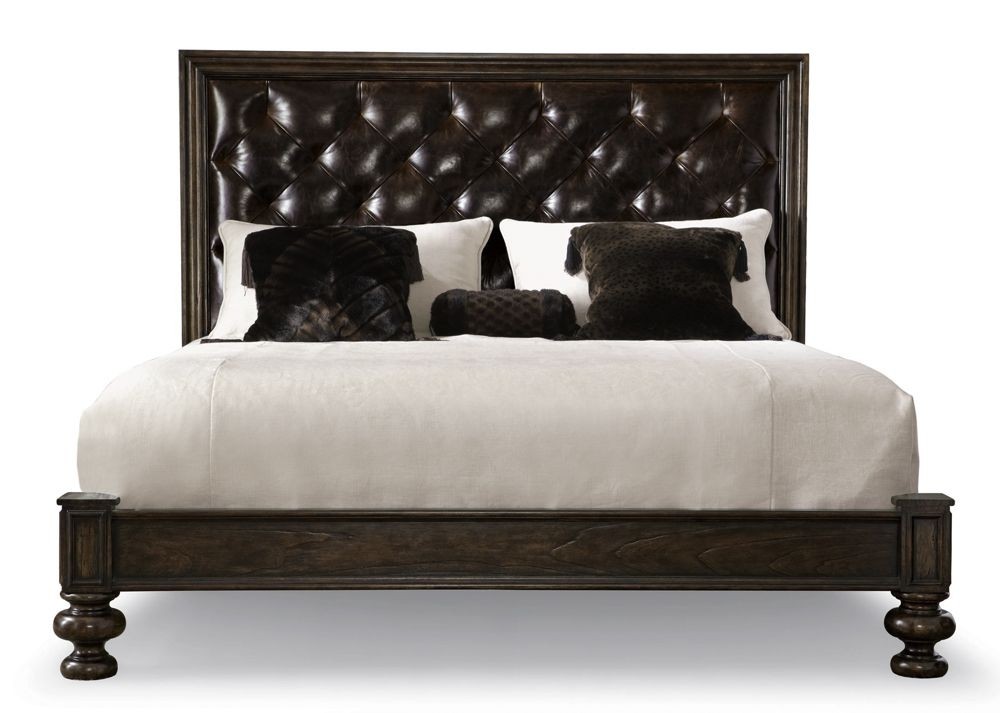 Leather upholstered headboard king - gives the bedroom a refined, luxurious look. This was designed to extract the traditional strong elegance, thanks to the dark brown colors that combine with the wooden frame of the Italian-style espresso.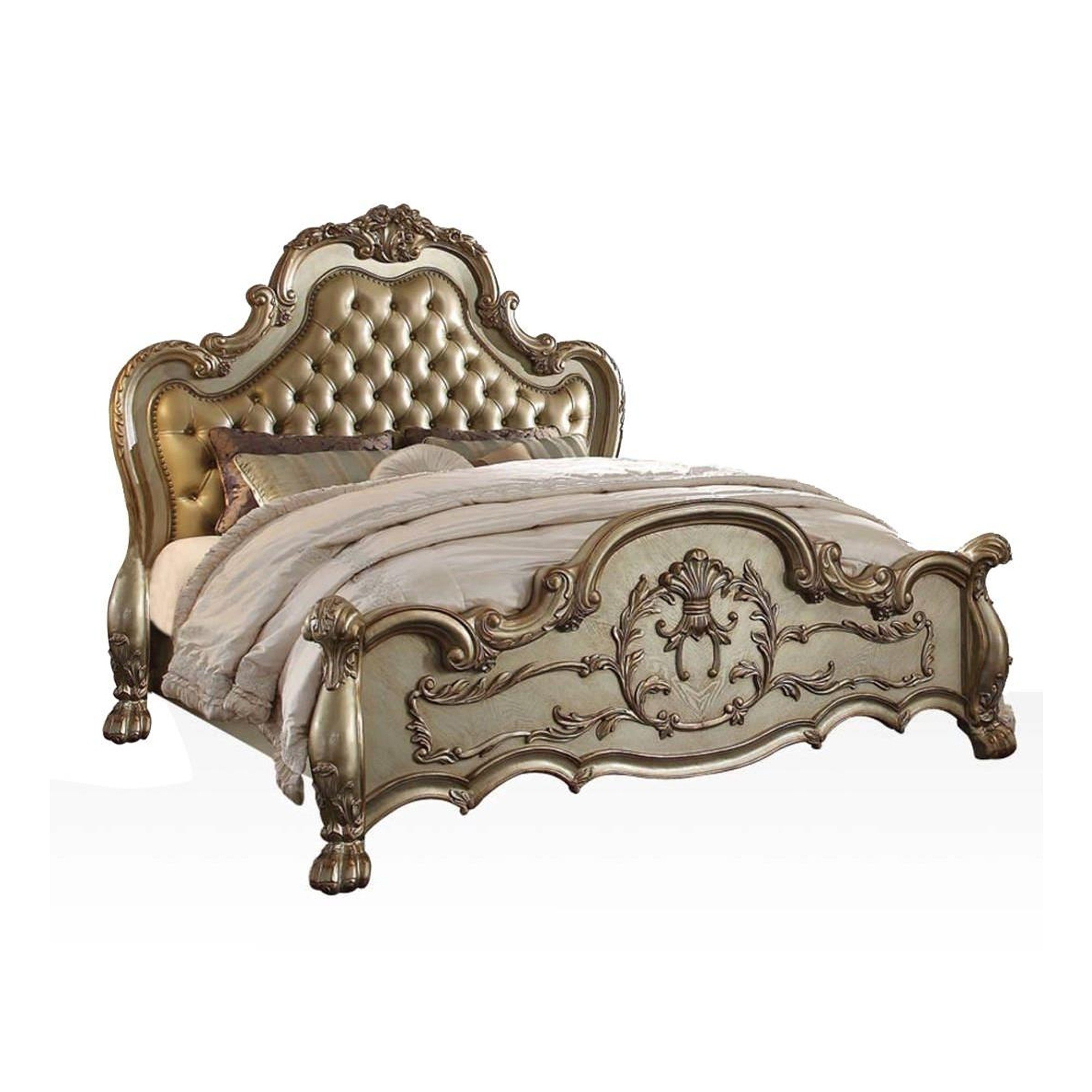 Finished with gold patina as well as other gilded elements - presents an antique look that emphasizes hand-made ornaments. If you are a lover of rococo style then this bed, with leather tufted headboard king - made mainly in hardwood- is for you.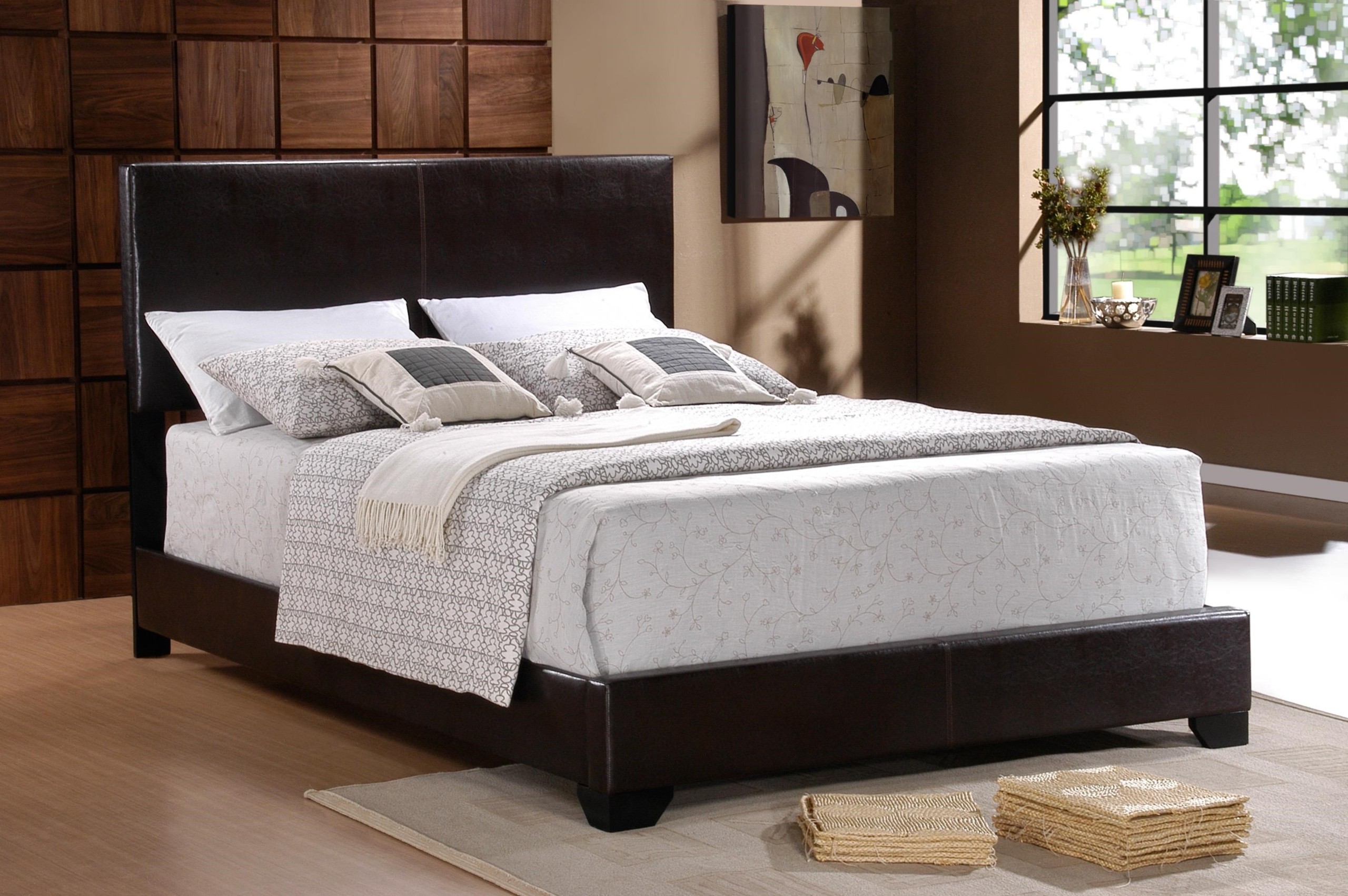 Espresso Brown Bicast King Size Headboard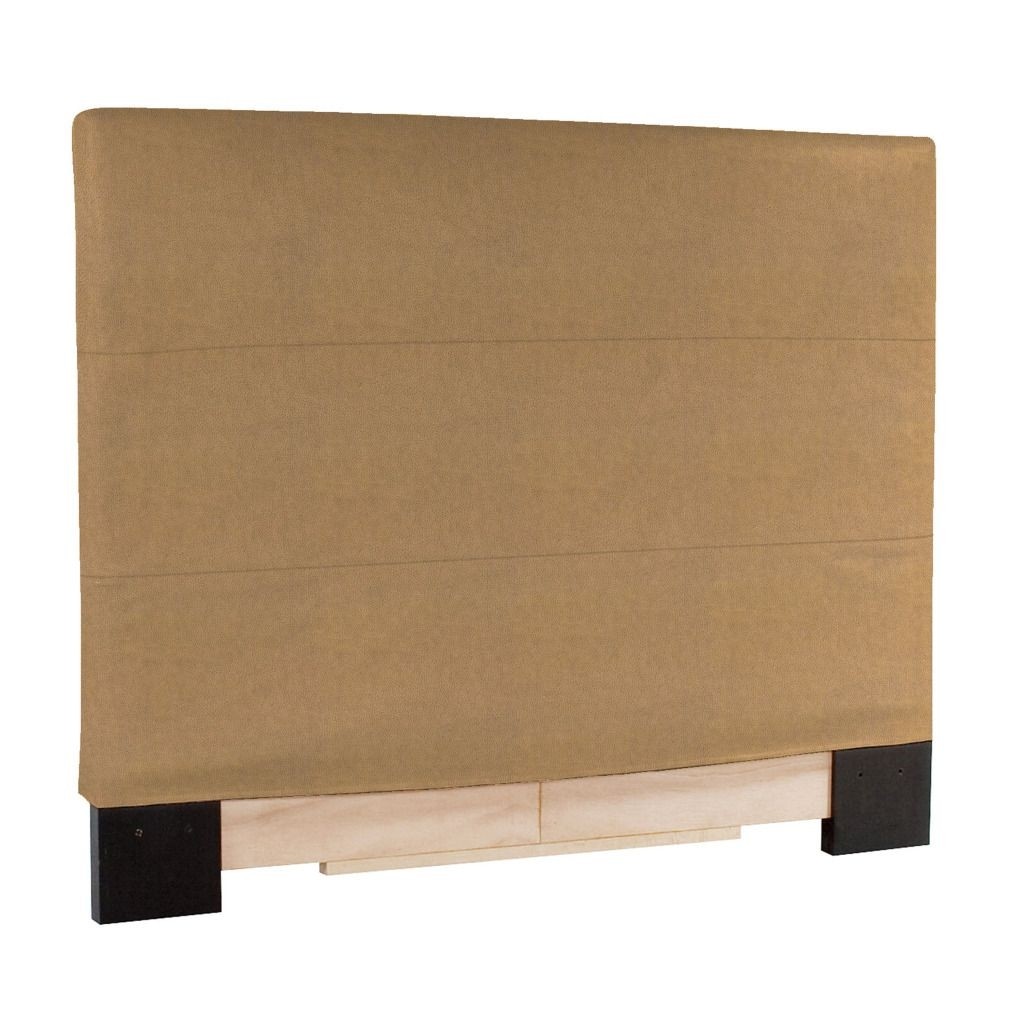 Slip-covered King-size Bronze Faux Leather Headboard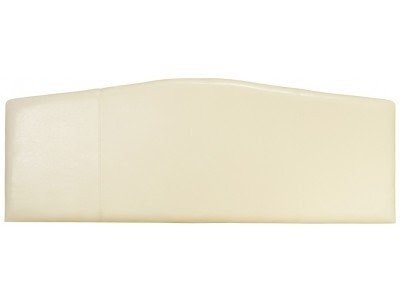 Serene Furnishings Rosa Cream Faux Leather King Size Headboard £74.00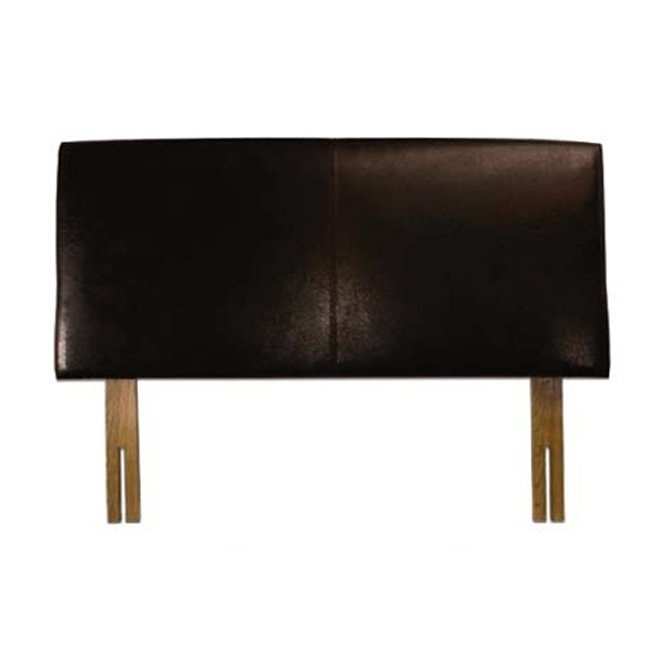 Sleepy Valley 5ft King Size Leather Headboard available either in cream, brown and black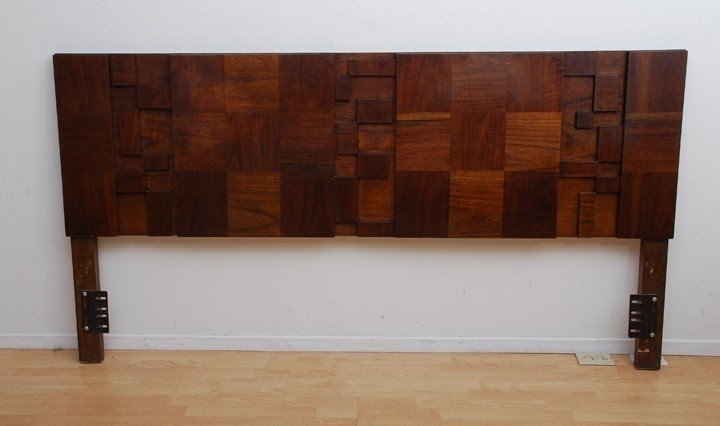 Vintage Headboards | King size knotty pine headboard | Online Store ...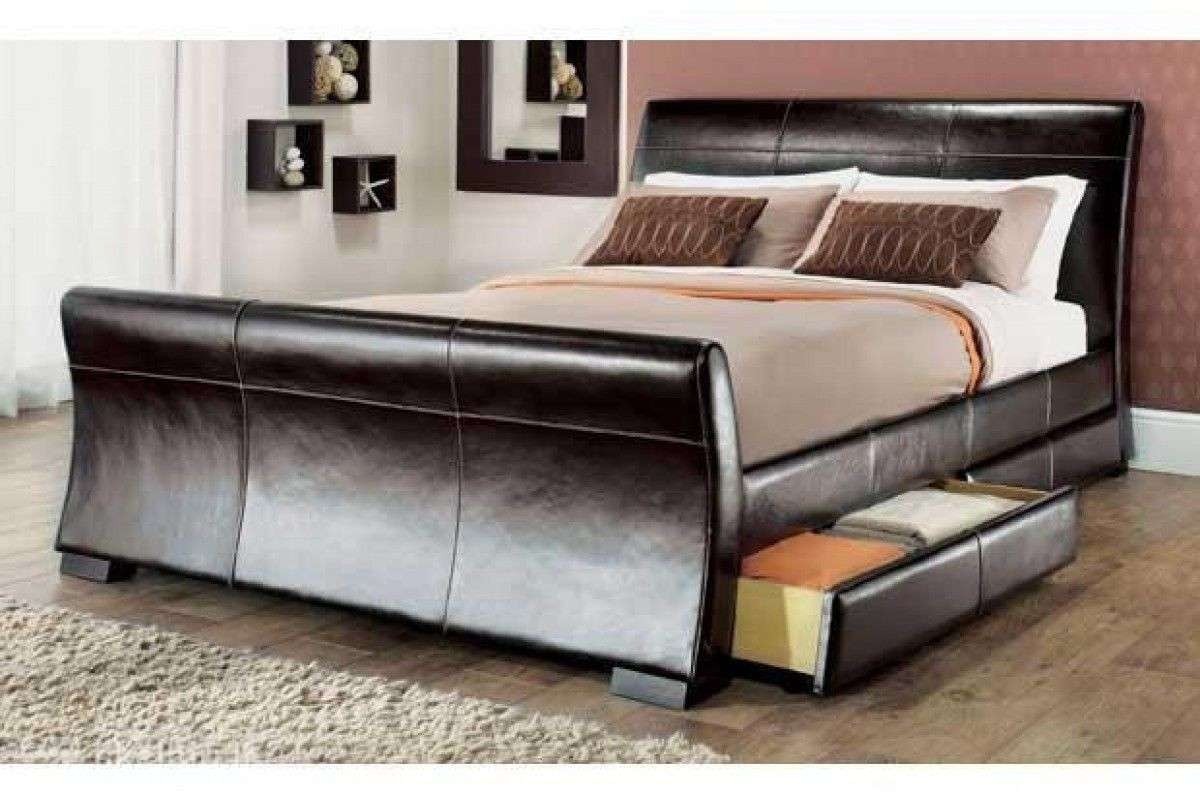 Such a nice, elegant design for a classy, king-size bed with a leather design and a matching headboard and footboard. Great addition to a moody, stylish bedroom and a nice contrast to the lighter colors around.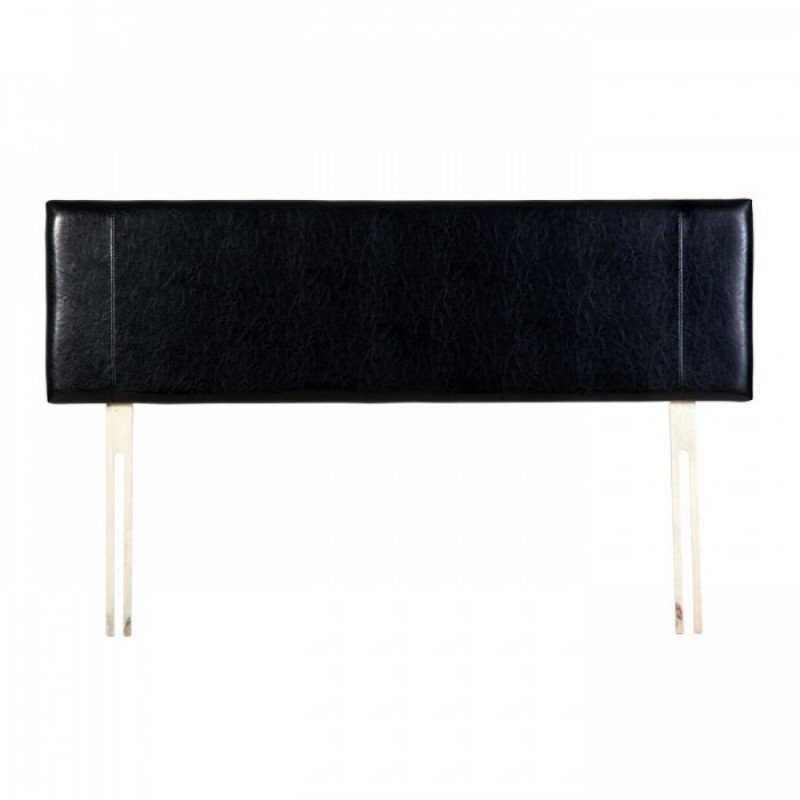 Milano Faux Leather 5ft King Size Headboard - Black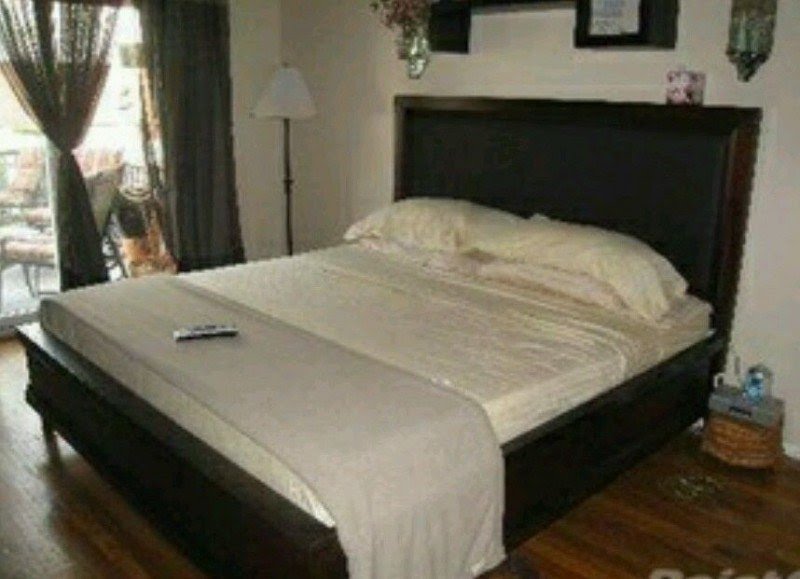 Raymour & Flanigan Vista King Size Bed #RaymourFlanigan Asking $375 but totally negotiable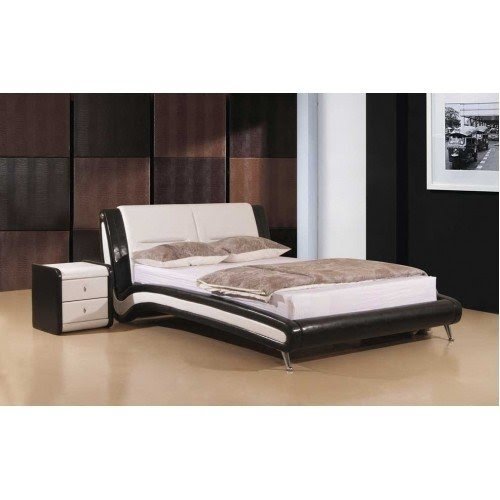 Holbon PU Leather Bed Frame, King size 5'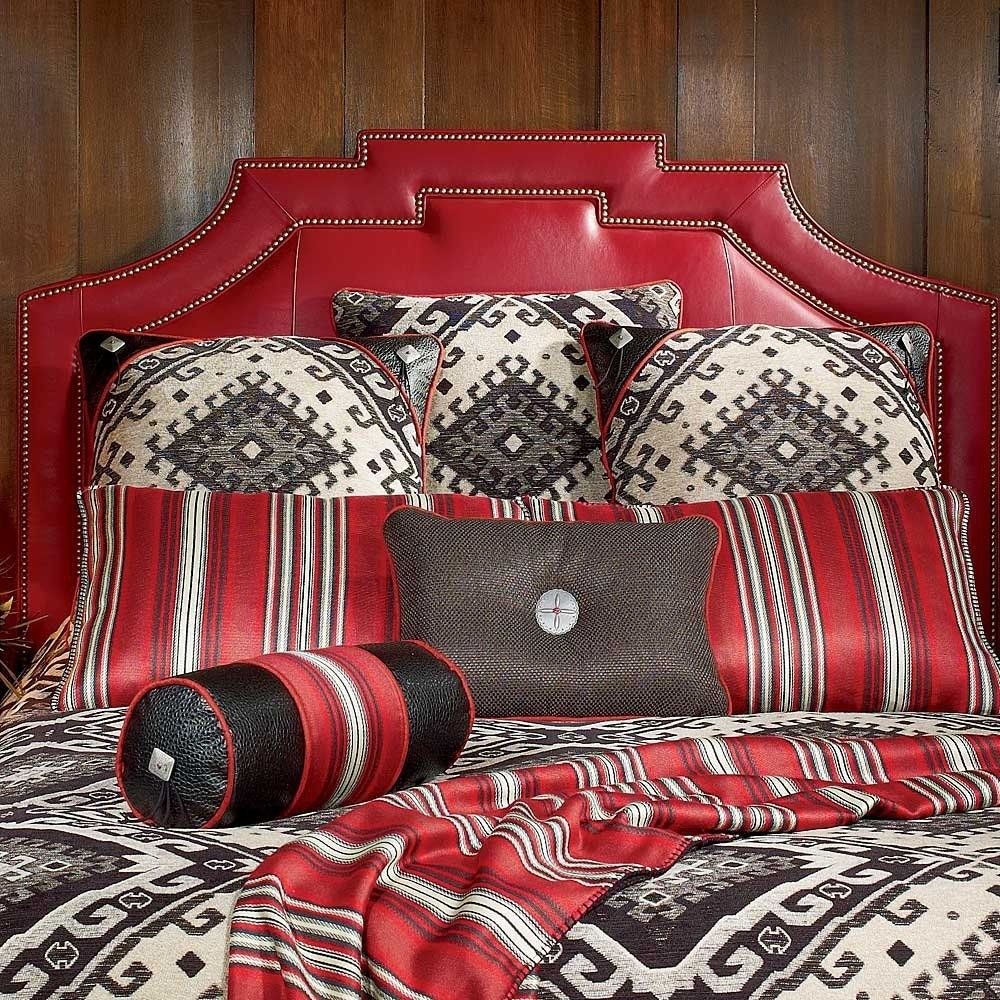 High headboard designed for each standard king size bed. Frame is made of wood. It is upholstered with red leather and finished with decorative nail heads. Elegant accent for any bedroom.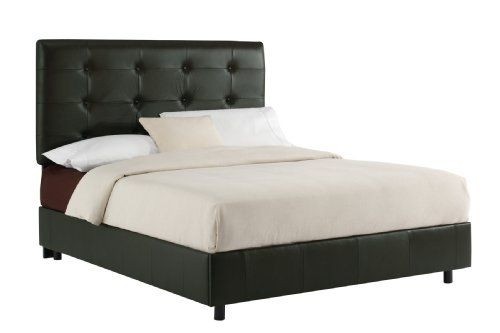 It is a tufted leather queen bed that has got a black finish. It has got clean lines supports standard-size box spring, steel bed frame, solid-wood headboard and polyurethane foam padding. It measures 80 inches by 62 inches by 54 inches.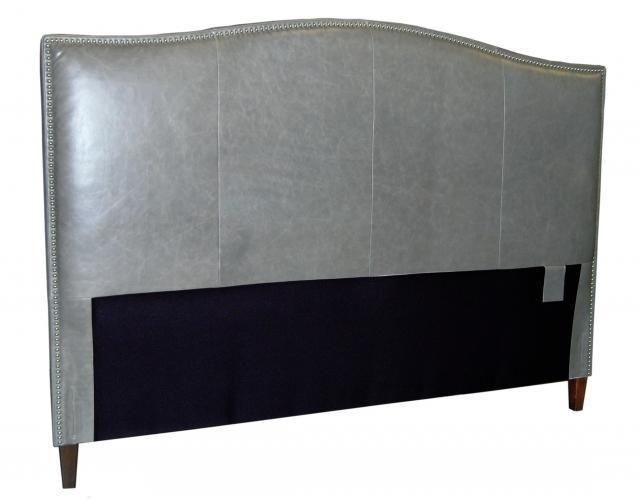 King Size Leather Headboard in Storm Cloud Grey Leather with Pewter Nail Heads