The key to finding the perfect mattress is familiarizing yourself with its principal features and benefits and identifying your personal needs.
Before you begin your mattress hunt, get to know your sleeper self. You can start by pinpointing your go-to sleeping position, body shape, and weight, and identifying any aches and pains you are experiencing in your current bed. Perhaps you often wake up in hot sweats, are prone to allergies, or are environmentally conscious. All of these, and more, will help narrow down your options and point you in the right direction for sound sleep, and a healthy and happy lifestyle.
Now it's time to get stuck into the nuances, pros, and cons of the most popular mattress types on the market and identify their sleeper suitors.
Get to Know the Popular Mattress Types
Different mattress types are distinguished by their materials and internal construction, which determine how it feels and performs. Most models are constructed of a support core and a comfort system layer on top.
The mattress core provides the primary source of support, reinforcing the mattress structure, keeping the spine in a neutral position, and preventing the sleeper from sinking too deeply into the bed.
The mattress firmness is principally influenced by the comfort system. Made of materials such as polyfoam, memory foam, and latex, this layer is designed to cushion pressure points, like the hips and shoulders. Not to be confused as the same, firmness and support exist simultaneously; a mattress can be both soft and supportive, or firm and unsupportive.
When browsing different mattress types, make sure to consider all possible variables, from the budget and size of the mattress to its expected lifespan, how well it regulates body temperature, and whether it has good responsiveness and minimal motion transfer. We'll touch on all of these points, and more, as we evaluate some of the most popular mattress types on the market…
Innerspring Mattress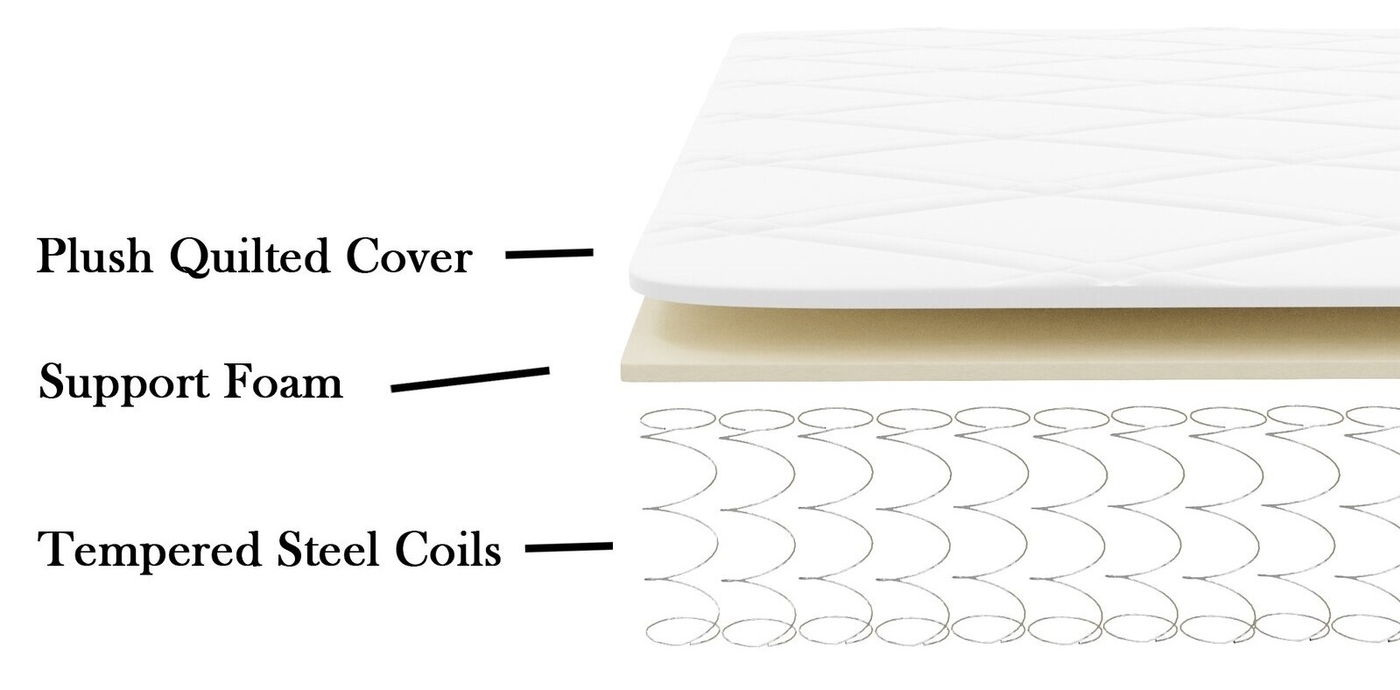 Firmness: Medium to firm
Lifespan: 5-7 years
Price range: Budget to luxury
Sleeper type: Stomach and back sleepers; side sleepers; combination sleepers; back pain; medium to heavy bodyweight.
The perfect option for those who find comfort in familiarity, innerspring mattresses are the most traditional and common type on the market. Their core support system is constructed of metal coils, padded out with soft comfort layers, like latex and polyfoam. Favored for their supportive, breathable and bouncy qualities, innerspring mattresses also offer the widest range of comfort options. Variations of coil configuration, count and gauge, significantly impact how the mattress feels and performs. There are two types of coil configurations: interconnected and independent. Here's a quick summary of each:
Interconnected coils are also known as Bonnet, offset, and continuous coils. Bonnet and offset configurations are bonded together and provide classic mattress performance with localized support, making them ideal for side sleepers. Continuous coils have a single wire design and tend to offer more durability, at an affordable price. However, motion transfer waves are most noticeable with this coil type, so you may want to think twice if you share a bed with a restless sleeper!

Independent coils are commonly referred to as Marshall, pocketed, wrapped, or encased coils. Here, each coil is wrapped in fabric to absorb pressure without distributing it to surrounding springs. This results in a mattress withincreased supportandmotion isolation, so you're less likely to notice your partner tossing and turning all night. It's also considered the best system for contouring to pressure points.
Higher coil counts equal better support and increased mattress longevity. Twin mattresses require a minimum of 300 coils, Queens 400 coils, and Kings 480 coils. Coil gauges affect the firmness and comfort of the mattress. They typically range from 12 to 15, with lower numbers indicating thicker coils and a firm pushback, and higher gauges indicating a softer, springier base. As a general rule, mattresses with lower coil gauges last longer.
Innerspring Pros:
Budget-friendly.
Wide range of comfort options.
Independent pocket springs reduce motion transfer.
Minimal localized contouring conformity.
Good temperature regulation.
Very high responsiveness.
Innerspring Cons:
Low lifespan.
Possibility of audible squeaking, or sagging in older mattresses.
Interconnected springs have high motion transfer.
Memory Foam Mattress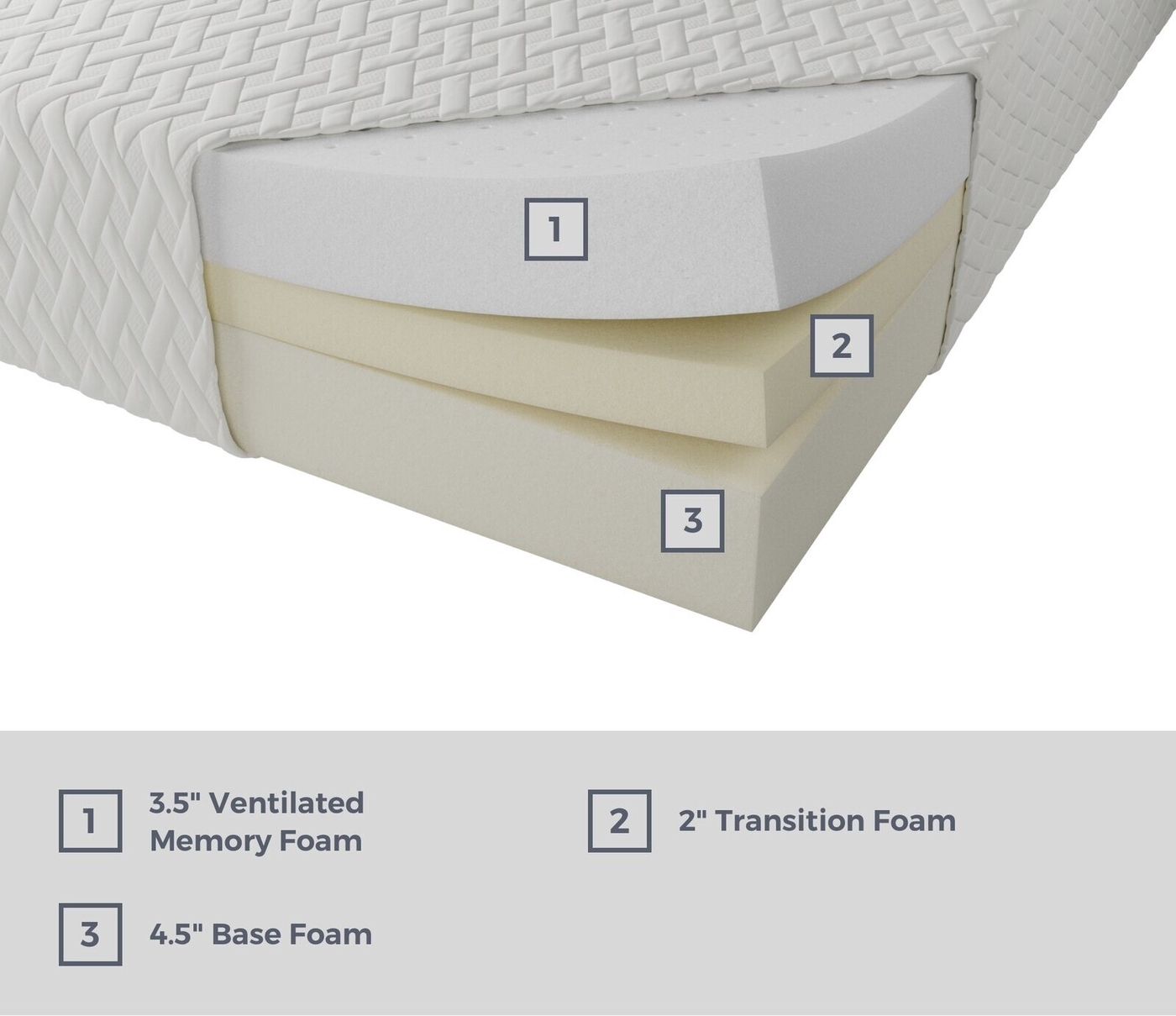 Firmness: Soft to medium
Lifespan: 7-10 years
Price range: Mid-tier to luxury
Sleeper type: Side sleepers; joint pain; restless sleepers (and partners of); allergy and asthma sufferers; all body weights.
Calling all partners of restless sleepers, there's no better mattress for motion isolation than a memory foam mattress. Initially invented by NASA in 1966 to improve aircraft safety, it has since been interpreted for use in a wide variety of products, including mattresses and pillows.
Constructed of dense polyurethane foam, memory foam mattresses have become hugely popular thanks to their soft cushioning that conforms to the body when pressure or heat is applied. This creates a comforting cradling sensation that simultaneously provides support, pressure relief, and motion isolation, making it ideal for side sleepers, restless sleepers (and their partners), and people suffering from joint or back pain. Asthma and allergy sufferers benefit from its hypoallergenic qualities, as its high density leaves little room for bacteria growth. Yet, hot sleepers beware! While a mattress that swallows you up in a warm embrace may sound enticing, it also reduces airflow and creates hotspots that increase the potential for a sweaty night's sleep.
When shopping for memory foam mattresses, look out for the density and firmness of the model to determine its quality:
Density refers to the amount of foam built into each layer, specifically the pounds per cubic foot, or PCF. There are three common levels of density: low (< 3.5 PCF), medium (3.5-5 PCF), considered the ideal range, and high (> 5 PCF). Needless to say, higher densities are heavier and more expensive, yet they also offer increased durability and support, particularly for heavier individuals.

Firmness is linked to the density and weight of a mattress; the denser it is, the firmer and more supportive it will be. This is indicated by the indentation load deflect (ILD) scale, whereby higher numbers indicate a higher firmness level.
Memory Foam Pros:
Excellent pressure point relief.
Minimal motion transfer.
Works with adjustable beds.
Caters to all body shapes and weights.
Hypoallergenic.
Good lifespan.
Memory Foam Cons:
Poor temperature regulation.
Slow responsiveness.
Insufficient support for stomach and back sleepers.
Hybrid Mattress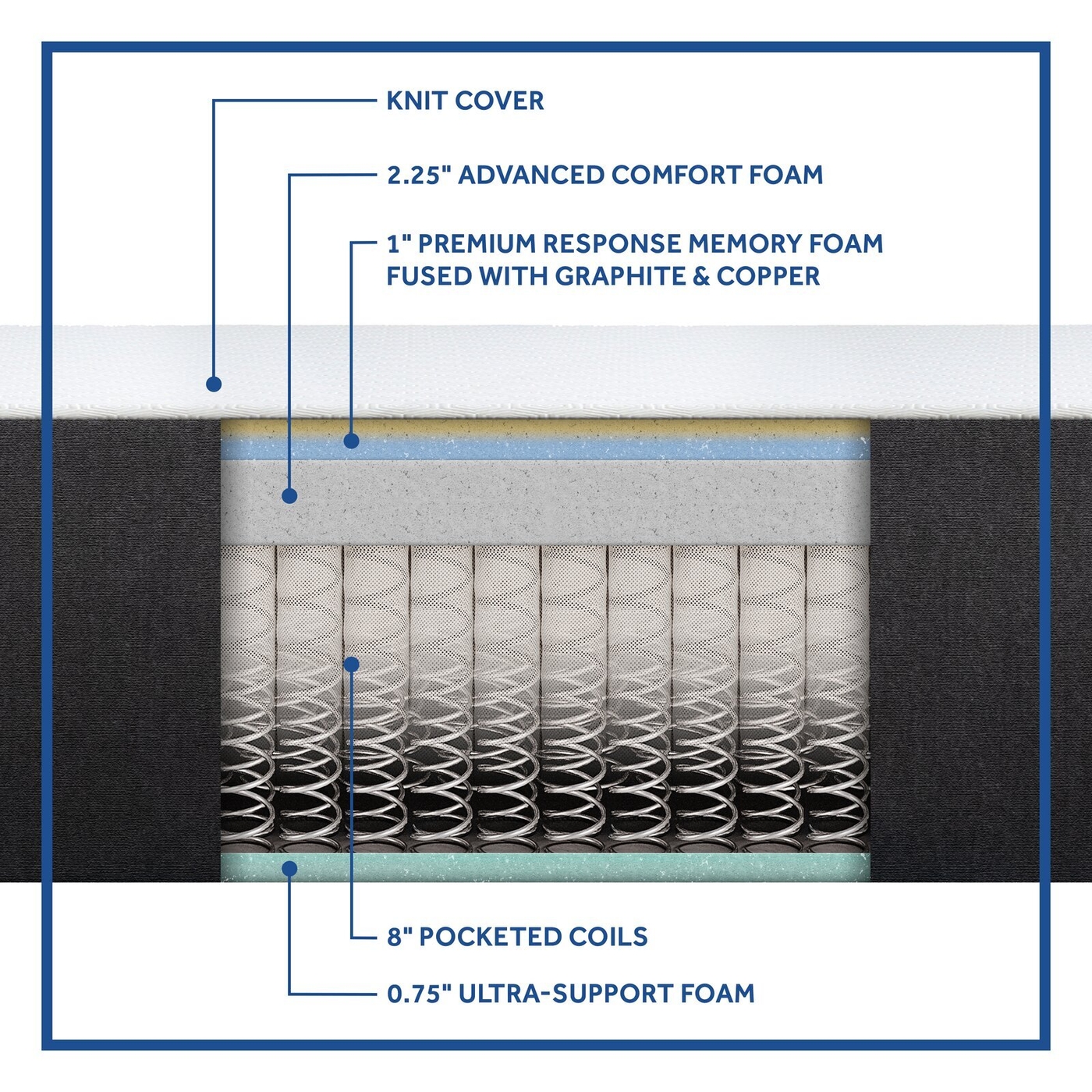 Firmness: Medium
Lifespan: 10-12 years
Price range: Mid-tier to luxury
Sleeper type: Joint pain; back pain; stomach and back sleepers; side sleepers; combination sleepers; all body weights.
If you like your bed not too hard, and not too soft, the hybrid mattress could be just right for you. Combining tried and tested technology with modern innovation, hybrid beds provide the support and bounce of an innerspring mattress, with the soft comfort and pressure relief of memory foam. Featuring the best of both worlds, hybrid mattresses appeal to a wide range of comfort preferences and accommodate all sleeping positions, making them a favorable option for coupleslooking for a compromise.
If you wake up in the morning with aches and pains in your shoulders or hips, then it's likely your mattress is too firm and places incorrect pressure on your joints while you sleep. The foam layer of a hybrid mattress is designed to relieve your pressure points by cradling your body and aligning your spine for a restful and healthy sleep. Hot sleepers beware of hybrid mattresses with a top comfort layer of cheap, heat-trapping memory foam. Opt instead for a model with built-in cooling technology.
Hybrid Mattress Pros:
Perfect balance between innerspring and memory foam qualities.
Good pressure point relief.
Caters to all body shapes and weights.
Quieter than innerspring mattresses.
Good temperature regulation.
Recommended for couples with differing preferences.
Good lifespan.
Hybrid Mattress Cons:
Higher price points.
Higher motion transfer than memory foam.
Memory foam layers may be too soft for some sleepers.
Gel Mattress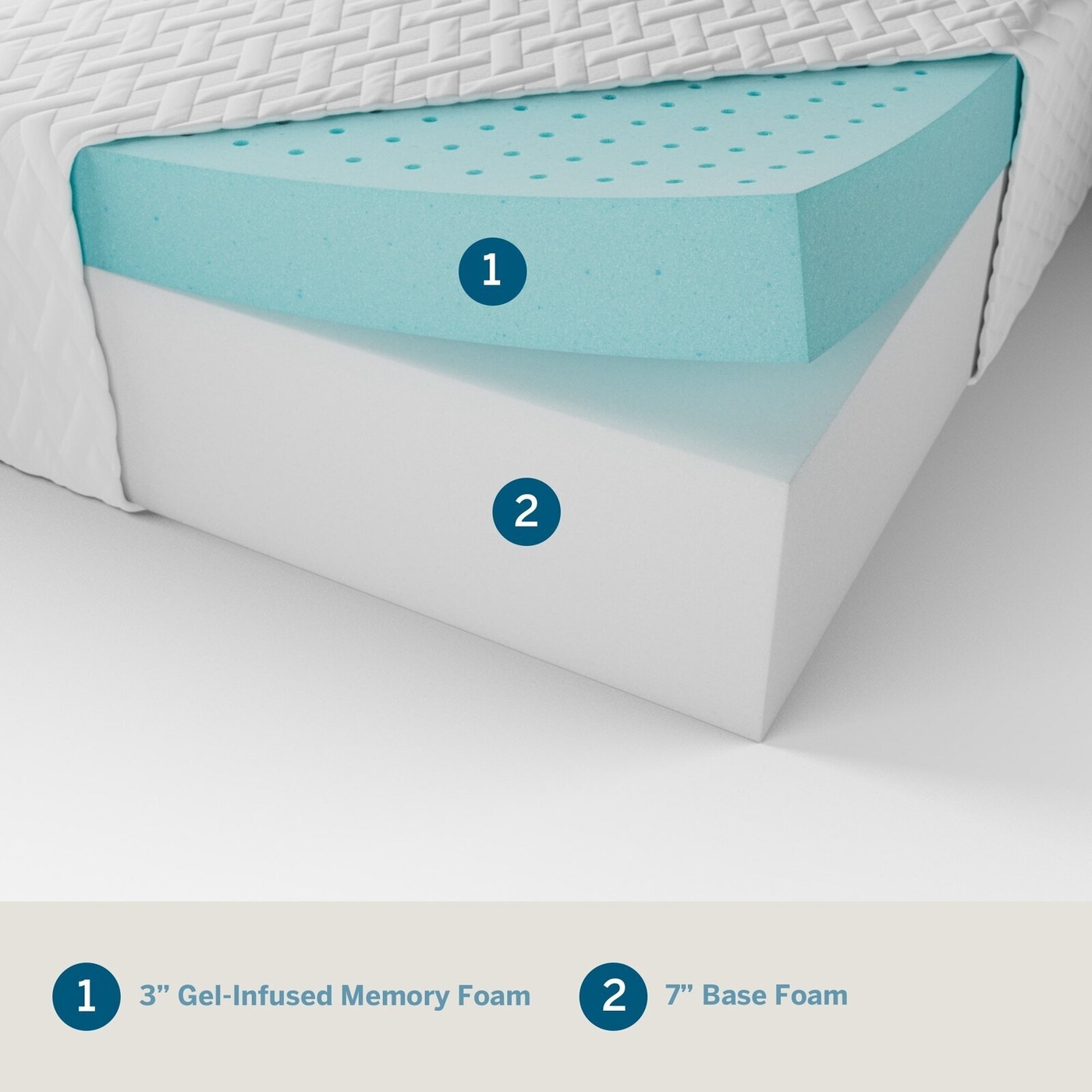 Firmness: Soft to firm
Lifespan: 10-12 years
Price range: Mid-tier to luxury
Sleeper type: Joint pain; back pain; stomach and back sleepers; side sleepers; combination sleepers; hot sleepers; all body weights.
Do you spend your nights tossing and turning and wake up with damp bedsheets, feeling as if you haven't slept at all? Temperature regulation is an essential ingredient for a good night's sleep, and gel mattresses are designed to do just that. Gel-infused memory foam or polyfoam helps regulate temperature by absorbing heat and pulling it away from the bed's surface. These mattresses can come in all-gel foam designs, or hybrid models that pair gel-infused layers with other materials. Bear in mind, gel is asynthetic material, so look out forcertifications from CertiPUR-US and Greenguard when shopping. This ensures your mattress meets all necessary safety standards and minimizes the potential for unpleasant off-gassing.
As well as their distinguishable cooling effect, gel mattresses share similar levels of pressure-relieving support and minimal motion transfer as memory foam mattresses. This makes them a good option for bed-sharers, side sleepers, and people with joint and back pain. Gel-infused foam is a comfortable and supportive material that aids correct spinal alignment and body contouring. Like other mattress types, gel mattresses come in different firmness levels, catering to the needs of all sleeper types, shapes, and weights.
Gel Mattress Pros
Excellent temperature regulation.
Good pressure point relief.
Minimal motion transfer.
Caters to all body shapes and weights.
Good lifespan.
Works with adjustable beds.
Gel Mattress Cons
Heavier than memory foam.
More expensive than traditional memory foam.
High potential for off-gassing.
Vary substantially depending on the core support system.
Natural Latex Foam Mattress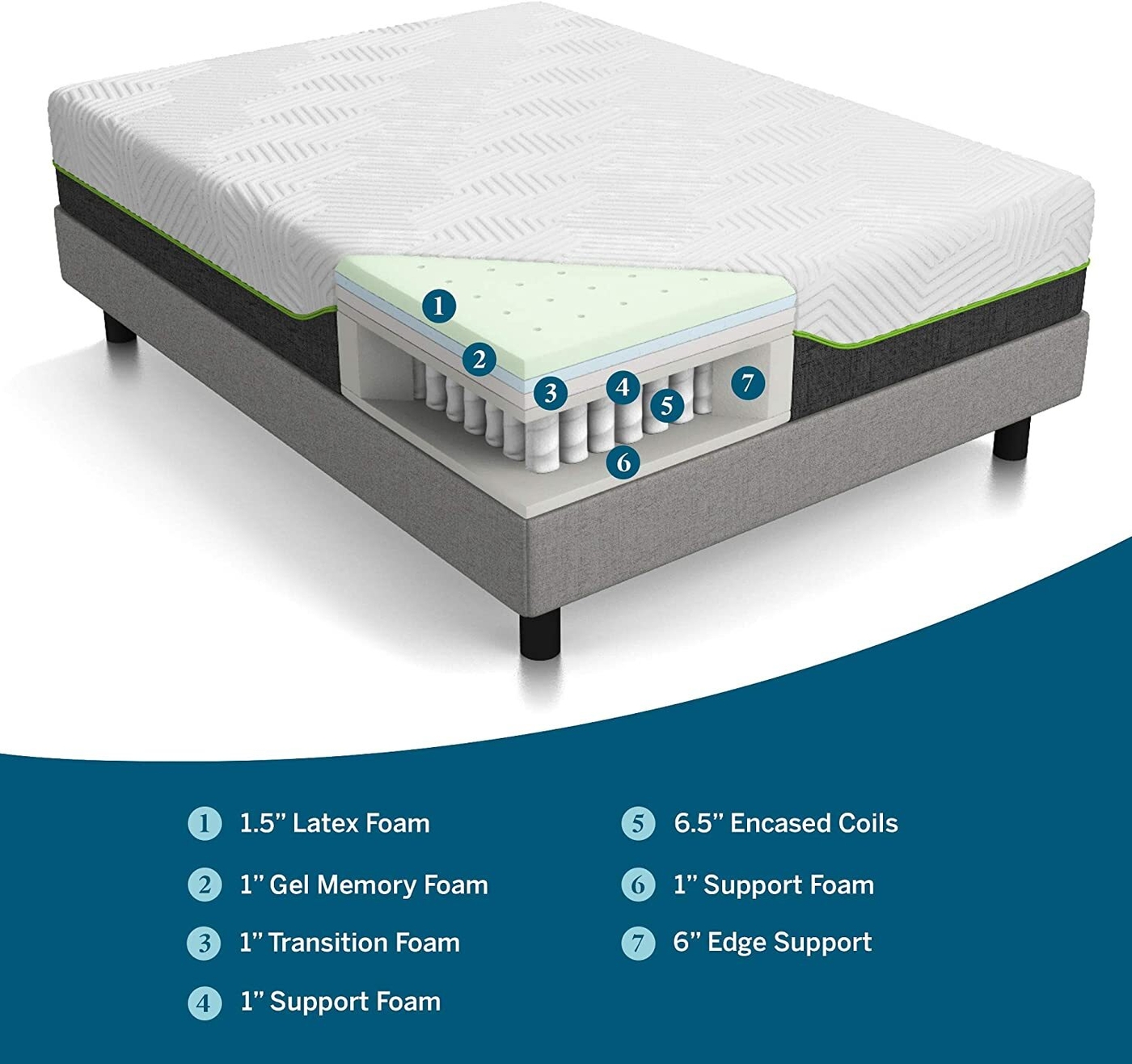 Firmness: Medium
Lifespan: 12-15 years
Price range: Mid-tier to luxury
Sleeper type: Environmentally-conscious sleepers; back and joint pain; combination sleepers; back and stomach sleepers; side sleepers; hot sleepers; allergy and asthma sufferers; all body weights.
Looking for a mattress on which to sleep peacefully, knowing you're helping the environment as you sleep? Natural latex is harvested from the sap of a rubber tree, encouraging their growth, and actively working to remove carbon dioxide from the air. That's why 100% natural latex mattresses are considered the most environmentally responsible option around. That, and the fact they're extremely durable, providing up to 15 years of comfortable sleep; though synthetic and blended latex models tend to have a shorter lifespan. There are two ways of manufacturing natural latex, resulting in two different types: Dunlop and Talalay. Dunlop latex tends to be denser on the bottom and softer on the top, whereas Talalay has a more consistent feel and lower density from top to bottom.
This organic mattress type is often compared with memory foam as it offers similar spine-aligning cushioning, contouring, and pressure relief. However, the natural springy properties of the latex material create a more buoyant, supportive base that responds to your weight to create a tailored pressure distribution and improved blood circulation. Plus, the material is quick to regain its shape allowing you to change positions with ease andlessening the feelingof sinking into the mattress. Latex is a naturally cool material and it doesn't hug your body as much as memory foam, facilitating airflow and guaranteeing a cool night's sleep.
Natural Latex Foam Pros
Very long lifespan.
Environmentally-friendly.
Naturally resistant to mold and dust mites.
Hypoallergenic.
Pressure point relief.
Natural spine alignment.
Good air circulation/cooling properties.
Good responsiveness.
Minimal motion transfer (but not as much as memory foam).
Natural Latex Foam Cons
Not an option for latex allergies.
More expensive than other foam types (though this could be offset by its durability).
Buoyancy may be too much for some, particularly side sleepers.
Pillow Top Mattress
Firmness: Soft to medium
Lifespan: 5 to 10 years
Price range: Budget to luxury
Sleeper type: Back and joint pain; side sleepers; all body weights.
Take a moment to imagine you're snuggled up in a dreamy, cloud-like cocoon of pillows that feel so comforting and relaxing you can't help but drift into a deep, restful sleep… What if we told you that dream could be a reality? As the name implies, pillow top mattresses feature a layer of soft cushioning that's likened to an oversized pillow. It is attached to the top surface of the mattress, giving the illusion of a deep, luxurious mattress, and a plush feel when you lie down.This is different from the euro-top model whereby the cushioning is integrated into the mattress itself.
The cushioned layer can vary between 2 to 4 inches thick and is typically made of soft materials, like memory foam, polyfoam, fiberfill, latex, or cotton. The overall aim of the additional cushioning is to soften the sensation of the mattress, however different fills enhance different qualities. Like memory foam mattresses, pillow tops made of the same material provide close contouring and alleviate pressure points, though they offer little temperature regulation and ease of movement. Materials like cotton, polyfoam, and latex also cradle the body, however, they tend to be more breathable and responsive, facilitating movement. Like all mattresses, the higher-quality the material, the more durable it is likely to be.
Pillow Top Mattress Pros:
Enhanced comfort.
Extra contouring and pressure relief.
Affordable.
Low motion transfer.
Good responsiveness (except memory foam).
Some materials provide cooling properties.
Pillow Top Mattress Cons:
Added height may require the use of deep-pocket sheets, or generate difficulty getting in and out of bed.
Pillow-top materials are usually less durable than those found in the rest of the mattress.
Heat retention (especially if made from memory foam or other heat-retaining materials).
Too soft for use by stomach sleepers or heavier individuals.
Permanent attachment of cushioned layer means once it wears out the whole mattress has to be replaced, even if the rest of it is in good condition.
Cannot be flipped over to extend lifespan.
Polyfoam Mattress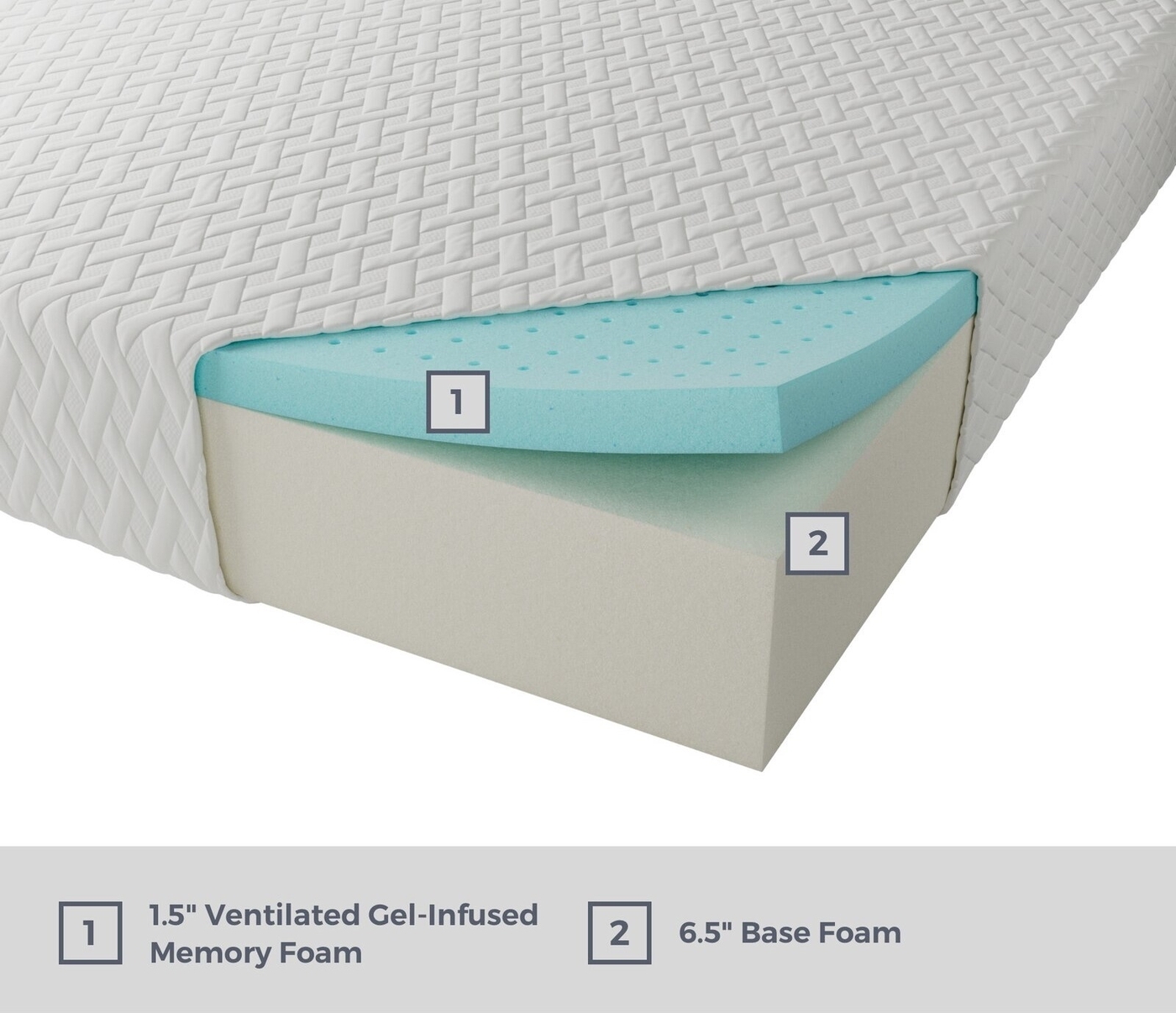 Firmness: Soft to medium
Lifespan: 5 to 10 years
Price range: Mid-tier to luxury
Sleeper type: Side sleepers; back and joint pain relief; light bodyweight; visitors.
Polyfoam, short for polyurethane foam (PU), is the most common type of mattress foam used in other mattresses as a comfort layer, such as in an innerspring mattress. There are three grades of polyurethane foam. Regular and high-density polyfoam are used to pad out other mattresses. High resilience polyfoam is the only type suitable for an entire mattress, as it is firm and supportive.
Polyfoam has a springier feel than sink-in memory foam and bounces back to its original form quickly after pressure has been applied. High-density high-resilience PU almost matches latex in terms of comfort, support, and providing sleepers with appropriate weight distribution. The material also relaxes pressure points, aiding back and joint pain relief. However, its shorter lifespan means it may be better suited to light-weight side-sleepers, or temporary use by guests.
Polyfoam is an entirely synthetic material made from petroleum chemicals. While most of the chemicals are processed and neutralized to become harmless, off-gassing is not uncommon in low-quality foams. So, if you're looking for a foam mattress, avoid going budget and always look for a CertiPUR-US and Greenguard certification that ensures you're sleeping gas and chemical-free.
Polyfoam Mattress Pros:
Good responsiveness.
Pressure point relief.
Lightweight.
Flexibility.
Polyfoam Mattress Cons:
High resiliency polyfoam is expensive to manufacture, increasing costs.
Short lifespan.
Absorbs moisture.
Poor breathability and temperature balance.
Motion transfer/bounce.
Potential for off-gassing.
FAQs
Soft, medium, or firm. Which mattress firmness is best for me?
Mattress firmness refers to how far a sleeper sinks into their mattress and how hard or soft it feels. It is a key influencing factor for how a mattress performs for different types of sleepers. The optimal level of firmness varies from person to person, depending on their personal preference and factors such as body type, weight, and sleep position. Your aim, as a sleeper, is to find amattress witha firmness level that promotes correct spinal alignment and cushions sensitive areas of the body. A mattress that is too soft or too firm can result in poor sleep, strain, and discomfort over time.
To help guide consumers, the mattress industry developed a firmness scale, with a range from 1 to 10; one being the softest mattress, and 10 being the firmest. Let's have a look at the qualities of each and what sleeper they are most suited to…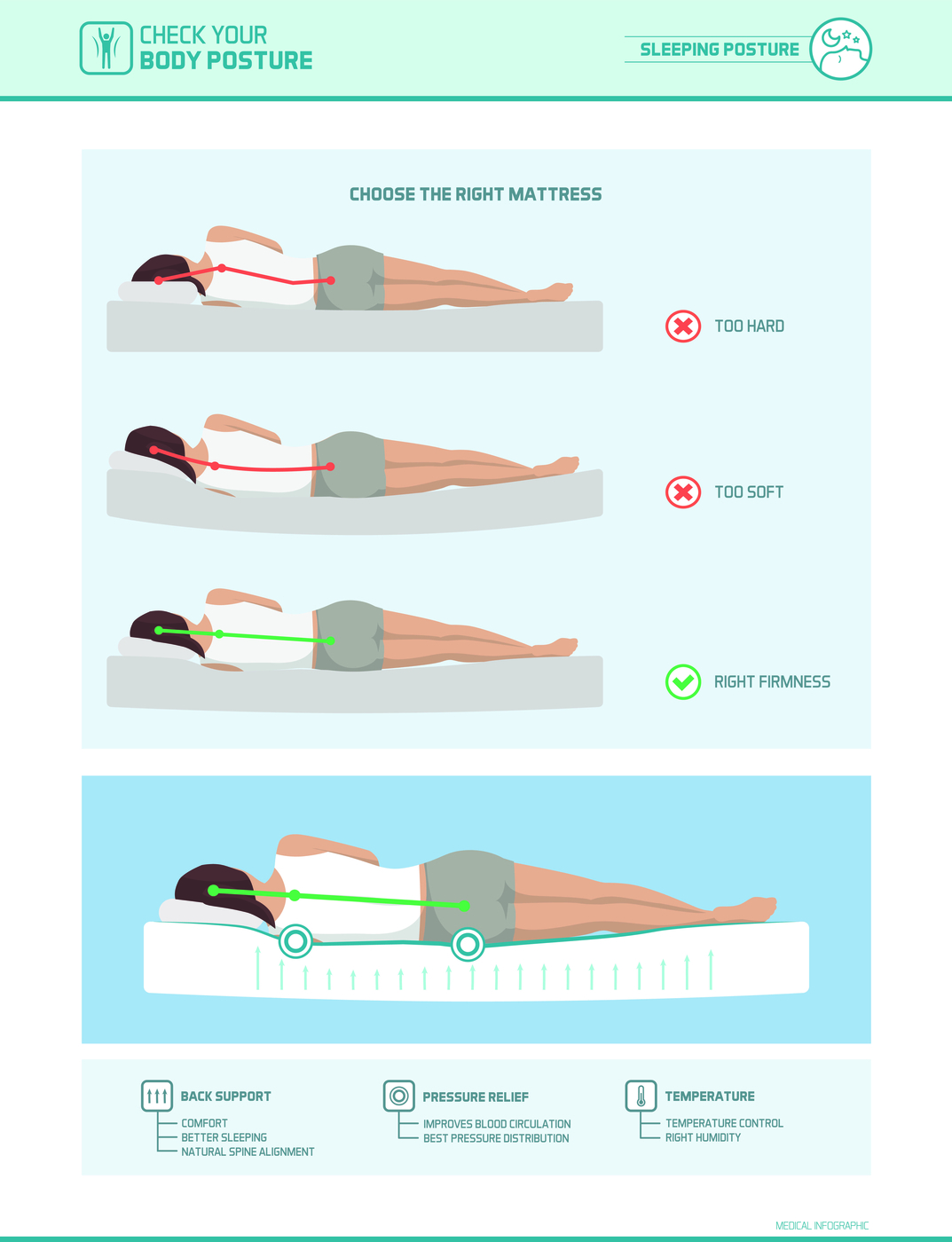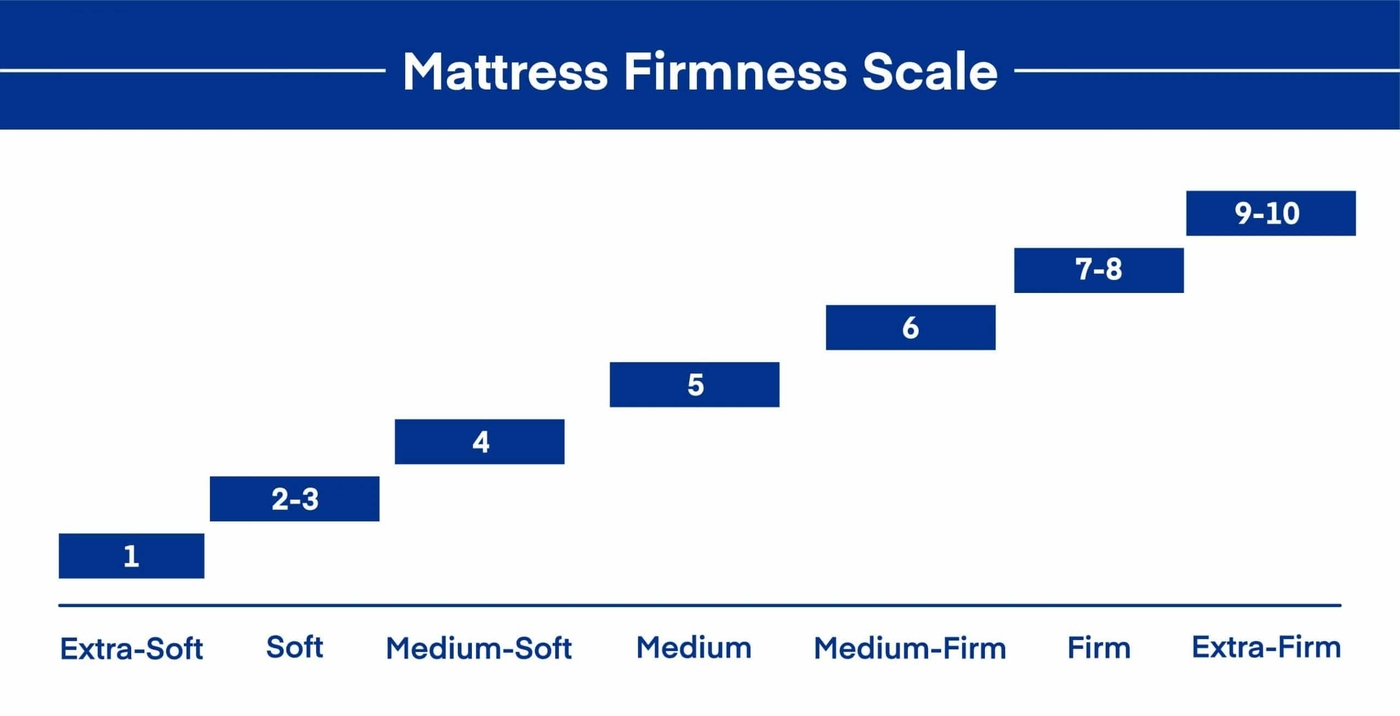 Soft Mattress | Firmness Level 1 to 4
Soft mattresses sink and conform closely to the sleeper's body.
Who are soft mattresses for?
Side sleepers: Softer beds are comfortable for side sleepers as they provide cushioning for pressure points. Though it's important to strike the right balance, as soft surfaces have a tendency to sag, leading to poor spinal alignment.

Light bodyweight: People weighing under 130 pounds are often better off with a soft mattress as harder beds may not compress for them at all.

Back pain: Soft mattresses conform to the body and help relieve pressure on pain points, making them a good option for anyone experiencing back or joint pain on a medium mattress.

Twin beds: Unless you and your partner share a similar body shape, weight, and sleep position, soft mattresses can be problematic for bed sharers. The heavier partner may sink further into the bed, making the sleep surface unbalanced.
What are the drawbacks?
Durability: Soft mattresses are made with plush materials that tend to have a shorter lifespan than firmer, high-density materials.

Temperature regulation: Because soft mattresses contour closely to the body, they tend to trap heat.
Medium Mattress | Firmness Level 5 to 7
Medium mattresses provide moderate support with less sinkage, and they conform lightly to the sleeper's body.
Who are medium mattresses for?
Side, back, stomach, and combination sleepers: Medium mattresses establish the perfect balance between pressure relief, contouring, and support, accommodating a wide variety of sleeping positions.

Mid-weight: Providing the perfect amount of compression and support for sleepers weighing between 130 and 230 pounds.

Back and joint pain: Medium firmness levels provide better pressure relief for heavier individuals than softer mattresses.

Bed sharers: The perfect mid-way point, medium mattresses are not too soft, nor too firm, suiting a wide range of sleeping positions and body weights.
Firm Mattress | Firmness Level 8 to 10
Firm mattresses offer minimal sinkage and conforming and provide an even surface and sturdy foundation.
Who are firm mattresses for?
Back and stomach sleepers: A firmer base eliminates the risk of the midsection sinking and misalignment of the spine. Sleeping on a firm surface also encourages the bones to absorb the majority of the pressure, reducing stress on muscles, veins, and arteries, and improving blood circulation.

Heavy body weight: Firm mattresses provide the best support and body weight distribution for people weighing over 230 pounds. As a general rule, heavier sleepers require more support and firmness.

Hot sleepers: The lack of sinkage and body-conforming means air can flow easily around the body, regulating your temperature.
What are the drawbacks?
Back and joint pain: Firm foundations can exacerbate pain for sleepers suffering from specific back problems, like arthritis and scoliosis.

Side sleepers: May experience pressure buildup around their hips and shoulders.
What else should I consider before buying a mattress?
So you've found your dream mattress. It's comfortable, supports your sleep style and body shape, it's within your budget, and you can't wait to get it home to test it out. Hold fire. There are a few more things you need to consider before heading to check out:
Check for a warranty. A good mattress company will offer warranties of at least 10 years for their products. Warranties can vary depending on the mattress type and brand. Look for key terminology regarding what the warranty covers, like sagging and faulty materials, and what voids a mattress warranty.

Look for a generous trial period and return policy. There's only one way to test out a mattress, and it's not in the store. You need at least a few weeks of sleeping on it at home to see how you sleep and how your body feels. Mattress companies have a trial period of between 90 and 120 days, guaranteeing free returns if you are unsatisfied with their product. Always check the small print and understand the specifics that could void the return policy.

Read customer reviews. They offer an unbiased, honest, and rounded opinion on a product, compared to what the company or their sales representatives are likely to tell you. Don't forget, we all have different preferences, and a mattress is a very personal choice.

Measure the mattress. Whether you're looking to pair it with an existing or entirely new bed frame and set of sheets, this is an essential step! Due to the wide variety of mattress styles on the market, unfortunately, one size doesn't fit all when it comes to the measurements of a twin, queen, or king. Make sure to measure the length, width, and height, as some mattresses will be thicker than others and this could influence your choice of bed linen and bed frame.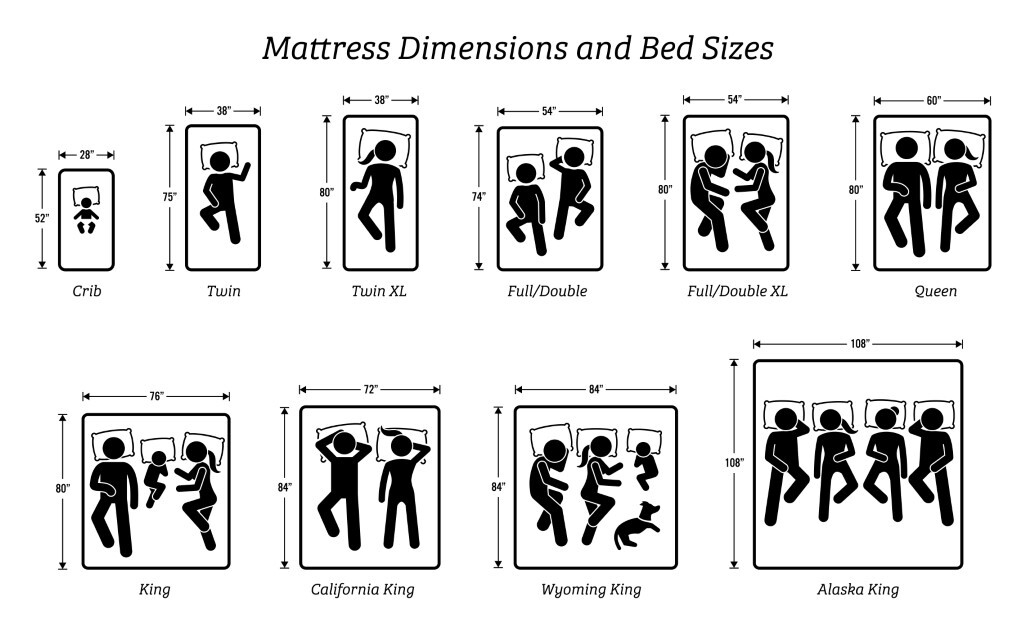 How thick should a mattress be?
Mattresses typically range from 8 to 14 inches thick, though we suggest aiming for one that's at least 10 inches. Any thinner and it may lack the support, responsiveness, and pressure relief that a thicker mattress provides. Though, a heavy person may benefit from a thicker mattress.
Does it matter what bed foundation I use for my mattress?
Yes, a bed's foundation can significantly impact how your mattress feels, the airflow, and even its longevity. Rather than placing the mattress directly onto the bed frame, you must make sure it has a sturdy foundation that is compatible with your mattress. This means it should be made with durable, high-quality materials, and gaps between slats must be no wider than 2.75 inches as it could put your mattress at risk of sagging or creating discomfort. While slatted bases get a point for breathability, solid bed frames provide better support. If your bed requires additional support, consider using a bunkie board.
To get you started, here's a list of some of the most common bed frames and the mattress types they suit:
Slatted base: Hybrid; innerspring; pillow-top.

Solid base (including platform beds): Memory foam; polyfoam; latex foam; hybrid; innerspring; gel-infused foam; pillow-top.

Box springs: Innerspring.

Adjustable base: Memory foam; polyfoam; latex foam; hybrid; gel-infused foam.