Rather than finding a space to fit your dining table, find a dining table to fit your space.
Short on space? It's just a matter of perspective. True, not everyone is blessed with the luxury of a large room dedicated specifically to the act of dining, particularly if you're a city dweller where every square foot comes at a high price! The modern-day dining room is often tucked into the kitchen corner, an area attached to the living room, or wherever your dining table fits. However, perhaps that's the very problem. Perhaps it's not the space that's the matter, but how you're filling it. Regular dining tables are not always compatible with small, quirky spaces, which is why we've put together a consolidated list of the best dining tables for small spaces. With these space-optimizing dining table designs, rather than being short on space, soon you'll be swimming in it!
1.

Extendable Dining Tables

Extendable tables are a godsend for hosting special celebrations or spontaneous dinner parties in small dining spaces. As the name implies, the table extends to cater to extra guests, allowing you to maximize space for everyday use, and subscribe to the more-the-merrier ethos when the moment's right. Some table extensions make room for a couple of extra guests, while others expand the table up to double or triple its size. The best extendable dining tables allow you to make the most of your space when closed and seat your guests comfortably when extended. Always take note of the table measurements when it is in its extended position. That way, you can be sure your table will still fit into the room!

There are four common extendable dining table designs: drop-in/traditional leaf, butterfly leaf, drop leaf and stow leaf.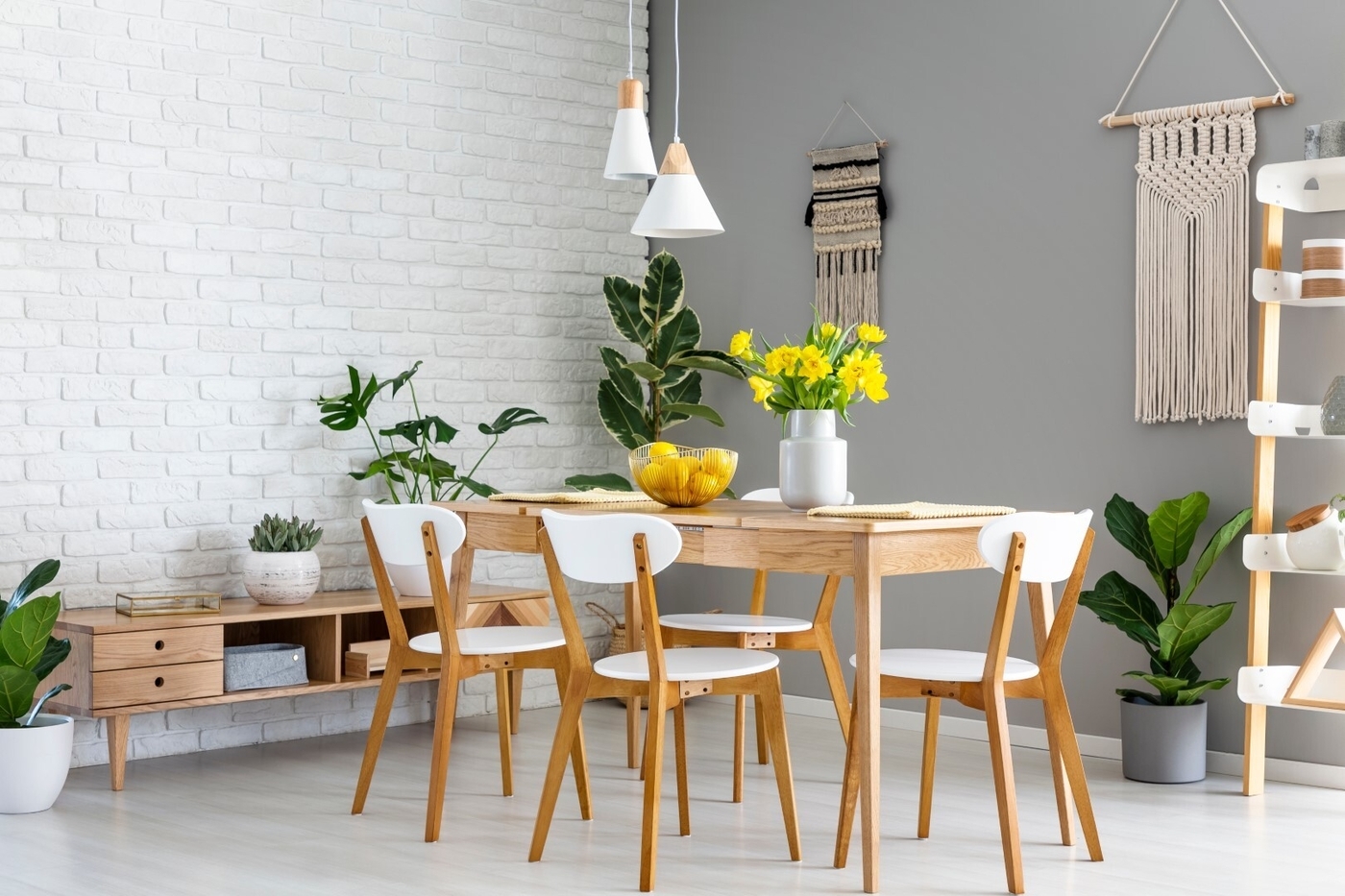 Traditional Extendable Dining Table
Traditional extendable dining tables may look and function like regular tables, however, inside they hold a secret benefit revealed only when their two ends are pulled apart. The gap created in the center of the table uncovers table extensions, referred to as 'leaves', designed to slot neatly into the gap. Some drop-in leaf tables have only one extension leaf, while others feature two or three. Extension leaves are typically 18-inches wide providing enough space to add two extra places to the table, with one on each side. Similarly, removing the leaf will save 18 inches of space, making a huge difference in a room where square footage is limited.
Butterfly Leaf Dining Table
Butterfly leaf tables are similar to traditional extendable dining tables. They operate in the same way by pulling the two ends apart to open up a gap in the middle of the table. However, this time the leaf is attached to the table and folds in half to be stored in a compact space beneath the tabletop. While this extension mechanism is more compact, it also requires more moving parts which may decrease in function over time due to rust or swelling of the wood.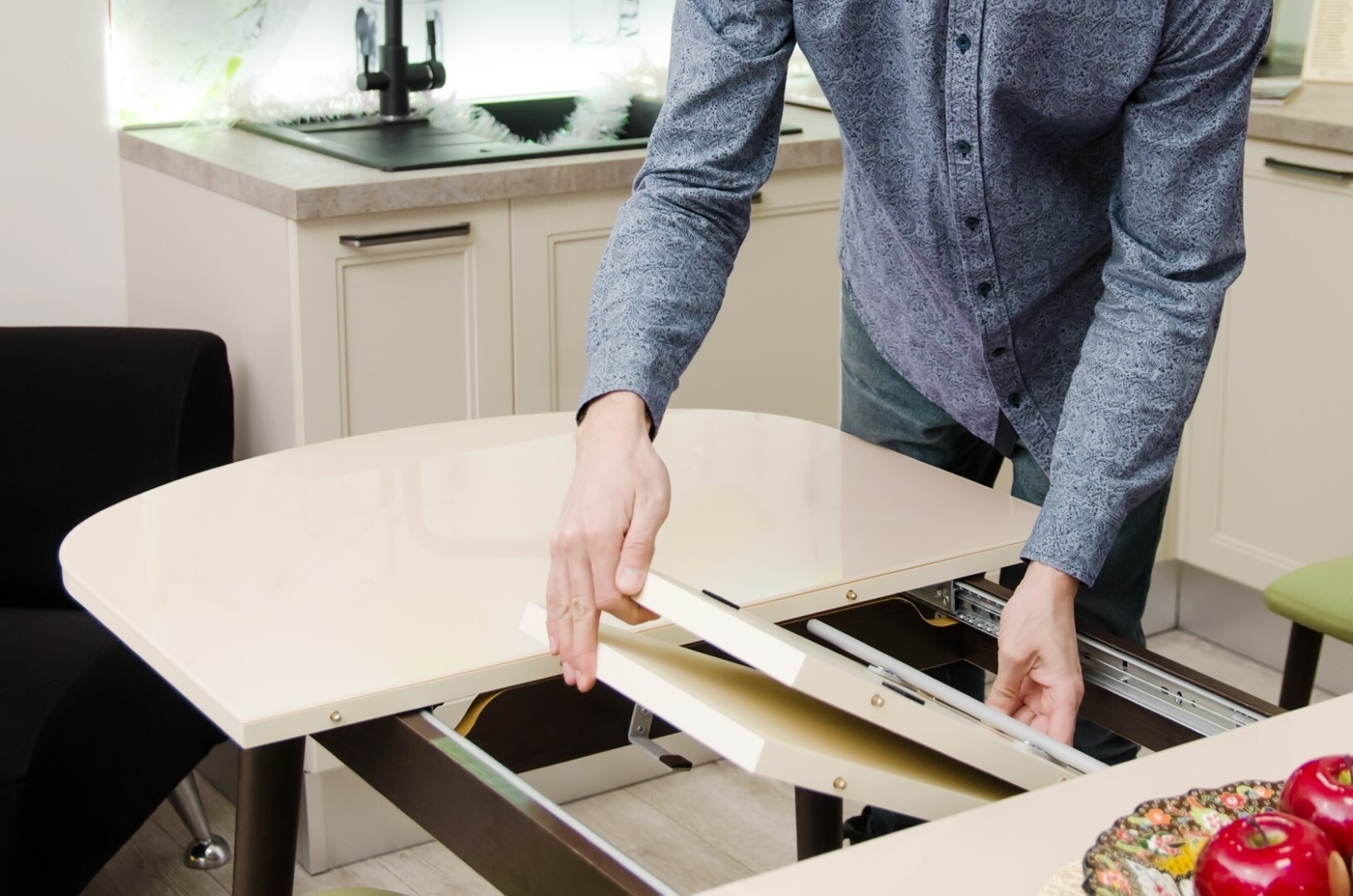 Drop-Leaf Dining Table
Drop-leaf tables are flexible and space-savvy, leaving a minimal footprint when not extended. The design consists of a fixed center and hinged leaves attached to the table edges. When more table space is needed, the leaves are lifted and secured into place by brackets mounted to thetabletop, or gate legs, depending on the table base style. As well as being easy to operate, the leaves are versatile and can be lifted and dropped independently from one another, as and when needed. Be careful not to place too much weight on the leaves as they are not as sturdy as other extensions and take note of how much legroom is available when the leaves are down.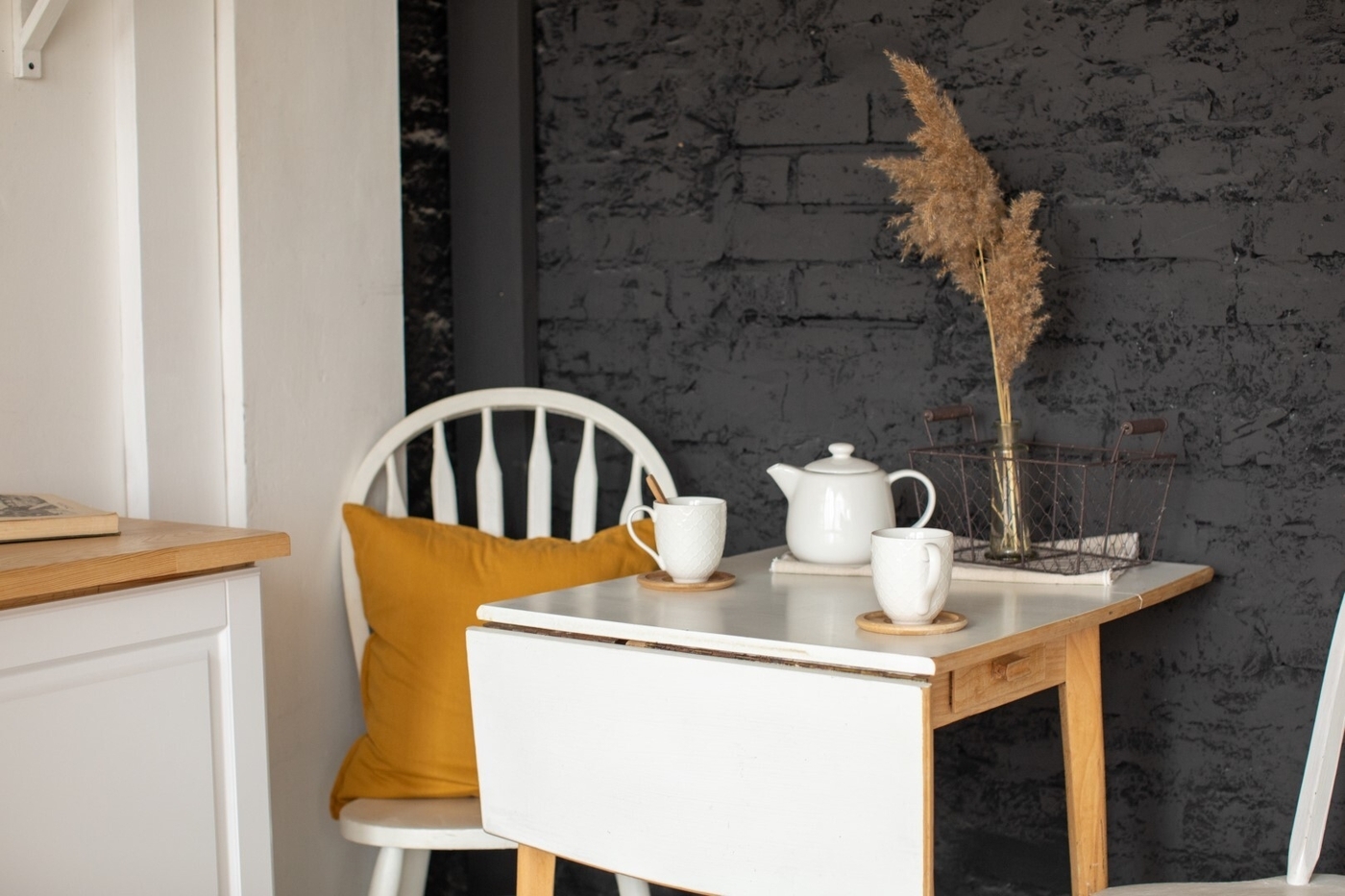 Stow Leaf Dining Table
Stow leaf tables are celebrated for their quick, easy, and smooth operation, ready to add a last-minute place setting at any moment. The table's leaves are stored neatly under the tabletop within sight, giving the table a characteristic double-layered look.Rather than extending from the center, the stow leaf table extends at both ends. The extension leaves slide out from under the table and lock into place with the help of a smooth gliding mechanism. The extension leaves offer a stronger and more durable alternative to those on drop-leaf tables.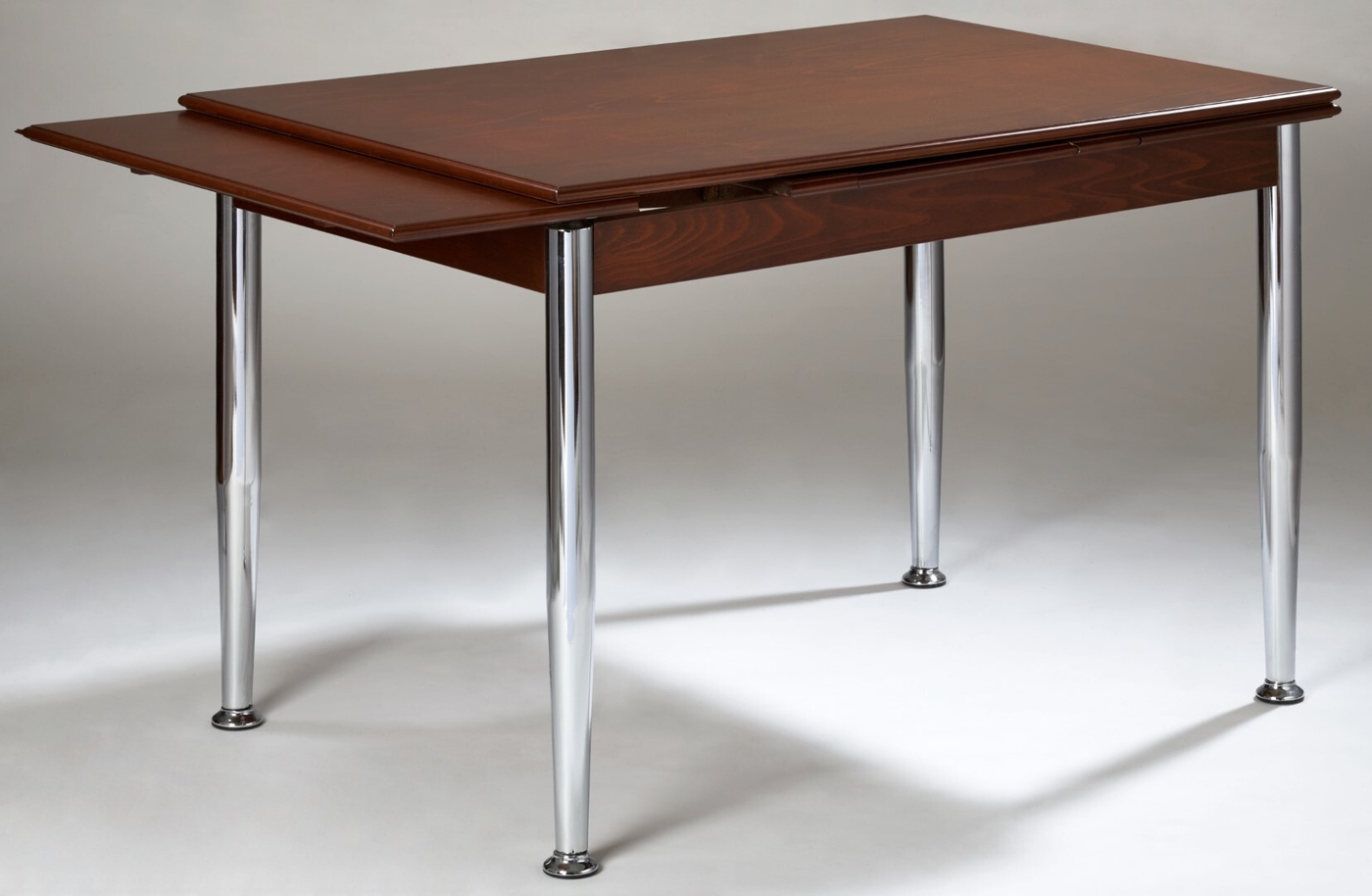 2.

Wall-Mounted Folding Dining Table

Try to find a more compact and space maximizing table than a wall-mounted folding dining table - we dare you! As the name implies, the table is mounted onto the wall and sits flat against it when not in use, taking up minimal floor space. The height can be customized to suit your unique needs, whether you prefer a bar or a regular table. The multifunctional table design can be easily folded up or down as and when needed, for enjoying meals, providing extra cooking space, or serving as a makeshift home office. Some fold-down dining tables also come with storage shelves, so you can save space and stay organized at the same time. And, when closed, the clever design often looks more like a stylish storage cabinet than a dining table. Paint it the same color as the wall to make it blend seamlessly into the room, or make it a feature by turning it into a work of art, a chalkboard, or opting for a contrasting color to the wall.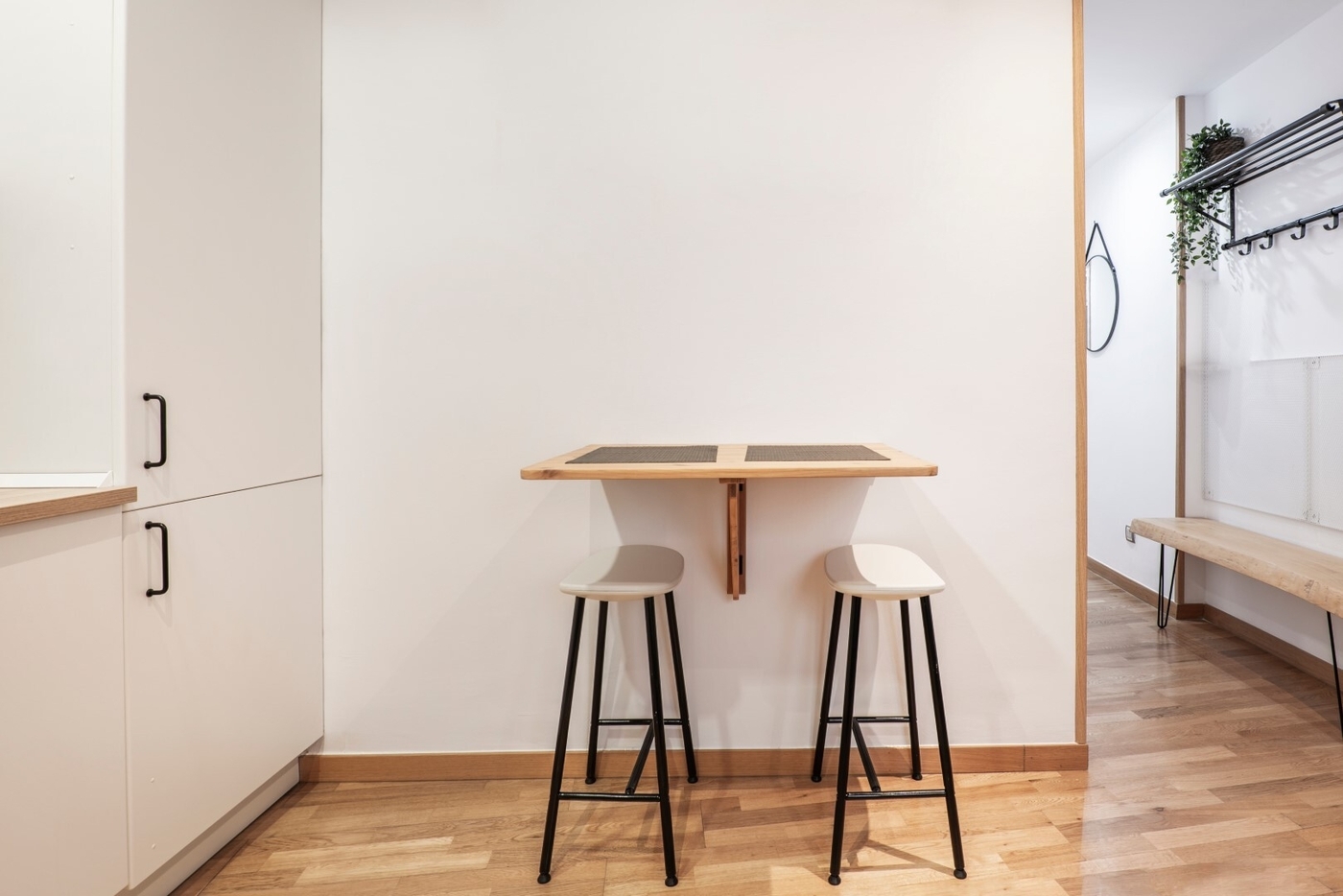 Not all wall-mounted dining tables operate in the same way: some fold upwards while others fold down, and some tabletops are supported by a triangular 90-degree support frame while others have fold-out table legs. Always check the weight capacity for the table as although folding dining tables undoubtedly come up trumps when it comes to saving space, they are often not as sturdy as a regular table.
3.

Round Dining Table

Round dining tables are the best table shape for small spaces and small gatherings. The curved contours fit cozily into tight corners and occupy less visual weight than square tables, making the space feel bigger. The lack of corners also improves the flow of the room and creates more space around the table for maneuvering. Not to mention, circular dining tables encourage an intimate, informal, and inclusive setting that inspires better social interaction. In Arthurian legend the round table indicates equality as with no table head everyone is sat in equal stature, and the round shape means everyone can see each other and participate in conversation more freely. Plus, with one continuous edge, you can invite as many guests as can fit around the table's perimeter, turning your dining area into a social hub.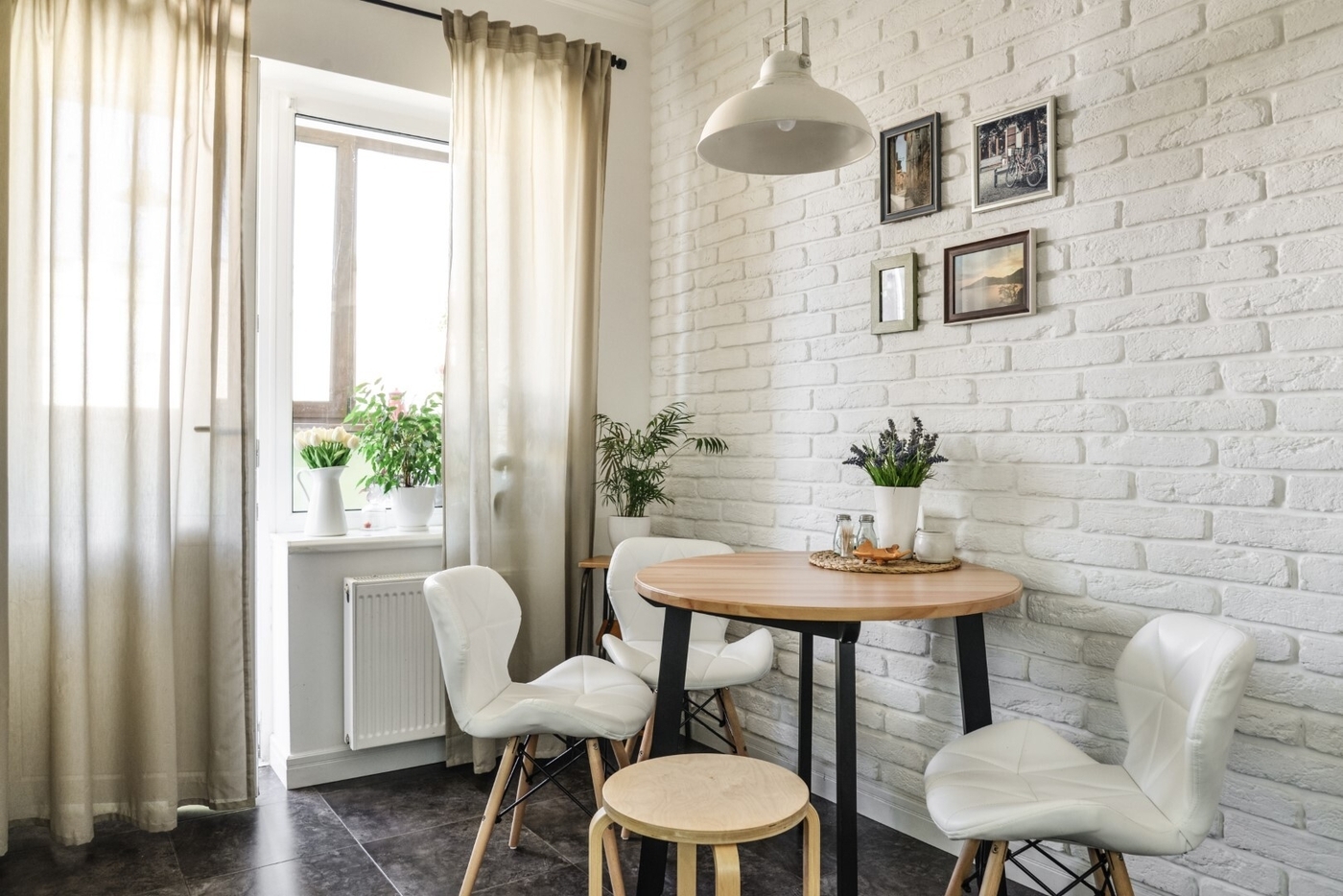 4.

Square Dining Table

If you're not sold on the gentle contours of a round table and prefer something more crisp and angular, a square dining table is another great small-space dining solution. The boxy shape has the flexible advantage of slotting neatly into a corner or up against the wall. This way you save valuable floor space in a day-to-day setting while being ready to accommodate an extra guest or two when the moment arises. Most square tables cater to a maximum of four people, providing a casual, intimate settingfor wining and dining with a few select guests.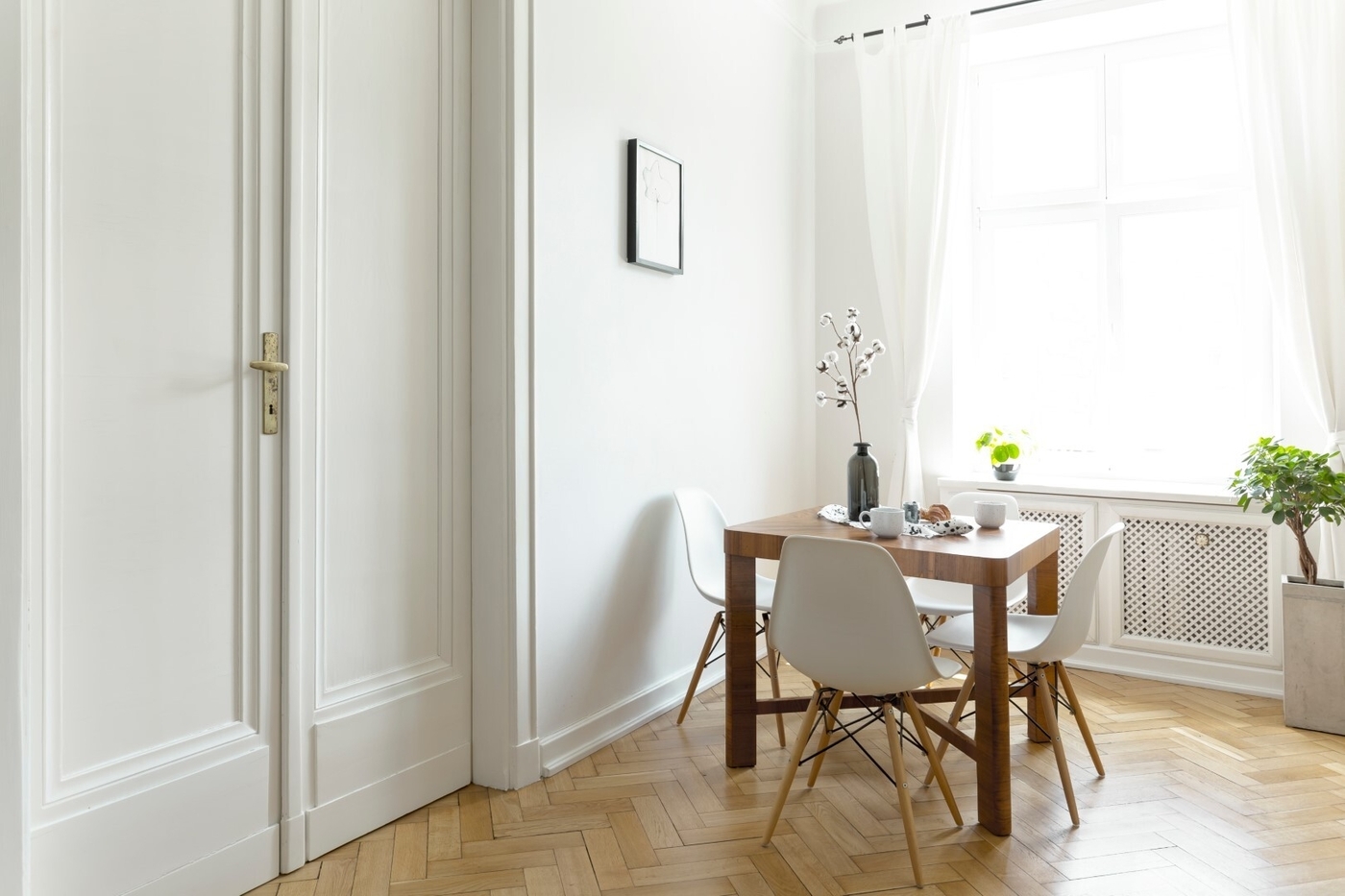 5.

Tall Dining Table

Tall dining tables provide a trendy, bar-like dining experience, an unexpected and refreshing alternative to the traditional dining room setup. The added height complements cramped spaces by drawing the eye upwards, creating the illusion of a bigger room. There are two types of tall dining tables: counter-height tables, and bar-height tables. The principal difference lies in their height.

Counter height dining tables: sit at around 34 to 36 inches, compared to the 28 to 30-inch height of regular dining tables. Match the table height with chairs that sit around 24 to 26 inches. As the name implies, counter dining tables sit at the same height as kitchen counters, so they can double up as a convenient additional surface area for food prep too. They tend to favor a more casual everyday dining setting.

Bar height dining tables: sit at 40 to 42 inches and should be paired with chairs or stools that measure 28 to 30 inches tall. The added height raises the bar in terms of unique home dining experiences, going against the traditional sit-down dinnertime affair. They create a versatile and optimal space for entertaining, offering a seating option for dining or a standing bar-like environment for drinks and nibbles.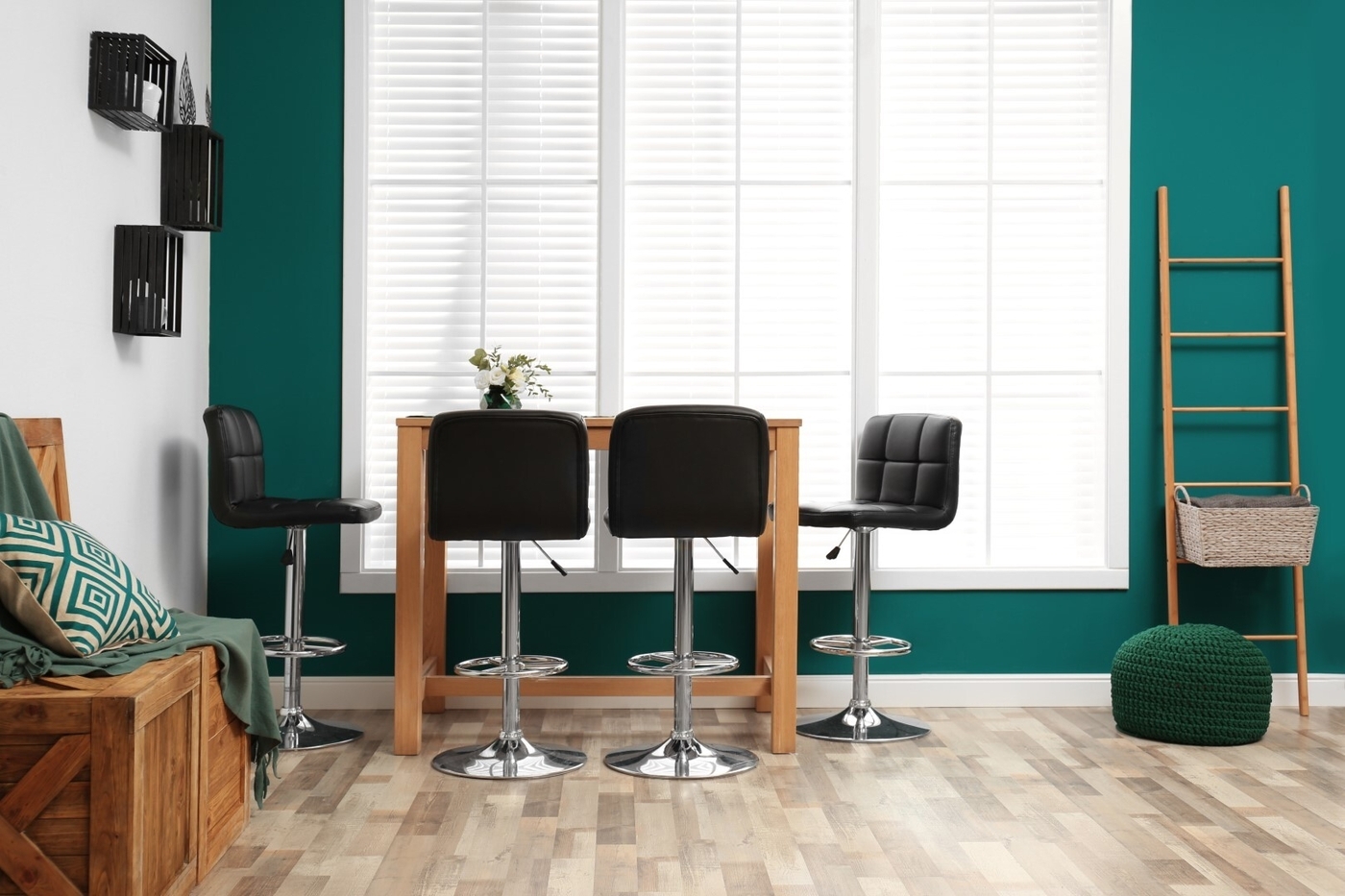 Tall dining tables make a stylish,modern addition to a kitchen or dining room setup. They are available in a range of shapes and styles, from round to rectangular or square, leaving a small footprint that makes them a great option for small dwellings. Bear in mind that tall dining tables are not the most suitable option for the elderly, families with young children, people with disabilities, or anyone looking for a traditional dining experience.
6.

Glass Dining Table

Glass dining tables add an effortlessly contemporary and sophisticated look to any dining space. The transparent material occupies minimal visual weight and distributes light around the space, reducing shadows and making even the smallest, darkest room feel instantly brightand spacious. Unlike other materials, glass tables don't dominate the space or demand attention as the room's focal point. Rather, the crystalline surface provides full visibility of the dining chairs, the dining table base, and the floor beneath, and allows other features in the room to steal the attention. Though glass tables are easy to clean, they do require more maintenance as glass is prone to dust, fingerprints, and smudges which are easily noticeable and can distract from its elegance and appeal.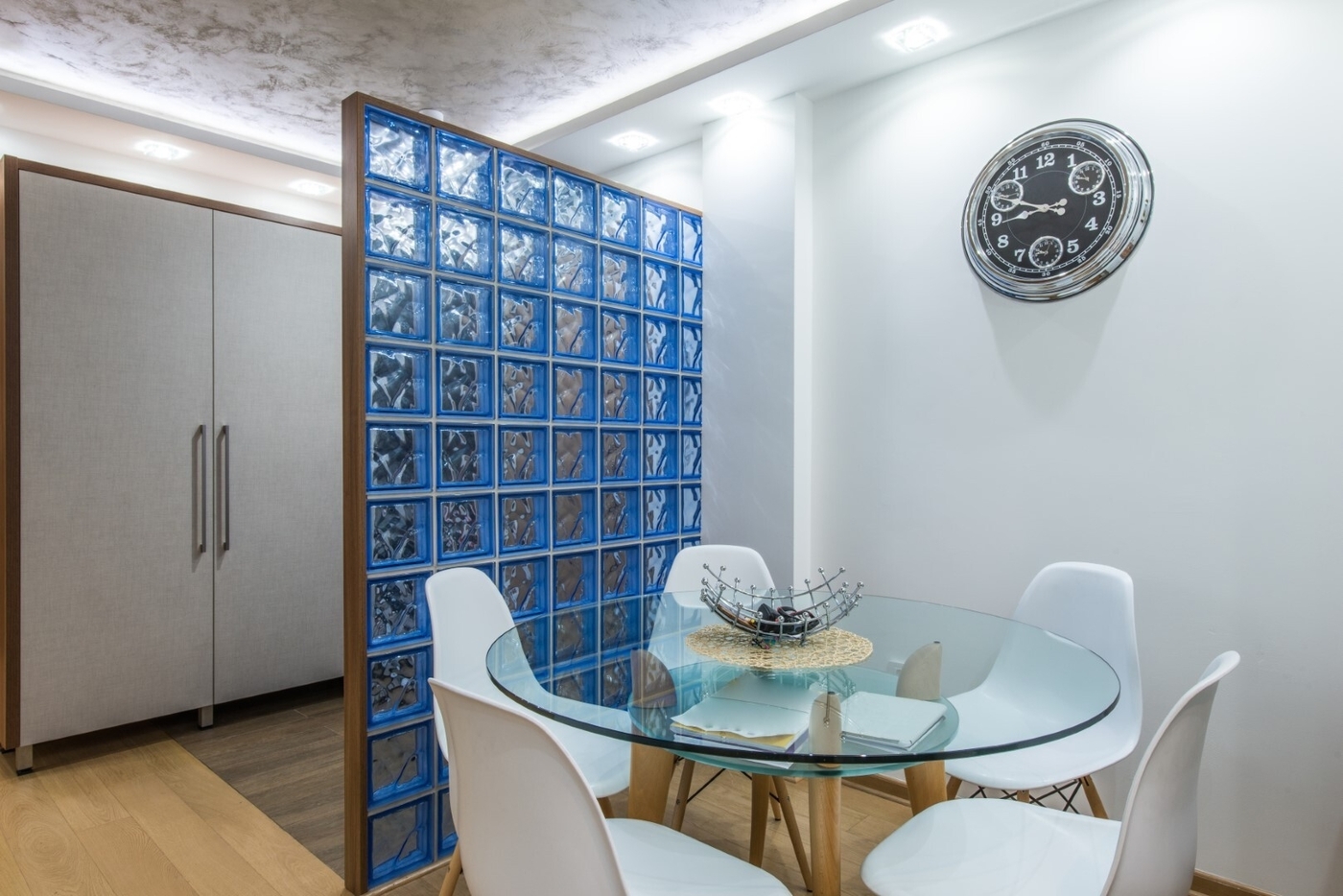 Let's talk about small-space seating…
Now we've got the table sorted, it's time to think about all things chair!
How much space should I consider around the table for chairs?
Before buying a table, make sure you have accounted for enough space to comfortably walk around the table with the chairs pushed out as if occupied by guests. The average dining chair is about 18 inches deep, so we recommend leaving at least three feet between the wall and the dining table. Where that's not an option, consider other seating options like stools and benches that occupy less space.
How many dining chairs should I buy?
For a comfortable dining experience, each guest should have 24 inches of table space and six to ten inches of additional space between chairs to easily get up and down from the table and avoid below wars. To calculate how many chairs to buy, measure each length of the table in its fully extended version and divide it by 34 inches (24 inches of table space plus ten inches of additional space).
What height should the chairs be?
The average height of a dining table is 30 inches with dining chairs around 18 inches tall. As a general rule, there should be at least 12 inches of space between the underside of the tabletop and the seat of the chair. Calculate the correct seat height for your dining table by subtracting twelve inches from the height of the table.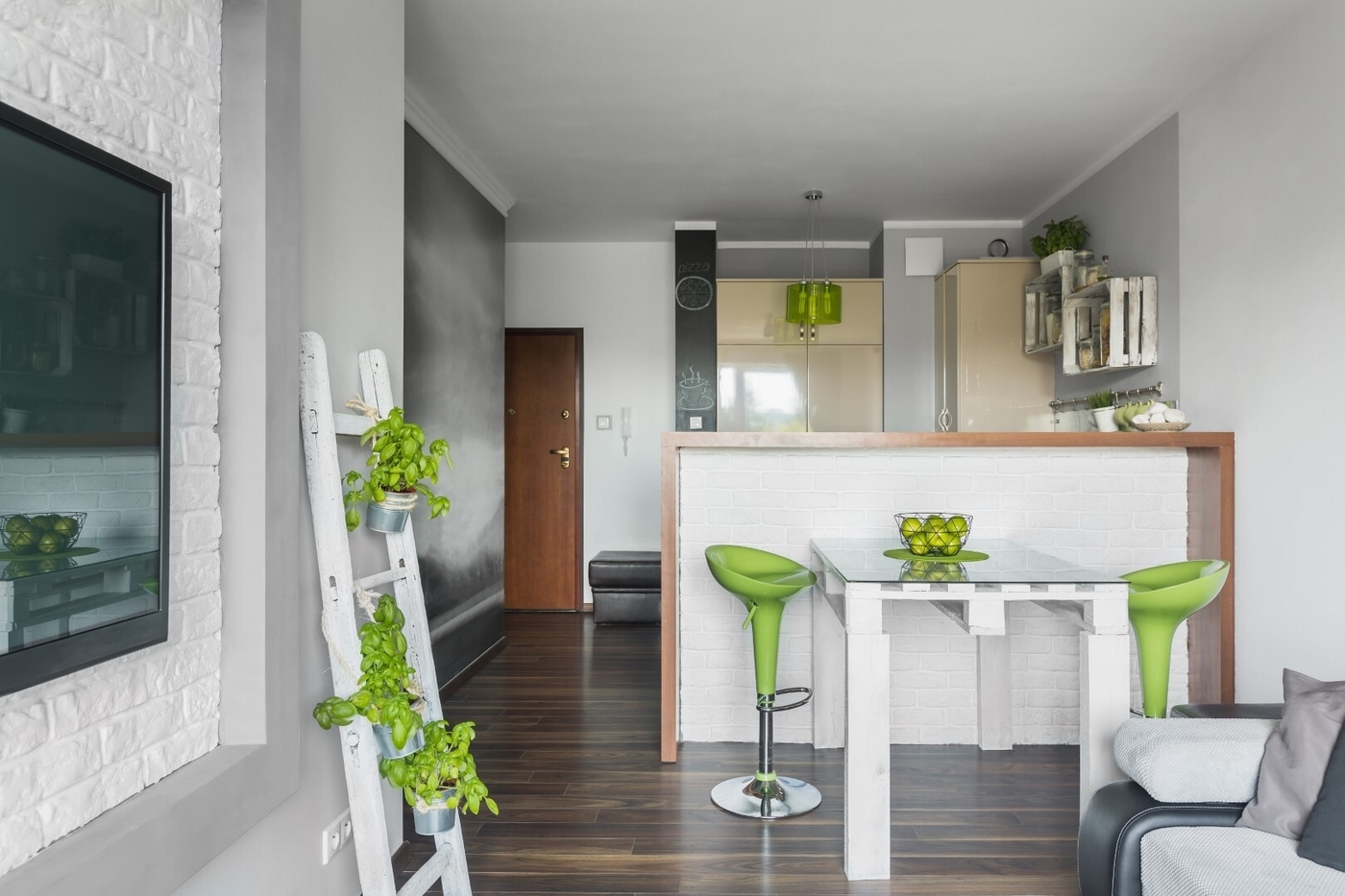 What are the best dining chair styles for small spaces?
Armless Dining Chairs: Armless chairs have a clean, modern look and tend to occupy less space than those with arms, meaning more places can be set around the table. If you prefer the more classic look and support of chair arms, calculate at least seven inches of space between the chair arm and the bottom of the table to make sure they can slide under with ease. That way, you can be sure they won't occupy valuable square footage when unoccupied.
Low Back Dining Chairs: Chairs with low backs occupy less visual weight than tall back chairs and therefore make small spaces feel more spacious. Chairs with straight legs and backs lower than the tabletop are a great space-saving option as they can be tucked under the table, entirely out of the way.
Dining Benches: A whimsical alternative to regular dining chairs, benches are a practical and space-optimizing solution for small dining spaces. They can squeeze on more diners than individual chairs, creating a casual, intimate, and canteen-like vibe, and can be tucked neatly under the table when not in use. Some bench designs have hinged seats so they can double up as smart storage solutions too.
Dining Stools: Sleek dining stools occupy minimal square footage and tend to be lightweight, making them an optimal and versatile seating solution for small modern spaces. Stools are a popular option for counter and bar-height dining tables complementing the casual bar-like aesthetic. Add an extra layer of versatility with an adjustable height stool to cater to people, and tables, of all heights.
Folding Dining Chairs: Folding and stackable chairs are a great seating option to have on hand ready to cater to occasional guests, as they can be easily stored away to free up space when not in use. Some folding chairs collapse flat and can be hung in a cupboard, under the stairs, or slid into a vacant nook or cranny.