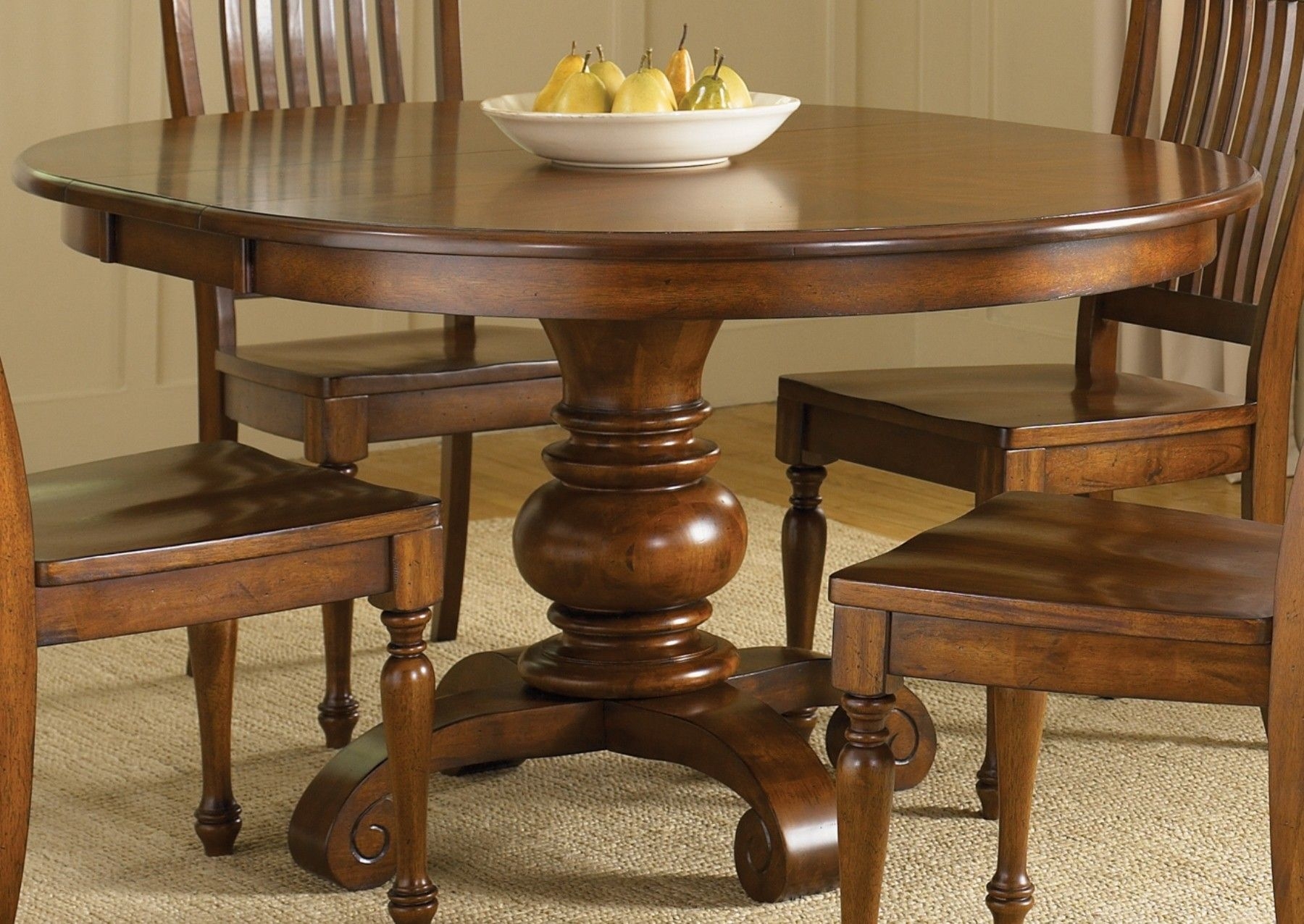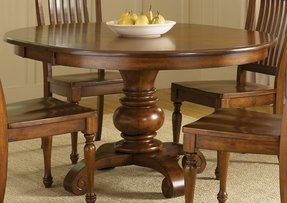 Liberty furniture for the americana pedastal table
A classic design of this 48'' dining table hypnotizes with its beautiful, pedestal base with four curvaceous feet for good stability. The round top can be extended thanks to a functional leaf, changing the diameter from 48 to 60 inches.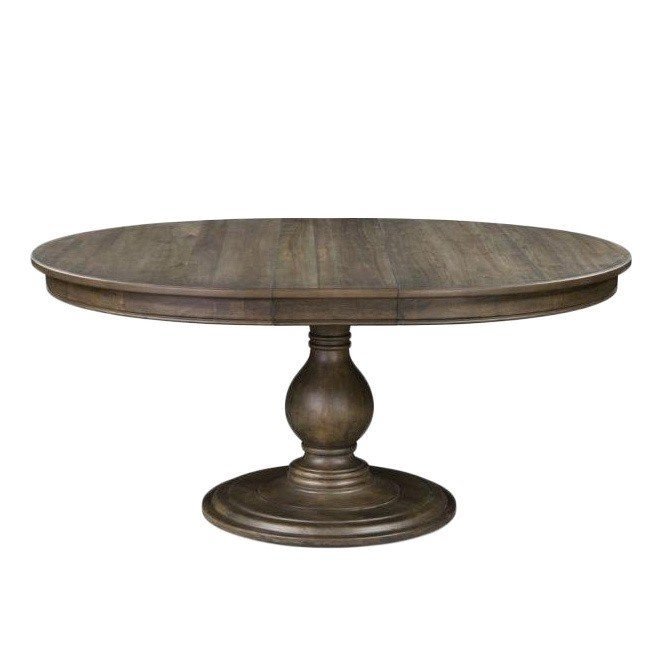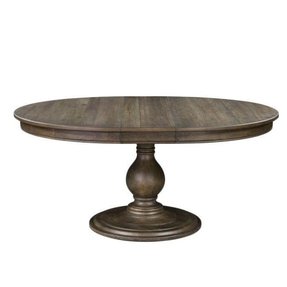 Magnussen d2471 karlin wood round dining table with wood top
Constructed of hardwood solids and dry gray acacia veneers, this table is as gorgeous as it is functional. It has an oval, extendable tabletop that rests on a rounded and tiered, pedestal base that ensures proper stability of the whole structure.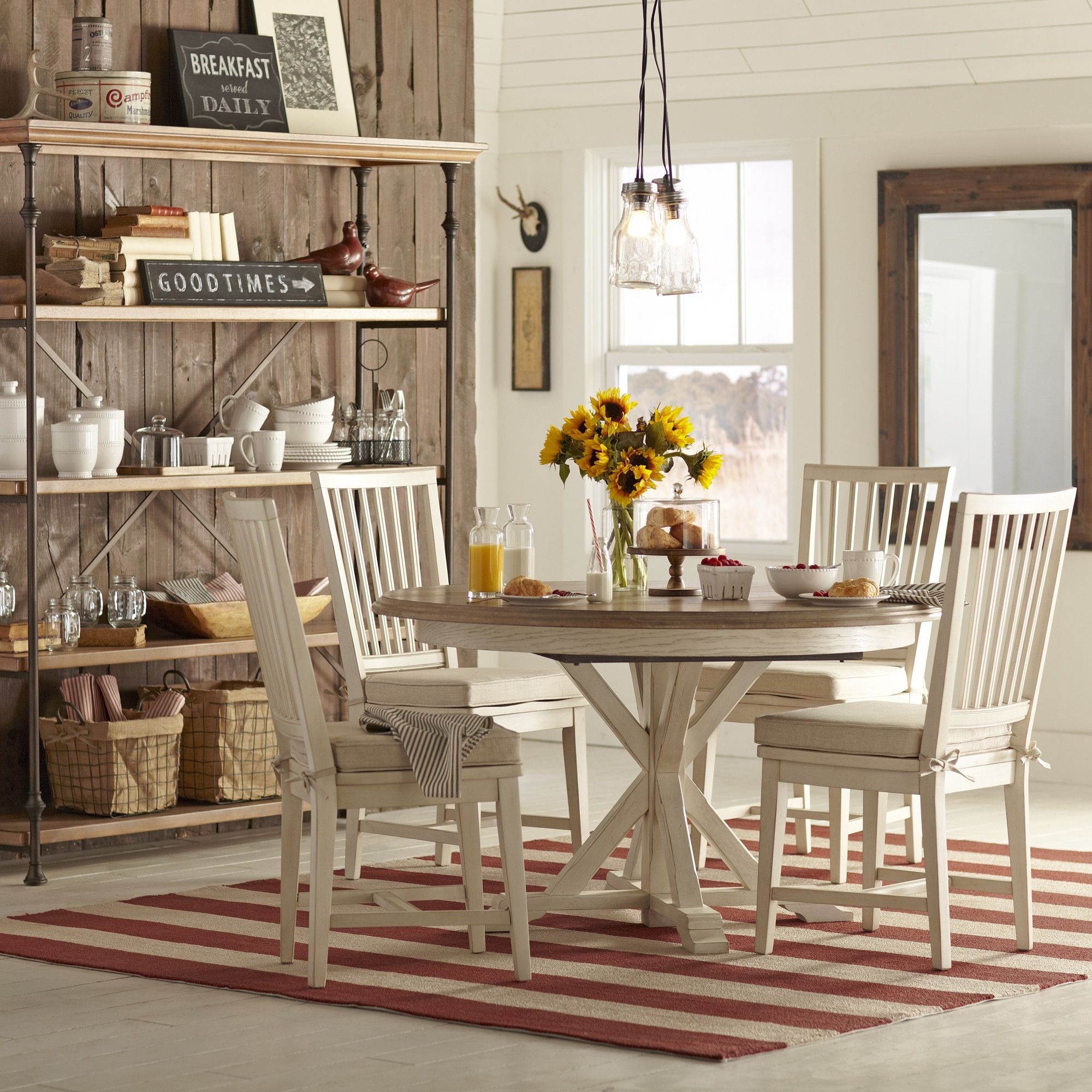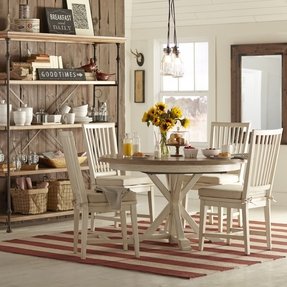 Grafton Table
Enjoy a meal and conversation with up to 3 friends by this spacious round table. It features distinctive base built of X-shaped hardwood solids and veneers. It has white oak finish with natural darker top.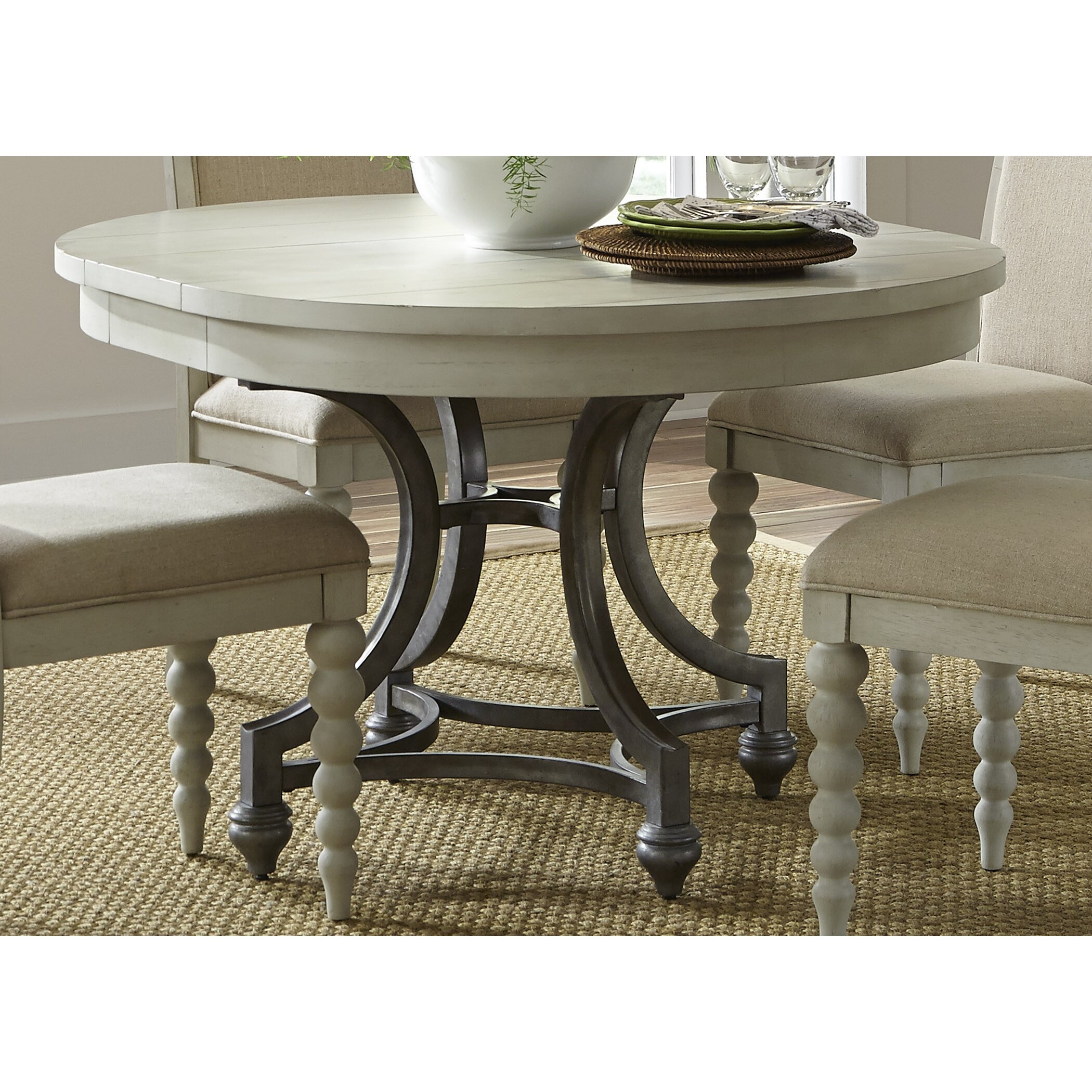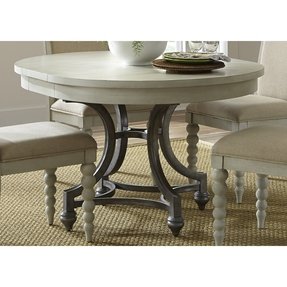 Harbor View Round Dining Table
Attractive cottage style table for 4 persons. It features a base with 4 sickle-shaped inwardly bowed legs and curved stretchers in 2 tiers of iron with a black finish. A round top and an extension leaf are of wood with a distressed white finish.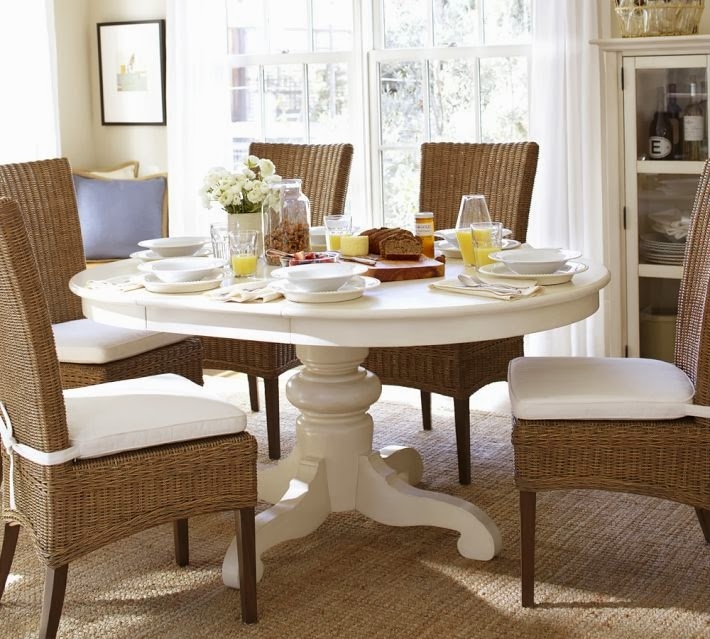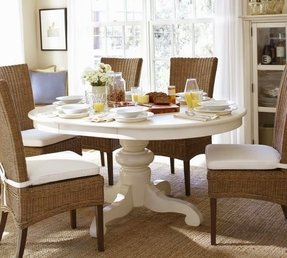 Tivoli Round Extending Pedestal Dining Table
An interesting piece of equipment that will provide comfort and will play the role of an interesting decoration in a dining room. This hand-crafted element has got a solid frame made of durable kiln-dried wood.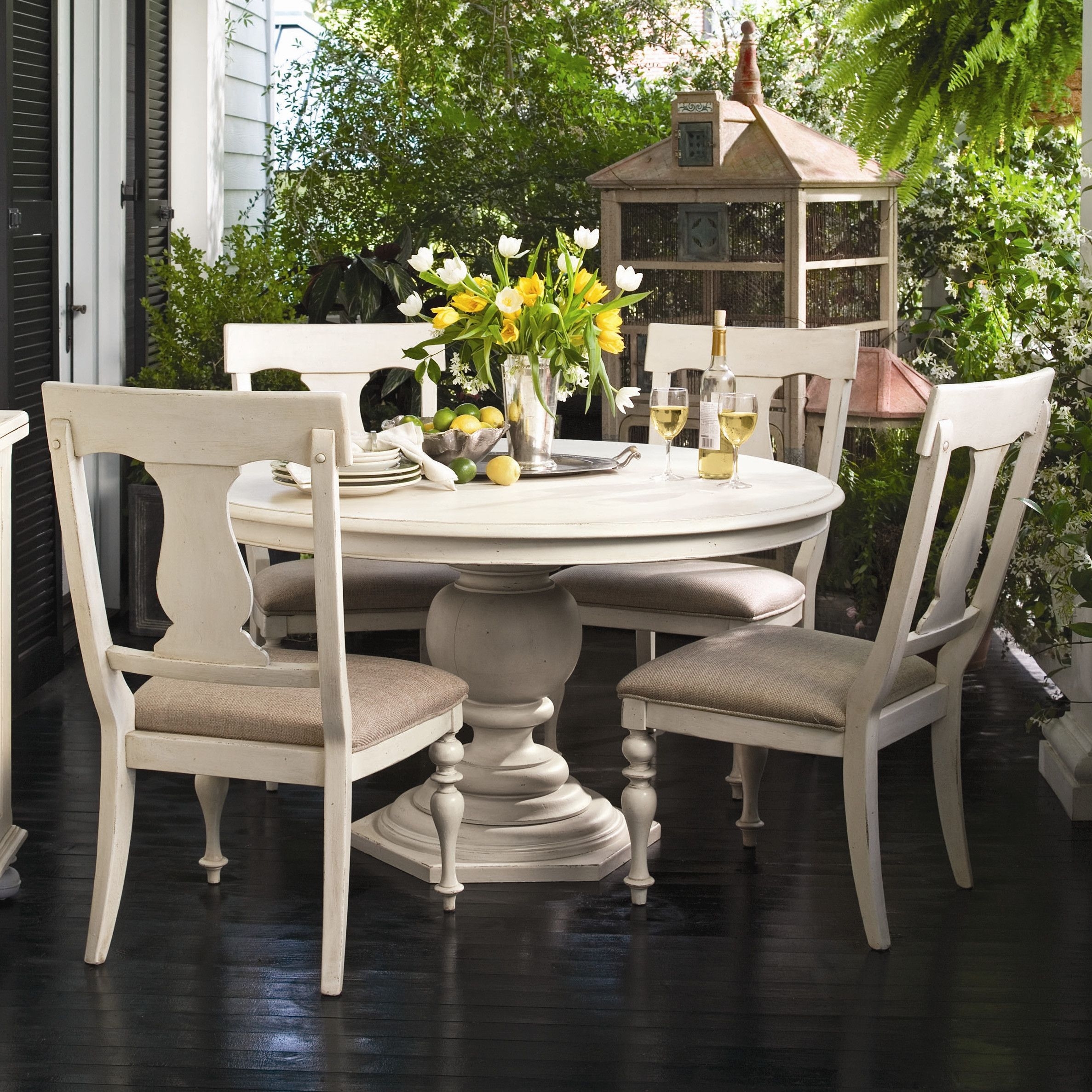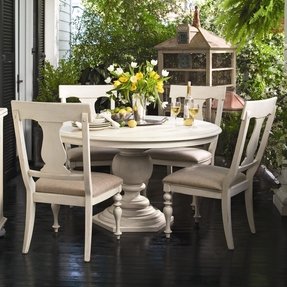 Paula's Extendable Dining Table
Beautiful, romantic contry style dining table on sturdy, carved columnar pedestal supporting thick oval top. Being constructed of hardwood solids and cherry wood veneers, it displays unique distressed white finish that accentuates the antique look.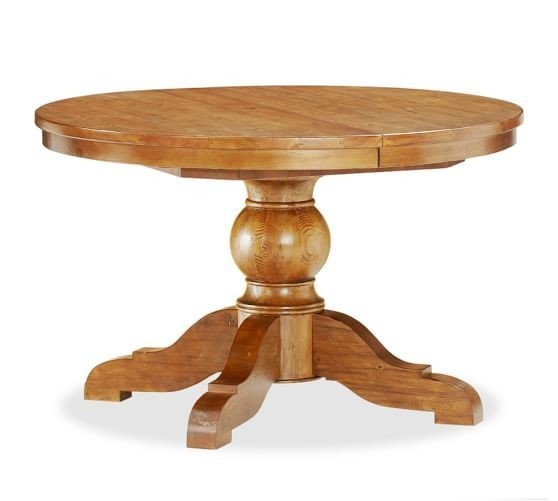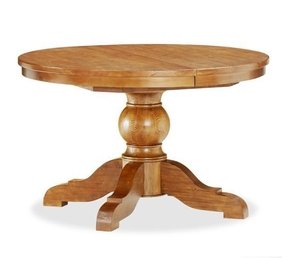 Sumner Pedestal Dining Table
A solid, attractive table designed for use in a dining room. It is a piece of furniture that was hand-crafted of klin-dried hardwood. Its pedestal base provides stability and its extension function allows for seating up to 6 people.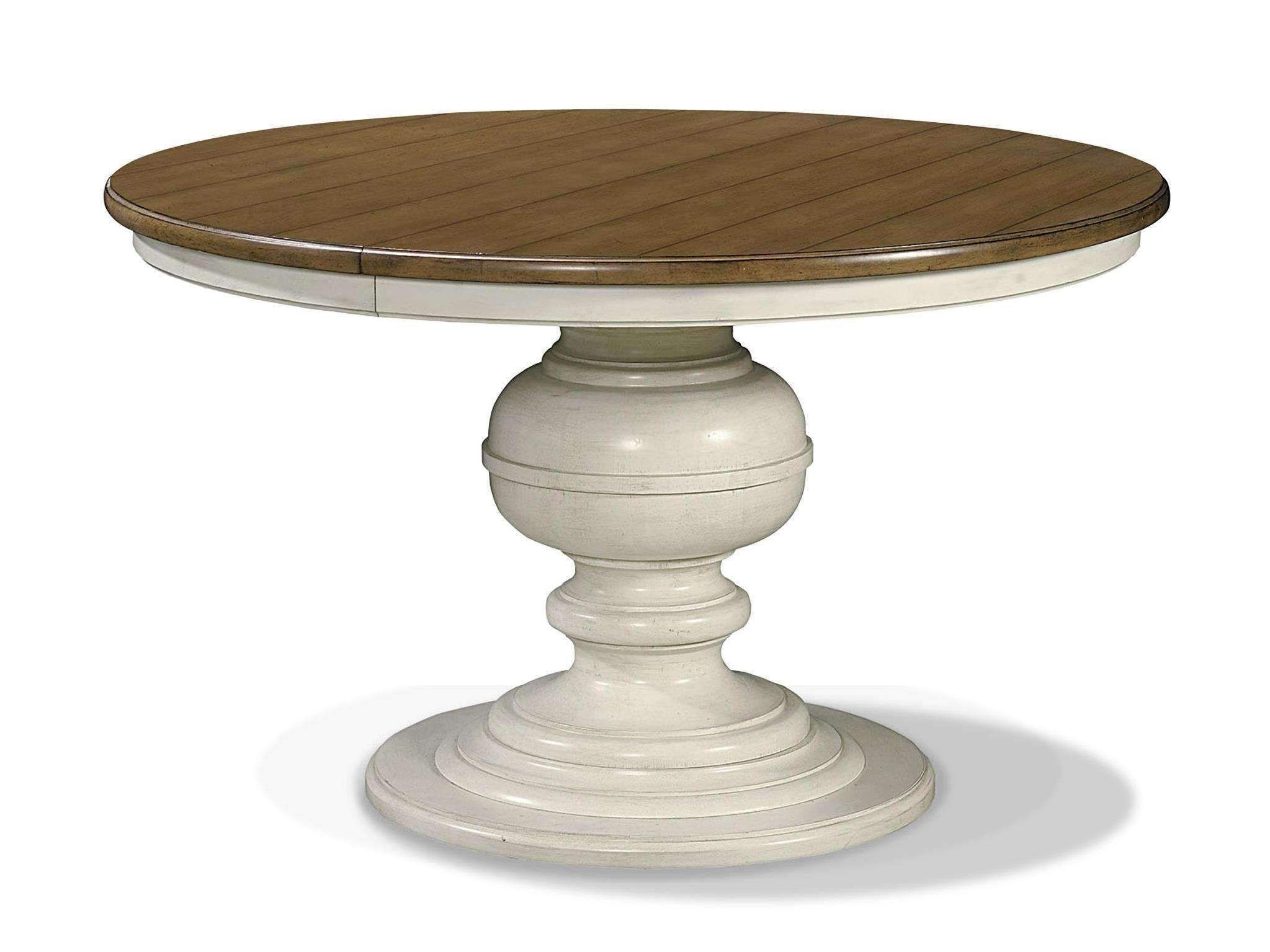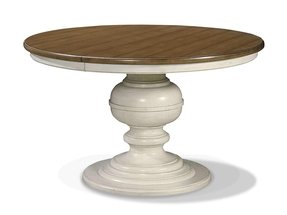 The southern home radley round dining table in cotton
Extendable quality that this round table brings makes your dining nook always ready to receive new guests. White pedestal supports leaf top with brown wood veneer on it. Rustic and cottage style seem to be the natural environment of this piece.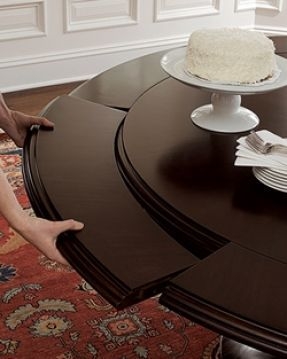 Mesas de jantar multifuncionais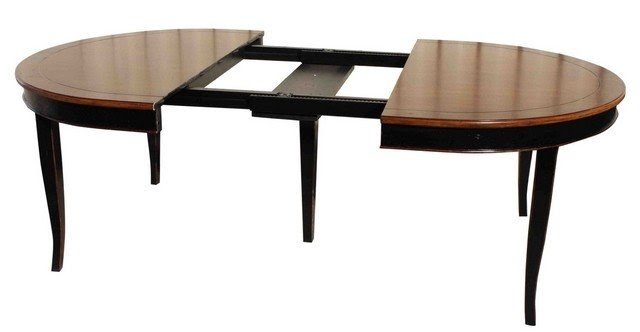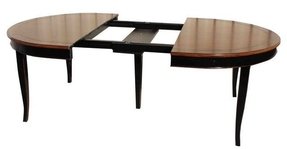 This four legs dining table offers spacious round top, which gets even more spacious when you unfold it - this is possible thanks to leaf extenstion construction. Dark base supporting mid-brown wooden top comprise a casual elegance style.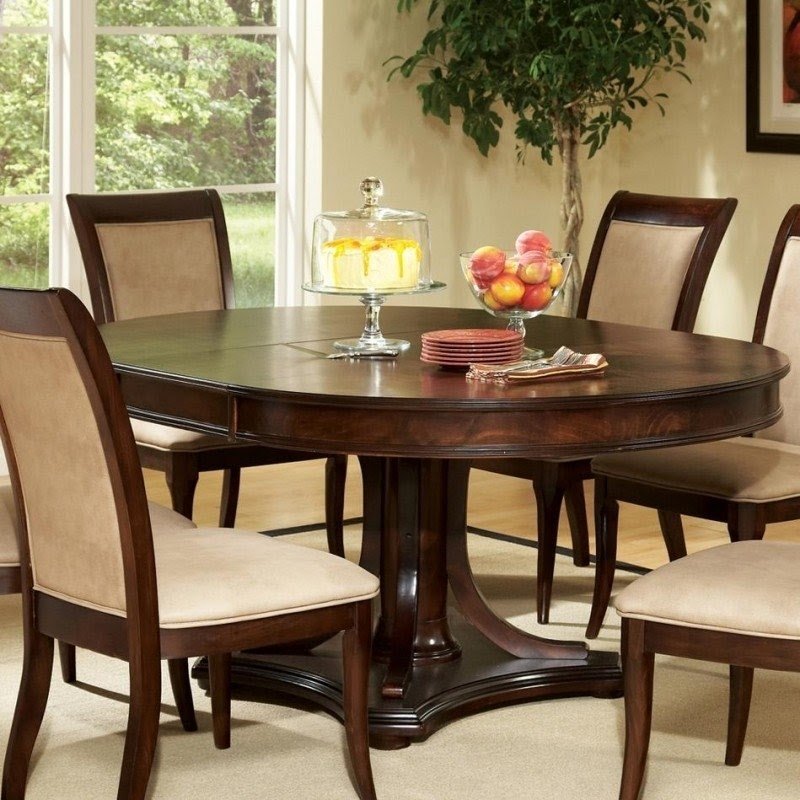 This large and massive pedestal table is a stylish and very practical solution for the dining room or kitchen. Beautiful dark chocolate finish is elegant and adds character to the interior. The extension leaf extends the broad application of the table.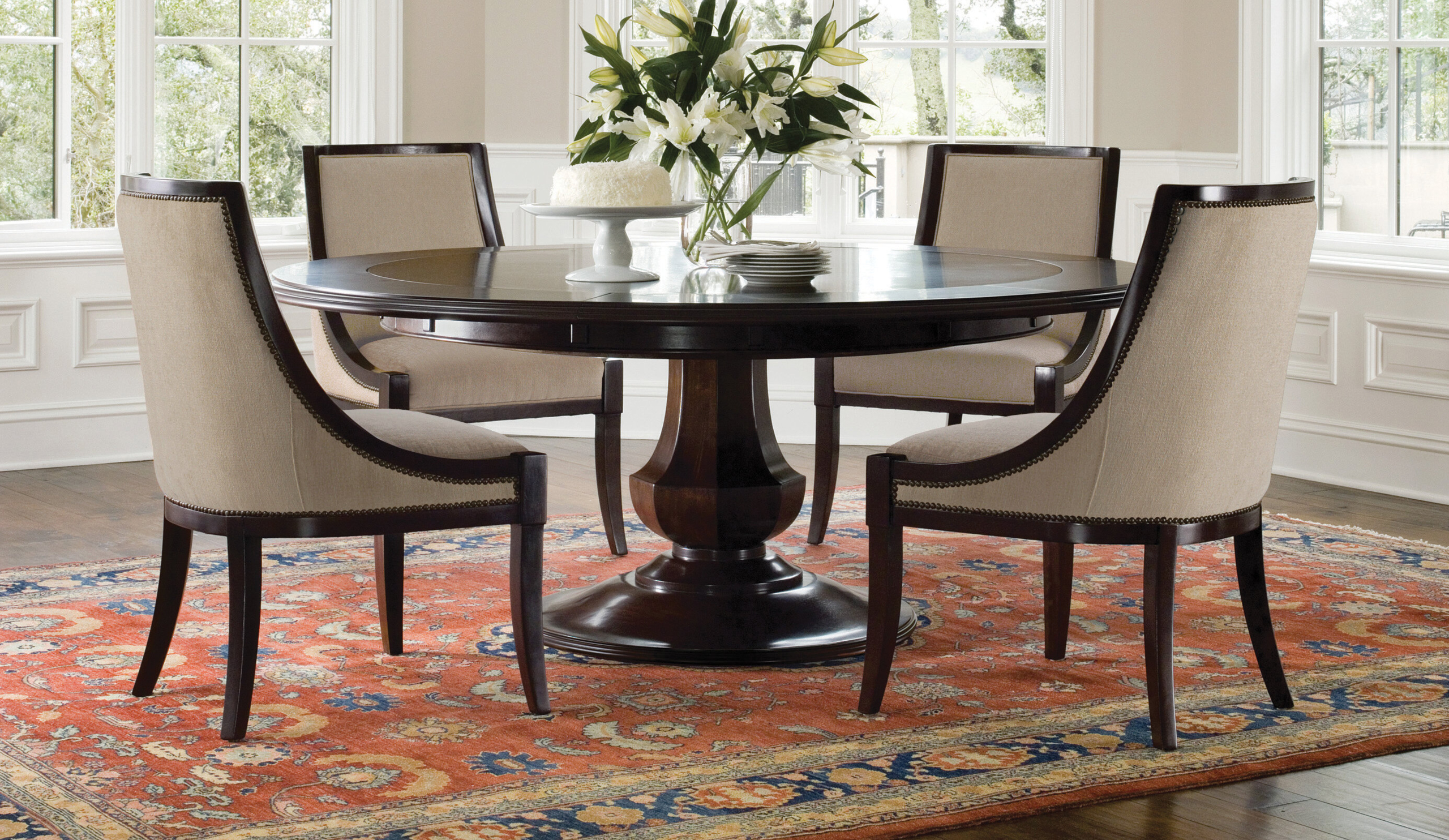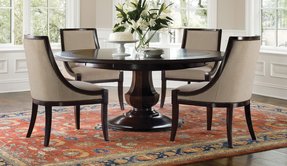 Sienna Round from Brownstone. 56" but expands to 72" with perimeter extension leaves.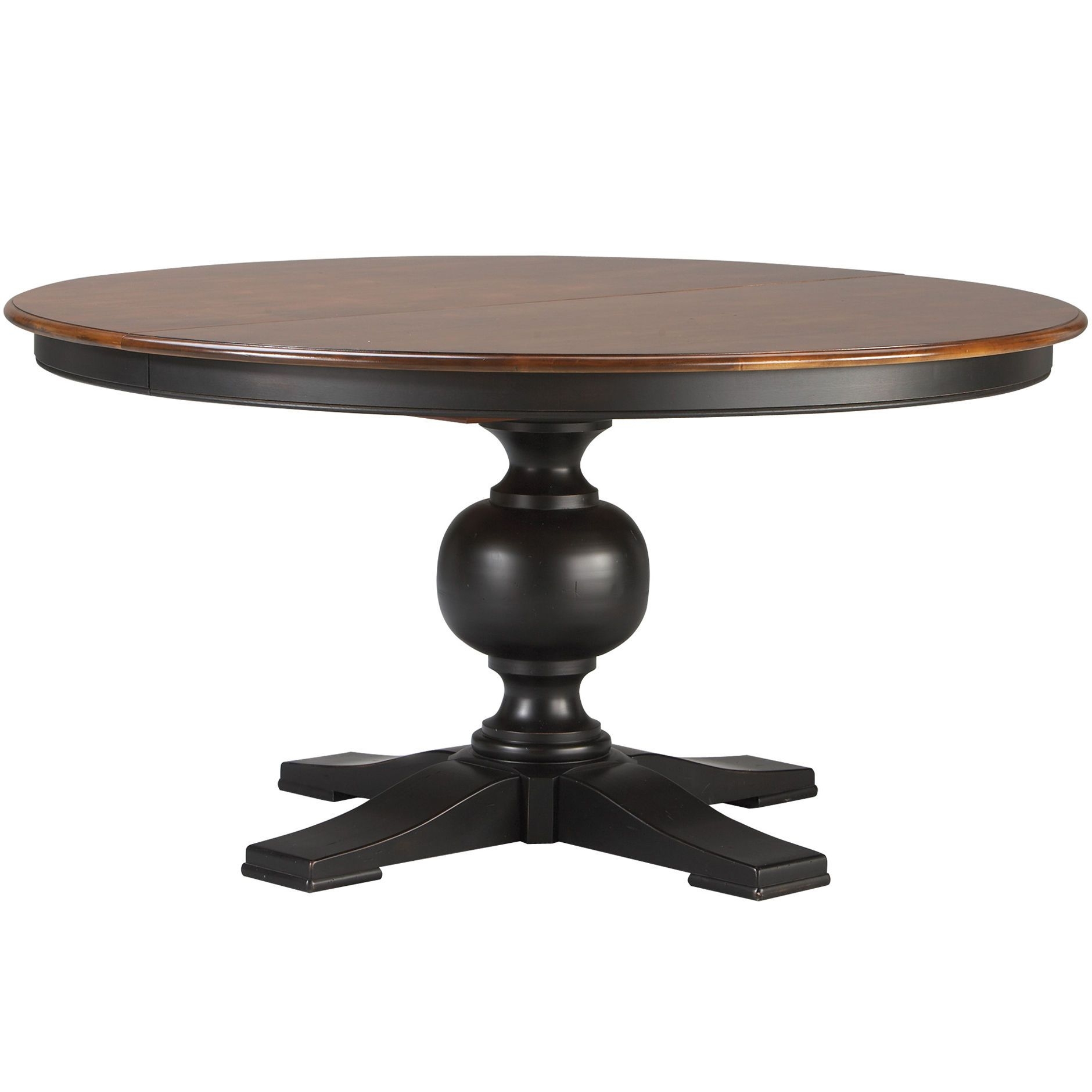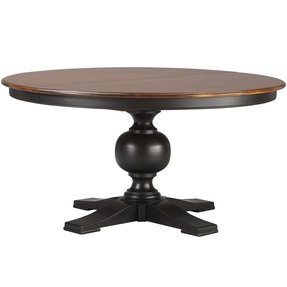 If you don't have much room in your home, you can try this extension table that you can enlarge every time, when hosting larger events. Crafted of solid wood, the table has a round top that can be made oval, and a massive, pedestal base with 4 flat feet for proper stability.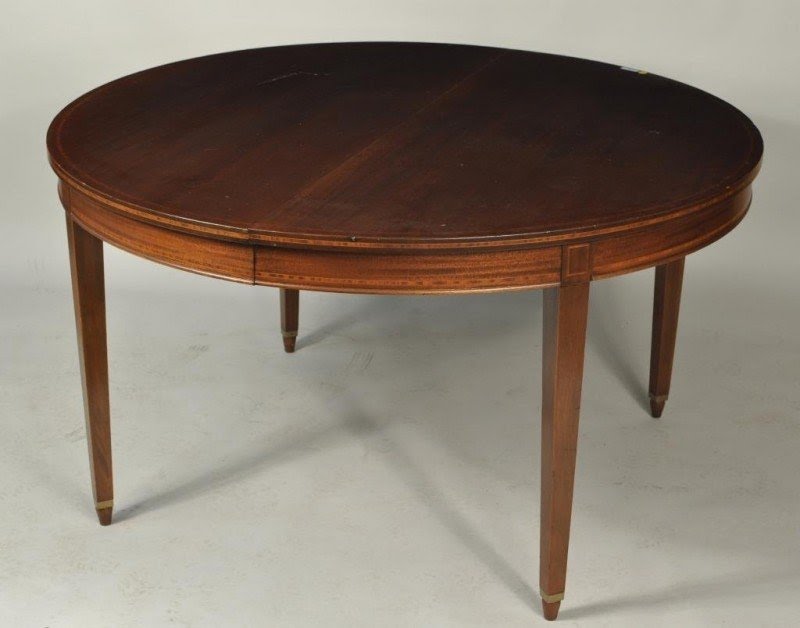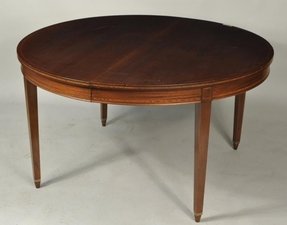 Dining table with a solid wooden construction in mahogany finish. It features a round top and four legs that provide strength and stability. Simple, classic design is suitable for many indoors. It also includes an extension.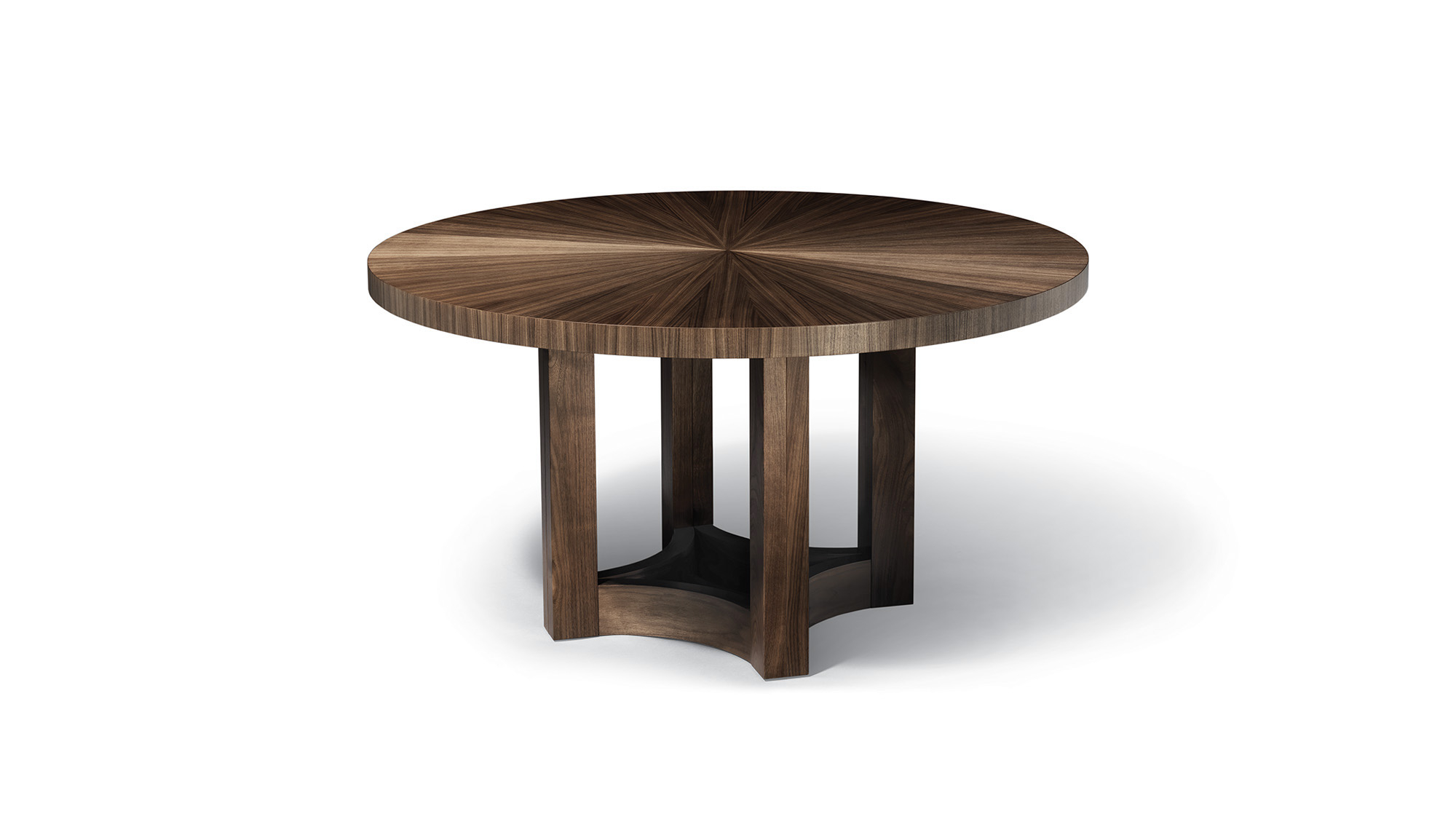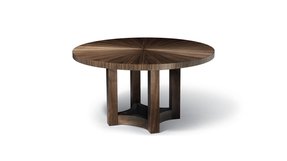 With this functional table, you can regulate the size of the top, using a convenient leaf extension. Its wooden construction makes the table sturdy and nice to look at, along with its round top, and 4-legged base with bottom stretchers.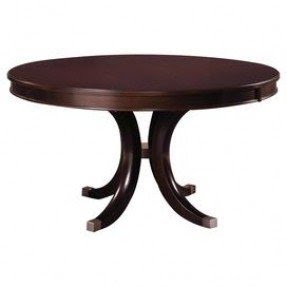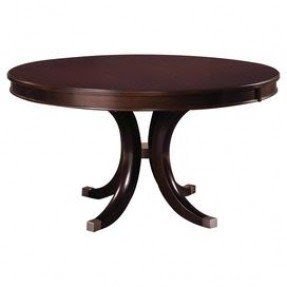 Round Dining Table With Leaf Extension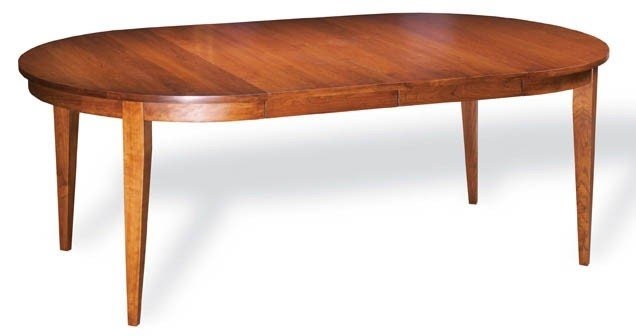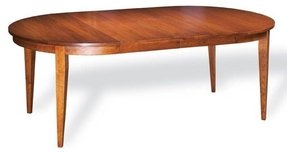 Beautifully crafted from solid Appalachian cherry and available in 4 stain finishes, the Lakeshore Table combines great form with function.

42" Round + one 18" extension leaf (extends to 60" oval) #81907

42" Round + two 18" extension leaves (extends to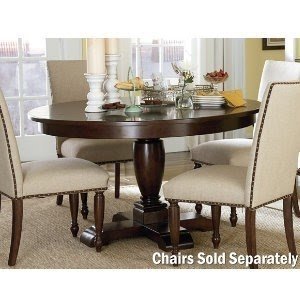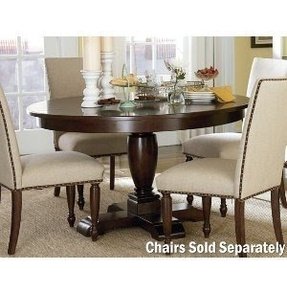 Suttons Bay Pedestal Table. 54" with leaf AND height extension to transform into a gathering table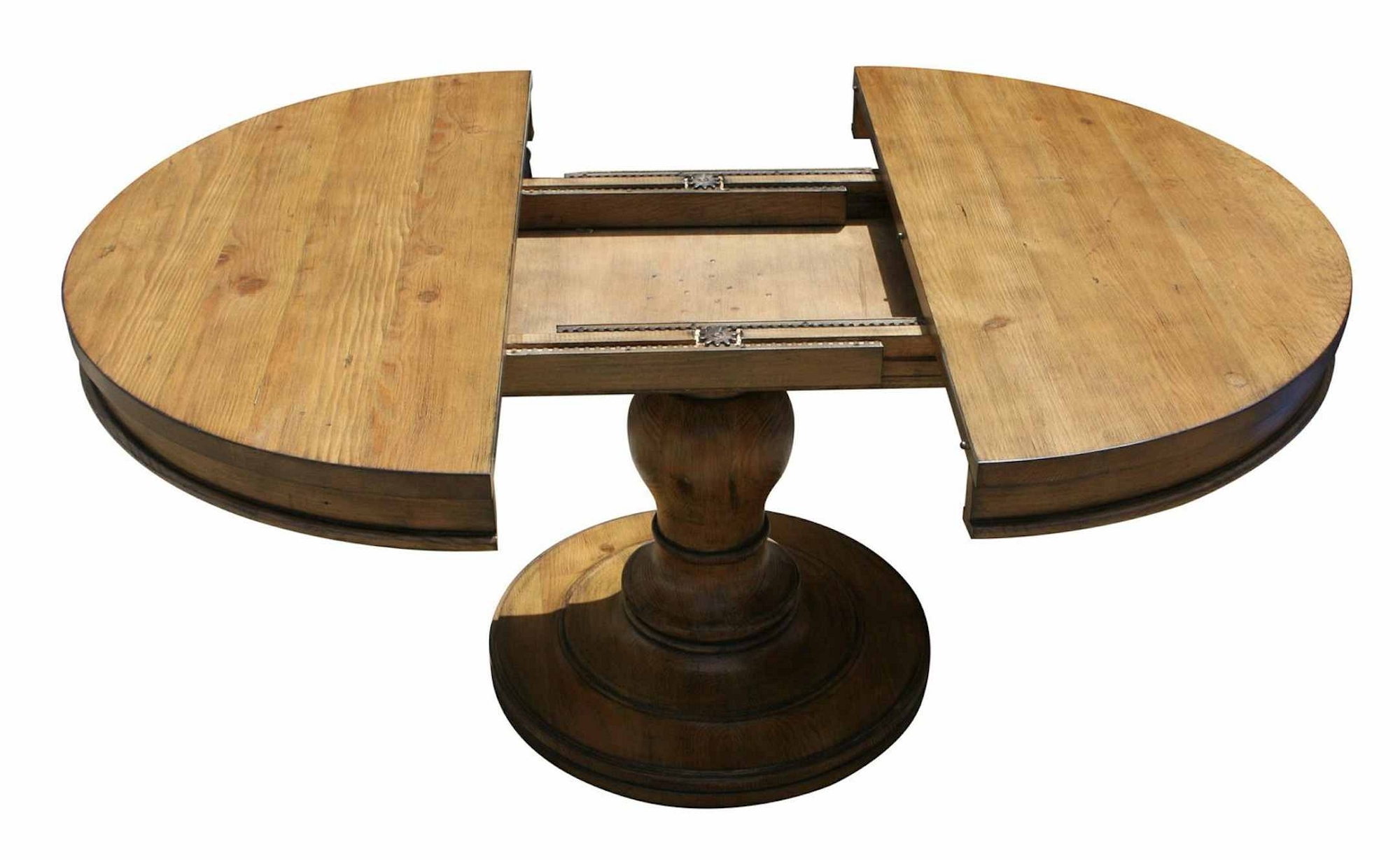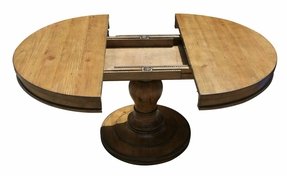 A rustic take on a traditional round dining table with a leaf extension to make it longer when needed. The table is made out of reclaimed wood, giving it a primitive vibe, with a leaf hidden under it to save some space.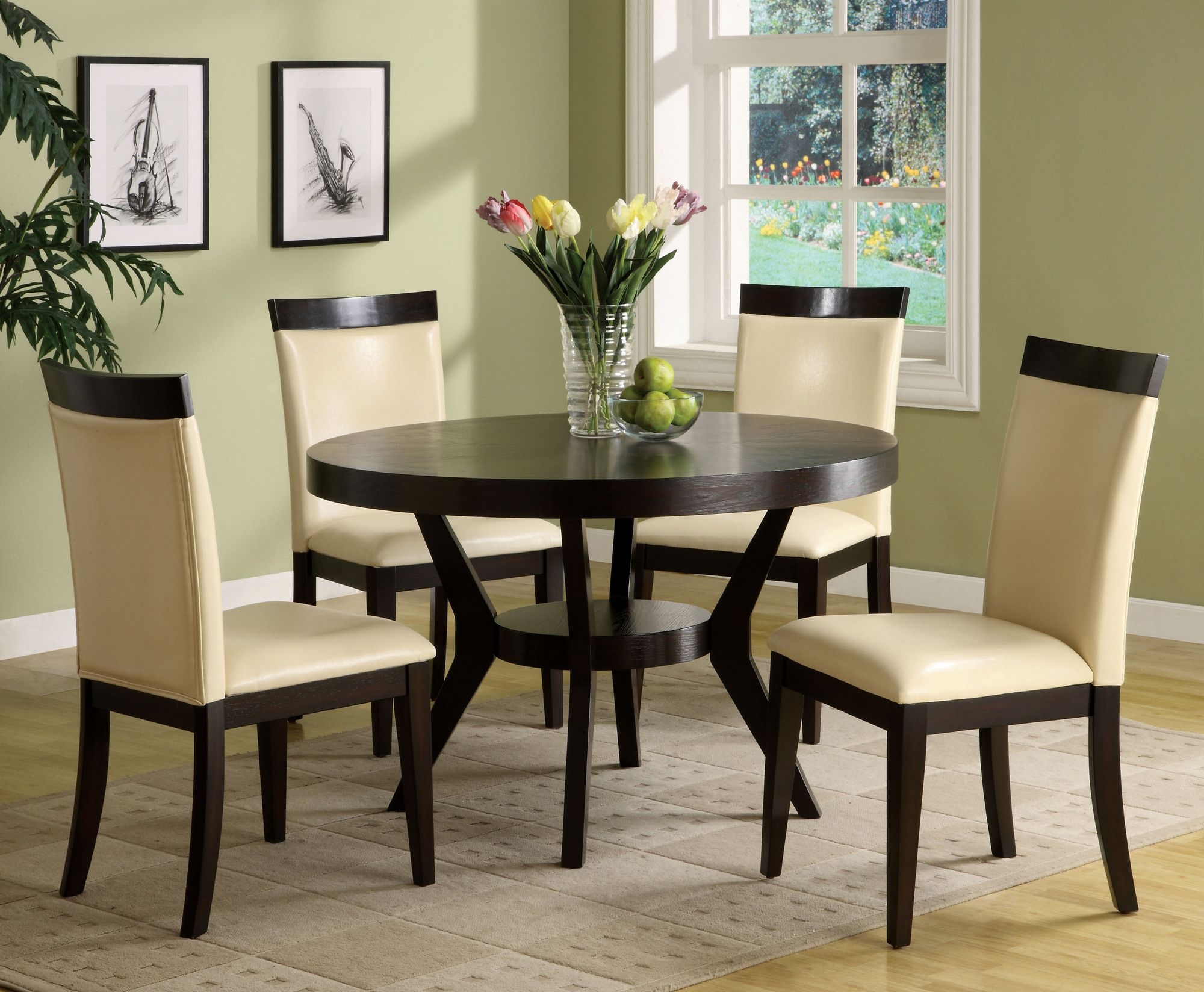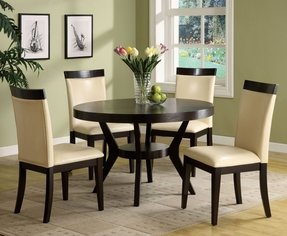 round dining table with extension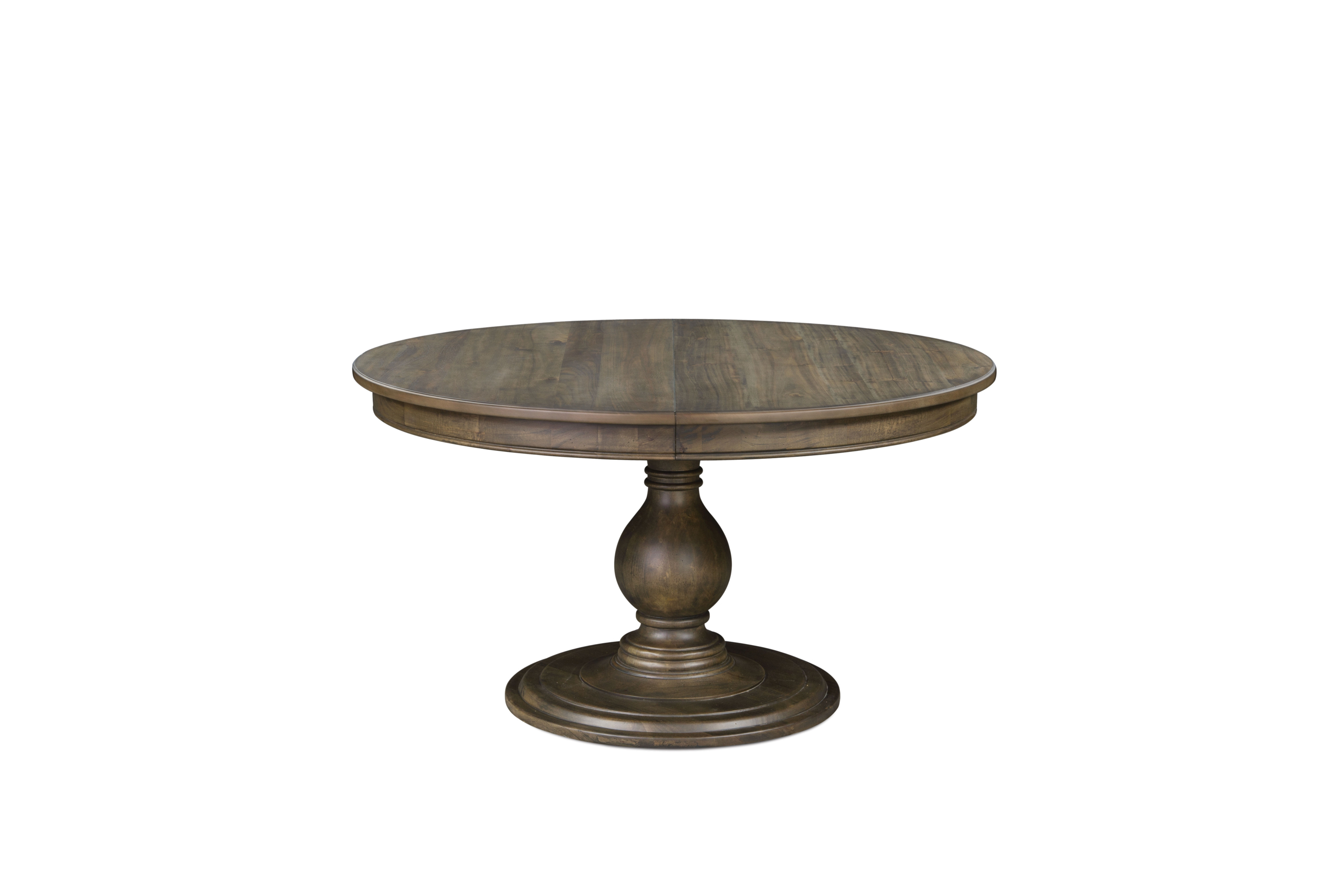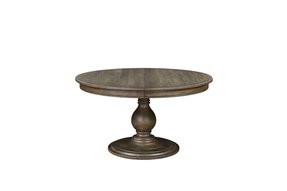 Beautifully carved, rough, round wooden dining table. Gives a gorgeous, rustic vibe. Bound to look great in any traditional, austere dining room. This one will surely amaze anyone with its unique and stunning design.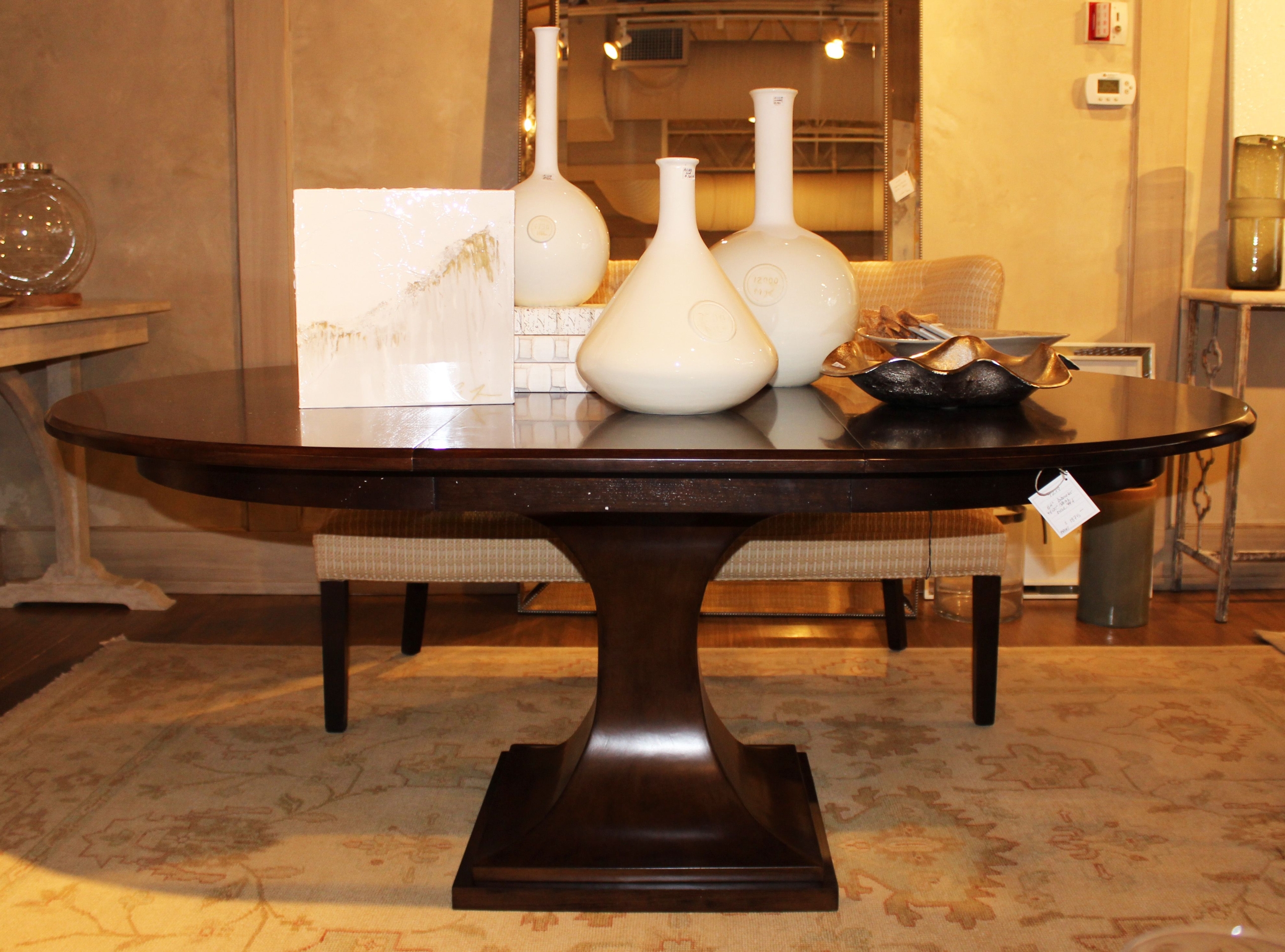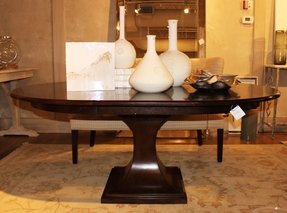 Round to Oval Extension Dining Table - 54" Round, 120" with Leaf (Oval)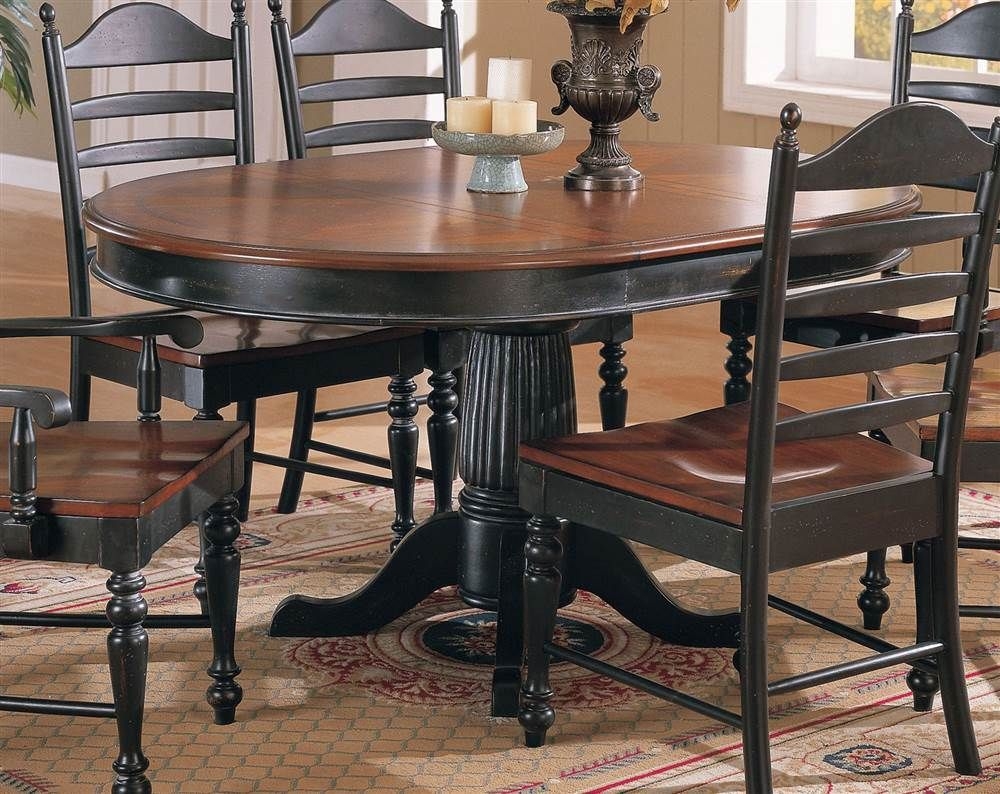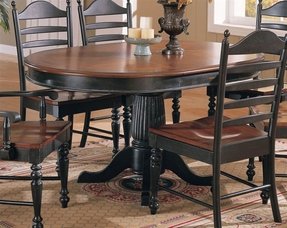 ... Dining Table Leaf In: Extension Round Pedestal Dining Table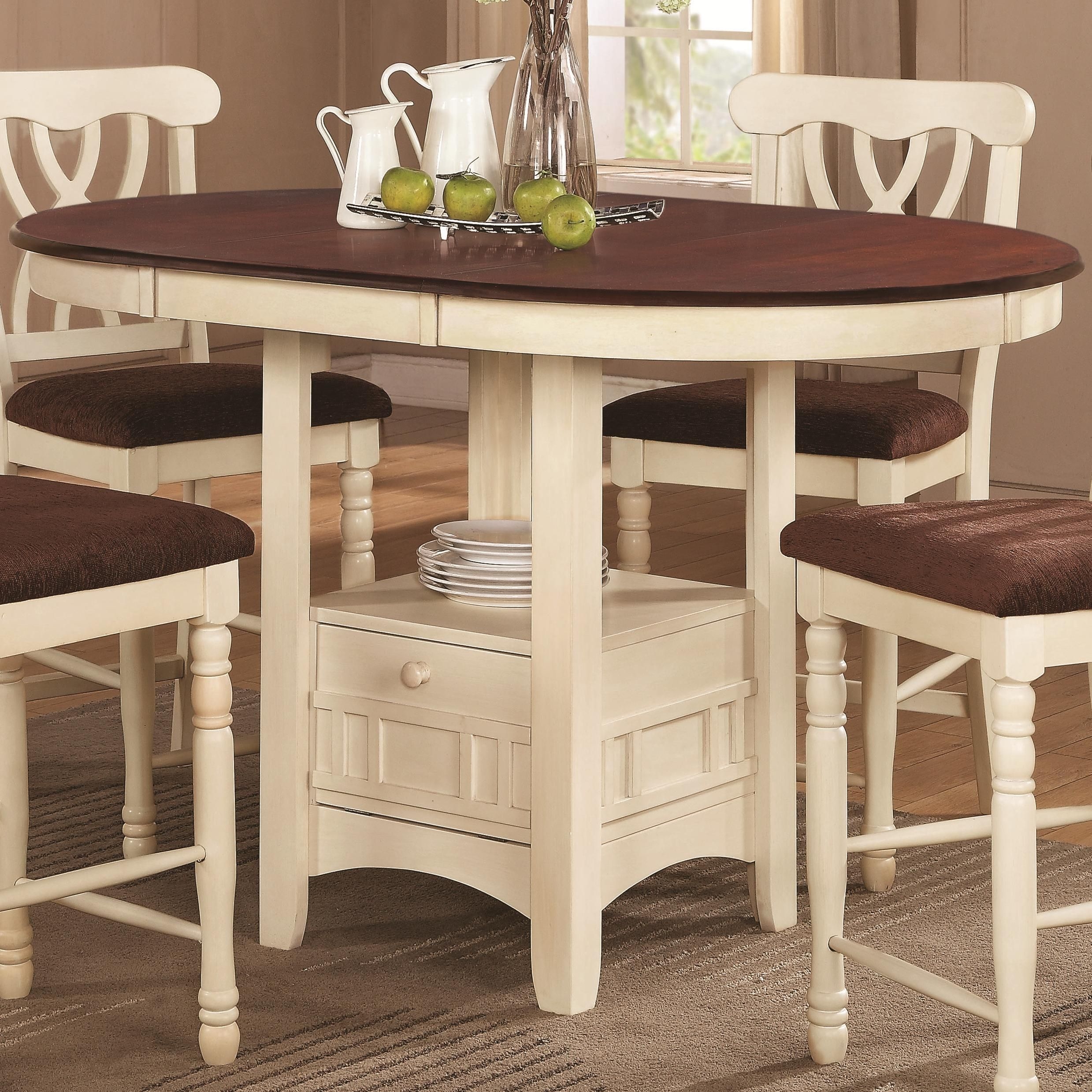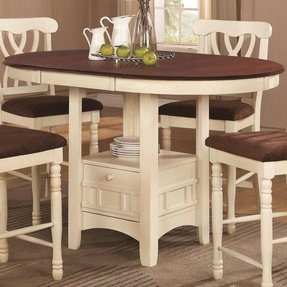 With this crafted of wood, 18'' dining table, you are getting a space-saving beauty that can be easily extended thanks to its functional leaf. The table has an oval top, and 1 storage drawer that's mounted between the straight legs.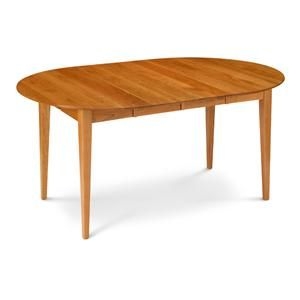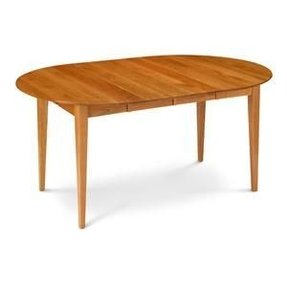 The folded round dining table with leaf extension is a great solution for residents of small apartments. A simple table created and designed from light cherry wood, with clearly visible knots and jars will work well. Unfolded from the inside.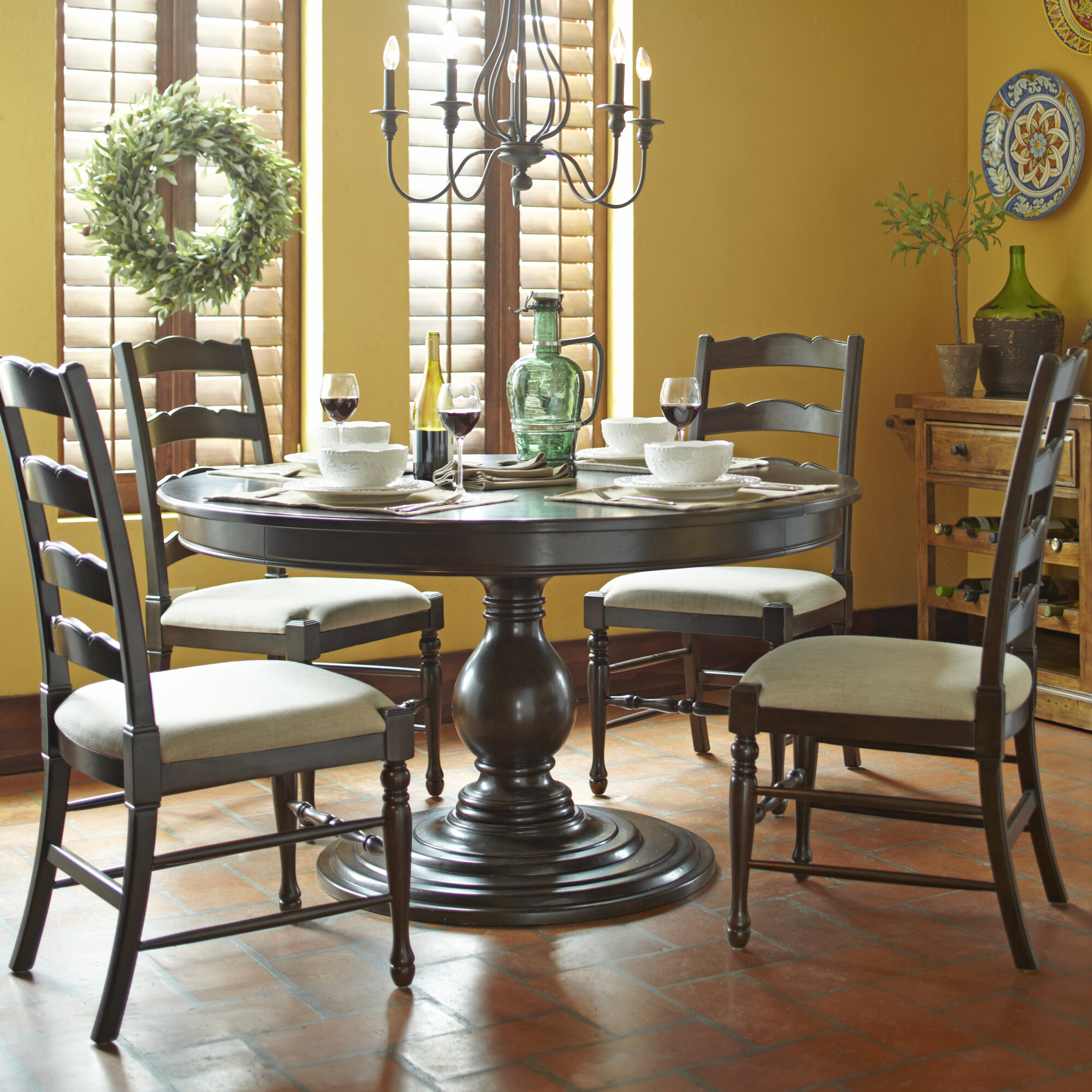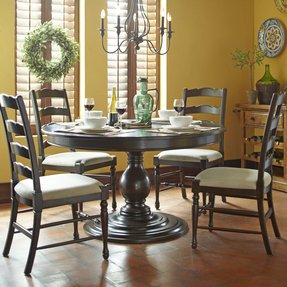 A classic addition for contemporary dining rooms, this beautiful, dining table is going to spice your interior up with elegance and functionality. Crafted of wood and covered in an espresso finish, the table has a round top with an extension leaf, and an impressive pedestal base.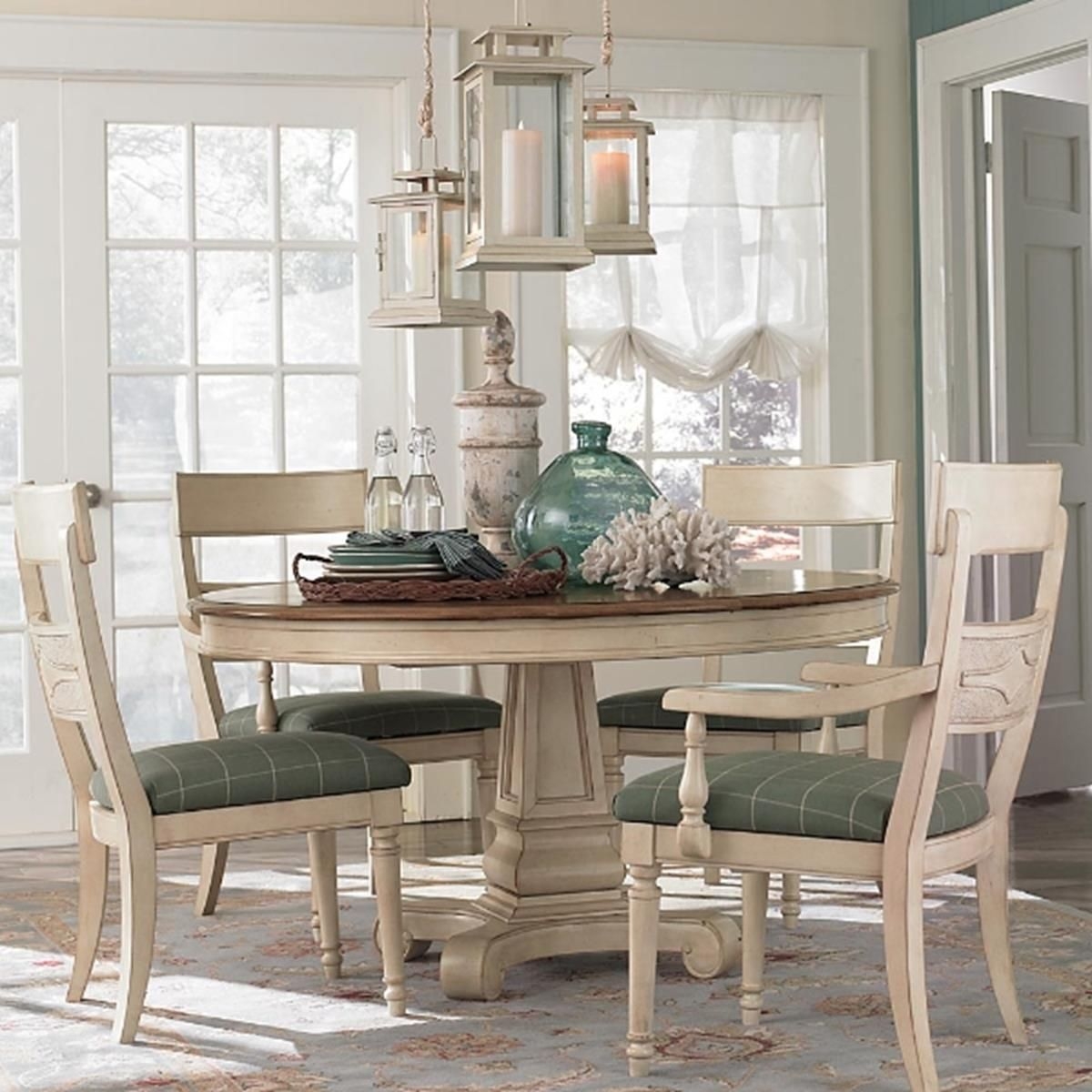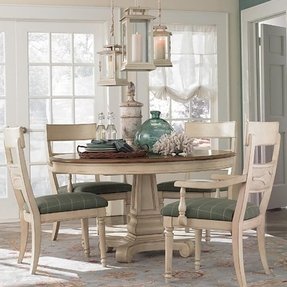 Dining table made of wood in two shades. It is mounted on pedestal base and fitted with round top. It has 4 seating capacity. Elegant design for dining room, living room and others interiors according to taste and need.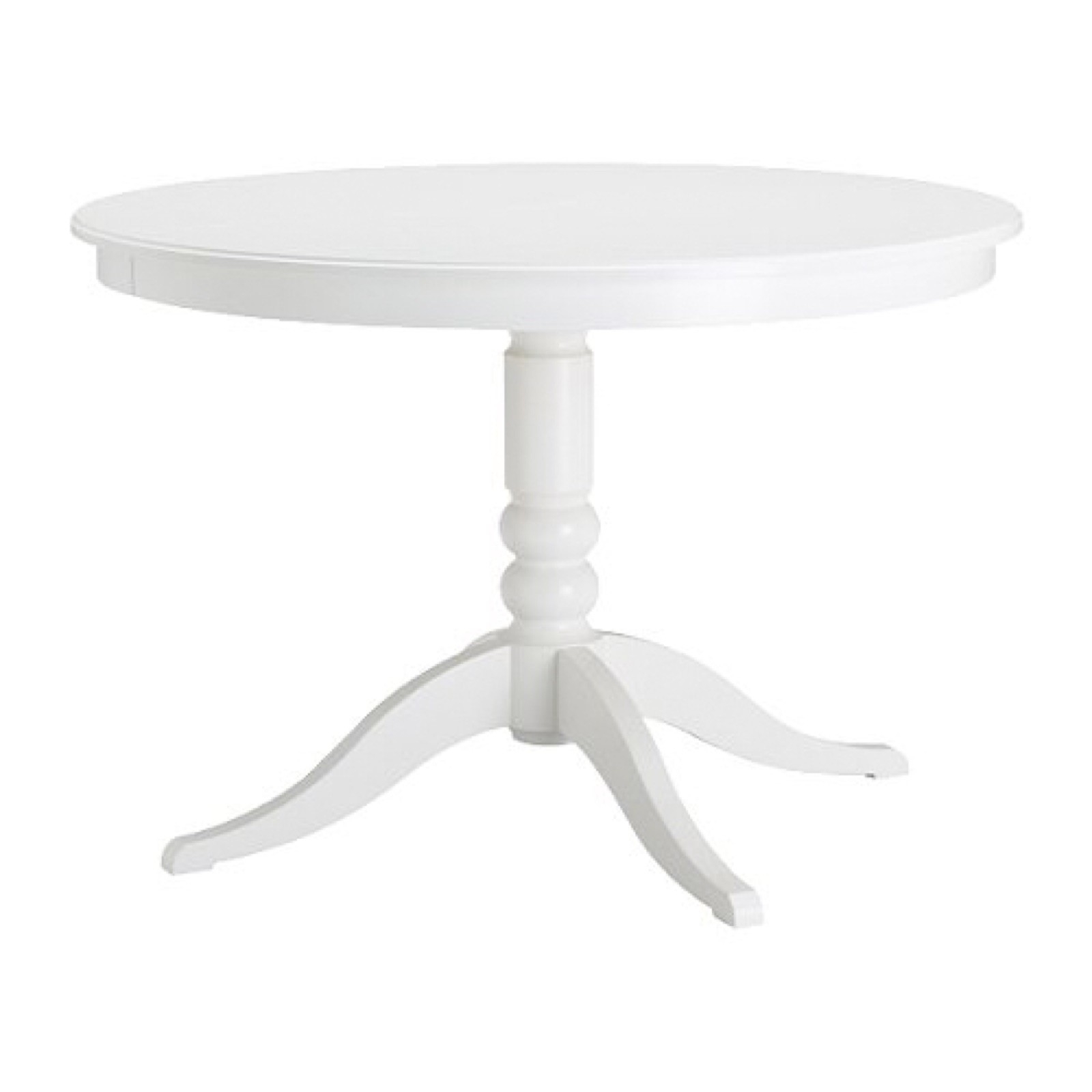 With such a lovely table, your dining room is going to shine with a snow white elegance. The whole is crafted of wood, featuring a round top with an extendable leaf and a classic, four-legged, pedestal base.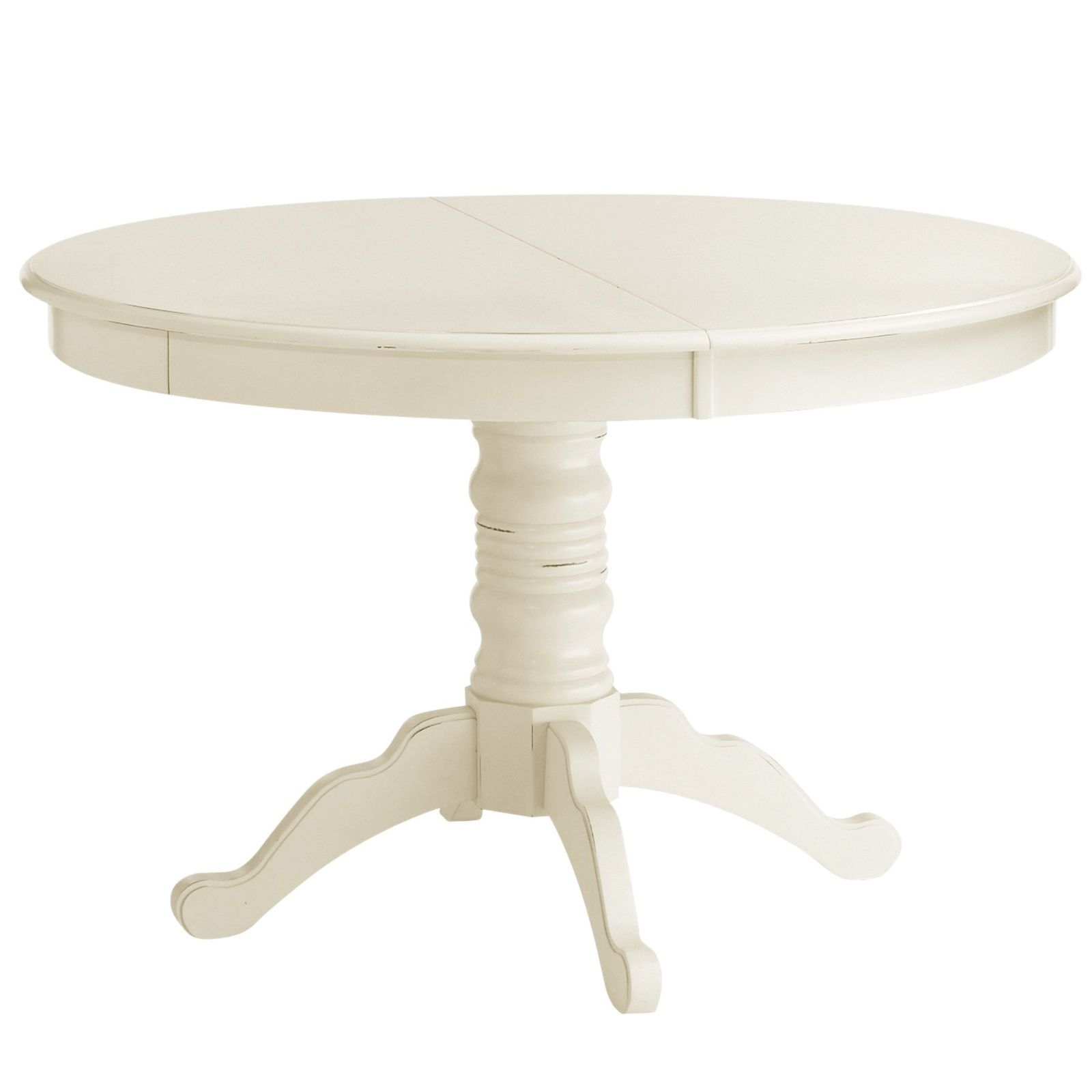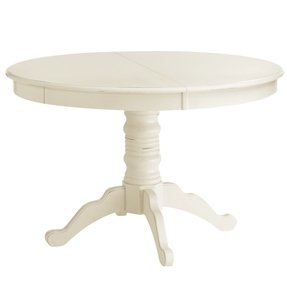 Ronan Extension Table - Antique White $449.95 48" extends to 68" with leaf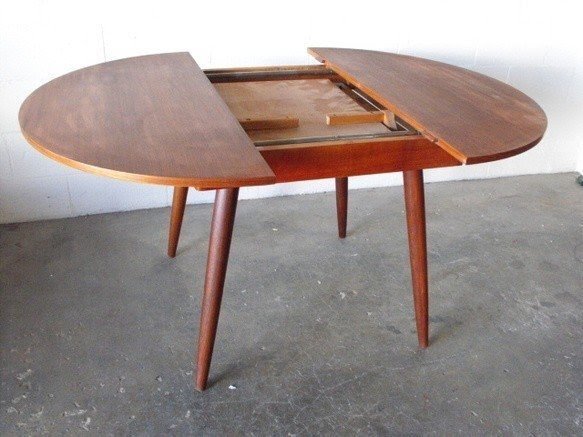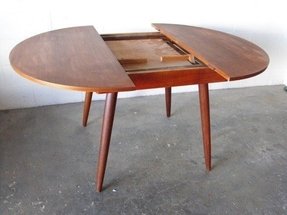 home about contact favorites news blog facebook Pinterest Instagram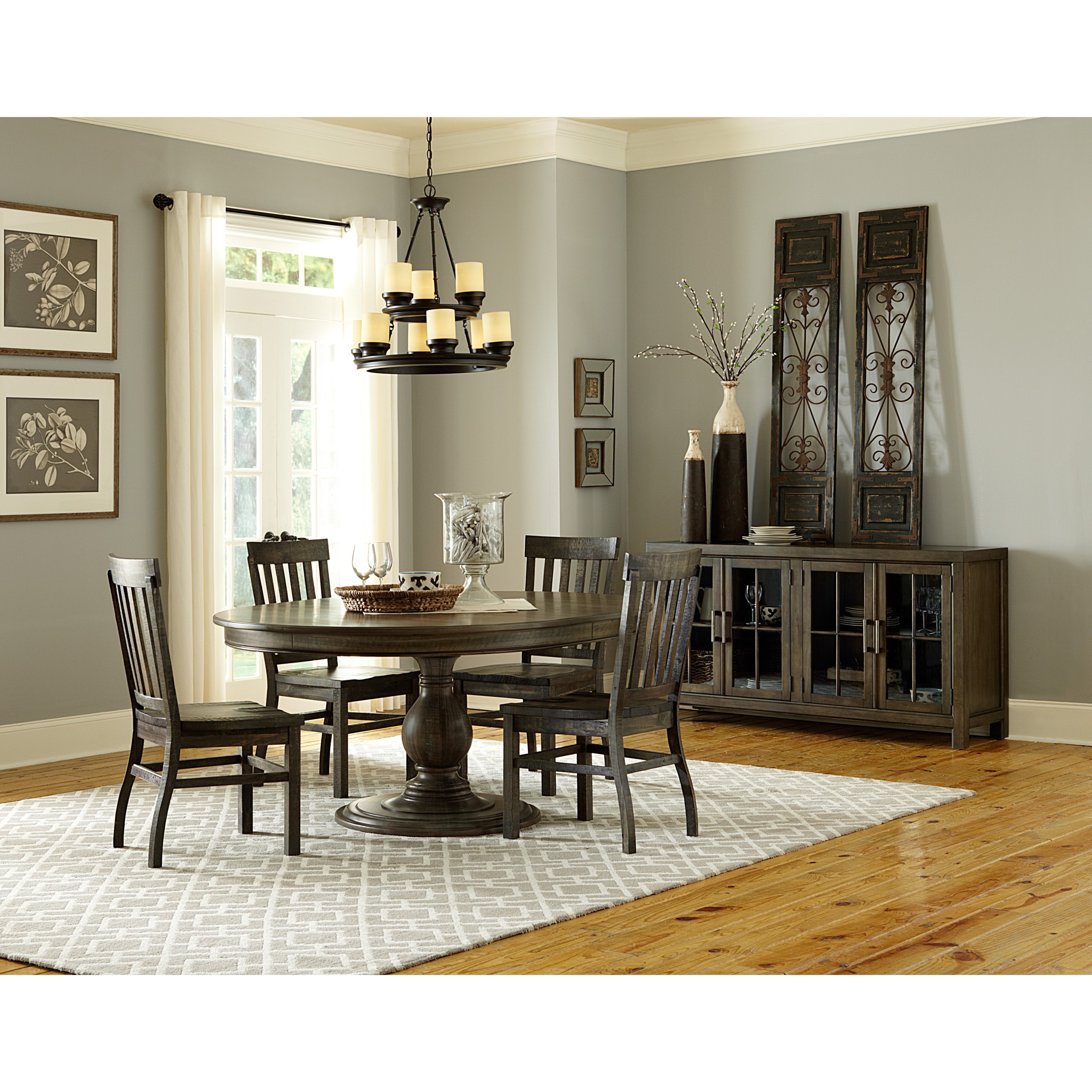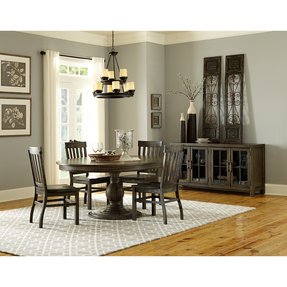 Transitional Weathered Gray Round Dining Table with Butterfly Extension Leaf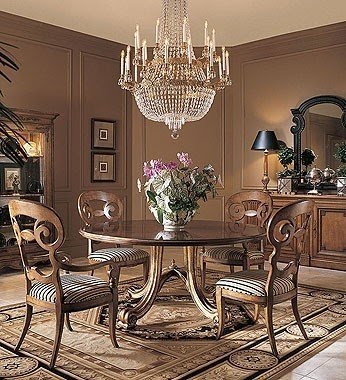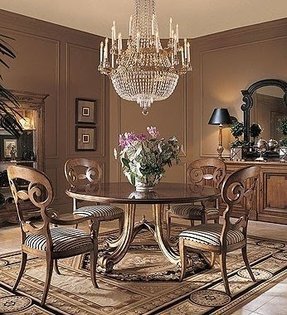 Consulate (599-306) HORTENSE ROUND DINING TABLE HORTENSE ROUND DINING TABLE (599-306) Maple solids and Pin-Knotty Walnut veneer Maximum extension 88" with one 22" leaf.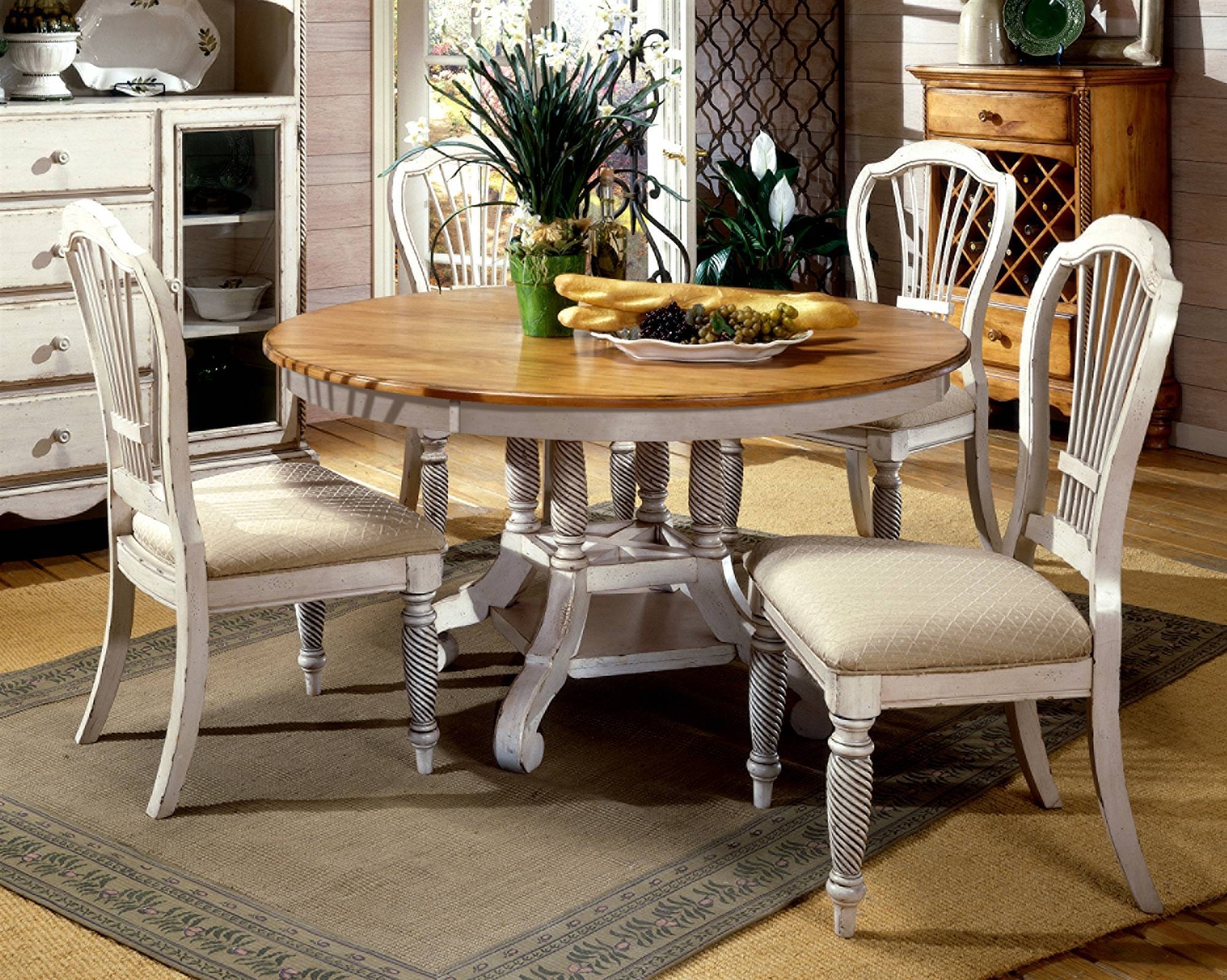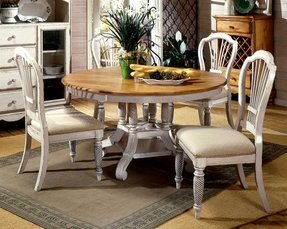 The roundtable is a symbol of unity and democracy and a great element of a cozy dining room. The softness is also visible in white, which surrounds wooden carvings in pine legs with a worn black finish. The natural brown table top has a leaf extension.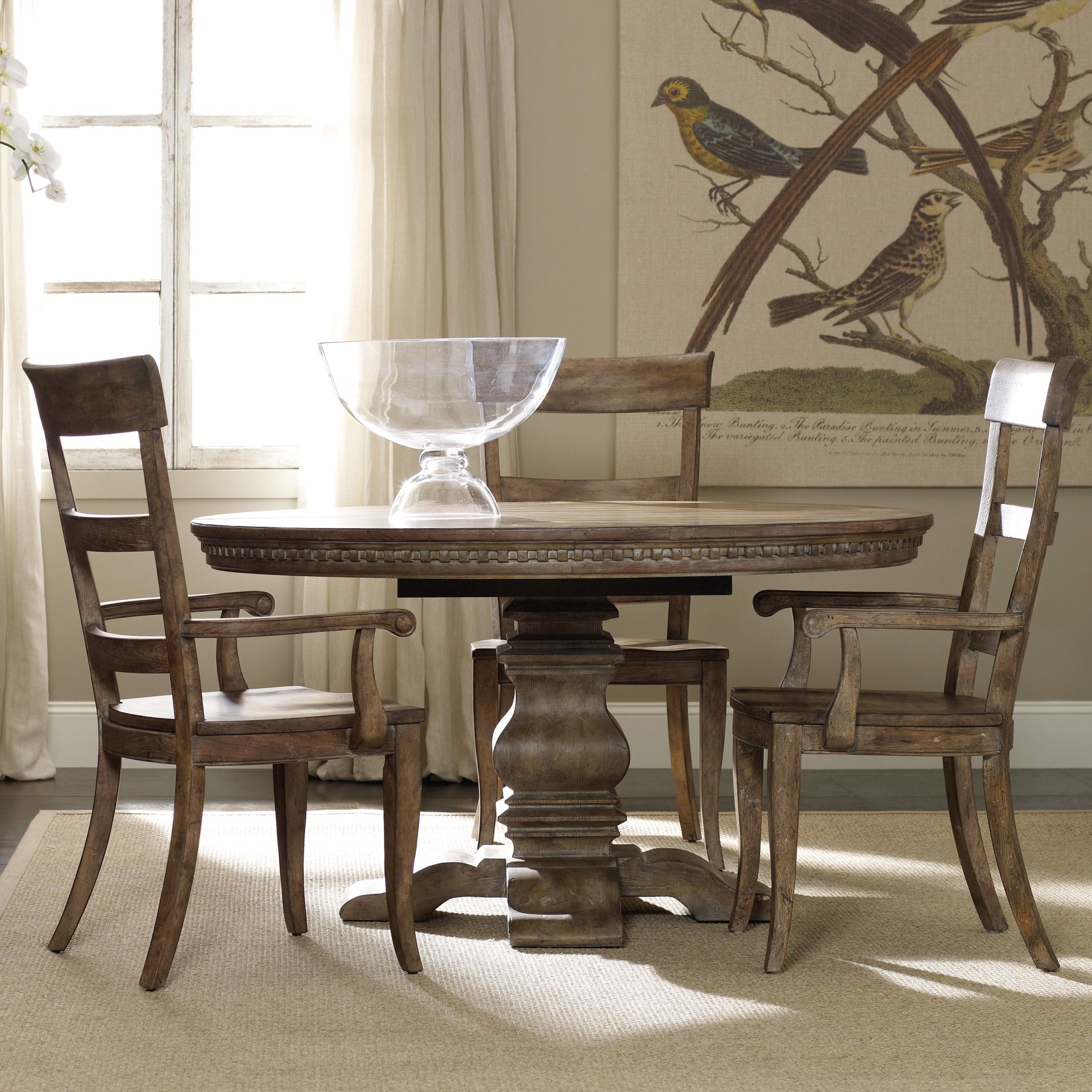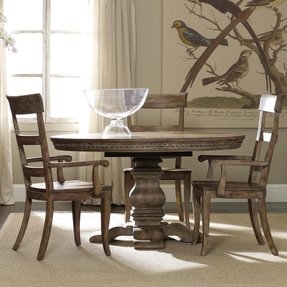 Richly decorated dining table with round top. It is completely made of wood and mounted on pedestal base. Edges are finished with interesting pattern. Suitable for residential and commercial premises.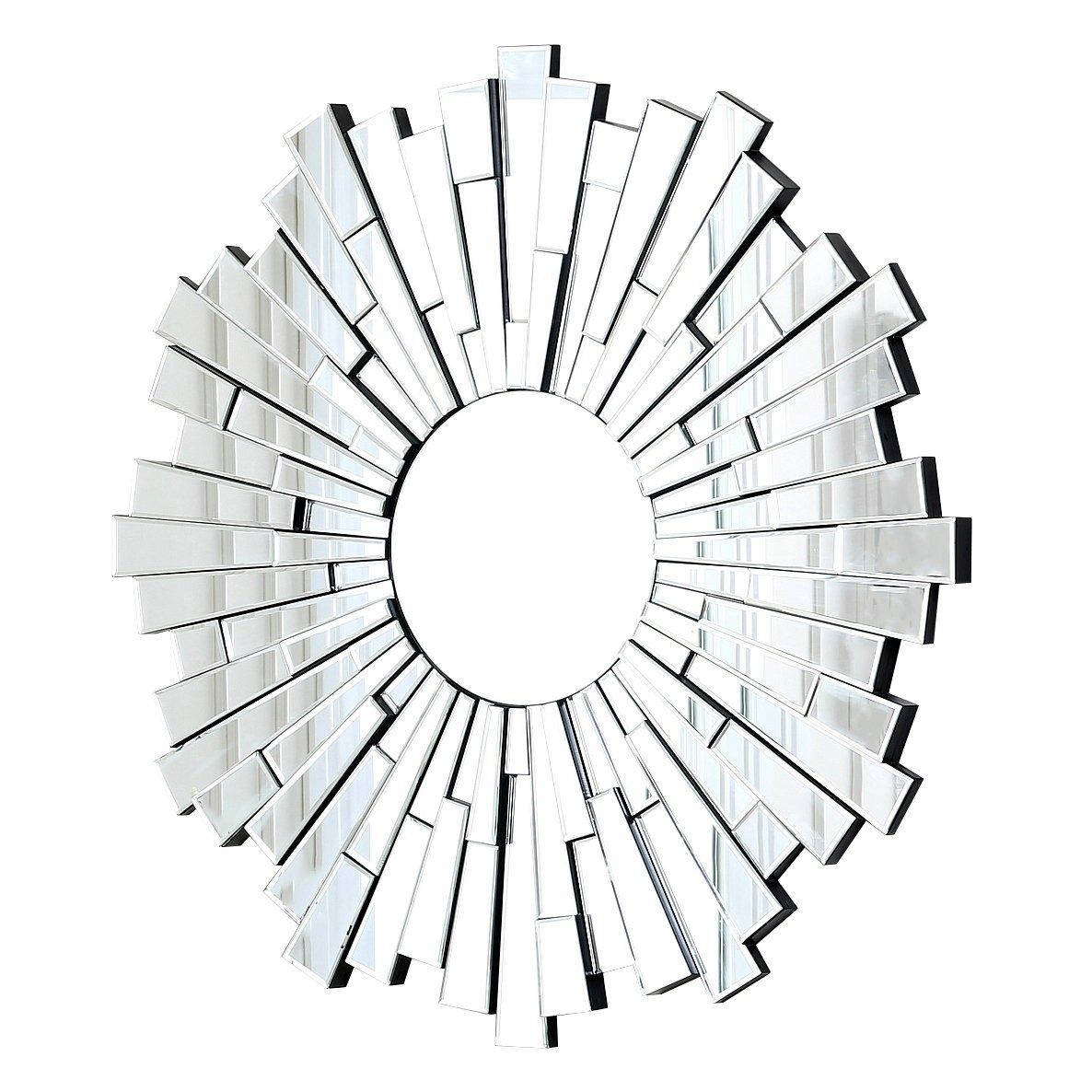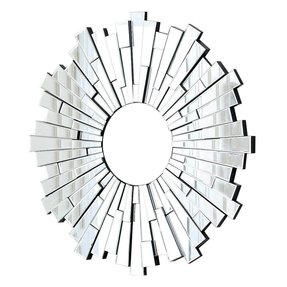 Geometric design makes this round wall mirror a versatile style option. It can easily complement modern spaces and highlight their beauty. This style accessory is crafted of glass and wood. The frame is coloured silver.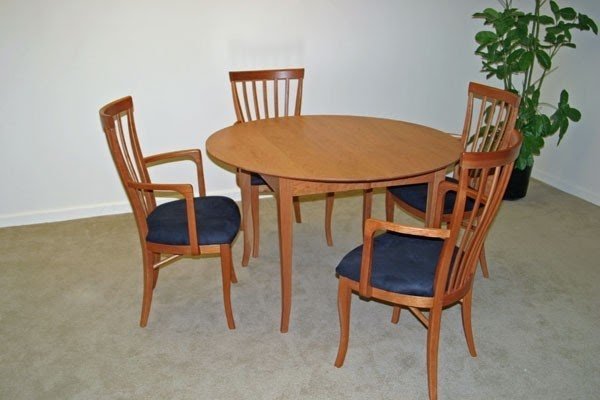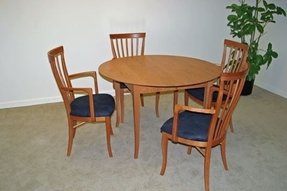 Lyndon FLAIR LEG Round Dining Room. Flair Leg Extension Table & Victory Arm Chairs With Black Upholstered Seats. Table - 48D, Extends To 66" W/1 18" Leaf. Solid Cherry -- Natural Finish -- Made In Vermont. ALSO AVAILABLE - Oak, Maple & Walnut Woo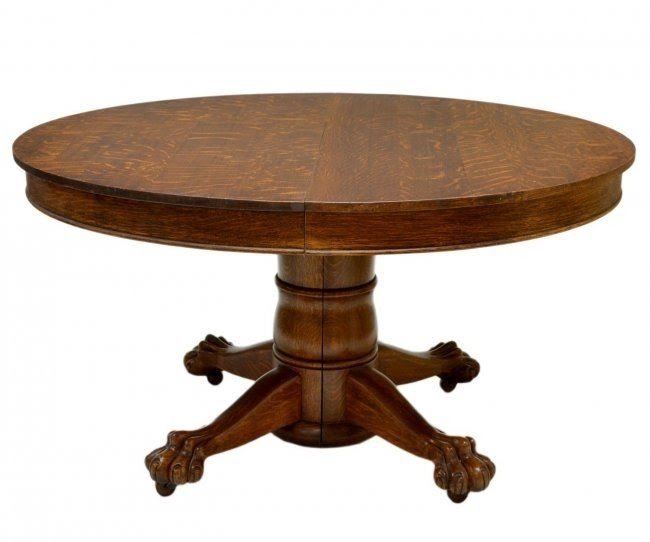 36: AMERICAN OAK ROUND 54" DINING TABLE, THREE LEAVES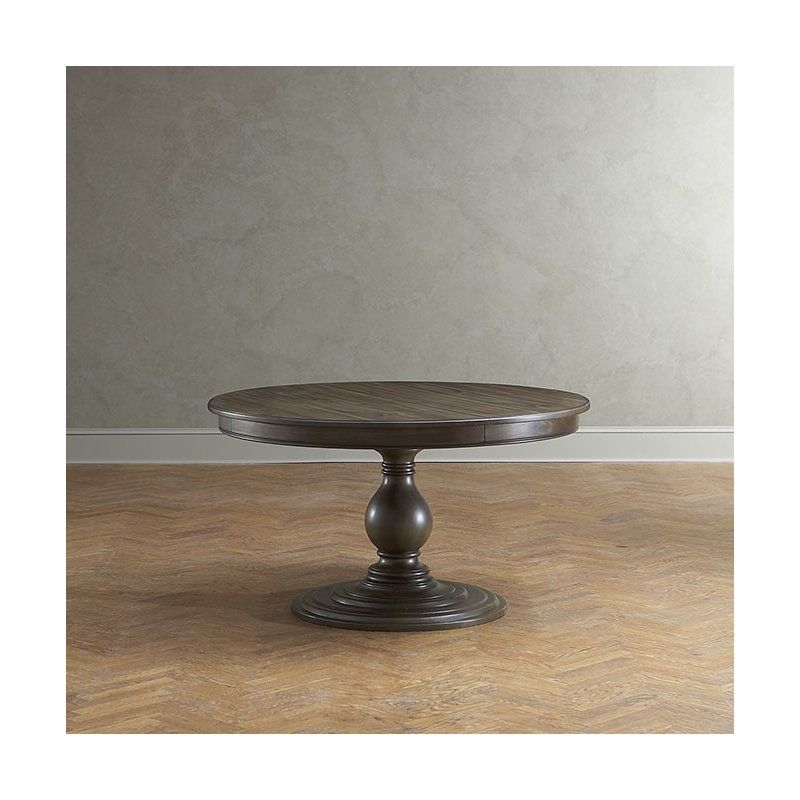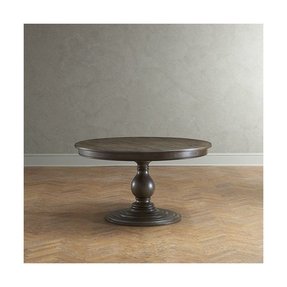 An attractive stylish vintage dining table of wood with a finish in mid browns. Its round top with a simple apron is equipped with an extension leaf. A base is built of a thick turned column (with a spheroidal central part) and a round stepped foot.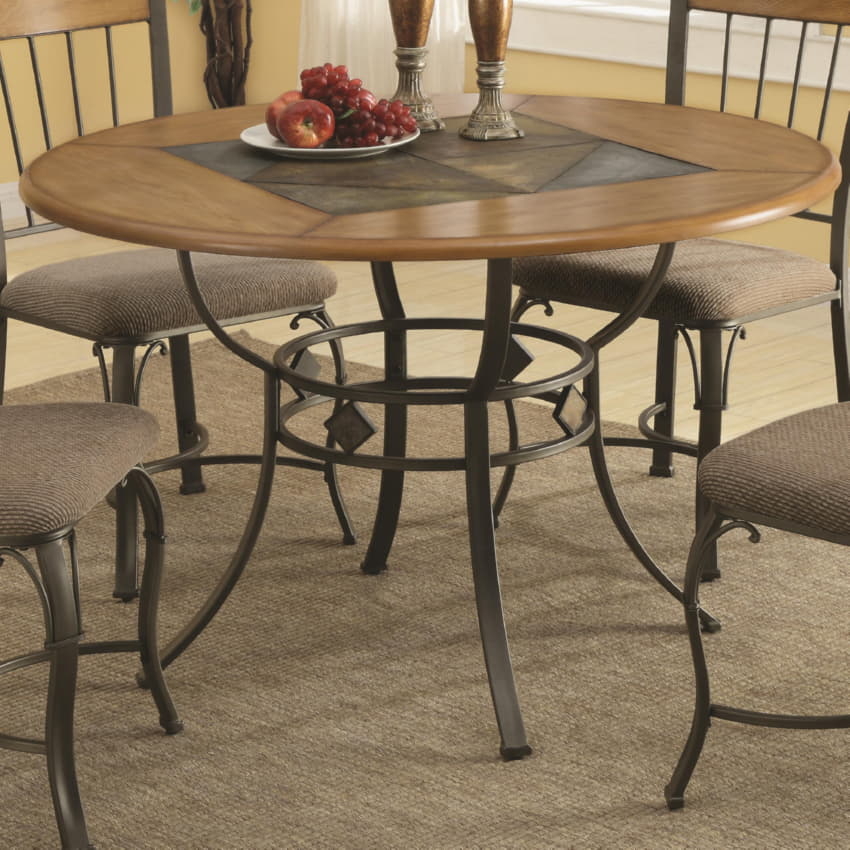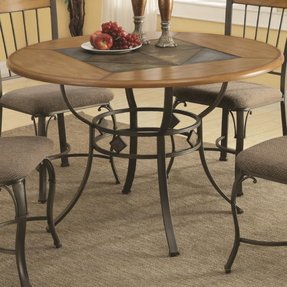 Rectangular Dining Table with 15" Extension Leaf | Dining tables COA ...
Product Info Product Code: 8002 Manufacturer: Covemore Designs Price: POA Product Description Tony Parker Story Product Description Extension Dining Table - Butterfly Leaf Select timber veneer with solid timber edges. Solid underframe, l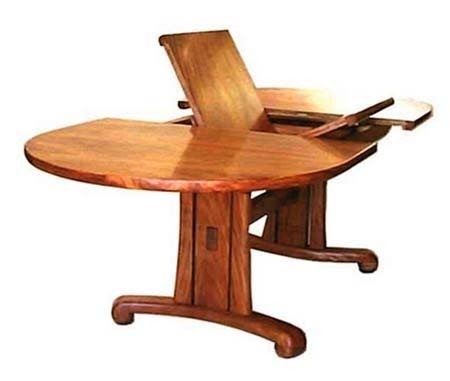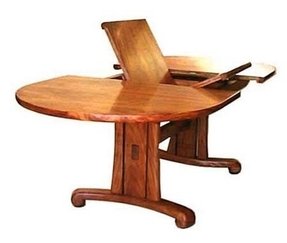 The Janus Home Holiday Guide to Dining Tables, Pt. 1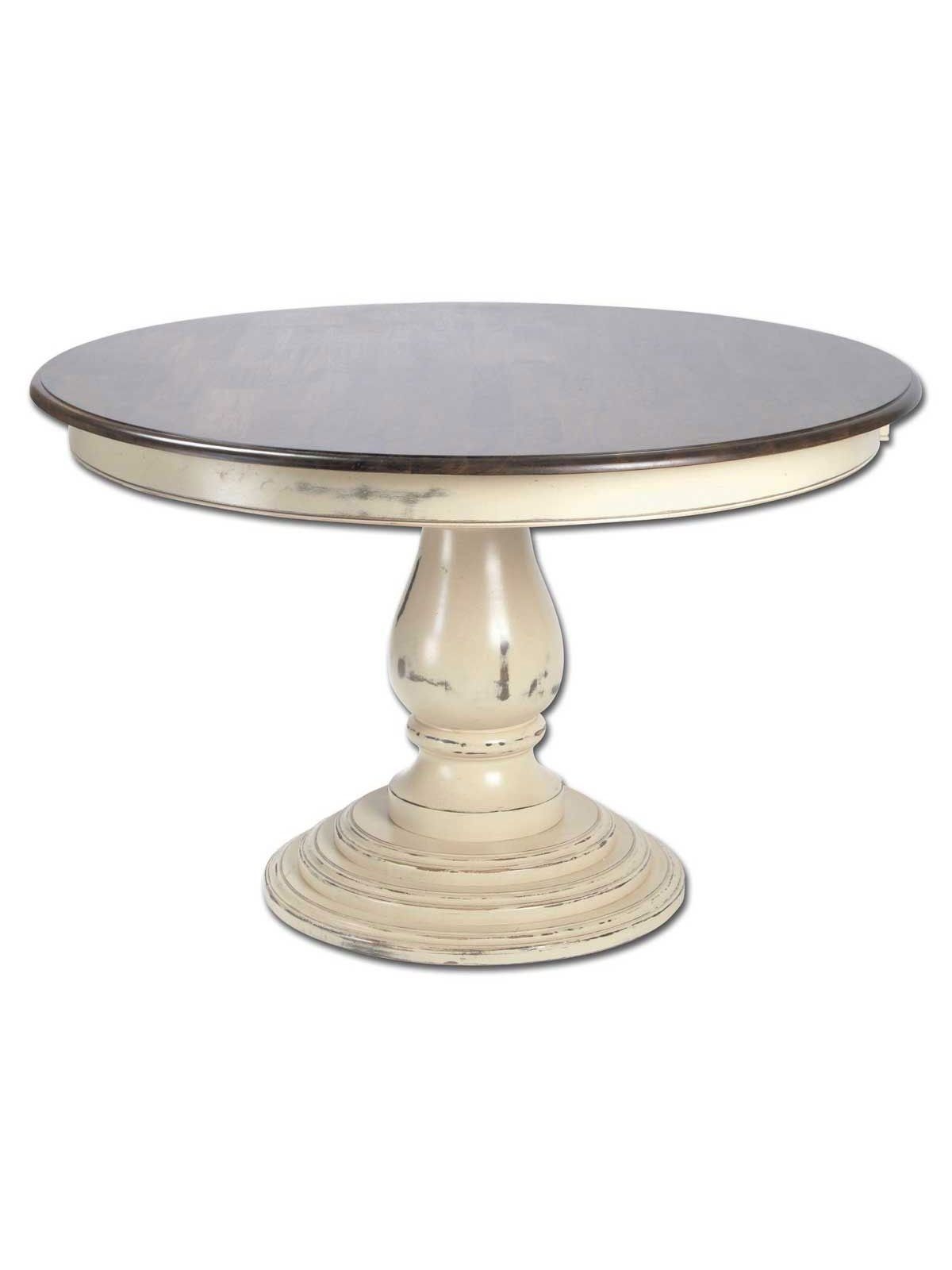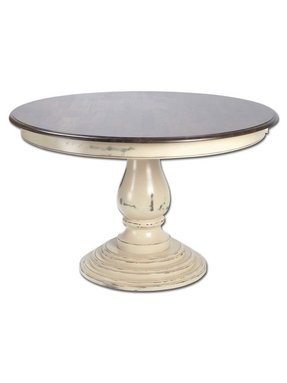 A bit weathered, but still, very beautiful dining table that is going to improve your home with vintage flares. Its pedestal base is rounded and tiered, holding an espresso-finished top with a smooth surface.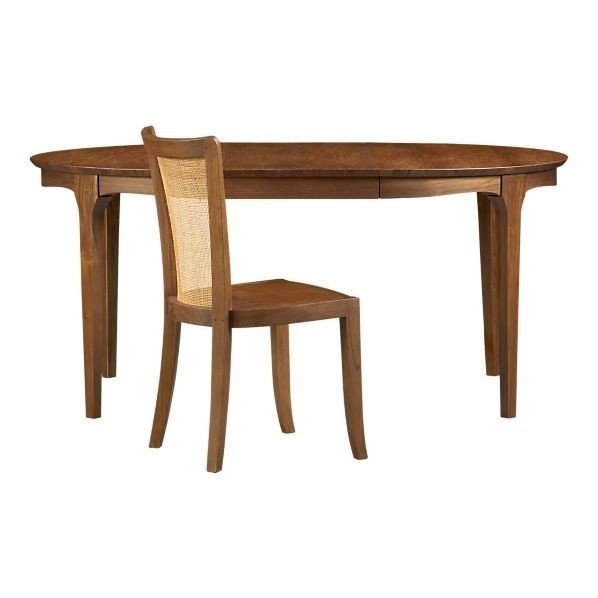 Oval dining table - round with extension leaf