Let's face it, the WFH - work-from-home - setup is here to stay, so we might as well make ourselves comfortable. Yes, that's right, it's time to free-up the kitchen table, get up from the couch and create a real home-office nook for the 'serious' stuff. Let me guess, you're short on space and haven't got the square-footage for a proper desk or designated office space? Wrong!
A floating desk is a magical, space-saving solution to an additional workstation that requires next to no floor space nor compromise on style, so there's really no reason not to! Turn an empty corner into a dedicated tech zone, or make the most of a window niche, unoccupied alcove, or landing - where there's a will there's a way!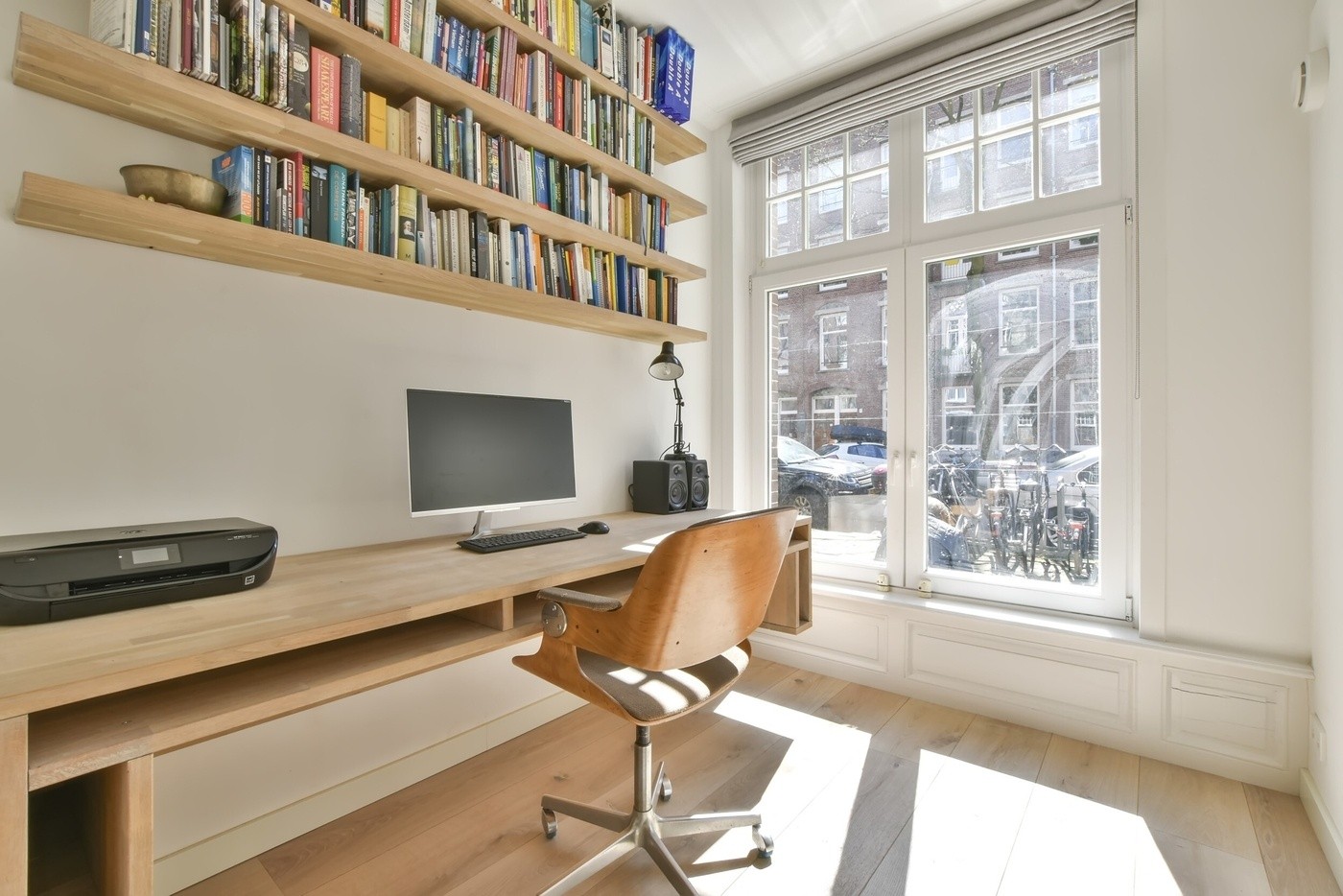 Whether you're a hardcore gamer, full-time homework supervisor or corporate executive, it's important to find a desk that works with you, not against you. So, with that in mind, here are some tips to help you choose a functional and durable desk to complement the way you work, and play…
Size: One of the benefits of floating desks is its customizable height. Before fixing it into place, consider the height of everyone who will be using the workstation, as well as the chair you will be pairing it with. As a general guideline, the average desk height is 29 inches. Pair shared workstations with an adjustable chair for a flexible setup. If you have an office chair with arms, you can calculate the best desk height for you by measuring the distance from the top of the armrest to the floor. Depth is equally important; desks less than 20 inches deep can be uncomfortable to work at.
Materials: The most common materials for floating desks are manufactured wood and metal.
Wood floating desks are often made of manufactured wood, as opposed to solid wood, or a combination of the two. Engineered wood has the advantage of being highly versatile, affordable, light, and moisture resistant. Good-quality manufactured wood is long-lasting and easy to maintain. Ensure the edges are finished with laminate or veneer to avoid catching on clothes and skin and avoid placing next to heated areas as this could be damaging. With an extensive range of different finishes and shades, wood desks easily lend themselves to a variety of decor styles, but those with a natural finish work wonders in traditional or rustic spaces, creating a warm and refined aesthetic.
Metal floating desks complement a variety of interior styles from retro industrial and contemporary chic to mid-century modern. Fireproof, waterproof and scratch and daily-wear resistant, metal desks are durable and easy to clean. Plus, they are environmentally friendly, and they can be recycled. Whilst rusting is a possibility, it can be prevented with a fresh coat of paint and drying it down when it gets wet.
Features: Keep your working zone clutter free and explore desk designs with storage solutions. Keep office stationary to hand with a desk with drawers, or shelves for books and decorative accessories. If you work with a computer, look for a desk that has a pull-out keyboard tray.
1.

Sleek and Slim Floating Desk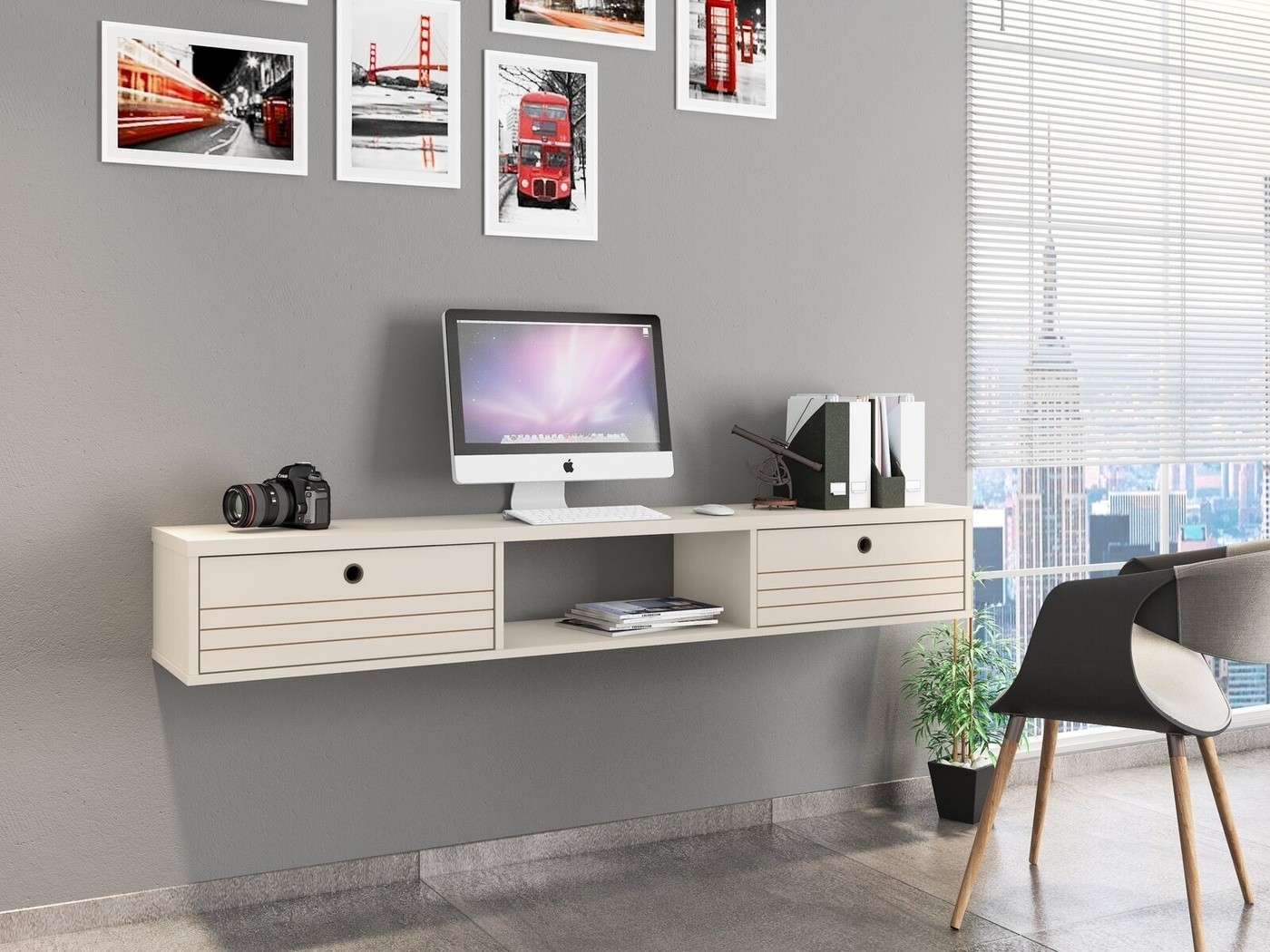 It's sleek, functional and has a slot-in-anywhere aesthetic. With a depth of only 9 inches, this slim design can double up as a desk and console table and provides flexibility with its placement, easily fitting into a well-lit hallway or landing. This off-white floating desk with dropdown shelves might be just the ticket for some short sprints of productivity.
The key to a compact work or study nook is to look for furniture that is not too big or bulky. Opt for a chair with a small footprint that can easily be moved and tucked out of the way when not in use.
2.

Discreet Fold-Out Floating Desk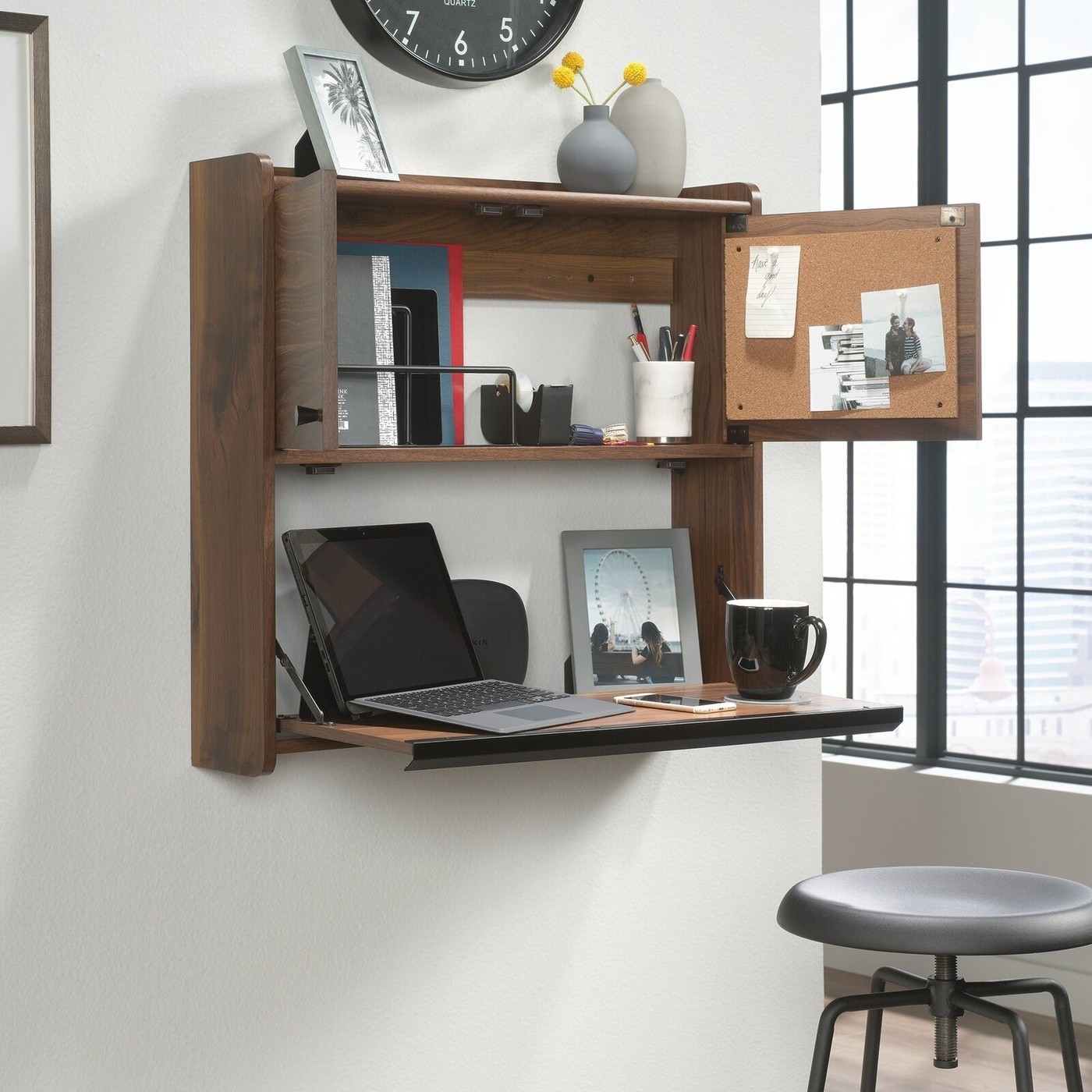 The perfect solution for a discreet home office setup. When closed, this clever cupboard-come-desk design blends seamlessly into the room, looking more like stylish storage space than a place to tackle your to-do list. The two top doors open up to reveal a built-in tack board and room to store notepads and stationary, while the bottom folds down to stage your laptop.
Made of manufactured wood with a warm walnut finish, this wall-mounted desk fits perfectly into a mid-century modern or Scandinavian aesthetic. Match the timber to other furniture in the room for visual balance and a cohesive look.
3.

Wall Mounted Desk with Hutch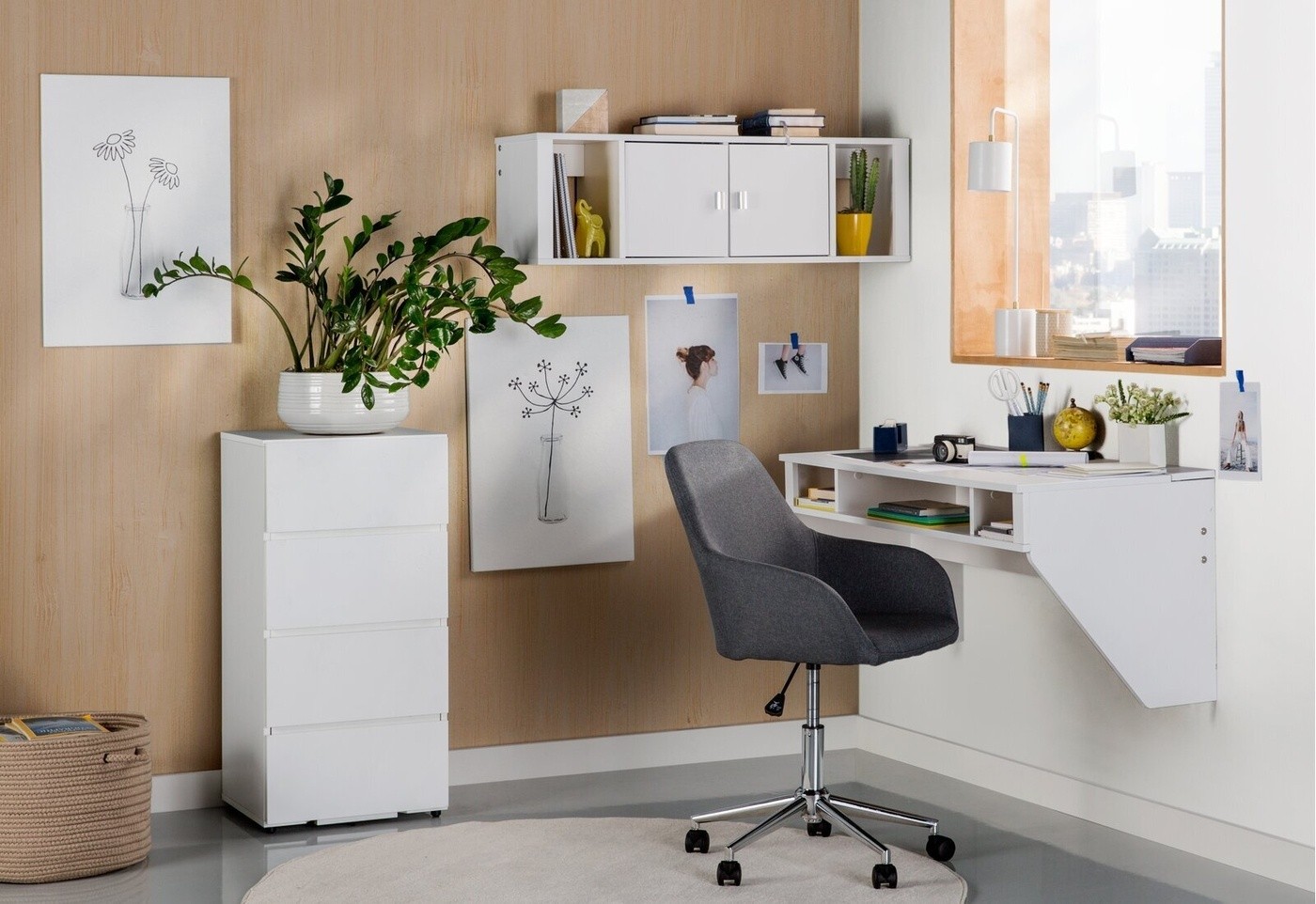 Turn an empty wall, or corner, into a comprehensive home office with this floating desk and matching hutch combo. The clean-cut,angular design suits a modern aesthetic, perfect for an efficient and stylish workspace. Two-door cabinets offer out-of-sight storage for stowing files and office supplies, and two shelves for displaying decorative items such as books, plants and trinkets. 21 inches deep, the desk provides more than enough space for a monitor and keyboard, or other implements.
Crafted of easy-cleaning manufactured wood with laminate veneers, simply wipe down with a damp cloth and dry immediately to maximize its lifespan.
4.

Floating Fold-Down Desk with Hinged Leg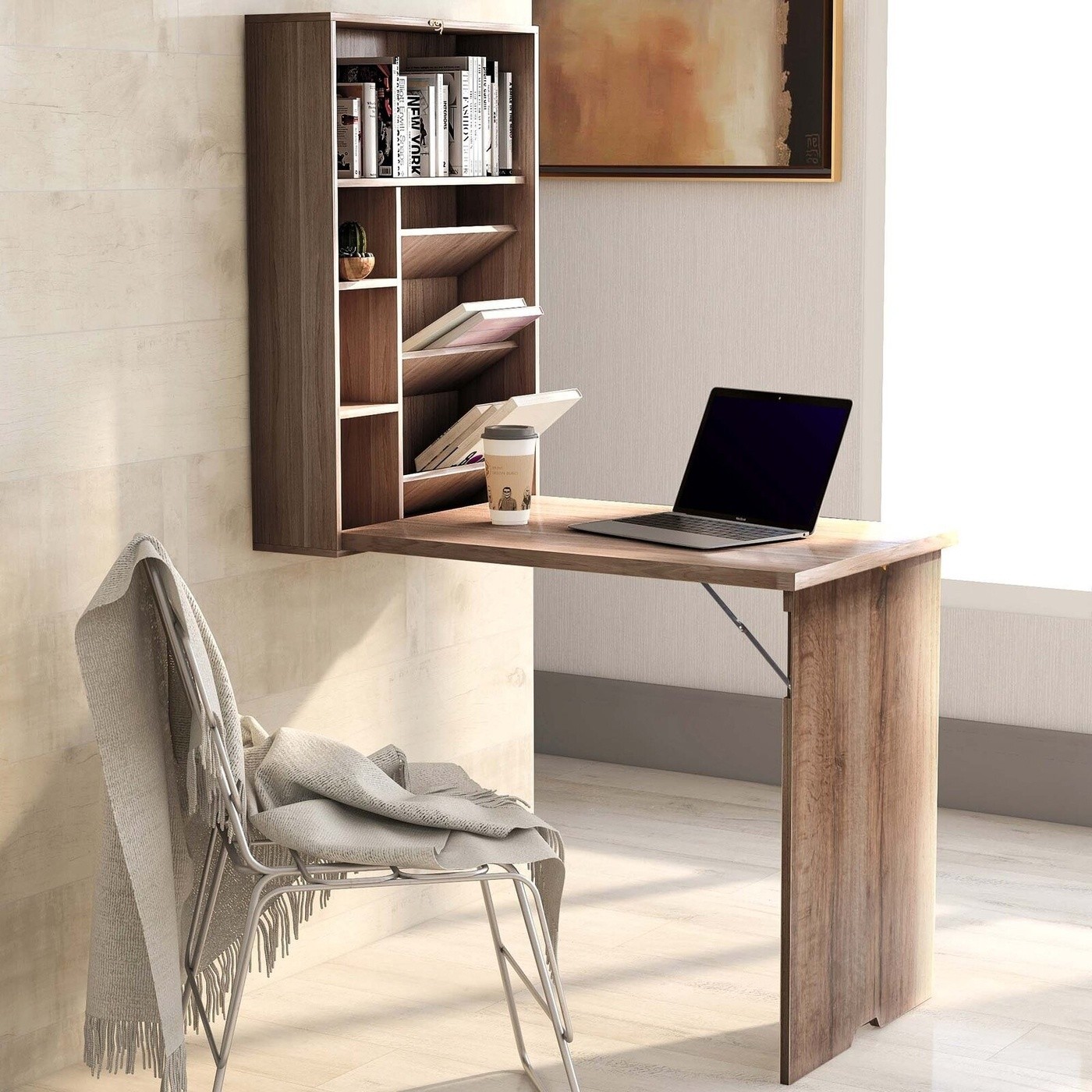 Ready to pack up the work day? Fold-down desks have the added benefit of keeping your home work-clutter free, allowing you to claim back your personal space to relax and unwind at the end of the day. The hinged leg provides additional support and stability and a weight capacity of over 100kg.
Mount it with other shelves of the same oak finish to help it blend into your decor when not in use and, where possible, make sure the space is well lit with natural light - a naturally lit workspace is the secret to a positive and healthy mindset!
5.

Contemporary Wall-Mounted Homework Station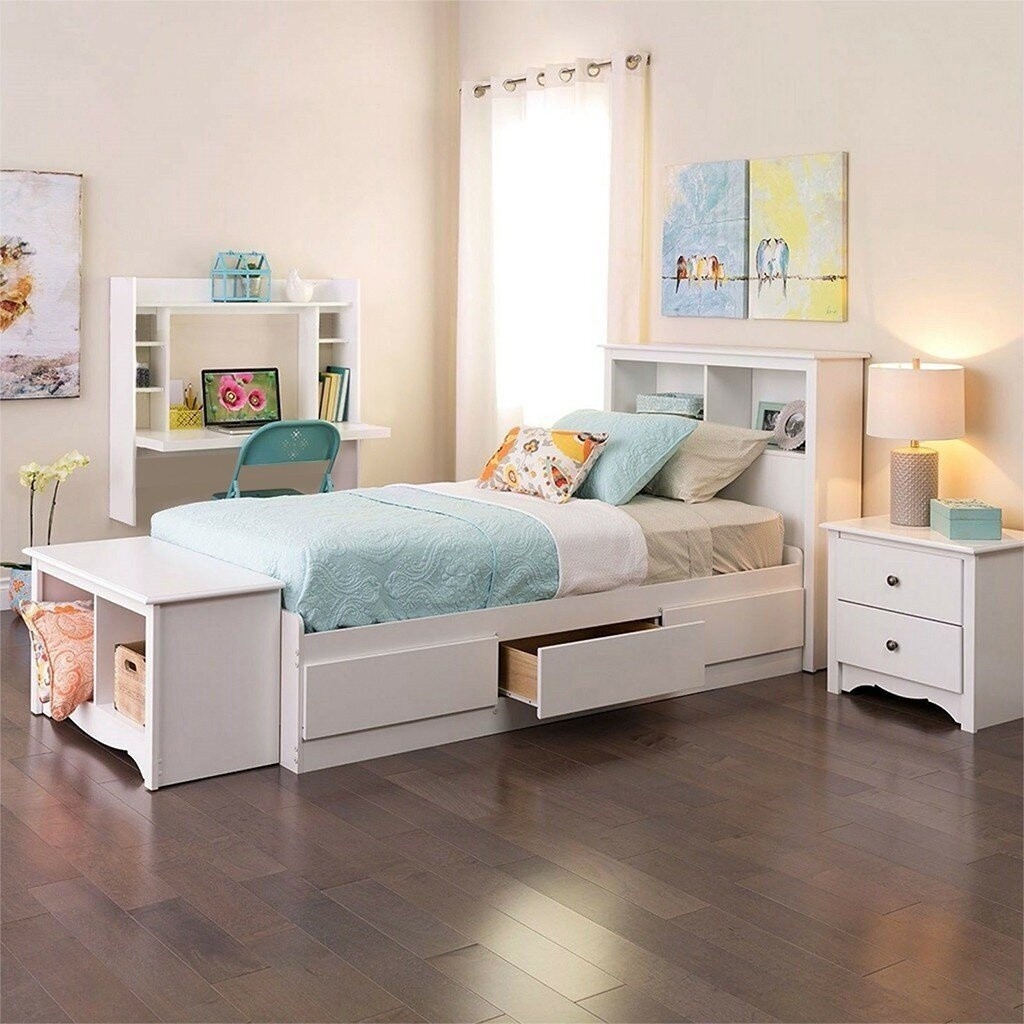 Kit out your kid's bedroom with a homework station. This contemporary wall-mounted desk design has spacious side compartments and hidden cable and wire management, leaving your youngster no excuse to not keep it organized. Made of high-quality MDF, this floating desk is environmentally friendly, durable and can withstand up to 45kg. Plus, the white finish means it can easily blend into a children's bedroom furniture set.
Add a pop of color with a desk chair to complement the color scheme, choosing a stain-resistant, easy-clean material, such as metal, plastic, cotton blends or synthetics, to prevent against those inevitable inky or sticky stains.
6.

Minimalist Floating Desk with Keyboard Tray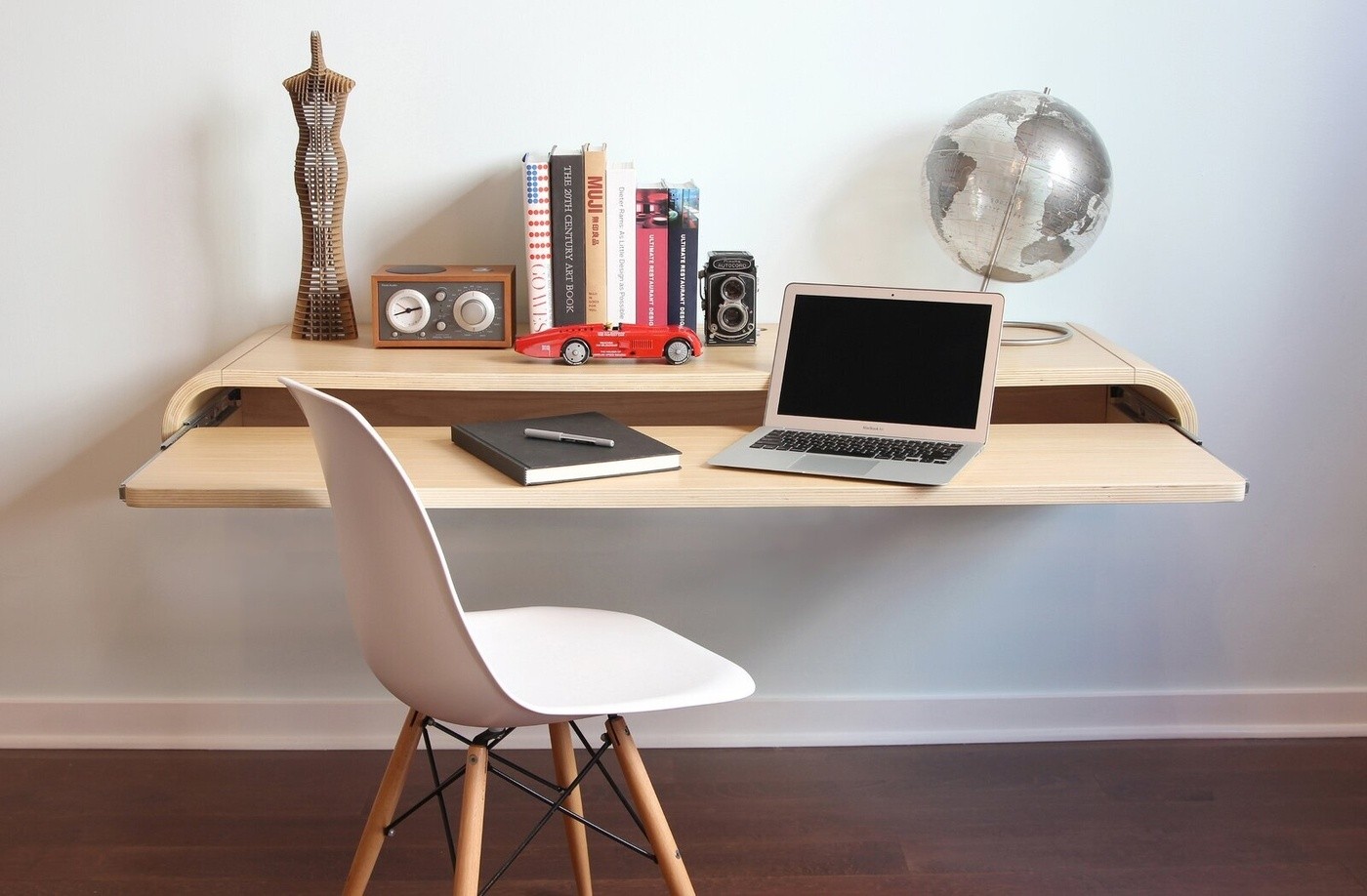 Ideal for those who prioritize cloud storage, this sleek, understated design strips your home office down to basics. The curved edges and wooden blend lend a softness to the aesthetic, perfect for a minimalist or Scandinavian style decor. The keyboard tray and cable management system lend a functional hand to help you keep the space organized and maximize productivity.
For added storage space, consider installing a shelf or cupboard above the desk, in a similar timber and style, for visual cohesion. Where possible, fit the desk above a power point so you can keep your devices charged at all times, whilst hiding the socket out of sight.
7.

Chic Floating Desk with Drawer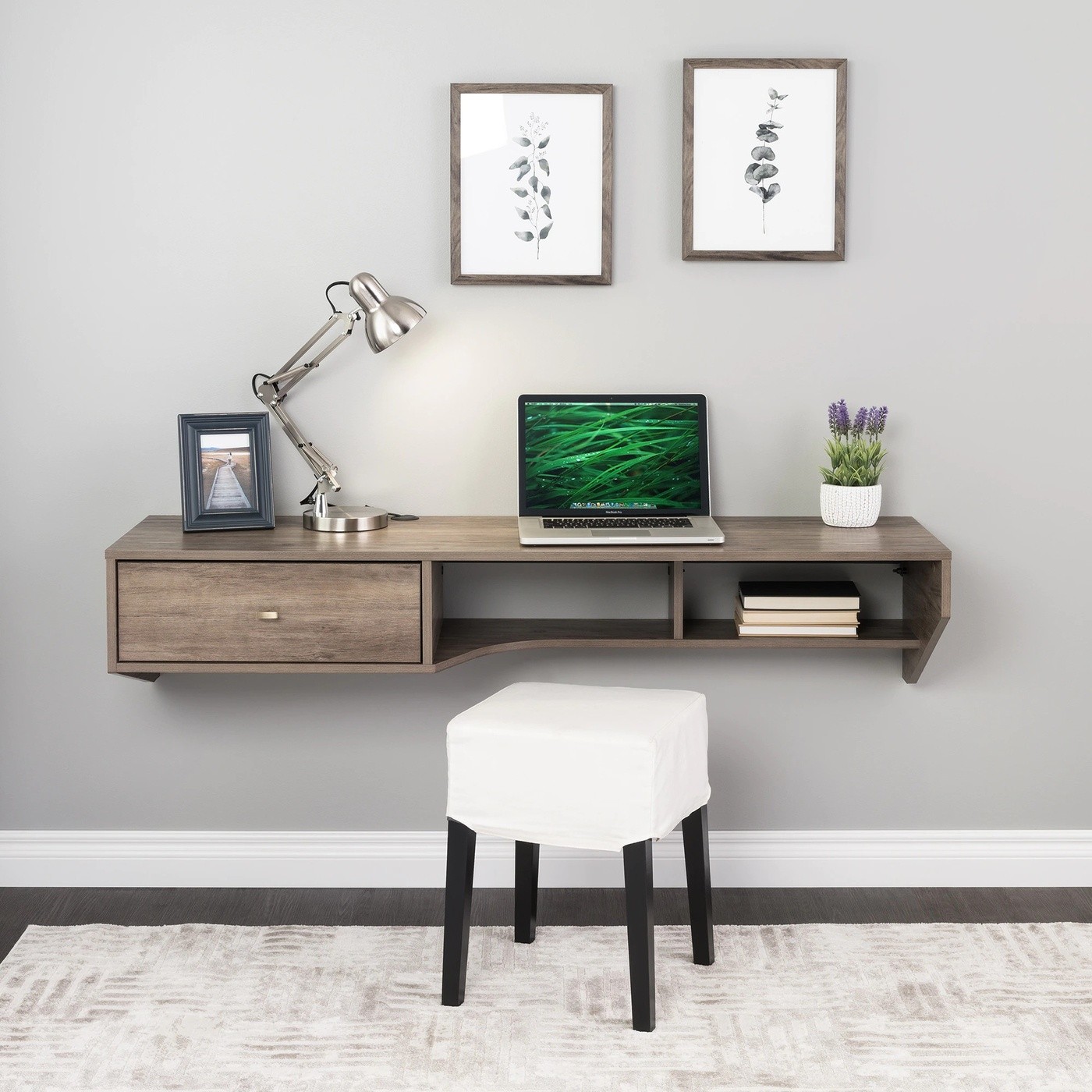 This modern floating desk with a drawer is an elegant and practical alternative to your lap. 58 inches wide, it has ample room for answering emails, putting together presentations, or doing your all-important online shopping. The brushed brass knob detailing and drifted grey finish lends itself to a variety of interior styles, from warm coastal to farmhouse chic.
Put the 'home' in home office by accessorizing with a plush rug and an upholstered chair to create a softer feel. A stylish designer lamp will brighten up the space and serve as a decorative motif when switched off, blending your workstation into the decor.
8.

Floating Corner Desk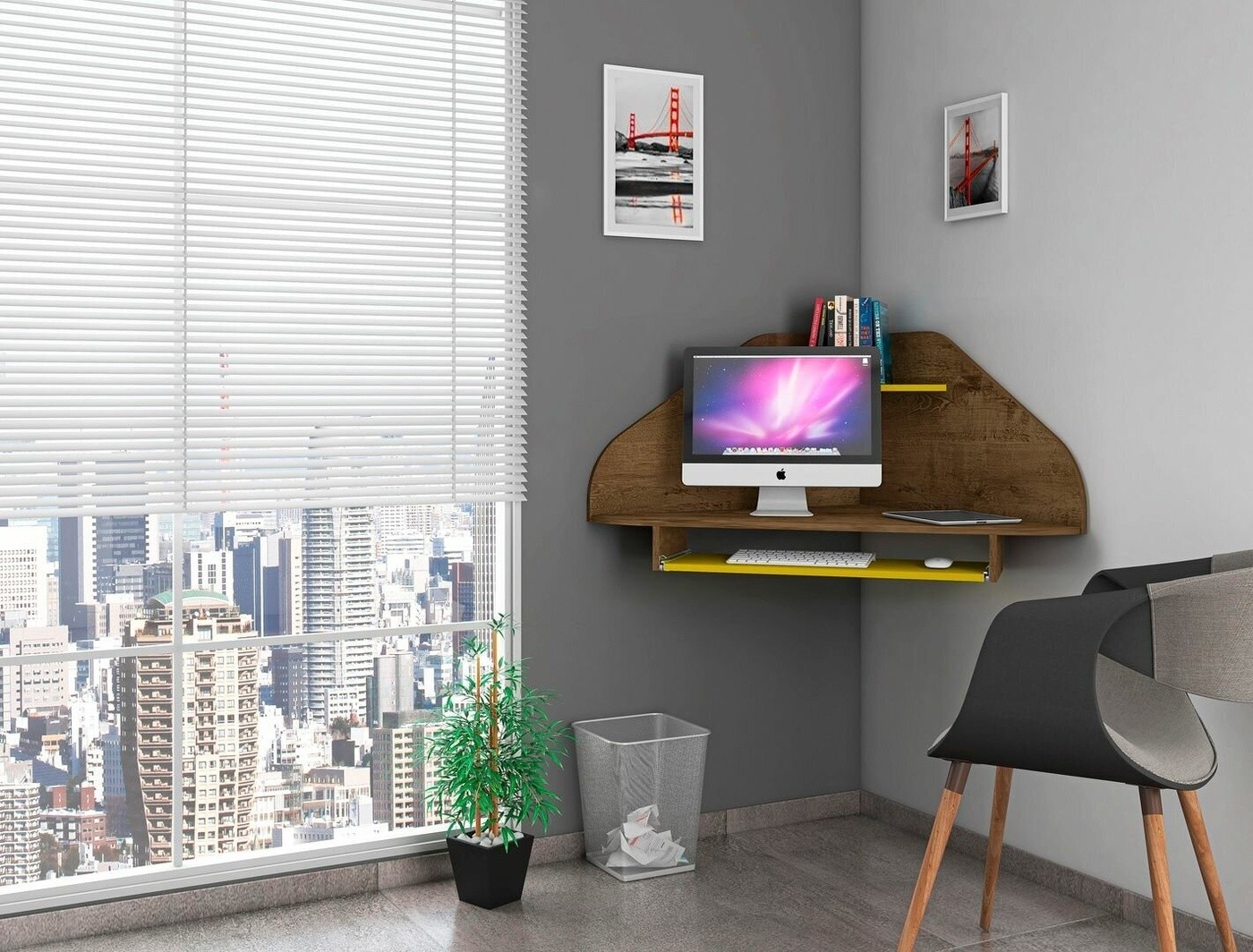 Got an empty corner that you're looking to fill? How about a floating corner desk? Maximize space without compromising on comfort or style. This wall-mounted desk is the perfect WFH setup, with space for your legs, stationary, a laptop, or desktop computer, and keyboard.
As well as suitable seating and desk height, keyboard trays can drastically improve the ergonomics of your workstation, reducing the risk of musculoskeletal problems and fatigue,whilst boosting comfort. Make sure your wrists and forearms are held in a joint-friendly neutral position, and that your head is level with a distance of at least 20 inches between your eyes and the screen.
9.

Wide Wall-Mounted Desk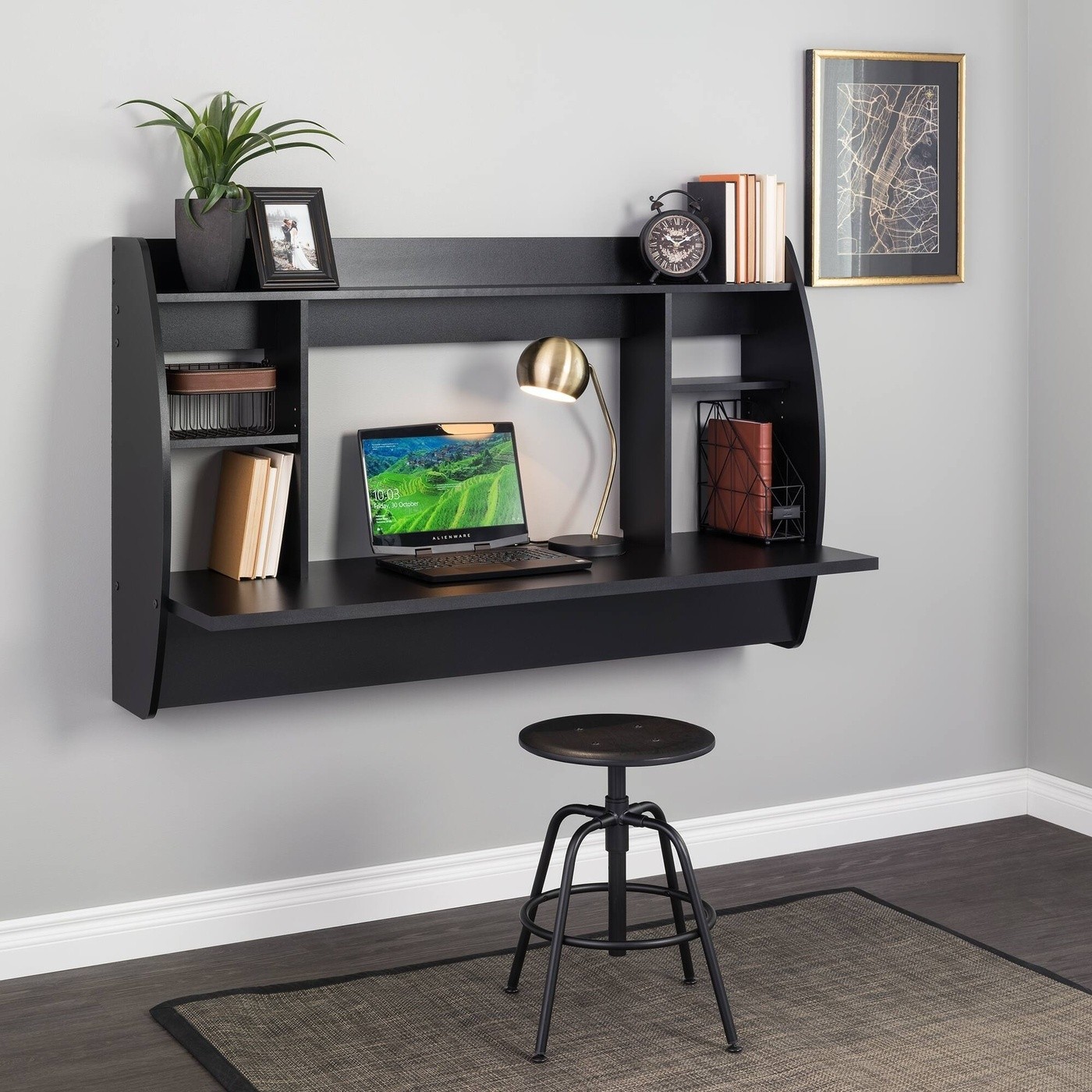 This wide floating desk is ideal for those who need a little more surface area to work with, providing room for a computer and a book, or to lay out papers. It's as if the center compartment was perfectly designed to fit a 32-inch monitor, whilst the cubby holes make space for books, binders and other office essentials.
Create a sophisticated, modern look by pairing black furniture with neutral colors such as beige, ivory, soft greys, brown leather and golden accents. Alternatively, combine with white or naturally luminous colors, such as yellow, lime, or orange, for maximum visual contrast.
10.

Sitting or Standing Fold-Down Floating Desk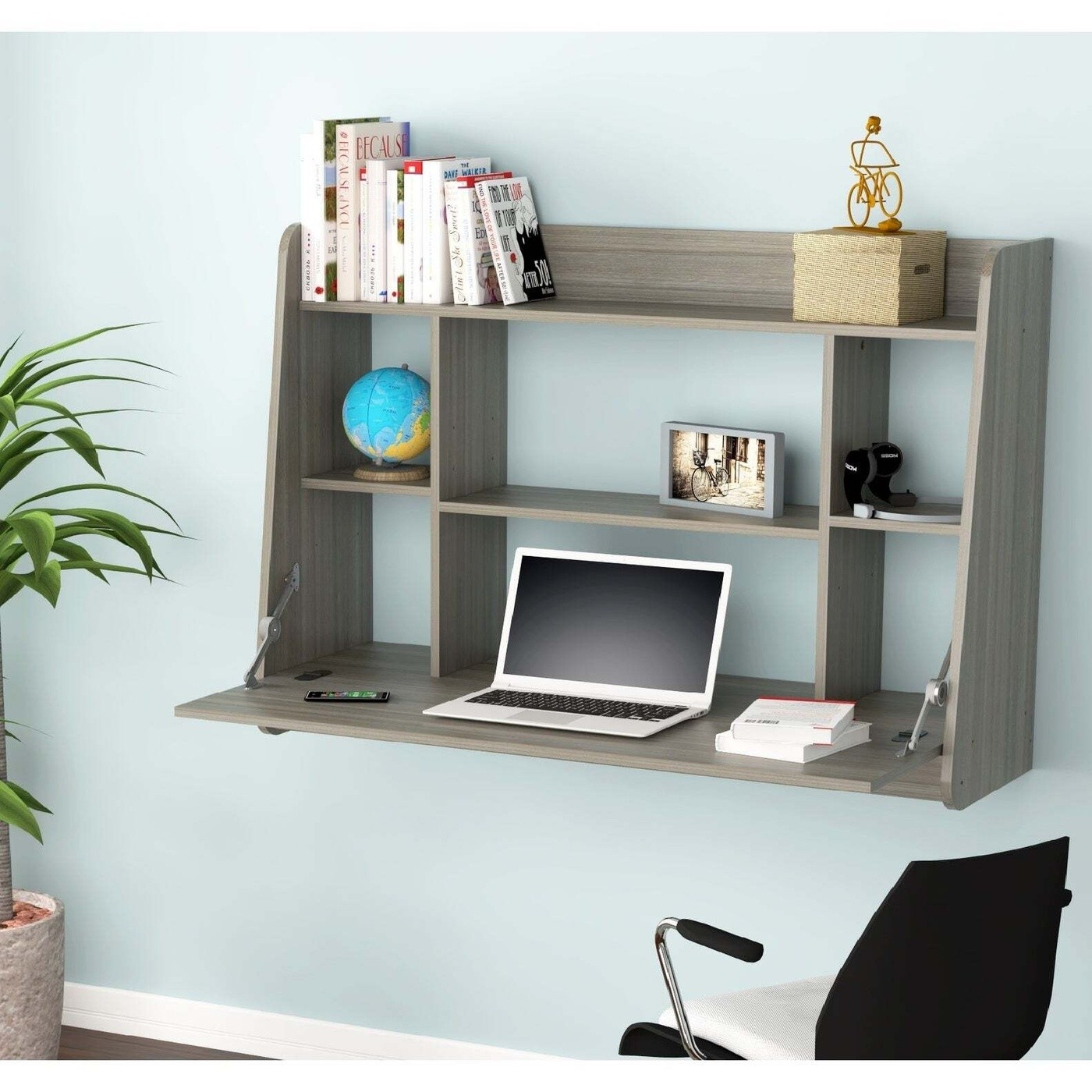 A modern take on the antique, legged equivalent, this fold-down wall mounted desk makes a smart home office by day and an elegant wall unit by night, displaying decorative personal items such as mementos from your favorite holiday, family photos, or awards (if you should be so lucky!).
Consider positioning it as a standing desk, as opposed to sitting. According to health experts, sitting at your desk all day is bad for your health. We should stand at our workstations for at least 15-30minutes per hour, so they say! Make sure to adjust your desk and screen to suit your height, aligning your elbows with the desk and the top of the screen at eye level.
11.

Industrial Chic Small Floating Desk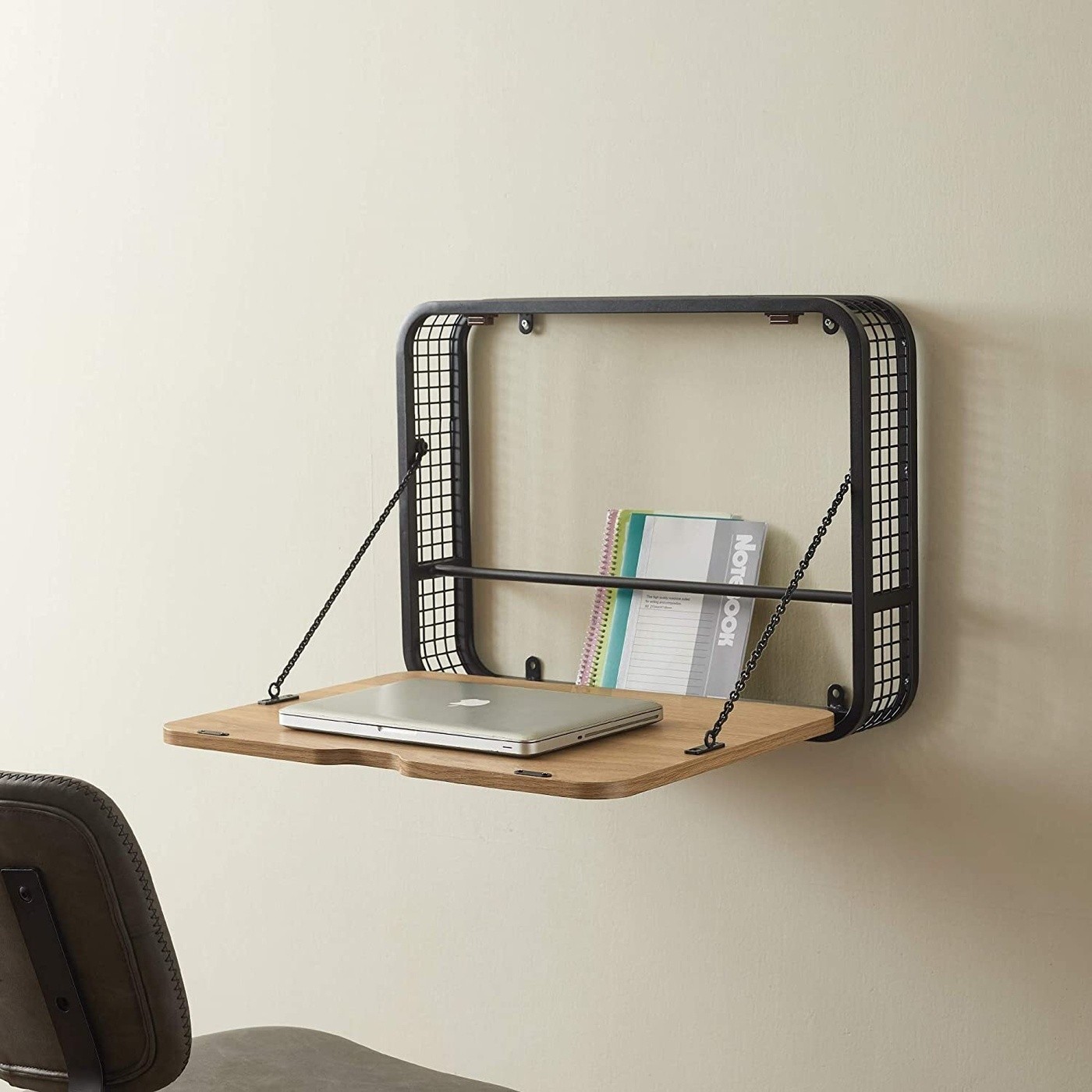 Presenting you the ultimate industrial chic tiny desk made especially for those very short on space. Its compact size means it really can fit anywhere, from the hallway, to the kitchen, or even the downstairs loo (only joking) - you get the drift!
Use it to jot down a quick note, keep the kids entertained playing computer games, or catch up on correspondence. It's even got space to hide away mail and bills for you to tackle when you've got the energy.
12.

Colorful Fold-Away Floating Desk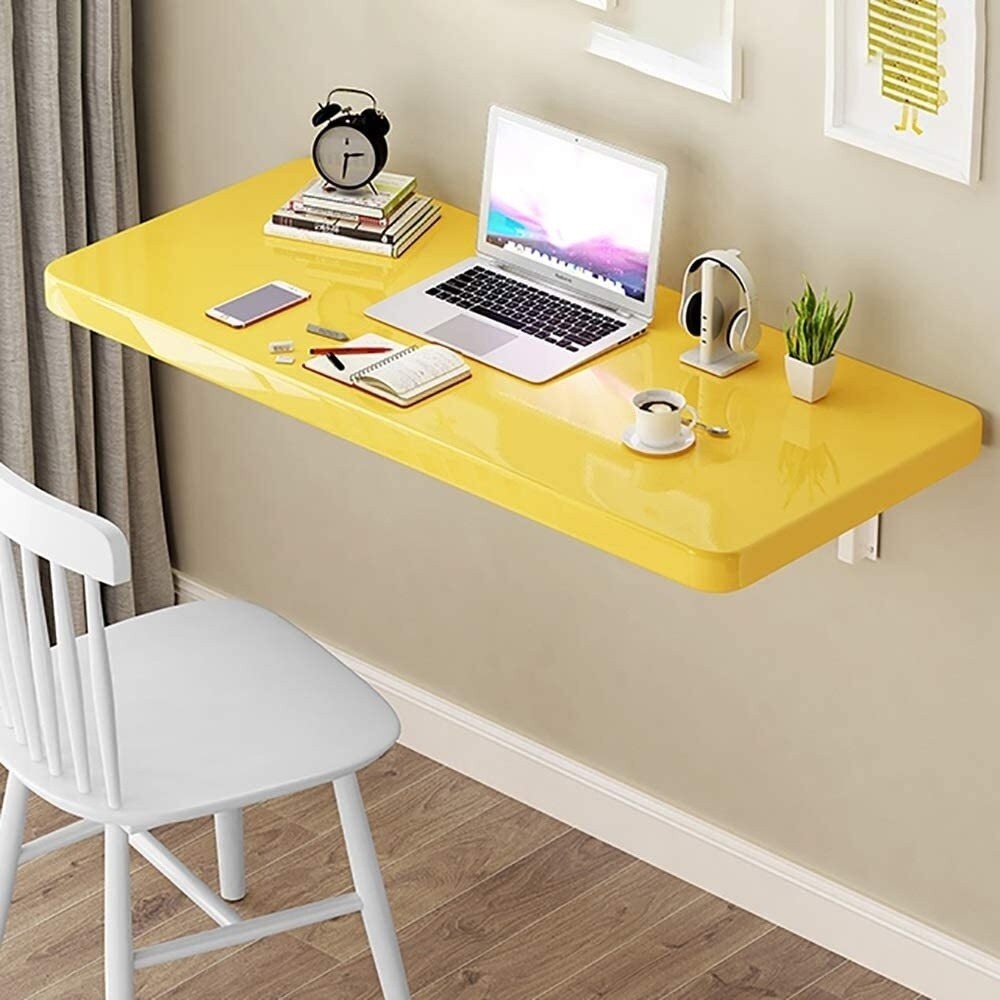 Add a burst of sunny yellow to your interior with this fold-away table-come-desk design. Perfect for small spaces, you can fold it up and down as and when needed, for catching up on work, extra cooking space, or turn it into a mini bar for drinks and nibbles when playing host. Plus, the rounded corners and smooth finish make it child (and adult) proof.
We're all about using bold accent colors in interior decor but, remember to make sure to repeat the color in pops around the room to create a sense of visual cohesion. That way the statement piece won't look out of place.
13.

Functional Floating Desk and Storage Cabinet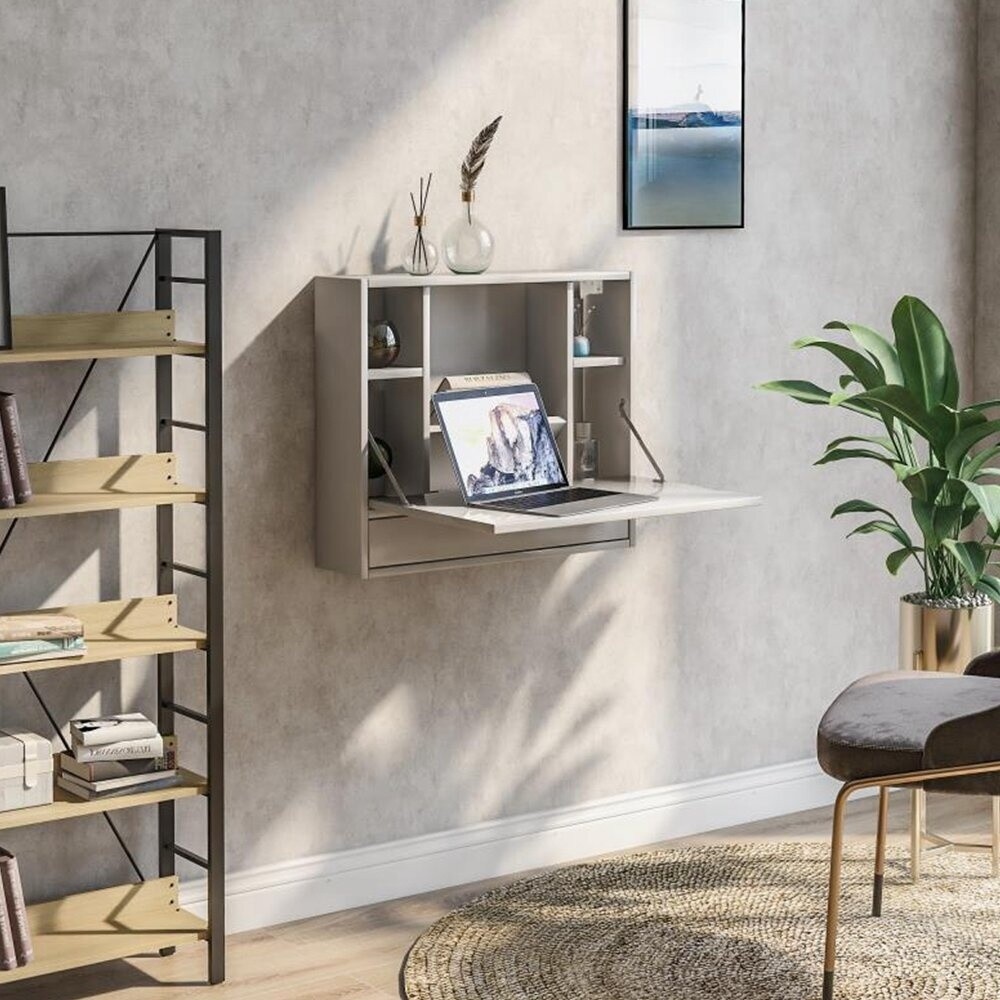 The perfect solution to that awkward recess in your wall, this versatile floating desk-come-storage cabinet design can easily blend into any scheme. Small yet functional, this unit features multiple storage compartments in various sizes including a small draw beneath to keep bits and bobs to hand.
Made of manufactured wood, this desk is durable and easy to care for. When cleaning, first remove the dust with a dry cloth, then wipe it down with cleaning products, such as carpet's shampoo, dissolved in water. Avoid using abrasive detergent such as macro dilution method and alcohol detergent as these can damage the surface.
14.

Mid-Century Modern Floating Desk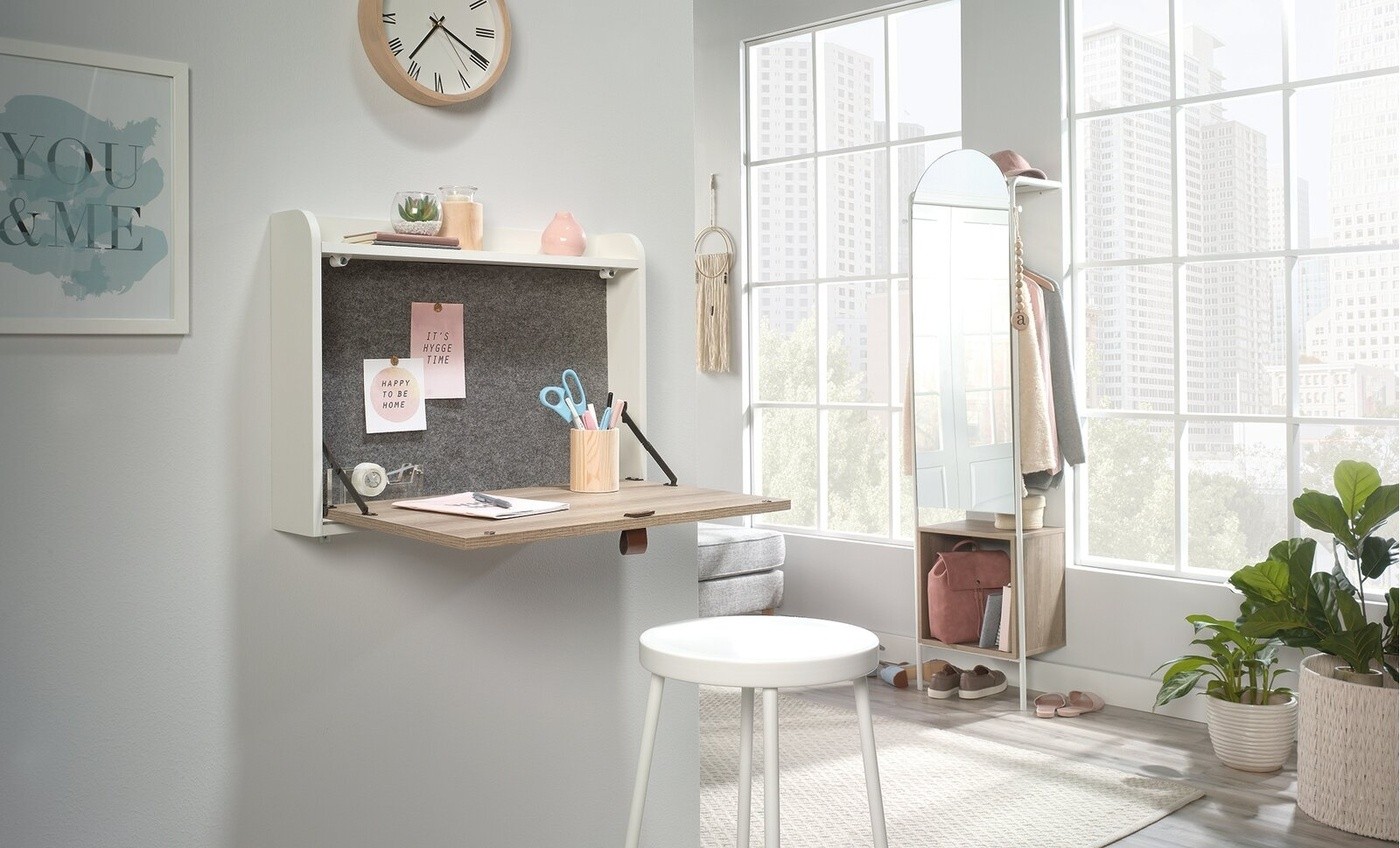 This two-tone white and oak finish floating desk makes an unobtrusive work zone for a mid-century modern scheme. Pull down the hinged desk with the leather handle to create a surface to write, draw or stage your electric devices. Check out the integrated bulletin board for pinning up memos and notes, or fun photos.
Decorate the wall behind the desk to make it a feature. Paint it a soothing and 'on-trend' grey, or go for a soft pastel color and have some fun with matching stationary. Feeling bold? Turn it into a big black chalkboard to record brain waves and plan the week ahead.
15.

Elegant White and Gold Floating Desk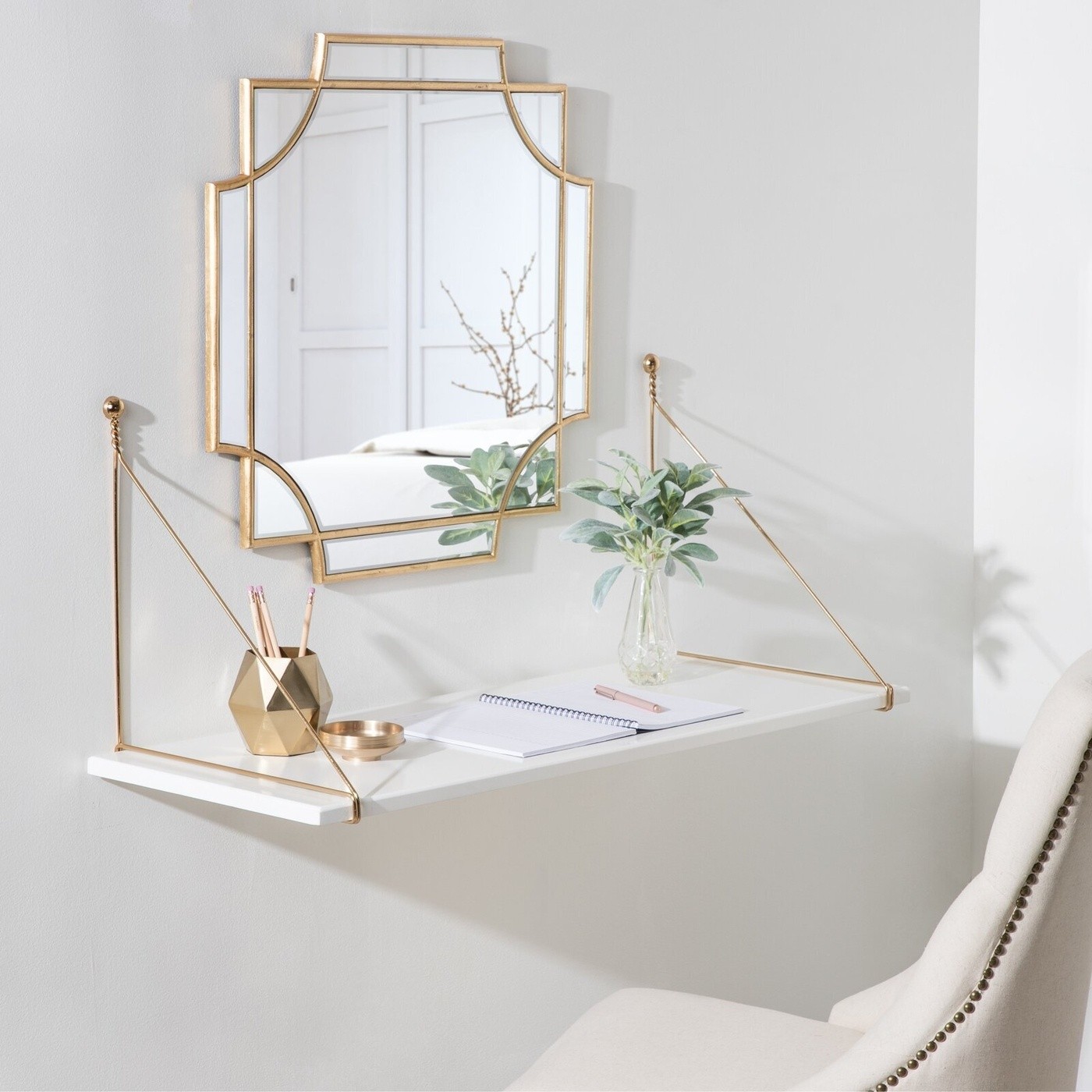 Add the perfect pop of posh with this elegant floating desk. White, when combined with gold - synonymous with luxury and opulence - is undoubtedly one of the classiest and most delicate color schemes. This desk brings that sense of luxury to the fore, inspiring our inner diva, yet provides a practical solution to your work-from-home reality.
Complete the luxe look with gold stationary and accessories and a mirror, or wall art, with a matching gold frame. If you're planning on placing the desk in a bedroom or living room, consider pairing it with an upholstered chair for a soft andrefined look.