A good quality dining table will last you many years, if not generations. It's worth the investment.
"Buy once, buy well" is our motto when it comes to dining table shopping. As an essential household item and one of the hardest working pieces of furniture in the home, a good quality dining table is a worthy lifelong investment. Unlike towels and kitchen appliances that need replacing every 5 years or so, most people can count the number of dining tables bought in a lifetime on one hand, or even one finger!
We've already shown you how to establish the best dining table shape and size for your available space and what to consider where space is limited. The next step is quality assessment, evaluating the material and overall design of dining tables. Follow these simple tips to help you find the perfect lifelong dining table match for your home and lifestyle.
What makes a good quality dining table?
Before you scour the shops or the web for a dining table, the first question to ask yourself is: How will I use the dining table now and in the future? Will it be reserved for weekends and special occasions? Or will it be used daily by the whole family and sometimes double up as a desk? If you tend to move or rearrange your furniture frequently, you may want to consider a lighter material for your table, like wood veneer or pine, that's easier to transport than say marble or oak.
Keep your answer present throughout your table hunt, as it will help you determine the best dining table for your individual needs.
A good quality dining table is one that is sturdy and has a durable finish that withstands heavy use and shows little signs of wear. How do we determine this? By paying close attention to the joinery and material of the furniture.
The Joinery
Good joinery is the key to a stable and long-lasting table. By 'joinery,' we refer to the places where different parts of the table join, such as where the table top meets the table legs. As a general rule, the more simple the construction, the better. The more attachments, hooks, and mechanisms a table has, the higher the possibility something will go wrong.
Look at how the table is constructed, focusing on the connection points. Make sure there are no gaps and nothing wobbles or bends when you move it or put weight on it. Wood joined directly with wood - also known as mortise and tenon joinery - is one of the strongest and most traditional joinery methods. At the other end of the spectrum are staples and glue - yes, it does happen with cheap furniture! Wood cleats and mounting blocks offer good support and tend to be sturdier than metal plates.
Checking out the joinery is even more important when it comes to extendable tables with leaves. While they offer the great advantage of being able to customize the size of the table to suit your daily and occasional entertaining needs, they do require more pieces and mechanisms. Always look underneath the table to see how the extension mechanism works, and test it out in the store before you buy.
The Base
A strong base makes for a sturdy table. Most dining tables either have legs, a pedestal, or a trestle base. While round pedestal tables are often preferred for leg space, they tend to be less sturdy than four-legged tables - particularly when someone leans too heavily on one side! A table leg on each corner helps disperse the weight and reinforce the base.
**The thicker the legs, the stronger the base. **Thin table legs may look clean and sleek, but thick, solid legs are a safer bet for heavy tabletops, like wood or stone. Other stabilizing features include stretcher bases and table aprons; however, they tend to compromise leg space.
Dragging the table can weaken the leg attachments and damage the table. If you need to move it, always ask for help to lift it to preserve its sturdiness and lifespan.
The Tabletop
As well as playing an important role in the overall look and style of your dining area, the tabletop material is also a determining factor when it comes to a table's longevity. Perhaps you share your home with an enthusiastic crayon-wielding toddler, unruly pets, or a clumsy family member - you'll need to cater to that when choosing a tabletop!
A dining table intended for daily or multi-purpose use requires a highly durable surface material. When shopping, look for any nicks and scratches that may indicate how you can expect the table to wear with everyday use at home.
Take a look at some of the most common tabletop materials, and the pros and cons of each:
Hardwood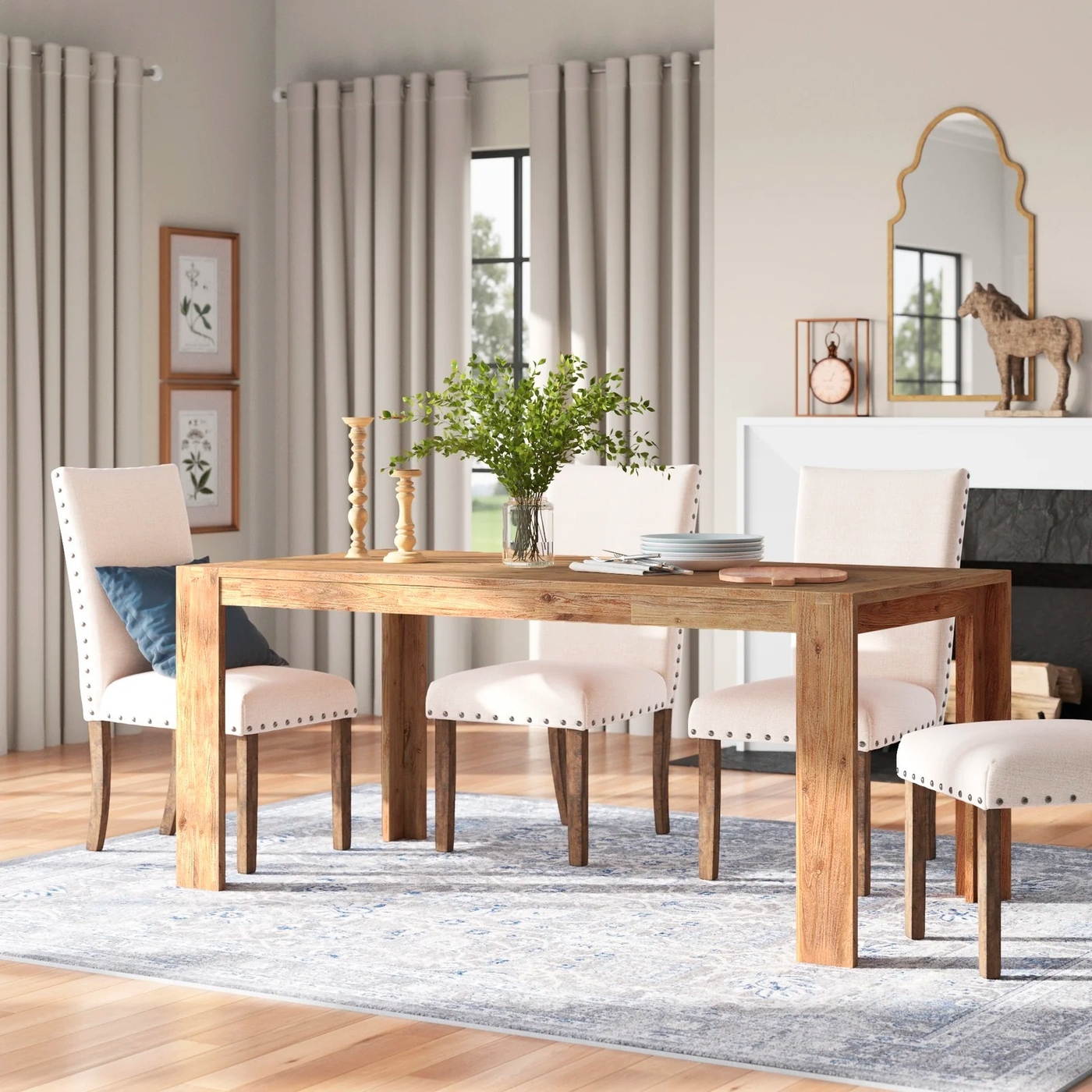 Pros:
Durable and hard-wearing
Wide variety of woods with different colors and stain options
Marks from everyday wear and tear add character
Easy to repair
Wide price range
Doesn't show dirt easily
Light density wood, like pine, is lightweight
Cons:
More expensive than some other materials
Expands and contracts with heat and humidity (be careful with watermarks and heat marks)
Can show scratches and wear
High density wood, like oak, is heavy and not easily transportable
Wood veneer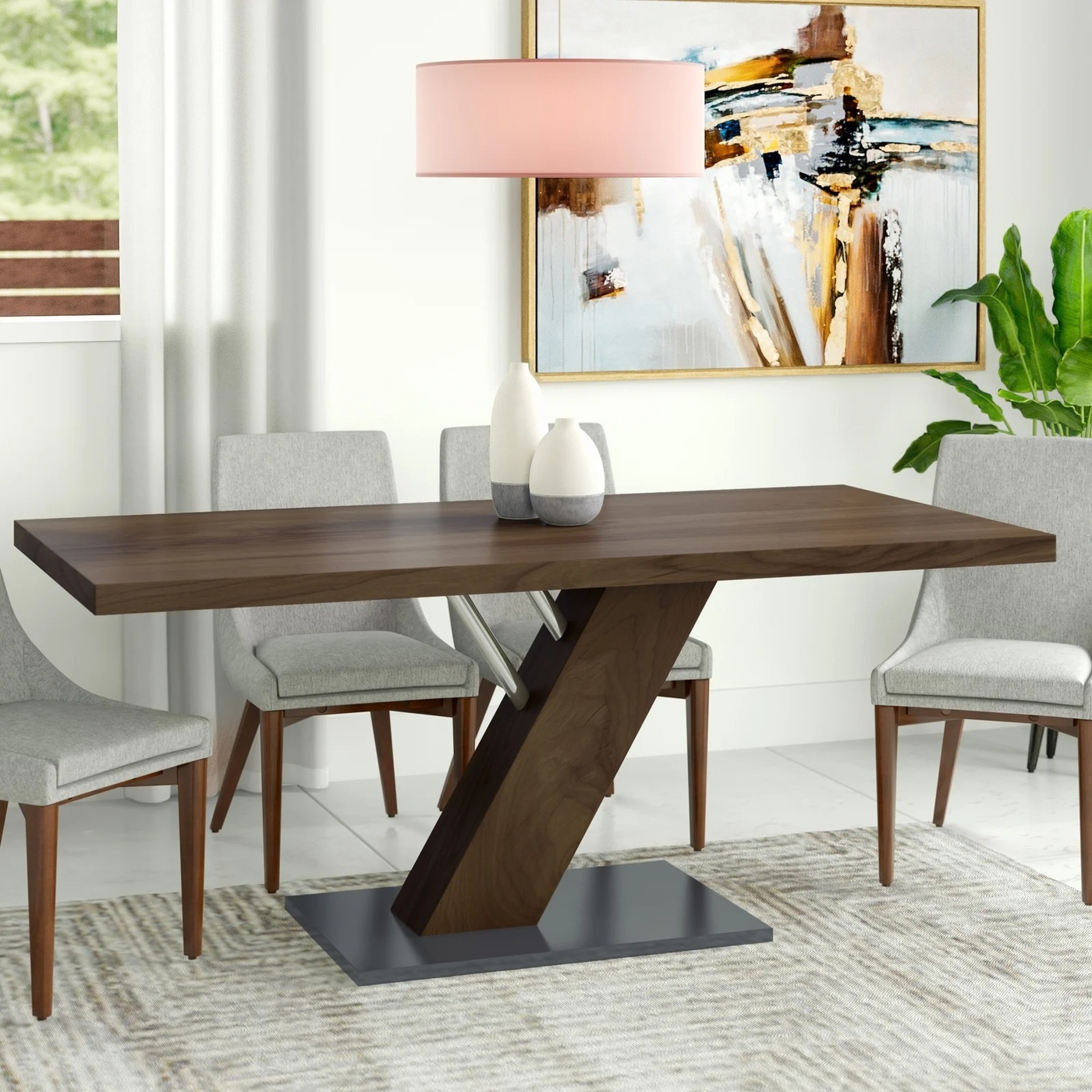 A wood veneer is a thin layer of solid wood (or material printed to look like wood) that is glued to a plywood or other solid wood core. Good quality wood veneer tables should have clearly-labeled core interiors, like kiln-dried hardwood. Always check the underside of the table to check it has been well-finished all over.
Pros:
Affordable alternative to hardwood
Good-quality veneer tables are durable
Lighter than most hardwood
Doesn't show dirt easily
Cons:
Not as strong and durable as hardwood
Can blister, delaminate or peel back at the edges (especially thick veneer)
Susceptible to water damage
Can be costly to repair
Stone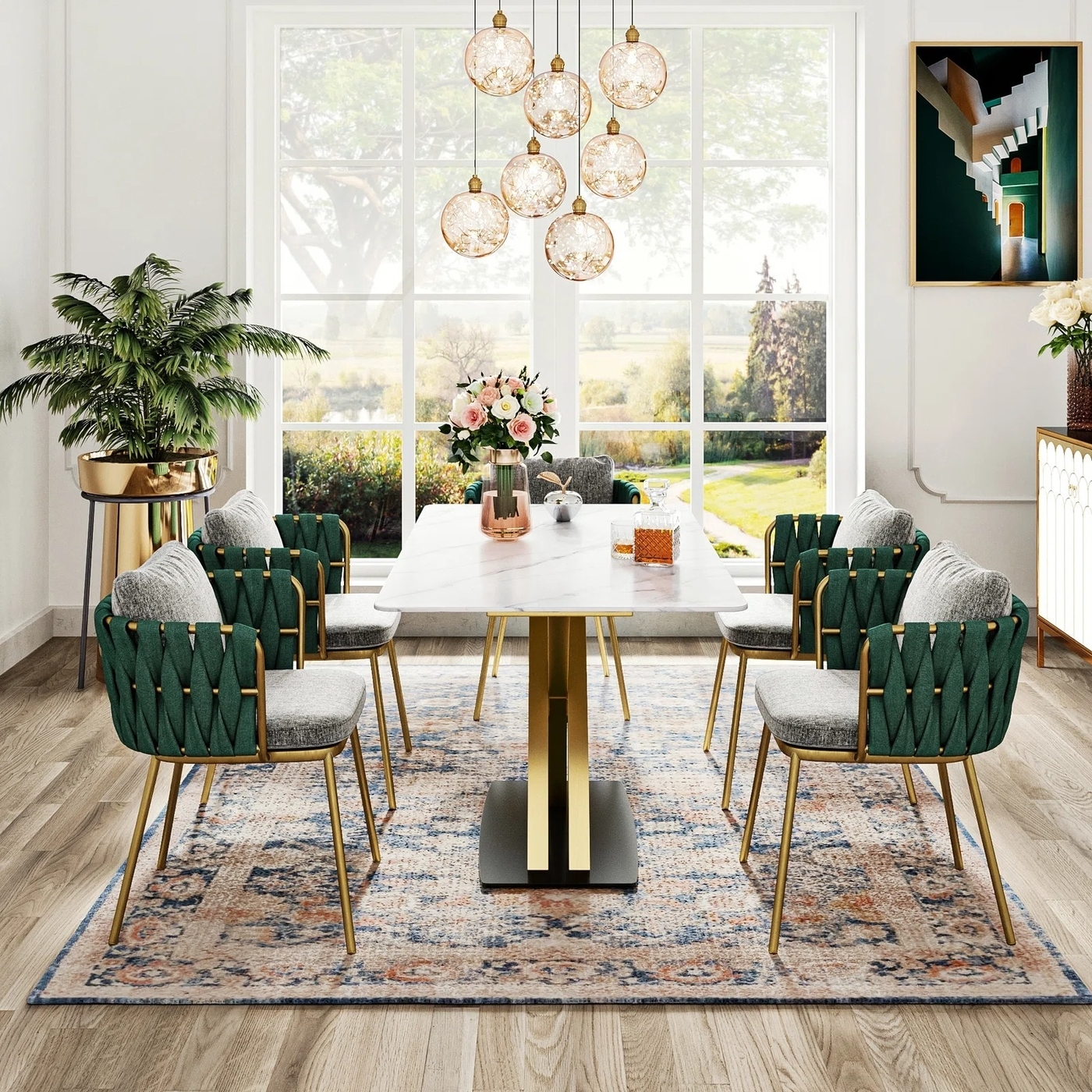 Pros:
Strong, sturdy, and durable
Cons:
Pront to scratching and chipping
Difficult and costly to repair
The porous material is susceptible to staining (red wine is a killer!)
Regular sealing is necessary to protect the stone
Tends to be heavy, so not easily transportable
Most stone tables are costly
High-maintenance
Glass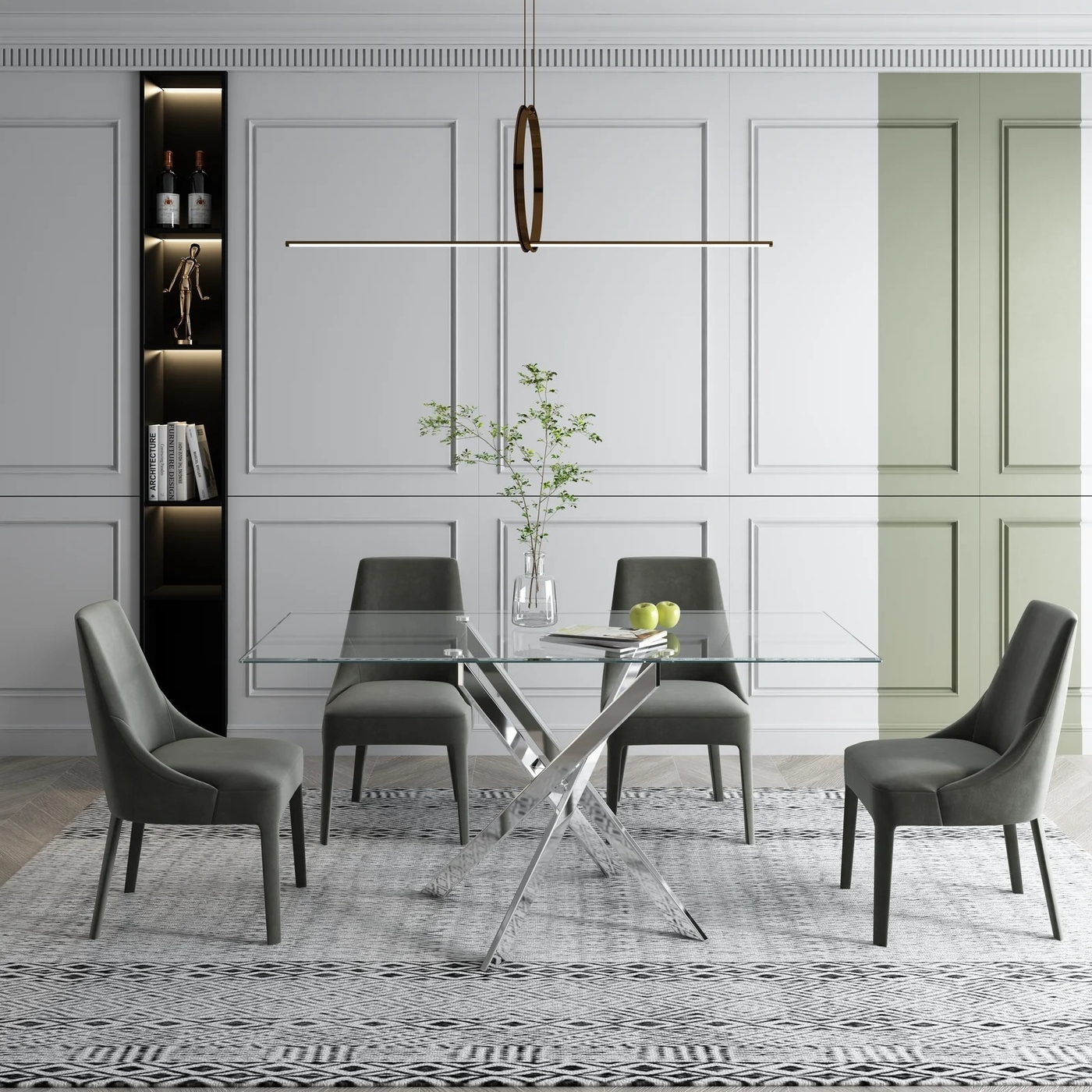 Pros:
Scratch resistant
Heat resistant
Shatter resistant
Easy to clean
Durable and hard-wearing
Cons:
Shows fingerprints and dirt easily
Can chip
Significant damage can't be repaired, but can be replaced
Metal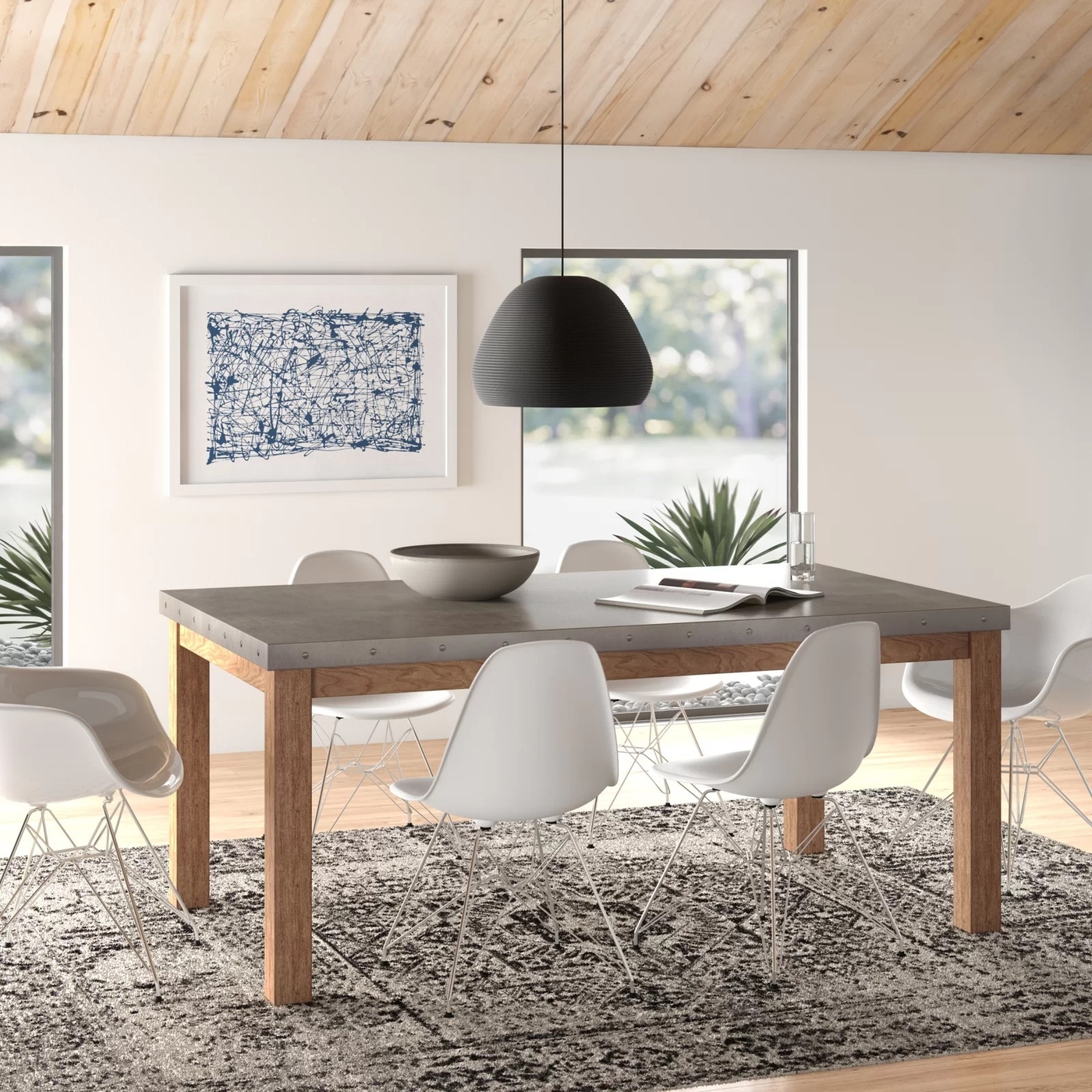 Pros:
Durable and very hard-wearing
Tend to be cheaper than hardwood and stone
Easy to clean
Low-maintenance
Cons:
High-shine metals show fingerprints
Painted metals can be hard to repair
Some metals absorb heat and can warm up quickly under strong, direct sunlight
Plastic and laminate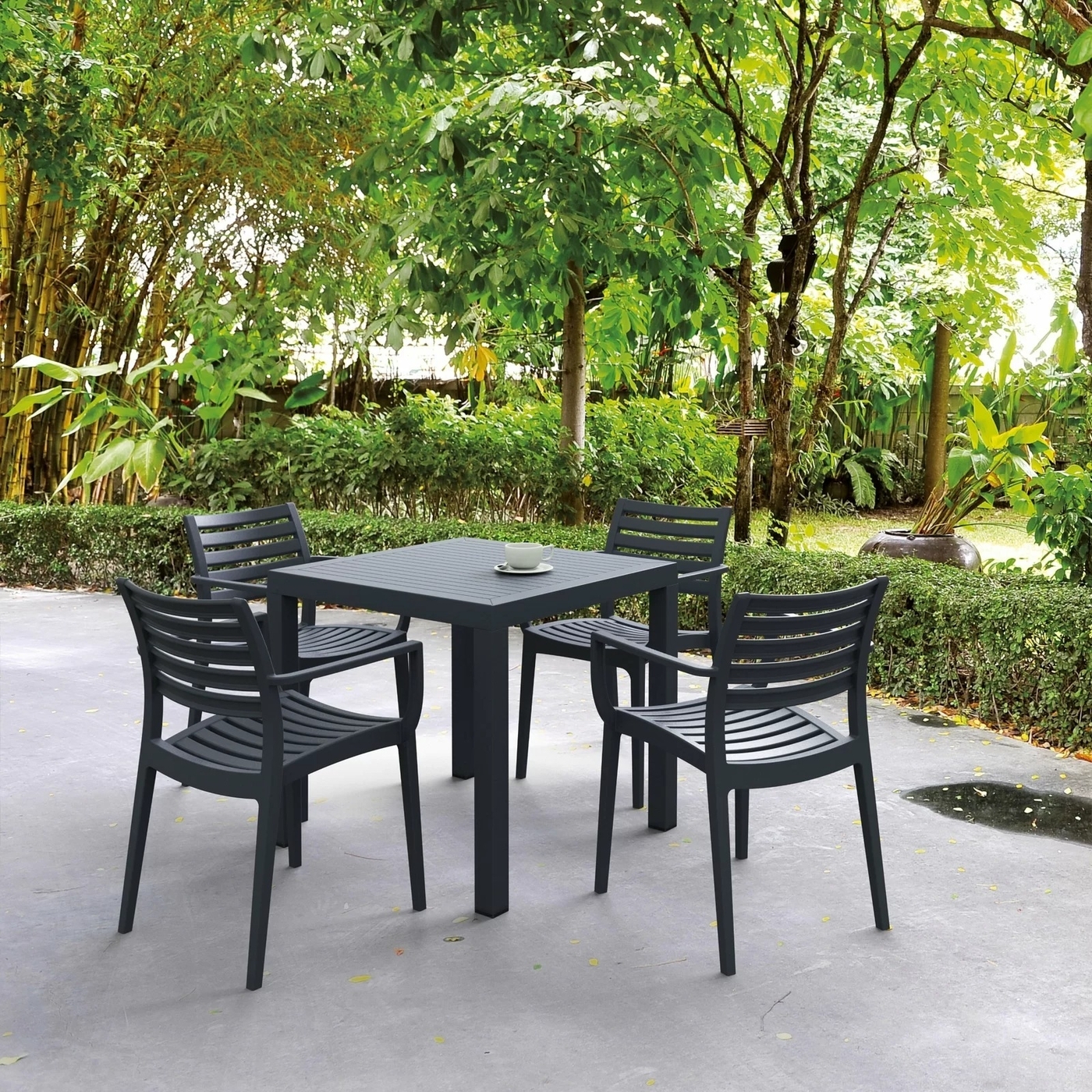 Pros:
Durable
Stain-resistant
Easy to clean
Generally economically priced
Low-maintenance
Cons:
Not as strong as hardwood, stone, or metal