The secret to finding your dream sofa is in distinguishing key characteristics and matching them to your unique personal needs and preferences.
Sofas, or 'couches', are an essential piece of furniture and one of the most important investments you'll make for your home. We use them for lounging, reading, watching TV, entertaining friends and family, eating and drinking, working, studying, playing games, snoozing, and much more, so it pays to get it right! It's worth your while investing in a sofa that's guaranteed to last and support you through every unique moment. But, where to start?
First, identify what room it will be for, and how and by who it will be used. Are you looking for a sofa for everyday lounging and watching TV, or for a more formal and less frequented room used for elegant entertaining? Perhaps you live with people of varying ages and abilities that you'll need to consider. Next, familiarize yourself with sofa design vocabulary and understand the unique characteristics that distinguish one sofa from the next. This way you can narrow down your selection and ensure you choose the best sofa type to suit your personal needs. To get you going, we've created a comprehensive guide to 16 of the most popular sofa types and the pros and cons of each.
1.

Sectional Sofa

A large living room and large family calls for a large sofa. Whereas a standard sofa seats two to three people, a sectional can seat up to five, providing a practical and stylish seating solution for big households and entertainers. Watch as the sectional becomes the hub of the home, comfortably accommodating the entire household and creating a visual focal point in your living room.

As the name implies, a sectional sofa is made up of at least two sections (separate pieces) that combine to create an L or U-shaped arrangement. L-shaped sectionals are available in a right arm facing (RAF) or left arm facing (LAF) position, so it's important to fully assess your floor plan before you buy. Bear in mind, sectionals typically come in a set form, so they provide little flexibility for rearranging the shape of the sofa, or the layout of your space.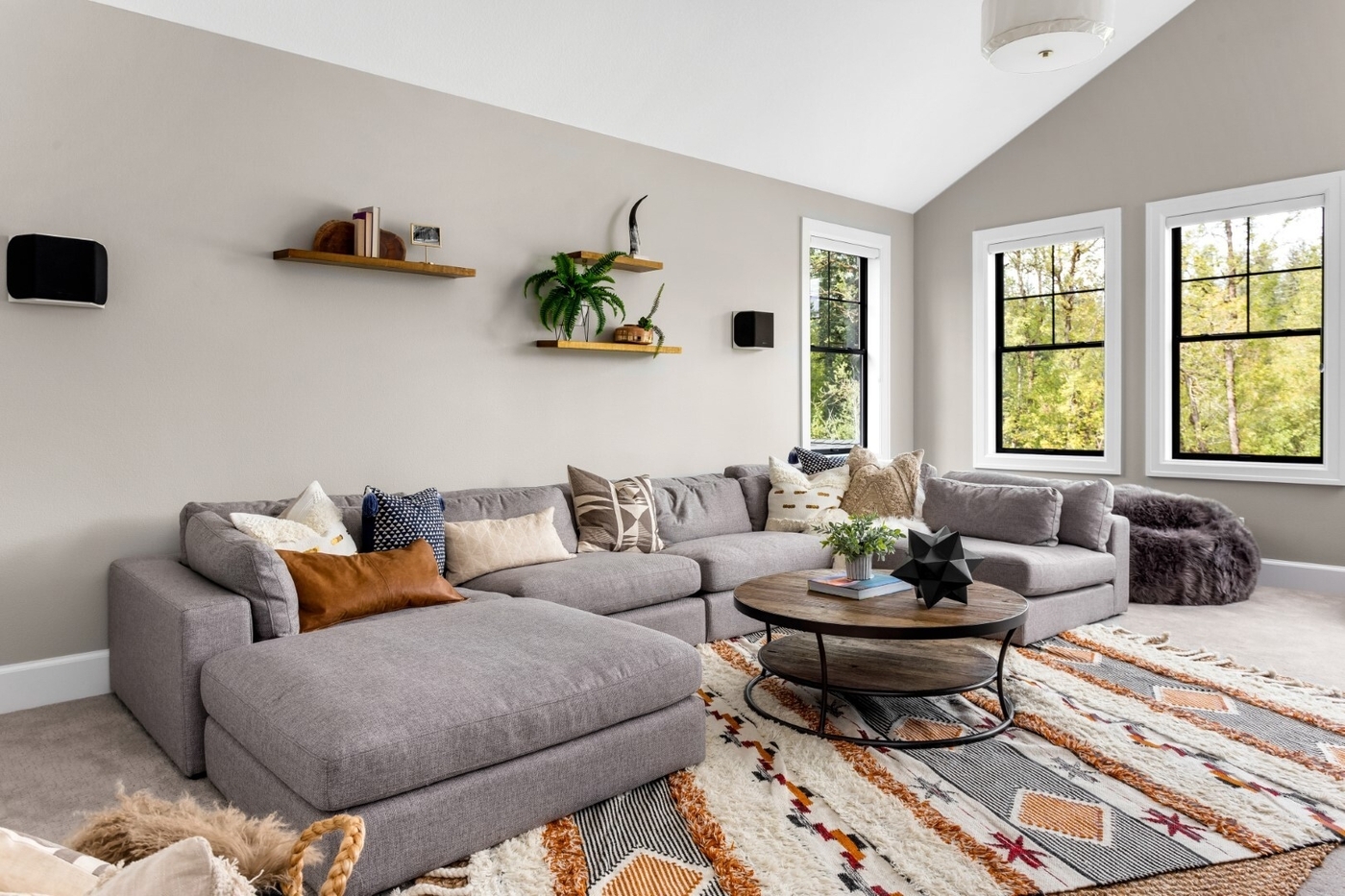 Sectional Sofa Pros
Wide range of design options
Comfortable, spacious, and inviting
Seats up to 5 people at once
Space-optimizing
Individual sections make it easier to transport
Sectional Sofa Cons
Lack of versatility in their configuration means it can't be easily rearranged or repositioned.
May not fit if you move house
More expensive than a regular sofa
Big, solid piece of furniture has high visual weight
2.

Modular Sofa

Modular sofas stand out for their unbeatable flexibility. Similar to the sectional sofa, modulars are made up of a number of individual sections (or modules) that combine to make one large sofa. Where they differ is that a modular sofa can be rearranged into multiple shapes, and scaled up and down at any time (for as long as the sofa is manufactured). All the modules are designed to fit together perfectly and sometimes even work as standalone pieces.

Rather than working around the sofa, the sofa works around you, adapting to your circumstances, needs, and the function you want your modular sofa to play at any given moment. This level of flexibility and versatility makes them particularly appealing for growing families, keen entertainers, and people who like to frequently change up their room layout. They're also beneficial for renters as the individual sections are easy to transport and adapt to different spaces.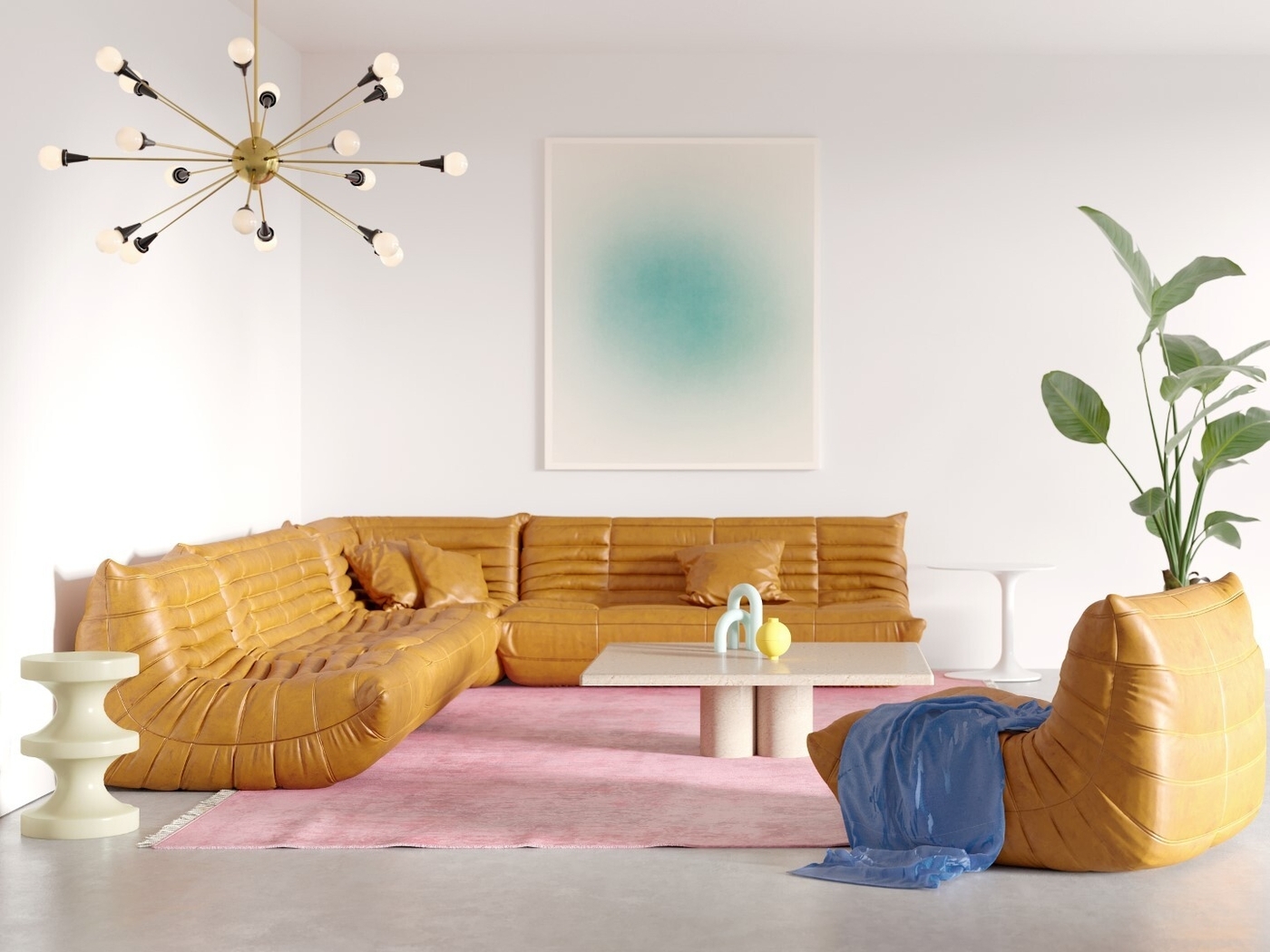 Modular Sofa Pros
Flexible
Versatile
Adaptable
Customizable
Easy to move around and transport
Good for entertaining
Cheaper to replace one damaged module than an entire sofa
Modular Sofa Cons
Tend to be limited to a modern aesthetic
3.

Chesterfield Sofa

The confident, classic silhouette of the Chesterfield sofa adds a classy statement and air of grandeur to any interior. Born out of 18th-century Britain, the timeless design is instantly recognizable with tall, rolled arms that are level with a deep, diamond-tufted back. Traditionally upholstered in dark leather, the sofa exudes old-world charm and has an inherent sense of sophistication that is equally at home in a stripped-back urban loft as it is in a country estate. The Chesterfield sofa provides the user with a daily taste of refinement through its elegant contours and high-quality comfort and support. Add some decorative cushions for extra comfort, and settle down in style at the end of the day with a good book and a well-deserved aperitif.

Modern takes on this iconic British design feature taller legs, a slimmer silhouette, and alternative upholstery fabrics, like velvet, wool, and linen. Though the style's distinguishing features, such as the deep button tufting and rolled arms, remain largely unchanged, contemporary adaptations allow the sofa to be enjoyed in a wider range of interior styles and settings.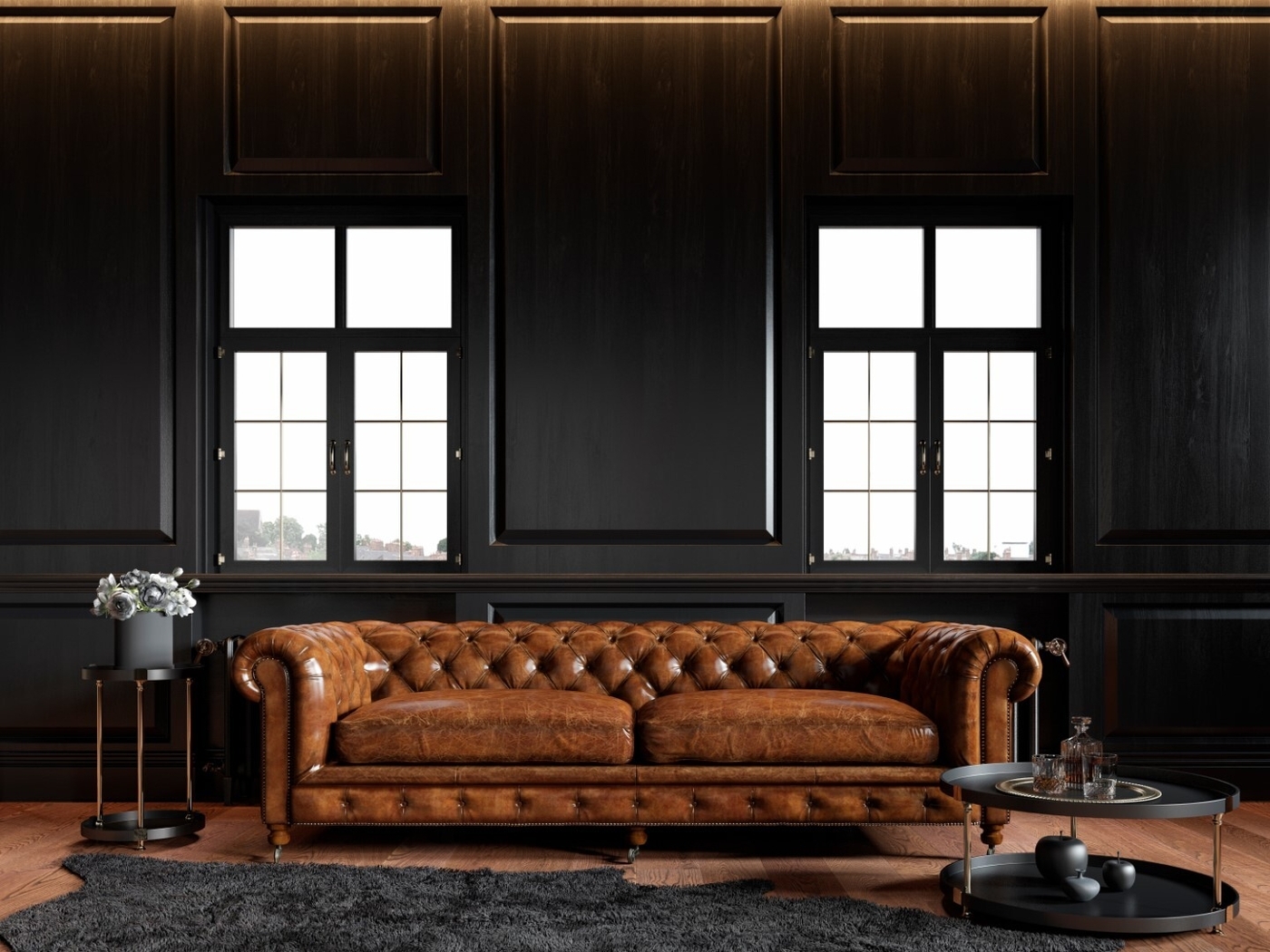 Chesterfield Sofa Pros
Timeless iconic statement piece
Low-maintenance
Good back support, encouraging correct posture
Shape-retaining cushions and resistance to everyday wear and tear
Sturdy and reliable foundation
Chesterfield Sofa Cons
High visual weight
Heavyweight and big, bulky structure makes it harder to move around
4.

Lawson Sofa

You can't go far wrong with a Lawson sofa. Its neat, tailored look suits both a casual or formal space, and contemporary or traditional interior. The clean, straight lines, and 'boxed' shape that characterize the style were the desire of financier Thomas Lawson in the late 20th-century. He wanted a simpler, more comfortable, and modern alternative to the ornate Victorian furniture styles of the time. The uncomplicated design works well anywhere, in living rooms, bedrooms, or home offices.

Available as a two or three seater, the Lawson sofa is distinguishable for its slightly angled, tailored back that rises as high as the sofa's depth. The cushions are overstuffed, providing the ultimate comfort and support for everyday lounging. The sofa arms are typically, but not always, rounded and sit much lower than its back, providing a convenient headrest for an afternoon siesta. Contemporary interpretations of the sofa style provide versatility through the customization of cushions, legs, and upholstery. While some users prefer the supportive feel of attached back cushions, others appreciate the flexibility of loose cushions that can be flipped over to hide stains and evidence of everyday usage. If you live in a modern, urban apartment you may opt for exposed legs, or a ruffled skirt for a touch of traditional, country flair. Play the simplicity of the design to your favor by injecting personality through colored and patterned upholstery.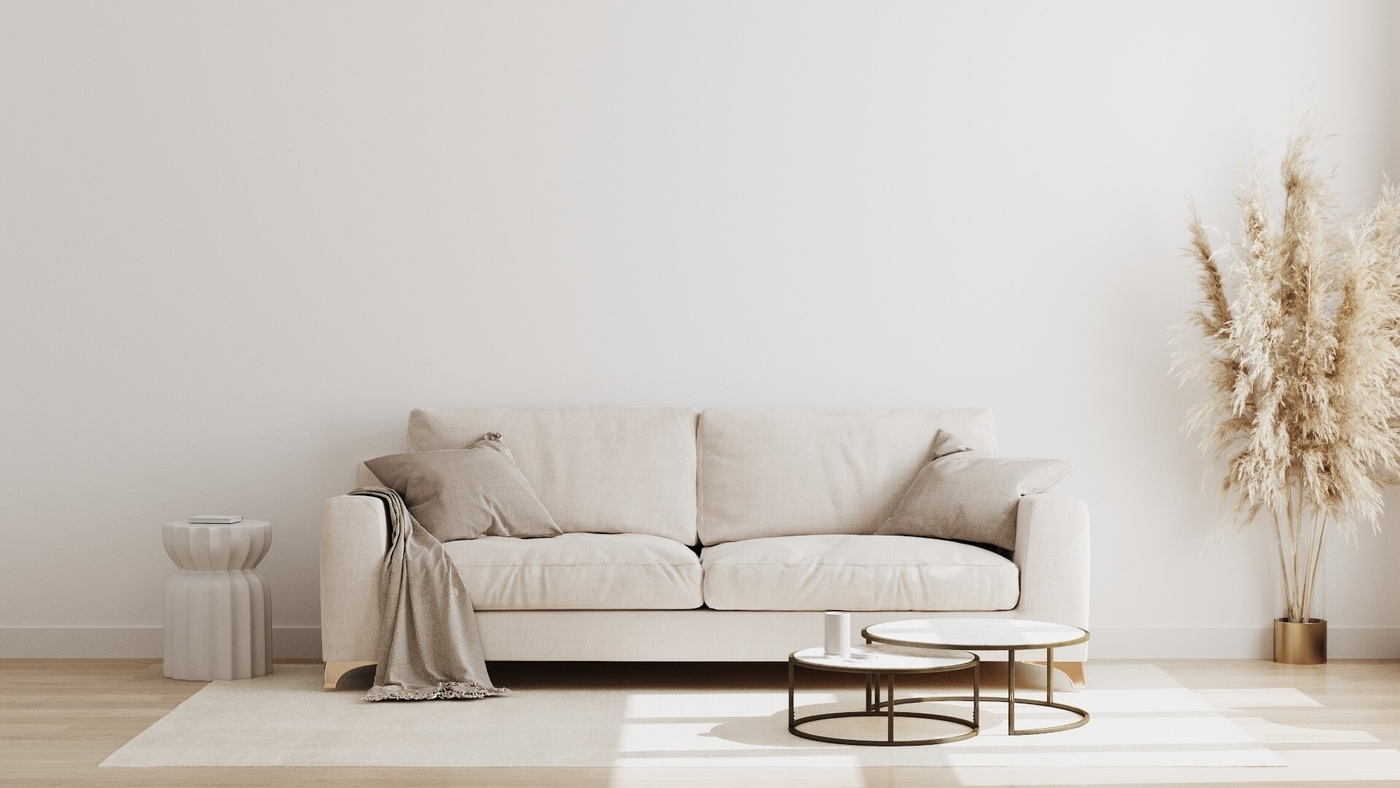 Lawson Sofa Pros
Loose cushions can be flipped
Overstuffed cushions provide comfort and support
Slightly angled back promotes good posture
Wide range of designs
Wide price range
Simple, timeless design works well in a number of settings
Lawson Sofa Cons
Not as statement-making as other styles
5.

Tuxedo Sofa

Suit up your interior with a Tuxedo sofa. Like the formal attire it shares its name with, this sofa is the epitome of smart, sophisticated, and elegant living. It's the perfect choice for anyone looking to add a touch of glamor and luxury to their living room set up. The sofa is distinguished by its upright, boxy shape, arms that sit level with the back, and a clean-lined, symmetrical silhouette. The legs are either upholstered or exposed and while traditionally button-tufted, contemporary interpretations skip the tufts for a more modern look.

Boasting square arms and neat, tailored forms, the tuxedo sofa tends to favor a more formal aesthetic. Though, don't let its angular geometry deceive you. The sofa's generous proportions and cushioning provide a comfortable and supportive setting for entertaining friends. The upholstery fabric plays a key role in the final look of the sofa. A rich brown leather has a classic, timeless appeal, whilst a vibrant velvet makes an eye-catching statement. Whatever you choose, a design classic like this is sure to last.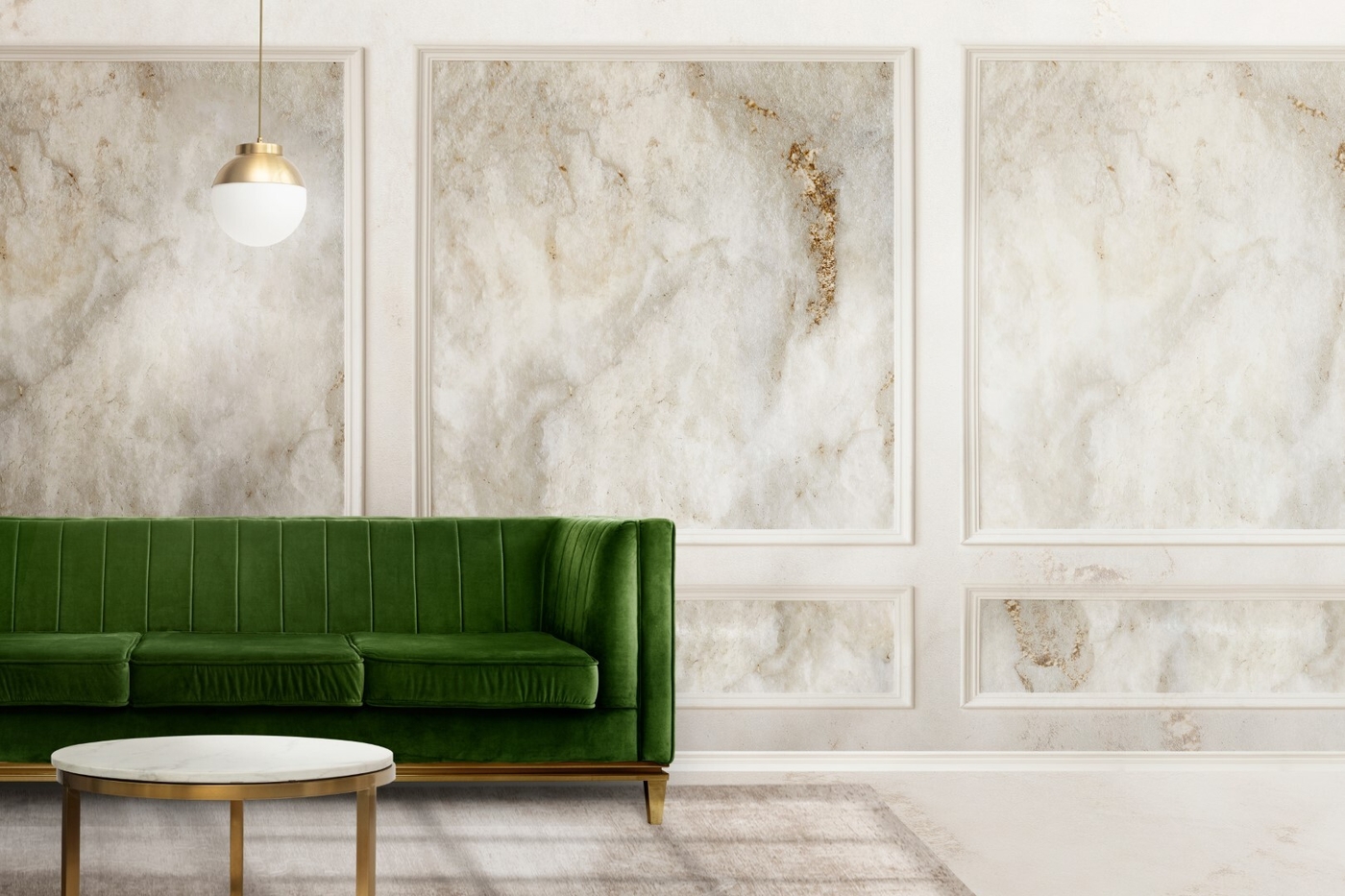 Tuxedo Sofa Pros
Supportive cushioning
Timeless design
Versatile
Iconic statement piece
Tuxedo Sofa Cons
Tall armrests may feel uncomfortable for some and block easy access to side tables
Comfort can be lacking on firmer, modern couches that don't lend themselves to deep cushioning
6.

Mid-Century Modern Sofa

Mid-century modern furniture reflects the optimistic and futuristic vision of post-war America in the midst of the 20th century. Like other furniture of its style, mid-century modern sofas were designed with small, post-war homes in mind and a new visionthat prioritized comfort, functionality, and aesthetics in equal measure. This led to a style characterized by slender, streamlined forms with tapered, elongated wooden legs, and angular arms.

This sofa style tends to be lightweight and mobile, making it the ideal choice for renters, or homeowners prioritizing flexibility and portability. The simple silhouette and tall legs create a clean, uncluttered look that favors small-scale rooms, and also maintains a sense of homely comfort that other modern furniture can sometimes lack. Adhering to the 'less is more' ethos, mid-century modern sofas are typically upholstered in a durable, monochromatic fabric that will slot easily into a minimalistic or contemporary interior. Opt for a warm, organic color for a retro look that never tires.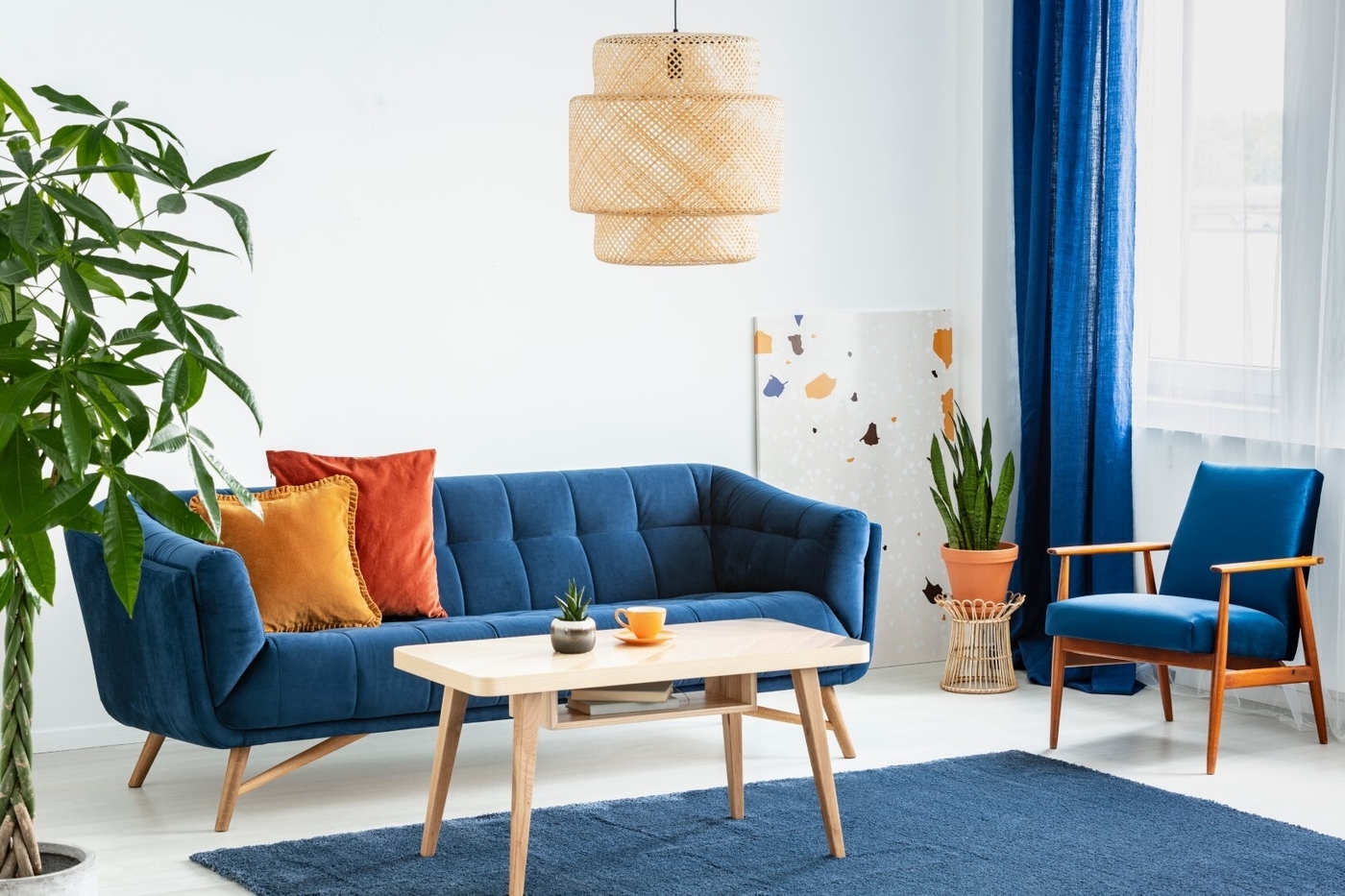 Mid-Century Modern Sofa Pros
Timeless design
Pared-back aesthetic is easy to mix and match with a range of decor styles
Available at all price points
Tight back provides a comfortable back support and promotes good posture
Mid-Century Modern Sofa Cons
To some, the retro style may feel outdated
Comfort can be lacking on firmer, modern couches that don't lend themselves to deep cushioning
7.

Knole Sofa

Regal, opulent, and intimate, the Knole sofa promotes a snug feeling of enclosure. The tall, hinged sides arch outwards and are tied to wooden finials with decorative braid and elegant tassels, creating a silhouette rich in history and a sense of romanticism. The design first appeared in 17th-century England, intended not as a comfortable place to lounge, but as a formal throne on which the King and Queen sat side by side to receive visitors.

Its rich history, decorative motifs, and classic silhouette make the Knole sofa suitable for a more traditional scheme. Its large, deep frame and high sides create a welcoming sense of privacy and intimacy that wraps you up in a warm embrace. Though, its big size also takes up significant visual weight, making smaller spaces feel smaller, and potentially hindering fluent circulation of the space.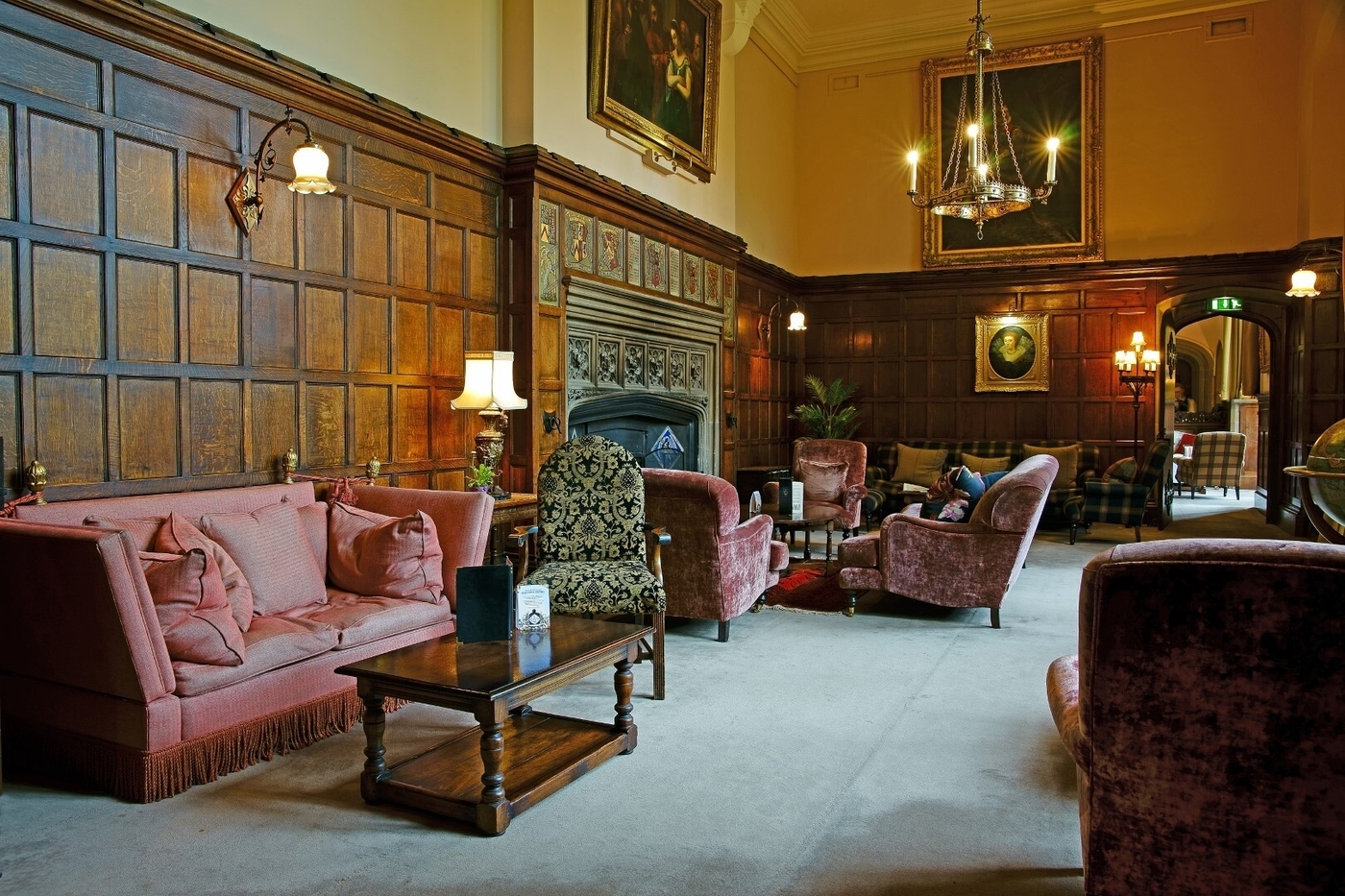 Knole Sofa Pros
Tall-sides create a cozy and intimate space
Timeless design
Comfortable
Rich history
Knole Sofa Cons
High visual weight
Hindered access to side tables and table lamps
8.

English Roll Arm Sofa

Does your perfect Sunday morning involve lounging on the couch with a cup of tea, a good book, and a furry friend? Then an English Roll Arm sofa is the way to go. Its deep seat, low, rounded arms, and plump cushions are practically designed for curling up in, without sacrificing on style. The combination of a gently curved, tight back, loose t-cushions, exposed castor or turned legs, and subtle pleating around the arms, result in a classic, timeless, and versatile design.

Think paired-back traditional and casual elegance, a look that suits a wide range of interiors and combines well with other furniture styles. Some modern versions of the English Roll Arm sofa might have loose back cushions, but this is ultimately down to personal preference.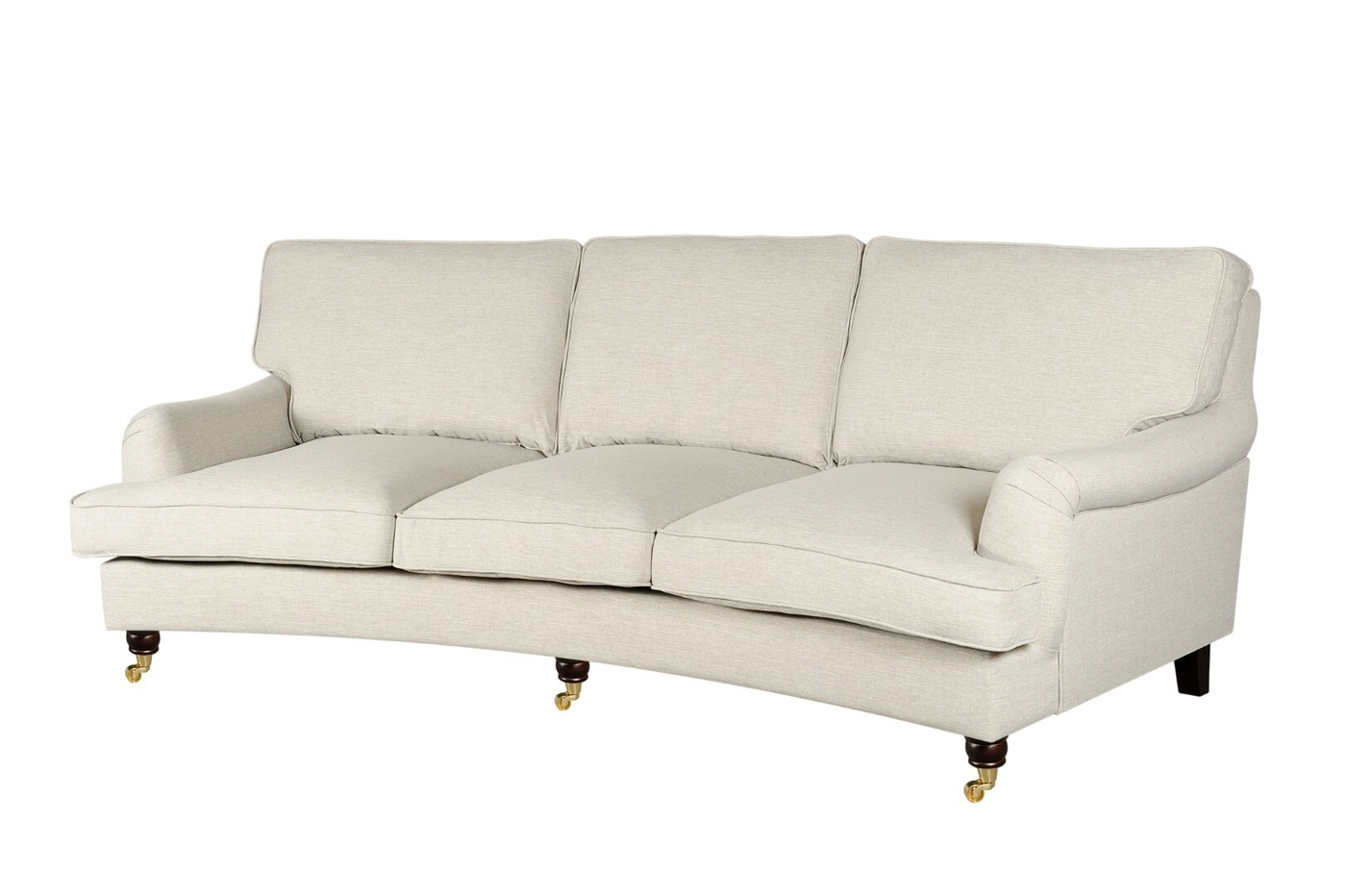 English Roll Arm Sofa Pros
Versatile
Timeless design
Very comfortable
Good back support
English Roll Arm Sofa Cons
Too low for some people's comfort
Arms are hard to slipcover
9.

Bridgewater Sofa

Looking for a sofa with an inviting, comfy, casual look, and a touch of sophisticated flair? The Bridgewater sofa encompasses all of those things and more, adding a timeless contemporary look to a conservatory, living room, or playroom. The sofa's rolled back, padded cushions, and low arms set back from the front edge of the sofa, make it the ultimate Netflix-binging podium. Similar in appearance to the English Roll Arm Sofa, what sets it apart are the loose seat and back cushions, a great pick for those who want adjustable firmness, or the flexibility to flip the cushions over, as and when needed. A traditional Bridgewater sofa also features a tailored skirt and three cushions, though you can opt for two if you're short on space.

While the sofa itself may not have the wow-factor, the simple and classic aesthetic has its own set of benefits. Reliable, comfortable, and versatile, a Bridgewater sofa is like a blank canvas. Color match it to your decor or make it stand out with some bold, patterned upholstery fabric. Linen, cotton, and polyester create a casual look, whereas velvet or rayon evoke a more formal and elegant feel. The sofa depth also provides plenty of space to accessorize with a lively display of cushions, adding depth, texture, color, and a sense of your unique personality.
Bridgewater Sofa Pros
Loose cushions
Versatile
Comfortable
Timeless, simple design
Available at all price points
Can be slipcovered
Bridgewater Sofa Cons
Too low for some people's comfort
Not a stand-out furniture piece
10.

Camelback Sofa

Camelback sofas embellish interiors with timeless elegance. The sofa style was aptly named after the graceful curves in its back, likened to a camel's hump. Some designs feature one 'hump', while others display two or three, or a very subtle curved back. Designed by the famous English furniture maker, Thomas Chippendale, in the 18th-century, the classic design continues to flourish as much now as it did then. The curvaceous Georgian design extends into the padded scrolled arms and exposed wooden legs, which vary depending on the precise period. Queen Anne and Chippendale camelbacks tend to have ornate cabriole feet, whereas Hepplewhite camelback sofas have simple, straight legs, for a more contemporary look.

While this is an obvious furniture choice for traditional or formal decor, a camelback sofa makes a powerful statement piece in a modern setting, breaking up rooms filled with clean, straight lines. Upholster it in an unexpected, fresh print to give the classic silhouette a contemporary spin. The sofa's upright structure and tight seat and back make it optimal for conversation and occasional use, as opposed to everyday lounging.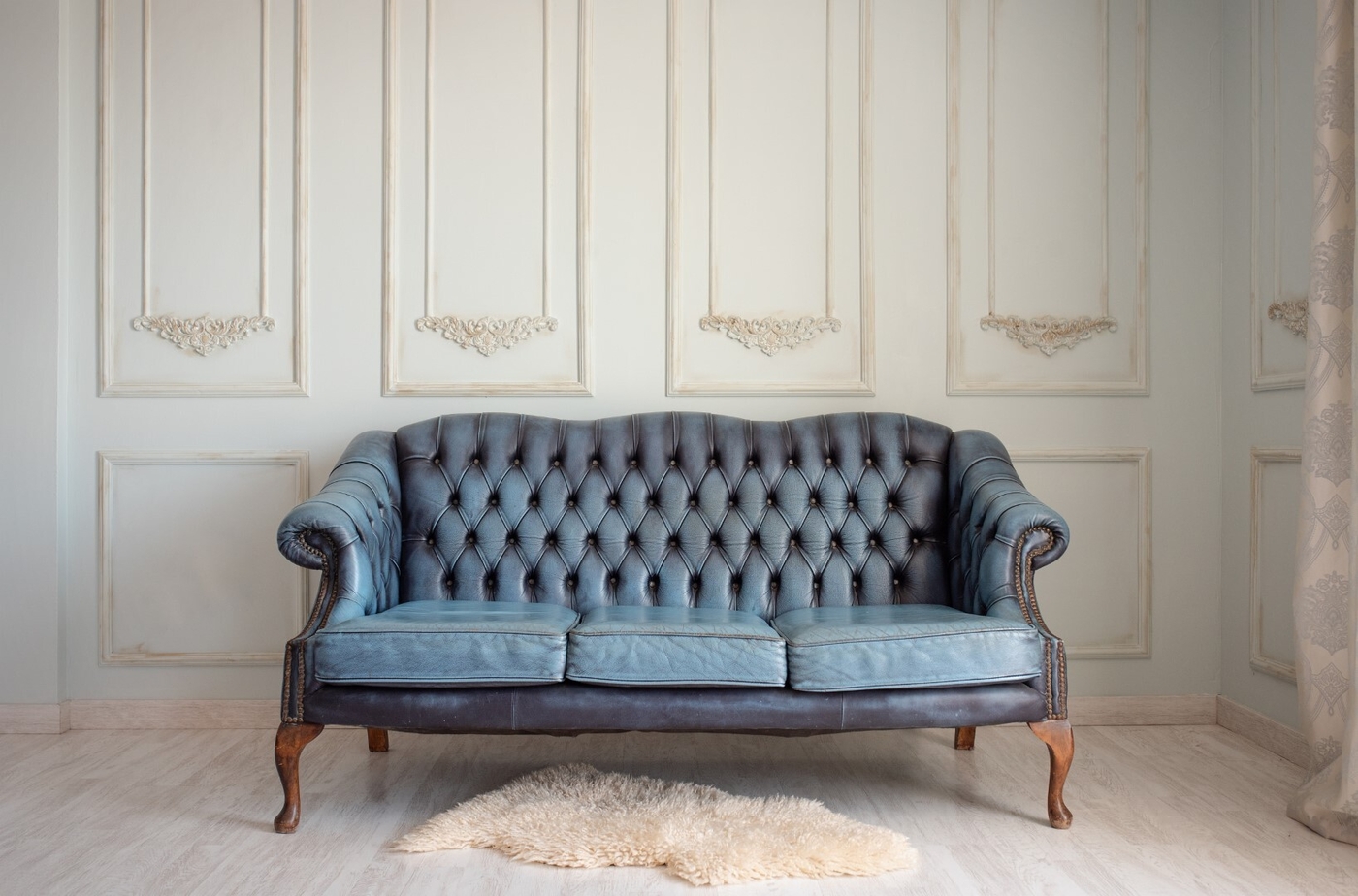 Camelback Sofa Pros:
Timeless and elegant
Statement piece
Tight back provides good back support and posture
Camelback Sofa Cons:
Not comfortable for everyday lounging
Seat can feel shallow, particularly for tall people
11.

Cabriole Sofa

If you're looking to add a sense of romance and glamor to your decor, the Cabriole sofa won't disappoint. Its regal routes date back to the impeccable taste of King Louis XV during the early 18th-century, who popularized the design, alongside Queen Anne.

As the name implies, the sofa is distinguished by its curvaceous cabriole legs, shaped in two curves, as well as the ornate exposed wooden frame that outlines the sofa's silhouette in one continuous sweep. The arms and back are of equal height and curve gently inwards, ready to embrace the sitter. This, as well as the tight, upright back, and wooden frame, mean it's not the comfiest of sofas out there for lounging about. However, it works well for occasional use, as an eye-catching, decorative feature in a bedroom or hallway, or for formal, elegant entertaining.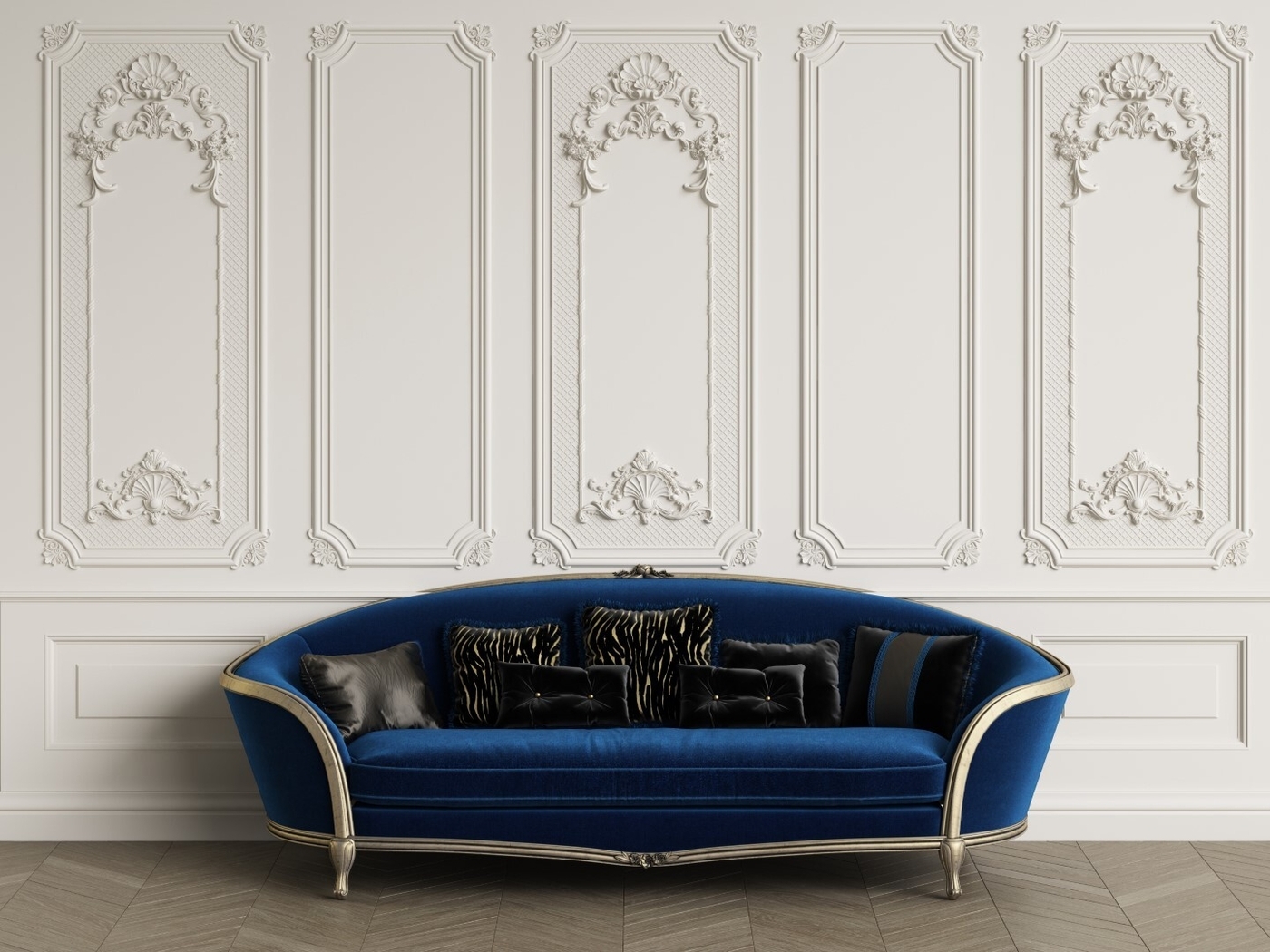 Cabriole Sofa Pros:
Elegant, ornate design
Statement piece
Tight back provides good back support and posture
Cabriole Sofa Cons:
Not comfortable for everyday lounging
Thin, hard, and high armrests
12.

Loveseat

Smaller than a sofa and larger than an armchair, a loveseat is made for small spaces and an excuse to cuddle up to your loved ones. It makes the perfect space-saving seating option for a small studio apartment or an attractive space filler for a small empty nook or corner.

Love seats look like small sofas and come in a range of designs and styles to match your desired aesthetic. Averaging between 48 and 72 inches wide, this sofa style is designed specifically to seat two people intimately, or one person spaciously. It's the perfect size for snuggling up with your partner to watch a movie, or for bedtime stories with your little one. However, if you value your personal space, consider a love seat as a complement to a large sofa, as opposed to being the only seating option.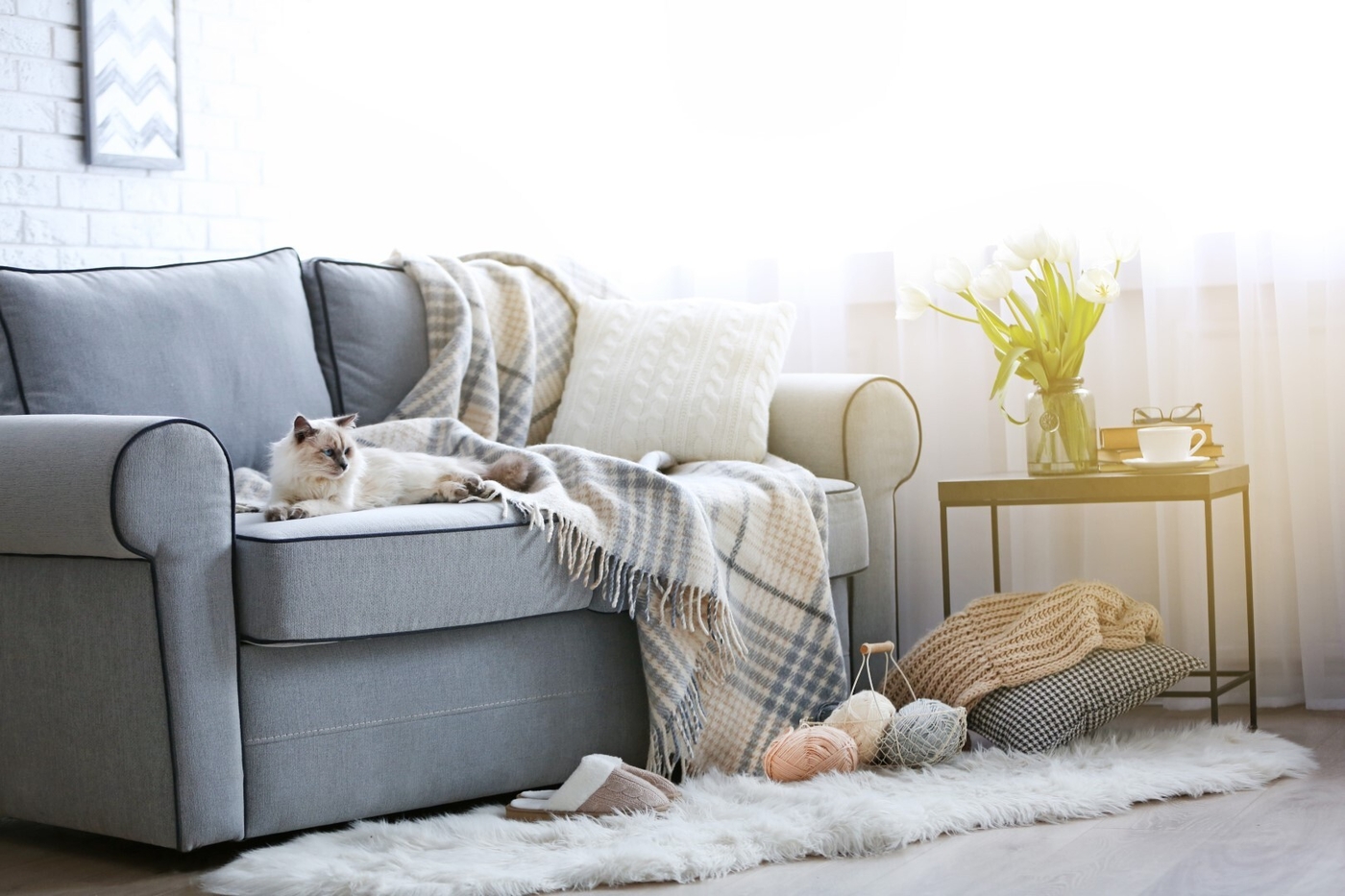 Loveseat Pros
Good for small spaces
Versatile
Wide range of designs
More portable than a standard-size sofa
Cheaper than a standard-size sofa
Loveseat Cons
Seats a maximum of 2 people
Not comfortable for people who enjoy their personal space (unless used to seat one)
13.

Chaise Longue

A 'chaise longue', or 'long chair', is a chair that is long enough to support the sitter's legs in a reclined position. First popularized amongst the elite in 16th-century France, they were intended for the rich to rest without having to retire to the bedroom. Its identity as a luxurious item continues into the present day. Chaise are considered more of a decorative piece than essential furniture as, unlike standard sofas that seat multiple people at once, the chaise longue is designed to seat one - not the most practical or sociable seating solution! That's why they are often used to complement a furniture arrangement or fill up space in a bedroom.

Nowadays, chaise longues come in a variety of styles, from traditional to modern, to suit every kind of decor. All chaises have a back, typically tight, and most have at least one, and occasionally two arms. For a modern living room, consider a clean-lined, rectangular-shaped chaise. Soft curves and neutral colors evoke a sense of calm, making a stunning addition to a boudoir. For a glamorous look or maximalist interior, consider a button-tufted, rolled-backed chaise, upholstered in rich velvet.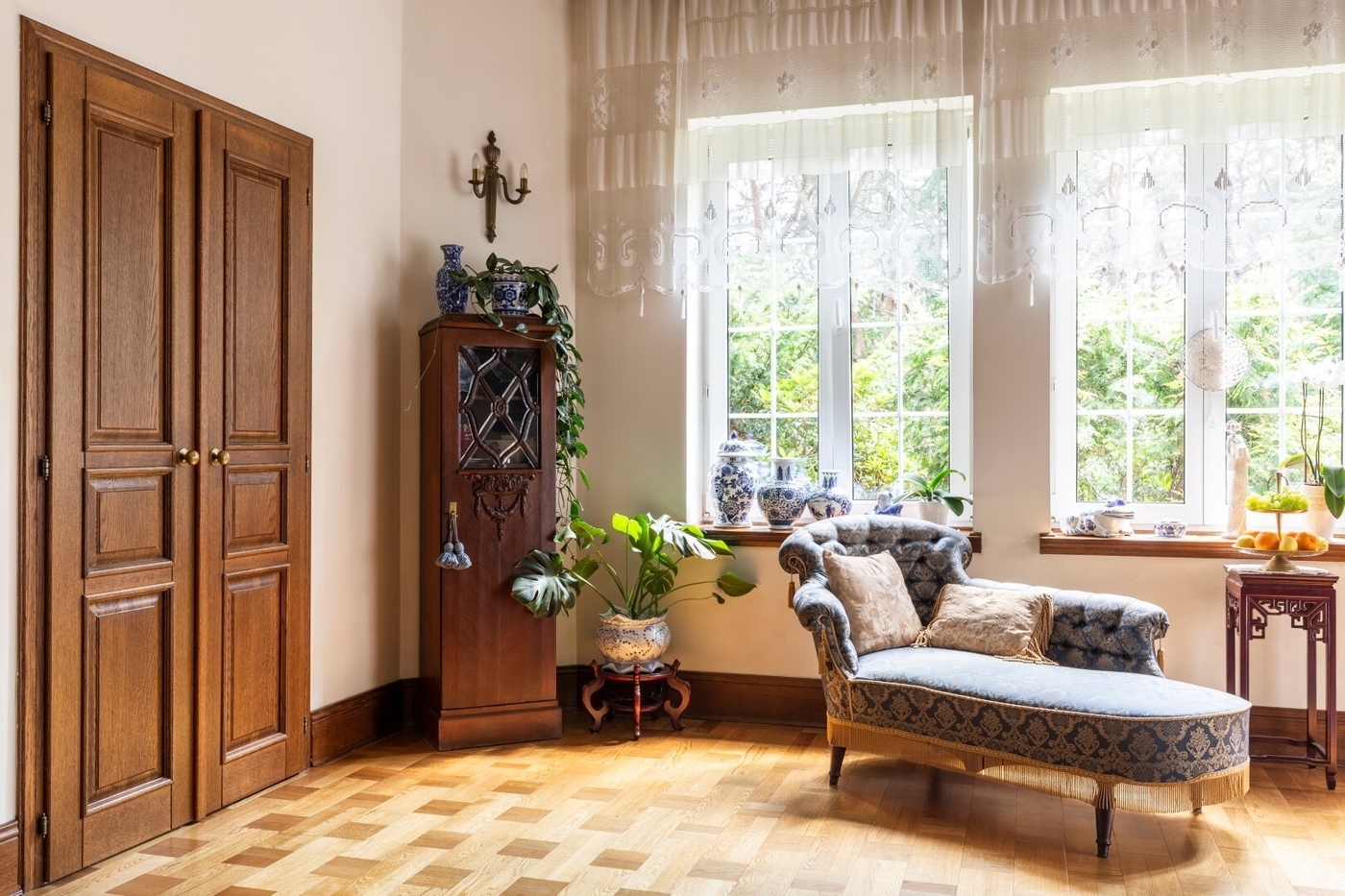 Chaise Longue Pros:
Low visual weight
Doesn't interrupt sightlines
Comfortable
Wide range of designs
Luxury, decorative piece
Chaise Longue Cons:
Only seats one
Not an essential furniture piece
A left or right-facing chaise may limit placement options
14.

Divan Sofa

Think of a Divan as a cross between a sofa, chaise longue, and bed. Born out of Peria, it was originally a long seat made from a mattress pushed up against a wall and lined with cushions, serving as a backrest.

Frequently referred to as a daybed, contemporary Divans are backless, with two arms at the head and foot of the sofa. They can be used as a couch when pushed up against a wall and lined with cushions, as a bed for a nap during the day, or to host a guest at night. Unlike sleeper sofas, Divans are ready to use and don't need to be pulled out, or occupy additional space. This, as well as the backless design that takes up little visual and physical weight, makes it a great option for a small studio apartment, home office, or additional sleeping space in a large guest room.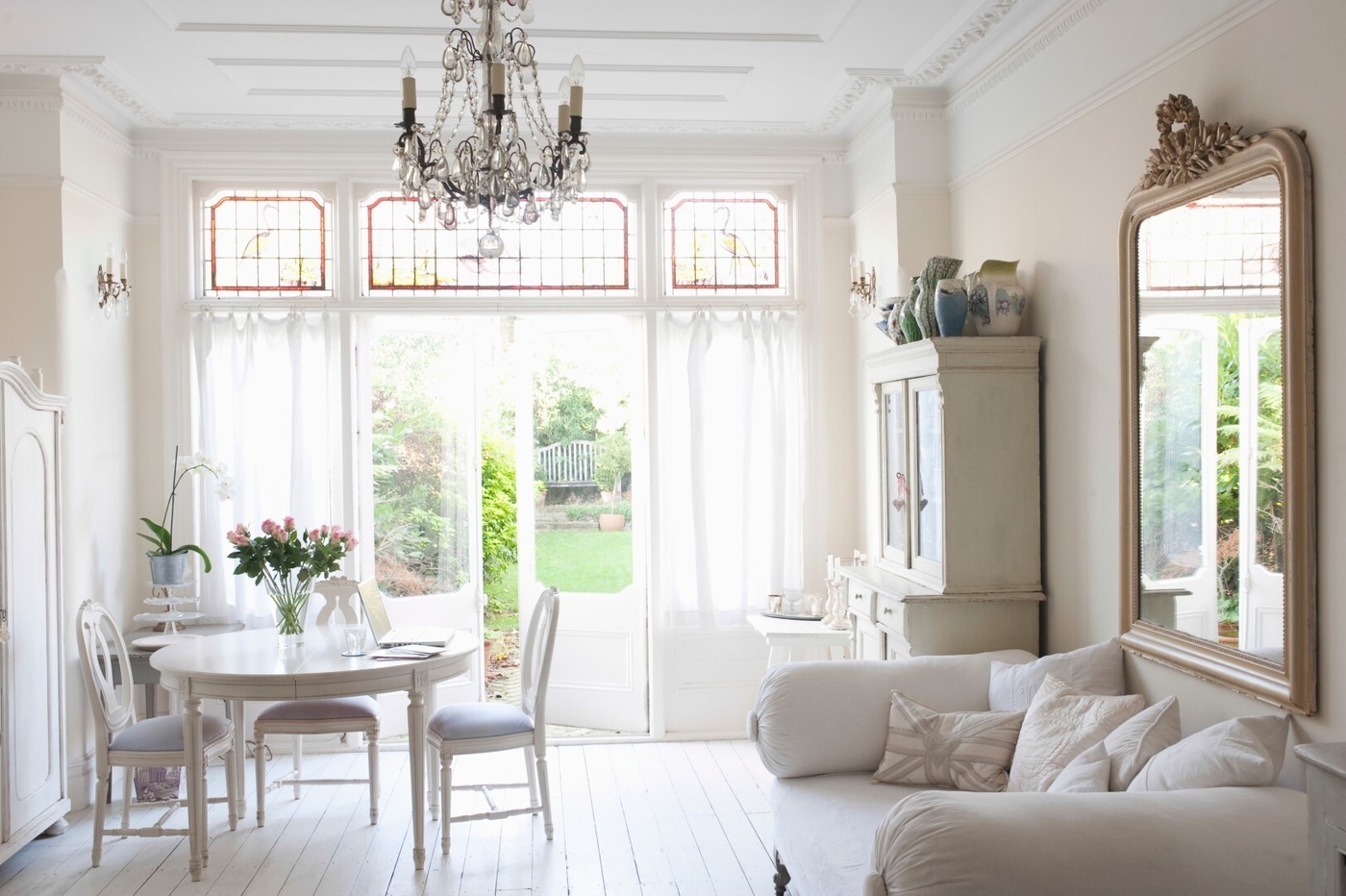 Divan Sofa Pros
Multi-use
Versatile
Comfortable
Practical
Inexpensive
Space optimizing
Range of styles available
User-friendly
Divan Sofa Cons
Lack of back support
Only sleeps one
15.

Sleeper Sofa

The sleeper sofa is made for super hosts and frequent kids' sleepover parties. Disguised as a regular sofa during the day, it quickly and easily converts into a comfortable and supportive bed at night. Their multifunctional design makes sleeper sofas particularly useful for small studio apartments where one room serves as both the bedroom and living room, or if you don't have the luxury of a spare room for guests. Unlike sofa beds and futons that fold out to create a large, even cushioned space, the sleeper sofa has a conventional mattress hidden within,making it the most comfortable option out there. Simply pull out the mattress, dress it with fitted sheets and blankets and you have the optimal sleeping arrangement!

Always consider the space needed for the bed, as well as the sofa. The back of a pull-out sleeper sofa usually stays upright. However, they require extra space in front of the sofa for the mattress, so you need to be able to move surrounding furniture with ease. Available in several styles and sizes, consider where it's going and your ideal seating and sleeping capacity. If you're planning on sleeping on it every night, pay special attention to the mattress firmness, to make sure it'll provide you the best support as you sleep.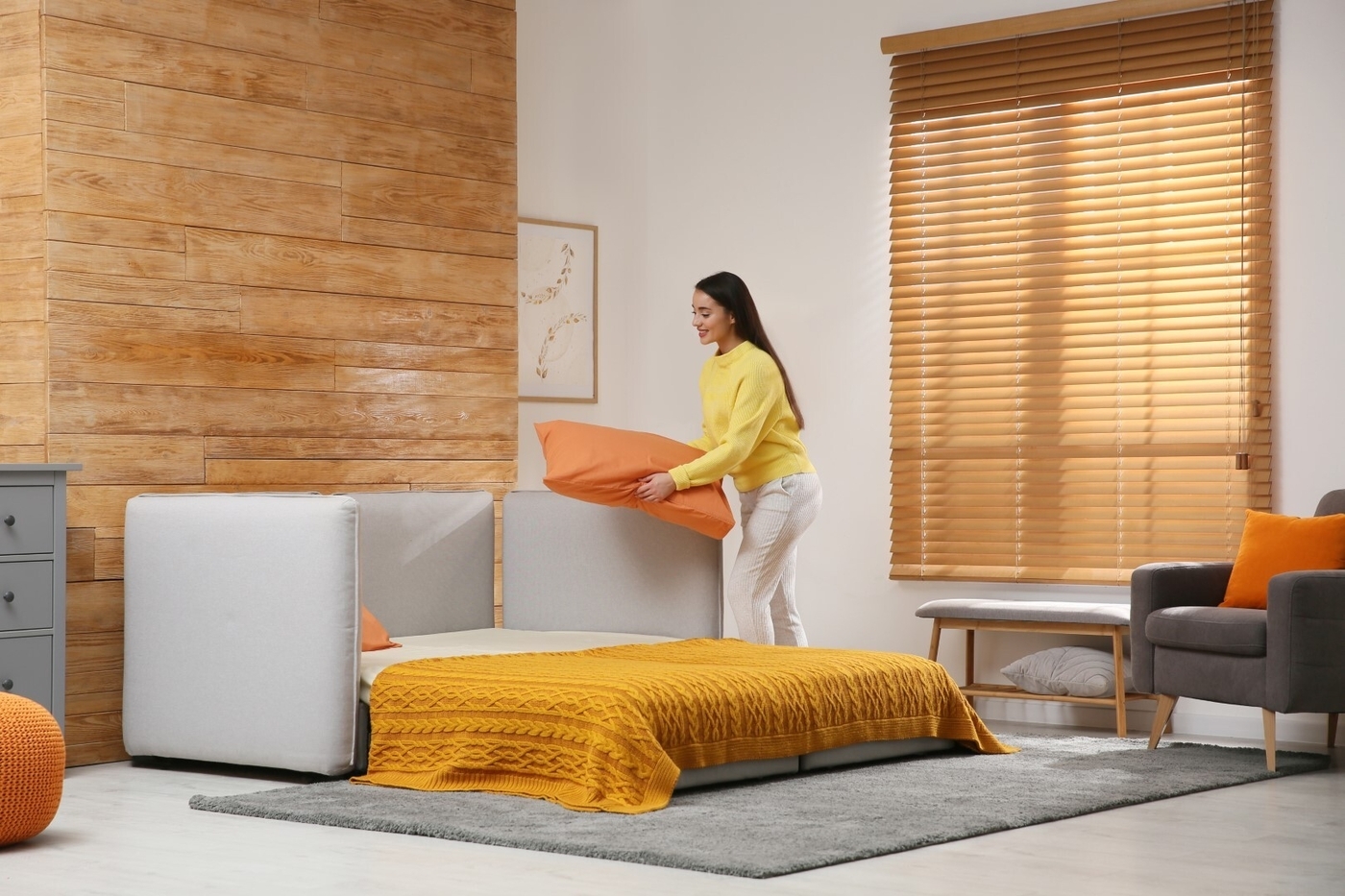 Sleeper Sofa Pros
Multi-functional
Comfortable
Space-optimizing
No compromise on aesthetics
Available in a wide variety of styles and sizes
Sleeper Sofa Cons
Not as comfortable as a bed
Heavier and bulkier than regular sofas
Mattress mechanism makes it difficult to reupholster
Daily use as a bed and sofa means it will wear down faster
Often requires rearranging surrounding furniture
Not operable by people of all ages and abilities.
16.

Recliner Sofa

Recliner sofas will put an end to family disputes over who gets the comfy chair. The perfect setup for an afternoon nap or a family movie night, this sofa type allows you to lean back and kick up your feet in style. Recliners are typically sectional and generous in size, allowing each family member to choose their own preferred seating position. They are available with manual and power mechanisms. Manual recliners are adjusted by hand, with a lever or body motion, while power recliners use an electric motor and remote control to change positions. As power recliners don't require physical strength to operate, they can be used by people of all ages and abilities. Power recliners are also available with unique features, like power reclining, power headrests, power lumbar support, heat, massage, cup holders, and USB ports for easy access to charge your electronics.

While they may not have the best reputation in terms of aesthetics, they are no longer the old-fashioned, bulky eye-sore they used to be. Updated designs and hidden electronic mechanisms have turned the reclining sofa into a comfortable and stylish living room seating option. But, it's not all about looks! When choosing your recliner, consider both the space you have available and the function it will serve. If you're suffering from aches and pains, you might consider an ergonomic or massaging recliner. Or, if you find it hard to get up from the couch, one that can tip you forward.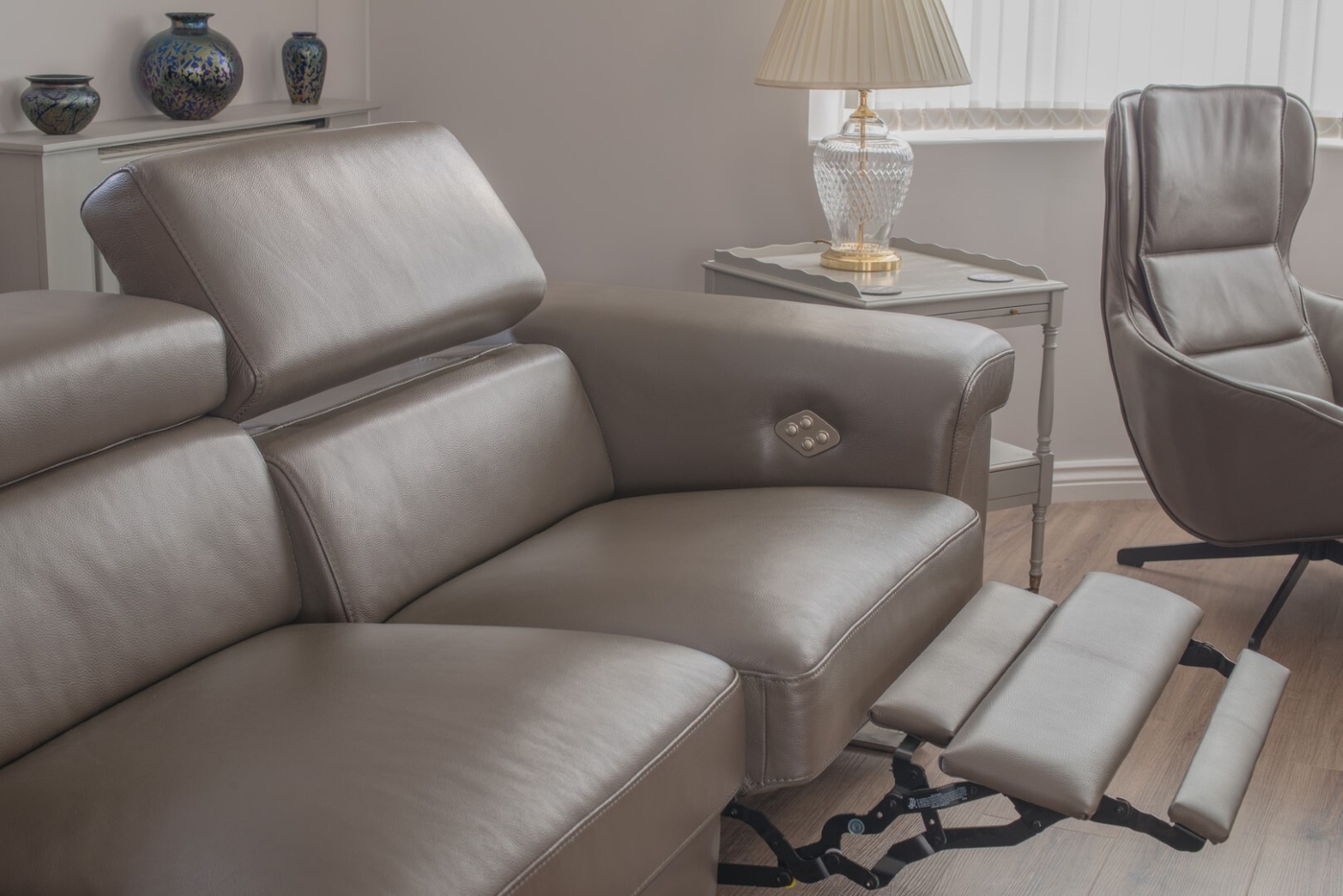 Recliner Sofa Pros
Versatile
Comfortable
Wide range of designs
Additional feature options
User-friendly
Power recliners are suitable for people with mobility limitations
High seat back
Recliner Sofa Cons
More expensive than a standard sofa
Requires additional space behind and in front for reclining
Occupies a lot of space
Heavyweight
Power recliners require a power source to operate
Mechanics can fail
Big and bulky frame
What to consider when buying a sofa?
The Size
First, measure up the room and space where you intend to place the sofa. The general rule is, the larger the room, the larger the sofa. However, the shape, use, and traffic flow of the room should also be considered. Sometimes a large room works better with a smaller sofa and armchairs, rather than one big sofa, for example.
Next, measure the sofa. Take careful note of the width (across the back of the sofa), the depth (from the front seat cushions to the back), and the height (from the floor to the top of the backrest). Make sure your new sofa will fit by laying out the shape of the sofa with newspaper on the floor and masking tape on the walls. That way you can check you've left enough space to walk around it and there's plenty of room for other furniture pieces too.
Finally, measure any doorways, stairways, and hallways, to make sure you'll be able to get the sofa into place. If access is limited, consider a sofa with removable legs, or a modular design that can be put together in flexible configurations.
For reference, the standard measurements for sofas are:
Three-seater: 32-40" (depth), 72-96" (width), 30-42" (height)

Love seat: 30-40" (depth), 48-72" (width), 30-42" (height)
Consider the age, size, and abilities of the sofa user. Shorter people will appreciate a sofa with a shallower depth and height, so their feet can touch the ground. Elderly people, or those with mobility limitations, may find it difficult to get up from a low-seated sofa. And, tall people tend to favor a sofa with a high backrest.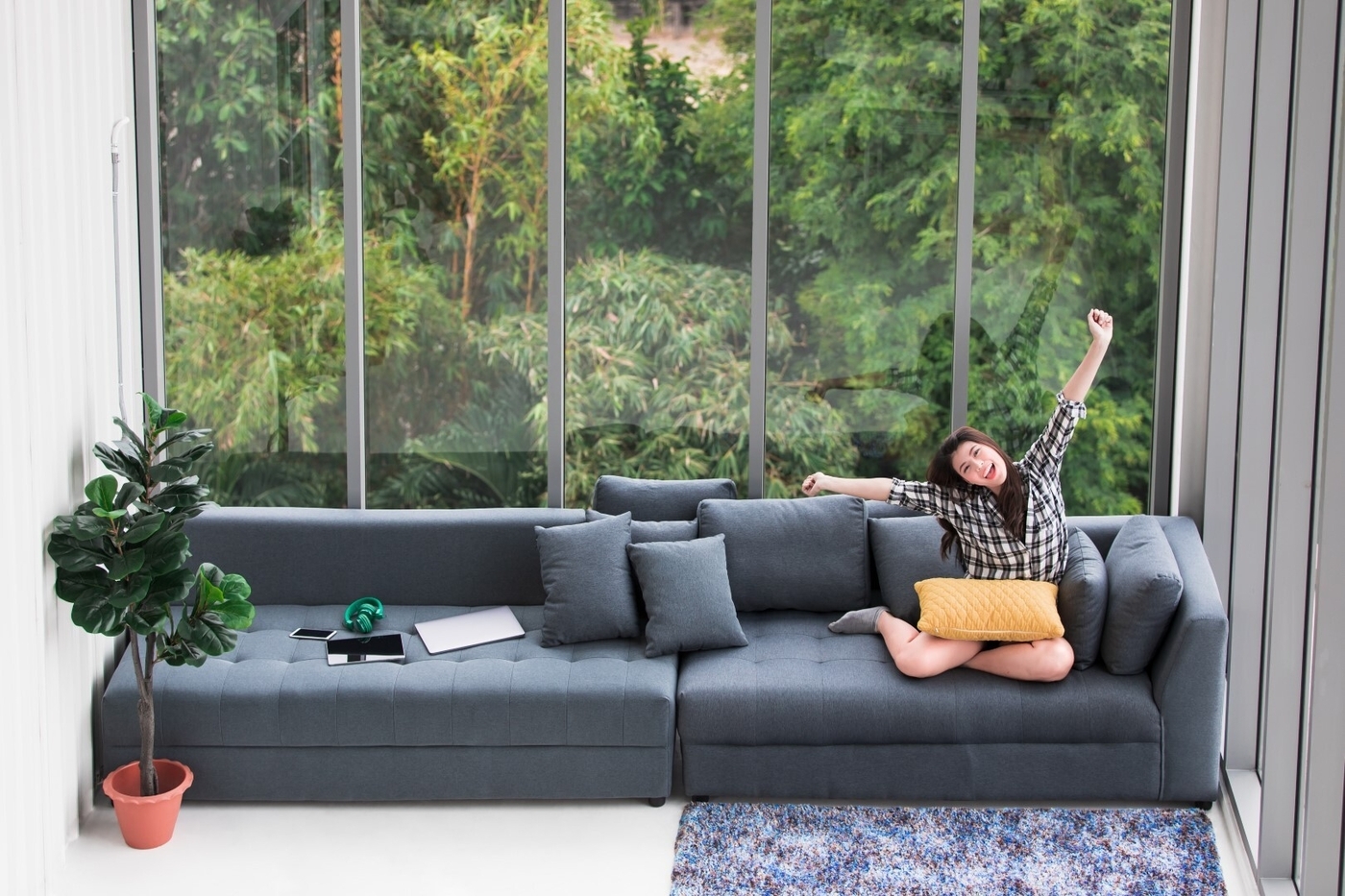 The Frame
The frame is the foundation of a sofa, so it needs to be strong and well-made if you want it to last. Hardwood is the strongest, most durable material, with an impressive life expectancy of 75 years. Cheaper furniture combines hardwood components with softwoods, chipboard, and plywood. This can still make a strong and reliable foundation when the manufacturing standards are high. Remember, the upholstery and cushioning can be replaced as it starts to wear, but the frame is forever.
Pay attention to the frame's joining methods. Consult the manufacturer or salesperson for this information. Quality joints include wooden dowels, wooden corner blocks, double wooden dowels, corner blocks glued and screwed, or metal screws with brackets. Steer clear of any sofa held together with nails, staples, or screws.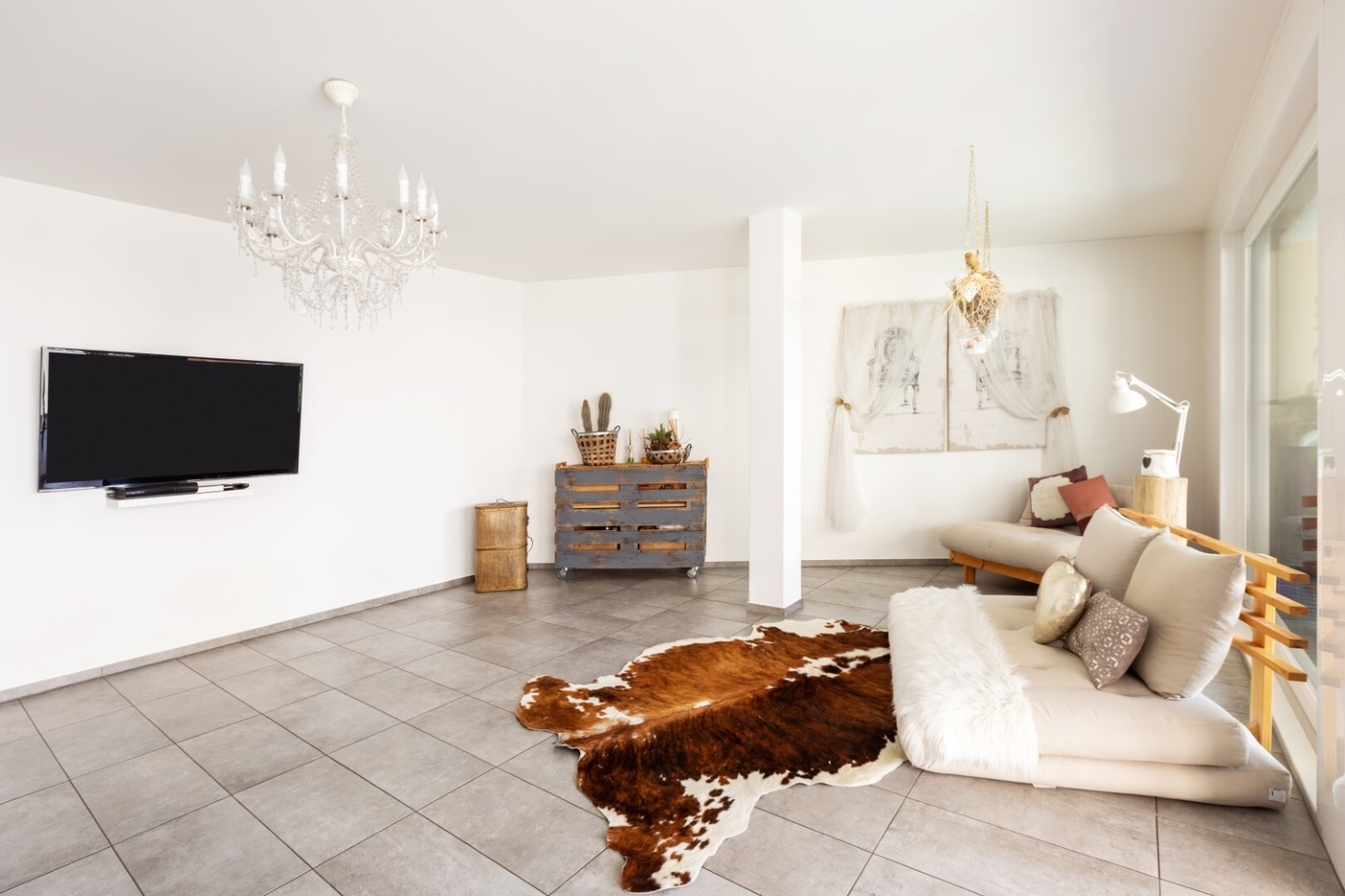 The Cushioning
Remember, it's what's on the inside that matters. A suspension system with springs is attached to the frame to provide softness and support. Different types and qualities of springs determine the comfort of each sofa. For the best quality, opt for coiled springs with eight-way hand-tied springs, though there are some good quality sofas with sinuous springs too.
When it comes to the sofa back and seat cushions, we recommend a combination of feather and foam. Feathers provide a cozy, squishy sensation, whereas foam provides structure and prevents the cushions from losing their shape.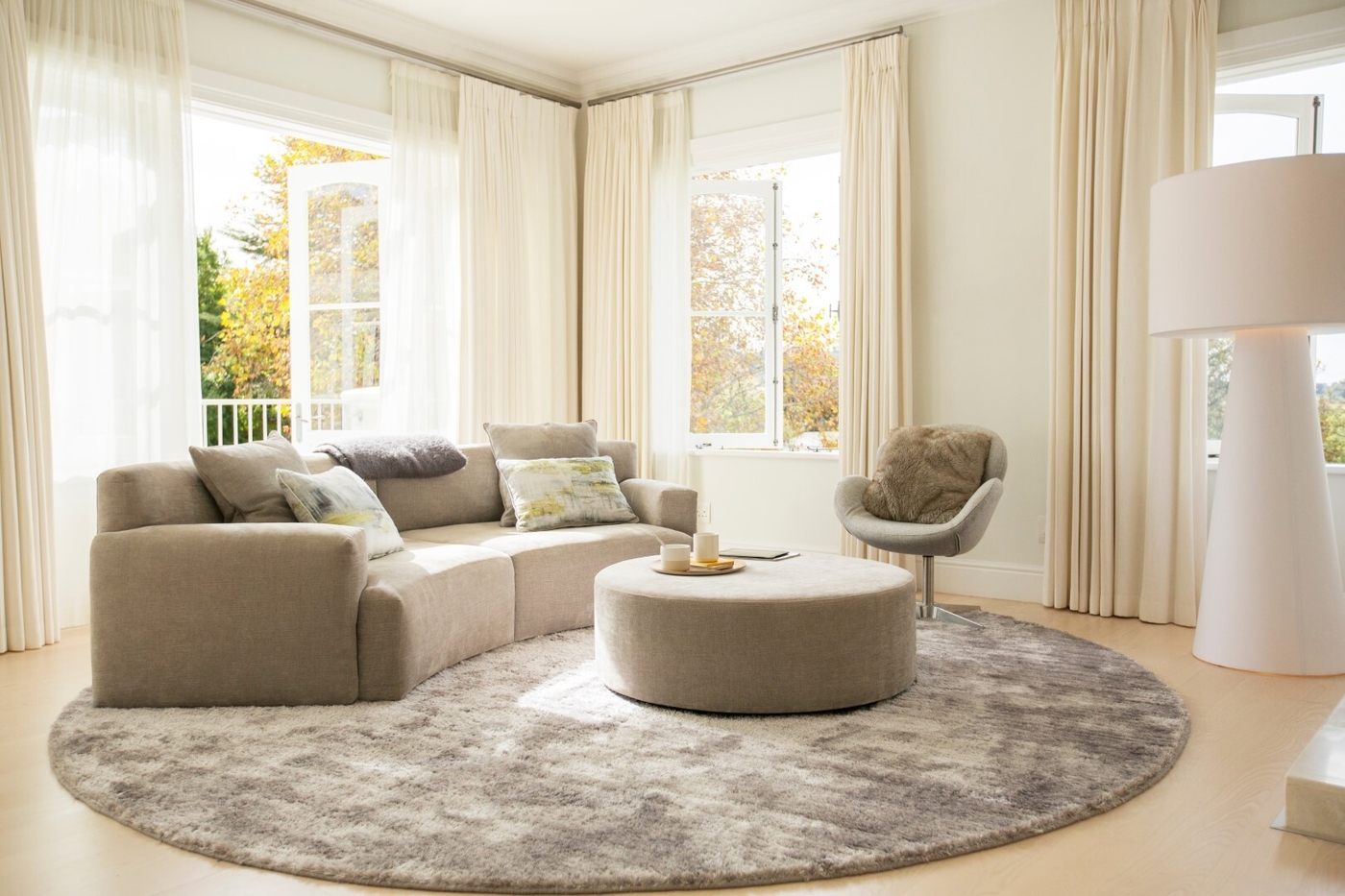 The Upholstery
Getting the upholstery fabric right is fundamental. Not only does it significantly influence the mood and style of the room, but also the sofa's longevity. The upholstery is subject to constant wear and tear and is the first element to wear out, before the frame and cushion fillings.Your lifestyle should influence your choice. For example, households with small kids and pets may look for a sofa with easy-cleaning upholstery or a removable cover.
Consider how your sofa will be used, where it will be placed, and the cardinal direction and natural light source of the room. While natural fibers, like cotton, linen, and wool are popular upholstery options, they are also susceptible to fading and disintegrating under strong sunlight. Synthetic fabrics, such as polyester and microfiber, often have increased durability, UV resistance, and are easy to clean. Though, tightly woven fabrics tend to wear and conceal dirt the best.
Measure the durability of upholstery fabric by looking for the Martindale rub test. The higher the number, the more durable the fabric. For general domestic use, 20,000 to 30,000 is a safe bet.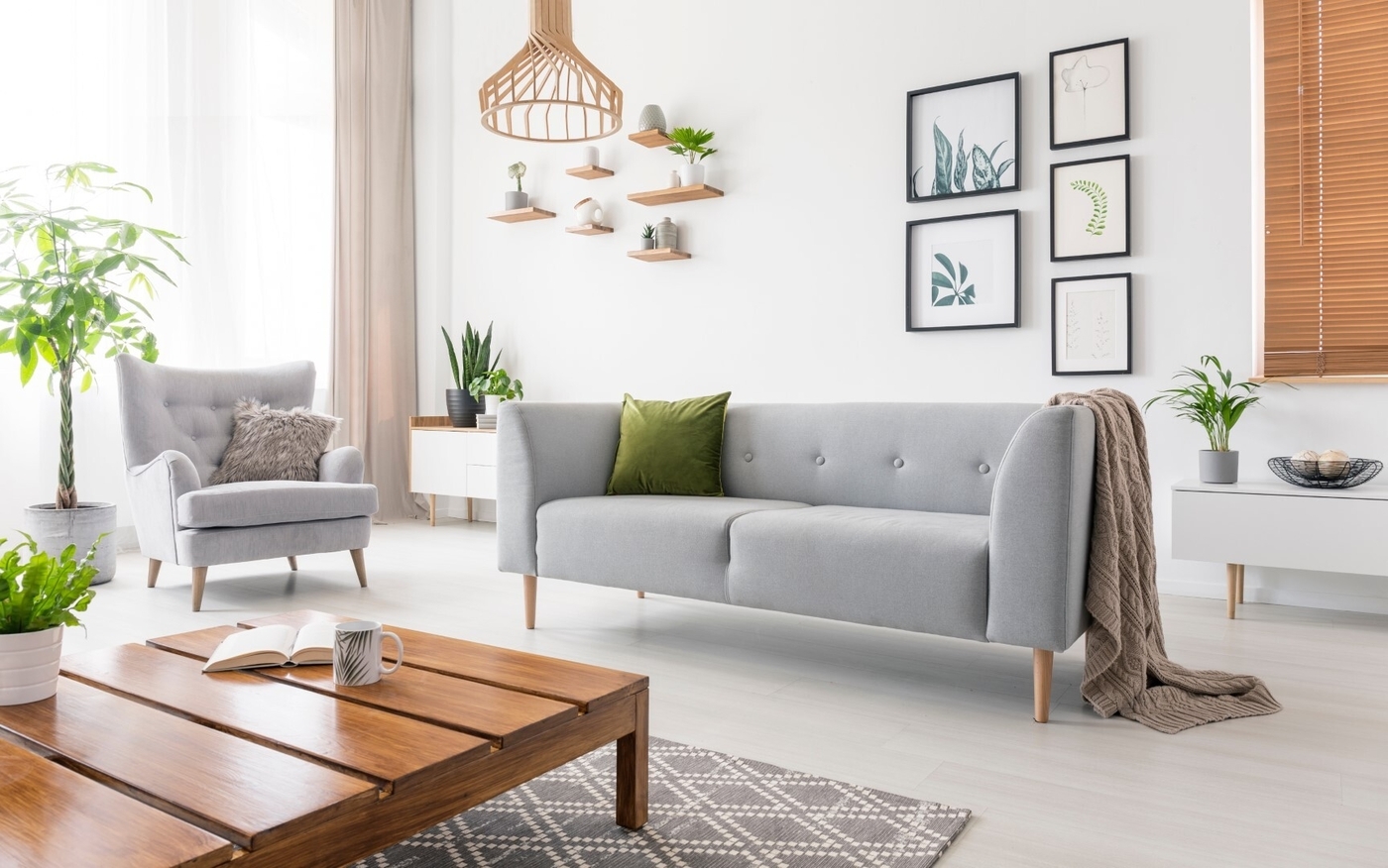 Try Before You Buy
There's no use buying a sofa only to get it home and discover it's uncomfortable, unsupportive, and doesn't suit you or your family's needs. Always make sure to test it out in person as you intend to use it; if it's for reading, read on it, if it's for sleeping or dozing off, do just that! That way you can ensure it's exactly what you are looking for.