Very few pieces of furniture can boast a balance between timeless elegance and versatility the way Chesterfield sofas do.
If you're looking to incorporate a new couch into your seating area, one of these bad boys is sure to make it classy and stylish without taking away from comfort and a cozy feel.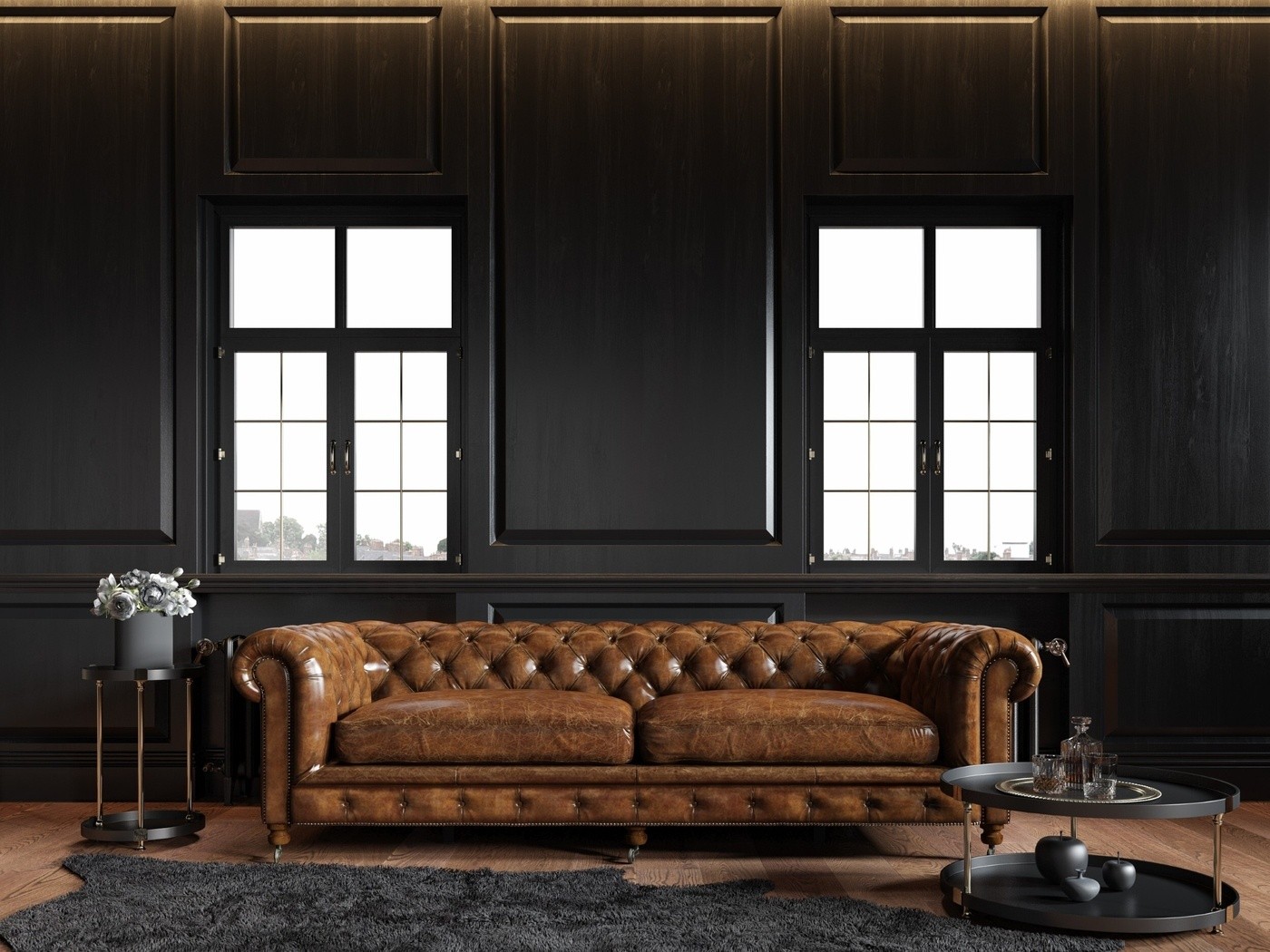 Wondering where they came from?
Apparently, Lord Philip Stanhope---aka the fourth Earl of Chesterfield---commissioned a similar sofa in the mid-1700s. With him being a respected writer and politician and extremely popular among British aristocracy (and considering how beautiful these sofas look!), it's not a surprise that more and more people started copying it.
But what exactly classifies as a 'Chesterfield' model when it comes to sofas?
It follows a design with rolled arms in the same height as the back of the sofa. The most traditional Chesterfield sofas also include dark leather upholstery, a tufted back, and nailhead trims.
However, don't you dare think that this will limit your choices when it comes to decorative possibilities!
Nowadays, Chesterfield sofas are available in a wider variety of styles, materials, and even colors, so you can make them work in more contemporary settings as well as period-based or modern decors.
1.

Keep your Chesterfield sofa neutral and versatile…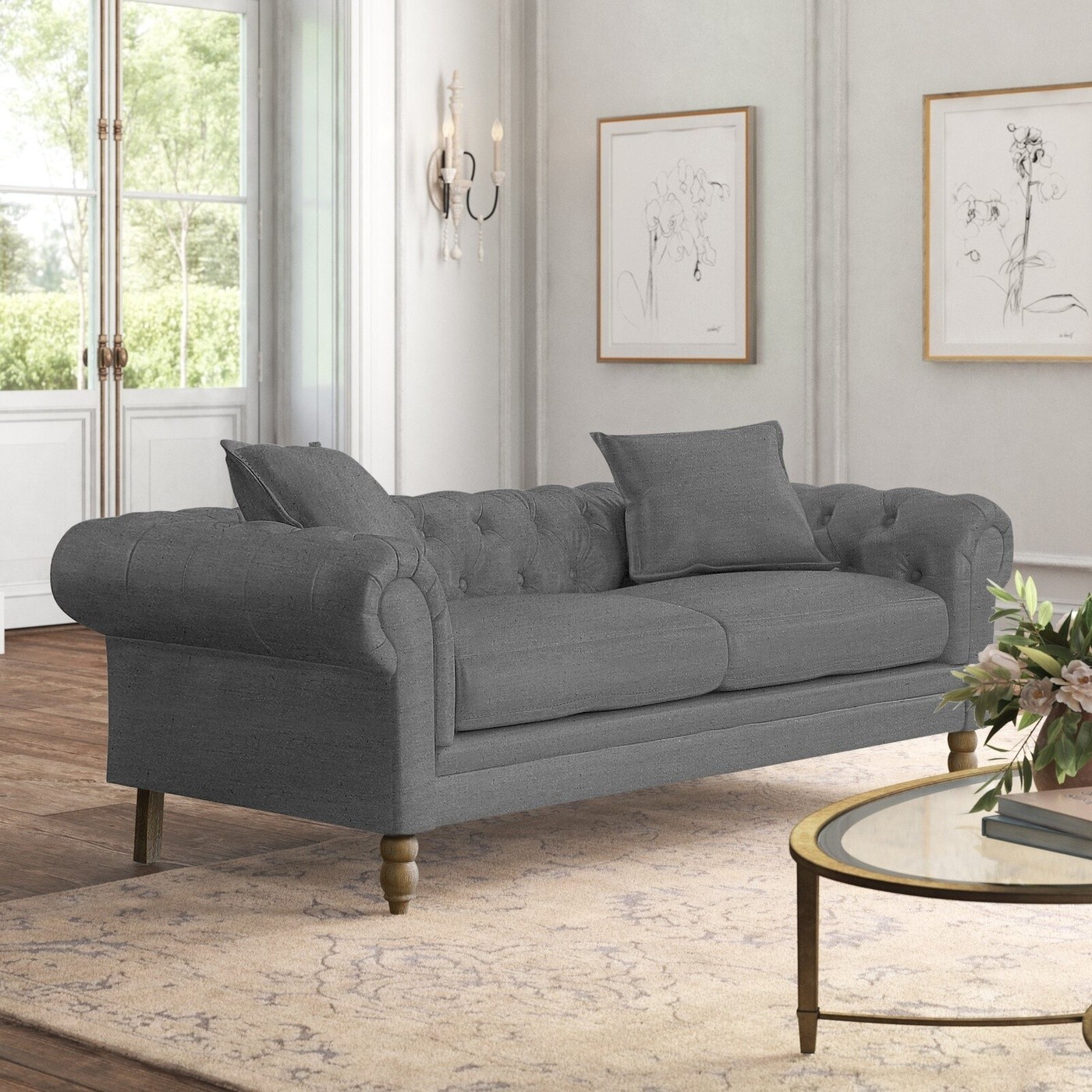 If you already have a few elements in bright accent colors, consider choosing a Chesterfield sofa in a humbler neutral hue to really tie the room together harmoniously.
For example, this gray model with cushions in the same color creates a cohesive feel without failing to make a statement with its carefully designed wooden legs.
2.

… or be bold with colors!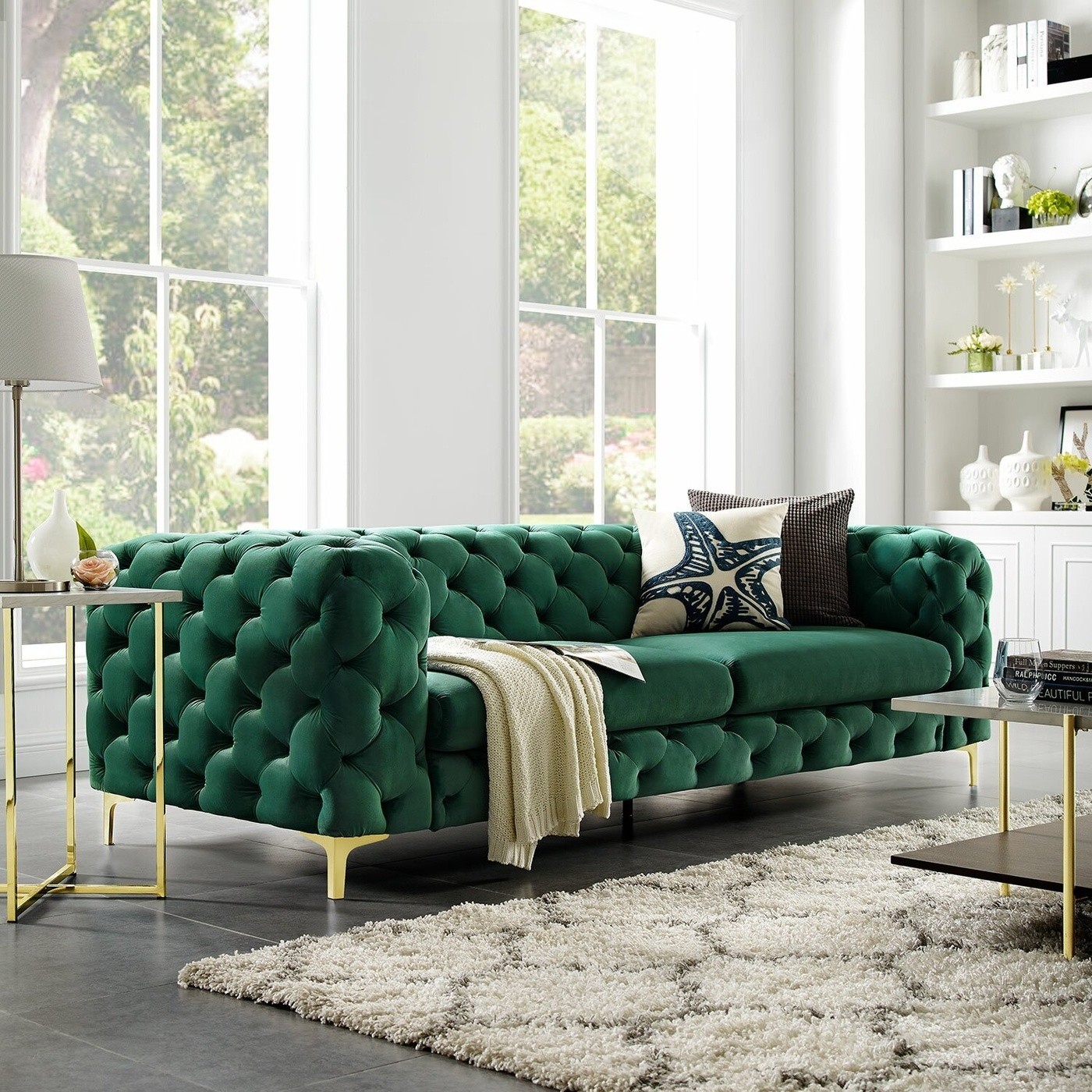 Is your living room already based around neutral colors? Then go the opposite way by introducing a Chesterfield sofa in a brighter hue that will help it stand out.
This green model is guaranteed to become the most eye-catching piece in your living room, and it would especially create a conscious contrast in front of a white wall or lighter beige items.
Which takes us to the next tip…
3.

Create some contrast against your wall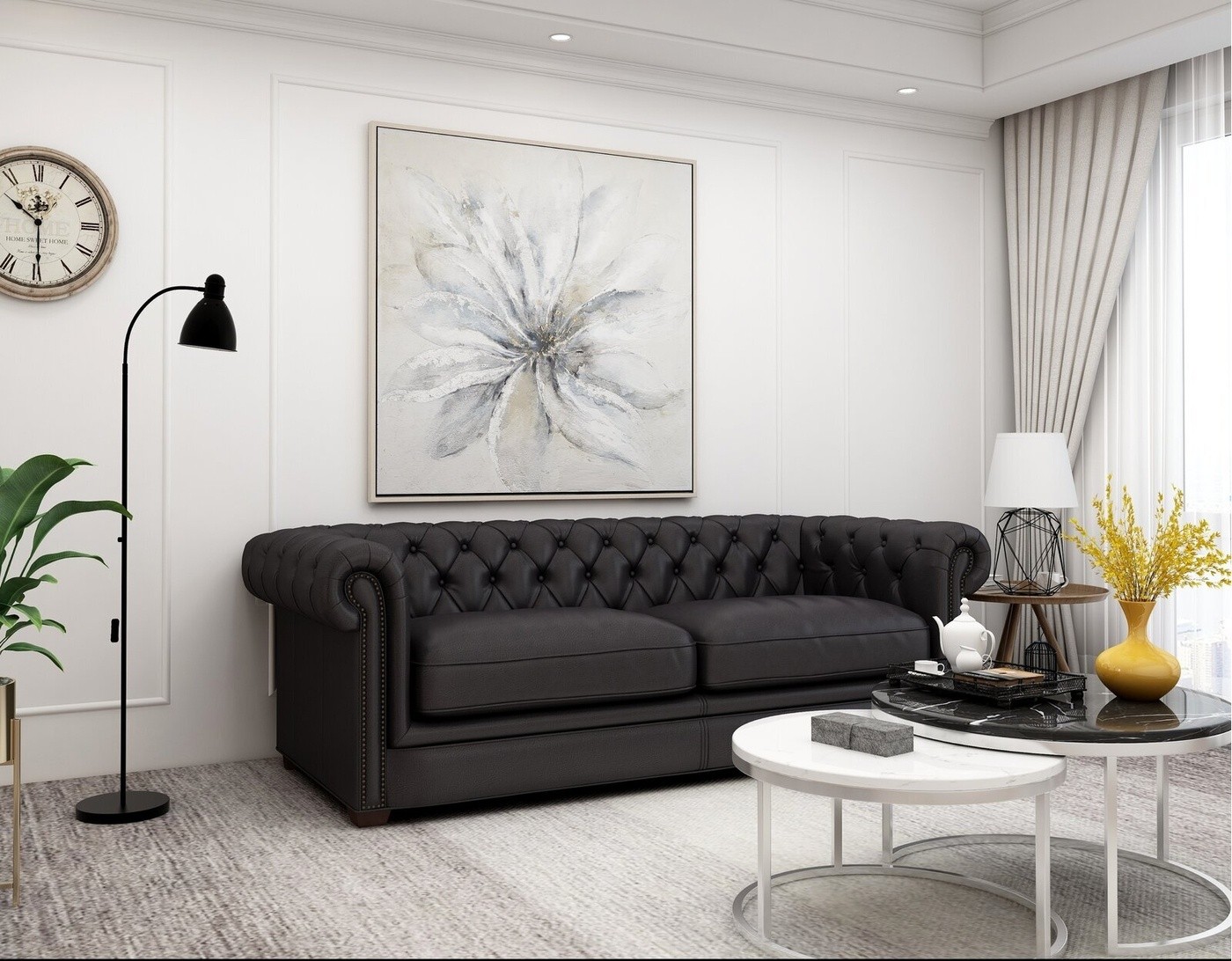 If your Chesterfield sofa will be right in the middle of your seating area, this can matter less. However, if you're planning on pushing it against the wall, you can't afford not to take its existing palette into account.
See how this beautiful dark brown sofa stands out against the bright walls? It definitely wouldn't have achieved the same effect with a dark background.
If, on the contrary, you have dark walls, it's safer to choose a Chesterfield sofa in a lighter hue.
4.

Experiment with different shapes…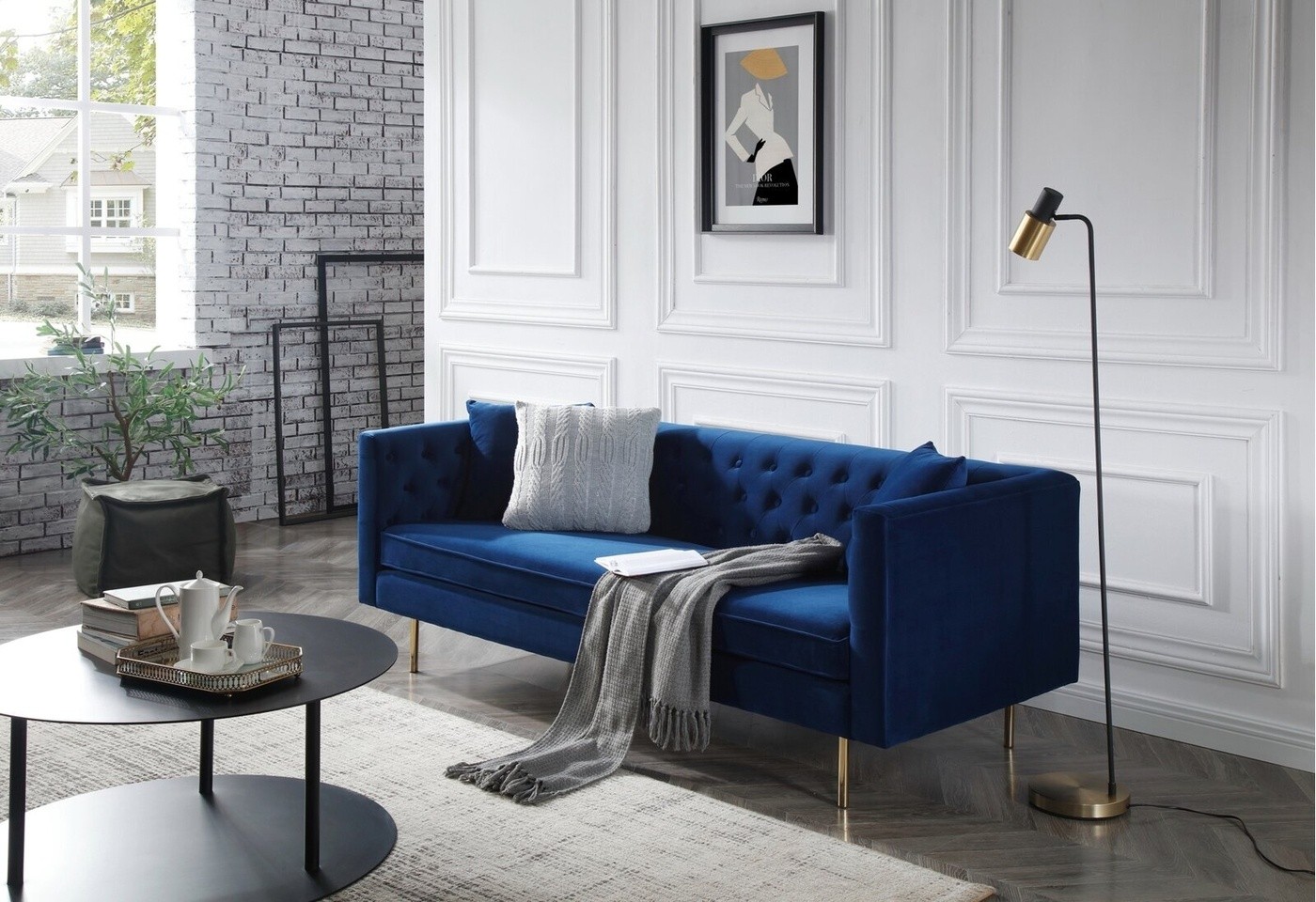 In the past, you pretty much had to have curved arms for your sofa to be classified as a Chesterfield, but you now have many more options.
In fact, the feature that immediately gives away this style is the same height for the back and arms, even if the latter aren't curved.
If you have contemporary or minimalist interiors, a more streamlined design like the one in the picture would fit more easily.
5.

… and don't be scared to stray away from tradition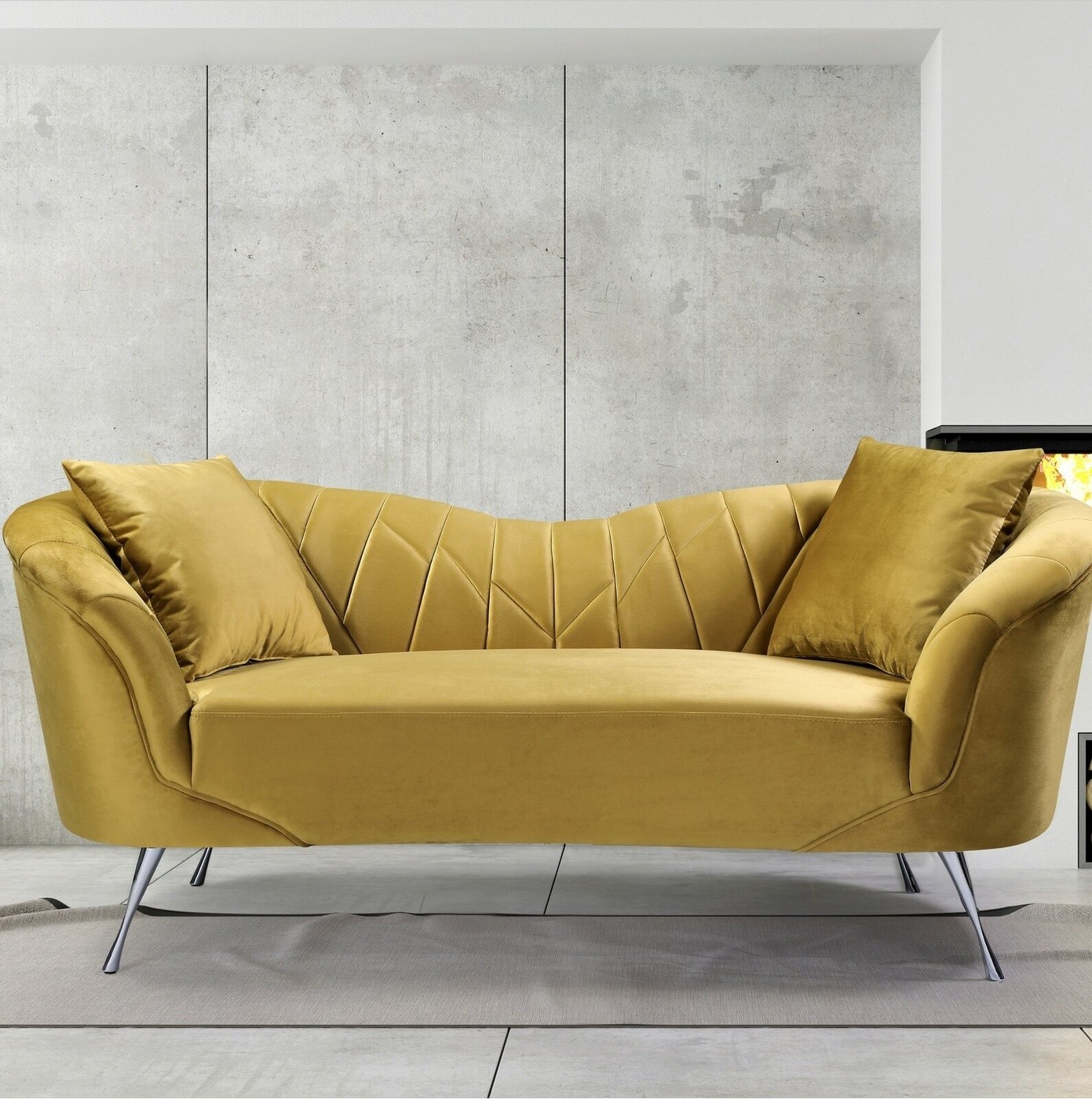 A dynamic model like this one will allow you to create a trendy, contemporary, or modern seating area without failing to homage the Chesterfield inspiration behind your sofa.
Whether that's a different color or a channeled back instead of the classic tufted design, you can find new ways of making this 18th-century idea work in your present-day setting.
6.

Focus on the right details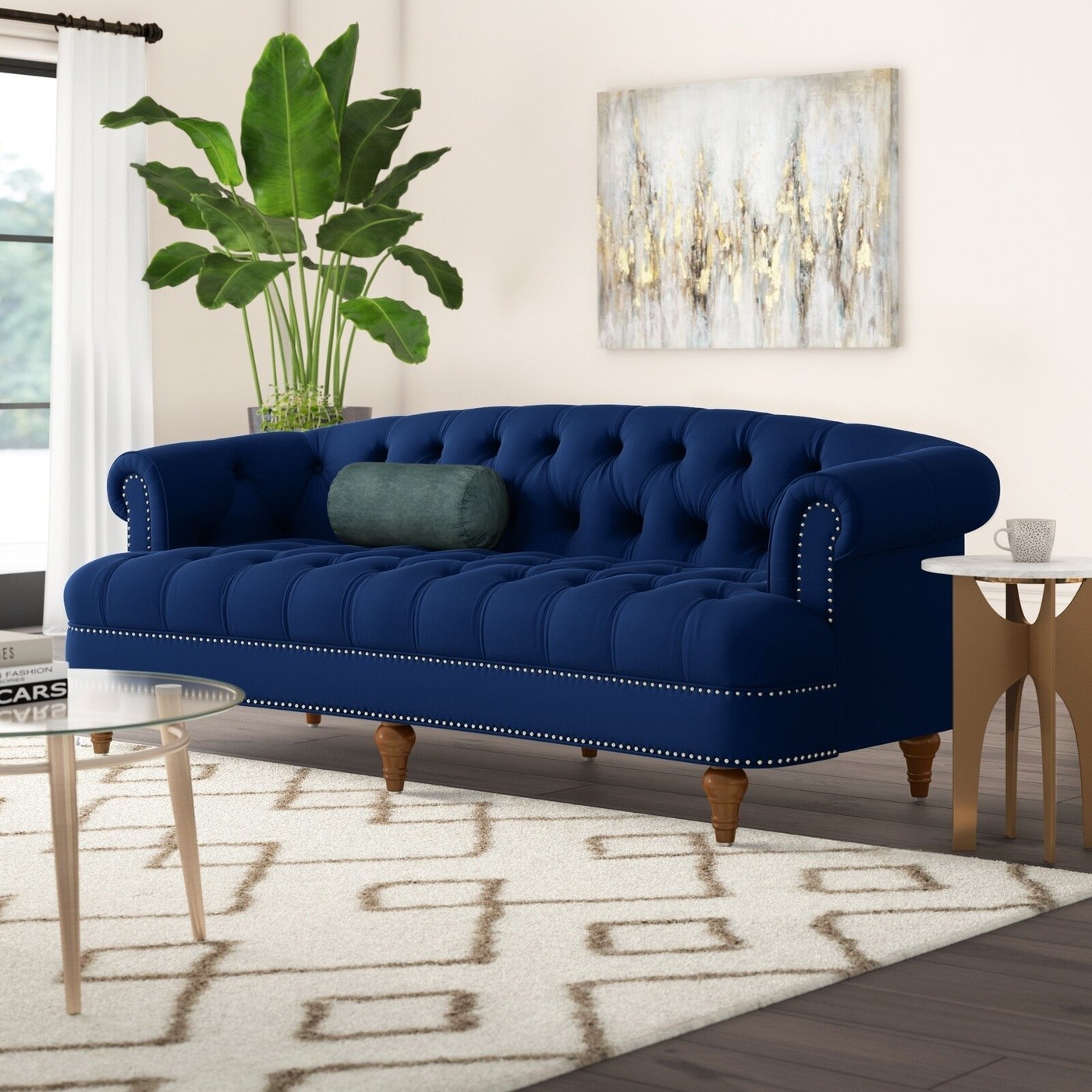 Nailhead trims are a staple of the most traditional Chesterfield sofas: if you want to honor their origins, be sure to pick a model that includes them.
This sophisticated choice will also add a glamorous accent to your sofa, making it stand out even more in your seating area.
7.

Consider velvet upholstery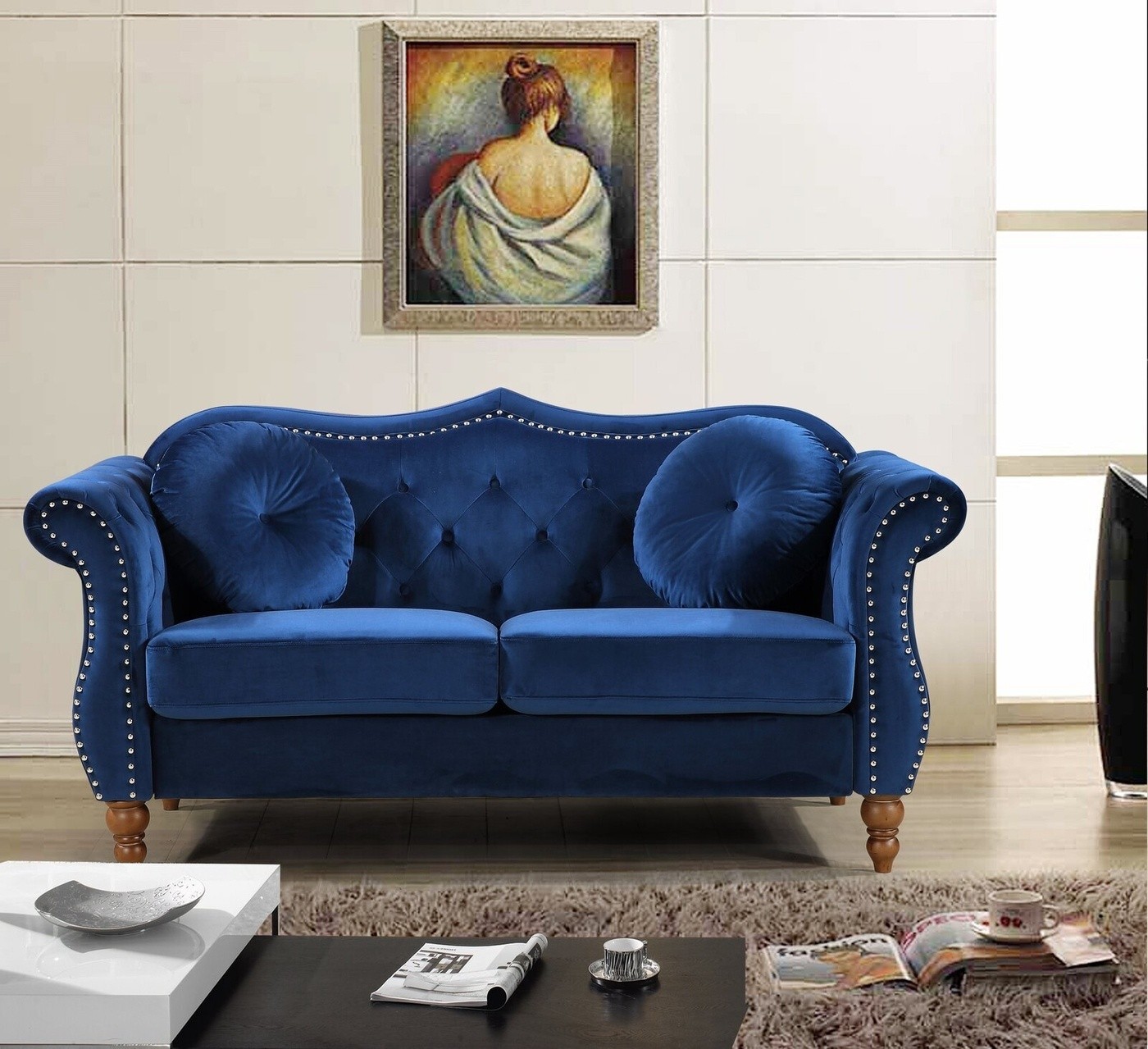 Yes, we know that Chesterfield sofas are traditionally made of leather, but… guess what? You can branch out if you want!
Nowadays, you can find them in practical synthetic fabrics like polyester or even sophisticated options like this stunning velvet model.
The latter can help you add a sought-after touch of elegance (but, being more delicate, be careful if you have young kids or pets running around).
8.

Decorate your Chesterfield sofa with cushions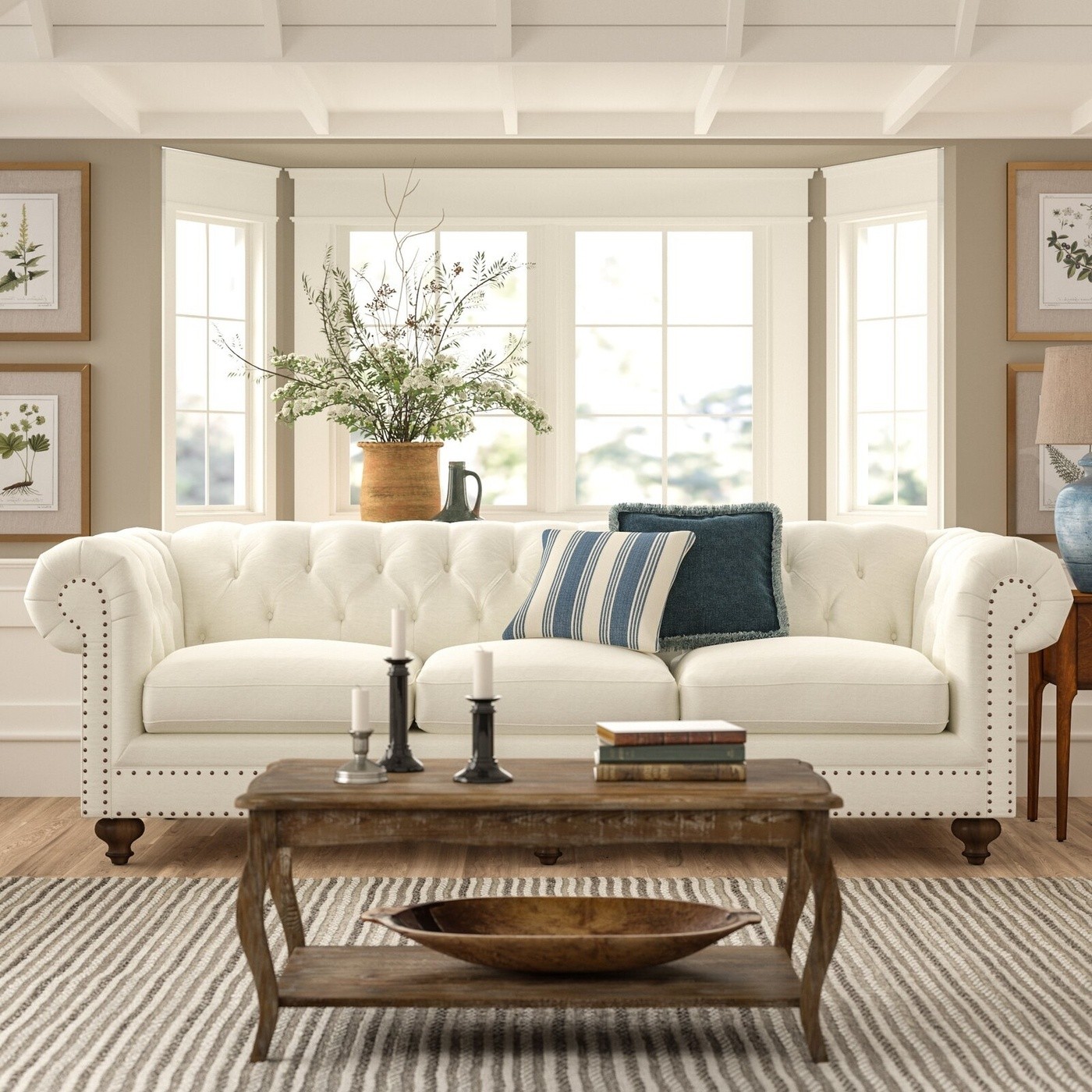 Another trick to make your Chesterfield sofa a core part of your palette is to choose a monochrome model in your secondary color and add a few throw pillows in your accent hue.
We also recommend a color combination that allows the latter to stand out just like the blue and light-blue cushions do on this white sofa.
9.

Reinforce your palette's tones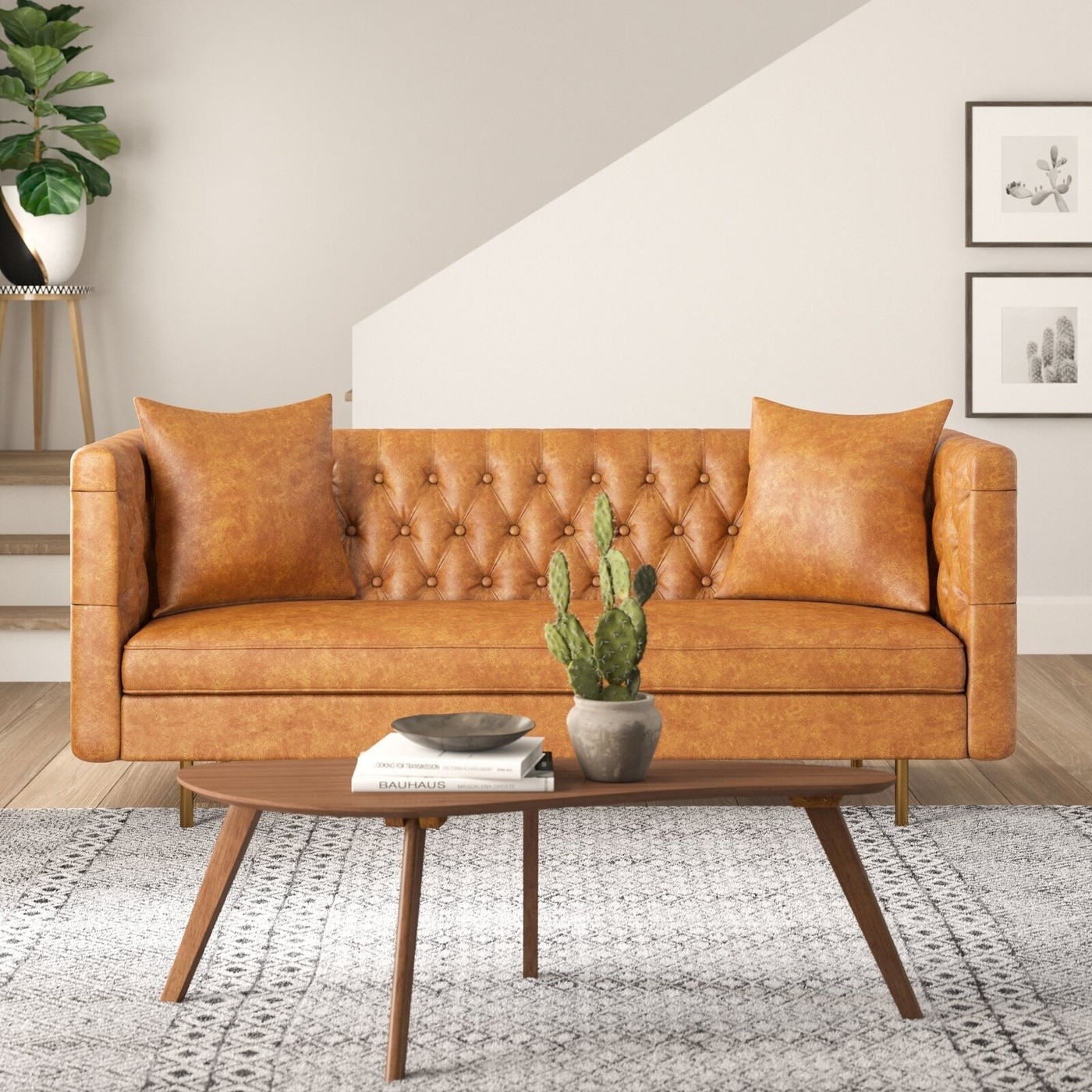 Whether you have a primarily warm or cold palette, the right Chesterfield sofa should help you reinforce it.
For example, brown colors are extremely popular in mid-century modern interiors, which is why this model works wonders in front of a coffee table in a dark wood finish.
10.

Pair it up with the right rug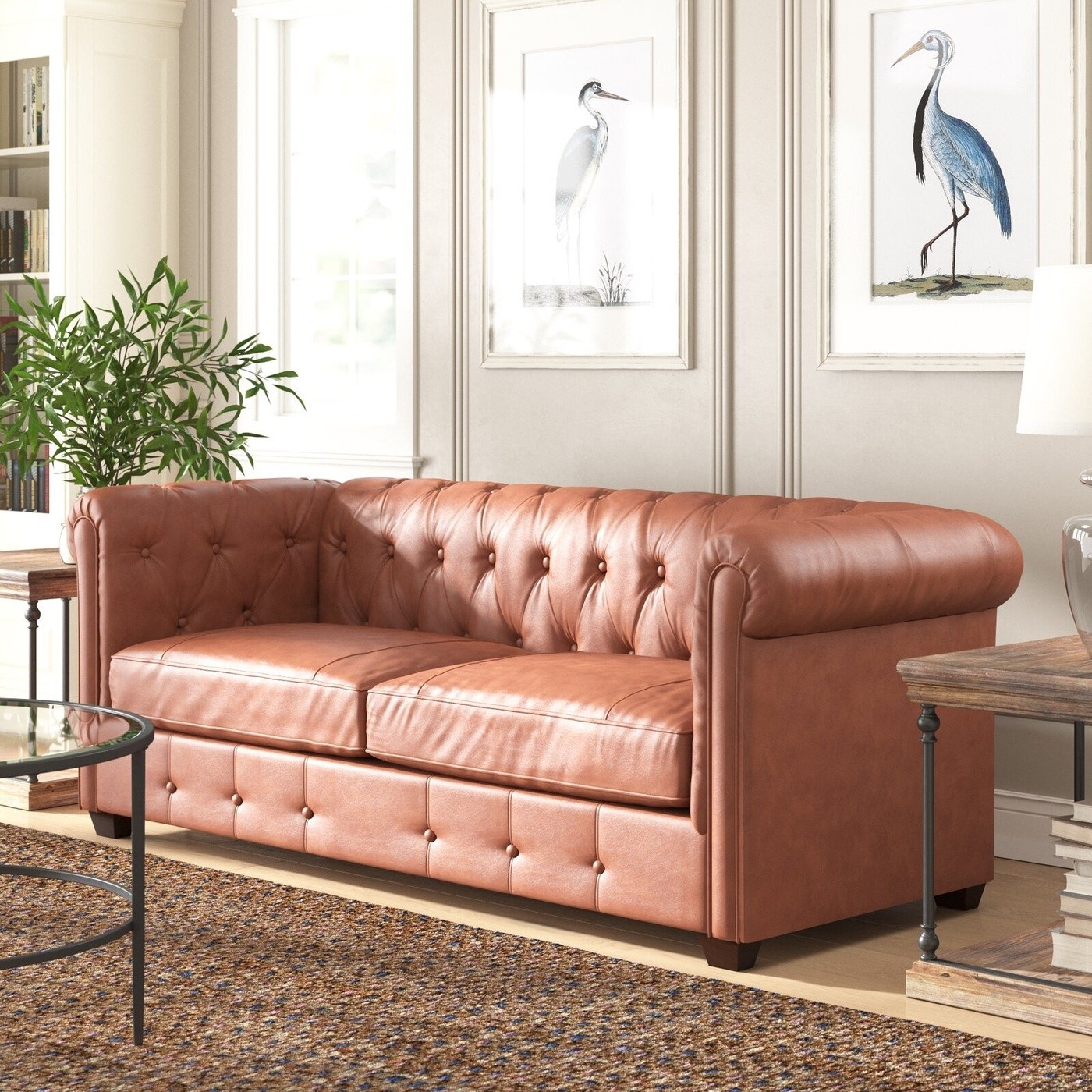 For the most harmonious seating area, your Chesterfield sofa and rug should work together. Our two favorite ways of doing so are to stick to the same color but in different shades or to opt for contrasting hues.
Just don't make the mistake of falling in love with a specific model and then realizing that it doesn't work with your existing rug at all!
11.

Add some relevant artwork behind it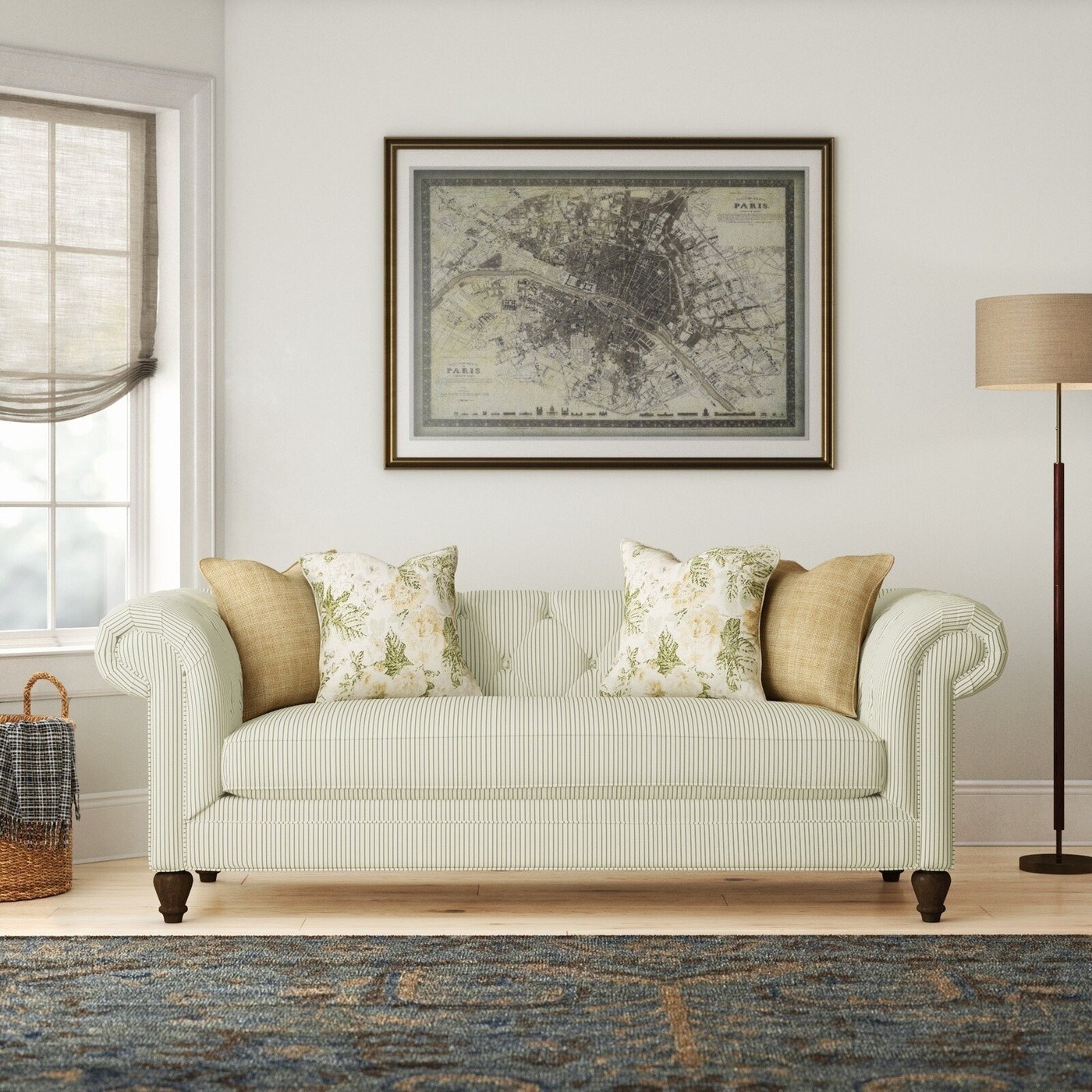 Is your Chesterfield sofa going to be right against the wall? Then surprise your guests with your decorative skills by matching it to a large artwork or wall decor.
For example, the background color of this map echoes the neutral upholstery of this Chesterfield sofa, and even the frame matches the wooden legs as well as the warm tones of the other decorative elements around it.
12.

Create a Chesterfield seating area with two sofas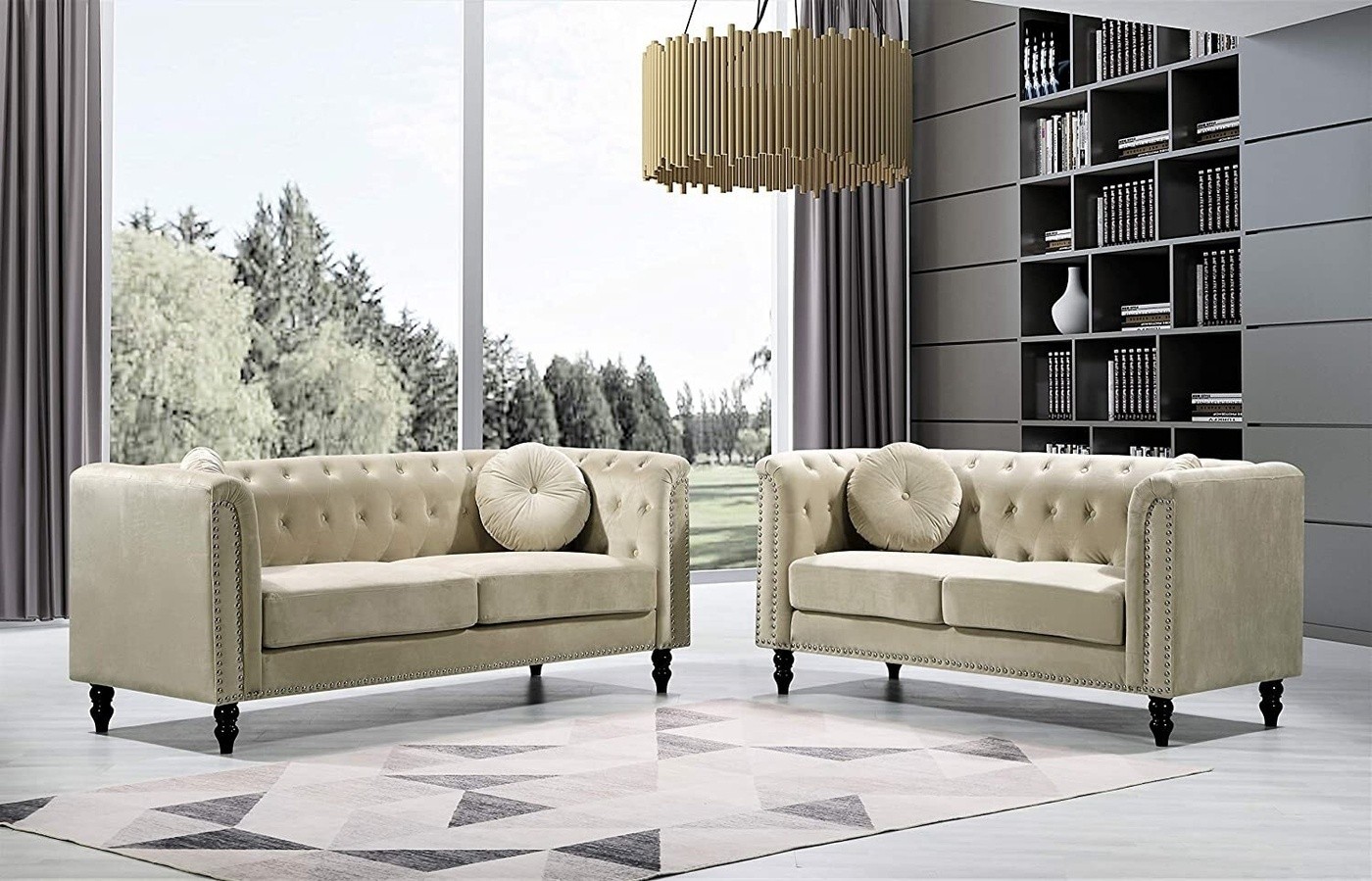 If you're truly obsessed with this unique type of sofa, double up on the fun by getting a set of two. This is especially a good idea if you have a fairly wide room where space isn't a problem.
By using the two sofas to form a straight angle, you'll help separate your seating area from the rest of the room, creating a more intimate setting and facilitating conversations.
13.

Or how about a Chesterfield set with a chair?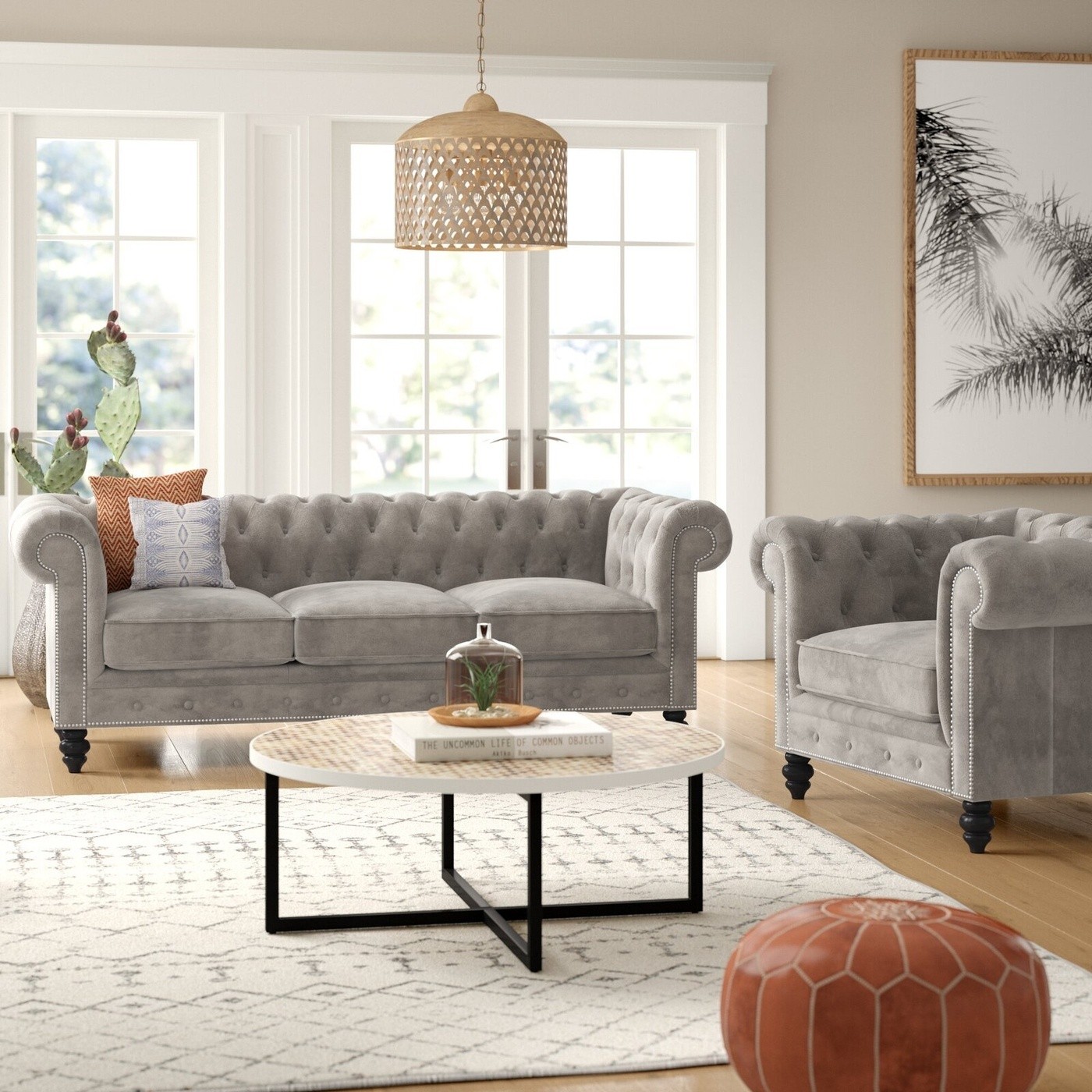 Fallen in love with the idea of a set, but you haven't got enough room for two sofas? Is your living room fairly long but not too wide? Not a problem.
A clever compromise is to add a Chesterfield chair next to your sofa. The result will be a cohesive feel with a more space-saving twist.
14.

You can even find a Chesterfield sofa lounge
Choosing a sofa that draws inspiration from a few centuries ago doesn't necessarily mean that you must say goodbye to modern comforts.
In fact, check out this Chesterfield sofa with a lounge side.
It incorporates a super-comfy element by allowing you to lie down whenever you wish, but it maintains the curved arms and tufted back in the same height that characterize this type of sofa.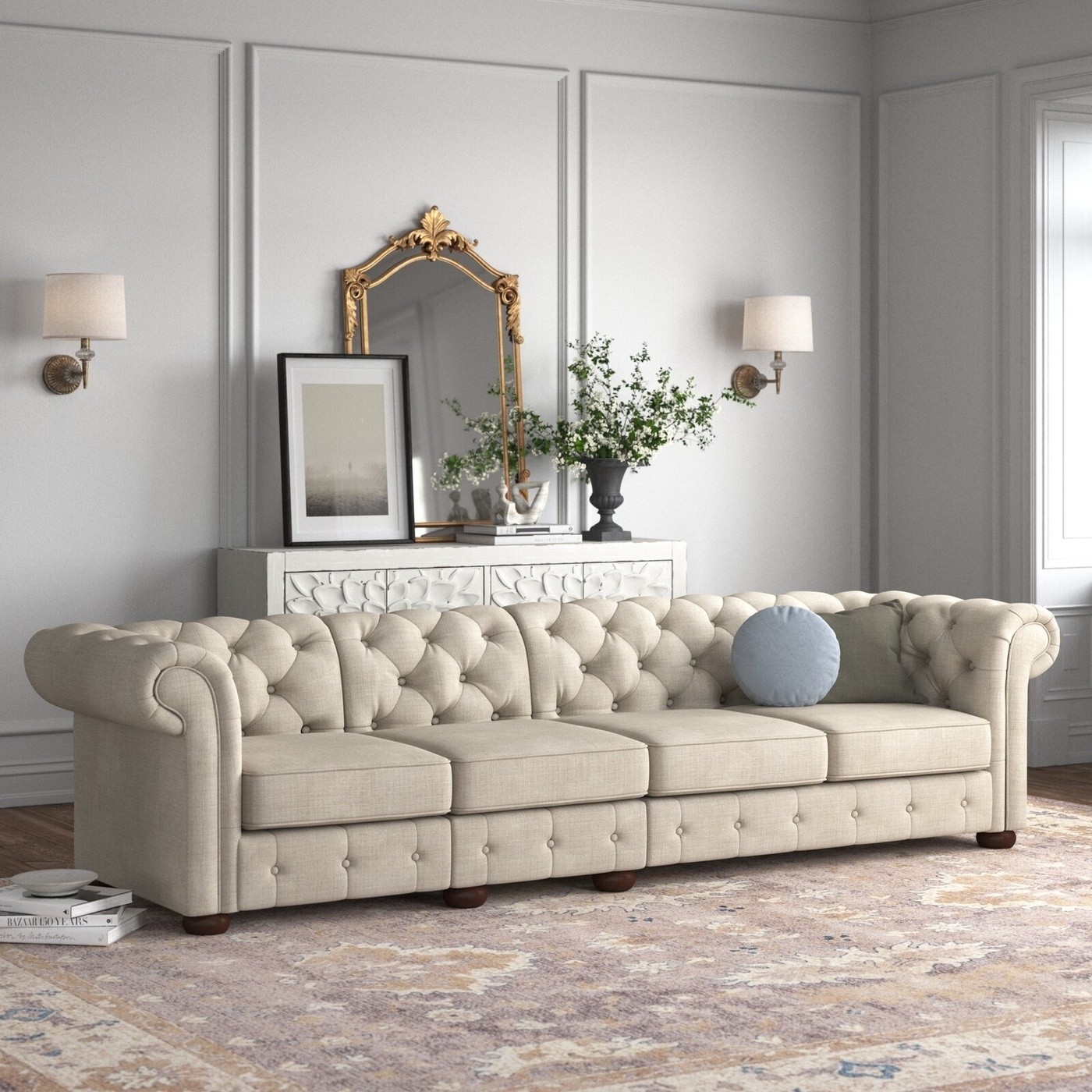 Most Chesterfield sofas are either loveseats or three-seaters, which is why they're usually paired up with additional seating solutions.
However, if you're part of a big household and you all like to sit down next to each other when watching a movie, you can find much longer models.
For example, thanks to this 117.6" sofa you could easily seat four adults or three adults and two kids.