The shape of the dining table is a crucial influencing factor in the way we experience a space.
More than a simple piece of furniture, the dining table is the heart of the home. It is a gathering point for friends and family and sets the scene for many moments that turn into cherished memories. The shape of the dining table plays an important part in how those moments play out, influencing everything from the feel of the room to the experience of those sitting around it. This seemingly simple detail has a dramatic effect on the way people move around the space, how they conduct themselves, and how they interact with each other. That's why it is essential to choose a dining table that suits the space and matches your dream lifestyle.
Rectangular, round, oval, or square, our interior design experts walk you through each dining table shape, pointing out the pros and cons of each and what to consider while you shop.
Rectangular Dining Table
There's a reason rectangular dining tables are one of the most popular shapes of their kind. For one, their long, slender design slots comfortably into almost every space and adapt to most room dimensions. The versatility of the shape means you're unlikely to encounter any issues if you move house unless you are drastically downsizing, of course. One advantage of the clean, linear edges of rectangular tables is that they can be pushed up against the wall when needed, without looking awkward or out of place. They also pair nicely with benches, offering a laid-back, trendy look and neat space-saving solution. When not in use, benches can be tucked under the table, freeing up valuable floor space and encouraging safe and easy movement around the room.
Rectangular dining tables are a popular choice for large-scale entertaining, as even a small rectangle table can comfortably seat a minimum of six diners, with two guests on each side and one at each head. Though this angular arrangement means diners will not have a clear sight of everyone at the table, and conversation is often limited to whoever is within immediate proximity. While rectangular tables come in a variety of styles, their strong lines and angular edges have a formal quality, and often lend a more modern look to a room. To counterbalance the sharp, geometric dining table shape, pair it with upholstered chairs with curved backs.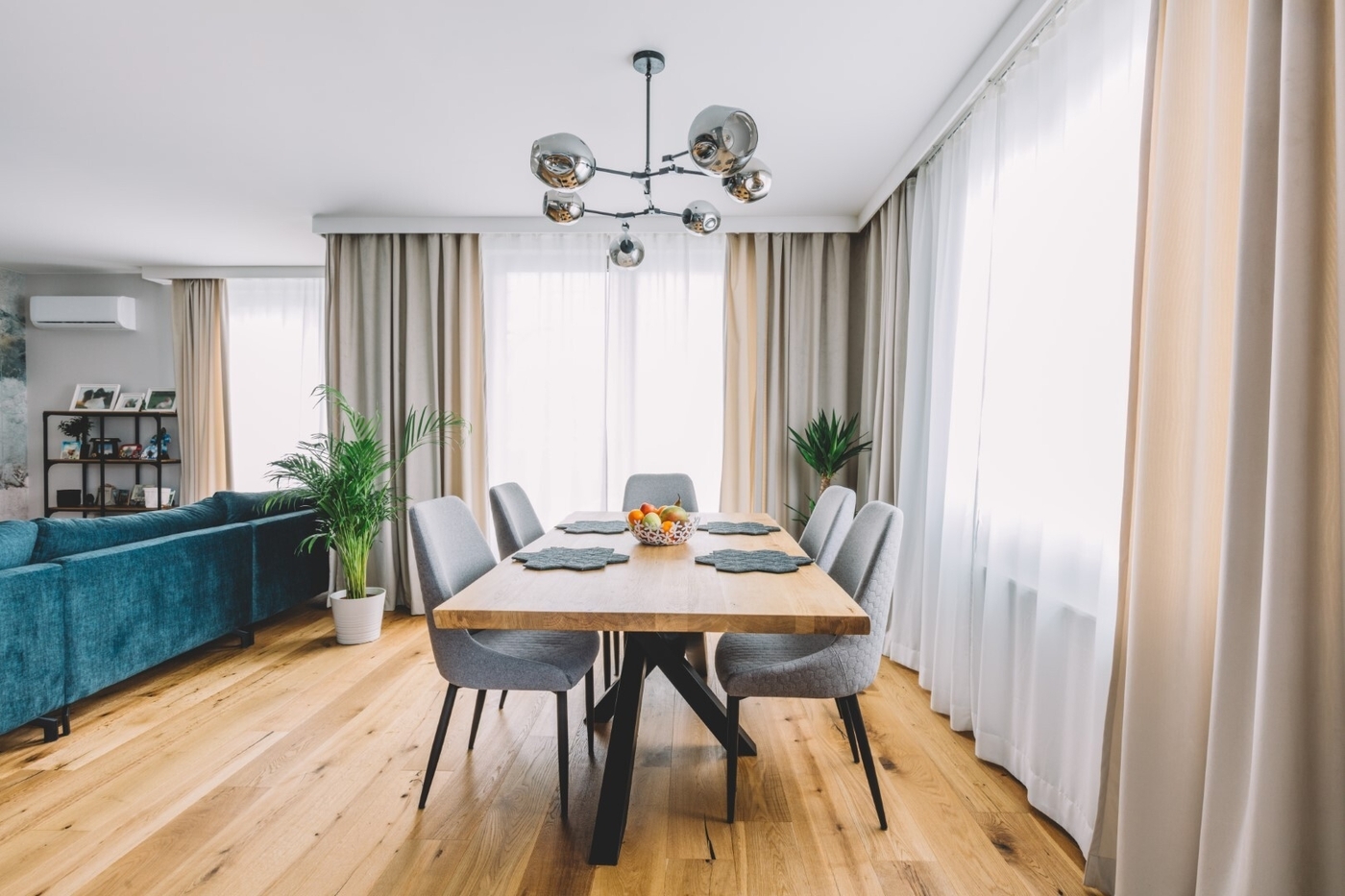 Pros
Suits most room dimensions.
Suitable for large-scale entertaining.
Space-saving qualities.
Versatile shape.
Cons
Diners don't have sight of everyone at the table.
Conversation is often limited to those within immediate proximity.
Square Dining Table
If you like the angular look of a rectangular table but are short on floor space, then a square dining table is the way to go. Most square tables cater to a maximum of four people, providing an intimate setting for wining, dining, and conversing with a few select guests. Larger square tables can fit up to eight diners and make an interesting, high-impact design statement. However, you will likely lose the charm of the proximity and intimacy that comes with a smaller square table due to the greater distance between each guest. A small square table with an extension leaf is a great option if you like to entertain from time to time, without having to sacrifice valuable floor space every day of the week. Plus, it even gives you the flexibility to swap between a square and rectangular dining table shape, to suit your heart's desire!
Square dining tables can maximize available floor space when placed in a corner or up against a wall, and paired with armless dining chairs with straight, low backs that can be tucked under. The crisp equilateral form lends a casual, modern look to a space; the sense of informality is largely thanks to the lack of table head, encouraging a space of inclusivity and equality. Play up the sharp geometric shape of the table by contrasting it with round placemats and crockery.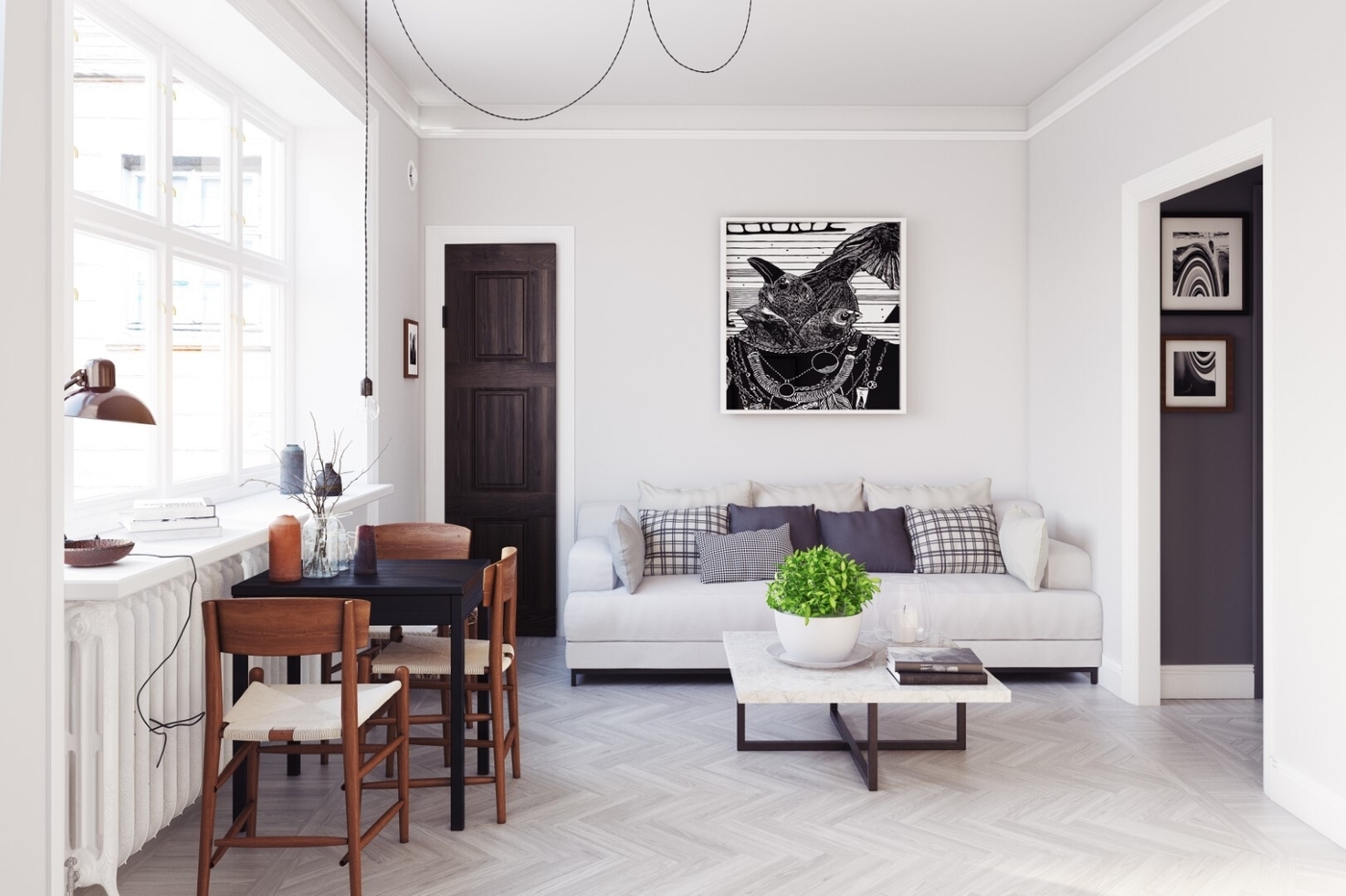 Pros:
Suitable for small spaces.
Casual, modern look.
Cultivates an intimate dining experience.
Sense of inclusivity and equality.
Good for small-scale entertaining.
Cons:
Limited to a small number of guests, without an extension leaf.
Large square tables can lose the sense of proximity and intimacy.
Round Dining Table
Casual and intimate, a round dining table provides the perfect setting for gathering your inner circle. A symbol of harmony and unity, circular seating arrangements have a powerful effect on the behavior of a group because they promote an inclusive, collective mindset. With no table head, a round table supports a feeling of equality and informality whereby everyone can see each other, encouraging the easy flow of conversation. The circular shape also provides equal reach to the center of the table, making snack-sharing and board-game playing a little less hassle. Plus, the lack of edges means seating restrictions are limited only to the number of chairs you can fit around the table's perimeter. Circular dining tables are the best shape for small gatherings. A circular table with a diameter larger than 60-inches runs the risk of losing the intimacy that makes round tables so special. For added flexibility to seat additional guests, look for a circular table with an extension leaf, that way you can flip between a round and oval dining setup.
The curved contours of round dining tables soften the ambiance and complement the flow of a room, gently guiding the guests, and one's eye, around a central point. The absence of sharp corners also makes it family-friendly, removing potential hazards from excitable kids. Round tables are also a great option for small spaces as they fit neatly into corners and have less visual weight than square tables. Opt for a pedestal table base to provide optimum legroom and remove any contentions with awkwardly situated table legs.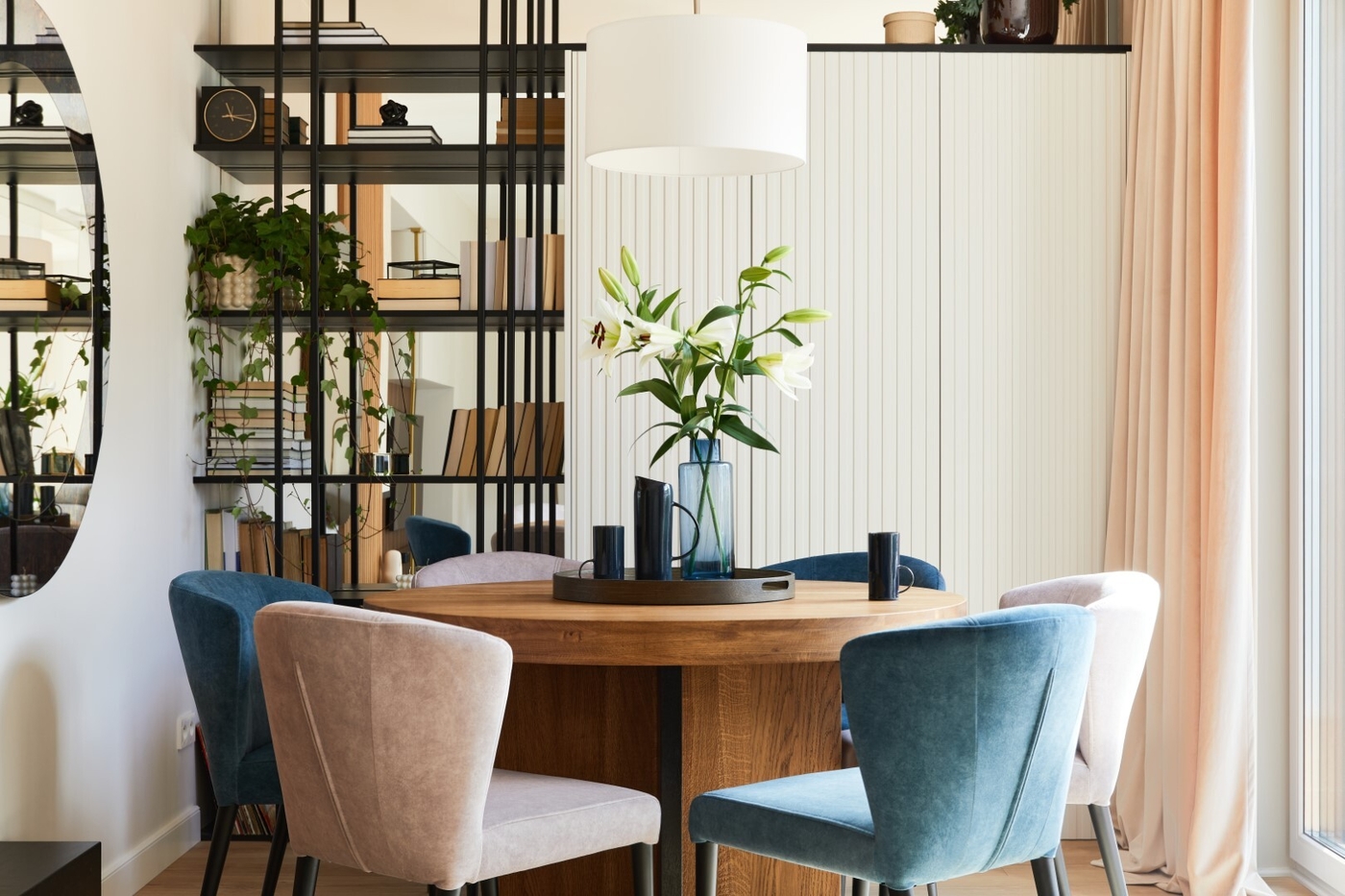 Pros:
Best shape for small gatherings.
Promotes an inclusive, casual, and intimate environment.
Child-friendly.
Softens the flow of a room.
Suitable for small spaces.
Optimum legroom.
Everyone can see each other.
Easy flow of communication.
Cons:
Limited to a small number of guests, without an extension leaf.
Large circular tables lose the sense of proximity and intimacy.
Oval Dining Table
Oval dining tables offer the perfect balance between the formal linear arrangement ofrectangular dining tables and the intimacy and informality of round tables. The versatile shape offers a soft and elegant aesthetic thatsuits both a formal and casual setting. Its curved contours offset angular features and contribute to the easy flow of a space. While its length caters to a large family, its rounded corners accommodate its growing numbers. With no clearly defined table end, it's easy to add another chair to accommodate a last-minute guest, without having to contend with awkward, sharp table edges. And, it also brings people within closer proximity, for easier conversing. The only potential downfall is that many oval dining tables don't come with extension leaves, which can be handy for hosting big dinner parties on special occasions.
Oval-shaped dining tables trump rectangular tables when it comes to small spaces, particularly long, narrow rooms, as their lack of corners means they visually occupy less space. Look for an oval dining table with a pedestal base as not only will it provide optimal legroom, but it will also make a sophisticated sculptural addition to your decor.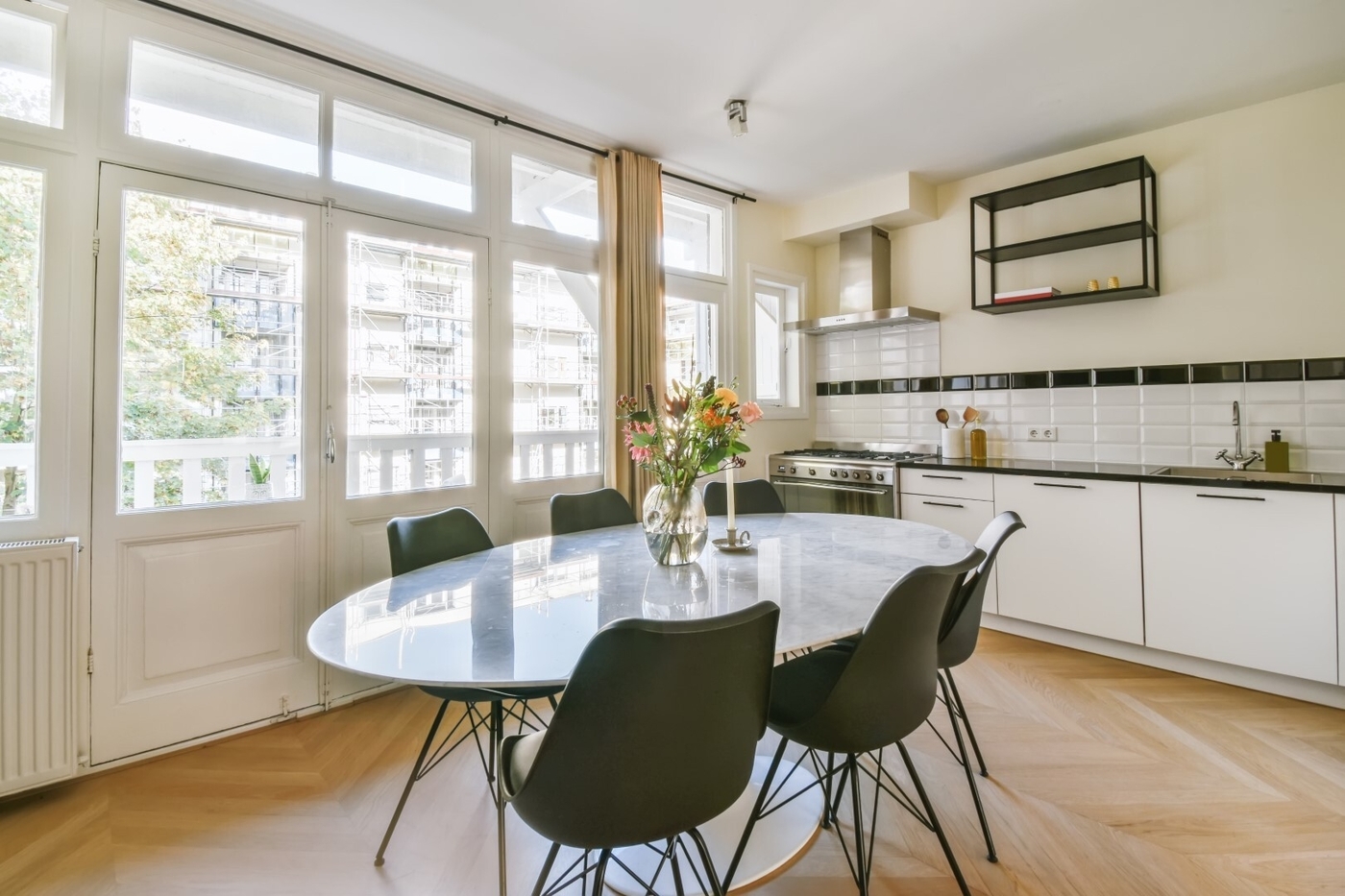 Pros:
Suitable for large-scale entertaining.
Less visual weight than rectangular tables.
Versatile.
Optimum legroom.
Promotes a soft, elegant, and intimate environment.
Child-friendly.
Softens the flow of a room.
Suitable for small, long, and narrow spaces.
Cons:
Choosing The Right Dining Table Shape
There are two main factors to consider to help you determine the ideal dining table shape for your space: the amount of floor space available and how the table will be used.
Assess the space
What use is a dining table if it doesn't fit your dining area? Remember, you need to account for both the dining table and the space around it, leaving enough room to comfortably walk around the table with the chairs pushed out as if occupied by guests. Start by measuring the available floor space. As a general rule, you should account for at least three feet between the wall and the dining table. So, to calculate the dimensions of your dining table, subtract six feet from both the length and width of your measurements.
It's also important to acknowledge the space occupied by the chairs when they are tucked in to ensure they won't obstruct the flow of the room or create any possible tripping hazards. If floor space is limited, opt for benches or armless chairs with low, straight backs that can be tucked under the table out of sight. To get a sense of how much space the dining table will take up once it's in place and how it will affect the flow of the room, mark it out using tape or newspaper.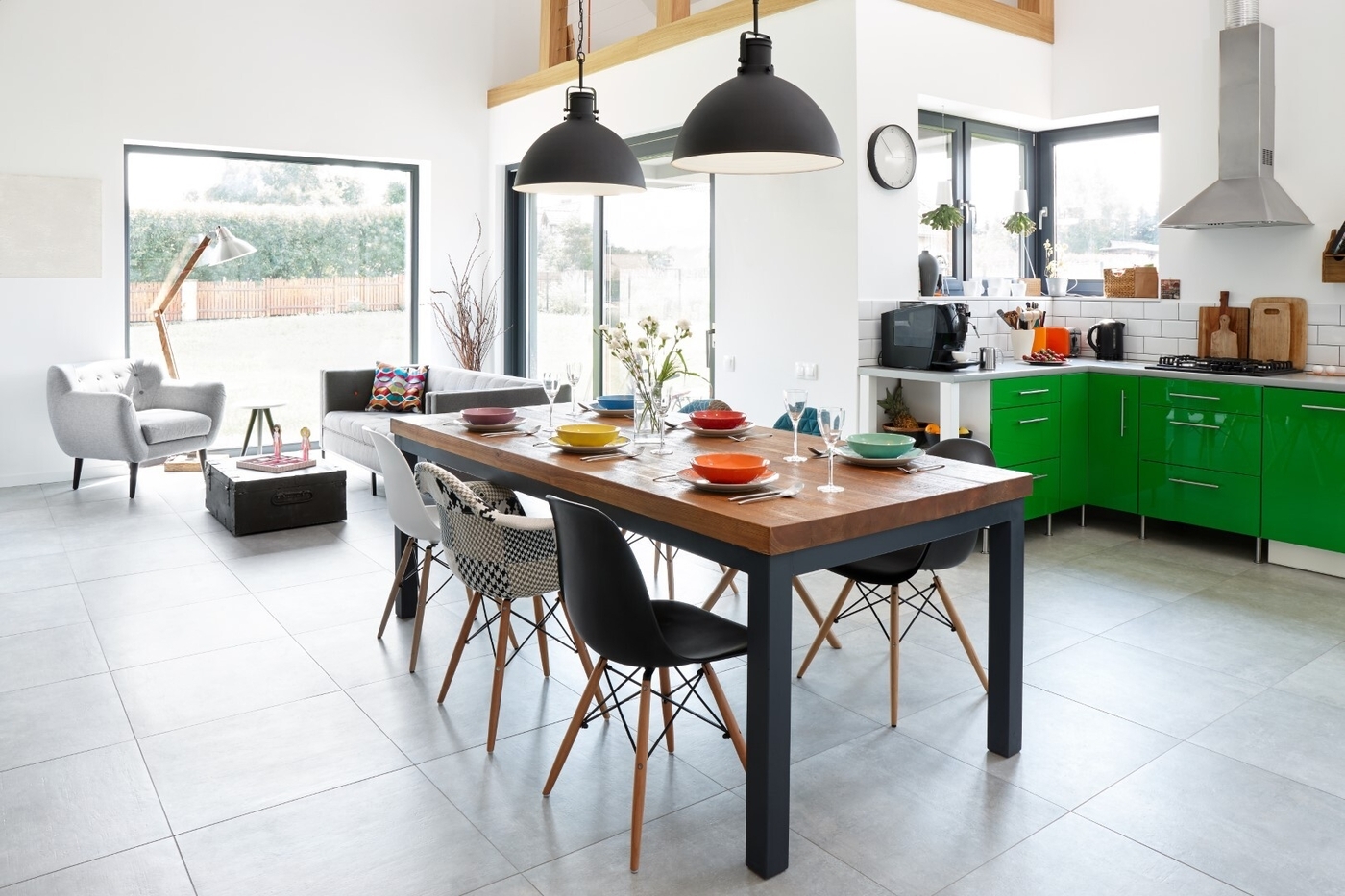 Envisage how you will use the table
Close your eyes and imagine yourself sitting at the table in an everyday setting. Think about how many people it will need to cater to daily. Will it be used exclusively for meals, or will it also become a make-shift office or designated station for homework and arts and crafts? Round or oval tables are the best option for small-scale socializing while rectangle tables provide a larger surface area suitable for working, studying, or getting creative! If your house is the center of social activity amongst your friends and family, a large rectangle or oval dining table will mean you are always ready to receive the cohort. Or, if you entertain on high days and holidays, a dining table with an extension leaf will leave you prepared for special occasions without occupying unnecessary space on a daily basis.
Plan for a comfortable dining experience by allowing enough space for and between each guest when seated. Calculate 24 inches of table space for each place at the table (with average-scale chairs) and add another 10 inches of space between each chair to avoid elbow wars! A minimum width of 36 inches is recommended to allow enough space for place settings on either side and food and drinks on the table. Any narrower and consider investing in a sideboard for placing jugs, bottles, and serving dishes.