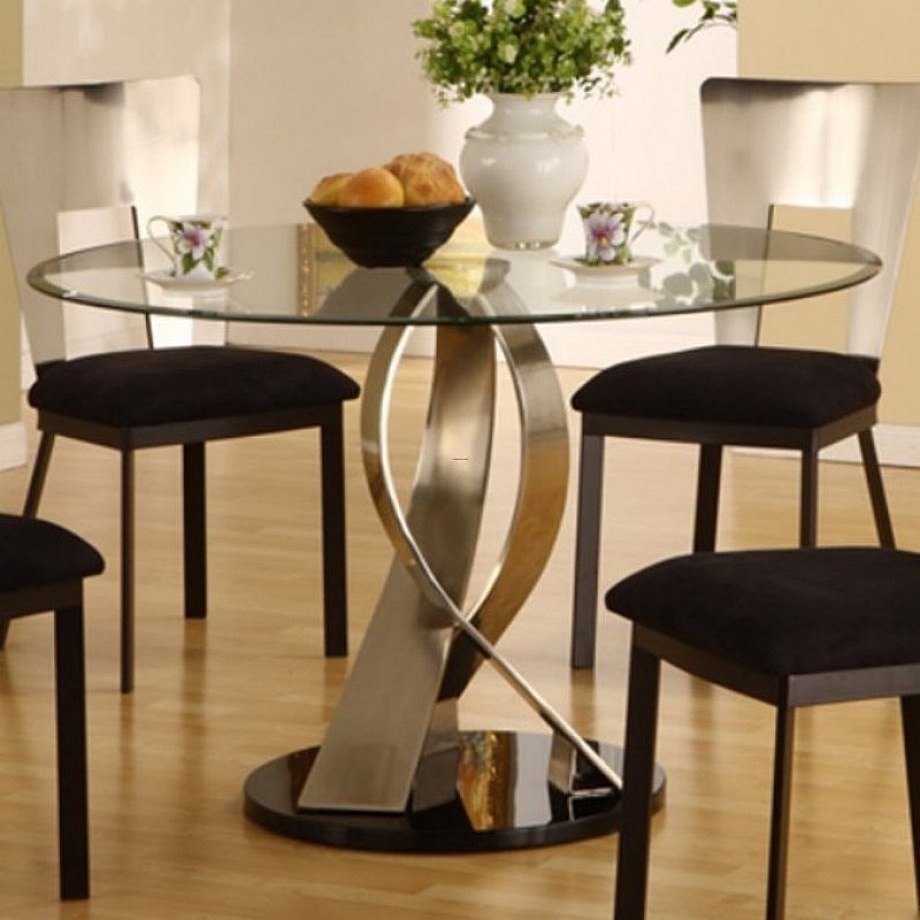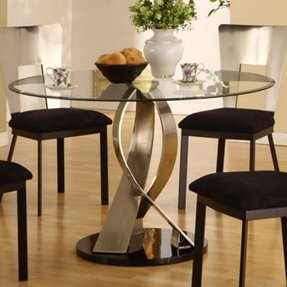 Contemporary table with sculptural base and beveled glass top. It's G O R G E O U S. It serves as a true centerpiece in this dining corner. The base, composed of airy curves, features beautiful brass hue.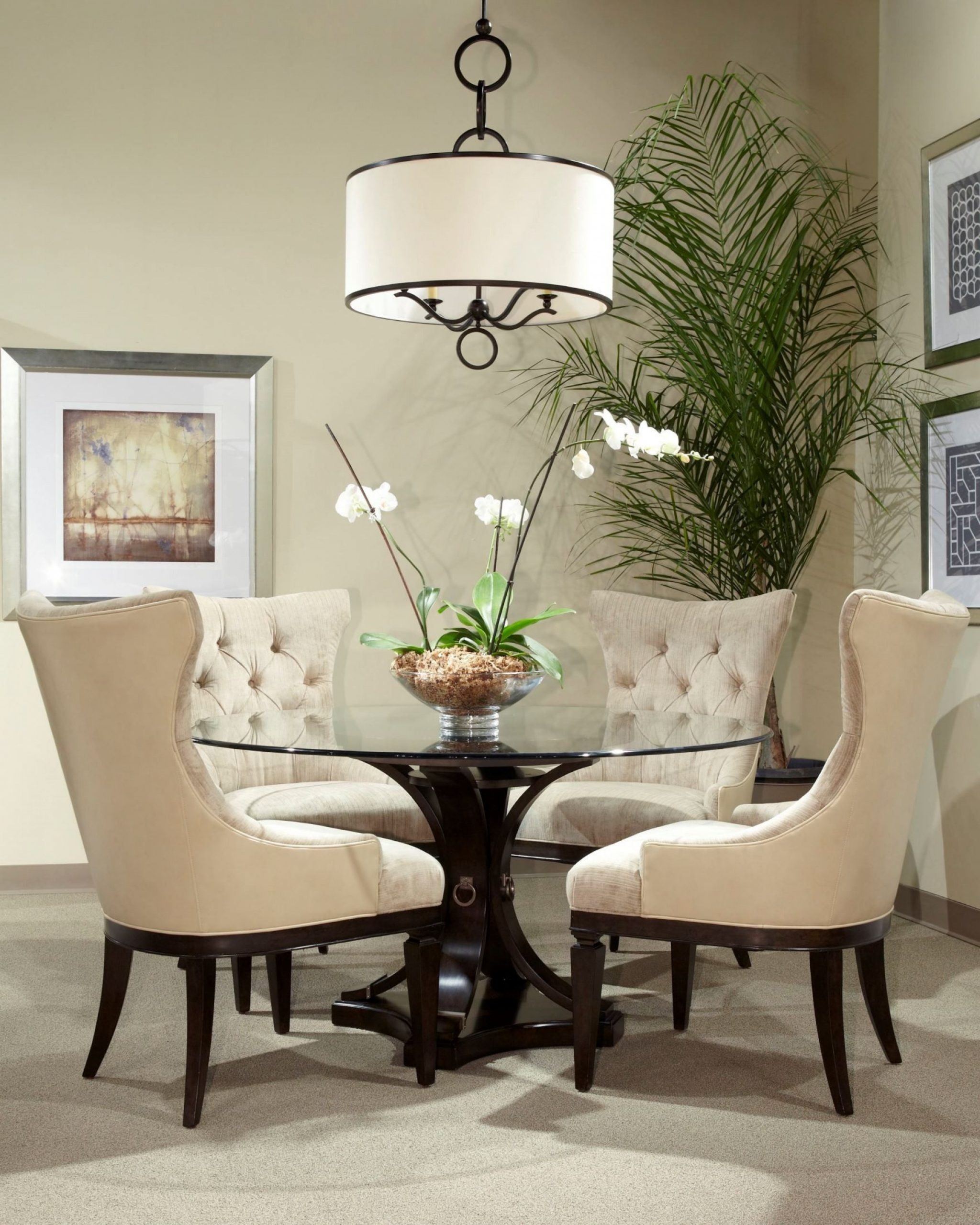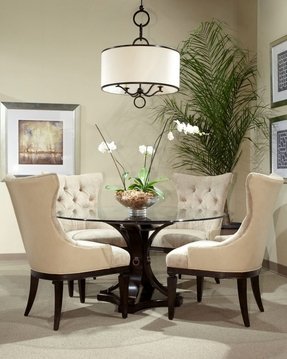 This medium size round glass top table is an elegant looking furnishing item into your dining room. It is designed in the way that would match perfectly with any stylish design and looks especially fantastic with the set of white chairs.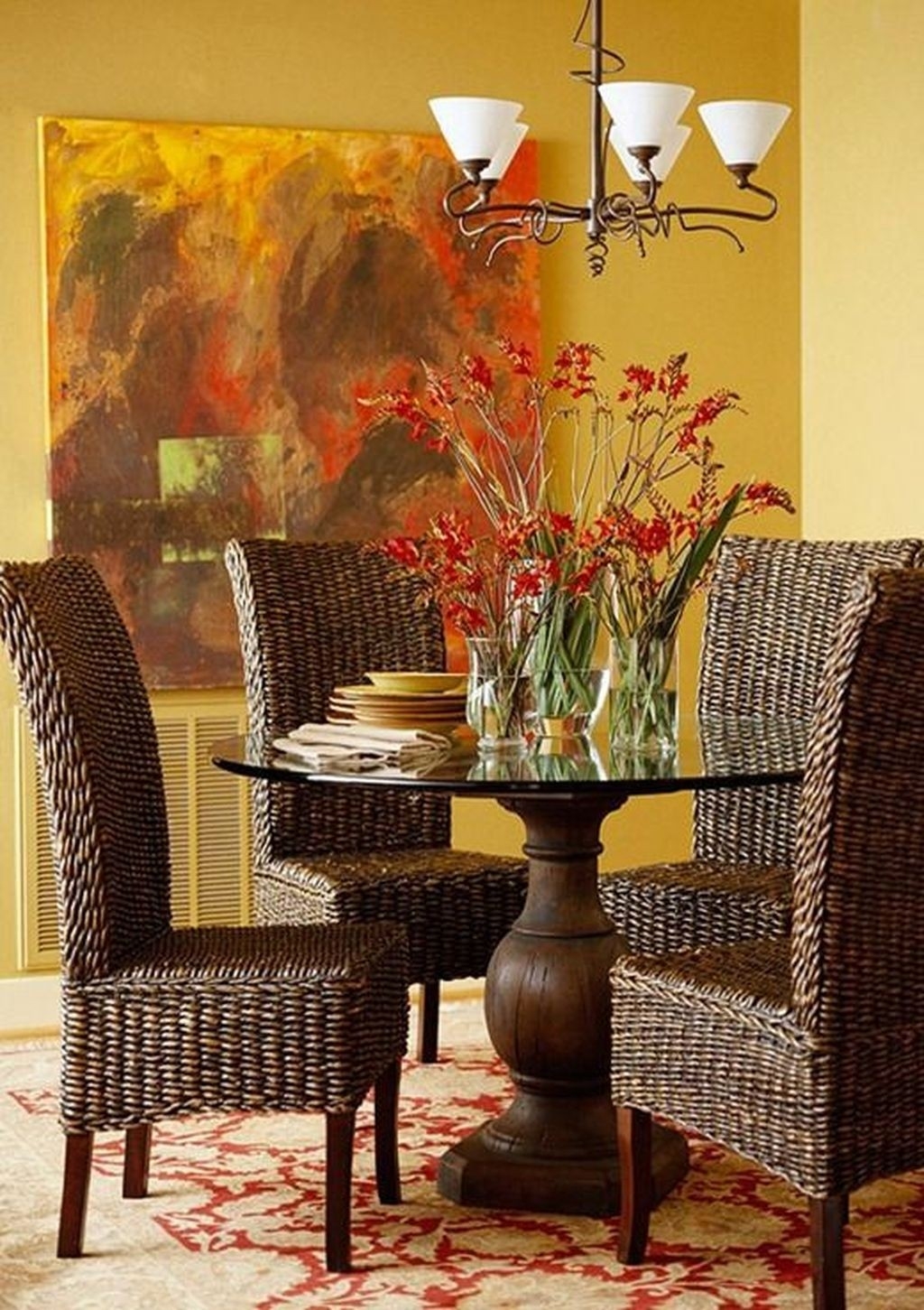 The simple design of the glass countertop on the impressive wooden leg in this charming dining table is an excellent option for these impressive rattan chairs. The whole made on a solid base is stylish and very comfortable.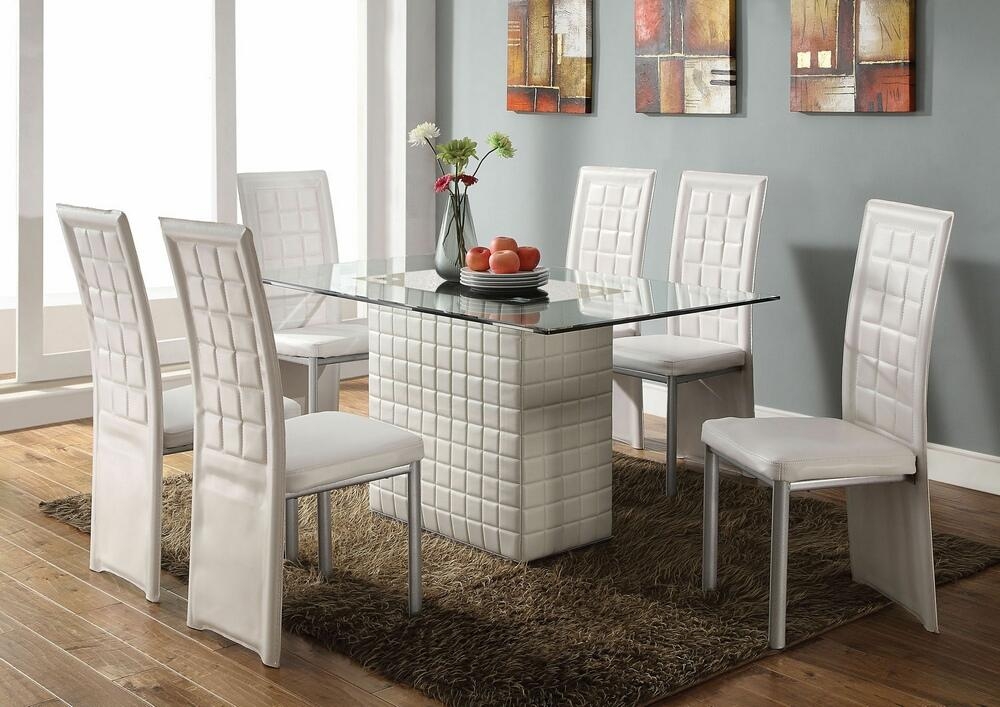 You won't find a detailing that is easier to match with the indoor surrounding than a) a leather-like material b) white finish c) transparent glass topping. This modern fining table features it all: it has a pedestal base paddedwhite, and its top is made of clear glass.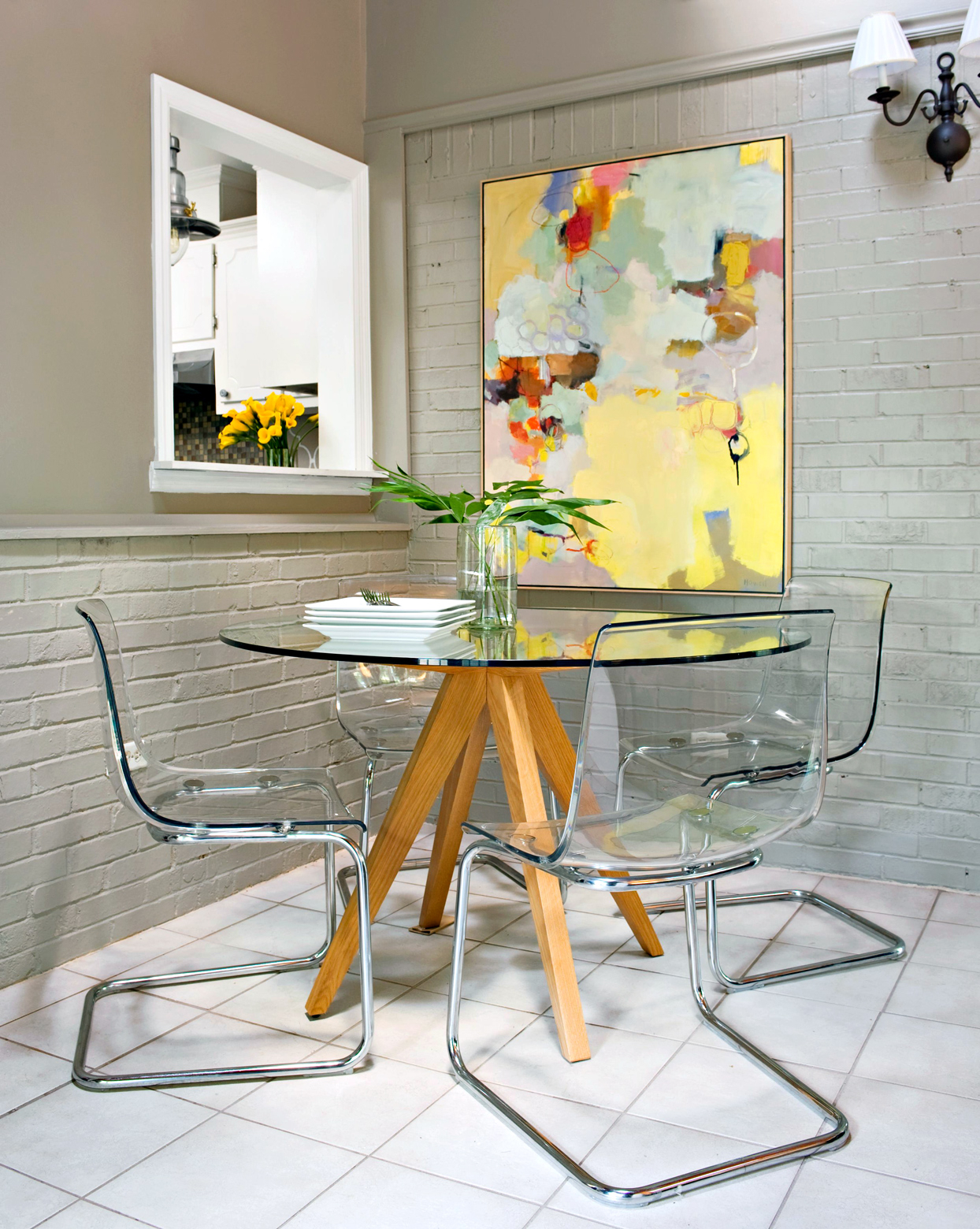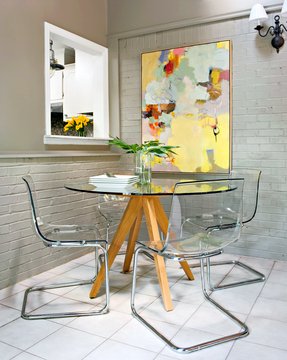 A clear appearance of this gorgeous dining table boasts of contemporary elegance and geometric design. The round top is made of clear glass, and it rests on a natural wood base with spread legs for stability.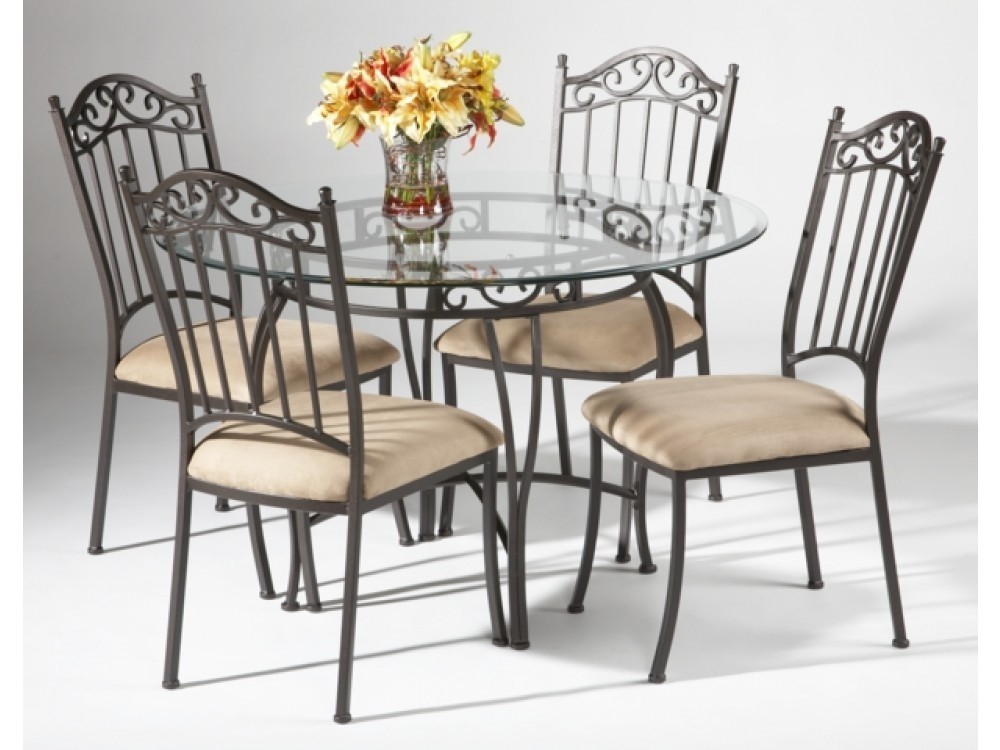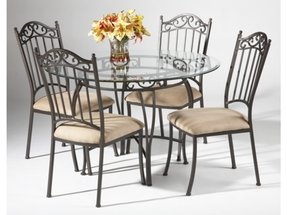 Elegant bistro set made of wrought iron. It consists of round table with glass top and 4 chairs finished with openwork pattern on the back. Seats are covered with soft fabric. Suitable for residential and commercial premises.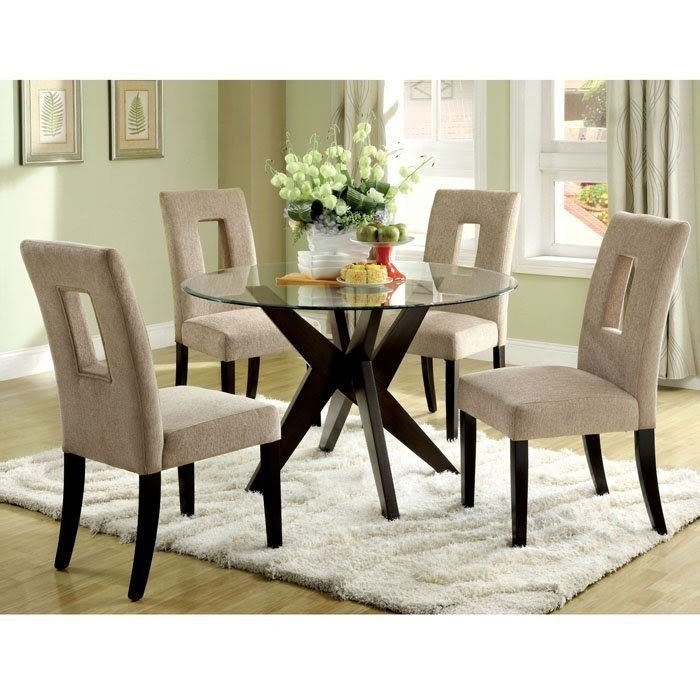 Round beveled glass tabletop is supported by thick cross brace legs made of dark wood. The upholstered chairs that surround it have matching legs. The backs have a rectangular opening to allow air circulation. Perfect for dining away from sunny windows.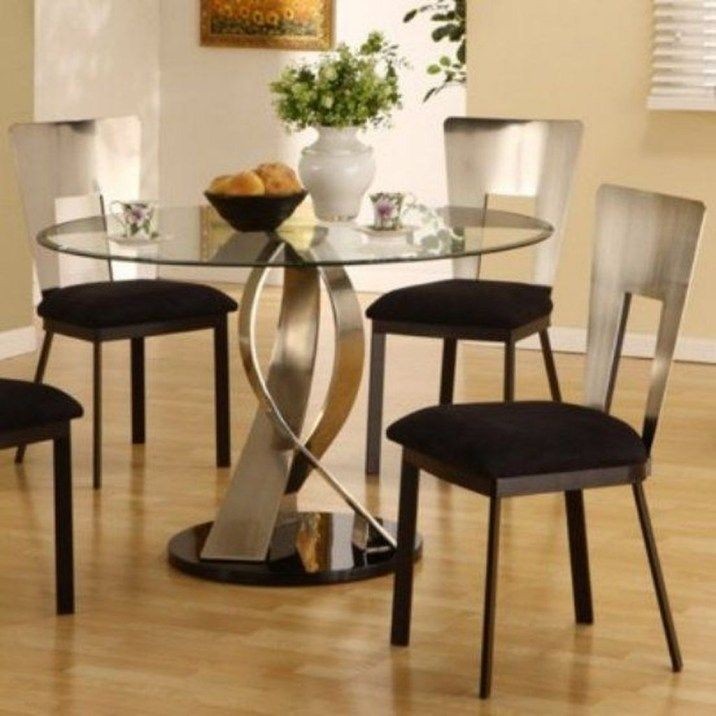 An attractive small modern kitchen table. Its base is built of a wide flat black foot and 3 wide curved metal slats finished in gold shades and crossed one another. A round top is of transparent smoked safety glass.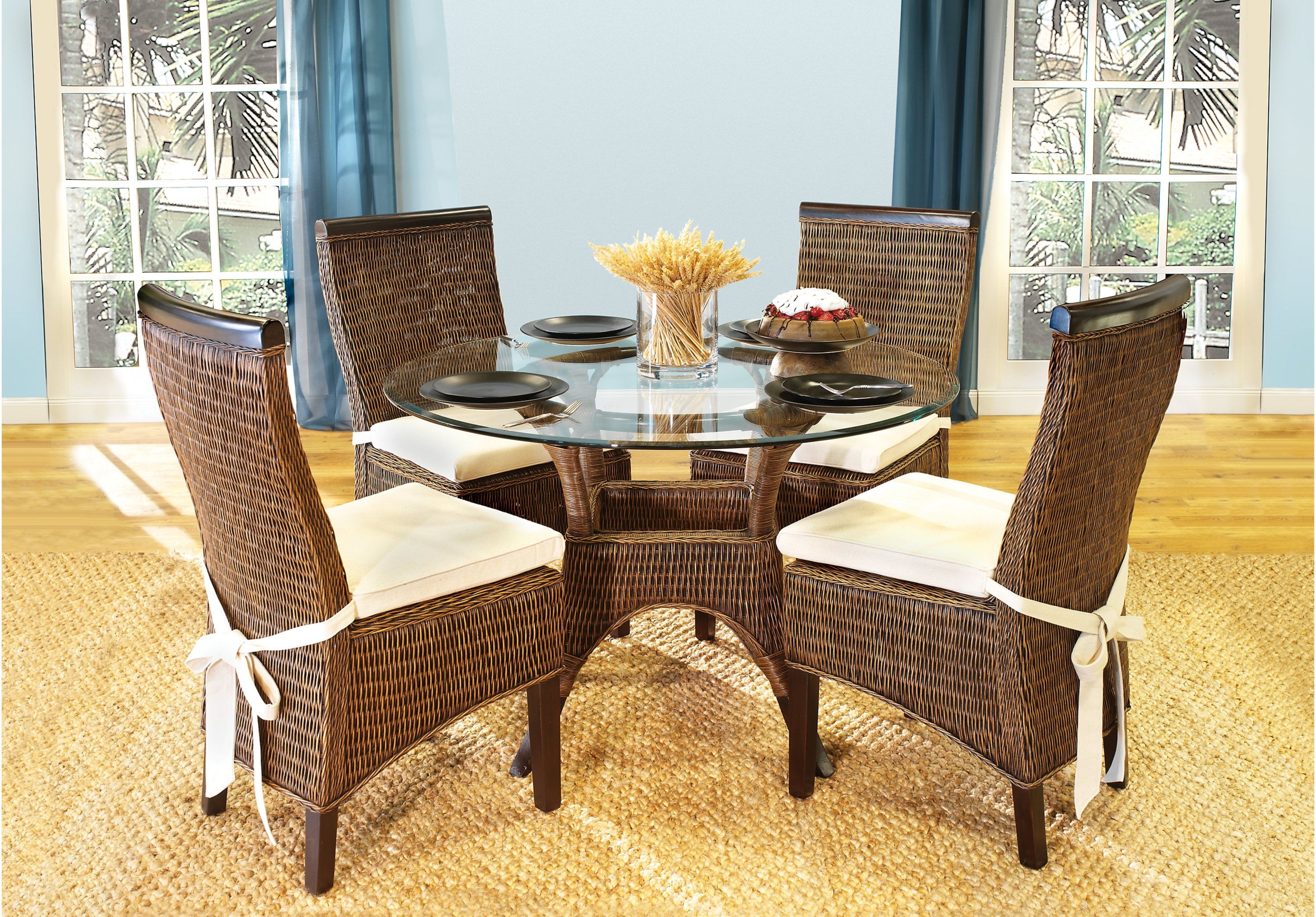 Well balanced kitchen table set featuring a large rounded tabletop and four high back chairs. The table features a strong tempered glass top, sitting on a sturdy wooden frame complimented by incredible touches of wicker. It's the perfect balance of contemporary styling and vintage charm.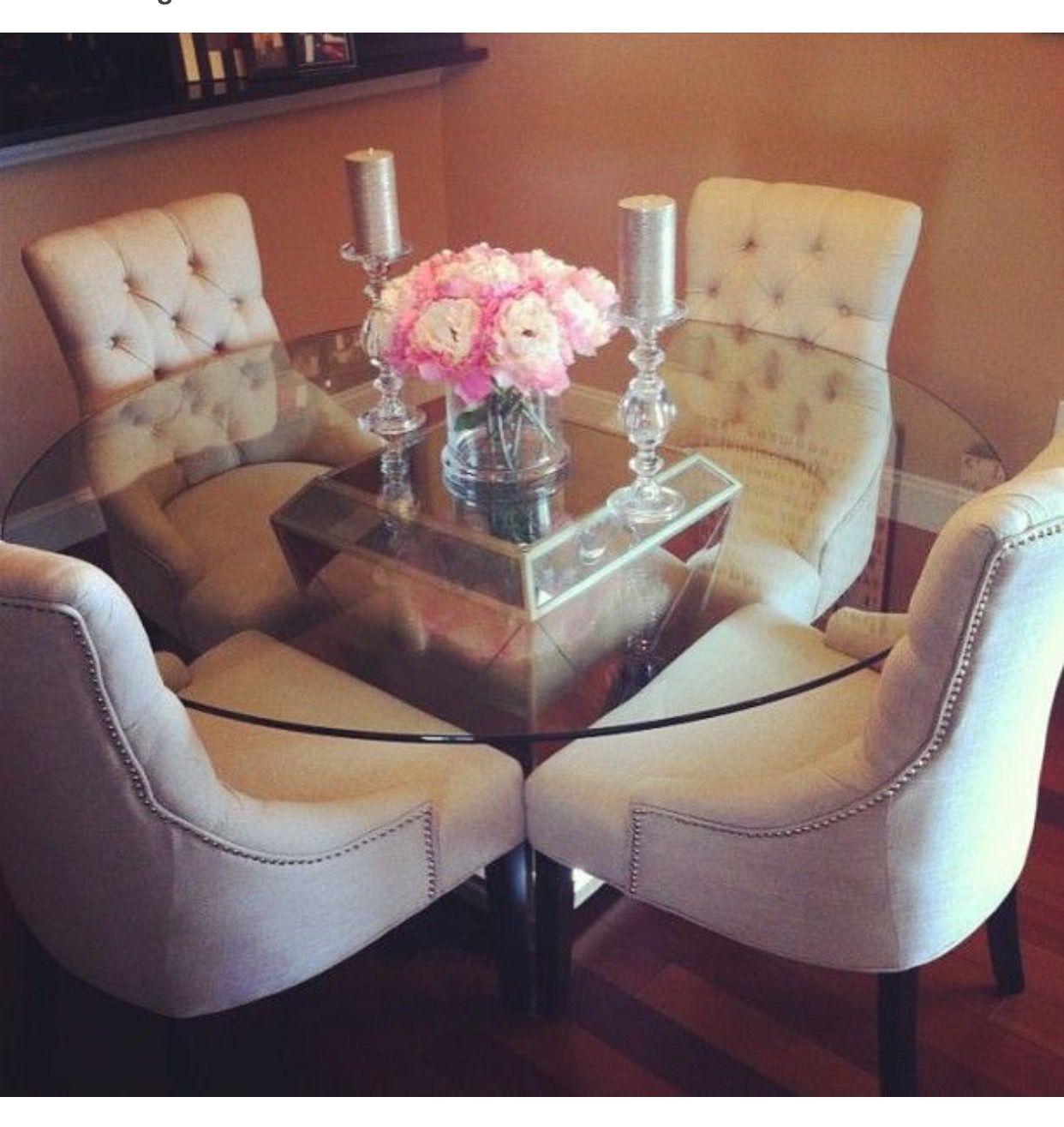 The beautiful glass top and the stylish base of the kitchen table combined with comfy chairs creates a unique whole. Beautiful artistry and solid materials of chairs create an elegant whole. Quilting and nailhead finish delight.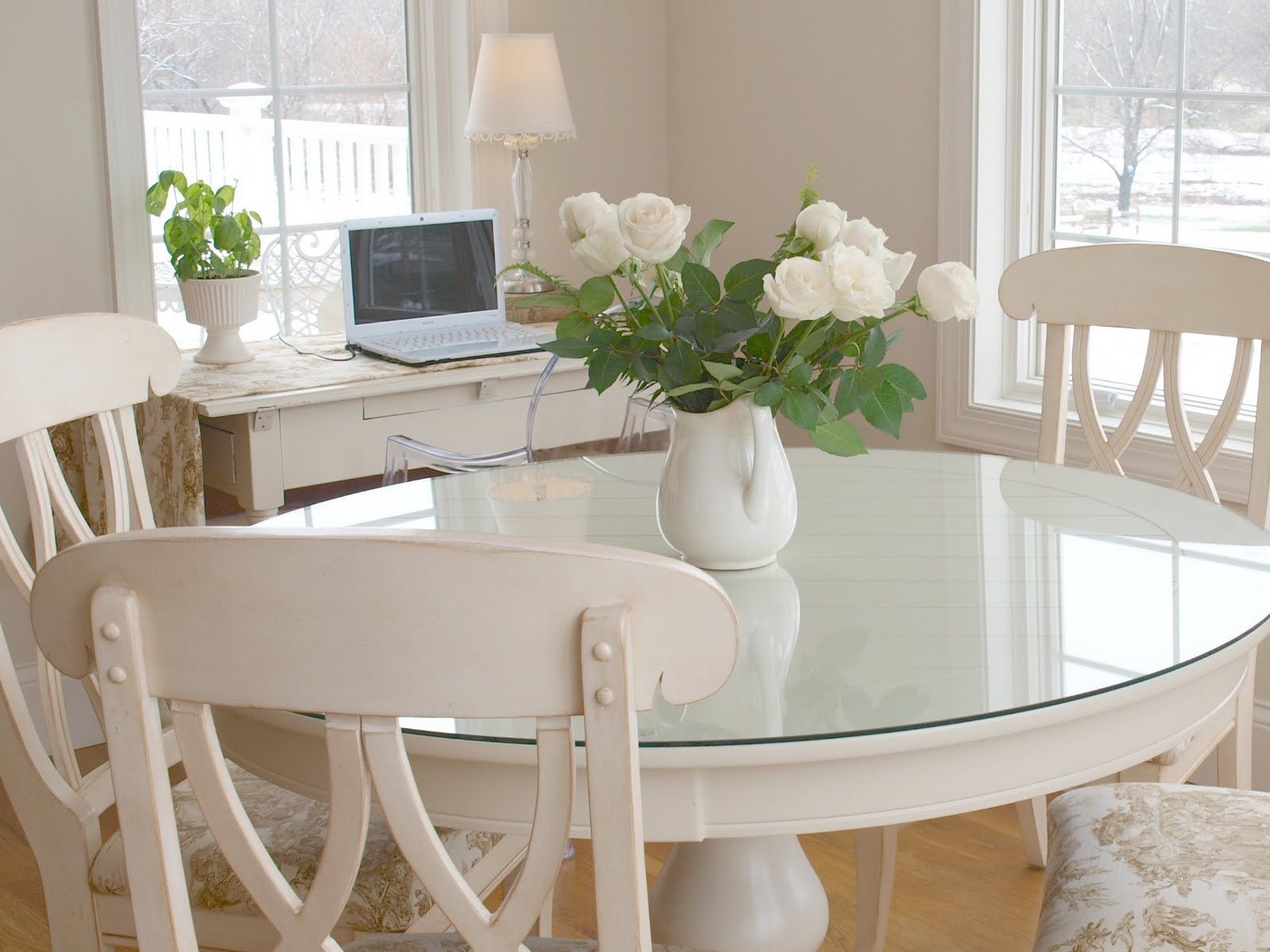 This white dining set comprises a round laminated table with 4 corresponding chairs. All finished in white, enchant with the charming shabby chic decor. Each of the chairs is upholstered with a suble floral pattern.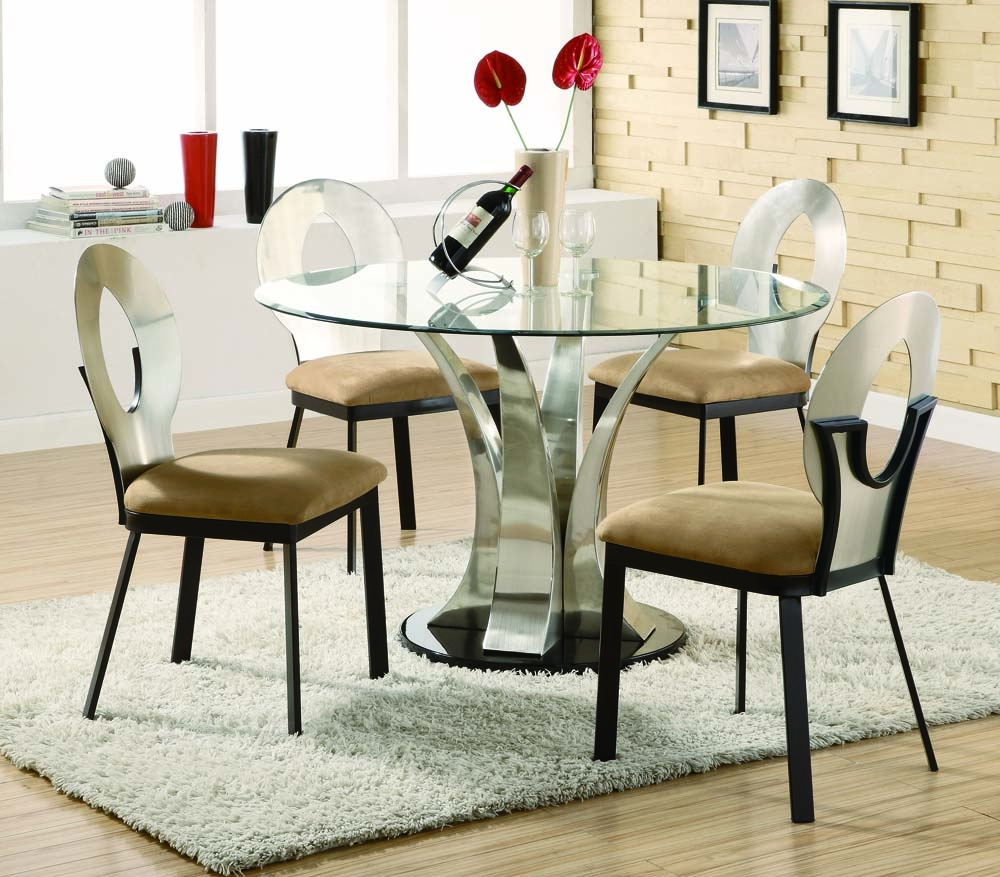 glass round dining table glass round dining table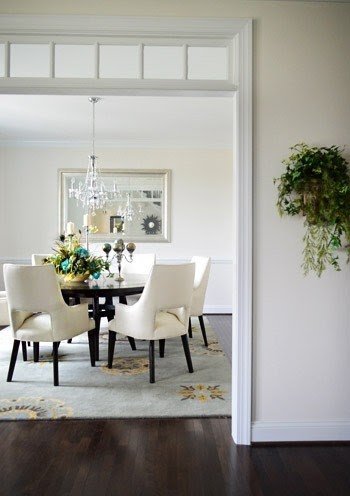 Functional dining space thanks to a solid glass top kitchen table. Its neutral black color looks very interesting in many indoors. The table is available with four dining chairs. They include black legs and white sitting spaces.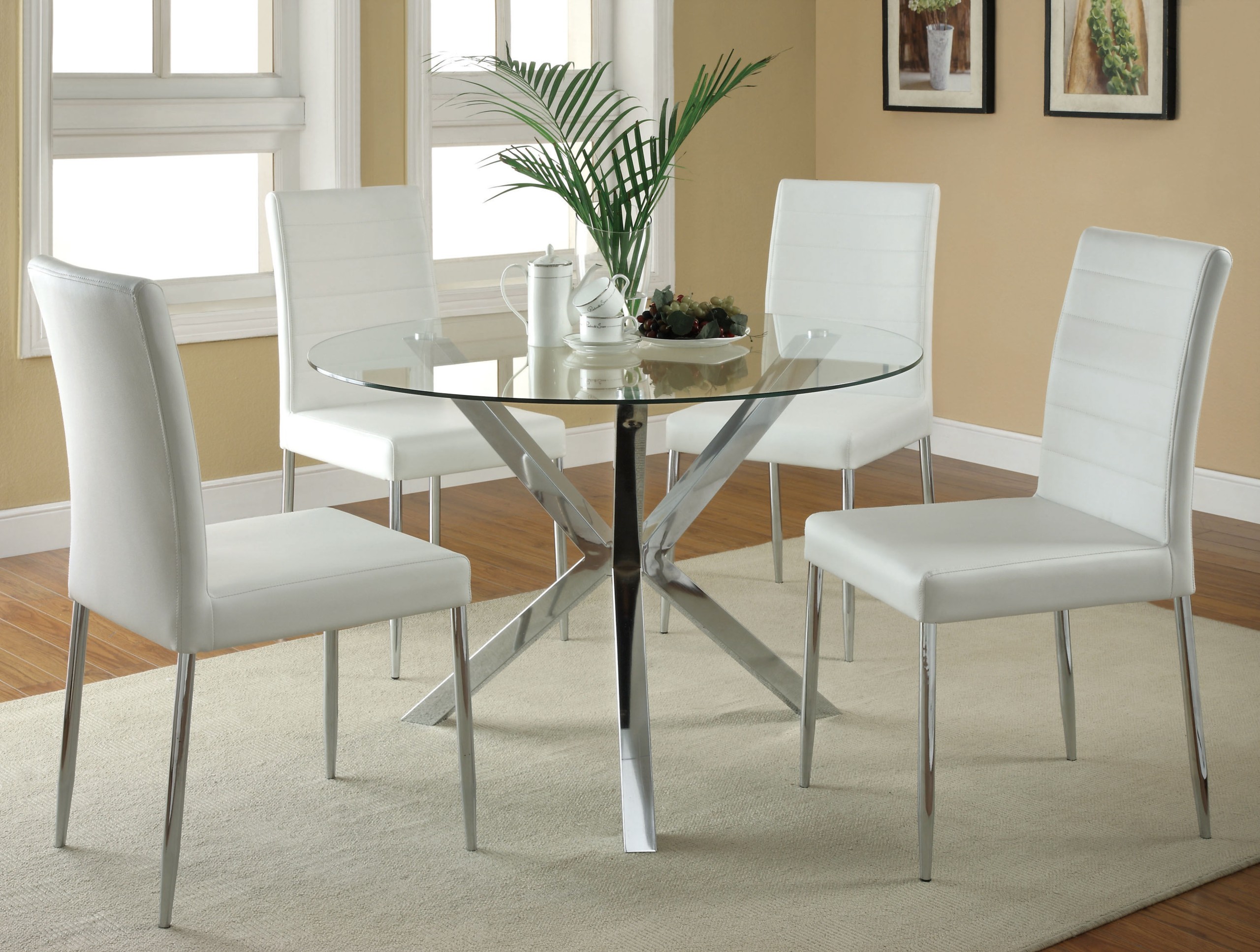 Being a stylish round kitchen table set, this kitchen one shall appeal to all, who like glass surfaces. Its glazed countertop and sleek, slender silhouette embody the contemporary character. Offers comfortable accommodation for 4 people.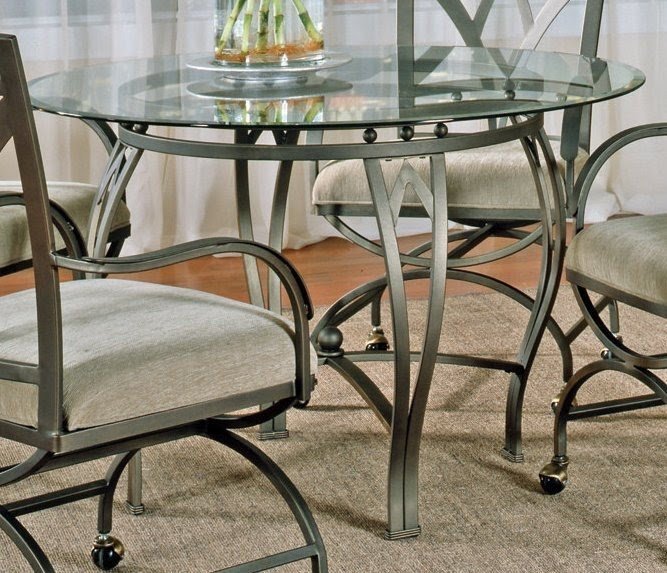 ... Silver Madrid Glass Top 45 Inch Round Dining Table on sale online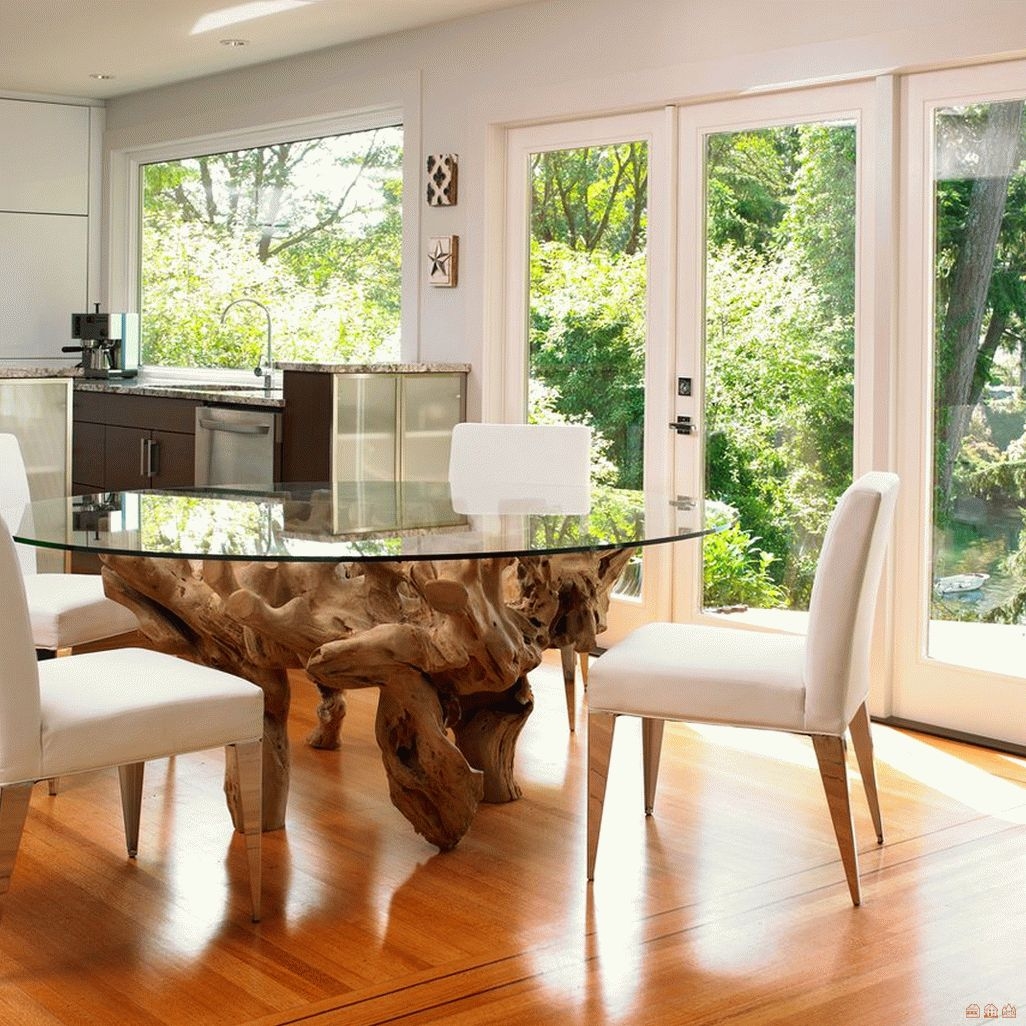 A Royal View - modern - dining room - vancouver - The Sky is the Limit Design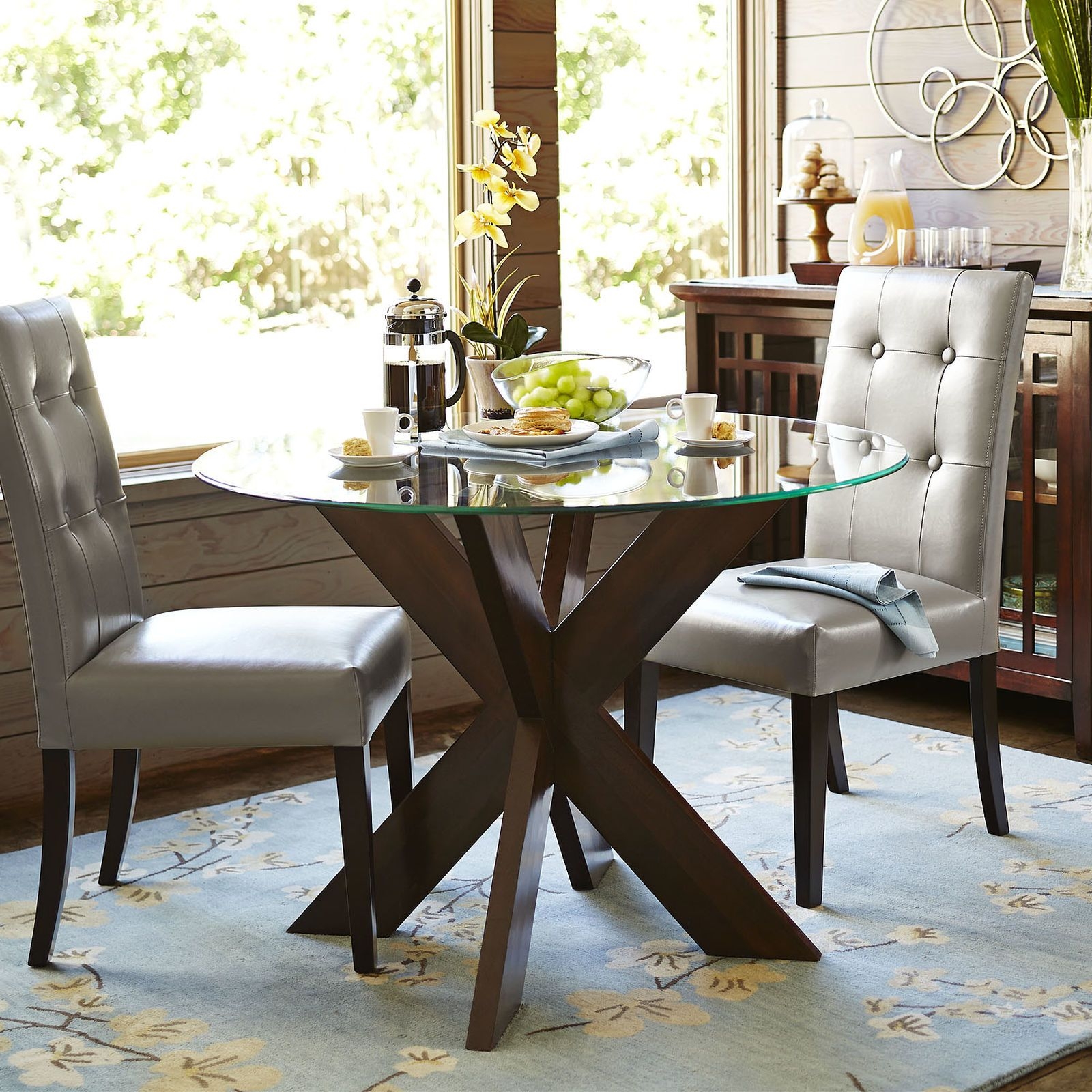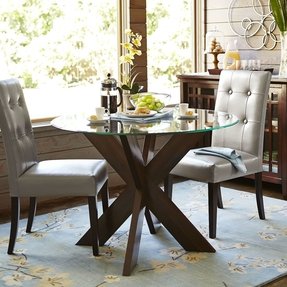 This charming and uniquely stylish round table with the glass top to a beautiful piece of furniture for every living room. Beautiful subfloor made of wood creates a subtle top with a perfect whole.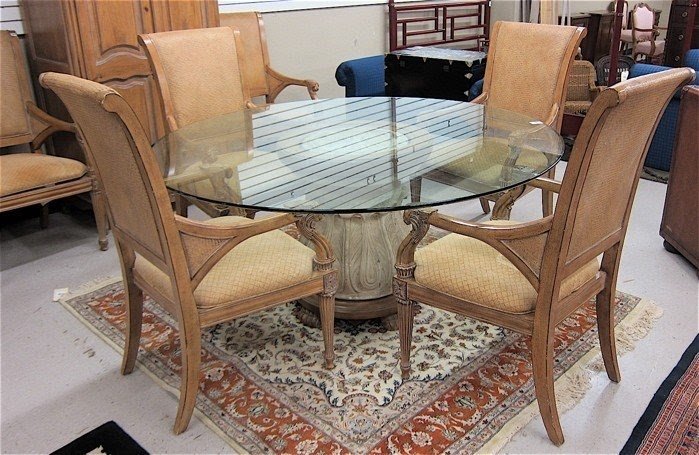 A vintage set of dining room furniture, consisting of a round-shaped dining table with a wooden base with a white-washed finish and a glass top surface, paired with four matching dining chairs with upholstered seats and backs.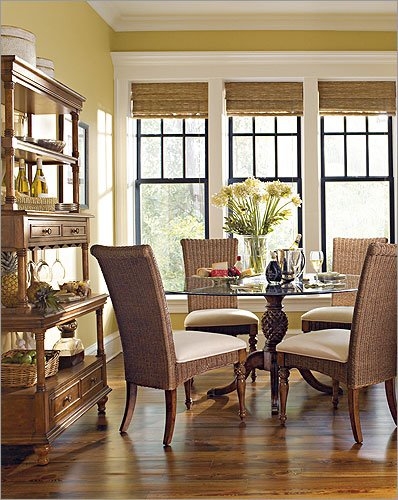 decor for world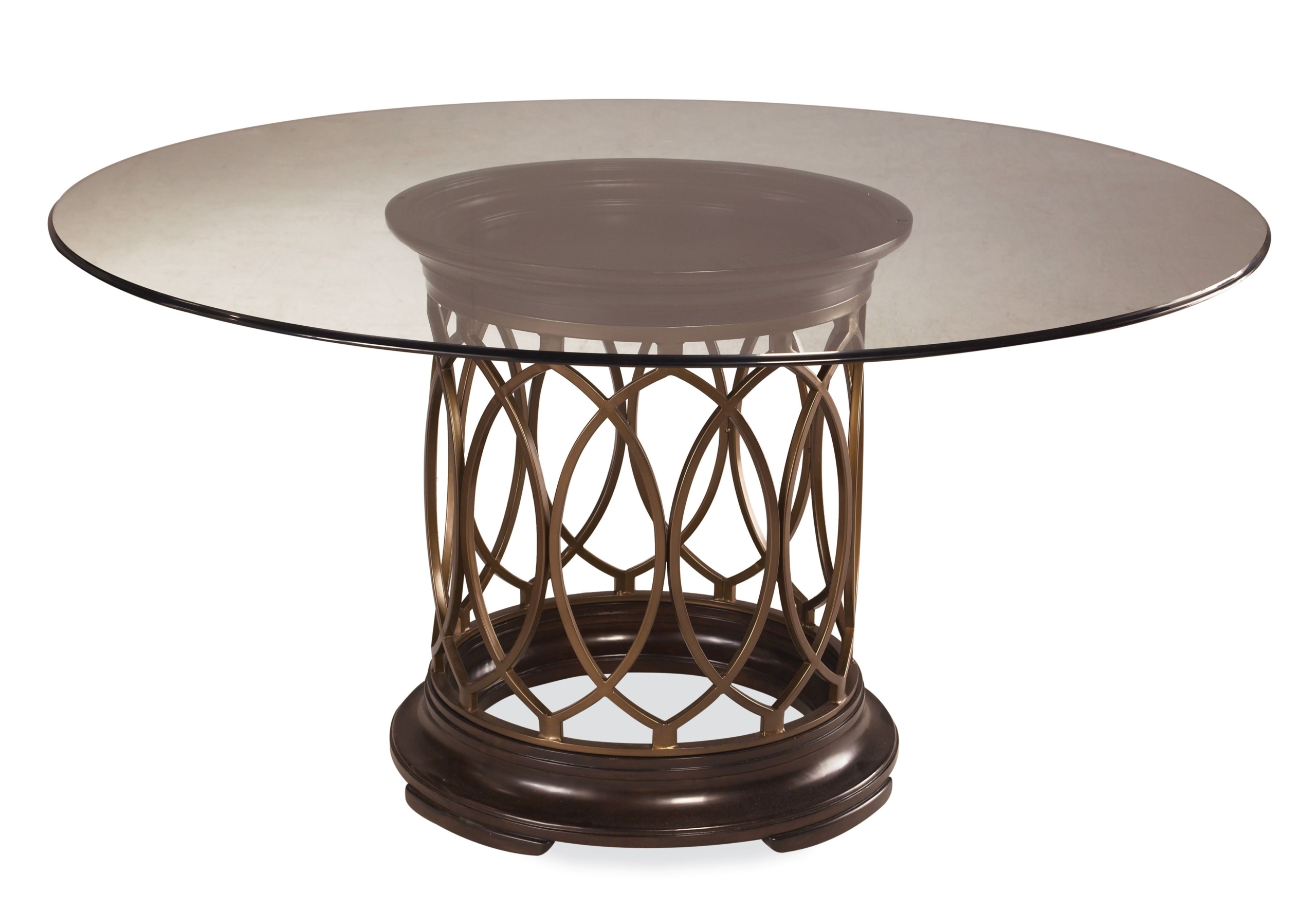 ART Intrigue Round Glass Top Dining Table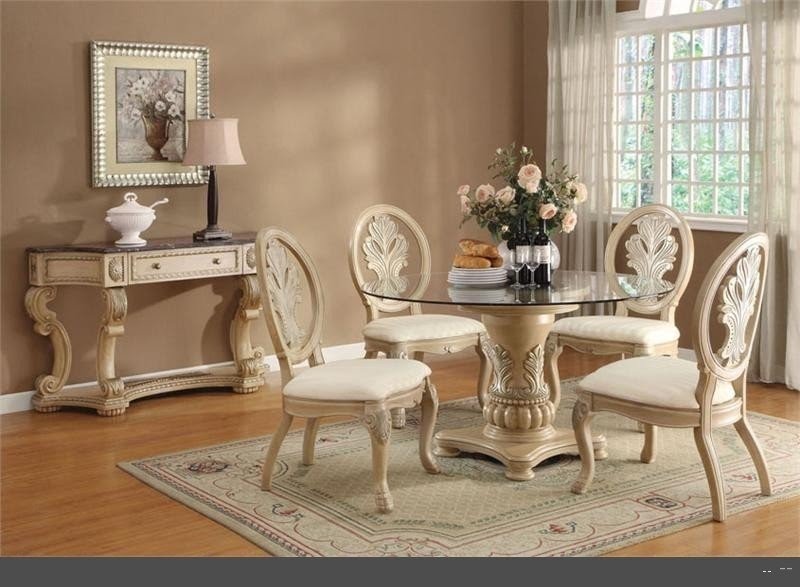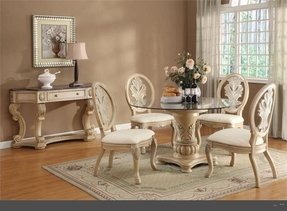 Furnish your dinette with the antique 5-piece dining set. It includes the round glass table and four beautiful dining wooden chairs with padded seats. Everything is in creamy color palette with floral details.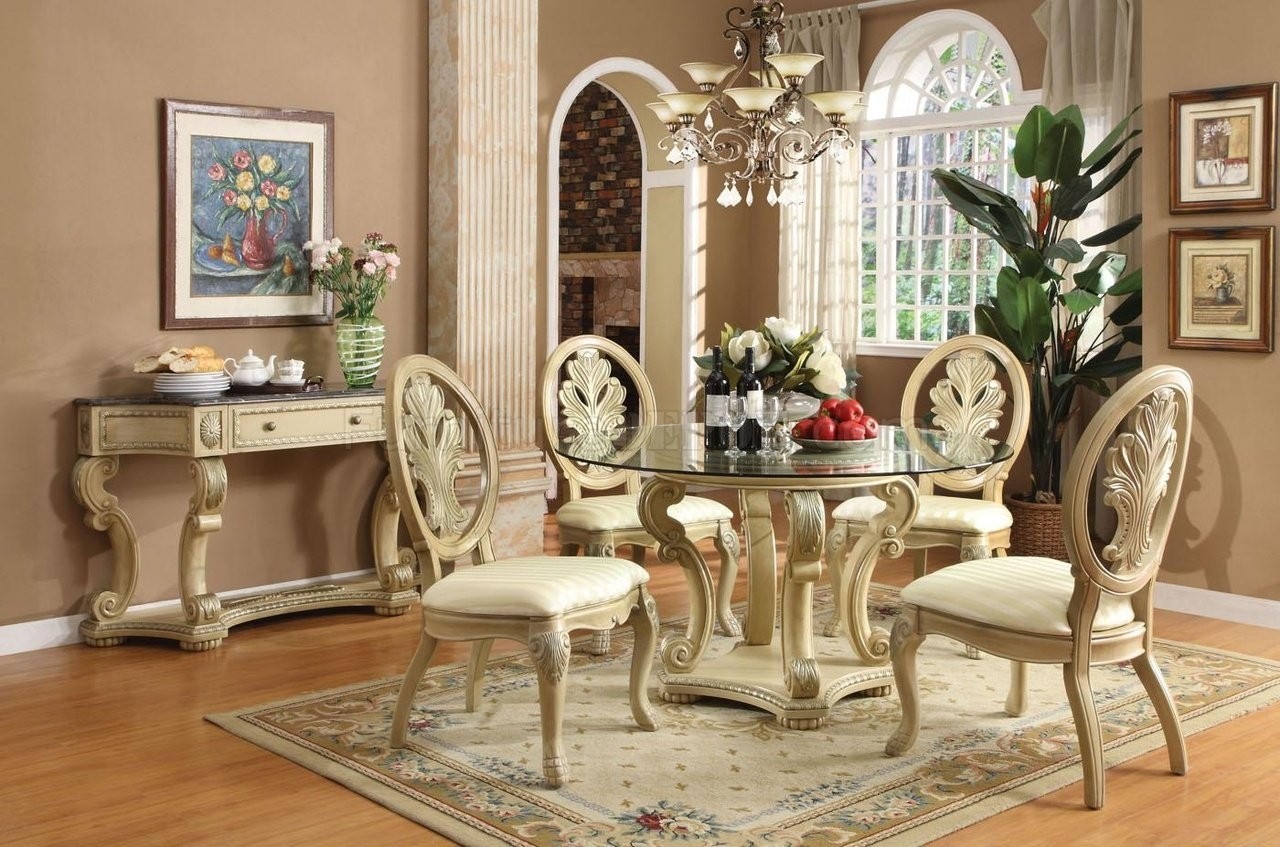 Round Glass Top Kitchen Table Set ~ Round Glass Top Kitchen Tables ...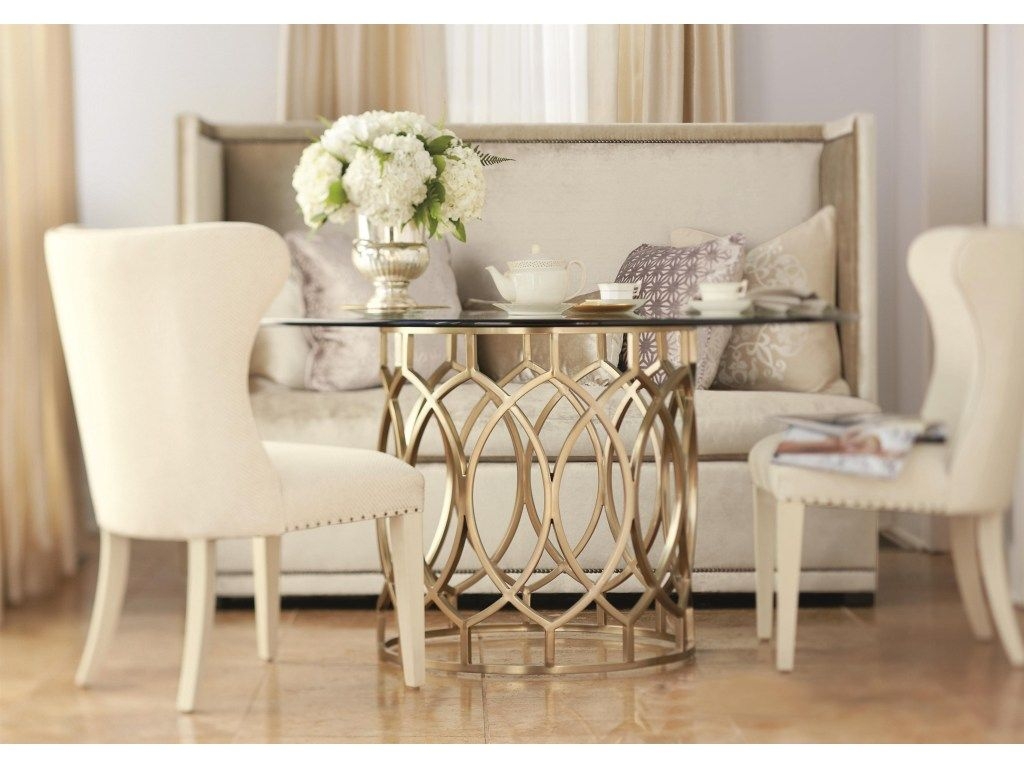 This beautiful dining table delights with its openwork, geometric metal base, which corresponds perfectly well to the glass top. Designed by Bernhardt, it shall enchant all, who love contemporary design.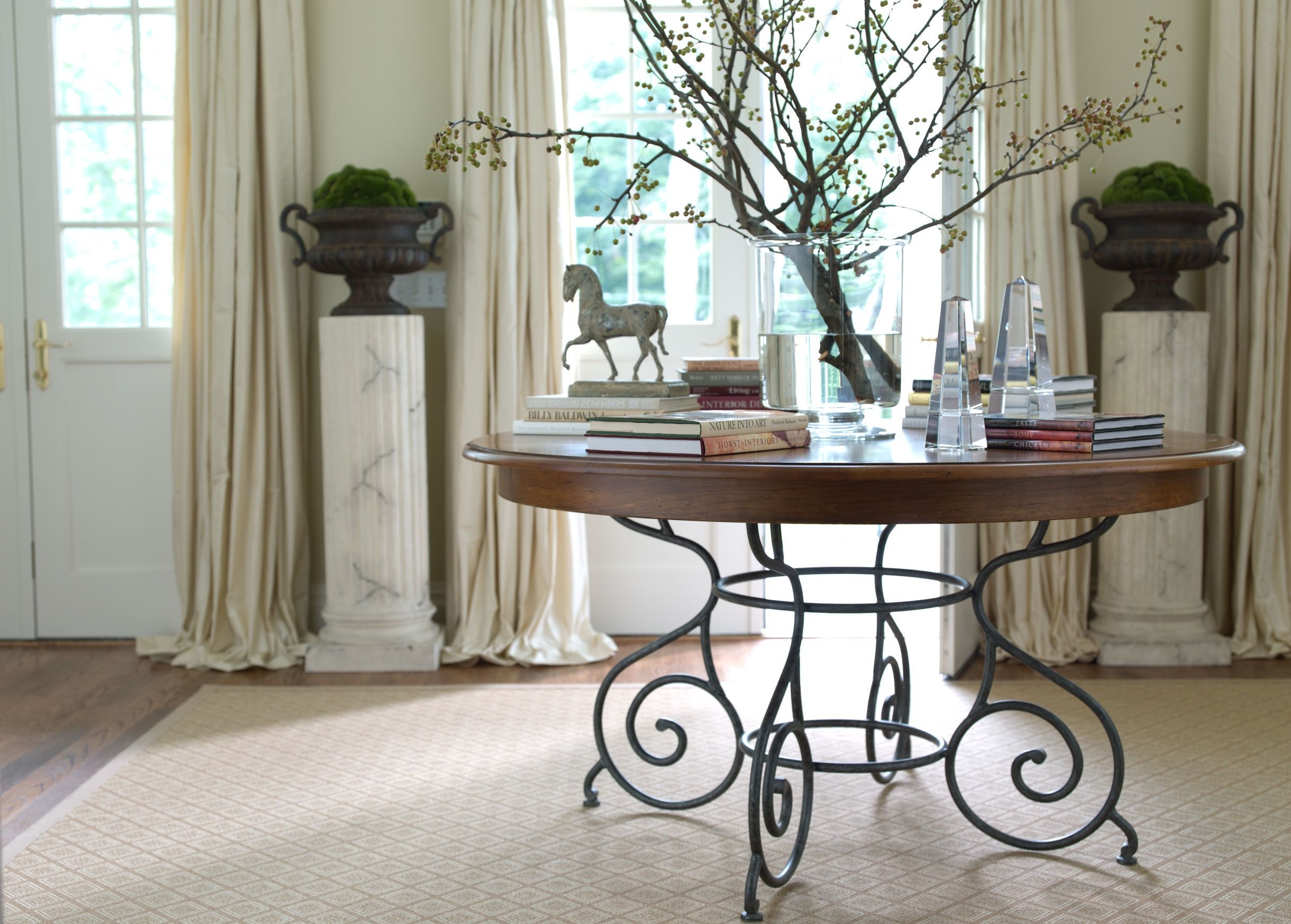 A chic traditional antique kitchen table featuring an ornate base of black coated iron. It's built of 4 beautifully scrolled legs joined by 2 ring stretchers. A round top with a butterfly leaf and a simple apron is of wood finished in warm browns.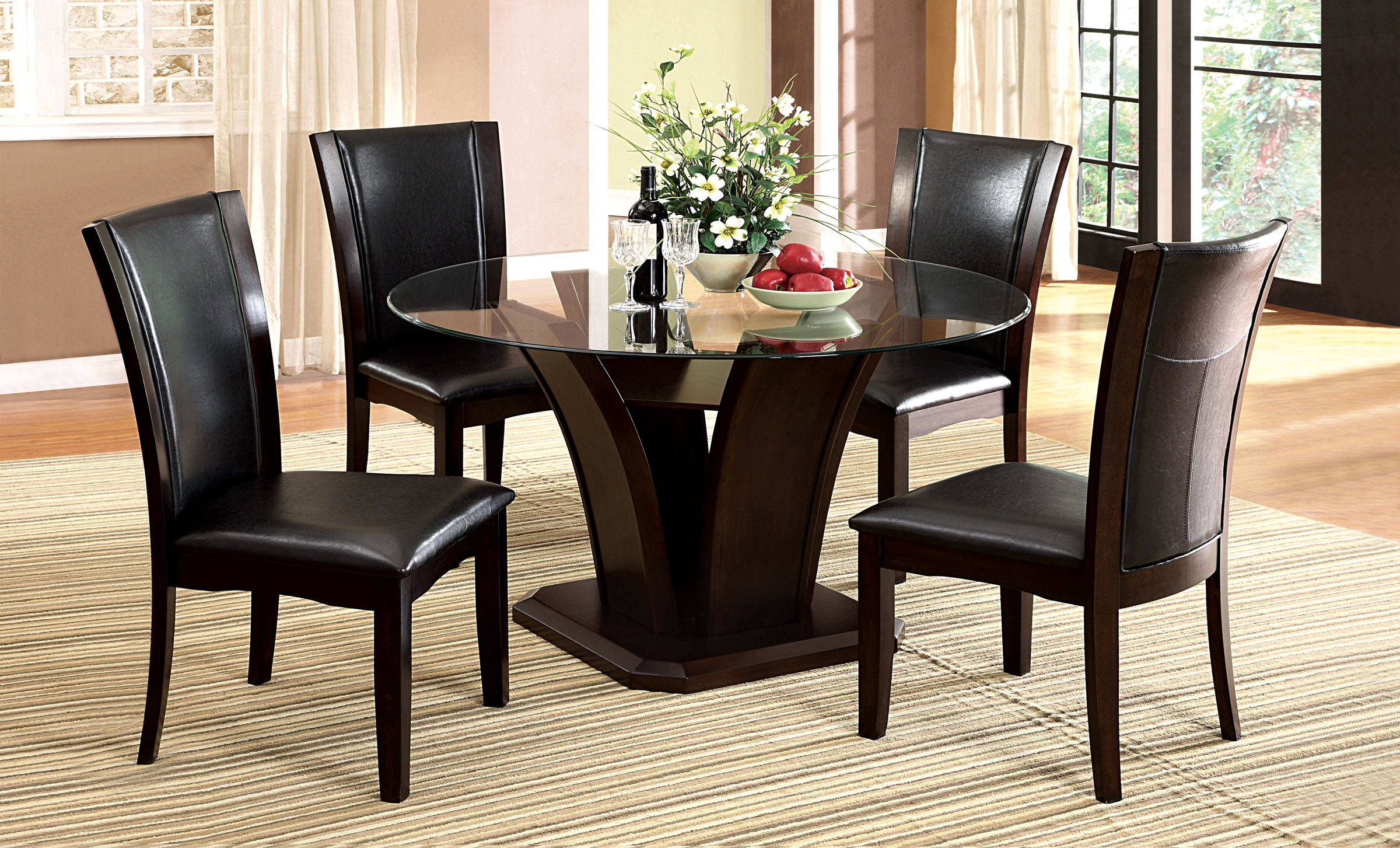 Dining table mounted on wooden base and fitted with round glass top. It has 4 seating capacity. Suitable for residential and commercial premises. Classic form and contemporary design.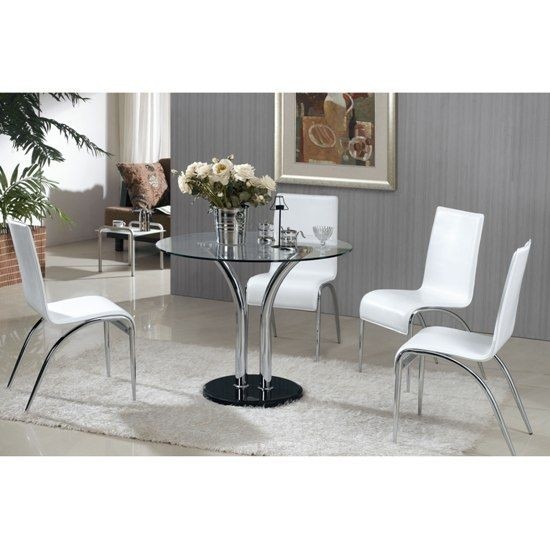 Kitchen table with a round glass top supported by two metal legs in nice chrome finish. This piece of furniture also features a round base in black color. The whole table seats up to four people and looks perfectly in modern indoors.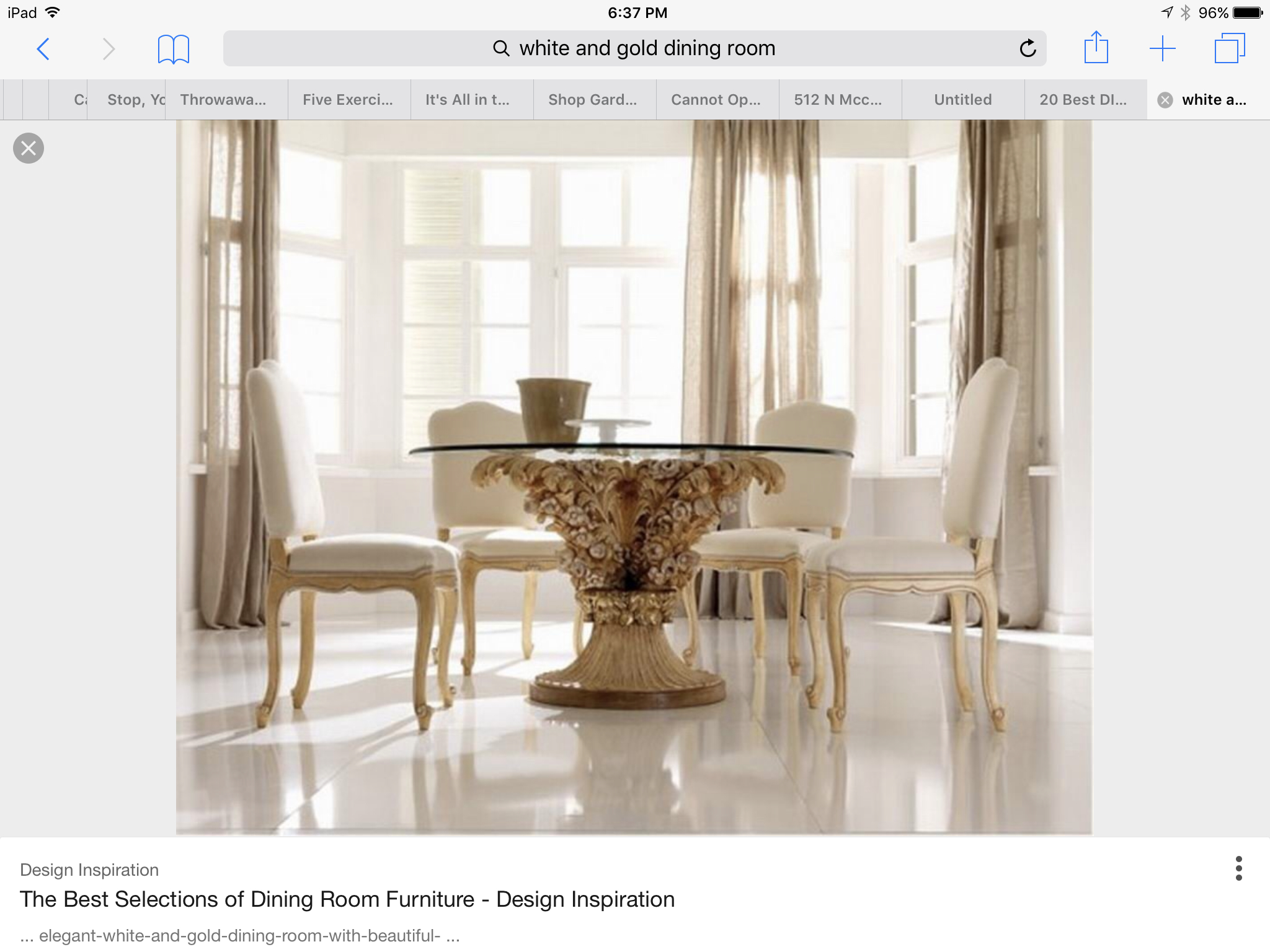 55 Glass Top Dining Tables With Original Bases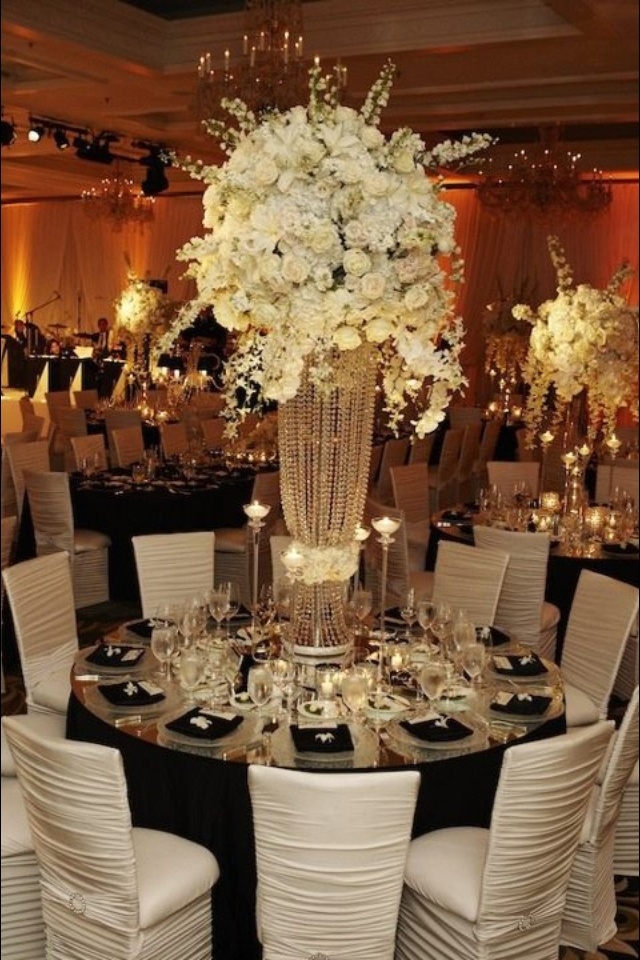 Over-the-top arrangement for a large dinner party with round dining chairs covered in black fabric and with a mirrored top providing a classy complementing look to the white, slightly ruffled dining chairs in white color.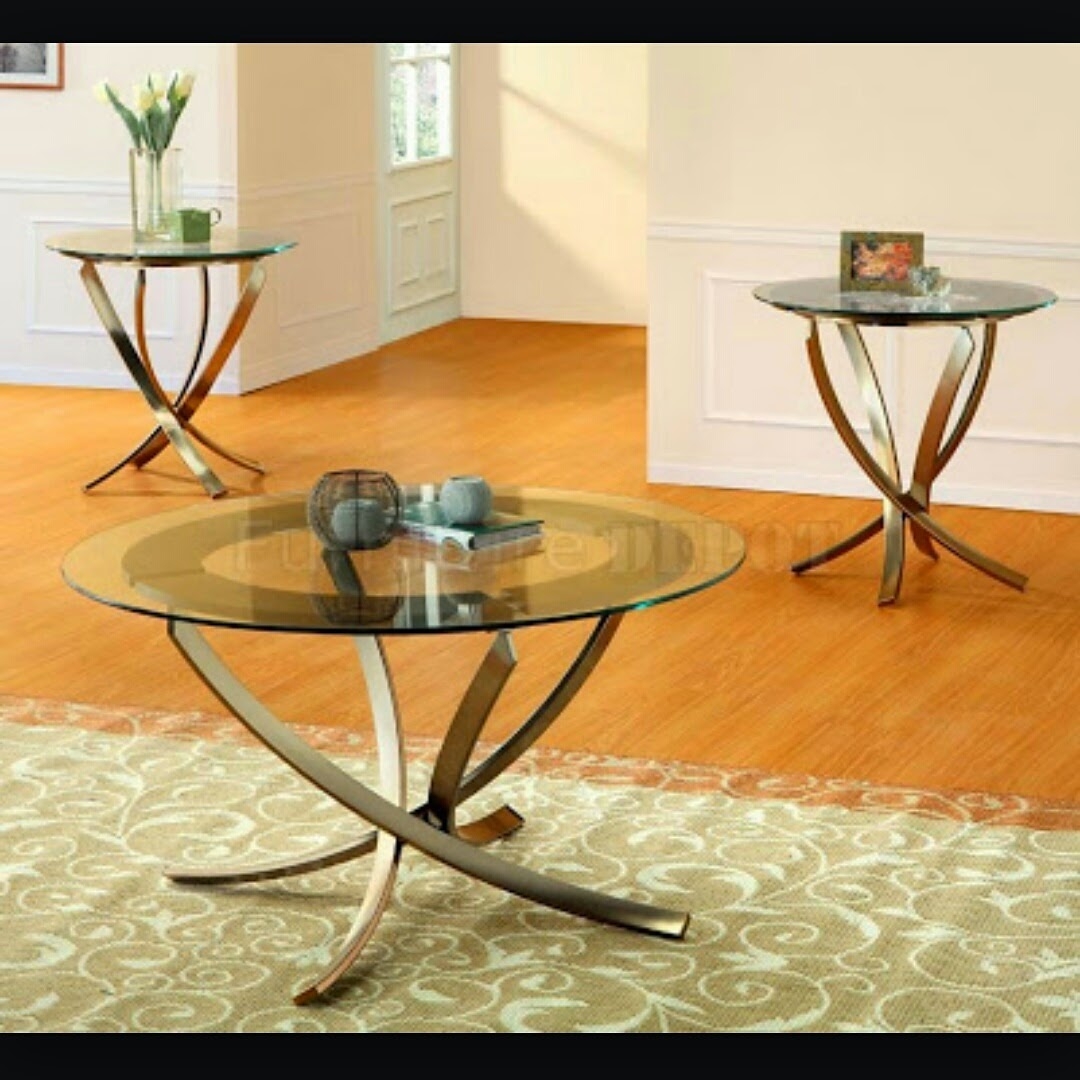 Elegant and attractive, this set of 3 coffee tables is going to enhance your room with modern flare. Each table has a bronze-finished steel frame with a lovely sweep and twist, and a round top made of clear glass.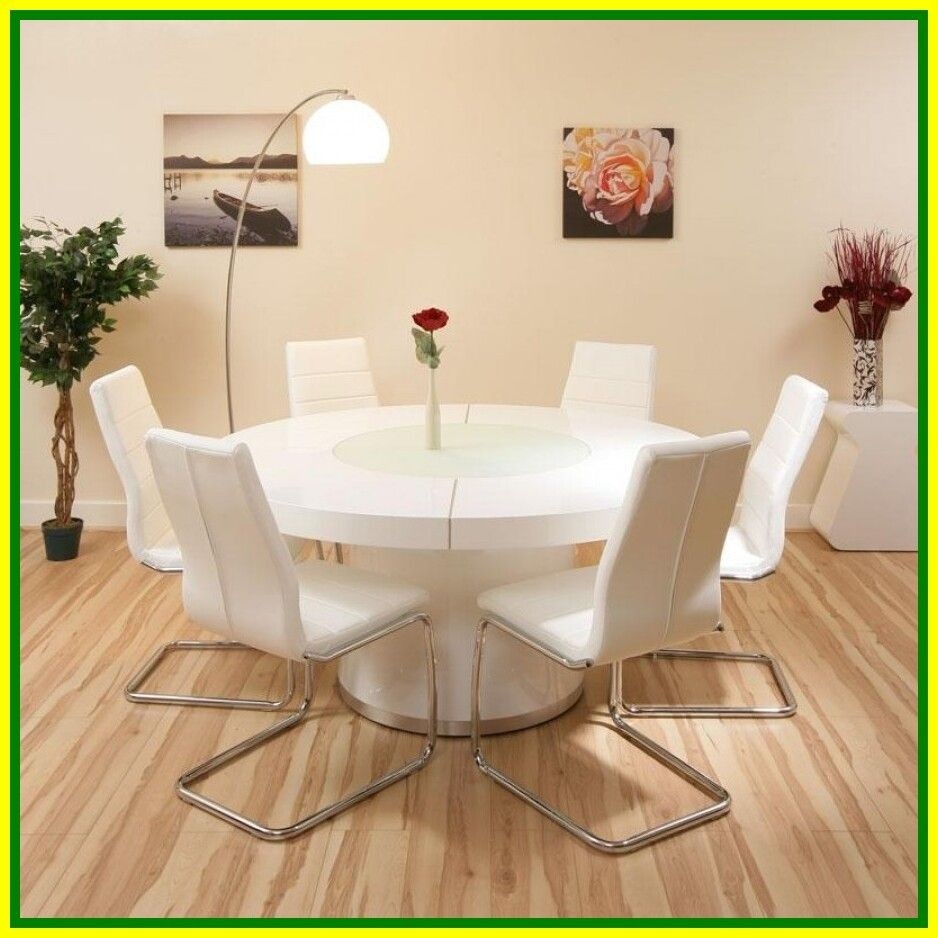 Why not opt for a lovely round kitchen table that will blend splendidly with the modern styled interior of your home? It offers a clean look with the glossy, white finish and extra storage space on the base.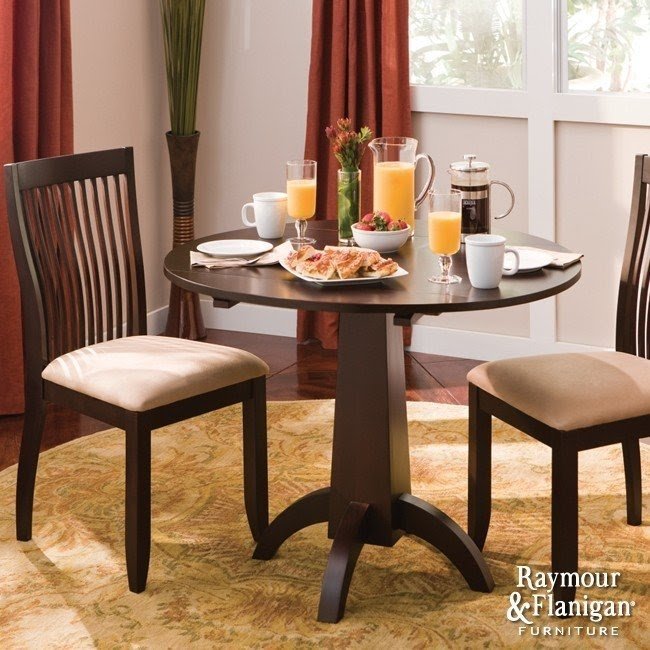 Denby Dining Set | Designed for a small kitchen or breakfast nook.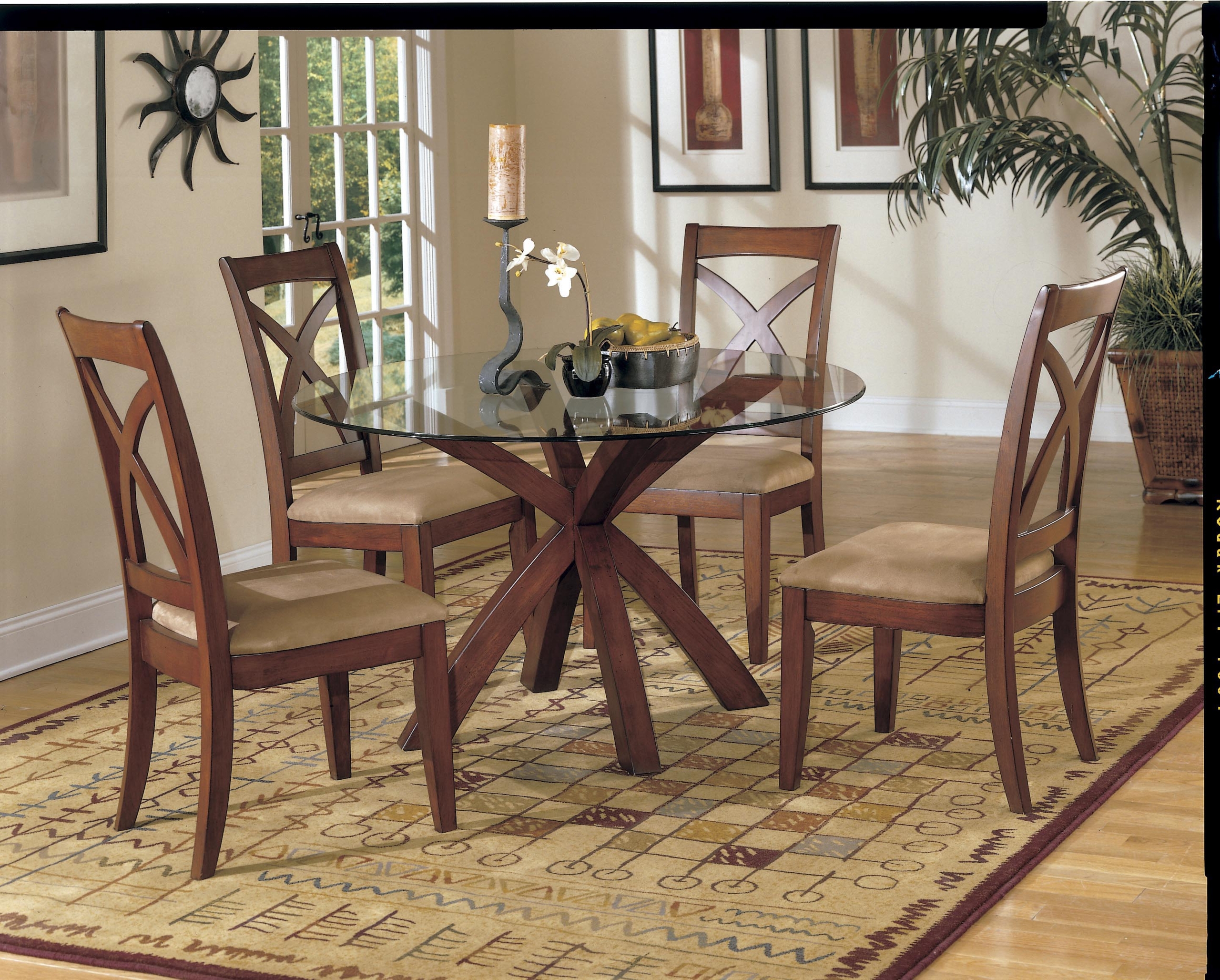 Bring some geometric flair to your dining room or kitchen, by deciding on this elegant set of 1 round table and 4 matching chairs. The 48'' table has a clear glass top and pedestal base, while the chairs feature X-shaped backs and leatherette seats.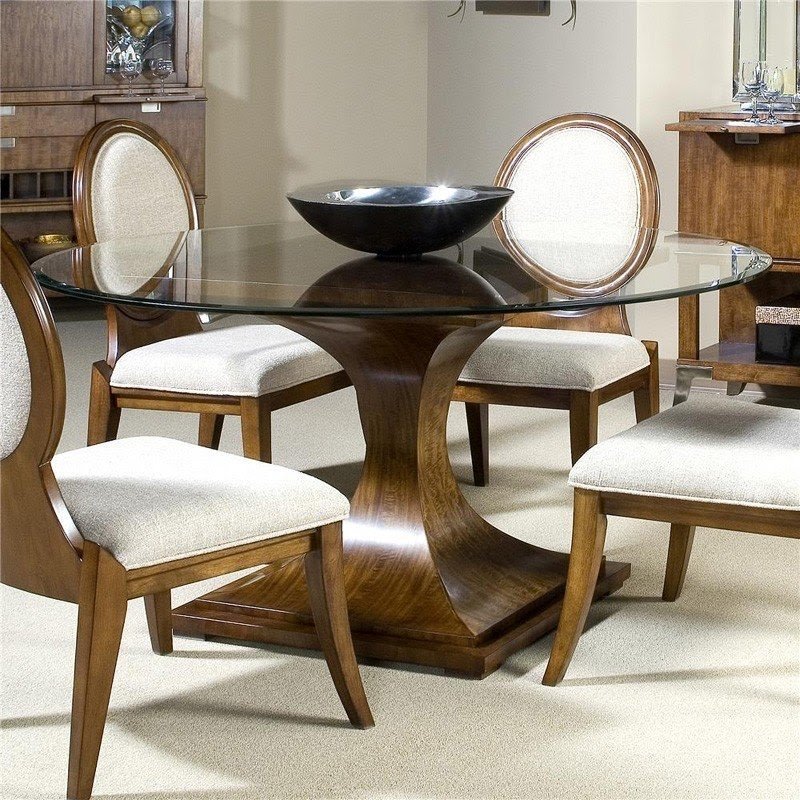 PC Concorde Suite Round Glass Dining Room Furniture Set by Fairmont ...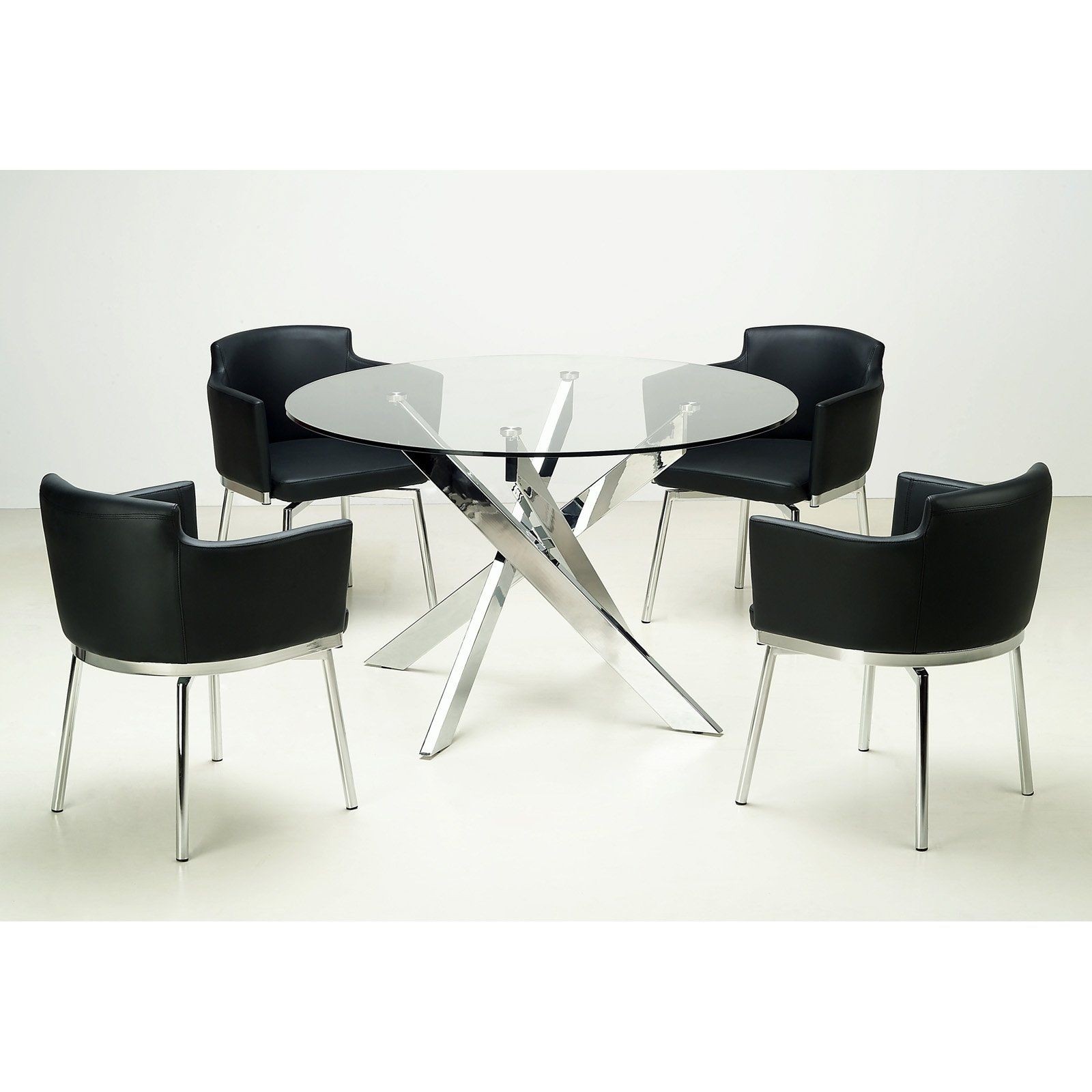 Set of stylish, minimalistic furniture, which play its role the best in dining room or kitchen. It is composed of four metal chair with black leather seat and circle table with glazed desktop and metal kickstand in fancy shape.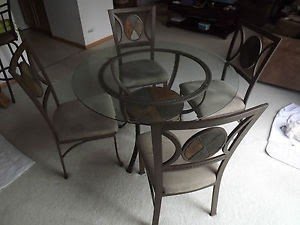 ... 45" Diameter Round Glass Top Dining / Kitchen Table Set W / 4 Chairs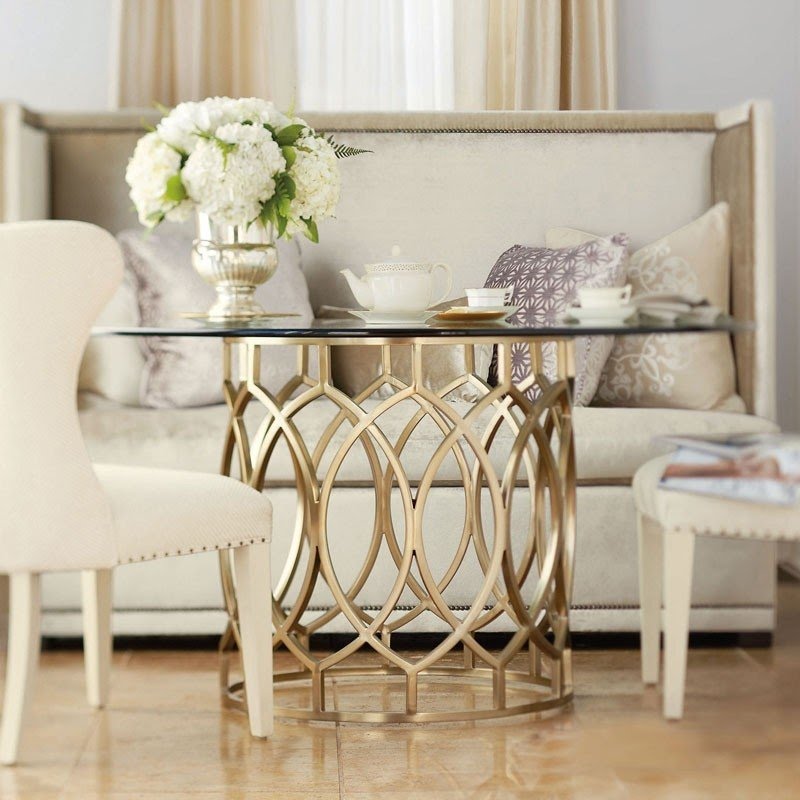 An attractive modern kitchen table featuring an openwork cylindrical base of gold finished metal. It's composed of 12 overlapping vertically arranged ovals. A round top is made of clear tempered glass.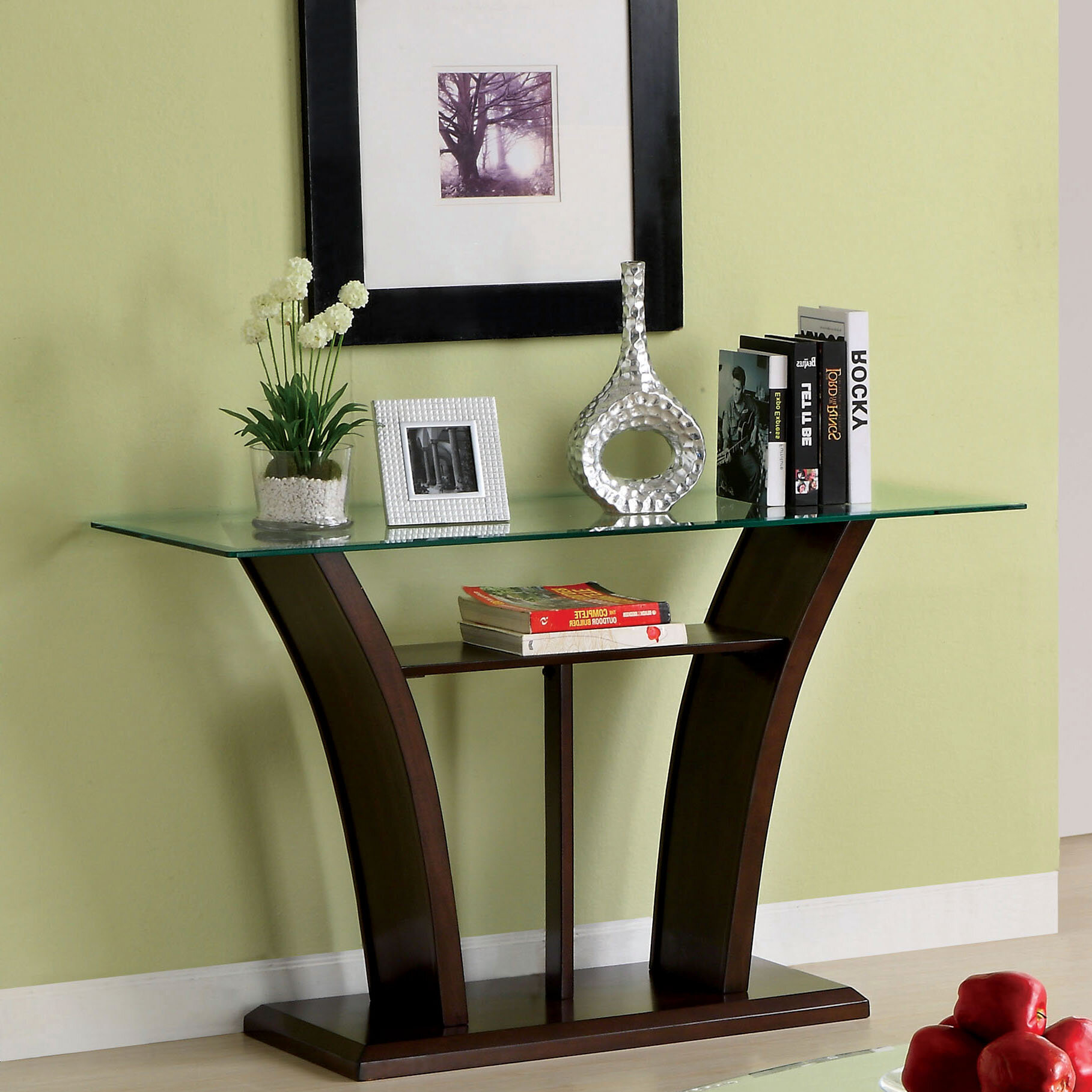 This sofa table has got a dark cherry brown wood frame and contemporary style. It is perfect to put on your decorations, books or other items. It measures 50 inches wide, 18 inches deep and 31 inches high.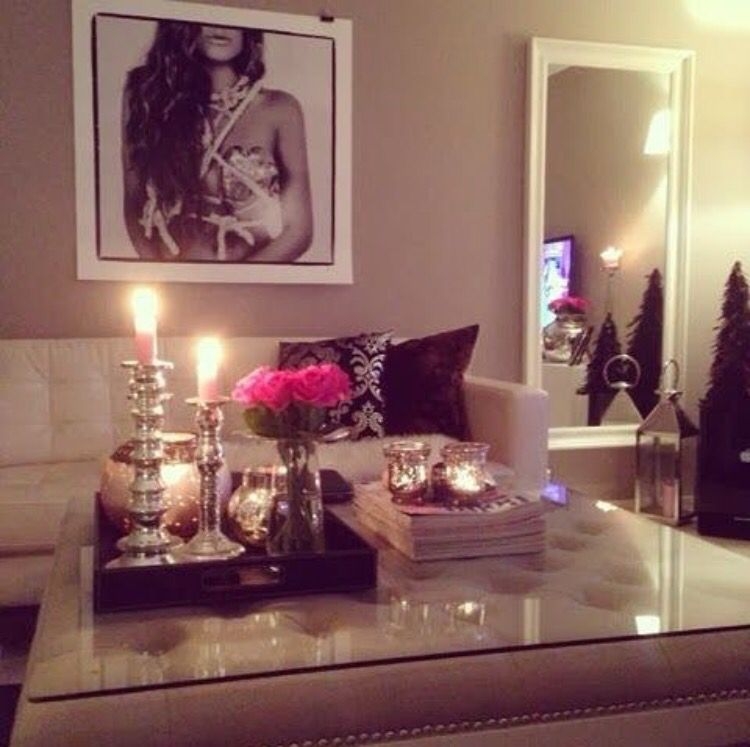 An attractive traditional ottoman and coffee table in one. It has a square wooden frame. It's upholstered in creamy fabric with button tufting on a top and nailhead trims along edges. A top is covered with a tile of clear safety glass.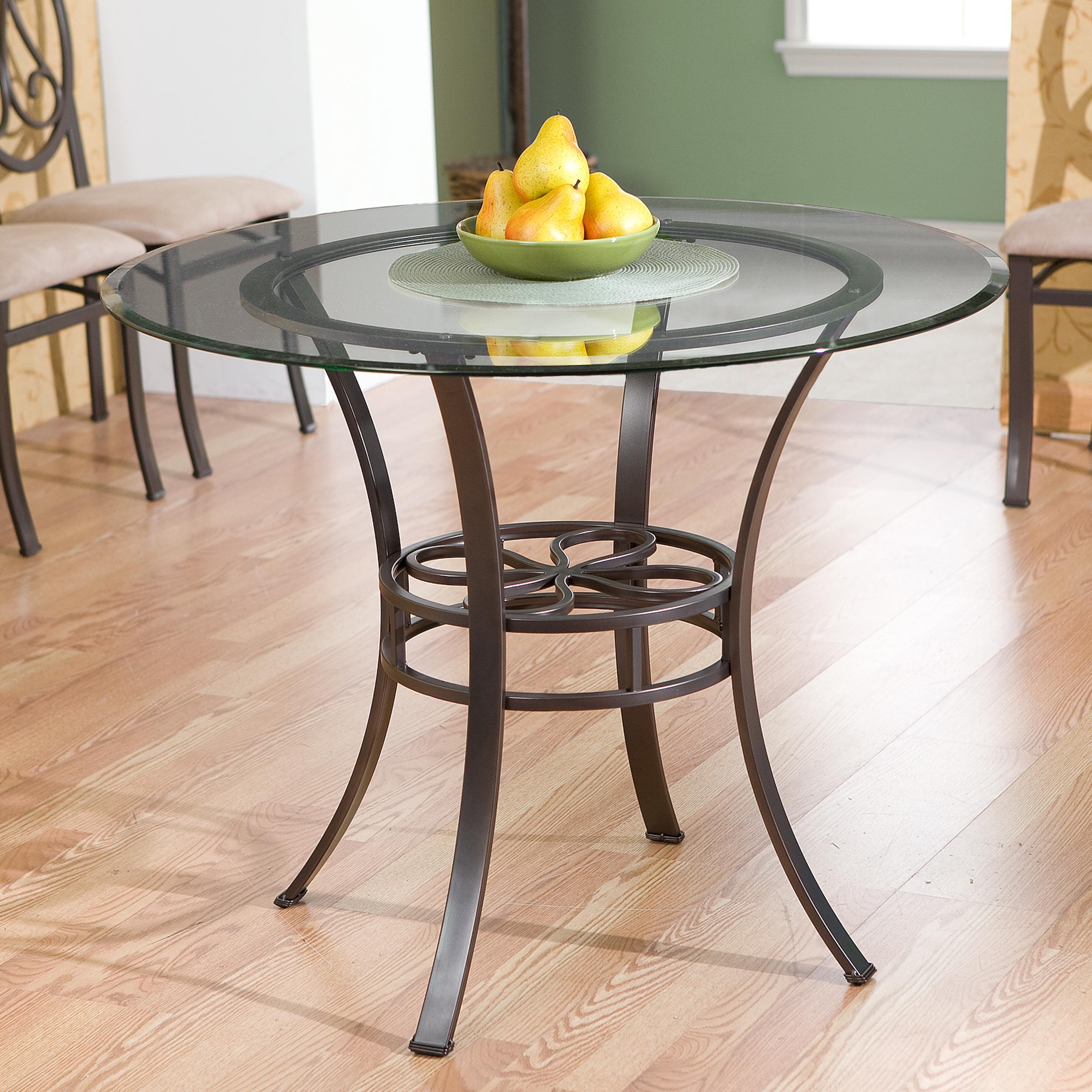 This round glass dining table delights with its characteristic bending, which thanks to their metal construction maintain solidness and durability. It features also an ornately designed middle shelf.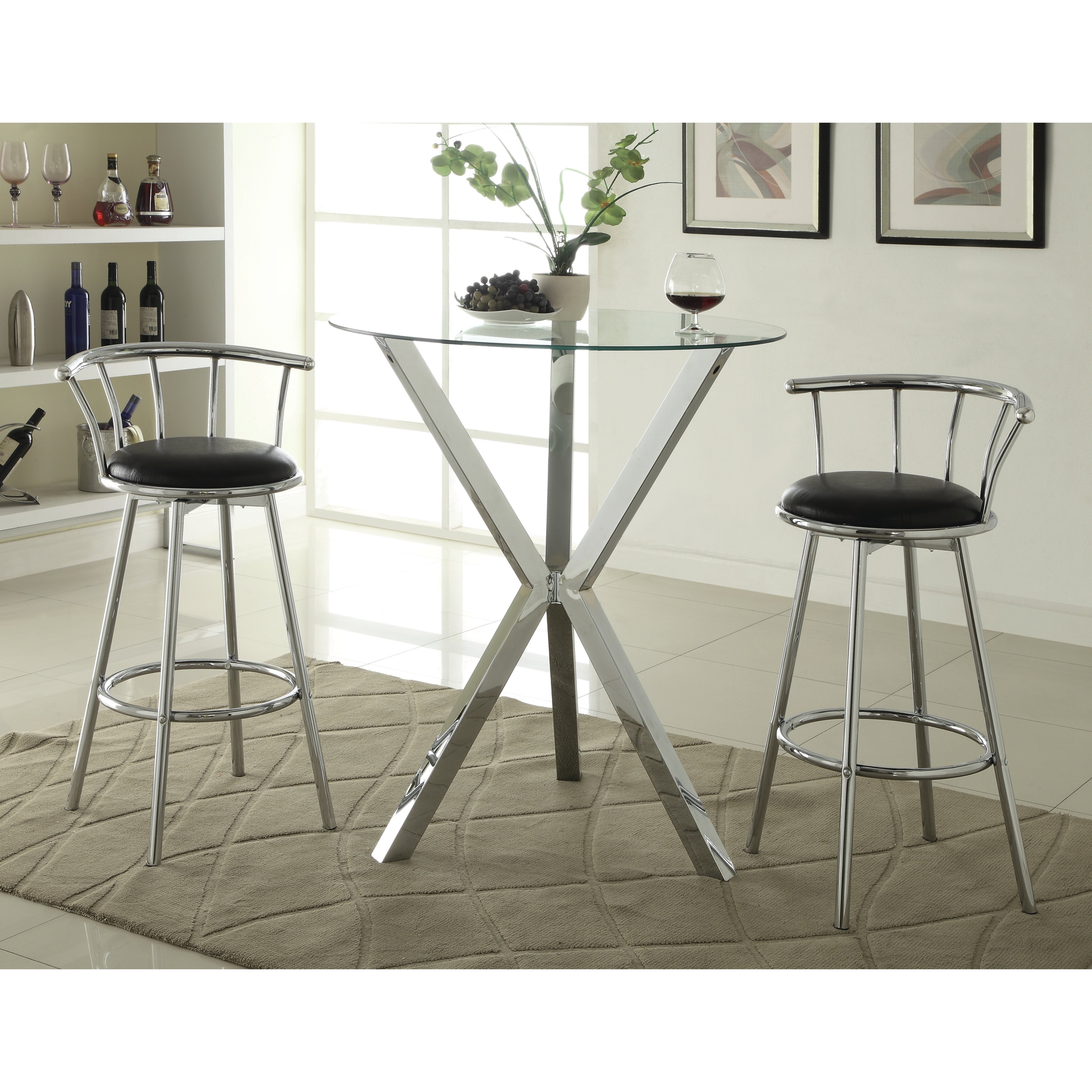 Coaster Bar Units and Bar Tables Kitchen Table Round Pub Table with Glass Top and X-Shaped Chrome-Colored Base - Coaster Fine Furniture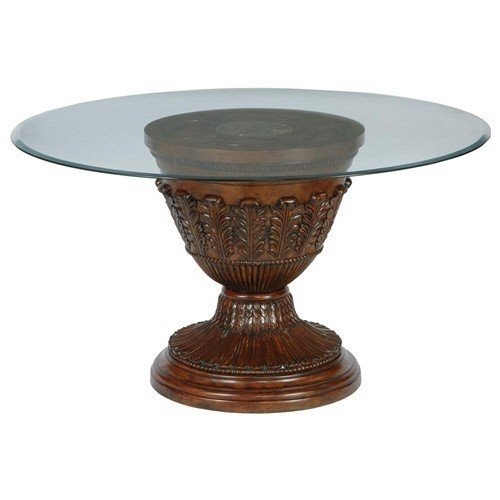 ... Kitchen Table > Millennium Ledelle Glass Top Round Dining Room Table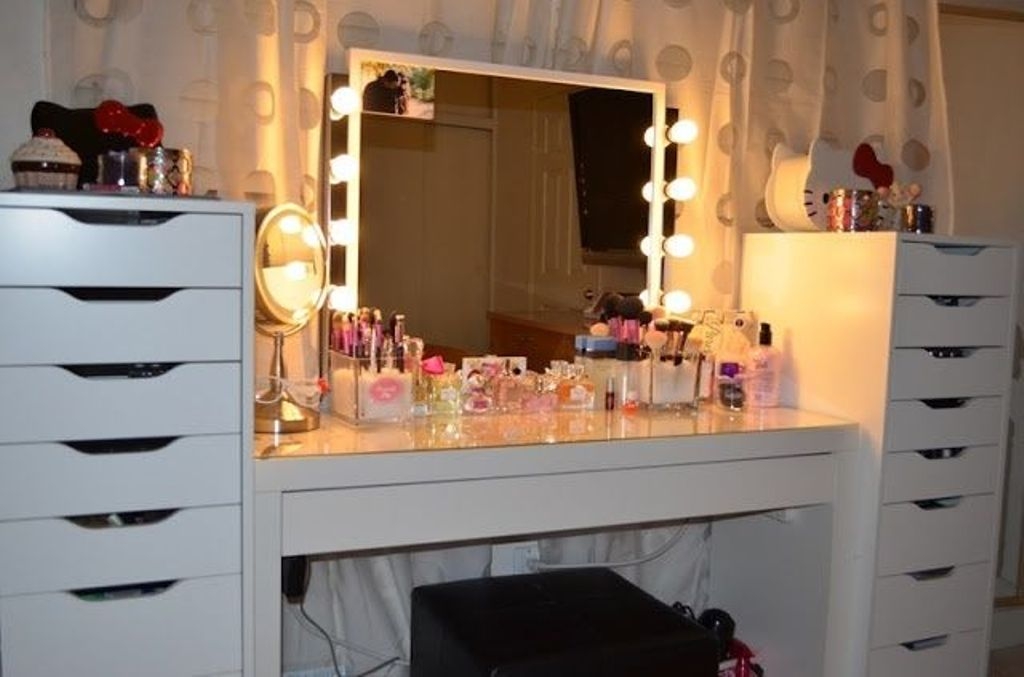 Makeup vanity set with a simple table. Its construction includes straight lines and neutral white finish. This set also includes two storage towers with practical drawers. They are also made of wood and finished in white color.