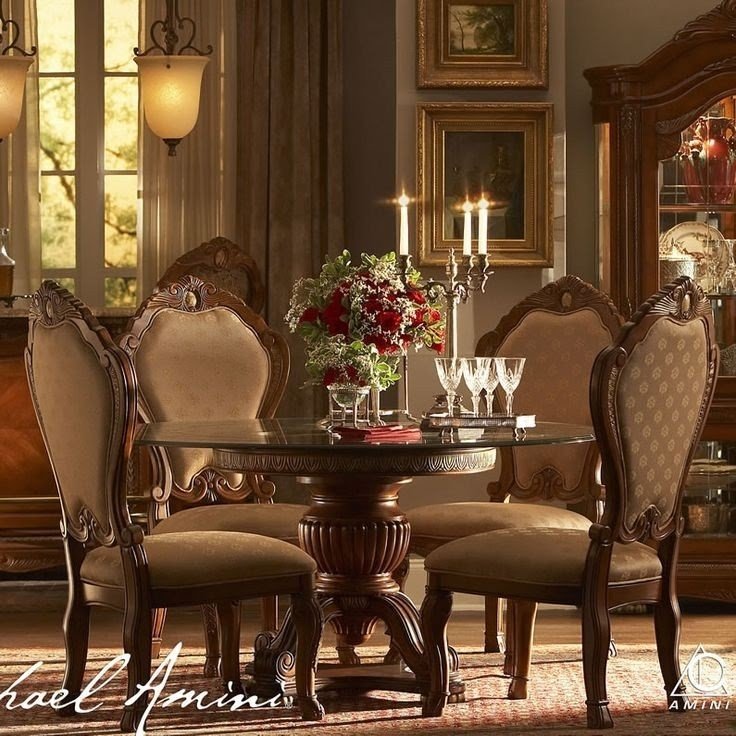 Modern dining room table set featuring a super-compact table, supported by a beautifully crafted rounded wooden base and finished with a stunning glass tabletop. The set also features four chairs with a high backrest and beautiful wingback design. The chairs are padded and upholstered in suede-like fabric.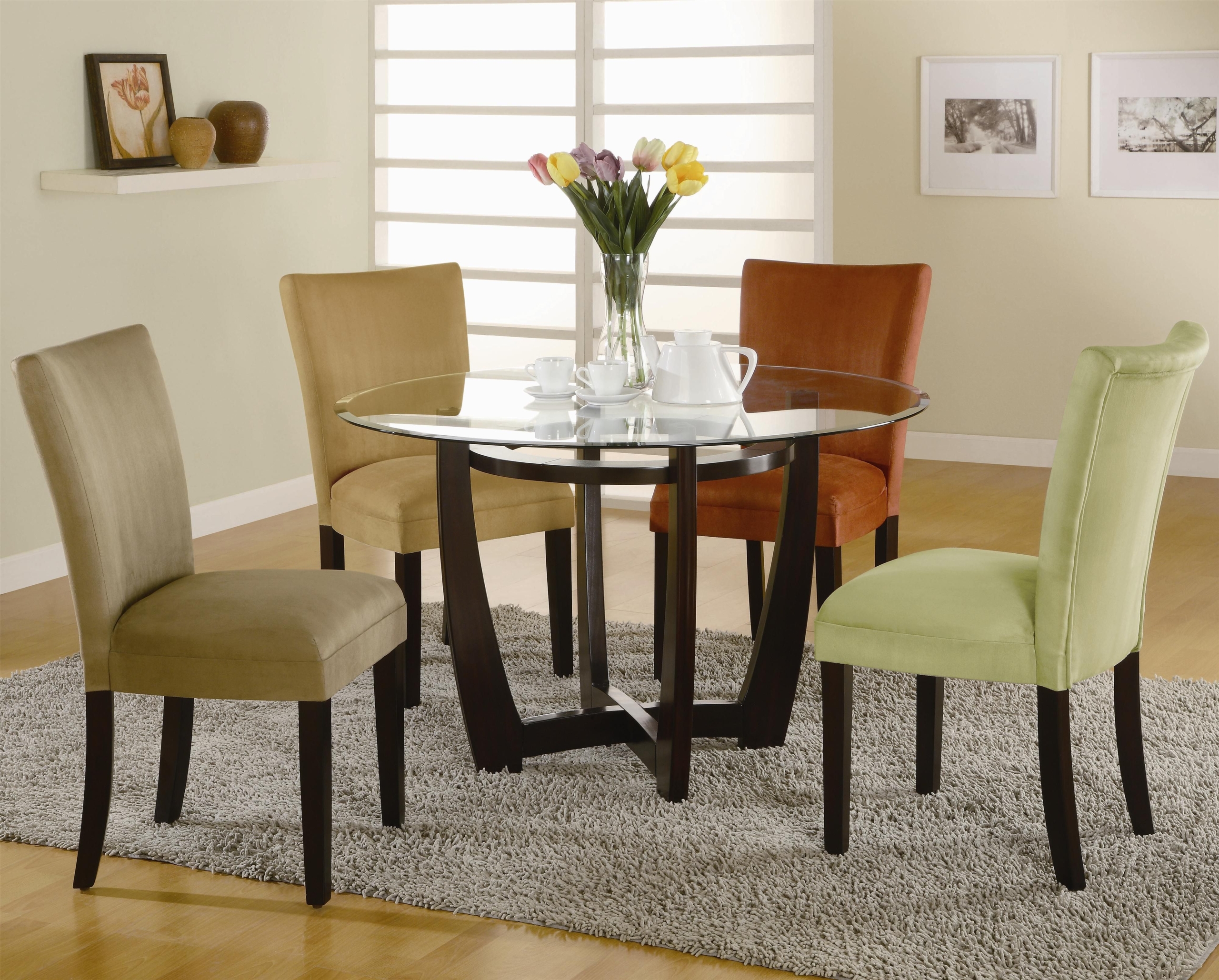 An amazing round dining table with a clear glass top and a hardwood base in a deep cappuccino finish. Additionally, the base features stylish cross design and you can easily find a perfect set of chairs to match.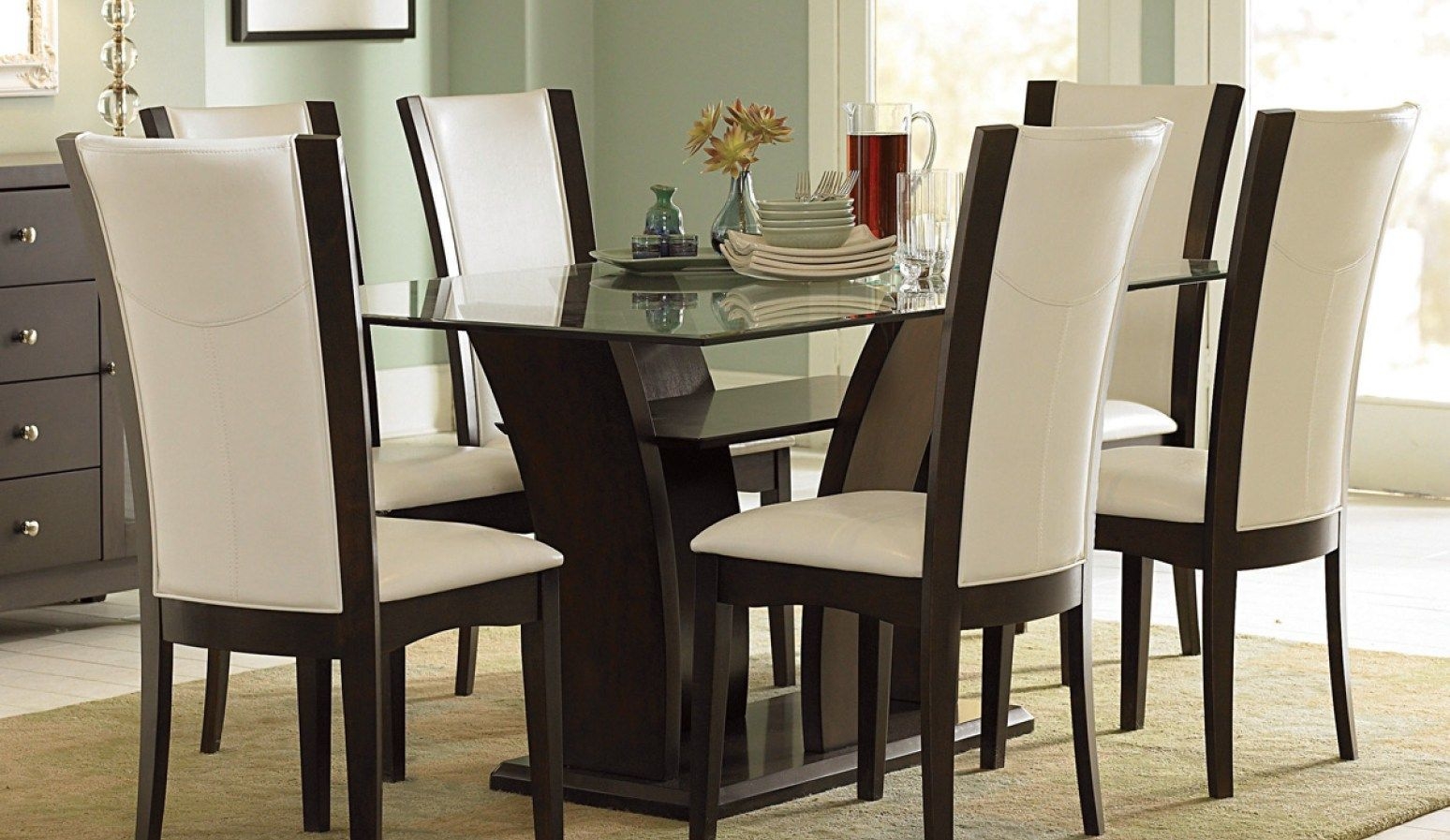 Furniture, Glass Top Wooden Base Fine Modern Dining Table Design With ...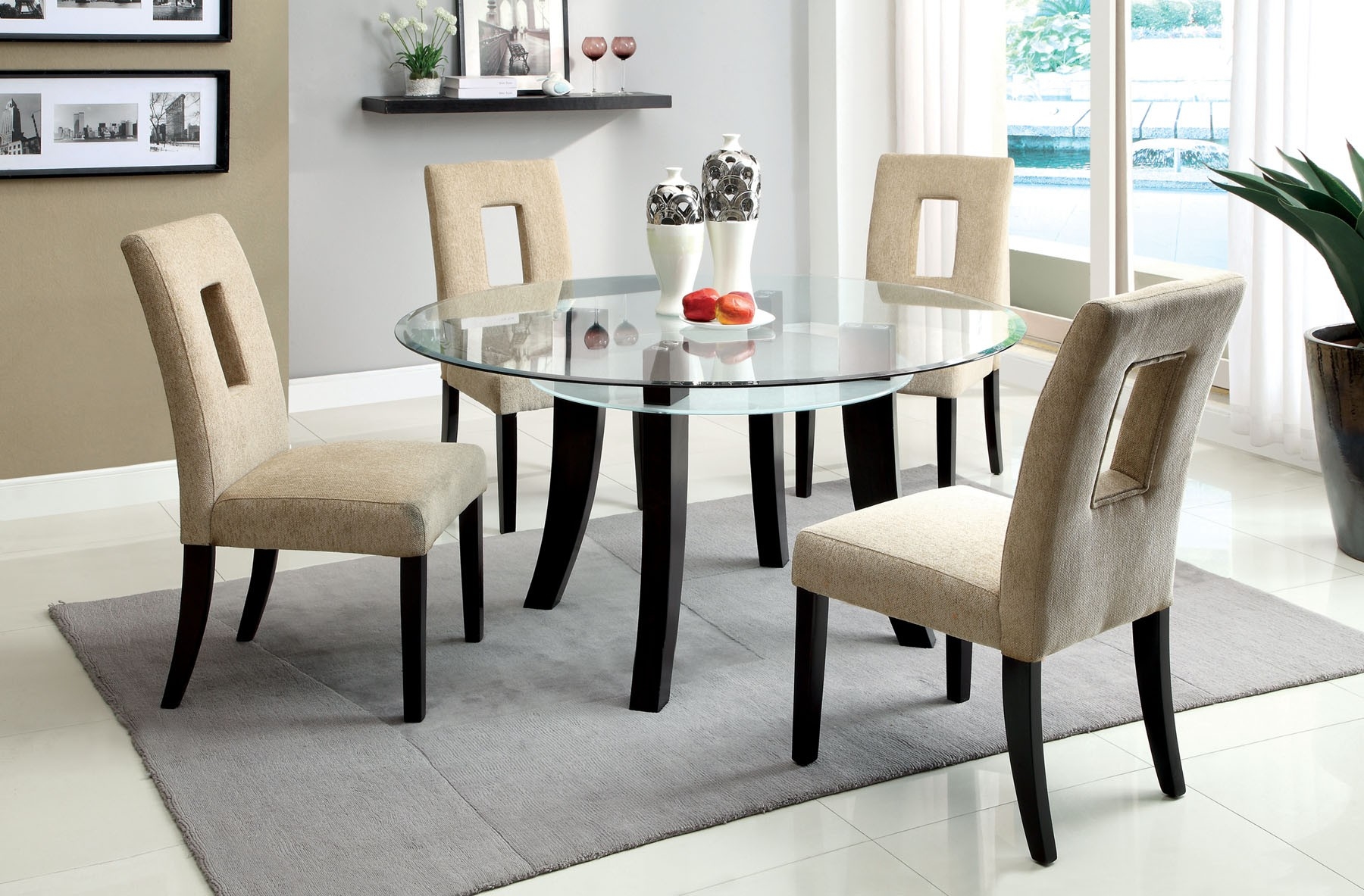 Furniture set for dining room applications. It includes four durable chairs based on solid wooden frames. These chairs offer soft seats and supportive backrests with rectangular openings. Dining table also offers wooden legs that provide support for a round, glass top.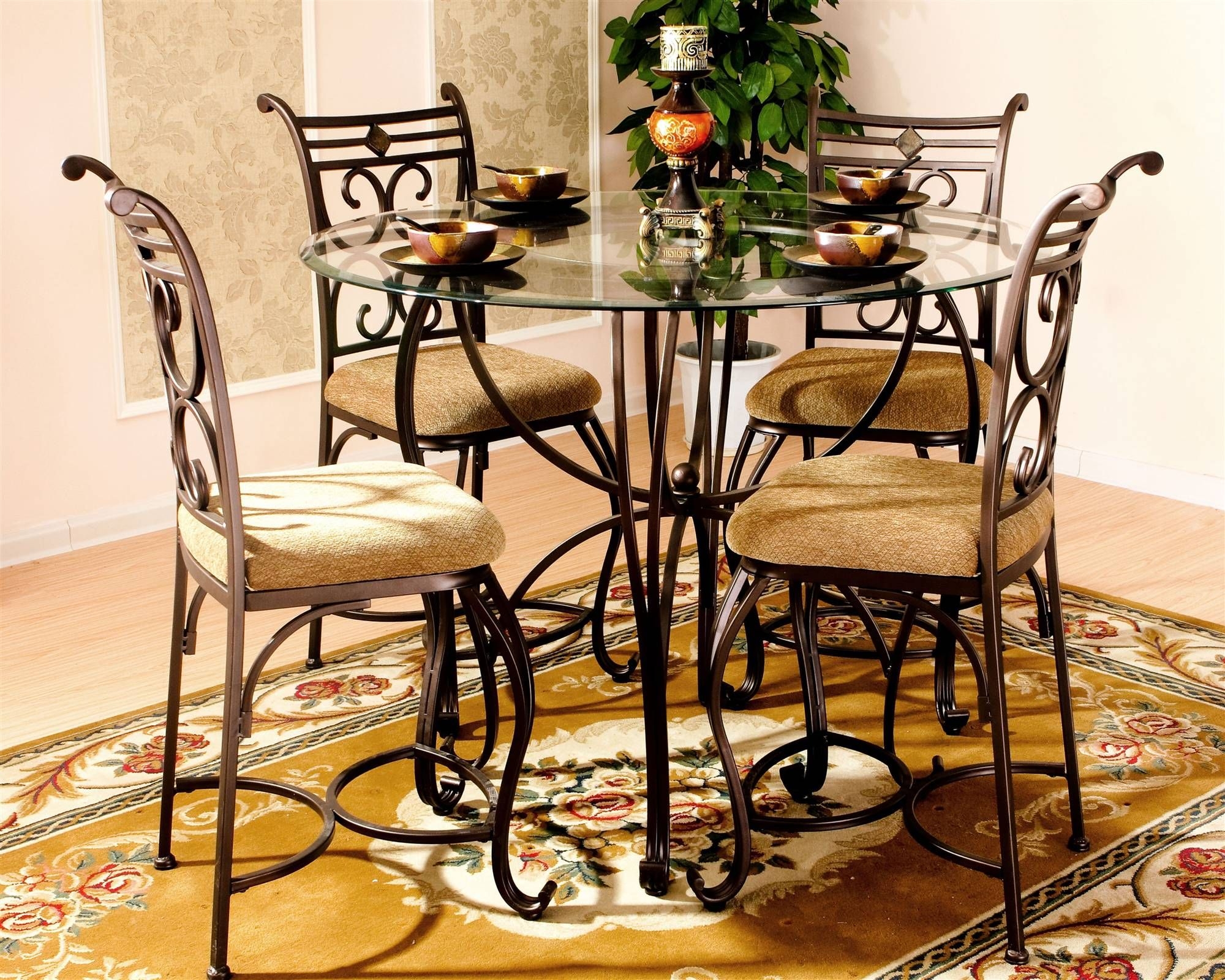 Excalibur 5 Piece Counter Height Dinette Set
Dining set consisting of table and four chairs. Top of the table is made of glass, whereas base of the table and the chairs is made of metal. This makes the set very durable and sturdy. Additionally, the materials are non-toxic and eco-friendly.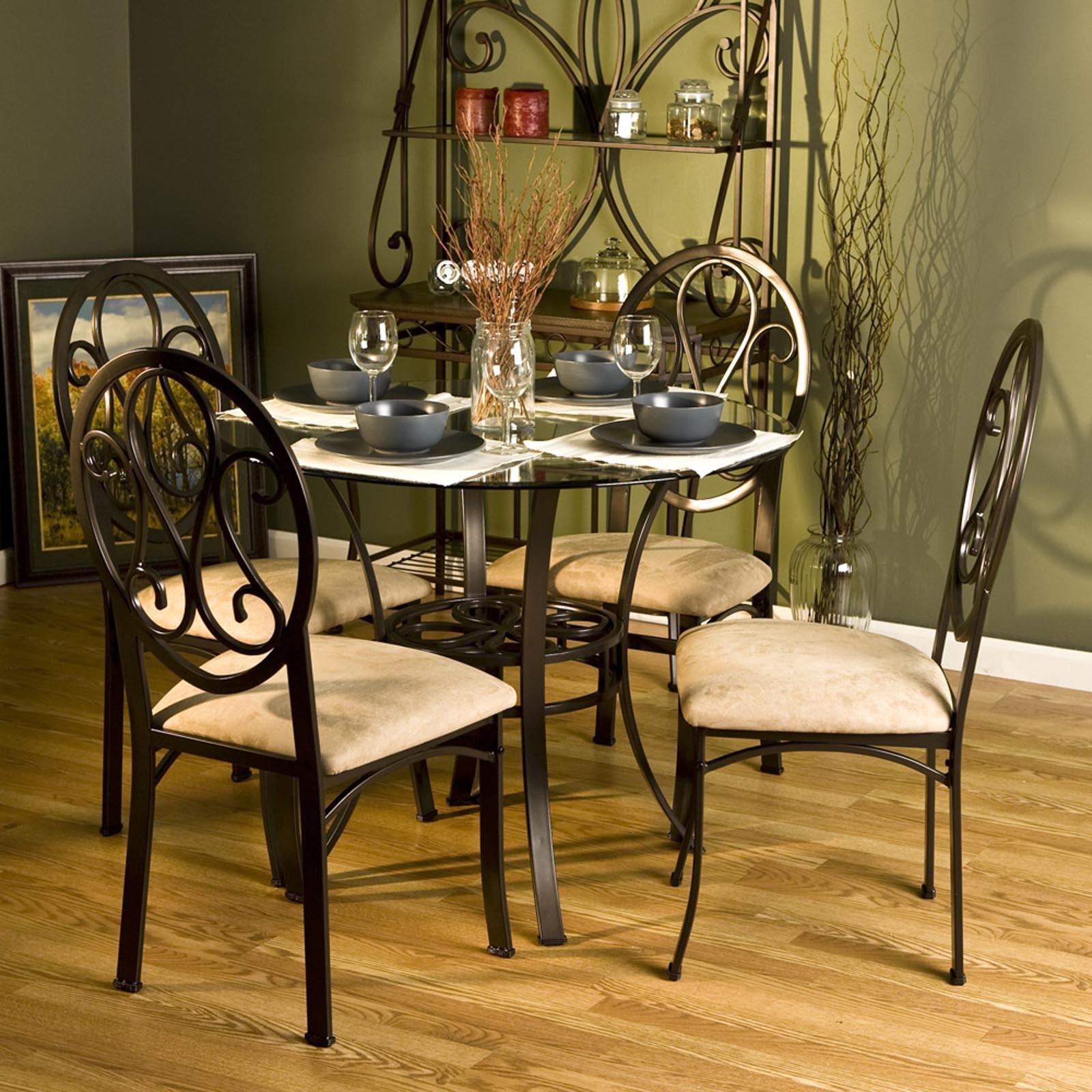 A table created for use in dining rooms. This piece of furniture has got a solid metal frame supported by a round lower decorative shelf. The top has also got a round shape and it is made of durable glass.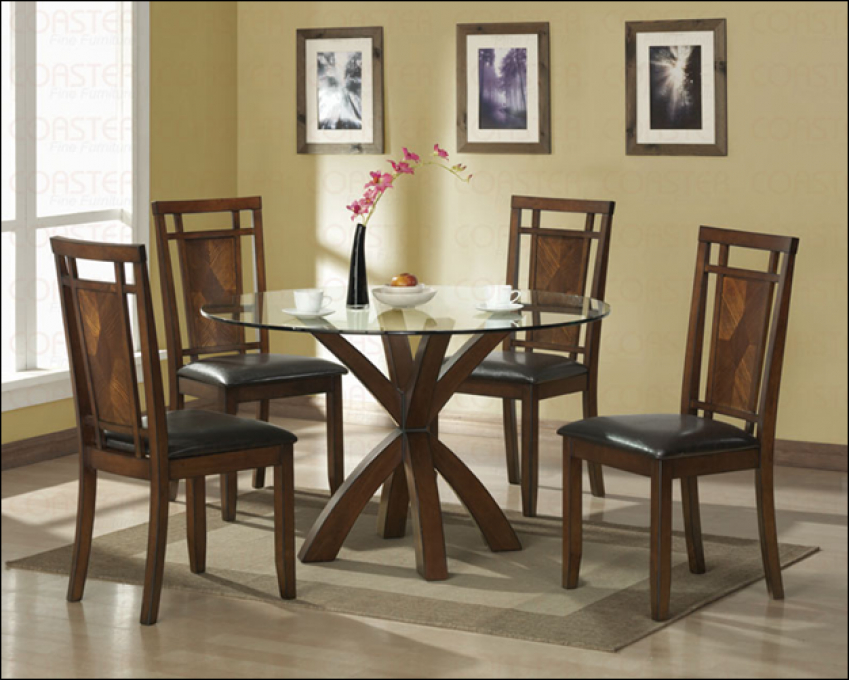 Round dining table with glass top. It is mounted on crossed legs made of wood. Contemporary design for the living room, dining room and others interiors according to taste and need.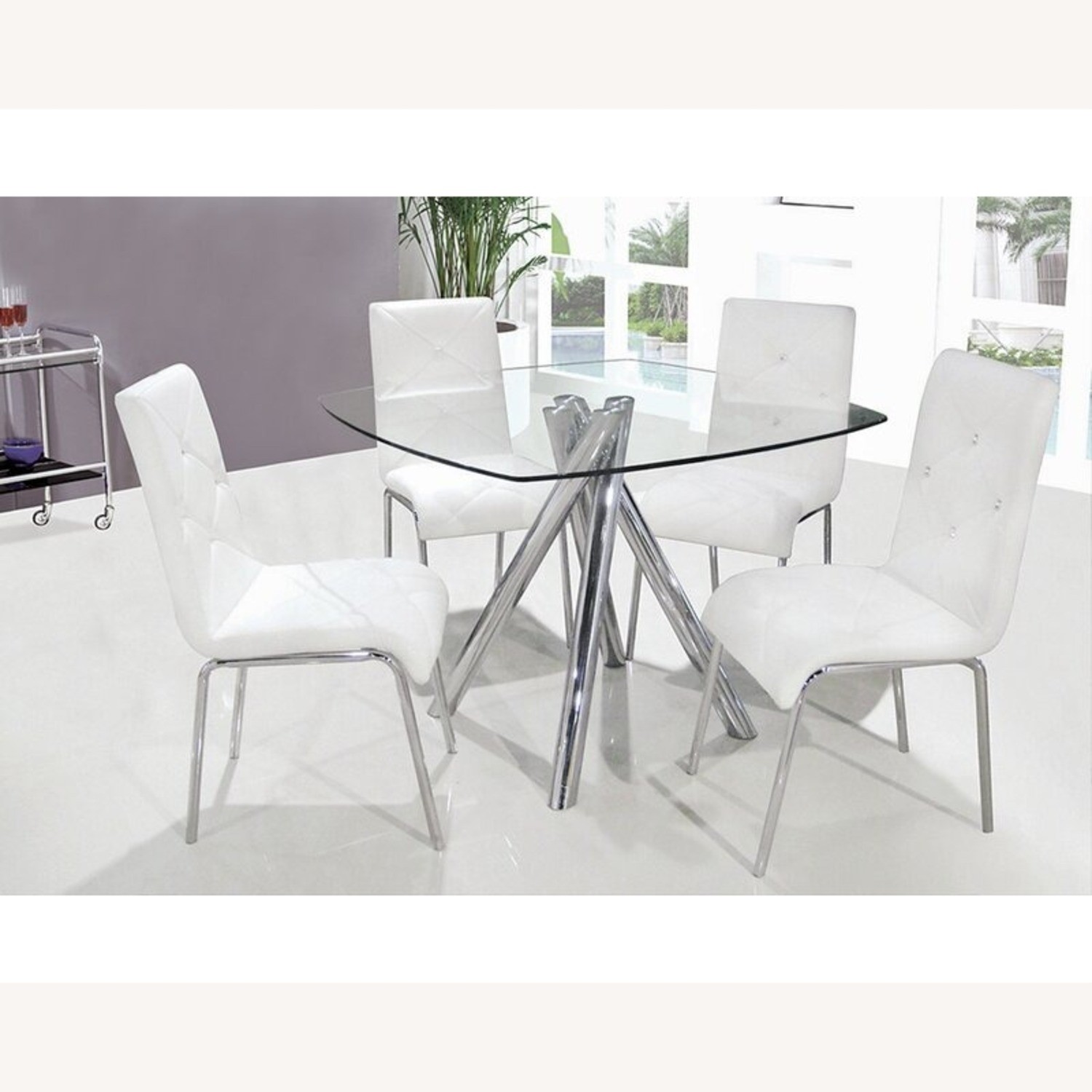 Five-piece dining set of four elegant white chairs and stunning square table with glass top. The table and chairs have chrome legs and the chairs are upholstered in faux leather. It's more of a dinette than dining set, and saves space.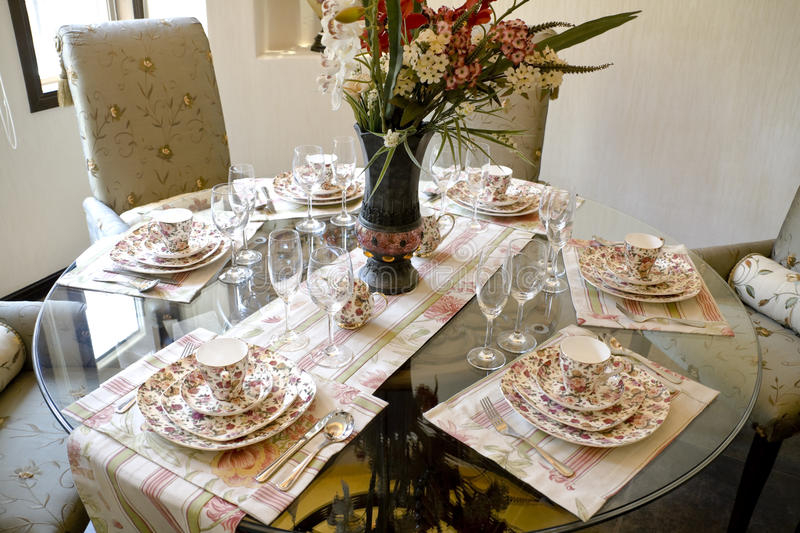 glass dining table decor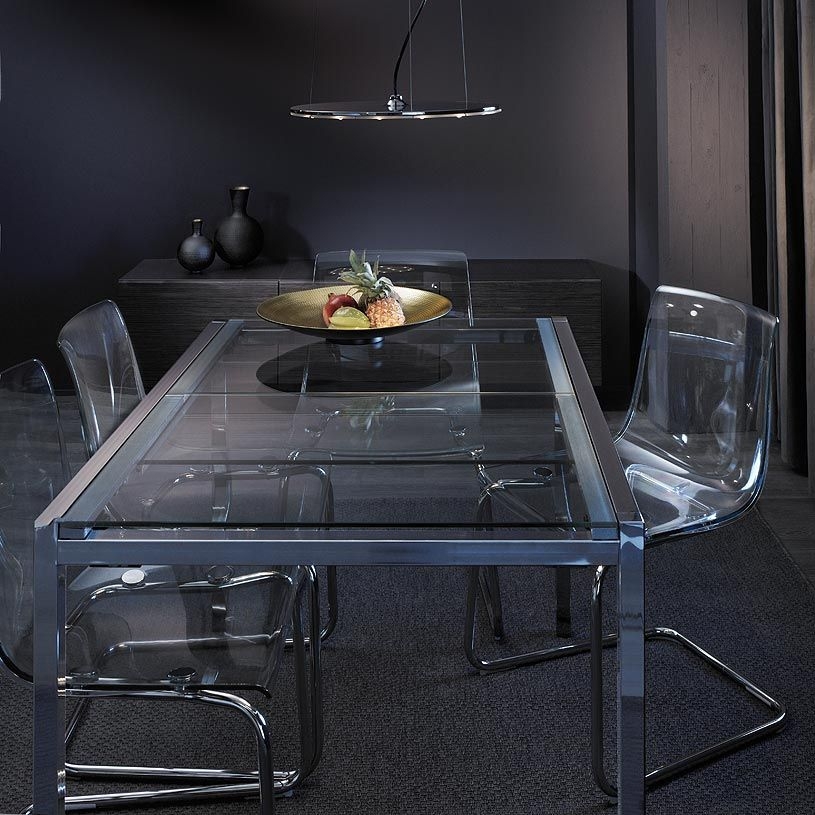 This futuristically-looking extendable table makes a perfect addition for a contemporary dining room. Its minimalistic, modern design, combining glass and chrome, will add the interior an eclectic character.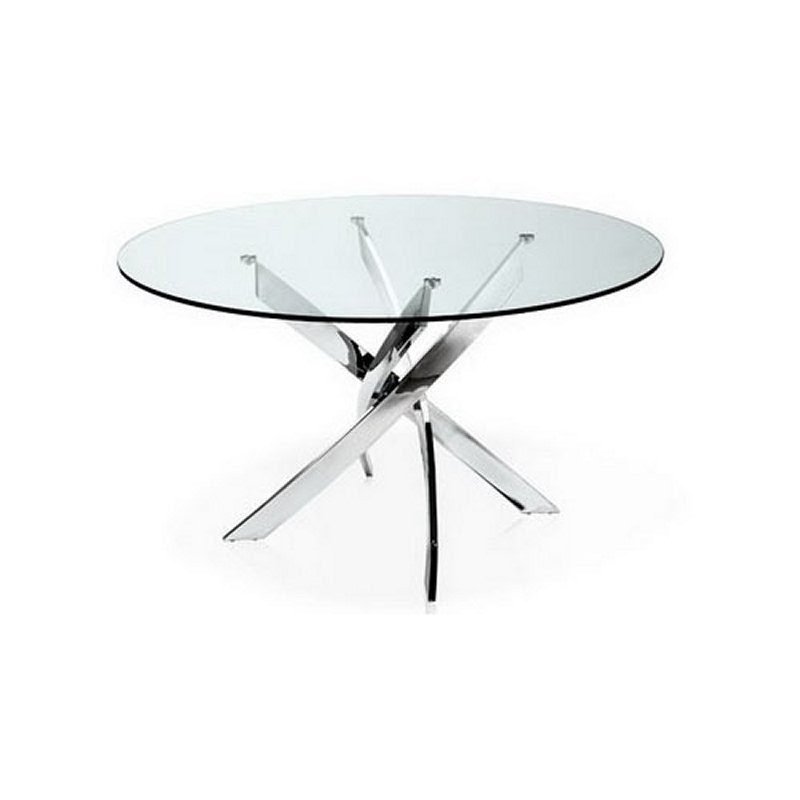 If you're looking for a piece of furniture to match your contemporary living room, take a look at this beautiful round coffee table with a glass surface. Perfect to put up in front of the sofa in a mid-century, modern living room.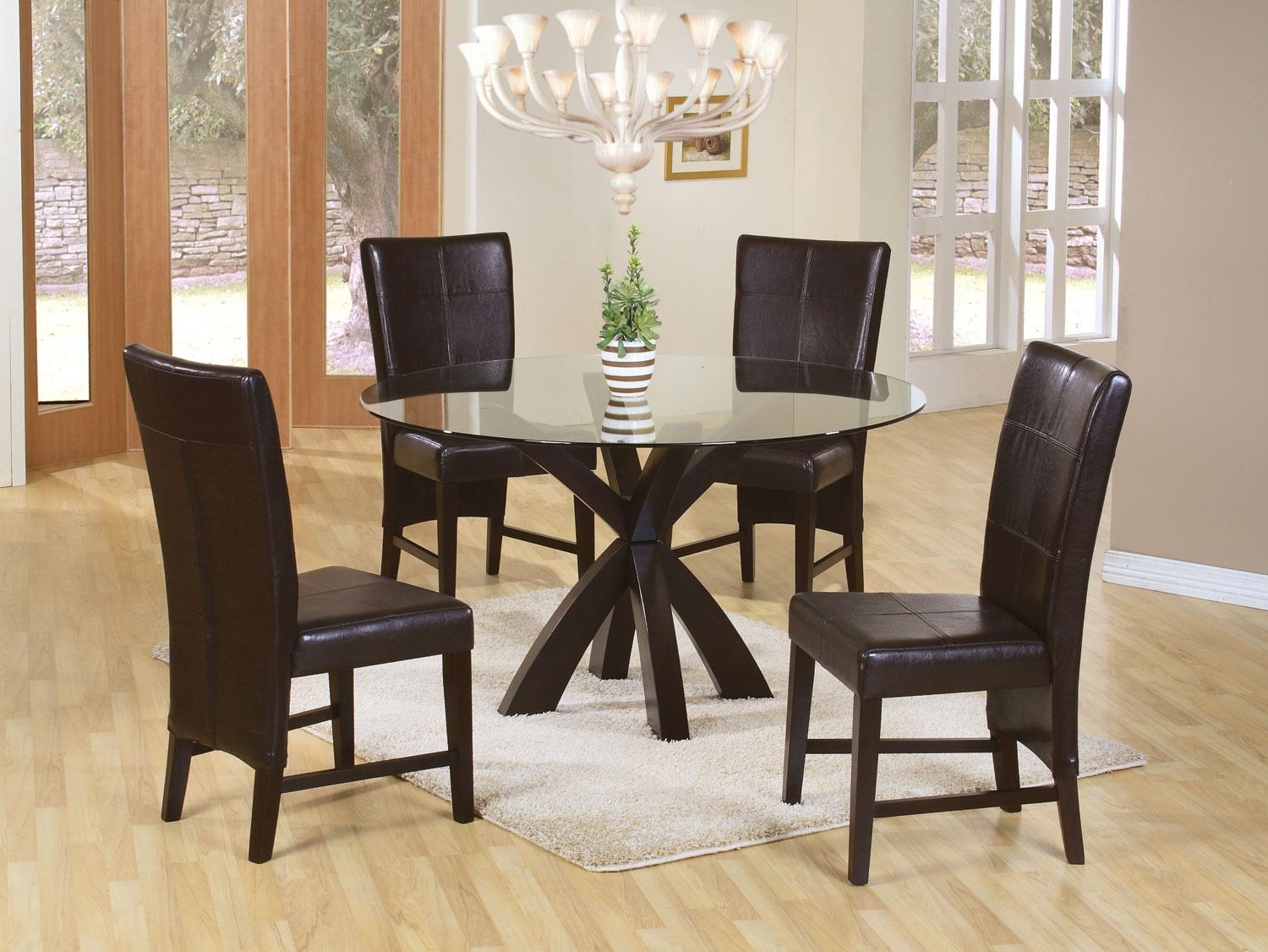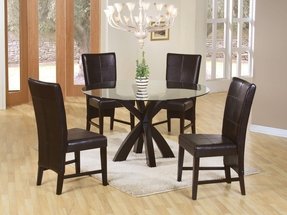 Round dining table with rich Cappuccino finish, which makes it perfect for almost kitchen or dining room by adding style to these interiors. Additionally, the table has 48 round transparent beveled glass top.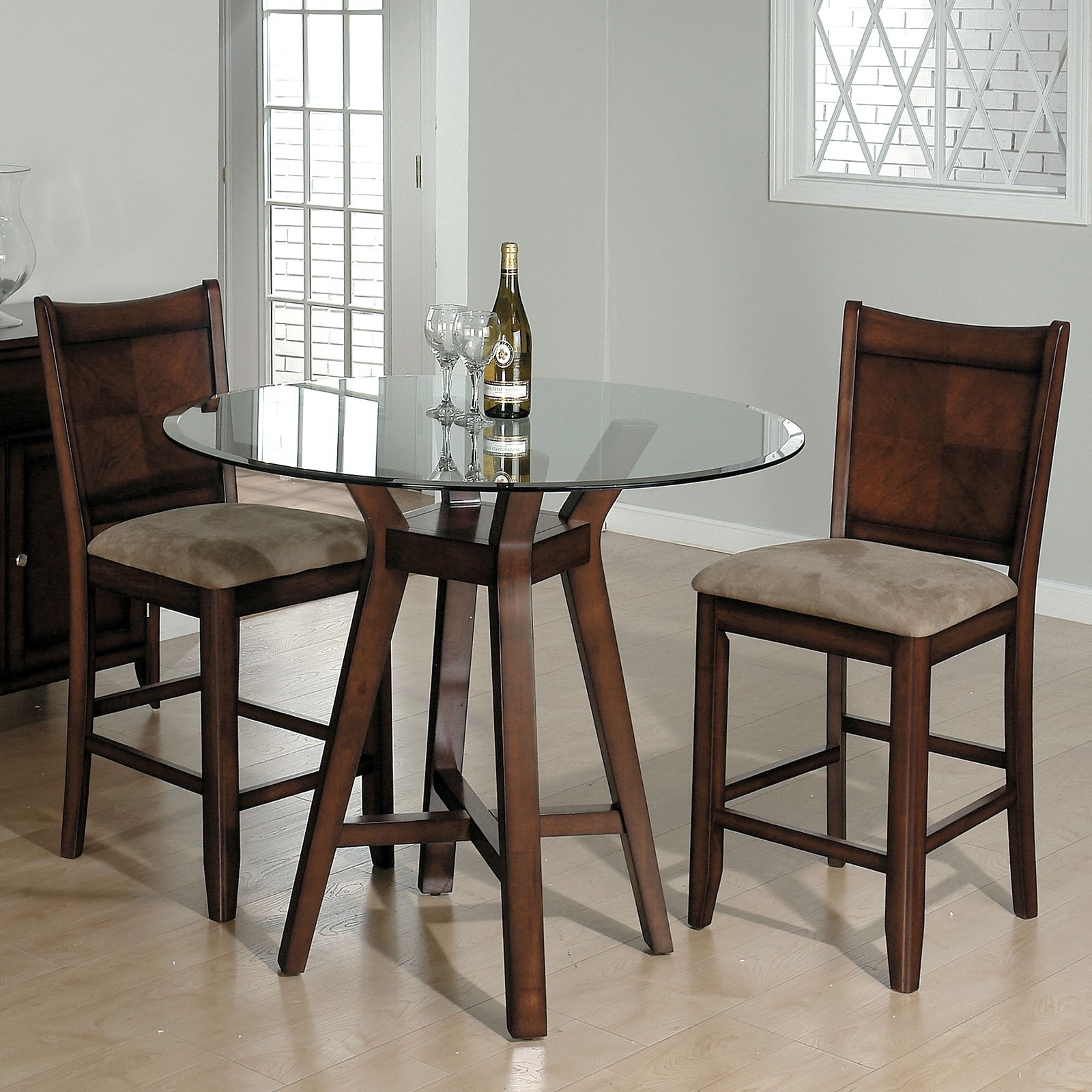 ... Kitchen Table Glass Top Cherry Wood Legs Round Dining Table Set Photos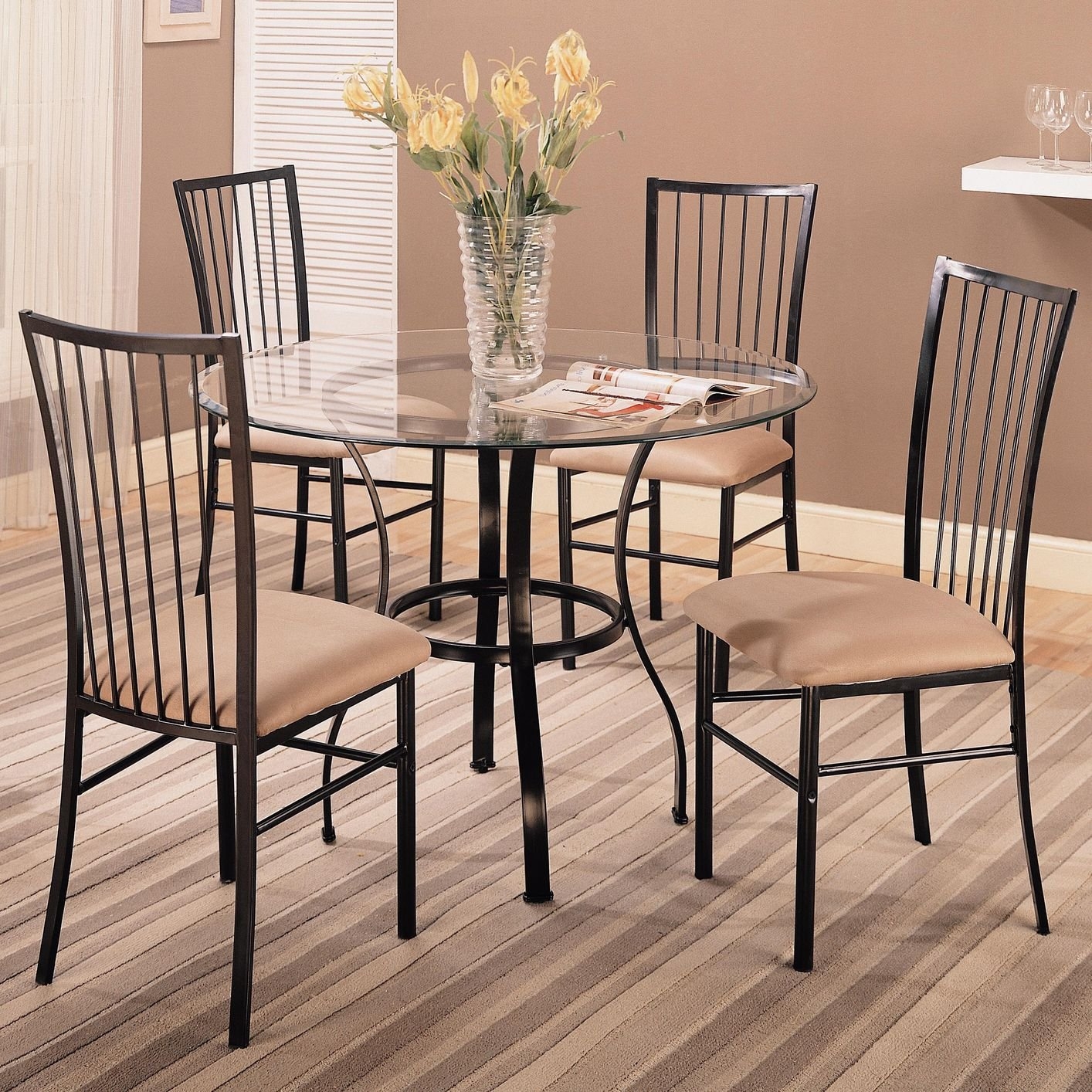 It is a casual and traditional 5-piece dining set with table and 4 chairs. The table has got a round glass top and dark metal base. Chairs have got metal backs and they are upholstered in the plush neutral fabric. This set is perfect for traditional dining area.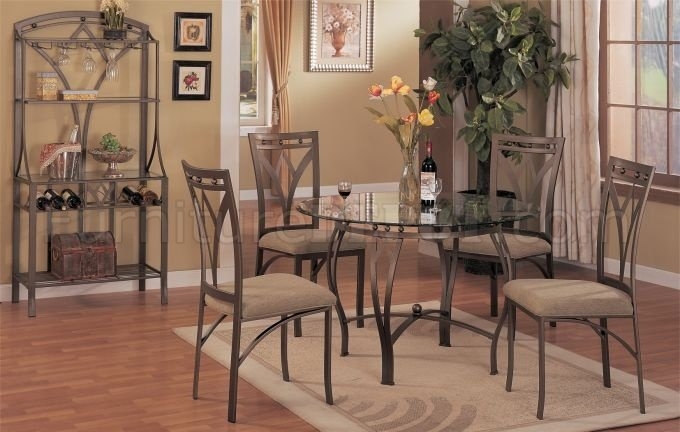 The timeless set of furniture for the dining room or the sun lounge room. Chairs are coated with a durable, yet touchable fabric. The set is elegant and very modern. Fits most interiors. It is possible to buy another table top and replace this one form set.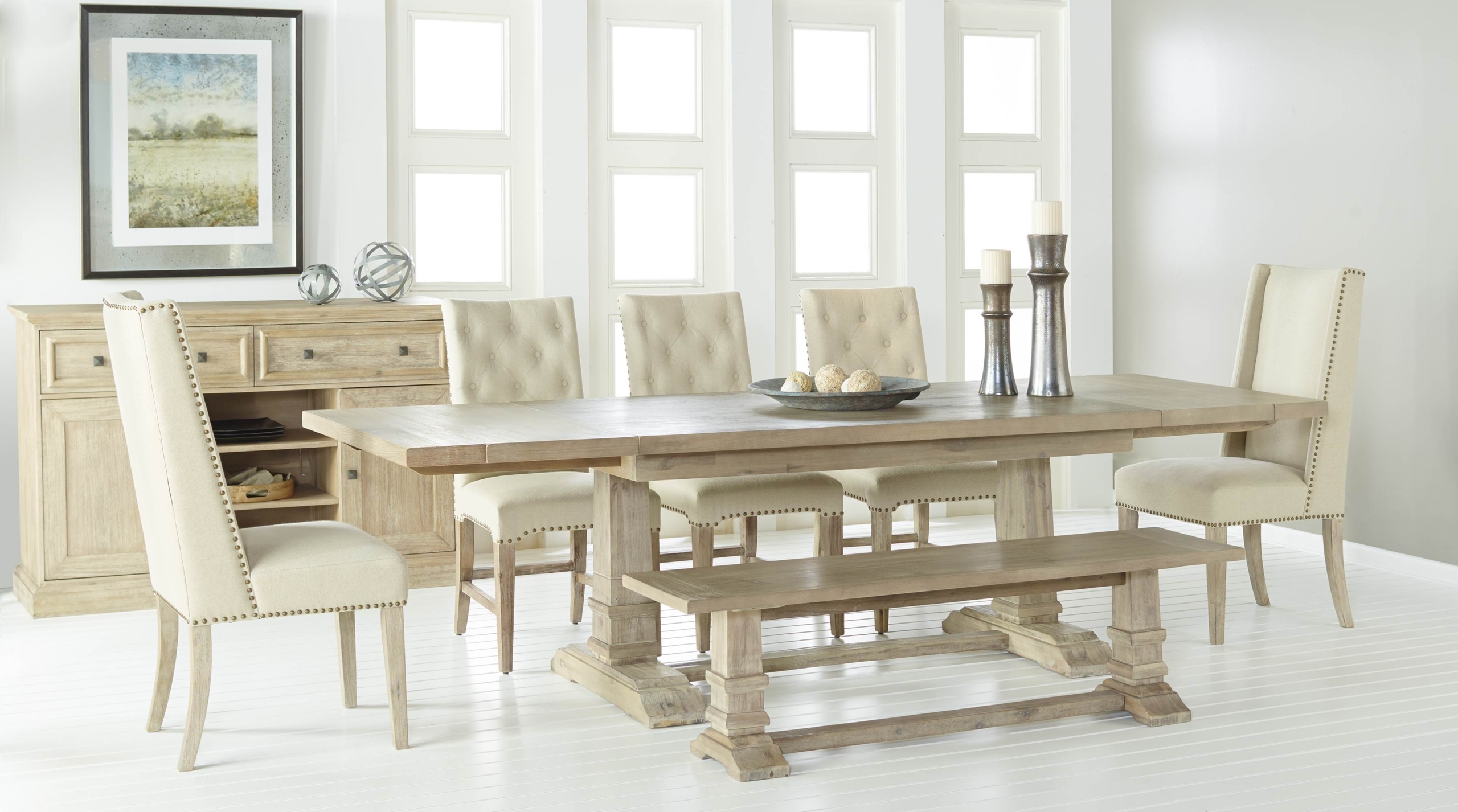 Hudson Extension Dining Table
This is a solid dining table with an extension, so it is able to seat many people. Its base has got a decorative and supportive character. The top assures plenty of space and the whole product is resistant to excessive wear.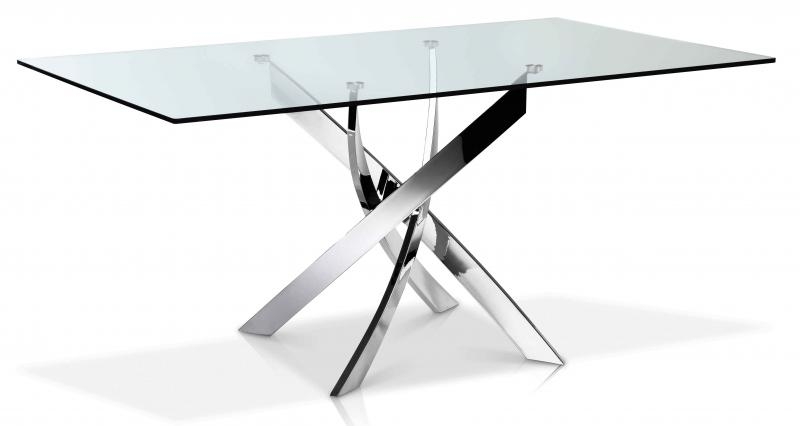 Functional and attractive dining table with simple lines and original design. It features a rectangular glass top that is solid and decorative. Original metal base features an attractive chrome finish.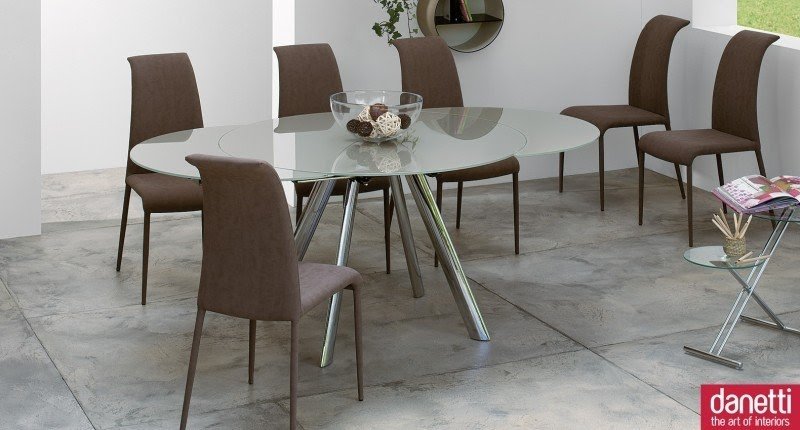 With the chrome and glass structure to ensure durability and sturdiness along with the contemporary look this dining table will prove immensely useful in your dining space, letting you enjoy your meals together as family.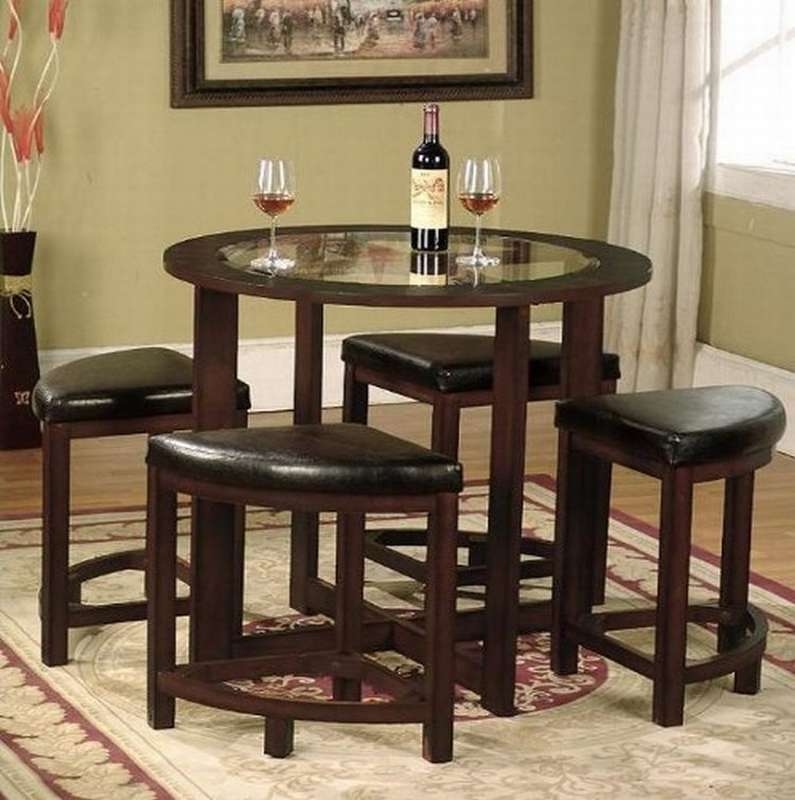 This amazing dining set is not only elegant but also very practical. Four triangular shaped stools can be storage under table. Table hasa round, glass top and all set has a durable, wooden frames in walnut finish.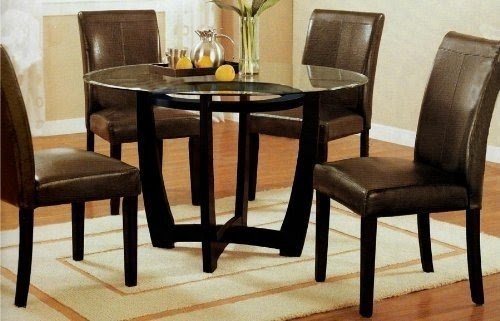 This set includes five pieces - one round table and four armless chairs. The frame and legs have been made of solid wood and are finished in cappuccino. The top of the table is created of top. It will be a perfect finish for your dining area.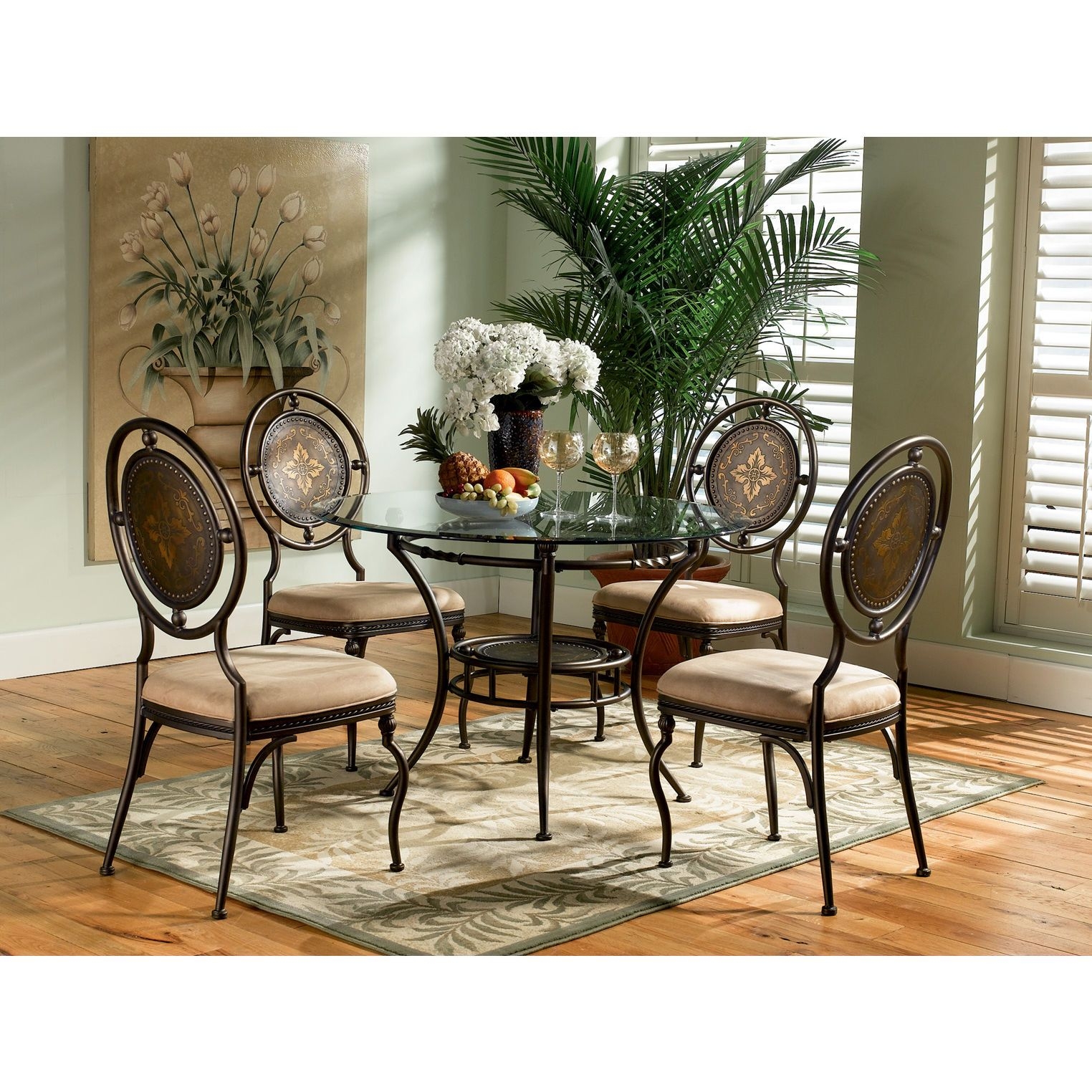 The Antique Dining Table with Pedestal Base represents the highest levels of class. Glass table top, profiled steel frame with rustic touch, and bottom shelf with spiral theme make the table wonderfully stylish piece.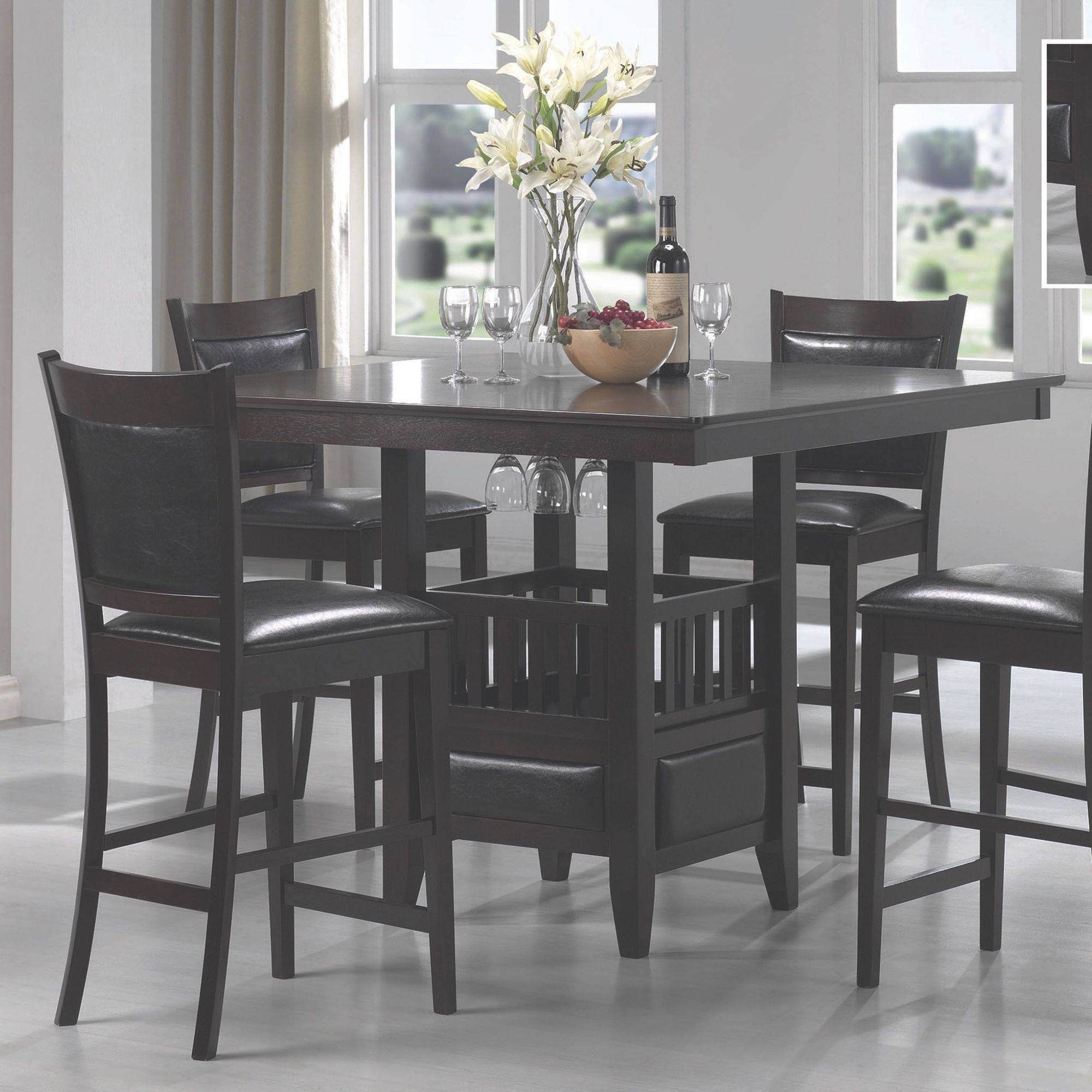 Square counter-height table designed in contemporary style with straight legs and single convenient pedestal base. The latter is equipped with storage cabinet and wine glass holders and padded with vinyl.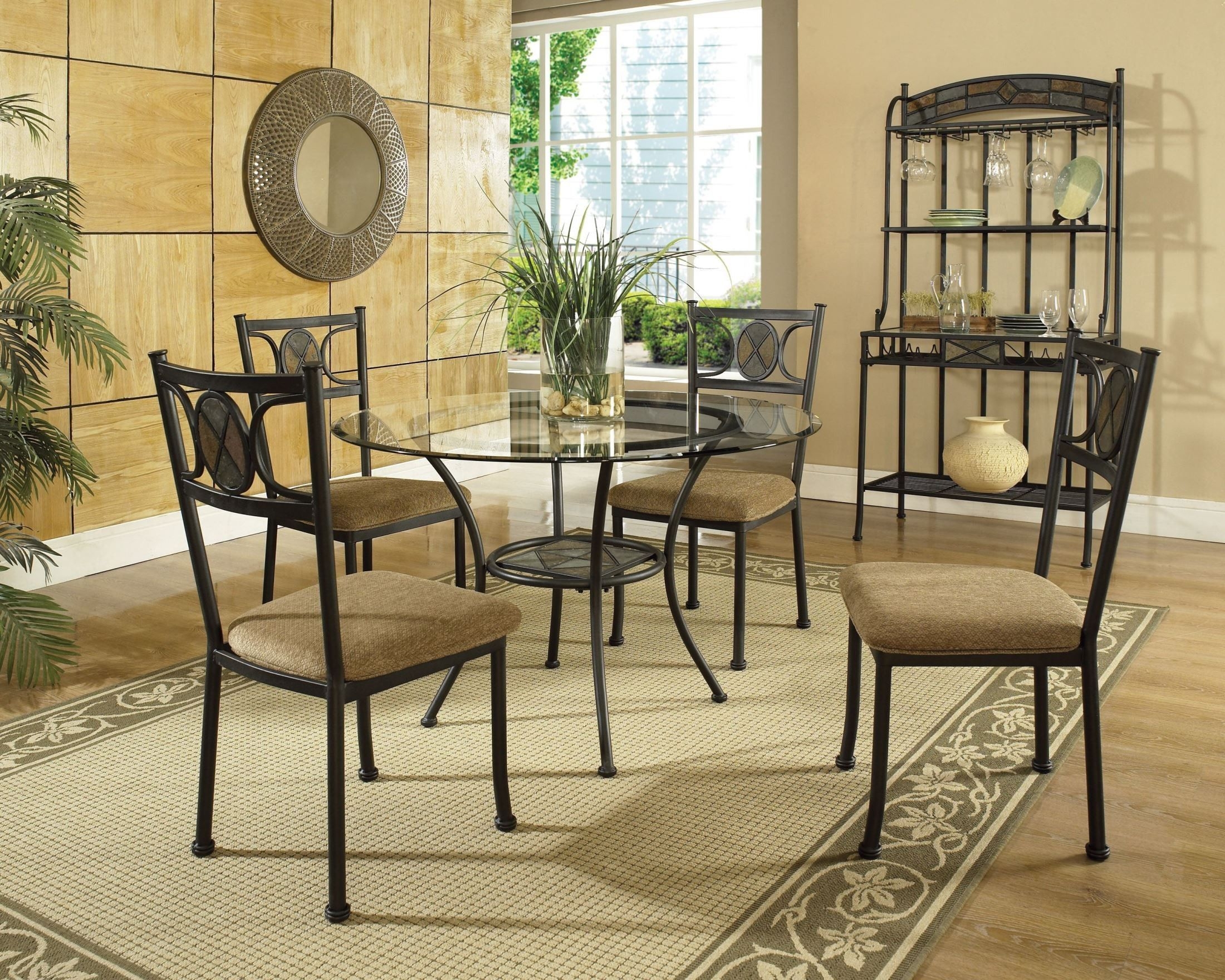 Carolyn Round Glass Dining Table Set by Steve Silver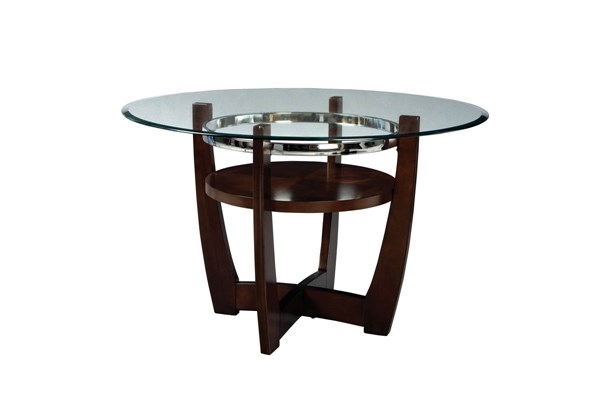 Apollo Dining Table
Original design modern table. Wooden frame is finished in brown. Legs are slightly curved, joined with 2 crisscrossed rungs at the bottom. A table has a round beveled glass top with a decorative ring underneath and a lower round wooden shelf.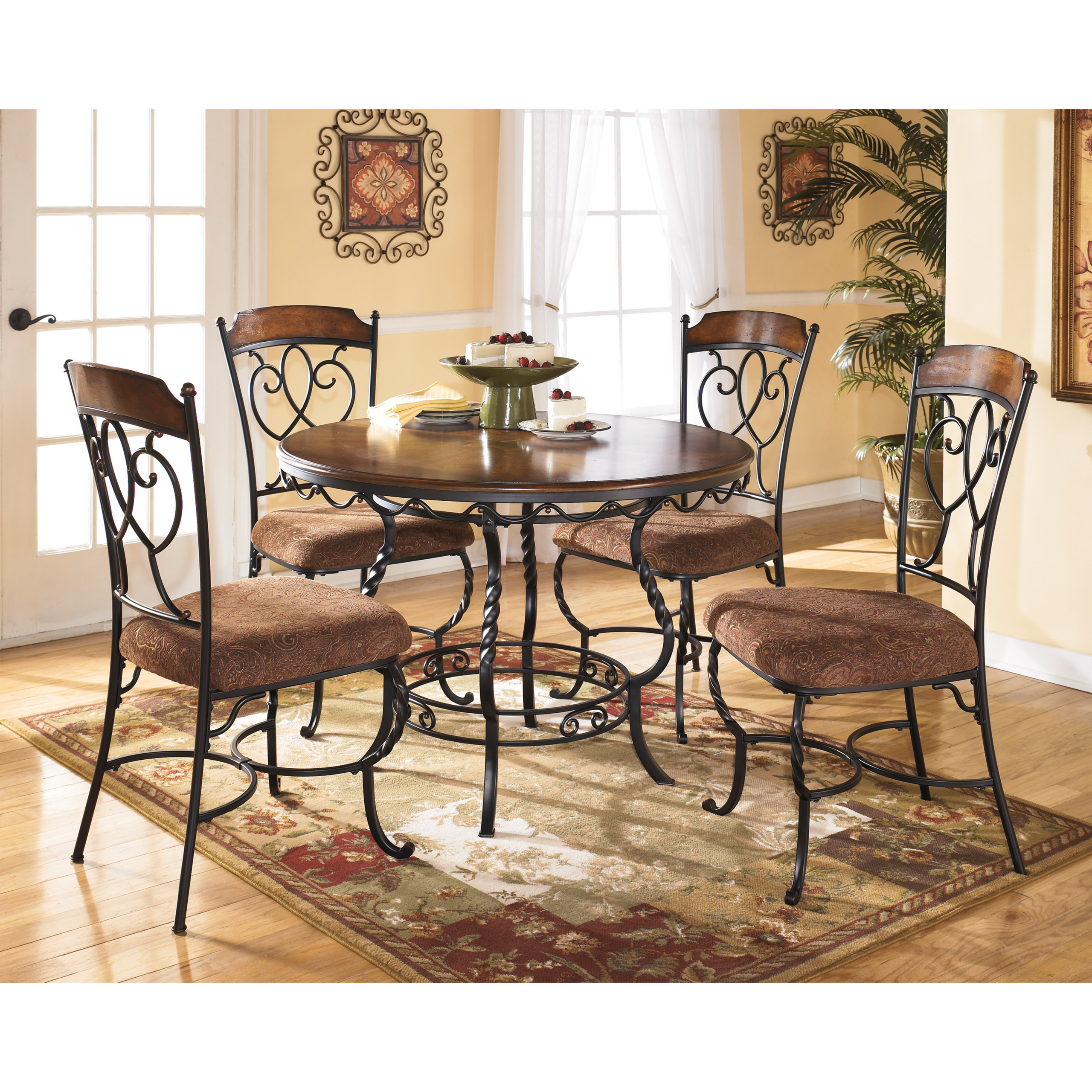 This set is comprised of one table and four matching chair. It is a lovely option for your ladies' soiree - the chairs have decorative backs and plush seats and they get along with the round table with a veneer wood top which is created in the same style.

If you are looking for a decent table top, this will do the job. It has been created of tempered glass and its edge is beveled. It is also pretty big for a table top - it measures 30" round and 3/8" thick.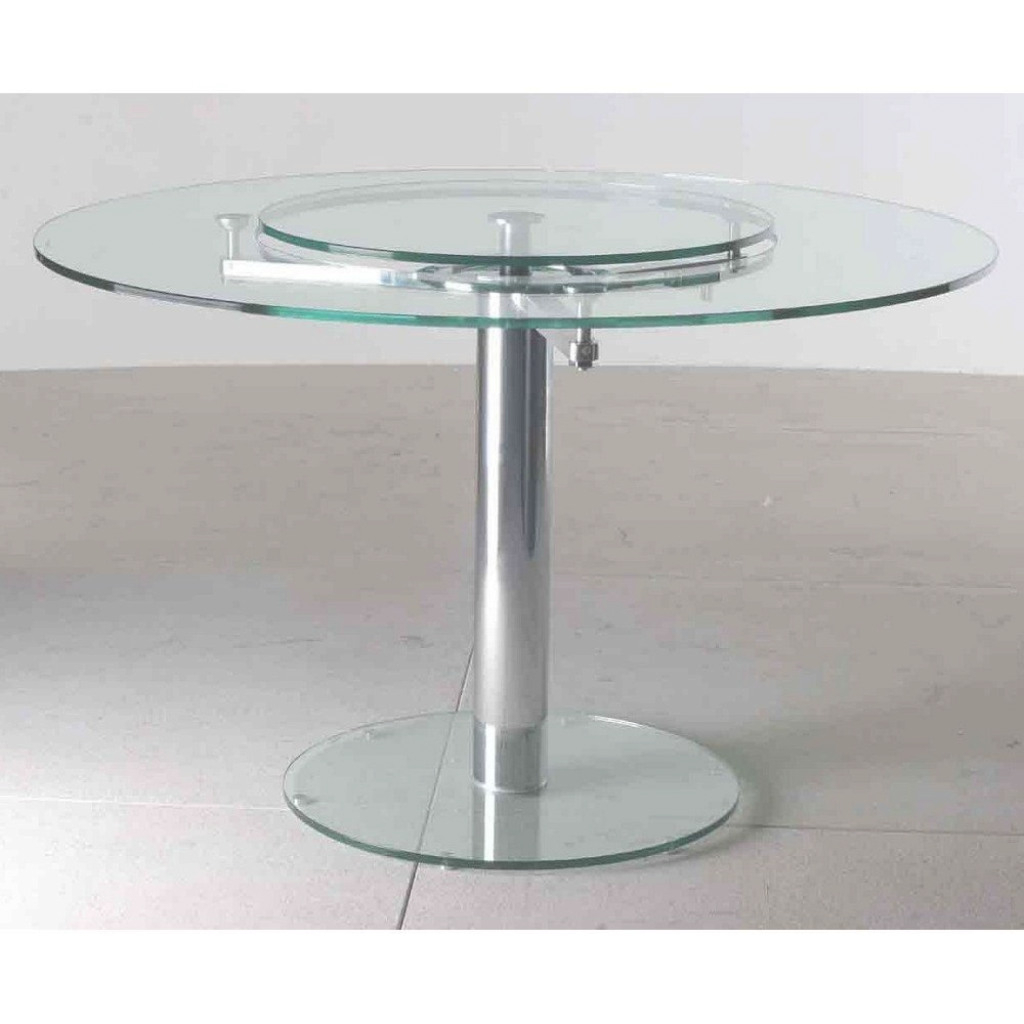 Simple, minimalistic and modern-looking at the same time, this round glass table will give your interior a boost of convenience and practical vibe, offering a mechanical lift to five you a rotating lazy susan.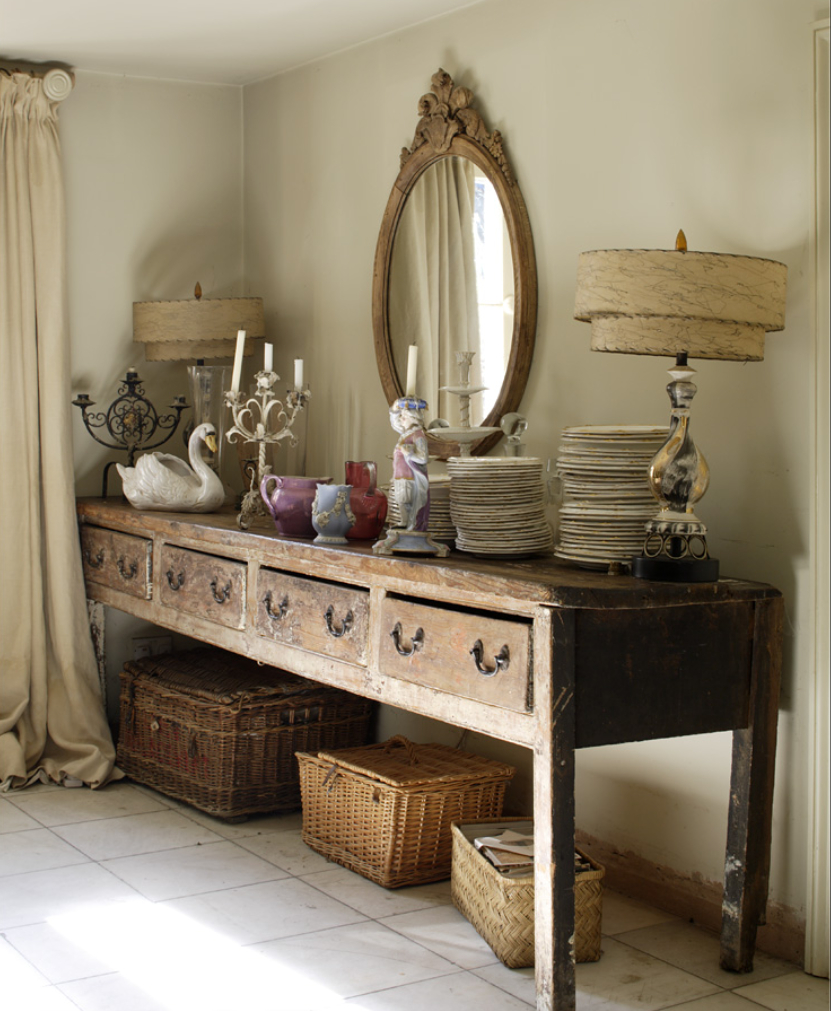 A stunning sideboard for your dining room. It's an antique piece of furniture made of distressed wood that gives it a natural and rustic appearance. It features a long and narrow top and four drawers with old-fashioned handles.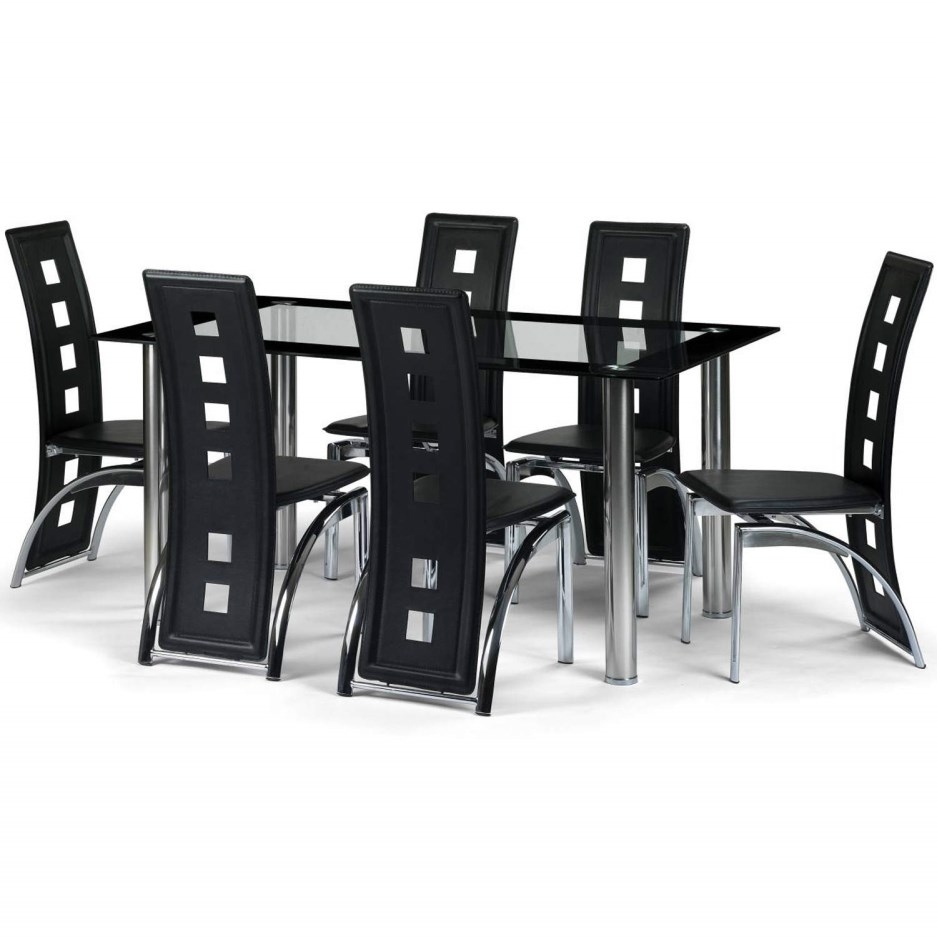 A stunning dining room set that includes a modern-looking table and four, comfortable black chairs, making for a nice choice for a small family and letting you make the best out of your contemporary styled household.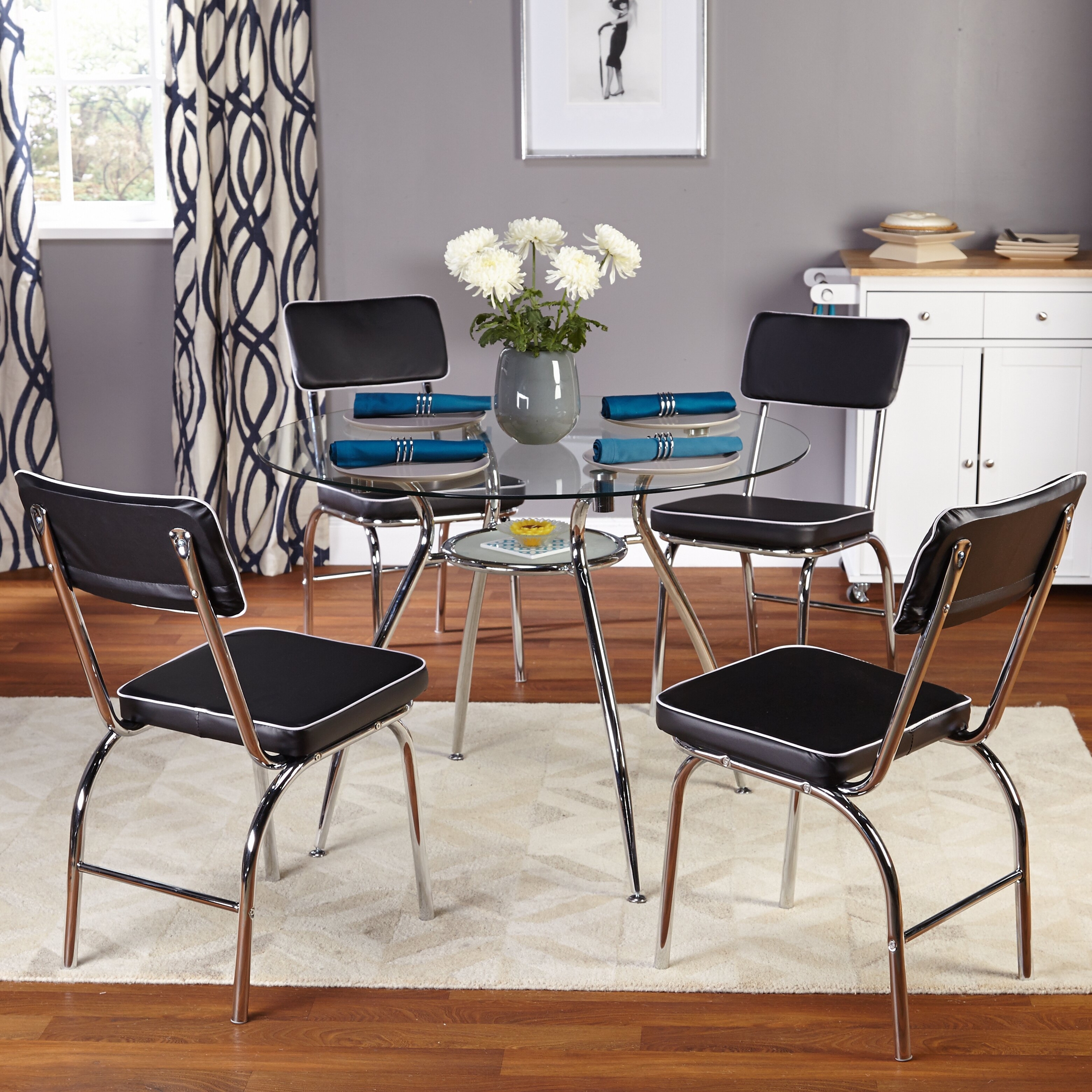 Mable 5 Piece Dining Set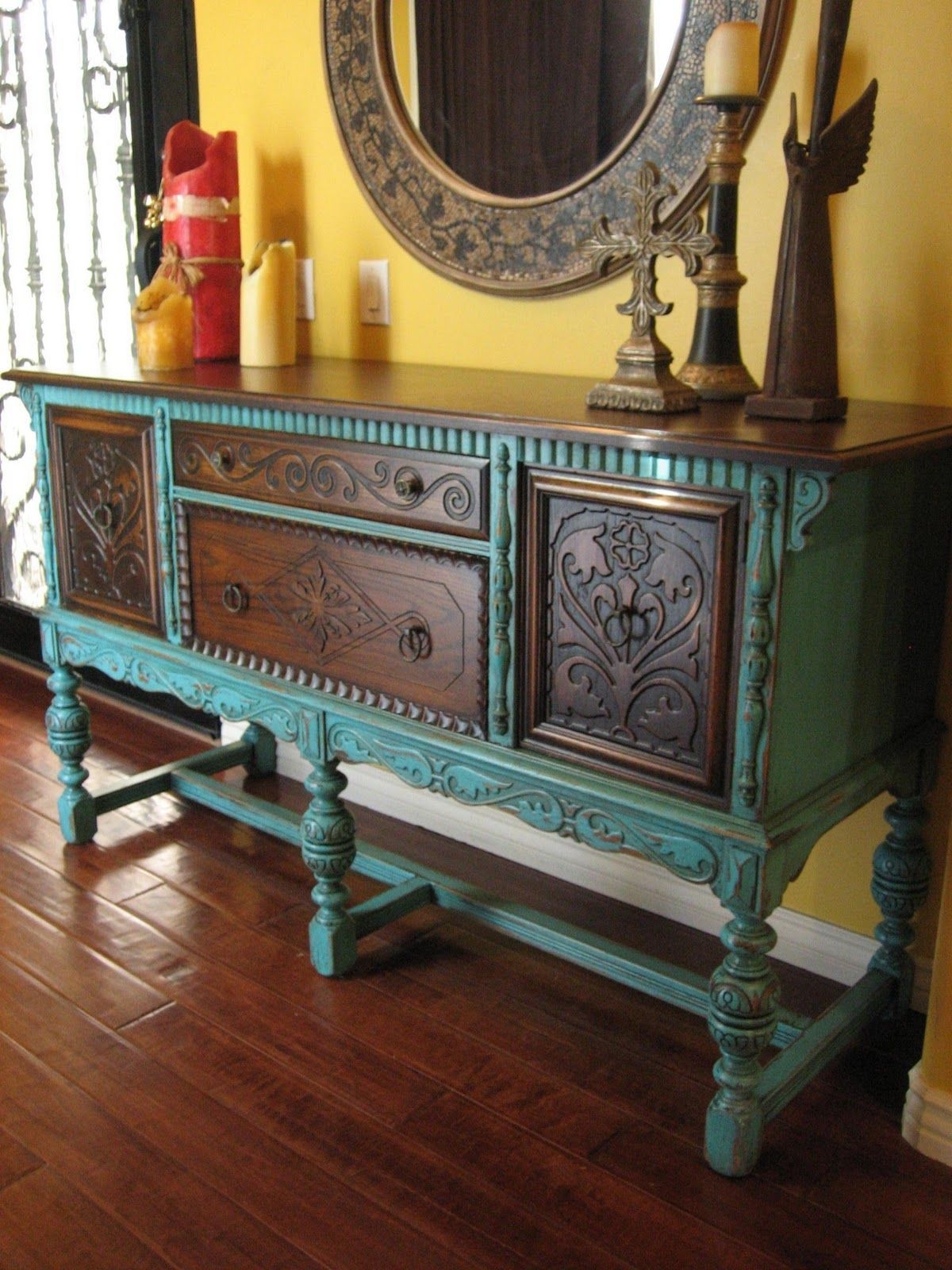 A great example of an antique furniture that will enhance your living or dining room with new quality. Carefully designed, rich in various ornaments, wooden sideboard will add a retro climate and sense of prestige to your interiors.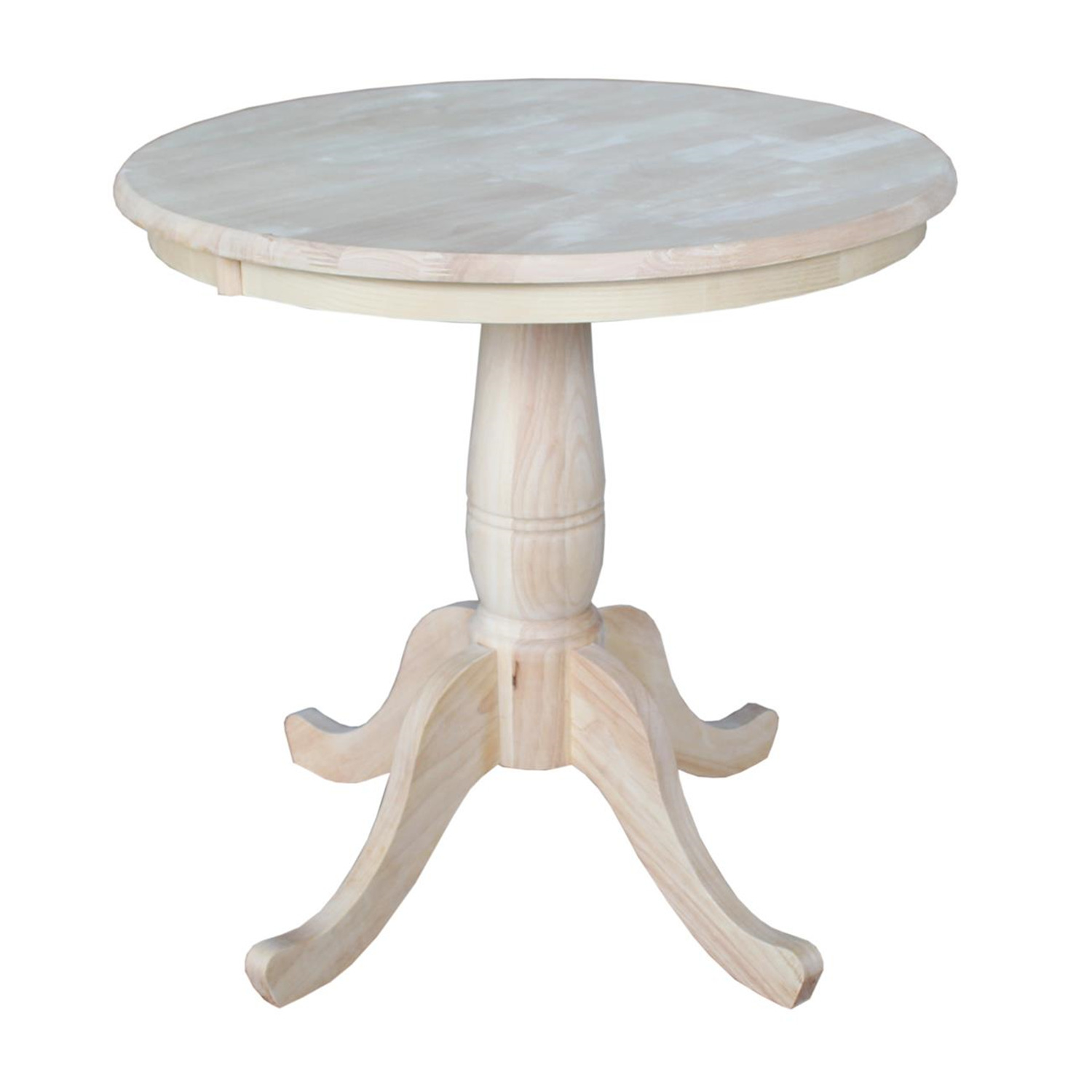 Pedestal Dining Table
Simply beautiful dining table featuring sturdy frame made of wood, reliable four-legged base, spacious table top, and interesting design providing raw simplicity and subtle beauty. Very durable and visually appealing item.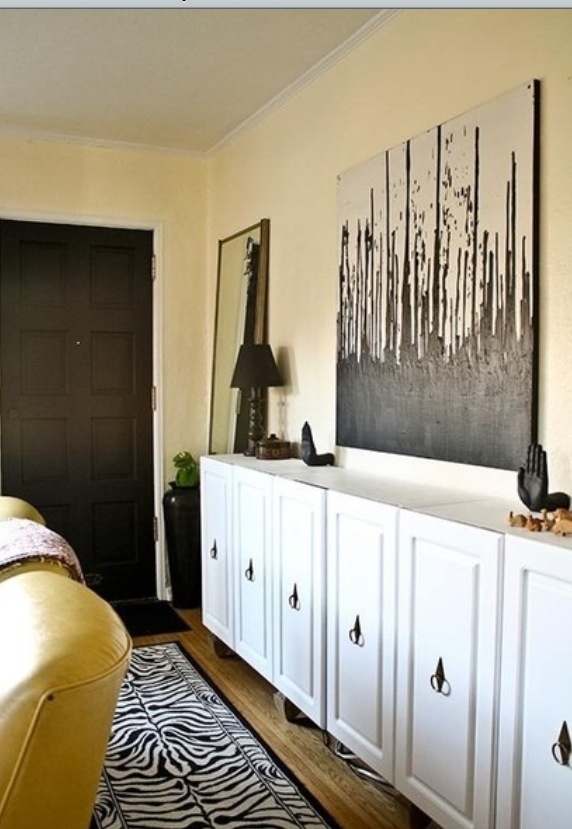 A phenomenal cabinet perfect for a kitchen or living room. It offers plenty of storage space in a hidden way. It's an elegant, narrow piece in a simple form with a few shelves behind the doors with subtle handles that look like a decoration.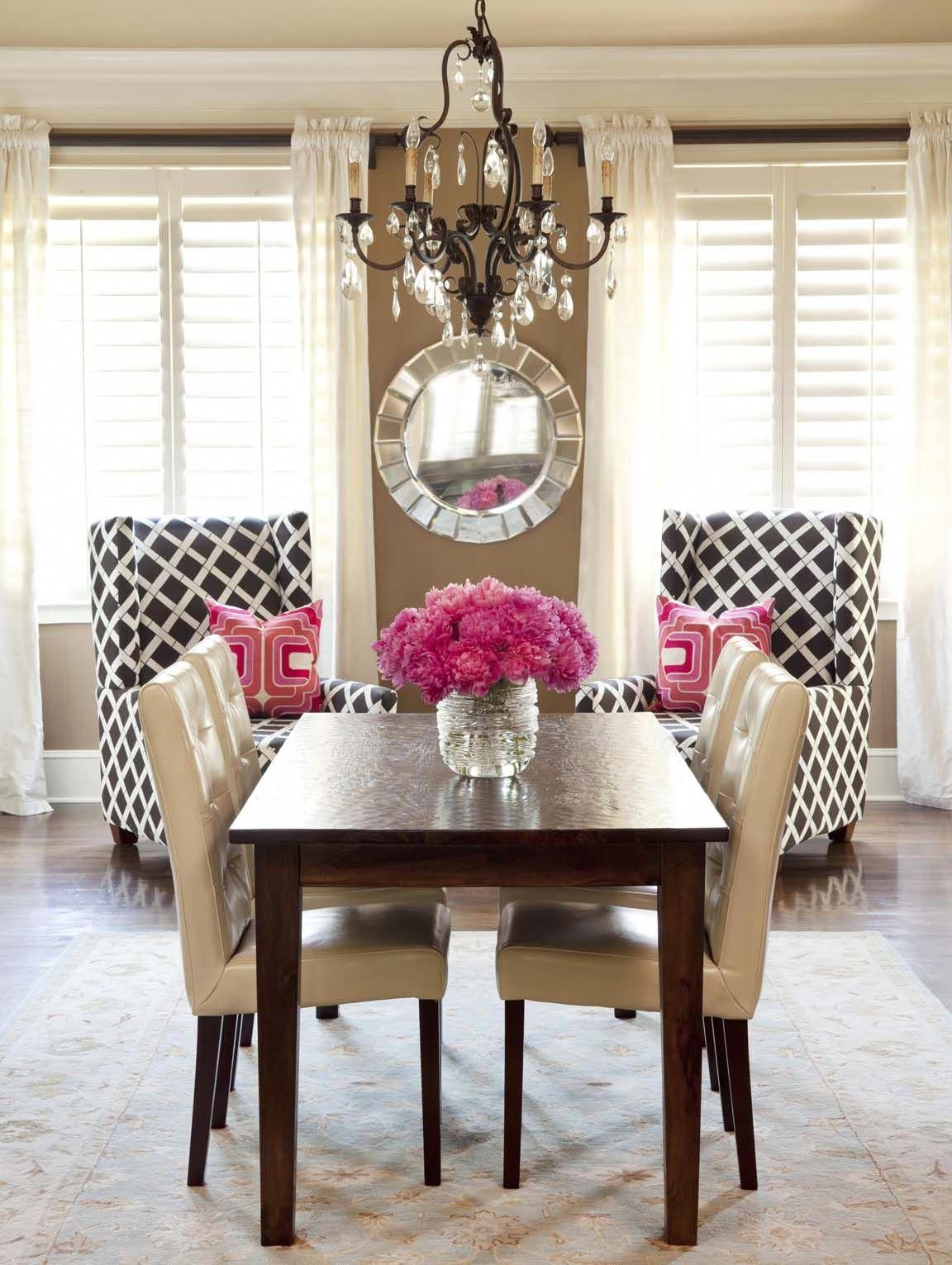 Attractive and functional dining room set. It includes a solid wooden table that features a rectangular top and classic construction. Dining chairs include padded seats with button tufted backrests that are comfortable and aesthetic.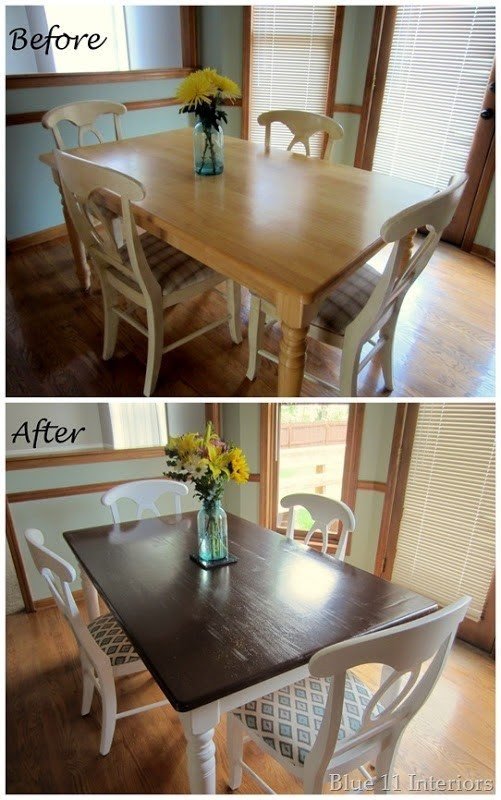 Interesting and clever before and after picture of a refinished dining room set, consisting of a dining table made out of birch wood and four chairs, all fitted with a new coat of paint and reupholstered seat cushions.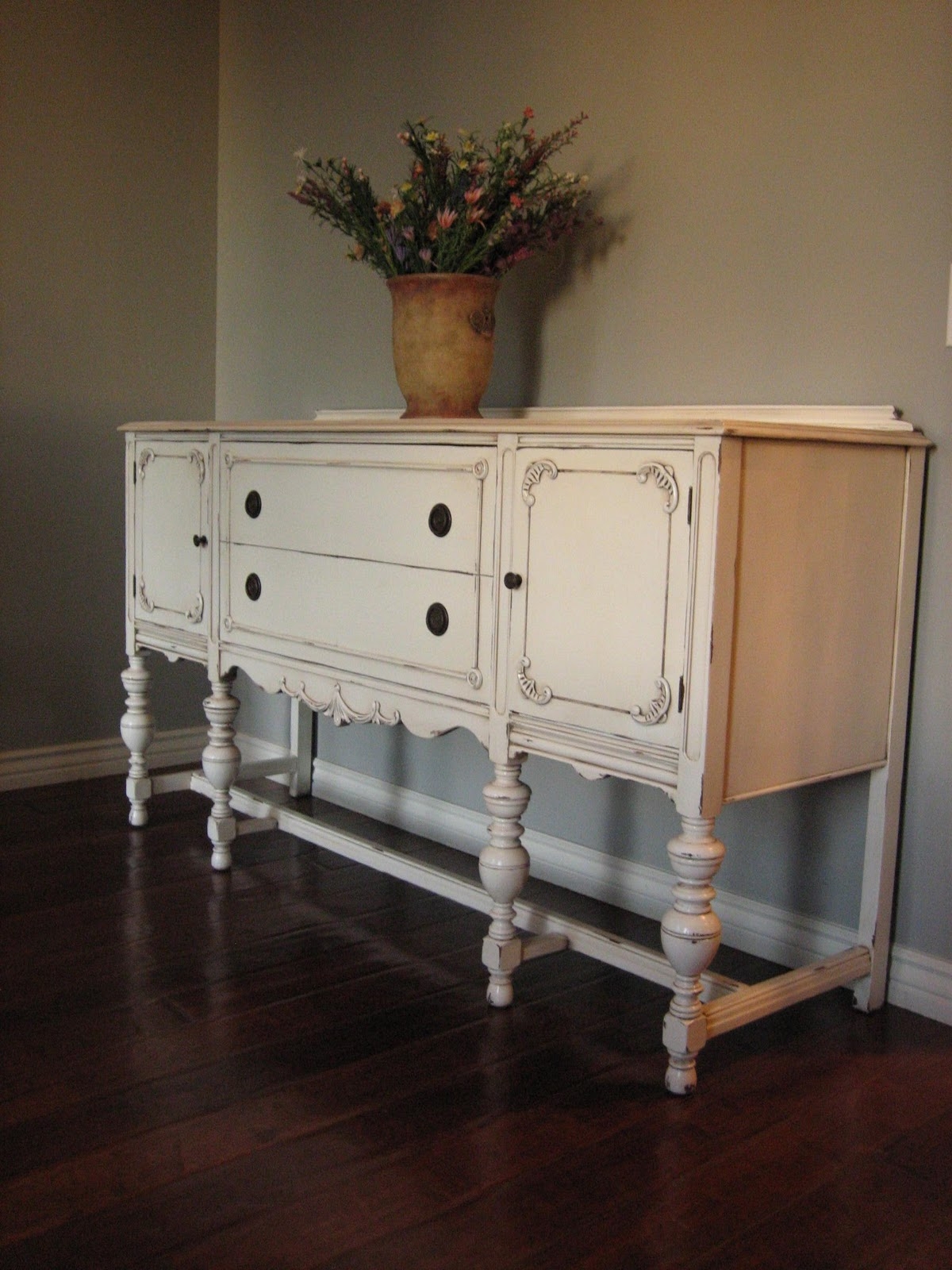 Vintage wooden cabinet with two drawers and two lockers. Old-fashioned piece of furniture with sculptural kickstands makes every living room more cosy. It is perfect to storage frippery or standing TV set.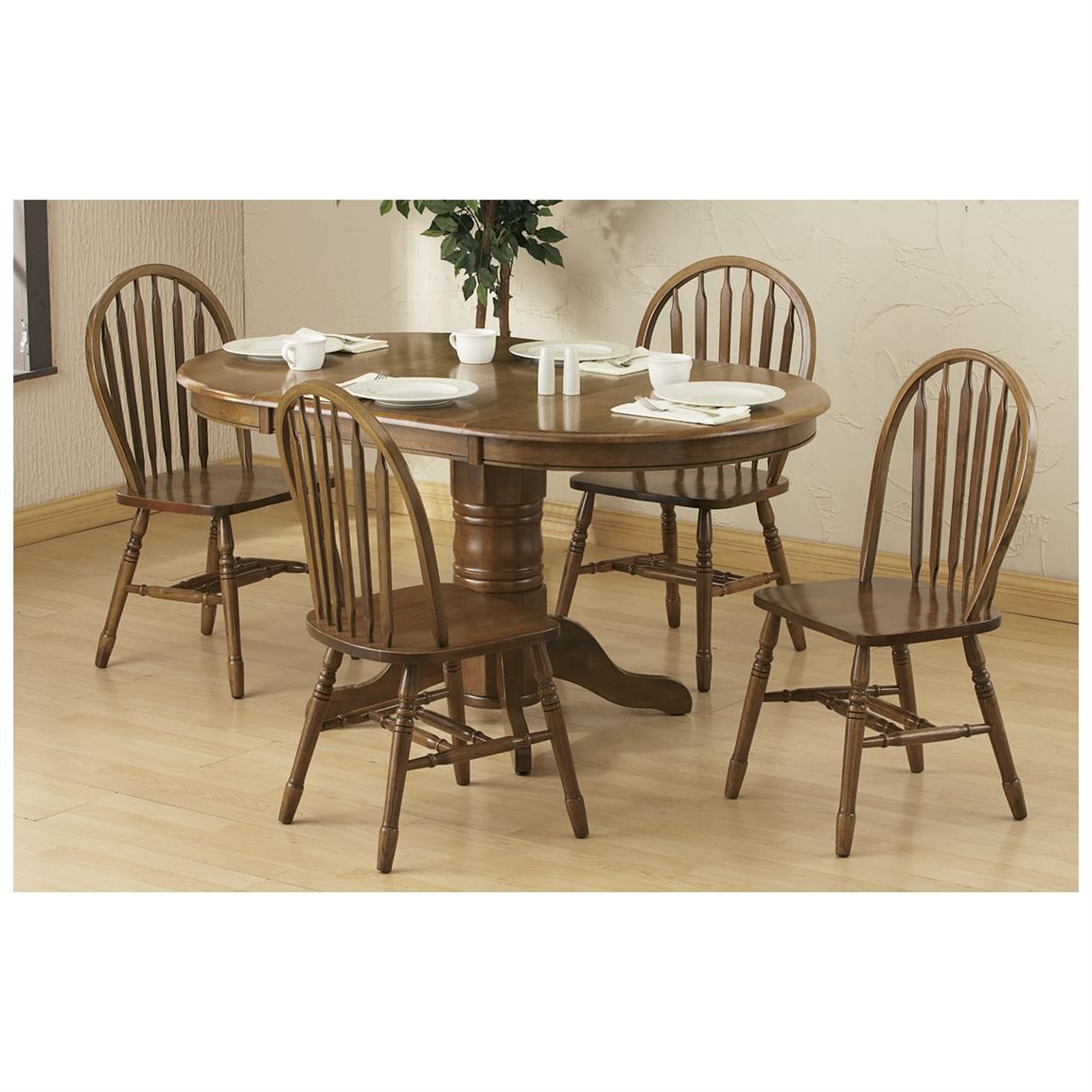 A dining set with the spacious table and four comfortable oak chairs, made from durable rubber wood. The table is expandable, so you won't have to choose based on your limited floor space options and can still enjoy this beautiful set.

Console table for living room, bedroom and more. It is made of wood and mounted on decorative carving legs. Includes 2 side cabinets and 2 drawers in various sizes for storing needed items.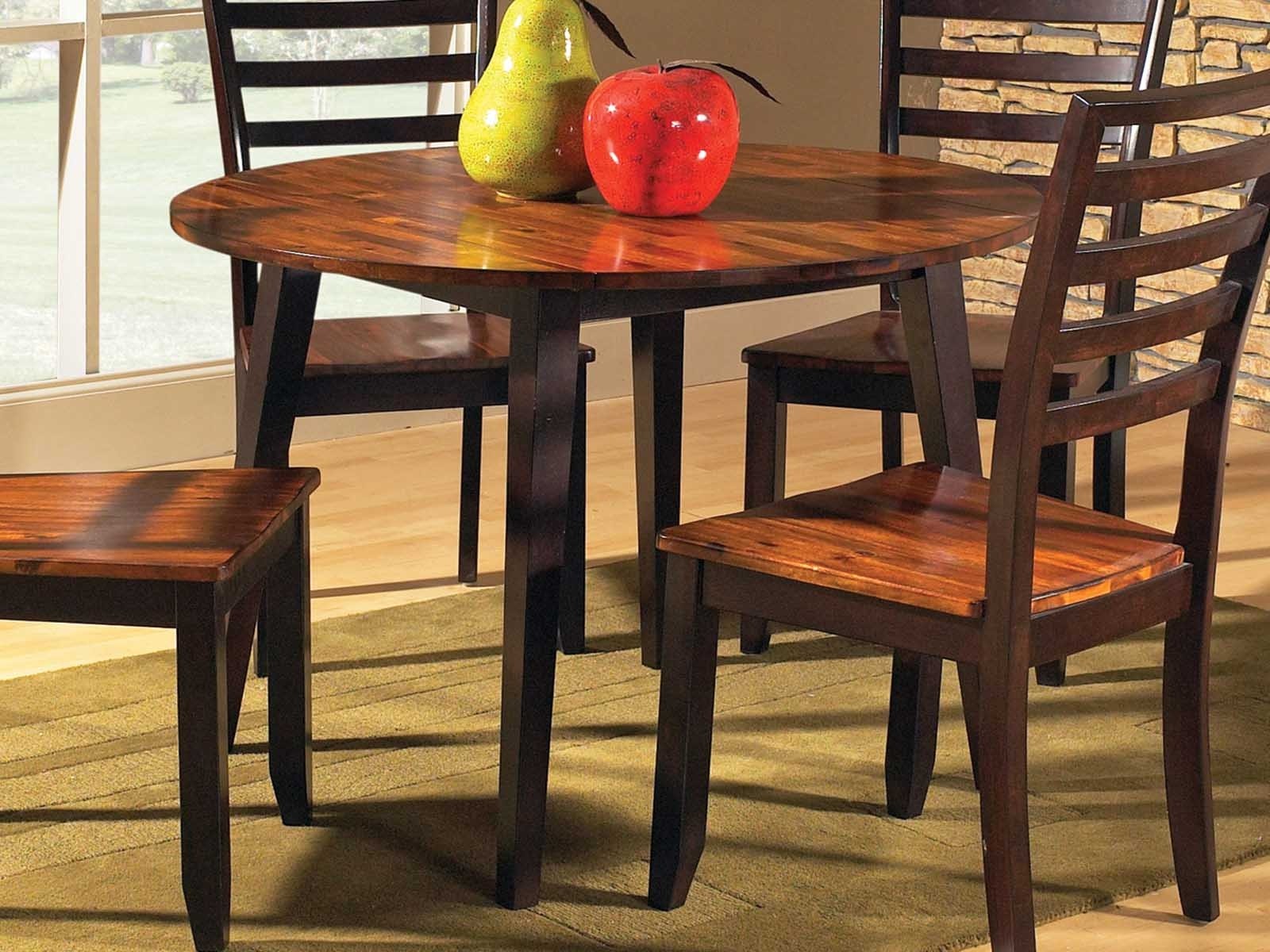 Pretty dining table in the casual style. Solid and stable wooden frame with tall square tapered legs finished in walnut. A tabletop is round, finished in acacia with a decorative smooth and shiny surface. It is most suited for traditional interiors.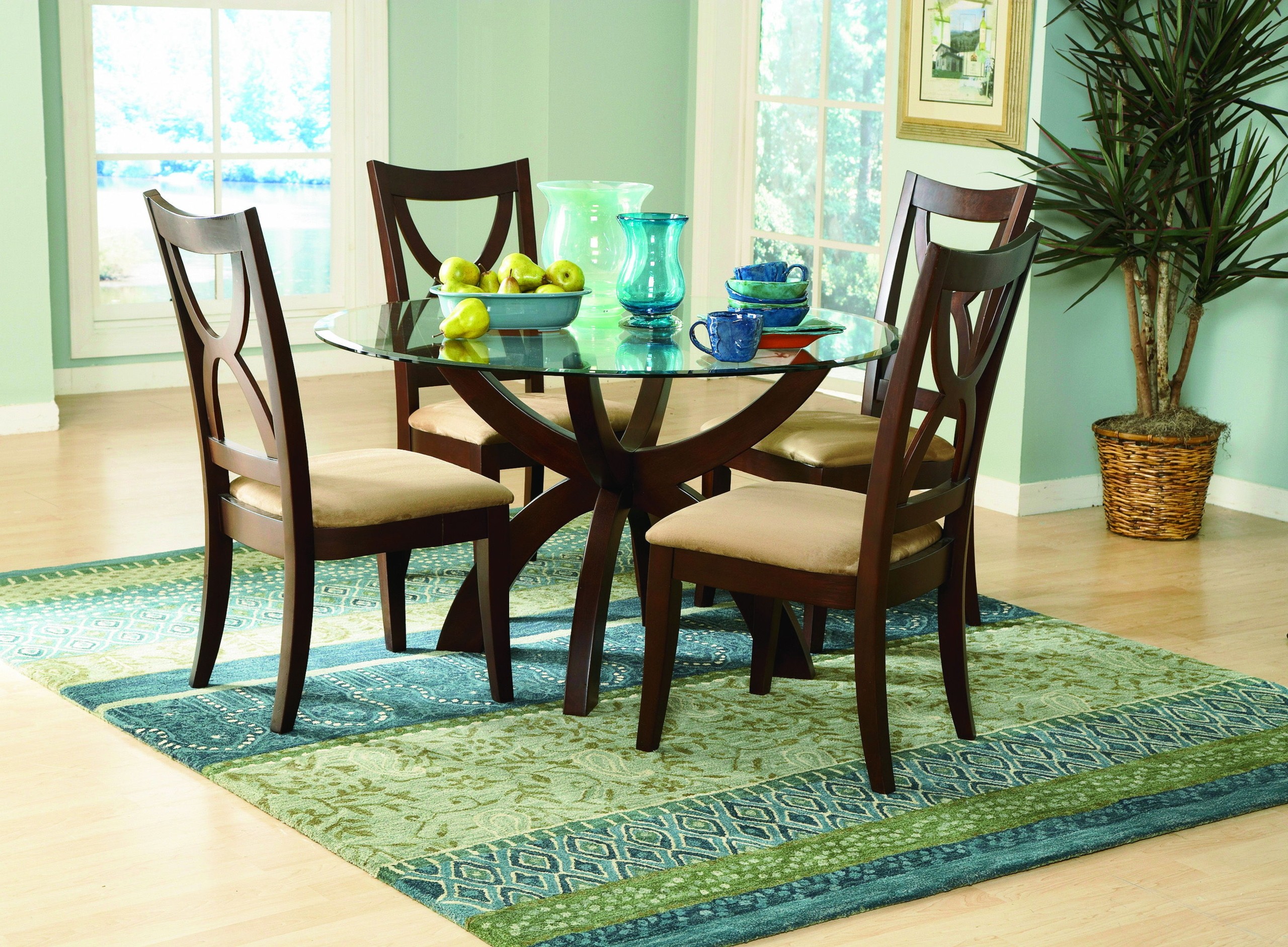 Round Glass Top Dining Table, 48" Stardust Espresso Round Glass Top ...