More people are working from home now than ever before, and although you might not be working from an office, it's still important to give yourself a dedicated desk area when you can fully get into 'work mode.'
Not everyone has an extra room in their home that can be used as an office, but thankfully there's a great solution: The Murphy Desk!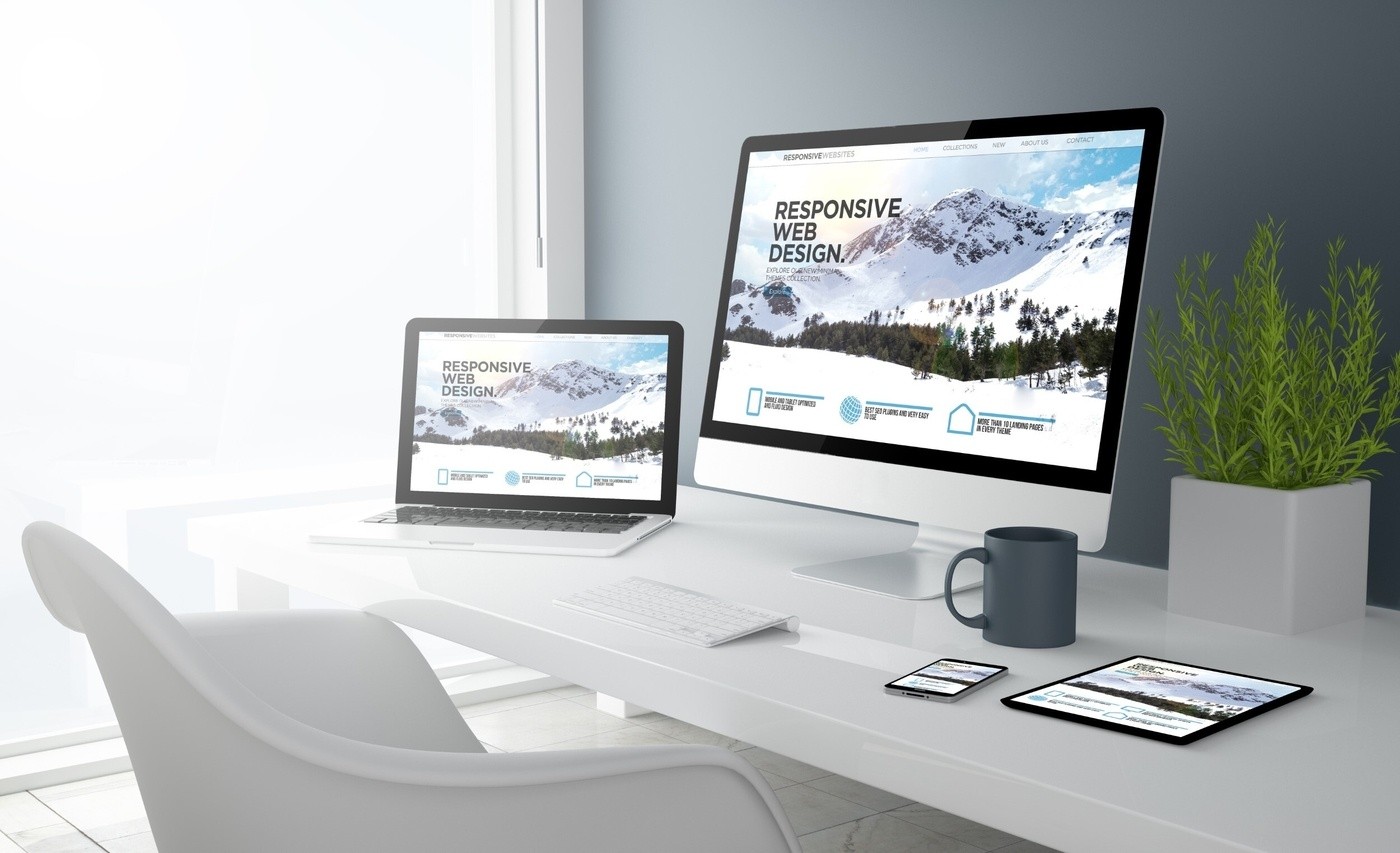 A Murphy Desk is a pull-down or fold-down desk that can be folded away when not in use. This gives you all the benefits of having a dedicated desk area to work at without losing valuable space in your home.
In this article, we're sharing 15 stylish and practical Murphy desks to help you create your perfect home workspace.
A Stylish Solid Wood Murphy Desk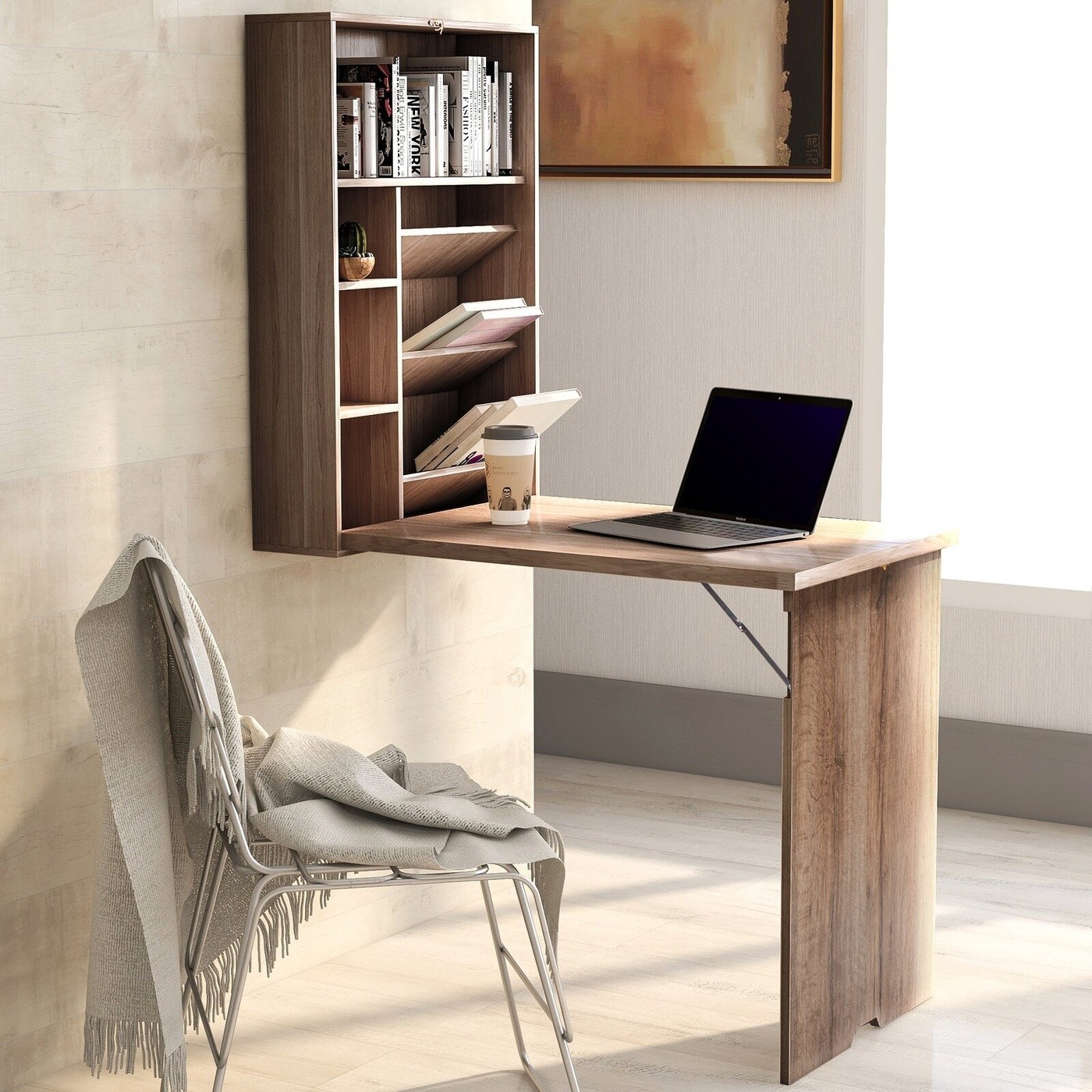 This stylish solid wood folding desk is the ideal solution for anyone working from home. It provides a large surface area to work on, as well as built-in storage for books, folders, and other accessories you might need to have at hand while working. When you're finished for the day, the desk can simply be folded up against the wall, storing everything neatly and giving you more space in your room.
The natural warm color of the wood is ideal for bringing an element of nature into your home. Try placing a couple of potted succulents on the top for a stylish look, even when the desk is folded away.
Industrial Loft Style Murphy Desk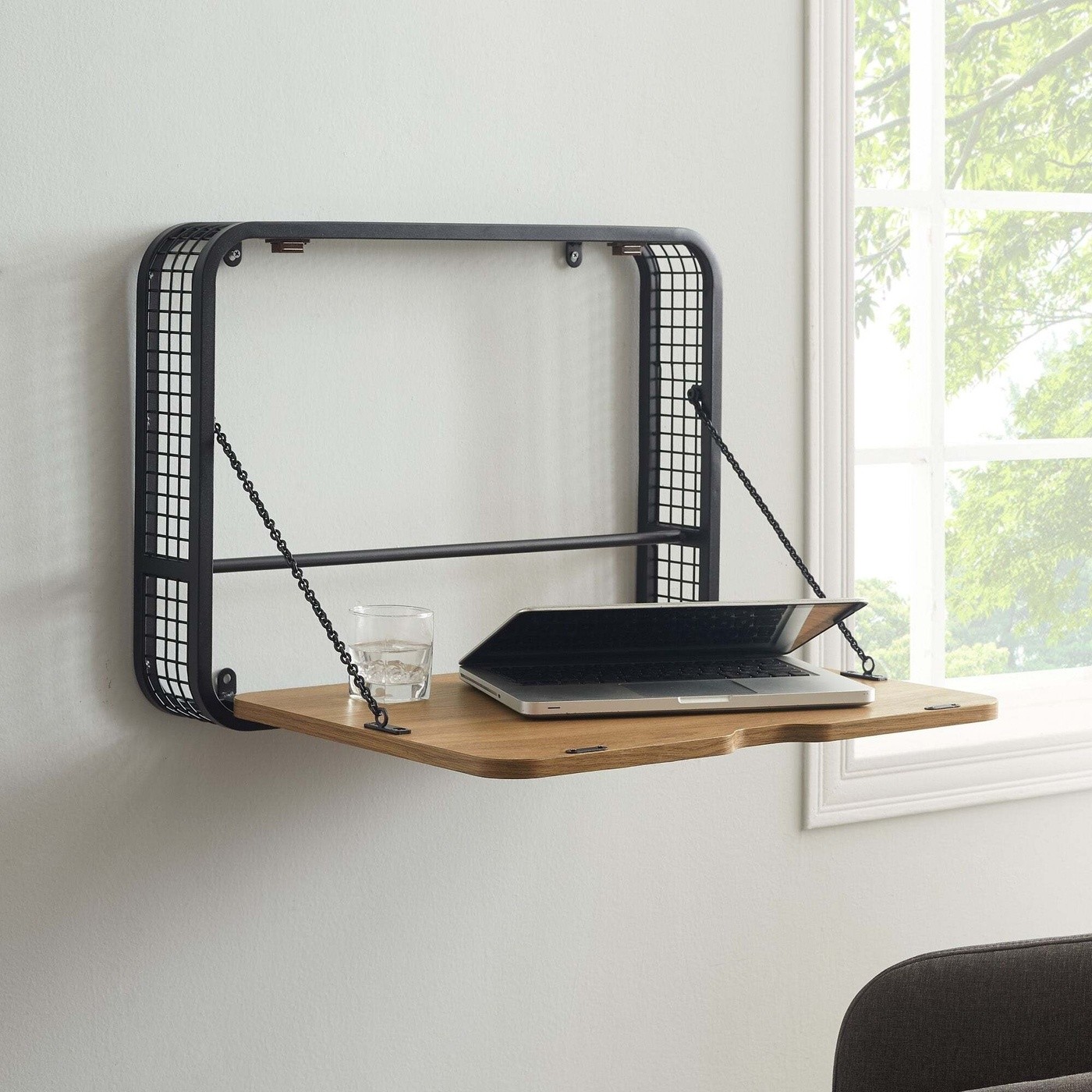 If you're a lover of industrial design, then this is the desk for you. The combination of a black powder-coated metal frame with natural oak wood gives this desk an industrial feel, and the unique design ensures that it will make a statement in your home too.
Although it's on the smaller side compared to other Murphy desks, it's an excellent solution for anyone who only needs a laptop to work. When your work is done, it can simply be closed to save space and left until you need it again.
Small but Stylish Folding Desk in Black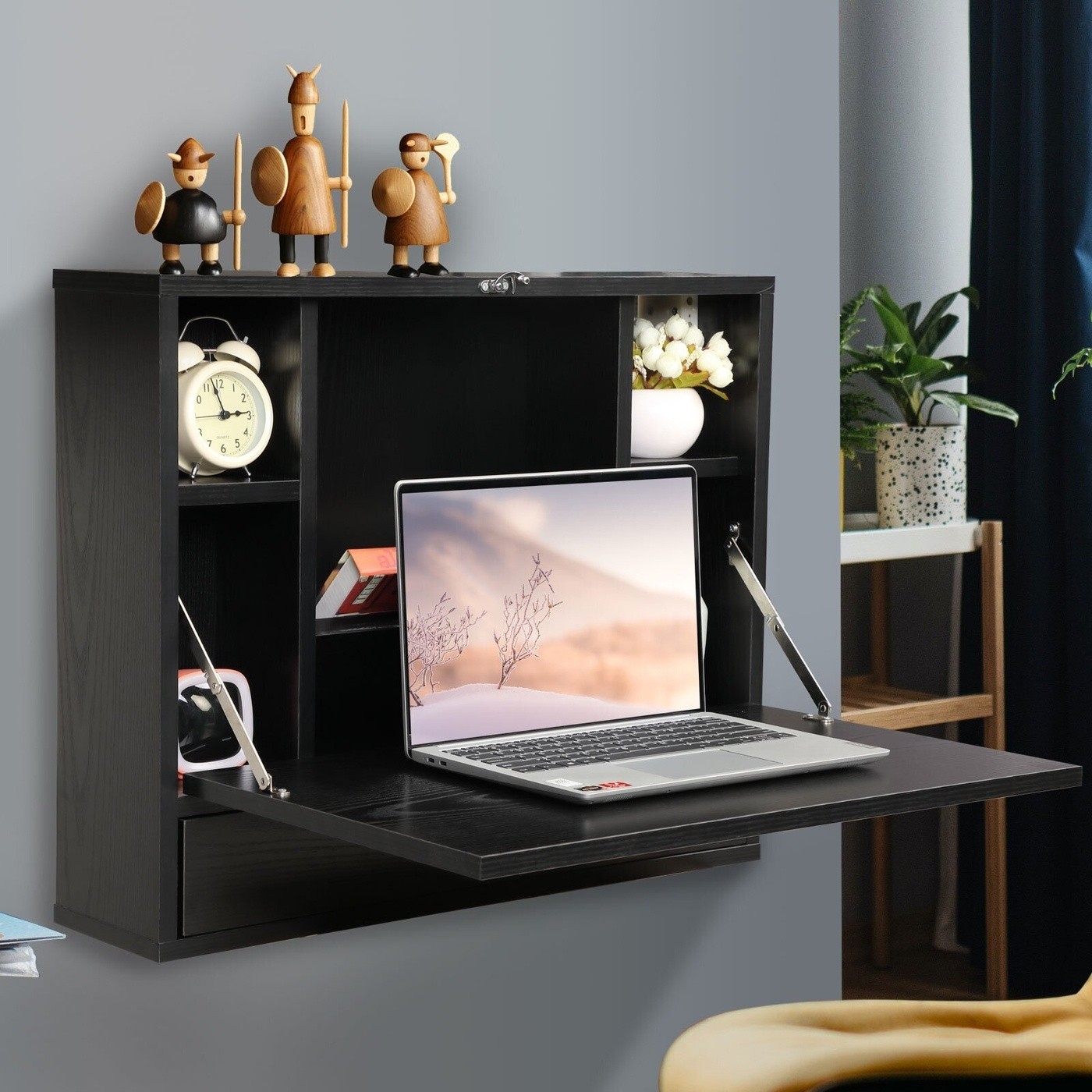 A wall-mounted folding desk with a draw will give you all the space you need to work while providing plenty of storage space too. A desk with a black design will fit well in most contemporary minimalist interiors, giving your space an ultra-modern feel.
The addition of a drawer is particularly useful, providing extra space to store odds and ends that can't go on the shelves.
Murphy Desk With a Chalkboard and Bookshelves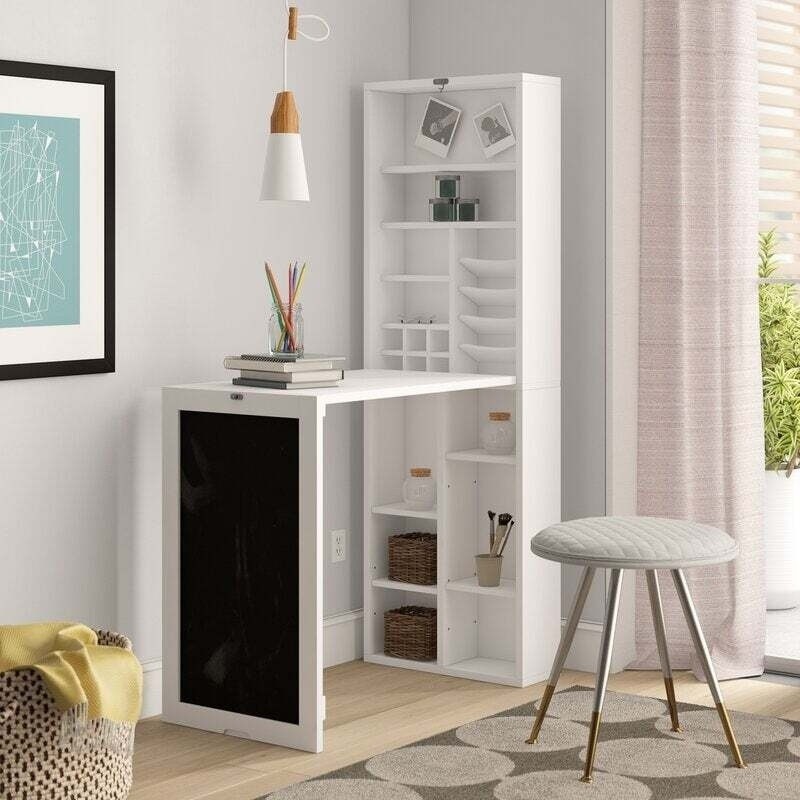 Choosing a Murphy desk with a chalkboard and lots of shelving will not only save you space but provide you with lots of other useful features too.
When folded away, the chalkboard is at just the right height to write notes and lists of anything you need, helping you stay organized. The different-sized shelves will provide you with plenty of storage without taking up too much space in your home.
Wooden Floating Desk with Doors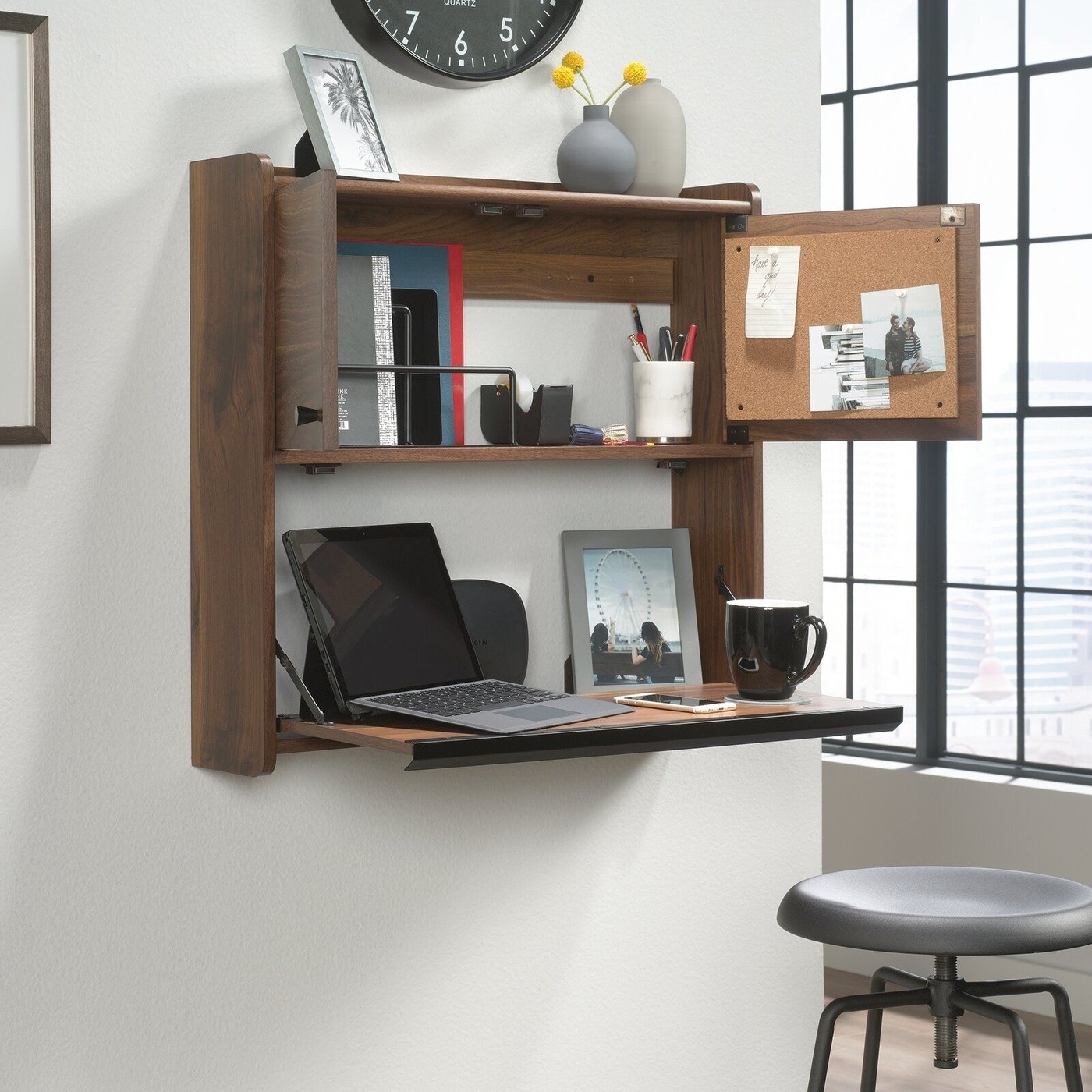 If you're looking for a small Murphy desk that will make a significant impact, then choose one made of natural wood. The natural colors and grains of the wood will stand out beautifully against lighter-colored walls making the desk into a feature in your room.
Integrated cupboards will provide storage for your work accessories whilst enabling you to close them at the end of the day when you just want to forget about work. You can style a wall-mounted desk like this by adding some succulents or small plants and some modern art prints which you can stand on the top.
Wall Mounted Drop Leaf Desk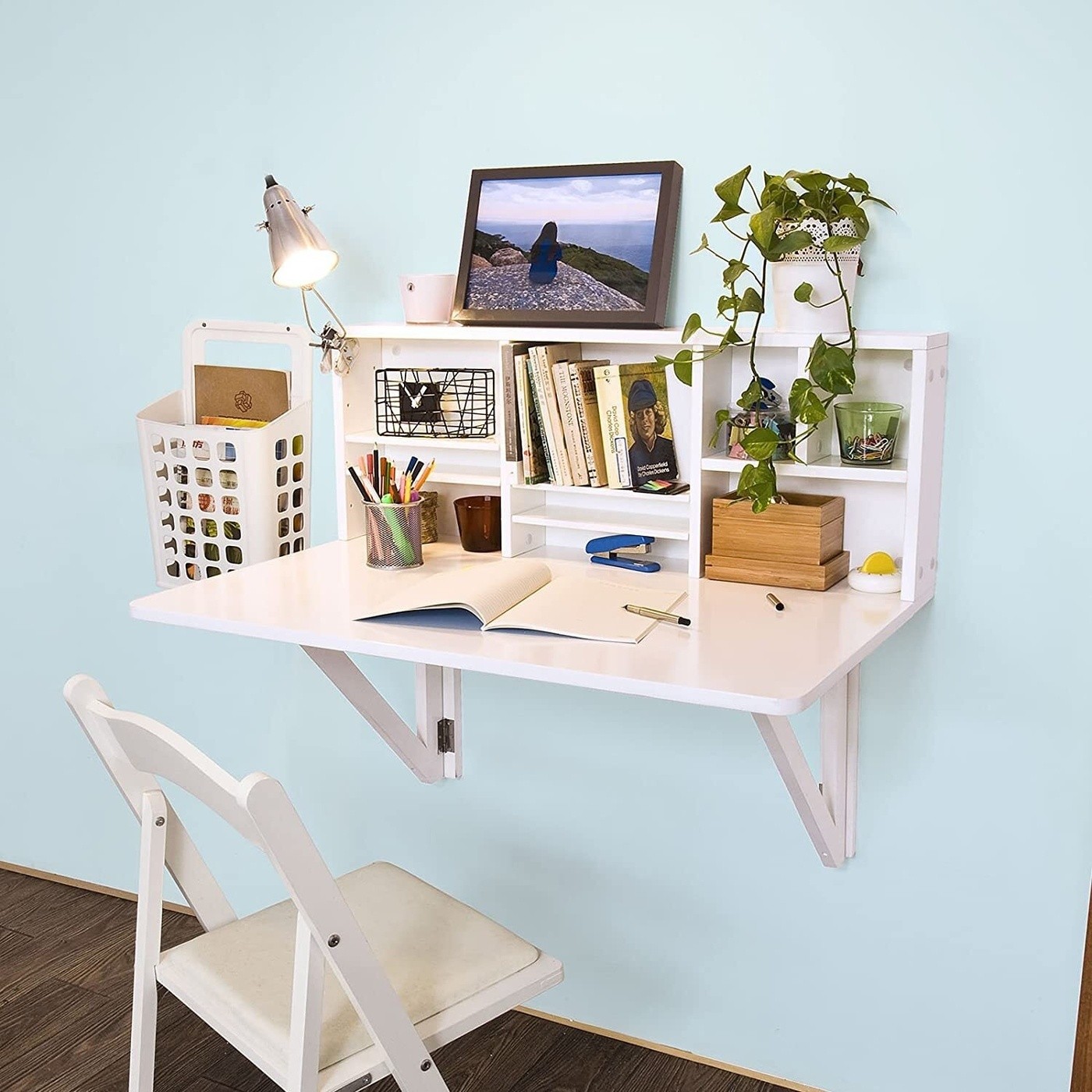 A drop-leaf desk is another great option for anyone who's looking for a space saving desk for their home. When not in use the main desk panel will drop down flat against the wall, providing you with additional space in your room.
Because of their thin profiles, drop-leaf desks are perfect for almost anywhere in your home, and can even work in the smallest of spaces.
Industrial Style Murphy Desk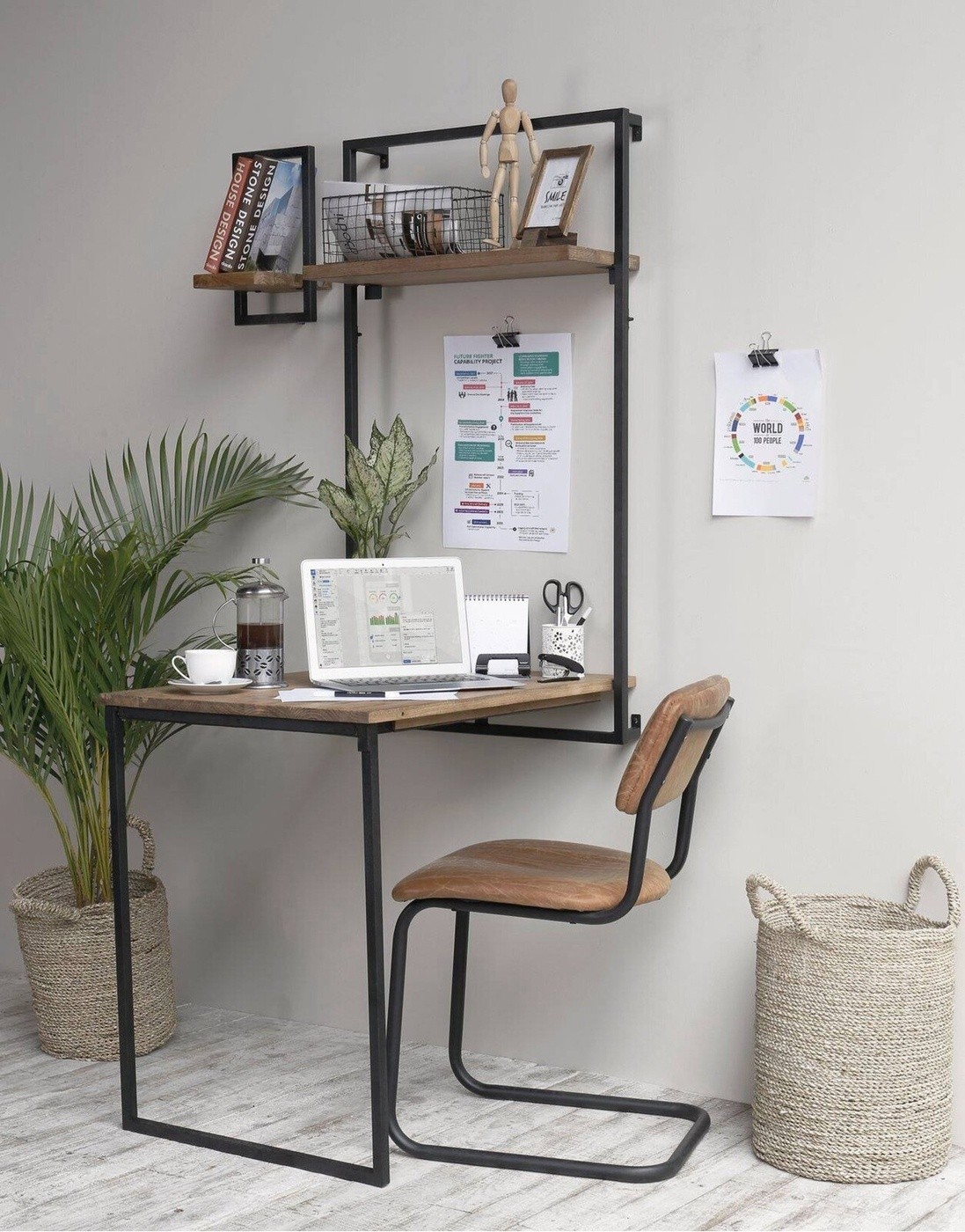 Industrial style folding desks are perfect for anyone who loves industrial interior design. The combination of raw materials like wood and metal is an easy way to give your space an industrial loft-style look.
A desk like this would look great in a living room and could also double as a dining table for two once the workday is done.
Try a Murphy Desk with a Slim Profile for Small Spaces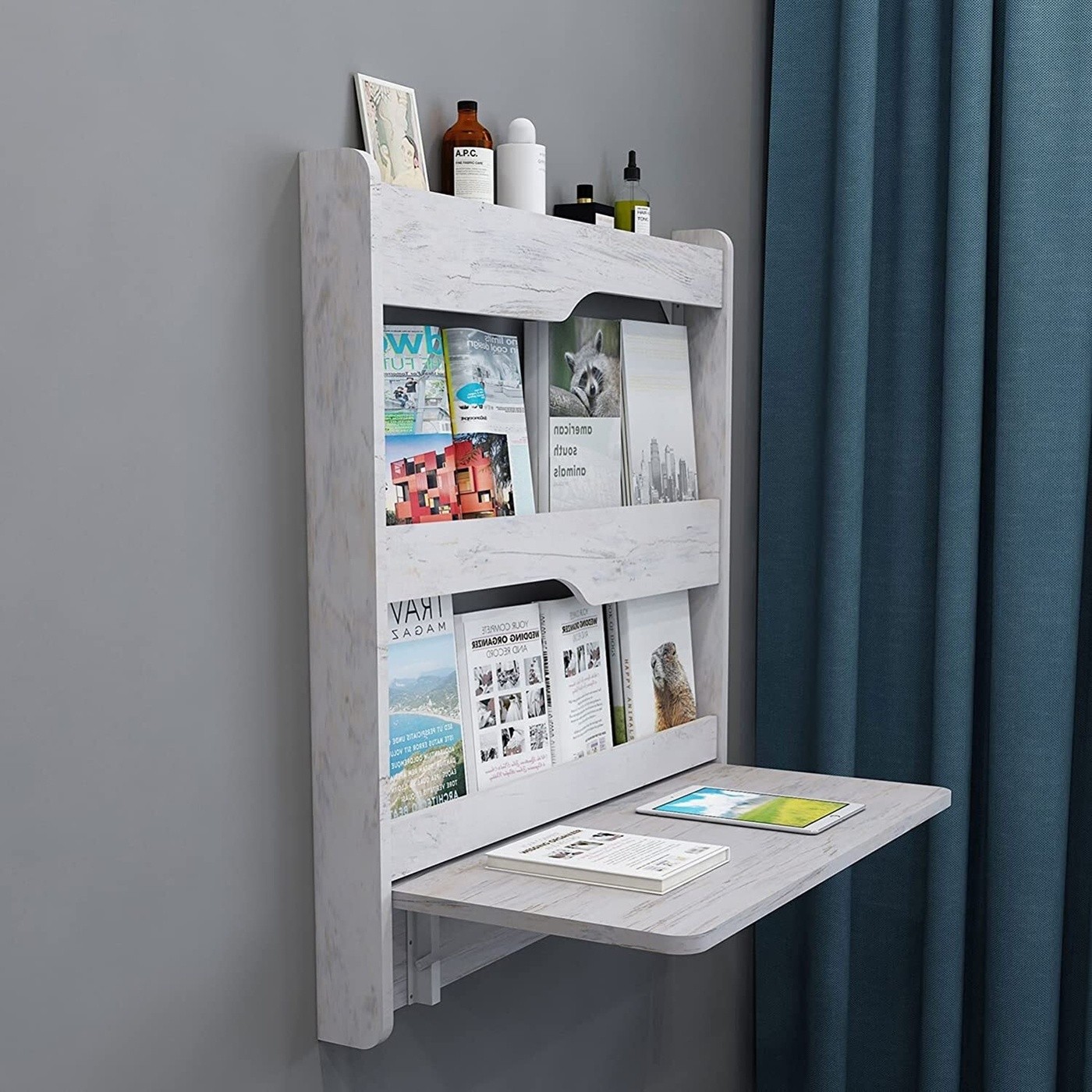 If you're really short on space, then a slim profile drop-leaf Murphy desk like this would be perfect for you. Rather than storing books with the spine out like in traditional bookshelves, the storage shelves on this desk allow books to be stored facing forward.
Not only does this save space, but it allows you to show off your favorite book and magazine covers too! The desk panel folds up when you need it to function as a desk or falls down flat against the wall when folded, taking up almost no space at all.
White Murphy Desk With Shelving Built In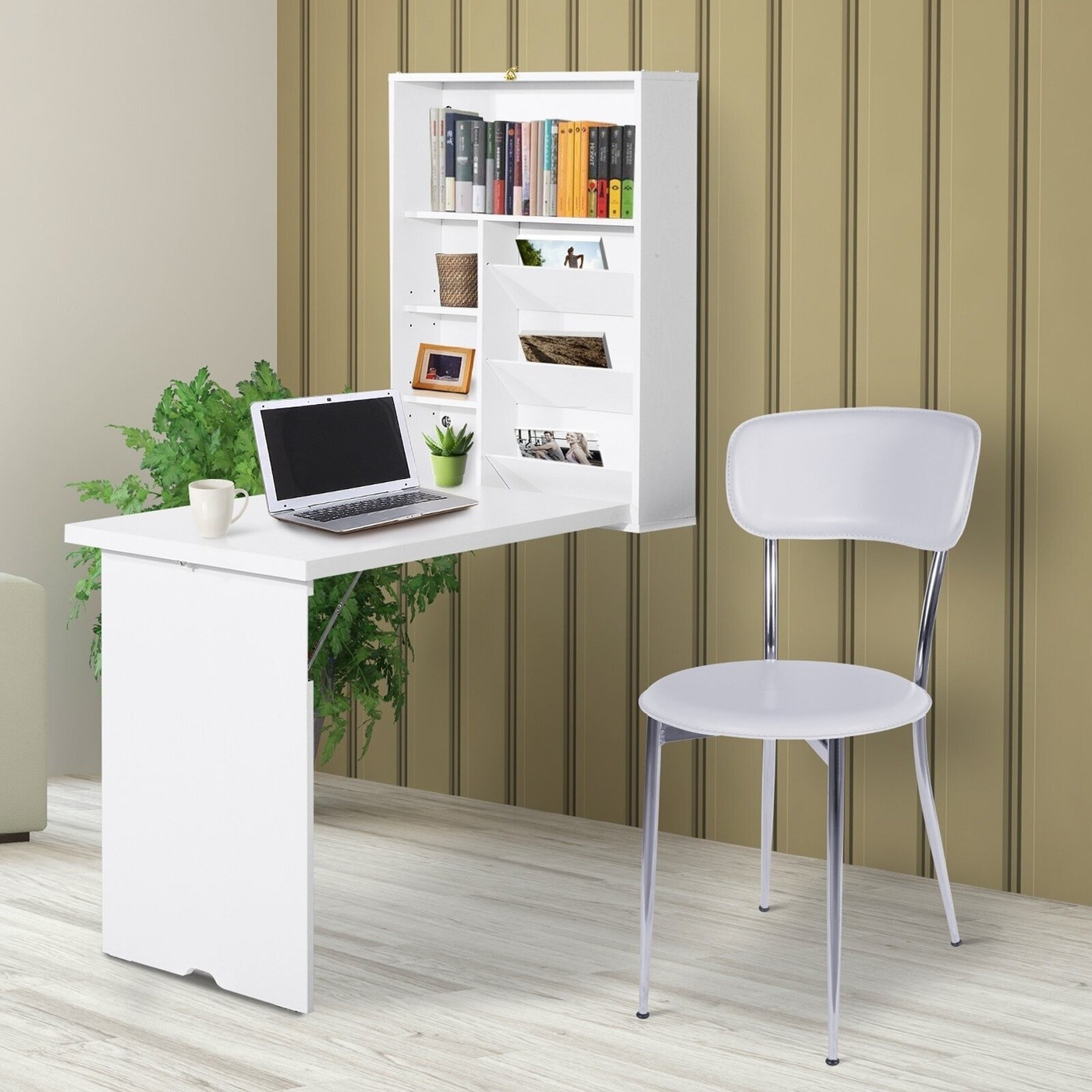 If you want a Murphy desk with a modern look to it, then a sleek white hutch desk like this would work well. With built-in shelves and a large desk area that folds down, you will have plenty of storage and workspace when you need it.
Larger desks like this are perfect for using in living rooms. When it's not being used as a desk, you could also use it as a table for two for dinner and drinks, or even as a games table to play chess or do puzzles. When you're finished for the day, it will fold neatly away.
Mid-Century Modern Style Murphy Desk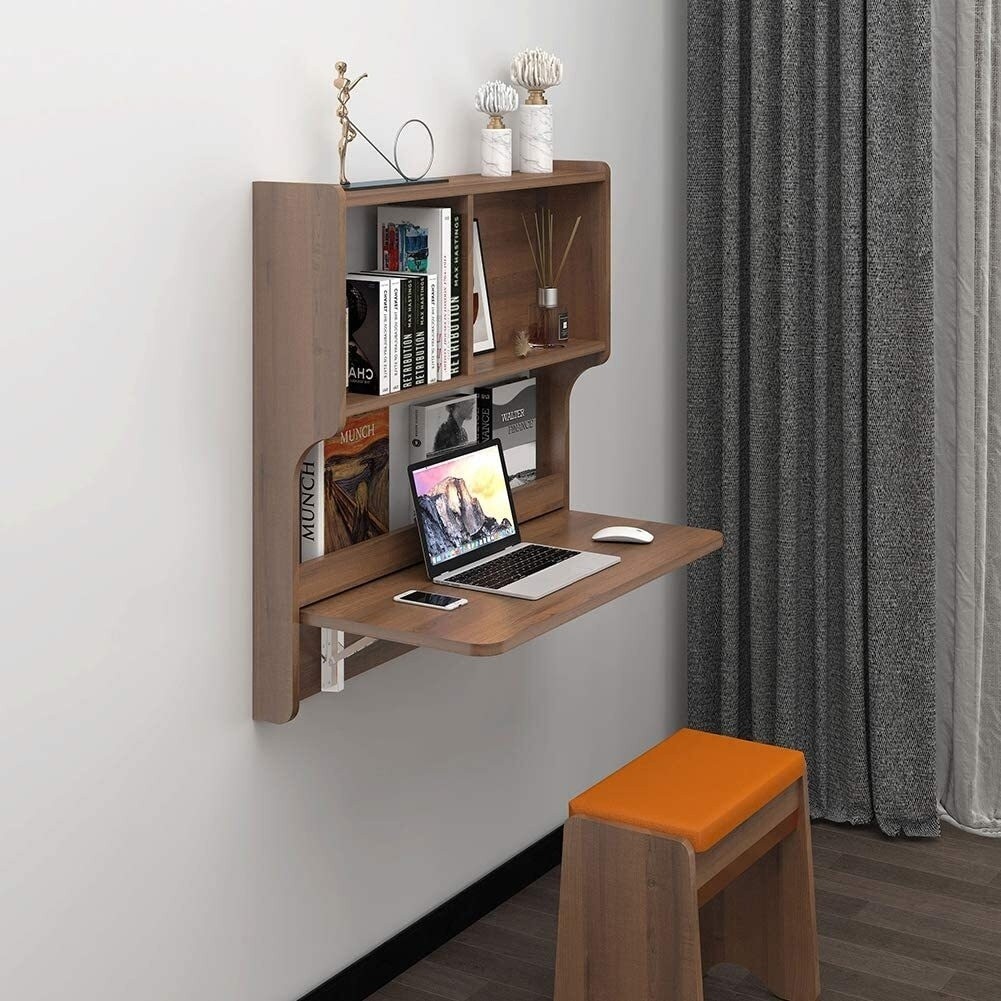 If you love mid-century modern style, then choosing a mid-century style Murphy desk will blend in well with the rest of your decor. This desk has a sleek, slim profile, so it's an excellent choice for anyone who wants to create a stylish workspace in their home, without taking up too much space.
The smooth curves of this design are in keeping with mid century style, so it will look as stylish when it is in desk mode as it will when it is folded down. Style a mid-century modern desk like this with some simple ornaments on the top to catch the eye.
Small Floating Desk With Gold Details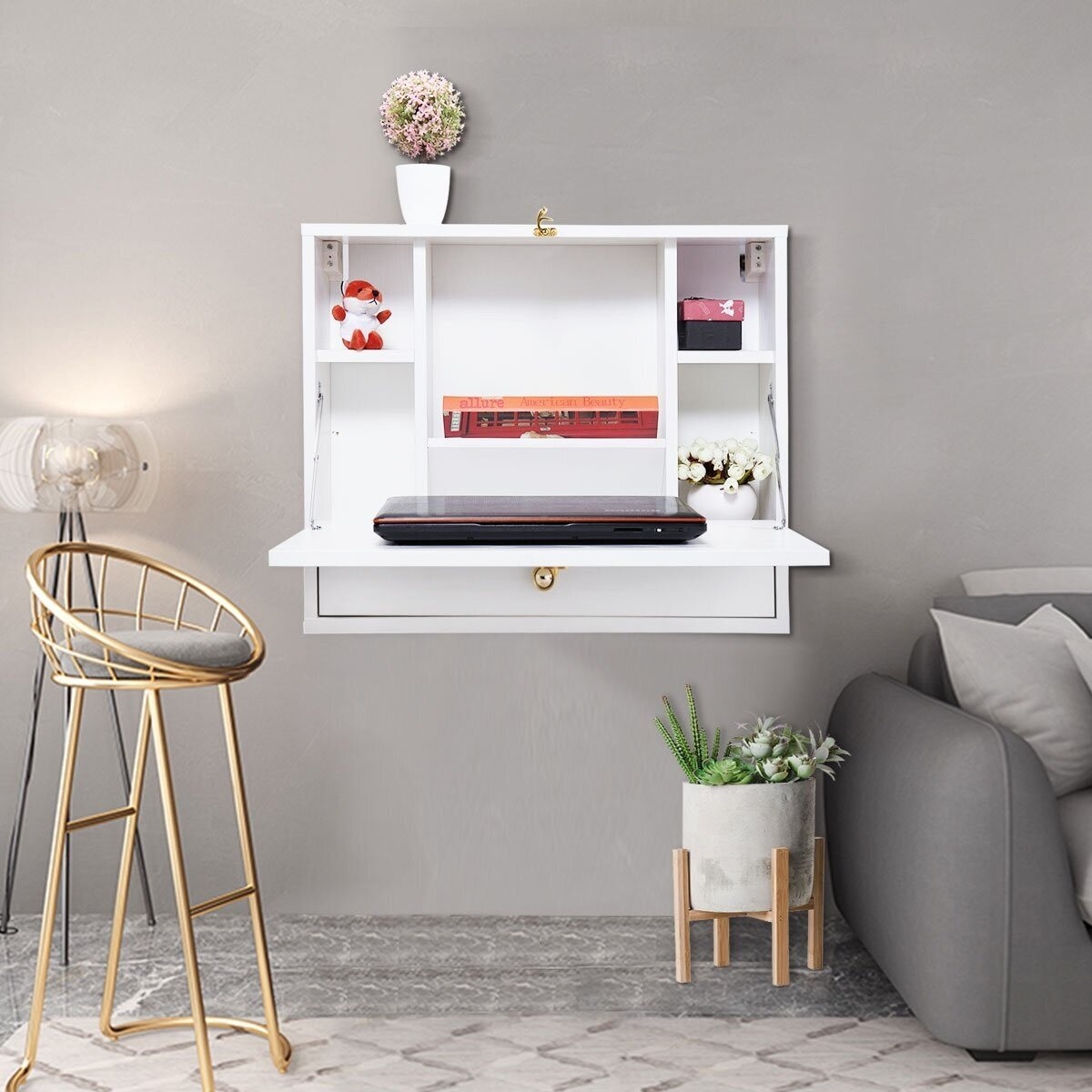 A smaller white Murphy desk with gold detailing is perfect for more feminine apartments. The thin profile won't take up too much space, so it can be used in almost any room in your home, from the living room, to the bedroom.
When not in use, the desk will fold up to save space, and it will look like a smart, stylish cabinet. The addition of a draw adds extra appeal, giving you somewhere handy to store your odds and ends, keeping everything tidy.
Long Wall Mounted Drop Leaf Desk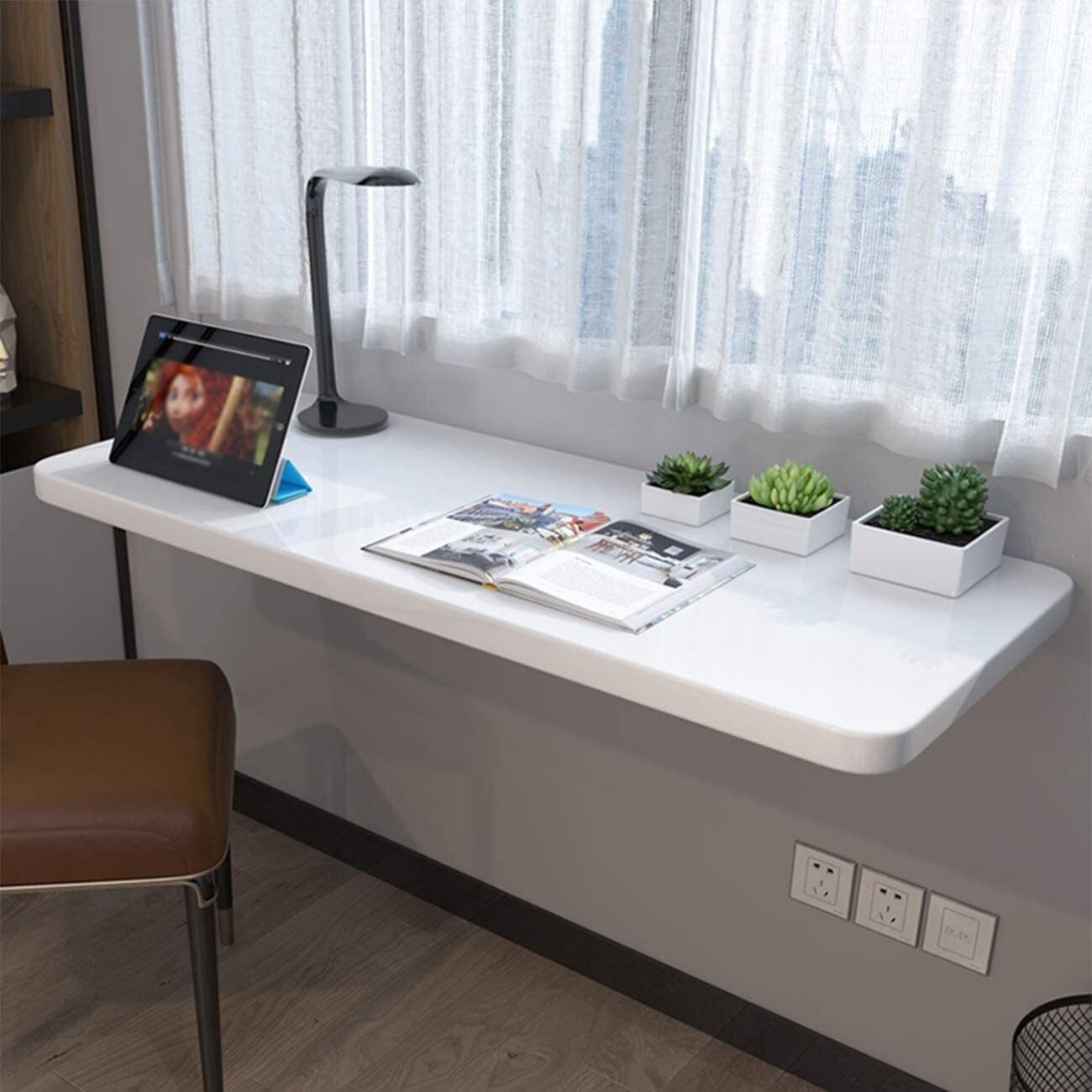 A longer desk like this is the ideal solution if you need a desk that can be used by two people. Although this desk provides plenty of space to work on, it still folds down flat against the wall, taking up almost no space in your room.
A desk like this could be used in the living room, or even the kitchen, where it can be repurposed for other uses when it's not being used as a desk.
Sleek Black Murphy Desk with a Built-In Bookcase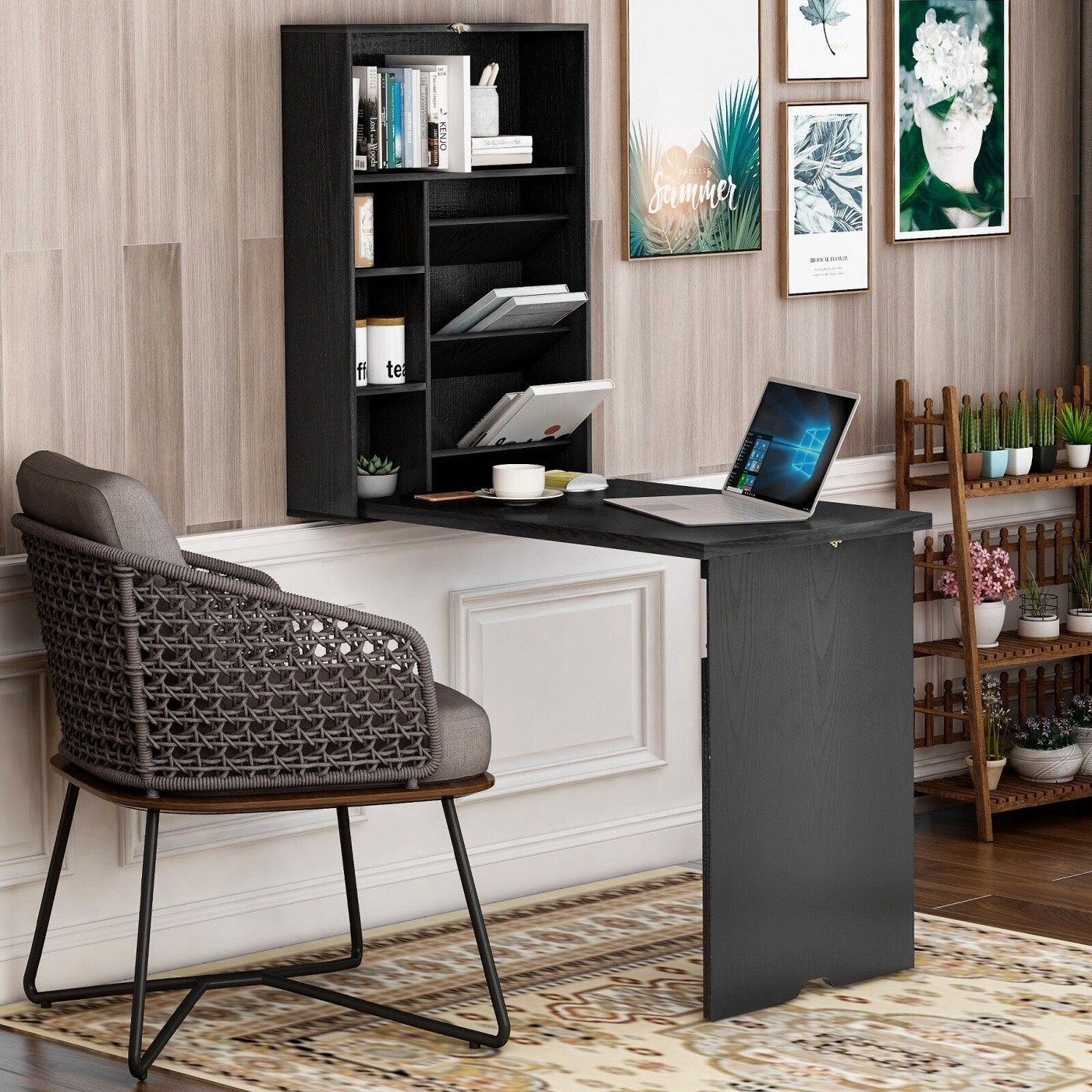 If you're looking for a Murphy desk that's smart, stylish, and functional, then this black hutch desk with a built in book case should fit the bill. The smart black design will give your workspace a professional feel, and it can easily fold away when your work day is done.
When folded away this desk will have a minimal look, which you can always style up by hanging some artwork on the front.
A Desk That Transforms Into Shelves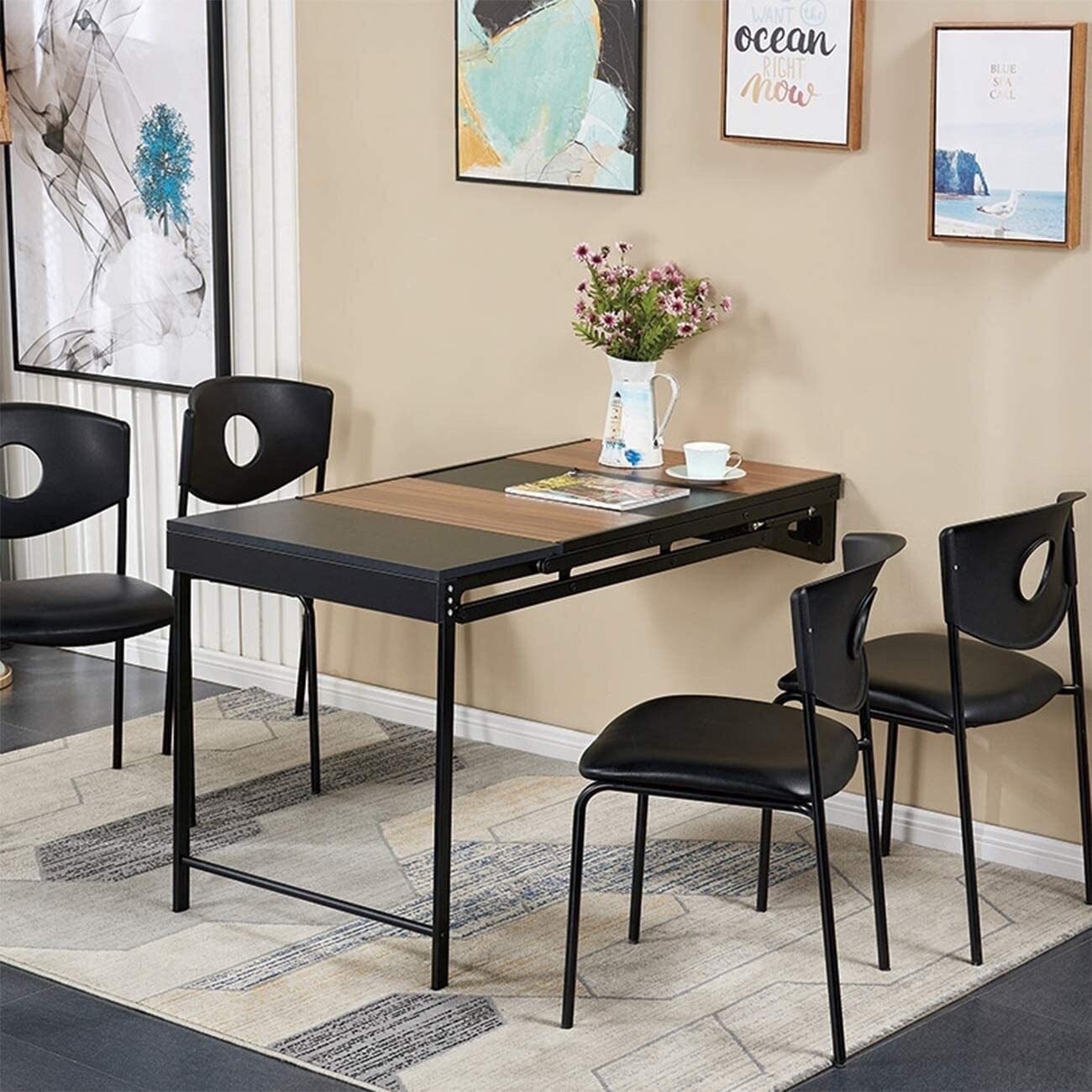 A desk that transforms into shelves is the perfect space-saving solution for a living area. The table is made from four panels, which, when lifted transforms into industrial-style shelves against the wall.
As this is a little larger than other Murphy desks, it would work particularly well in a living room, as it can also be used as a dining table. When not in use as a desk or table, the shelves can be used for additional storage space.
A Stylish Modern Writing Desk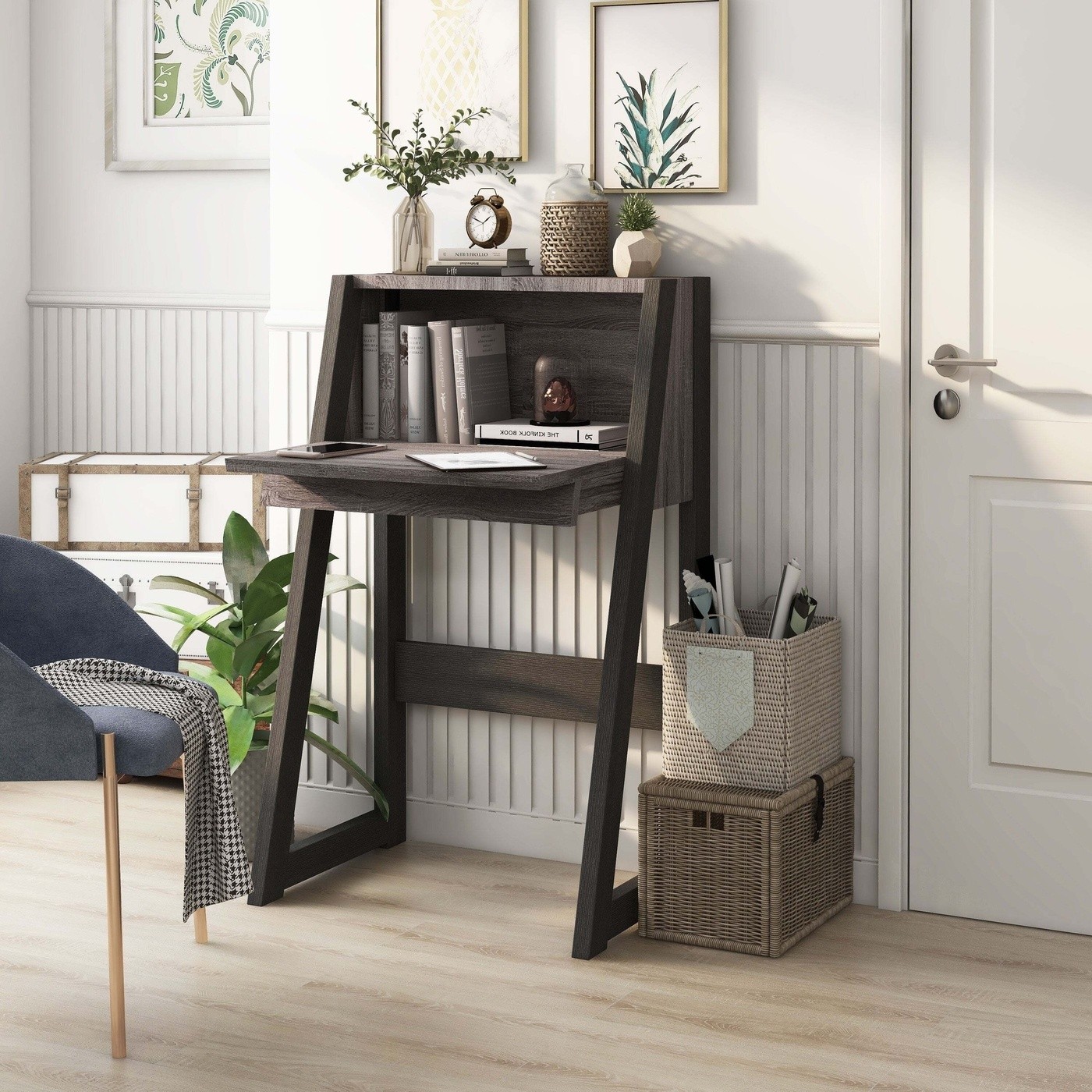 This elegant writing desk serves a dual purpose as a console table. When not in use, the desk folds up, closing off the storage area which means you can hide away your laptop, books, or other work related items.
When its closed this desk looks like a stylish contemporary console table and will make an ideal focal point in your living room. Style the top with some art, and fresh foliage in a simple vase to complete the console table look.
Tips for Choosing the Perfect Murphy Desk for Your Space
Murphy desks can be placed almost anywhere in your home. From the living room to the kitchen, and even the bedroom, giving you the perfect place to work when you're working from home. Choosing the right desk to go with your decor is key, so here are some tips on how to find the right foldaway desk for your space.
Consider your space
If you're really short on space then choose a desk with a slim profile and a drop-leaf. This will hardly take up any space at all, and won't rest on the floor risk blocking walkways in your room. If you have a larger space, then try a hutch style Murphy desk. This is a little larger and can also be used as a dining table if required, making it truly multi-functional.
Choose a style that fits well with the rest of your decor
Murphy desks are available in a wide range of different styles, so choosing one that fits will with your existing decor will help keep your space looking stylish.
Industrial - If you love industrial styling, look for a desk that combines natural wood with metal.
Glamorous - For a touch of glamour, look for an elegant white desk with gold hardware.
Minimal - For the minimalists out there, a hutch desk in black or white will work well.
Mid-Century Modern - Look out for desks with a slim profile, open shelves, and smooth curves in the design.
Traditional - A writing desk that can double as a console table, or a wooden Murphy desk with integrated cupboards in a natural wood finish will work well in a traditional interior.
Styling your Murphy desk
Once your desk is installed, make it part of your home by styling it with art and accessories. Most wall mounted desks have space on the top, this is a great place to add some small potted plants or succulents, and perhaps place an art print or two.
If your desk has in built shelves, keep a couple of the sections for stylish ornaments, photos, or other accessories. This way you will always have something lovely to look at while working.