As well as being a clever space-saving alternative, a wall-mounted desk can be your chance to showcase your creativity and good taste in décor: after all, it's a much more conscious and quirky choice than traditional designs with legs!
Often known as floating desks, these furniture solutions are versatile and extremely functional.
Most importantly, they're available in all sorts of sizes and styles, so you can easily find the right one for your available space and to match your existing décor.
When choosing a wall-mounted desk, there are a few things that you should consider before you browse away:
Start by measuring your designated space so that you know exactly how much room you've got to play with. Don't forget that you'll also need to add between 23 and 30 inches in depth in order to sit on a chair comfortably

What exactly do you need your new floating desk for? If you're tight on space and are only looking for a work surface, you can find more basic models that focus on that only; however, if you could do with some additional storage space and you've got room for it, you can choose among wall-mounted desks with open shelves, drawers, hutches, or a mixture of these storage solutions

Traditional wood is still the best and most versatile material for a wall-mounted desk. Depending on your décor style, though, you might want to consider other alternatives, too. For example, metal elements work well with industrial rooms when paired up with a wooden surface, and glass can help you reinforce a contemporary feel. Alternatively, plastic and laminate are less glamorous but cheaper and still practical options
But how do you actually incorporate a wall-mounted desk into your room? Well, here are 15 clever ideas to choose from.
1.

Choose a wall-mounted desk that only appears when needed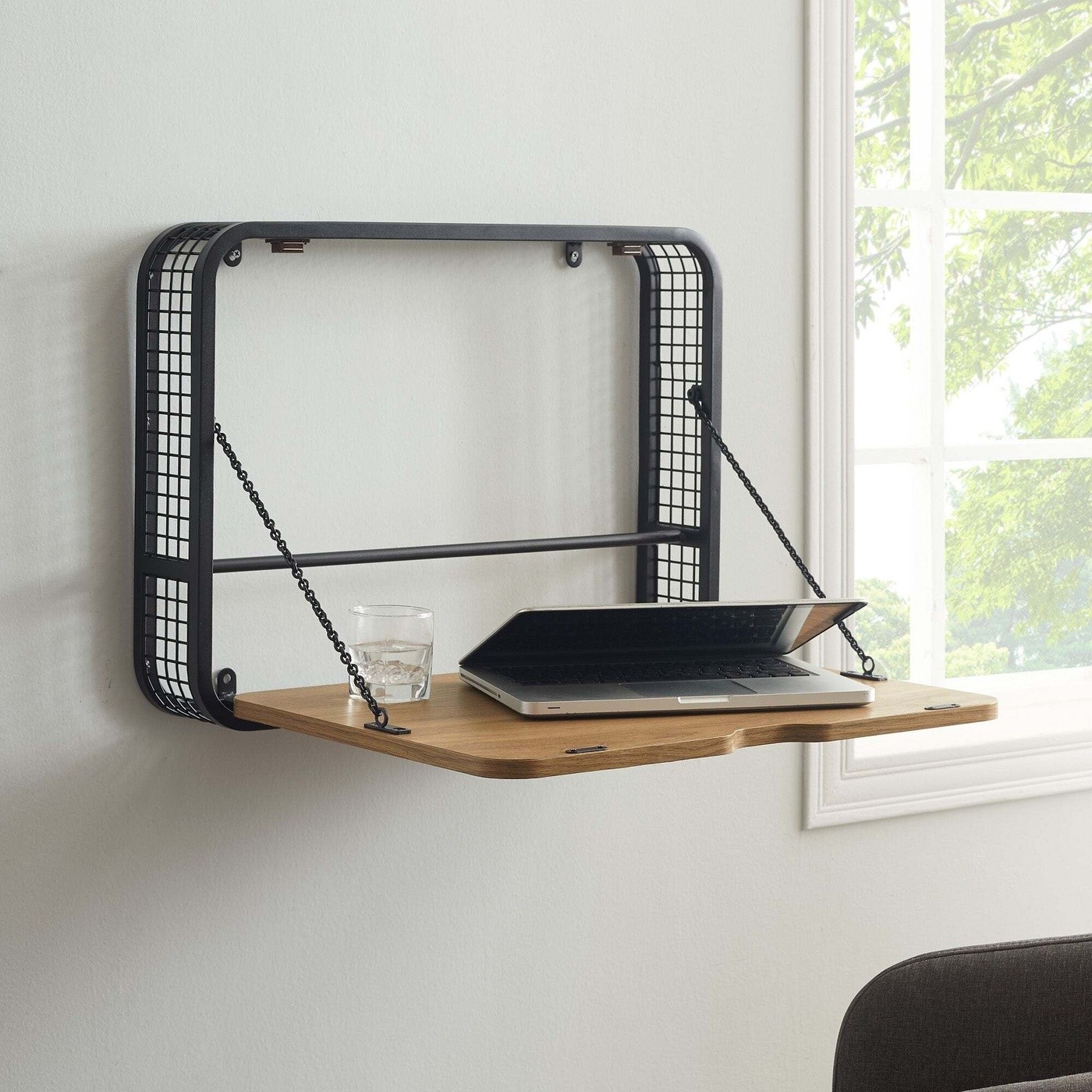 If space is your main concern, the most practical solution to maintain the visual flow of your setting and save even more room is to choose a wall-mounted desk with a drop-down surface, just like this one.
That way, you'll get to make the most of it whenever you actually need it, but you can then close it as soon as you're done, turning it into a pleasant wall decoration.
2.

Consider a shelf-style desk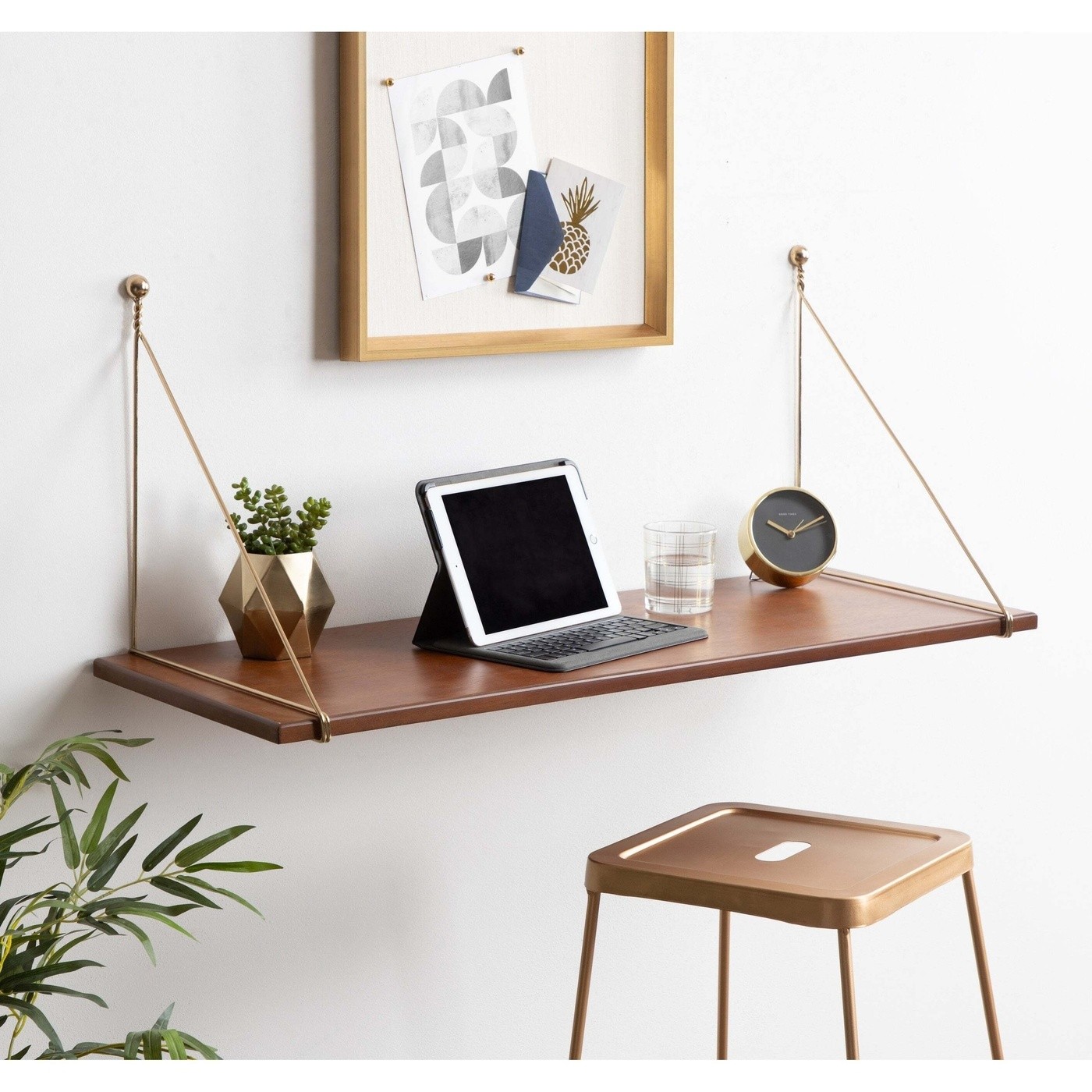 It's impossible not to fall in love with this beautiful and original take on the classic wall-mounted desk design.
Rather than a cumbersome body, it maintains the essential work surface but in a clean design that makes it look just like a traditional shelf.
This is especially a perfect option in minimalist rooms: you could add a couple of ornaments on its sides while keeping the middle section free for whenever you need to use your laptop.
3.

Stay on the small side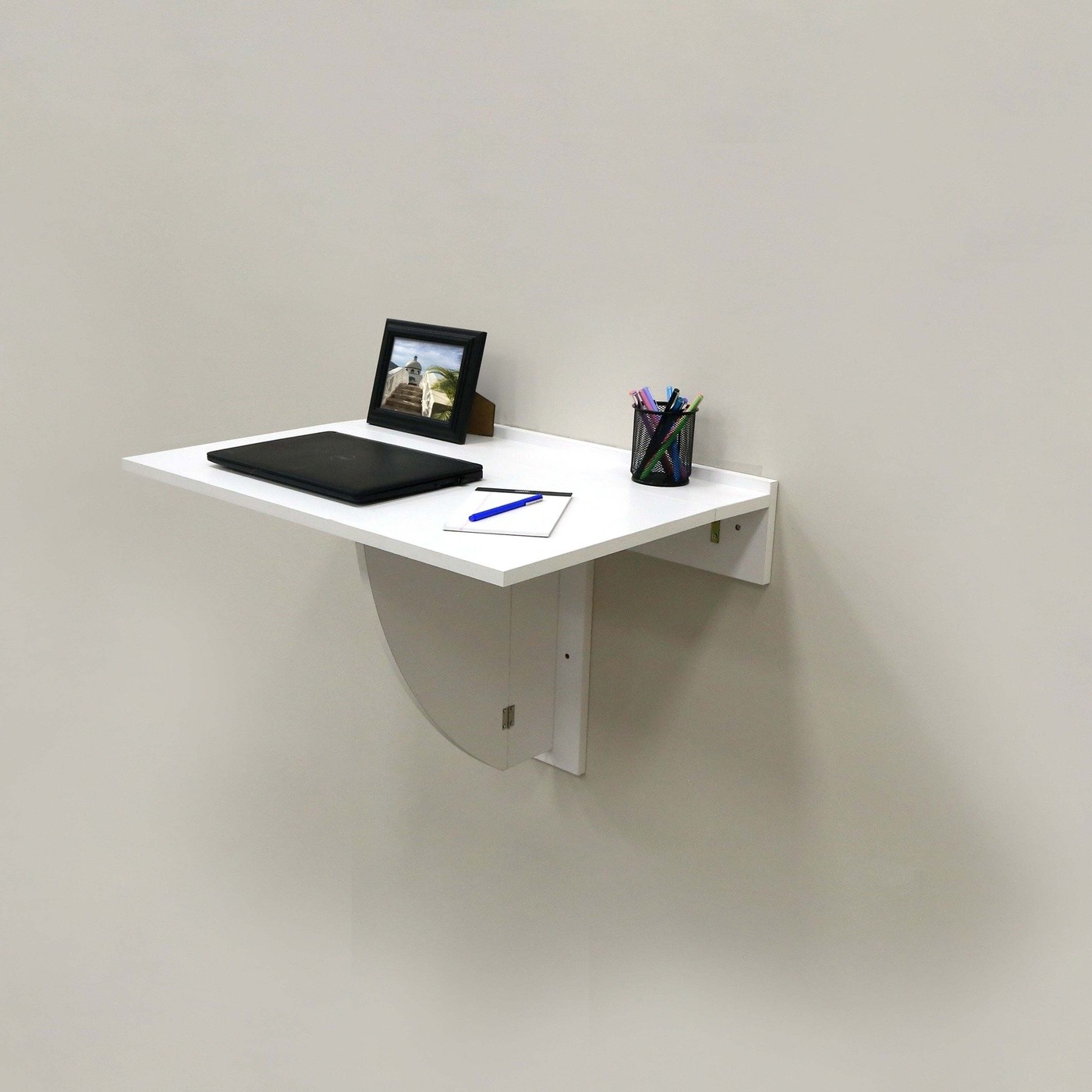 If you think that your room is so small that you can't possibly fit any kind of desktop, think again!
This wall-mounted desk is a welcome reminder that a clever design means you don't necessarily have to compromise, even with small spaces: its disappearing surface is less than 22" deep when fully open.
What we love the most about it is that it somehow manages to include the smallest little shelf, too. That way, you still get to store a couple of useful pieces of work equipment or showcase your favorite decorative items whenever you're not using it.
4.

… or go big if you have enough room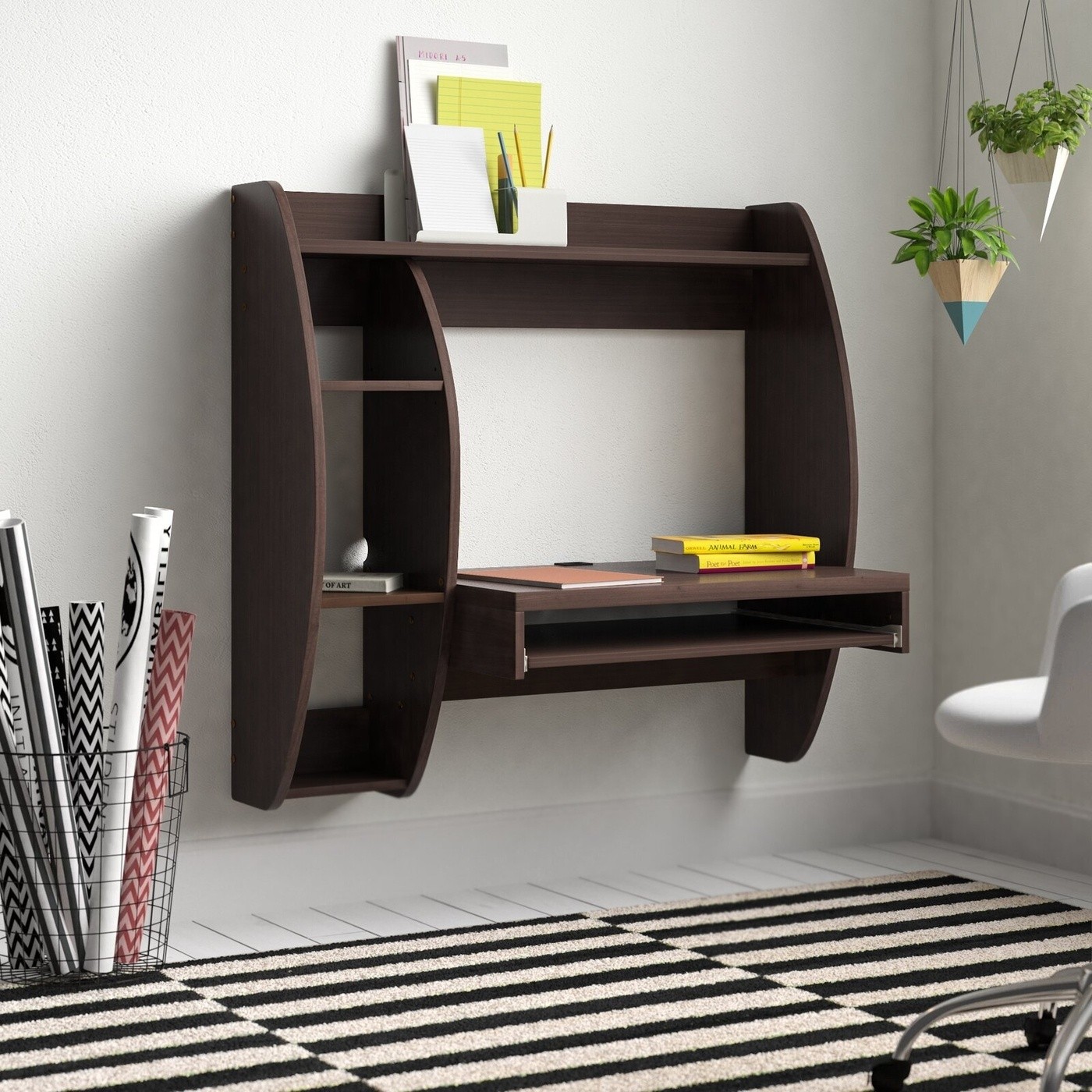 A handy way of saving space on depth but still have plenty of room for your belongings is to go vertical as this practical wall-mounted desk does.
It includes a spacious work surface with a separate keyboard tray and plenty of opportunities to keep your work-related items neatly organized thanks to its three side shelves and a larger one on top.
These types of wall-mounted desks are also recommended if you were hoping to showcase a few decorative elements, too.
5.

Create some contrast against your wall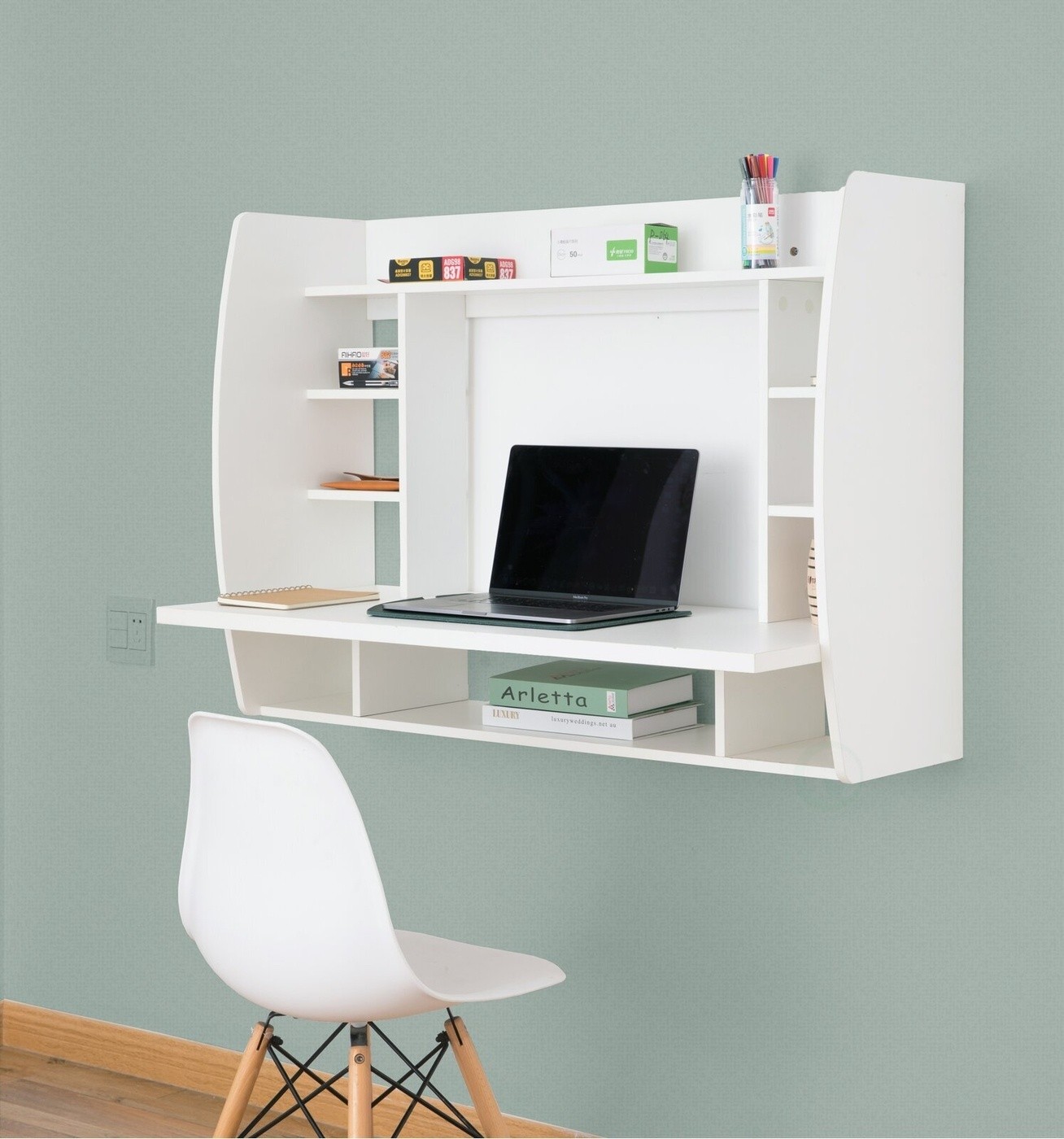 A white wall-mounted desk on a white wall would end up looking a bit overwhelming. A dark wood finish against some brown walls? Even worse.
That's why we recommend choosing a floating desk that complements your palette but is in a different hue from your wall.
For example, this stunning desk with lots of practical open shelves is available in three different shades. If you have light-colored walls, consider a darker desk or vice versa.
6.

Experiment with a modern touch
Just because wall-mounted desks are more functional and innovative pieces of furniture, it doesn't mean that they can't work with other types of décor!
If you have traditional or modern interiors, you can easily find models that add a vintage touch to this contemporary solution.
For example, this floating desk maintains the characteristic long rectangular shape of mid-century modern furniture as well as a dark wood finish.
The trick is to decorate its shelves with a few modern items and only bring the technology side of things out when you're actually using it (aka your laptop).
7.

Make it delightfully rustic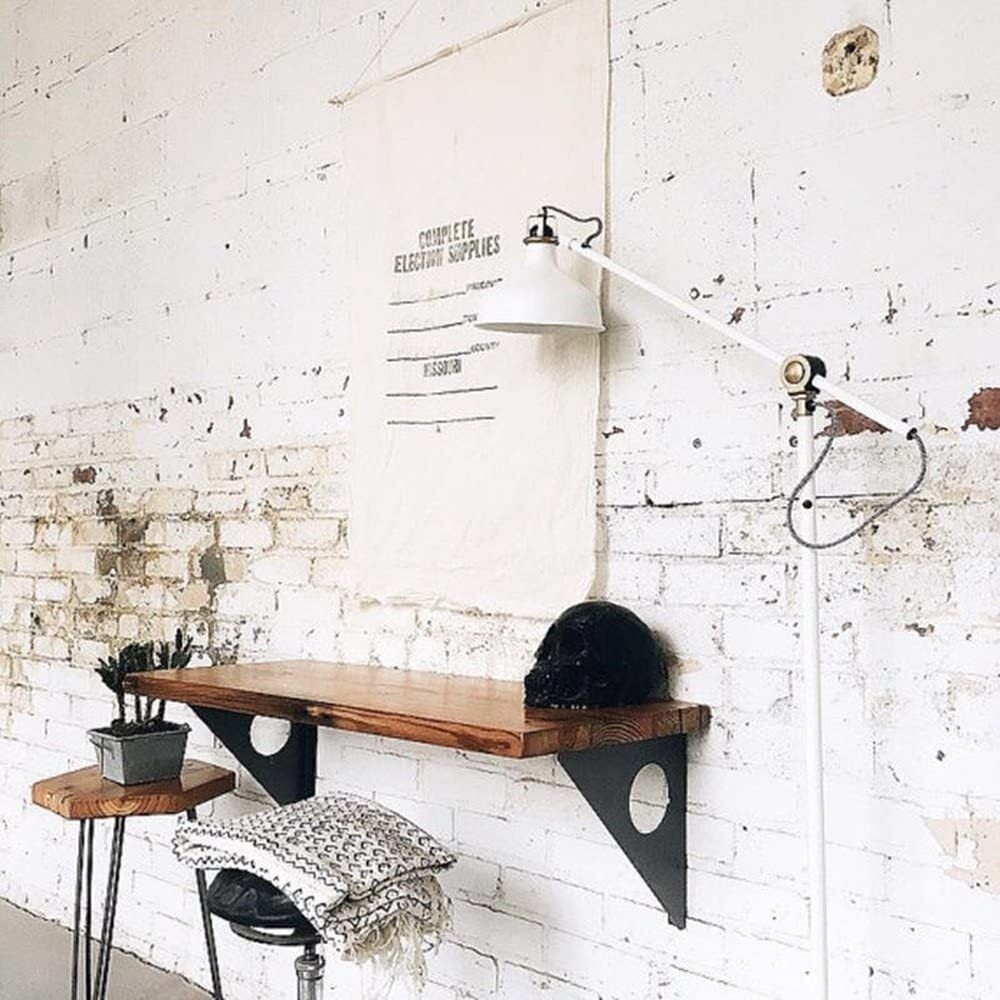 This stunning solid wood model is another proof that wall-mounted desks can complement less contemporary settings too, including those that emphasize the beauty of cozy and rustic furniture.
Showcasing a unique texture of wood veins, this floating desk achieves a charming balance between industrial and rustic.
Plus, thanks to its versatile surface, it can easily be used for multiple scenarios, from work to a quick lunch.
8.

Turn your wall-mounted desk into a shelving unit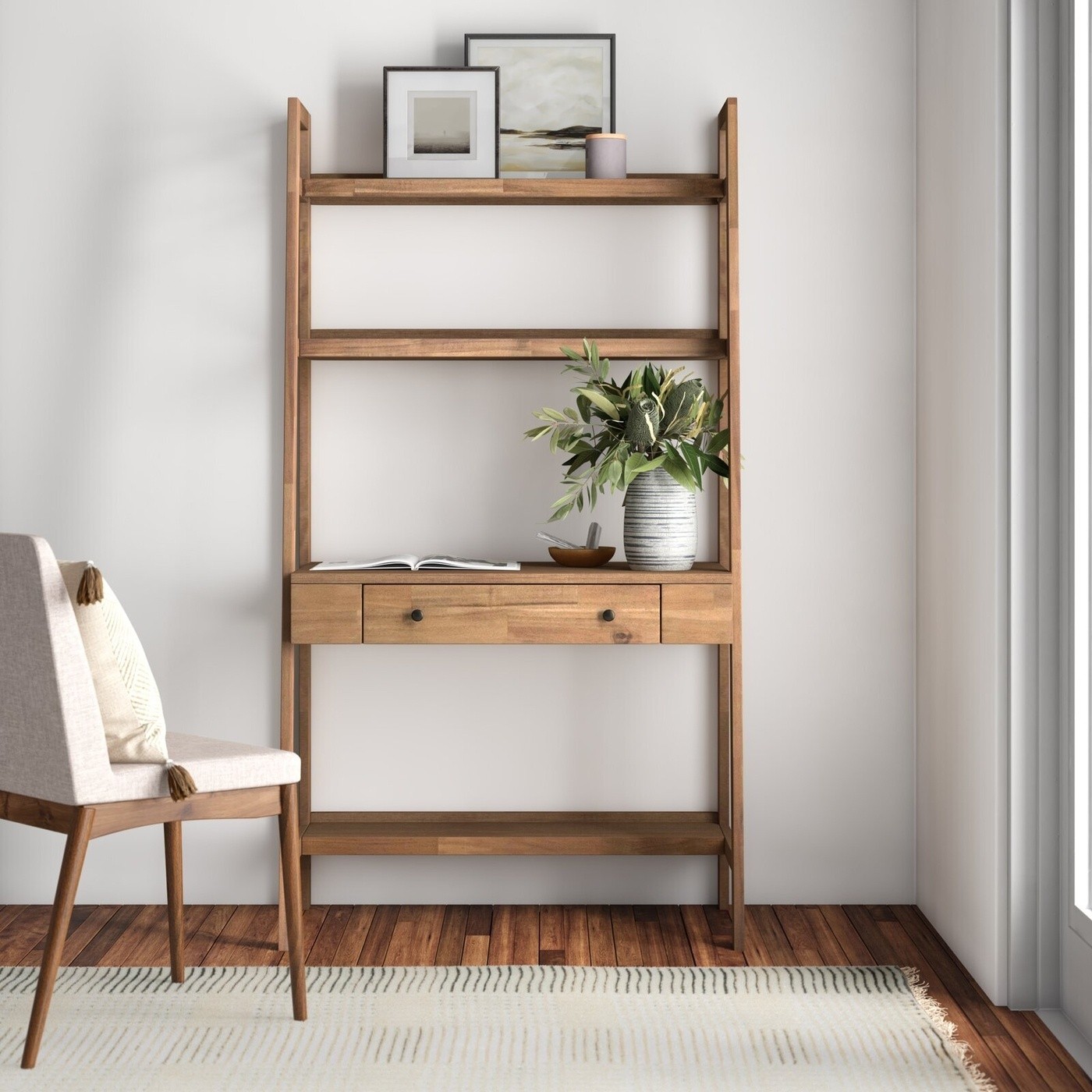 If you only have enough space for a desk or a shelving unit, this creative model will give you the best of both worlds: two pieces of furniture for the floor real estate of one!
In fact, it combines a floating desk with two handy shelves.
To make a stronger statement, they're all connected by a stylish frame that inspires a dynamic sense of movement.
9.

Consider unusual takes on the classic wall-mounted desk design
Nowadays, there are so many different types of wall-mounted desks that this word could mean something different to everyone.
A clever way of carving your own office corner in a larger room is to opt for a floating desk that is attached to the wall through a practical shelving unit.
This model is especially great thanks to its adjustable shelves, perfect to fit items of different heights and to match your specific vision, readjusting them whenever you need to.
10.

Choose a versatile solution if you like experimenting with different decorative ideas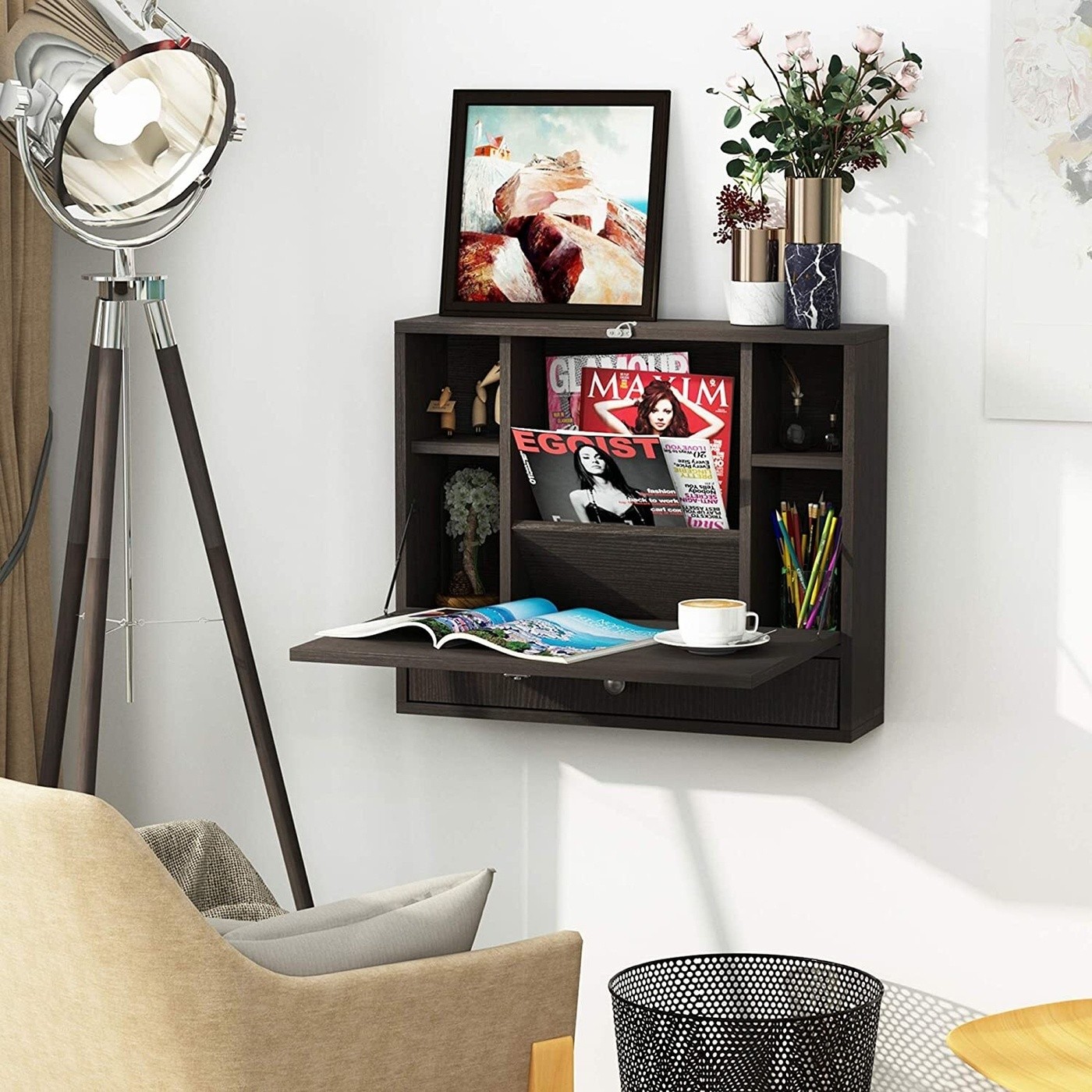 Do you often get tired of your current décor? Do you enjoy refurbishing or moving things around a bit? Then you most certainly won't get bored with this wall-mounted desk.
As well as being one of the cleverest space-saving solutions, it allows you to arrange its versatile design in different ways: you can leave the work surface down while still showcasing a few ornaments on its open shelves, or you can always decide to close it, limiting the decorative elements to the top.
Even when you do so, this wall-mounted desk is designed to look just like a more traditional piece of furniture, so it'll never seem out of place.
11.

Make the most of that forgotten corner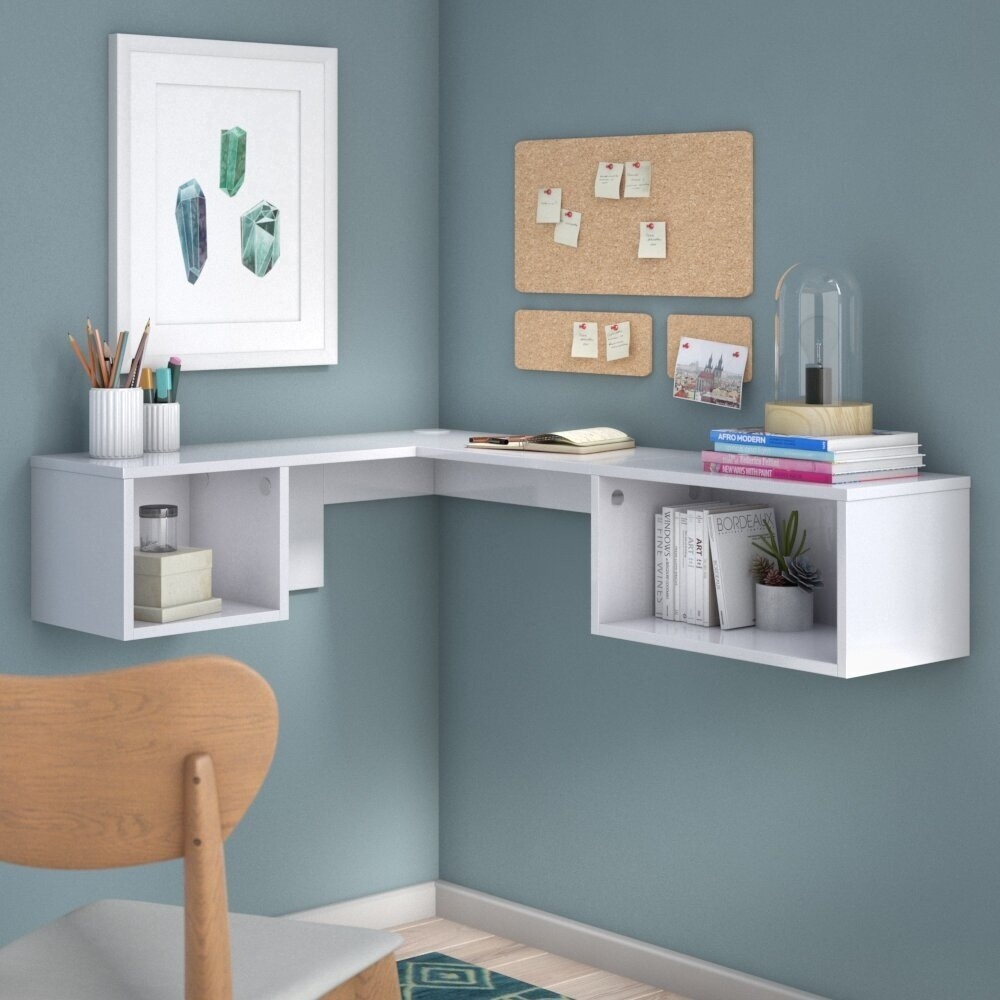 Corner desk and floating models are two of the most popular space-saving solutions: can you imagine the benefits you'll unlock if you combine them?!
This L-shaped floating desk is ideal if you have a lonely corner where you thought nothing would fit.
You'll obtain a long work surface with plenty of room for both your laptop and a few decorative items, as well as two open shelves that you can use as a bookcase or to keep all of your work-related equipment always at hand.
12.

Complement your wall-mounted desk with shelves or hutches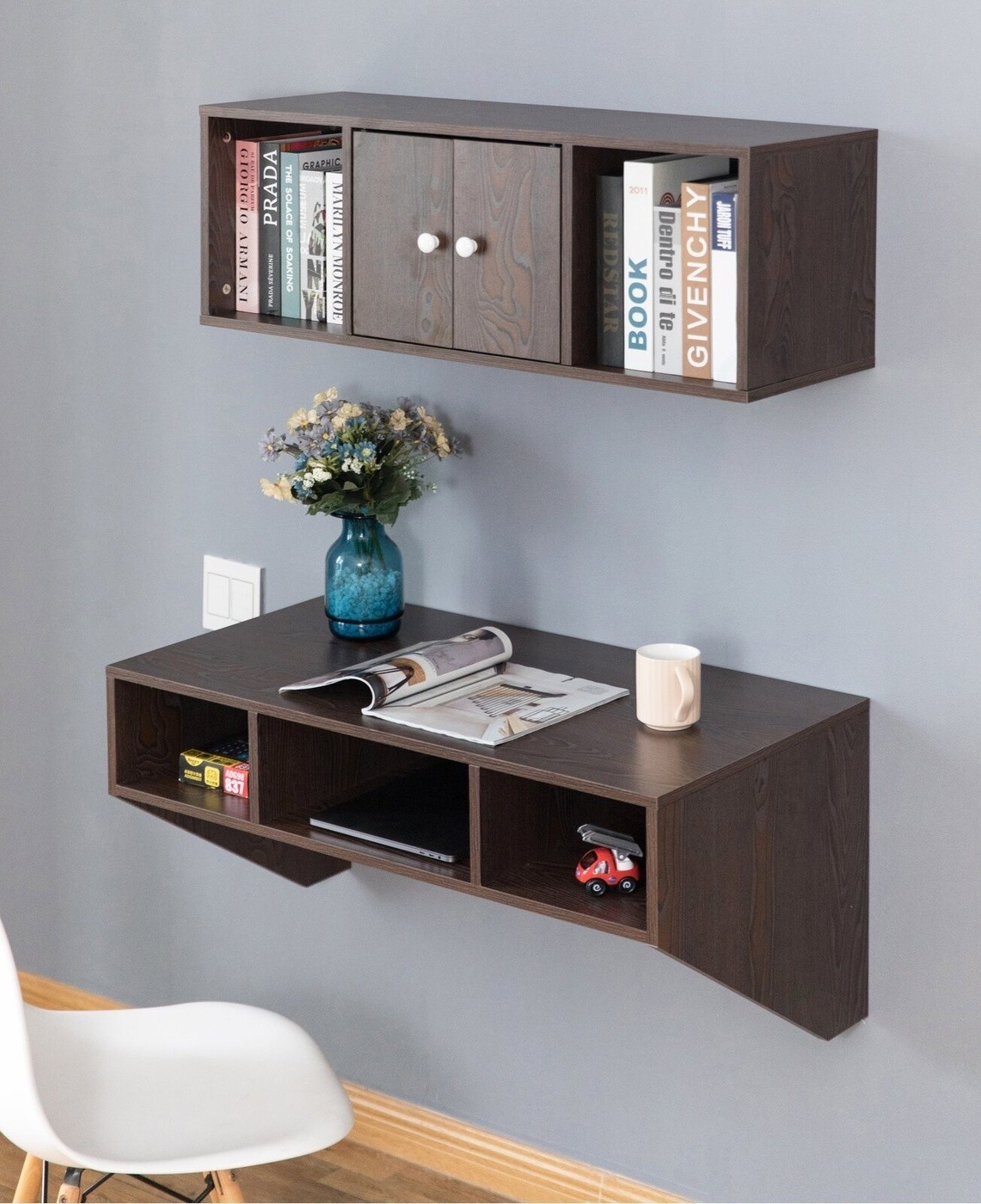 To maintain a consistent feel while still experimenting with different shapes, it wouldn't be a bad idea to… look up. Is there still an empty wall section above the area you've reserved for your floating desk?
Sure, pictures and wall décor items are still a handy solution, but, if you were low-key hoping for some more storage space, you should definitely consider adding some shelves.
In fact, some models come as a pair, like this desk and hutch combo blending mid-century modern and traditional vibes.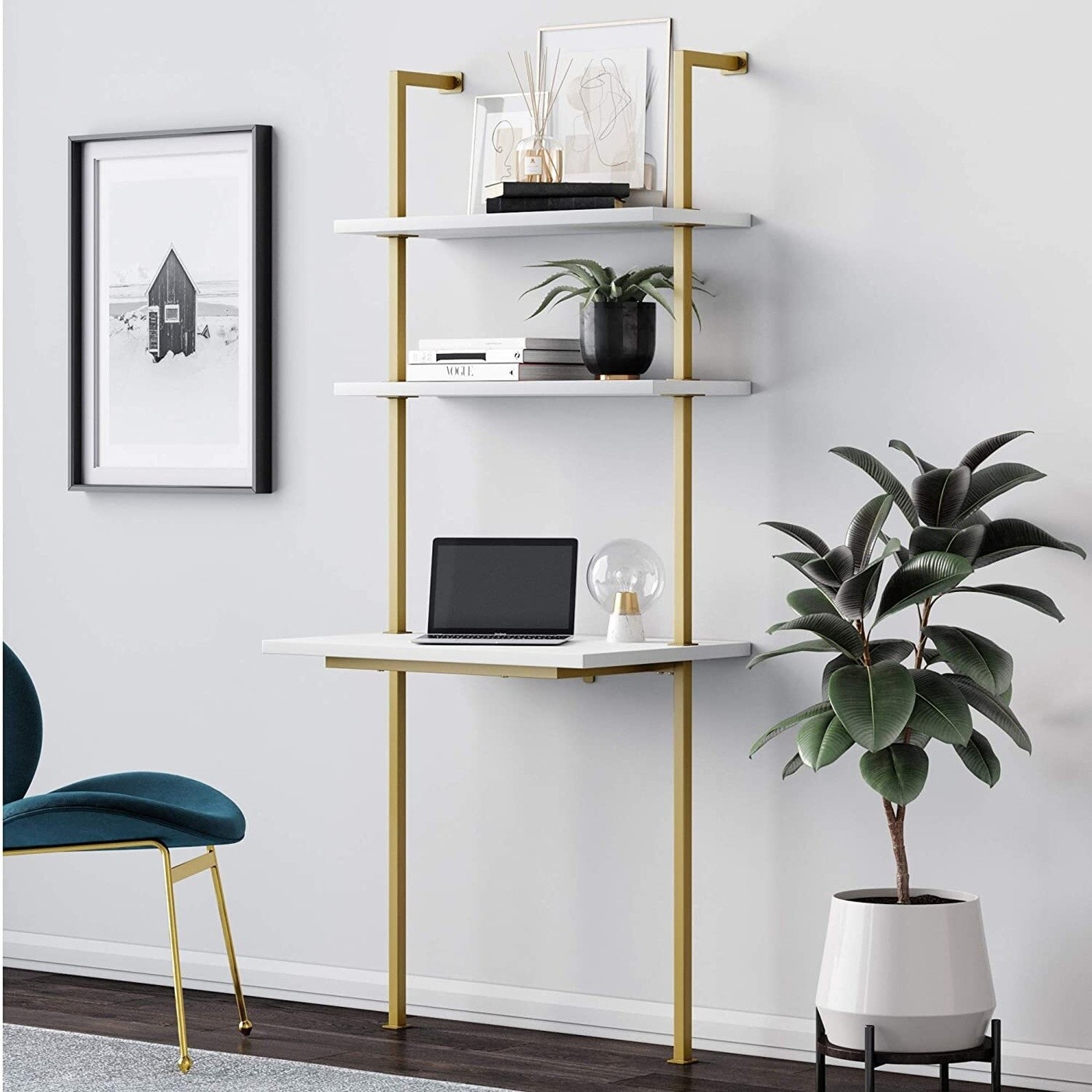 Needing more storage space and striving to maintain a minimalist approach might seem like an impossible combination, but we're sure you'll be relieved to know that some wall-mounted desks make it a breeze.
Just look for the most symmetrical shapes and streamlined designs like those that characterize this model.
As long as you use the two shelves wisely with a small selection of carefully chosen items, you'll get both a handy work surface and a minimalist boost. It's a win-win!
14.

Draw inspiration from other objects and pieces of furniture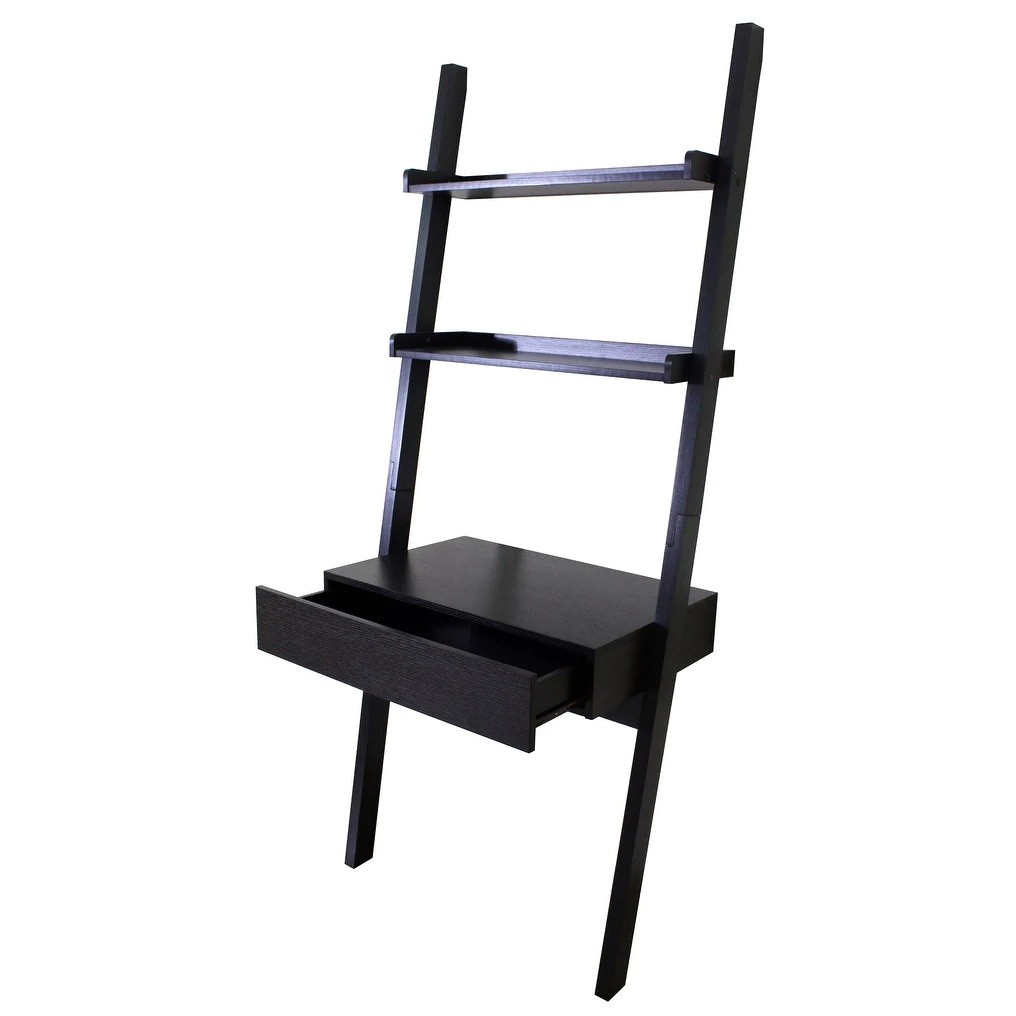 The fact that you're looking for a wall-mounted desk tells us that you always think outside the box, right? Let's take your creative approach one step further by looking for a model that incorporates the design of a different item or piece of furniture altogether.
For instance, how about this ladder-style desk?
Practical and versatile, it will allow you to reinforce your traditional interiors while leaving plenty of room for decorative items and work-related equipment.
The drawer right underneath the top surface is especially ideal to store your laptop out of sight whenever you're not using it.
15.

Complement the harmonious lines of your interiors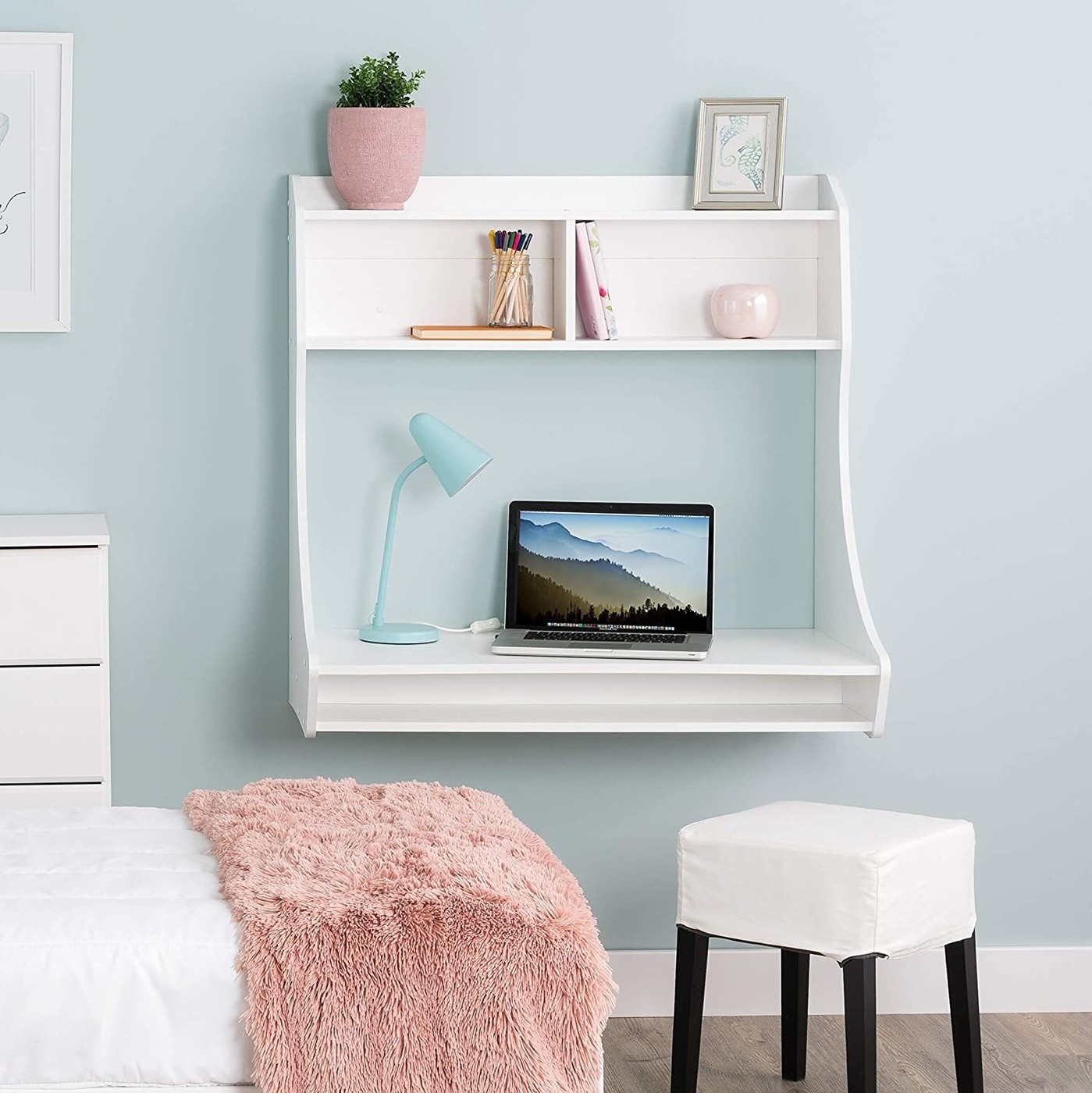 Even though wall-mounted desks are primarily functional pieces, don't worry: they won't automatically look out of place in more decorative interiors like French country or shabby chic.
All you need to do is choose models that rely on the same harmonious lines and strive for an ornate feel.
This stunning white desk is an effective trick to introduce a practical work surface without spoiling your feminine décor.