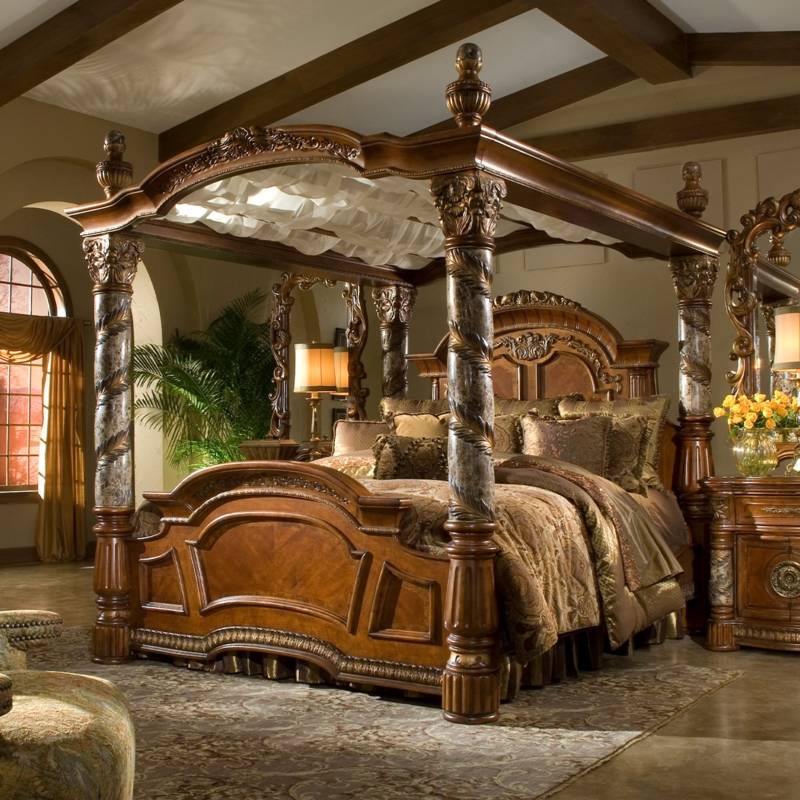 Grand Canopy Bed with Twisted Marble Posts
Michael Amini
Perfect For: Transforming your bedroom into a lavish sanctuary
What We Like: Intricate craftsmanship and design details
The Grand Canopy Bed brings old-world Spanish grandeur to life with its expertly crafted birch solid frame, veneered with pecan, cherry, and elm burl overlays. This towering masterpiece boasts marble canopy posts adorned with carved leaf accents, an elaborately shaped headboard with intricate carvings, and sophisticated LED reading lights hidden within. The chestnut finish gives a distressed, heirloom appearance, making it a statement piece to elevate any bedroom decor.
$10573 $13197
Designer Advice:
Pair this bed with opulent bedding in rich jewel tones and complementing furniture pieces to fully embrace its luxurious aesthetic and capture the essence of timeless elegance.
Merchant links are sponsored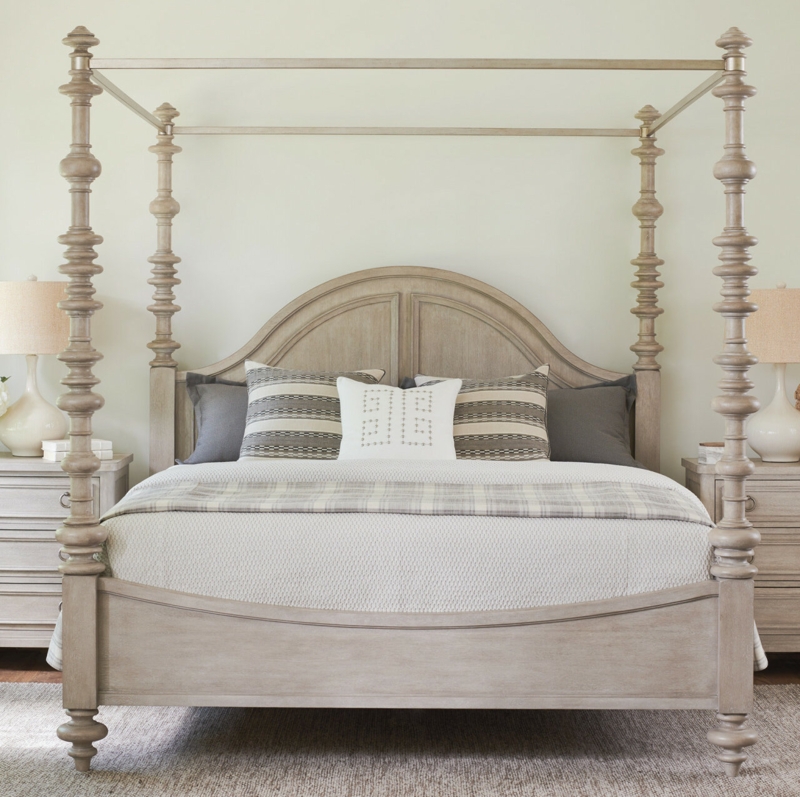 Collared Canopy Bed with Turned Posts
Barclay Butera
Perfect For: Creating a stunning focal point in the bedroom
What We Like: The dramatic turnings and metal canopy frame
This elegant canopy bed features dramatic turnings on the bed posts that make a strong design statement, capped by a collared metal canopy frame in a burnished sauternes finish. The fluid lines of the arched headboard and concave footboard lend a sense of balance to the design. The removable metal canopy frame allows for the posts to transition from high to low positions, giving you the versatility to adapt the bed's look as desired.
$3599 $5729
Designer Advice:
Pair this bed with luxurious linens and soft, neutral colors for a tranquil, sophisticated bedroom setting. Accent the space with metallic accessories to enhance the bed's burnished finish.
Merchant links are sponsored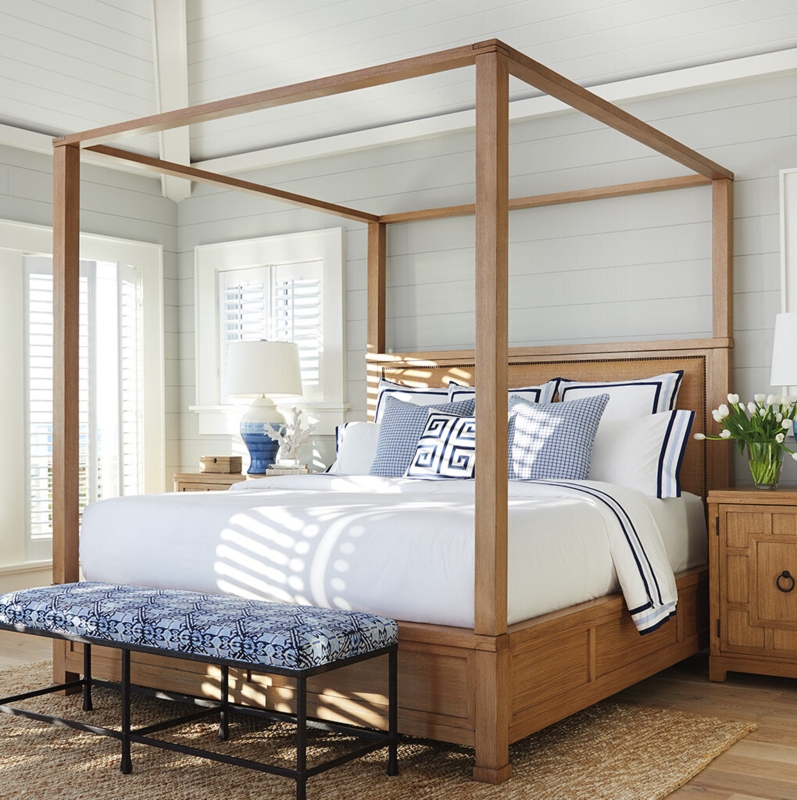 Dramatic Shore Cliff Canopy Bed
Barclay Butera
Perfect For: New traditional bedroom interiors
What We Like: Convertible low-post configuration
Experience luxury with this dramatic shore cliff canopy bed that boasts a new traditional style. The natural raffia coloration headboard fabric, framed with aged bronze nailhead trim, creates the perfect backdrop for colorful and patterned bedding ensembles. Enjoy the versatility of this bed, as it can be converted to a low-post configuration using the included decorative post caps in aged bronze.
$4410 $6999
Designer Advice:
To enhance its elegance, style it with layers of textured and patterned bedding and complement it with antique or rustic bedside tables and accent pieces.
Merchant links are sponsored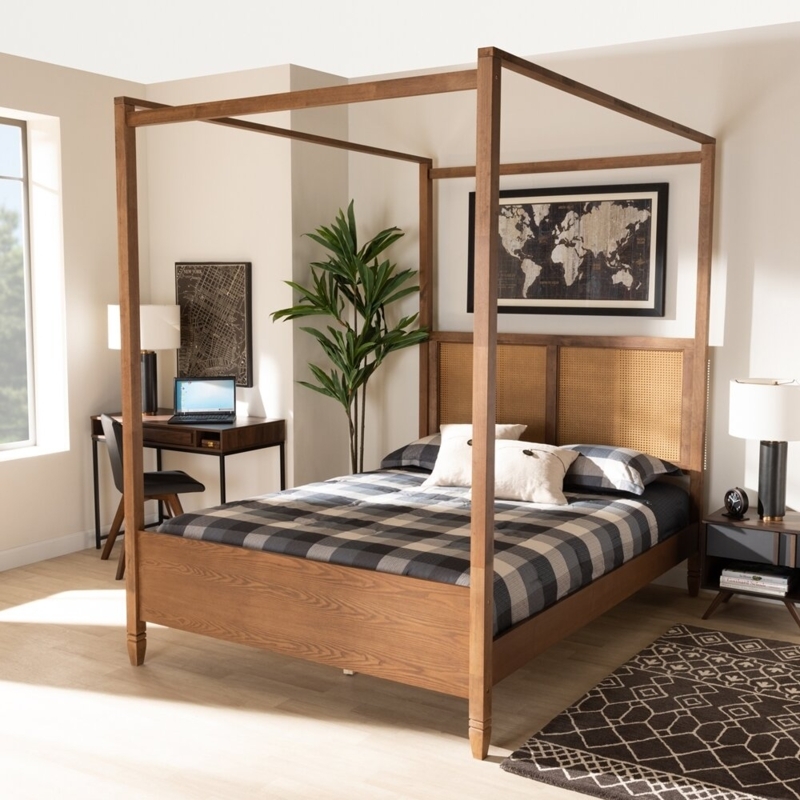 Birch Lane™
Perfect For:
What We Like:
Walnut Brown Canopy Bed with Rattan Headboard
Transforming bedrooms into a cozy, contemporary retreat
The exquisite blend of walnut brown wood and rattan elements in the headboard
PRODUCT DESCRIPTION:
Create your dream bedroom sanctuary with this stunning walnut brown canopy bed, featuring tall beams and clean lines for a contemporary touch. The headboard incorporates synthetic rattan to achieve an open, airy atmosphere while offering exceptional back support when sitting up in bed. The bed comes with wood slats for mattress support, eliminating the need for a box spring. This versatile canopy bed adds personality to any bedroom, whether draped with curtains or left bare.
$969.99 $1165
Designer Advice:
Consider soft, neutral-toned bedding to accentuate the bed's natural elegance. Add some fairy lights or sheer curtains to the canopy frame for a magical, cozy ambience.
Merchant links are sponsored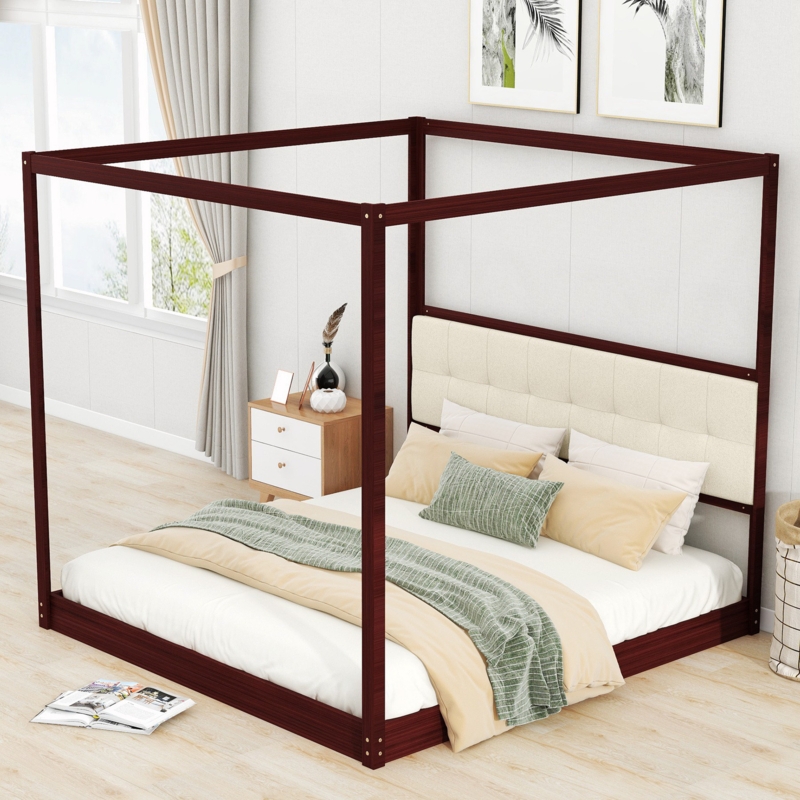 Elevated Standard Bed with Cushioned Headboard
Builddecor
Perfect For: Combining traditional and modern bedroom aesthetics
What We Like: The roof-like structure that enhances bedroom height and surface area
This elevated standard bed brilliantly merges traditional and modern styles, featuring a unique roof-shaped structure that augments the height and surface area of any bedroom. Crafted from pine wood and medium-density fiberboard, the bed showcases a linen-wrapped headboard with a foam-filled polyester cushion, providing utmost comfort for late-night reading sessions. Available in two sizes, this bed easily fits most bedroom spaces.
$469.99 $649.99
Designer Advice:
Pair this bed with a neutral color palette and cozy textured bedding for a harmonious blend of style and comfort, and adorn the rooftop with fairy lights to create a warm and inviting atmosphere.
Merchant links are sponsored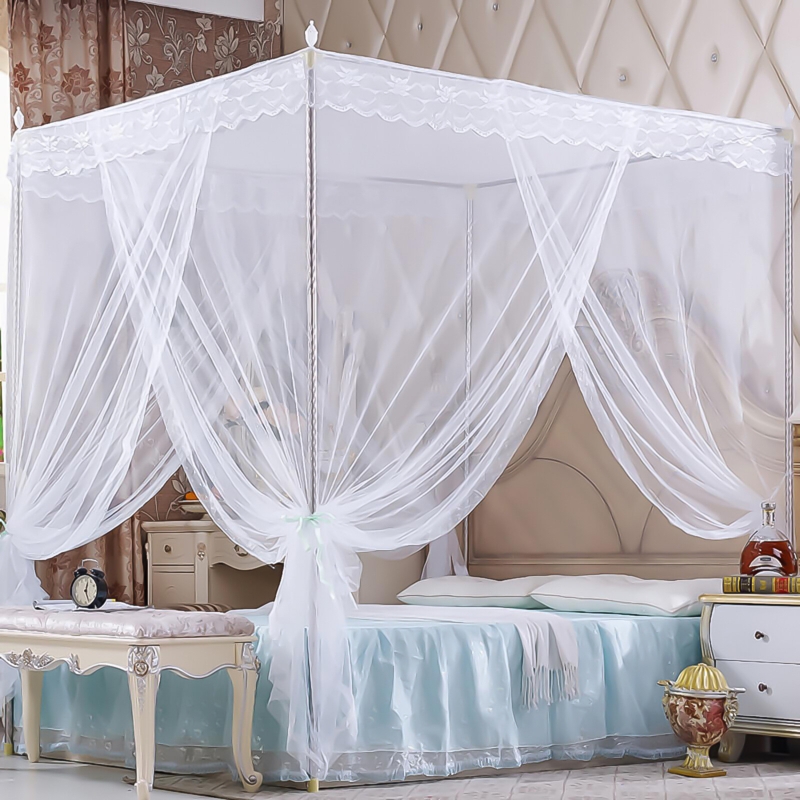 Stainless Steel Pipe Bed Canopy Frame
Rebrilliant
Perfect For: Enhancing the elegance of your bedroom
What We Like: Sturdy and decorative design
This stainless steel pipe bed canopy frame features a thread design, adding a delicate and beautiful touch to any bedroom. The reinforced metal three-way pipes connect three rods in different directions, ensuring stability for the top of the bed. With a thick 25mm support column and 16mm diameter pipes, this frame is both strong and stylish. Installation is simple – just insert the standing pipes into the hole of the pressers and secure them with the bed corner feet.
$36.99 $65.99
Designer Advice:
Choose light, flowing fabric for your canopy and drape it over the frame to create a cozy and inviting sleeping space. Add fairy lights or a string of small LED lights for a touch of extra magic.
Merchant links are sponsored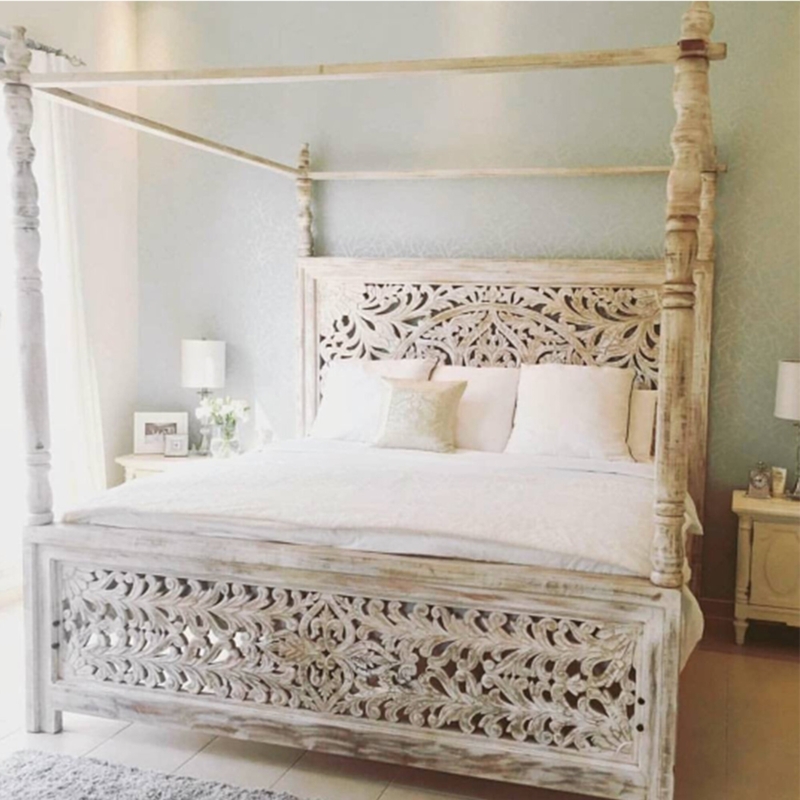 Handcrafted Solid Wood Furniture with Carved Details
Hibashi Furniture
Perfect For: Adding character to any room in your home
What We Like: The unique, hand-carved design
This handcrafted furniture piece is made from durable mango wood, a popular hardwood sourced from India. Its hand-carved details give it a unique character that will surely impress your guests. Made by skilled craftsmen using good quality, well-seasoned timber, this beautiful item is both functional and a work of art. Easy to assemble, it's perfect for anyone looking to add a touch of handmade charm to their decor.
Designer Advice:
Incorporate this solid wood furniture into a rustic, bohemian or eclectic interior design scheme to highlight its handmade craftsmanship and enhance the warmth of your space.
Merchant links are sponsored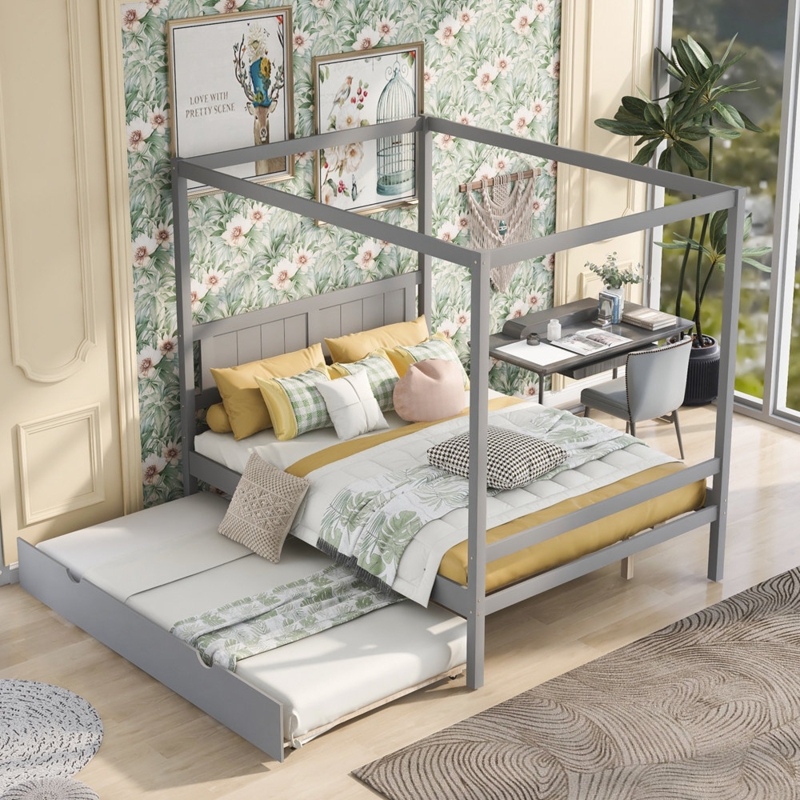 Canopy Platform Bed with Trundle
Harriet Bee
Perfect For: Enhancing bedroom spaces with a modern and versatile centerpiece
What We Like: Customizable curtain feature and built-in trundle
Featuring a modern design, this canopy platform bed with trundle is crafted from sturdy pine wood and MDF. It includes secured wooden slats and center support legs, eliminating the need for a box spring. The full-length rails are designed for adding decorative curtains, providing both style and practical mosquito protection. A space-saving trundle makes it perfect for families with limited space or multiple members.
$429.99 $539.99
Designer Advice:
Pair the bed with a set of matching curtains for a cohesive look, and accessorize with decorative throw pillows and cozy linens to create a comfortable and inviting atmosphere.
Merchant links are sponsored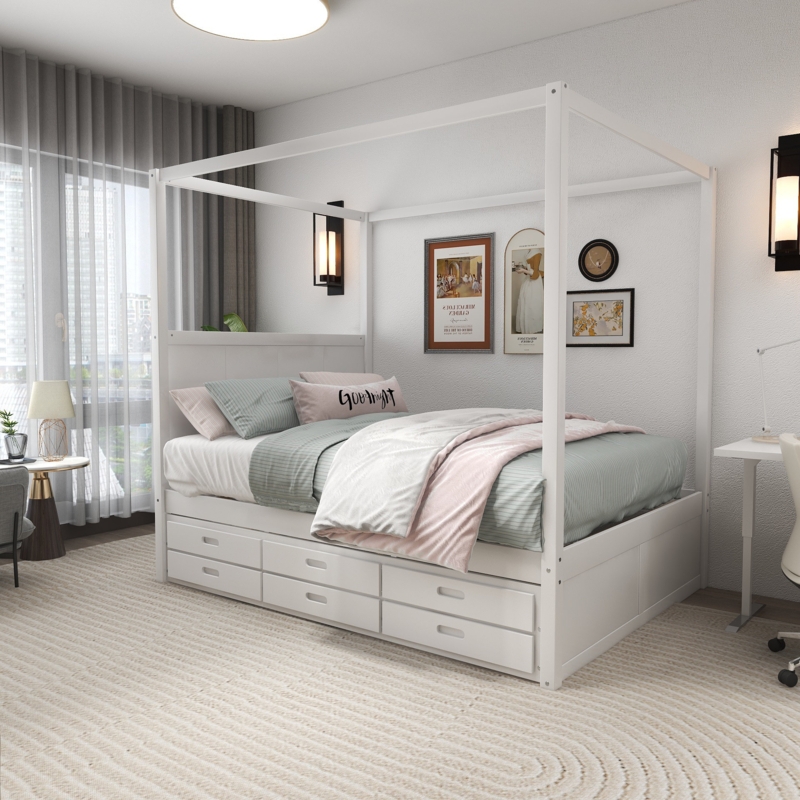 Canopy Platform Bed with Trundle and Drawers
Harriet Bee
Perfect For: Stylish bedroom designs and space-saving enthusiasts
What We Like: Versatile canopy roof and additional trundle
Embrace the perfect blend of traditional and modern with this canopy platform bed, designed to be the stunning centerpiece of your bedroom. Equipped with an additional trundle and three drawers, this bed offers ample storage for daily clothing while also catering to space-saving enthusiasts. The solid pine frame and MDF construction boast a natural wood grain appearance for enhanced stability and durability. Feel free to decorate the canopy roof with curtains or lights to add a personal touch.
$679.99 $849.99
Designer Advice:
Consider using light-colored bedding and drapery to create an airy, spacious look, along with string lights to add a cozy, romantic ambiance to your bedroom.
Merchant links are sponsored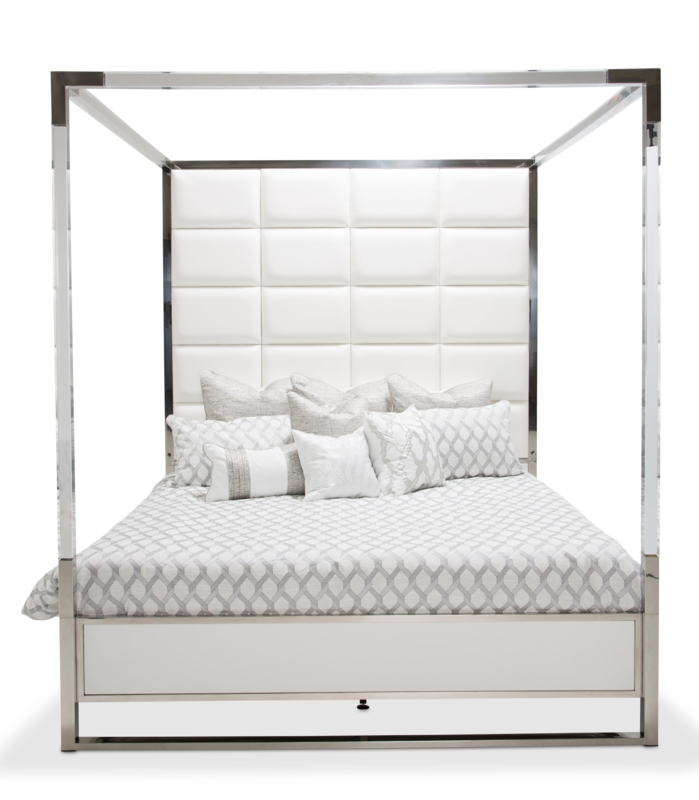 Canopy Bed with USB Charger and Acrylic Frame
Michael Amini
Perfect For: Glamorous and contemporary bedroom makeovers
What We Like: Eye-catching acrylic posts and glossy finishes
Instantly elevate your bedroom with this stunning canopy bed, featuring striking acrylic posts and glossy finishes that are guaranteed to brighten any space. The high-quality white vinyl upholstery enhances its luxurious appeal, while built-in USB chargers on both sides of the bed offer ultimate convenience. With its stainless steel canopy corner accents and frames, this canopy bed stands 91.75 inches tall and comes in four pieces, requiring a box spring for optimum support.
$4216 $5847
Designer Advice:
Pair this bed with chic and modern bedding in complementary colors, and consider adding a plush area rug underneath for a cozy, stylish touch your feet will appreciate.
Merchant links are sponsored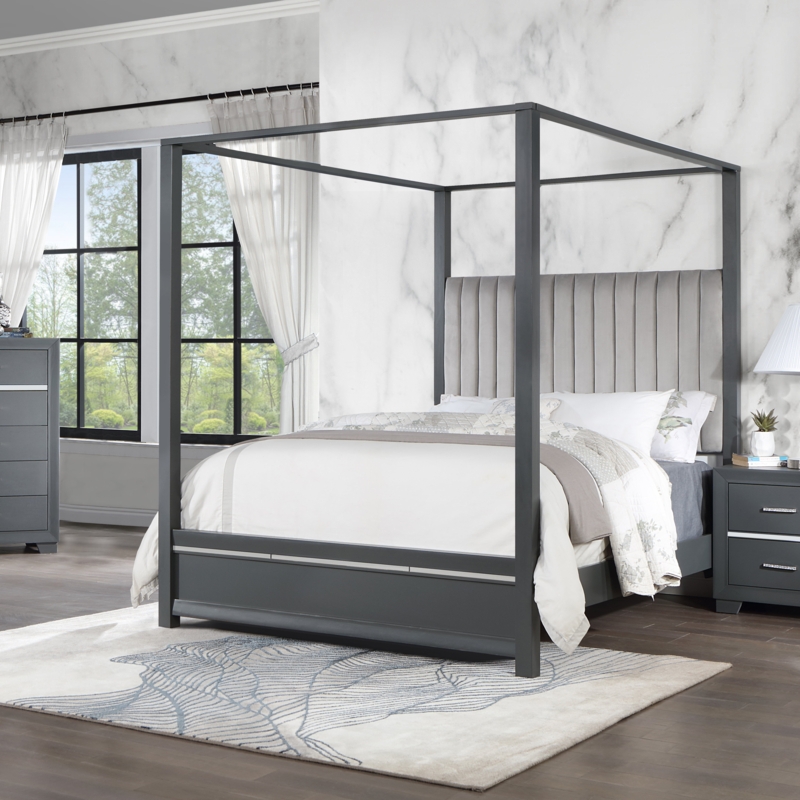 Hotel-Styled Canopy Bed with Velvet Headboard
Willa Arlo™ Interiors
Perfect For: Creating a luxurious and modern bedroom ambiance
What We Like: The elegant vertically channeled velvet headboard
Transform your bedroom into a sophisticated retreat with this hotel-styled canopy bed. The clean-lined silhouette and dark gray finish bring a contemporary flair, while the sizable headboard features vertical channels upholstered in soft gray velvet for added luxury. The sturdy square frame is made from a combination of solid and manufactured wood, accompanied by slats and support legs. This canopy bed requires a mattress and box spring for complete comfort.
$660 $630
Designer Advice:
Pair this canopy bed with sumptuous bedding and plush throw pillows to accentuate its opulent aesthetic, and consider adding a chic area rug or statement lighting for a cohesive look.
Merchant links are sponsored