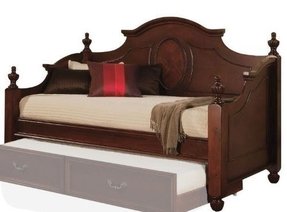 Nightfall Daybed with Trundle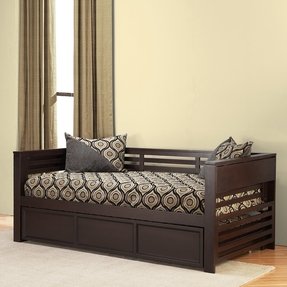 daybeds daybed mattresses choose configuration one twin set of 2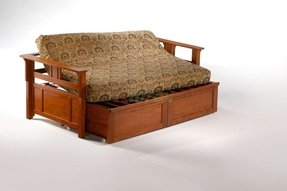 Daybed Cherry Guest Bed with Extension Drawers Teddy Roosevelt Daybed | Xiorex Teddy Roosevelt Daybed by Night and Day is simple yet beautiful and sturdy solid wood daybed that comes with optional trundle guest bed. Also, the optional extension drawers le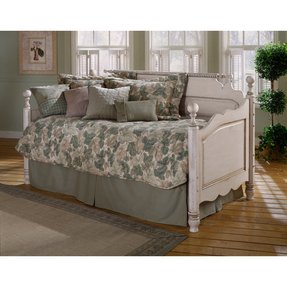 Wilshire Antique Replica Wood Daybed by Hillsdale Furniture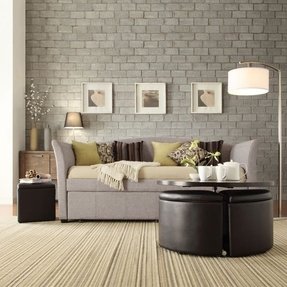 A handmade daybed, constructed entirely from pallets. Stylish and ecological, this bright wooden construction offers comfort and solidness for years. Features a trundle, providing considerable storage space.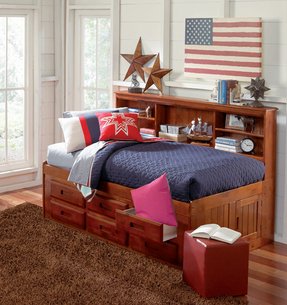 Discovery World Furniture Bookcase Daybed With Drawers And Trundle
This product is a daybed that has got a functional character. It is made of solid pine wood and it includes roller glide drawers that assure plenty of storage space. It also features a supportive slat system.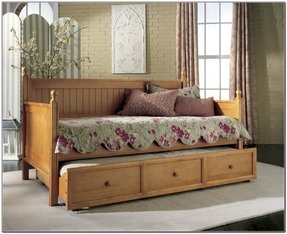 Down-to-earth mission style has its impressive comeback nowadays. This wood trundle daybed represents a nice example of such style. Trundle, finials, round knobs and church pew design are its characteristic features.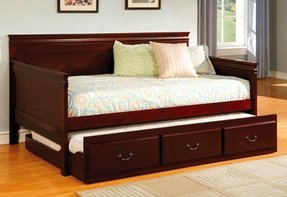 Inland Empire Furniture Savannah Dark Cherry Solid Wood Casey Daybed with Twin Size Trundle Inland Empire Furniture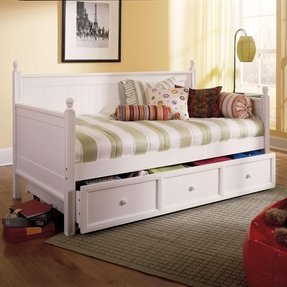 Characterized by solid wood construction and pure white finish; this lovely daybed comes with a trundle and beautiful ball finials. The mattress is very comfortable and adorned with a stripe-patterned cover.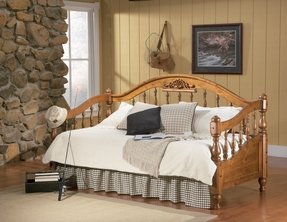 Solid Wood Daybed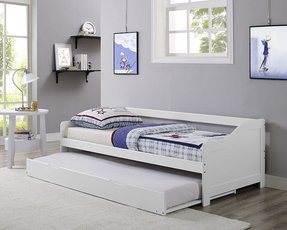 Single 3ft Day Bed White Frame With Trundle Solid Wood Daybed New
This day bed comes with the sublime white frame and the trundle that will prove useful in any situation. It is made from high quality, solid wood and thanks to its white, neutral finish and versatile looks can work both in your guest room or in your kids' room.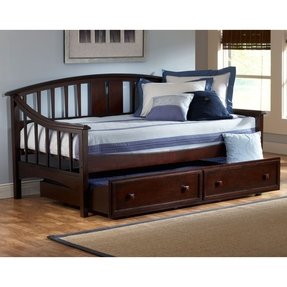 Alexander Wood Daybed by Hillsdale Furniture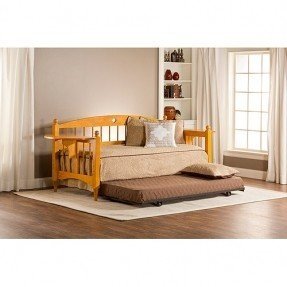 Wood Daybeds With Trundle Glpppre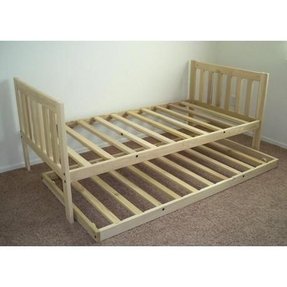 mission daybed with trundle bed our mission daybed offers a simple ...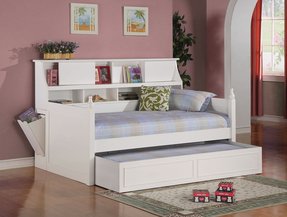 A comfortable trundle bed, crafted of sturdy wood and bathed in a white finish. It's integrated with a bookcase, also offering 2 pullout compartments - one on ech side, and open shelving for books and decorations.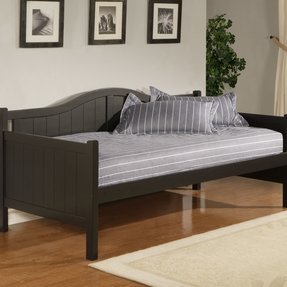 Staci Daybed
It is a classic, simple, single daybed that fits to any style and décor. If you looking for perfect daybed you need to choose this one. It is a high quality and nicely finished product.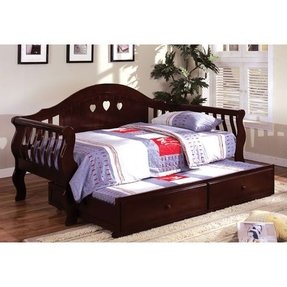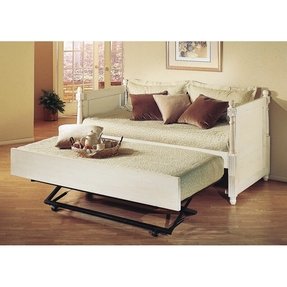 Alligator Monterey French Daybed with Pop-up Trundle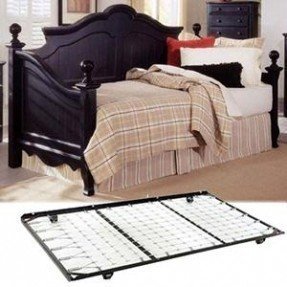 Daybed with Linkspring -Plus- Roll-Out Trundle | Nebraska Furniture Mart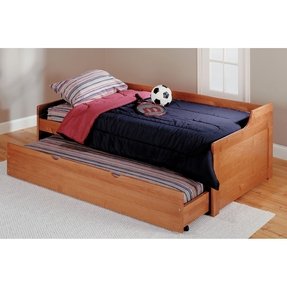 Nice and neat daybed with trundle.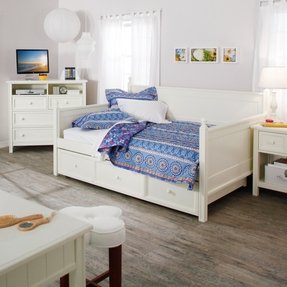 The impressive combination of attractive design and robust base makes this tasteful daybed with trundle an excellent choice for kid's room and more. Beautiful white finish is universal, bringing freshness to the decor.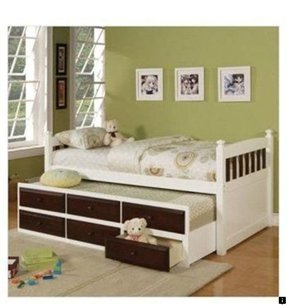 A.M.B. Furniture & Design :: Bedroom furniture :: Day Beds :: Roberta I Cottage Style Daybed with Twin Trundle in White Wood Finish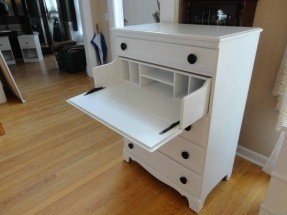 White dresser with practical drawers and storage compartments. This dresser is made of solid wood for enhanced protection and strength. Each drawer features two simple, black handles for convenient opening and closing.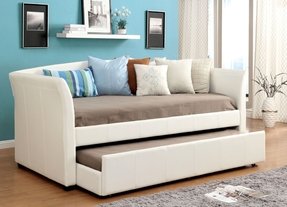 Roma Upholstered Daybed with Trundle
Top stylish cribs with retractable place to relax is the perfect solution for the living room or bedroom. Beautifully upholstered in a very stylish and versatile. The subtle colors makes it beautifully blends with any interior.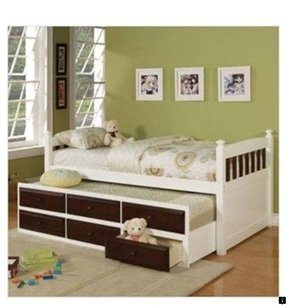 This element is a high quality day bed that has got a twin size stylization. It features a durable frame and six storage drawers in its lower area. This bed includes wooden slats that are responsible for mattress support.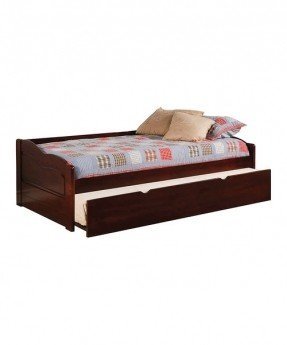 With a rich finish accentuating the tones of the solid wood construction, this daybed is sure to look elegant wherever it's placed. It features a sleek design with a built-in trundle bed for a convenient and cozy sleeping area whenever guests come to visi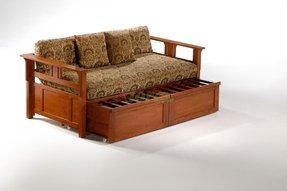 Teddy Roosevelt Daybed Cherry with Extension Drawers by Night and Day | Xiorex Teddy Roosevelt Daybed by Night and Day is simple yet beautiful and sturdy solid wood daybed that comes with optional trundle guest bed. Also, the optional extension drawers le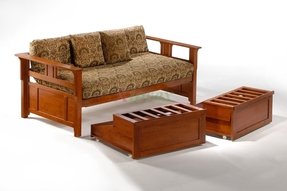 Cherry Daybed Night and Day Teddy Roosevelt Daybed with Extension Drawers Teddy Roosevelt Daybed by Night and Day is simple yet beautiful and sturdy solid wood daybed that comes with optional trundle guest bed. Also, the optional extension drawers let you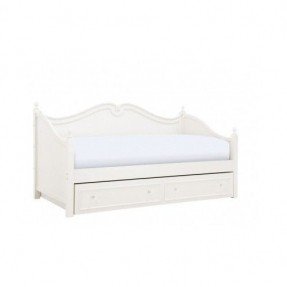 Twin-Size-daybed-White-Finish-Solid-Wood-Day-Bed-with-Trundle-pop-Drawers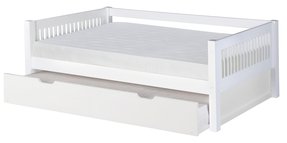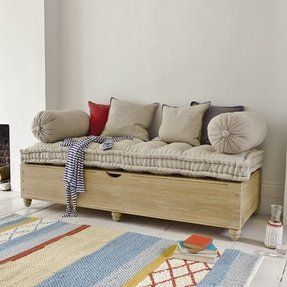 If you think about how to solve a guest place problem, or a kid room - a great idea would be a daybed that turns into an night bed. The sliding base is sufficient for two people and the black finish of the wood, adds to this simple furniture, elegant look.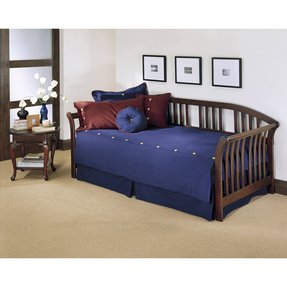 Day bed in classic form. Construction is made of wood. Base consists of vertically arranged strips. Application in all kinds of interiors according to taste and need.
Black oak daybed with a traditional, old-fashioned design, made out of wood with a black coat of paint which nicely contrasts the colorful, dotted style of the bedding. This one also has an additional mattress underneath.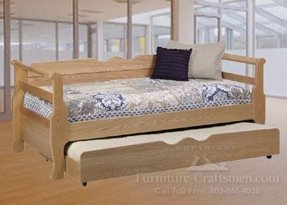 Clinton Hills Day Bed with Trundle
Discovery World Furniture Bookcase Daybed with 3 Drawers and Trundle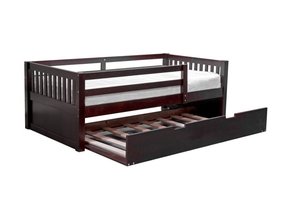 An elegant contemporary twin bed with a pull-out trundle bed (with cutout pulls). Its frame is of wooden materials finished in dark brown. It has horizontal side rails but a headboard and a footboard are vertically slatted.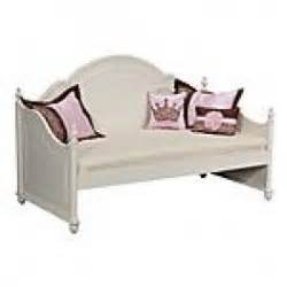 Embellished with carvings of roses and bows in an antique white finish, our traditional Bouquet White Daybed appeals to all ages. Antique white finish and curved lines enhance the classic style. Carved flowers and bows motif exudes timeless beauty.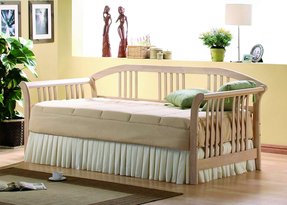 Furniture. Rustic Daybed With Trundle Wooden Framed Tufted Brownish Rug Behind Wide Window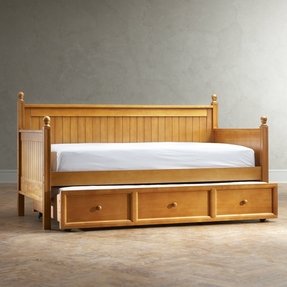 Hampton Daybed, Maple
This is a beautiful day bed made of solid wood. It is a beautiful element of interior and very functional piece of furniture. It is degraded by providing additional surface area, when guests visit.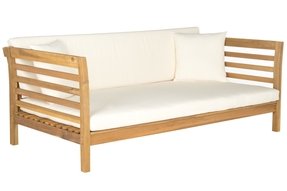 Malibu Day Bed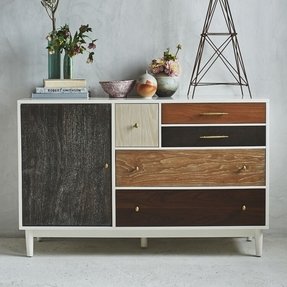 Patchwork Dresser
I thought that patchwork is dedicated definitely for the material forms. I was really surprised when I found out that also the piece of furniture could base on this technique. Looks great, especially in the modern interior.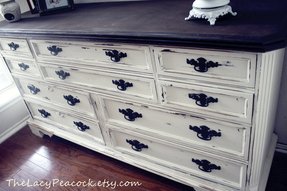 Distressed White And Wood Dresserbuffet
Practical dresser with a durable construction based on solid wood finished in white color. This piece of furniture offers ten drawers with black metal handles that are convenient in use and decorative.