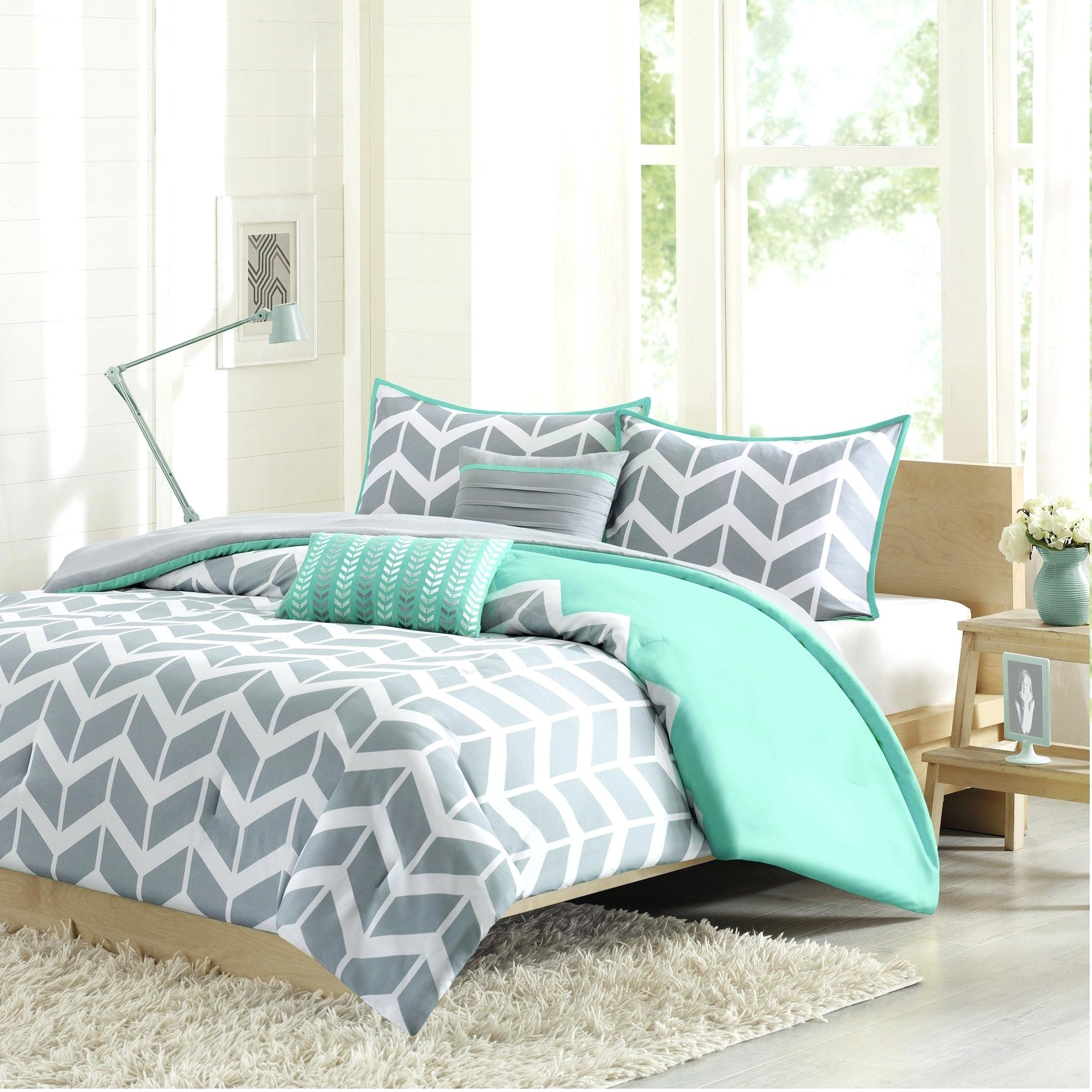 Nadia Comforter Set
Comforter set for each bedroom according to taste. It consists of comforter and many pillows for convenience. Graceful pastel colors add harmony to any interior.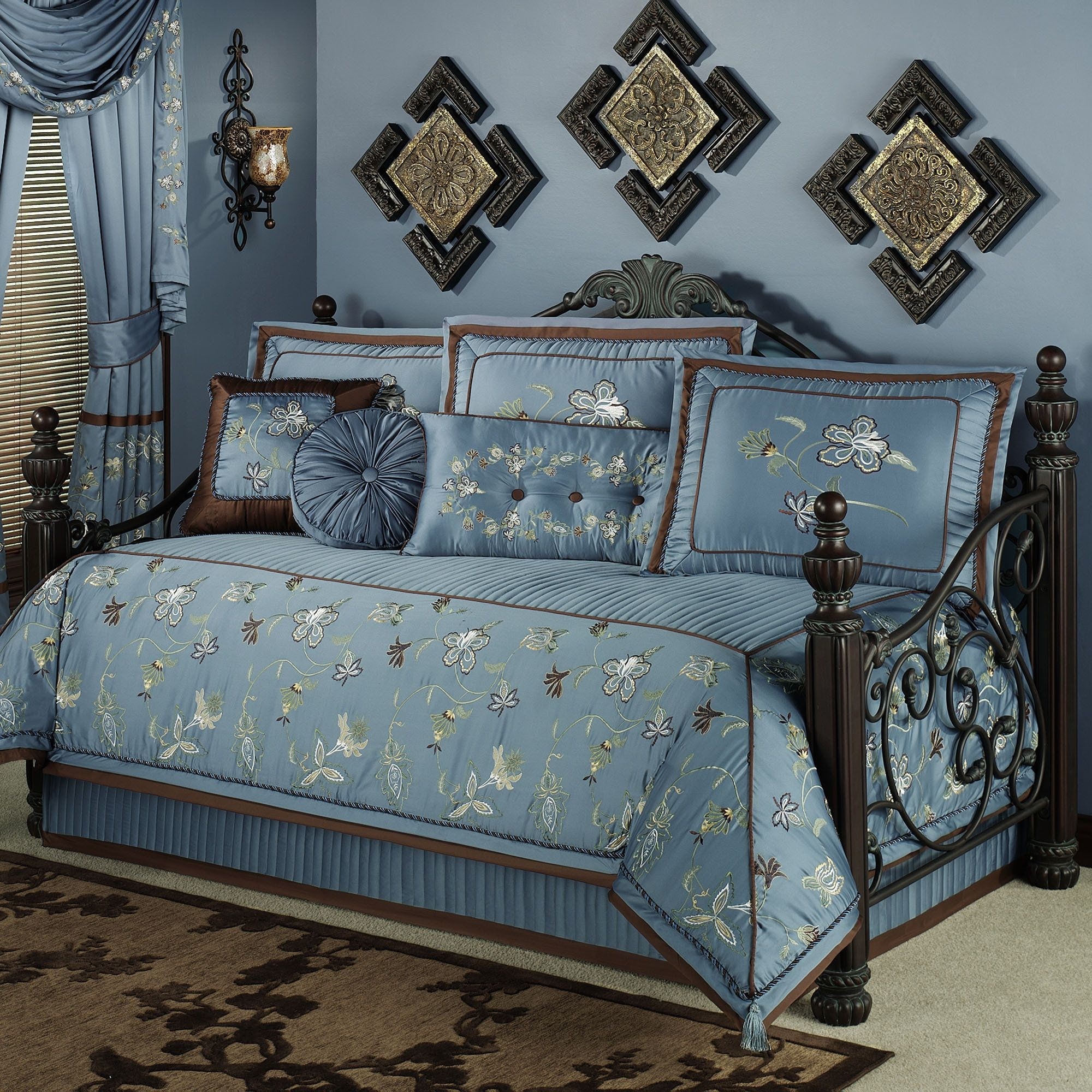 This daybed comforter set enchants with its adorable butterfly motive, presenting well on the light blue upholstery. All nicely trimmed with a smooth, dark brown line.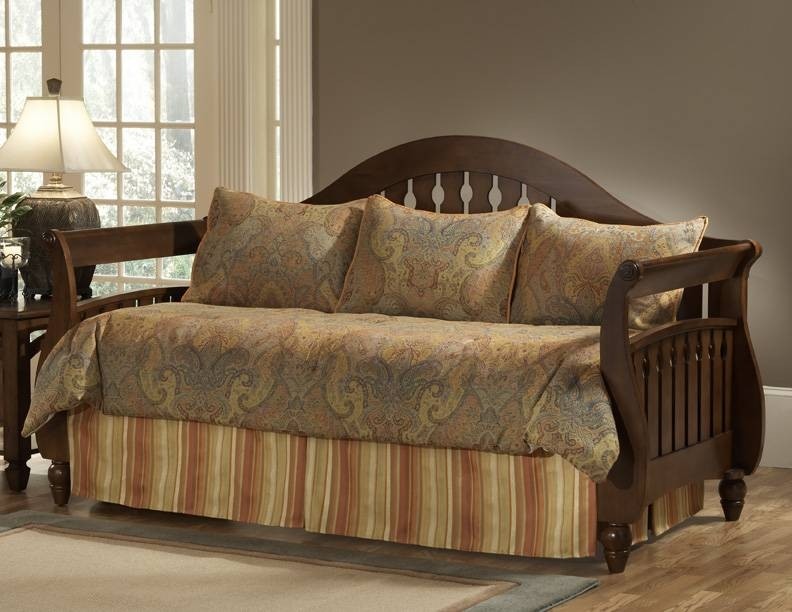 What is the difference between daybed bedding set and a normal bed in the bedroom? It is less intimate, has more neutral colors and patterns, e.g. in earth shades. In addition, it also includes a striped skirt that covers the bottom of the bed.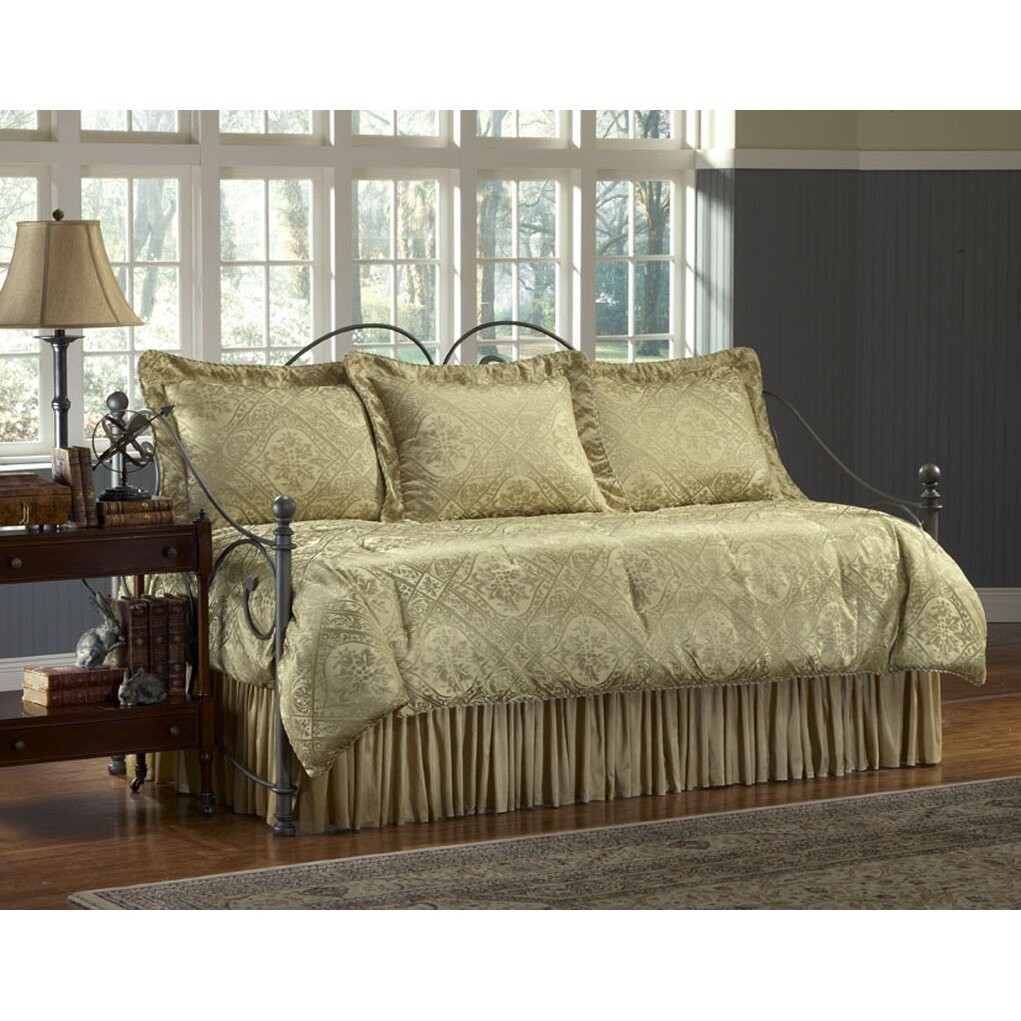 The gorgeous daybed comforter set with tasteful flecks and an attractive hue makes the interior gaining a stylish feel. Beautiful decorations and unusual color with gold tone impress. The perfect solution for the living room.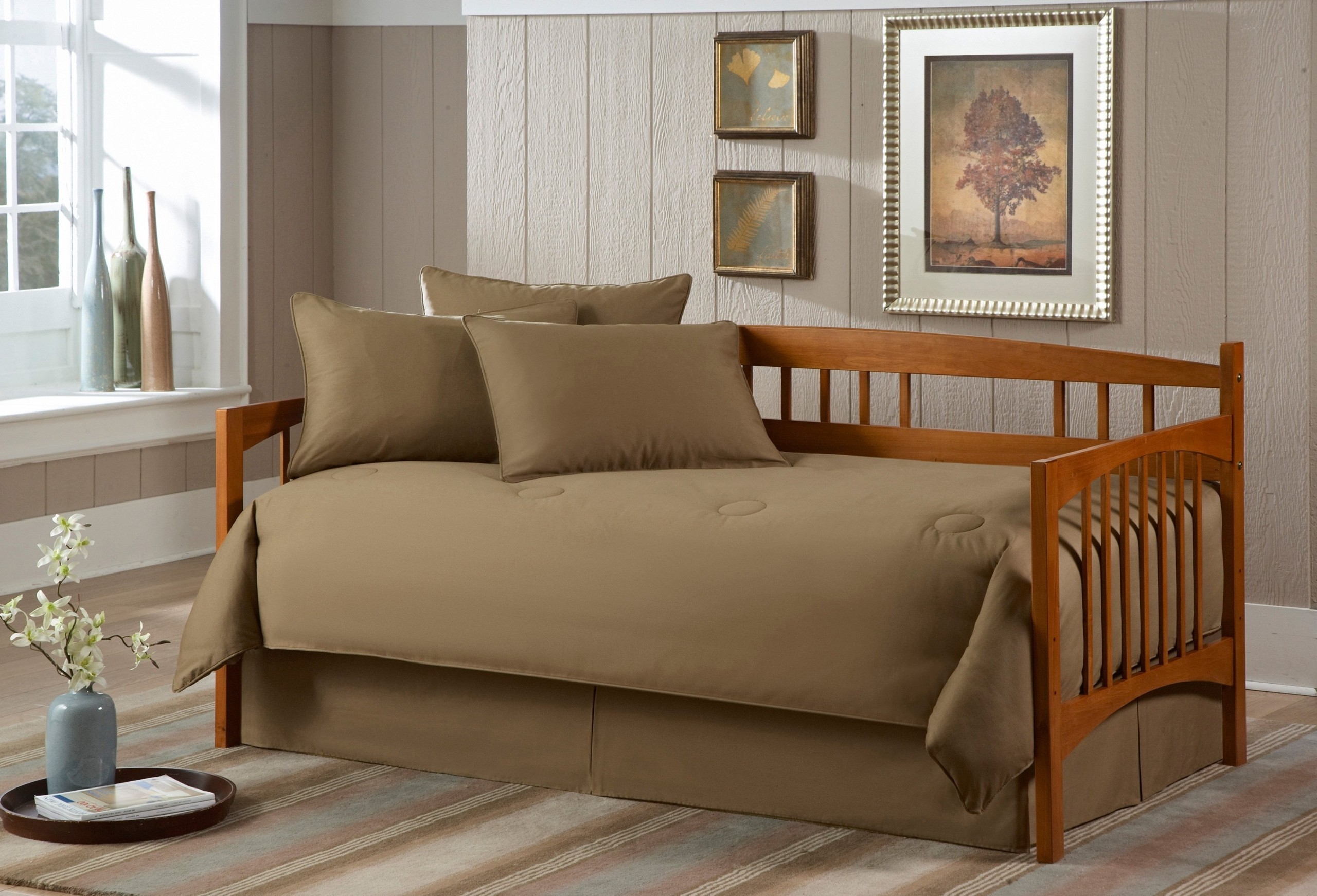 Decorative and comfotable, this comforter set will be a perfect choice for your napping time or as a stylish duvet for your daybed. Designed of quality material, it comes with 4 pieces and can be washed in a washing machine.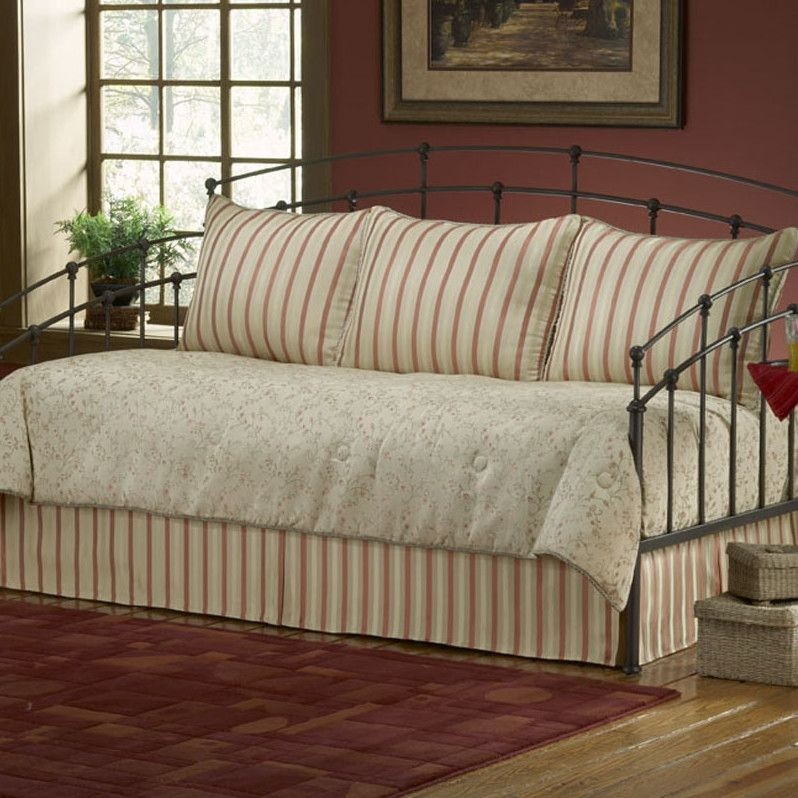 5 piece comforter set designed for daybeds. It consists of comforter, pillowcases and bedskirt. It is made of soft cotton and finished with striped pattern.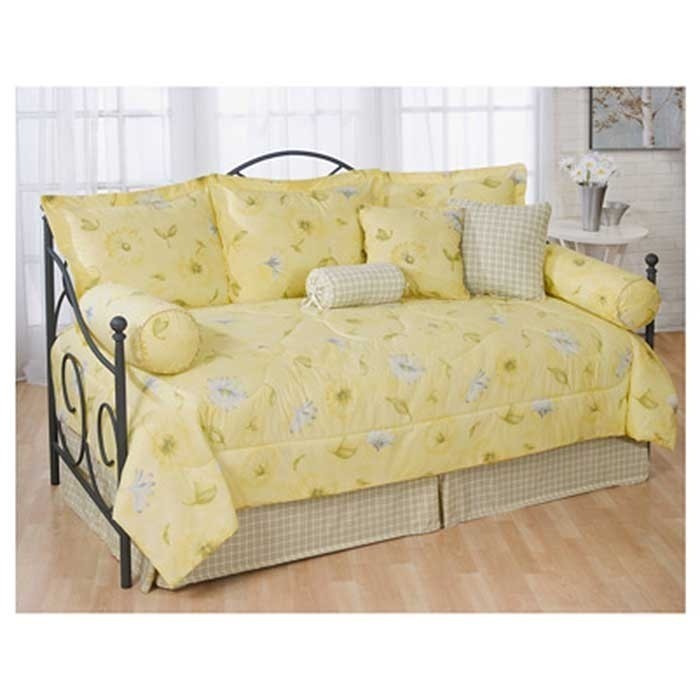 Cozy and made from beautiful fabric daybed comforter set is a perfect combination of beautiful design and color. Stylish burgundy with gold details presents elegantly and very stylishly, so the decor impresses.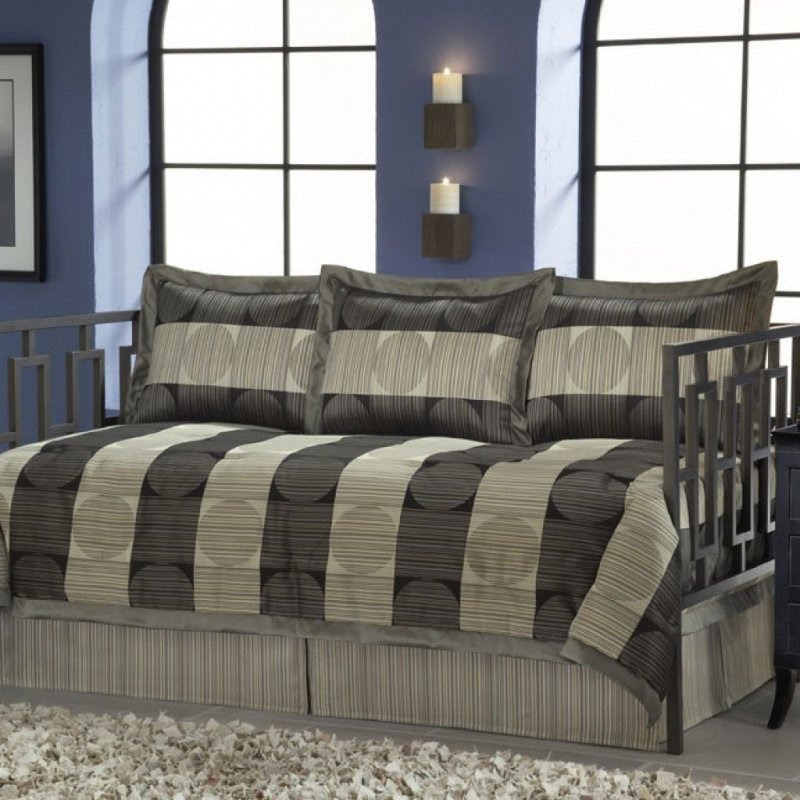 The gorgeous composition of colors and patterns on this stylish daybed comforter set is the perfect way to decorate your interior. Beautiful details and excellent quality materials create a great whole.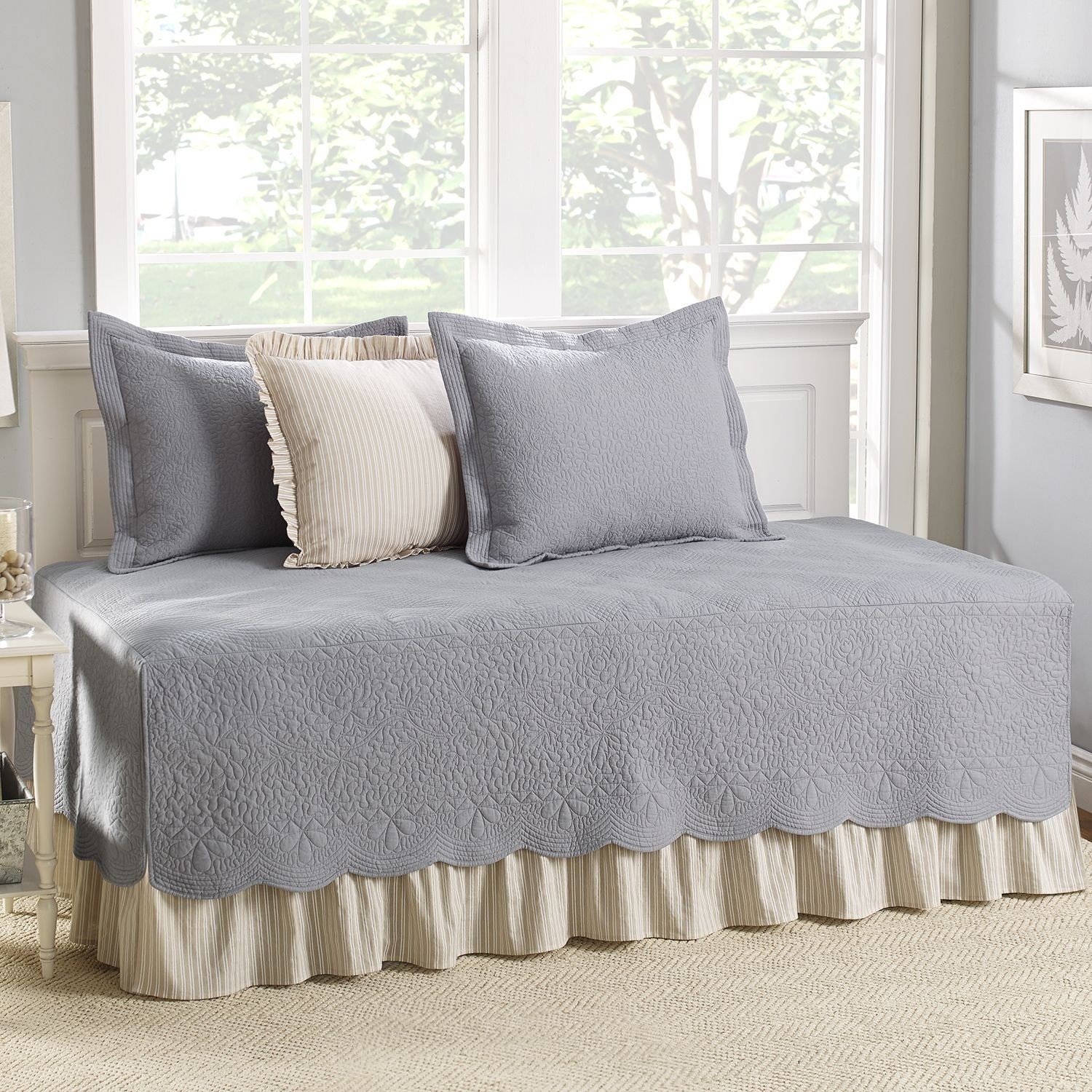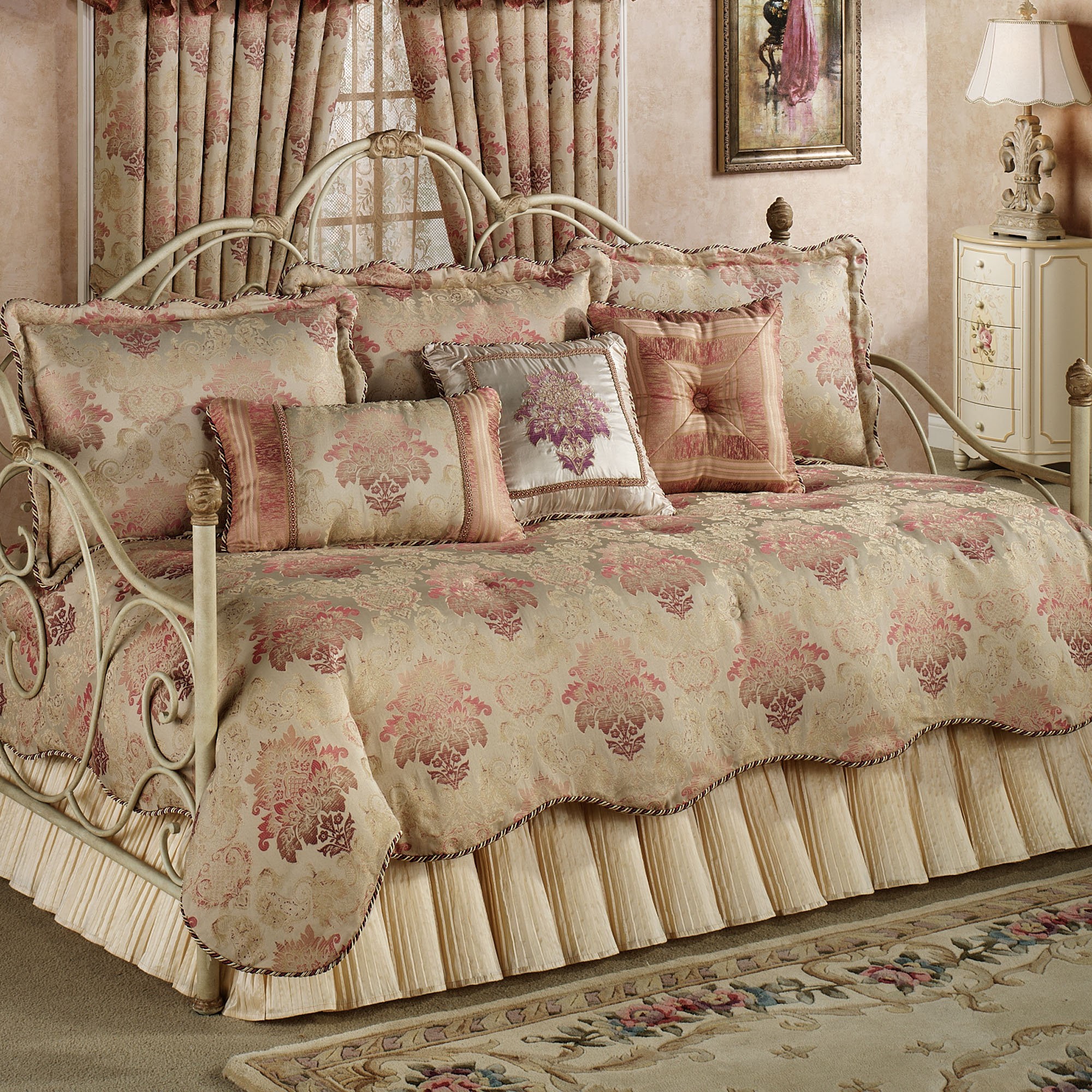 This daybed comforter set constitutes a great 5-piece addition to one's traditional bedroom. Embellished with floral motifs, it enchants with the soft-in-touch damask finishing.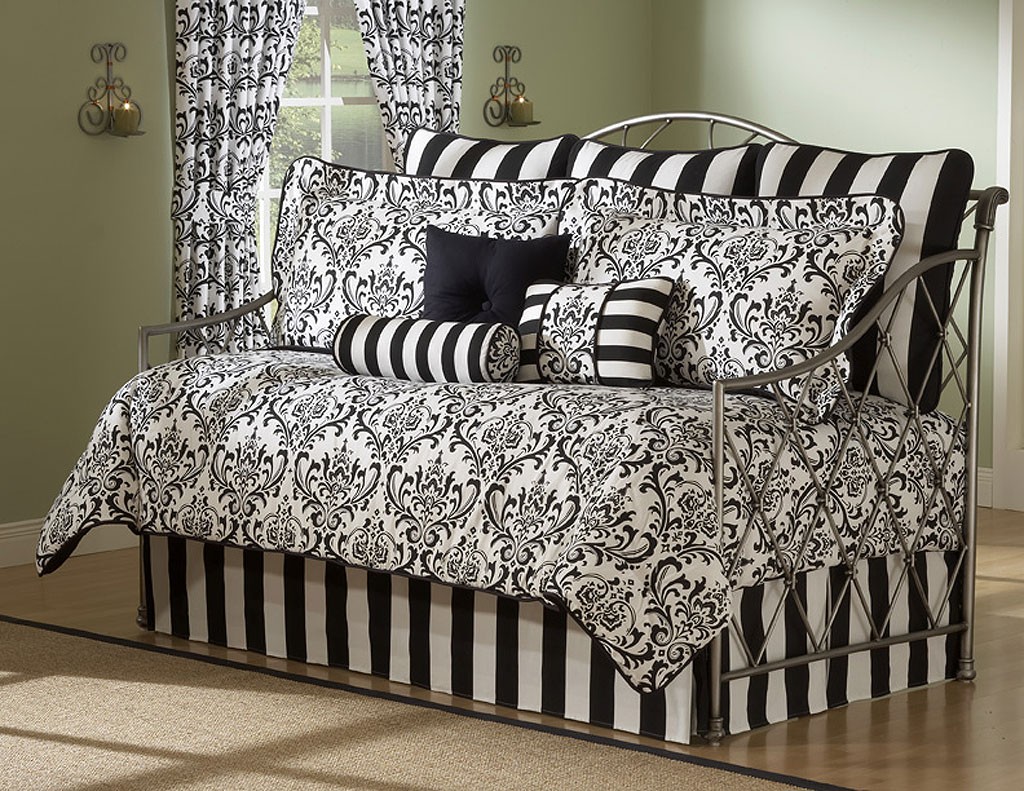 TThe Syrian pattern, called the damask pattern, has a characteristic motif of swirls and decorative flores in the whole world. In this case, it comes in white and black daybed comforter set. Soft and durable on a white background offers damask patterns.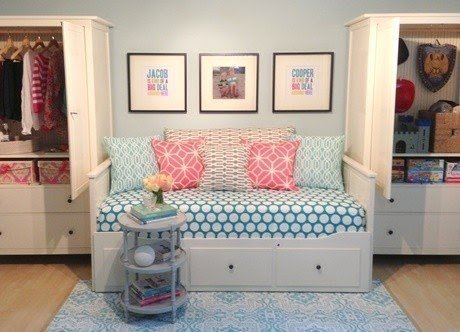 A charming furniture set that includes a large daybed with three bottom drawers for lines and two large armoires. The set is characterized by a simple and classy design in a white color with black knobs.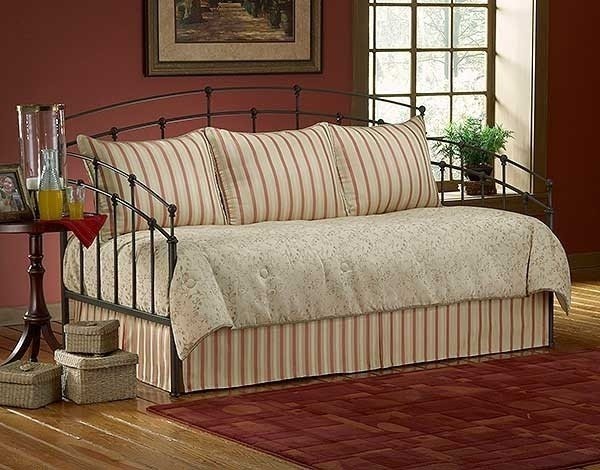 Sylvia Daybed Bedding Set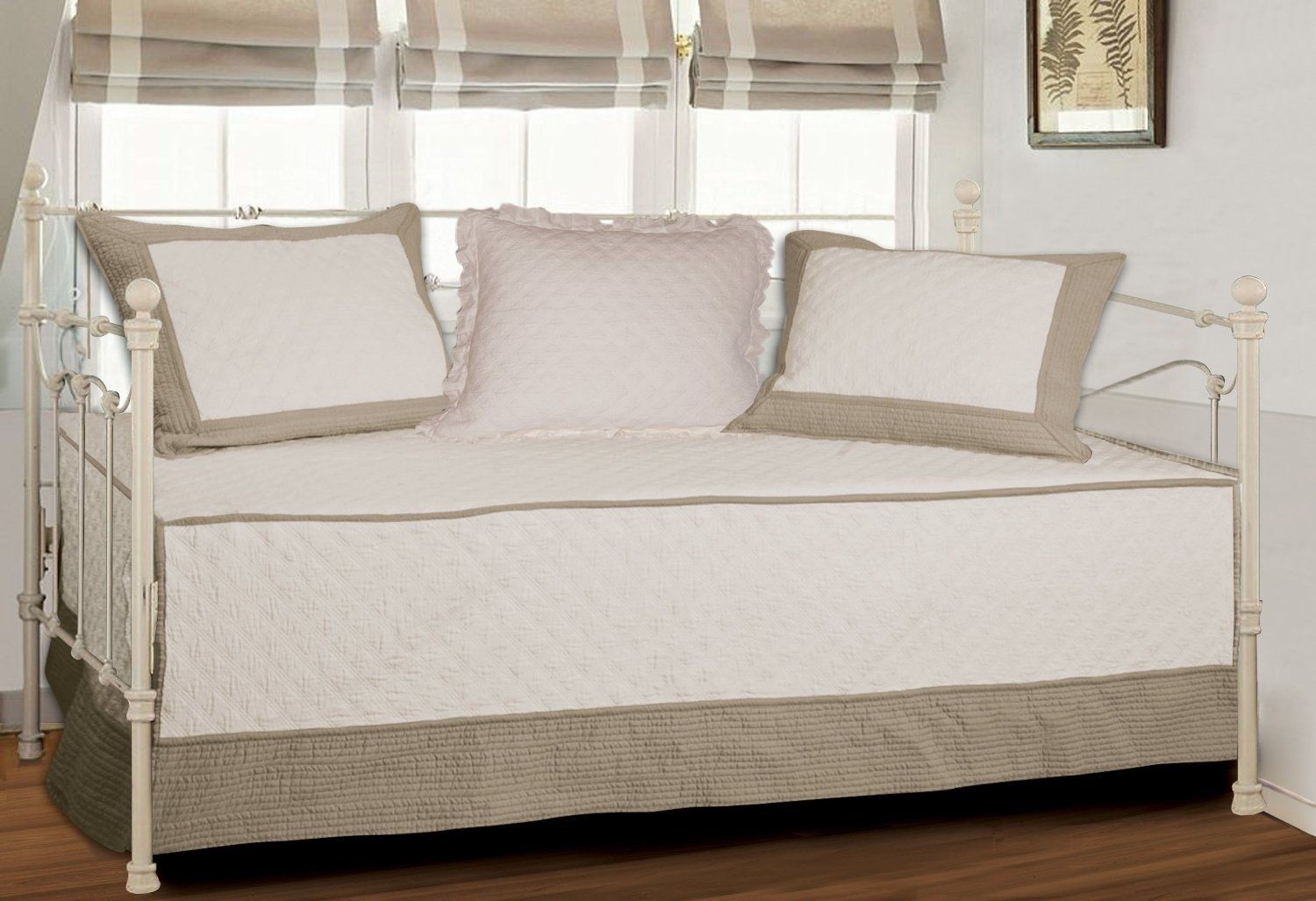 Lovely Daybed Set in Ivory & Taupe Finish can be a functional and extremely beautiful addition for your bedroom. Designed of 100% cotton, the set features 3 comfortable and soft pillow shams for even more elegant looks.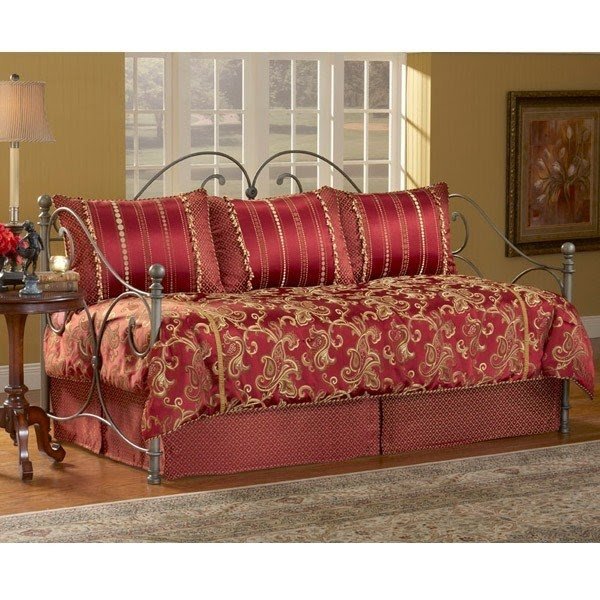 Crawford Merlot Red and Gold Daybed Comforter Set by Southern Textile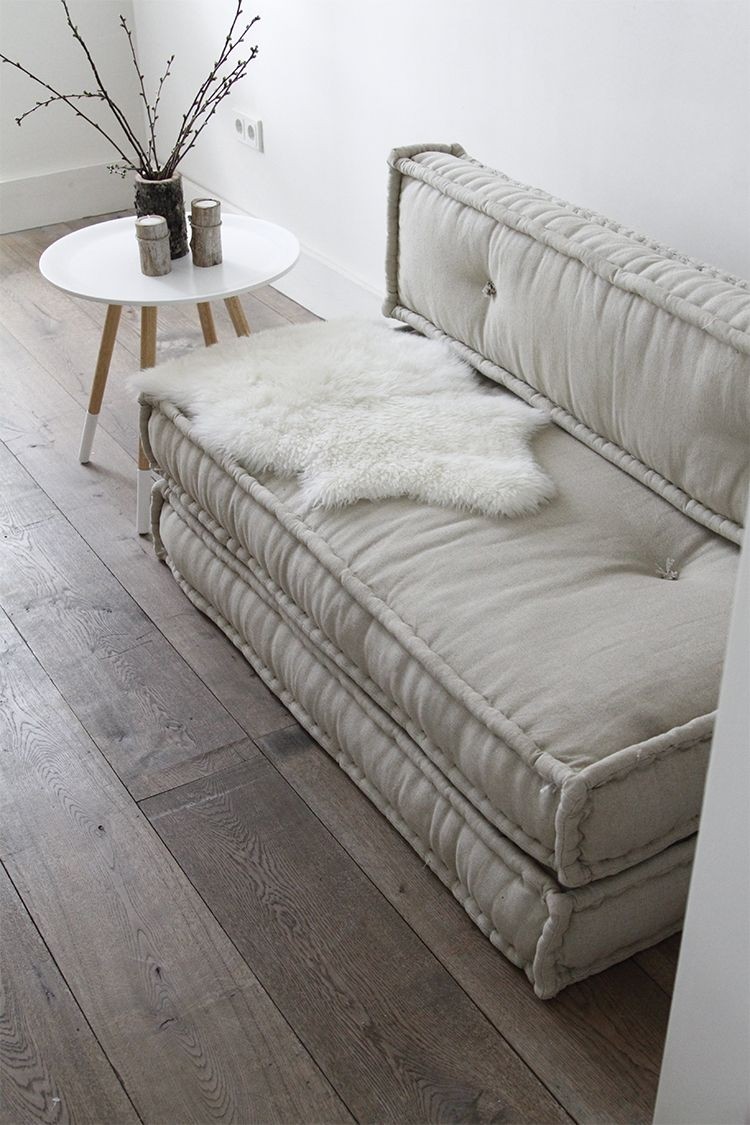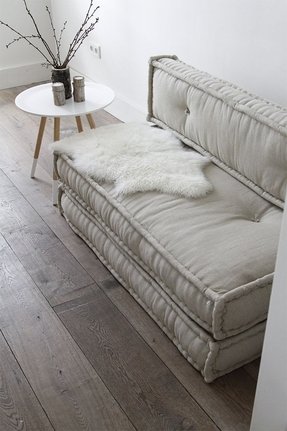 Double mattress with beautiful gray cover is very effective. Bright daybed finish is versatile and perfectly present in any contemporary interior design. Every detail, including interesting trim and decorative nods, captivate you.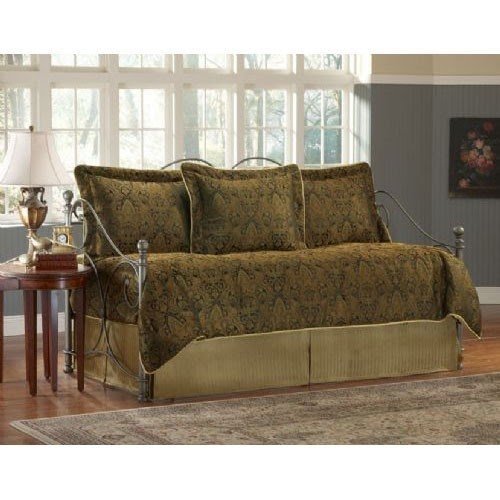 This gloriously-looking five-piece Twin daybed comforter set will enhance your living room space. Beautiful, dark gold finishing resemble class and chic. It will match perfectly all traditionally-designed interiors.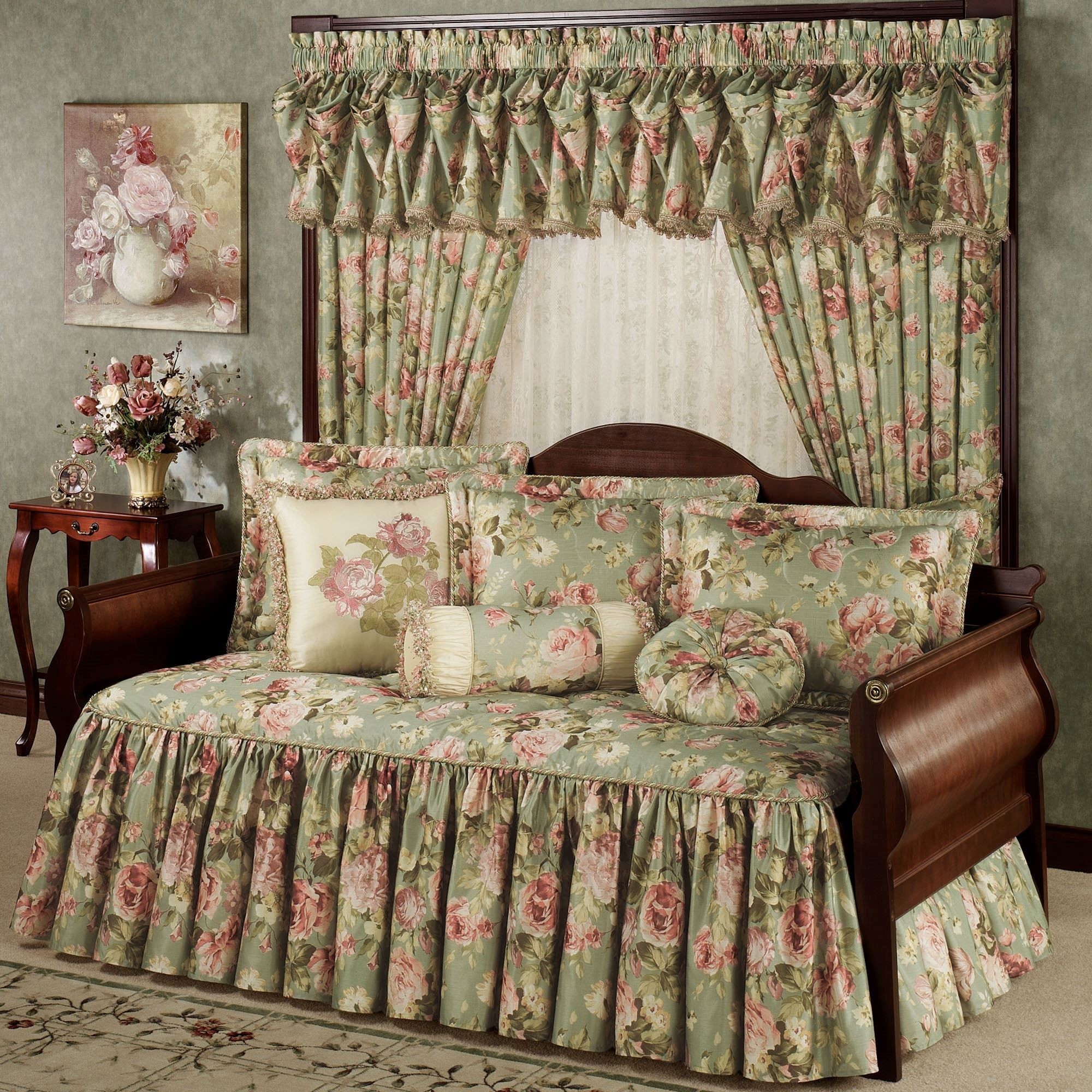 ... daybed bedding set includes a floral daybed cover and three standard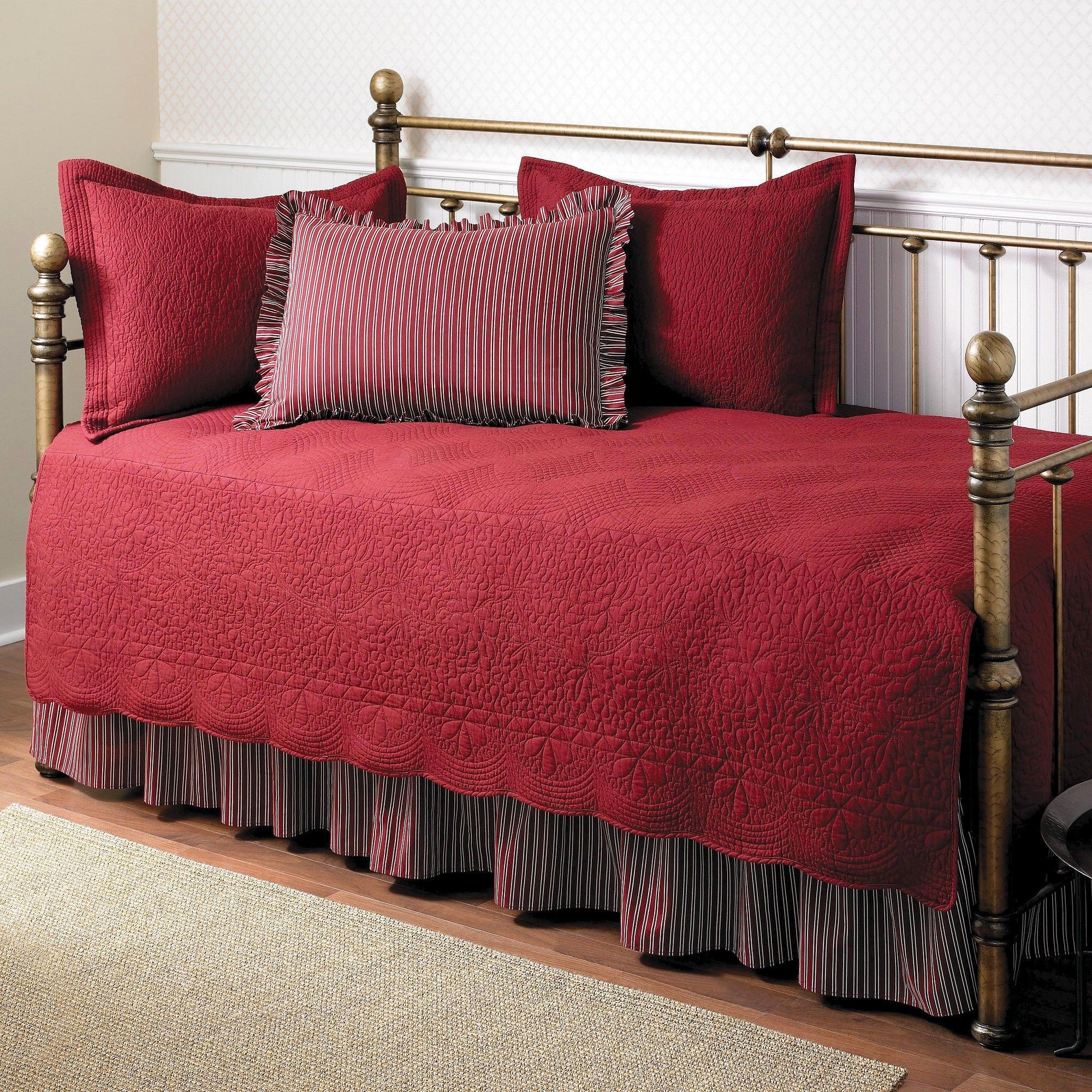 5 piece bedding set designed for daybed. It is made of pleasant to the touch fabric and reinforced with solid seams. Received a lot of positive recommendations from customers for neutral design and high quality.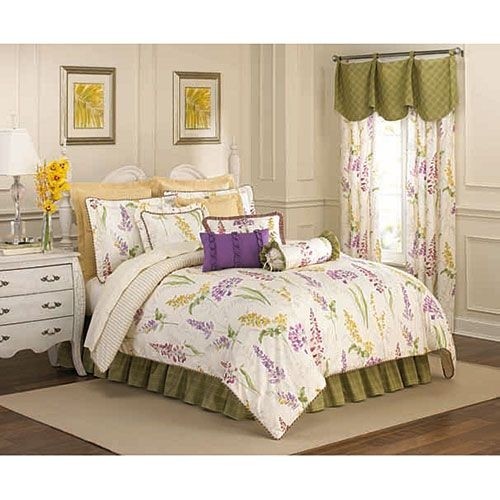 Daybed Comforters Set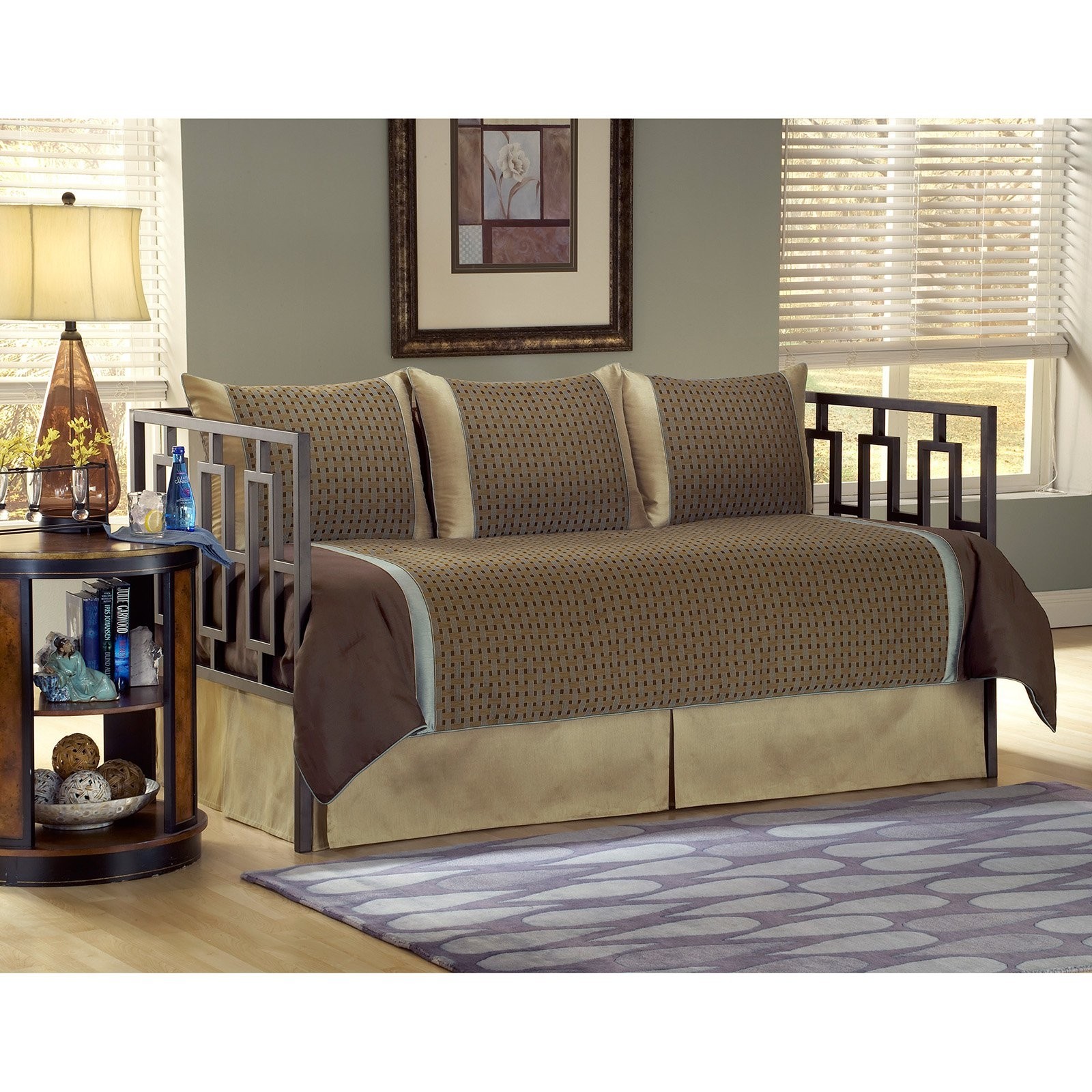 The twin daybed comforter set in earth color. The material elements was prepared by the component, which imitates rattan. The sofa has also very unusual sides made of metal. When you take it down, it looks like a balcony's balustrade.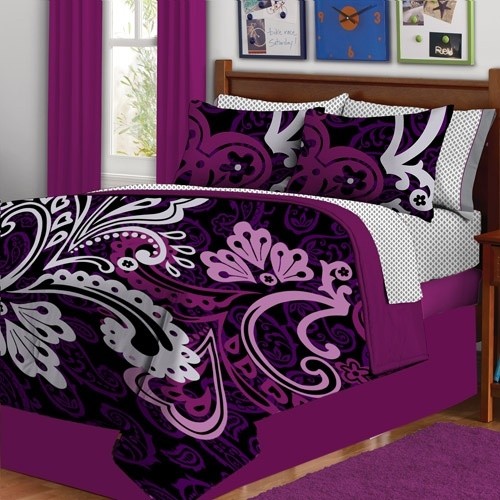 A stunning daybed comforter set that makes for a nice choice for any teenager's room, especially with its vibrant, bright purple finish and amazing floral patterns that catch your eye almost instantly.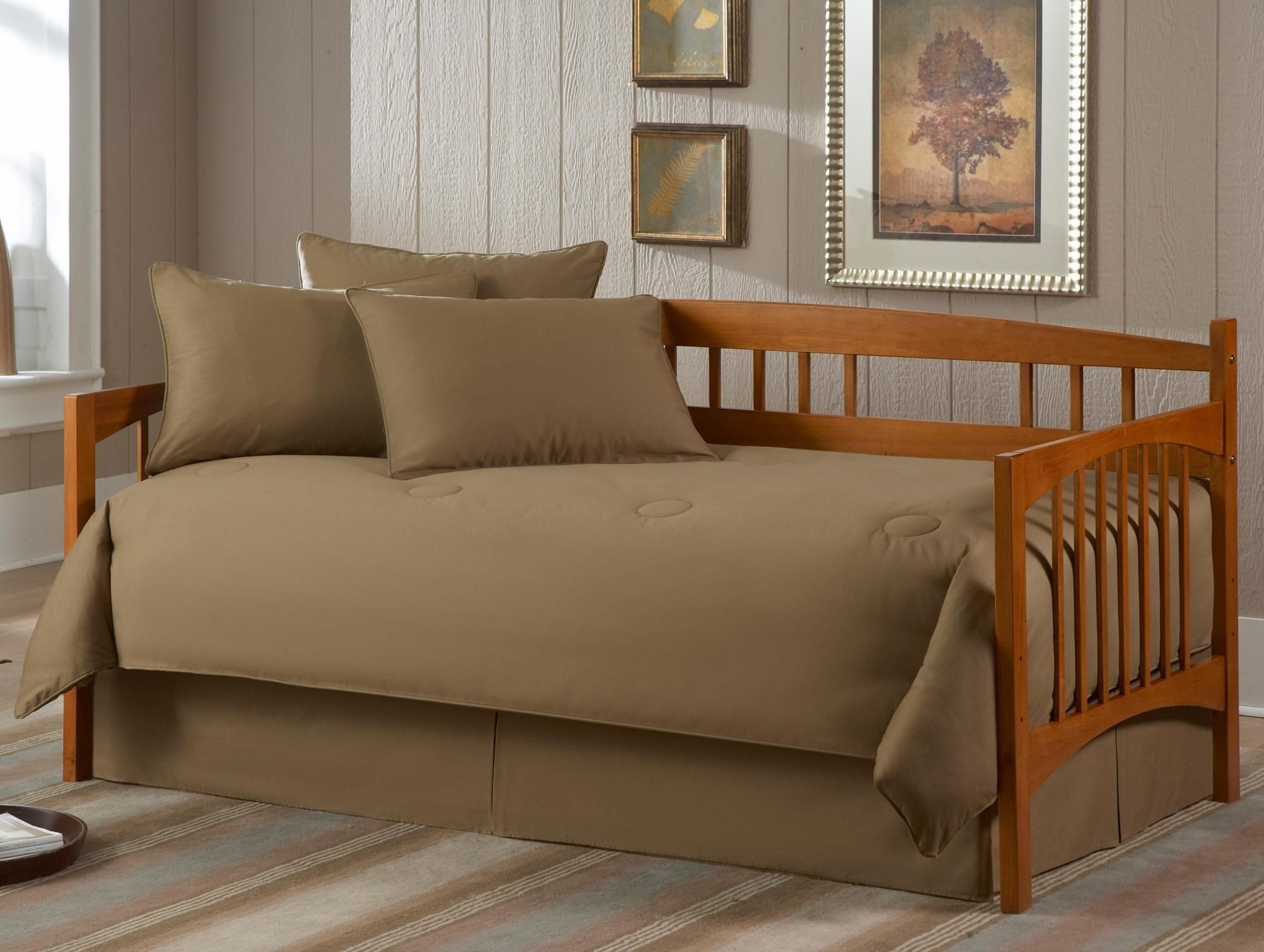 Solid Khaki Paramount 5-Piece Daybed Bedding Set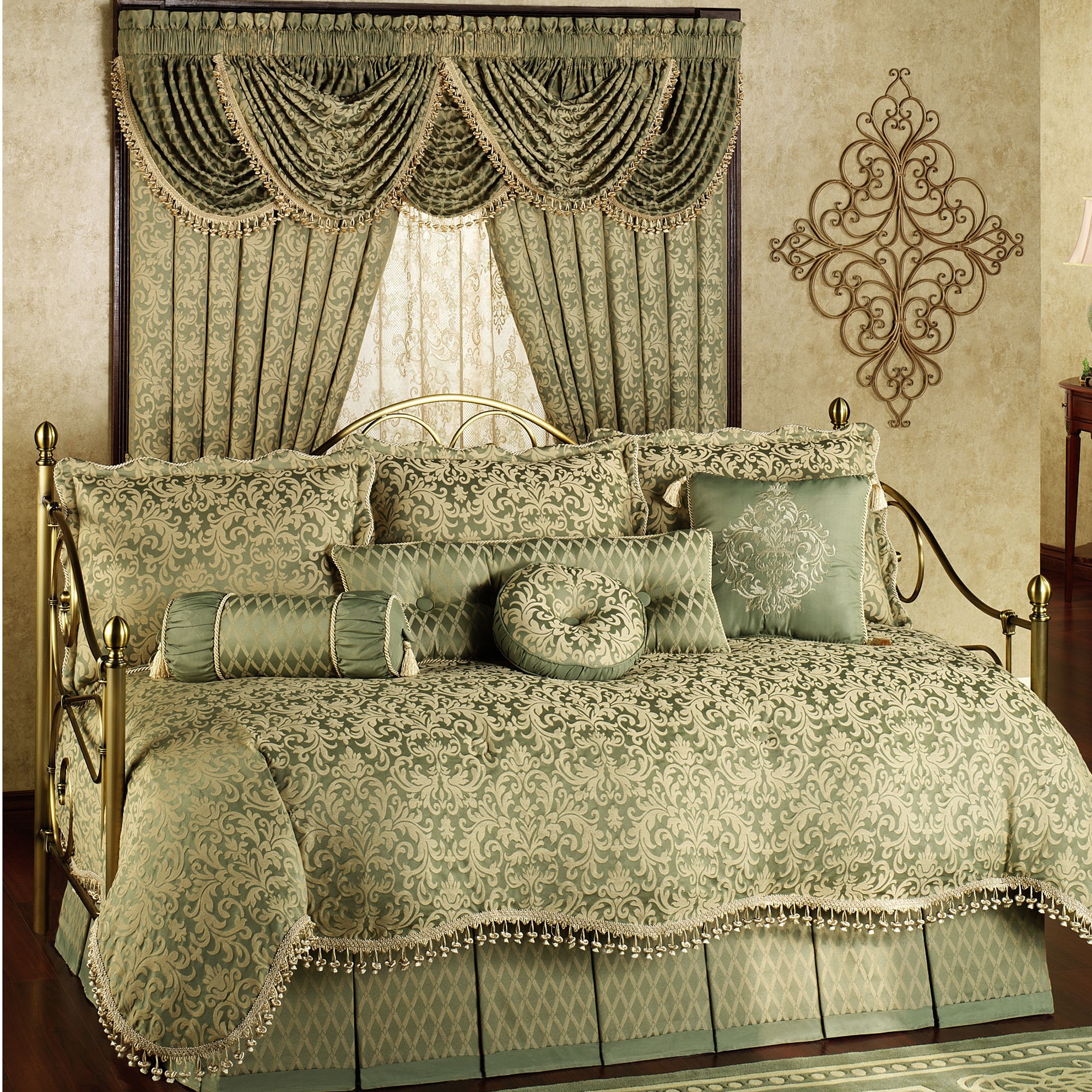 Aberdeen Daybed Set Jade Daybed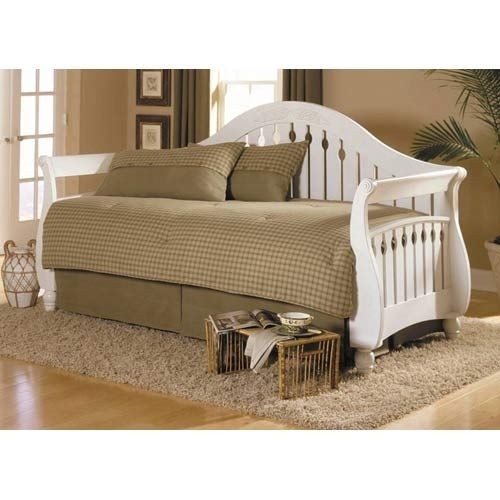 Day bed for the bedroom, teenager's room and more. Construction is made of wood. Footboard and headboard consist of vertically arranged strips. Traditional form and neutral design.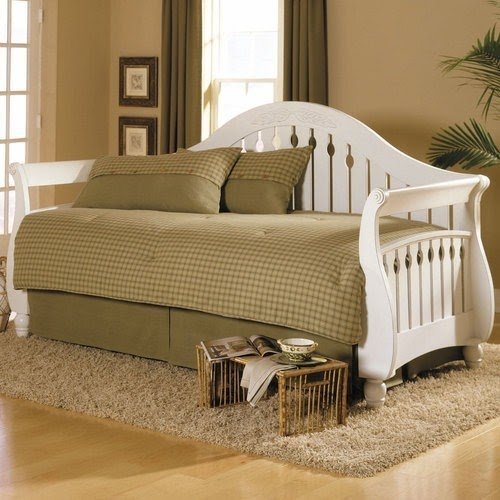 This multi-functional vintage piece of furniture will play its role perfectly in a studio flat. You can used it loosely - as a couch or as bed. It has blanched wooden frame and comfortable squared seat.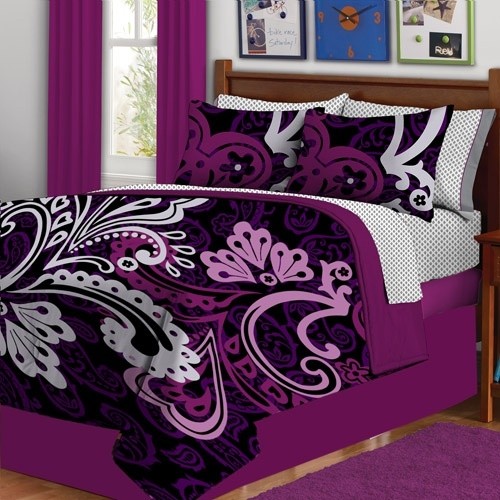 Twin daybed comforter set in deep, dark purple (even darker than eggplant purple) and some neutral grays and white. Horizontally striped, pleated skirt accompanies the duvet and pillows that sport large blossoms pattern.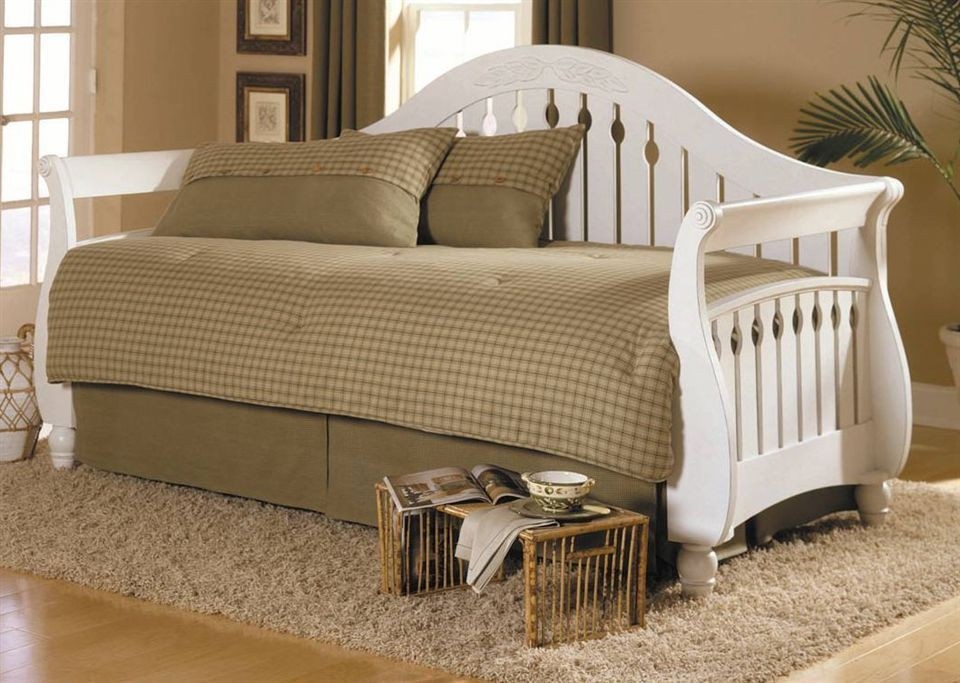 NEW IN BAG 4PC Kensington Moss Green and Khaki Daybed Comforter Set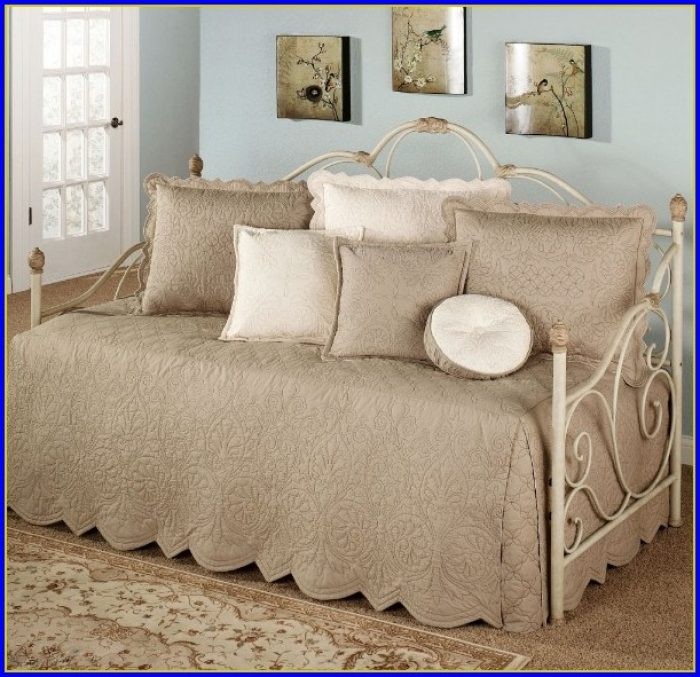 Plymouth Daybed 10-piece set - Update your bedroom decor with a Plymouth bedding setSet includes comforter, bed skirt, two shams, three Euro shams and three decorative pillowsBedding showcases a traditional French country pattern in black and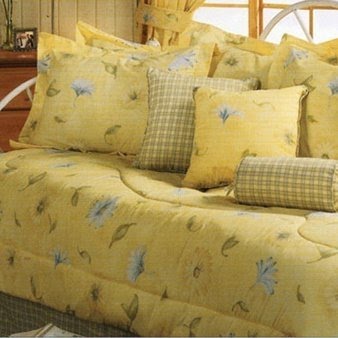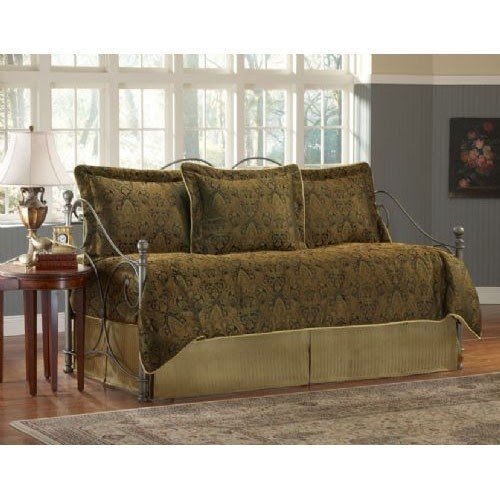 Ideal for one's classic living rooms, this Manchester five-piece twin daybed comforter set will add a cool, rustic vibe to the space. Finished in olive green, will match almost every surrounding colour.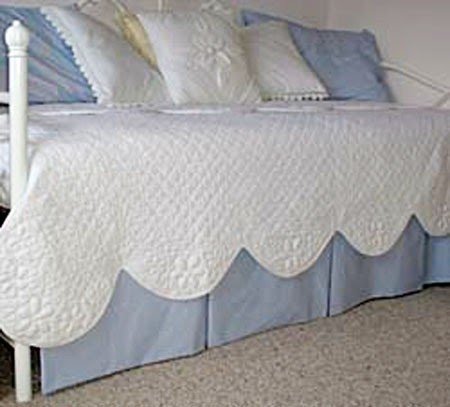 A pretty rustic style bed set. A casual bed skirt, attached to a front bed rail with velcro tape, and some shams (with floral patterns) are light blue. A cover with a textured surface and other shams (with floral motifs and indented edges) - white.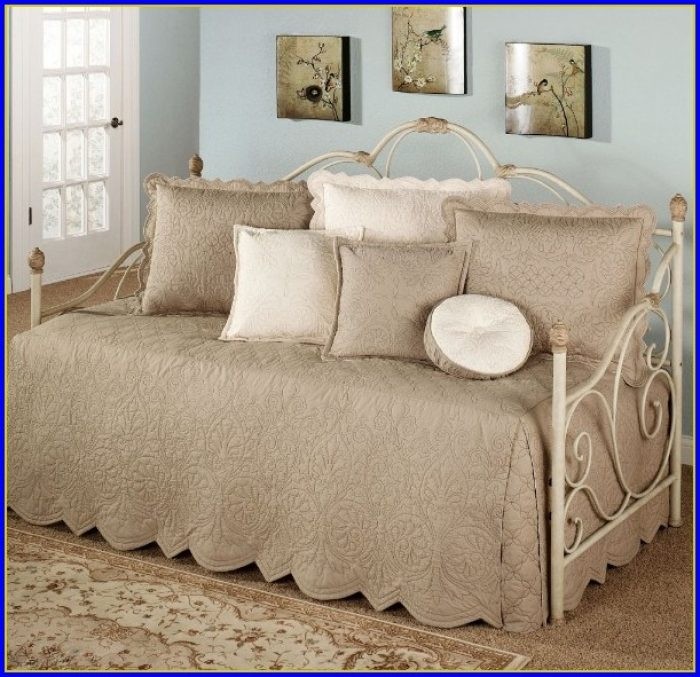 Decoration,Fabulous Daybed Design Ideas With Charming White Iron Frame And Elegant Matelasse Comforter Set,Lovely Daybed Comforter Sets Inspirations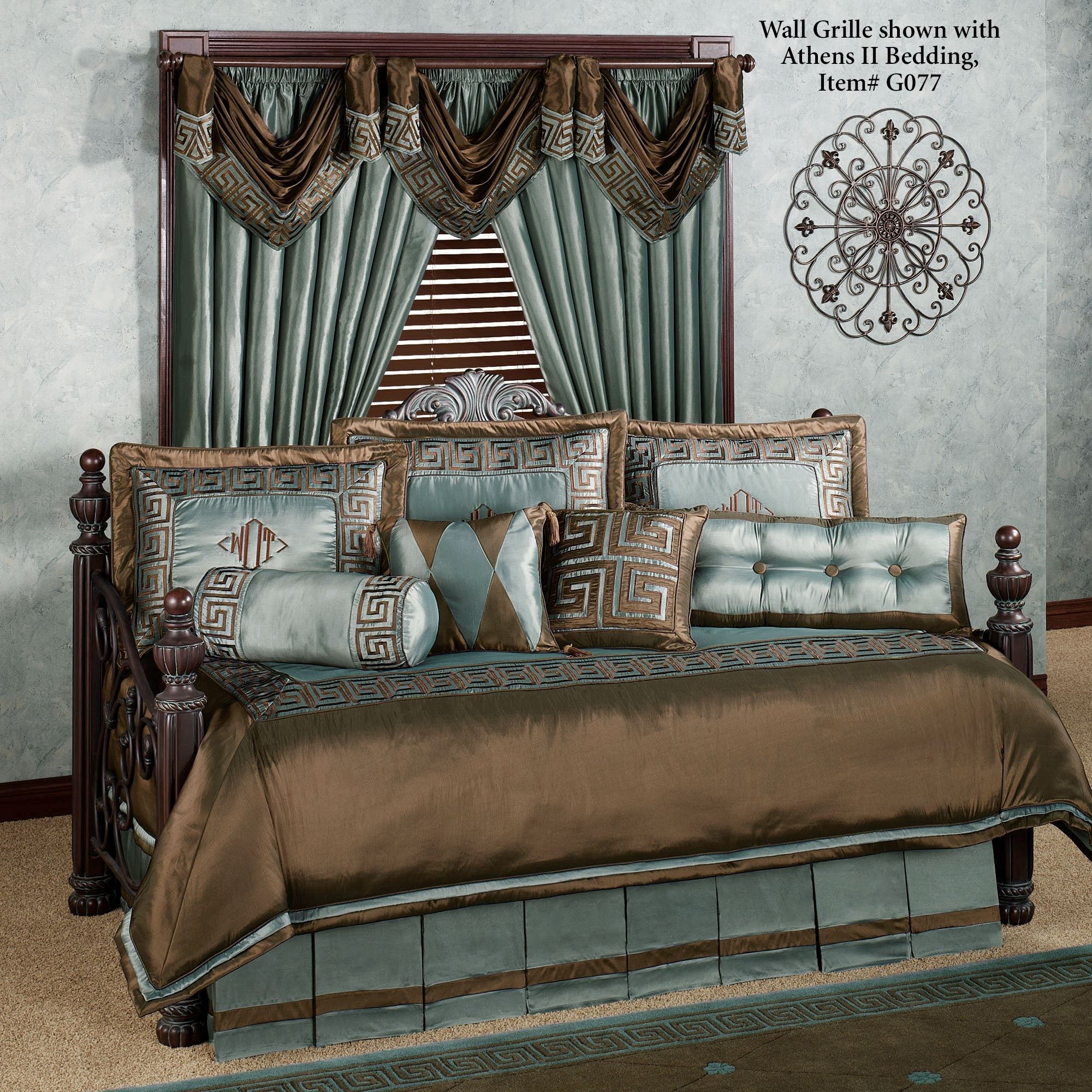 An elegant contemporary bedding set featuring a traditional Greek key pattern. A duvet, a bolster and shams are crafted of quality glossy fabric in prevalent brown tones with strong silvery additions. They can be washed.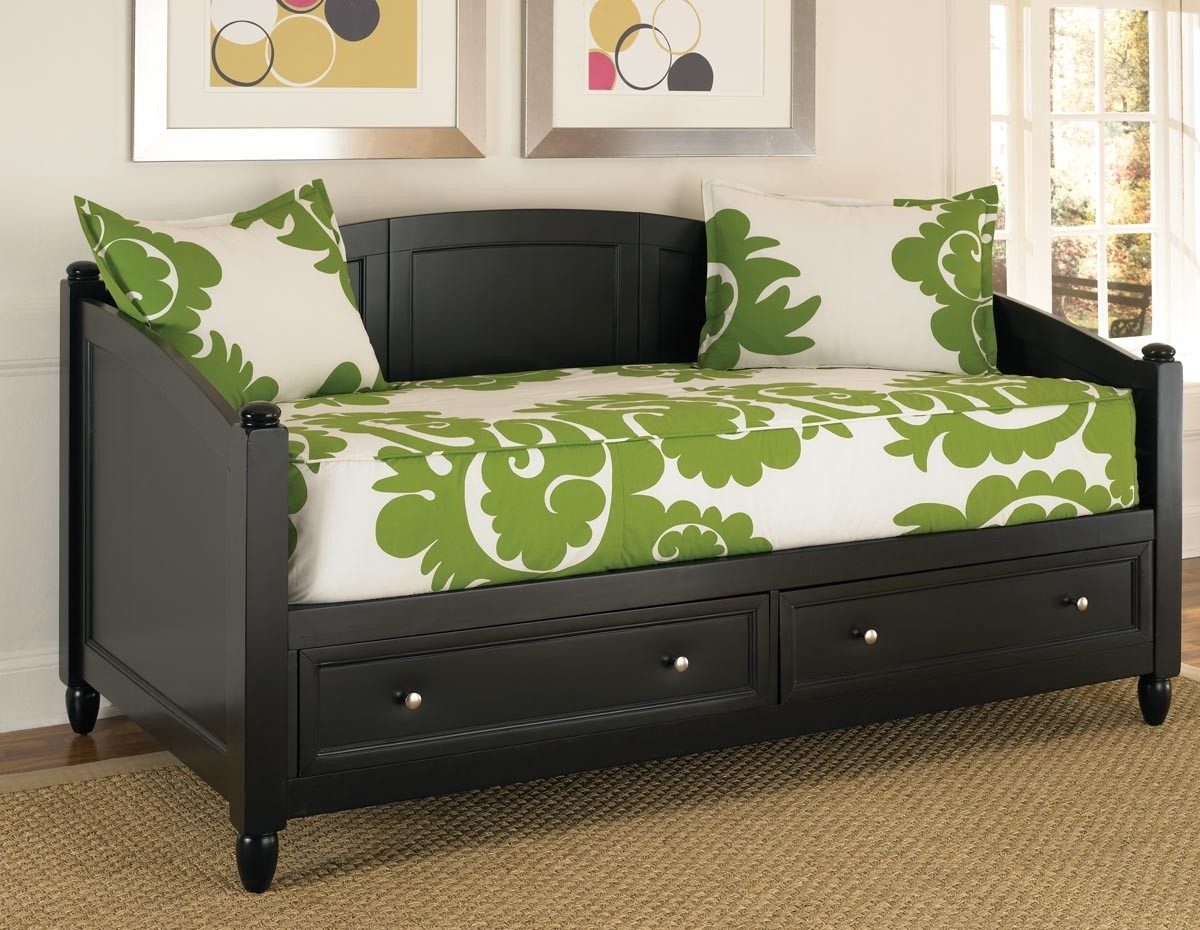 This simple espresso daybed was pepped up a bit with printed bedding set with toss pillows: large pear green stencil floral print, obviously contemporary in style, is scattered on a neutral cream background.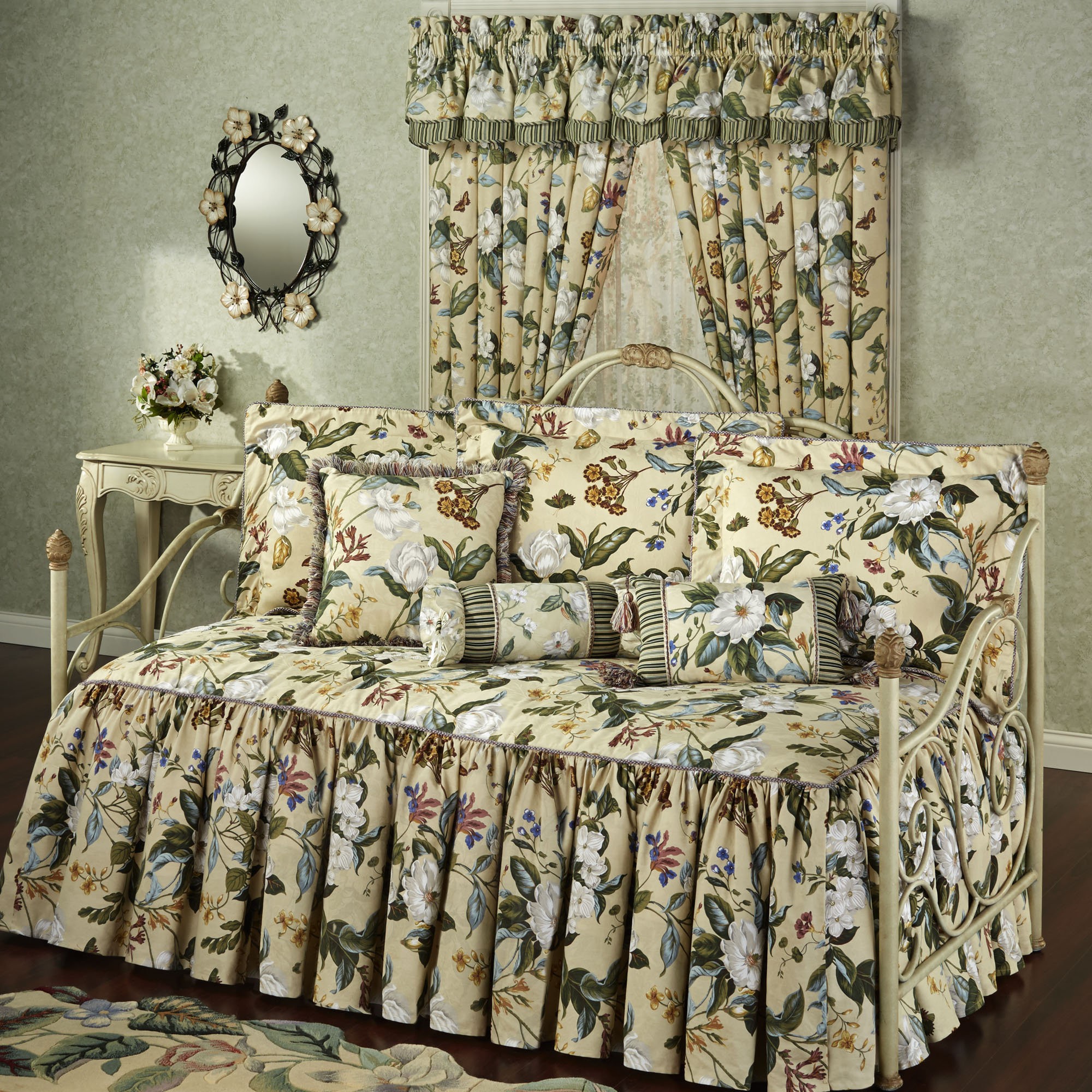 Garden Images III Daybed Set Parchment Daybed
Beautiful daybed bedding set. Devyn tufted daybed in vintage velvet, dressed in cool greyish shade cushions. I adore this light fluffy carpet and cool design if this sleeper sofa. I'd love to have one myself.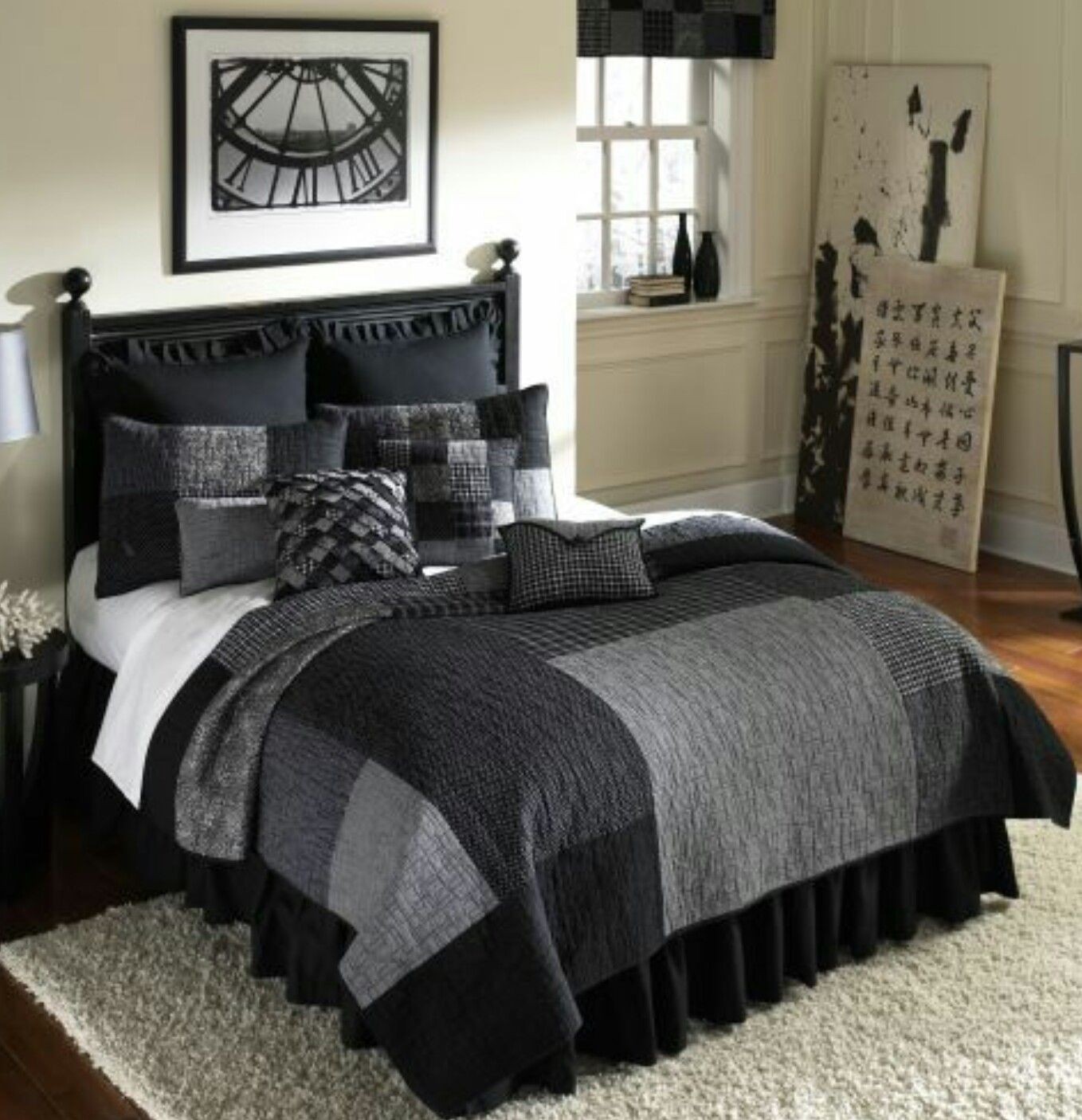 A stylish comforter set for men, made from polyester, guarantees comfort and warmth. Patterned in various stripes, comprising different shades of grey, black and orange, it compliments greatly the Hampton Classic bed.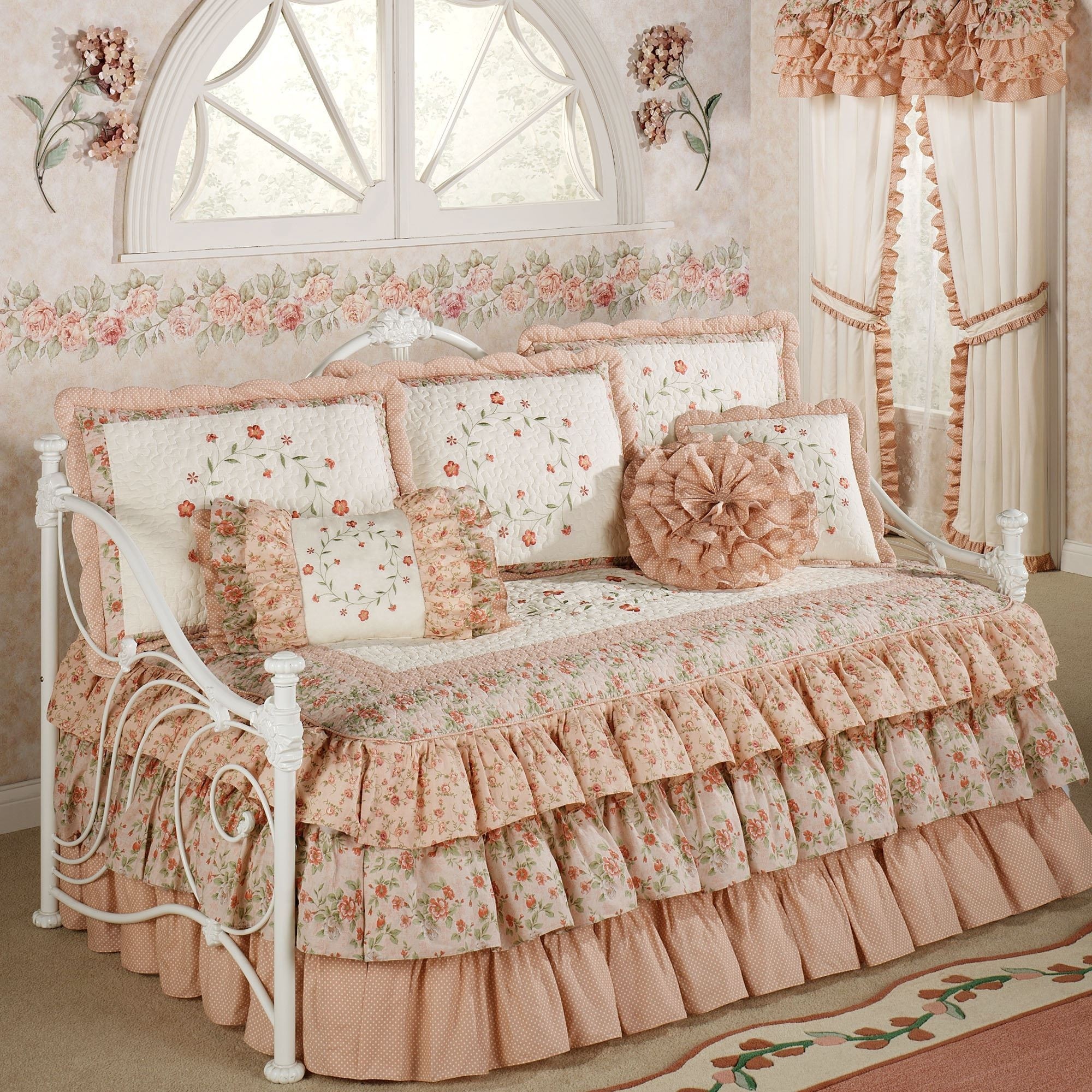 Melody Ruffled Daybed Set Coral Daybed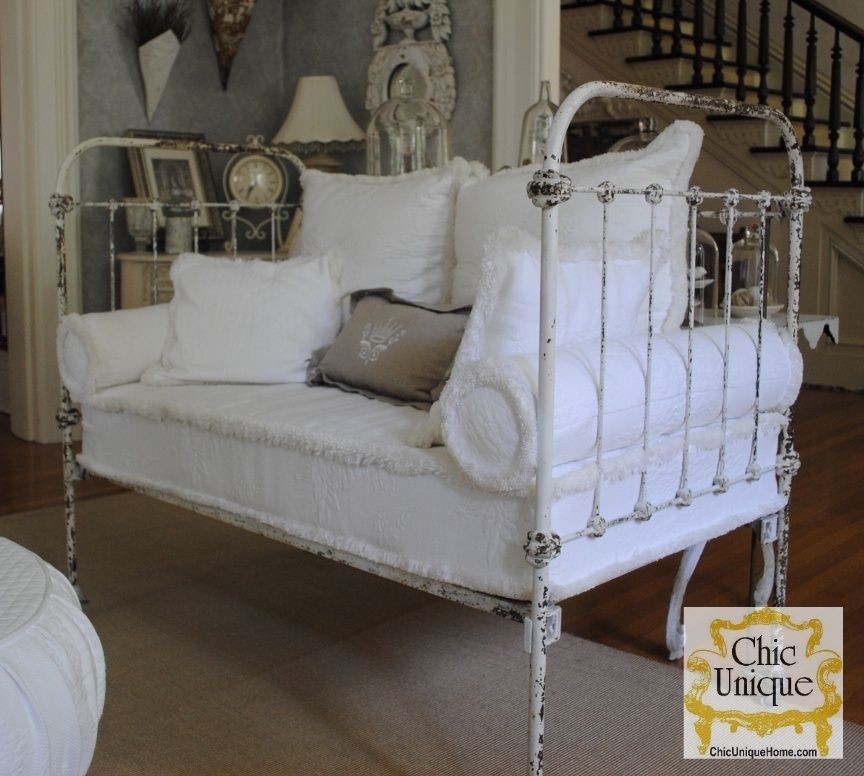 Day bed mounted on wooden frame and finished with carefully made carvings. Great solution for bedroom, teenager's room and others interiors as needed.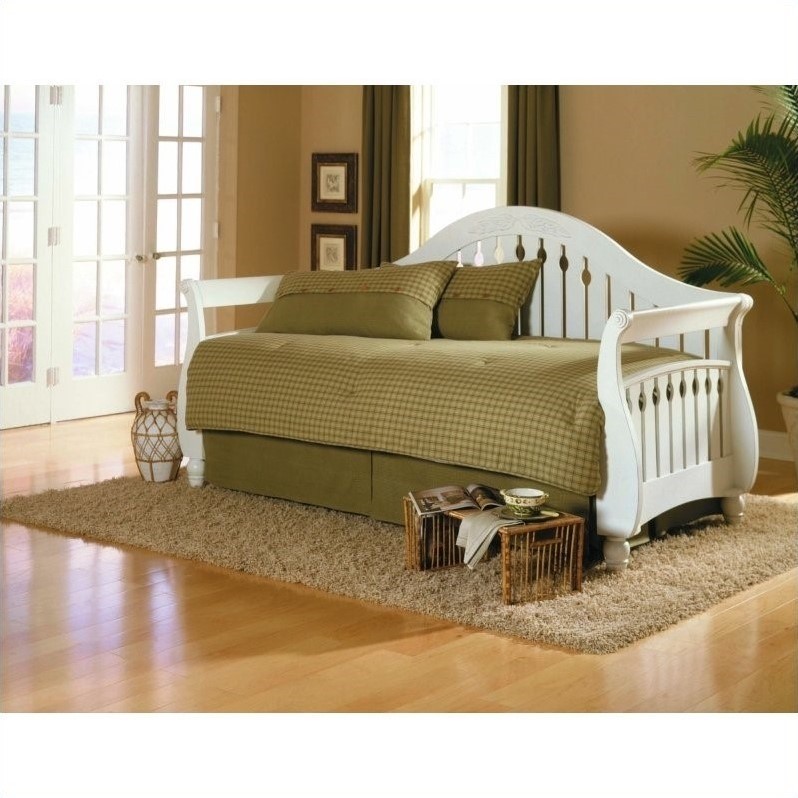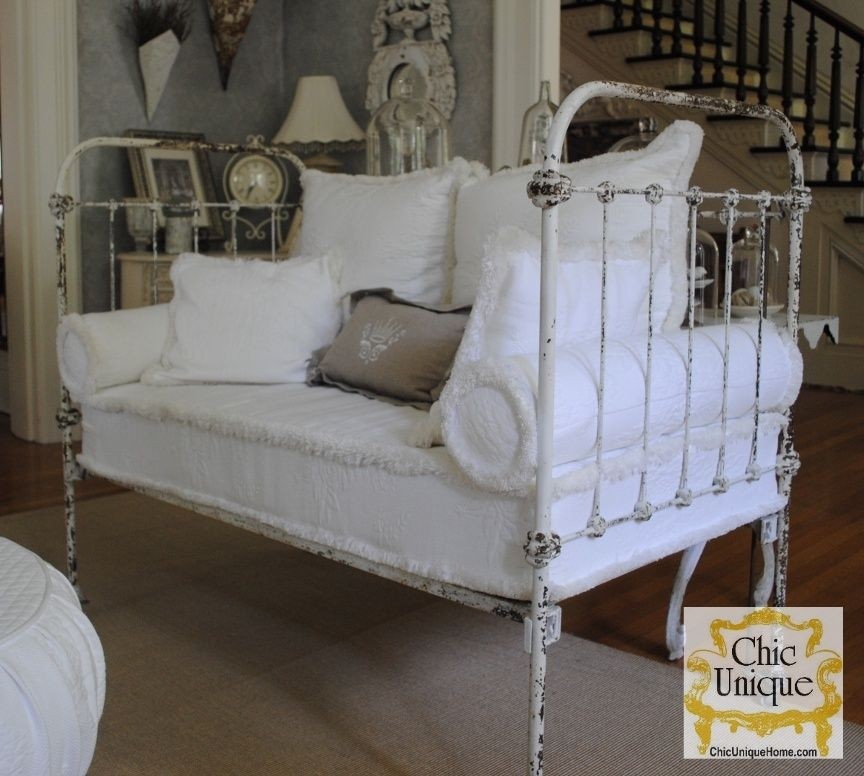 Refined in its shabby chic look, this distressed whitewashed metal daybed can flourish in some interior styles, like French country, cottage farmhouse, rustic etc. The white iron settee serves as twin daybed.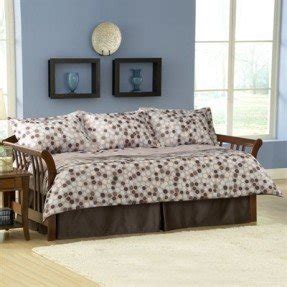 Finn Paramount Daybed Comforter Set, Leggett & Platt Home Textiles #ATGstores #Daybed