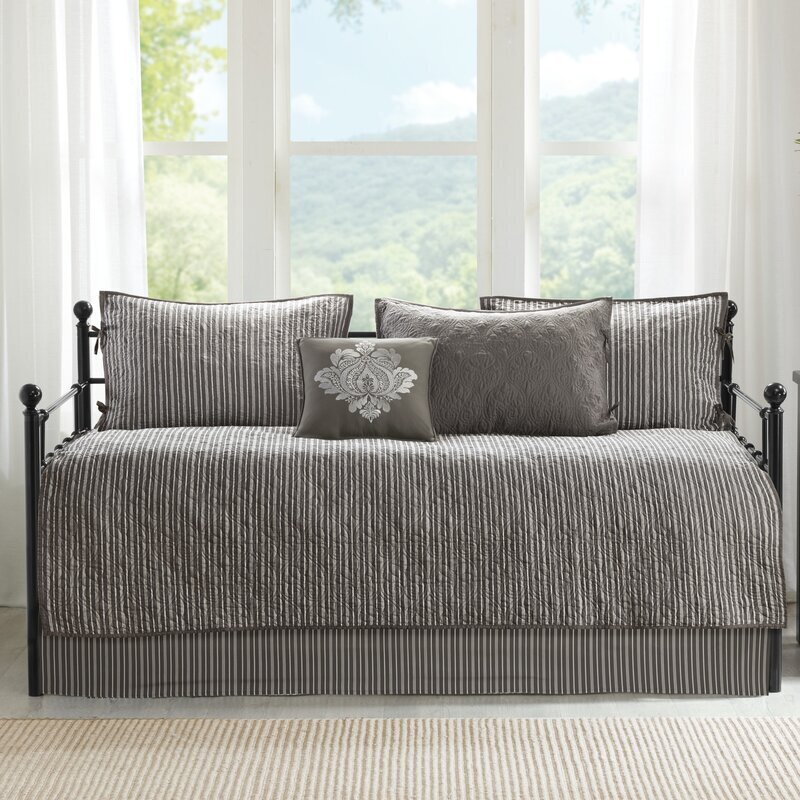 Daybed Comforter Set of 6
Lark Manor™
What We Like: Machine washable
What We Don't Like: No throw blanket included
Not So Good For: Modern or contemporary home decor
Perfect For: Easy cleaning
This vintage-inspired comforter set features six pieces, including three shams, an accent pillow, a bed skirt, and a quilt, so you can completely transform your daybed's aesthetic. The soft quilted fabric is lightweight to prevent overheating on warm days. The polyester material is machine washable for quick and easy cleaning, ideal for busy family homes.
The comforter set is reversible with a solid hue on one side and a striped pattern on the other, so you can easily switch up your style. The accent pillow features intricate leaf and berry embroidery designs. Use the comforter set in a farmhouse or cottage-style bedroom. To fit a minimalist or industrial space, pair with dark neutral colors and a steel or silver bed frame.
$72.99 $89.99
Merchant links are sponsored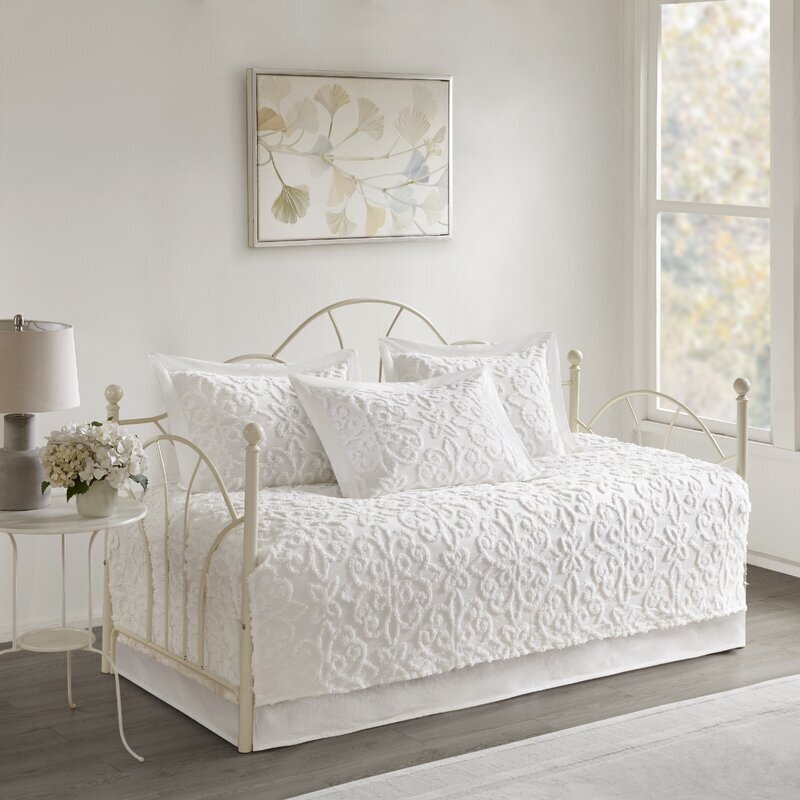 Textured Daybed Comforter Set
Kelly Clarkson Home
What We Like: Tufted material
What We Don't Like: No accent pillow included
Not So Good For: An all-in-one set
Perfect For: Vintage or modern spaces
This five-piece comforter set includes three shams, a bed skirt, and a quilt with a classic and textured design. The tufted material creates a multidimensional look and uses cotton chenille fabric that is soft to the touch and machine washable for easy cleaning.
The bedspread uses a clean-lined design that is easy to style in various spaces, from Scandi to farmhouse to transitional. Pair with white or cream colors for a breezy coastal-style feel. Or, for a modern bedroom, use colorful decor like ceramic lamps and contemporary artwork to keep the space trendy. The bedspread can even fit with vintage-inspired rooms by pairing it with retro decor items.
$103.99 $109.99
Merchant links are sponsored
Reversible Comforter for Daybed
Red Barrel Studio®
What We Like: Reversible, shrink resistant
What We Don't Like: Only available in twin size
Not So Good For: All bed sizes
Perfect For: Achieving multiple looks
Clearance options can be hard to find when it comes to daybed bedding sets. This reversible bedding set is an affordable, high-quality product that includes a duvet cover, three shams, an accent pillow, and a bed skirt. The comforter features a reversible design with two patterns that accommodate different style rooms.
The soft microfiber and polyester material provide maximum comfort that is machine washable and shrink-resistant. Style the bedding set in a southwestern-style room with a hand-knotted rug and western decor. For a modern approach, opt for neutral colors to highlight the solid hue side of the comforter and use trendy home decor for a fresh look.
$74.99 $89.99
Merchant links are sponsored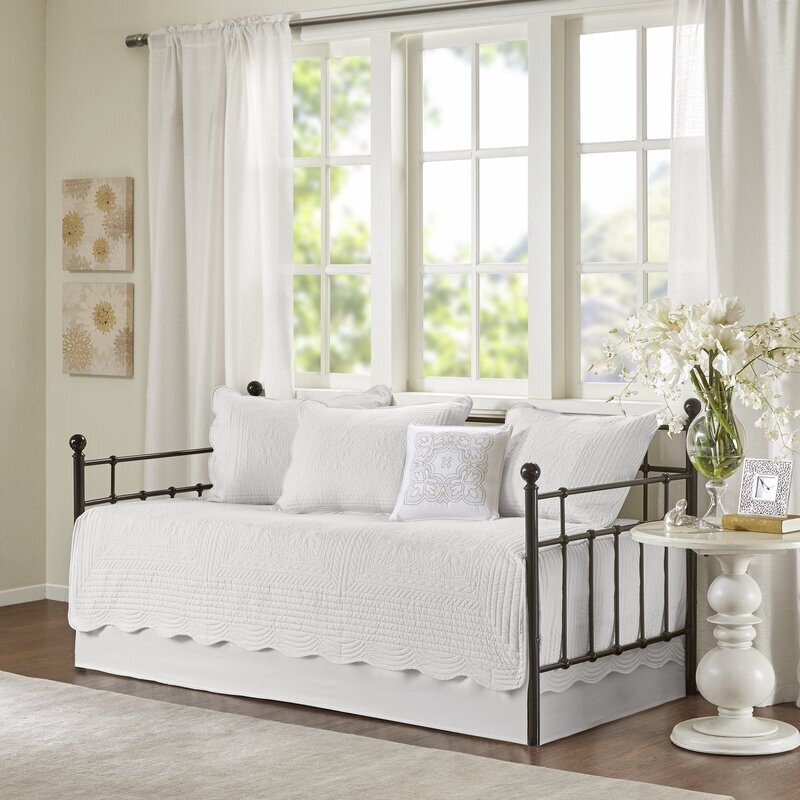 Farmhouse Style Daybed Bedding
Alcott Hill®
What We Like: Antimicrobial treatment
What We Don't Like: Light colors stain easily
Not So Good For: Industrial-style rooms
Perfect For: Farmhouse and cottage-style spaces
The classic stitch pattern and scalloped edges on this daybed comforter set create a breezy and romantic bedscape. The set includes three shams, an accent pillow, a bed skirt, and a quilt that fit cohesively together and are available in light and airy colors like white, cream, blush, and seafoam.
The polyester fabric blend features an antimicrobial treatment to provide freshness protection. It reduces the growth of bacteria that causes odor to prevent the spread of germs. This makes it the ideal choice for homes with pets who love to curl up with their owners. Use the set in rooms with plenty of natural light to create a bright farmhouse-chic space.
$79.99 $99.99
Merchant links are sponsored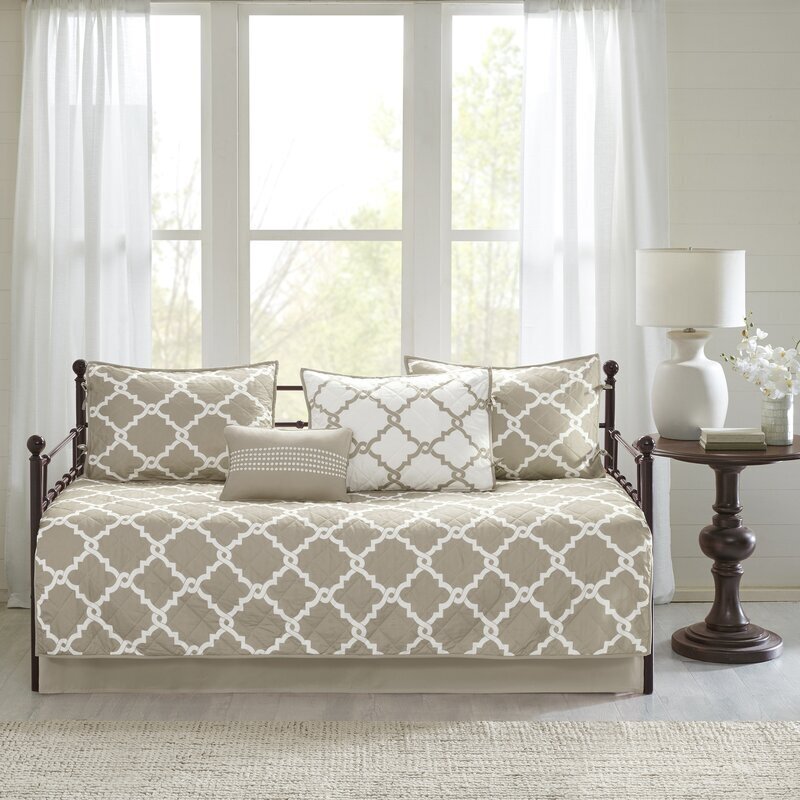 Modern Transitional Daybed Comforter Set
Andover Mills™
What We Like: Hypoallergenic, wrinkle-resistant
What We Don't Like: Busy pattern
Not So Good For: Minimalist rooms
Perfect For: Easy maintenance
Daybed comforter sets are an easy way to cohesively style a guest room or home office. The intricate Moroccan-inspired design on this comforter is inverted on the opposite side, allowing you to play with different shades and visual textures to create an interesting depth to your bed set.
The coverlet features an antimicrobial treatment that reduces the growth of bacteria and prevents odors from transferring to the bedding. It keeps the bedding fresh for longer to prevent frequent maintenance. With multiple colors available and a modern design, the bedding can fit into most modern rooms. Opt for darker color options like black or navy for an industrial room.
$87.99 $89.99
Merchant links are sponsored