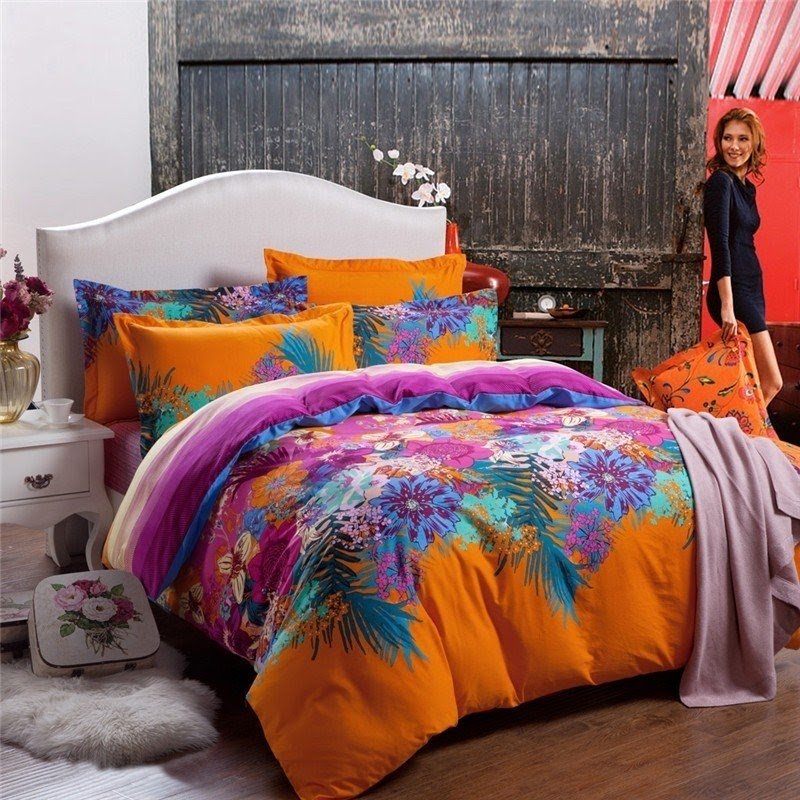 Add your bedroom a cool, funky appeal with this 100% cotton bedding set. Its bright, summer finish will take your straight to a tropical island. Features blue and violet flowers and leaves on an orange, sunset background.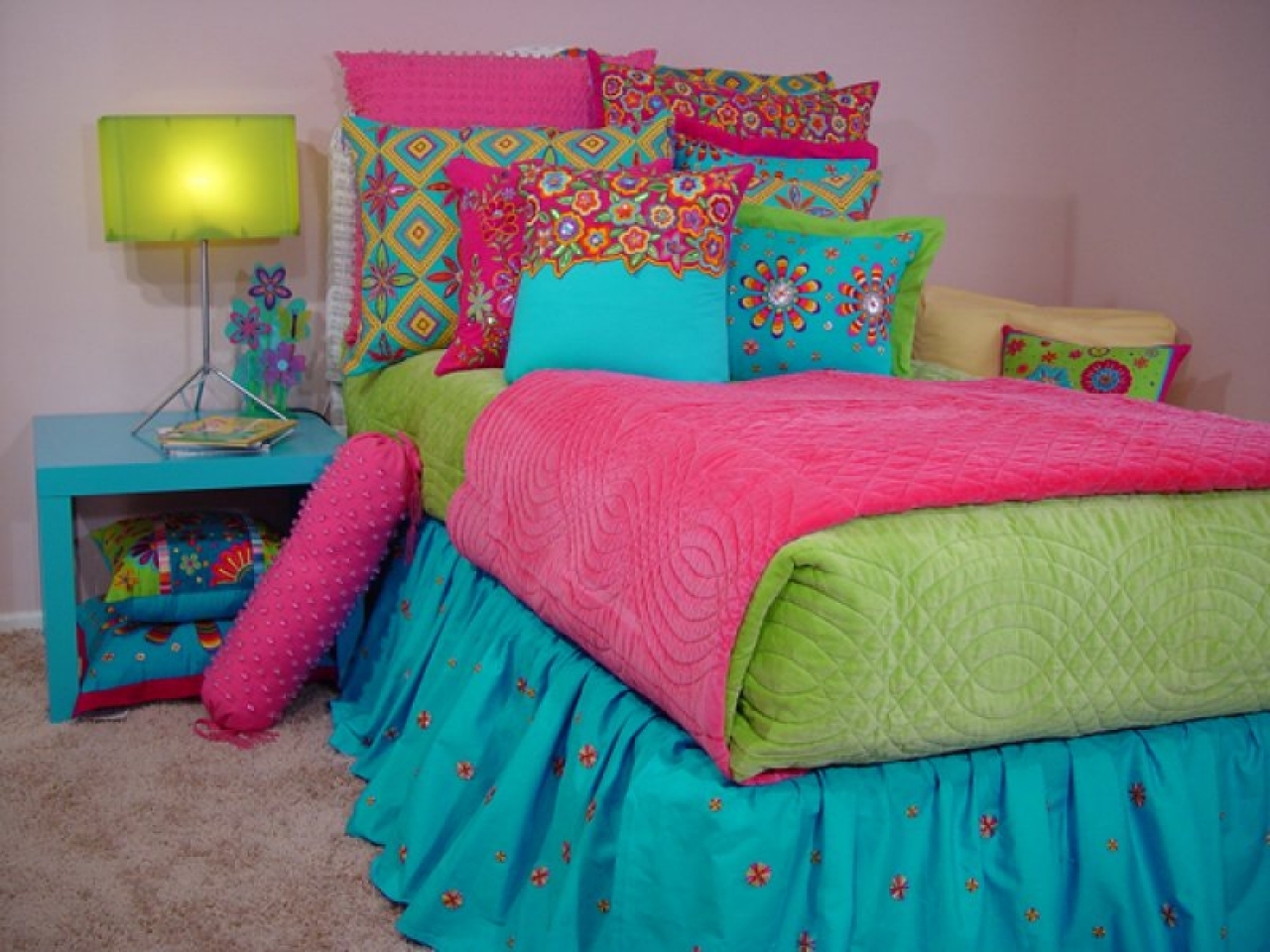 A colorful dream-full of fuchsia turquoise and greenery that fills you with a spring mood.All this in the form of not flowers on the trees, but a set of cotton bright colored bedding set, with a slightly quilted bedspread and a wealth of designs in boho style.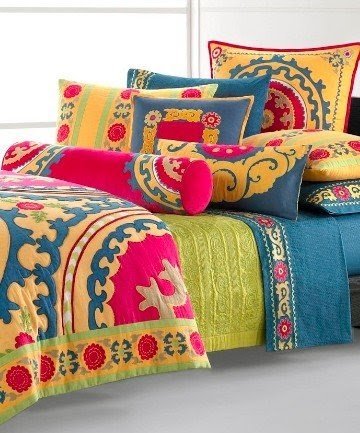 A marvellous proposition for all, who love patchwork design. This vibrantly coloured printed bed set will bring so much warmth and positive energy to one's bedroom. Ideal to create a cool, Bohemian vibe.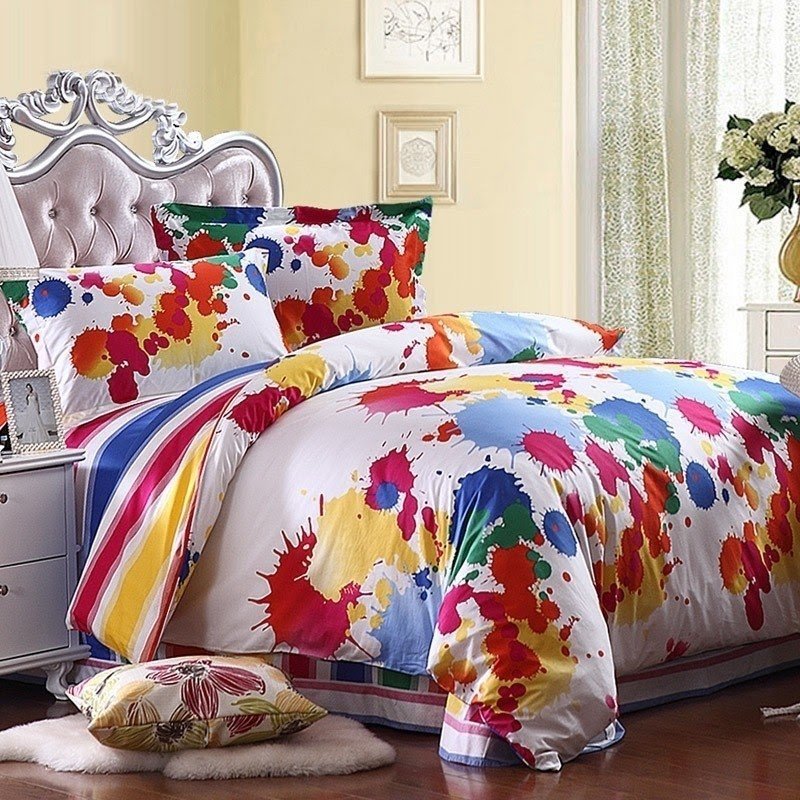 Bringing in a joyful, positive ambience to your bedroom, this funky coloured modern style bedding style will be a comfy 100% cotton product. Its white surface is beautifully covered with various splashes of yellow, red, blue and green.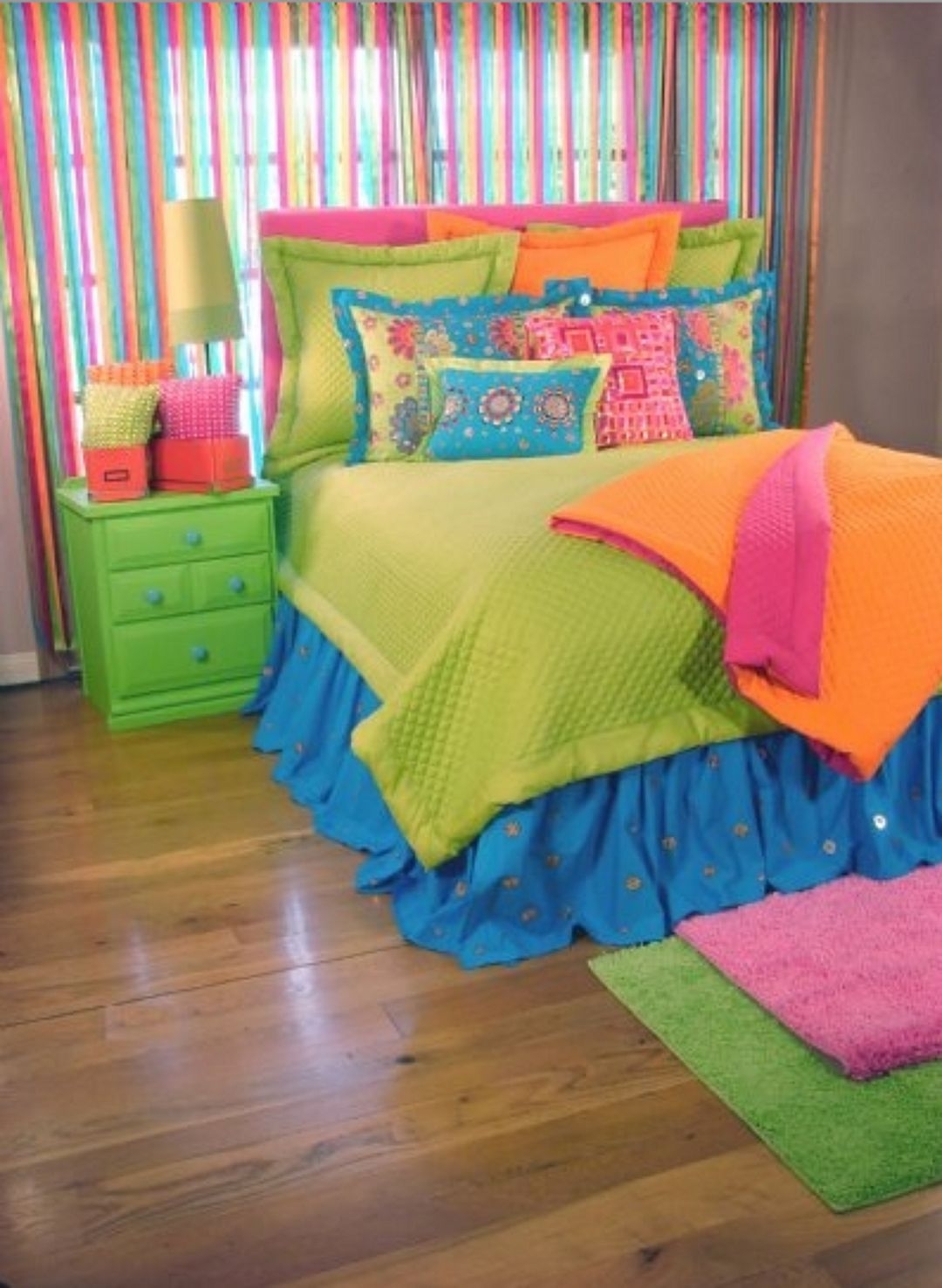 An eye-catching contemporary bedding set for kids. A duvet cover and bigger flanged shams are crafted of soft textured fabric in vivid colours. A skirt and smaller flanged shams feature colourful floral designs. They're machine washable.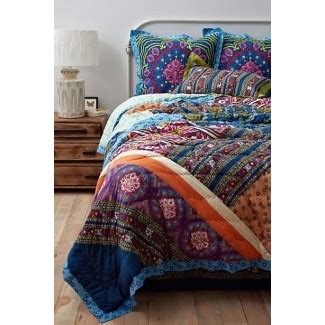 Bedding set in patchwork form. It is made of pleasant to the touch fabric and finished with sophisticated ornamentation. Includes comforter, shams, pillow cases and more. Positive accent for bedroom, teenager's room and more.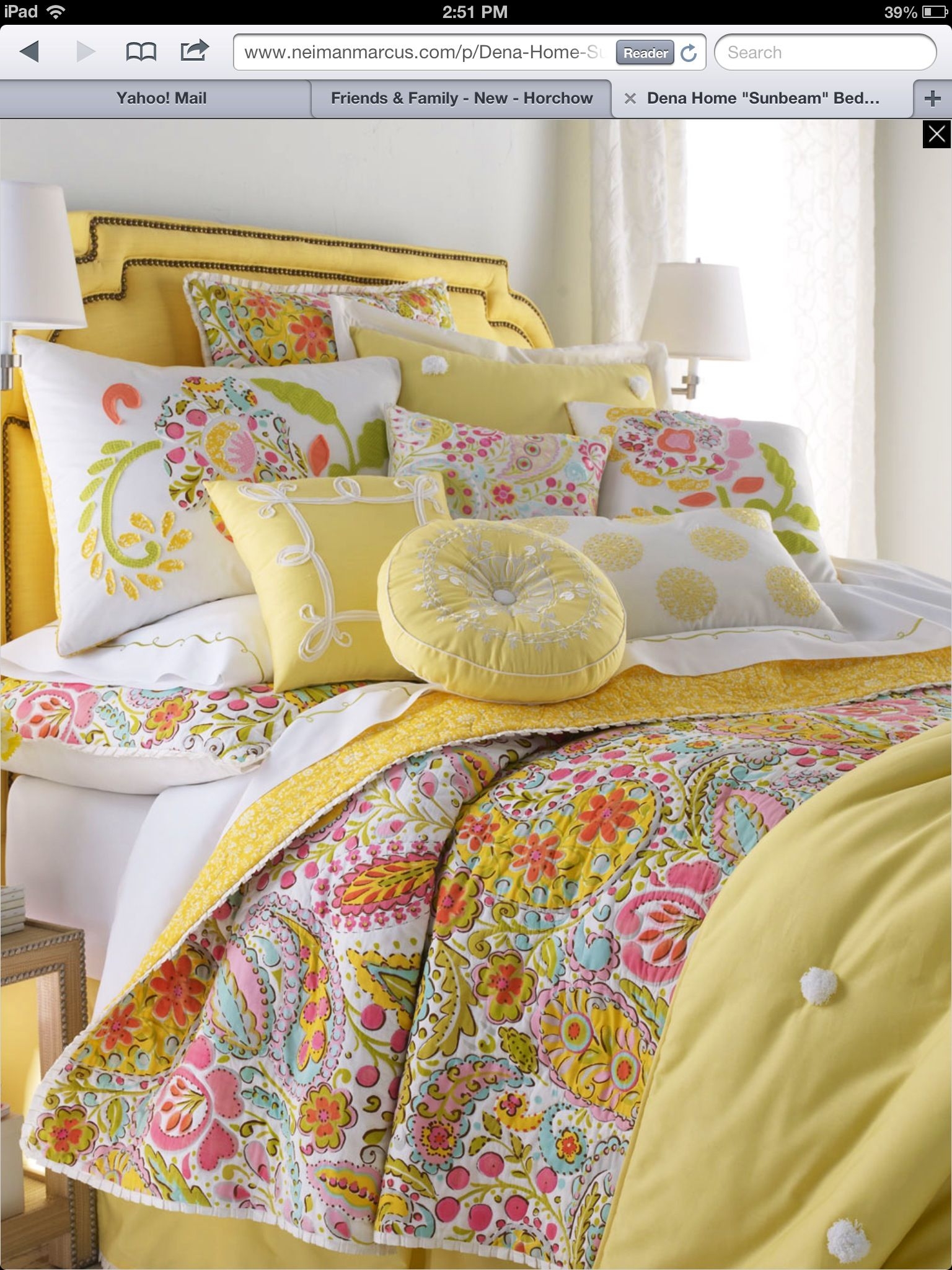 Is there anything more pleasant than the new,sunny linen?The sun will be splashed,will add a bright yellow,pastel bed set.Floral accents are hand embroidered on the bedspread.Country flowers,which decorate the individual elements,add lightness to the interior.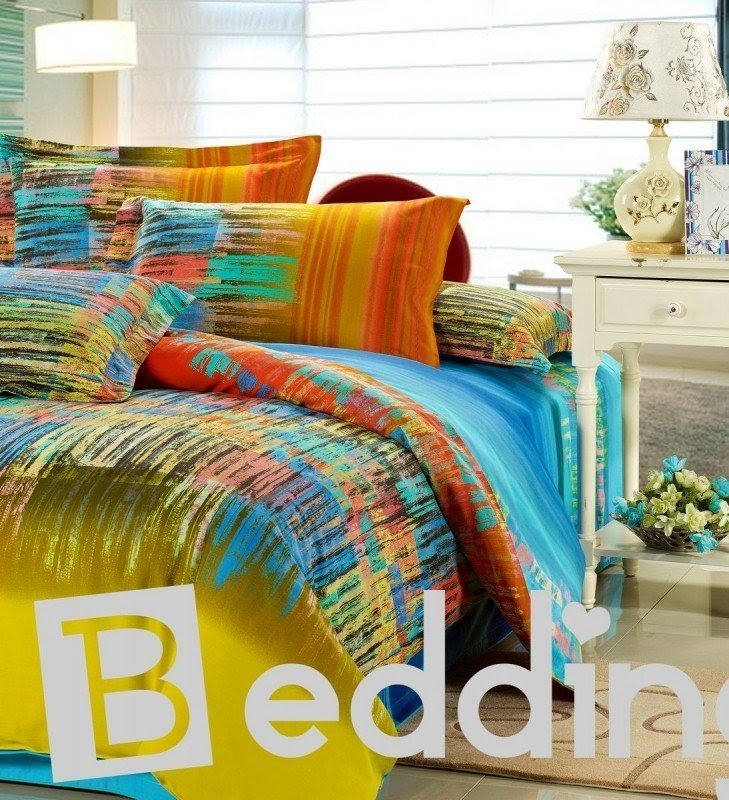 Home > Bedding > Bedding Sets > 4 Piece Bedding Sets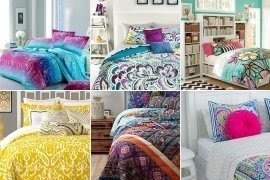 Colorful bedding for girls and boys - when you're fed up with dull pastels and bland colors. Bold stripes feature a crazy mix of colors, including pink, teal. apple green and purple. Toss pillows sport polka dot pattern.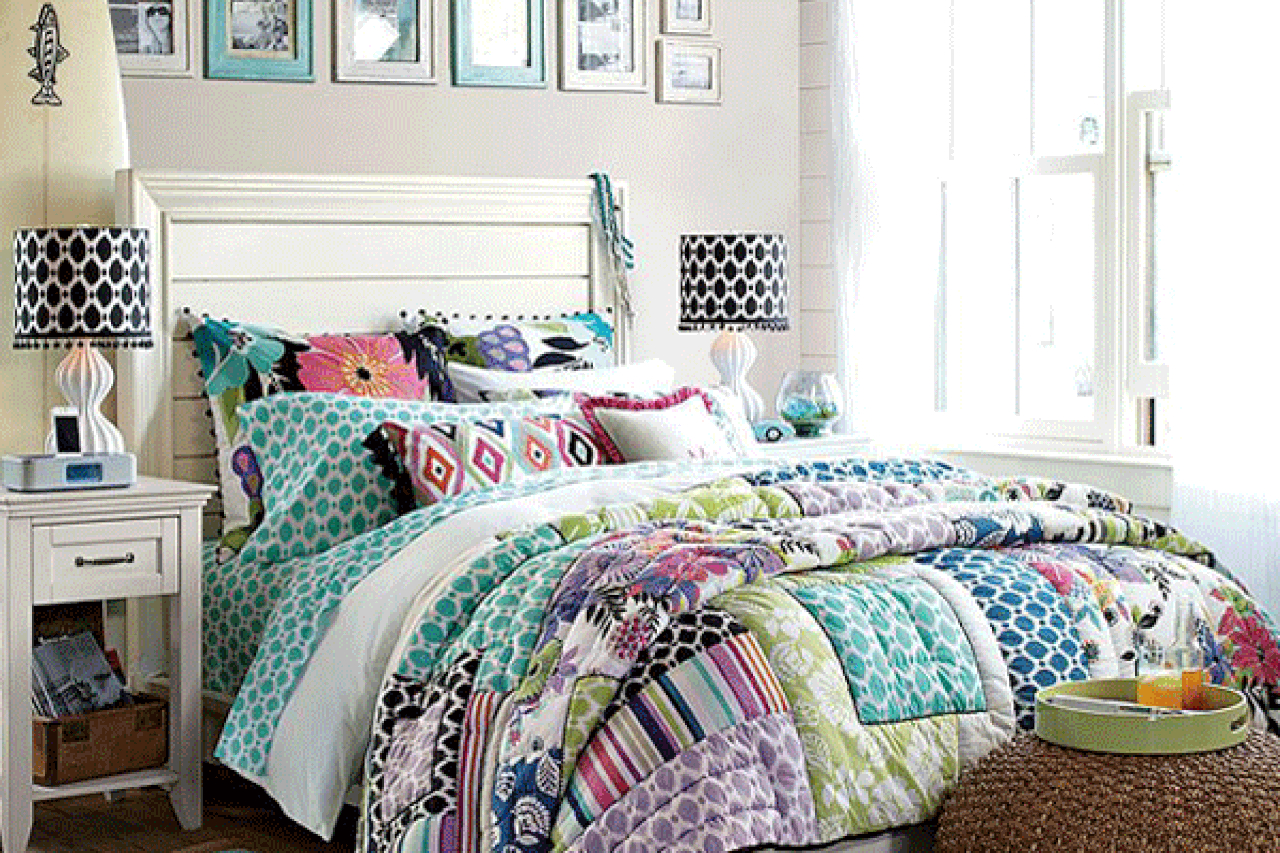 Bright colours and mixed patterns unite in creating a merry, relaxed design of this bedding set. Quilt with lots of pillows. Multicolour layout is hard to describe in a few words, but basically the colours used are in cool tones (mostly blue , green and purple).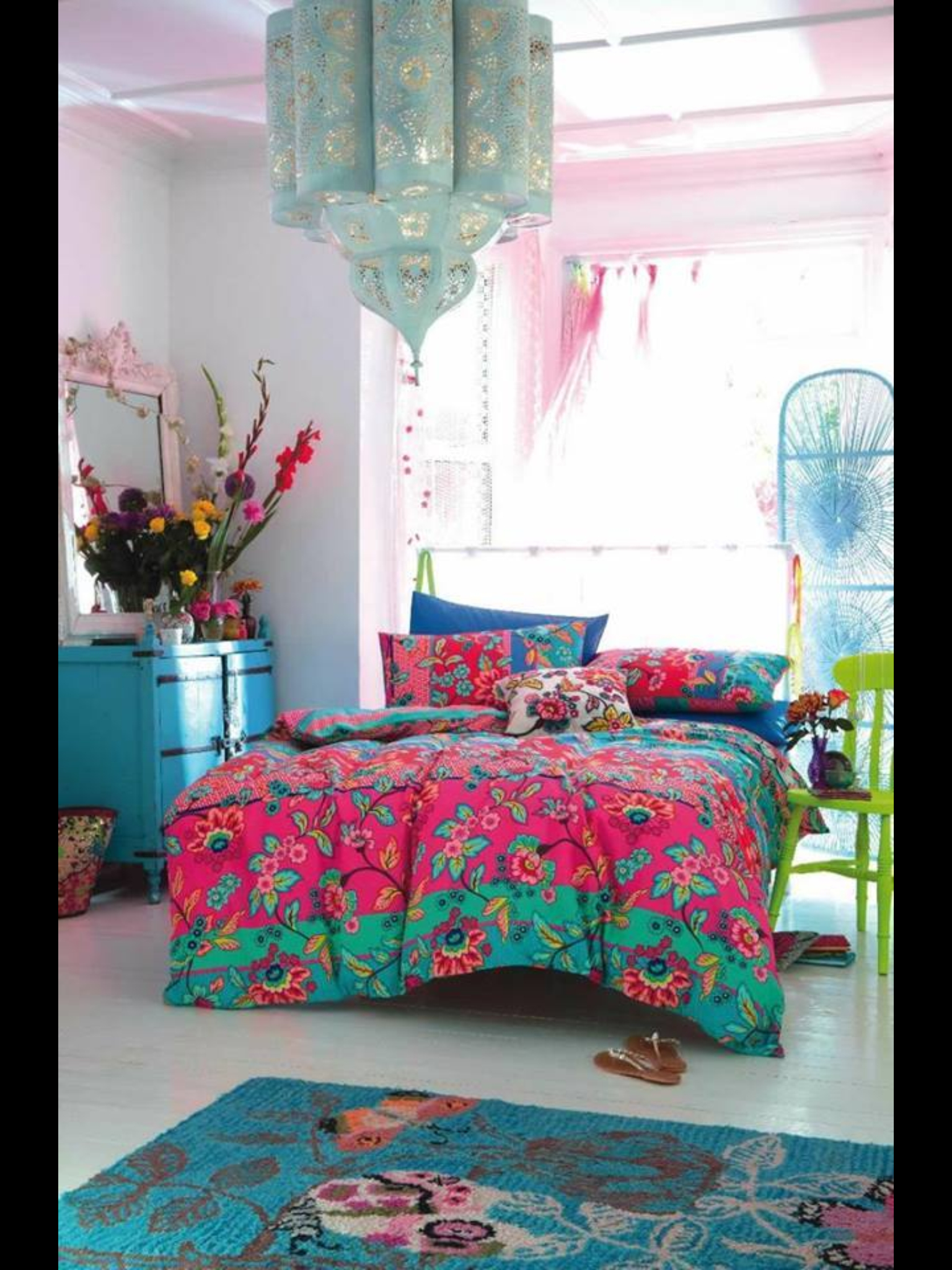 Why not actually add a bit of fun color to your kids' room with this amazing bedding set that is packed with it due to the flowery finish and the ideal combination of pink, bright blue and turquoise.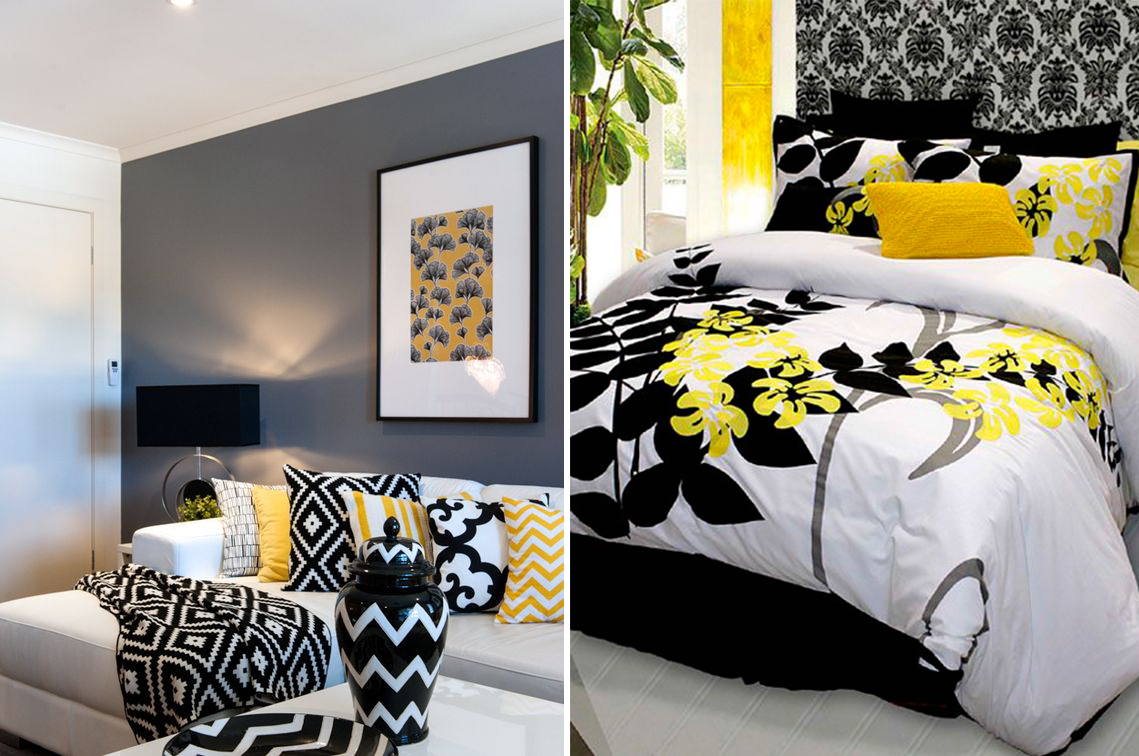 A stunning bedroom set that scream contemporary appeal with its white, black and yellow finish and is sure to add a breath of fresh air with its unique floral pattern that begins at the foot of the bed and dances up.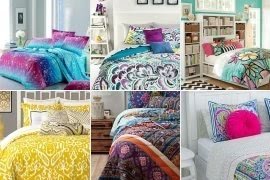 Bright colors of this phenomenal bedding set are an excellent combination of unique style and interesting design details. All in white and bright, neon shades are thrown into the eye and are presented exceptionally.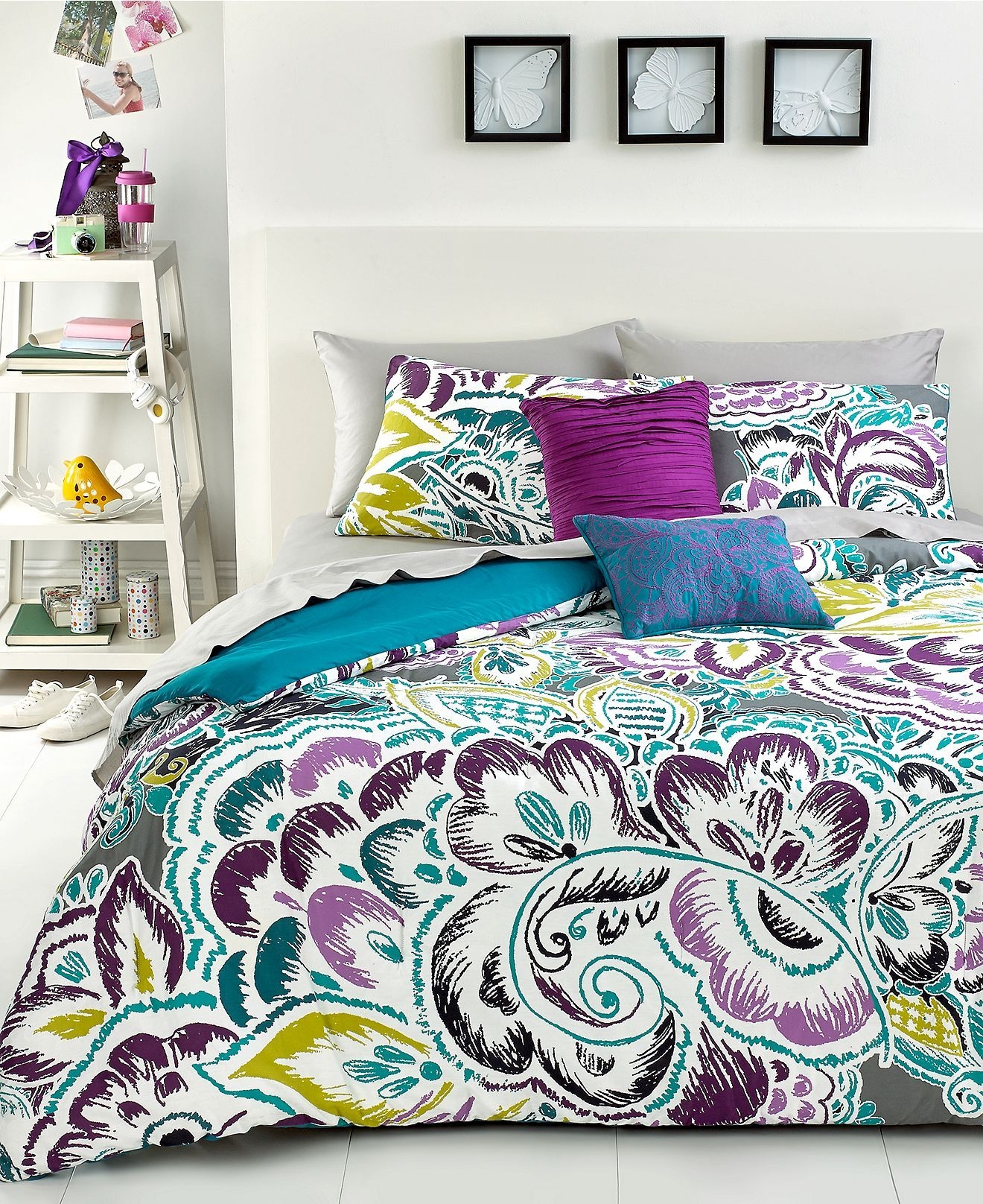 A beautiful contemporary queen bedding set crafted of quality washable fabric. A duvet and 2 rectangular shams feature intricate eye-catching floral and feather designs in prevalent purples and blues with yellow accents on a white background.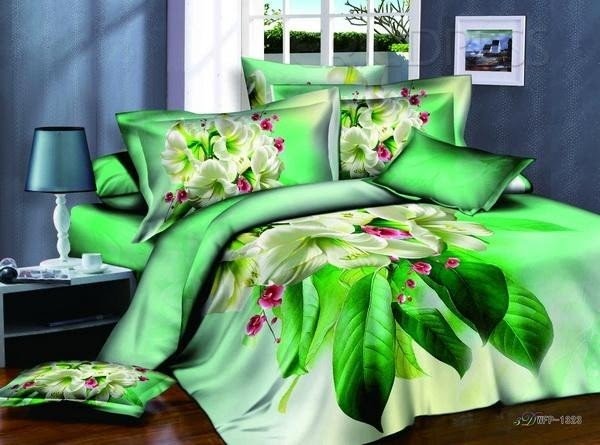 Bright Green Color 4 Piece Cotton Bedding Sets with Flowers 3D Bedding ...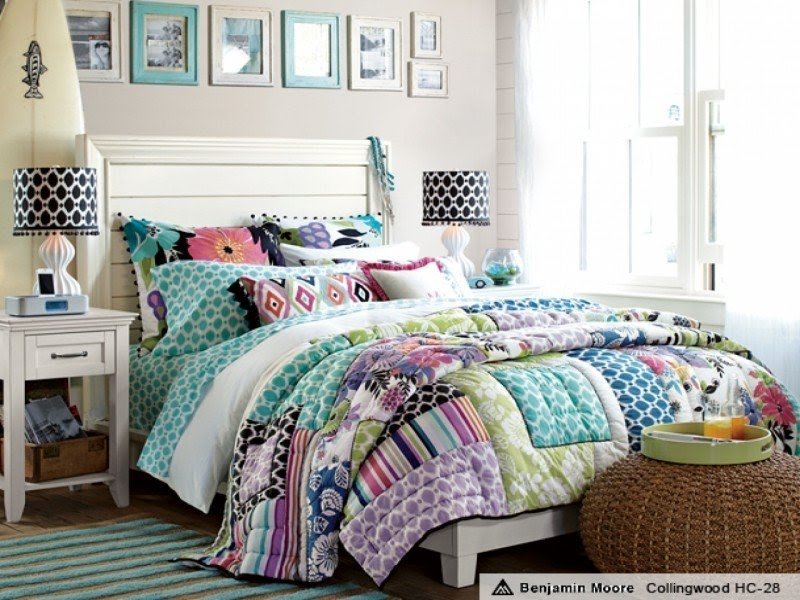 Bedding set consisting of comforter and pillow cases in various sizes. It is made of pleasant to the touch fabric and decorated with interesting pattern. Contemporary design for each home.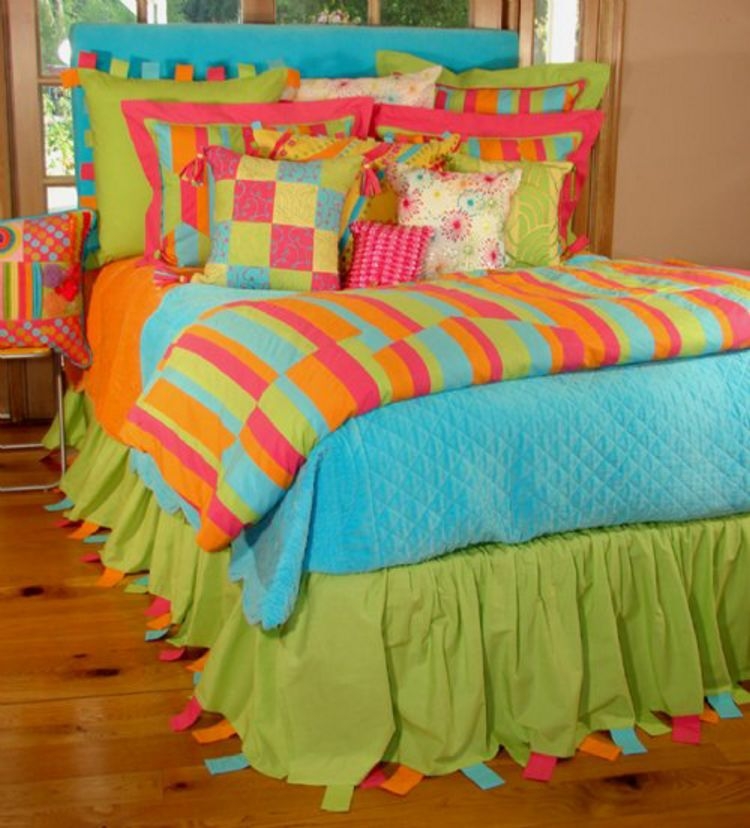 Brilliant by Davenport Home Furnishings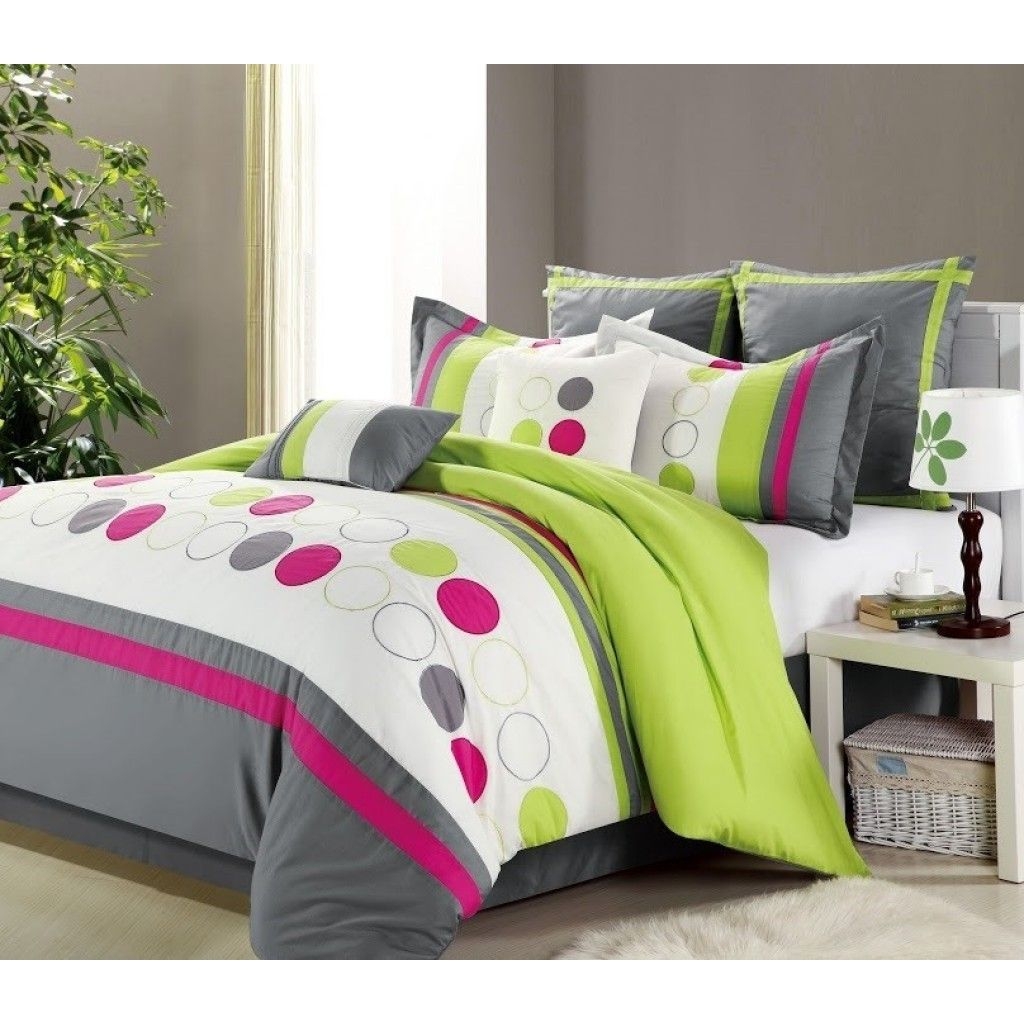 Contemporary bedding set using bold colours: fuchsia pink and apple green popping against unobrtusive white and gray. With its trendy design, the comforter set can occur particularly fitting for a teenager room.
Bohemian Bedding Collections | Stripe and Bohemian Bedding Sets -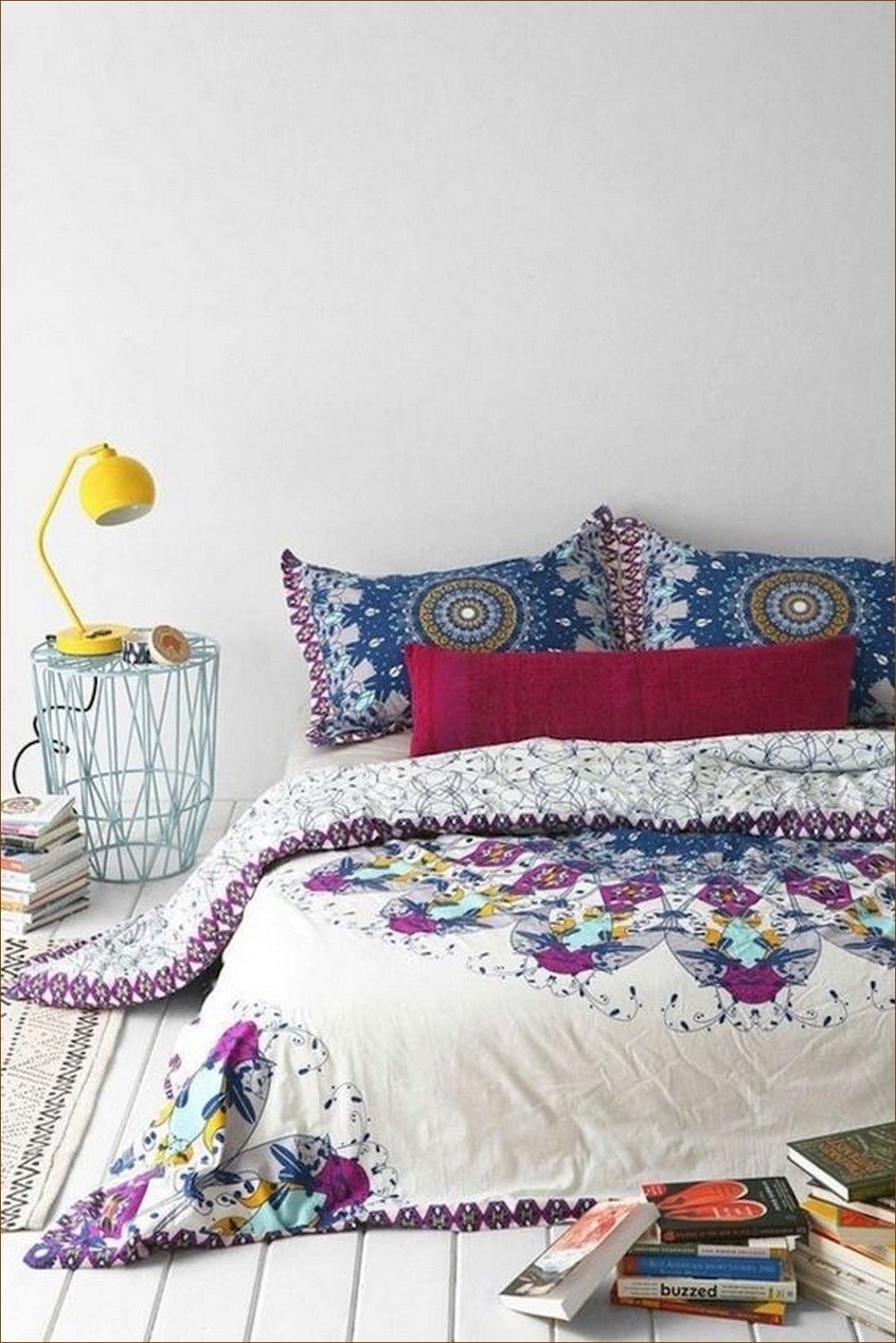 Let the magic of the colors violet, fuchsia, blue or yellow and boho style absorb your bedroom - in addition, it has a modern dimension, because the bright colored bedding set has also been left white areas, in this way does not overwhelm with its boho style.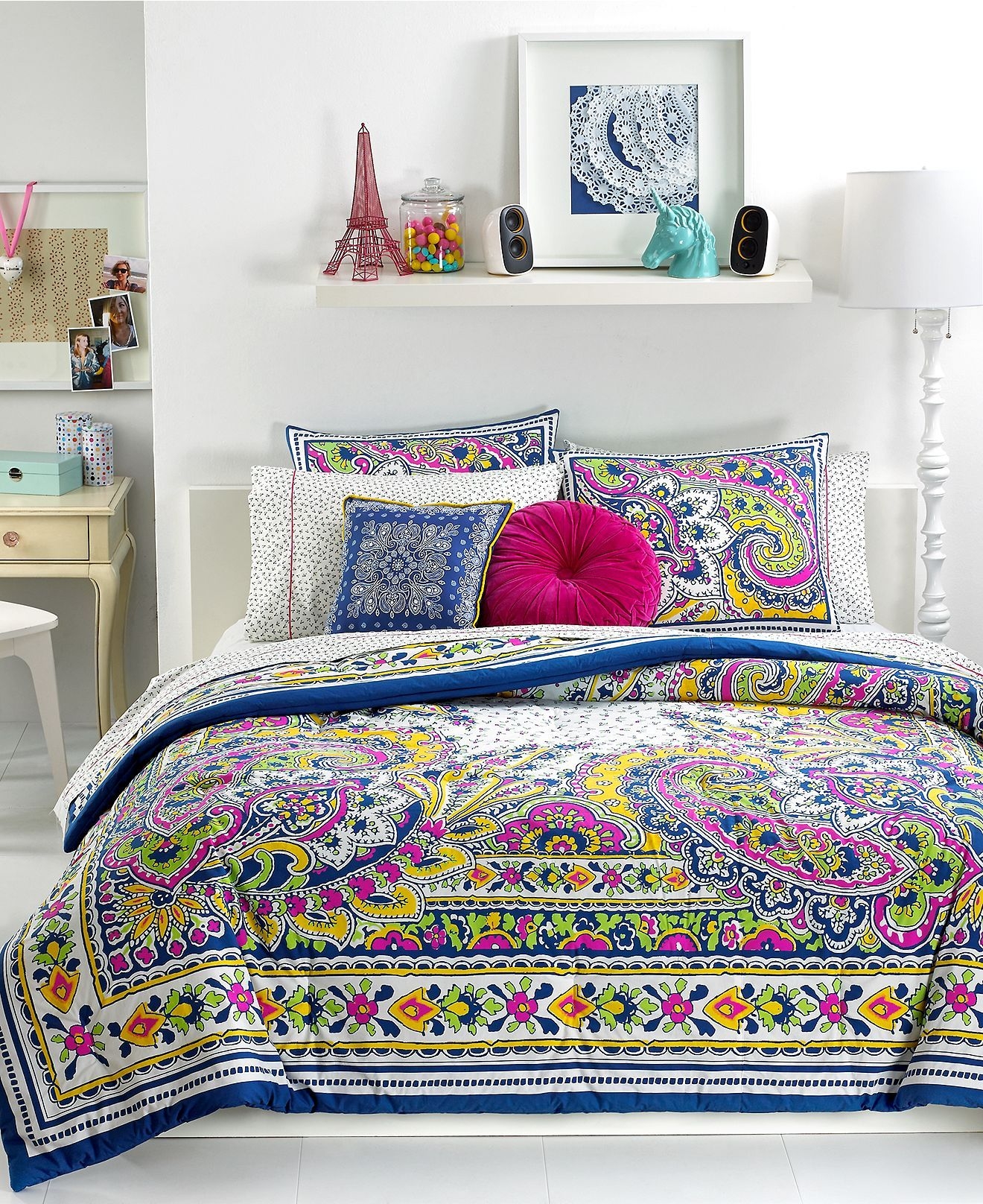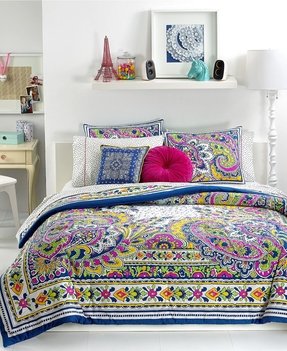 ... romantic bedding set 20 Greatest Multi Colored Spring Bedding Sets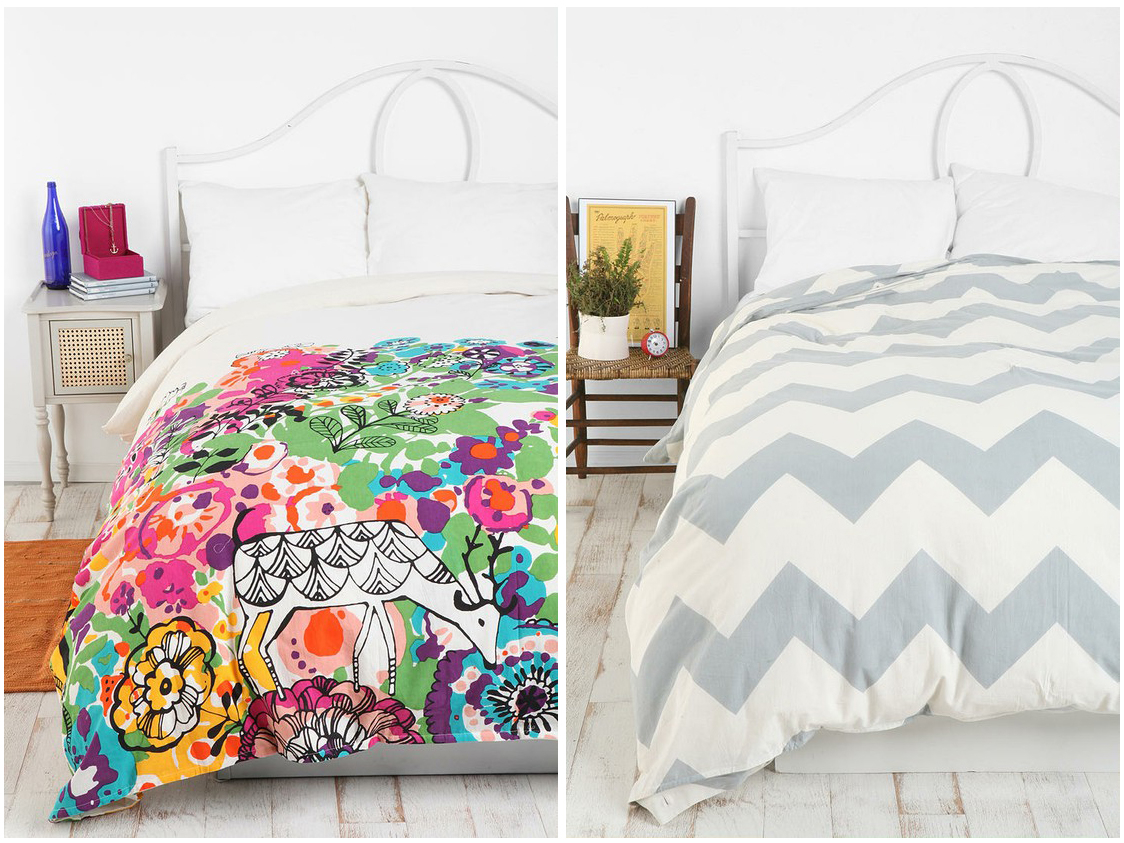 ... Bedding Set Grey White Chevron Bedding Set Design Contemporary Girl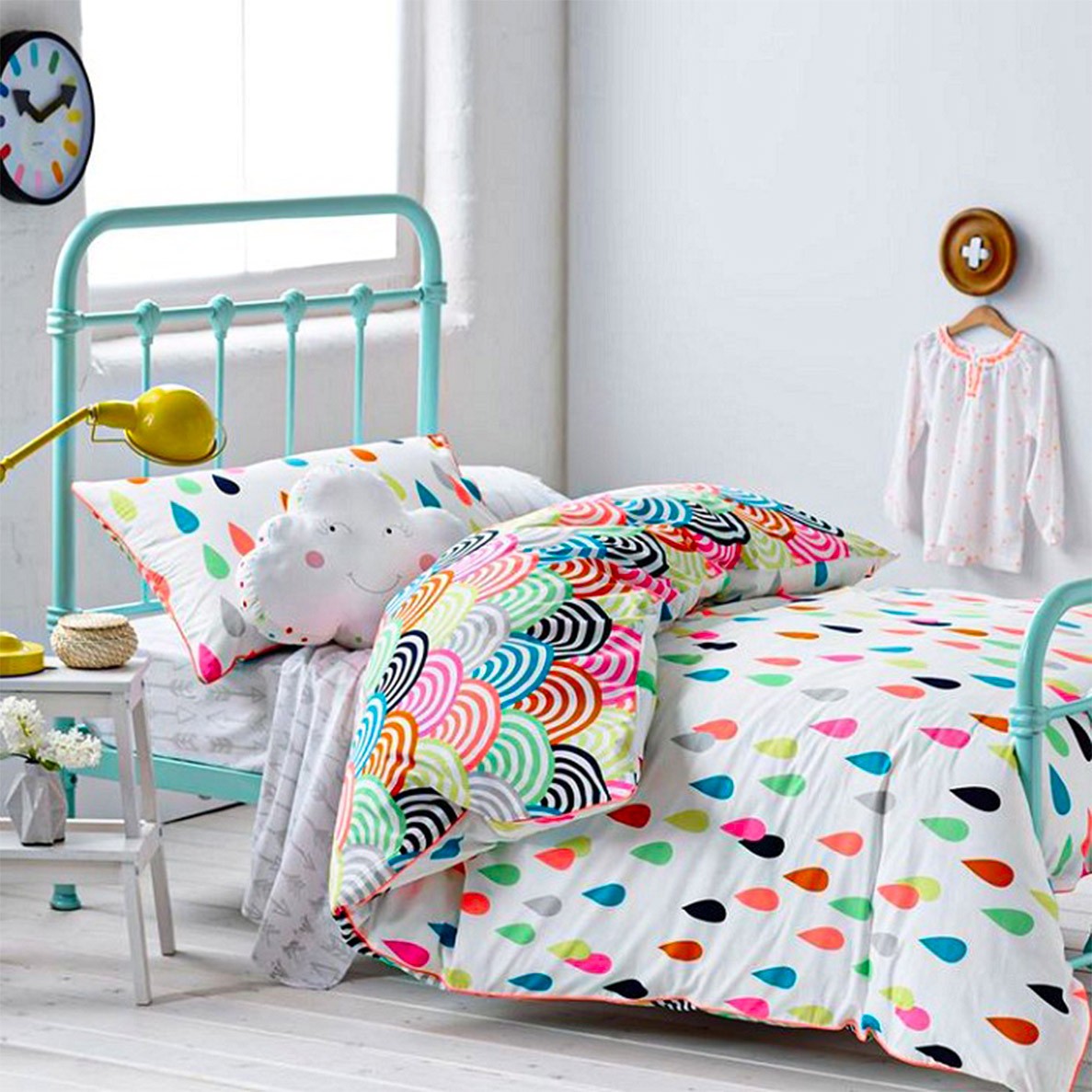 A pretty addition for nurseries and children's rooms, in shape of a gorgeous bedding set that sparkles with vivid colors and striking patterns. Designed of nice-to-touch material, the set is very comfy and cuddling, allowing you to wash it in a maching machine.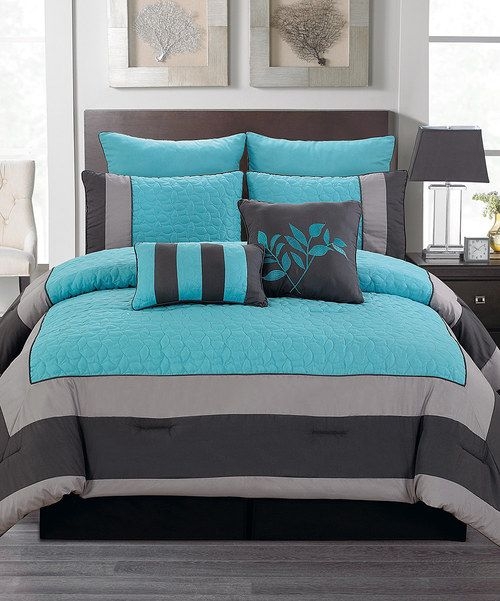 The gorgeous dark brown bedroom set in combination with gray and turquoise bedding creates a strikingly elegant whole, which is presented in a sleek and stylish bedroom. Throw pillows with subtle design are captivating.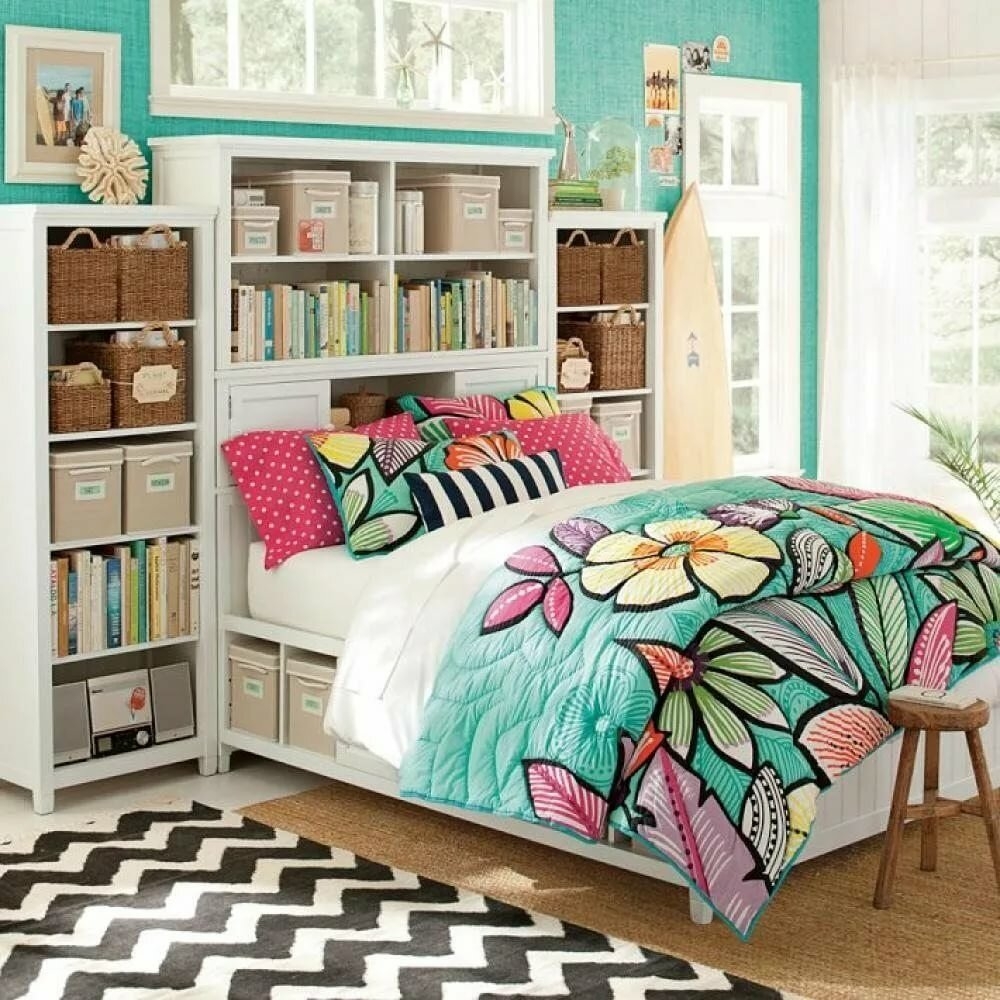 During my bookcase headboard hunting, I paid attention to this bedroom set - the white headboard seems more capacious than most models I've seen, so I put it on my 'to-check' list. And the tropical bedding - gorgeous!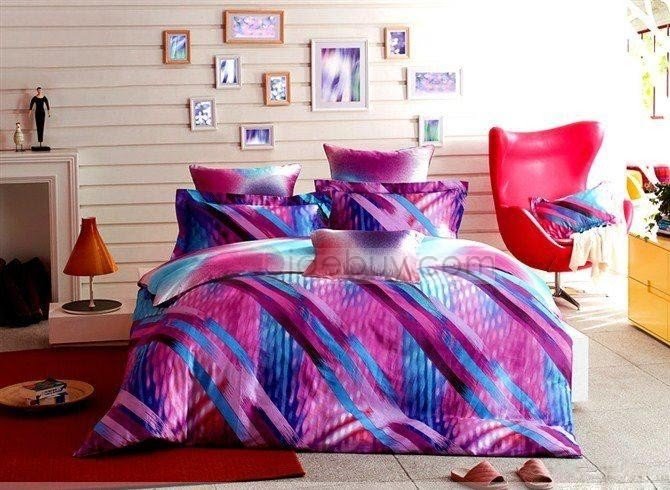 Bedding Sets >Jewelly 4 Piece Bright Color Strips Print Comforter Sets ...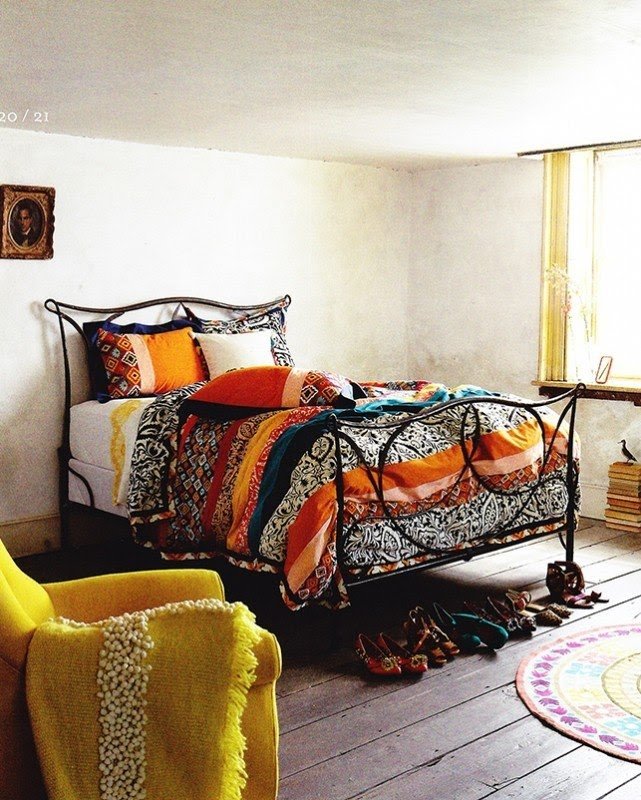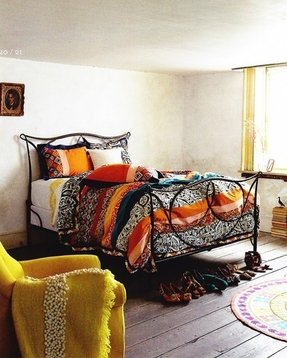 Anthropologists constantly study the cores of man and all cultures, find their symbols and motifs - then someone inspires them and creates a colorful plaid and brigh colored bedding set in the anthropological patterns and colors of the rainbow.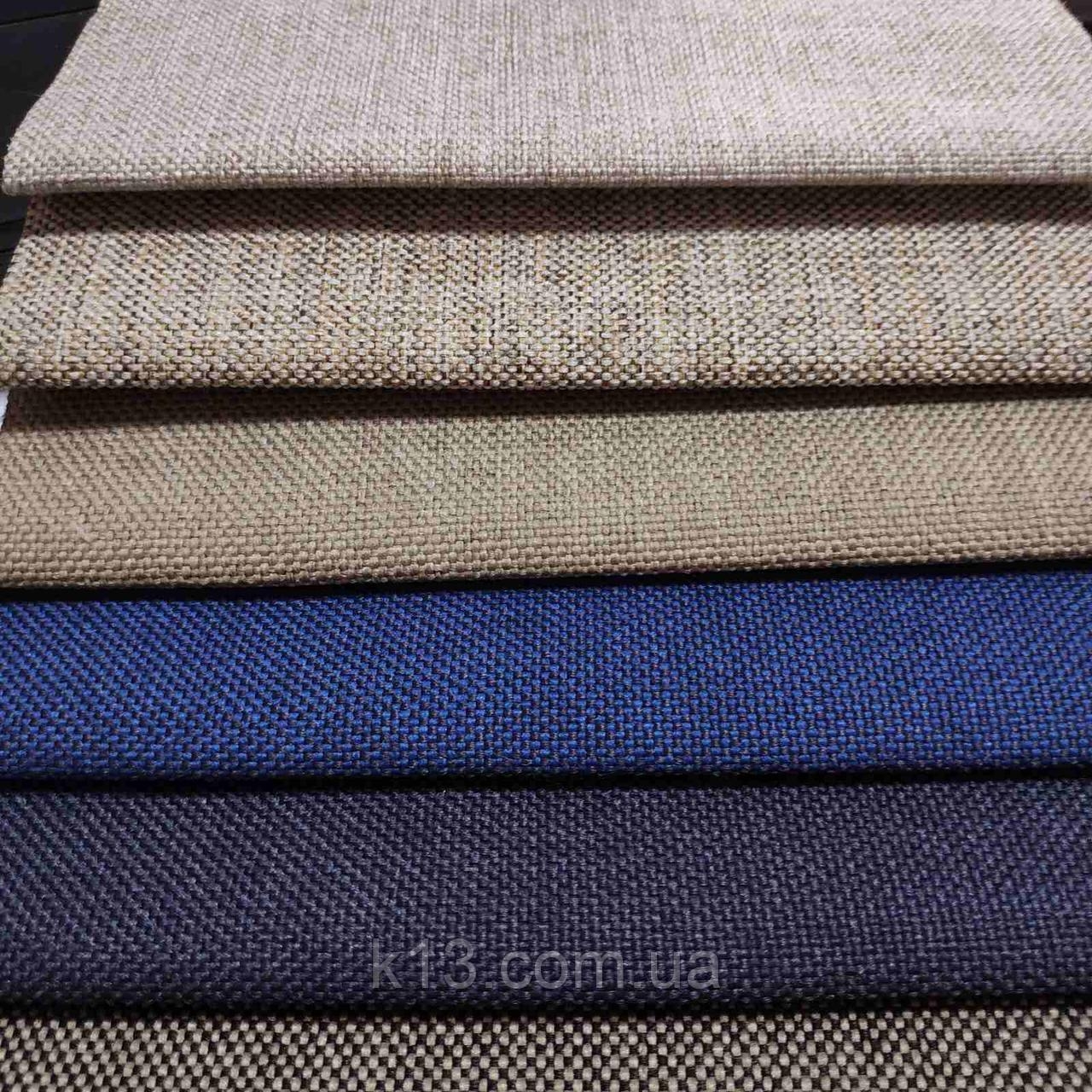 Home Bedding Sheet Sets 200 Thread Count Solid Color Bright Sheet Set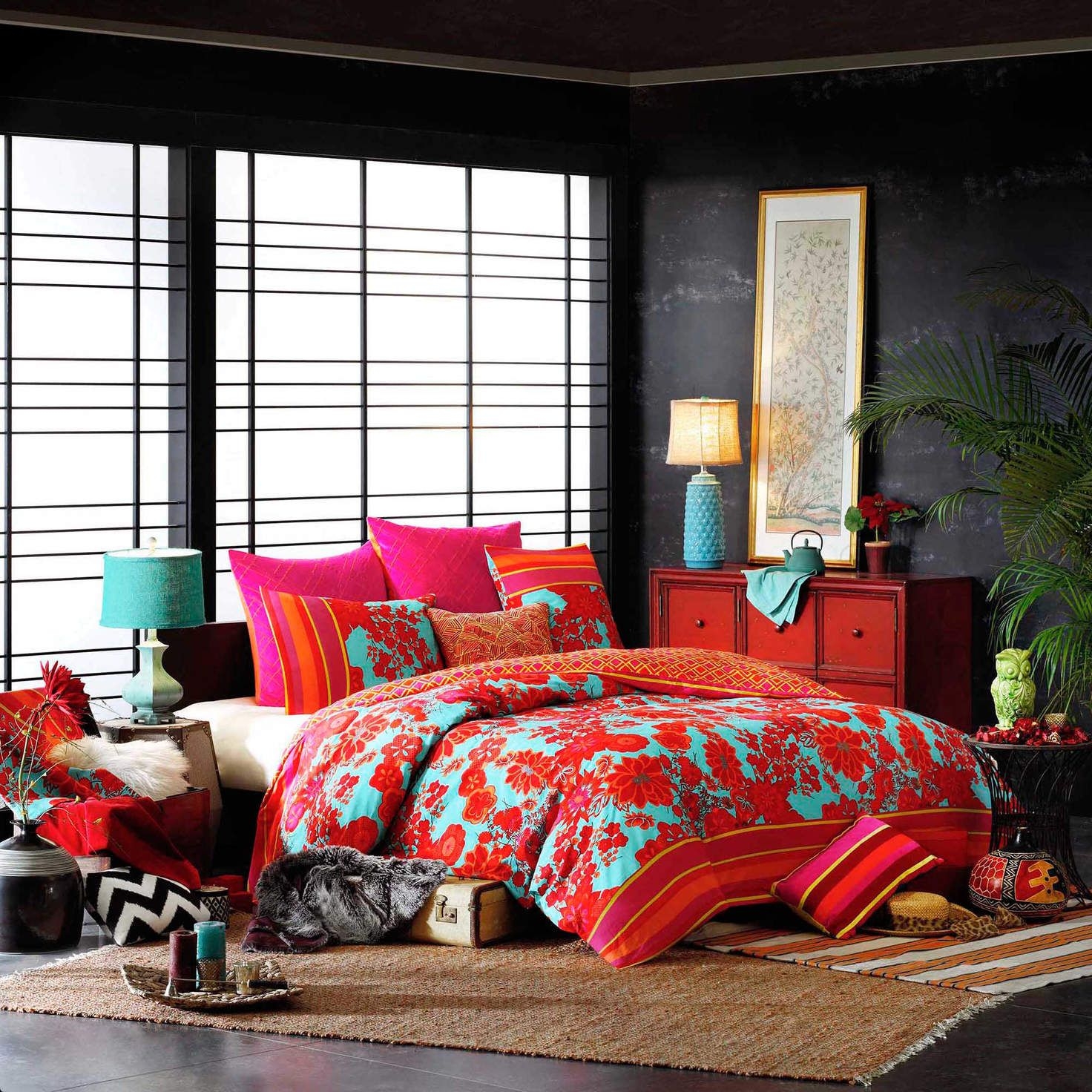 Josie Comforter Set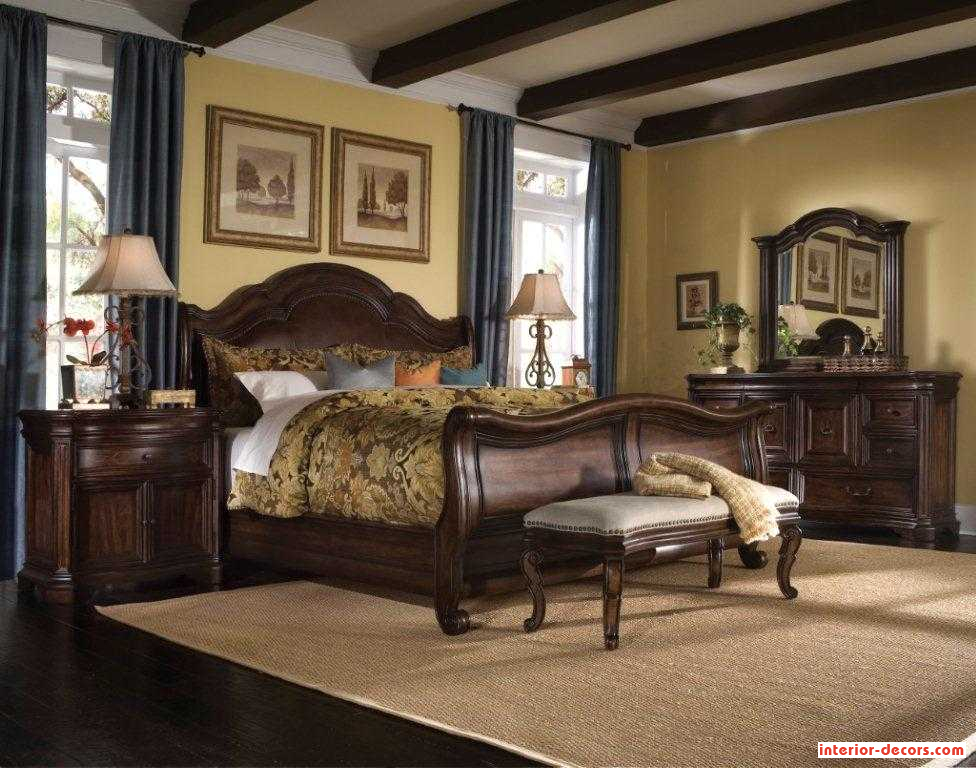 Original headboard designed for king size bed. It is decorated with sophisticated ornamentation. Adds freshness and elegance to any bedroom.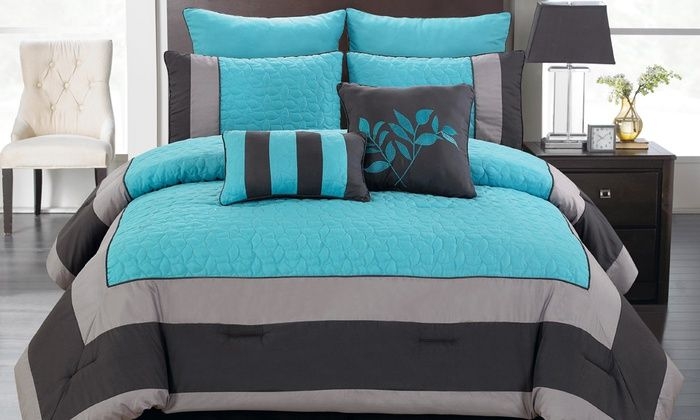 Bright Colored Bedding Sets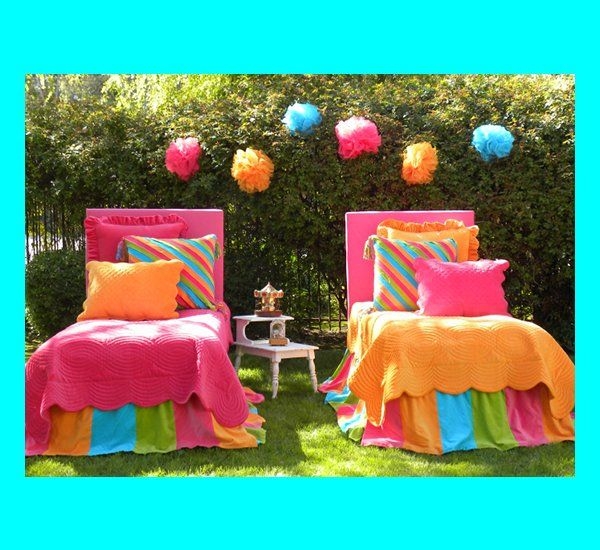 Children's bedding, brigght colors, hot pink, velvet, brightly colored ...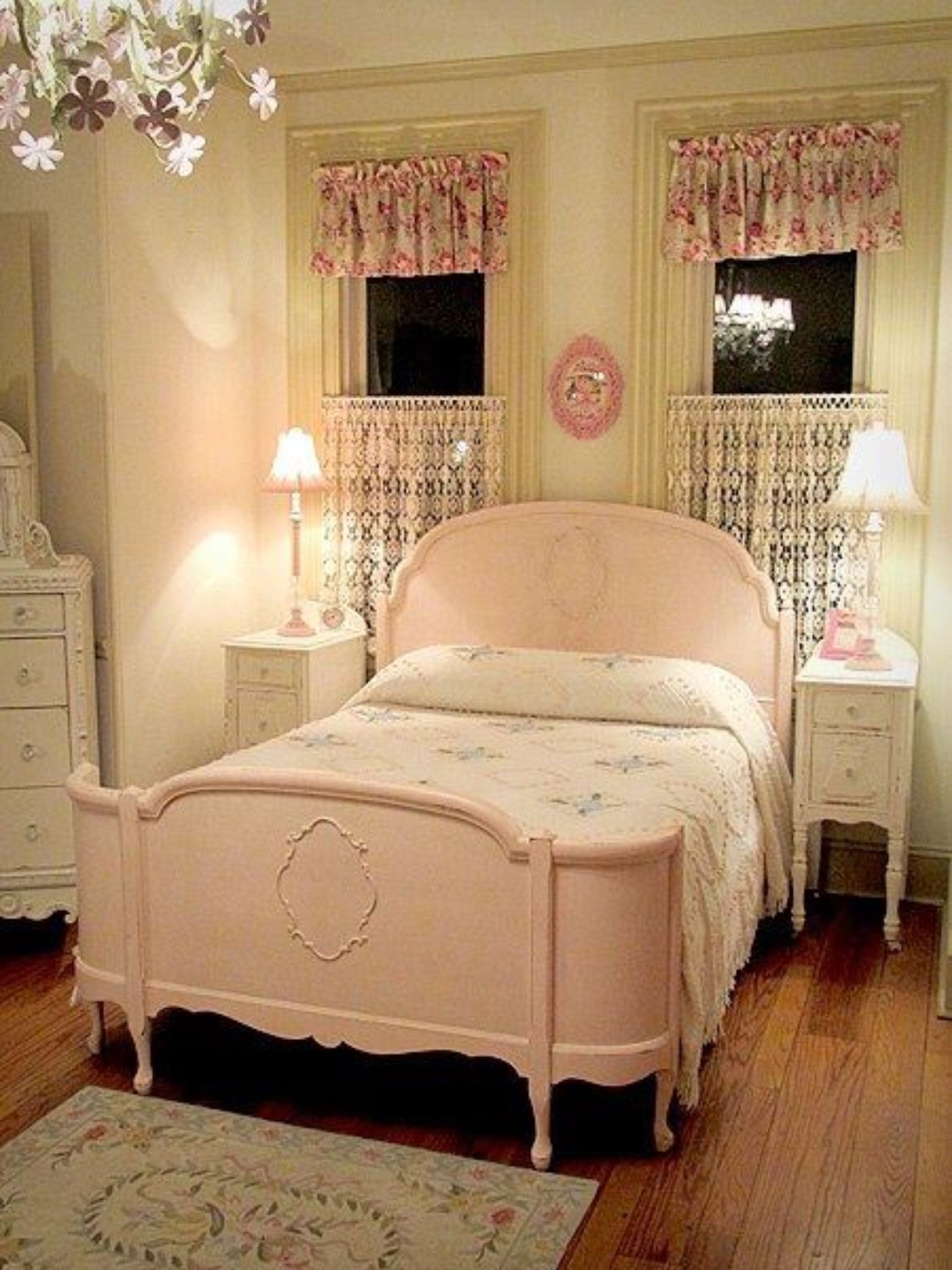 A beautiful bedroom set in various tones of pink. It consists of a decorative comforter with a wonderful flowery motif in bright colors and pillow cases in pinkish and violet shades. It's a perfect choice for a teenage girl's bedroom.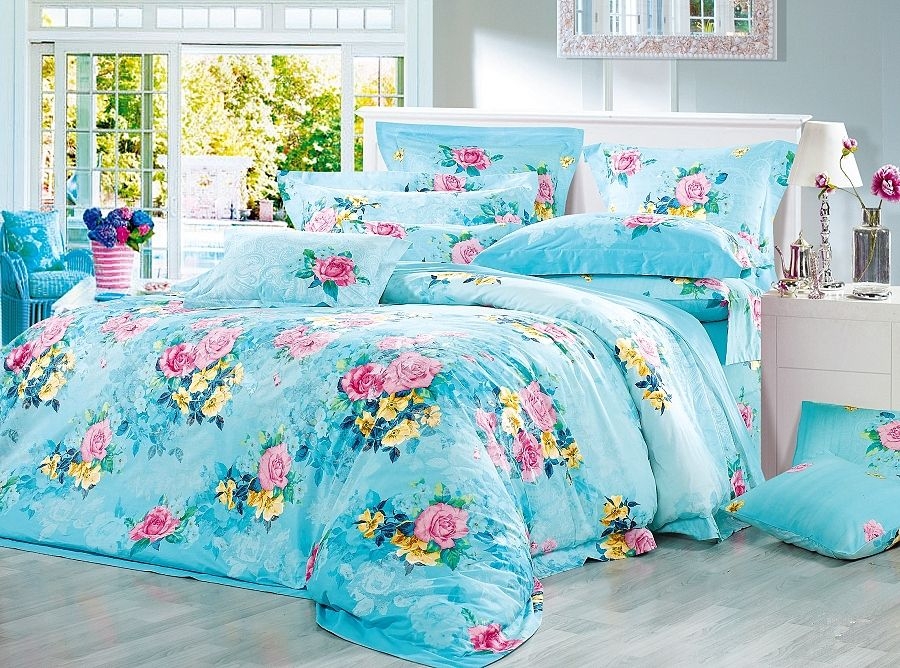 Do you like the bright flower luxury bedding sets?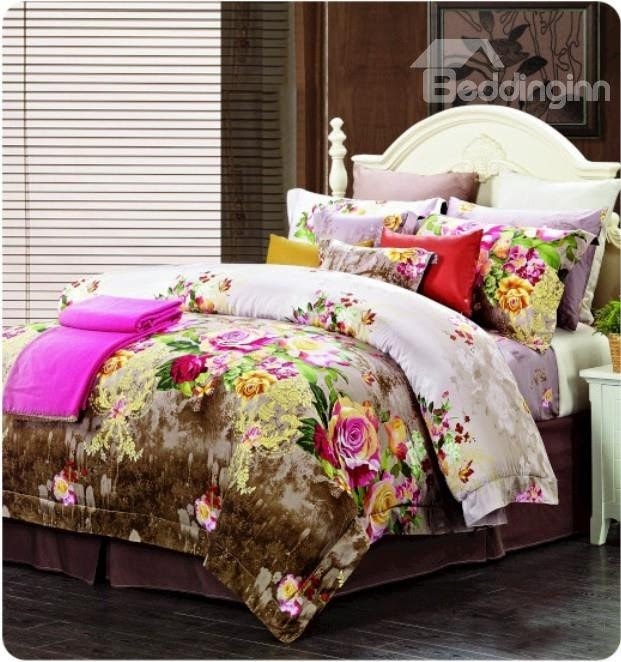 Home > Bedding > Bedding Sets > Cotton Bedding Sets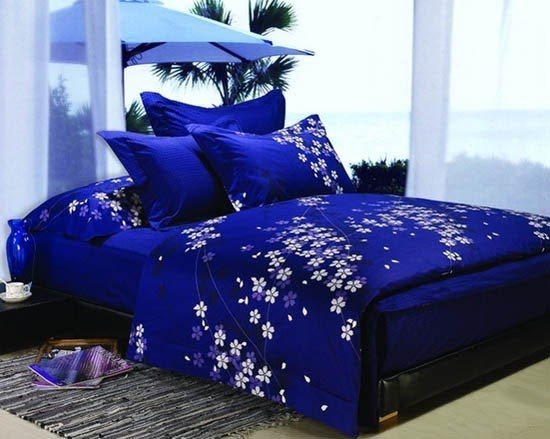 sets help gain more vitality, according to Chinese Feng Shui bedroom ...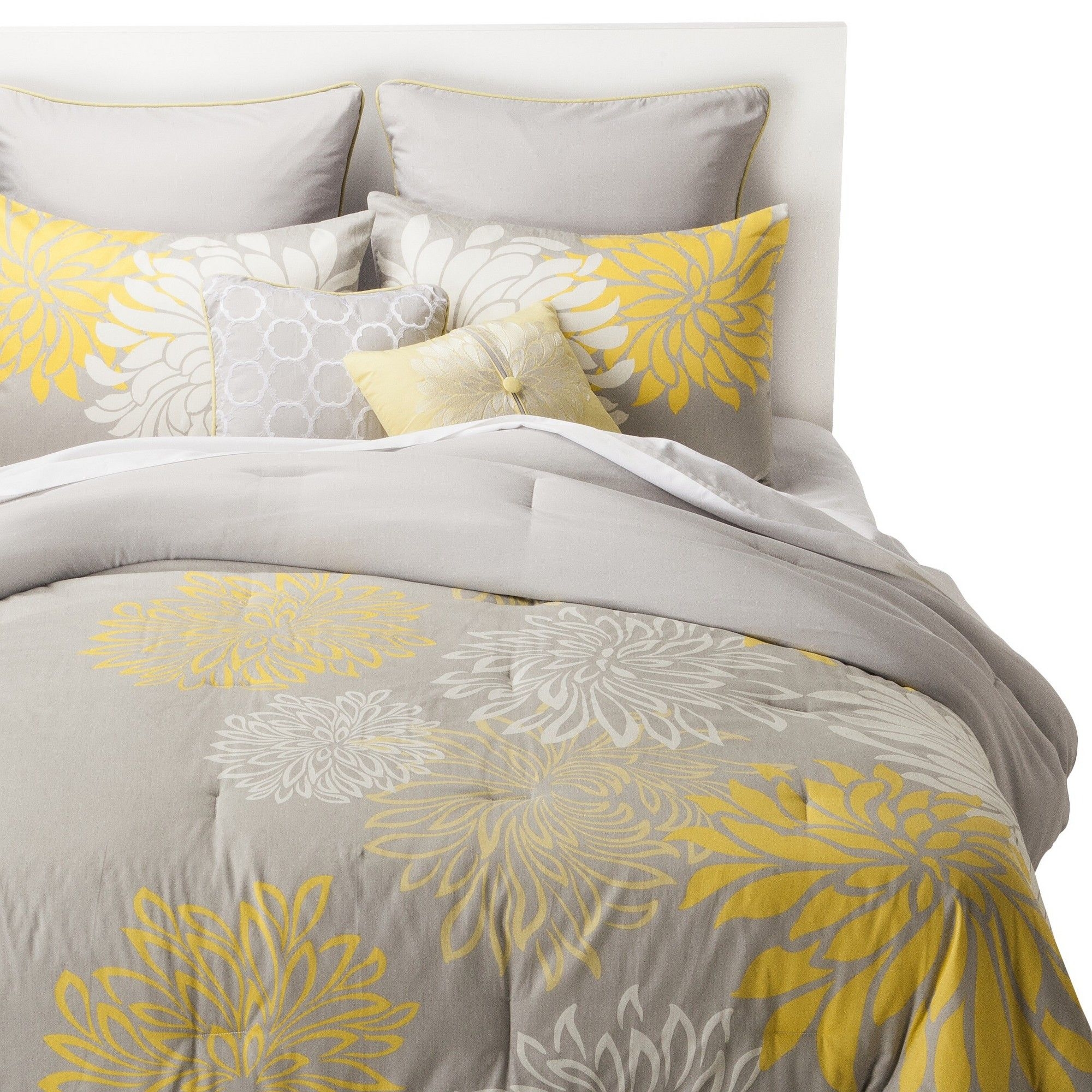 This set includes bedclothes that feature a very interesting pattern. Of course these decorative products provide softness and comfort thanks to their cotton surface and soft polyester fill. Of course these products are very solid.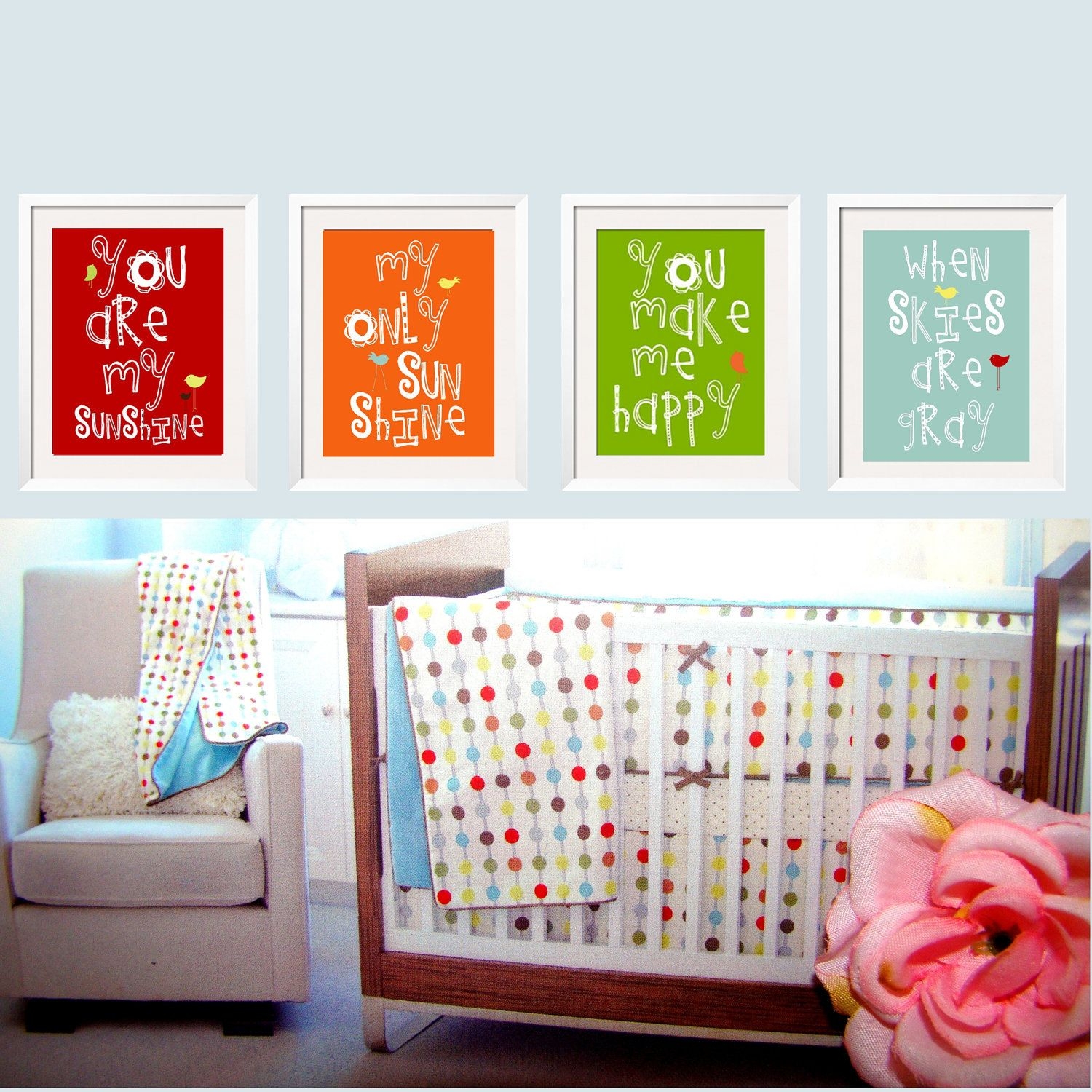 You Are My Sunshine Prints - with Birds 4 pc Set 11x14 in Customize your colors by YassisPlace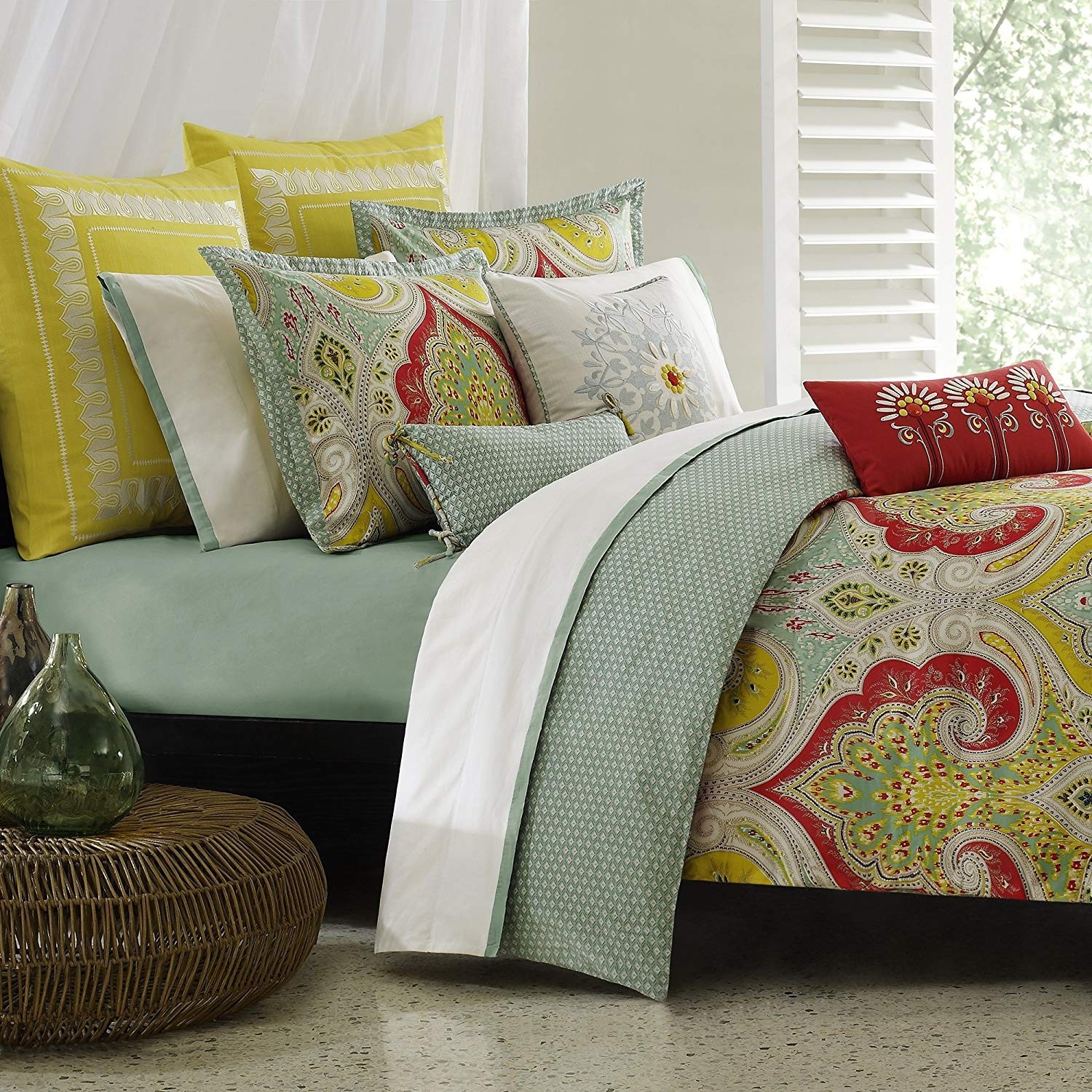 Bedlinen like the Indian palace. Colorful, bright colors - green,blue,white,yellow and red create beautiful shapes on bedding set.Large amounts of flowers, beautiful Indian compositions. They make you sleep like after a good meditation.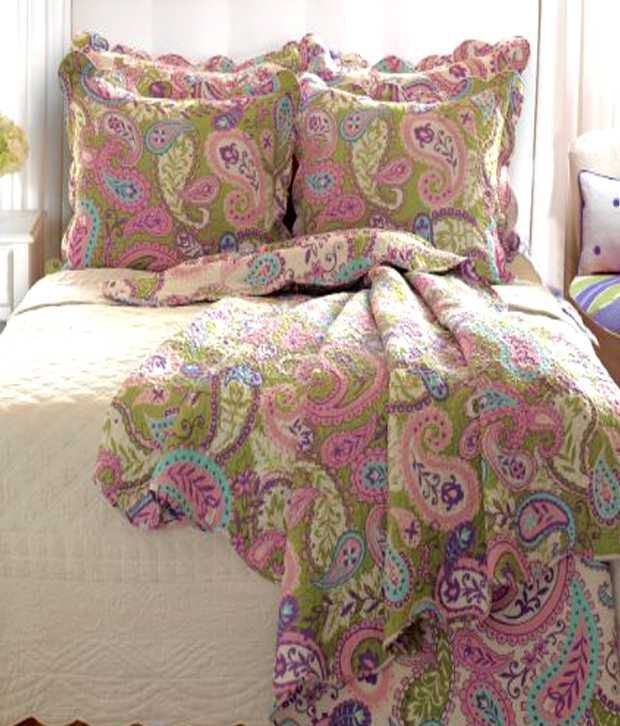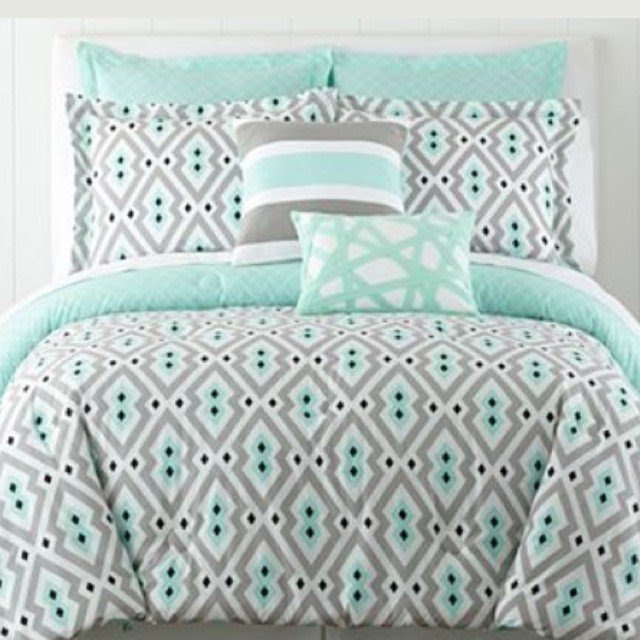 Happy Chic by Jonathan Adler Nina Comforter Set - JCPenney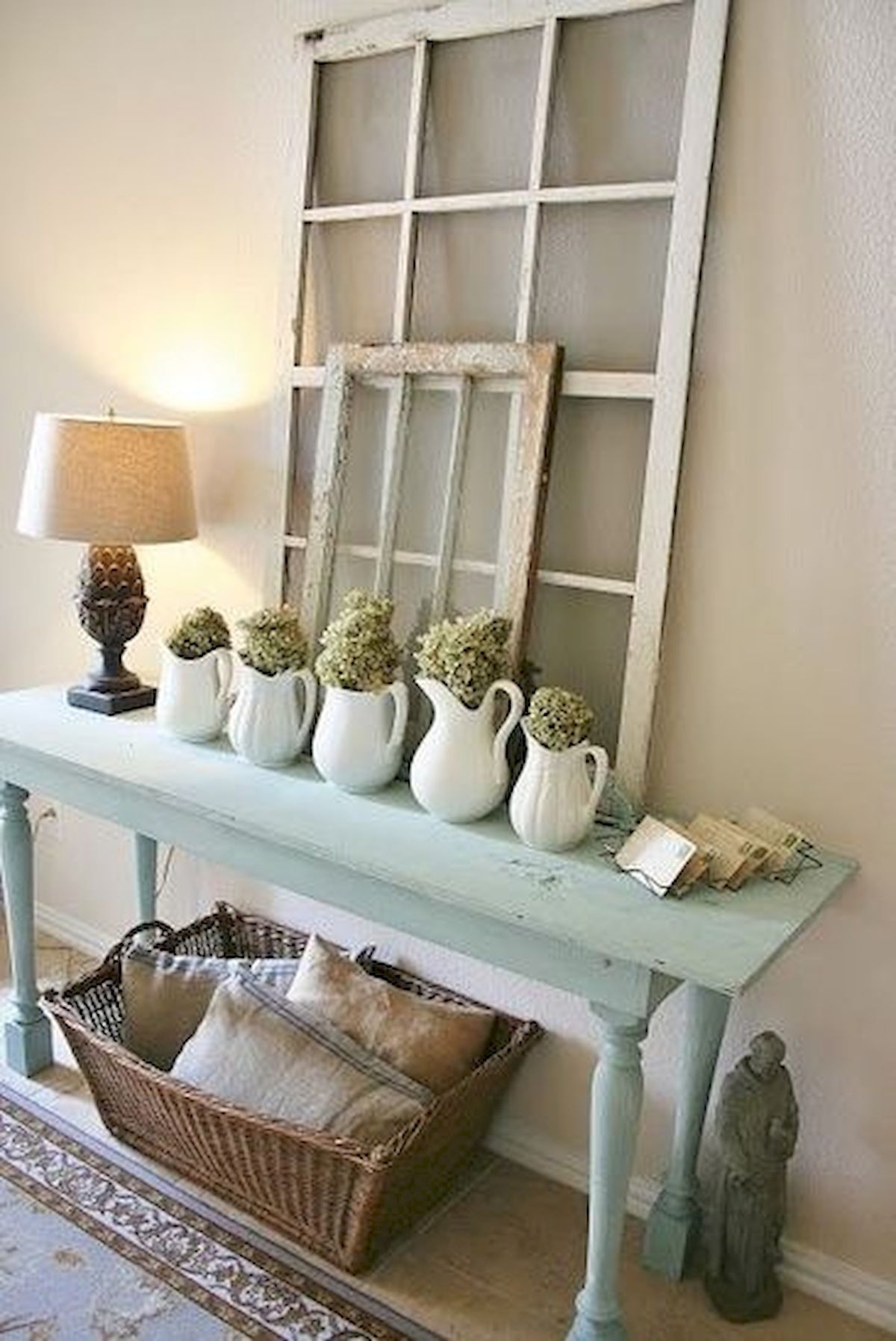 Great adaptation of EXPEDIT as a sofa table! (EXPEDIT shelving unit, 59.99; EXPEDIT set of casters, 15.00 ea. - 2 shown). Pehaps reinforce with stronger vertical piece in the middle.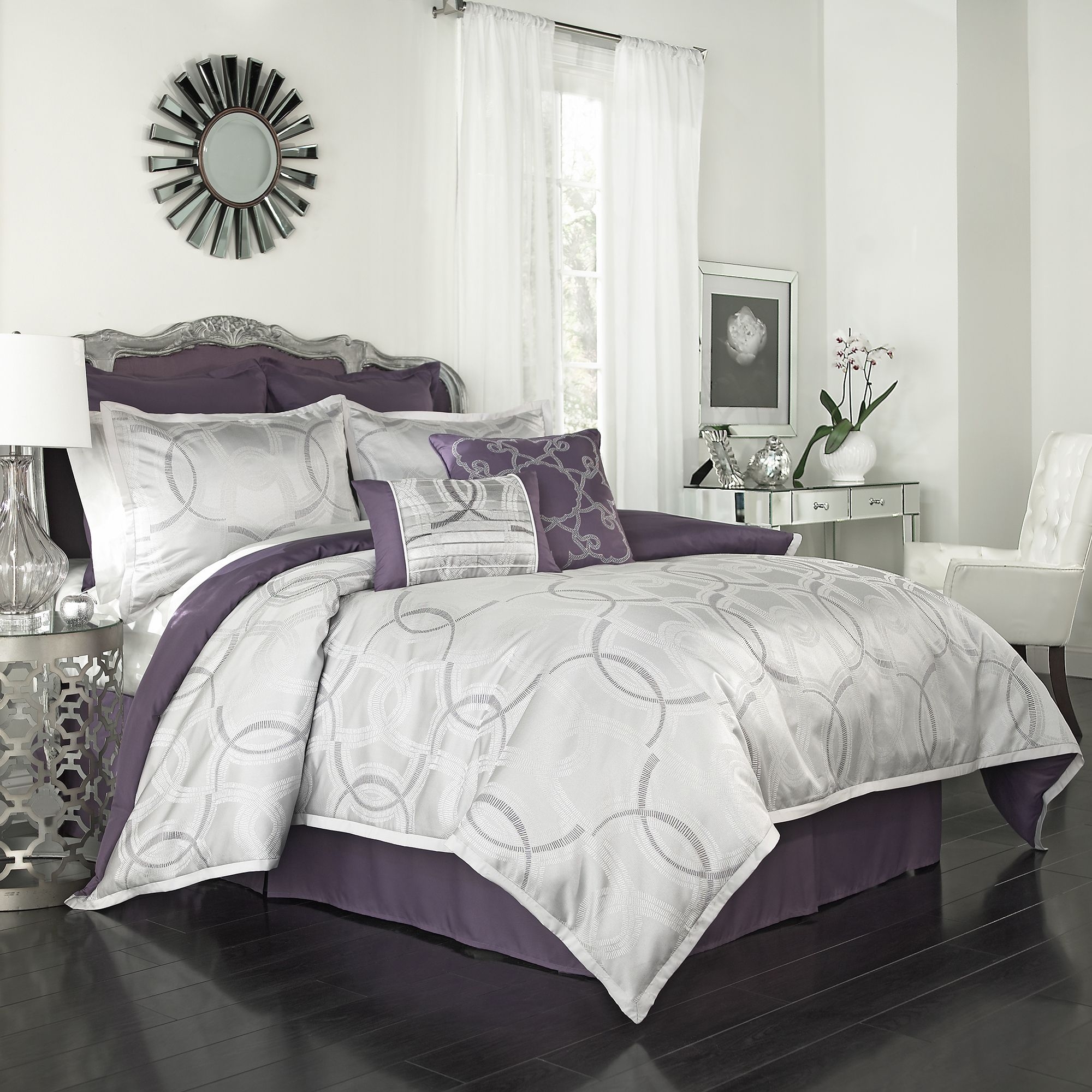 Casino 8 Piece Bedding Set