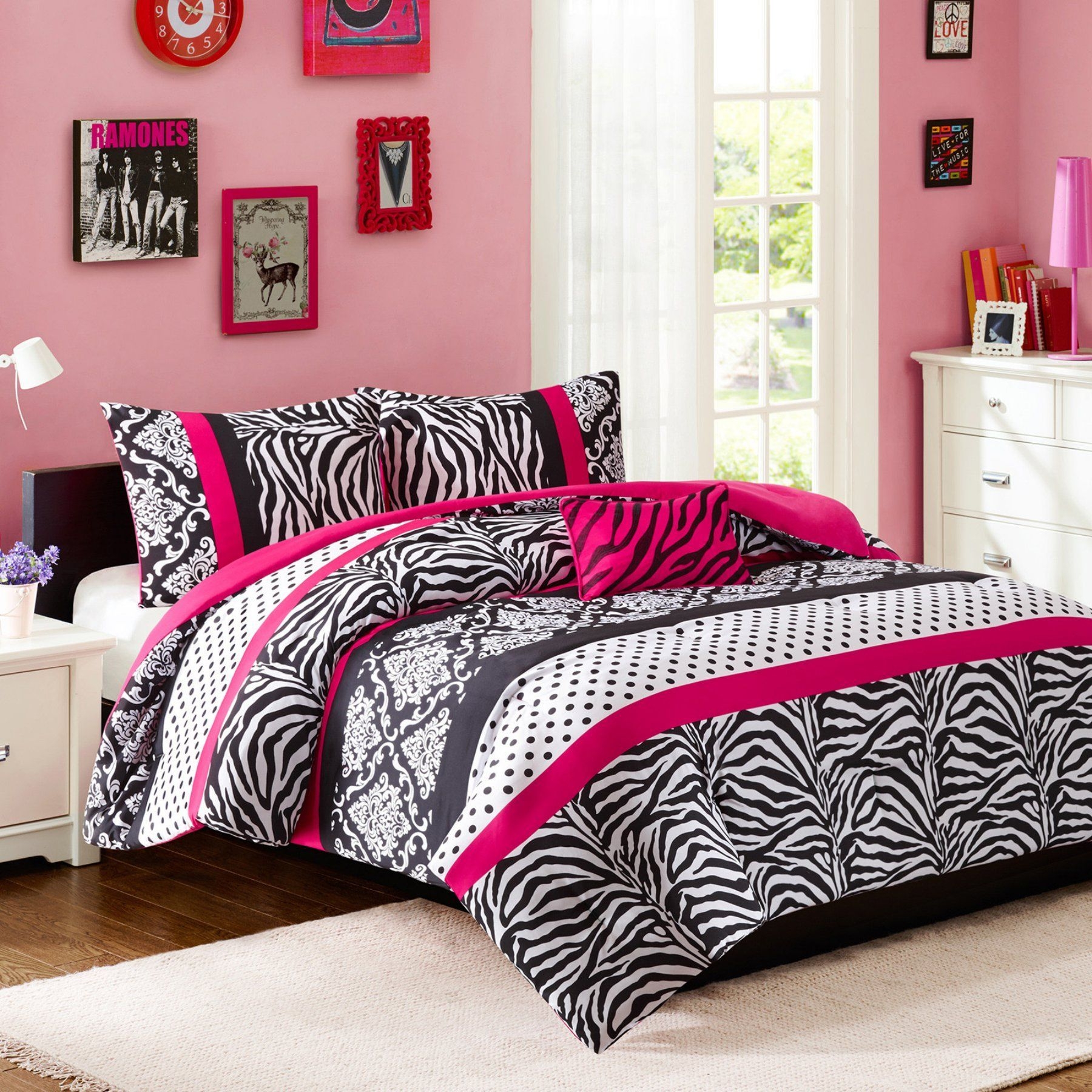 Reagan Comforter Set
This lovely set of sheets is the perfect solution for the girl's room or teenagers. The beautiful combination of colors and patterns will make a big impression, and the rest will be even nicer.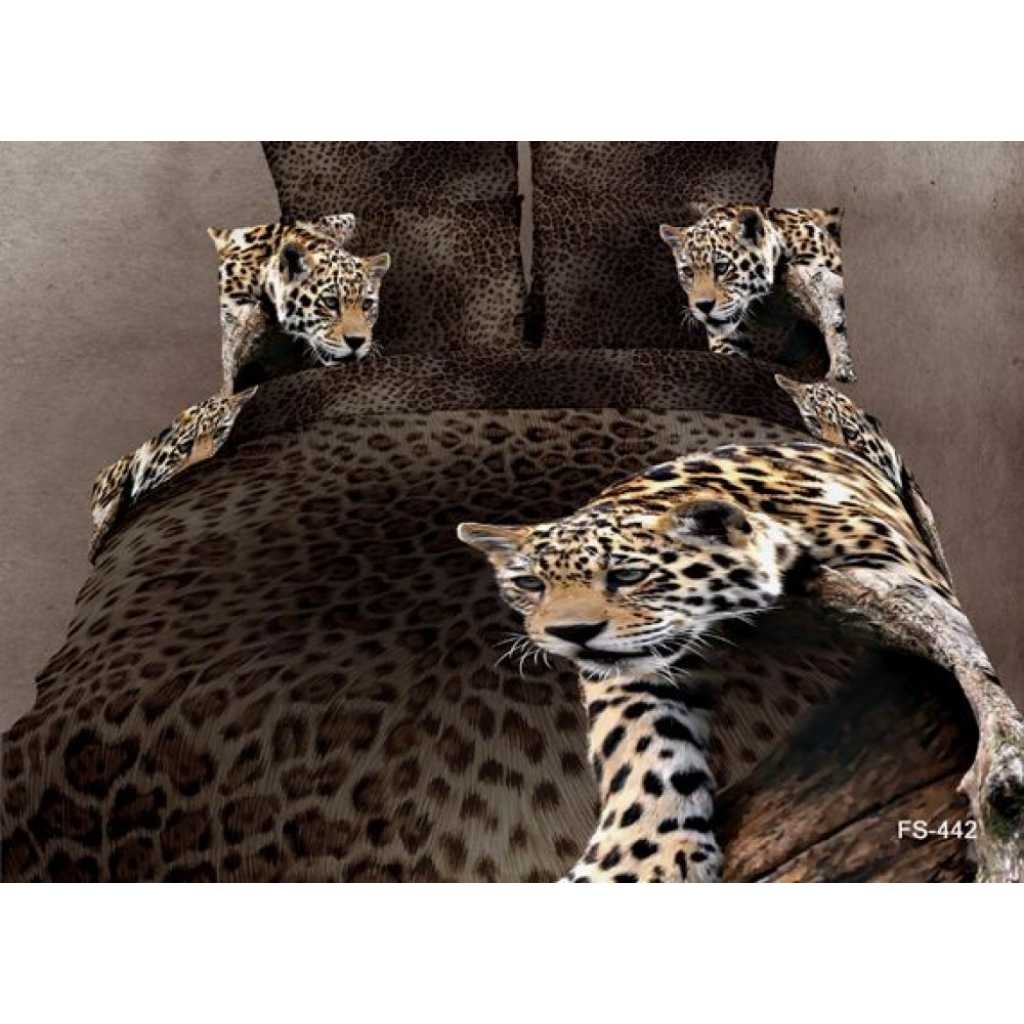 The gorgeous leopard patterned bedspreads and comforters are a sensational way to create an impressive bedroom décor. Beautiful colors and motifs of wild cat delight, creating a unique interior style.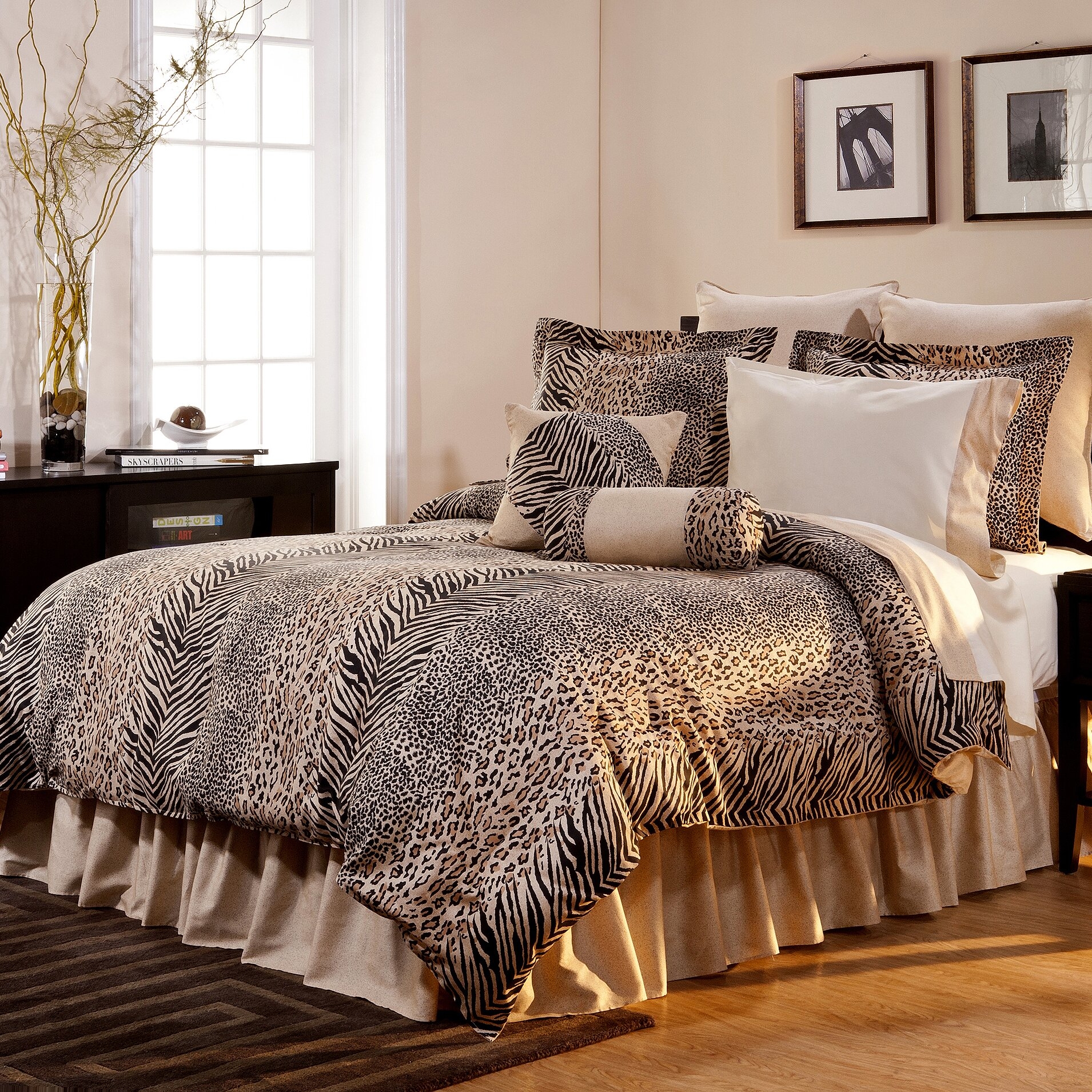 This is a luxury 12-piece animal print comforter set designed to keep you warm all night long while enhancing the look and style of your bedroom. The set includes a comforter, bedspread, pillows, and bed skirt. It is a unique addition to your bedroom.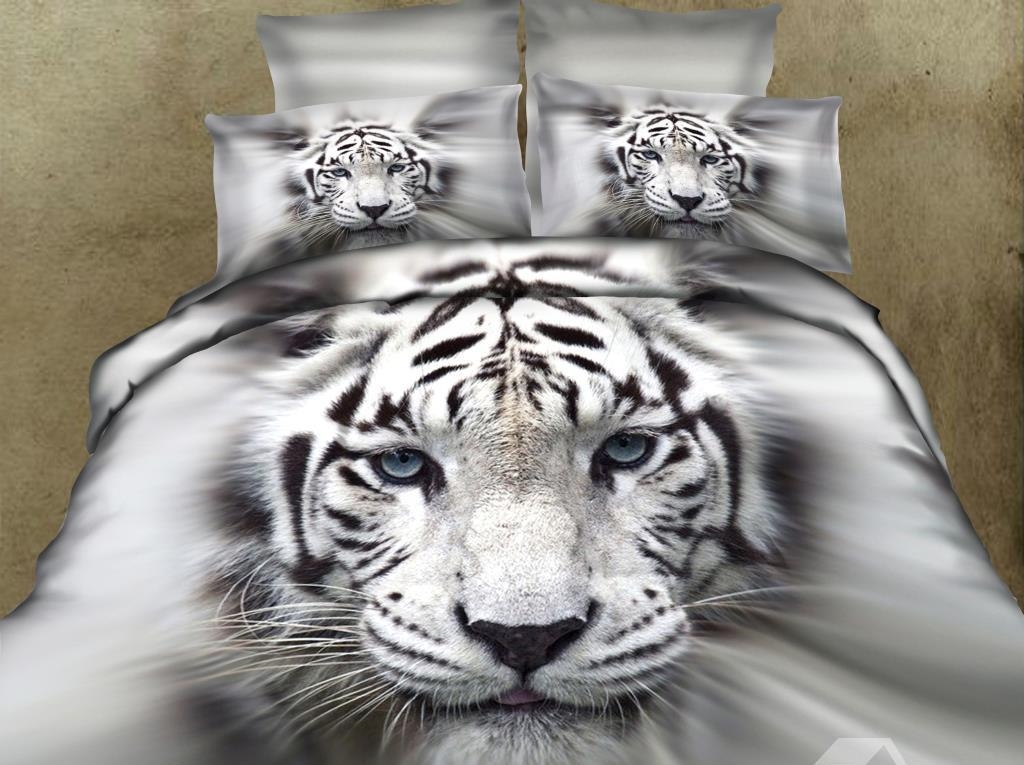 For everyone who loves to be surrounded with wildlife accents, this comforter set will do miracles in the master bedroom. Made of 100% cotton, this 4-piece set comes with a breathtaking design in shape of a 3D white tiger print.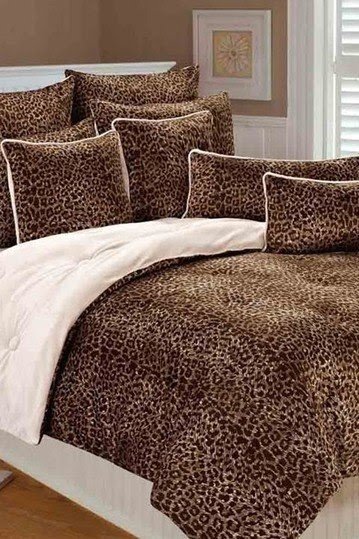 If you are a fan of animal print beddings, you'll surely love this set of cheetah bedspread and comforter. It comes in a full set of comforter, bed sheets, and pillowcases. Each item features cheetah prints on the outside and soft comfortable inner layer.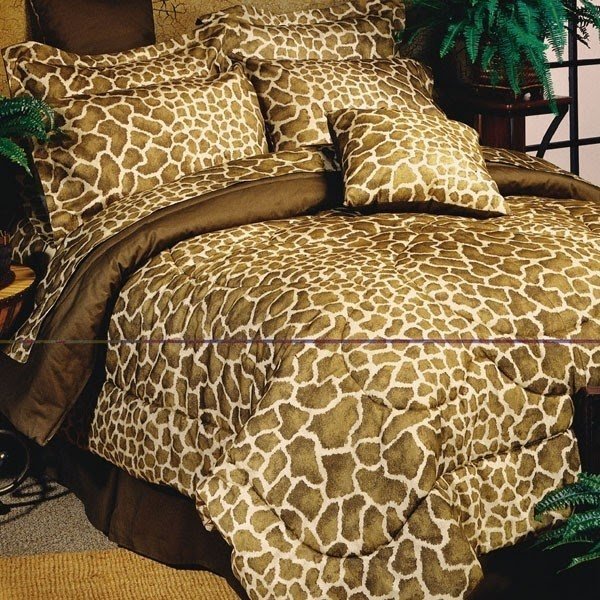 Enjoy guilt-free fabric animal print comforters and pillow covers for your bed. These giraffe print coverlets and matching pillow slips bring the feeling of the jungle into your bedroom. Add some plants and a textured floor cover for full effect.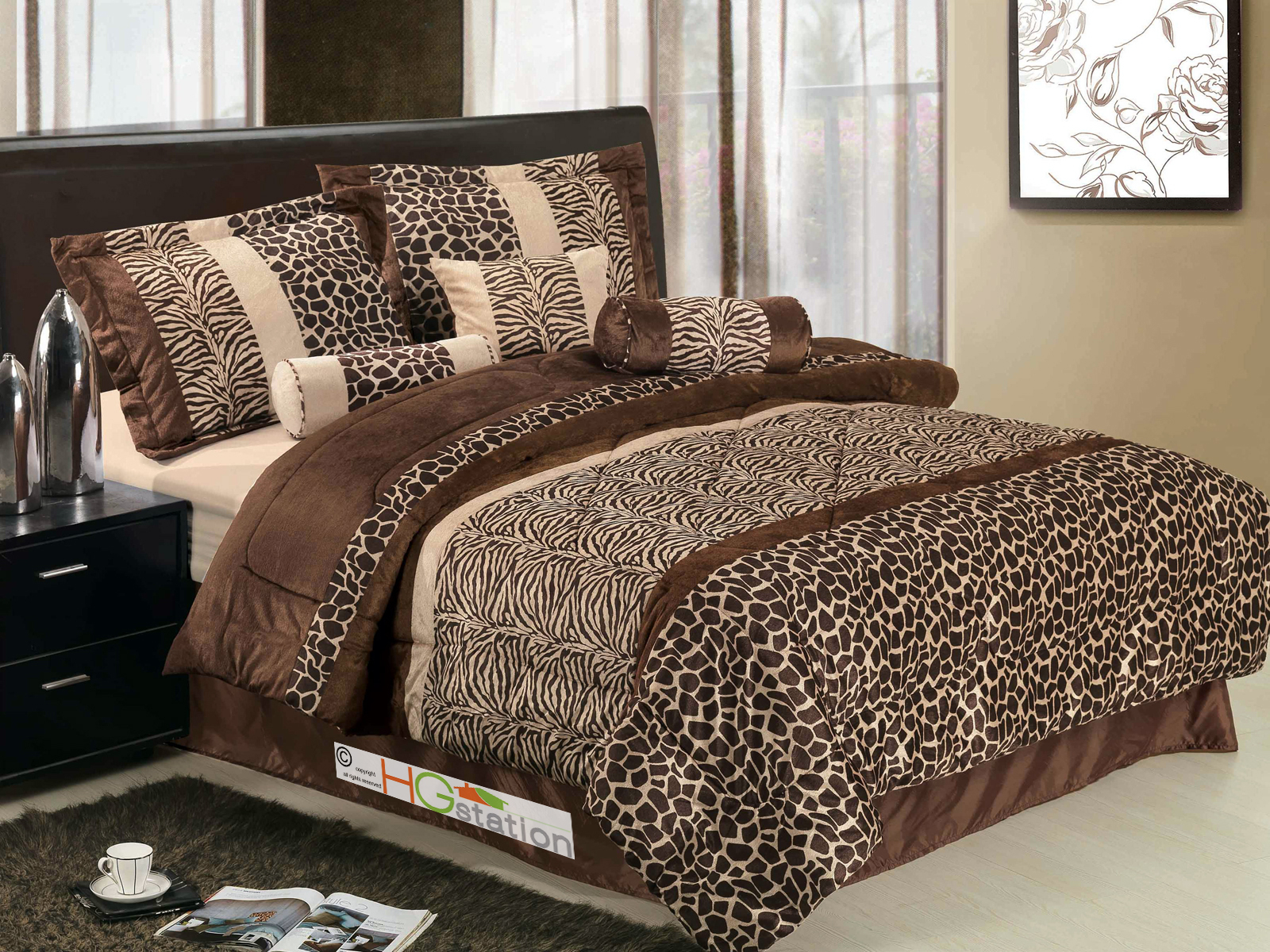 It is a safari comforter set that has got a beautiful zebra and giraffe brown print. It adds style and comfort to any bedroom. Everyone will tell you how amazing this set is.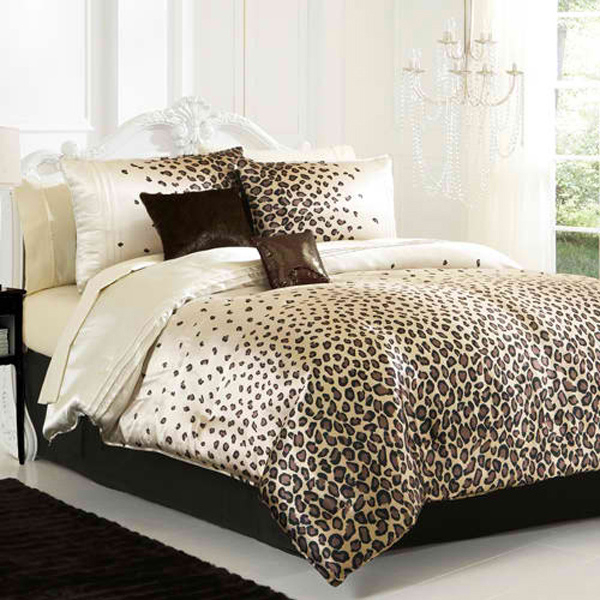 The gorgeous animal print and natural colors in brown, yellow and black colors of this bedspread and comforter delight and create a unique atmosphere in the decor. The whole is spectacularly presented on a king size bed.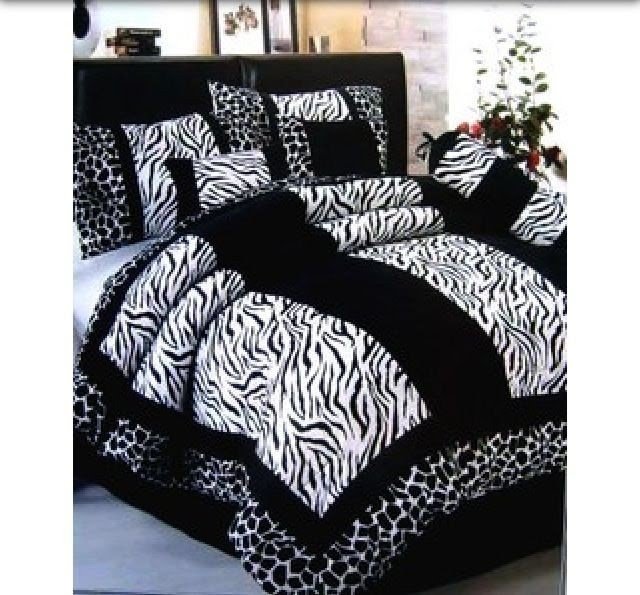 Are you searching for a bedding set that would spruce up your bedroom ambiance? Well, you the need to consider this one. It features the charming black and white zebra print, seven pieces and velvet covers.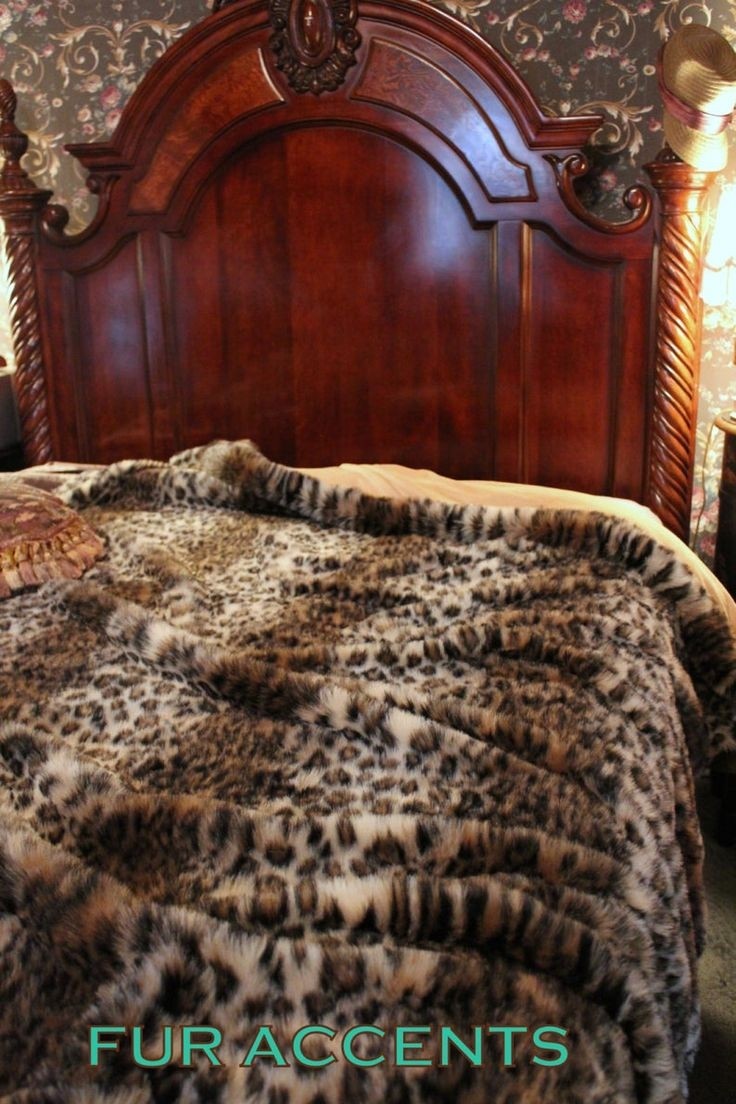 Love the idea of fur, but hate the thought of killing animals? This faux fur throw is the perfect answer to cultivating your wild side without guilt. Soft, supple, and beautifully textured it will appeal to any luxury-loving sybarite.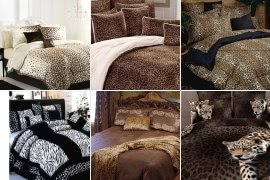 Now you can spice up your bedroom with a bit of exotic charm, with this fashionable comforter set adorned with an eye-catching leopard print. Designed of quality material, the set is comfortable in use, long-lasting and machine-washable.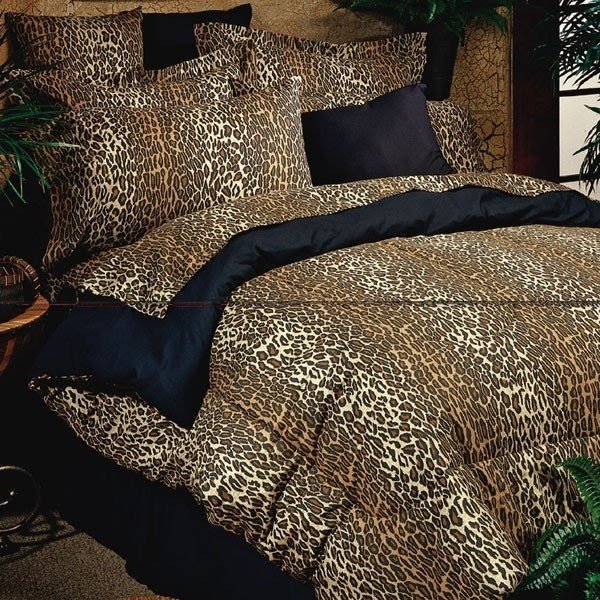 Comforter set made of nice touch fabric and finished with leopard theme. Includes comforter, shams, pillowcases and more. Elegant accent for any bedroom according to taste and need.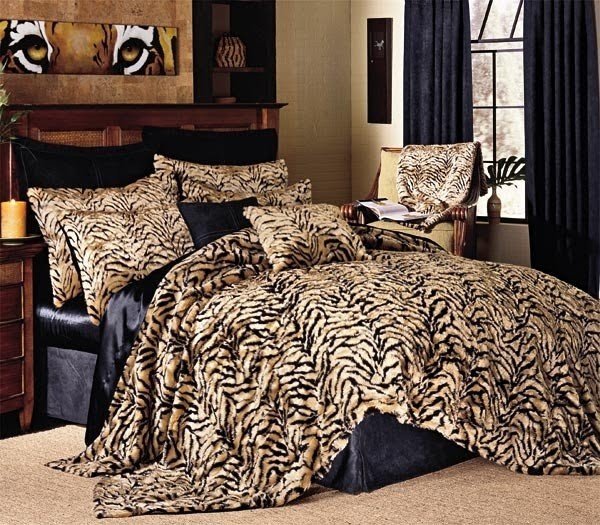 Now you can actually experience the beauty of animal print in your bedroom thanks to this sublime bedding set that sports the tiger stripes and offers the soft and extremely comfortable material, making it perfect to enjoy a relaxing night.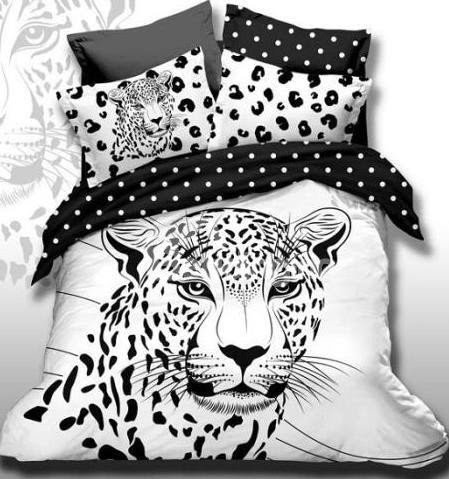 New Arrival Tiger Patterns Black and White Color 4 Piece Bedding Sets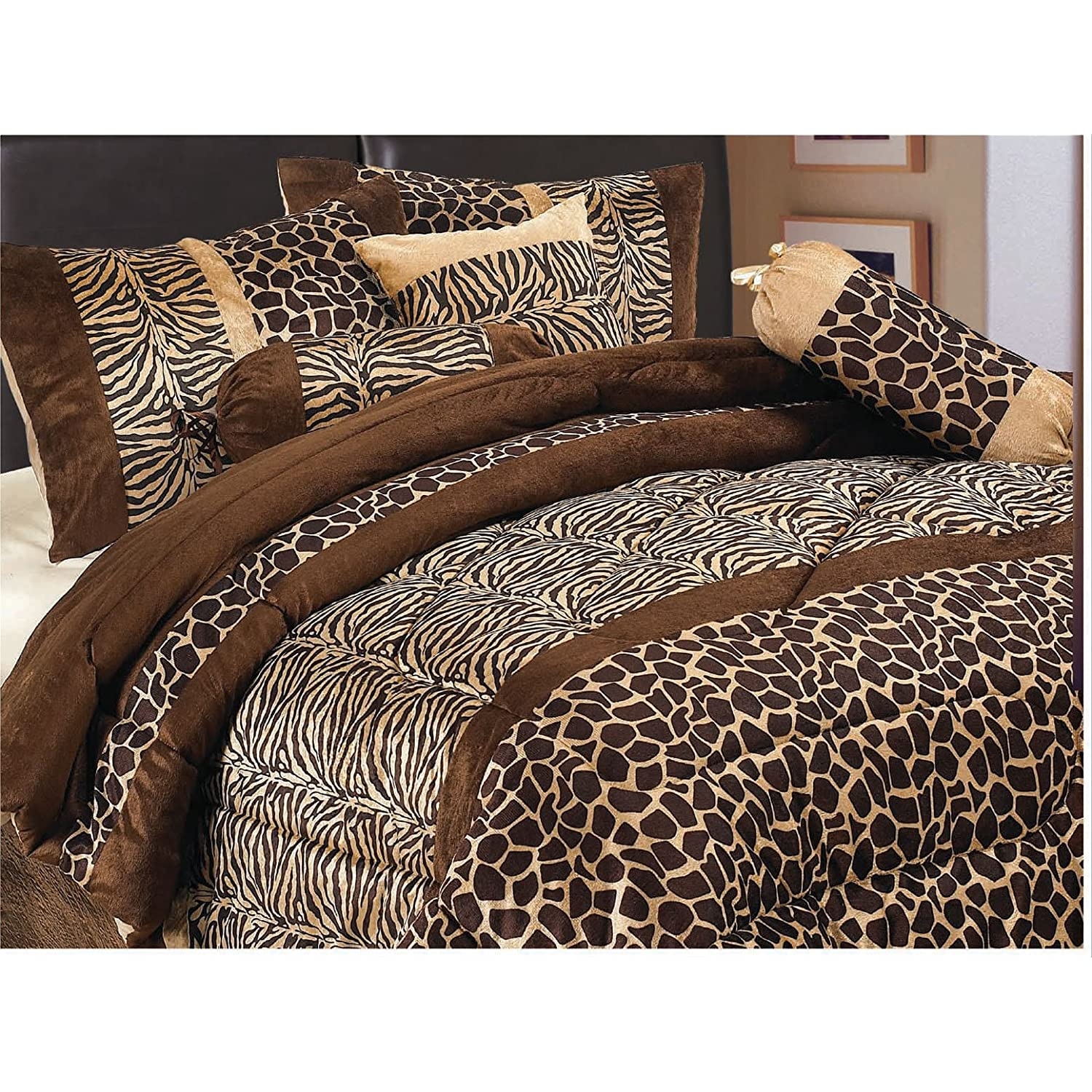 Chelsea/ash remember when Daddy and your Grandfather put the animal print carpet in my bedroom for Mothers Day :)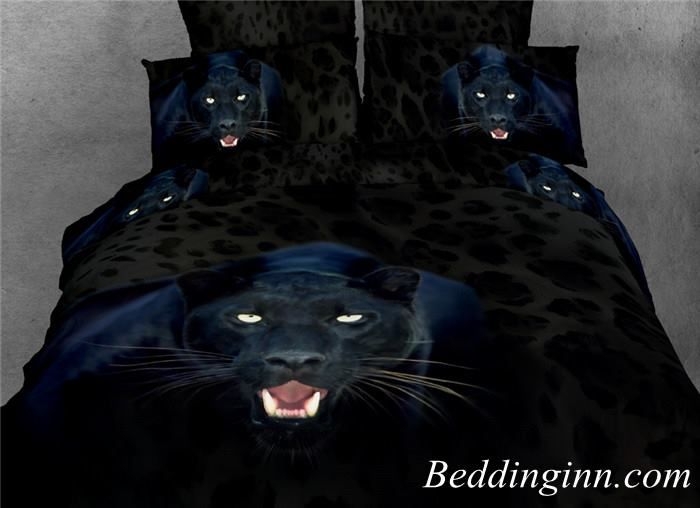 Bedding set that includes bedclothes for queen size beds. Attractive panther print looks natural and improves aesthetics of bedroom design. These materials are comfortable and resistant to wear or washing.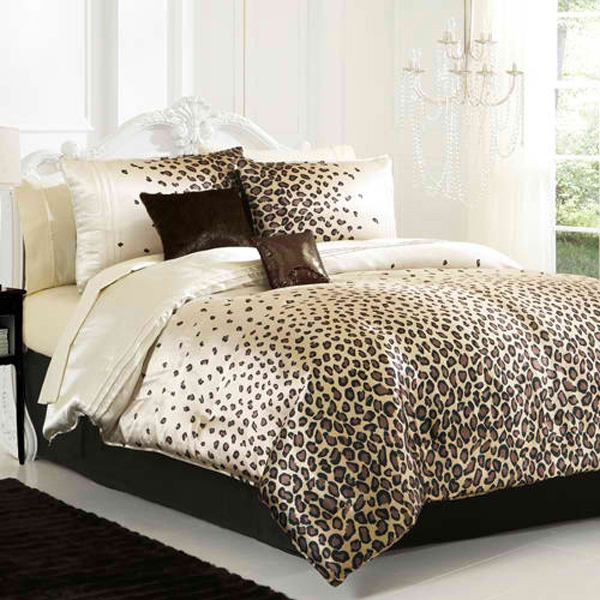 Glamorous Leopard Animal Print 6 Piece Comforter Set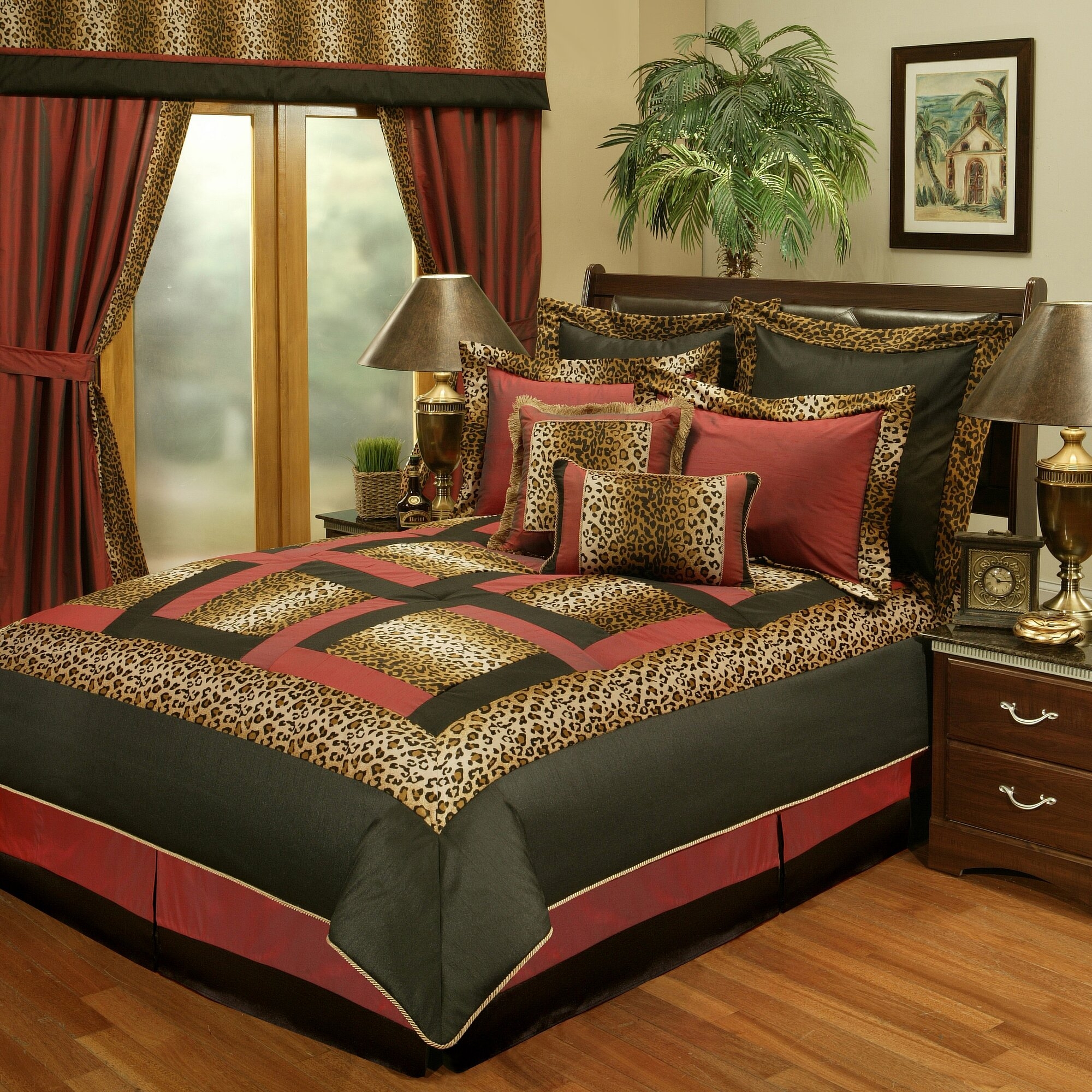 Jungle Passage Cheetah 8 Piece Comforter Set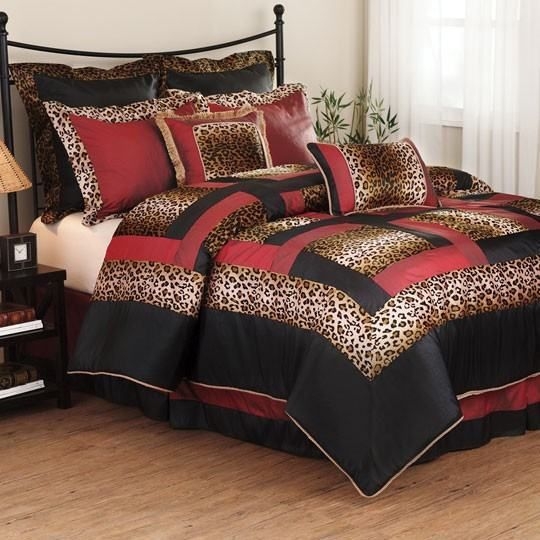 animal print bedding set animal print crib bedding for girls

Espresso by Jennifer Taylor *New* at Bedding Super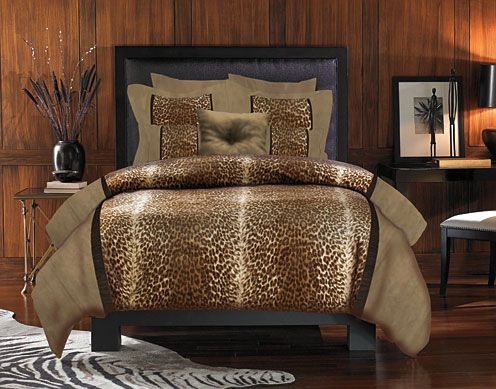 Veratex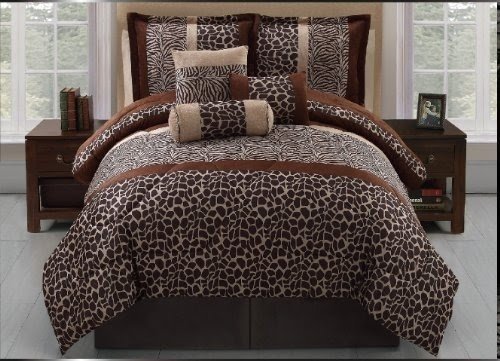 7 piece bedding set made from pleasant to the touch plush material and finished with animal theme. Includes comforter, shams, pillowcases and more. Elegant design for any bedroom according to taste.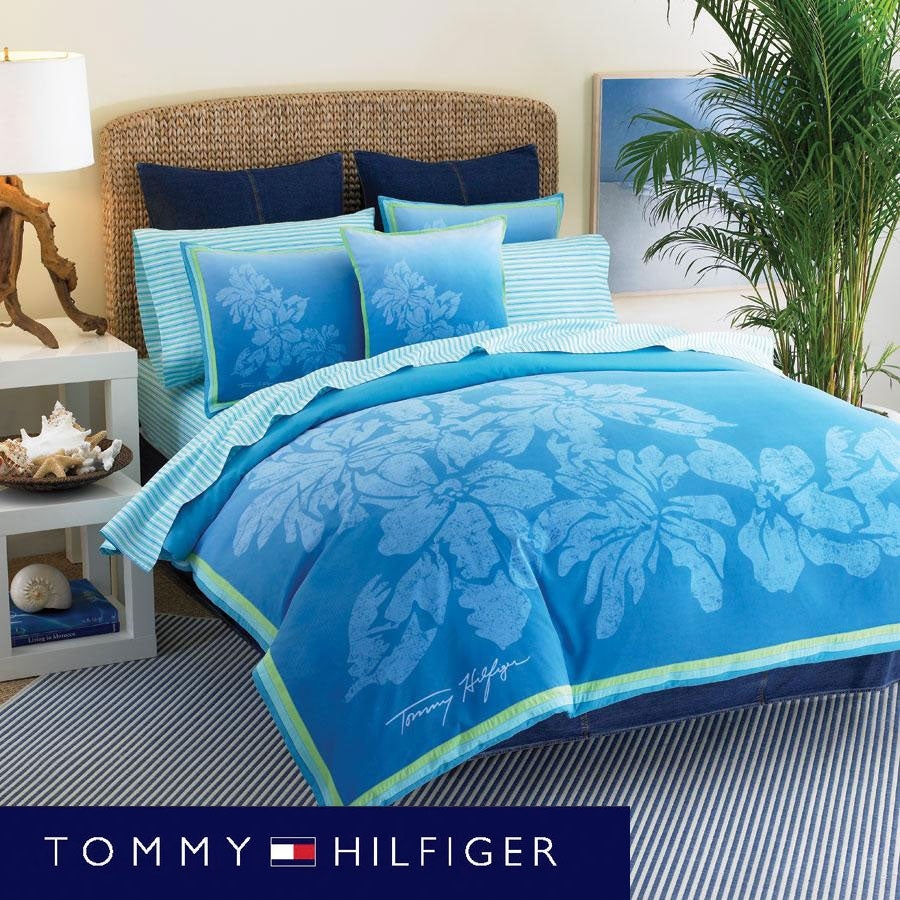 tropical bedding | kingsize chenille bedspread, hotel bedspreads, bedspreads and quilts ...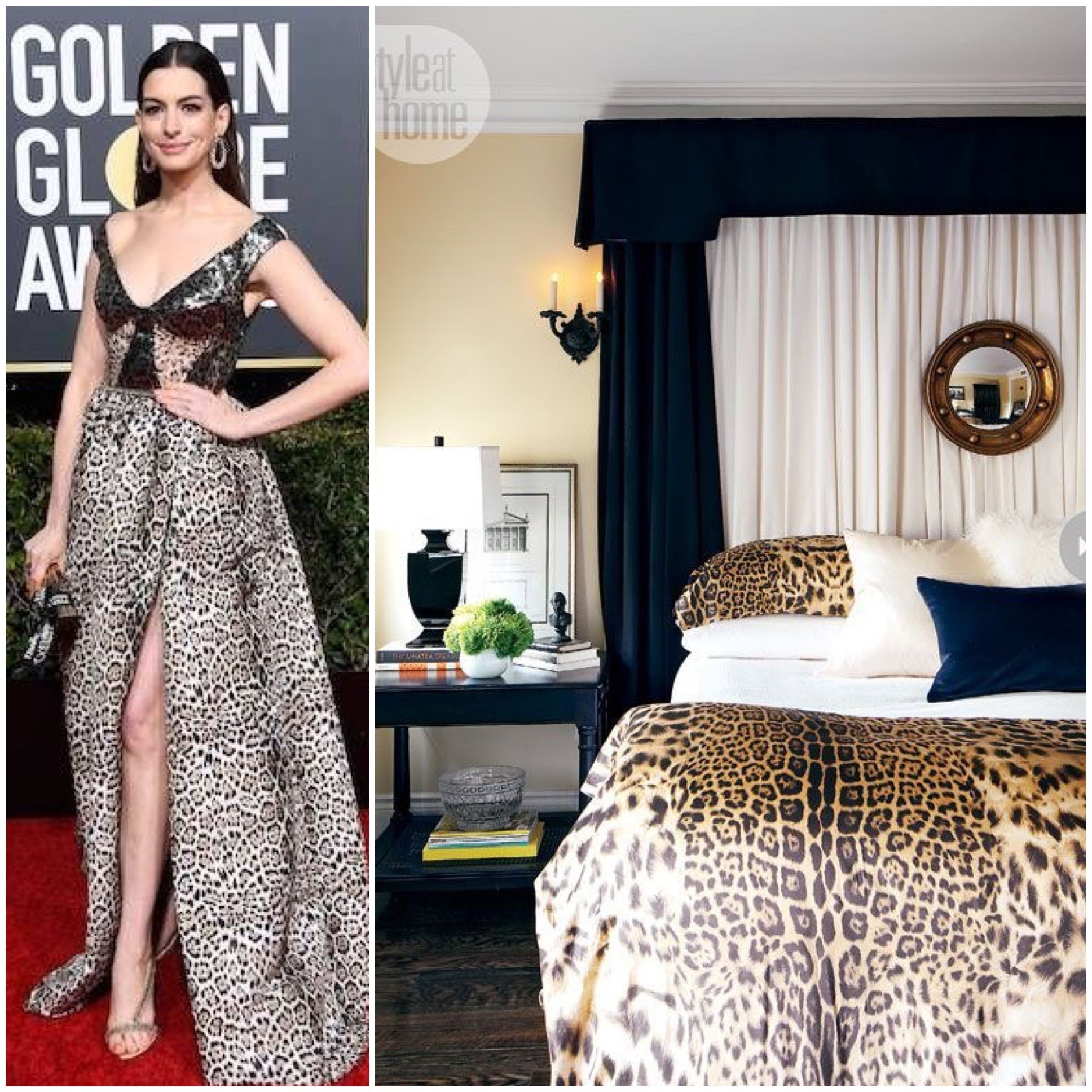 The lovely bedroom in American Indian style. The bed, built of the simple birch branches, has been covered with pillows and blankets corresponding with the animal fur style. The great composition of brown and blueish.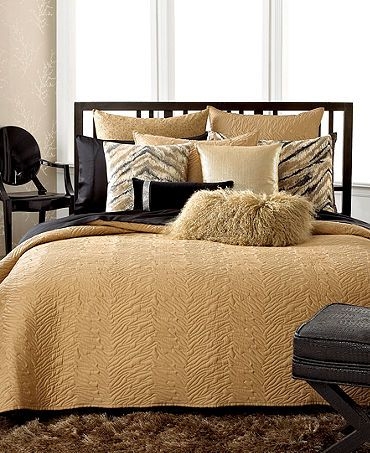 I like that there is texture. I love the color. But ..... I am afraid the pattern looks a bit too much like an animal print?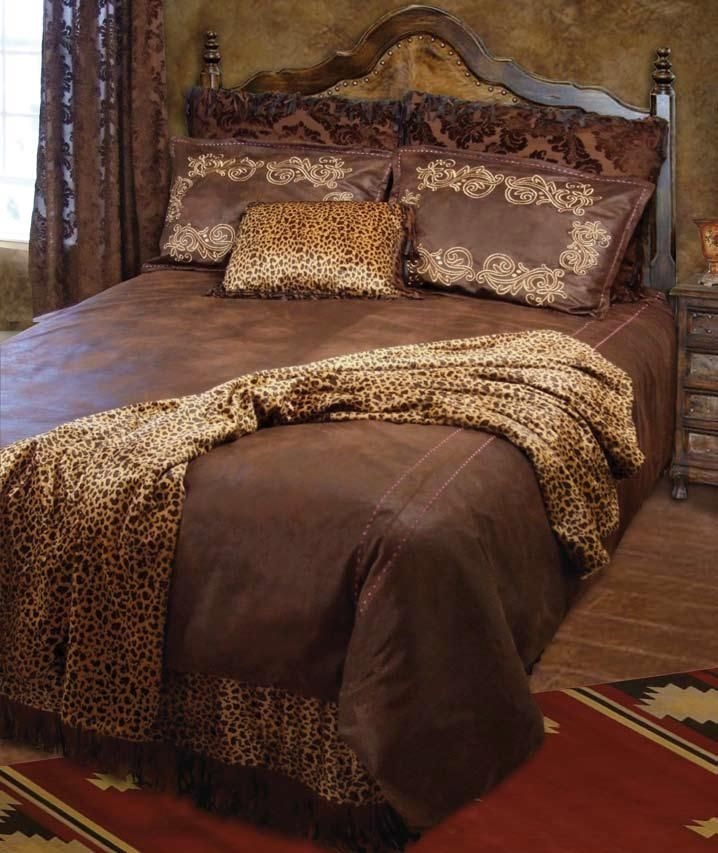 Gold Rush Bedding by Carstens A western bedding set in a palette of chocolate brown with leopard spot accents, the Carstens Gold Rush bedding ensemble will turn any bedroom in to a soothing western inspired sanctuary but with a leopard print twist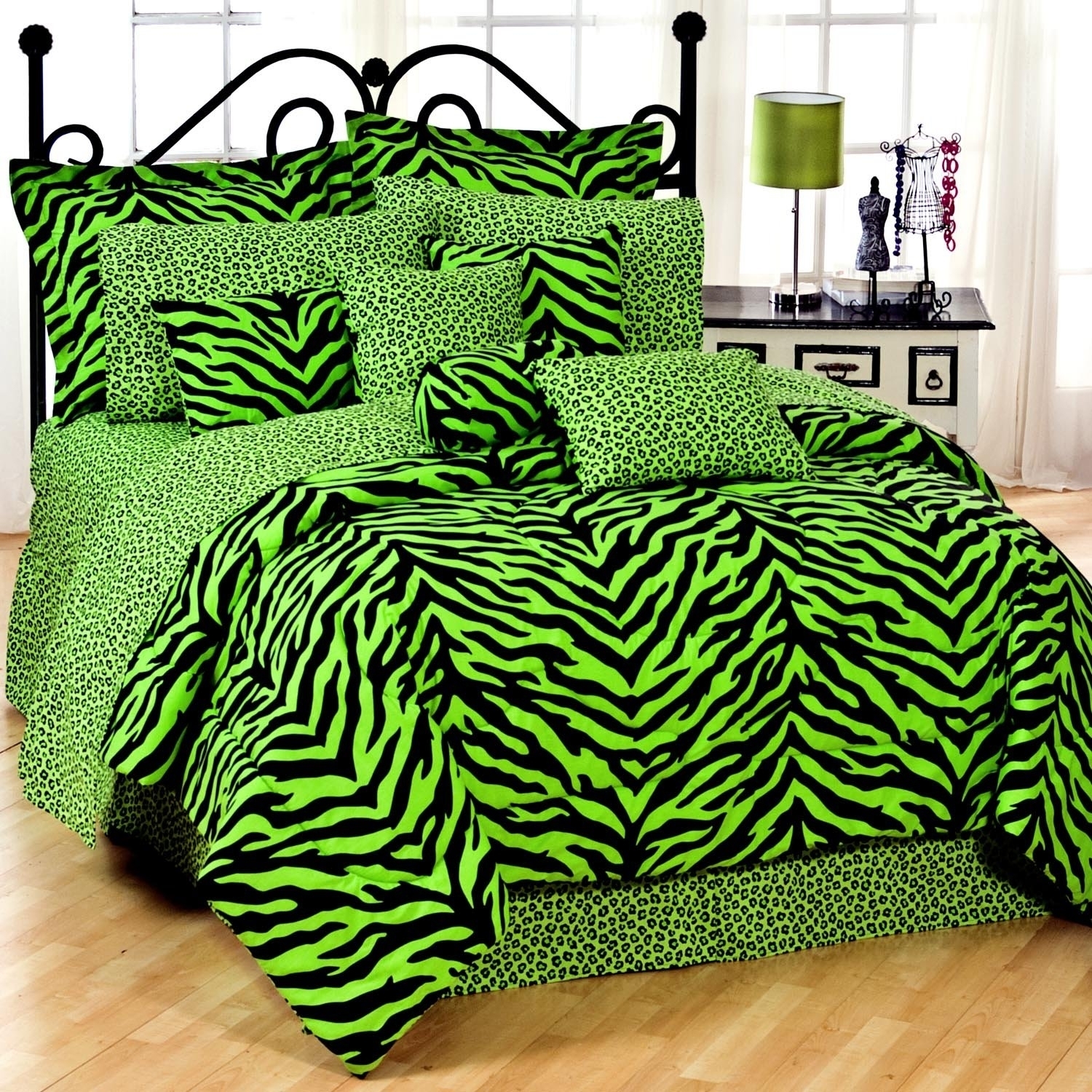 Karin Maki Lime Zebra Bedding Collection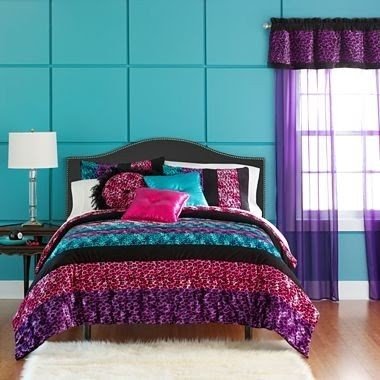 Creating an eclectic bedroom? Check out this animal print bedspread and comforter. A lot of colours, yet if they are cohesive with the rest of your bedroom, they can create a harmonious whole.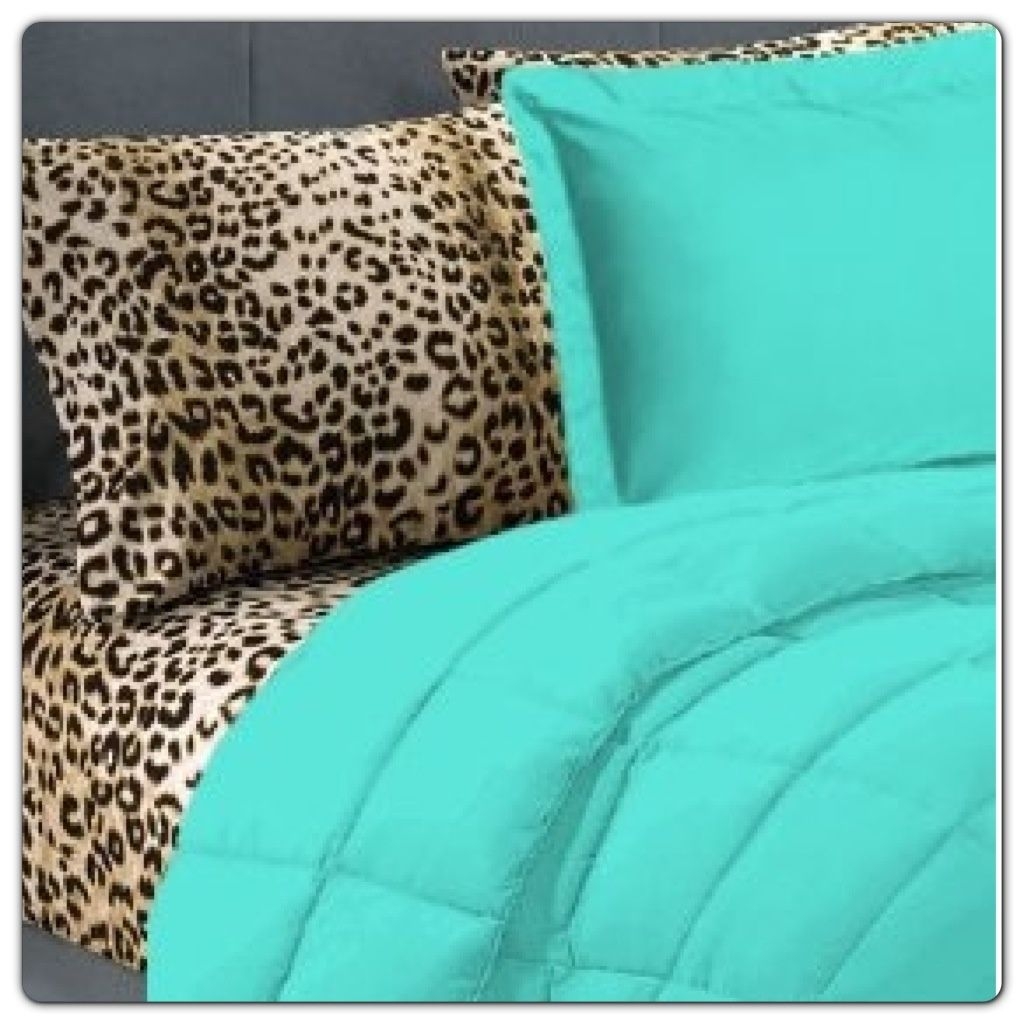 Boasting of elegance and wildlife accents; this extra long bedding set consists of 5 beautiful pieces, each designed of machine-washable material. The set is reversible - adorned with a leopard print on one side and turquoise on the other.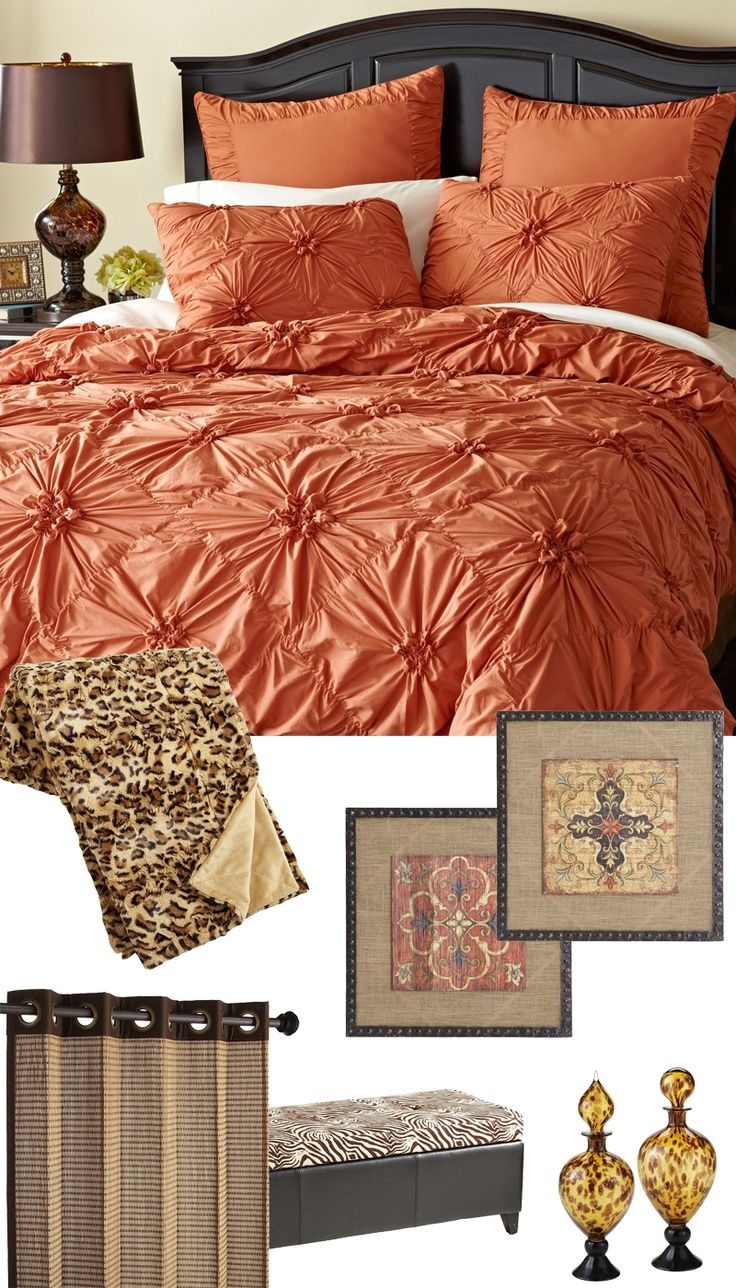 Global Retreat: Live on the wild side with rich hues and fun animal prints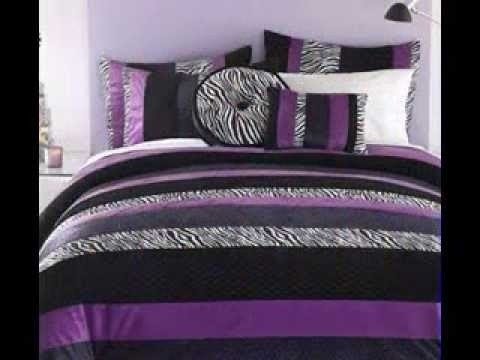 Zebra Print,Pink,Black,Purple,Aqua,Lime green,Girls Funky Bedrooms,decor,ideas, .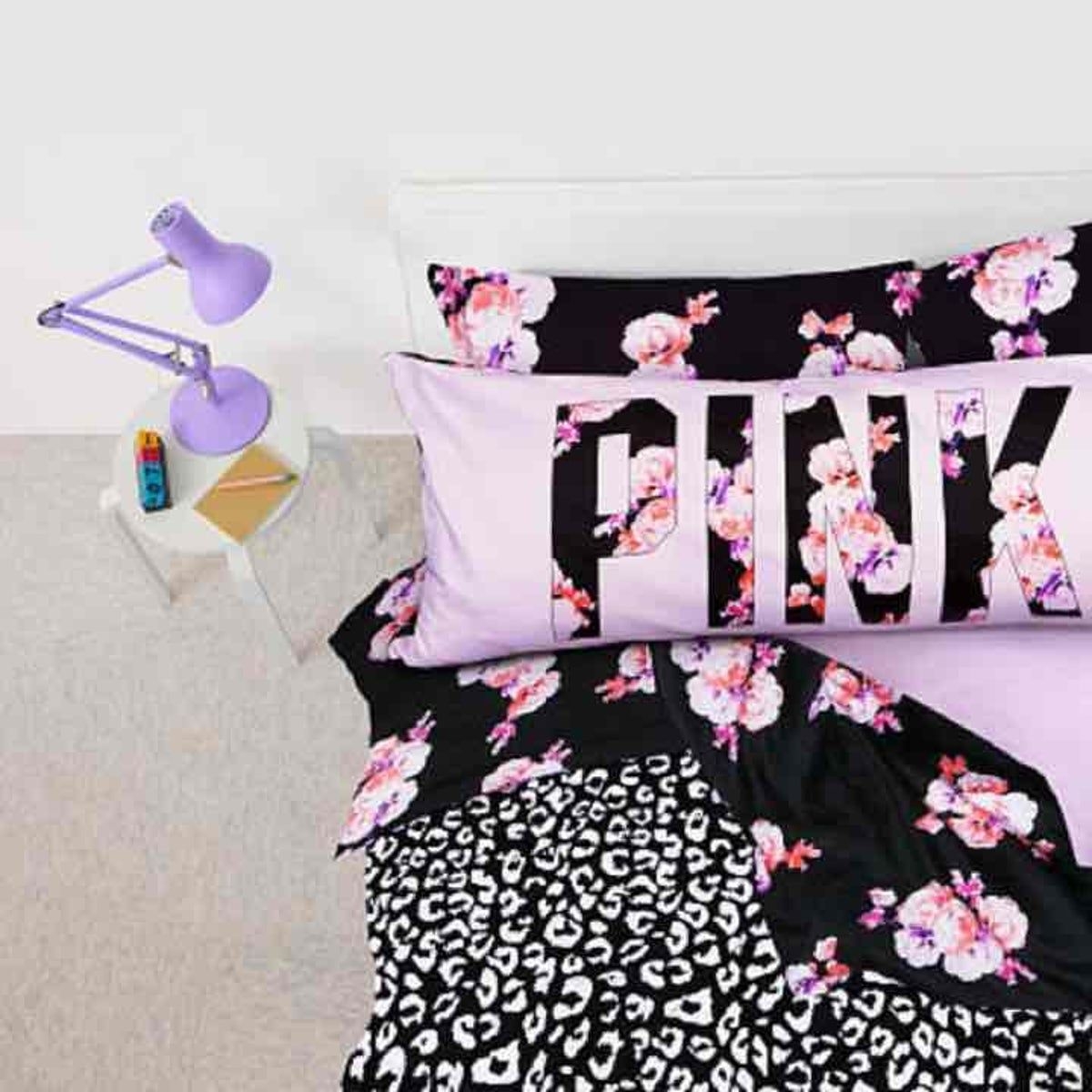 Future bedspread to look like this. I hope I find a husband who doesn't care. <3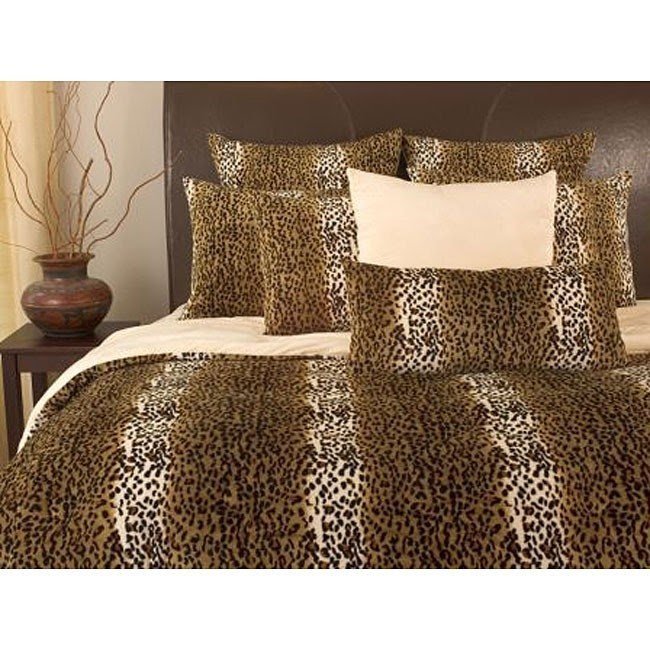 A very attractive and comfortable set of bedclothes. They look very stylish thanks to their cheetah print. They are made of 100% polyester that is comfortable, resistant to damage and machine washable.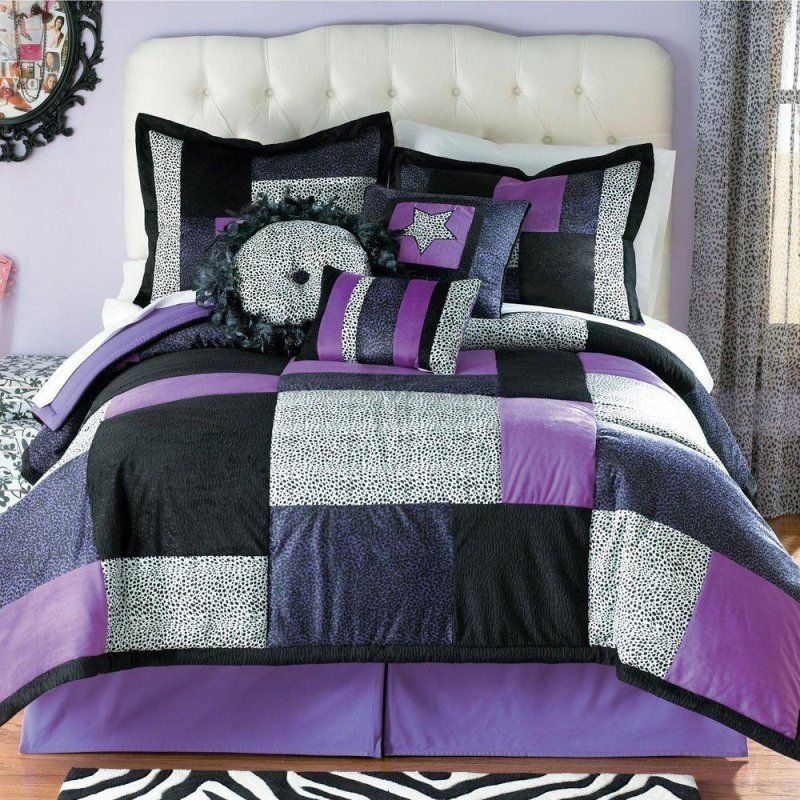 Animal motifs are always trendy, they can be combined and presented on bedspreads and comforters together with violet, black, blue and grey color. Zebra and cheetah print is a choice of temperamental women.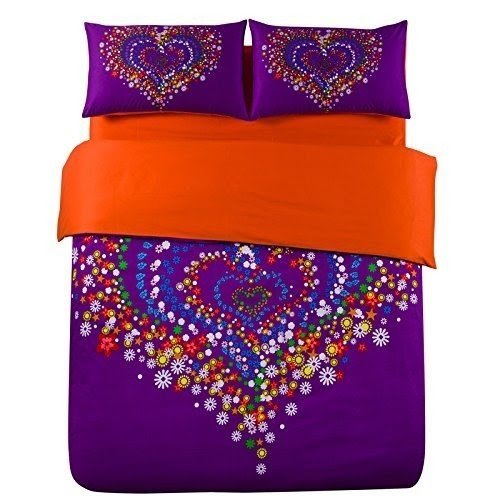 The lovely folk style bedding patterned in the heart's shape. The interesting mix of main colors: purple and orange and also the tens of colors on the small elements, makes me feel like I am looking on the peacock's feather.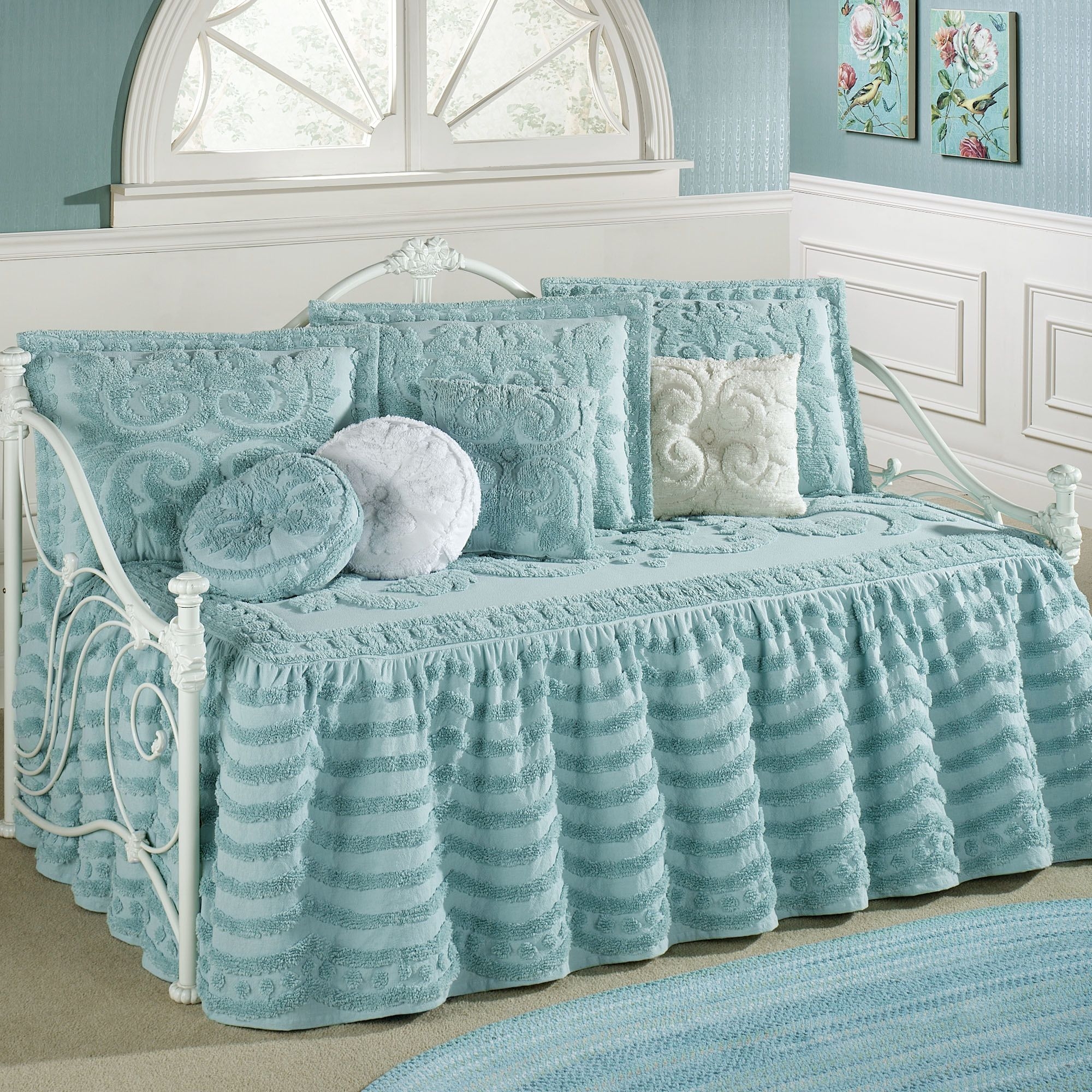 Would you just look at this extremely cosy, cute day bed with a wonderful set of vibrant, comfy linen and pillows! Very traditional look, the bright frame with a Victorian design gives this one a vintage, old-fashioned look.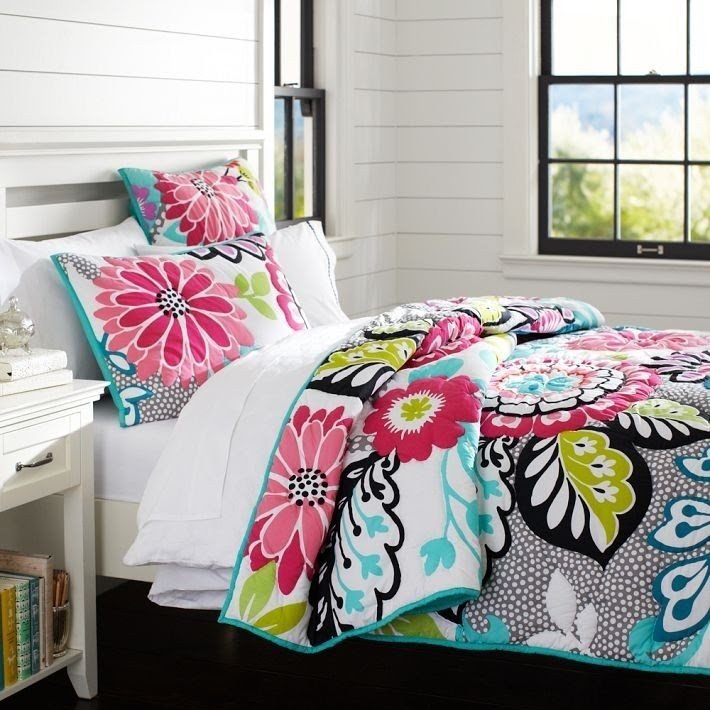 Colorful collection of daybed bedspreads and comforters, showcasing fashionable contemporary interpretation of a classic floral pattern. Quilt and sham included in the set. For preteens room and not only.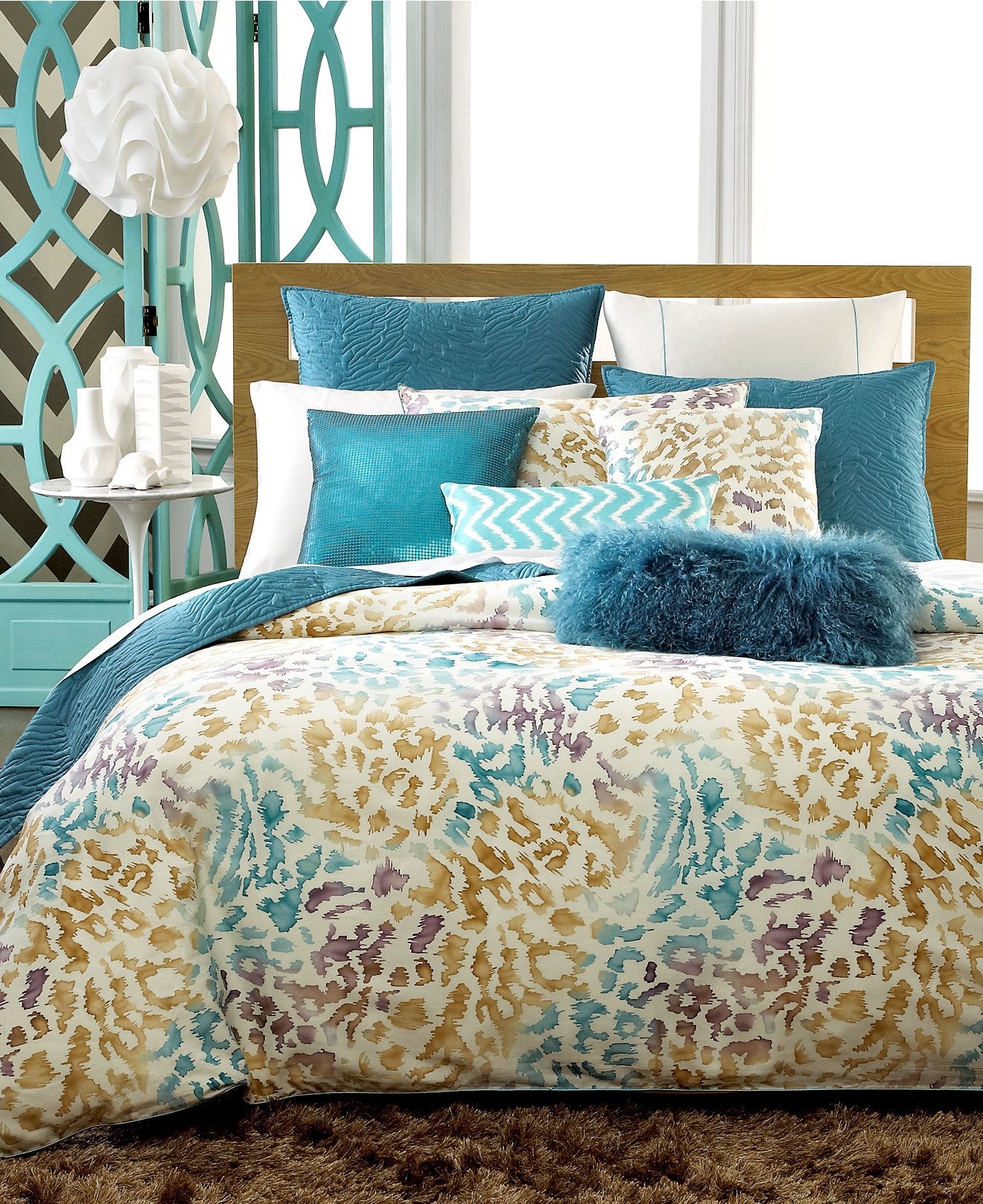 Adorable setup for a colorful bedroom with a queen-sized bed with a tall, wooden headboard made out of bright walnut wood with a set of vibrant beddings in a variety of yellow, red and blue colors with matching pillows.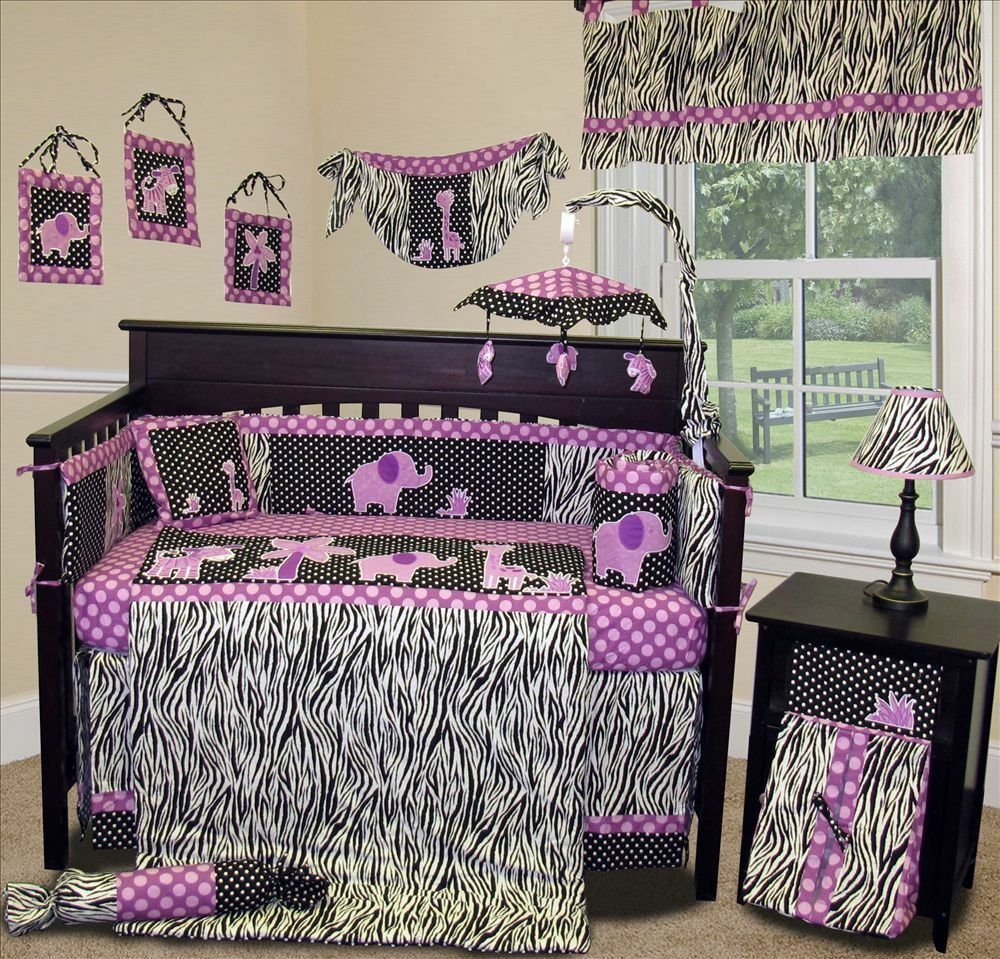 So much patterns here... But the uniqueness of the effect is indisputable. We have zebra like monochrome stripes here, animal patterns, polka dots, purple animals patches (elephants, giraffes) and many more.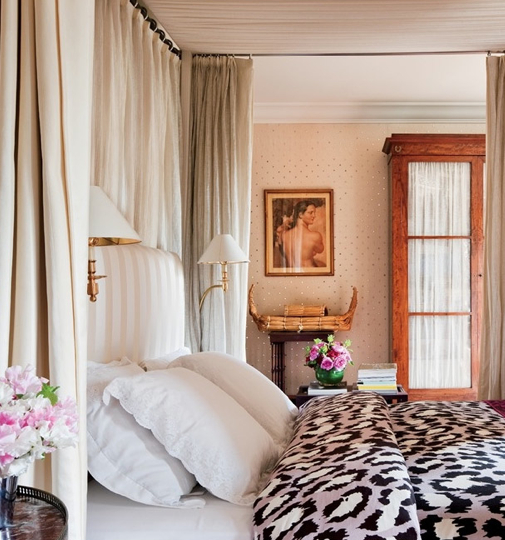 Bold bedding in a neutral room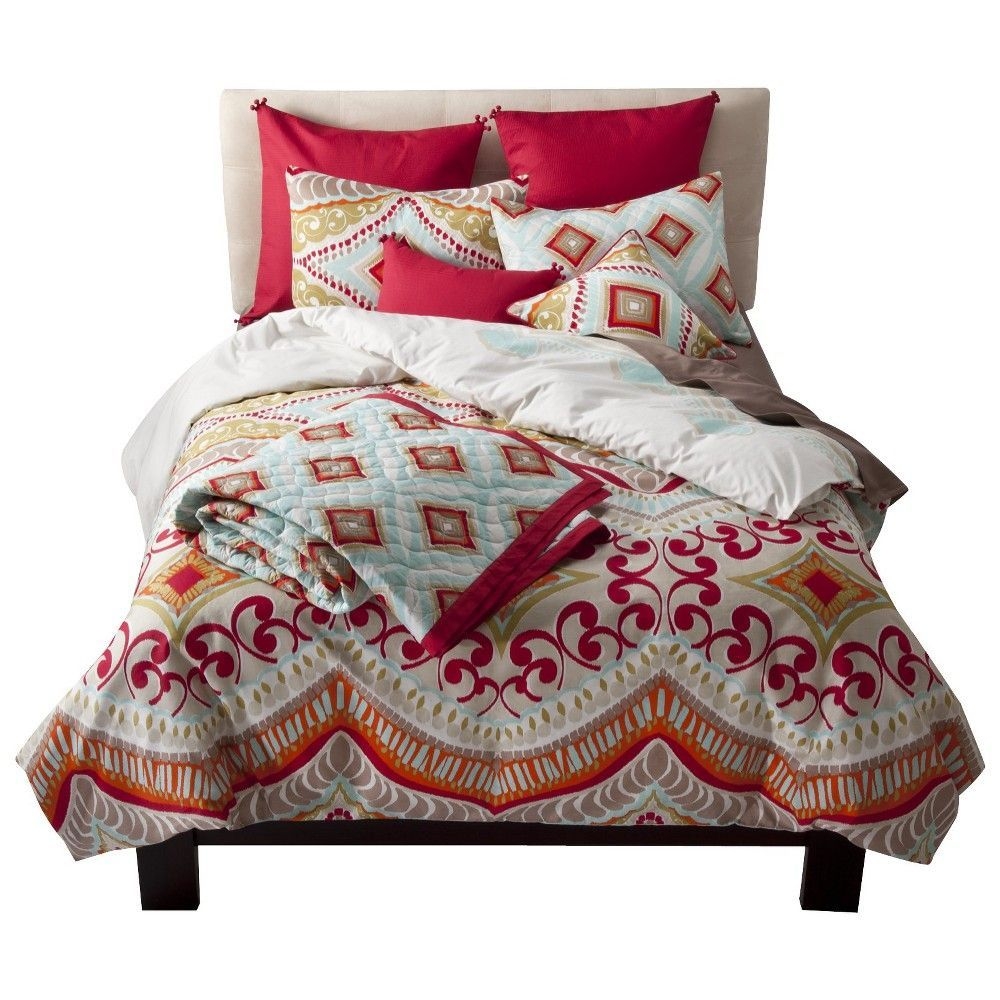 Bedding set made of nice touch fabric and decorated with sophisticated ornamentation. Includes comforter, shams, pillowcases and more. Great solution for bedroom, teenager's room and more.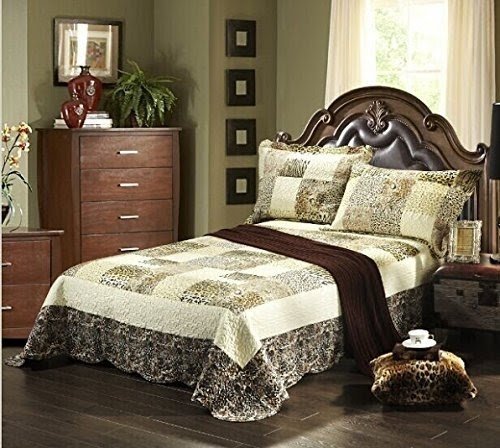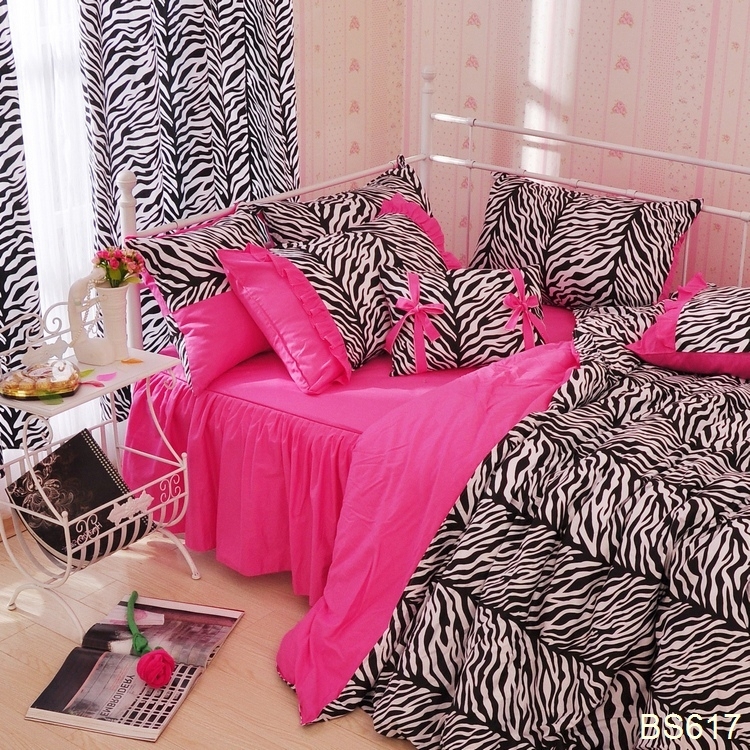 Purple Color Scheme for Your Bedroom Furniture Set Decorating Ideas