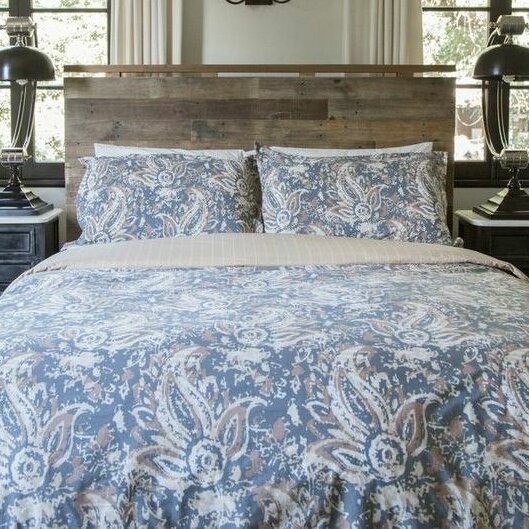 The Painted Paisley Duvet Set
The duvet set with 300 thread count. Beautiful, painted-like pattern, in blue, white and light brown colors. 100% cotton percale. Reversible and iron safe. Gender neutral, perfect for a guest room.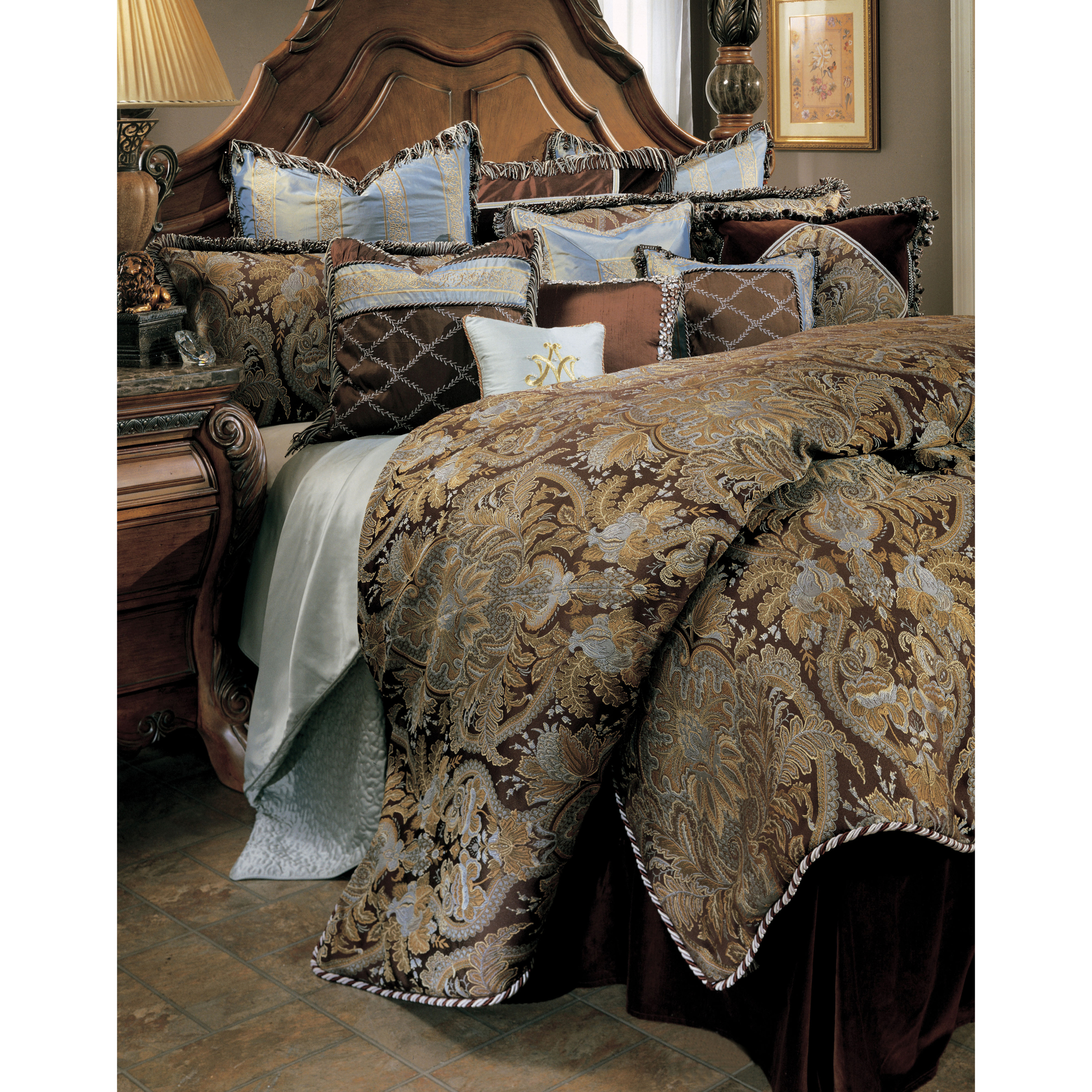 Portofino Comforter Set
Beautifully made comforter set which includes twelve or thirteen pieces set which depends on chosen size. This set was made from rayon and polyester blend which is nice to touch and really durable material.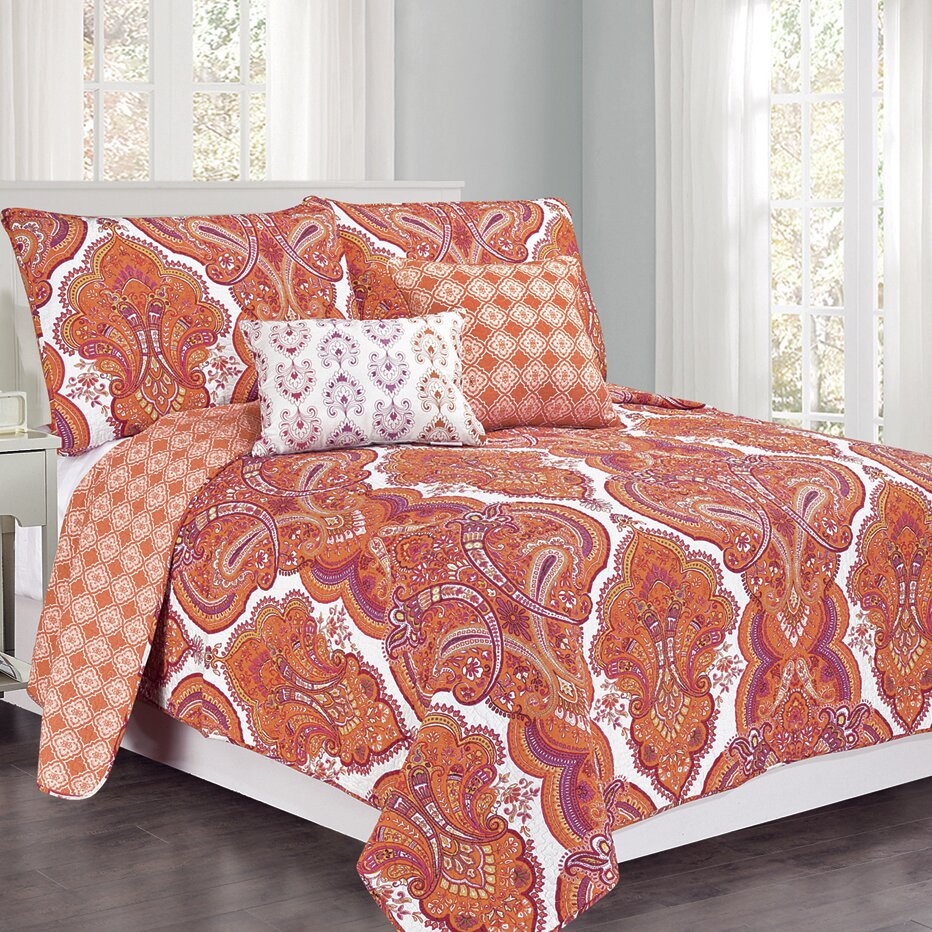 Brilliance Paisley Quilt Set
If you're a fan of extraordinary and stylish solutions, you will probably fall in love with this amazing quilt set! It's gonna bring a huge dose of incredible design and comfort to every kind of bedroom.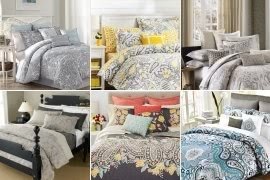 An amazing decoration for dorm rooms and girls' rooms, which will bring colorful dreams and undisturbed sleep. The bedding drowns in light colors and floral design, making the whole extremely inviting.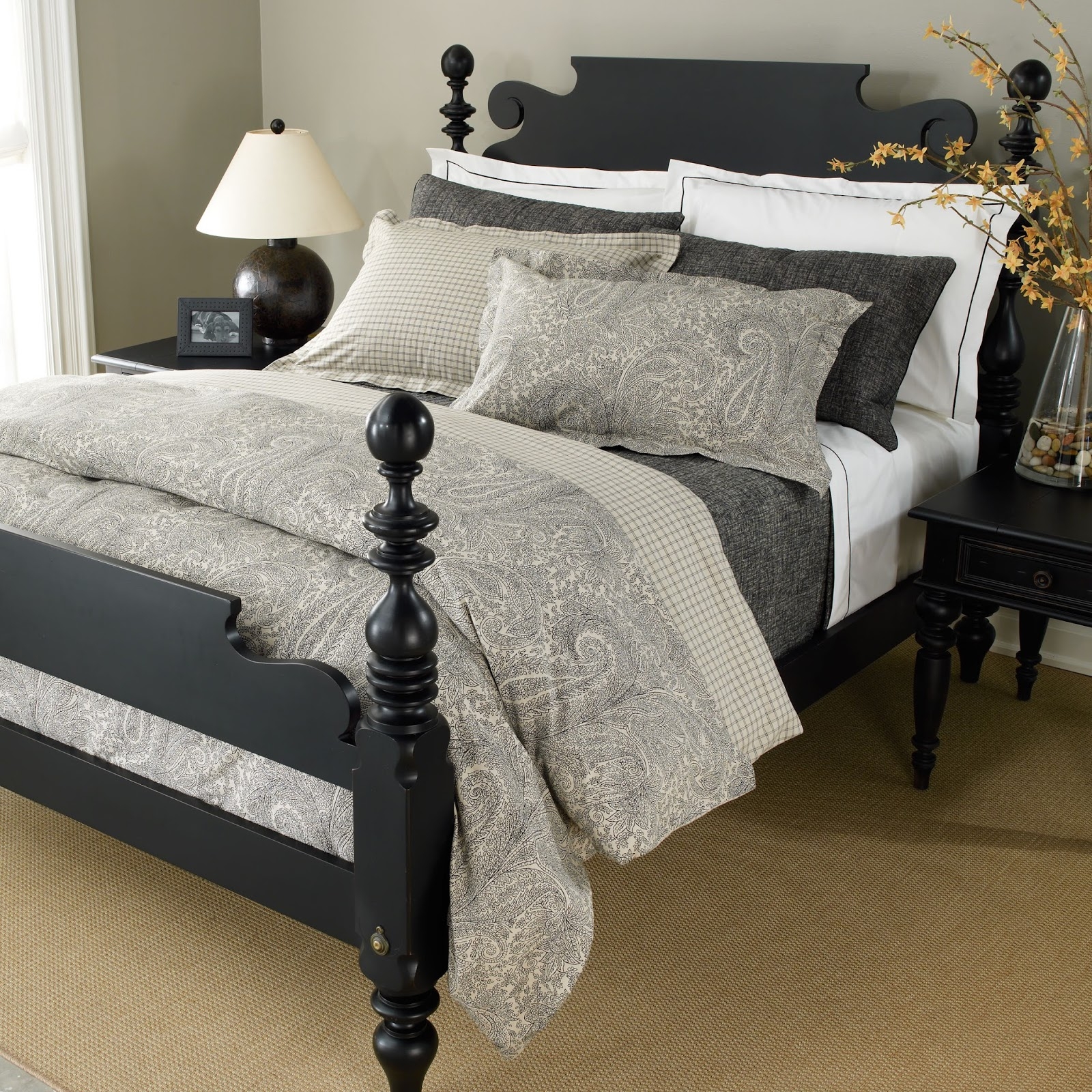 If your looking for a quality bedding set for your contemporary bedroom, then, you should check this stylish beauty. The set is drowning in gray paisley with lovely pattern, allowing you to wash it in your washing-machine.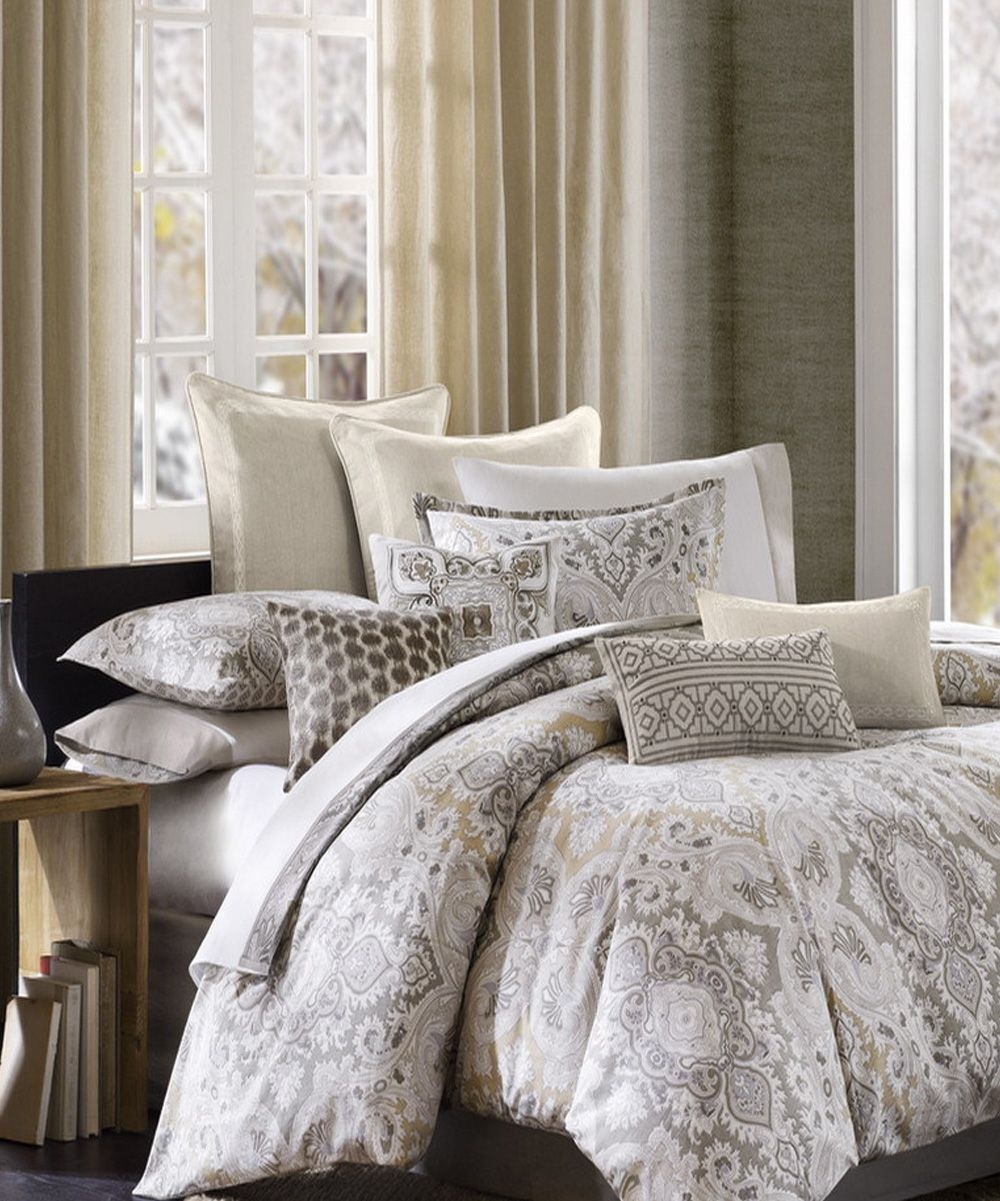 Gray & Cream Paisley Comforter Set | something special every day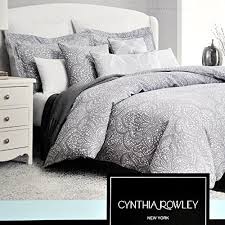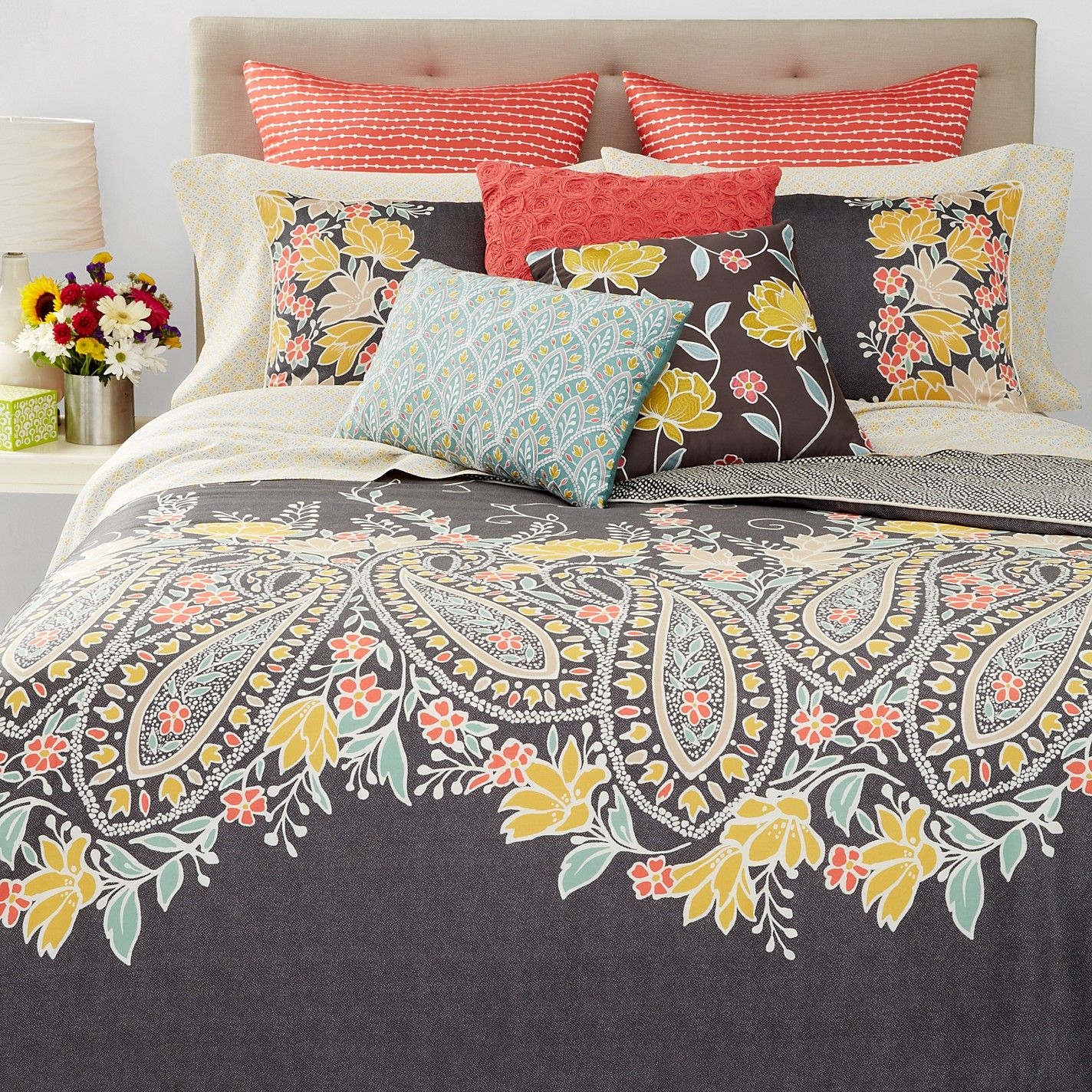 This beautiful full bedding set has got the tropical pattern with tropical bright colors. It features the gray duvet and shams, with contrasting pink pillows. It will be an excellent gift for friends or family.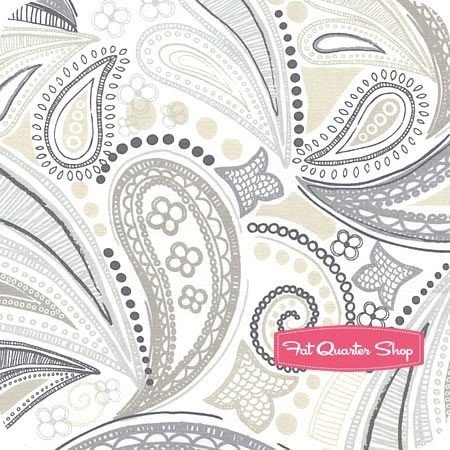 paisley gray and beige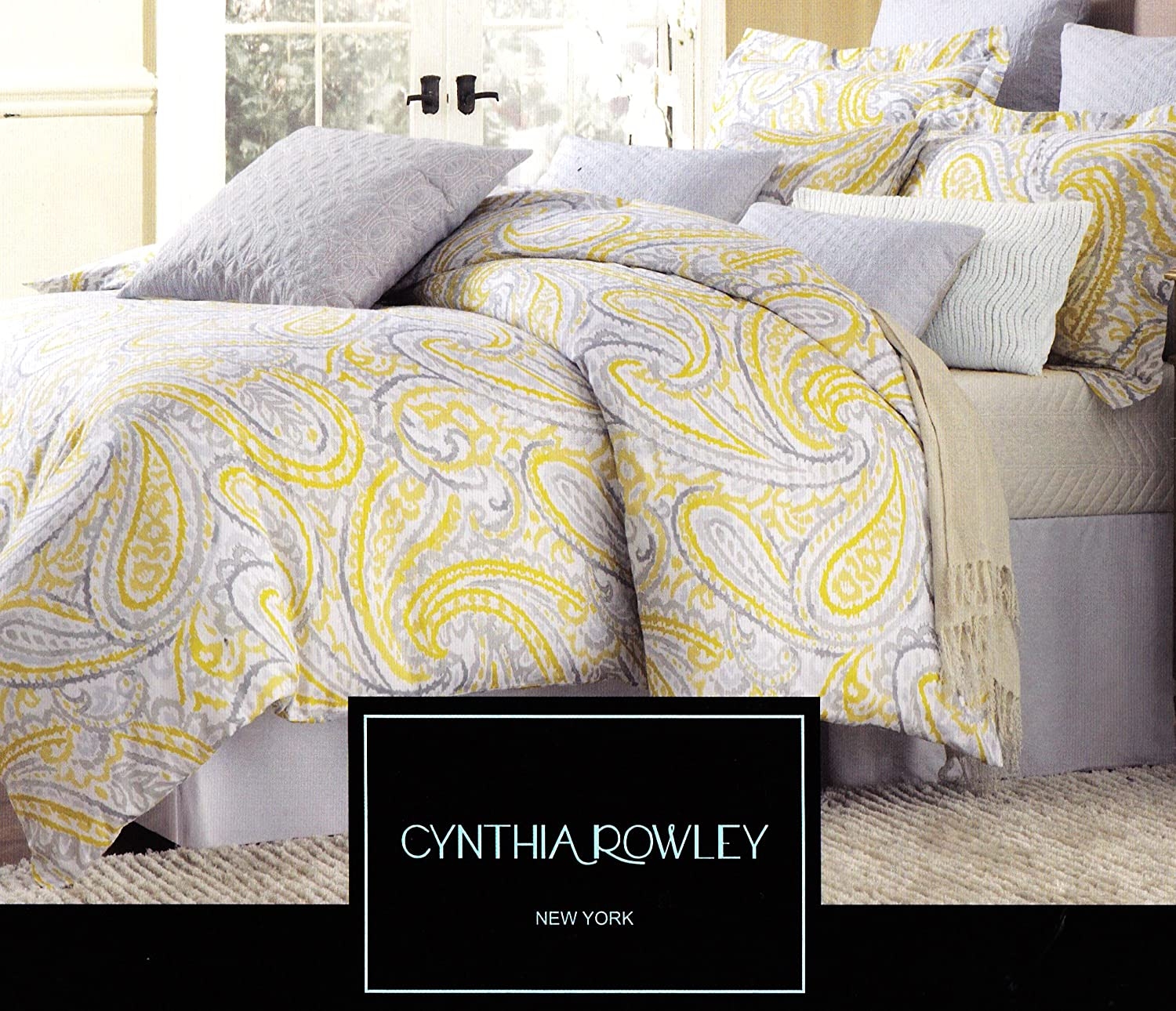 3pc duvet cover set - paisley ikat in silver grey and mustard yellow. Looking very luxury and neat. So fahsionable. Made from pure cotton and sateen with this cute pattern on it, suits every king or queen bed.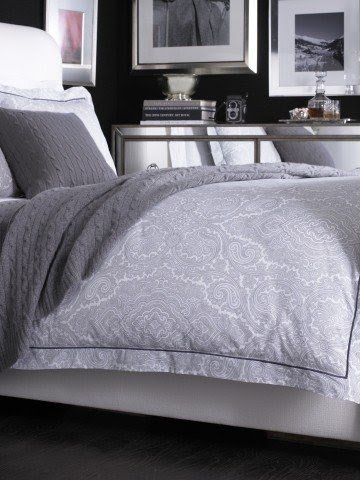 A wonderful classy bedding set manufactured of quality fabric featuring charming intricate traditional Turkish motifs in prevalent grey shades with delicate beige undertones. A duvet and shams can be machine washed.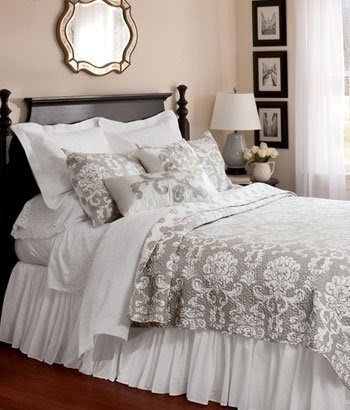 Bedding set made of cotton and decorated with sophisticated pattern. Includes comforter, shams and more. Adds freshness and elegance to each bedroom.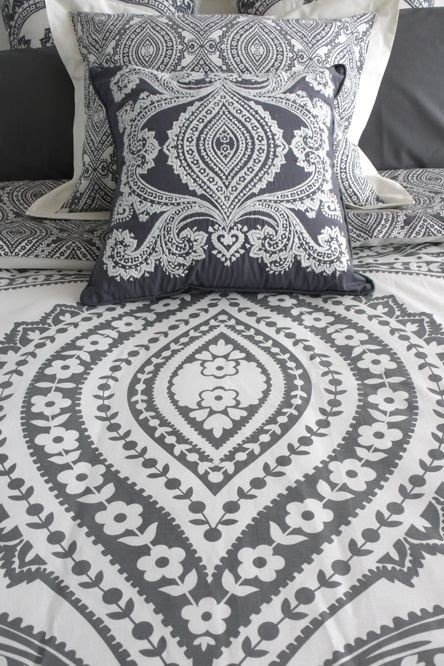 Go grey for non-intrusive chic with plush damask bedding set sporting a highly decorative paisley pattern. A marriage of gray and white means style and neutral tone that creates a decent backdrop for bold pops of color.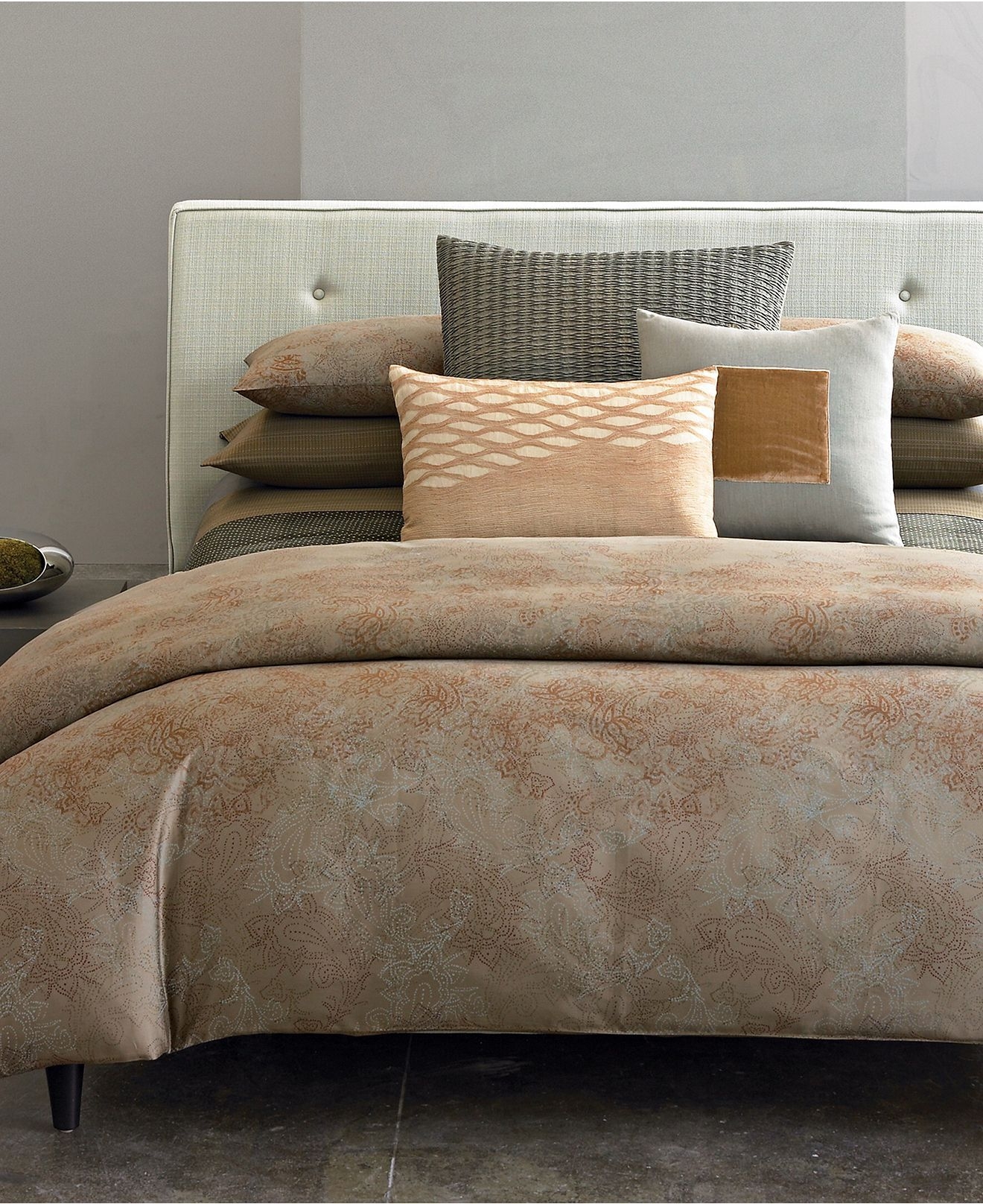 Calvin Klein Home Oxidized Paisley Bedding Collection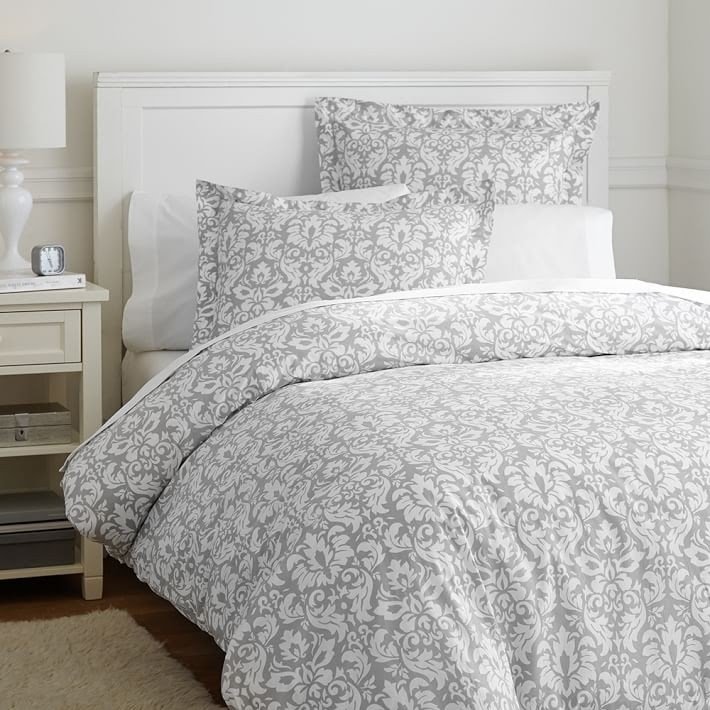 Beautiful and quite simple duvet cover that comes with a sham and sports the elegant finish of the gray pattern, while the piece itself is made from cotton percale and offer the interior ties and a hidden button closure.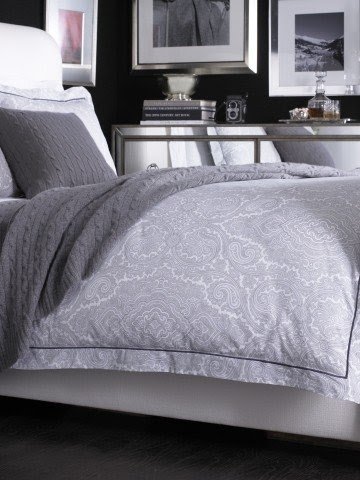 Bedding set that includes eight elements finished in gray color. They include attractive white pattern and their materials are resistant to wear or frequent washing. These bedclothes provide good comfort to their users.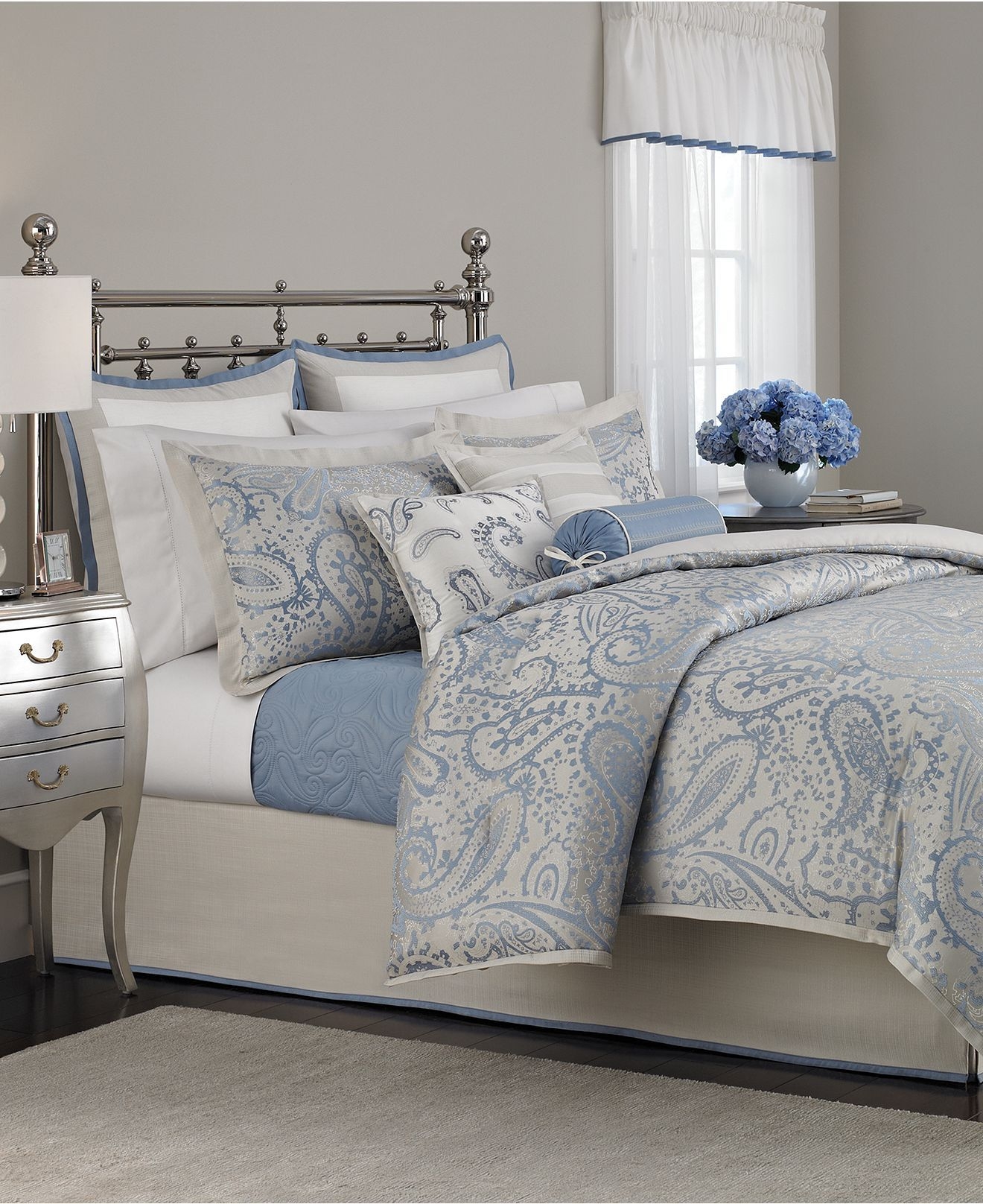 This is a white blue polyester gemstone bedding paisley window piece ...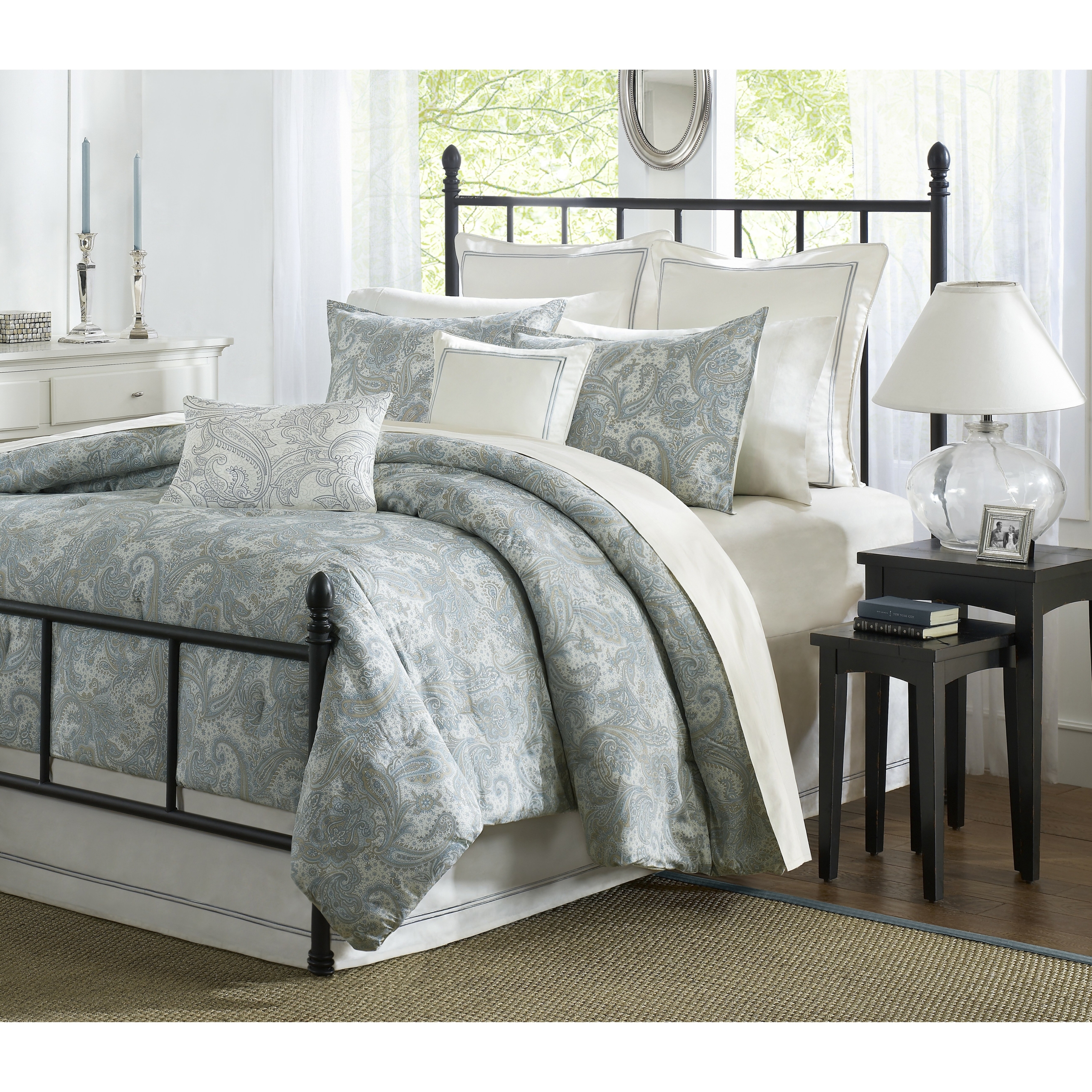 This beautiful bedding set is the perfect culmination of the decor of your bedroom. Beautiful shades of gray and white provide an unusual atmosphere. Beautiful detail design adds style and uniqueness. It's nice to jump to sleep for such beds.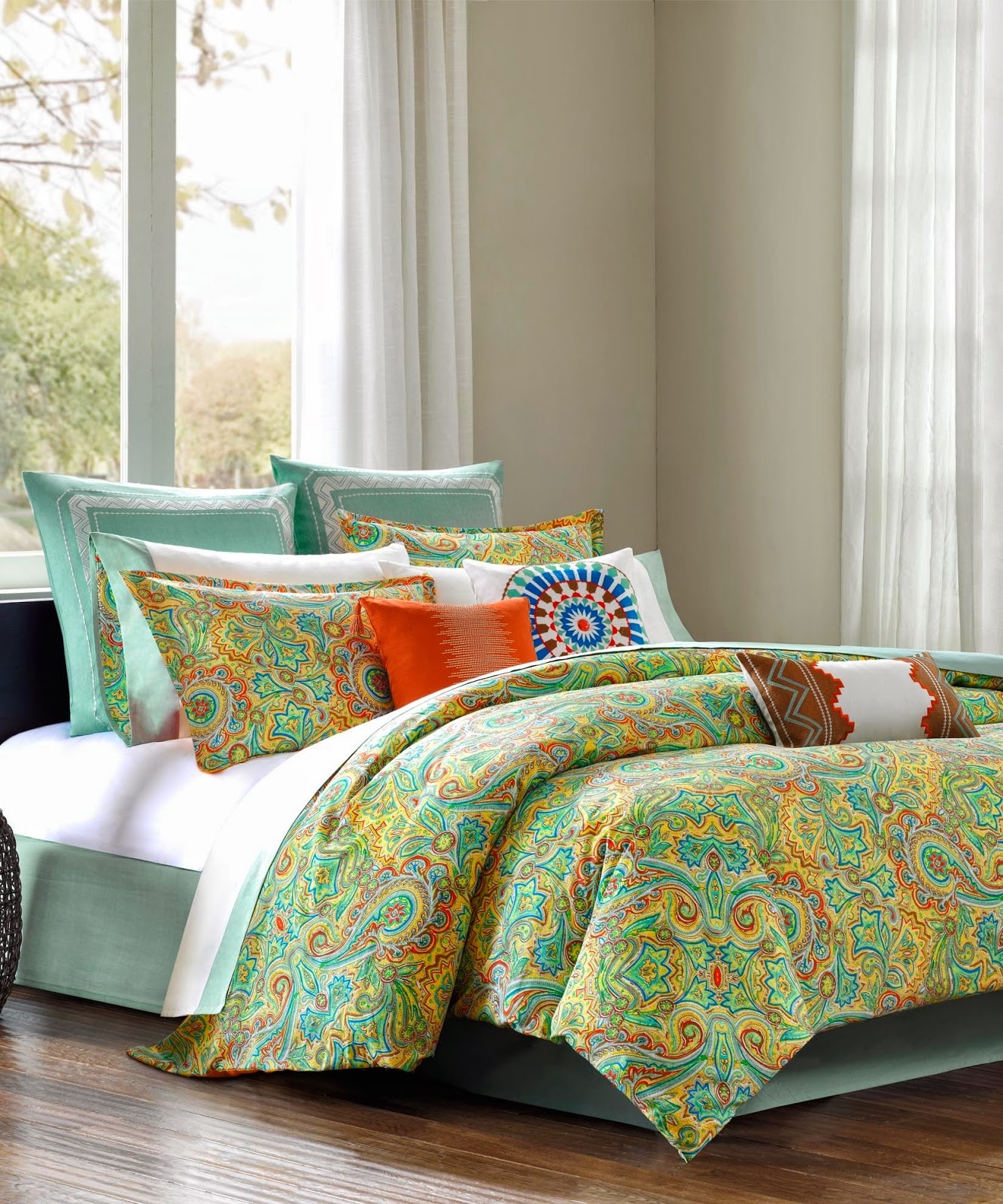 Echo Design Beacon's Paisley Bedding Collection. Yellow bedroom? this would go a complete different direction than the yellow/gray I pictured.....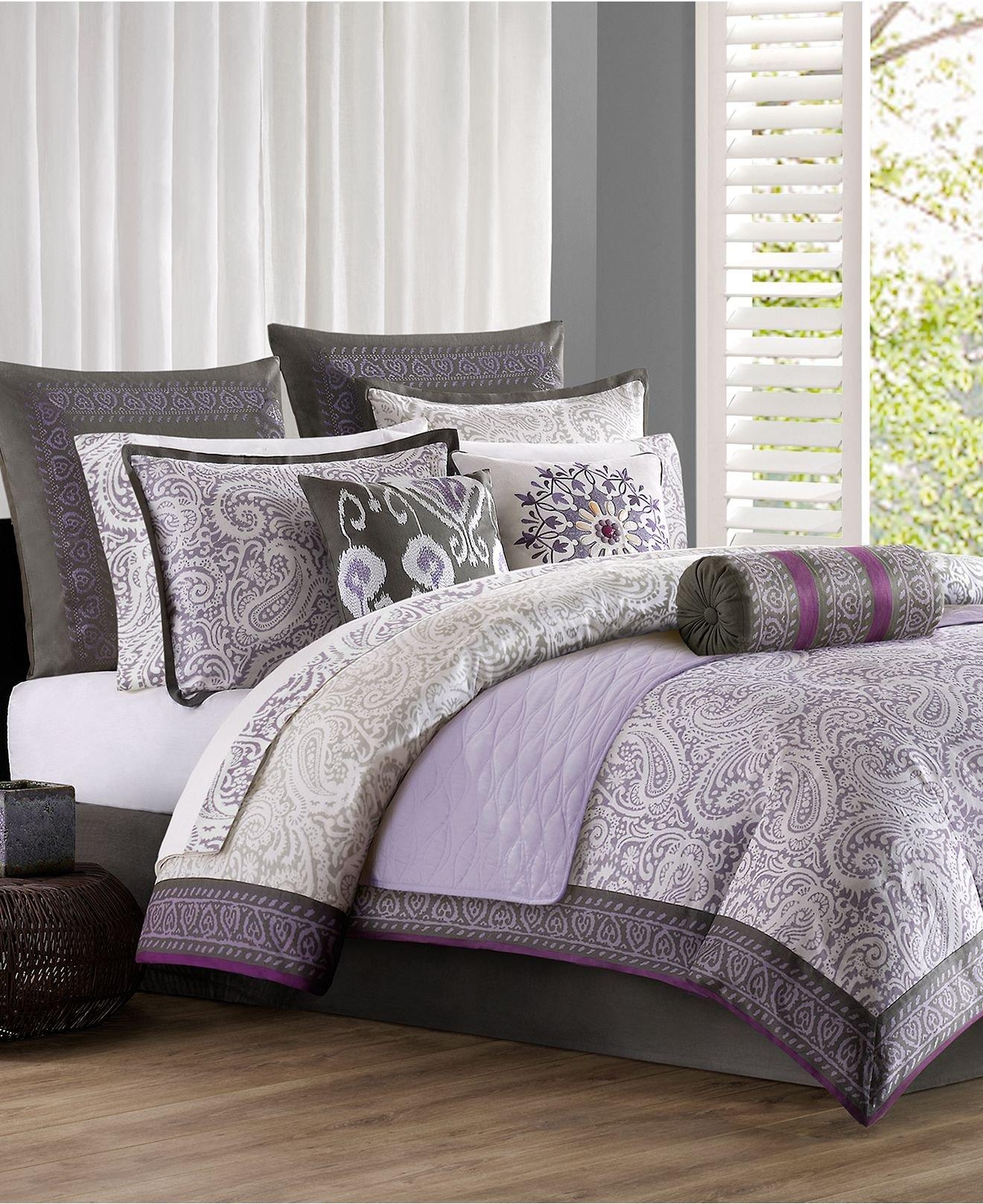 The beautiful combination of the gray paisley theme in this enchanting bedding is an excellent way to revive the interior of your bedroom. Beautiful color schemes, patterns, and superior quality materials blend into a glamorous whole.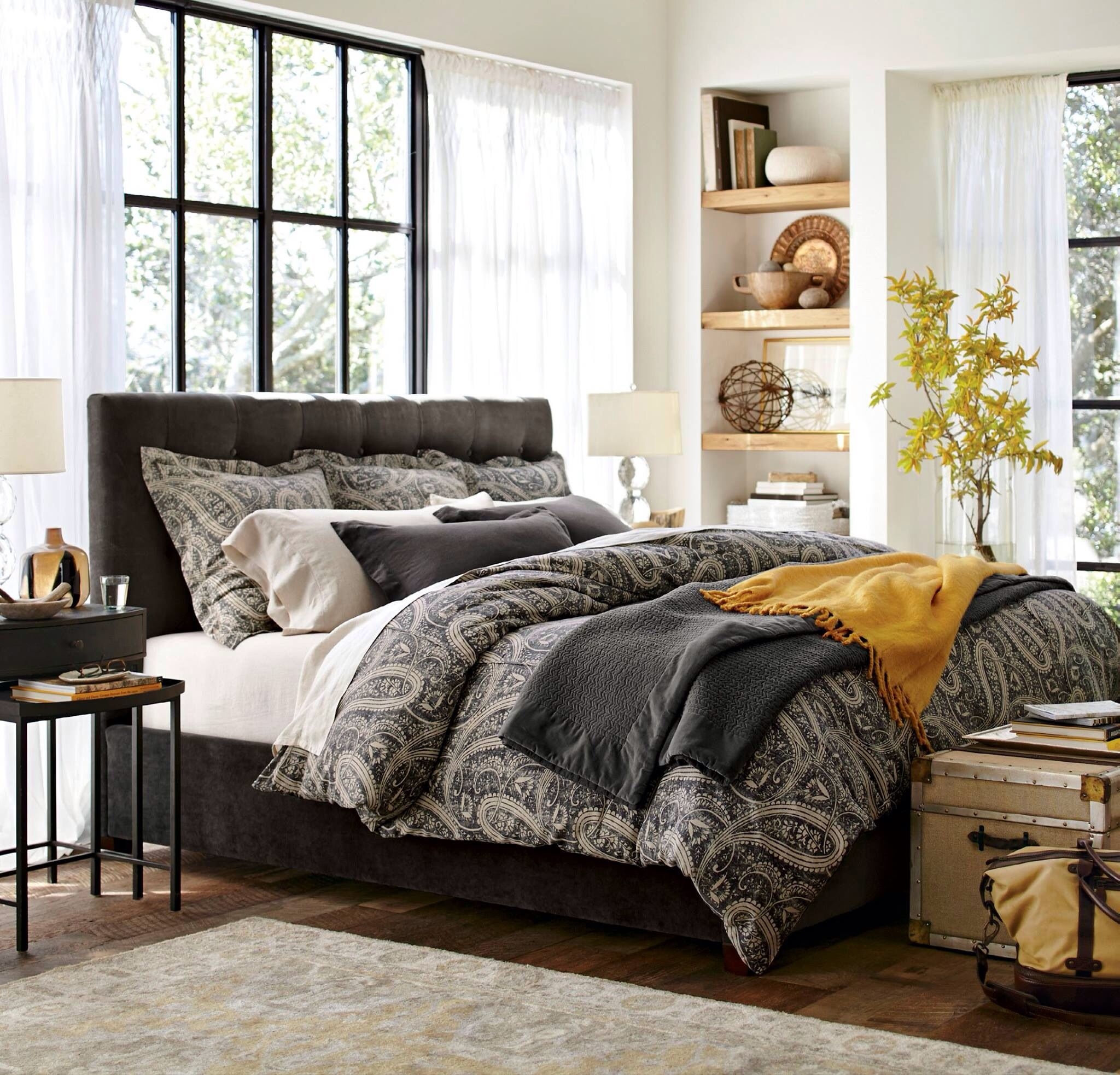 Update your bedroom for fall with cozy throws and new bedding.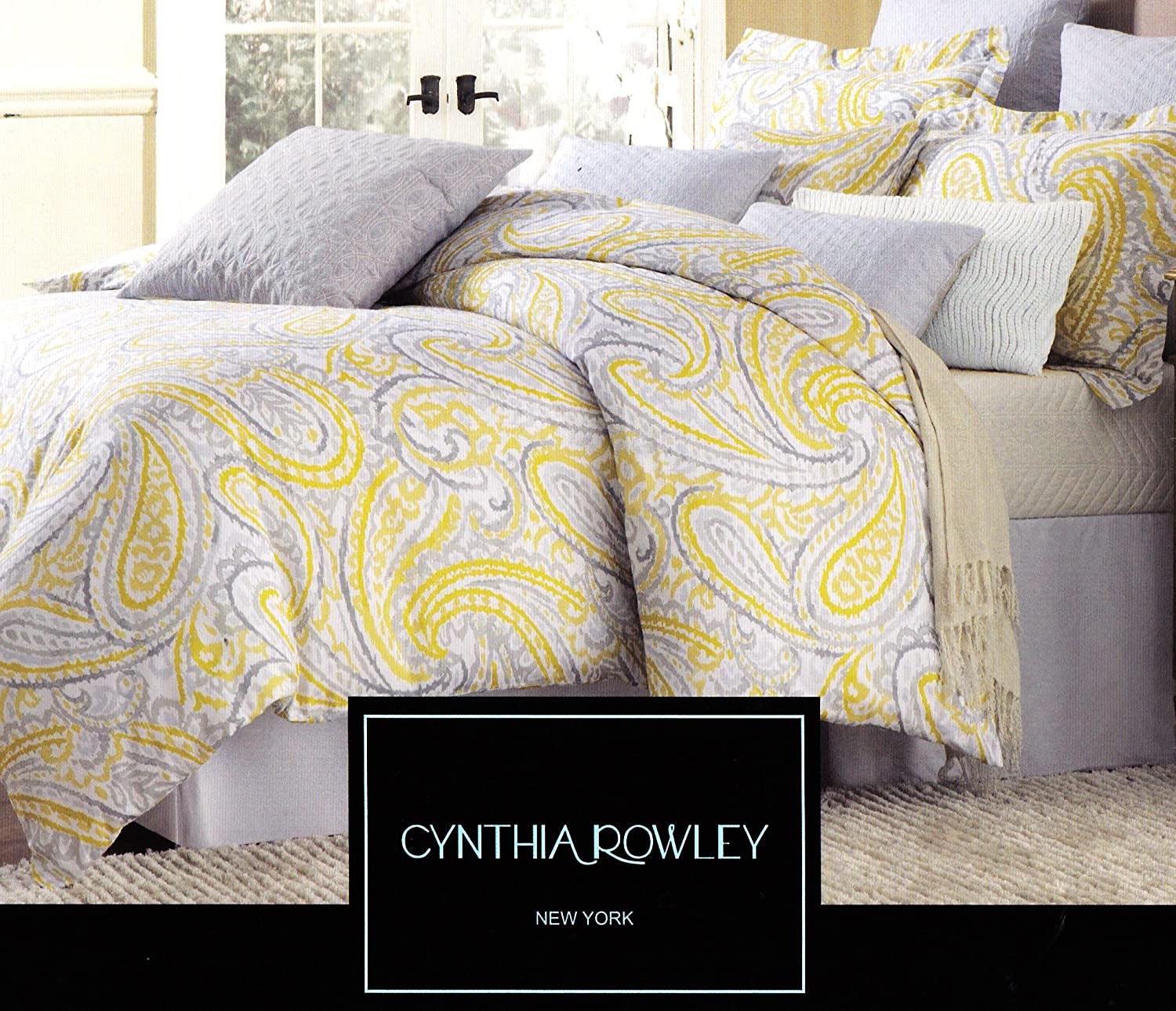 The beautiful combination of the gray paisley theme makes this enchanting bedding a great way to revive the interior of your bedroom. Unusual color schemes, patterns, and excellent materials create a unique combination.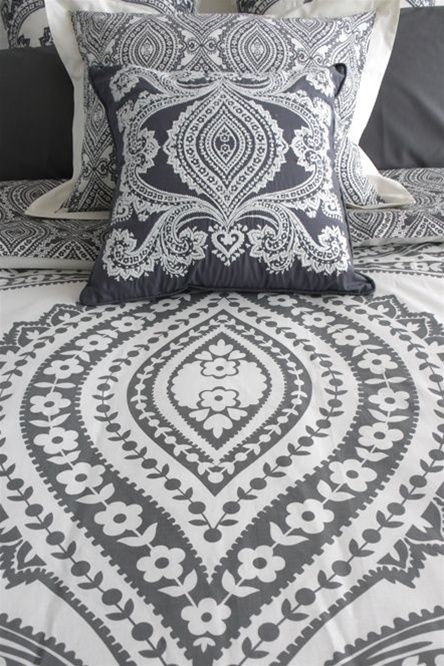 paisley in grey and white on comforter duvet and pillow shams for ...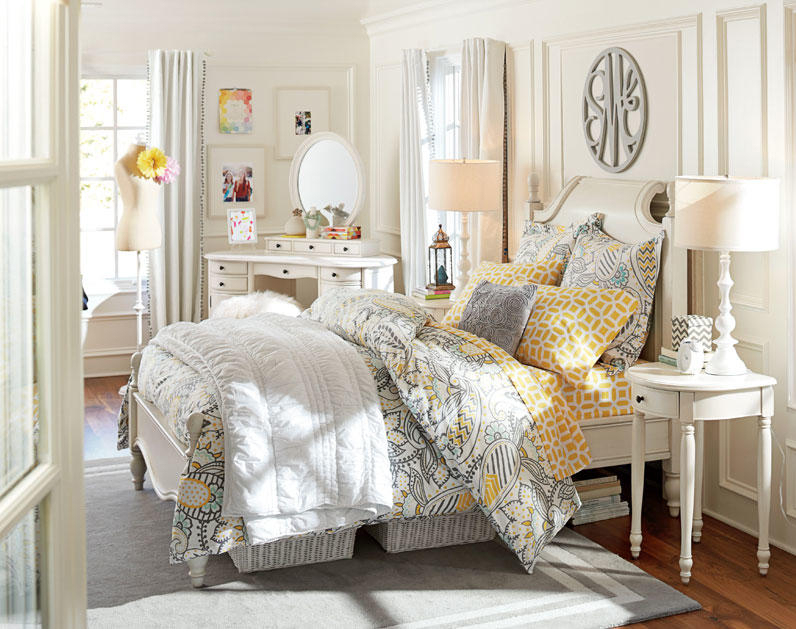 An attractive bedding set that enhances any bedroom decor thanks to its white and yellow pattern. All materials of this set are durable and they provide good comfort to its users. They look very nice in neutral-colored bedrooms.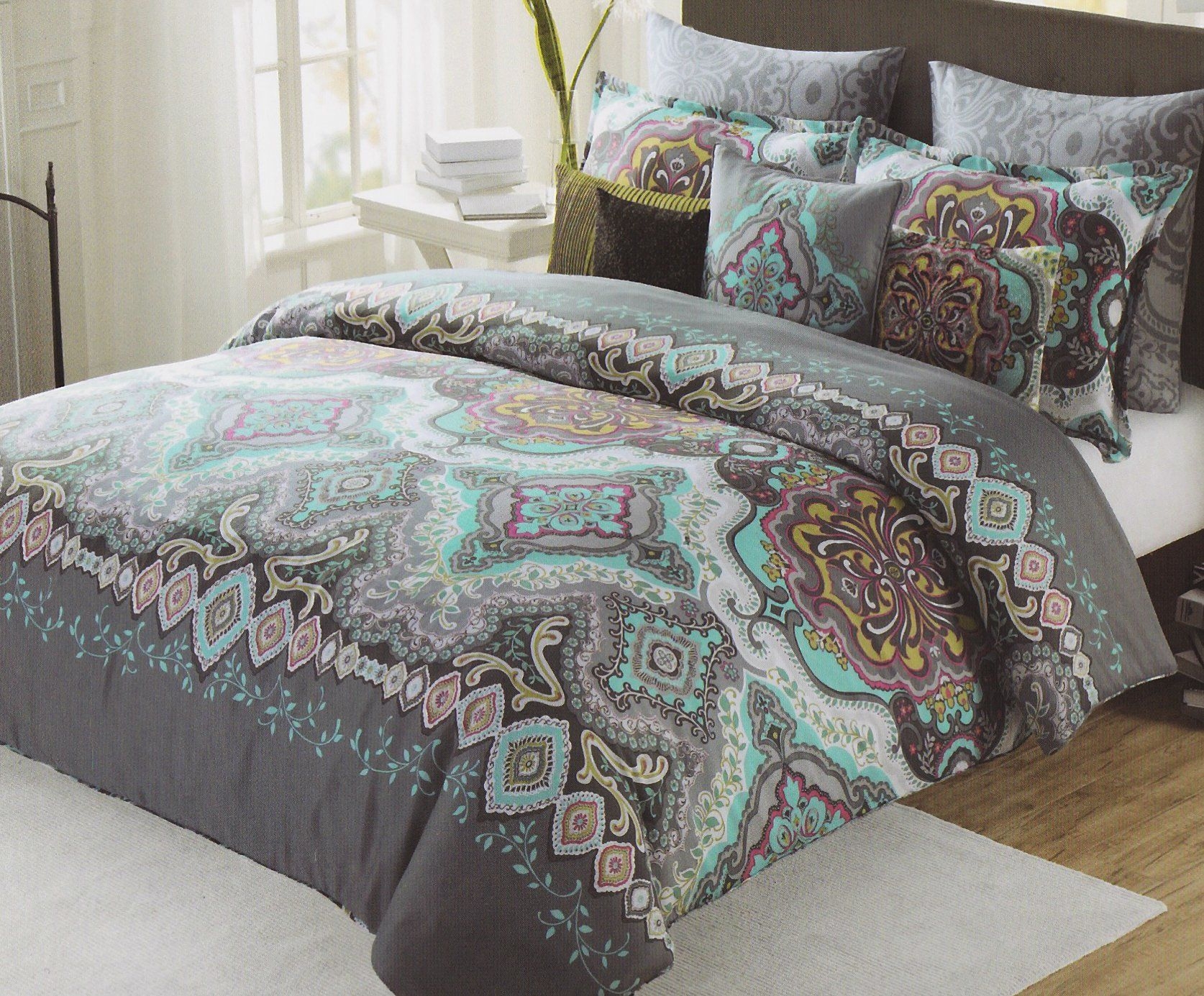 This is a duvet cover set that includes three elements. They are made of luxurious materials that are attractive, durable and comfortable. The cover measures 90 by 90-inch and it is available with two standard shams.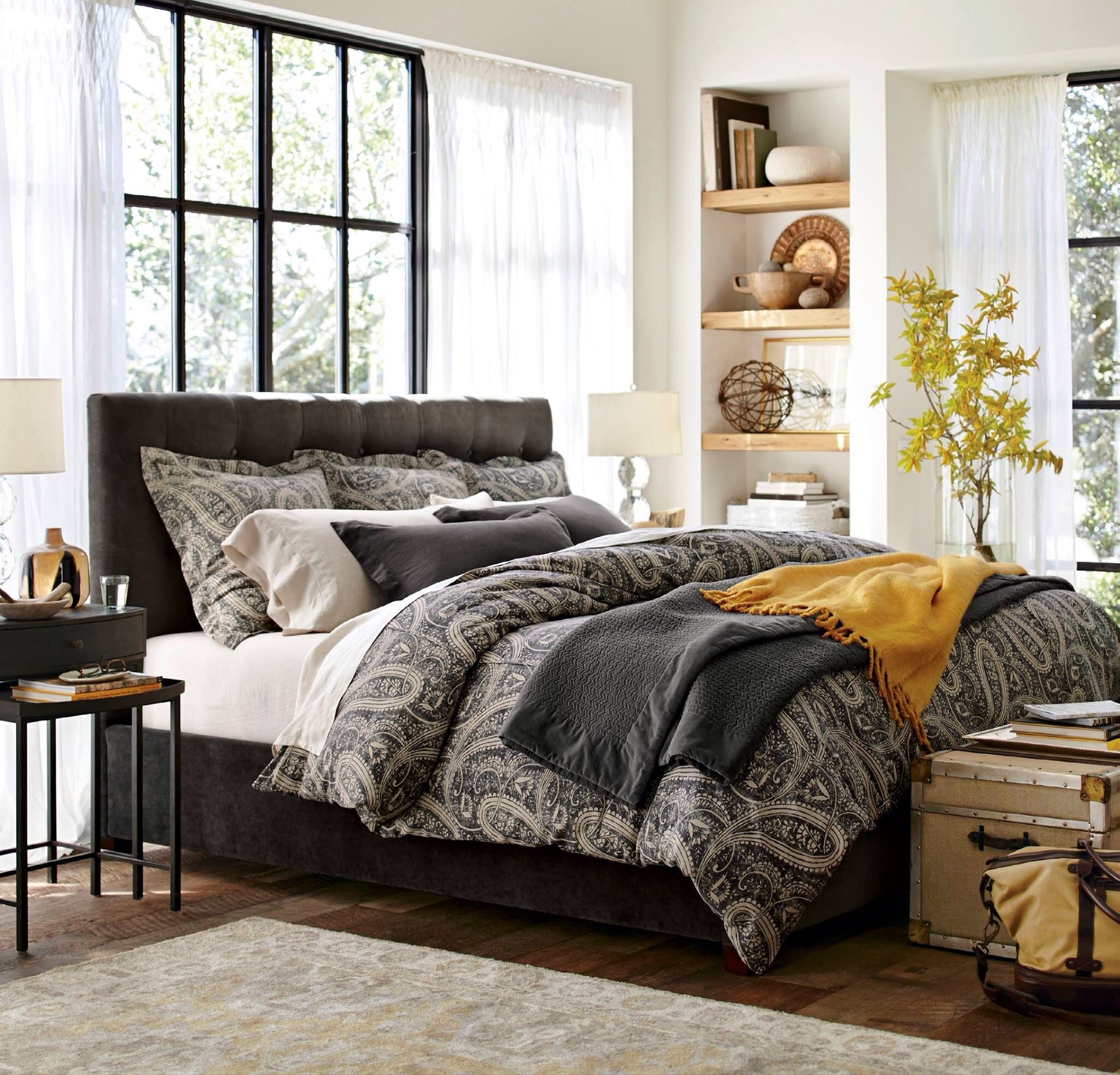 Kashmir Bedding Set & More - jcpenney Guest? @Peggy Geren this would be so pretty for your guest room!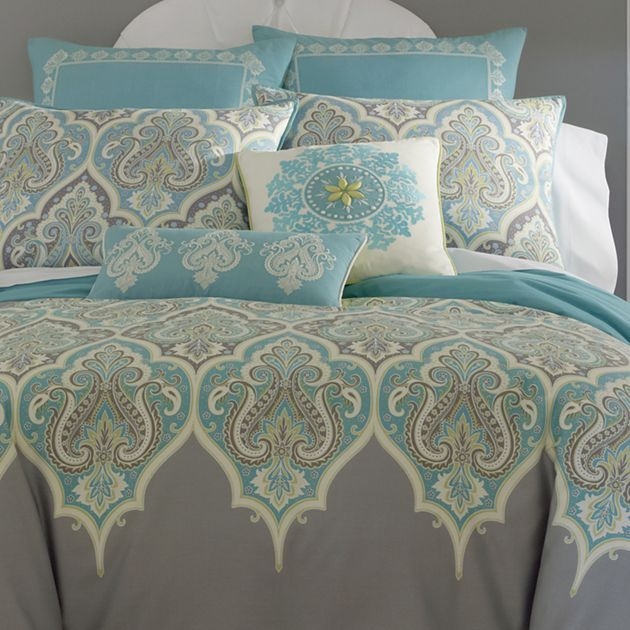 Lucianna Medallion Duvet Cover & Sham - Gray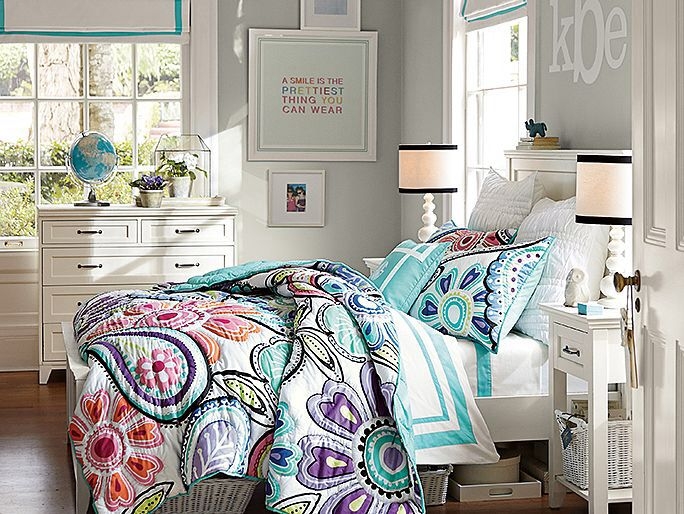 A snazzy decoration for your bed that will snuggle you with striking patterns and vivid colors. The bedding set is very comfy and nice-to-touch, designed of quality, machine washable material. It can also be used as a gorgeous duvet.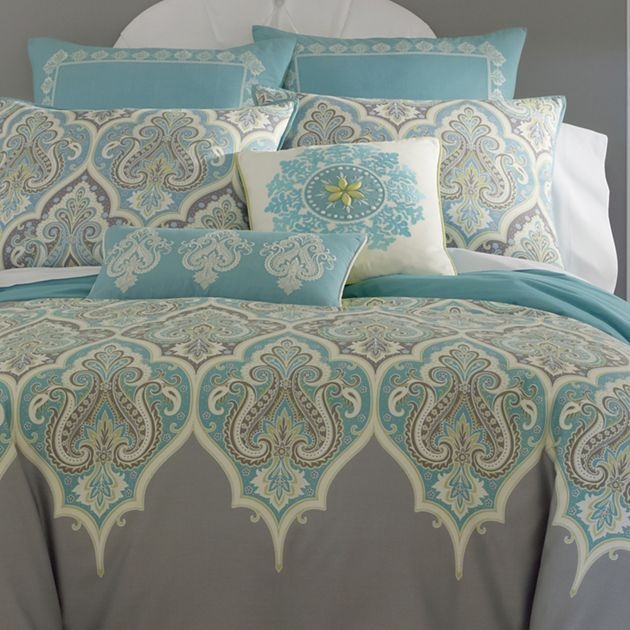 I love this Comforter set! IT's on sale at Penneys for $80. Kashmir Comforter Set - jcpenney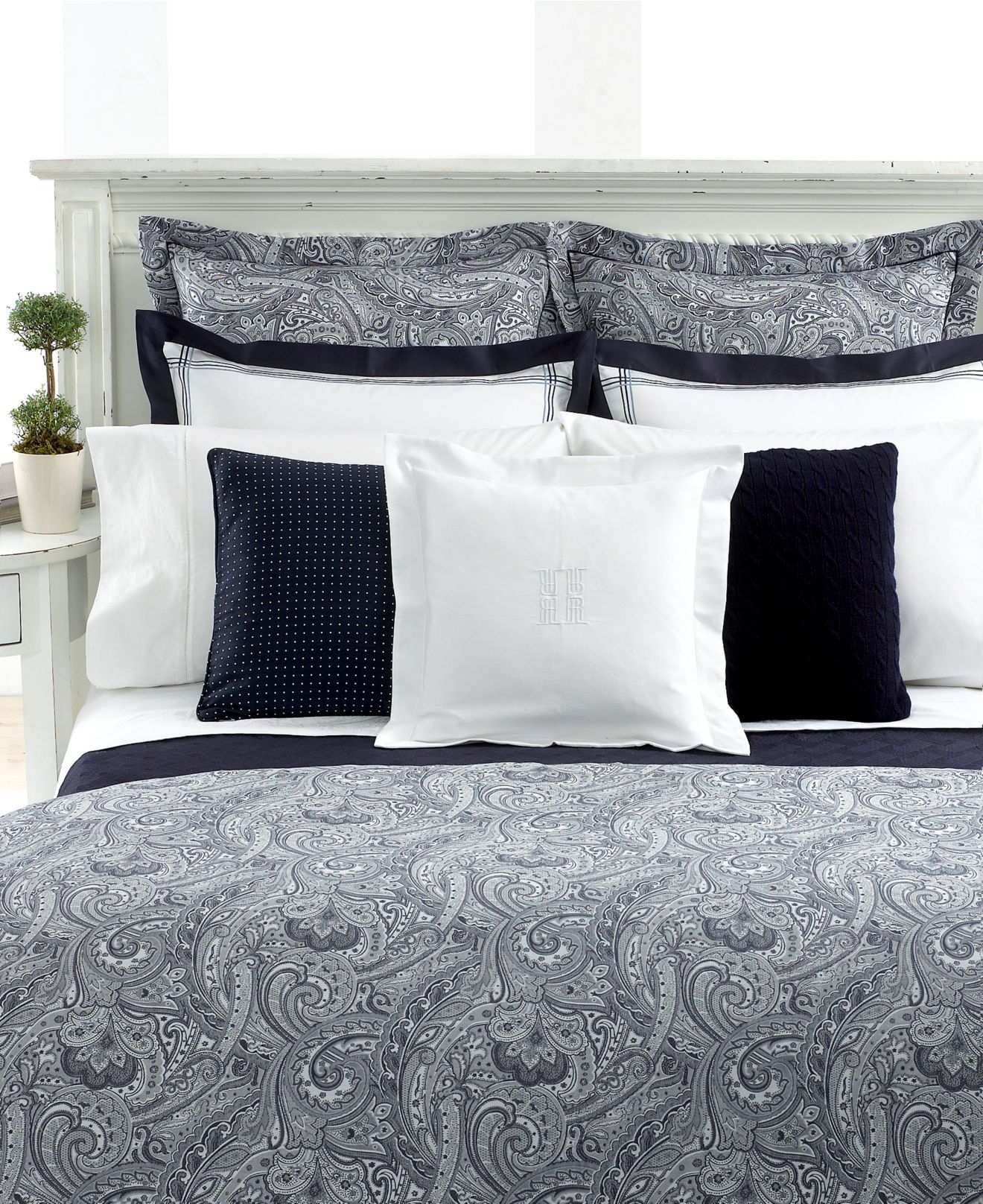 If you're into mixing and matching different design styles, this bedroom setup will surely interest you. Just look at the way the traditional bedding with a beautiful pattern contrast with the simple, modern pillows!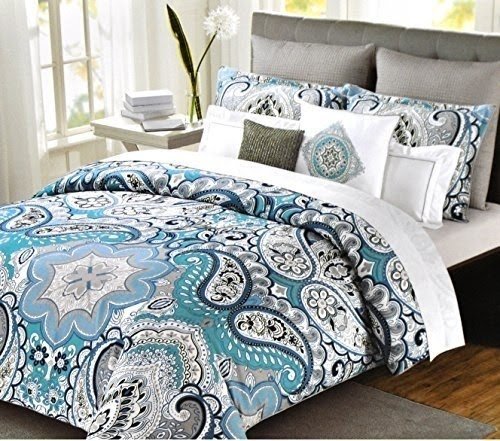 Elegant contemporary bedding set made of cotton. A duvet and larger rectangular shams feature Turkish floral motifs in prevalent blues and whites with beige and greyish accents. Smaller shams are white and has medallion designs.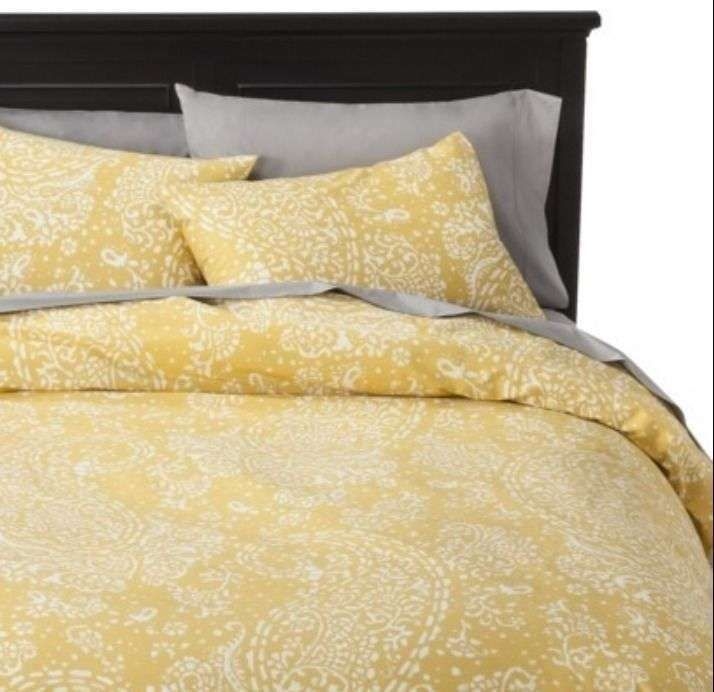 This set of bedclothes includes a duvet cover and covers for pillows. The material is solid and soft, so the level of comfort is very high. An attractive color and pattern improve the decoration of a bedroom.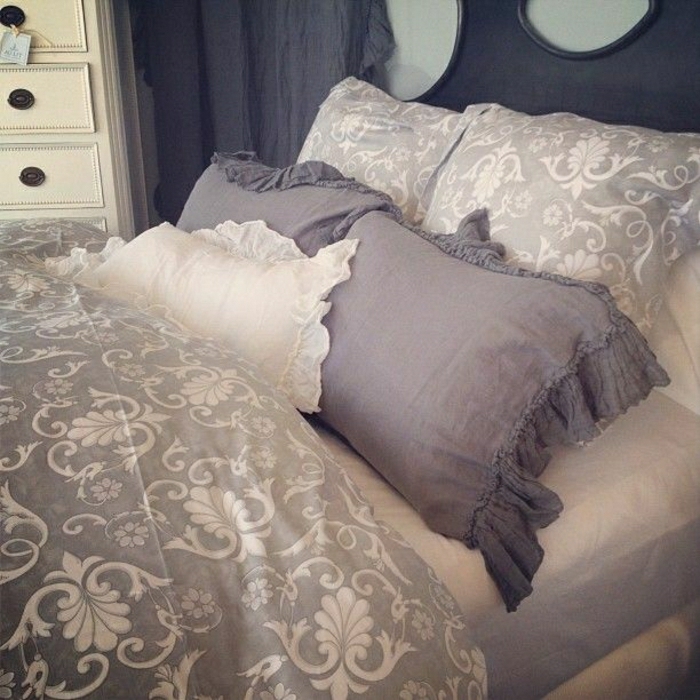 This gray paisley bedding set makes a great addition to your bedroom. The combination of gray base and white patterns embodies elegance and style, that will fit into all contemporary bedrooms.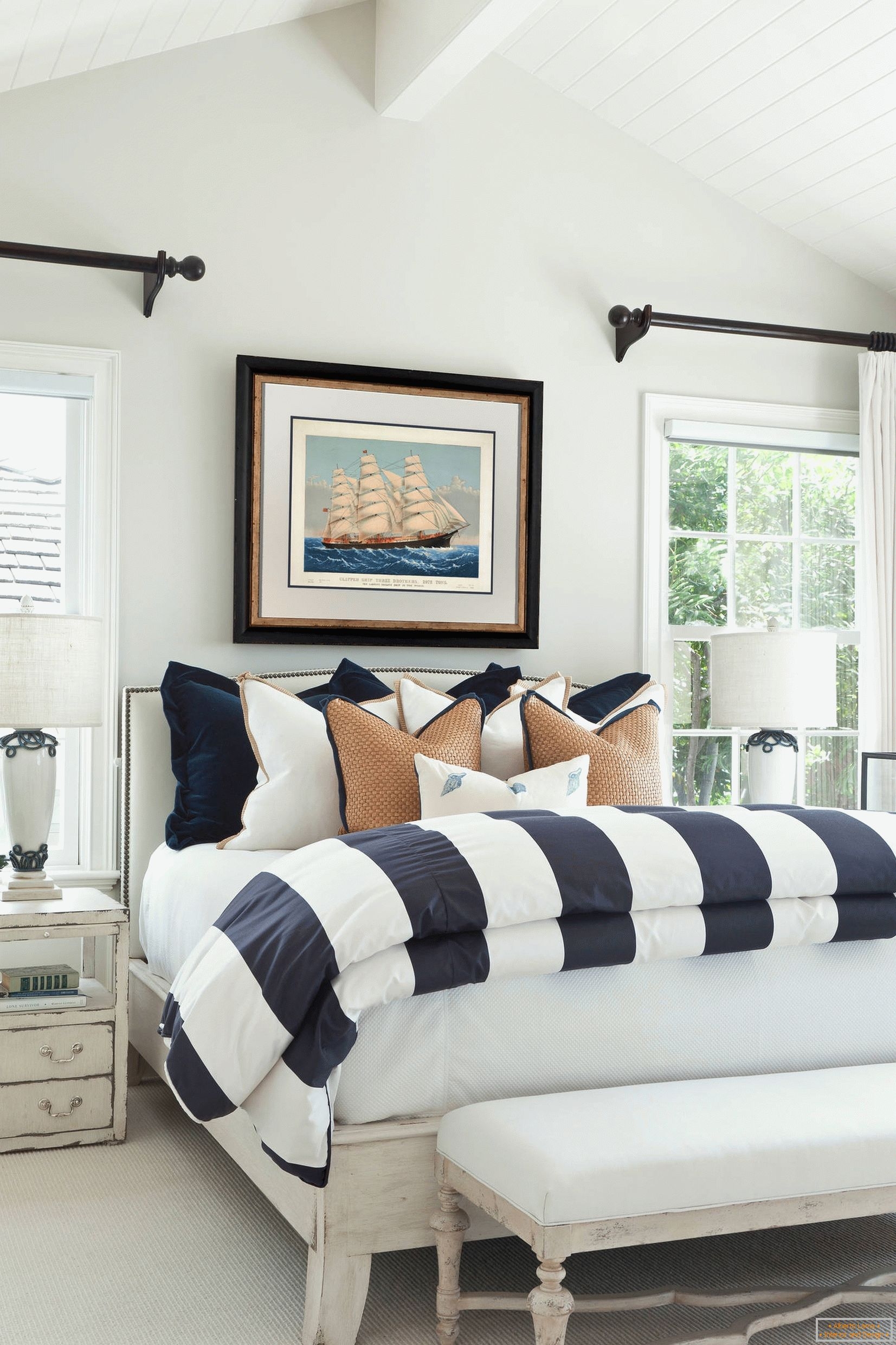 This bedding set is not outrightly nautical: it only alludes to the ocean theme with its navy blue elements. These are teamed with silver paisley pattern and fresh plain white. Some pills have decorous frills.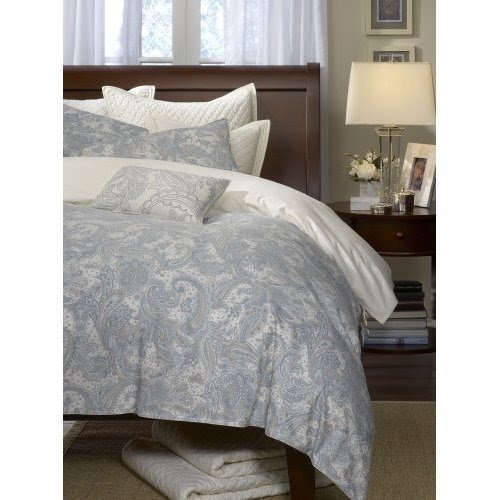 A duvet set appropriate for queen size and full beds. The set includes two standard-size shams with decorative, 18th century inspired pattern in pewter blue. The set is made of 100% cotton and may be machine washed.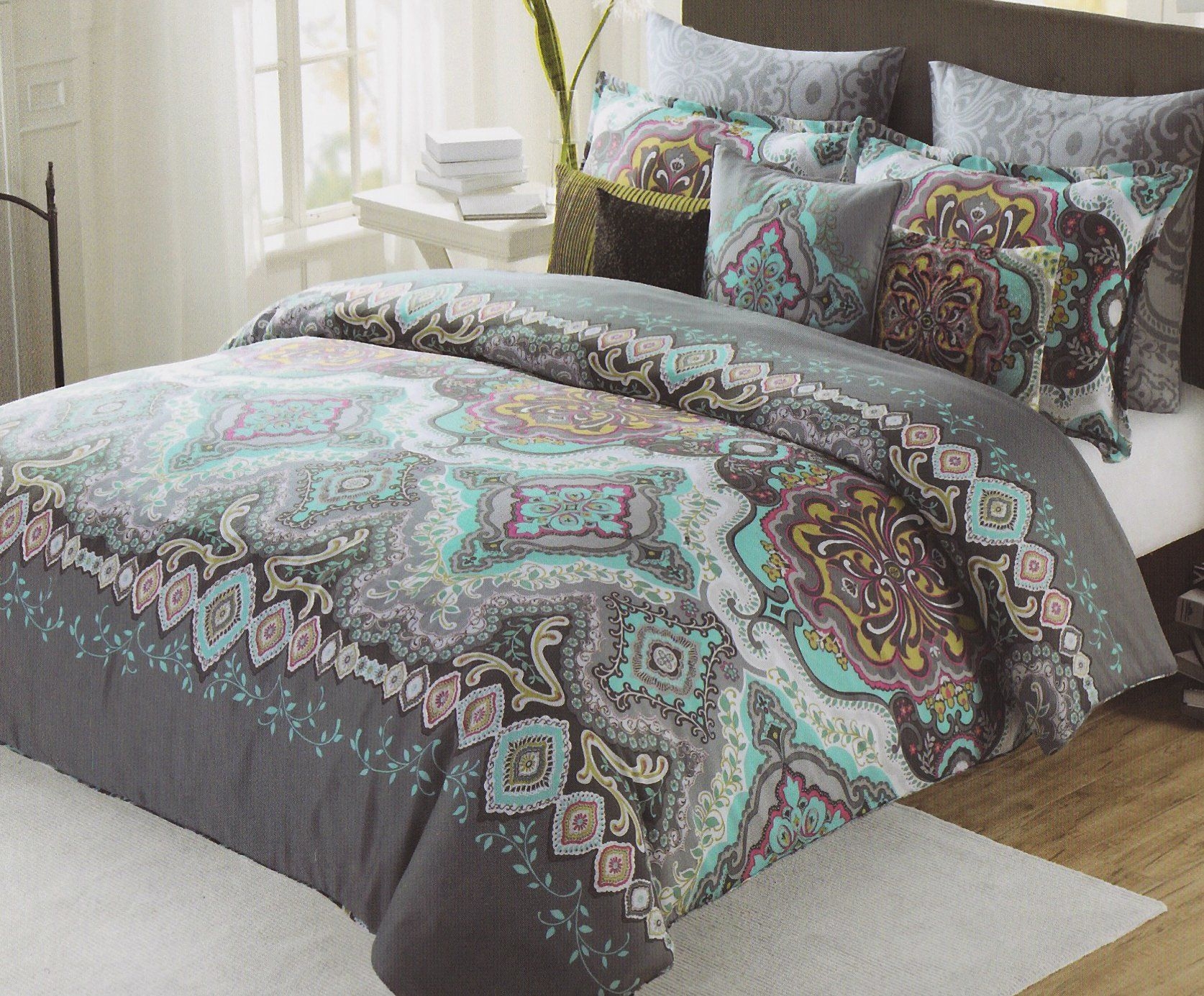 parisian bedroom // fall sneak peek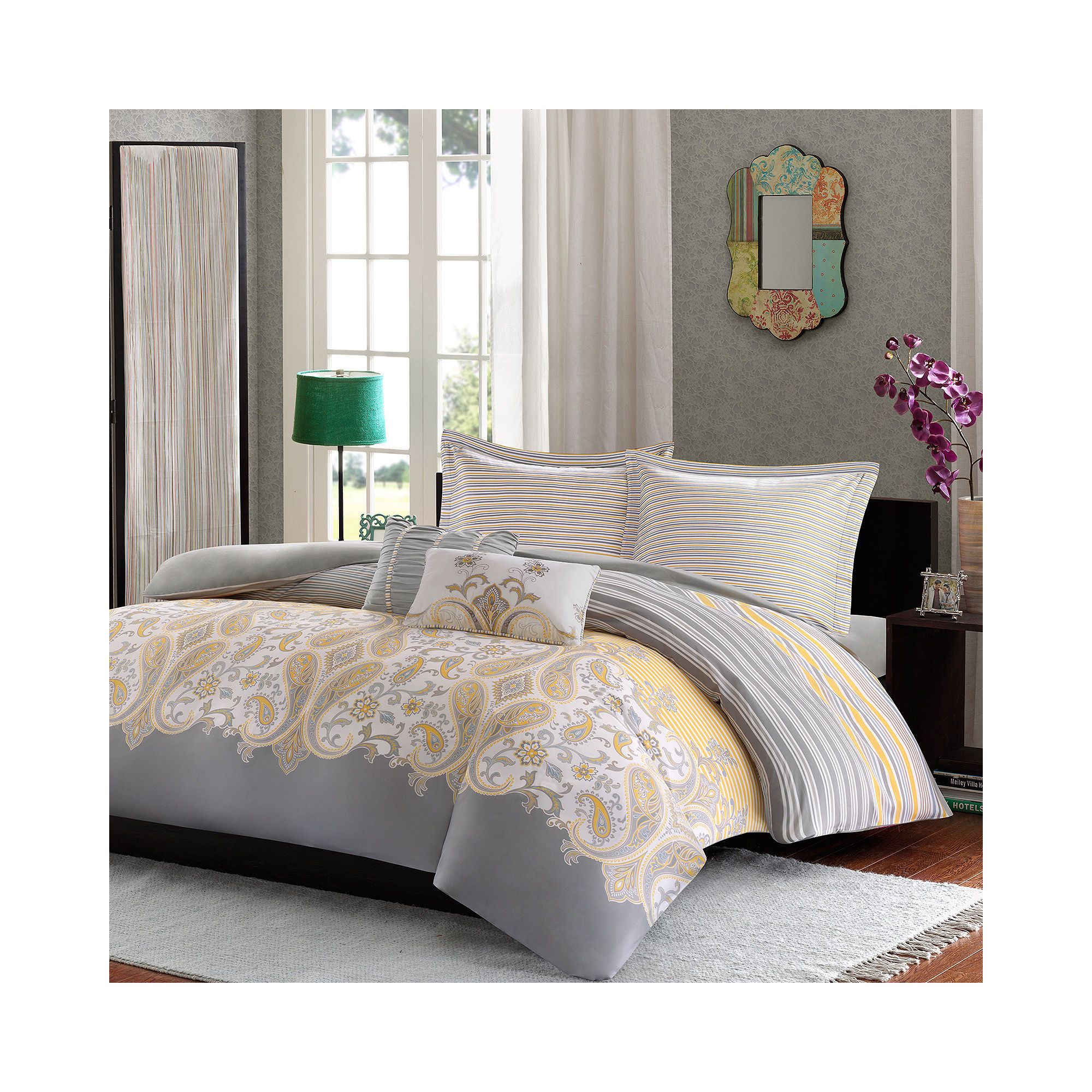 Bedroom, Yellow And Grey Floral Bedding: Floral Motif Bedding, Giving ...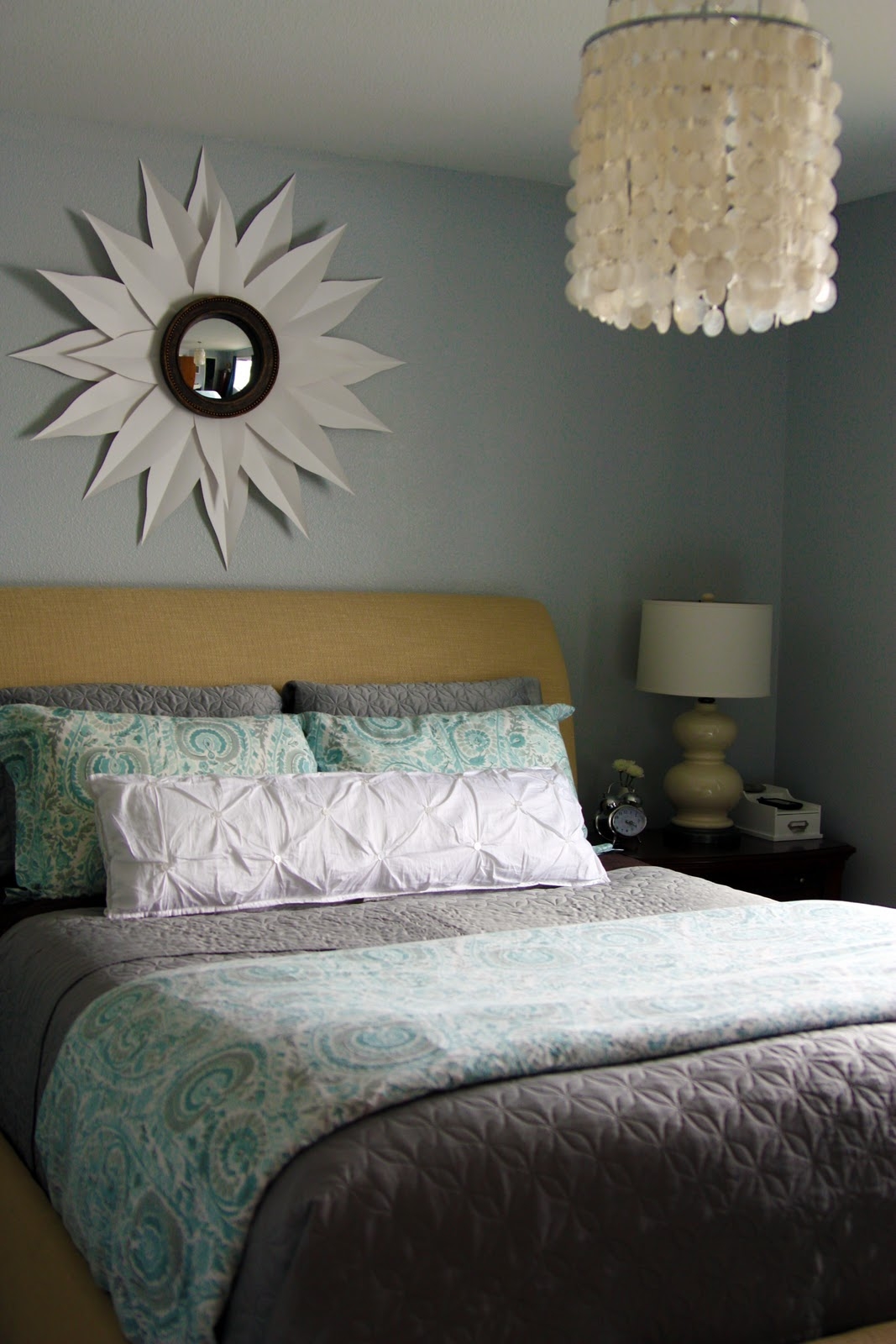 I l.o.v.e. this bedroom! So restful and serene. (paint color is: Behr's Premium Plus Ultra in Burnished Metal)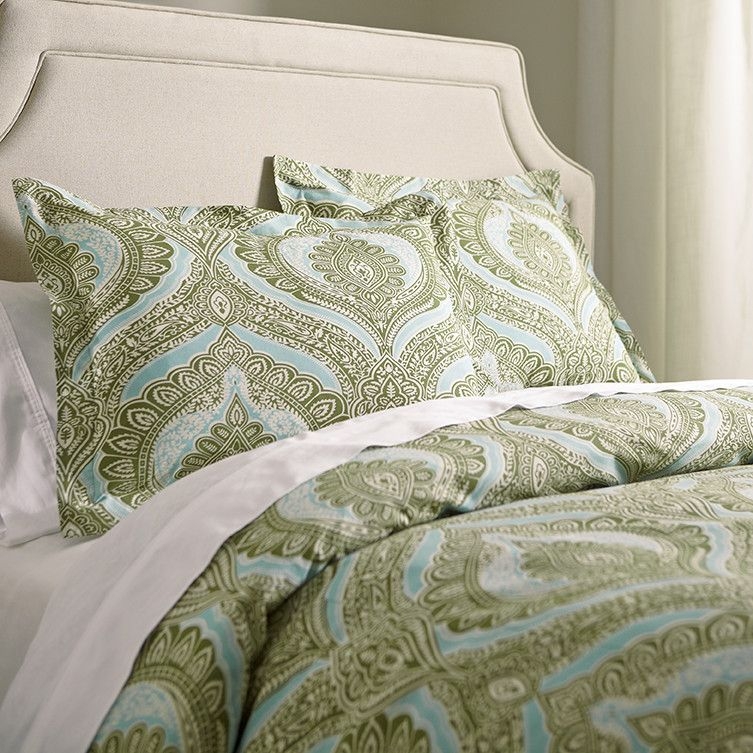 Pippa Duvet Set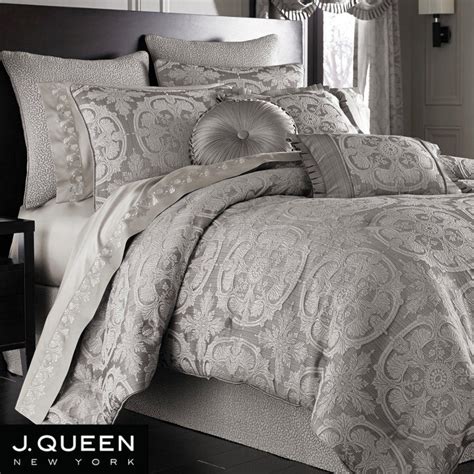 Home > Claremont Gray Comforter Bedding by J Queen New York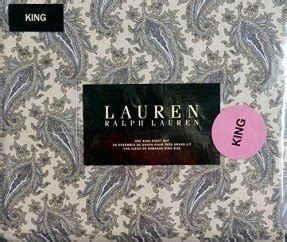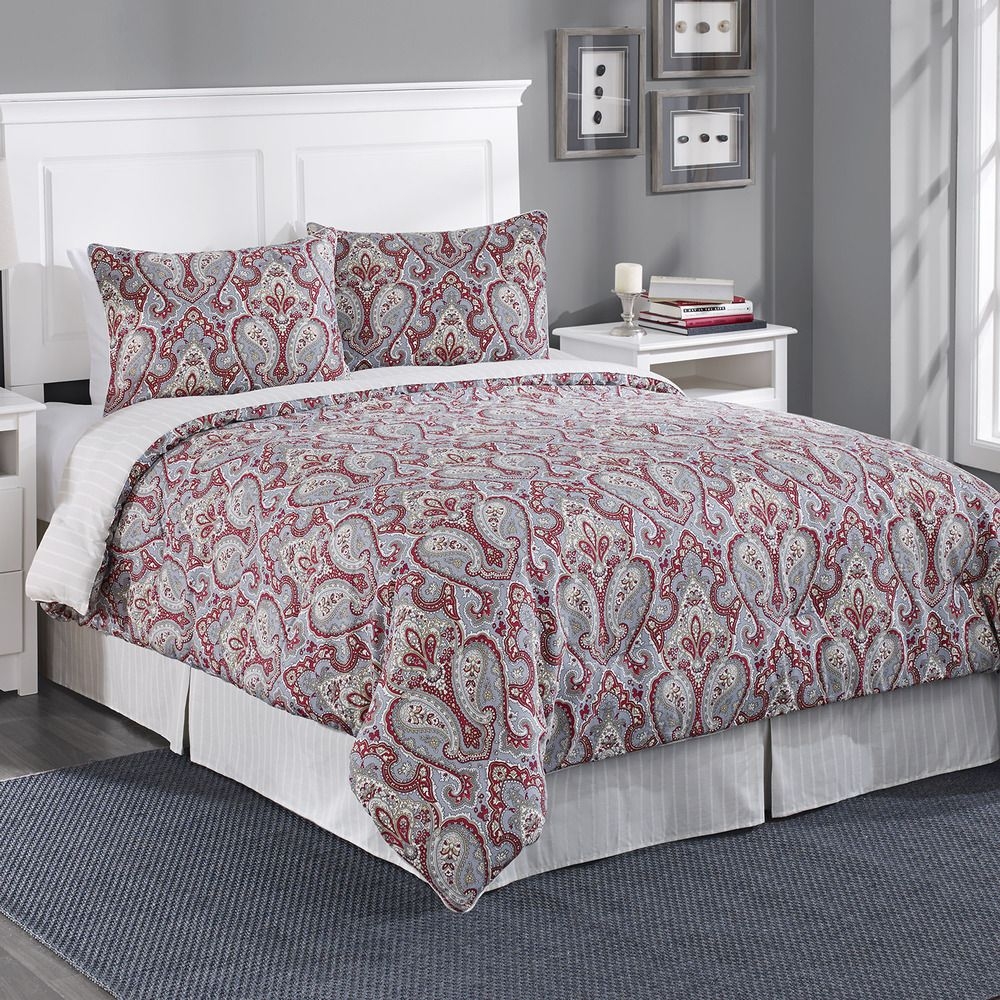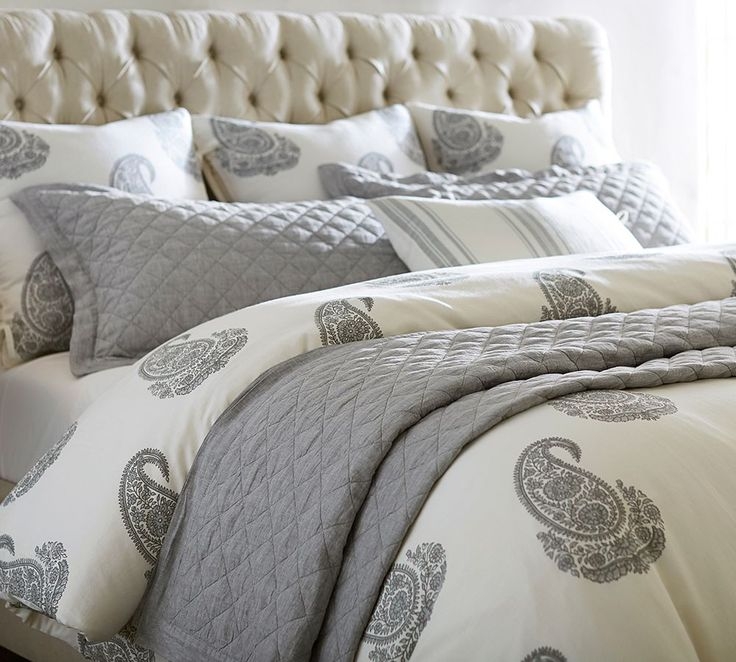 Elegant bedding set with decorative quilting. It is made of soft fabric and decorated with sophisticated ornamentation. Stylish accent for each bedroom according to taste. Excellent gift idea.