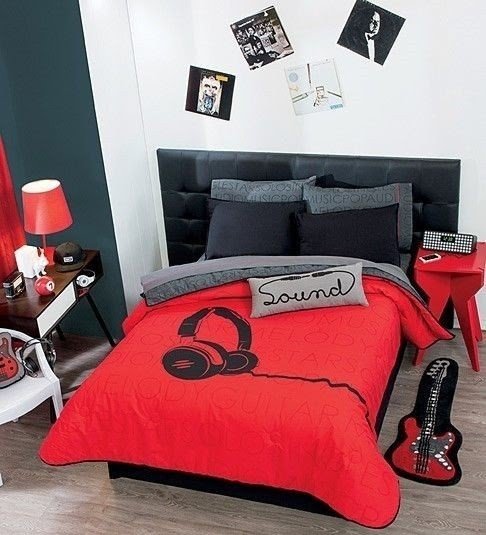 New Boys Red Gray Headphones Music Sound Comforter Bedding Sheet Set Reversible
Reversible bedding set for boys and girls who love music. Black and gray pillow shams come with gray and red quilt with a big headphones print. To be matched with guitar printed rug and a throw pillow with "Sound" sign.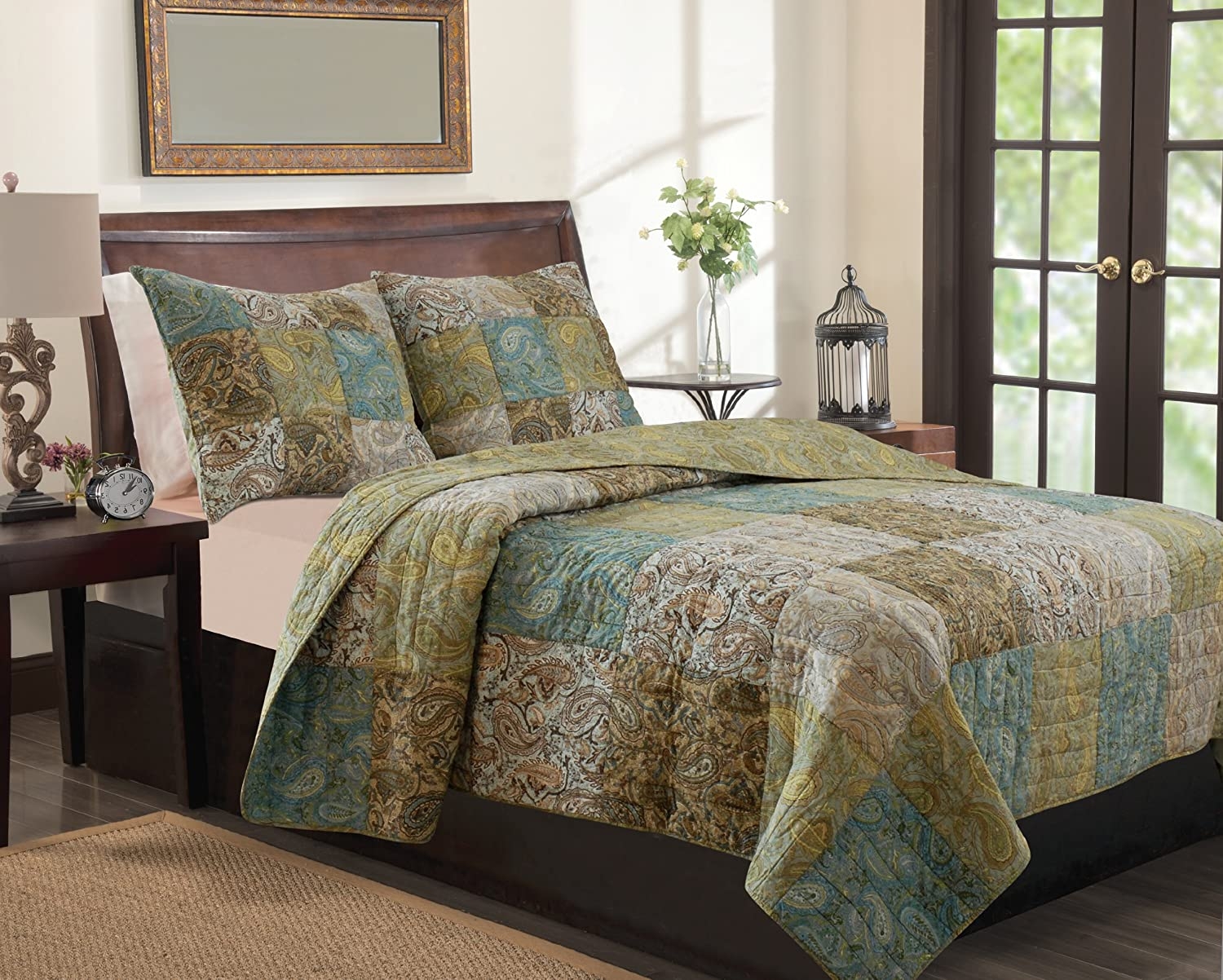 Vintage paisley 3 piece quilt set
A fashionable set of bedclothes that includes a quilt and two pillow shams. Its patchwork style enhances any bedroom decor. These products are made of 100% cotton that is extra soft, comfortable and resistant to excessive wear.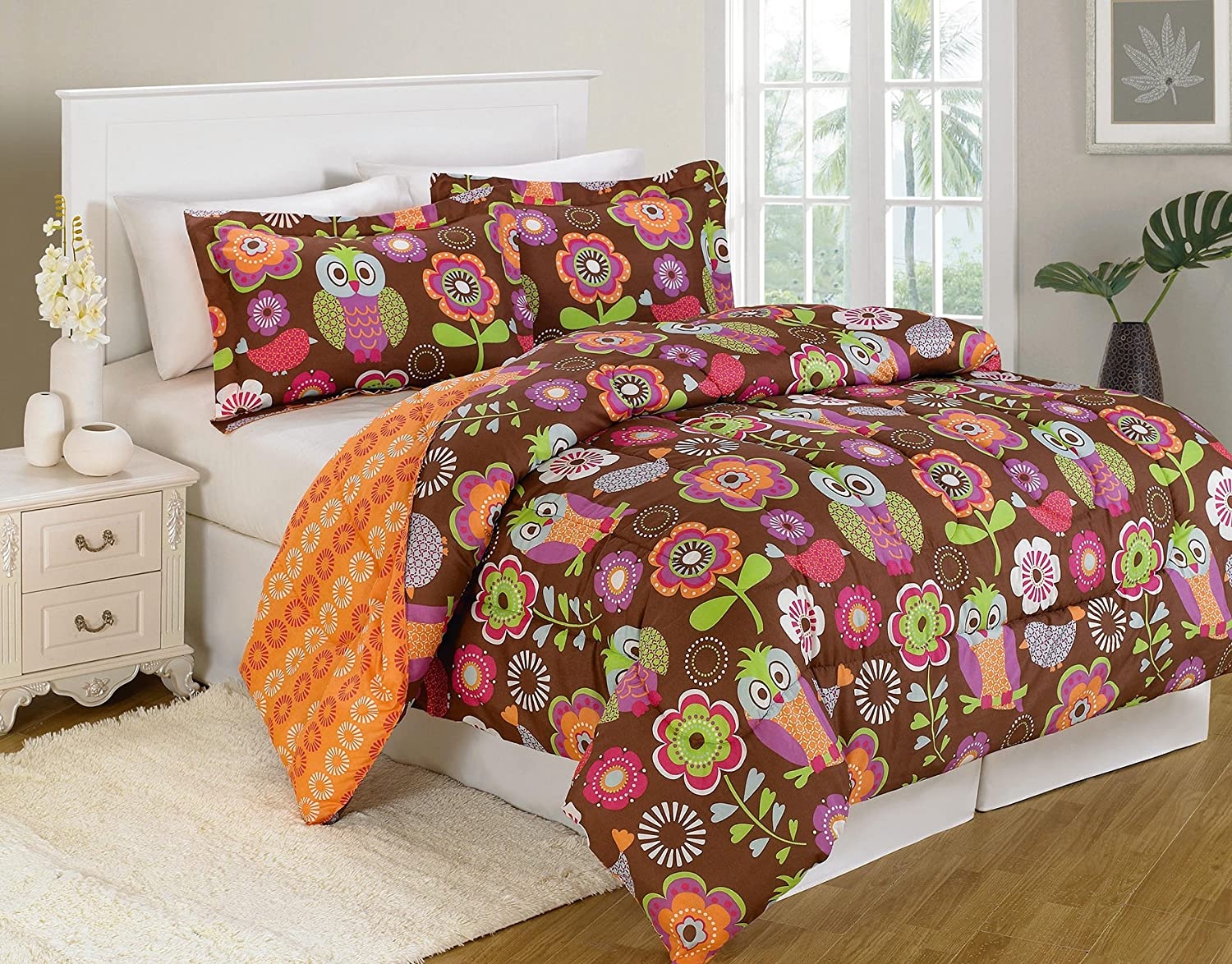 Night owl comforter
A high quality comforter set that features a very attractive pattern with owls and flowers. These bedclothes are made of double brushed microfiber and they are filled with polyester. These are machine washable products.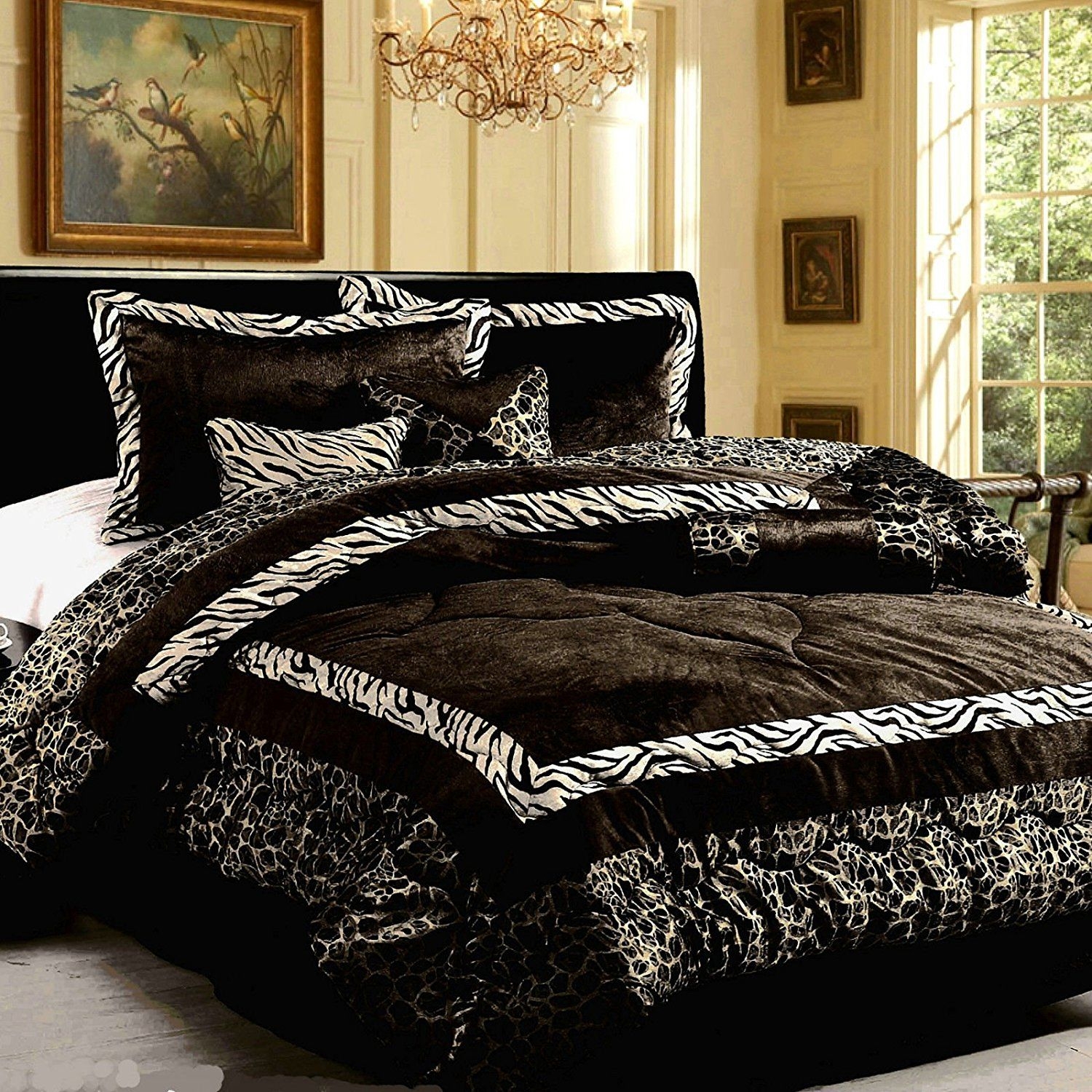 This amazing comforter set will instantly make any bedroom feel complete and welcoming with the fun and charming zebra patterns and a overall black and white finish that will prove to be versatile and neutral, becoming an easy solution for any decor.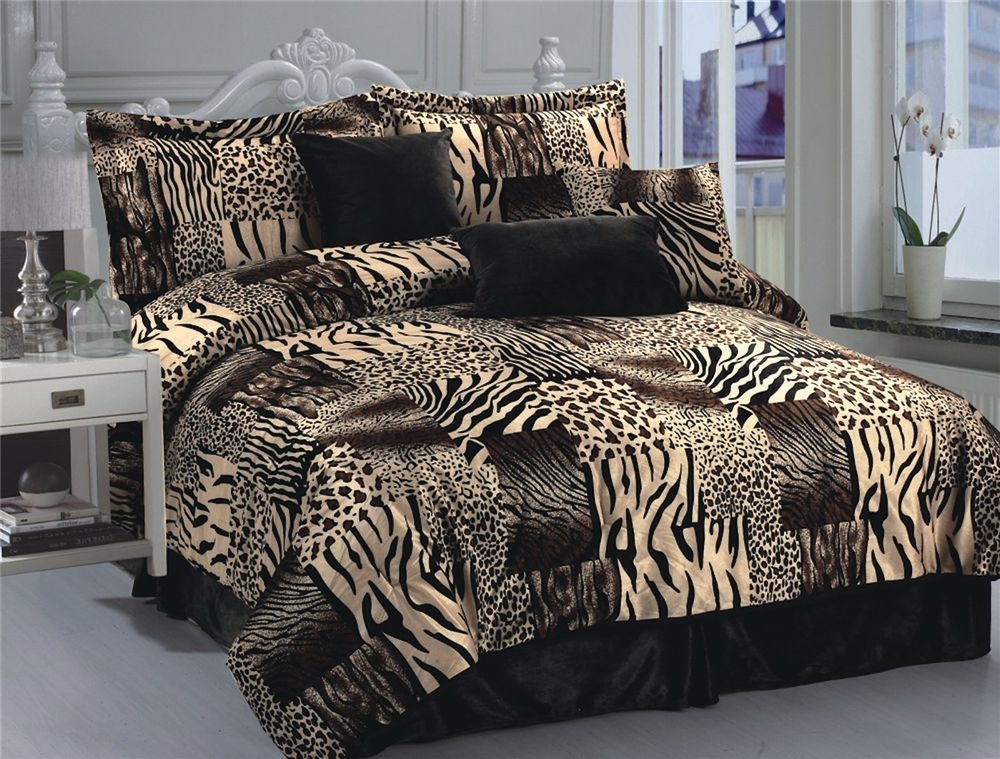 The efficient and very stylish animal print comforter set is a perfect combination of interesting details and excellent materials. A set of covers with cushions allows bringing to the decor a bit predatory atmosphere.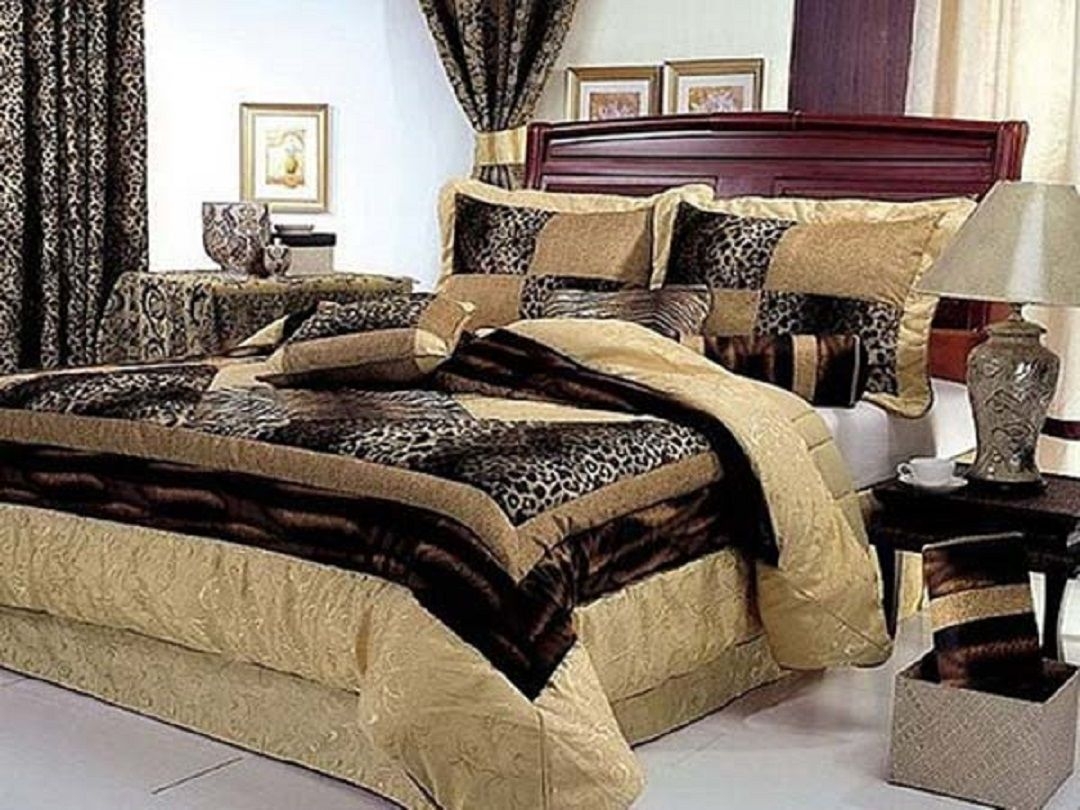 Stylish comforter set for any bedroom according to taste and need. It is made of soft cotton and decorated with animal theme. Includes shams, pillowcases, comforter and more.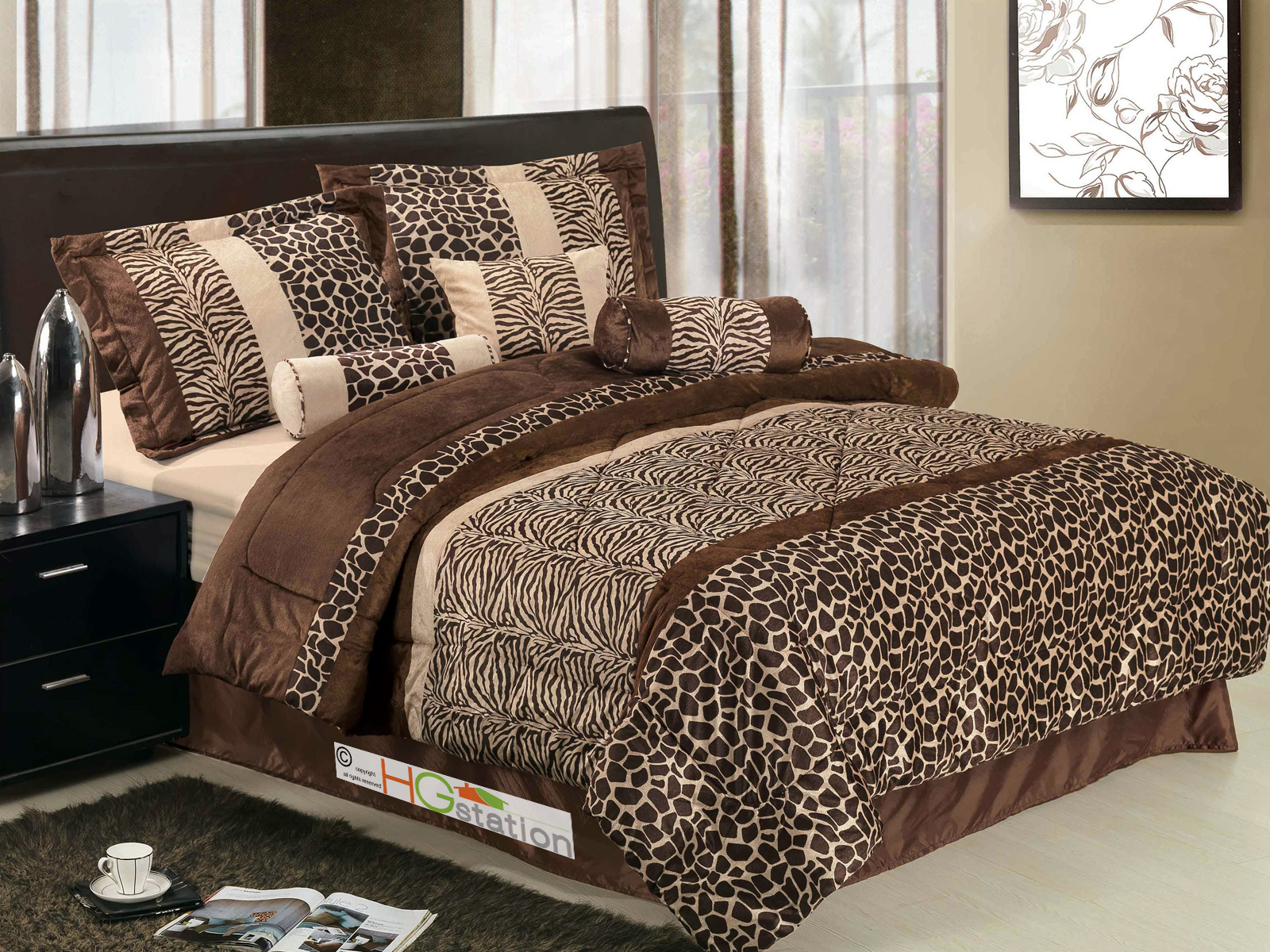 King size comforter set in plumage, giraffe and zebra prints - are an exotic accent that will make you feel like on a safari. This exotic bed linen has brown and white, beige shades - in various configurations of animal accents. Perfect for king size bed.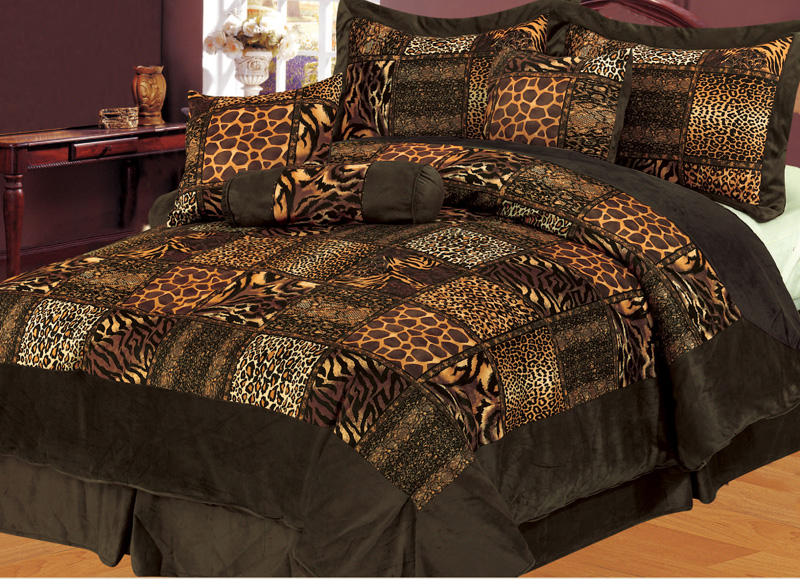 King size animal print comforter set that's perfect for anyone who wants to create a wild, romantic bedroom that will be luxurious at the same time. The dark colour of the set adds to the dramatic, rich effect.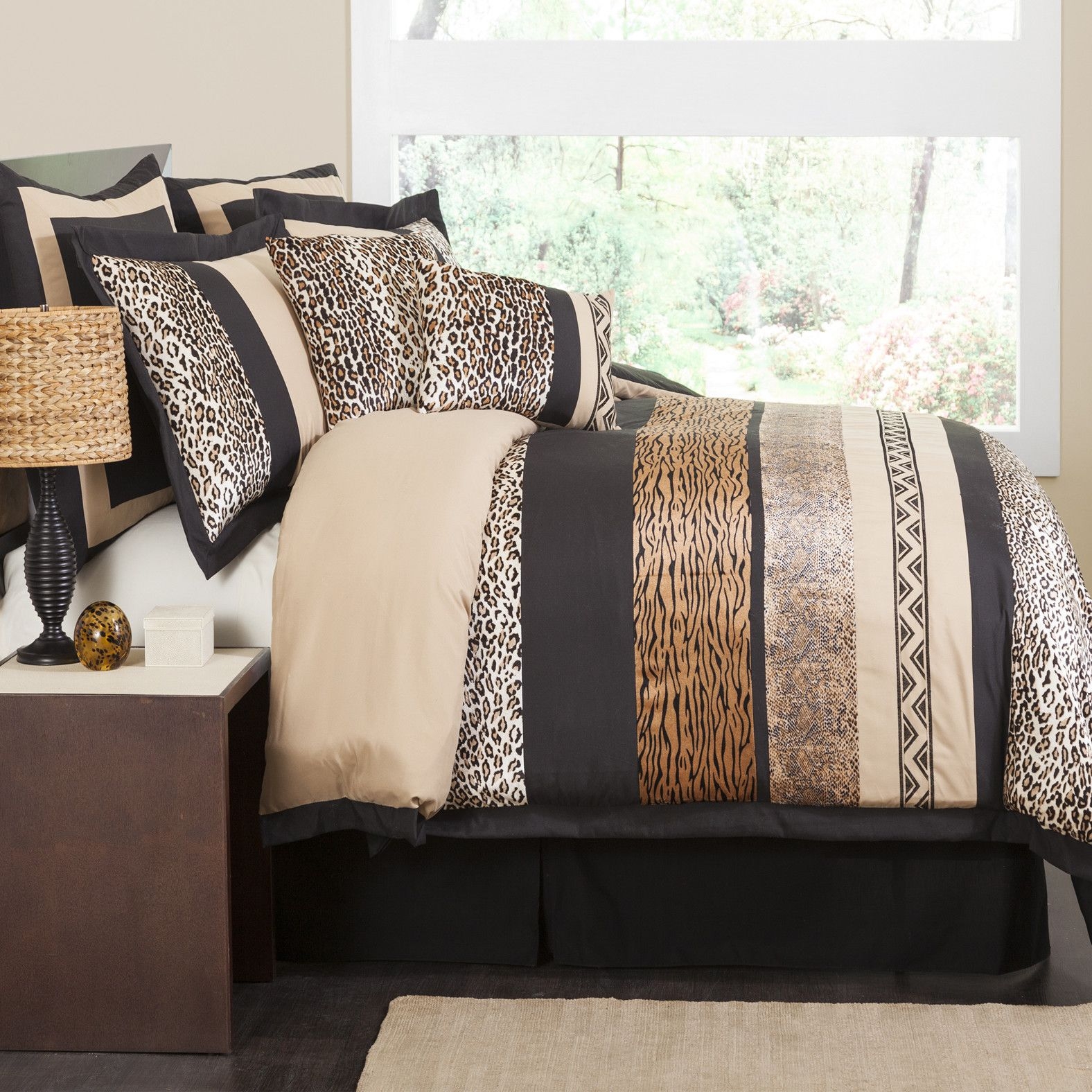 8 piece comforter set decorated with animal theme. It is made of soft fabric and finished with solid seams. Includes comforter, shams, pillowcases and more. Stylish addition to any bedroom.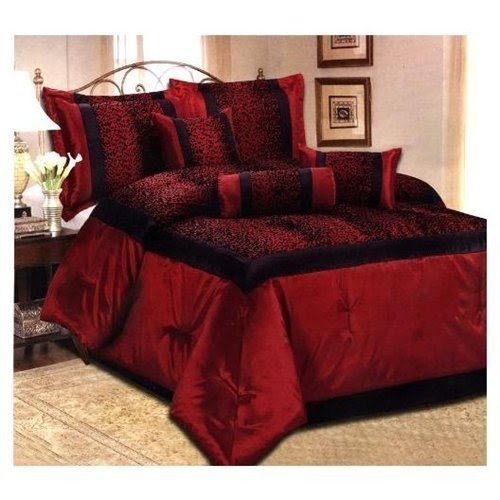 The impressive red satin print animal comforter set is an exceptionally elegant and very stylish décor. Beautiful decorations and a dark shade of red combine to create a unique atmosphere and coziness.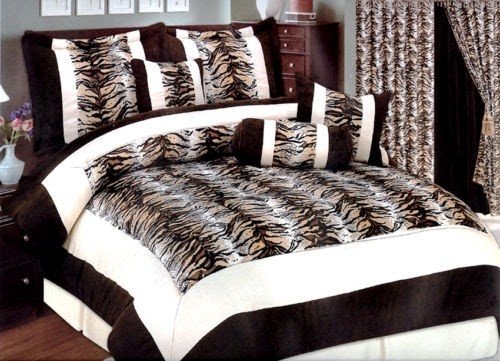 An amazing comforter set designed to transform your bedroom into a more welcoming and inviting place. It features tiger patterns and a brown and white finish. The set includes the comforter, shams, accent pillow, and bed skirt. It's a dry clean only set.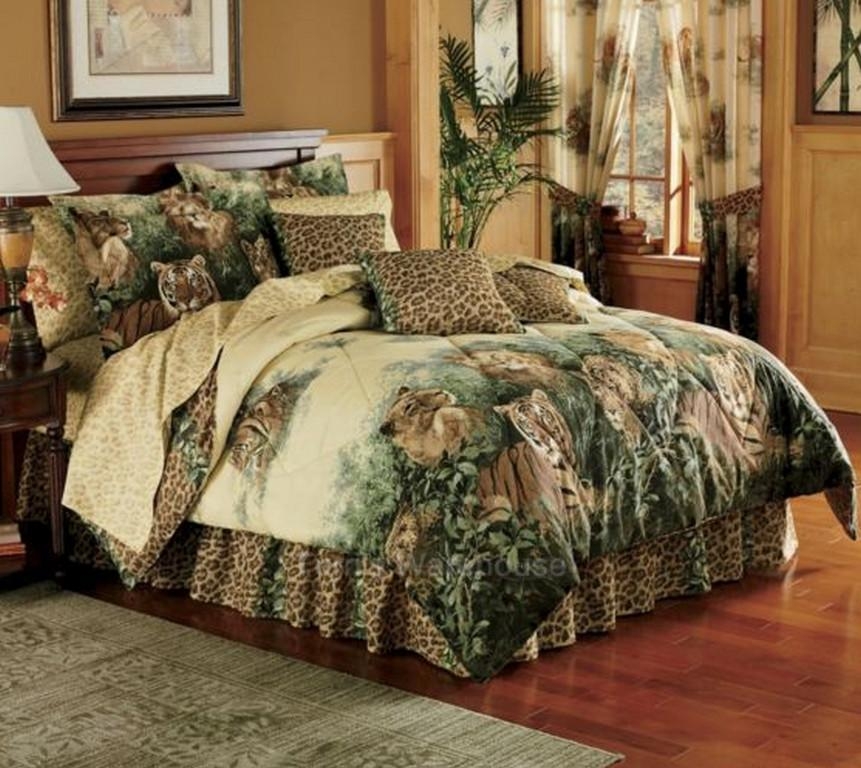 Tiger Leopard Safari Animal Print King Size Bed Comforter Set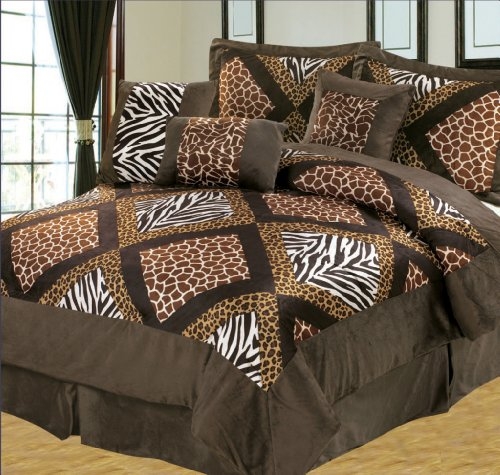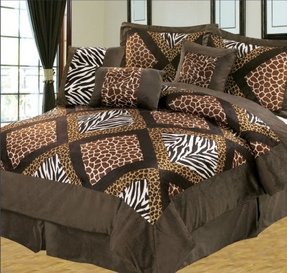 Comforter set that includes 100% polyester materials that are comfortable, soft and safe. Natural looking animal print increases aesthetics, so these bedclothes are very stylish bedroom decorations that match any design.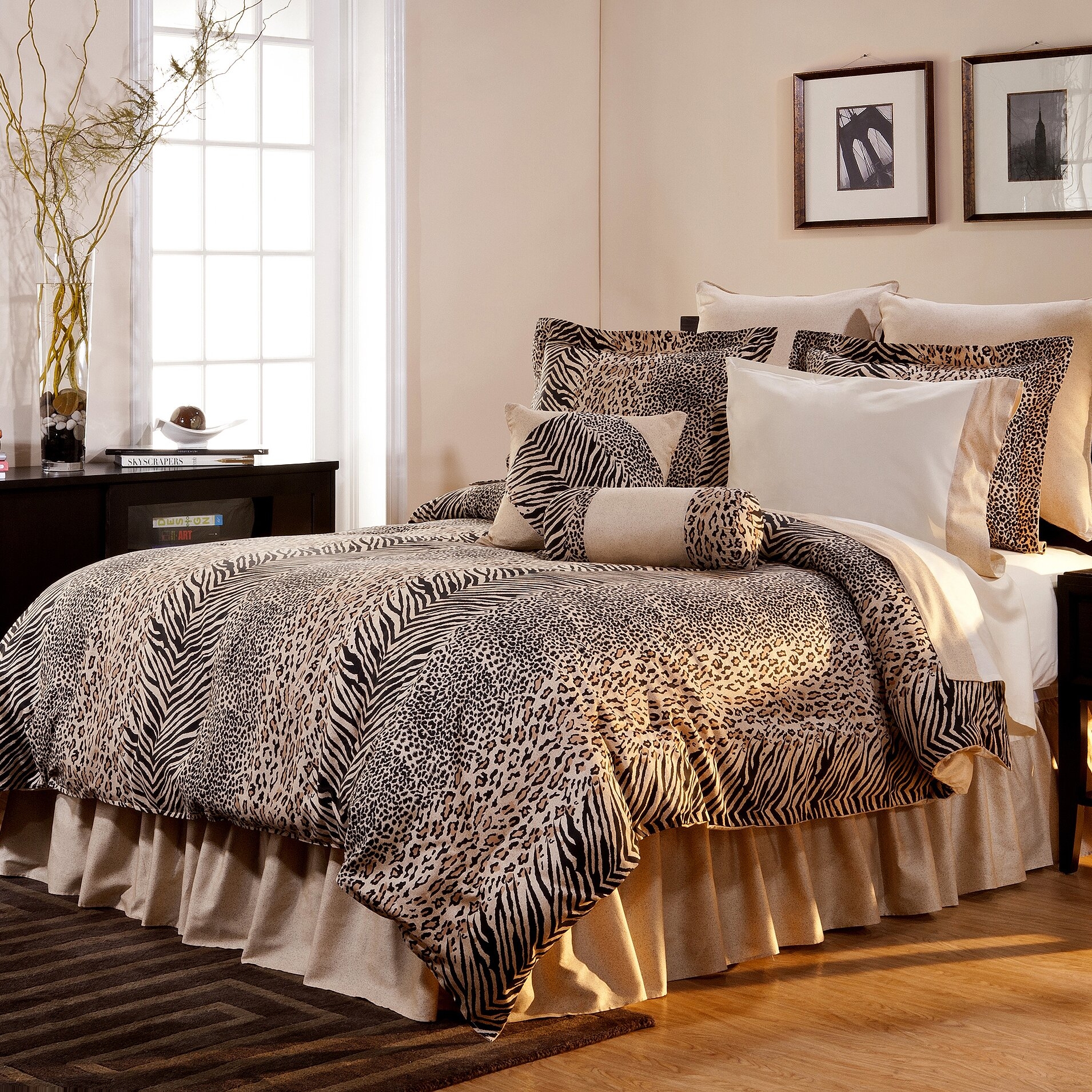 Luxury 12 Piece Animal Print Comforter Set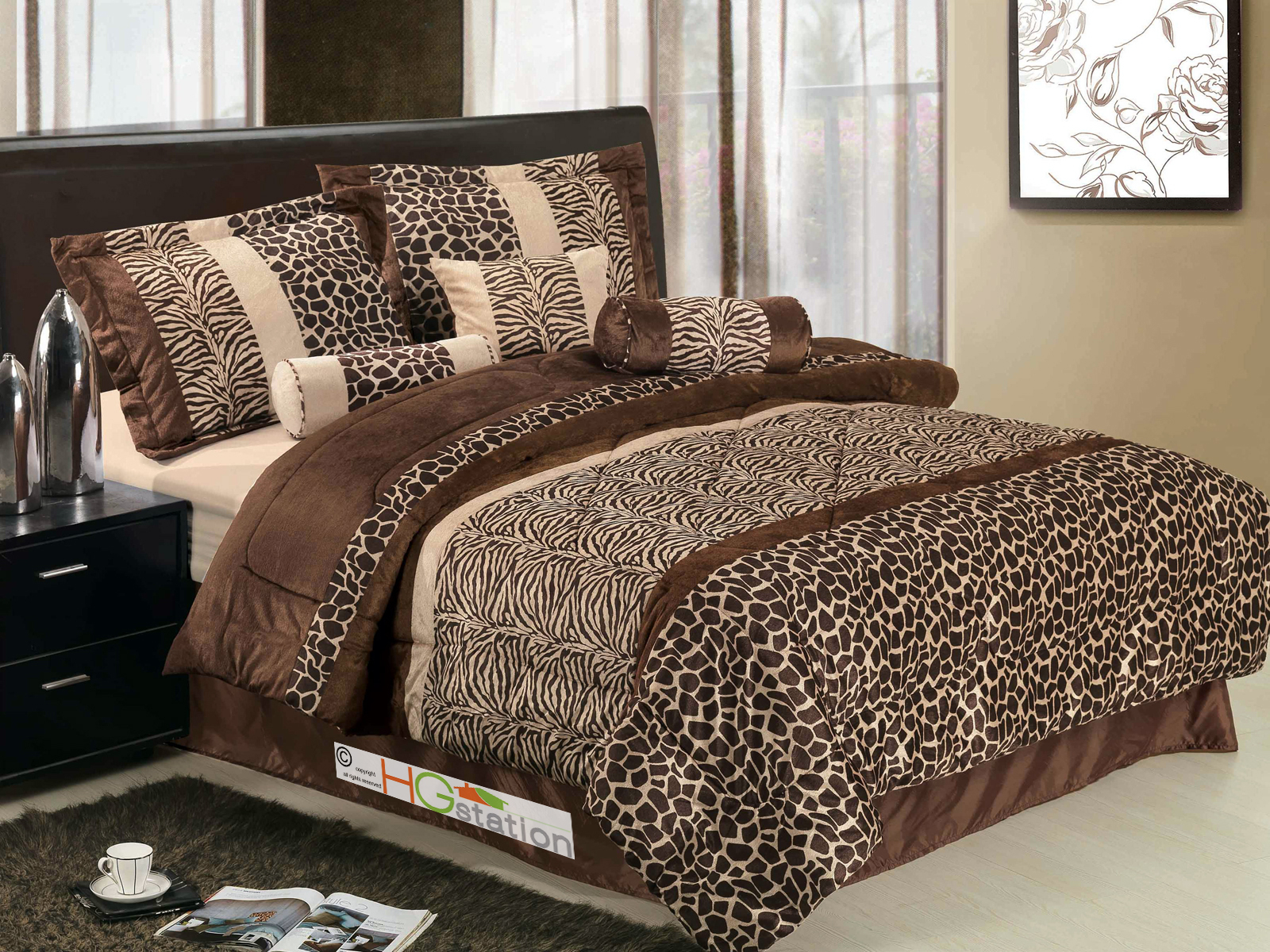 It is a safari comforter set that has got a beautiful zebra and giraffe brown print. It adds style and comfort to any bedroom. Everyone will tell you how amazing this set is.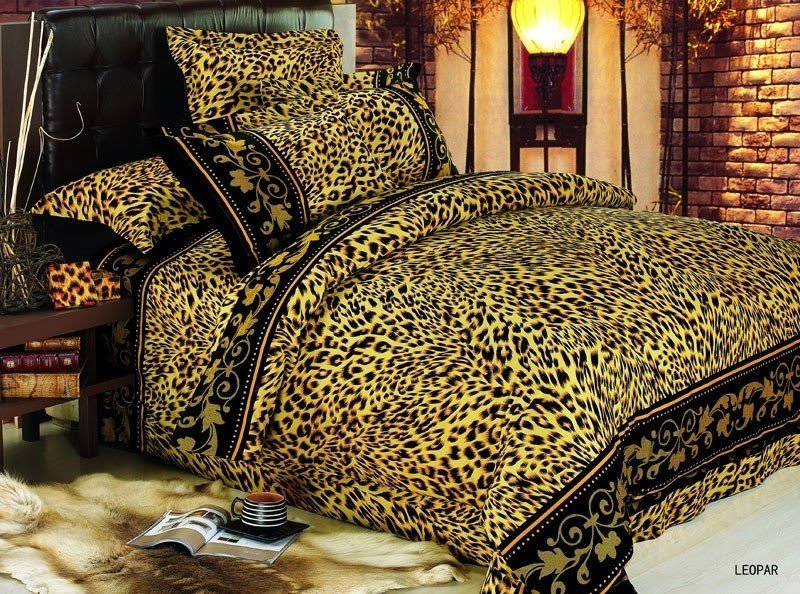 Leopard - 6pc King Size Bedding, Wild & Exotic Bedding Ensemble with ...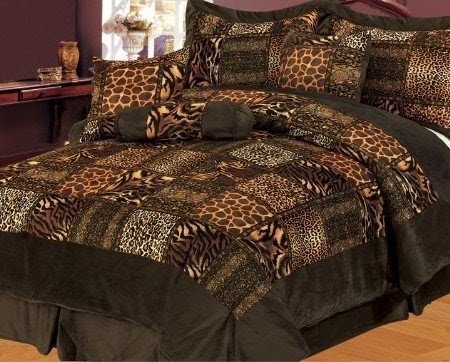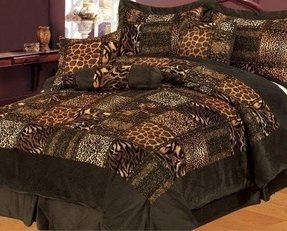 Safari Brown Micro Fur Animal Print Comforter Set, 7Pcs King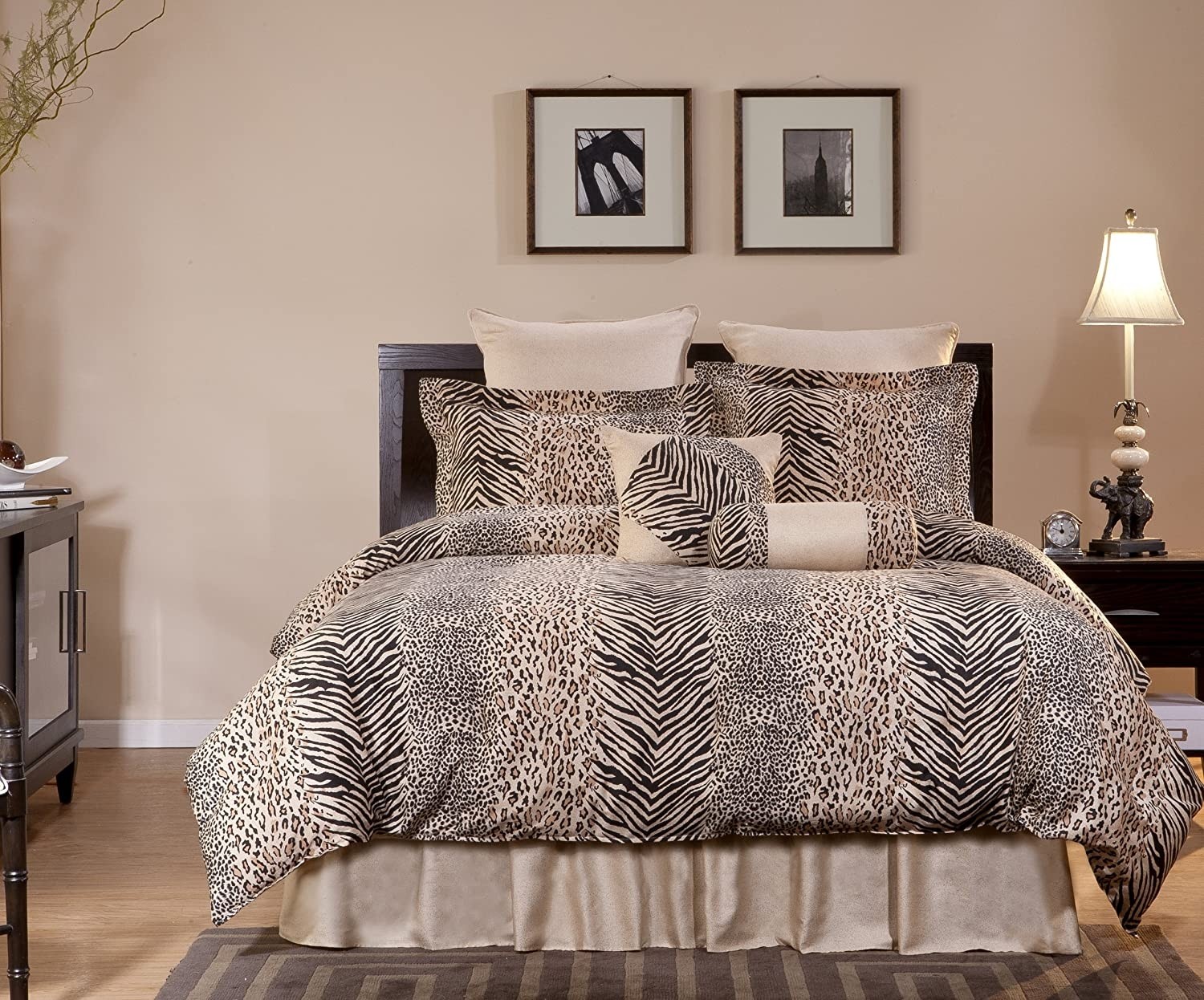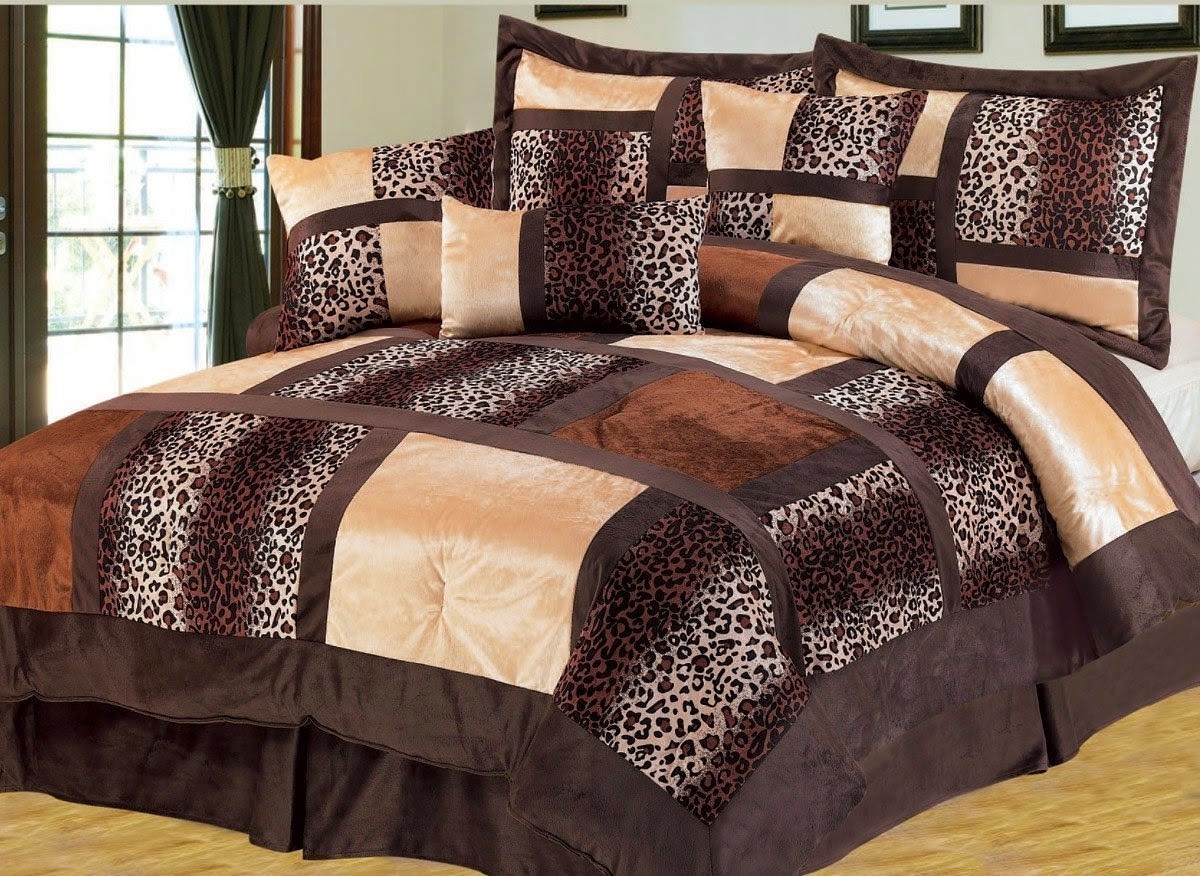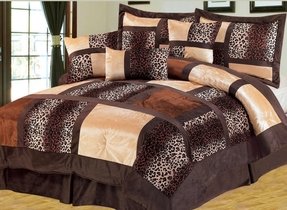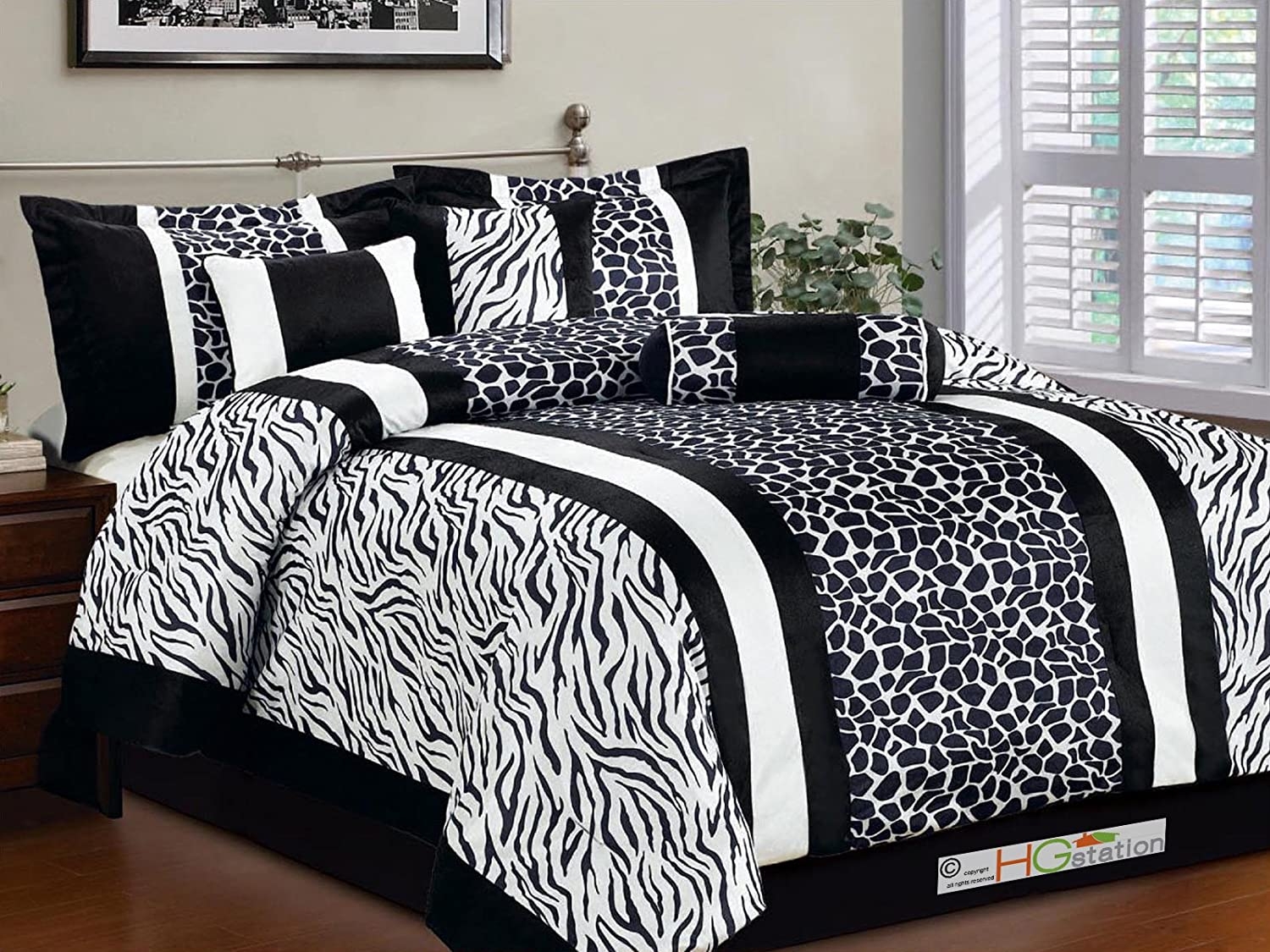 The zebra stripes print can be a humorous touch or add to the interior of fantasy. Animal print comforter set will fall to the tastes of adults and the youngest. White and black - is one of the most universal composition for the bedroom.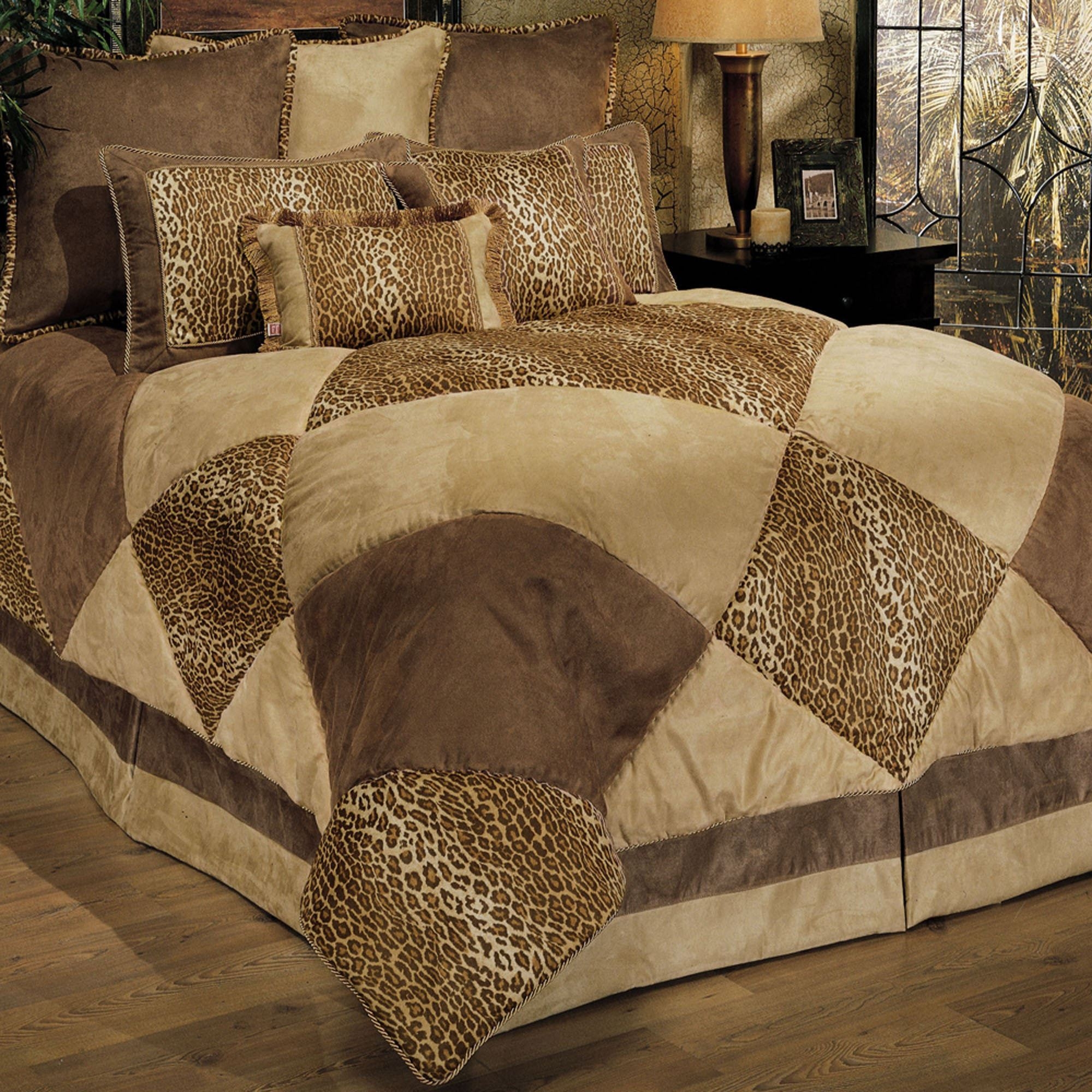 Safari 8-piece Comforter Set - Size: King (00719294280806) ESK1003: Features: -Unique bedding ensemble combines a light and dark taupe animal print comforter set and 2 tone bed skirt. -Material: Polyester. -Traditional style. -Animal print pattern. Produc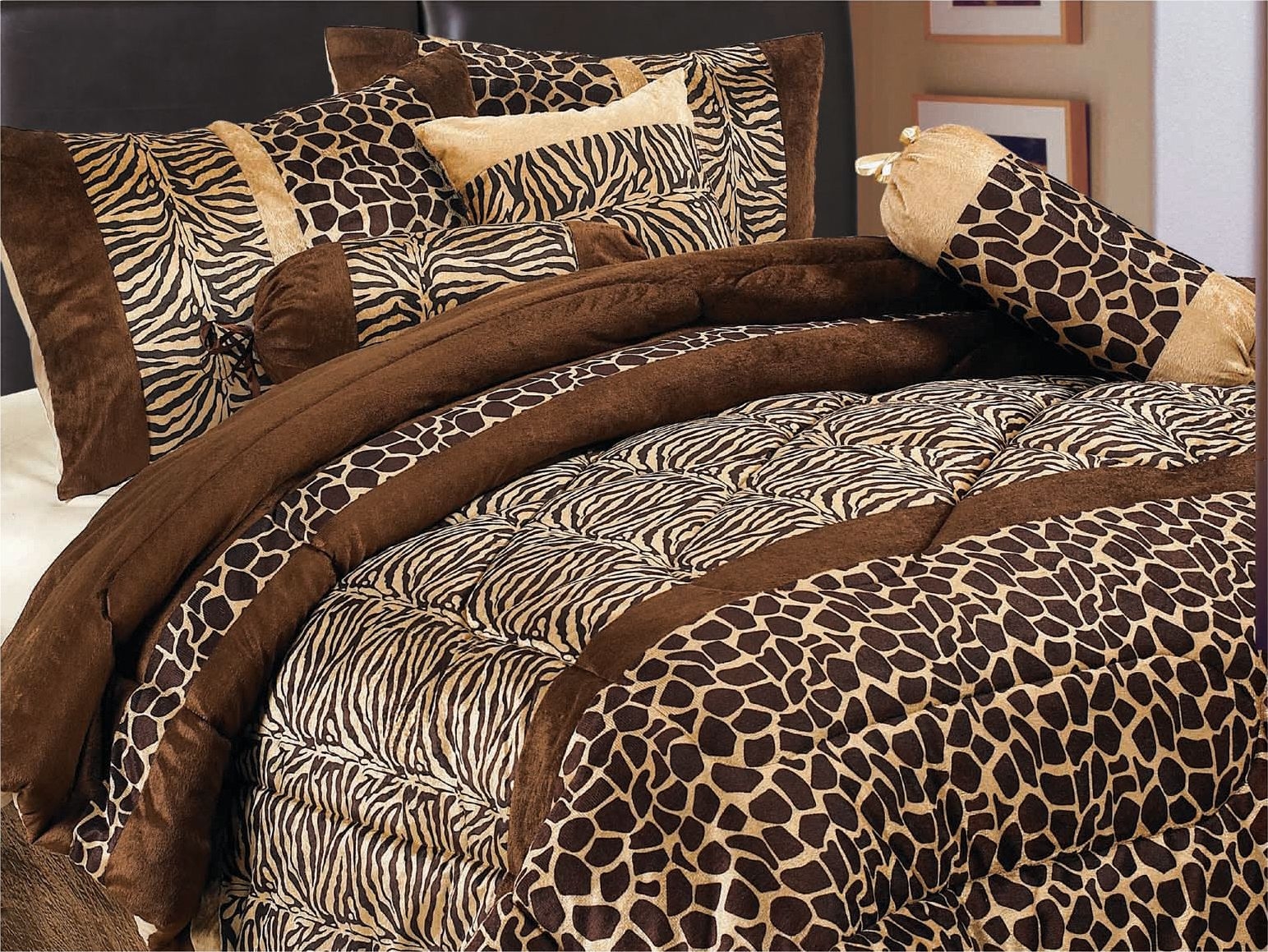 This stunning 7 piece set for a bed will give your bedroom a sensational atmosphere of a safari. Beautiful details and patterns make you feel very well. The best quality materials ensure a comfortable stay.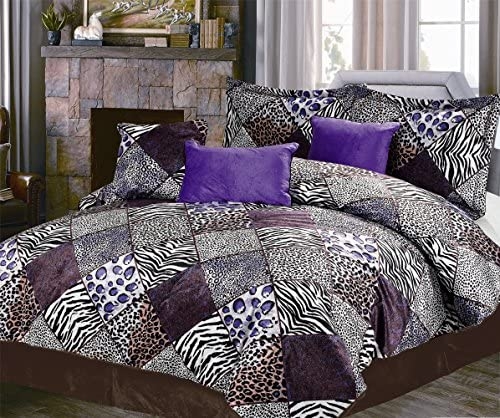 With a such a stylish king size comforter set any decor can be elevated into another level. It features the purple, black and white animal print with different square pattern.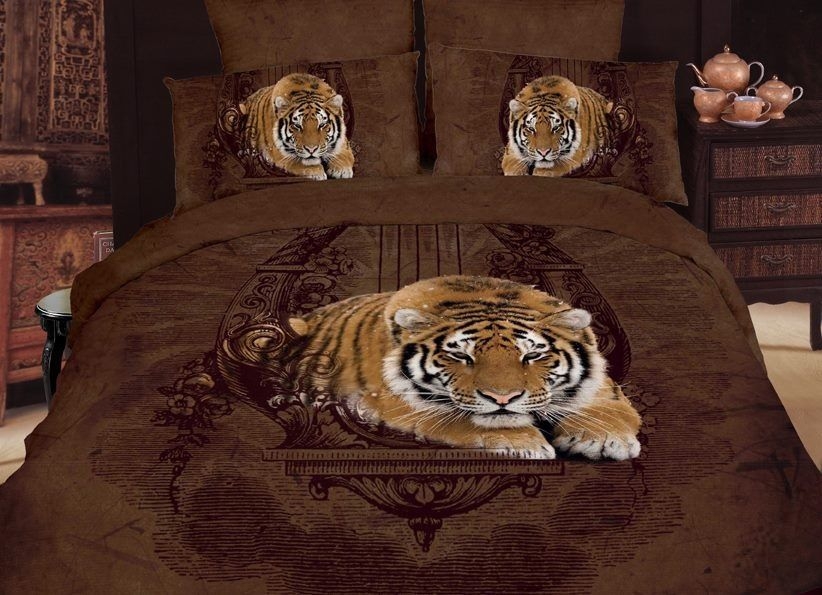 This raptorial-looking tiger will add zest to your bedroom decor. Stylish dark brown bedding set includes 4 pieces, comprising a bed sheet, quilt cover and 2 pillowslips. All elements are machine washable and easy to care.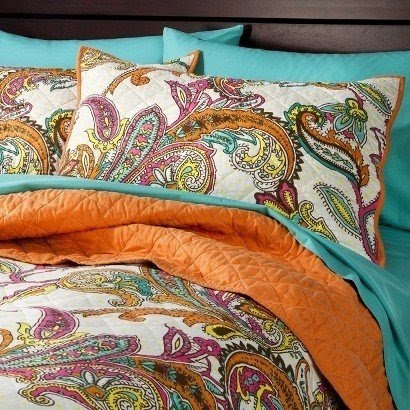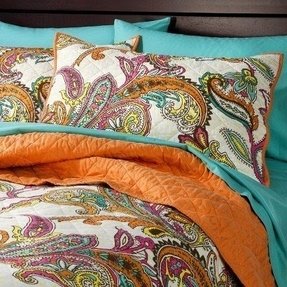 This is a very interesting set that includes high quality pieces of bedclothes. They are very comfortable and made of durable materials. They are resistant to excessive wear and they look very interesting.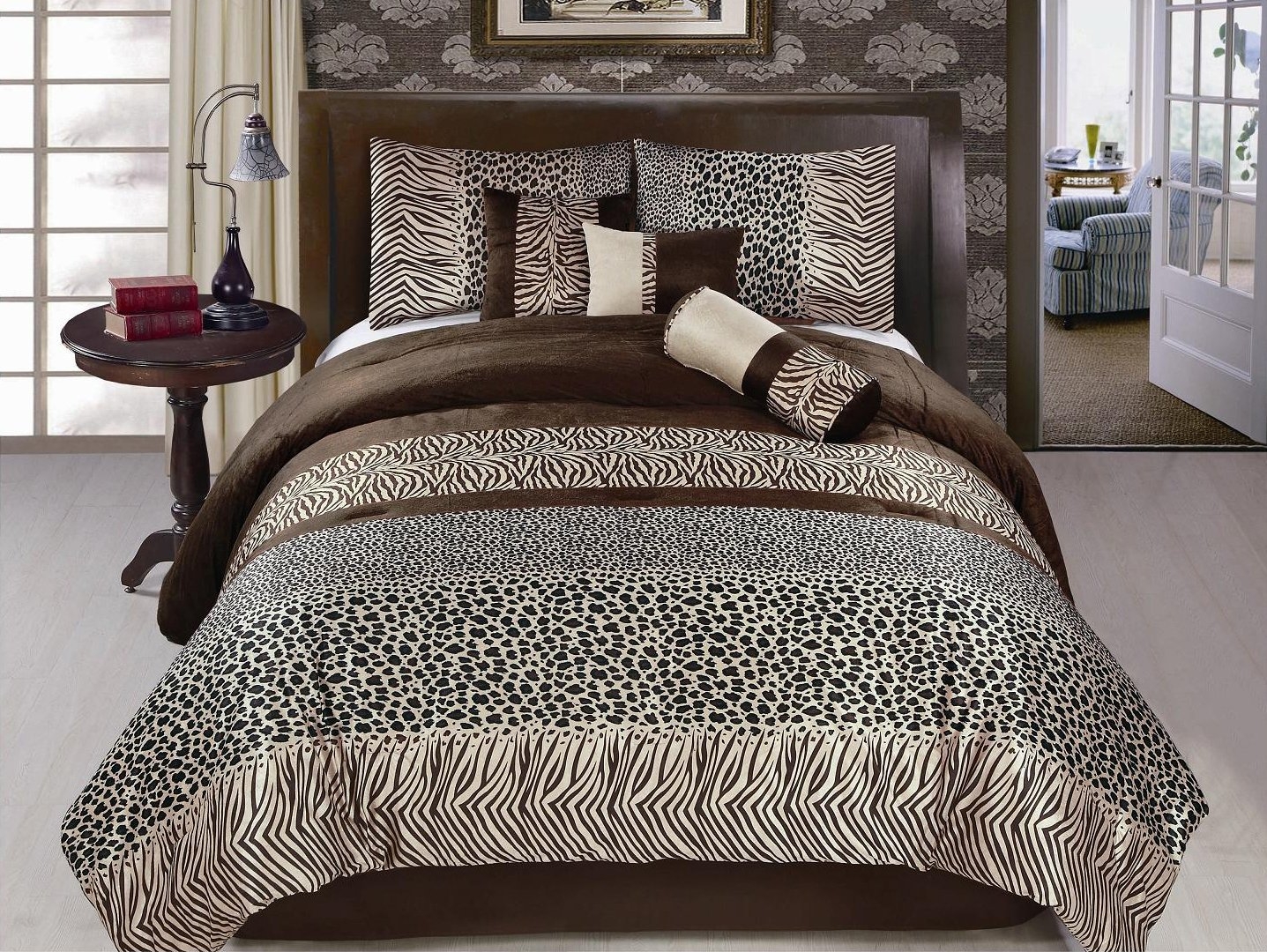 Bring an essential drop of luxury to master's bedroom or guest room: this glamorous animal print safari themed bedding set in cream and brown cannot remain missed for long. Queen size comforter set includes pillow shams.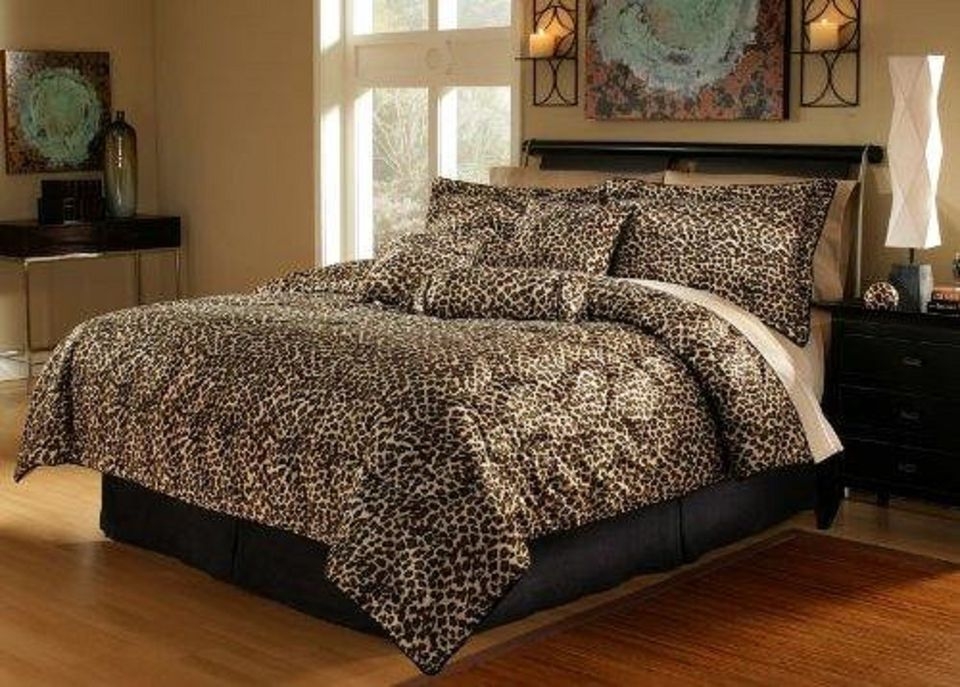 Animal Print Bedding - Quilts and Coverlets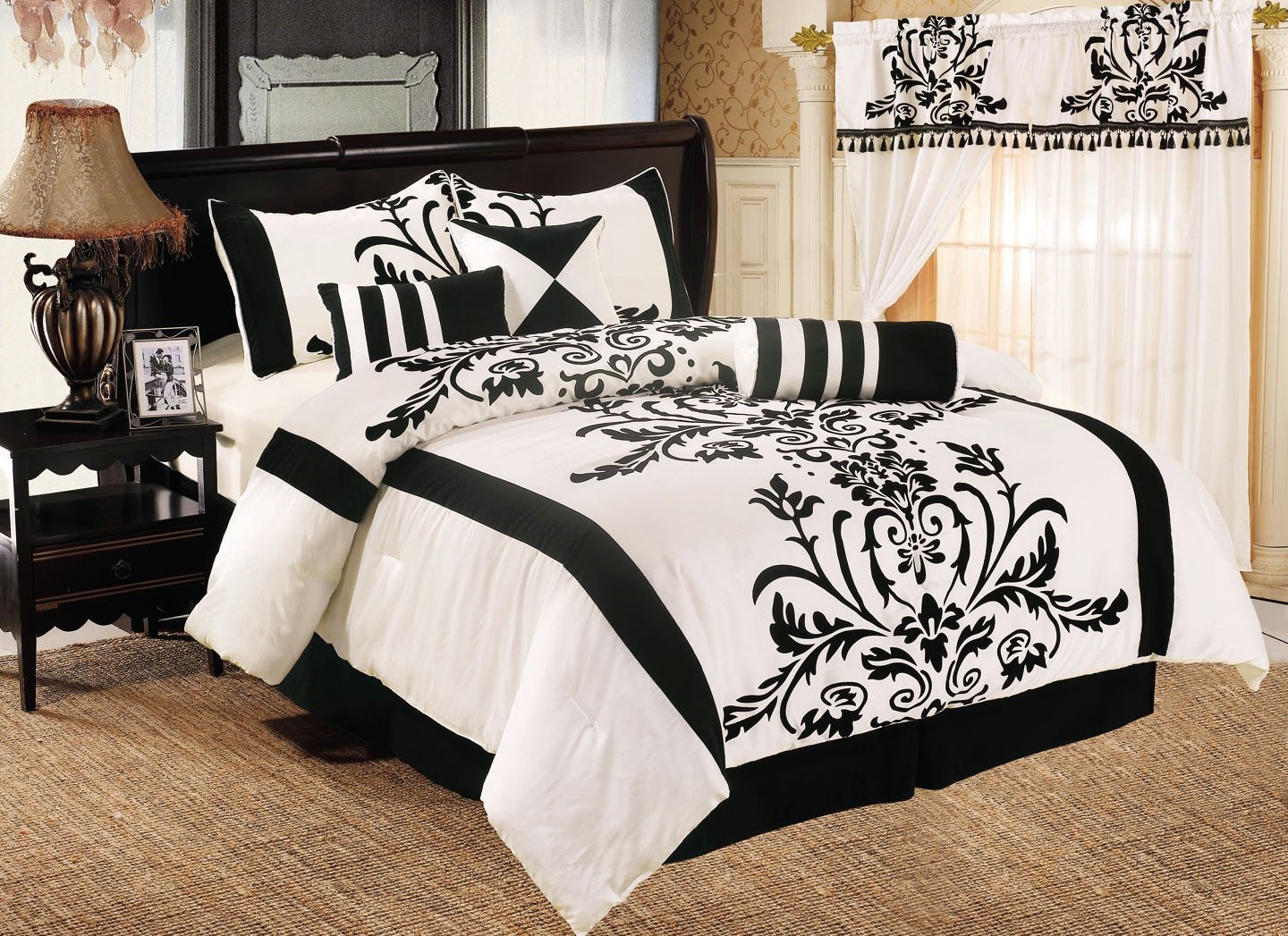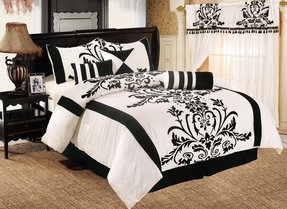 Practical seven-piece bedding ensemble, consisting of a comforter, two shams, two cushions, one neck roll, and a bed skirt. Made of 100-percent polyester fabric, covered with floral pattern. Very fluffy and durable. Looks nice and feels awesome.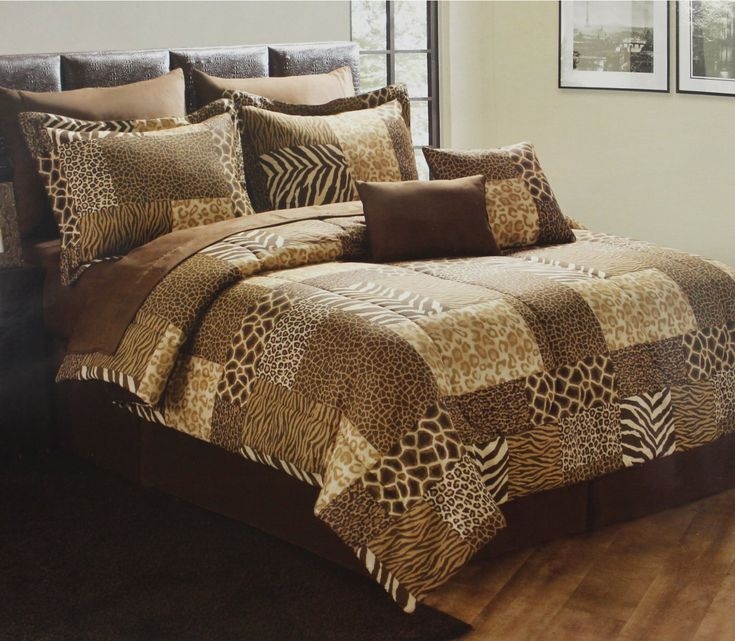 Zebra/giraffe/leapord Patchwork Print/ Bed in a Bag King Size Bedding ...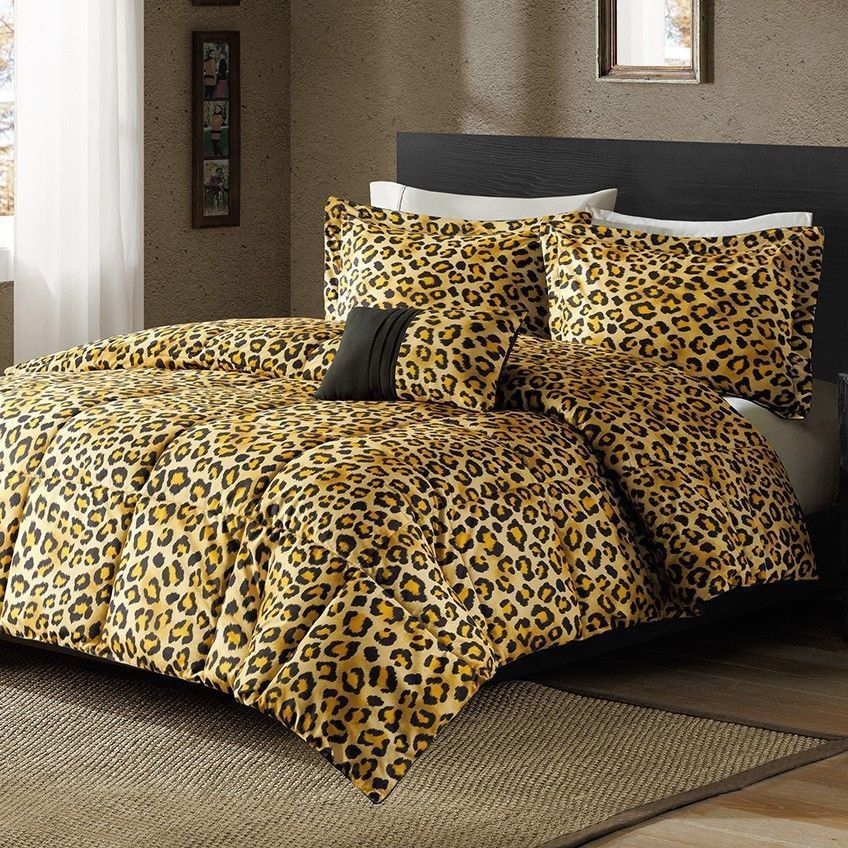 1414547224422_kingsizeleopardprint3-piececomforterset.jpg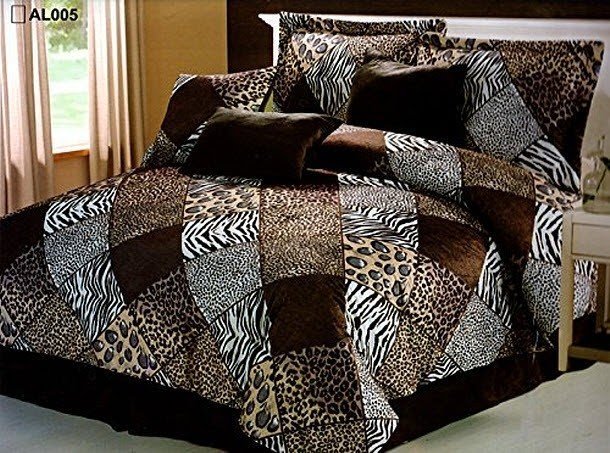 leopard print bedding 7 pieces multi animal print comforter set king ...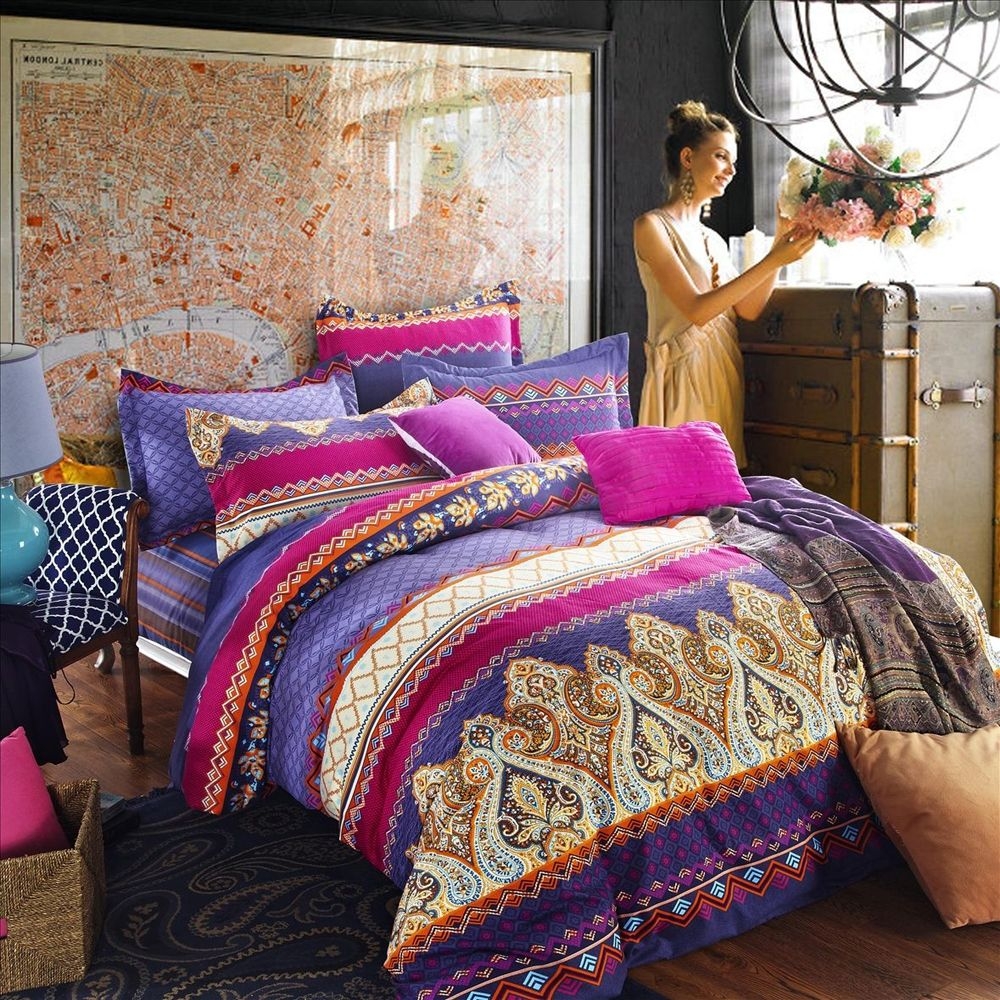 This paisley bed set enchants with its vibrant colors, adding much charm and warmth to the interiors. Made from 100% Brushed Cotton, it is available in 3 sizes: twin size, full size and queen size.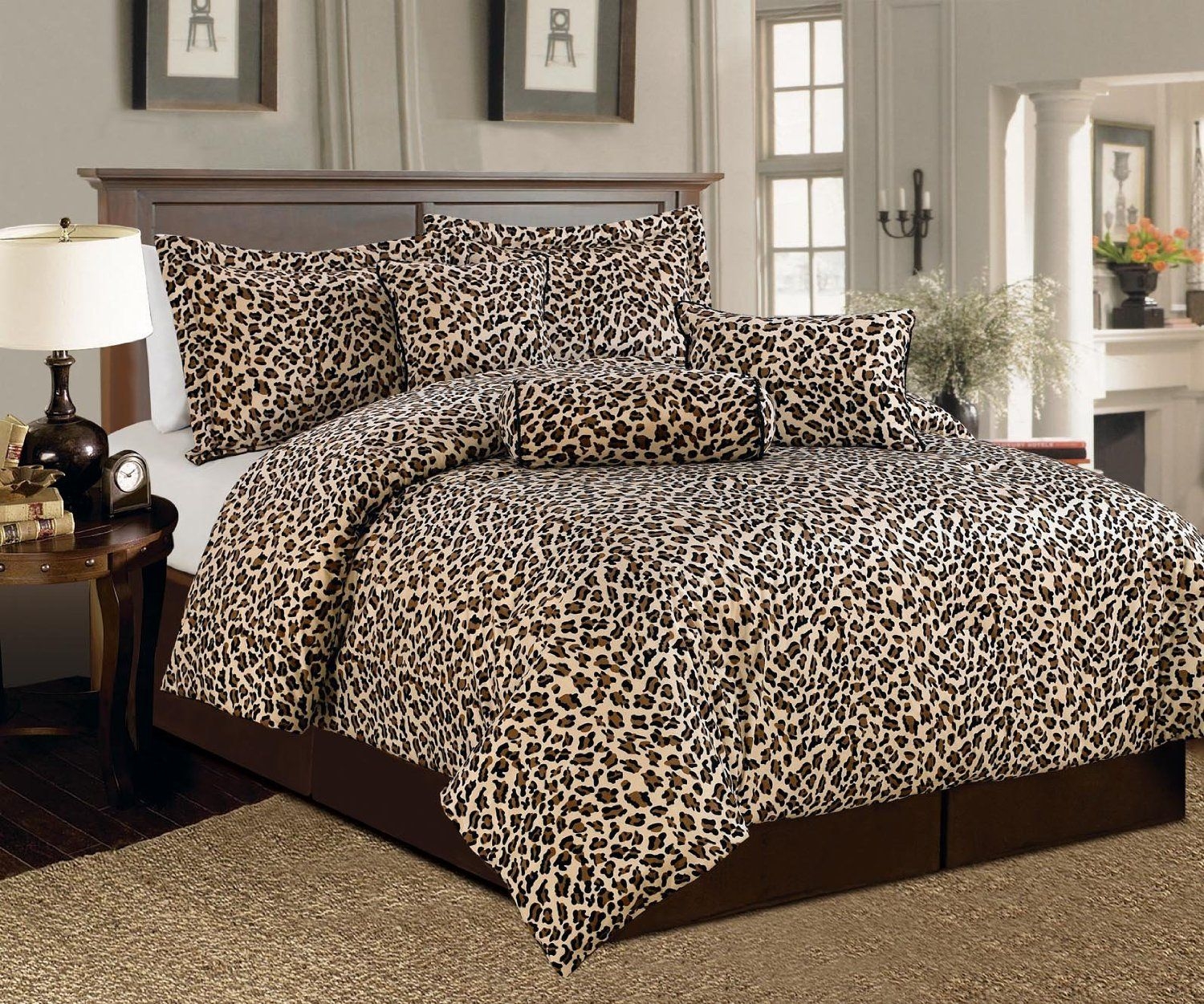 Panther is one of the most popular fashion models - it can be said that it is already a classic - also in the design of bedding. Animal king size print comforter set is ideally combined with a wooden bed, of cherry tree. Especially for temperamental people.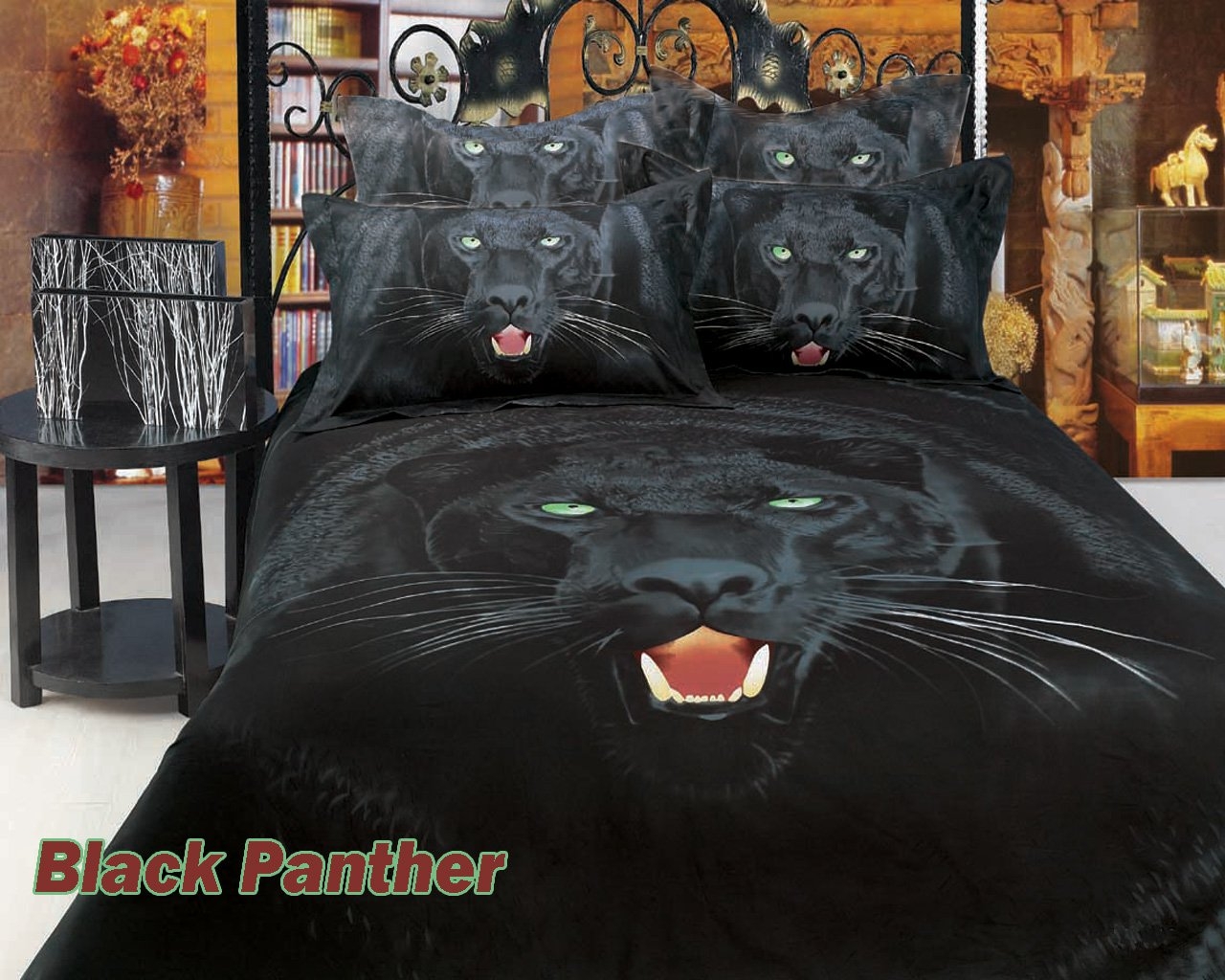 Black Panther Egyptian Cotton 6 Piece Duvet Cover Set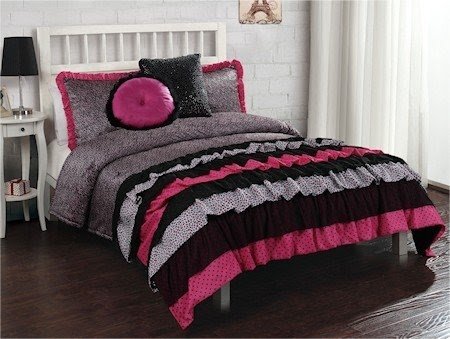 This comfy bedding set distinguishes itself with its vibrant pink accents and high-quality materials. Ideal for king size beds, will make your rest an unforgettably pleasurable experience.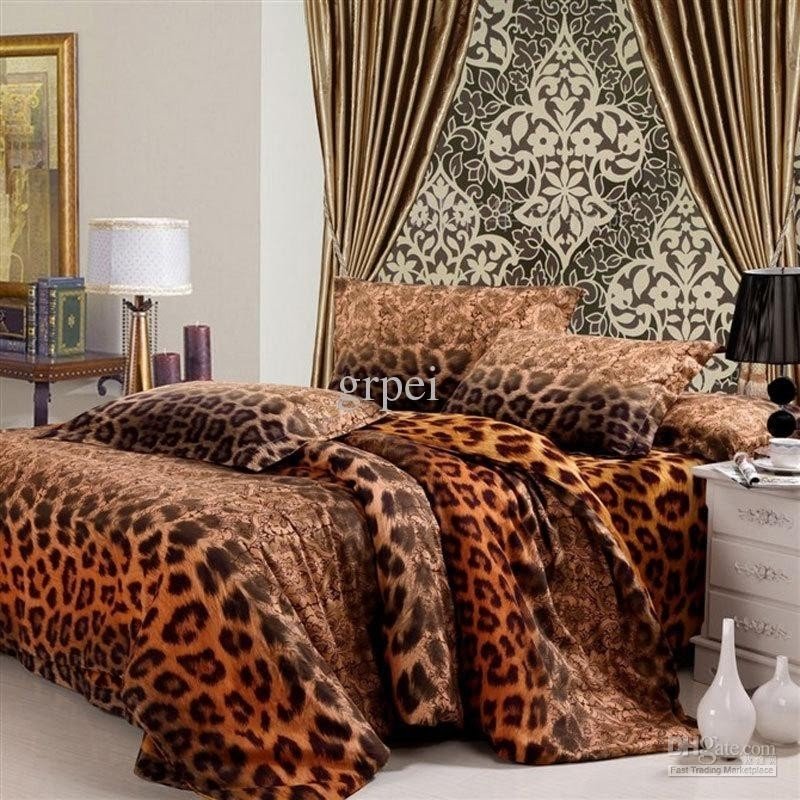 Leopard print yellow black brown floral comforter bedding set king ...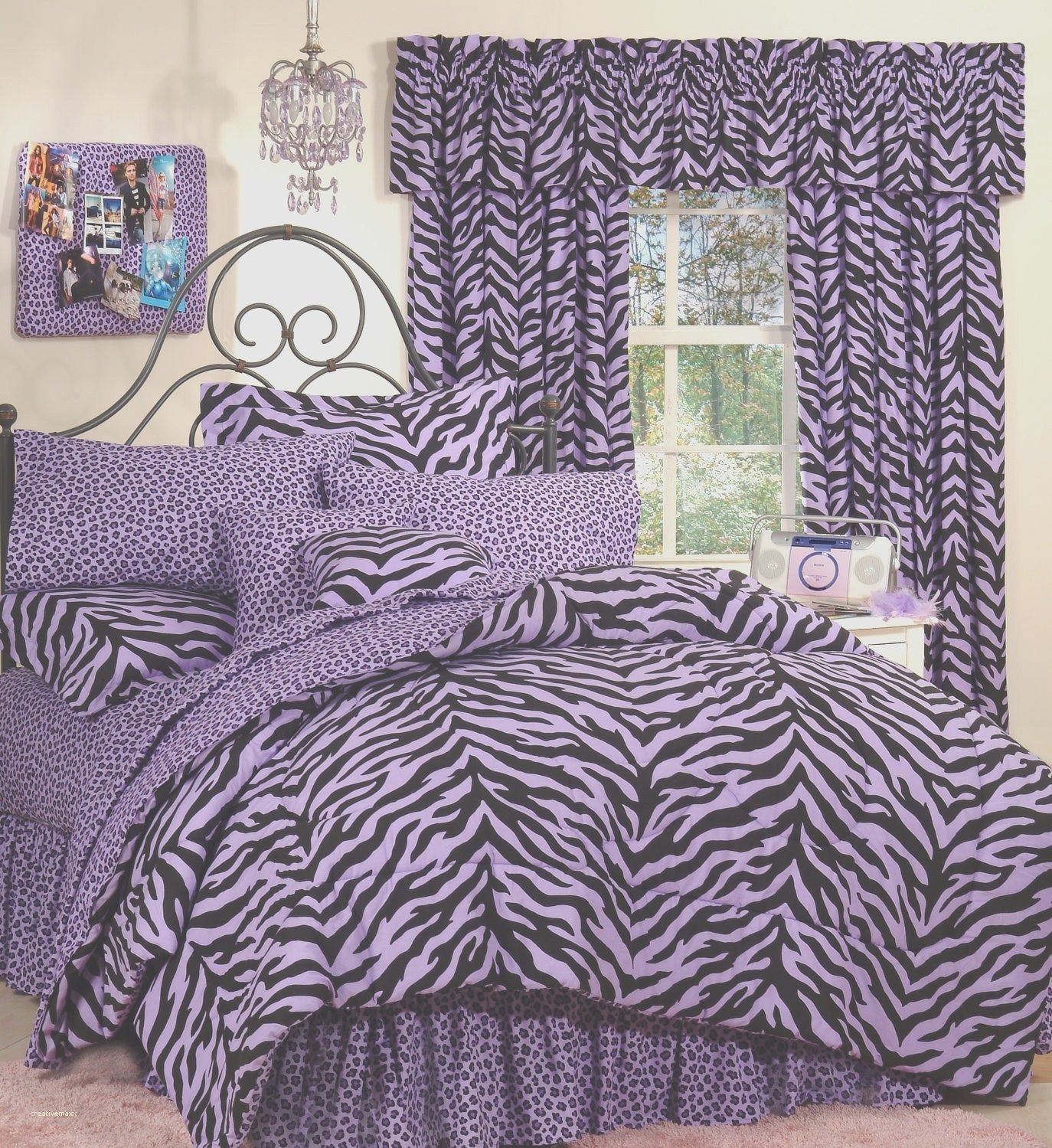 purple zebra print bed in a bag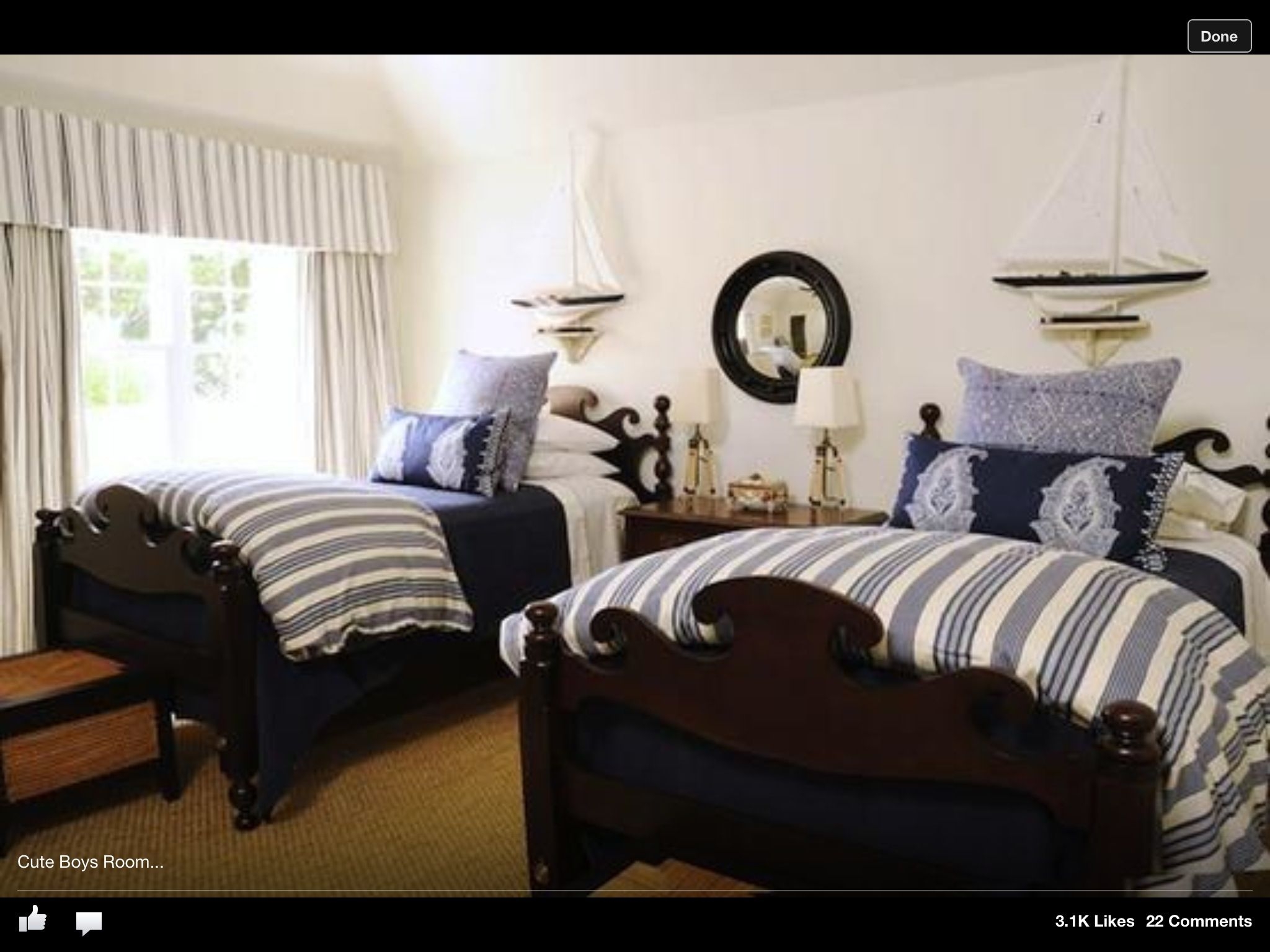 Full-size nautical bedding, perfect for a seaside bedroom. And even if it's not seaside, it doesn't mean it can't look like it! The blue colour is calm and gentle, which creates perfect conditions for undisturbed, proper rest.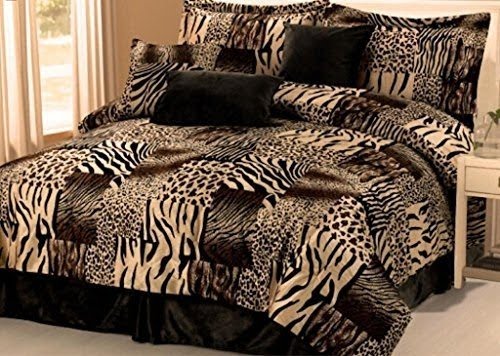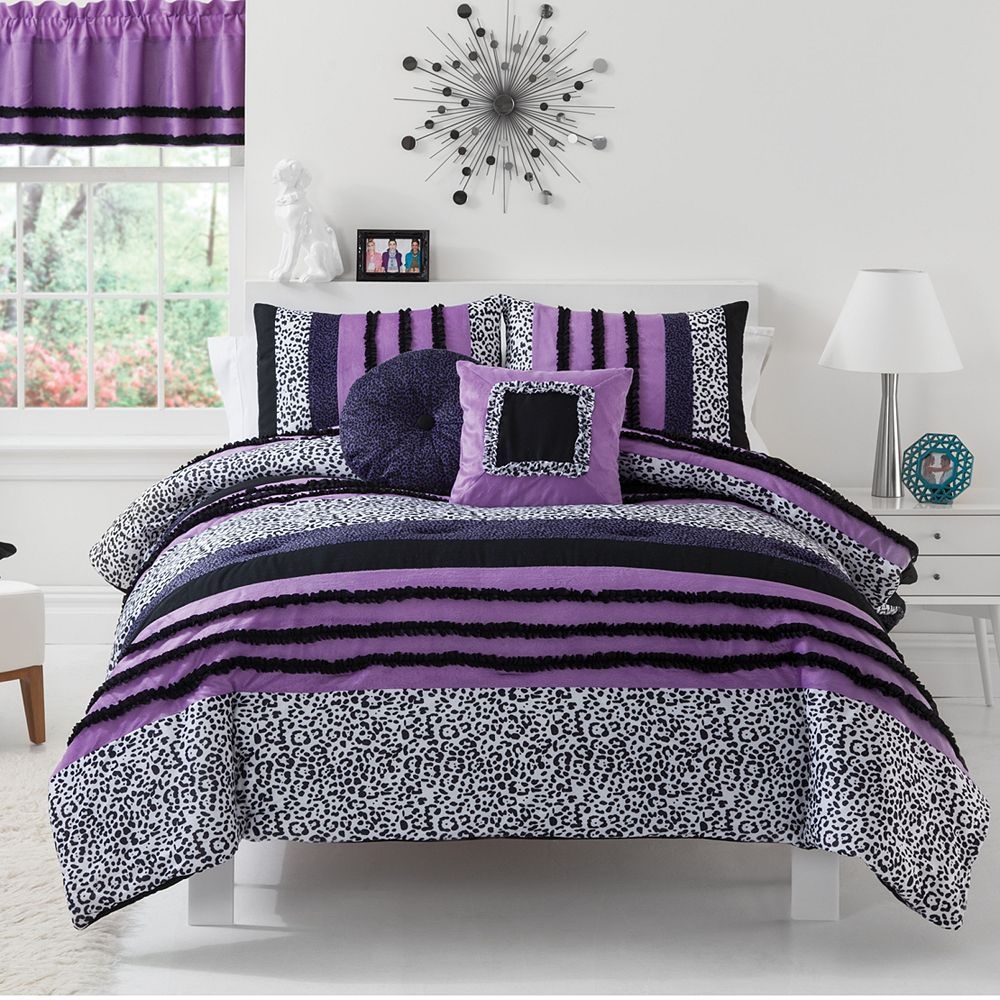 Animal print bedding set; a queen size comforter set. Many things are going on here: purple and black stripes, leopard spots, fur, decorous throw pillows. A teenage girl bedroom would look beautiful with this set around.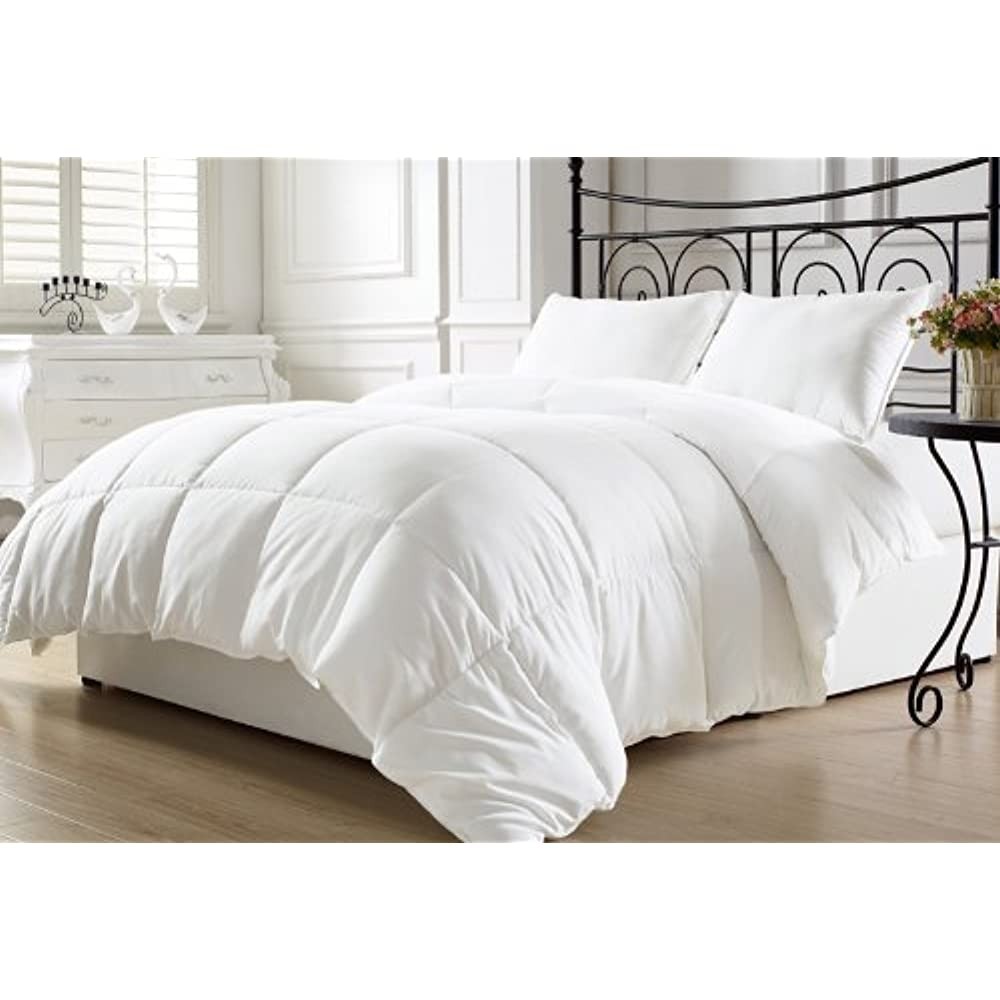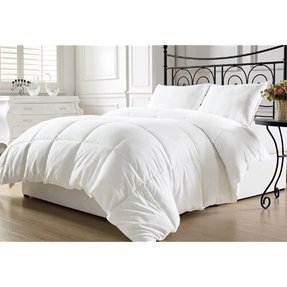 Modern very large comforter. It is made of quality poly-fibre which has anti-allergic properties. A comforter has corner tabs to anchor duvet cover as well as it is box-stitched to prevent material from shifting. It is machine washable.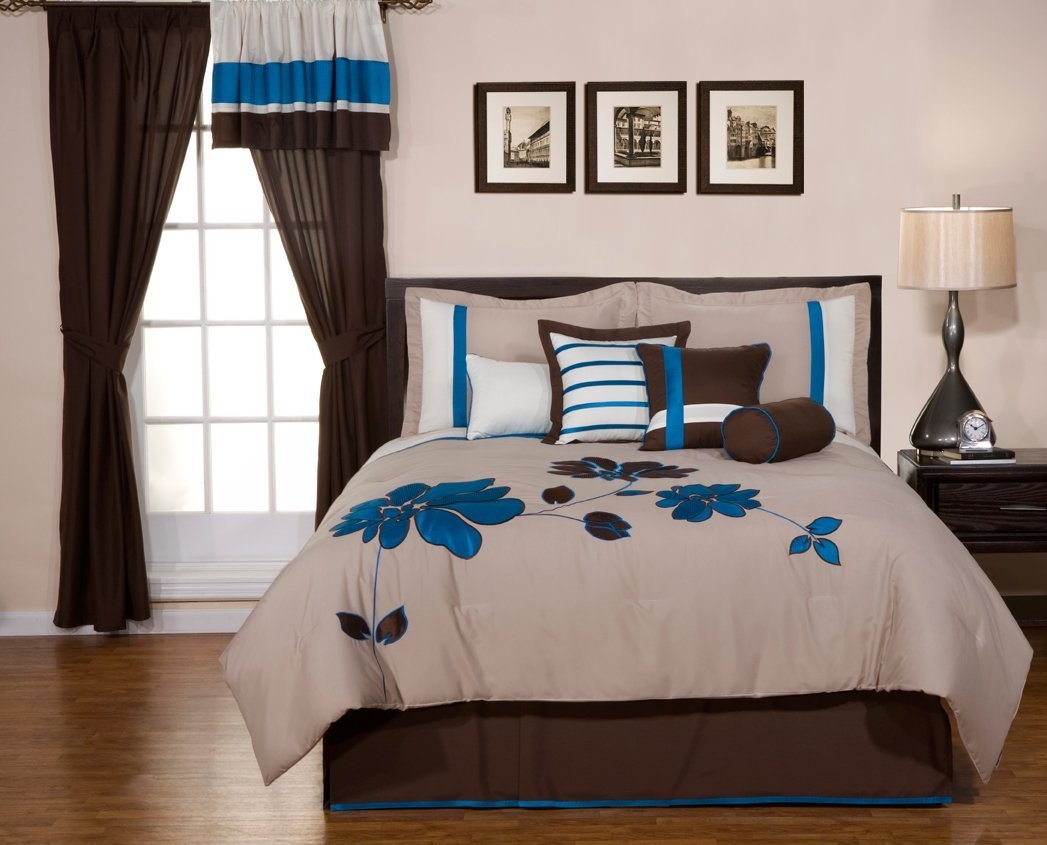 Comforter set for queen-size beds. These elements of bedroom equipment provide warmth, comfort and good ergonomy of sleeping. Their neutral colors are well combined with blue floral accents, so they also decorate bedroom indoors.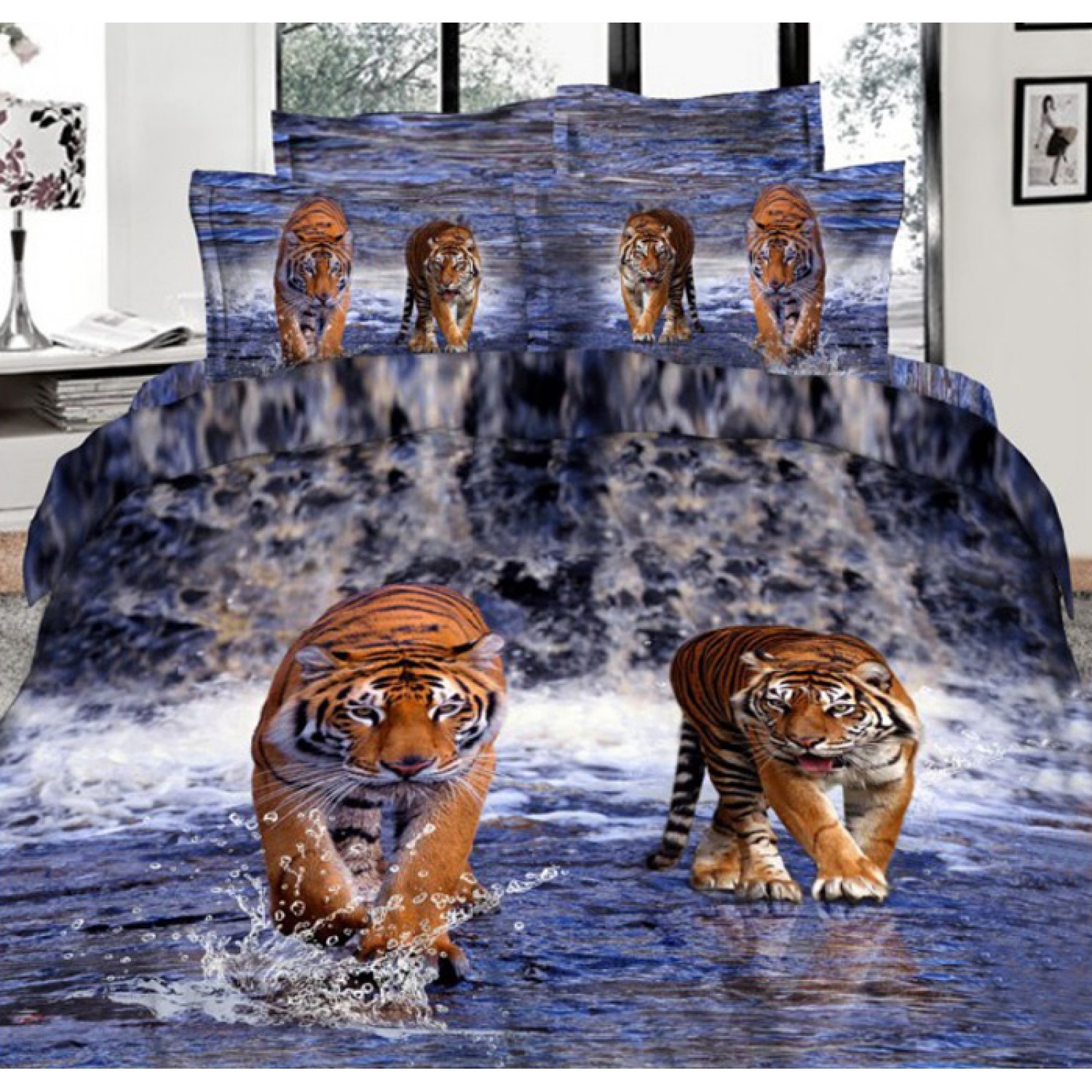 Tiger in Water Printed Pattern 100% Cotton Bedroom Bed Linen 3d Bedding Sets Luxury Oil Printing Animal Duvet Cover Set 4pcs Flat Sheet Set Queen Size