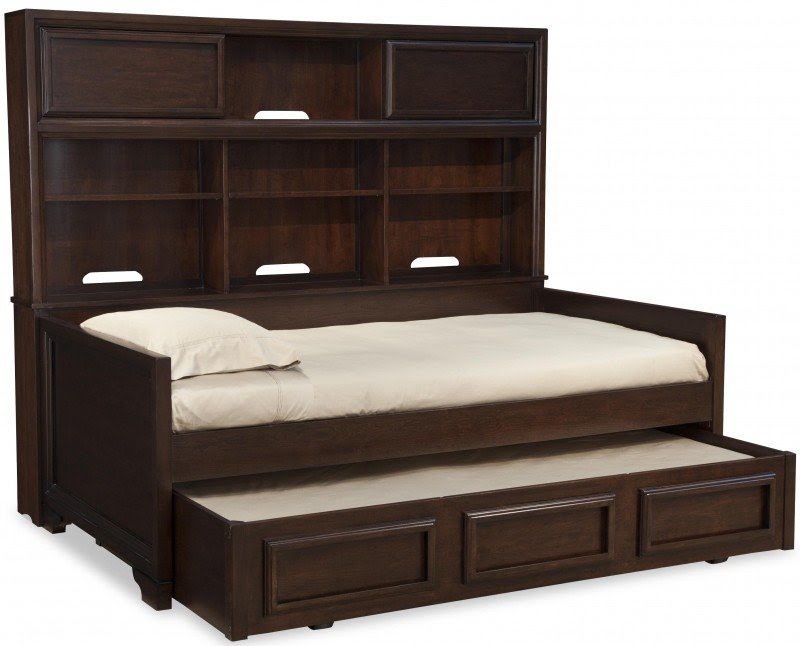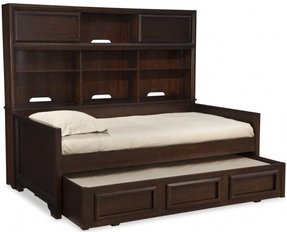 Full Size Bookcase Daybed with Trundle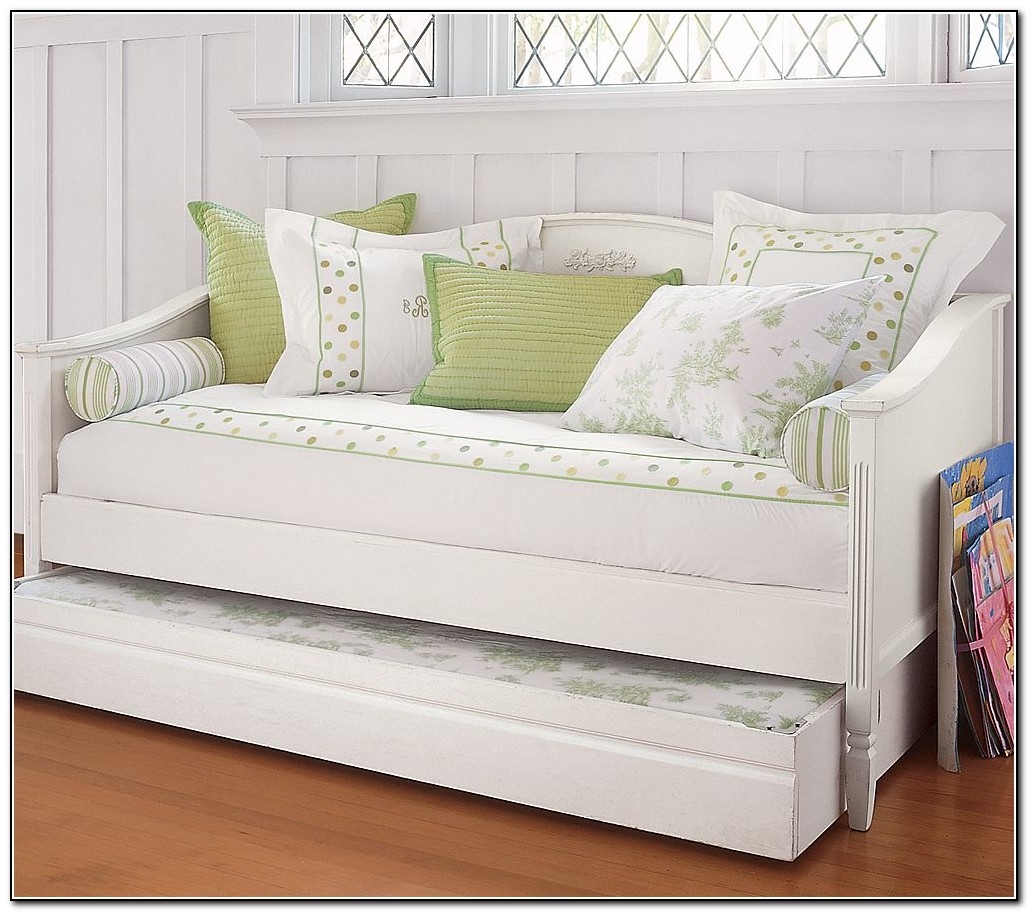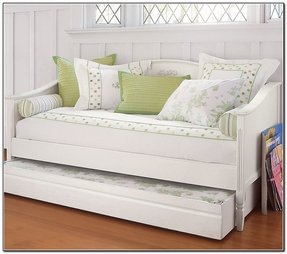 Trundle day bed white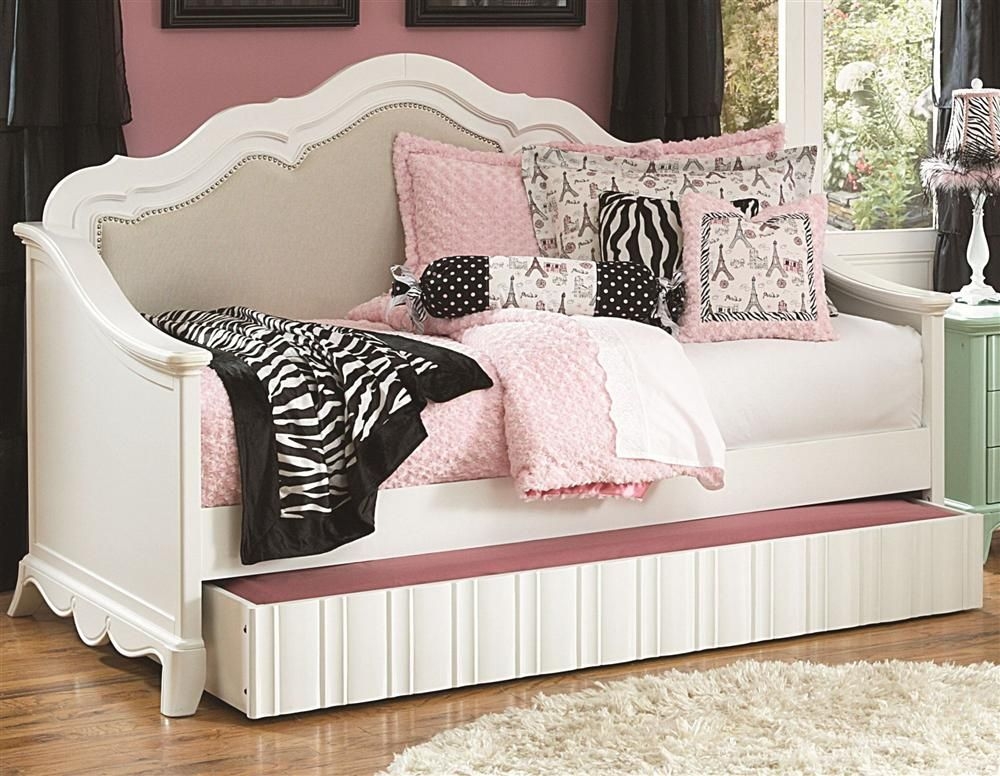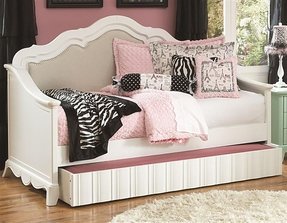 Original multi-functional and take-down daybed, which can be used as a sofa or as a king-size bed. Frame of bed is made of blanched, carved wood. It is decorated of brown cloth and little gold buttons. It looks very cute!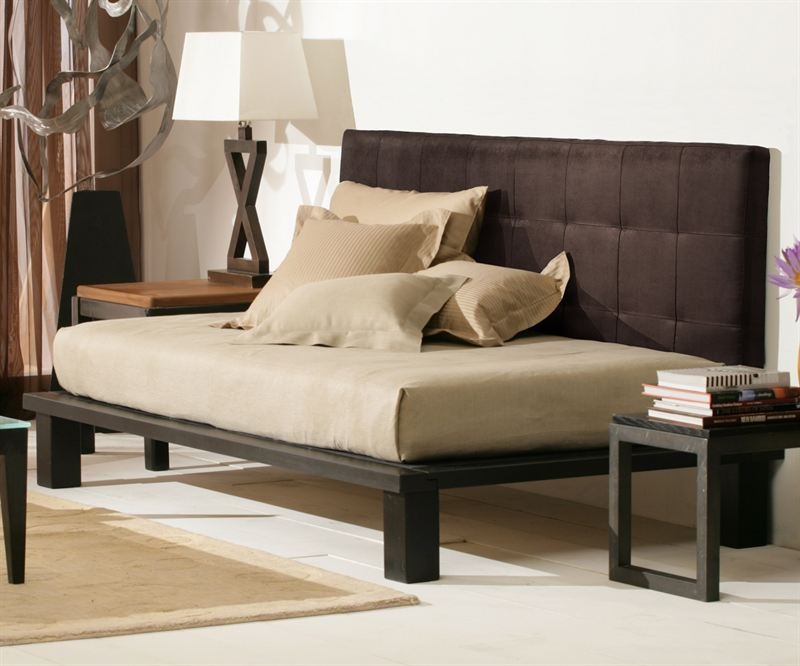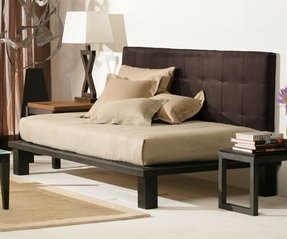 A nice option for all those who might not have enough space for a regular guest bedroom but would still like their guests to get a good night's sleep when they come over to visit. It provides the needed comfort and looks very stylish when folded.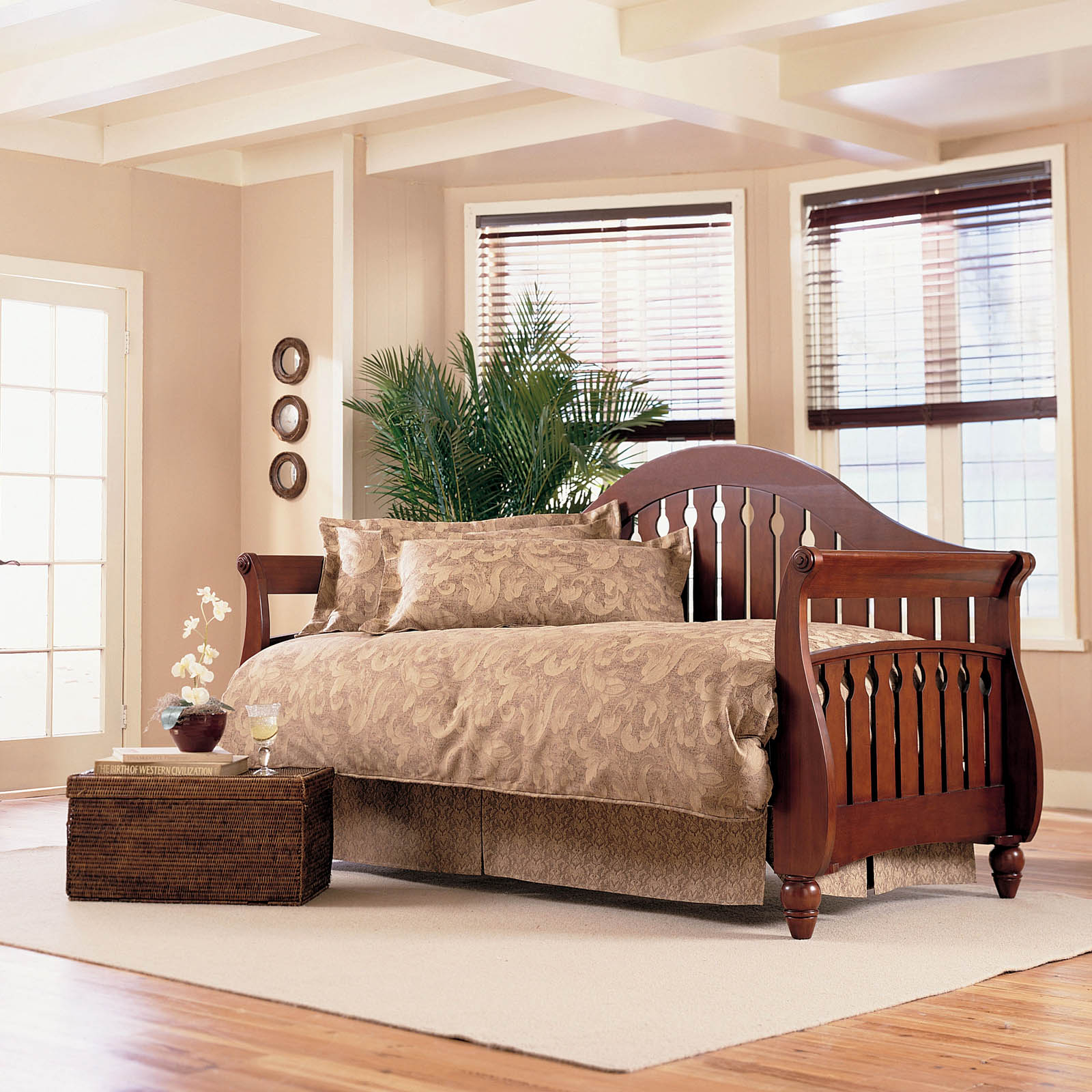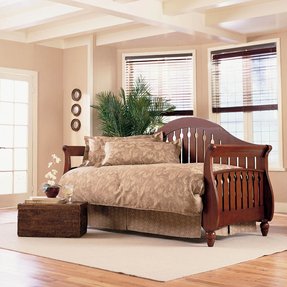 Full-size-daybed-with-trundle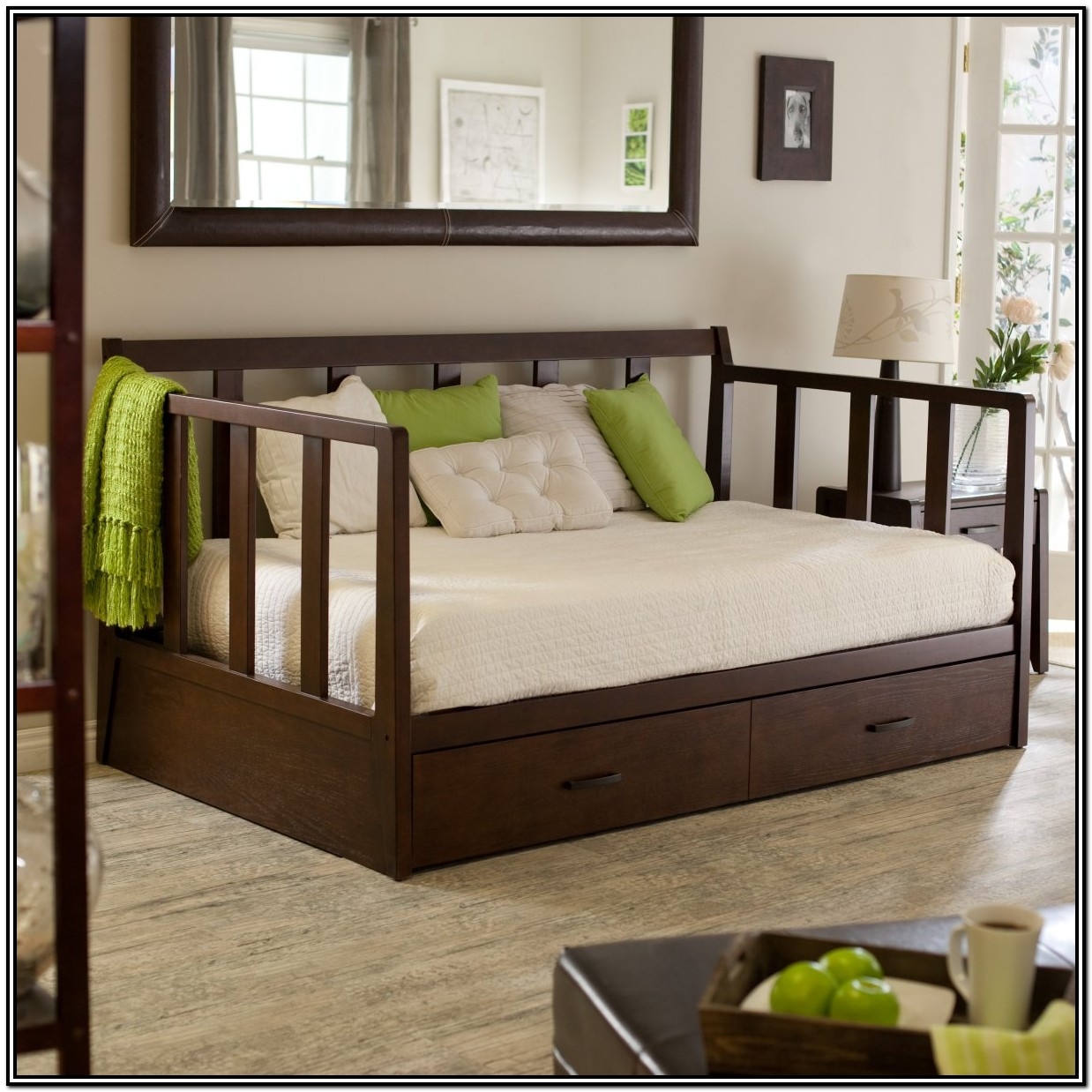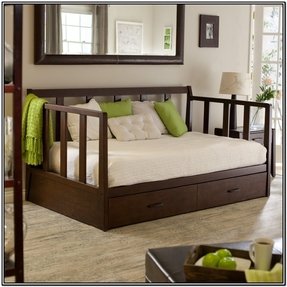 This classic wooden daybed with trundle enchants with the elegant combination of dark espresso finish with white mattress and cushioning. The trundle features 2, considerably large storage drawers.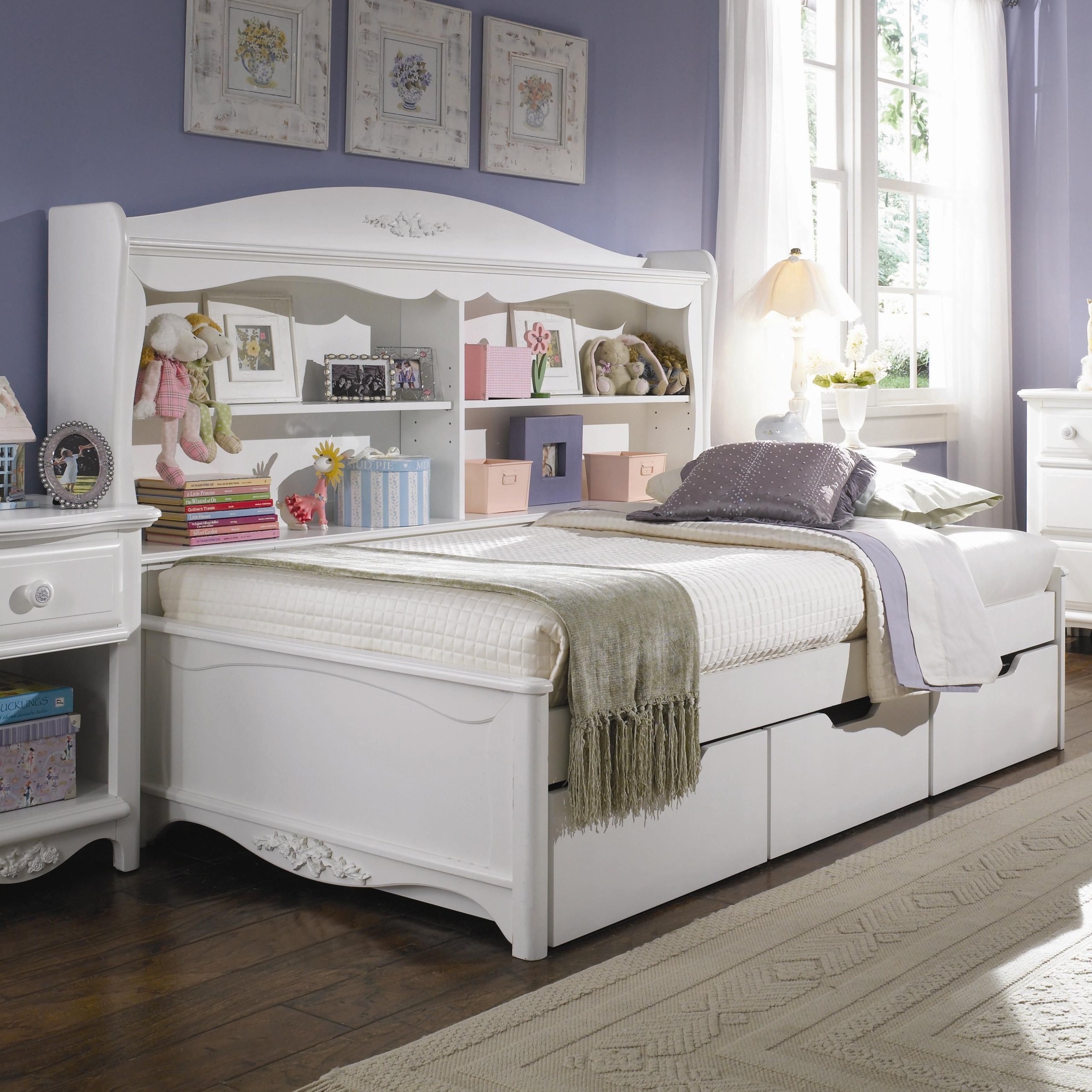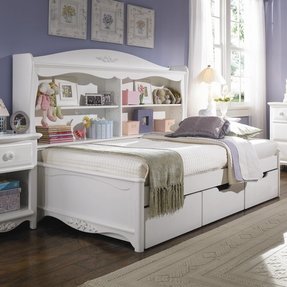 Home > Bedroom > Daybed > Lea Industries Haley Full Platform Bed with ...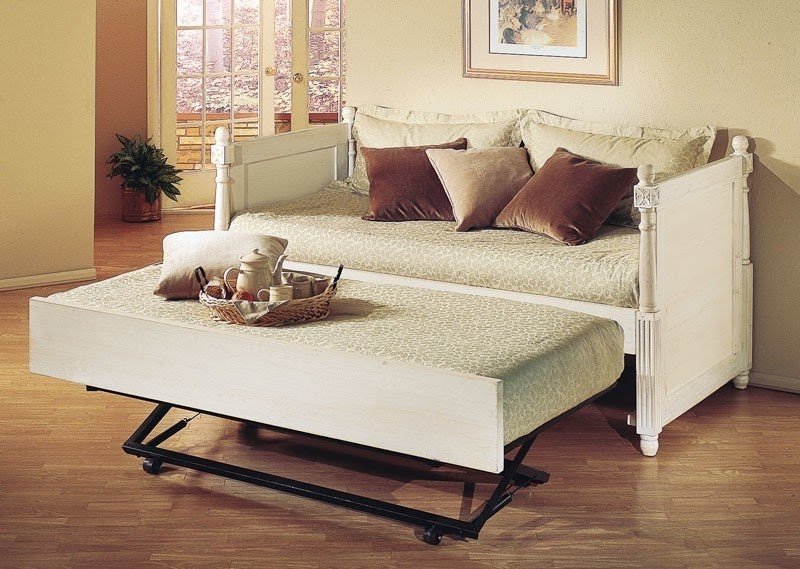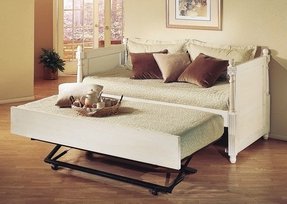 Monterey French Daybed with Pop-up Trundle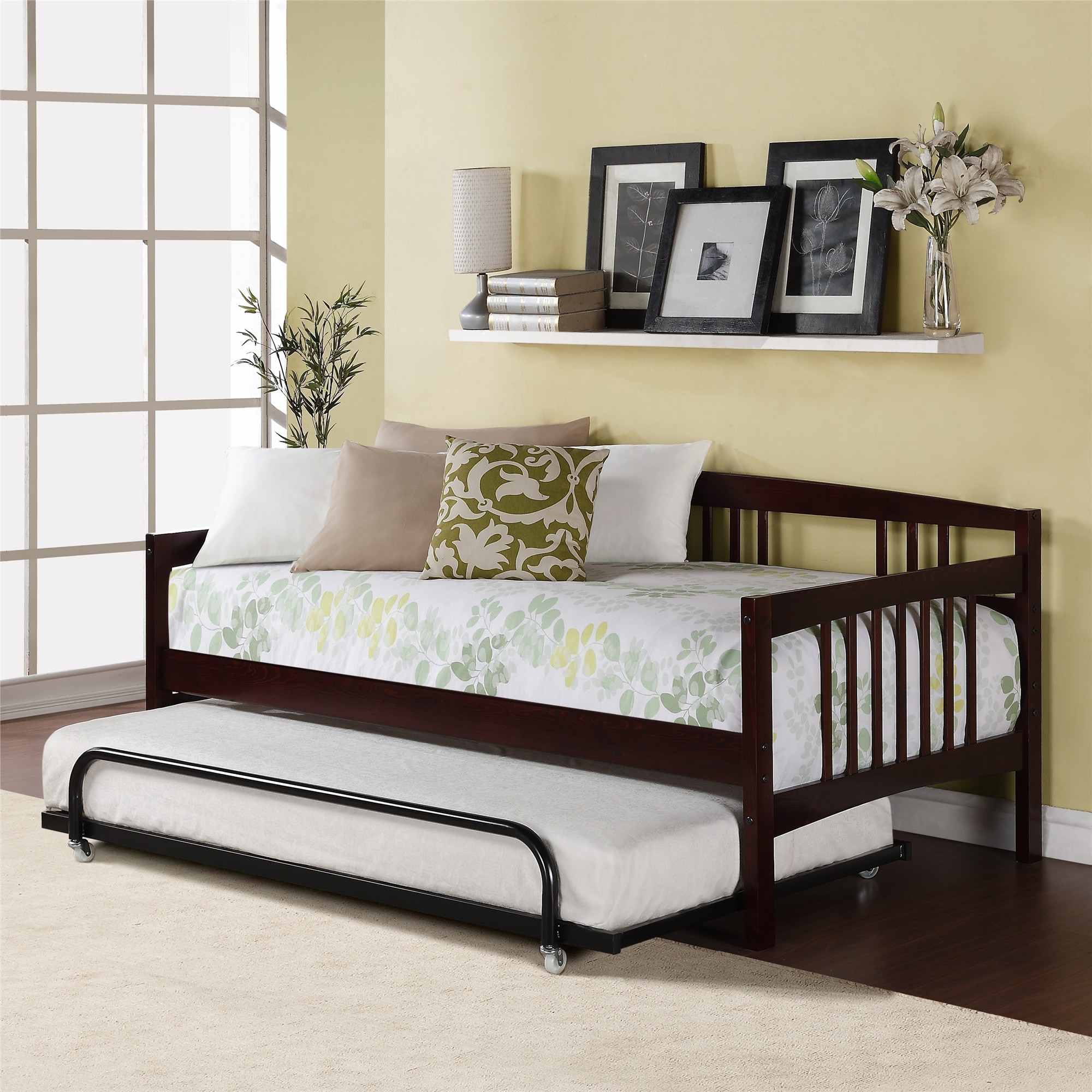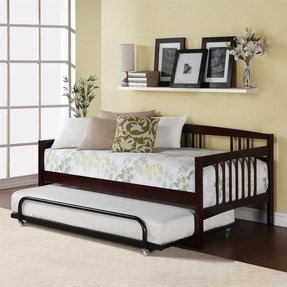 It is worth investing in a piece of furniture that will meet your every need. Day and night. This full size daybed, with trundle could do that. Wooden frame, solid finish in dark brown color becomes a twin bed with storage, whenever you need to.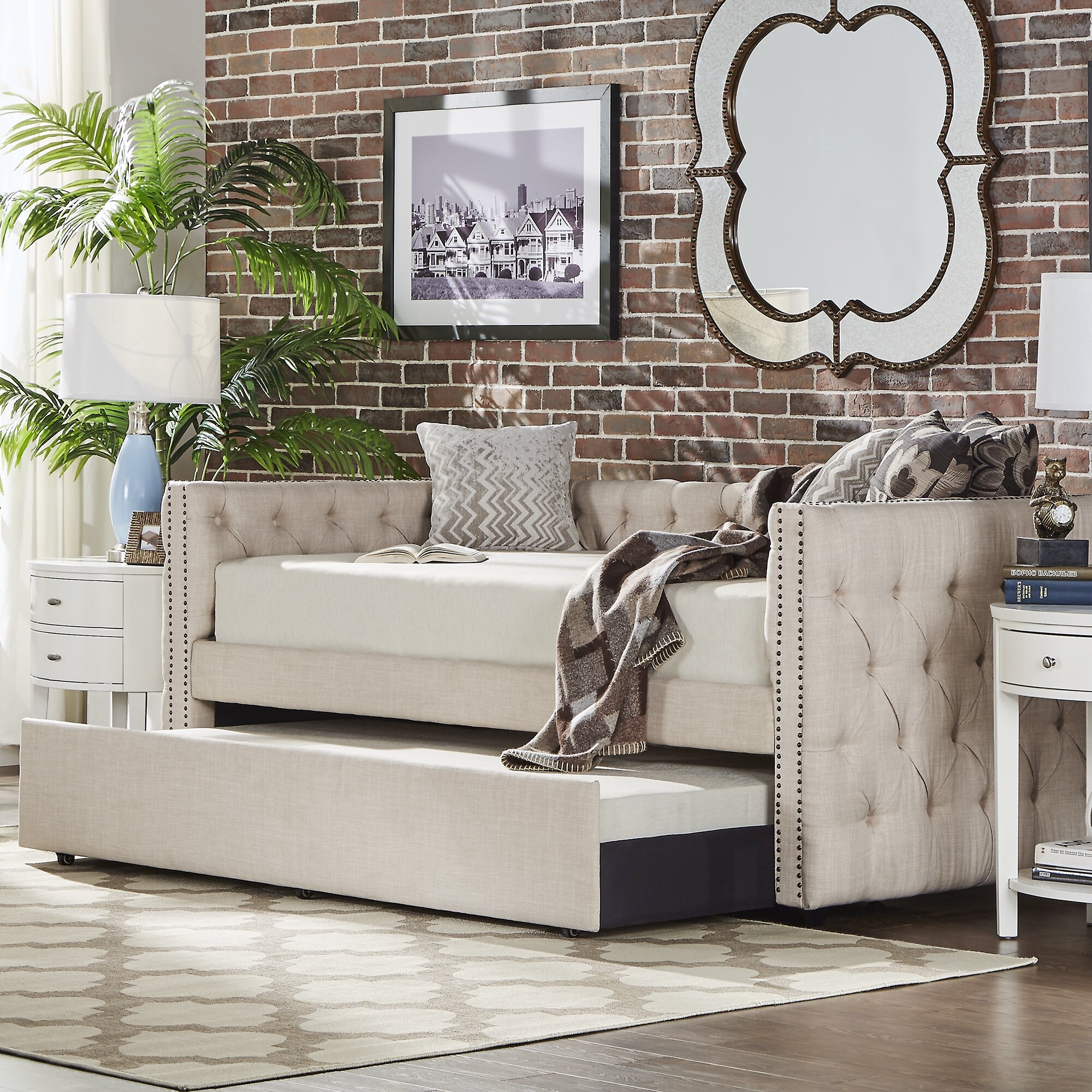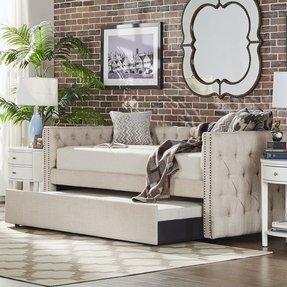 Glenroy Daybed with Trundle
It is an elegant daybed with trundle that is perfect for living room and guest room. It has got a plywood frame, beige linen fabric and polyurethane foam upholstery for improves the level of comfort.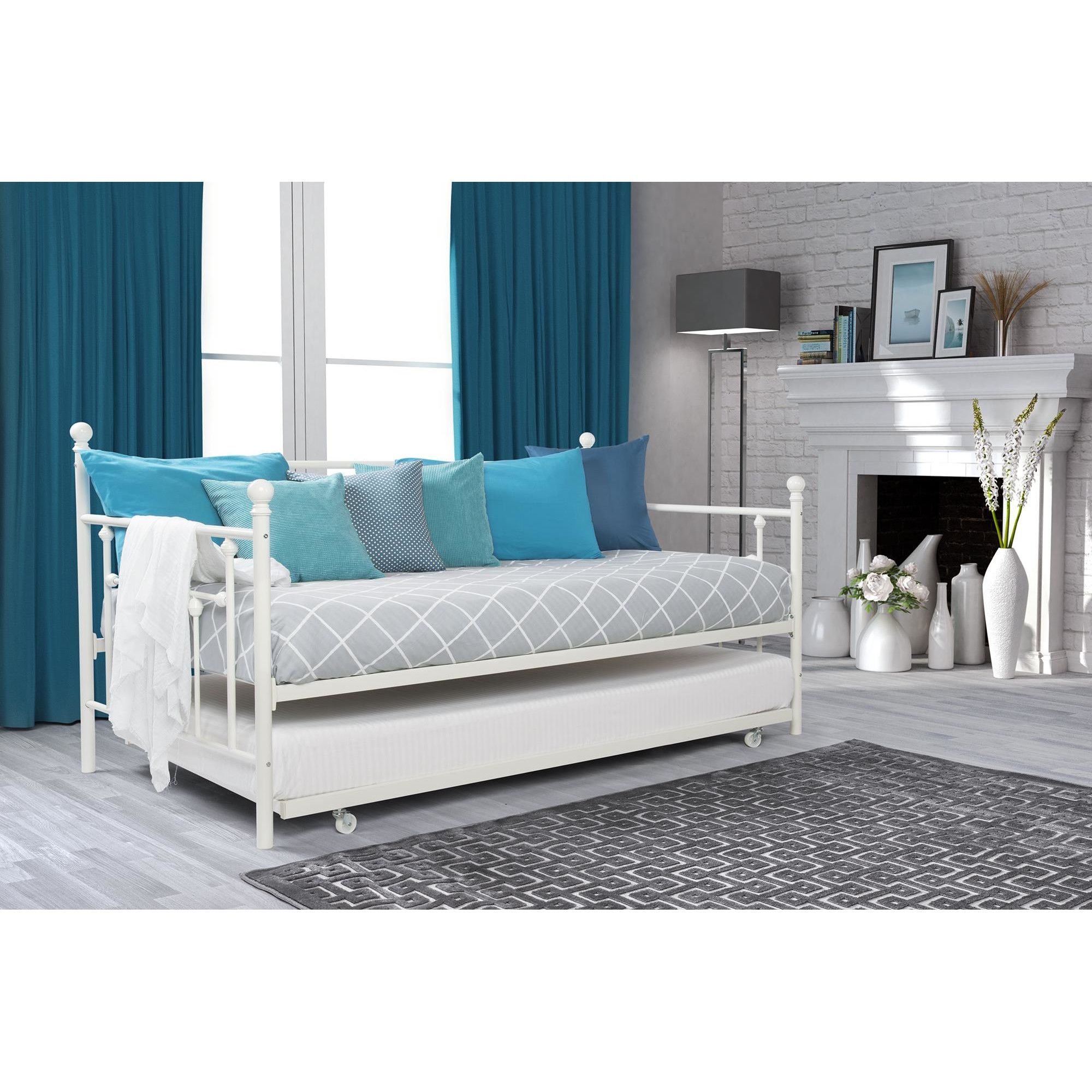 Manila Daybed with Trundle
With this unique modern style that brings sophistication, this daybed comes with a spacious trundle and sports a simple, clean metal frame, designed solely to fit any living area, making it ideal for accommodating your guests comfortably.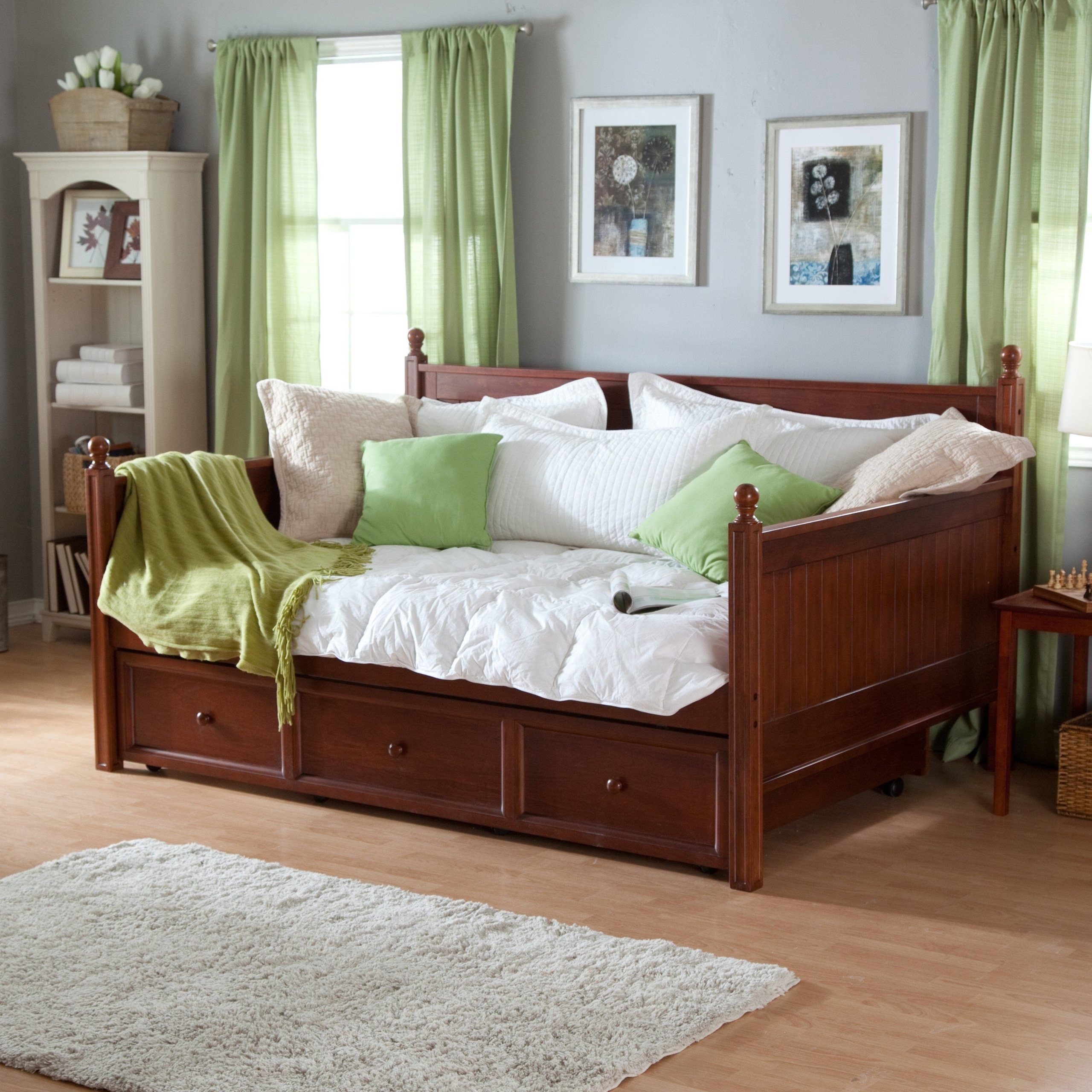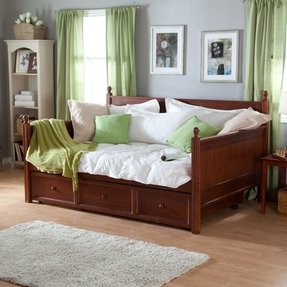 Black lacquered wooden daybed with pop up trundle, full size. Cozy and inviting, isn't it. Covered with mostly white bedding, with olive and apple green accents (throw pillows). Carved finials detail on bed corners.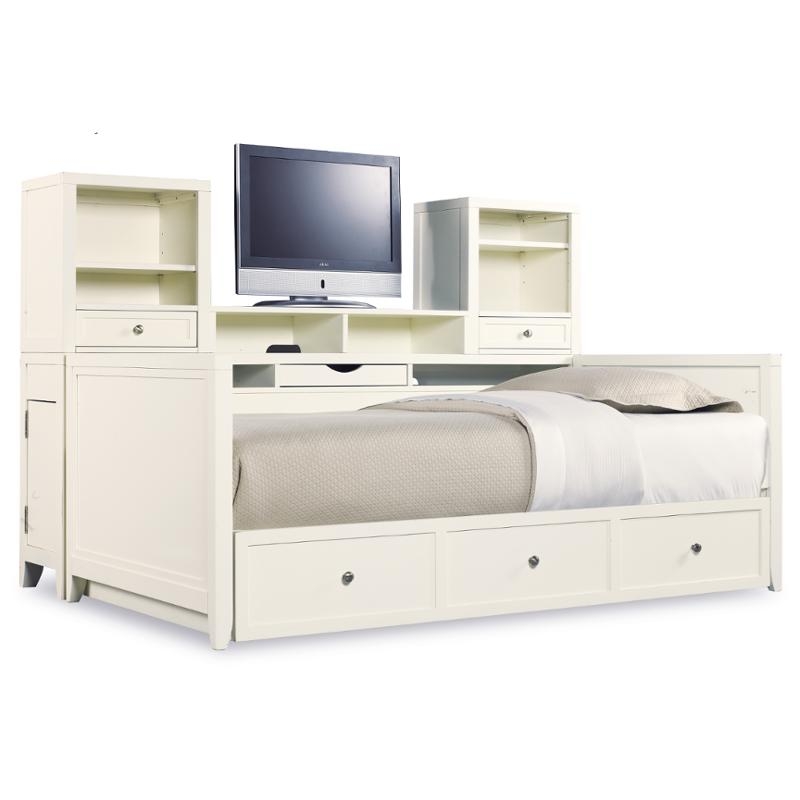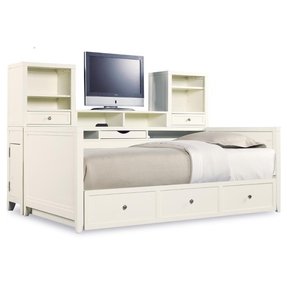 Solid daybed with trundle. This full size element provides comfort and safety of sleep for two people. Its white wooden frame includes a lower storage area. It perfectly matches a TV console with two storage and display towers.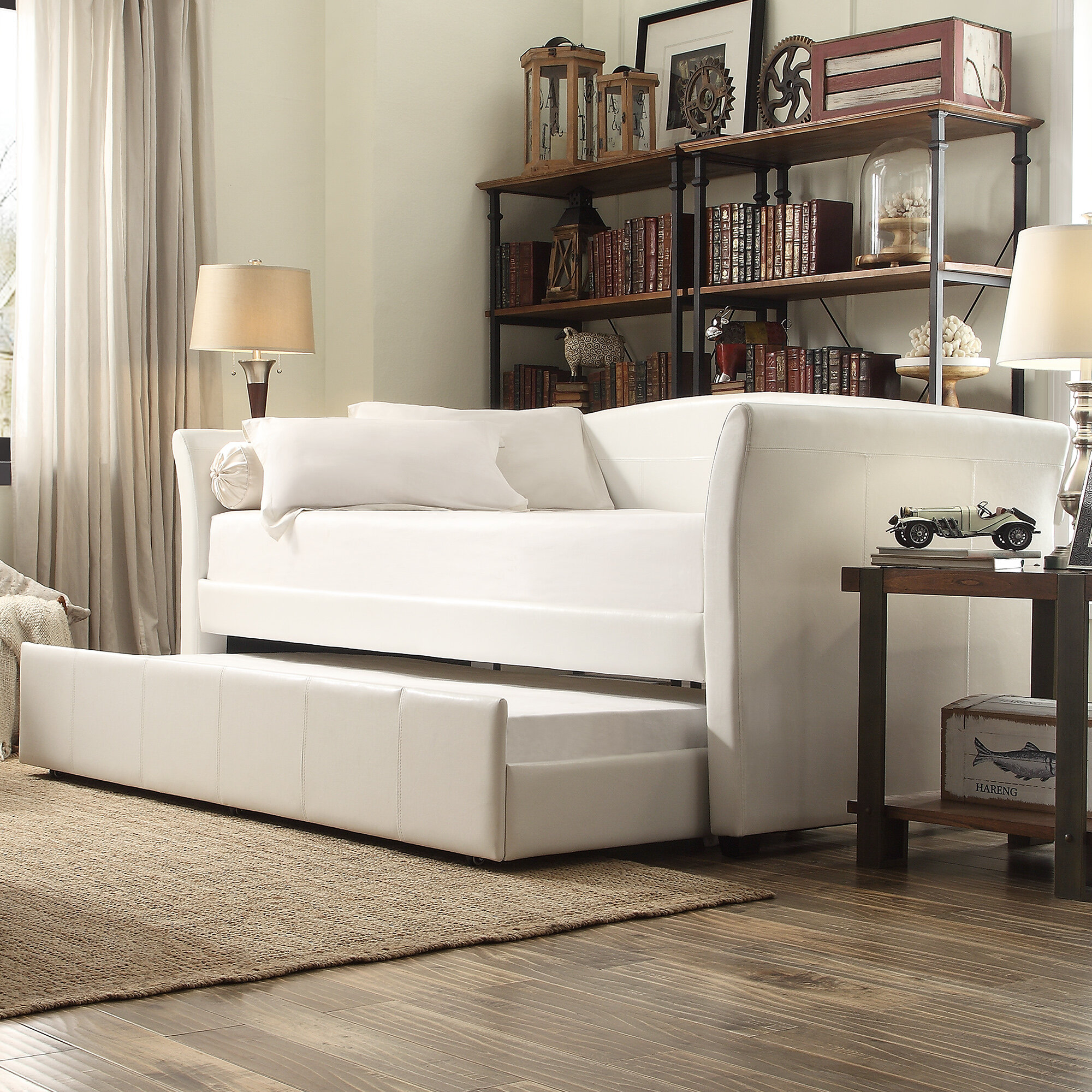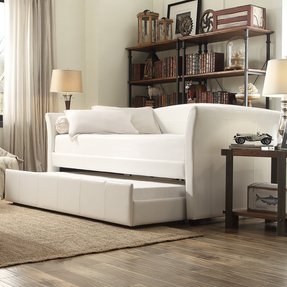 Cataleya Daybed with Trundle
This beautifully made bed day is a real treat for lovers of clear and functional furniture. Beautifully made a sliding mattress, which creates a comfortable and very comfortable place to rest.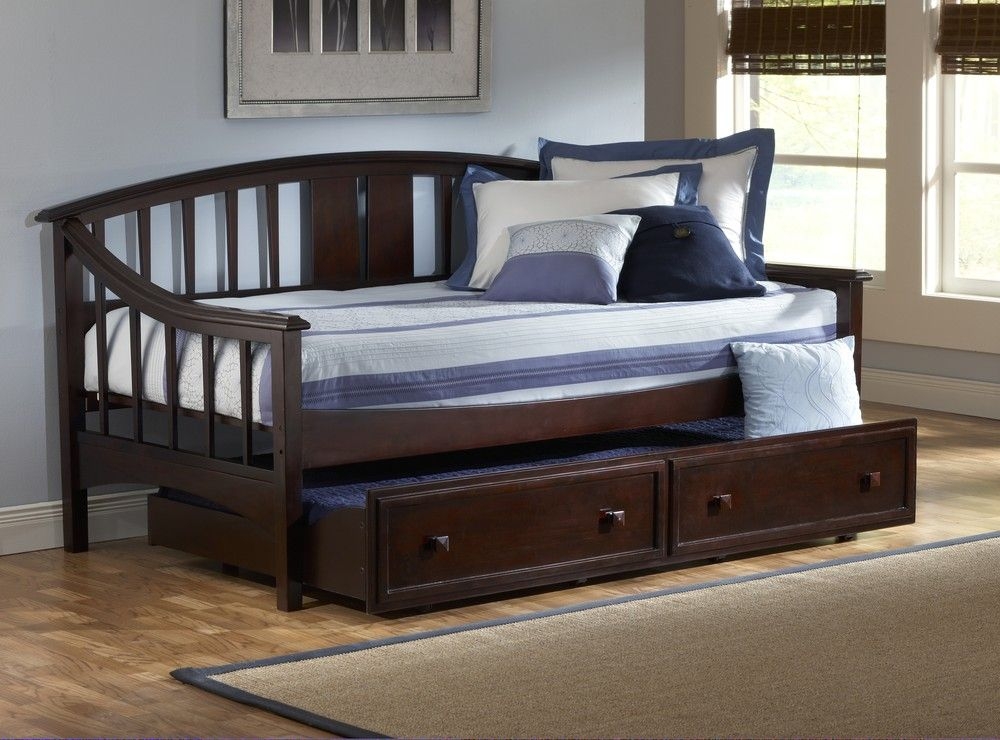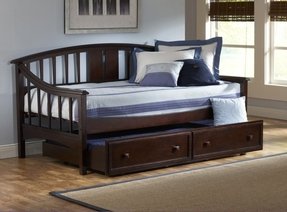 Features of Daybeds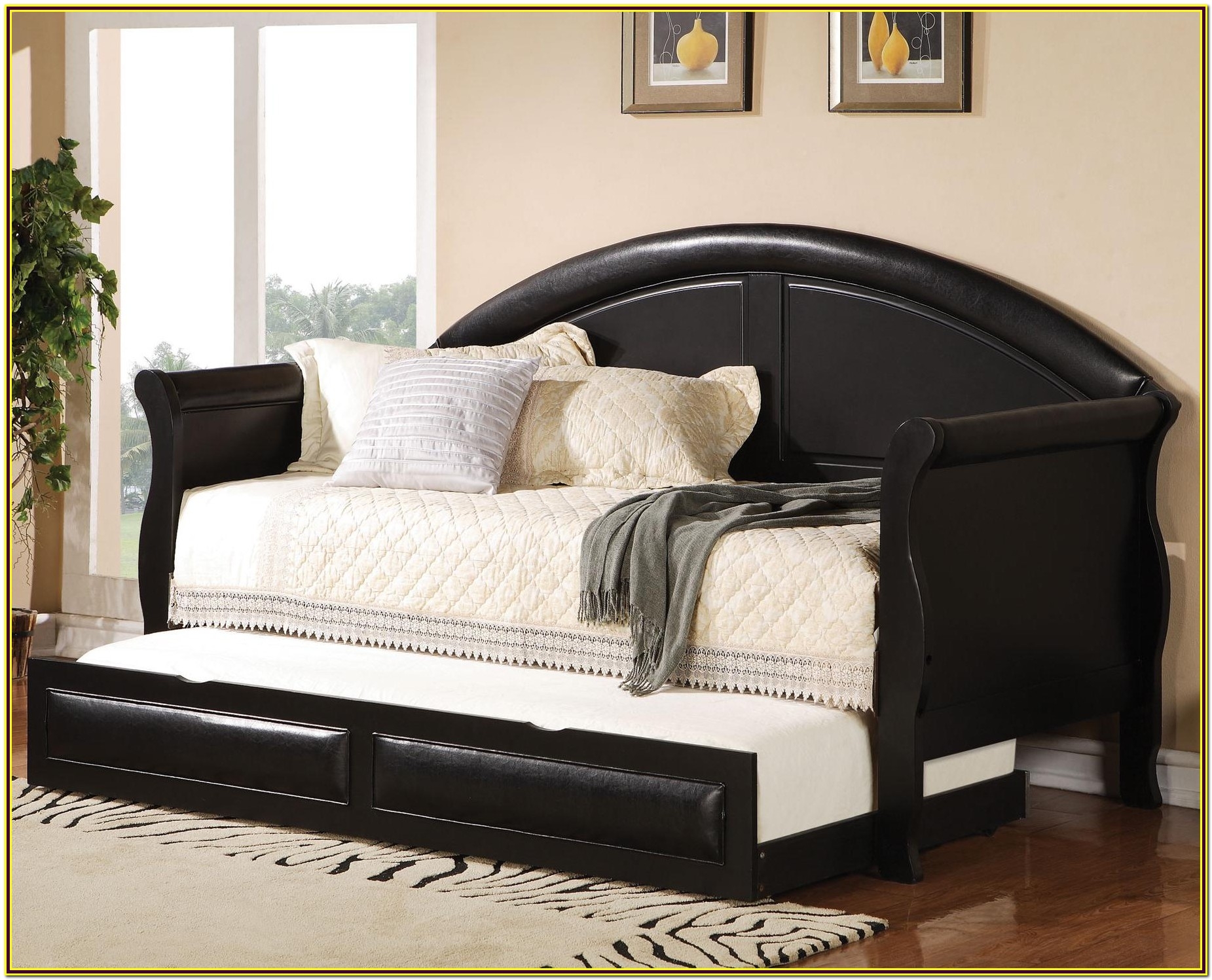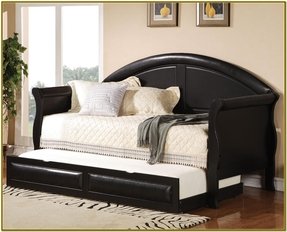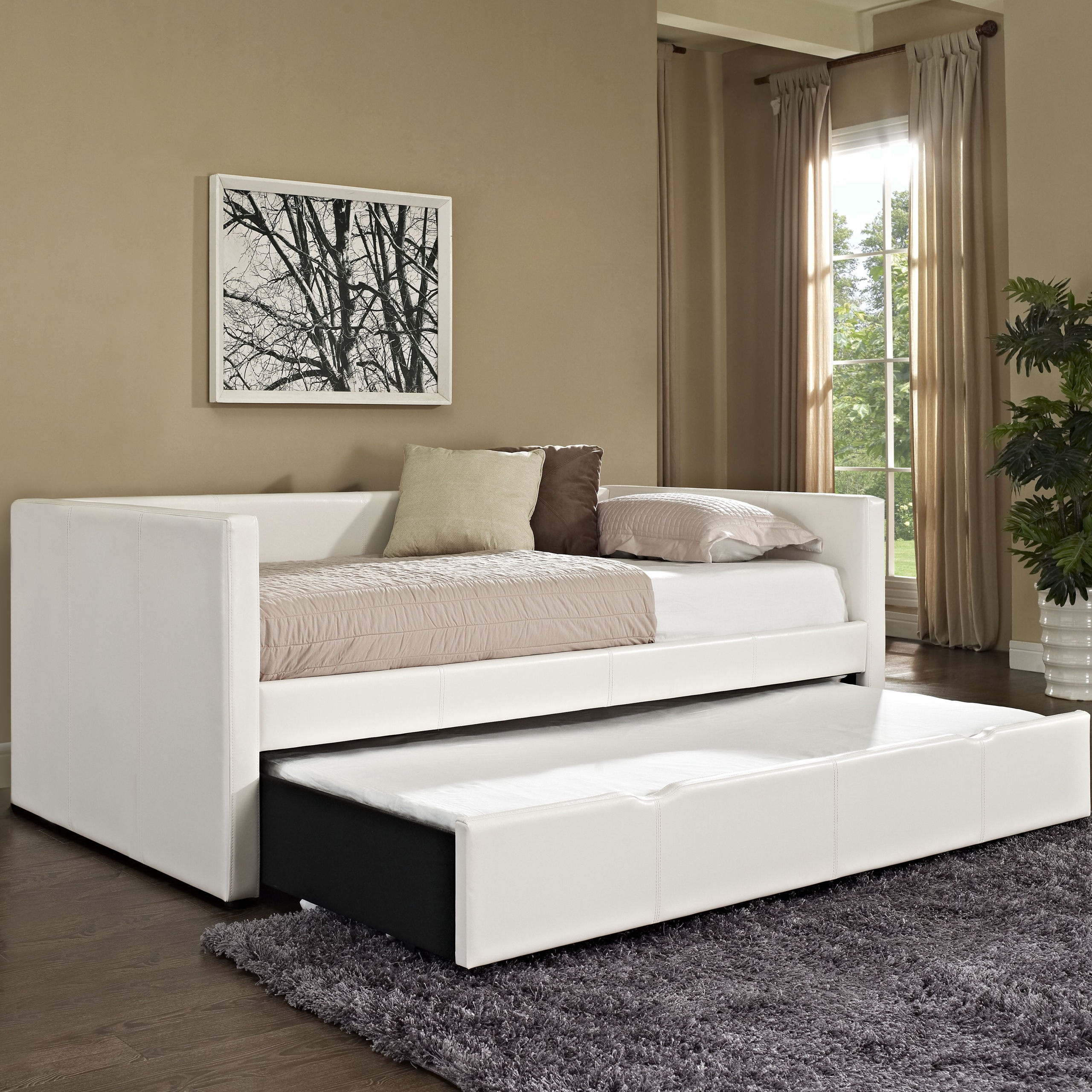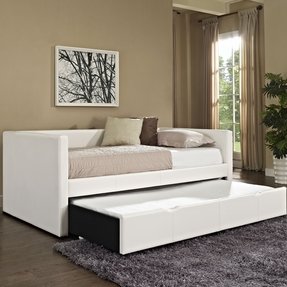 Lindsey Daybed with Trundle
It is a Lindsey daybed that has got a trundle. It is perfect for small spaces, guest room, living room area and bedroom. It is very comfortable and available in four colors: white, brown, lavender and pink.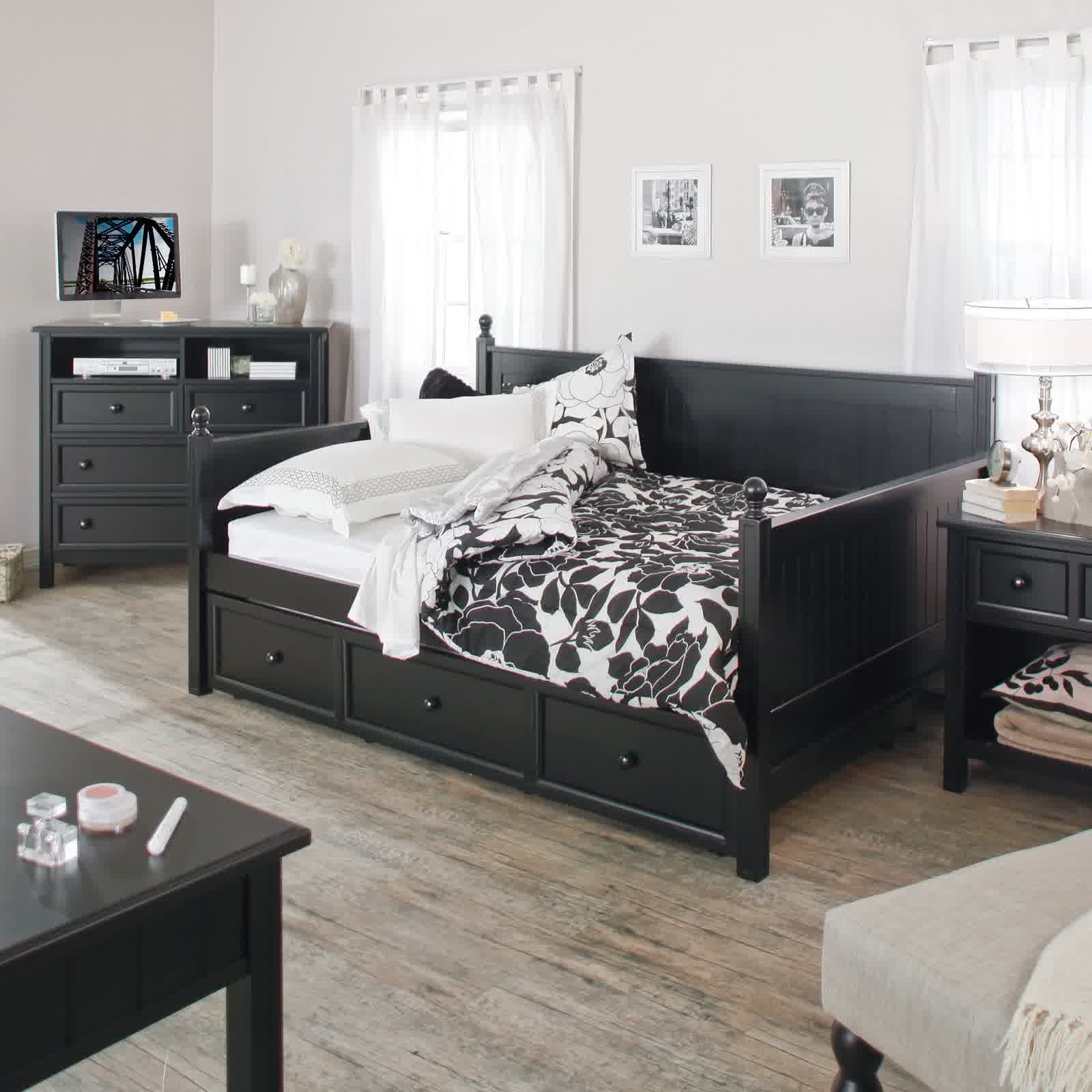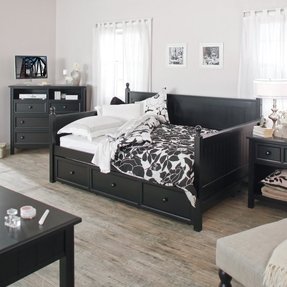 A beautiful set for contemporary guest rooms, consisted of 1 full size daybed, 1 chest of drawers, 1 nightstand and 1 console table. Made of black-finished sturdy wood, the set offers several drawers with black pull-knobs, and open storage compartments.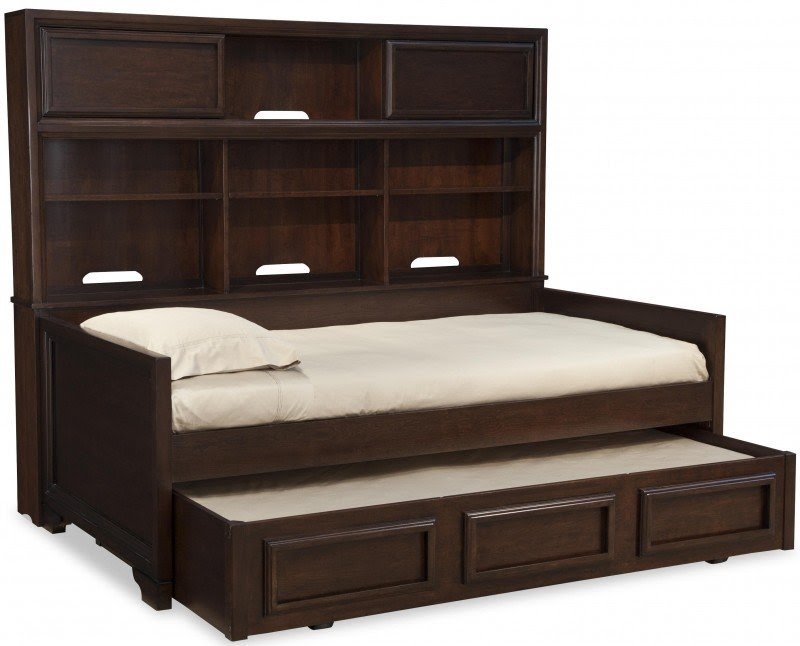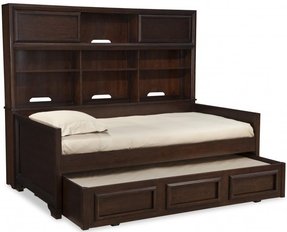 Why not opt for a daybed that comes with the built-in bookcase and sports the trundle for extra storage options as well as a traditional look with its espresso finish and simple frame with clean, straight lines.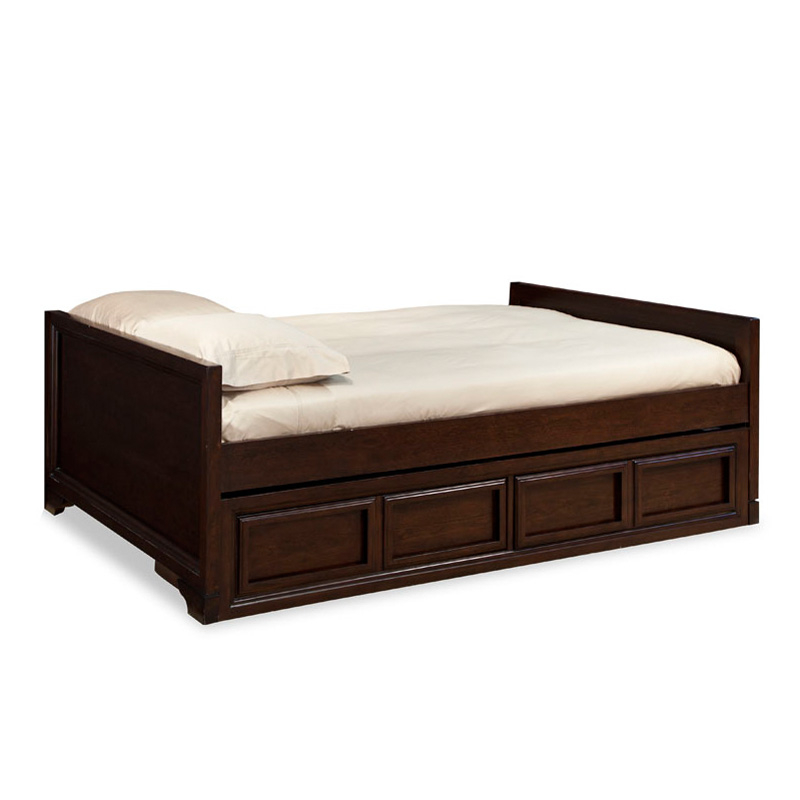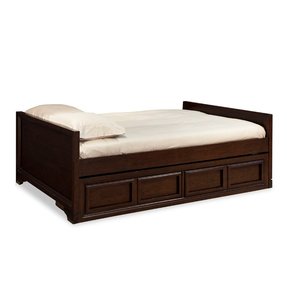 The benchmark daybed. Constructed from poplar solids and cherry veneer. Equipped with the optional storage drawers to hide the bedding or to use it as an additional bed. Available in many sizes, depending to your choice.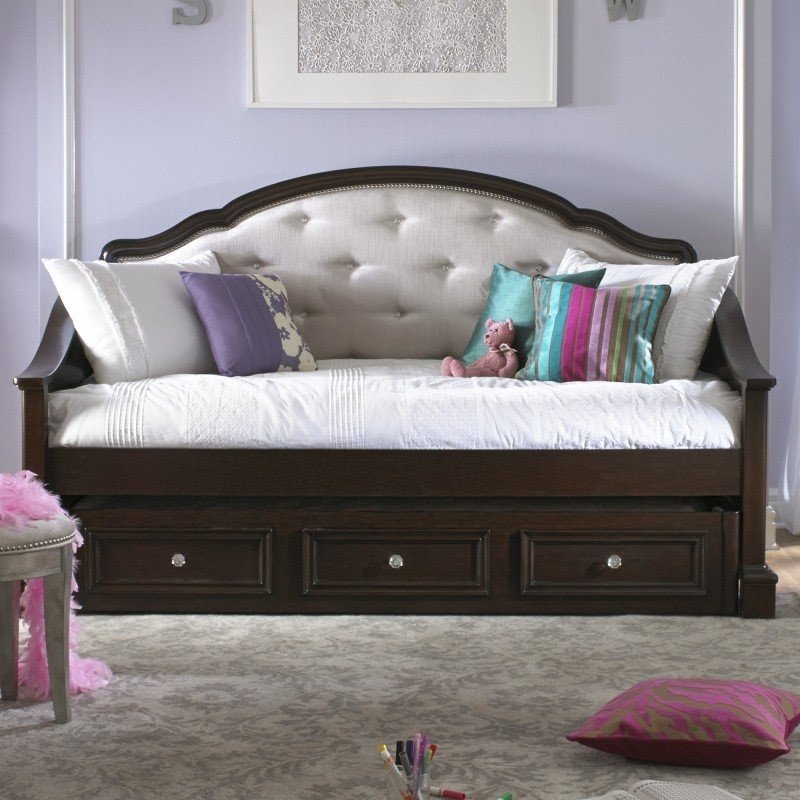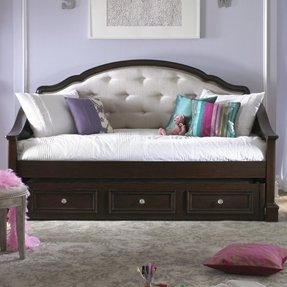 Girls' Glam Daybed with Trundle
Daybed with trundle in a traditional style. It has a rounded panel upholstered and quilted decorative buttons. Stylish piece of furniture for a teenager's room or other interior as needed.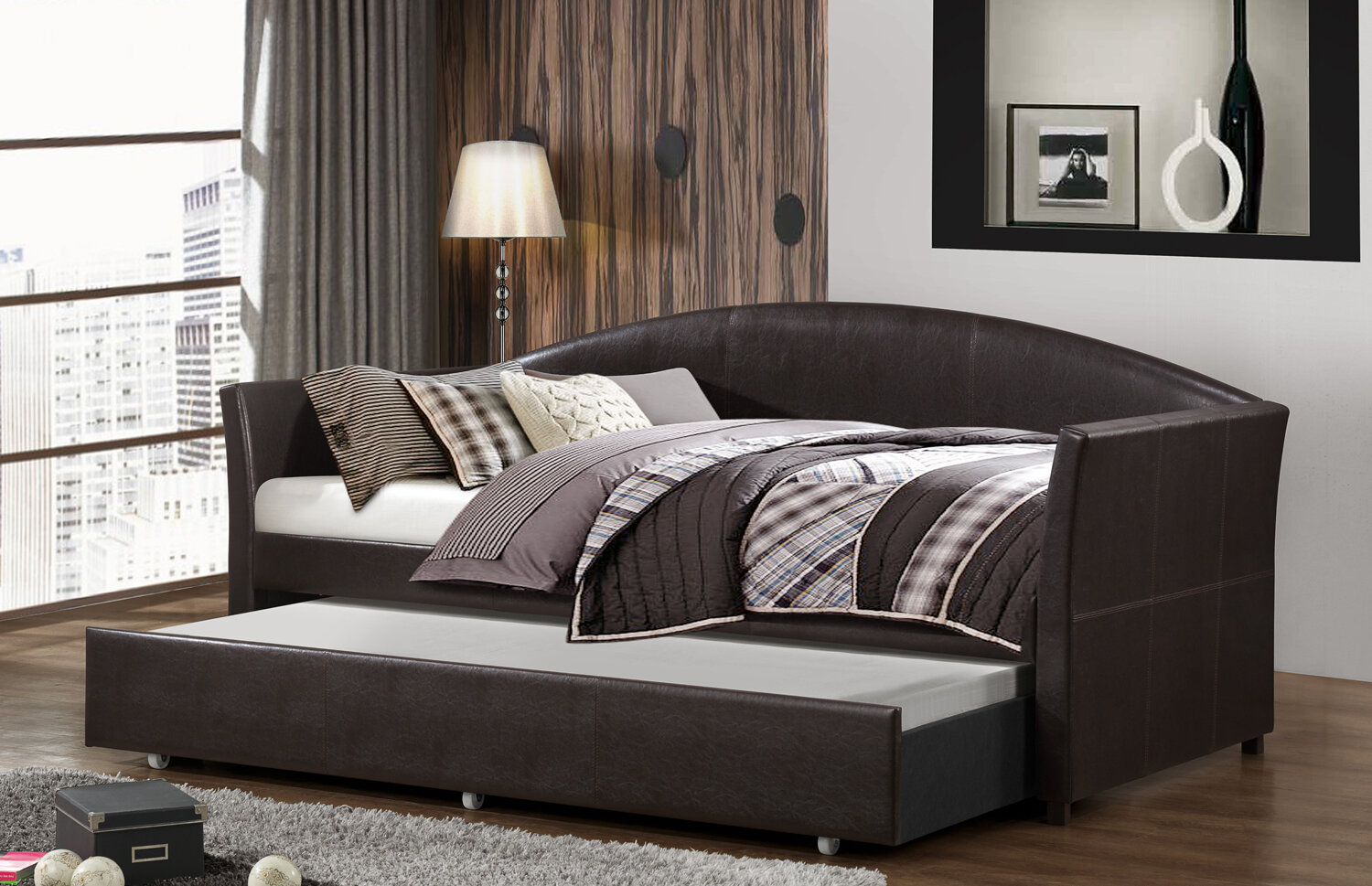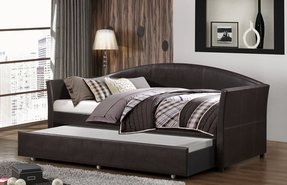 A lovely mix of modern appearance and comfortable usage, thanks to this full size bed your naps will jump on a whole new level. Crafted of Asian hardwood, the bed is wrapped ina brown leather, with a beautifully arched back and stylish tufting.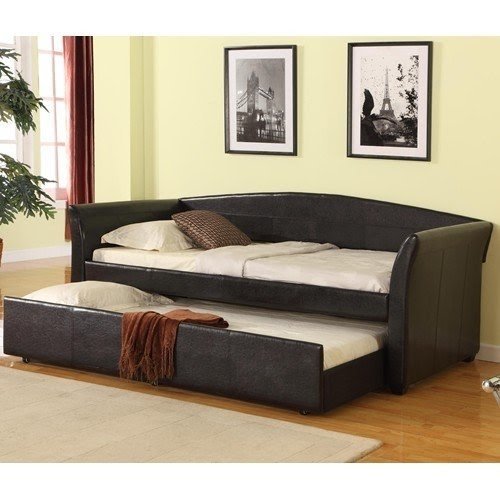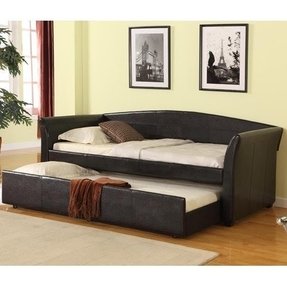 Crown Mark Futons & Daybeds Tranquil Daybed with Trundle at Miskelly ...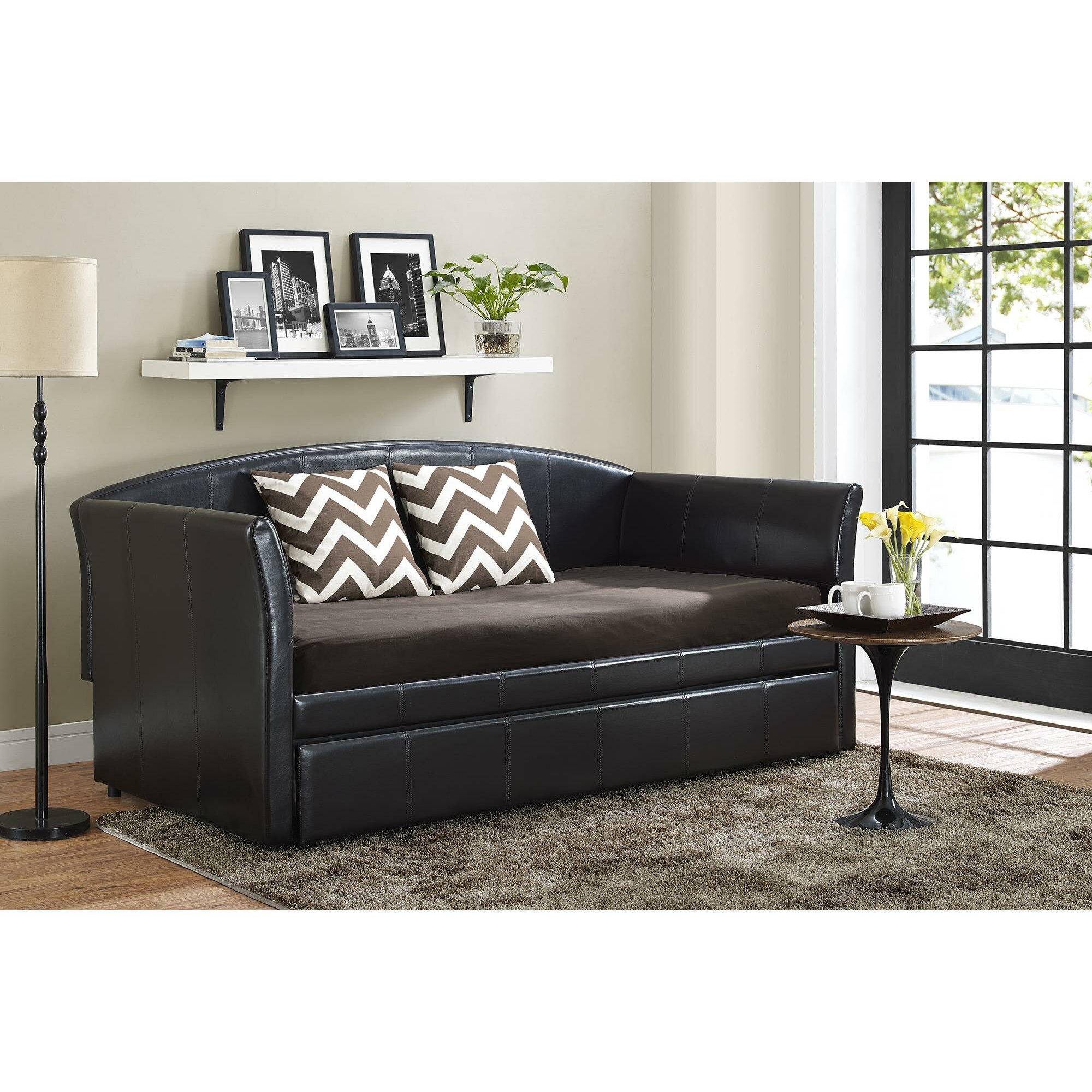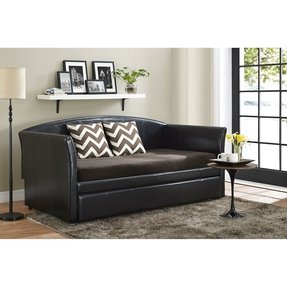 Halle Daybed with Trundle
A true example of multi-functionality, this daybed will double serve as both a comfortable sofa and a nice, convenient bed, while still offering some more storage space for your home to be clutter-free and organized.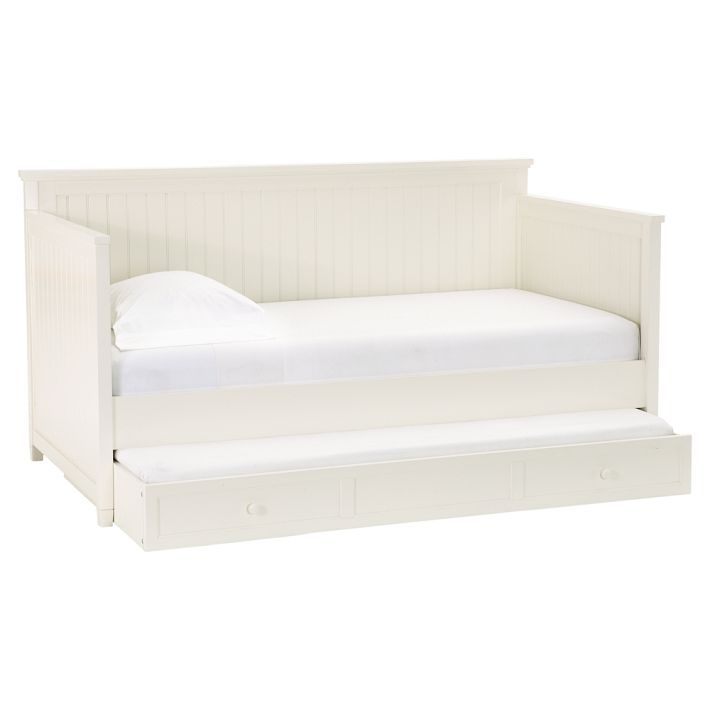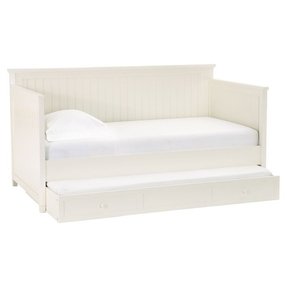 Smart and classic daybed with a durable kiln-dried wood frame. Classic headboard and footboard are finished in neutral white color. This simple element of furniture provides comfortable and relaxing space.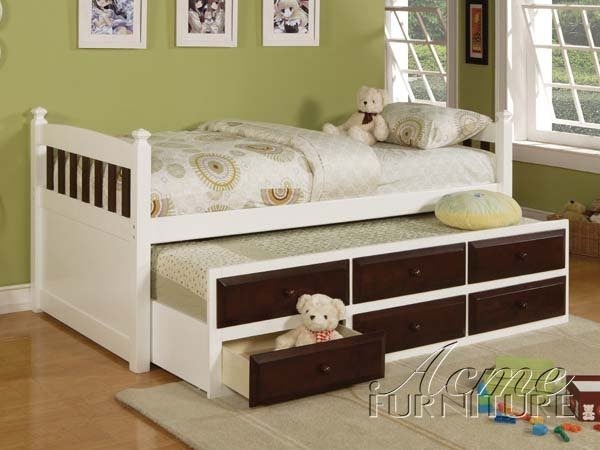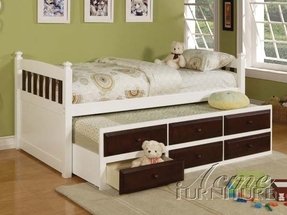 Do you know how to always be prepared to visit an unexpected guest without losing your space?A full size daybed with trundle-that's the solution.White wooden bed, with a trundle based on six drawers, with dark brown finish will make your guest feel like home.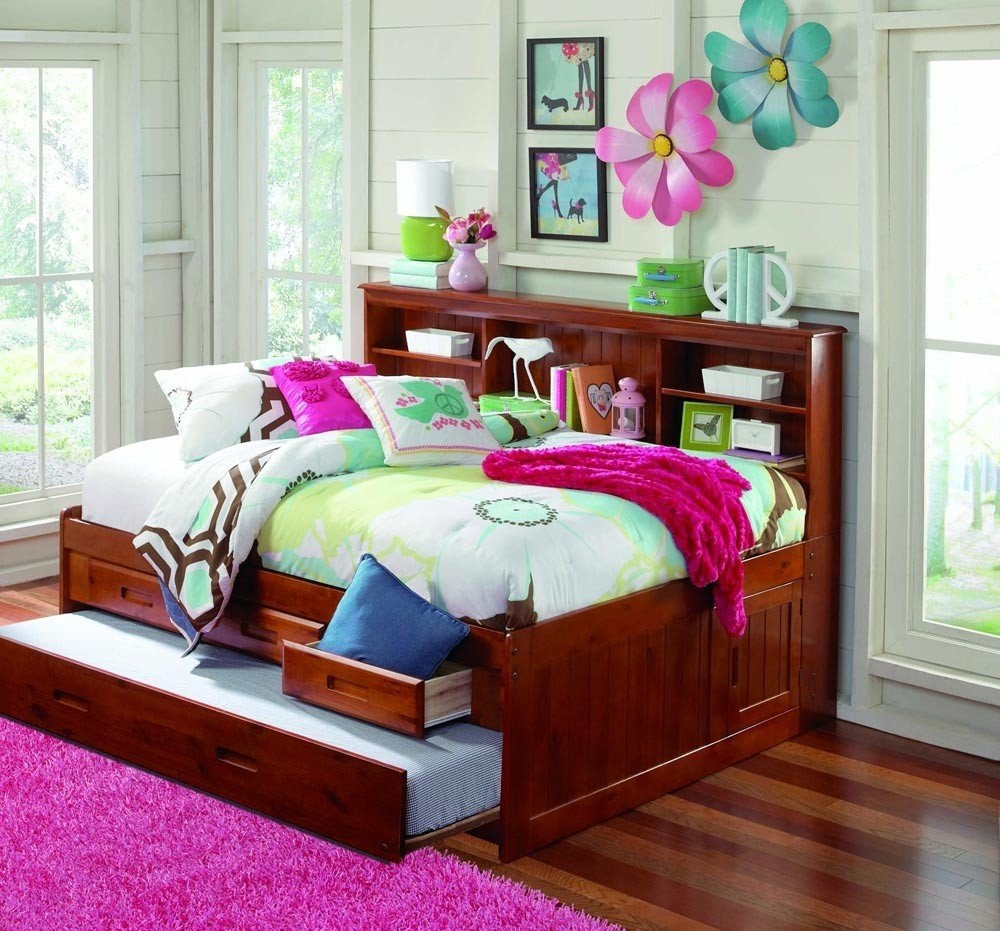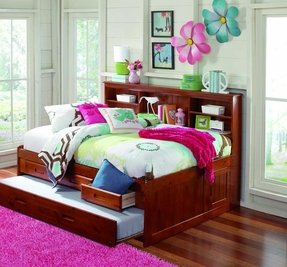 It's a solid bed with numerous drawers and compartments is a real masterpiece. Ideally suited for children's rooms, because it contains additional bed that is hidden in the bottom drawer - perfect for a night visit the small guests.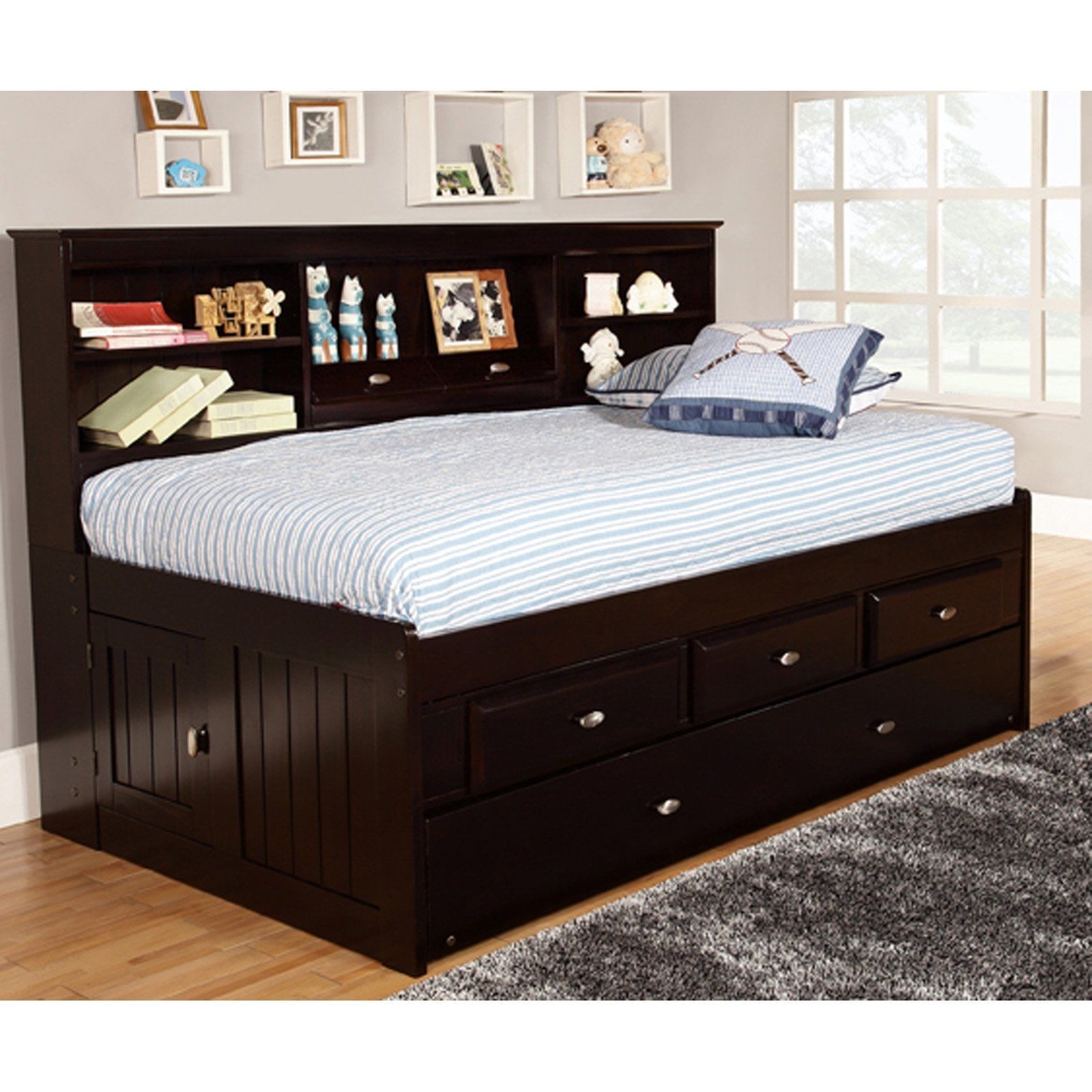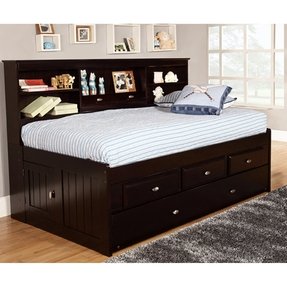 Daybed with Trundle
Beautifully crafted daybed with trundle finished in great dark color. This bed was crafted of solid pine wood made of Radiata pine, which is actually very strong and sturdy wood. The bed features four drawers.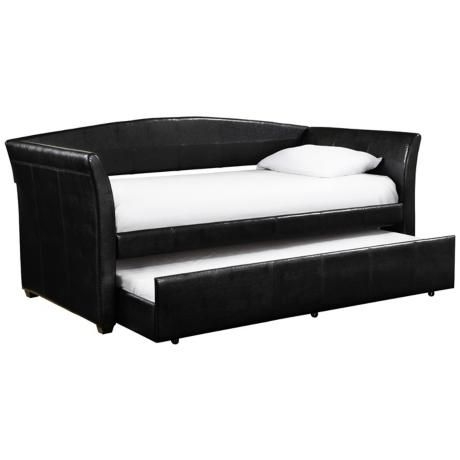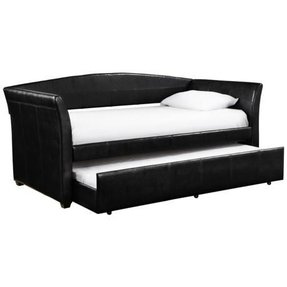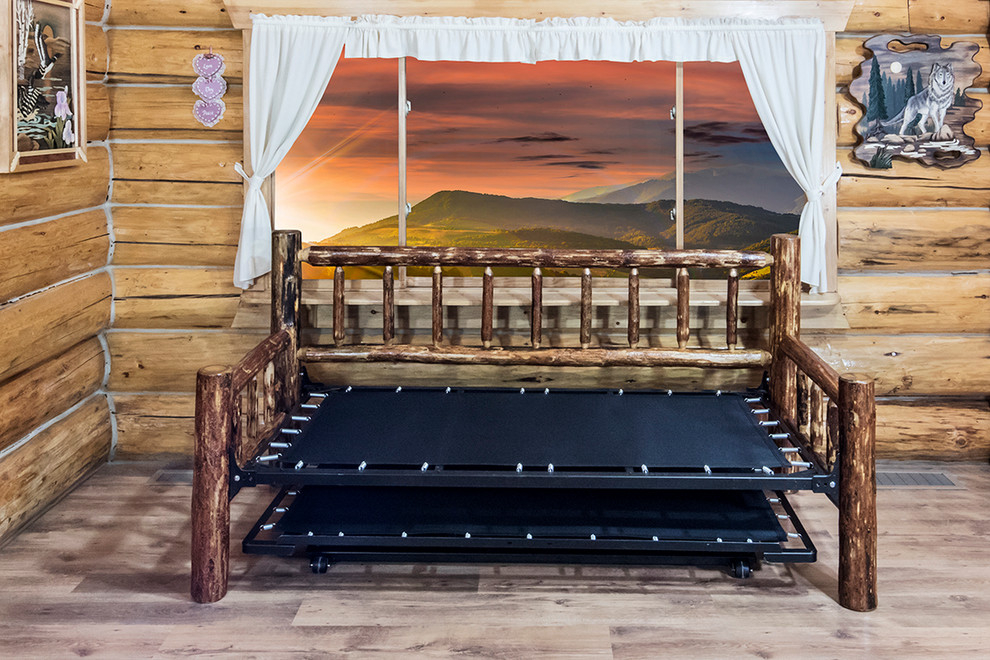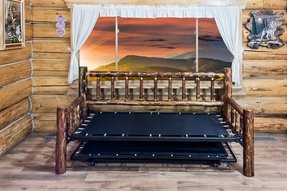 Glacier Country Daybed with Trundle
Enchanting with its raw, rustic appeal, this country daybed with a trundle will be an exquisitely solid construction. Made from wooden logs, constitutes an ideal complement to the mountain lodge decor.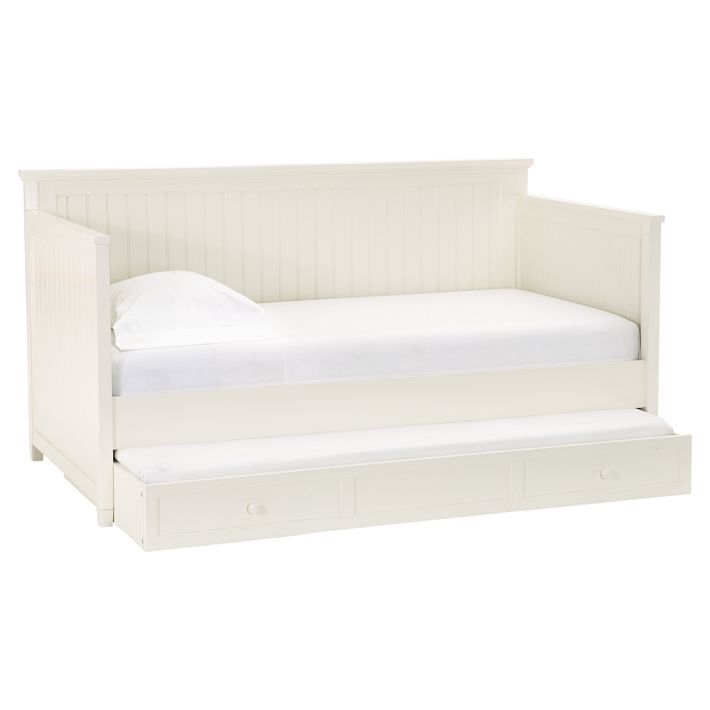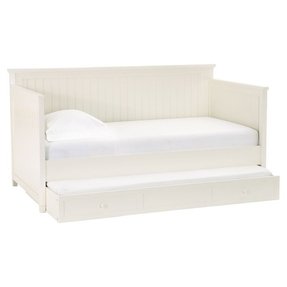 Durable daybed with a solid wooden construction. This full sized bed features a trundle for additional sleeping space. It assures good comfort of sleeping and its wooden construction is resistant to wear.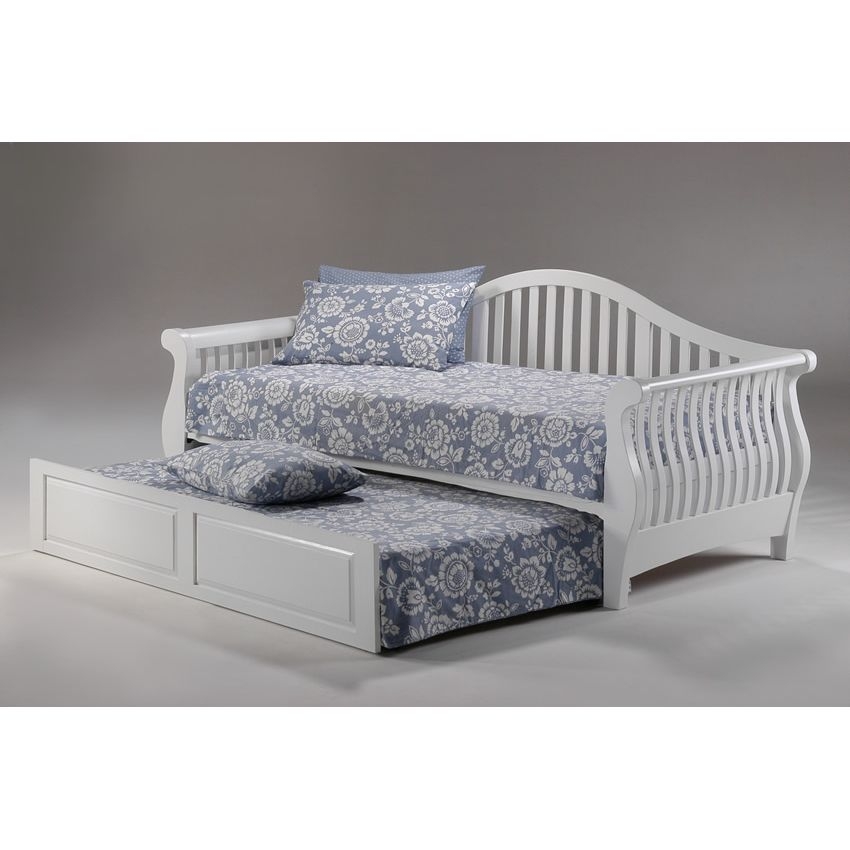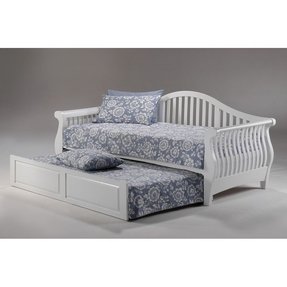 This wicker bed with trundle smoothly combines functionality with a warm and elegant appeal. The curvy white silhouette corresponds well to florally-patterned upholstery.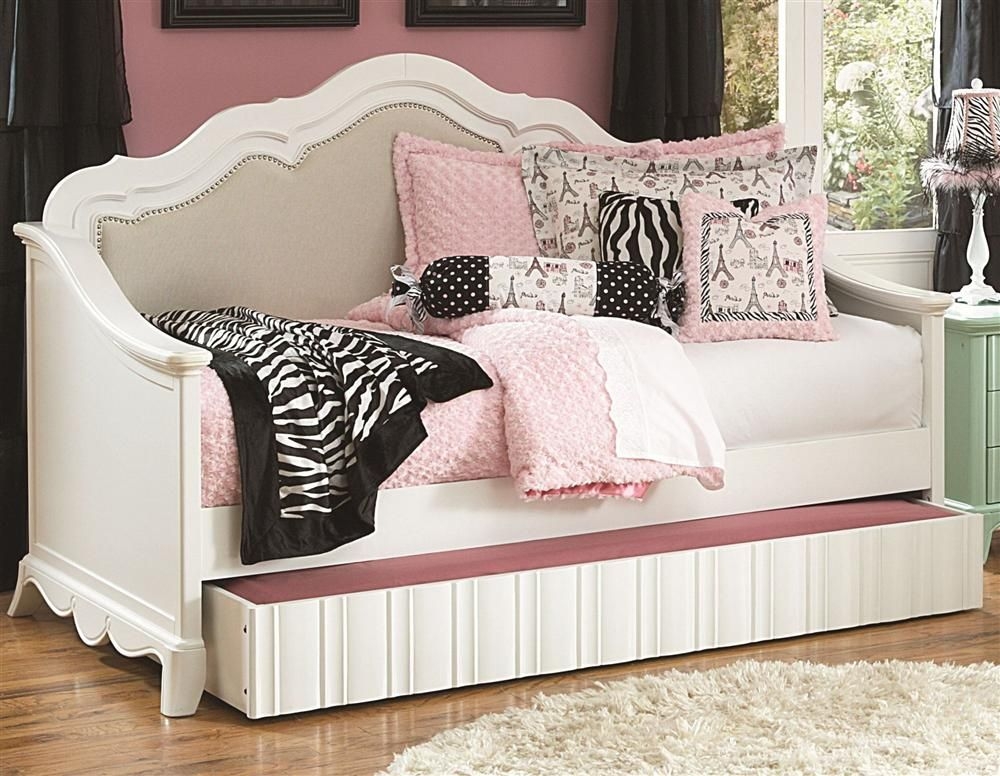 Gabrielle Full Daybed with Trundle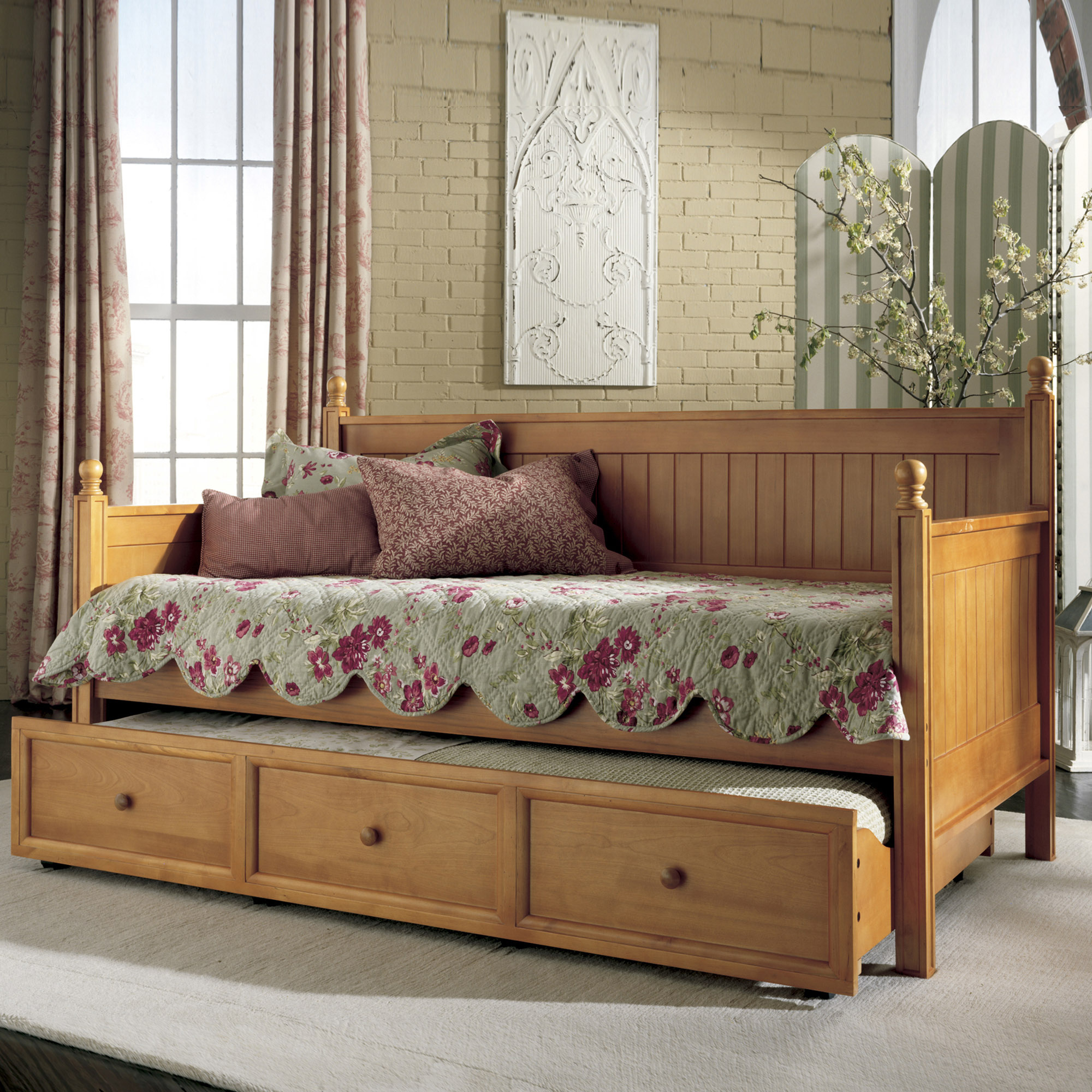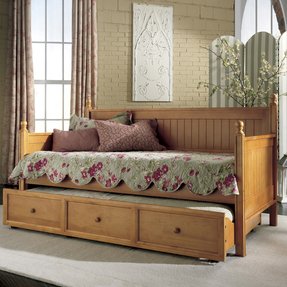 Fashionable daybed in honey maple. The bed has elegant style frame, which will complement any decor. The bed features high back with arms, beadboard details and ball finals. The bed also has a rollout trundl, which may be used as an additional place to sleep.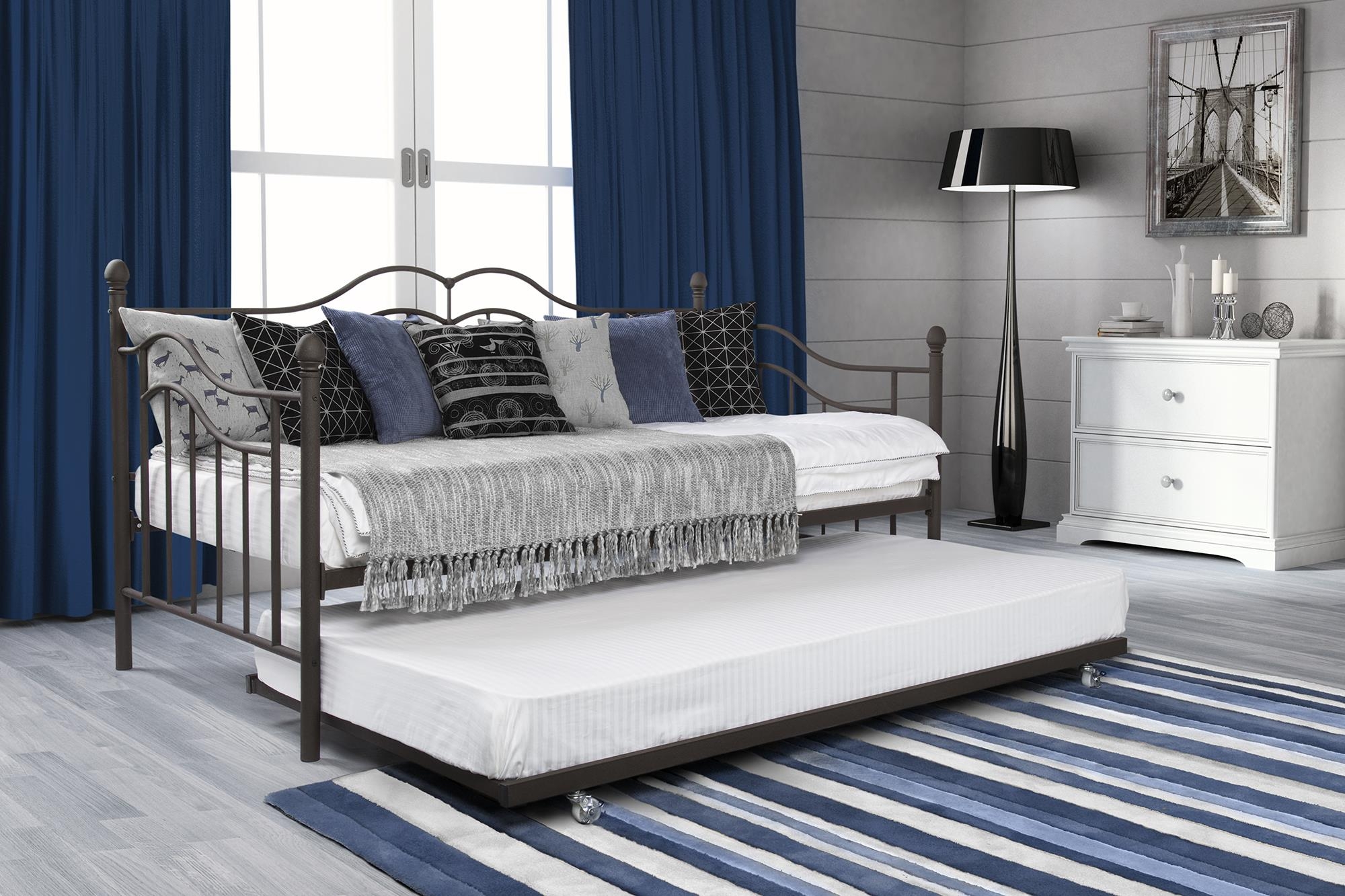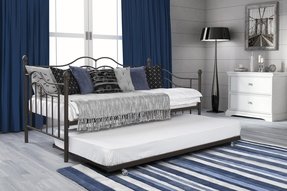 Tokyo Daybed with Trundle
It is a Tokyo daybed that has got a trundle, brushed bronze finish and brown and grey color with sparkle finish. It is great for your kids room, bedroom or guest room. It is very comfortable and stylish. You need to have it.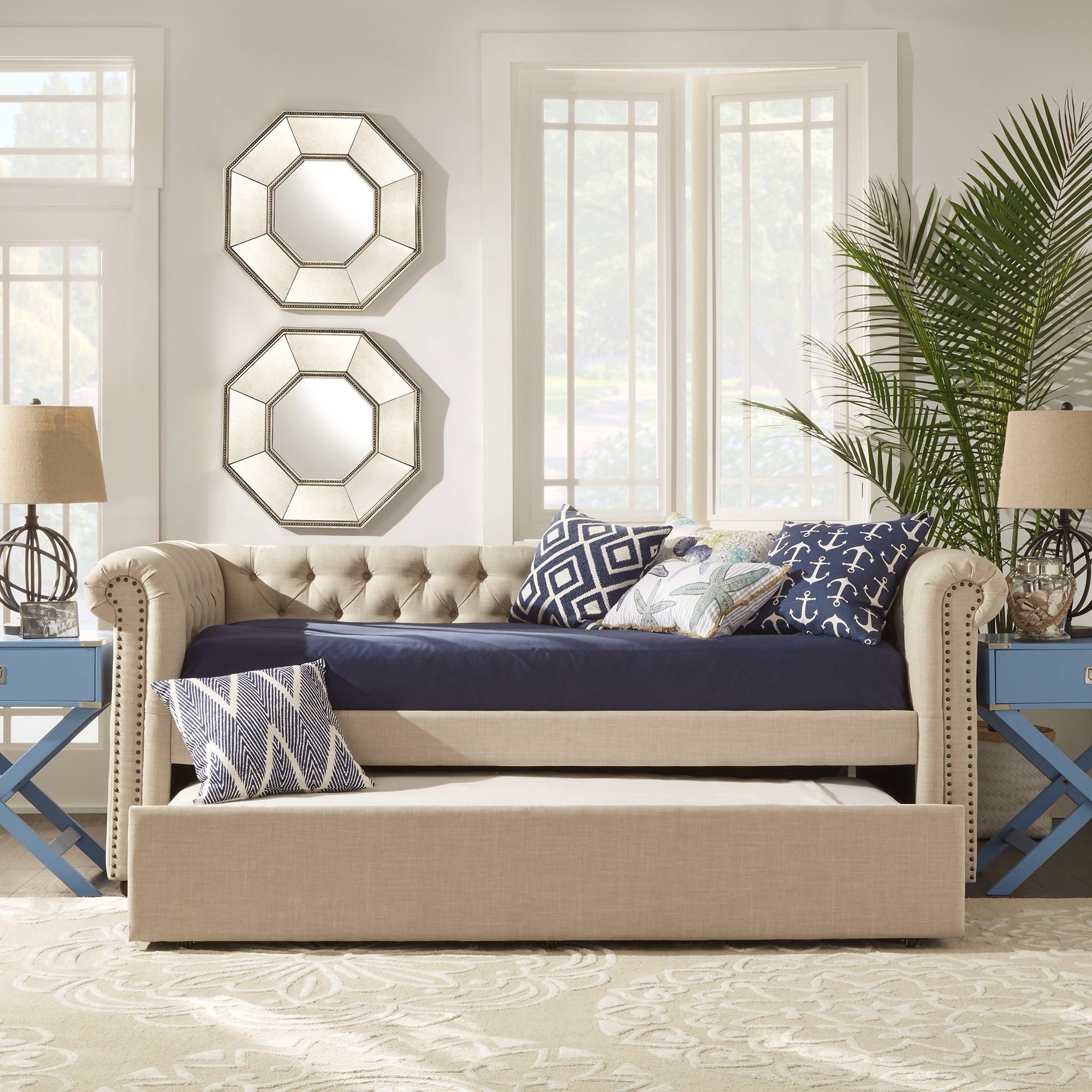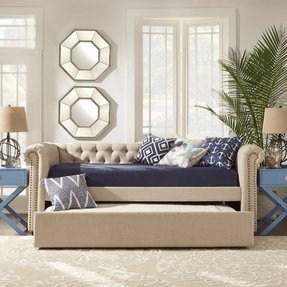 Carthusia Daybed with Trundle
This daybed has got a trundle. You can choose one of two colors: beige and grey. It is perfect for your guest room or bedroom. If you looking for very stylish and beautiful daybed you need to buy this one.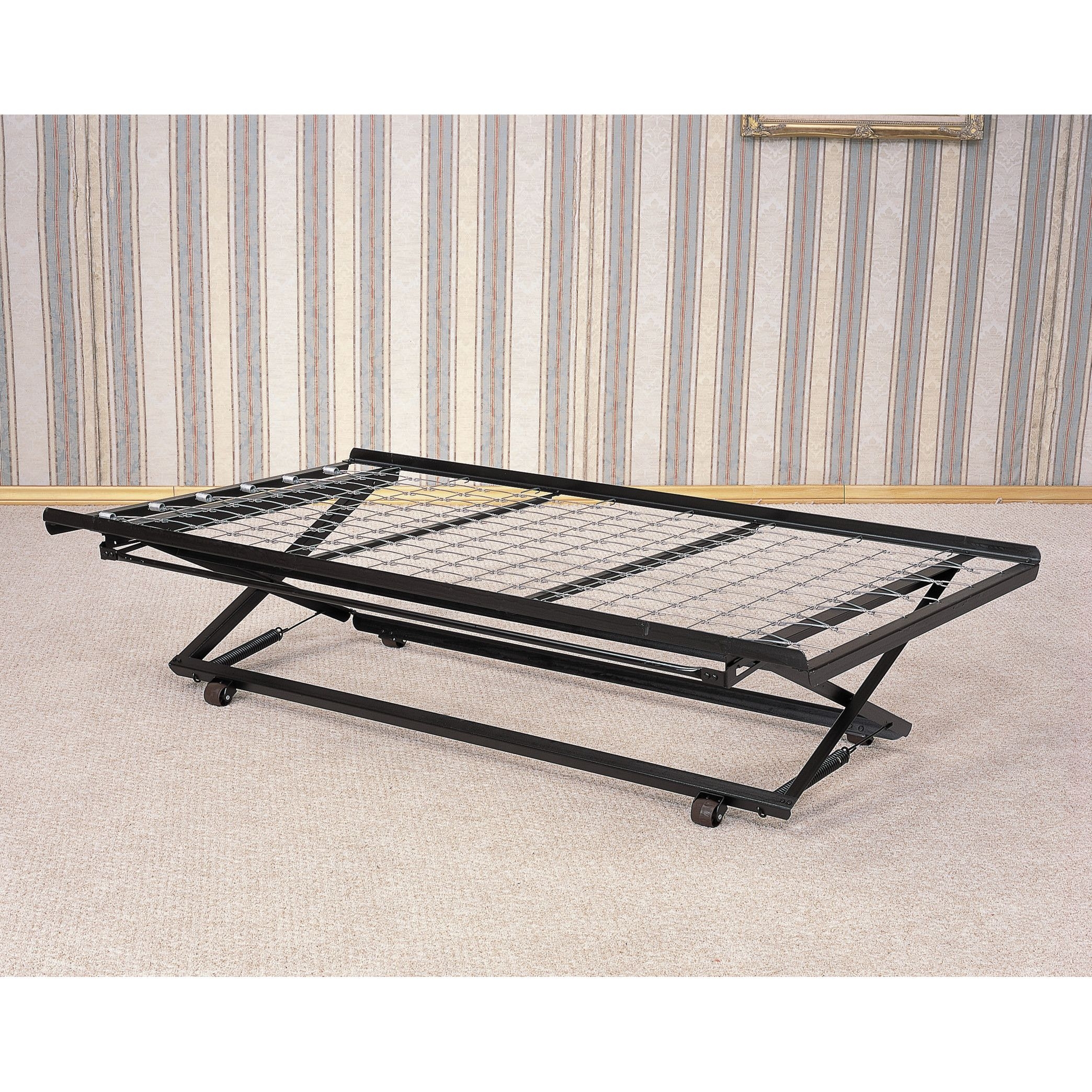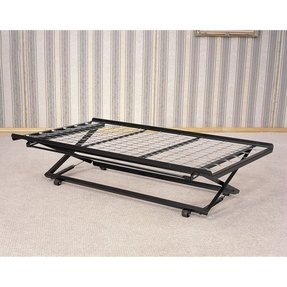 This powerful folding lair is the perfect solution for a visit guests or for a convenient rest during the day. Sturdy frame provides strength and durability for at rest on it is very comfortable.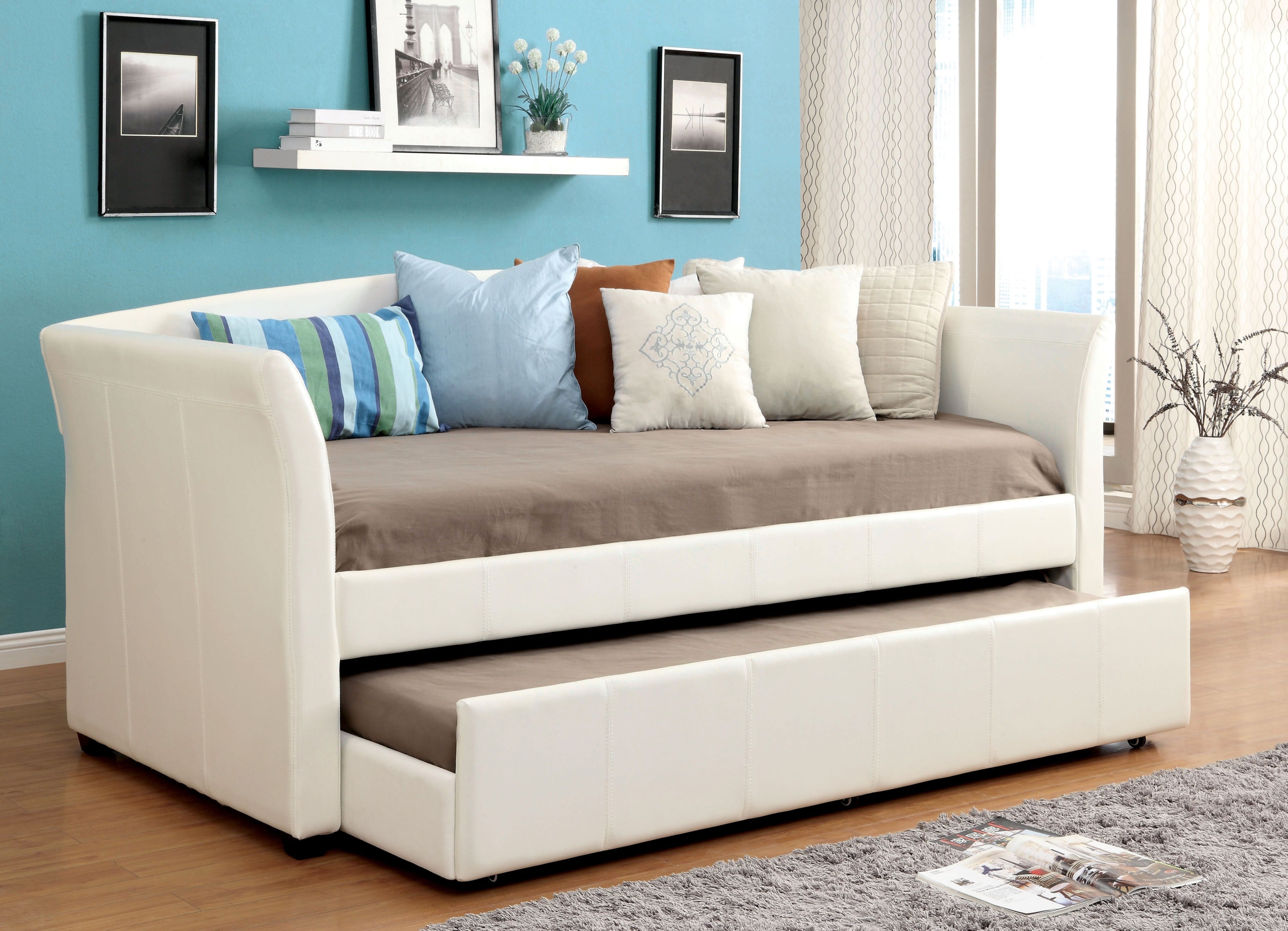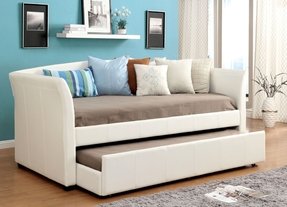 Roma Upholstered Daybed with Trundle
Top stylish cribs with retractable place to relax is the perfect solution for the living room or bedroom. Beautifully upholstered in a very stylish and versatile. The subtle colors makes it beautifully blends with any interior.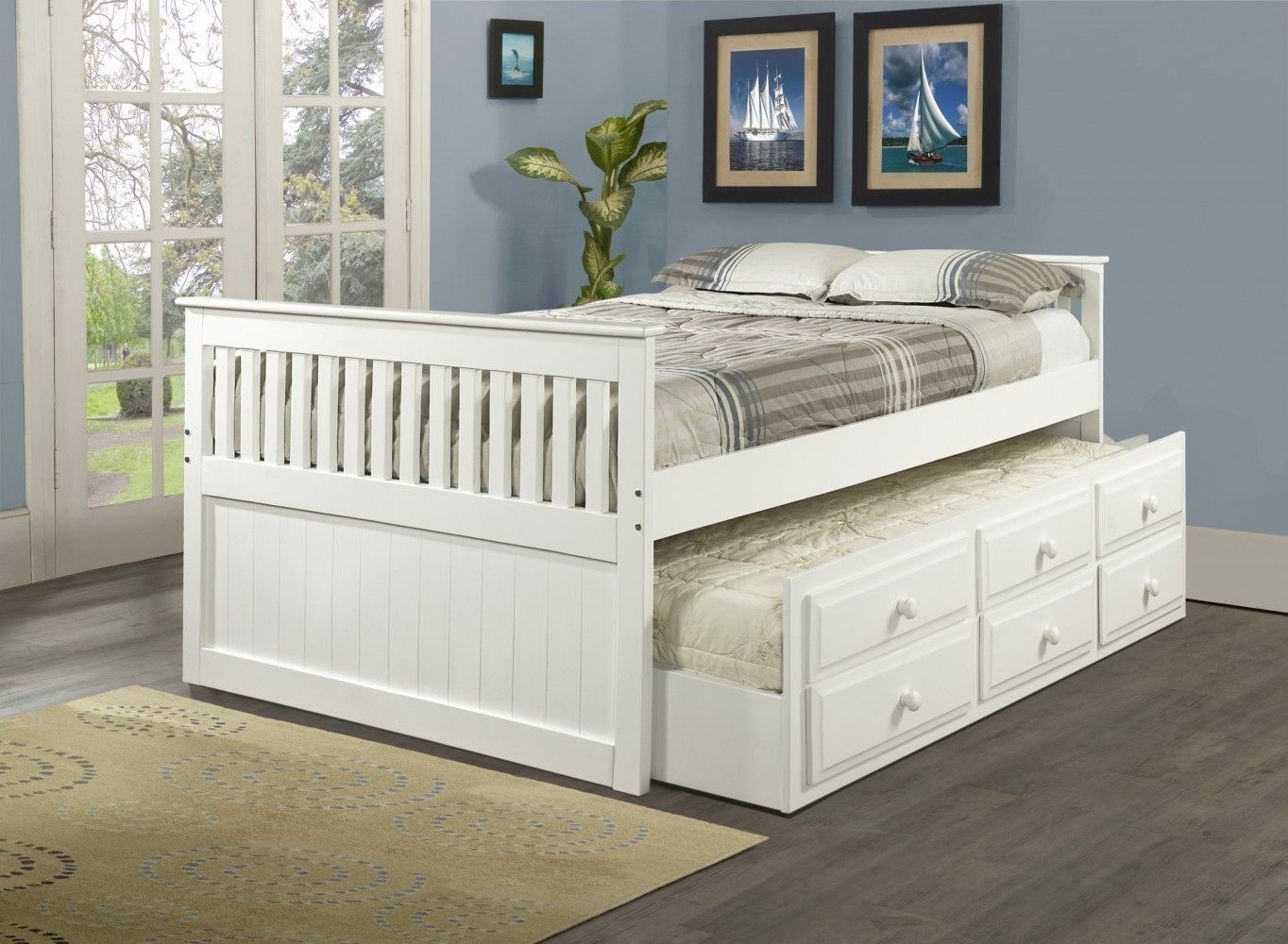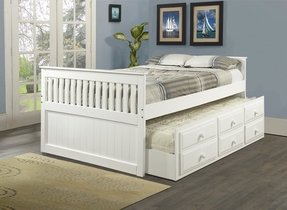 Product Code: DT-103W-FULL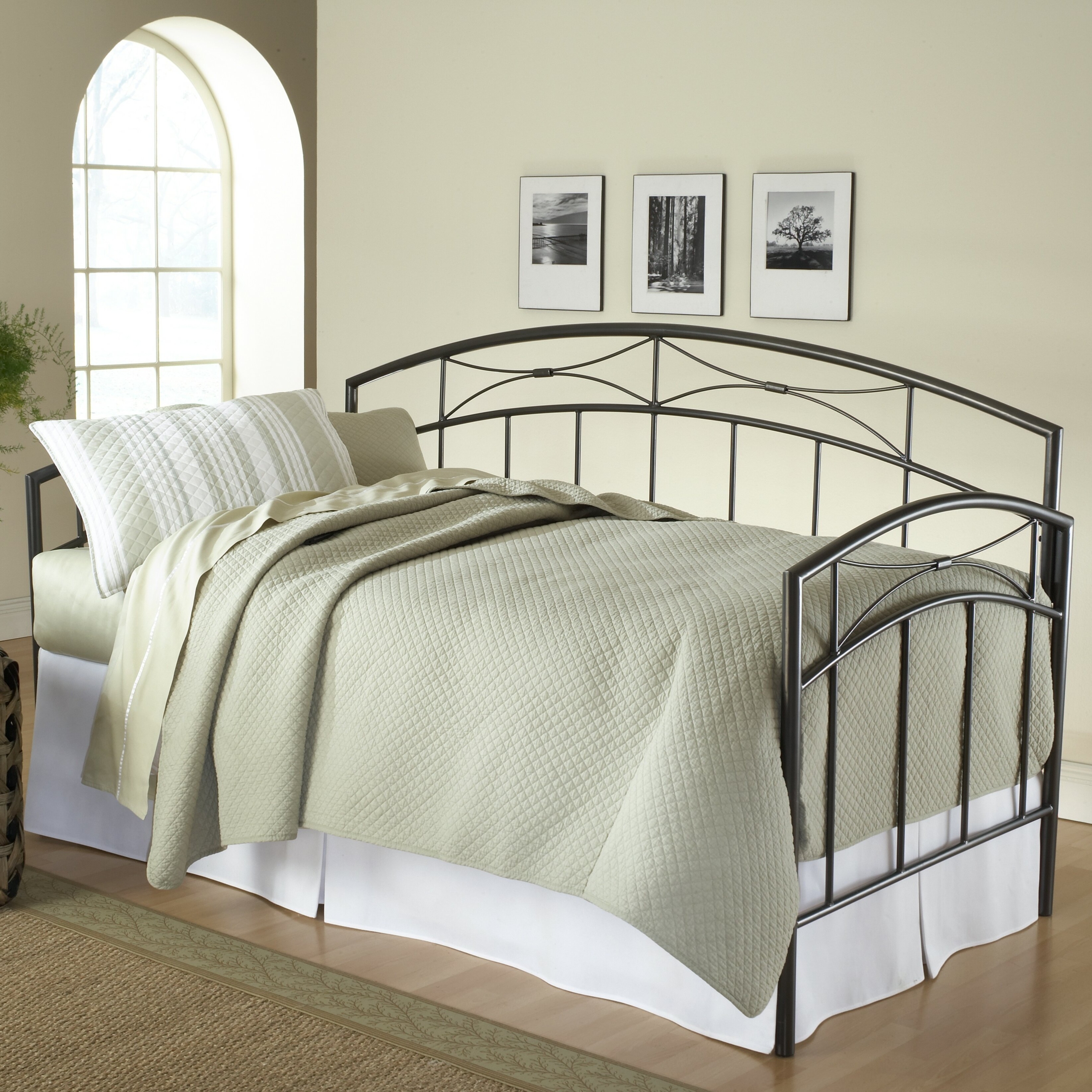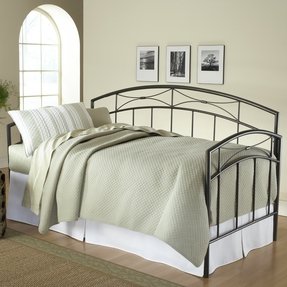 Morris Daybed with Trundle