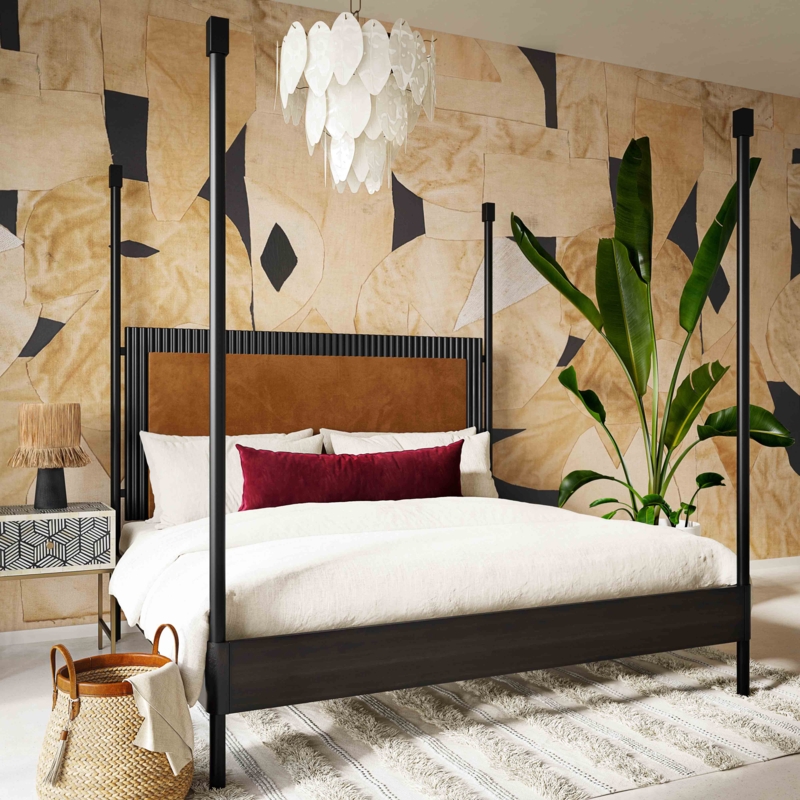 Four-Poster Ava Bed with Faux Suede Headboard
Hokku Designs
Perfect For: Those seeking a blend of modern and classic styles for a luxurious bedroom
What We Like: The combination of acacia wood and faux suede headboard
The Ava Bed offers an ultimate restorative experience, boasting a stunning faux suede headboard, sturdy acacia wood construction, and black metal posts. This modern twist on a classic four-poster bed is handmade by skilled furniture craftsmen and is a part of the TOV x Voice Collection. No box spring is required, and slats are included for your convenience. Assembly is required.
$1500 $1899
Designer Advice:
Pair this bed with neutral-toned bedding and throw pillows for a cohesive look, and add dramatic lighting or artwork to enhance the modern elements of its design.
Merchant links are sponsored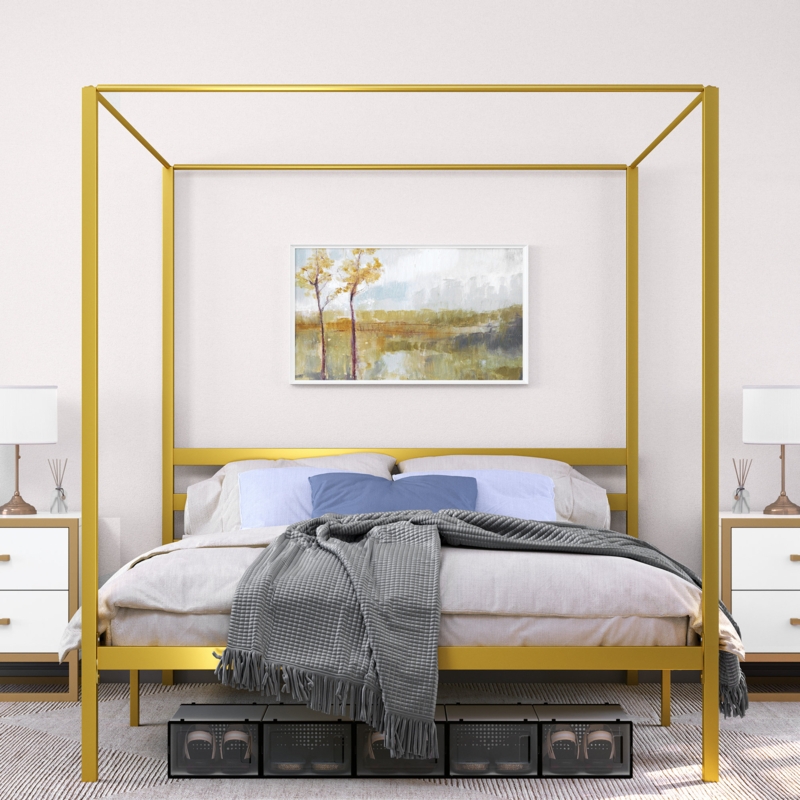 Minimalist Canopy Bed with Storage
Ebern Designs
Perfect For: Creating a peaceful and stylish bedroom sanctuary
What We Like: Spacious storage underneath and sturdy metal construction
This minimalist canopy bed brings a gorgeous look to your bedroom while maintaining a simple, uncluttered aesthetic. Made from sturdy metal for stability and durability, it features baseless safety metal slats and center support legs for complete mattress assistance. The support legs in the middle of the bed frame enhance overall stability, while the robust slats prevent mattress sagging to prolong its life. Enjoy up to 12 inches of storage beneath the bed, perfect for stashing suitcases and other items. Its classic, simple look generates a harmonious atmosphere in your bedroom, while the thick metal frame ensures a longer service life.
$225.99 $259.99
Designer Advice:
Embrace the minimalist theme by pairing this bed with neutral linens and adding a couple of contrasting decorative pillows for a touch of personality. Consider under-bed storage containers for extra organization and easy access to your belongings.
Merchant links are sponsored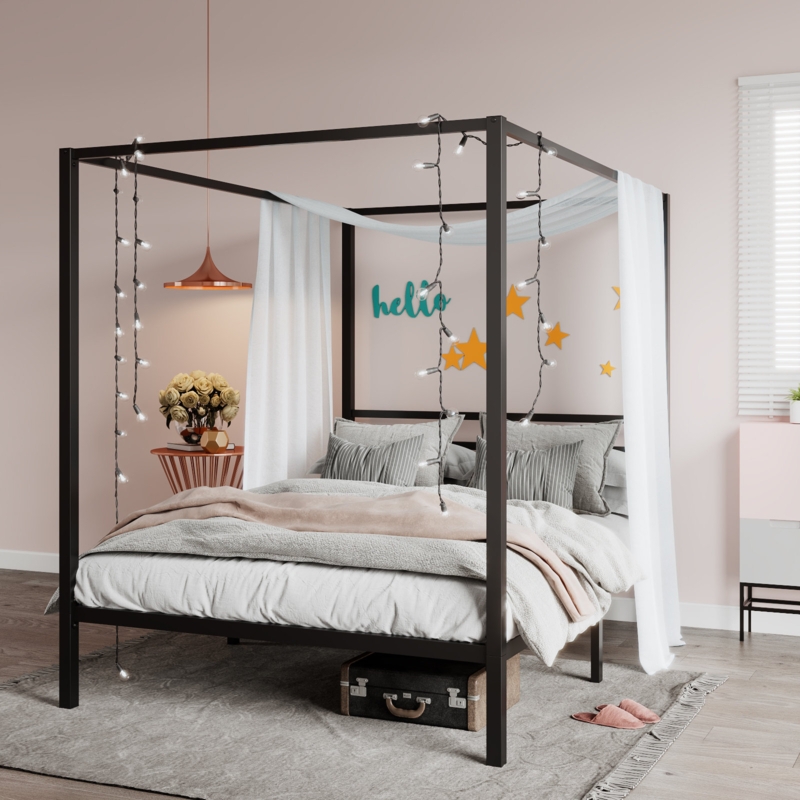 Metal Canopy Bed Frame with Four-Poster Platform
Latitude Run®
Perfect For: People seeking a modern and sophisticated bedroom centerpiece
What We Like: The combination of functionality and style
The metal canopy bed frame is a stunning modern piece featuring clean lines and an elegant four-poster design. Its sturdy frame and wooden slats can support up to 800 lbs., ensuring a solid and stable night's sleep. With 12.4" under-bed clearance, you'll have ample storage space for your belongings. The innovative hook & loop fastener design with EVA sponge reduces friction between slats and the frame, providing a noise-free experience. Plus, it's easy to assemble with all tools, parts, and instructions included.
$152.99 $599.98
Designer Advice:
Personalize your bed by hanging string lights or airy fabric drapes on the canopy frame for added ambiance and a luxurious feel.
Merchant links are sponsored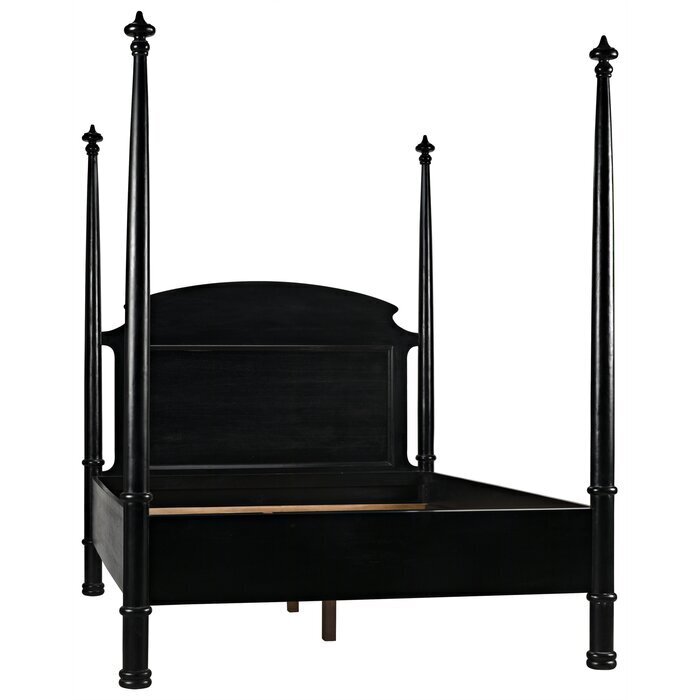 Traditional Hand Carved Solid Mahogany Four Poster Bed
Noir Trading Inc.
This traditional solid mahogany frame is the darkest of black shades with a shiny finish. Complete with four spire-like posts, the headboard also has a delicate cutout. It would be perfect as a statement bed in a Parisian themed room.
$4251 $4656
Merchant links are sponsored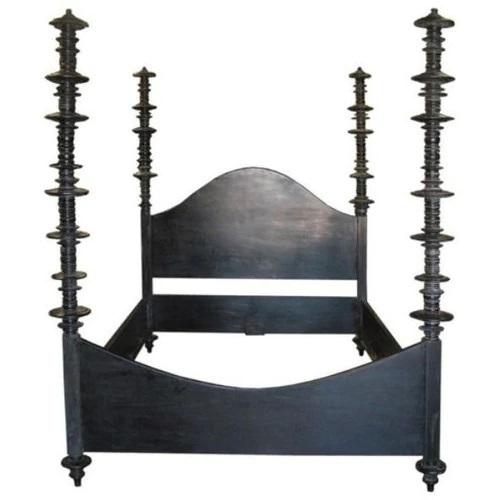 Thick Traditional Gothic Inspired Solid Wood Bed
Noir
This solid black wood four poster bed finished in hand rubbed black is a delightful addition to any bedroom. This black 4 post bed is made from mahogany and is a solid frame with a wide headboard. It has gothic styled posts and would work well in a statement room.
$4927 $5397
Designer Advice:
If you pair this with black furniture or pops of colour, you'll find this four poster bed will really stand out. It will need to be polished as it is created from mahogany. The ideal way to preserve it is to use beeswax. Secondly, due to the nature of its small thin legs, it would work well on wooden floors to avoid carpet damage or tearing.
Merchant links are sponsored
Upholstered Traditional Four Poster Bed
Red Barrel Studio®
Black and cream tones adorn this four poster bed, with olefin upholstered side rails. Furthermore it has tapered wood posts made from solid and manufactured wood. This is a great addition to a farmhouse style home. It is 86'' high.
$2335 $2805
Merchant links are sponsored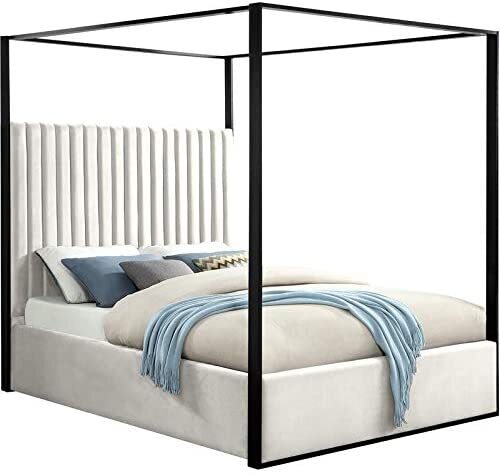 Matte Black Frame With Cream Velvet Base
Meridian Furniture
Crafted from both wood and fabric, this king size black four poster bed is fully upholstered with a solid matte black frame, to add monochromatic finesse. The base is carefully made from cream velvet.
Designer Advice:
Cream and velvet may sound like a daunting combination, but there are some simple tips to maintain optimum aesthetic. Firstly we would recommend a simple soapy cloth to wipe off any marks. Letting it air dry is best. Also, velvet does not easily snag, so it's an ideal luxurious and plush material for the bedroom.
Merchant links are sponsored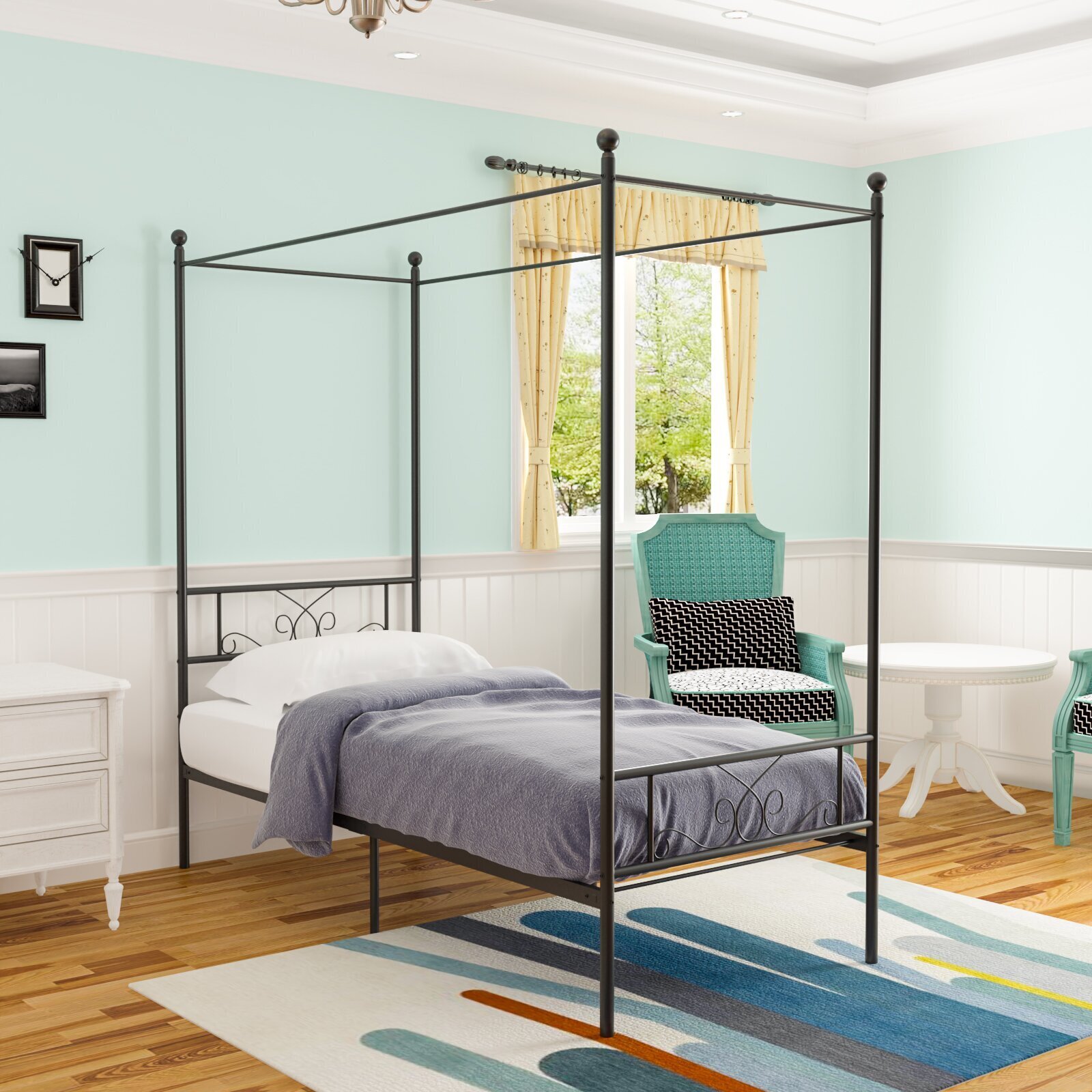 Slim Black Metal Four Poster Bed
Viv + Rae™
This exciting canopy bed is a black framed four poster bed which is ideal for a twin bed. It is 78.1'' high and has a simple design with six legs for stability. The front and back has a delicate spiral outcut for added elegance.
$142.99 $159.99
Designer Advice:
This is made from a twin bed and its weight capacity is 220 lb. It would be ideal for a teenagers room. This also has an open frame, so you can gently attach lightweight curtains or voiles for added charm.
Merchant links are sponsored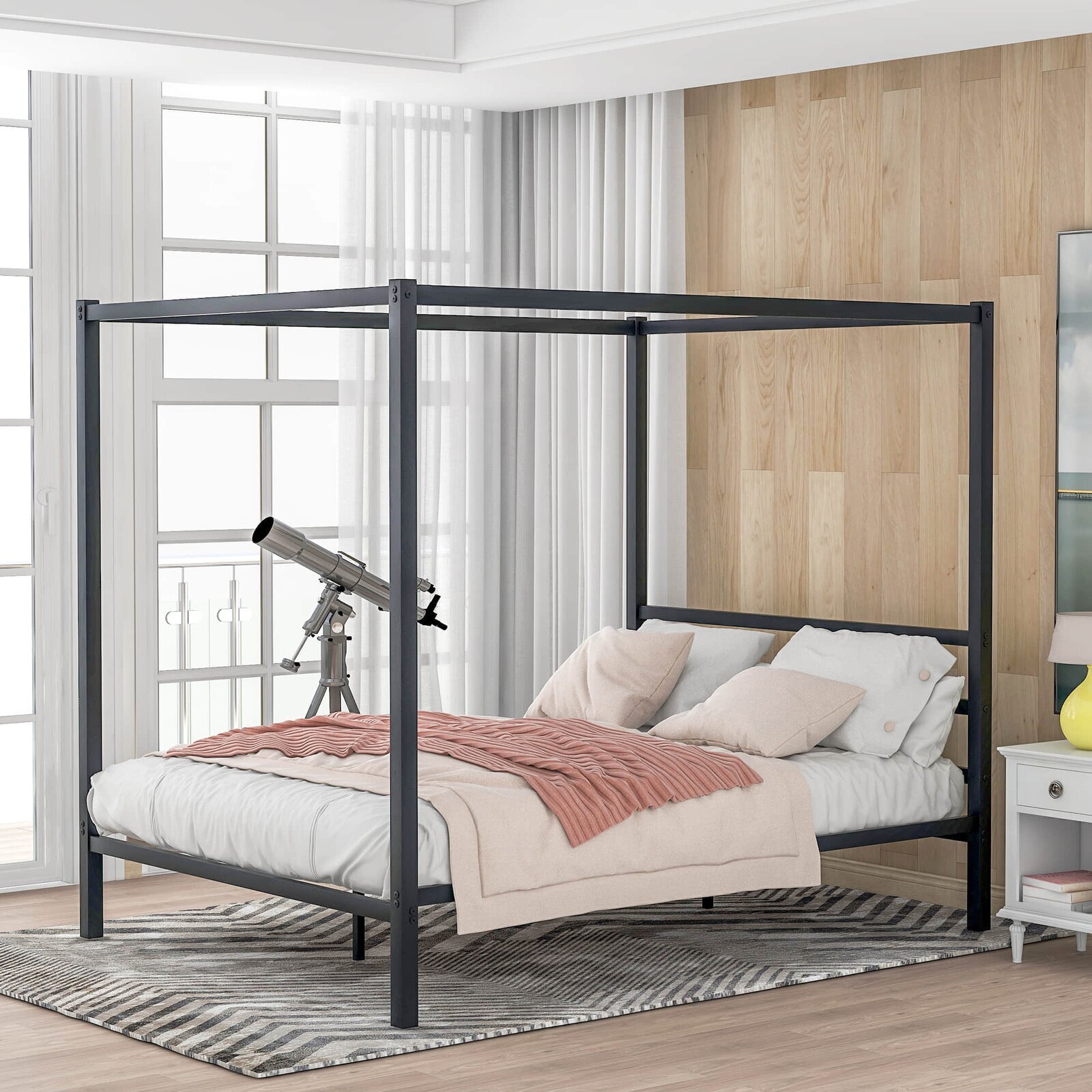 Modern Thick Framed Four Poster Bed
Mercury Row®
Modern and stable, this four poster bed is a statement piece, ideal for an industrial style bedroom. Crafted from durable steel, it is 73'' high and suitable for a modern mattress. This bed also sits relatively low to the floor but it is possible for minimal storage.
Merchant links are sponsored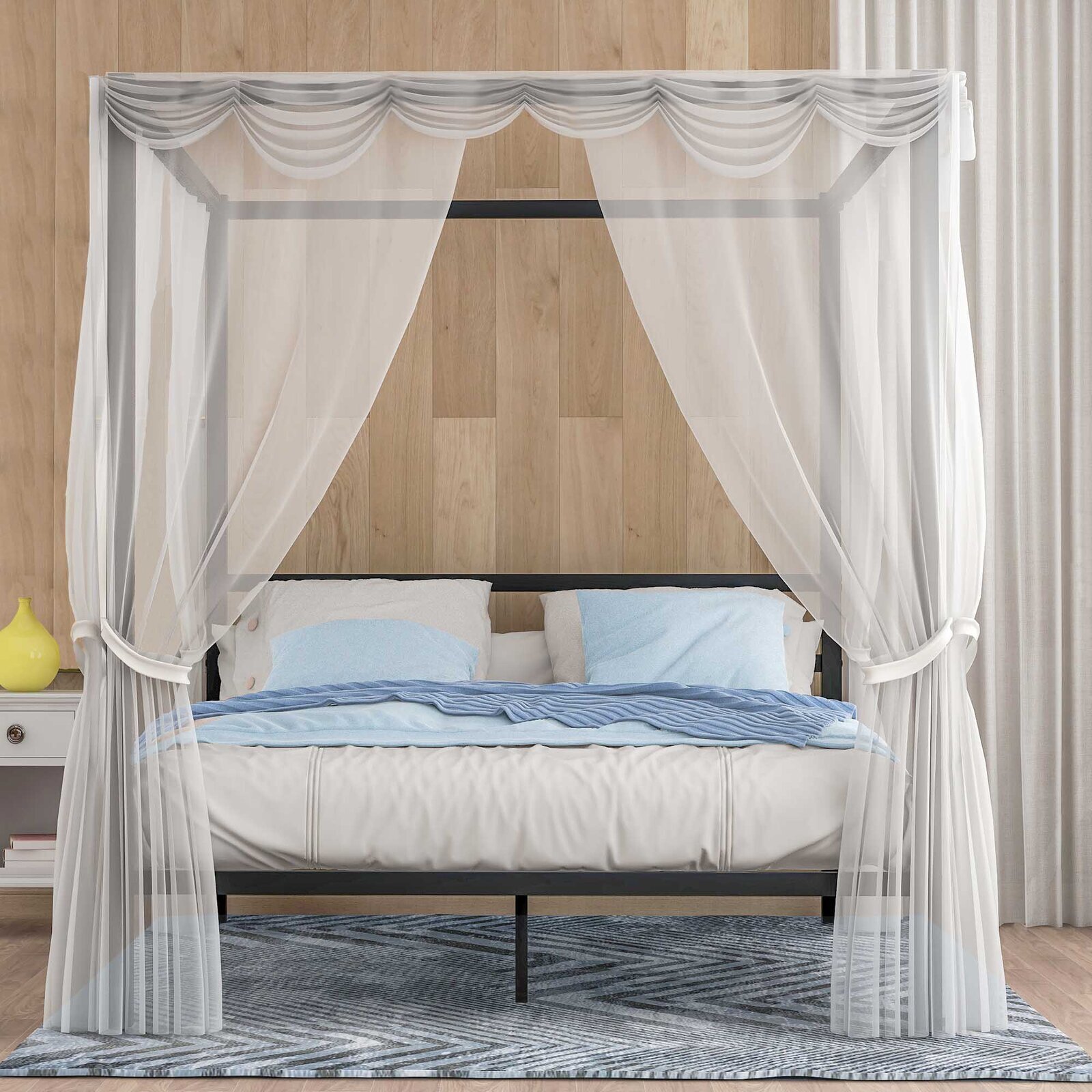 Simple And Elegant Black Framed Four Poster Bed
Latitude Run®
Elegant and modern, this would look enchanting as a focal point of a bedroom with subtle voiles. At 73.2'' high and fits a queen size bed. Complete also with centre support legs, this is a modern home companion.
Merchant links are sponsored