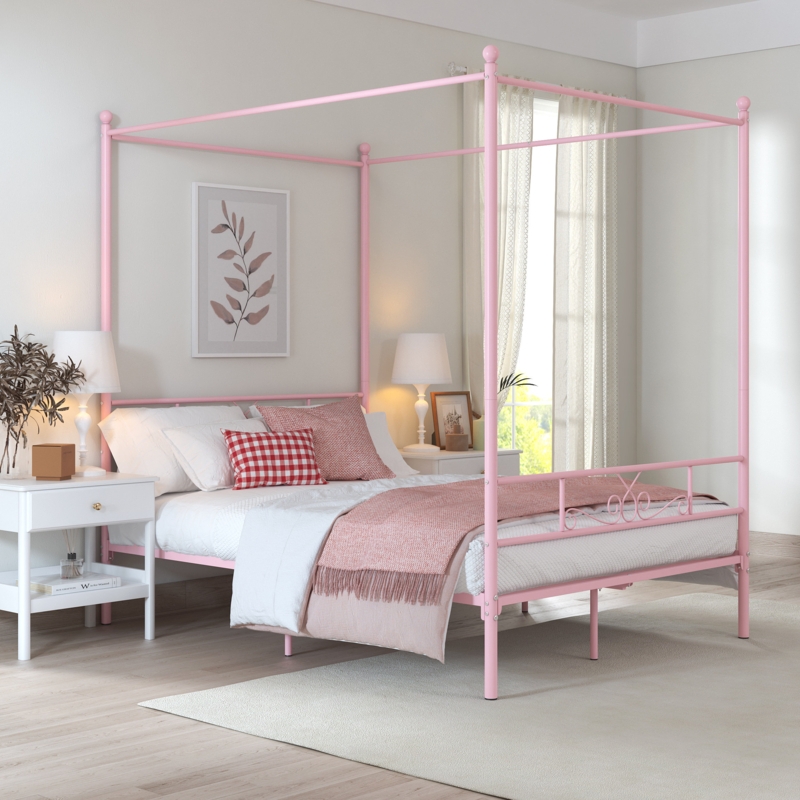 Four Poster Platform Bed with Floral Design
Lark Manor™
Perfect For: Creating a stately, French country-inspired bedroom space
What We Like: The combination of modern stainless steel frame and classic floral details
This four poster platform bed elevates your bedroom with a French country-inspired feel, featuring an open-frame headboard and footboard that strike a rectangular silhouette. The stainless steel frame in a neutral finish provides a modern touch, while the 65" tall round legs offer a spacious design. The bed showcases intricate floral designs in the middle for a classic touch. With center support legs and no need for a box spring, simply add the fitting mattress of your choice (sold separately) to complete the look.
$135.99
Designer Advice:
Enhance the French country look by pairing this bed with neutral or pastel-colored bed linens, and consider adding matching accent furniture pieces like a distressed wood nightstand or a vintage-patterned rug.
Merchant links are sponsored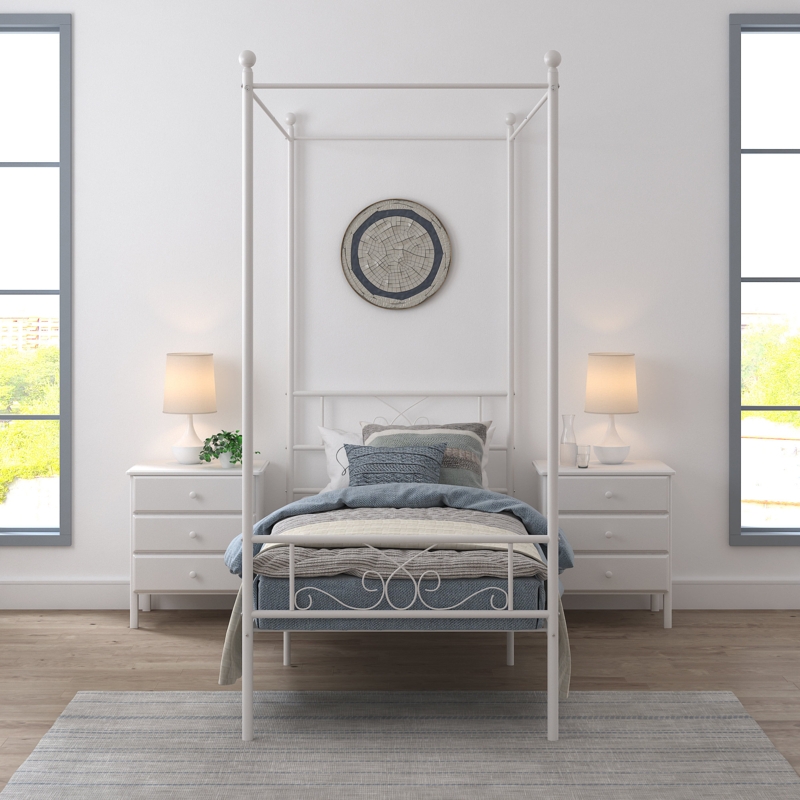 Velvet Upholstered Storage Ottoman
Viv + Rae™
Perfect For: Adding extra seating and storage in any room
What We Like: Elegantly tufted top and spacious interior
This luxurious velvet upholstered storage ottoman combines style and function in a versatile, space-saving design. The elegant tufted top adds a touch of sophistication, while its spacious interior provides ample storage for blankets, pillows, or other items. This ottoman is perfect for use as a footrest, additional seating, or even as a coffee table when paired with a stylish tray. Its sturdy construction ensures long-lasting durability, making it an ideal addition to your living room, bedroom, or entryway.
$142.99
Designer Advice:
Choose a bold color like emerald green or deep blue for a statement piece, or opt for a neutral shade to easily blend with your existing decor. Always measure your space for proper fit before purchasing.
Merchant links are sponsored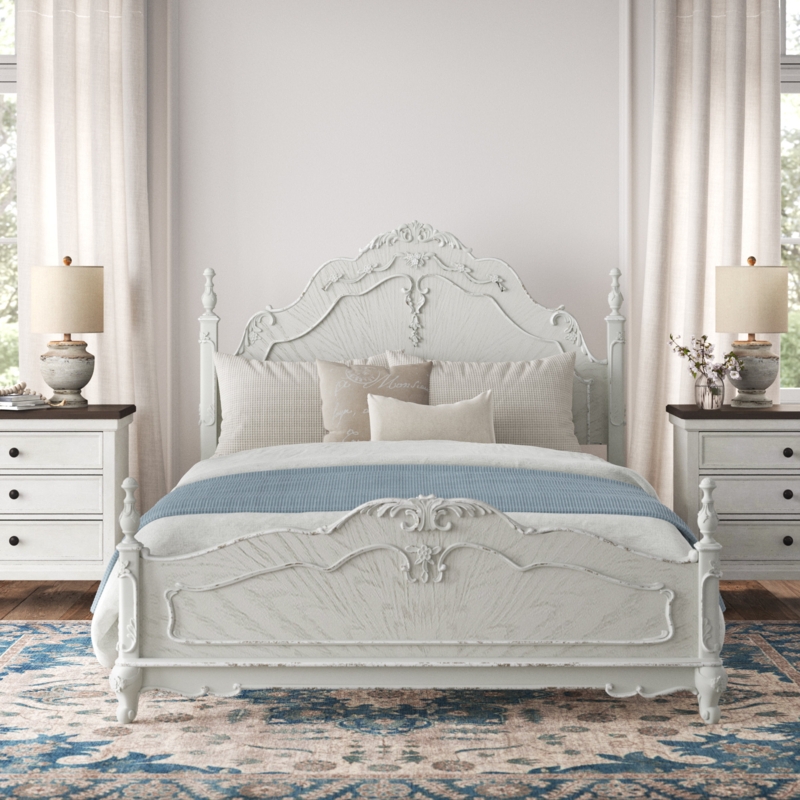 Antique White French Country Bed
Kelly Clarkson Home
Perfect For: Traditional, vintage-inspired bedroom interiors
What We Like: Exquisite, eye-catching headboard design
Bring timeless French country charm to your bedroom with this solid wood bed featuring an antique white finish, artfully distressed for a well-worn heirloom feel. The elaborate, intricately arched headboard showcases additional curves, floral motifs, and carved details. Turned posts and scrolled feet in front complete this classic look. The bed includes center legs and slats for added support, designed to accommodate your mattress and box spring (sold separately). Hand-curated by Kelly Clarkson.
$689.99
Designer Advice:
Enhance the vintage appeal by pairing this bed with soft, neutral bedding and accent pillows in muted colors, and complement the theme with antique-style decor pieces.
Merchant links are sponsored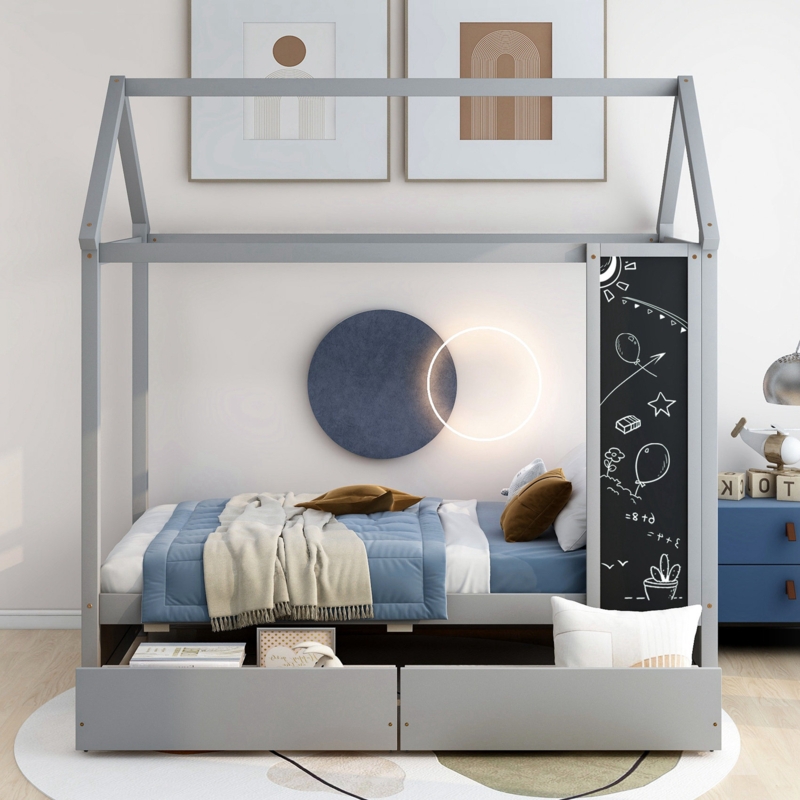 Whimsical House-Shaped Kids' Bed
Harper Orchard
Perfect For: Encouraging creativity and imagination in a child's bedroom
What We Like: Its low height for easy access and safety
The Whimsical House-Shaped Kids' Bed is a charming addition to any child's room with its creative design and endless decorating possibilities. Encourage your kids to unleash their imagination by personalizing their bed together. The low height makes it safe and easy for children to get in and out, ensuring a worry-free bedtime experience. This durable bed is designed to provide lasting service, growing with your children.
$499.99
Designer Advice:
Pair this bed with soft, colorful bedding and accessories like fairy lights or fun wall decals to create an enchanted, cozy sleeping space that your kids will love.
Merchant links are sponsored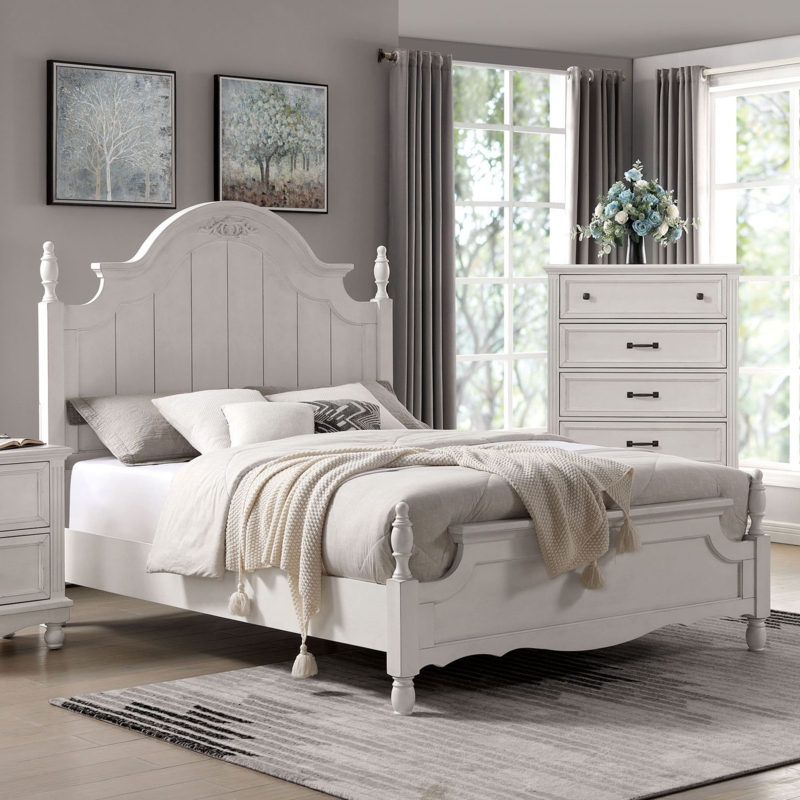 Antique White Wooden Bed with Bell-Shaped Headboard
One Allium Way®
Perfect For: Cottage-inspired and traditional bedroom spaces
What We Like: The bold bell-shaped headboard with faux carved crest
Experience classic comfort with this antique white wooden bed that features an eye-catching bell-shaped headboard, complete with a faux carved crest and vertical panel accents. Turned finials on both the headboard and low footboard give it a four-poster design touch, adding to its timeless appeal. Spruce up your bedroom with this bed and create a cozy sanctuary.
$600
Designer Advice:
Pair this bed with crisp white sheets and soft pastel-colored accents for a dreamy cottage look, or mix it up with rich, deep hues for a more traditional vibe.
Merchant links are sponsored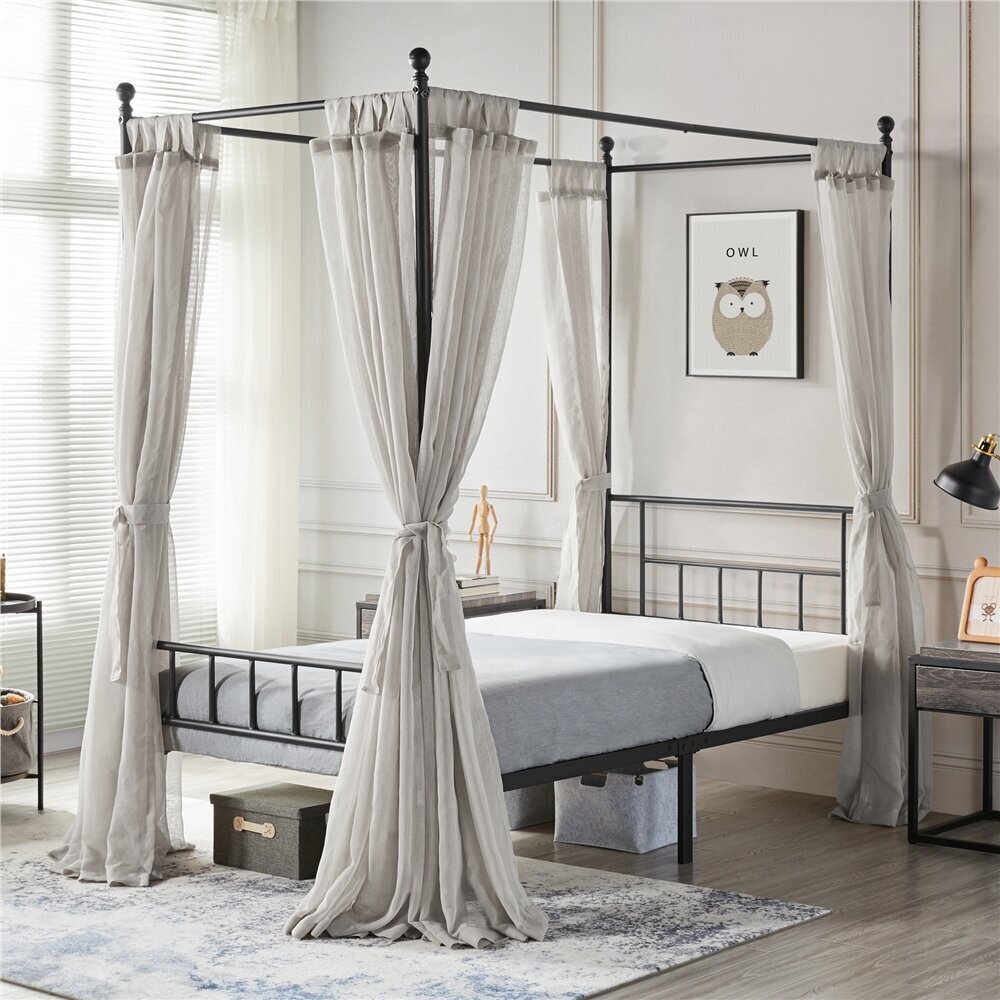 Romantic Twin Poster Bed
Red Barrel Studio®
Supremely romantic in style, this twin four poster bed with a canopy is crafted out of black steel with four tall canopy posts with classic finials at the ends. Both the headboard and footboard are widely slatted and there's extra clearance underneath for storage.
$126.99 $160.21
Designer Advice:
There are so many different ways in which you can style a canopy twin poster bed. If you want the space to feel intimate, you can always go for a sheer curtain that you can close off but still feel the natural sunlight cascading through as you wake up in the morning.
Merchant links are sponsored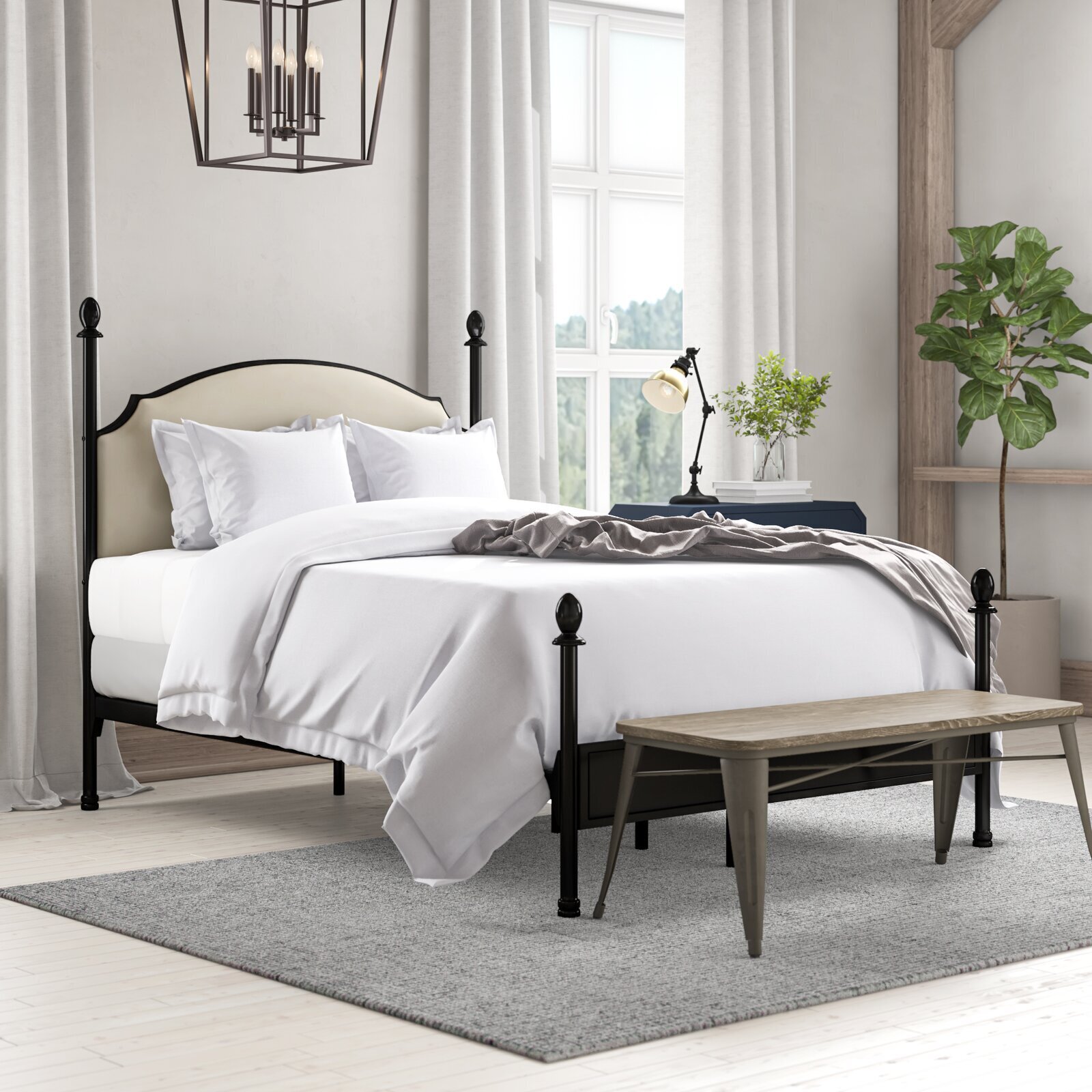 Elegant Low Profile 4 Poster Twin Bed
Lark Manor™
Some assembly required, this four poster twin bed is a low-profile bed crafted out of steel in a gunmetal finish. The headboard adds a classic touch as it's padded and upholstered in a muted beige polyester fabric and there is tons of room underneath this four poster bed for items you need to stow away.
$339.99 $389.99
Merchant links are sponsored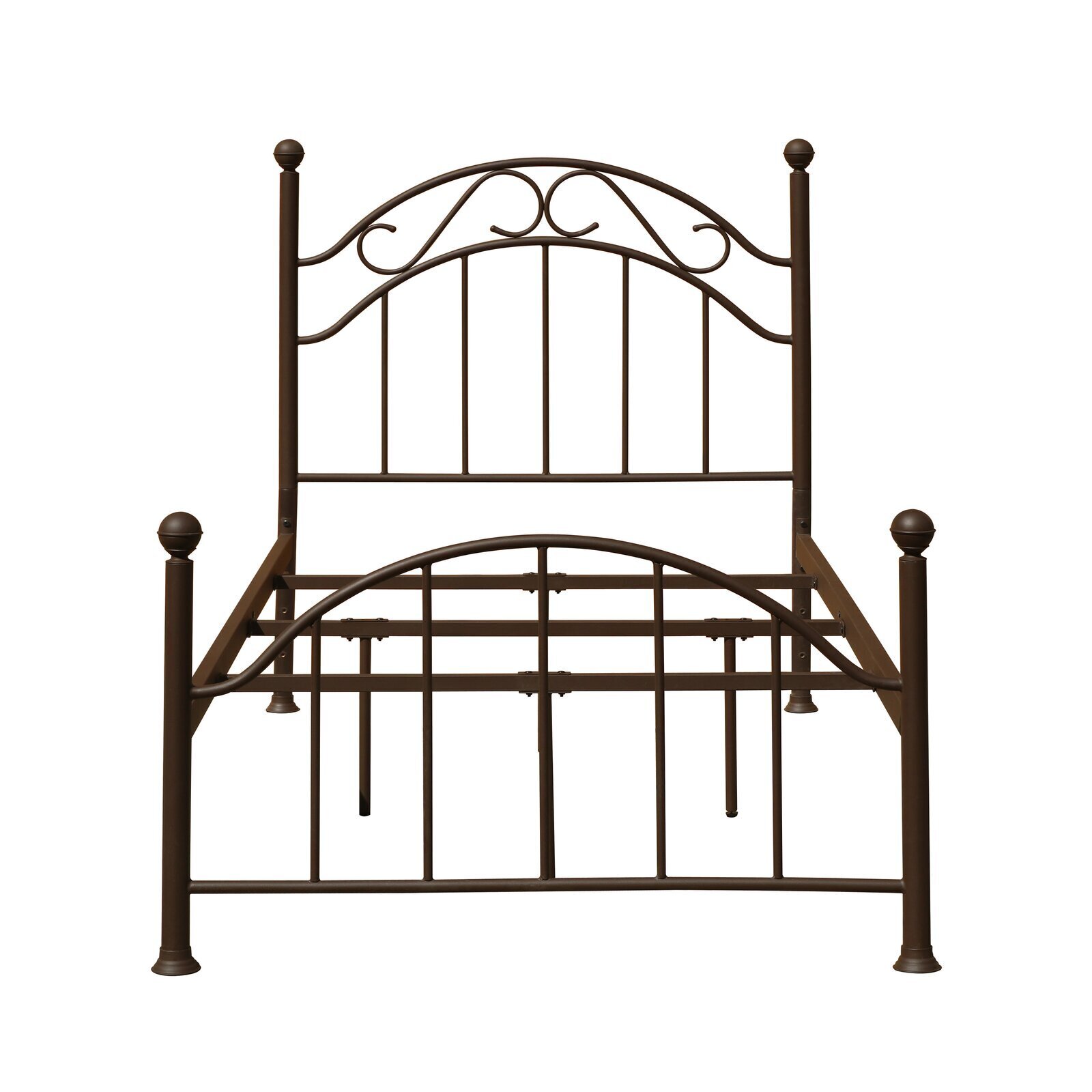 Dark Metal Twin Four Poster Bed
Fleur De Lis Living
Stately and regal in design, this deep brown metal twin four poster bed contains low level bars with turned finials. It also features a rounded head and footboard with bars across as well as a slightly decorated portion. Siderails are included with this twin poster bed.
Designer Advice:
Due to the traditional style of this four poster twin bed, it can seamlessly blend in with various home decor schemes. For example, if you have a guest bedroom that's painted a neutral paint color with hardwood flooring, you can utilize this twin poster bed to bring in a sense of timelessness that will never go out of style.
Merchant links are sponsored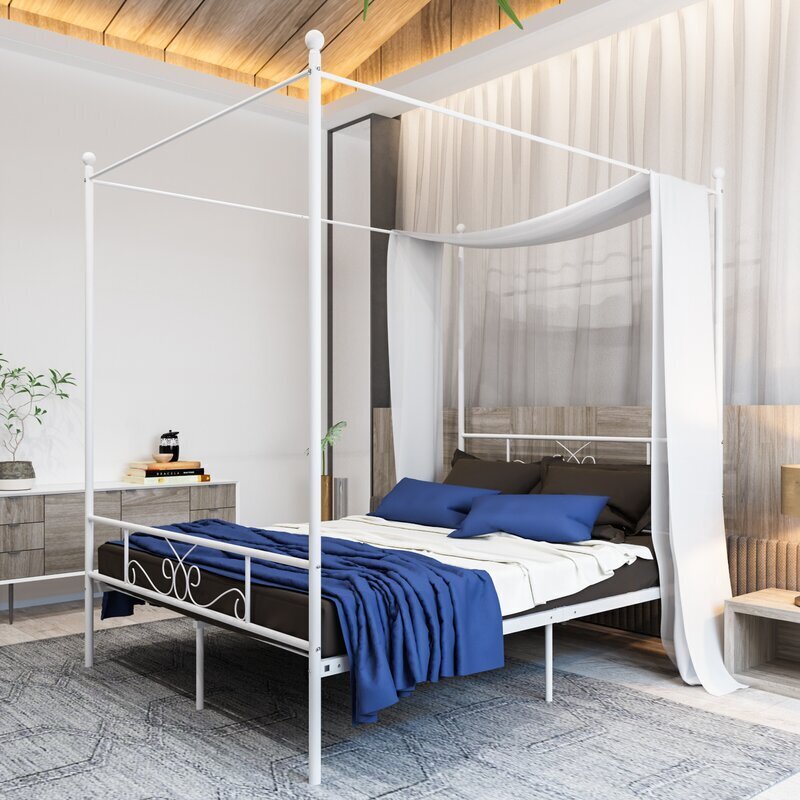 White Canopy Style Twin 4 Poster Bed
Red Barrel Studio®
This tall white four poster twin bed would make the perfect addition to any little girl's room. It's crafted out of a sturdy metal frame with a slightly distressed white finish with posters that connect a canopy as well as a slatted headboard and footboard that feature a decorated design.
$113.93 $174.21
Merchant links are sponsored