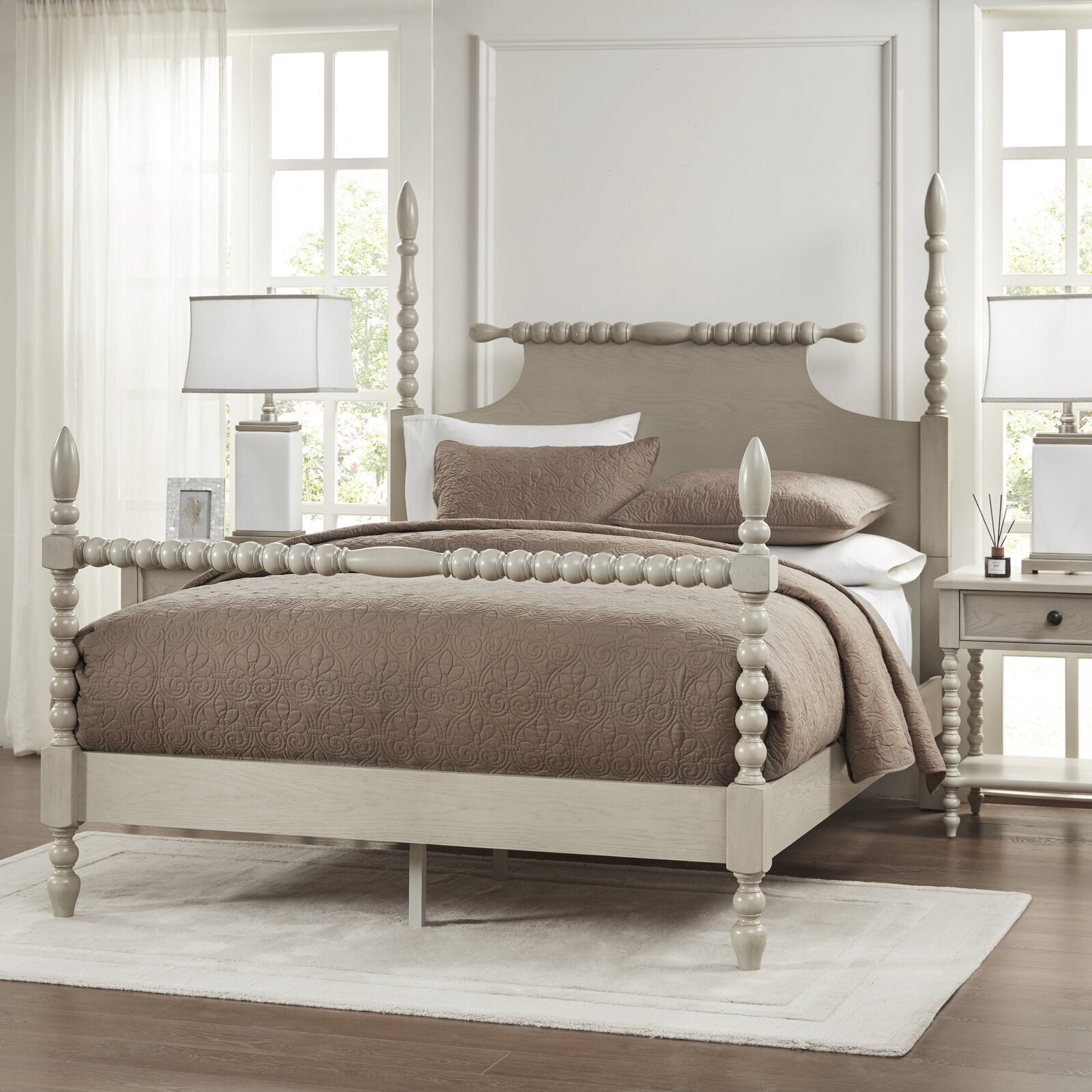 Classic poster bed with elegant details
Madison Park Signature
This bed is a true showstopper with its dramatic turned posts, distinctive headboard, and open footboard, all embracing a pattern similar to that of a rolling pin. Beyond that, it exudes an old-timey charm that is guaranteed to transform any space.
Designer Advice:
As a solid wood piece, there's no doubt that it will last for many years to come given its excellent quality. In addition, it is offered in two versatile colors. We recommend picking the natural cream finish if you're going for a farmhouse-style look. It's soft, chic, and inviting all in one. On the other hand, the Morocco brown looks splendid in Spanish Colonial and Tuscan interiors alike.
Merchant links are sponsored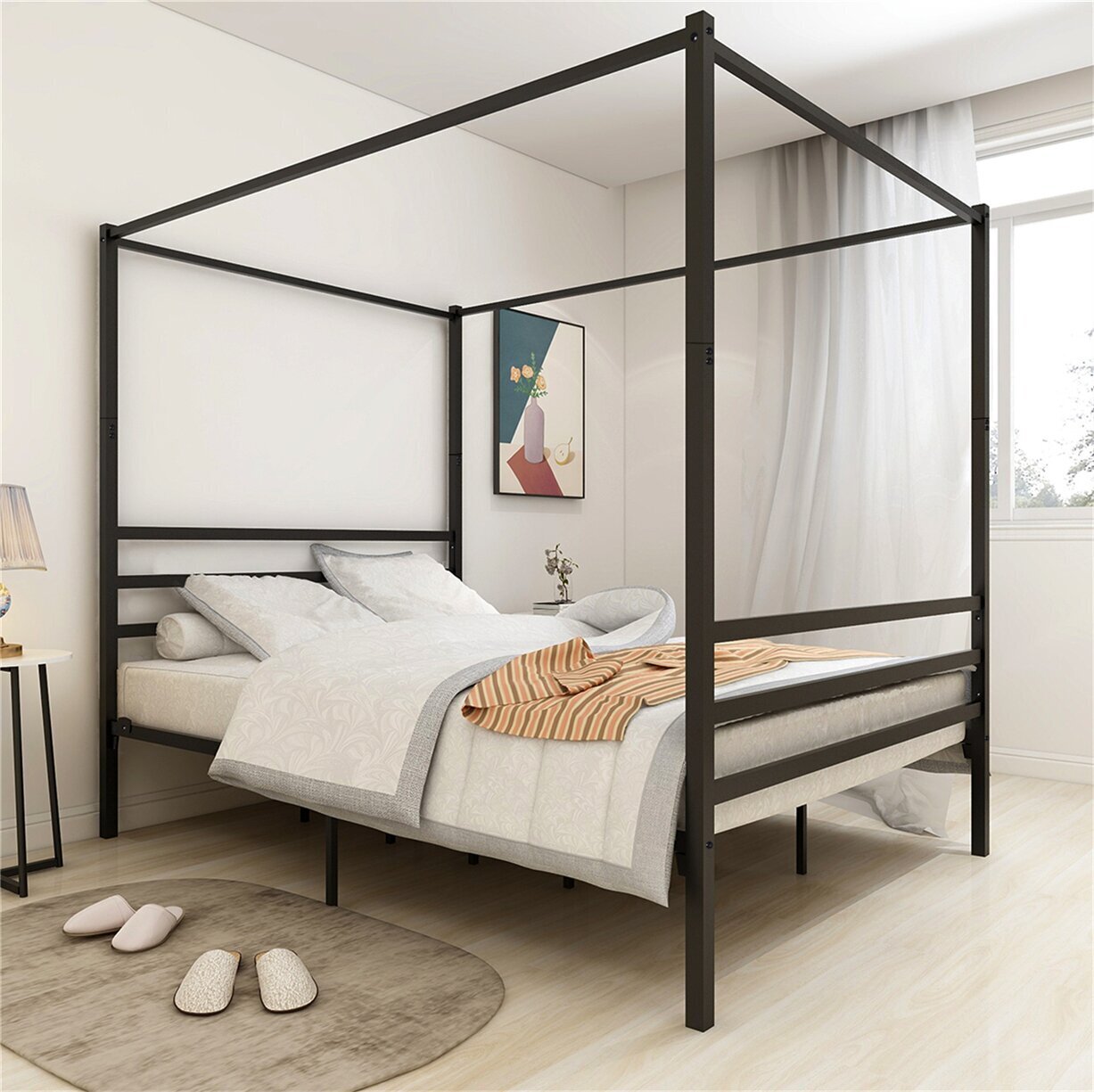 Streamlined, modern 4 poster bed
Simplicity and clean lines make this bed with poles a gorgeous showpiece in the bedroom. It is crafted from metal, ensuring easy maintenance along with a sturdy frame that can withstand up to 600lbs. What's more, it is finished in black to complement all kinds of color palettes.
Designer Advice:
Contrary to poor quality metal bed frames, this one scores high in the resistance department—it isn't prone to rust or insect and humidity damage. Aside from that, its no-fuss aesthetic fits just right in more modern bedrooms (although you can present it in a traditional interior for an eclectic vibe). The best part? It goes well with many bedside tables from sleek, boxy designs to round Scandinavian styles.
Merchant links are sponsored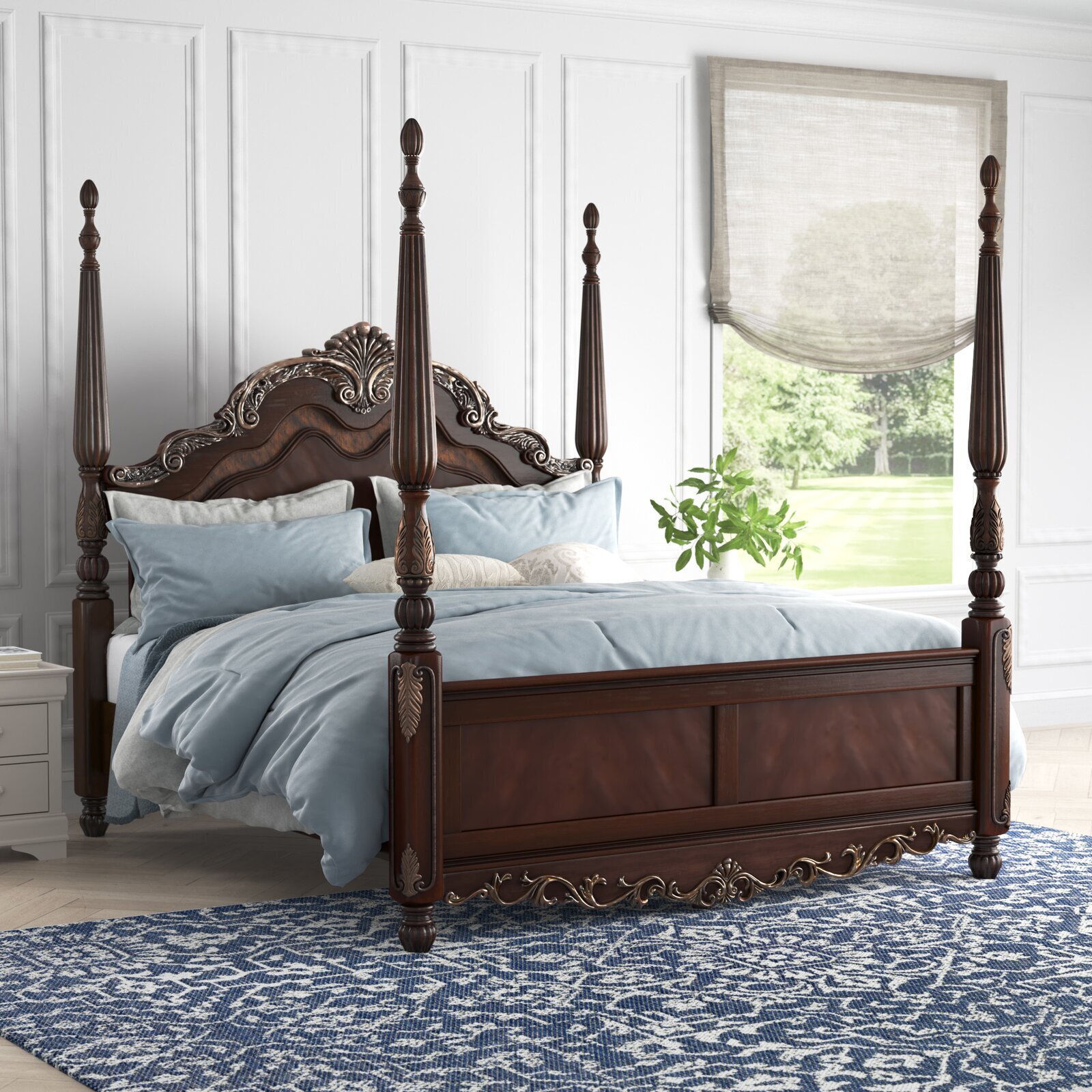 Luxury four poster bed
Lark Manor™
This piece is not your usual bed design but rather an attention-grabber. It boasts a stately appearance with burl inlay, claw feet, and ornate details throughout. A rich cherry wood tone adorned with gold accents completes its elegant and dramatic look.
$1589.99
Designer Advice:
This high poster bed is traditional in all its splendor, and therefore we recommend pairing it up with equally majestic pieces of furniture. The good news is that this bed comes available in a complete set. However, you could also give your bedroom even more personality by opting for individual pieces in colors that contrast/coordinate with cherry, such as white, maple, or perhaps something a bit darker like walnut.
Merchant links are sponsored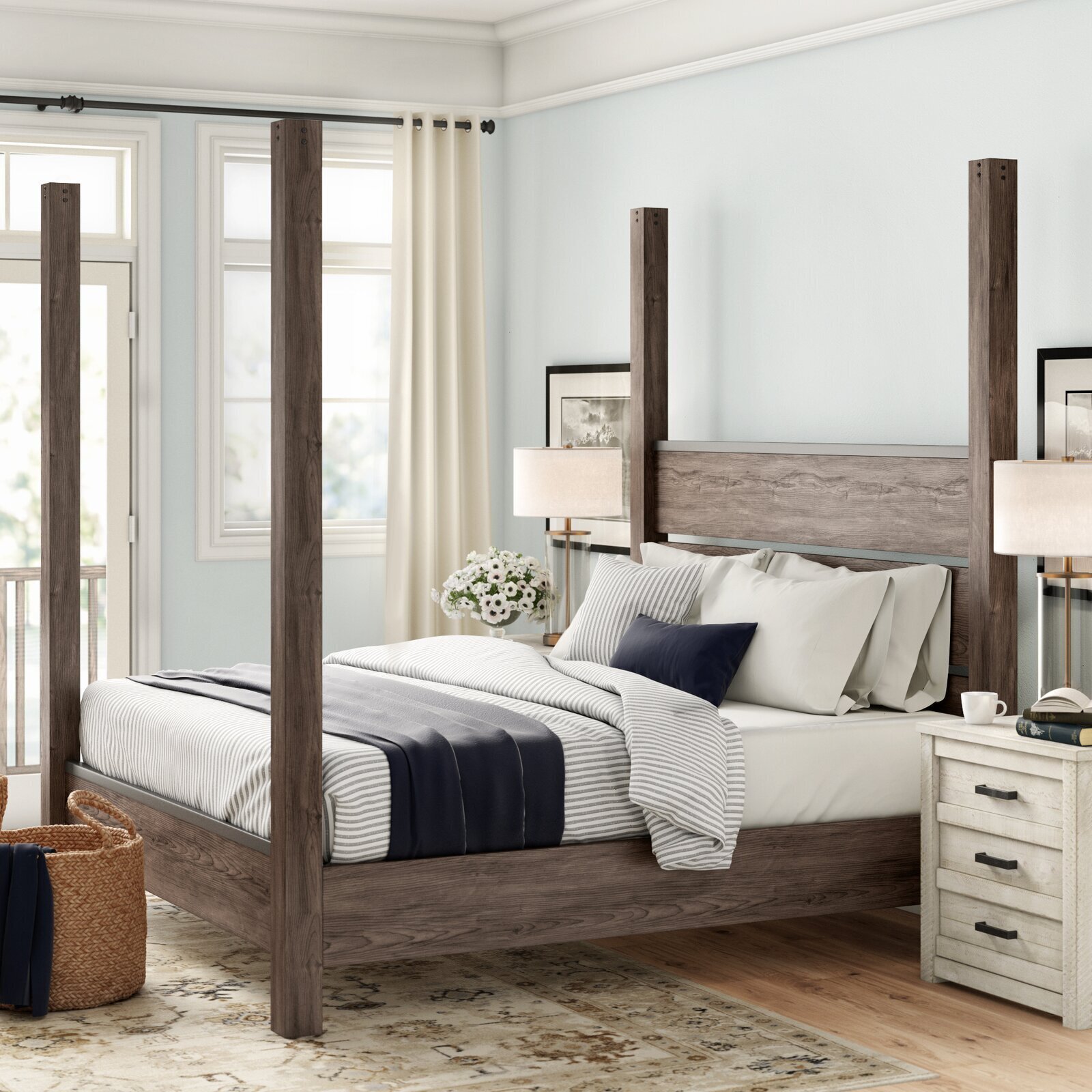 High poster bed in contemporary style
Three Posts™
Solid and bulky in a good way, this bed features a three-paneled headboard, a low footboard, as well as square poster legs for a stylish appeal. It is made of a combination of solid and manufactured wood, sporting a lovely brown hue with weathered details.
$660 $1000
Designer Advice:
If versatility is what you're after, you can't go wrong with this contemporary bed with posts. It adapts to ever-changing style needs, so you won't have to get rid of it if you ever decide to change your bedroom's look later on. Still not sure if a four-poster bed is for you? Well, you'll be glad to know that these statement beds are great for making one feel safe while making the most of high ceilings.
Merchant links are sponsored