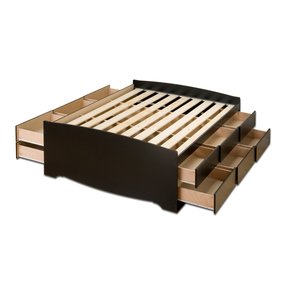 Black Tall Full 12 Drawer Captains Platform Storage Bed
This bed has got many interesting and useful functions. It is made of MDF boards and composite wood, so its solidity is very high. This bed also includes 12 drawers that provide a large storage area for different types of bedroom items.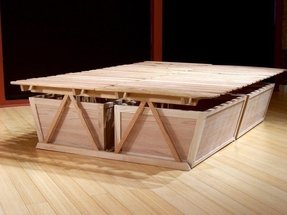 The Trellis Captain's Bed - Sleep High Atop a Sea of Storage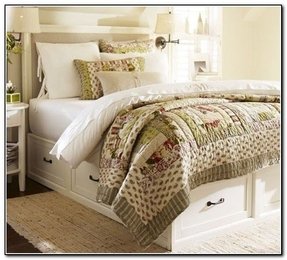 Stratton Bed with Drawers - FINALLY purchased a new bed for my apartment, learning to get creative with my smaller NYC apt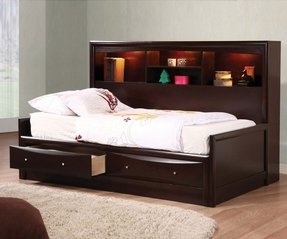 Full size Daybed with Storage Drawers and Bookshelf Back in Cappuccino ...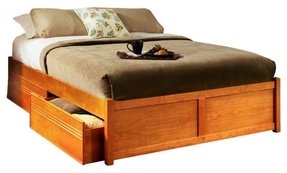 Concord Storage Platform Bed
Platform bed constructed of solid wood with slightly uneven, somehow unfinished texture. Great to complement traditional and modern decors as well. The set contains two sliding drawers and a footboard.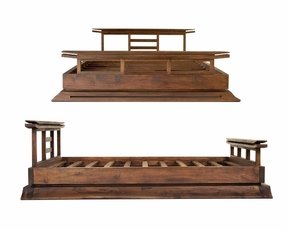 The presented Japanese platform full-size bed with drawers is the embodiment of savings in the means of expression. Made of solid wood, its design makes them seem to float above the ground. It has characteristic headboards inspired by roofs of Asian homes.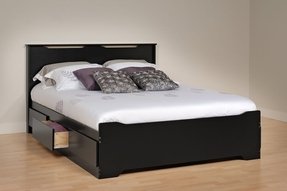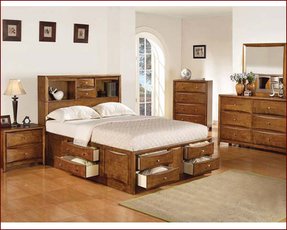 A full-size bed is able to meet all your expectations when it comes to providing you with well-deserved, comfortable rest. Beautiful wooden finish and additional storage drawers below ensure both style and ergonomy.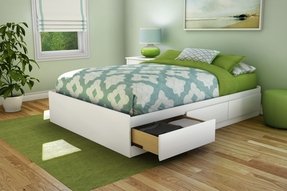 Finished in sleek white, this full size platform bed enchants with its simplistic, yet very practical design. It features 3 storage drawers in white for one's linens or clothes. A great example of the contemporary style.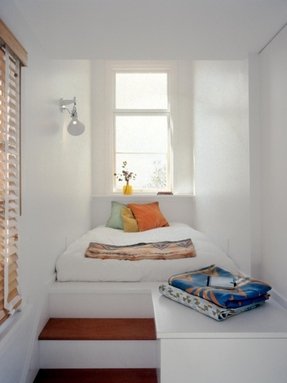 If you often host people, consider creating a separate tiny room for them, with a full-size bed built-in the surrounding walls. This platform one shows how you can do it smoothly, maximally using your space and bringing in style.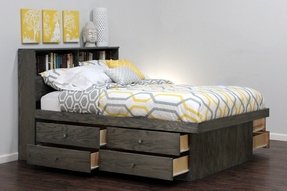 A functional modern full bed made of oak wood with a greyish finish. It has straight edges and flush sides. A headboard accommodates several open shelves. There are 4 large drawers in 2 tiers on each side of a bed base. They have square steel pulls.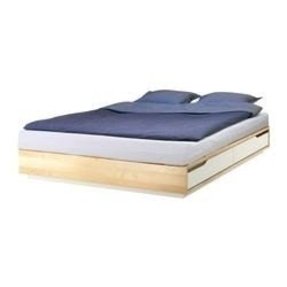 Twin size bed with durable wooden frame and storage compartment underneath. Its rectangular shape features simple straight lines. This simple construction looks very interesting in any bedroom design.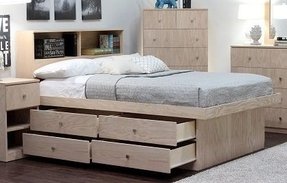 Platform bed full size with drawers, but not as minimal as in the Japanese project - because it has 2 rows of storage drawers. Made of light solid wood, inspired by New York's Brooklyn. A beautiful color owns red oak plywood.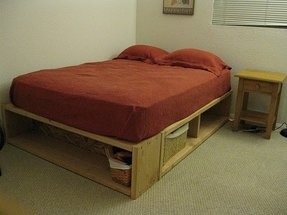 With this platform full size bed, you'll be sleeping on a sturdy yet very comfortable surface. The bed has wood construction with several open compartments, where you can easily hide your beddings.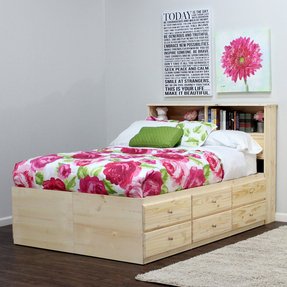 Wooden storage bed with twelve drawers and some bookshelves. The wood it is made of is very bright. This bed is a perfect combination of sleeping and storing space for people who don't have extra place for another closet.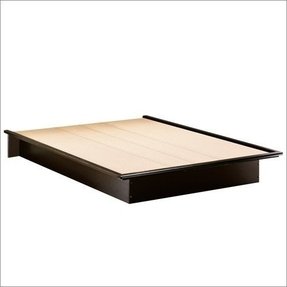 twin platform beds with storage drawers ikea | Full Platform Bed Frame | Full Size Beds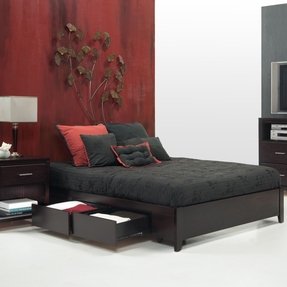 Nevis Storage Platform Bed
Beautiful storage bed crafted from reliable tropical mahogany solids. This fashionable bed will be a beautiful and functional solution for your bedroom. It features 4 under-bed storage drawers, which will help you tidy up your space.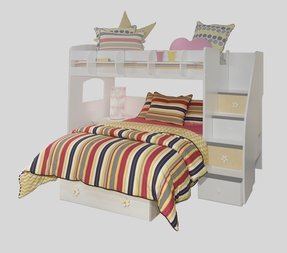 Furniture Full Size Platform Bed with storage drawer by OJ DFXXdCP5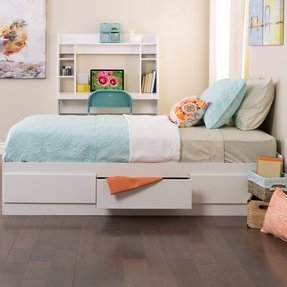 Monterey Storage Platform Bed
Pretty contemporary bed of fibreboard with a white finish. It features a clean line body with gently profiled edges. It has 3 spacious underbed gliding drawers on each side. They have bottom finger-pulls.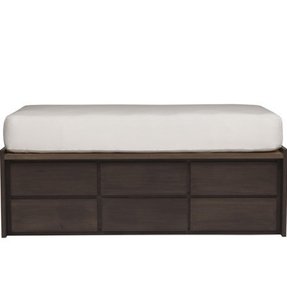 Thompson 12 Drawer Storage Platform Bed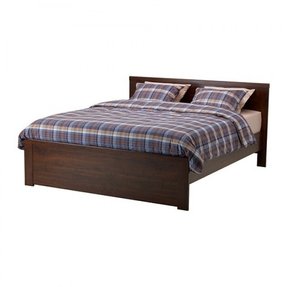 BRUSALI Bed frame with 4 storage boxes IKEA Four big drawers on casters give you lots of space for storing.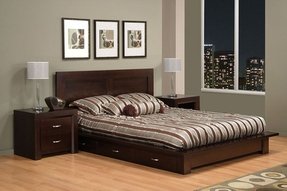 platform bed full size with drawer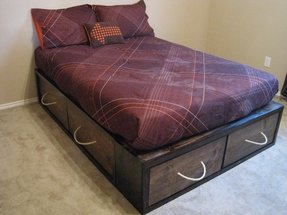 If you're looking for great ideas for your bedroom, this full size bed should do the trick. It's capacious and very comfortable, offering a wooden platform with 6 drawers - each equipped with a rope pull handle for stylish looks.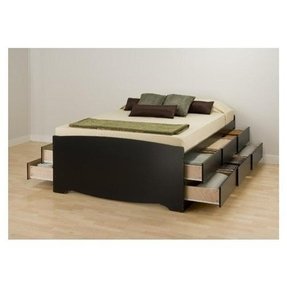 Platform Storage Bed with Twelve Drawers in Black - Size: Full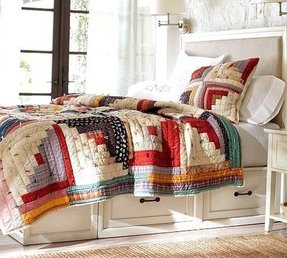 Stratton Bed With Drawers
This is a very durable and comfortable bed designed for use in any bedroom decor. It is made of durable hardwood. This kind of product features six drawers that provide storage space for bedclothes and other items.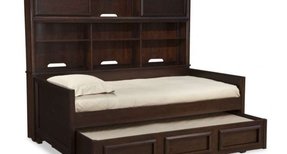 Bed set for kids in classic, almost traditonal style: the daybed comes with matching bookcase (with two closable compartments) and pop-up trundle. The whole piece of furnishing is wooden, with dark espresso brown finish.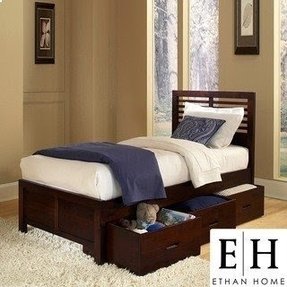 Add beauty to your little one's room with this modern full-size captain's bed. With three roomy drawers, this bed has ample room for storing clothes, books, and treasures. The cherry finish has a warm feel that will match a variety of accesso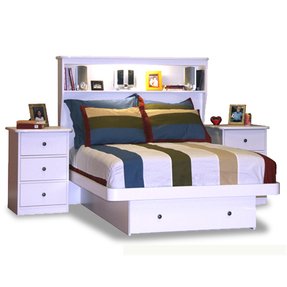 Sierra Full Storage Platform Bed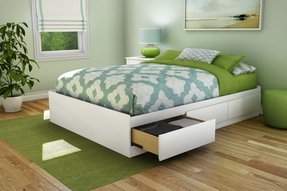 New Full-size Platform Bed with 3 Storage Drawers in Modern White Wood Finish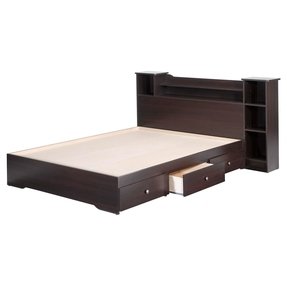 I did a lot of searching for platform beds, before I bought this one. It has the full size and a lot of drawers for storing sheets and bedding sets. The elegant dark brown finish fits to classic interior.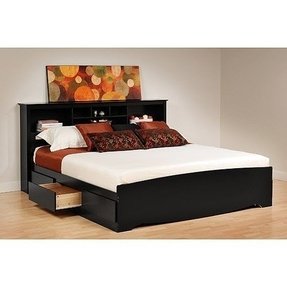 Prepac Brisbane King Platform Storage Bed With Storage Headboard Black
A comfortable and relaxing solution for bedrooms. This is a king-size bed with a solid wooden frame and with a headboard that features small storage shelves. What is more this bed has got three spacious storage drawers under the sleeping area.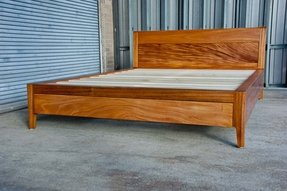 Platform Bed
This full-size rustic platform bed constitutes a proposition for those, who want to create a classic, wooden bedroom interior. Available with side drawers, it can create a considerable storage space for one's linens, pillows and stuff.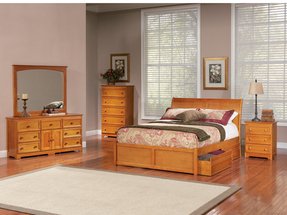 Bordeaux Platform Bed with Flat Panel Drawers in Caramel Latte Size: Full The Bordeaux is a dazzling platform bed with a tasteful sleigh profile. $605.99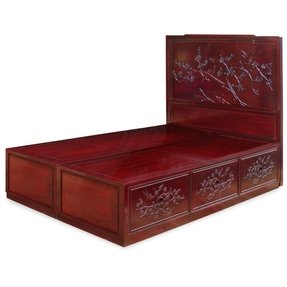 Do you know that cherry blossom and elegant bird according to Chinese culture have magical powers and bring happiness to the family? The best choice is a platform bed with full size and drawers, made of rosewood with carvings of a cherry tree.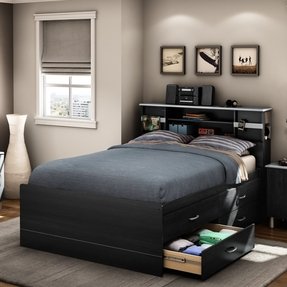 Cosmos Full Storage Panel Bed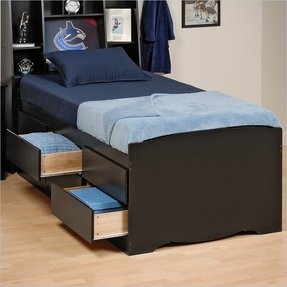 Prepac Black Sonoma Tall Double / Full Platform Storage Bed with 12 Drawers - BBD-5612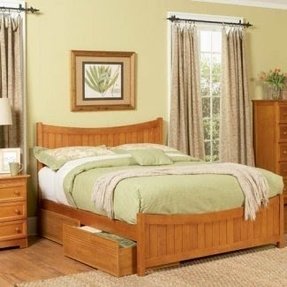 This Atlantic Manhattan Full Bed with Drawers in caramel latte is JPMA, CPSC & ASTM certified. Free shipping!