Our Choice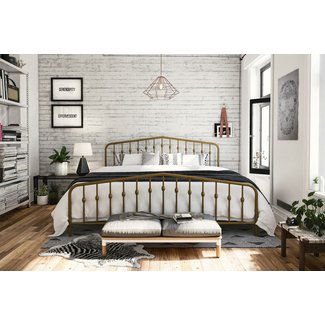 Bushwick Platform Bed
This platform bed combines the alluring look of structured natural charm with an air of nobility. Artistic curved black metal has rounded orientation throughout the open rails. This classy look works in both contemporary and urban industrial bedrooms. There is 11" of clearance from the floor to the bed's underside and the frame is built for ultimate support. Play with different fabric textures, like waffle cloth, jacquard, chenille or cotton with lace for a striking bedspread that portrays your individualism.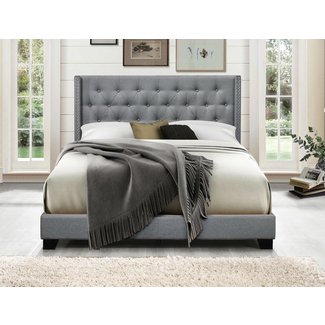 Gloucester Upholstered Standard Bed
Tufted linen-like gray fabric on an elegant high headboard gives this low profile panel bed a traditional favorite. Gentle wings with nailhead trim adds just the right amount of accent to make it refined.  Stubby slanted walnut legs lift the frame a minor 3.5 inches off the floor. Subtle grays and blues will add warmth to this scene with dark brown and ivory sprinklings of pillows and a footrest for your favorite chenille throw.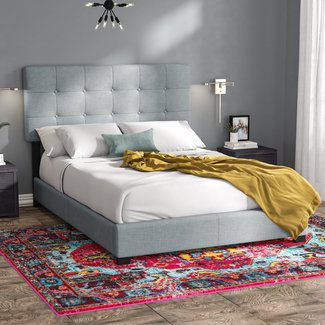 Finnigan Upholstered Standard Bed
Soft and simple is often all that is needed to feel safe and secure in your bed. This contemporary platform bed adds an extra layer of support with a box spring. A high-backed fabric button-tufted headboard gives plenty of room for propping up with your favorite book. Adjustable wall mounted lights will add to your pleasure by not fidgeting with lamps. A brightly colored plush area rug will further keep those toes warm on cool days. This bed is comfort and style all in one.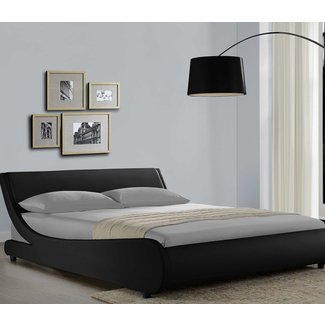 Karr Upholstered Platform Bed
This sweet number is unlike any type of modern slumber furniture that you have ever seen.  Like a crusting wave, the headboard sends a swirl to the bottom at half the momentum. Outlined in faux leather, it creates an optical illusion of the mattress flowing as well. The frame is metal with 28 slats and holds a recommended 8" mattress, which is not included. Faint gray pinstripes follow the outer edge of the headboard. A chic modern or eclectic sleeper's delight.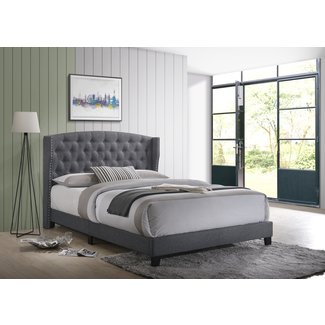 Fort Calhoun Upholstered Platform Bed
Winged and slightly curved, the linen headboard on this traditional bed is 50" tall. Dotted with button tufts and outlined with flashy nailhead trim, this bed is impressive in almost every decor. Available in gray or stone khaki, natural influences will add to the design with wood, stone or metal highlights.  A wall mounted modern brass light or a free-standing black metal towering lamp could provide the light and add character of the room.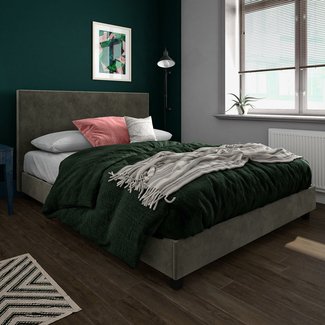 Cornell Upholstered Platform Bed
Squared with clean lines and covered in velvet-like material, this special contemporary styled bed is perfection for teens and adults alike. Available in gray, blush or blue, the calming colors reflect a serene and comforting atmosphere. Straight wooden feet hold the unit 2.75" off the floor and a center metal rail and leg have been added for support. A fluffy comforter will add depth and texture to a platform mattress and a flat woven area rug of geometrical design will fill out the area nicely.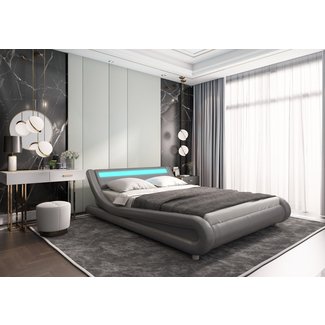 Karratha Upholstered Platform Bed
If you have a taste for the eccentric, this modern example of neon lights and slumber is it. Dressed in leather-like material in a floating folded over image, your dreams can be a colorful display of 16 selections of LED light shades. The light runs across the tilted headboard and is useful as a nightlight, Karma illuminator or mood changer. Add sophistication with gold and black or expand a modern decor with mirrors and hanging globes.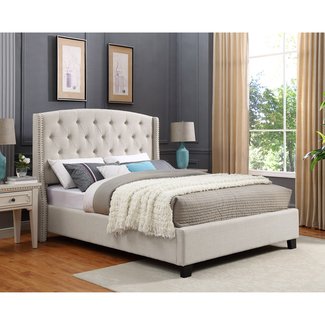 Croce Upholstered Standard Bed
Linen is a fresh clean example of the contemporary style as this bed represents. A delicate 56" tall headboard has subtle sleigh curves with button tufting and double rows of shiny nailheads.  The overall look is inviting in any one of three available colors, tan, blue or gray. Keep with the neutral colors that are responsible for the soothing feel and highlight with textures like a ribbed bedspread, chenille throw and low posh carpet.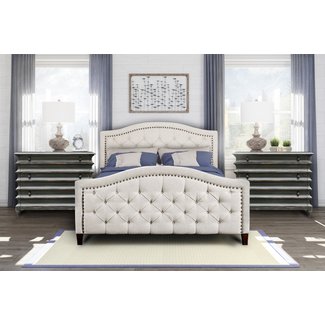 Prieto Tufted Camelback Upholstered Platform Bed
A platform bed that masquerades as a refined box spring series has a generous footboard to match the traditional headboard. Covered in a gray polyester blend fabric, iconic tufted buttons surround both front and back sides. Silver nailheads follow the curves in a rich highlighted fashion. A great transitional piece that will accept different decors from chic modern to contemporary. Keep furnishings simple to bring out the rich flavor of this inviting bed.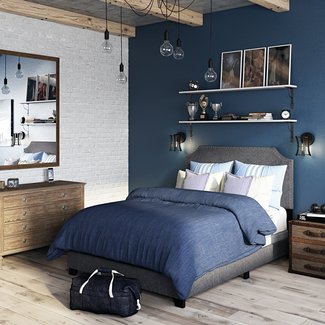 Kyara Upholstered Standard Bed
Simple and handsome speak for this low-profile bed. A box spring is used to beef up the height while staying platform low to the ground. Available in colors of denim blue, stone gray, light gray and beige, the simple notched headboard lets you decide on a style.  A teen's modern room or a chic master bedroom with repurposed items can both benefit from this simple style. Available from twin to king-size.