If you've got a small bedroom, you might be wondering how you can make the most of your space. The good news is there are plenty of tips and tricks you can use to maximize the storage and practicality of a small bedroom without compromising on style.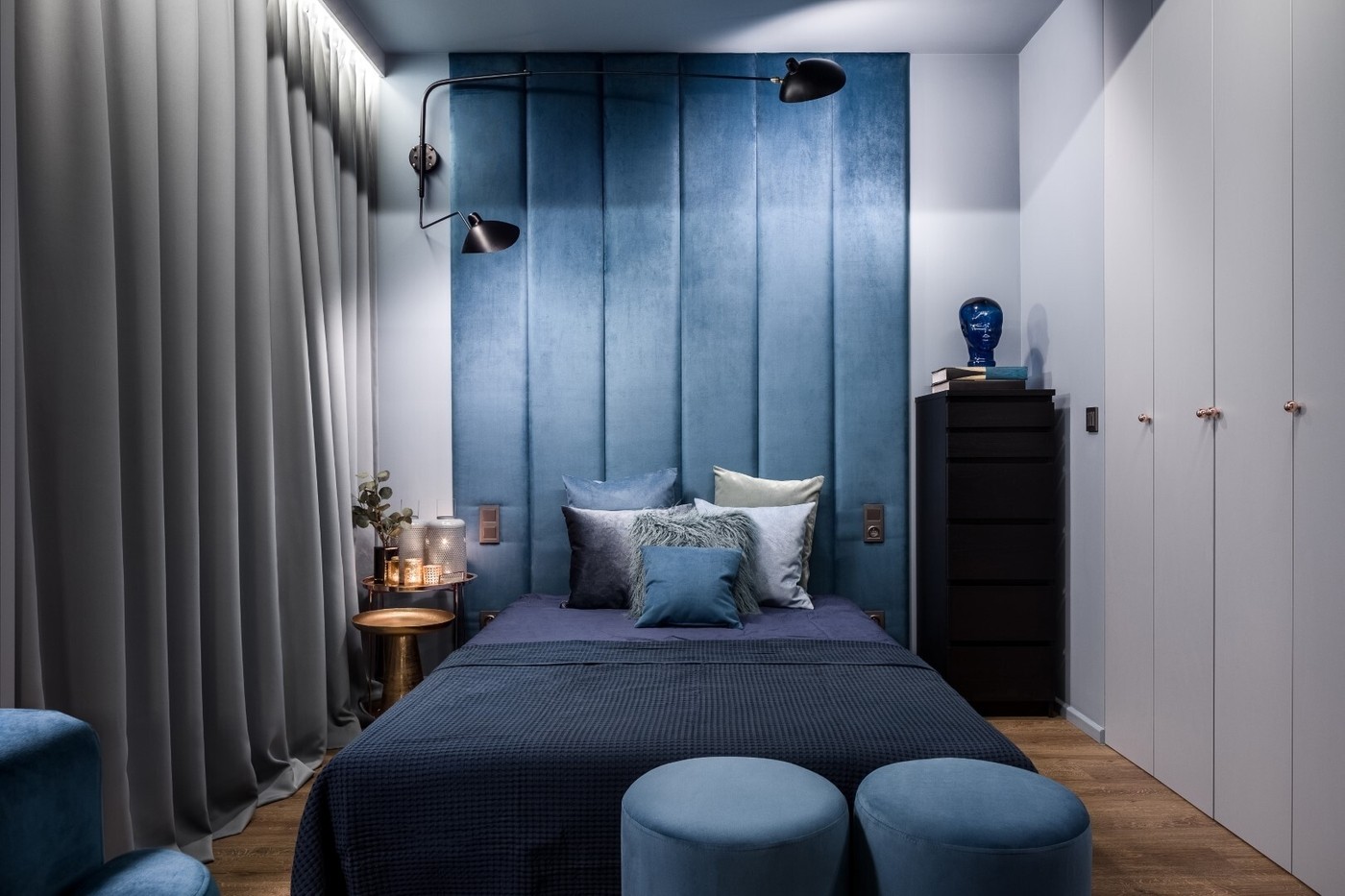 With a little careful planning, small bedrooms can be cozy and welcoming, and when done right you can still fit in everything you need, whether that means including a space for doing arts and crafts or making sure you have enough room to store all of your clothes and shoes.
Consider a Multifunctional Bed
If you use your small bedroom for more than just sleeping, then choosing a multifunctional bed will provide you with more space during the daytime. A sofa bed will give you a full-sized double bed at night and can be folded away during the way and giving you a comfortable sofa to sit on to read, spend time with friends, or watch TV.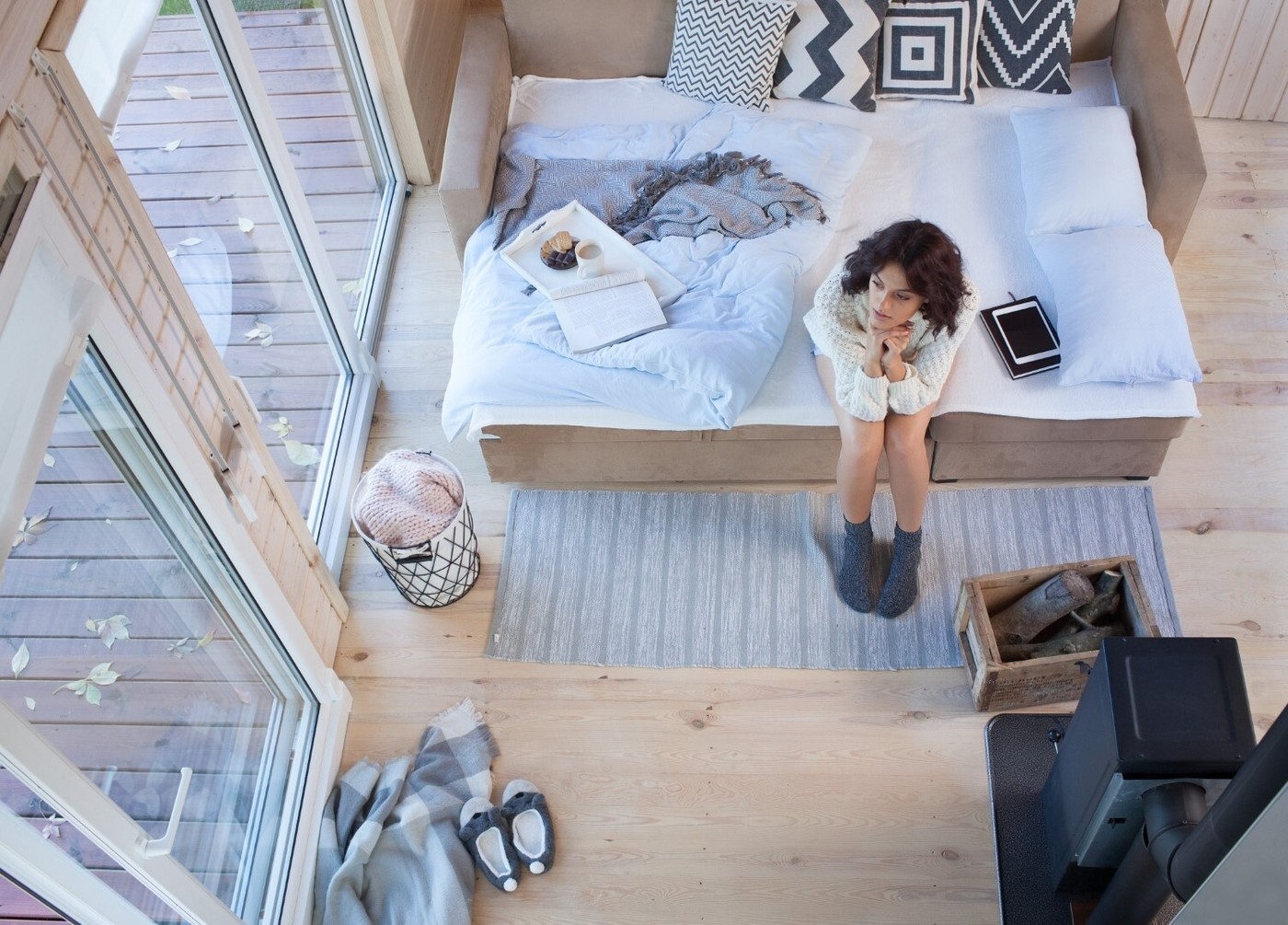 A murphy bed is another great option for those who want to have more floor space available during the daytime. Murphy beds come in single and double sizes and will fold away completely flat against the wall, giving you valuable floor space during the daytime. This is perfect for anyone who wants to practice yoga or do another type of exercise in their bedroom during the day, as it gives you use of the floor space that would otherwise be unavailable with a normal bed.
Choose a Tall Wardrobe With Drawers
When you are choosing a wardrobe for a small bedroom, choose one that's as tall as possible with drawers at the bottom. This will help you make the most of your space, with the drawers giving you somewhere to put folded clothes in. If you don't have too many clothes, you may not need a separate dresser at all, giving you more free space in your bedroom.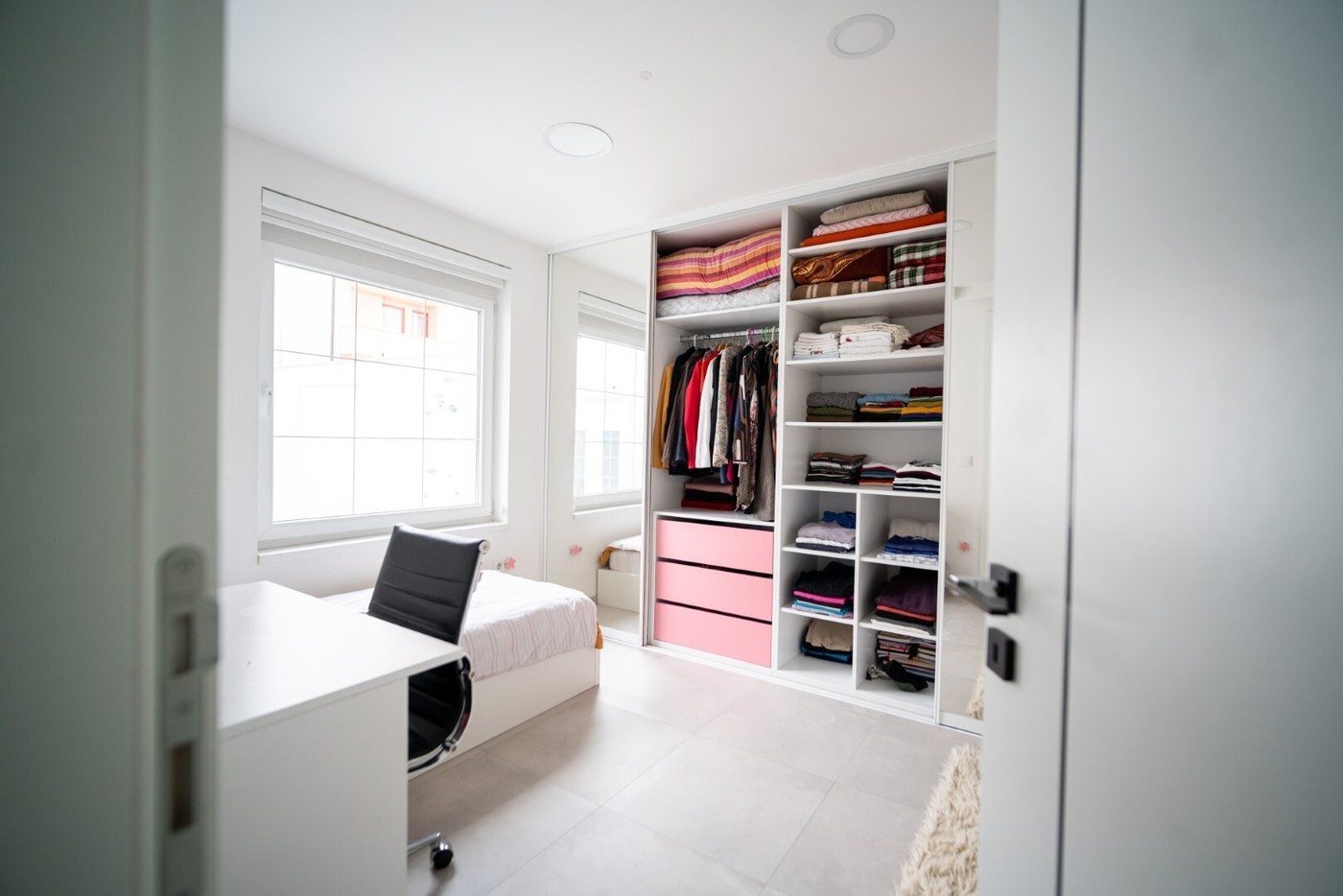 Factor in Extra Storage
When space is at a premium, clever storage solutions will be your best friend. You can choose a bed with storage drawers underneath, or that lifts up completely to provide an open storage area. This is perfect for storing clothes and linens out of sight. Storage ottomans are another great option and will provide you with some stylish extra seating when you need it.
Shelving is a useful addition to any small bedroom, so make use of the height of your room and put up some shelves. Adding a row of hooks beneath your bottom shelf will create additional space for you to hang bags, jewelry, hats, or anything else you want to keep tidy.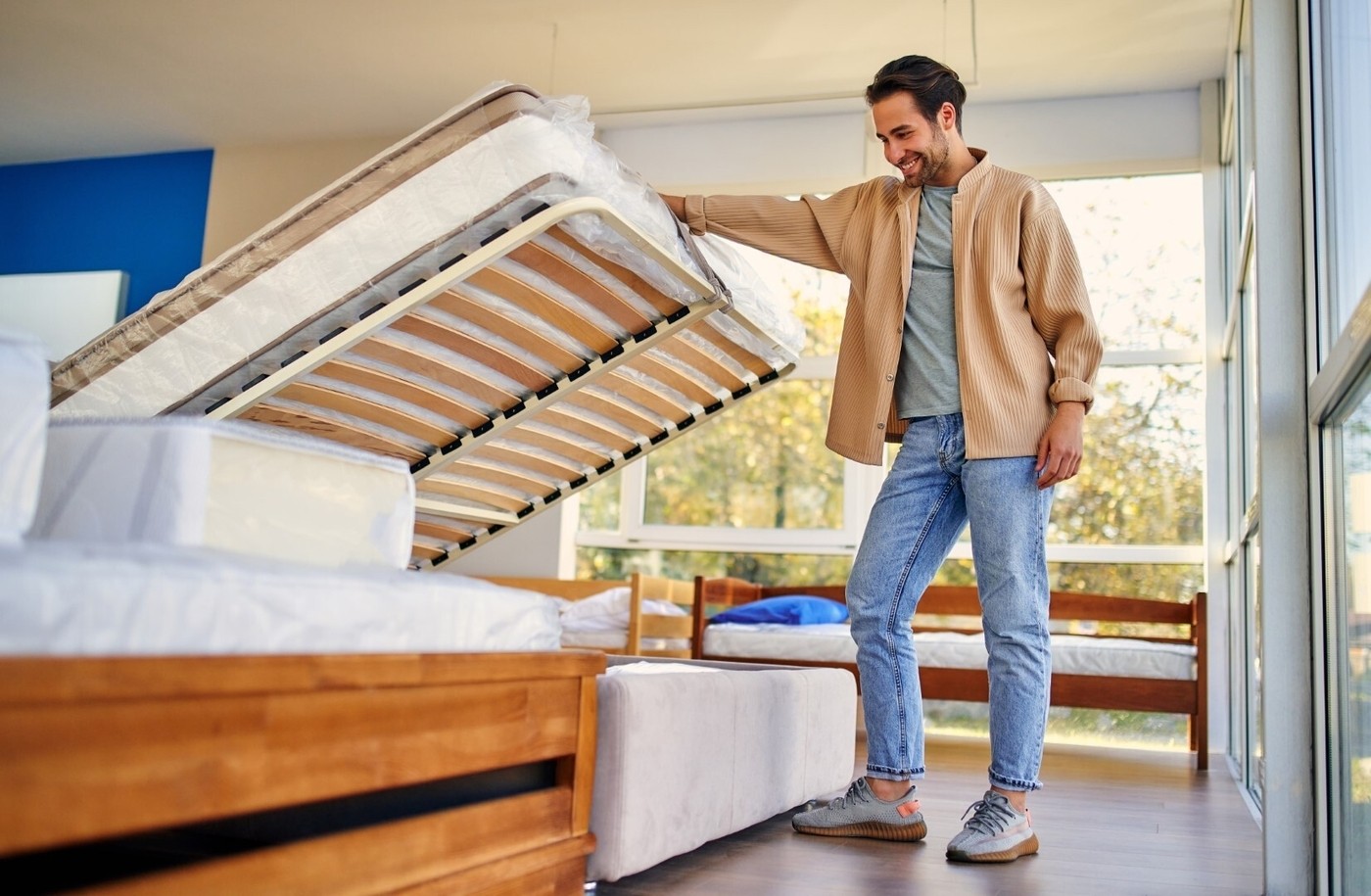 Use a Murphy Desk to Create a Workspace
If you work from home, a murphy desk will give you a useful workspace that will fold away against the wall when your workday is done. These are ideal for small bedrooms as they don't take up any floor space, and will usually provide storage for your laptop and desk accessories as well.
Aside from creating a workspace, murphy desks are also great for model makers, crafters, and artists who want a specific space to be creative at in a small bedroom.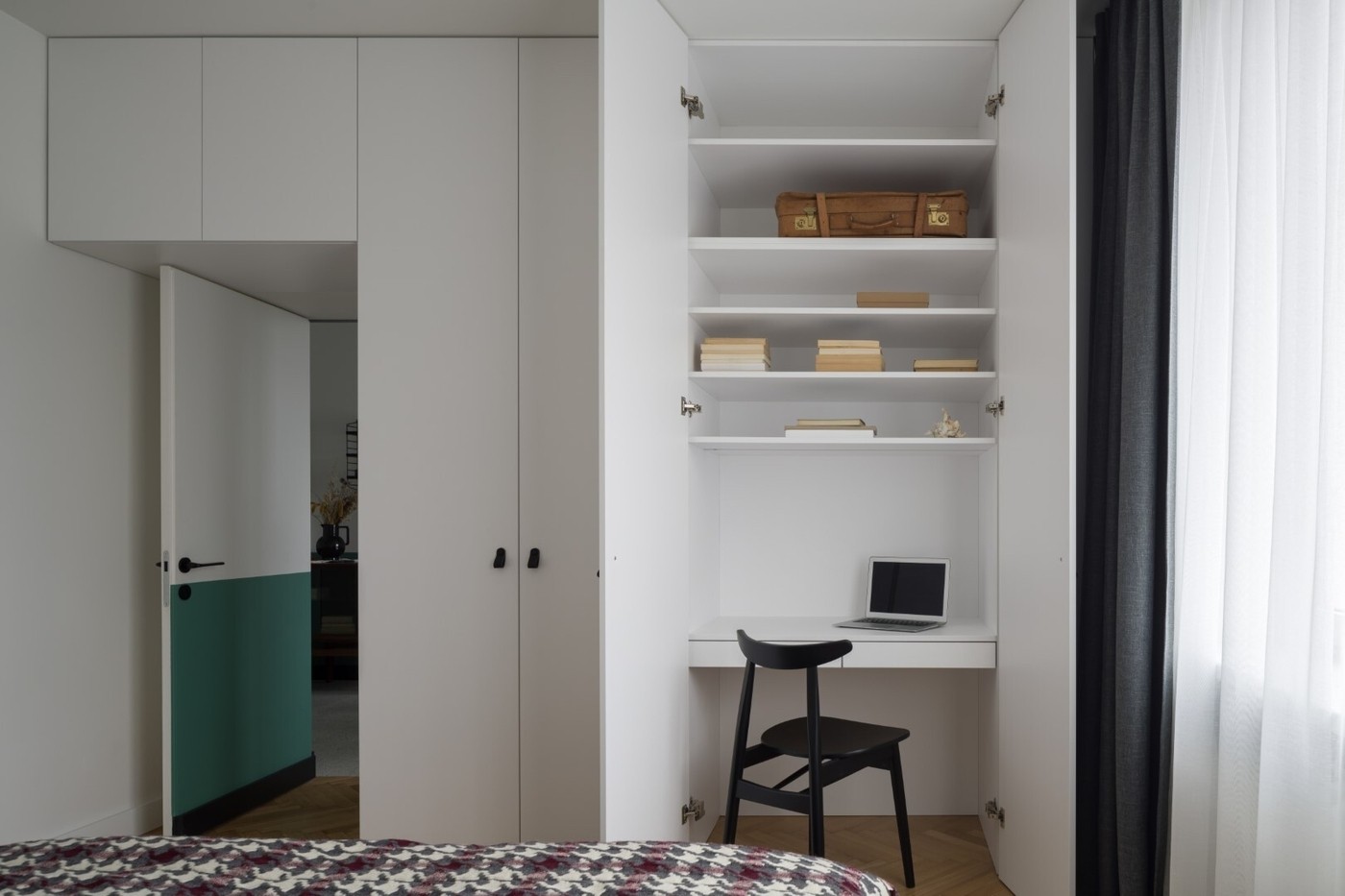 Maximize Natural Light
Small bedrooms may only have one small window, so it's important to make the most of the natural light that is available. If you choose to hang curtains, ensure that the curtain pole is mounted with enough space to draw the curtains fully back so that no natural light is blocked while the curtains are open.
In very small bedrooms blinds can often be a better option, as will usually fit flush against the window allowing furniture to be placed against the wall if necessary. Roman blinds work well for a traditional look, or if you want a more contemporary look opt for roller blinds.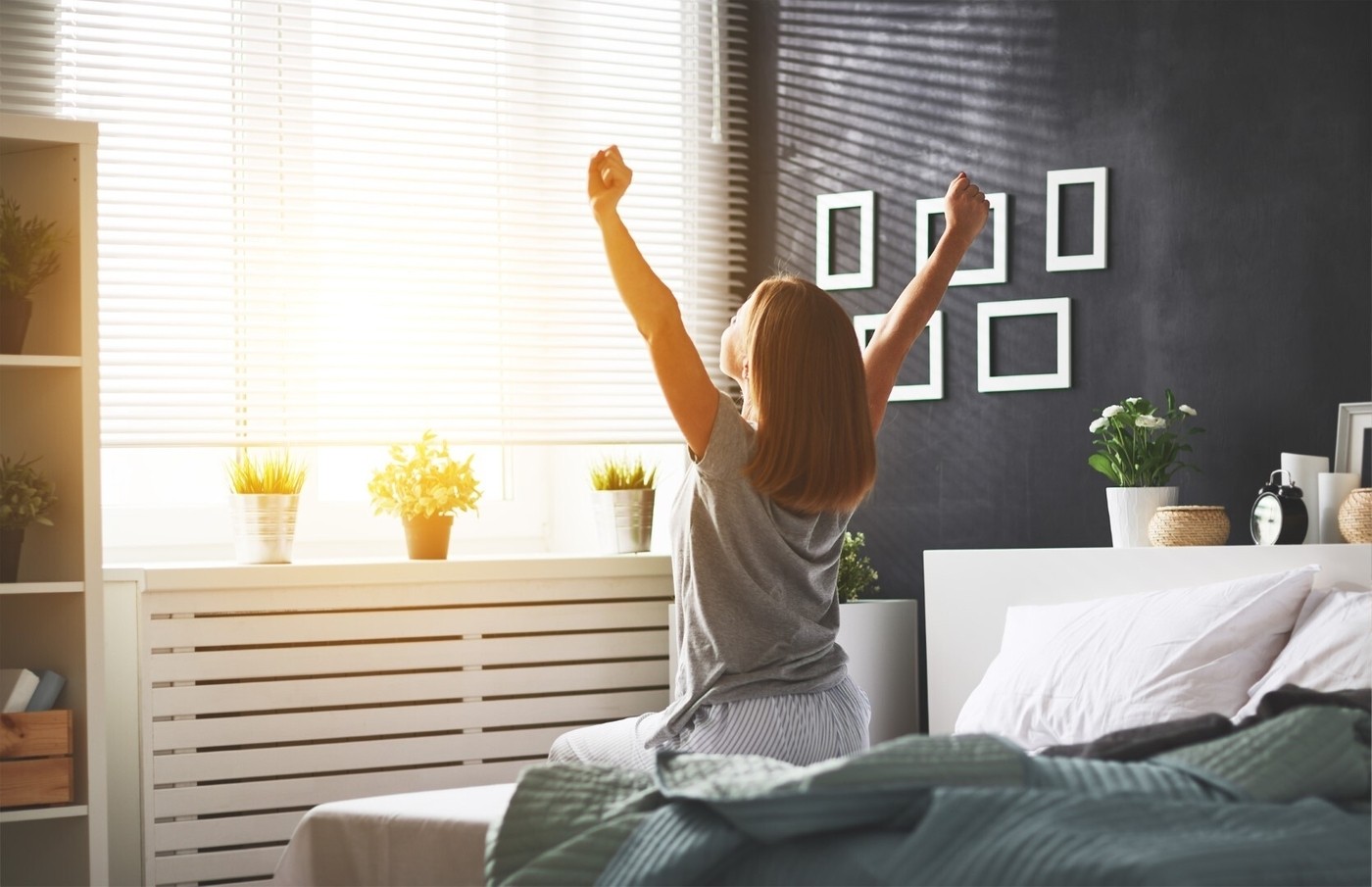 Use Color to Create The Atmosphere You Want
Color is the perfect tool to help you create the feeling and atmosphere you want in a small bedroom. If you want a bright and airy feeling, stick to light colors such as white and soft neutrals. For a calming atmosphere, lighter shades of blue and sage green are perfect.
Alternatively, if you want your small bedroom to feel like a cozy cocoon, opt for rich dark colors such as deep green, or navy blue. You might think painting a small room in a dark color is counter-intuitive, but dark colors can work well in small bedrooms, making the space feel cozy and interesting.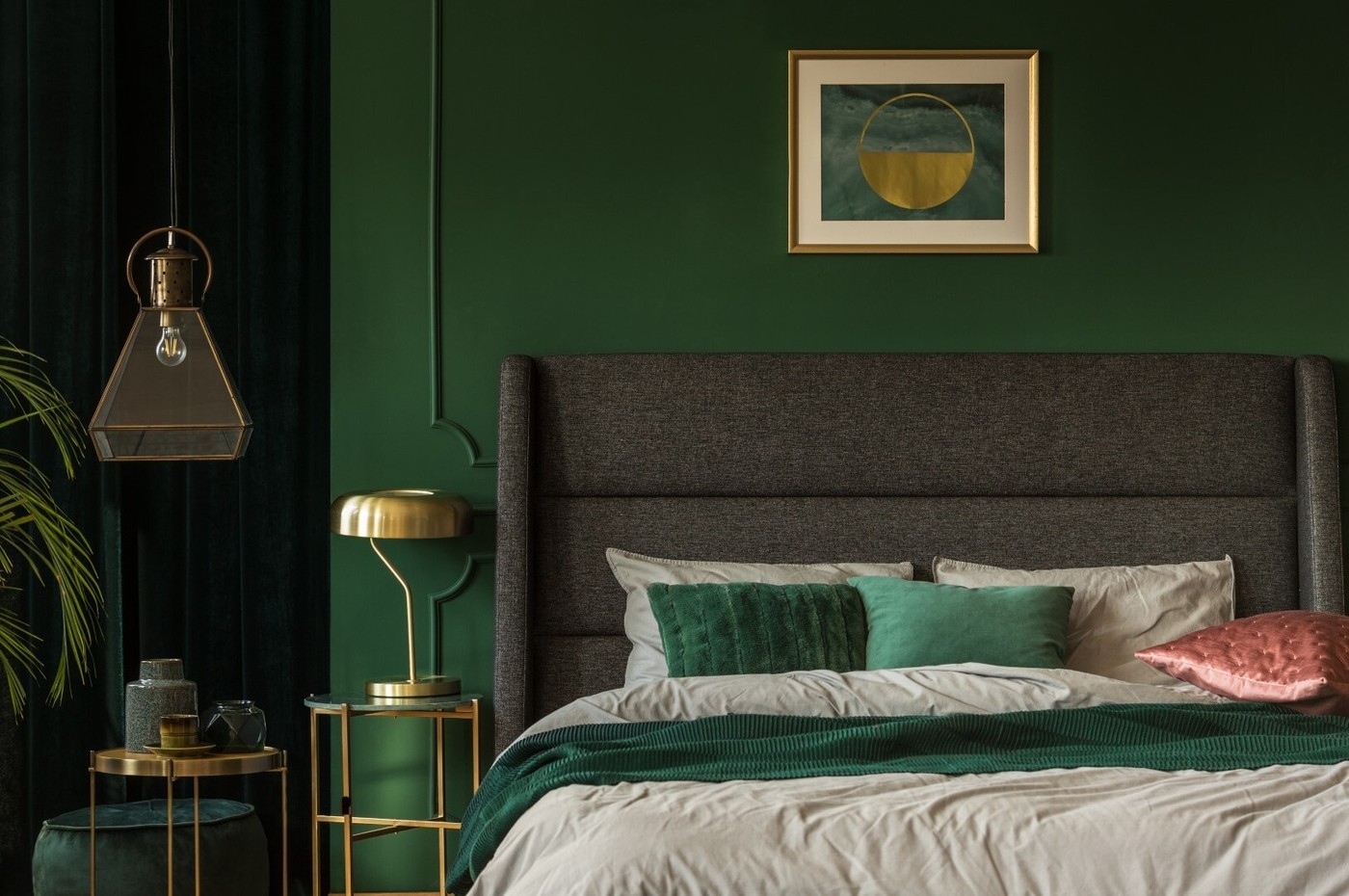 Painting the ceiling in the same color as the walls will create a wonderfully cozy feeling that will make your bedroom feel like a warm retreat away from the outside world. Lighter-colored furniture, art, and accessories can be used to break up the color on dark walls and add more interest to the space.
Add a Large Mirror
As well as providing you with somewhere to check your reflection as you get ready in the morning, a large mirror will help to visually open up the space in a small bedroom.
If you have an empty wall available, consider purchasing a large full-length mirror. This can double the space visually, and help to maximize the natural light in your bedroom too as it reflects the light from the window.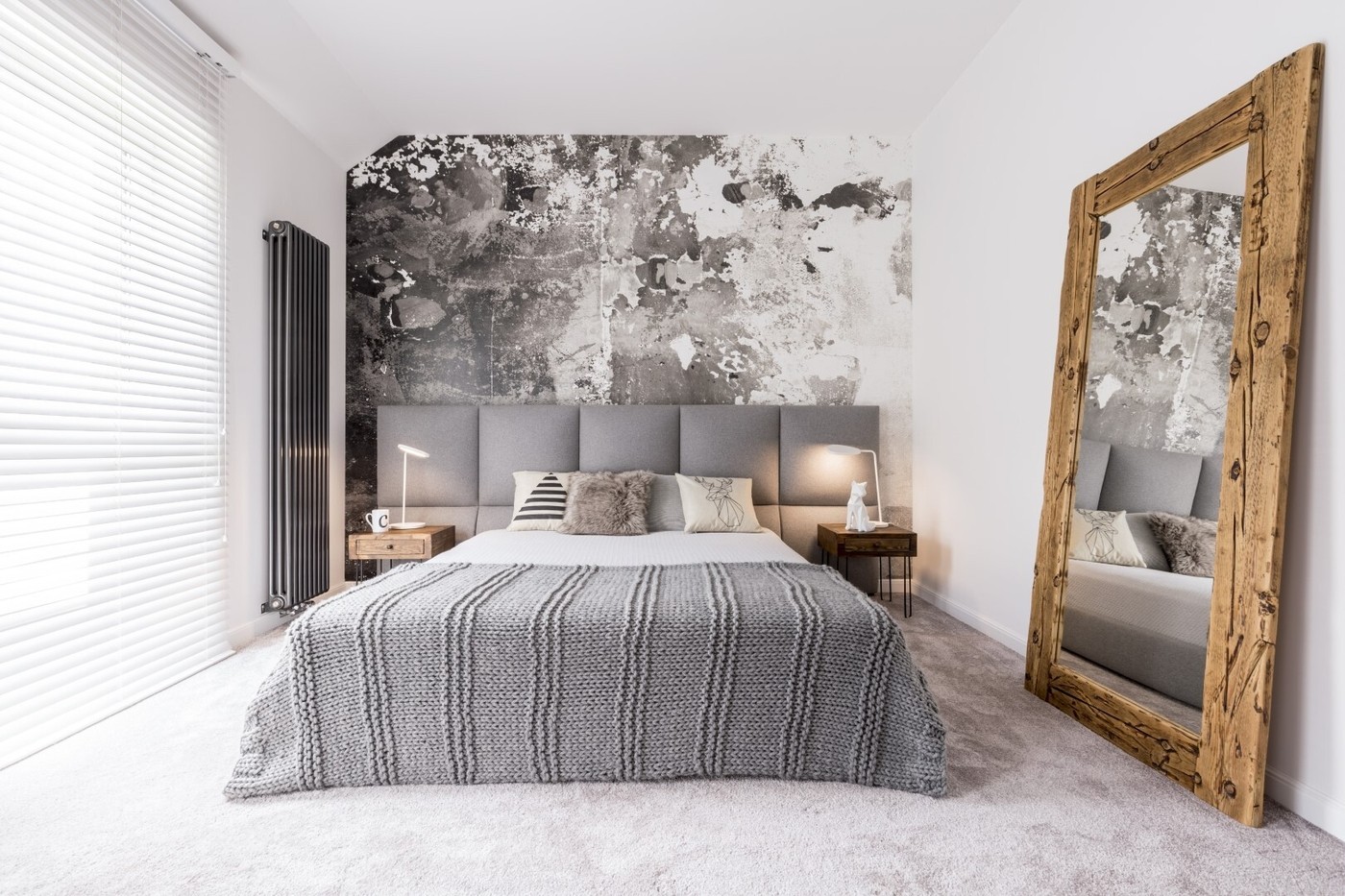 Make Use of Awkward Spaces With Built-In Furniture
Built-in furniture can be a lifesaver when it comes to making use of awkward spaces. It can be particularly useful in loft bedrooms where you have space under a sloping ceiling where you might not be able to fit traditional furniture.
Older properties may also have fireplaces in the bedrooms. This usually provides a space at either side of the chimney breast where you can put built-in shelves or cupboards to maximize the use of the space.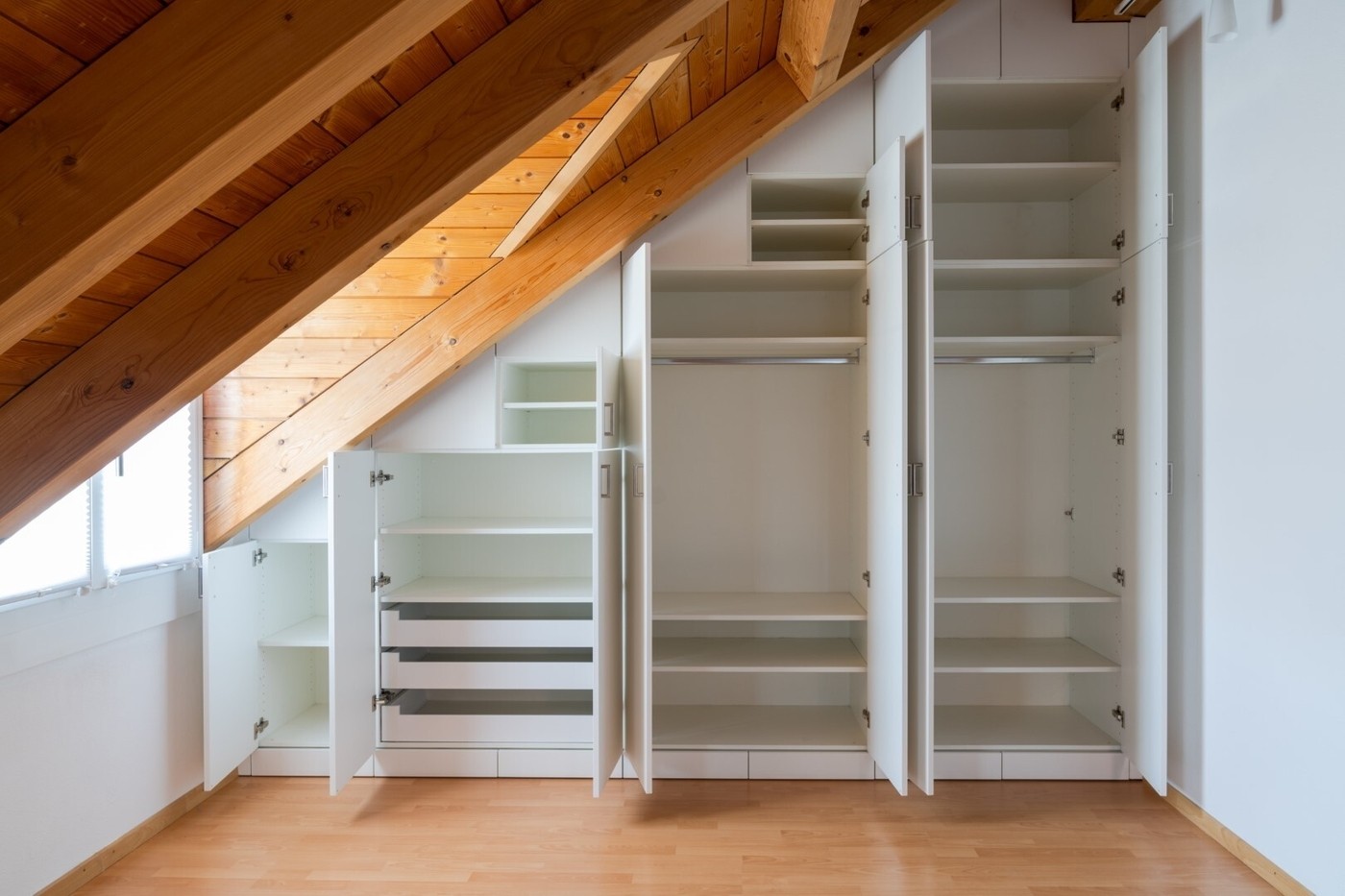 Use Wall Lights Instead of Table Lamps
Bedside table lamps are an essential element of any well-designed bedroom, but what if you don't have the space for bedside tables? Rather than using floor lamps which can take up even more floor space in a small room, wall lights can be a stylish and practical alternative.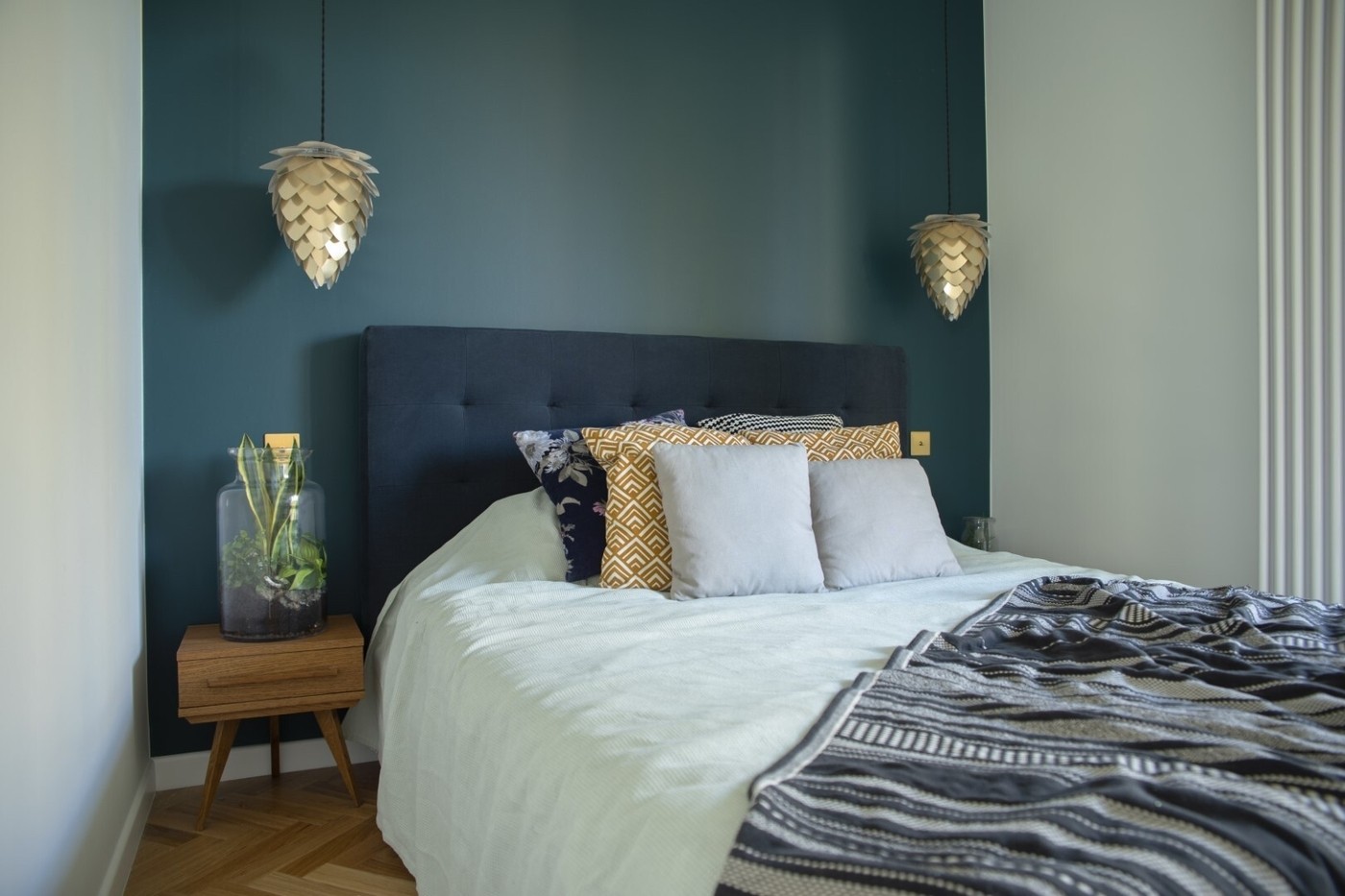 Installing wall lighting on either side of your bed will not only look great, but they will provide you with ambient lighting to read by without taking up any space in your bedroom. This leaves more floor space if you prefer not to have a bedside table, or if you do still want a bedside table it will leave you with more space for books and other items.