Crown Molding Shelf
Crown molding shelves speak the loudest when compared to other shelves. Their classical taste and intricately designed patterns elevate the design from a lackluster basic to an ornate beauty.
If you plan to line your crown molding shelf with picture frames, you'll want your shelf to measure a minimum of one to three and a half inches deep. For bulkier items like planter boxes and books, allow enough space to prevent your items from hanging off the side.
This idea list will help you find the right crown molding shelf to elevate your desolate wall to a decorative attraction.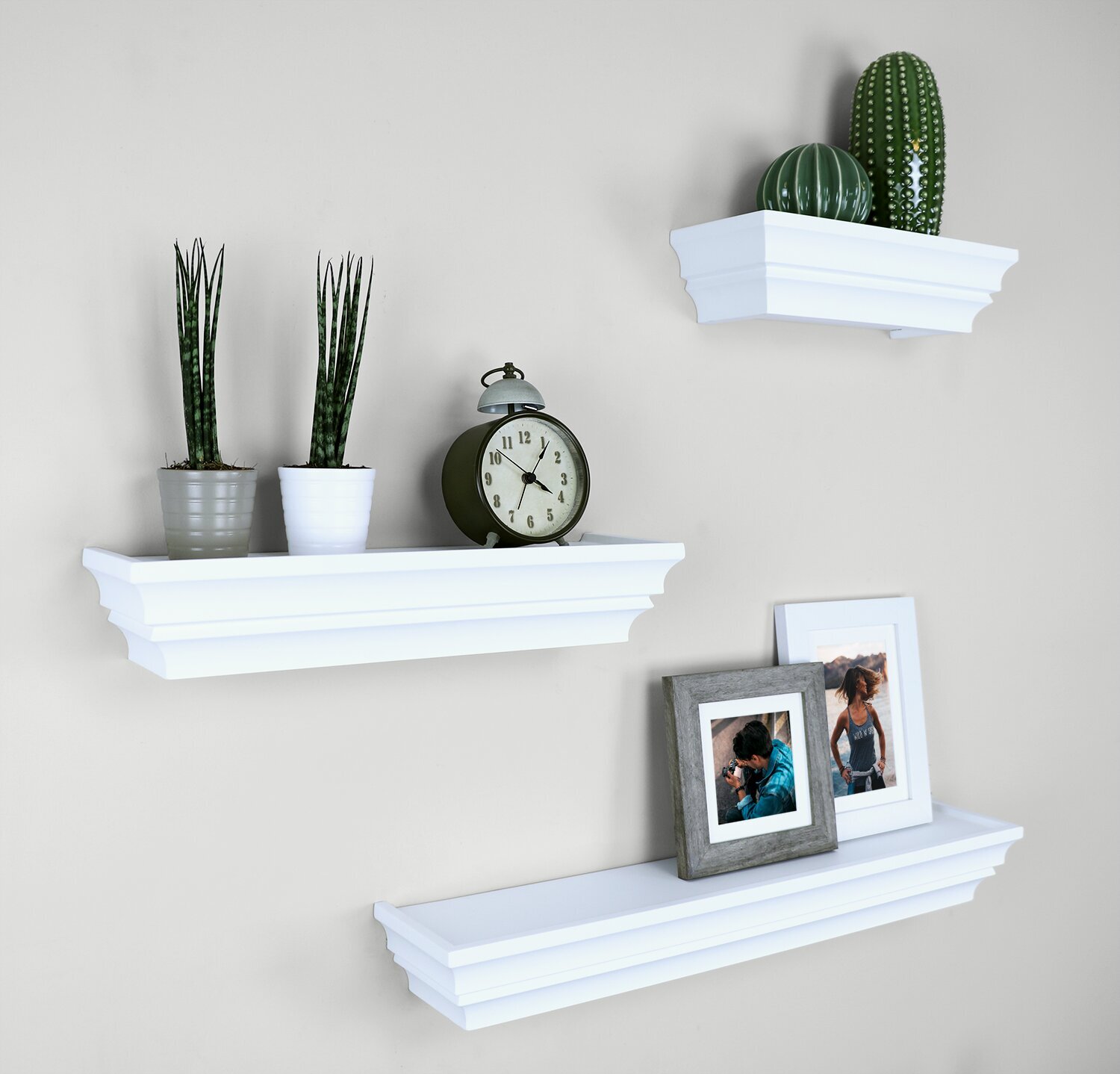 Thick Victorian Crown Molding Floating Shelf

The most classic and well-known type of crown molding floating shelf is the tall, thick Victorian type. Smooth siding paired with sharp concave edging creates an even balance that softly stands out.
Tall Victorian crown molding shelves can be bought individually, in pairs, or larger sets. For a monochromatic finish, combine white crown molding shelves with black and white photos. Add a small splash of one color for the color to pop.
$67.99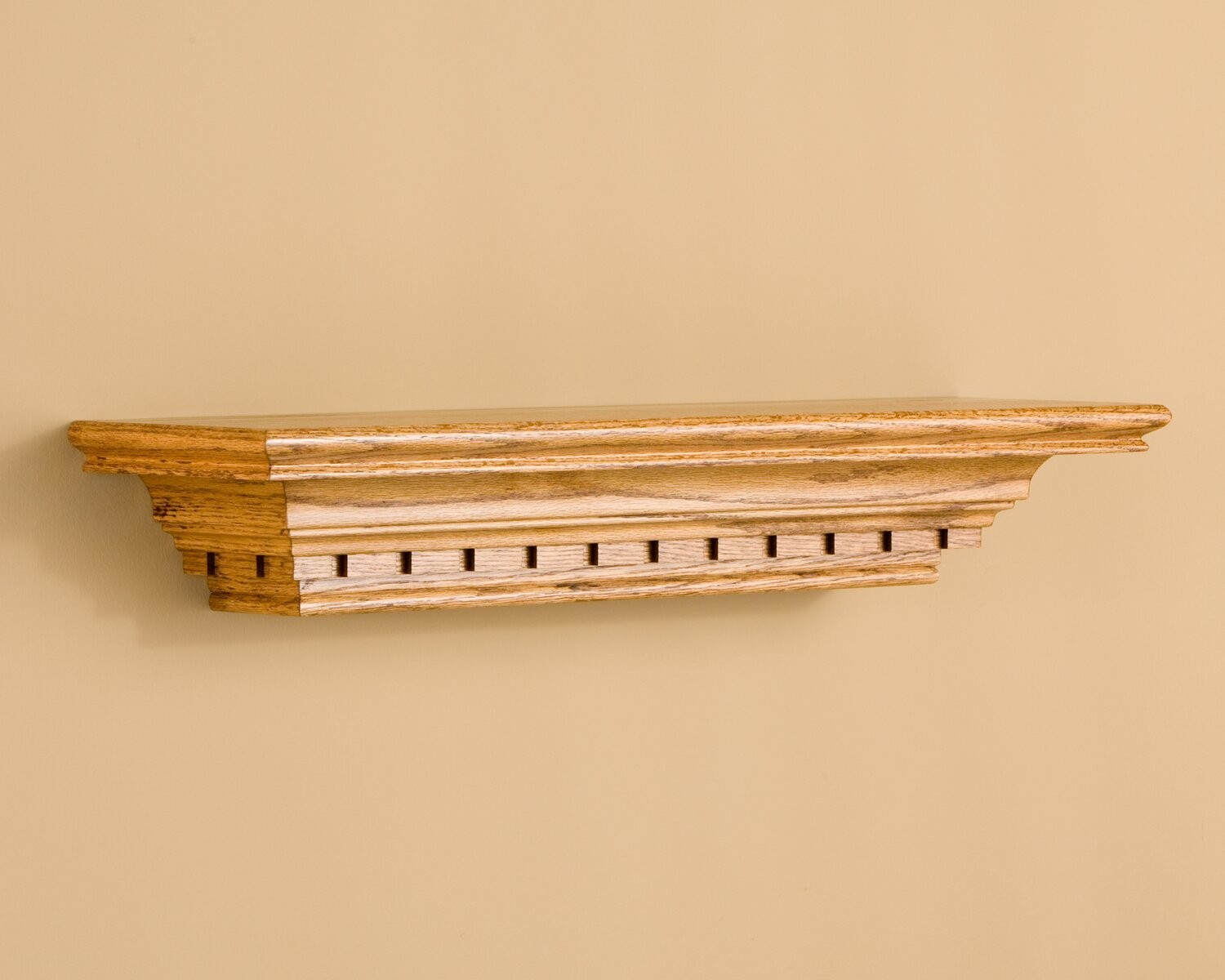 Dentil patterned Shelf Molding Mantel

Shelf molding with dentil patterns has a more masculine sense to them. The small rectangular dentil-patterned pieces are either situated upright, to emphasize the height of the shelf, or horizontally, for a braided wrap-around image.
Let the dentil pattern speak for itself with the lack of décor pieces. You can also use this type as an elegant display shelf around the top of a room.
$388.05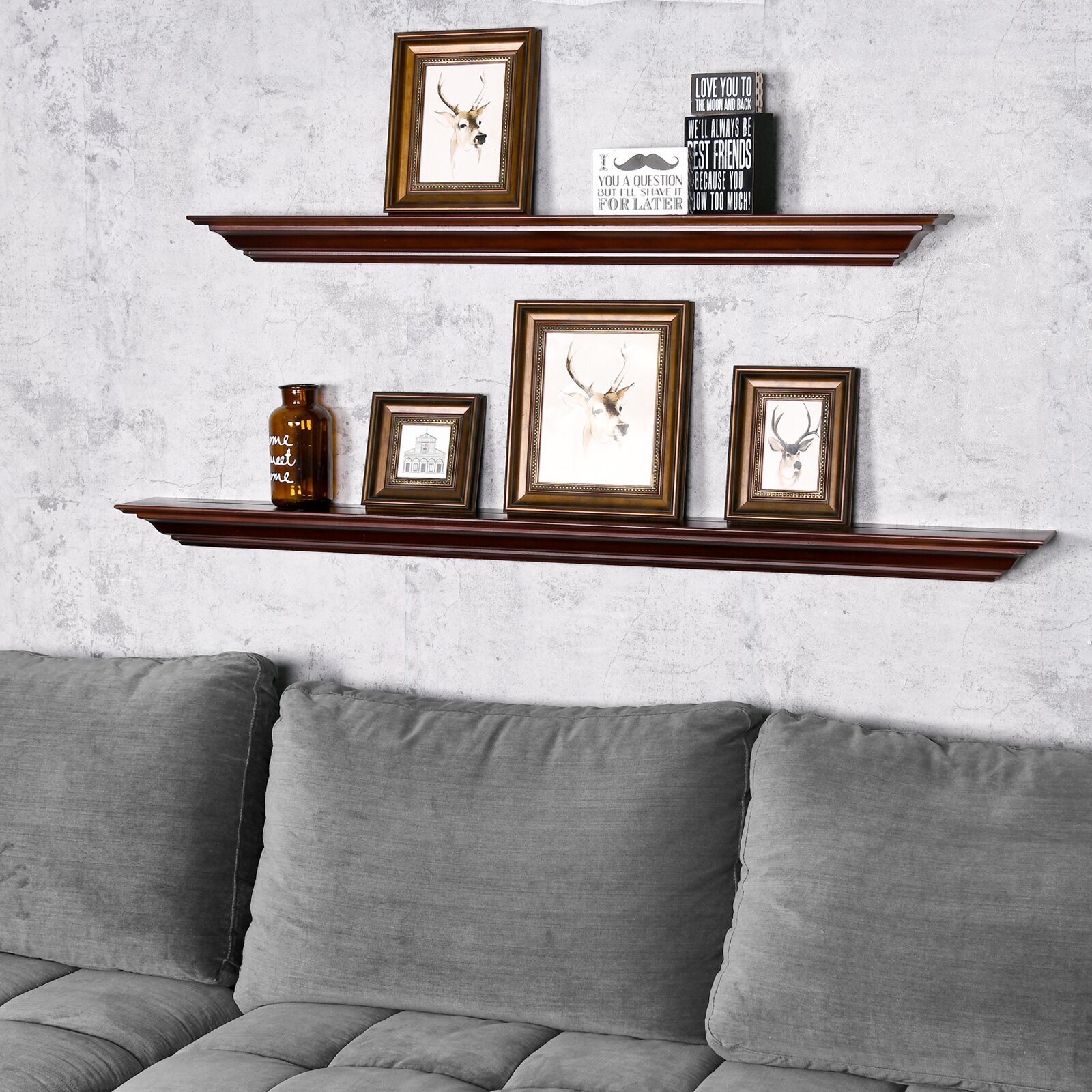 Ledge Molding With Reaching Cyma Reversa Shaping

The thinner type of ledge molding is one with a reaching cyma reversa profile. Thin ledge shelving combined with a soft wavy, stretching outward shape, accentuates the length of a room.
Place these thin molding ledge types on shorter walls to give them more length. They look beautiful in living rooms, laundry rooms, hallways, and offices.
$74.99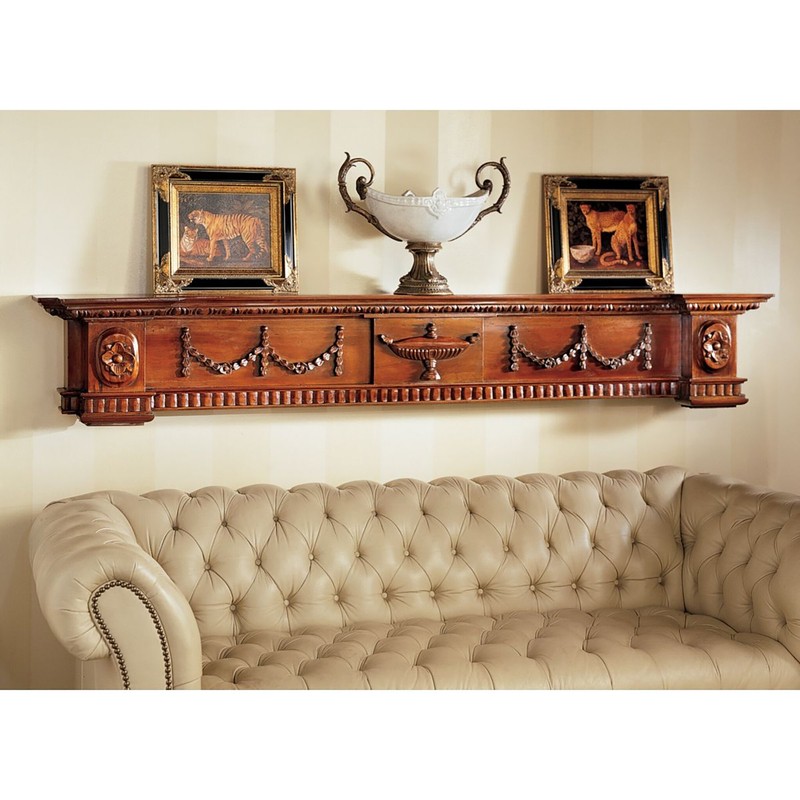 Fancy Multi patterned Shelf Moulding With Egg and Dart Style

These types would classify as your grandeur crown molding shelves. They are sculpted using multiple types of patterns within one thick and largely built shelf.
Their heavy appearance makes them the perfect match for the Mediterranean décor style. Pair these multi-patterned shelf mouldings with a high wingback tufted leather chair for a classic exuberance.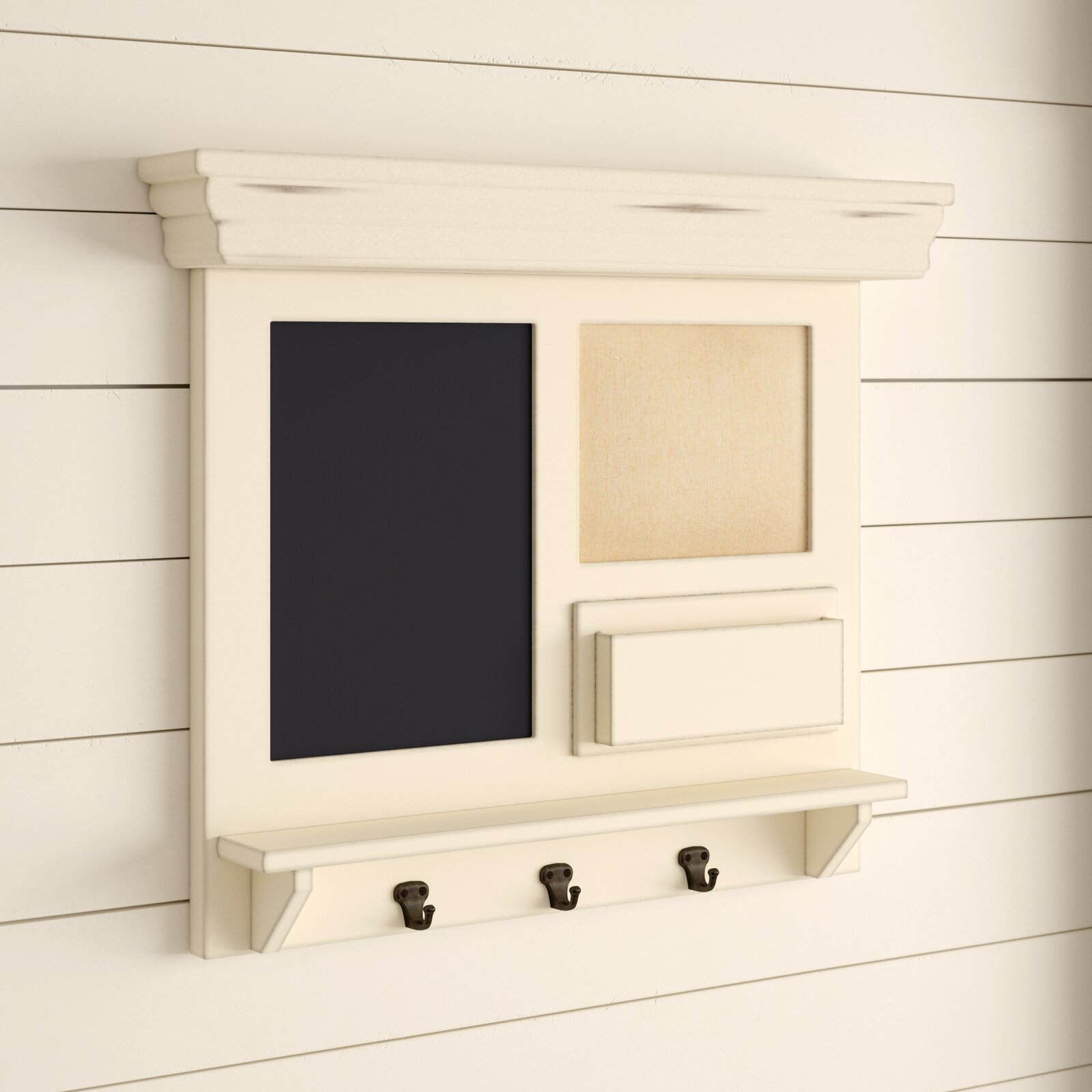 Bumpy Crown Molding Shelf With Key Hooks

A bumpy crown molding shelf gives a wall a playful and cheery attitude. These key hook molding shelves couple perfectly in entrances, kitchens, and craft rooms. Select one with an attached corkboard or chalkboard for your kid's room.
If you are not looking for all the bells and whistles that come with bumpy bubbly crown molding, then you can pick one with the shelf alone. This type of molding shelf is narrower, so they are more ideal for smaller or thinner decorative items.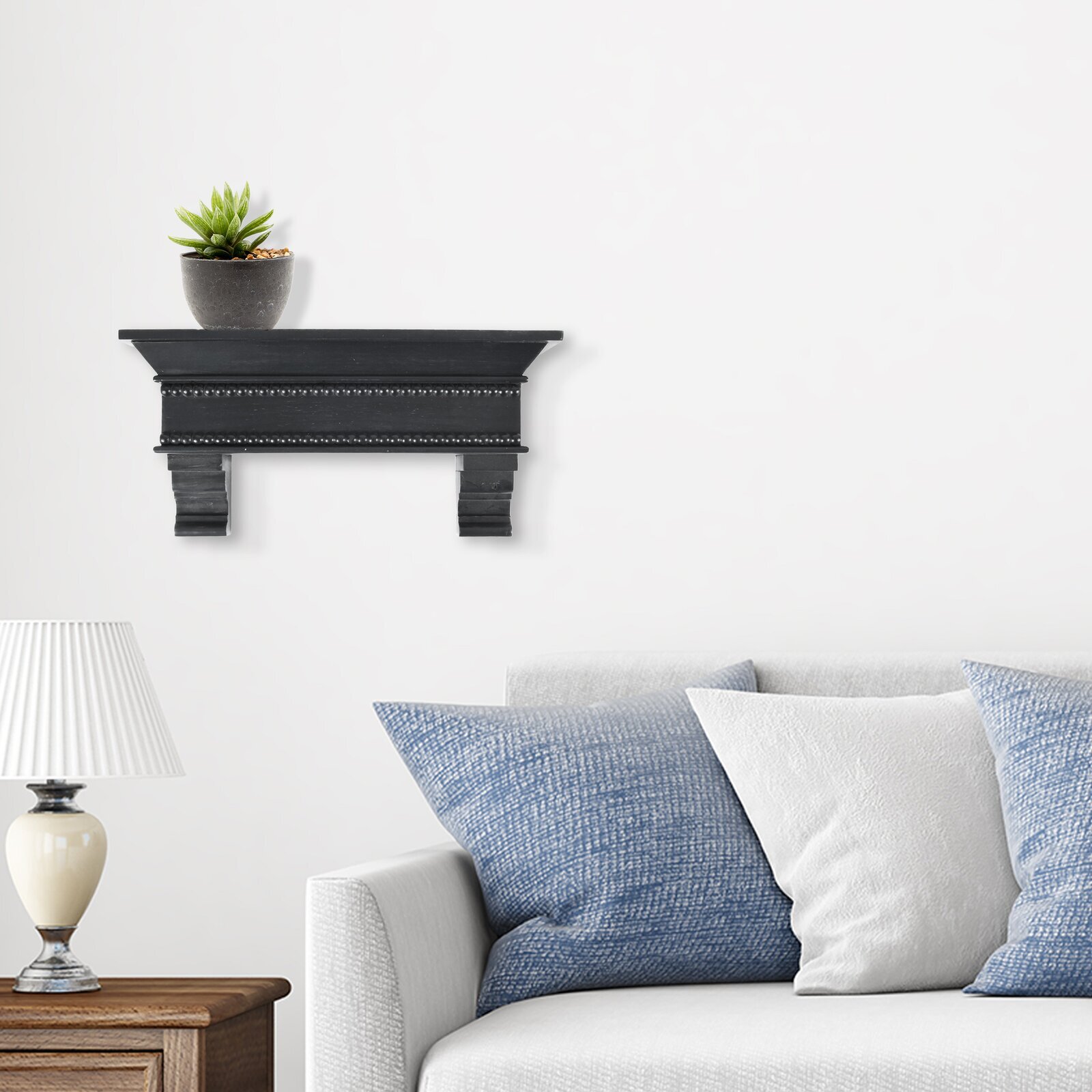 Beaded Crown Molding Floating Shelf With Corbels

Beading on any furniture is elegant, especially when it is arranged on a crown molding floating shelf. Hang your beaded crown molding shelves on full display in your formal, office, bedroom, or living room.
For soft elegance, find beaded arrangements that blend into the finish of the shelf. Shiny silver or gold beading on a white or black finished shelf will fine-tune focus on the design elements of the shelf itself.
$80.88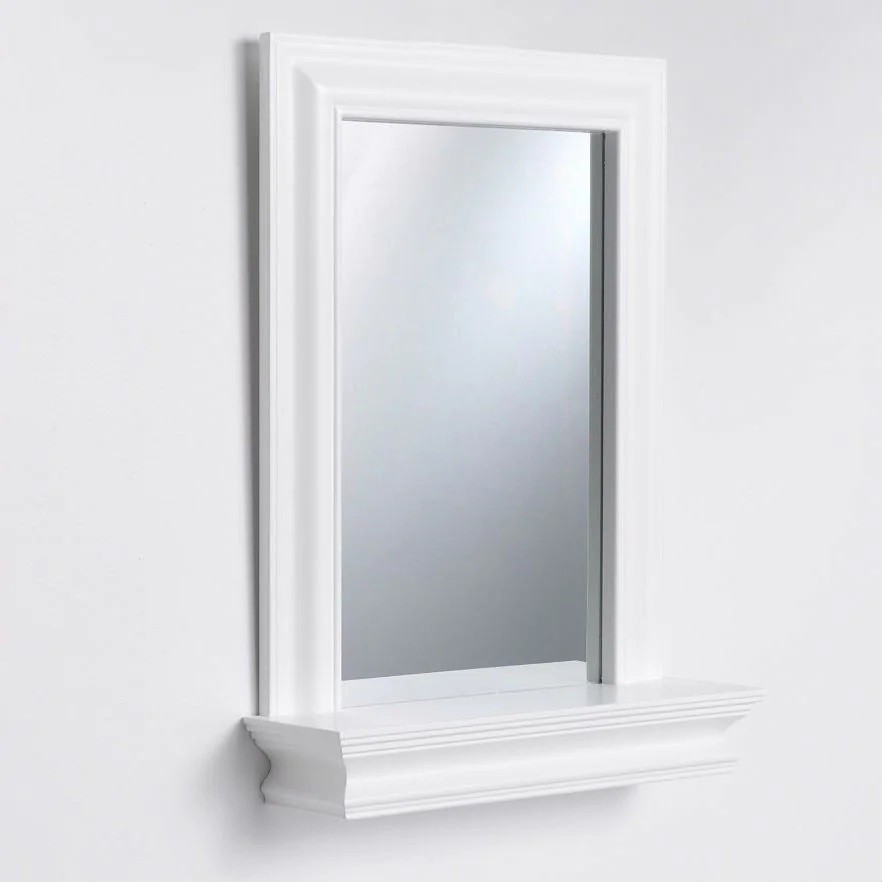 Mirror and Shelf Molding With Concave Scotia Shaping

This type of shelf molding does a great job at using negative space for its design style. Shelf molding techniques that jut inward and then back outward capture your attention immediately.
You can purchase concave crown molding shelves by themselves or paired with a lovely mirror to set in your entryway or bathroom. Their versatile design lets you place any décor piece on top without stealing the shelfs' spotlight.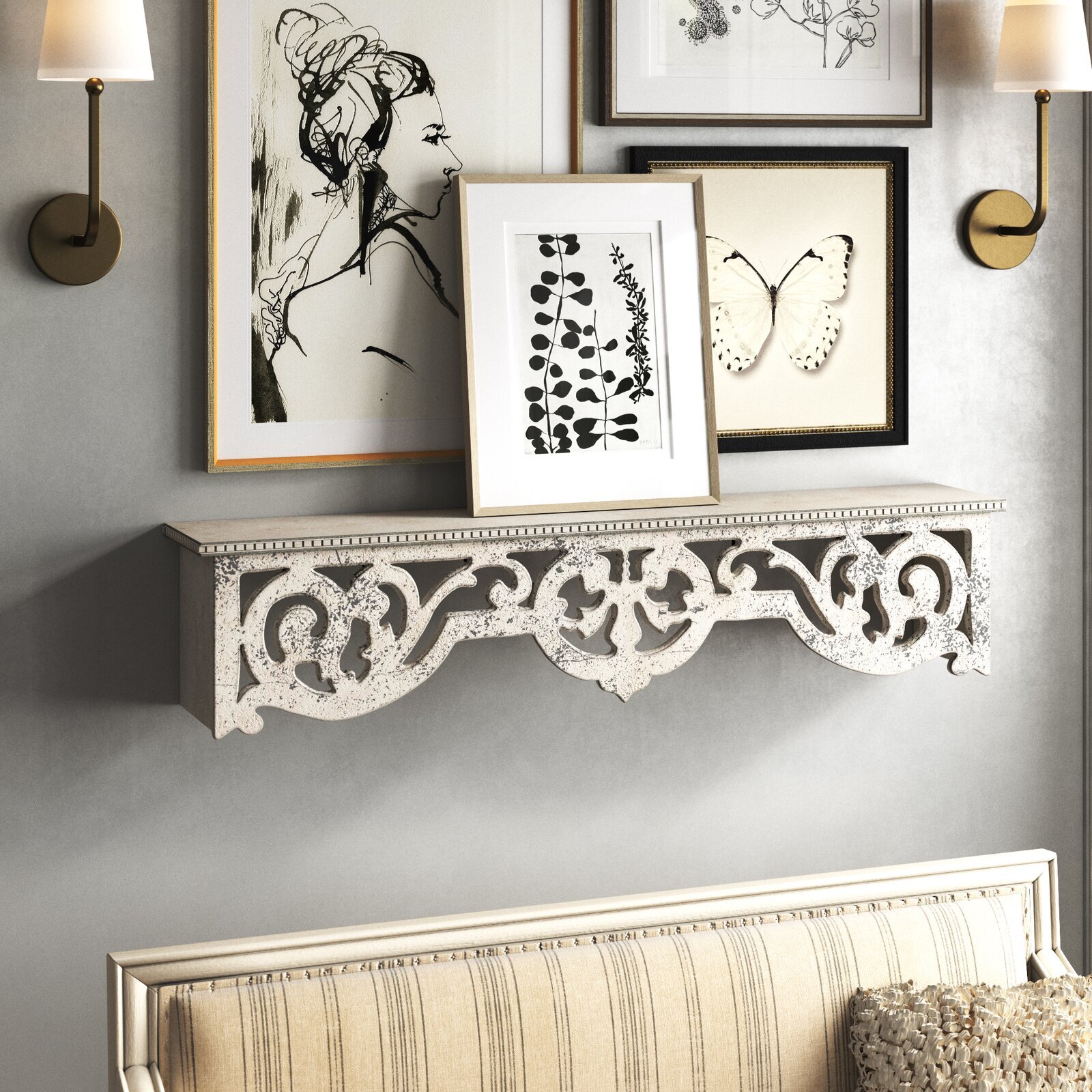 Flat Ornate patterned Ledge Molding

These flat ornate-patterned ledge molding shelves are subtle in molding. Most of their energy is placed in their accented siding which prevents your shelf from looking too classic.
This type of crown molding shelf is perfect for someone who finds pleasure in the classics but also doesn't want to go overboard. Vintage, antique, or farmhouse décor styles pair magnificently with this type of subtle shelf.