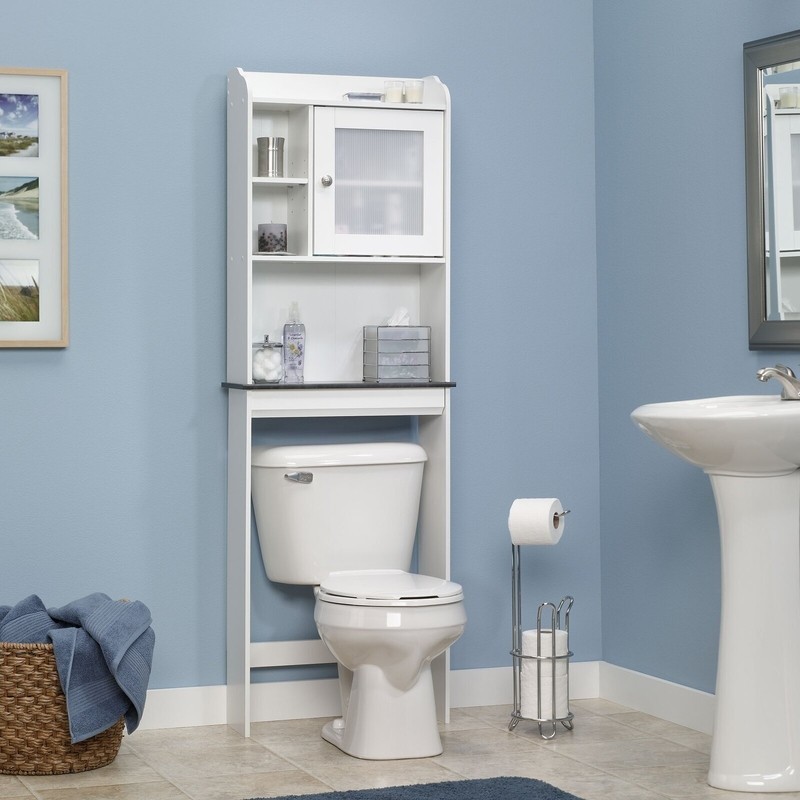 Sauder Caraway Over The Toilet Storage

What we like: Simple assembly instructions and resistance to corrosion
What we don't like: Lack of drawers for more storage
Despite its compact size, Sauder's Caraway shelf above the toilet offers plenty of storage space. The shelf measures approximately 23" wide and 68" high. Crafted from recycled wood, it has a white painted finish to match various bathroom styles seamlessly.
A large shelf, two compartments, a shallow top shelf, and a cabinet with two shelves and frosted glass are included in this unit. Solid and durable, this shelf will not wobble or break apart. It is also rust and corrosion resistant, making it an ideal shelf for bathrooms with a lot of moisture.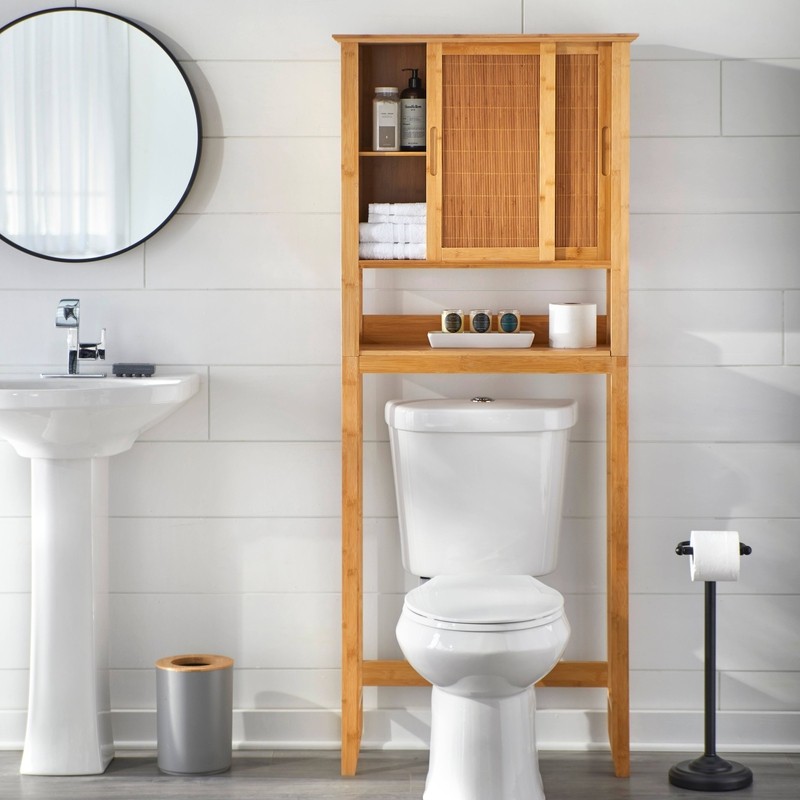 Simple Living Bamboo Space Saver

What we like: Real bamboo
What we don't like: Not extremely stable
Considering that wood and water traditionally don't mix well, bamboo is the best choice for bringing a touch of natural wood to your bathroom because it can withstand prolonged water exposure while remaining beautiful.
Simple Living's over-the-toilet bamboo shelf has two sliding doors that reveal a storage area for toilet paper, towels, and other bathroom necessities for you and your guests. A lower shelf lets you display decorative items and potted plants. Those who prefer a clean, modern look with a touch of warmth will love this shelf.
This unit may be a little wobbly without the wall anchors, and the height of shelves above the toilet could be too short for taller toilets. You should determine the minimum shelf height you can work with in your bathroom before purchasing this over-the-toilet shelf.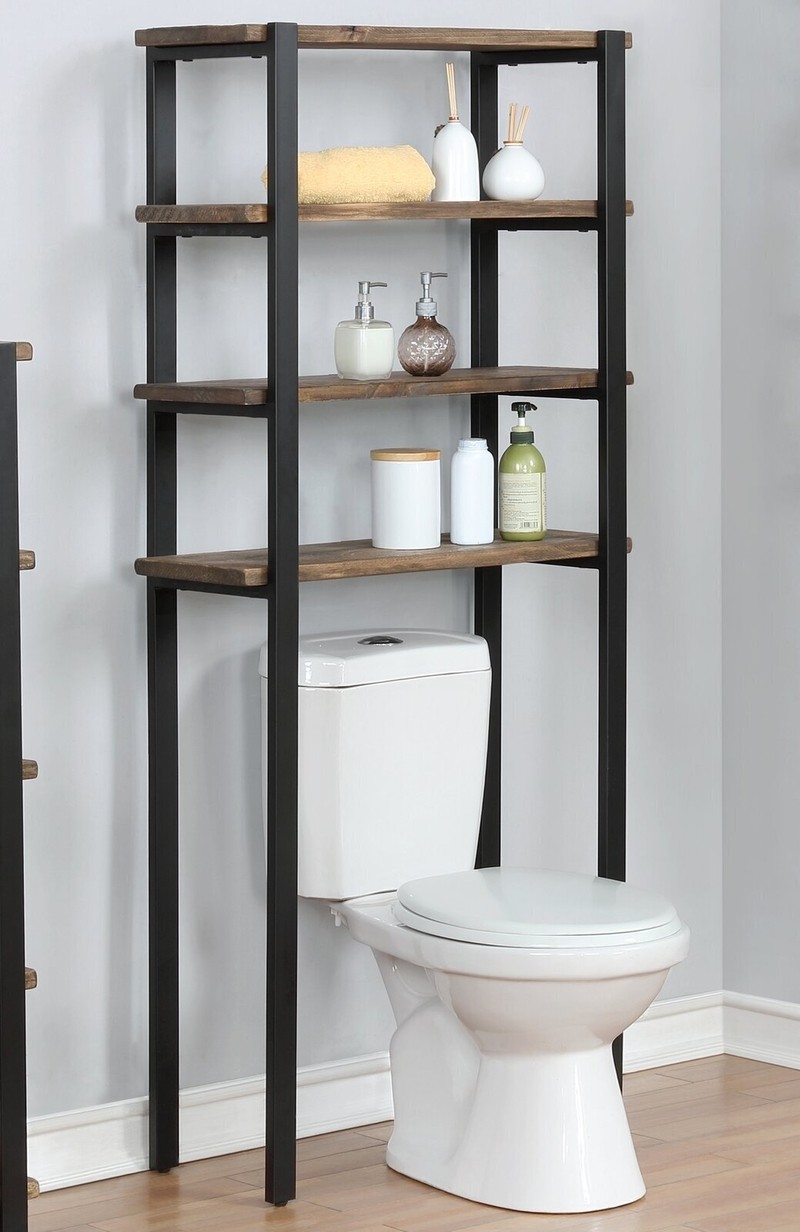 Trent Austin Design Steadman Solid Wood Over the Toilet Storage

What we like: Open shelves for style and display of toiletries
What we don't like: Pricey
For those who like open shelving, Trent Austin Design's over-the-toilet shelf features three spacious shelves perfect for displaying candles, tissues, or rolled-up towels. The natural wood grain means no two units are exactly alike, creating a unique aesthetic for your bathroom.
It is recommended to wall-mount this unit to prevent it from falling according to the instructions for this unit. The tip over restraint device is included with your purchase. It is best to measure how high should the shelves be above the toilet to make sure it fits well with your bathroom setup. Due to the lacquer finish, there may be a strong smell after taking the shelving unit out of the package.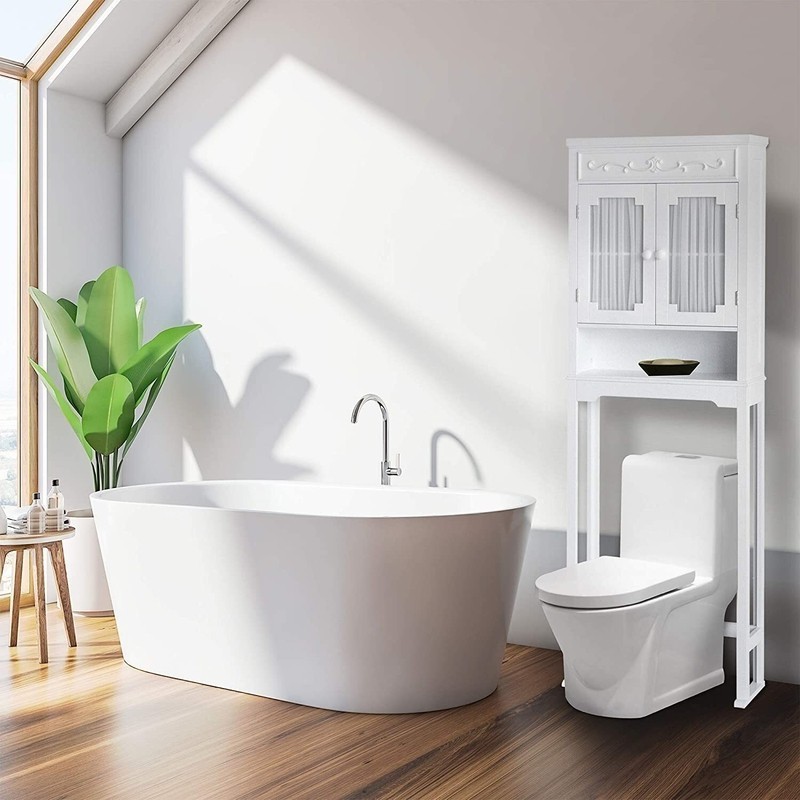 Elegant Home Fashions Over the Toilet Freestanding Cabinet

What we like: Elegant design
What we don't like: Tools required for assembly
As the name suggests, this shelf above the toilet from Elegant Home Design adds a touch of flair to your bathroom. Included is a large, double-door storage cabinet and a small shelf below that provides additional storage for your toiletries or decorative items. It includes curtains to hide any knick-knacks from view and keep them organized. The curtains also offer an exquisite look for your bathroom.
The interior shelves are adjustable, making it easy for you to customize your storage solutions. All hardware for assembly is included; however, you will need some of your own tools to complete the process. The door magnet and hinges are pre-hung. This unit should be sealed with a wood sealant as it is made of particleboard and could suffer moisture damage.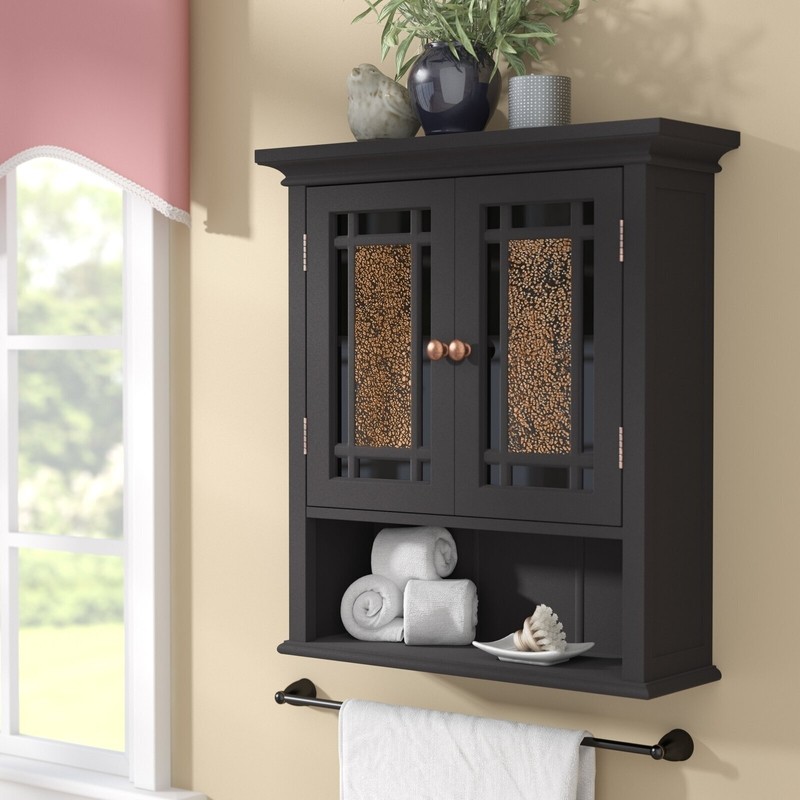 Alcott Hill Wall Mounted Bathroom Cabinet

What we like: Compact for essentials
What we don't like: Solely wall-mounted, skilled installation required
If you need a shelf above the toilet that is a bit wider than a typical 20" wide toilet tank, consider this wall cabinet unit by Alcott Hill. Its bathroom shelf height is only 22", making this ideal for small bathrooms. With an open lower shelf and two shelves behind the doors, this unit offers storage for your bathroom essentials like toilet paper and towels without taking up much floor space. Your bathroom will look stylish with chrome-finished knobs and manufactured wood shelves and doors.
This unit comes in two contrasting colors, so you have a choice of which one suits your decor style best. For a contemporary look, opt for the clean, white finish, but if you're looking to add some classic sophistication, dark espresso is the way to go.
$116.99 $166.99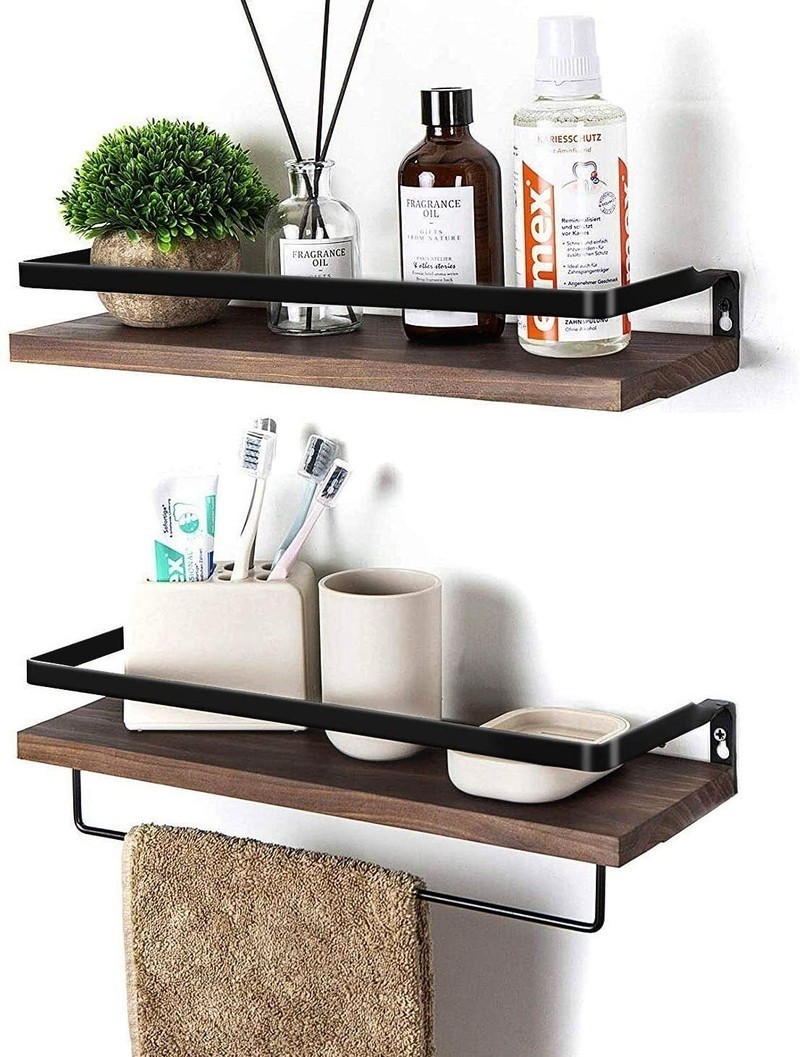 SODUKU Floating Shelves (2 Piece)

What we like: Ideal for small bathrooms
What we don't like: Extra hardware not included
SODUKU Floating Shelves are perfect for installing over the toilet because of their metal rails and towel rack. The pine shelves are available in five different colors, including brown, carbonized black, grey, natural, and white washed. They are heat resistant, allowing them to withstand humid bathroom environments. This shelving set comes with two shelves, one towel bar, and eight screw pieces. Any additional hardware required for safe mounting must be purchased separately.
These are narrow floating shelves at 16.5 inches, so they are ideal for small bathrooms that need only the bathroom basics for toiletries. Before assembly in your bathroom, this should be measured for how far apart should the floating shelves be above the toilet.
$21.99 $34.99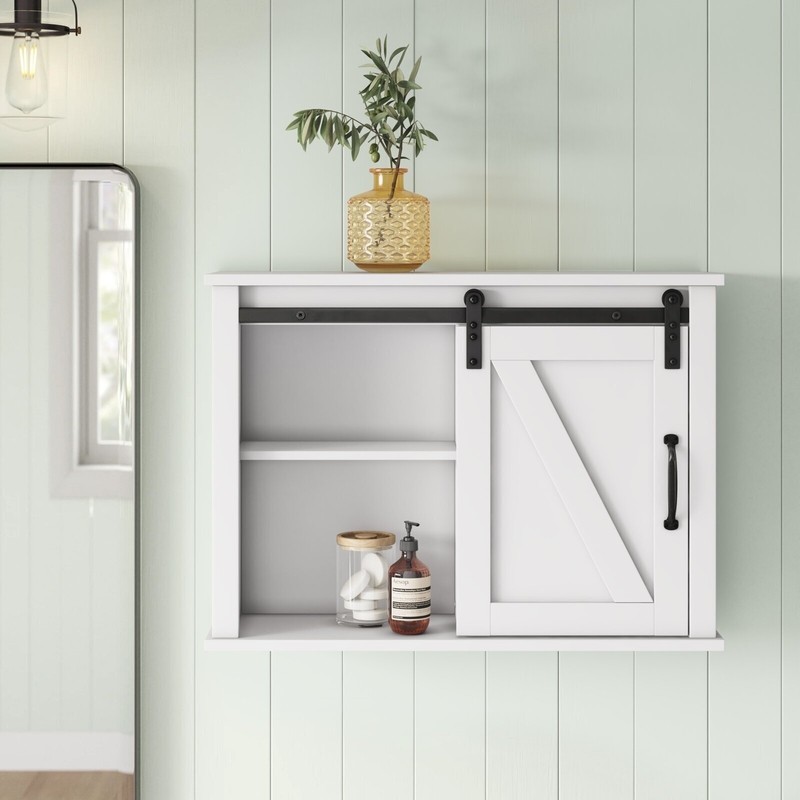 Sand and Stable Miltenberger Wall Mounted Bathroom Cabinet

What we like: Compact and has a rustic feel
What we don't like: No towel bar
A beautifully designed white wood wall-mounted bathroom cabinet from Sand & Stable's Miltenberger collection serves as an exceptional storage space for bathroom essentials. It has a country-style sliding door design that adds a rustic appeal. The unit is made of MDF wood, making it a durable fit for long-term bathroom use. The slim design creates an integrated storage area above the toilet.
The four open shelves provide easy access to everyday essentials, and you can slide the door to hide other personal goods from view when guests are using your facilities.
This is a wall-mounted unit that requires installation and assembly upon purchase. Mounting hardware is included.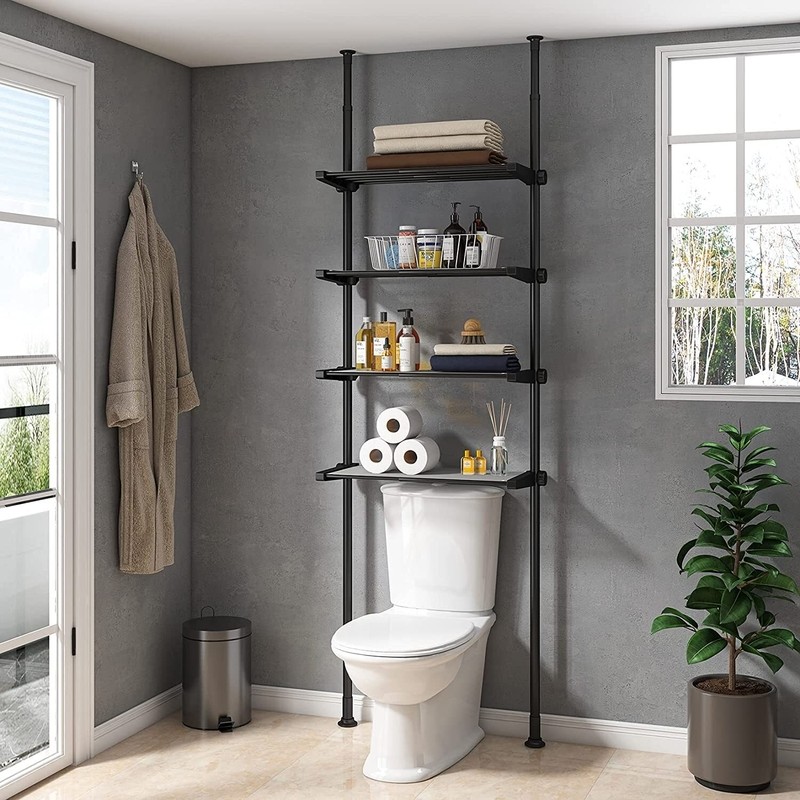 ALLZONE Over Toilet Shelf Organizer

What we like: Floor to ceiling storage without sacrificing floor space
What we don't like: May be unstable since it is not secured to the wall
The Over Toilet Shelf Organizer from ALLZONE offers easy installation of four shelves without damaging your walls. It mounts to the floor and ceiling with adjustable tension rods. The fully adjustable shelves and legs mean this setup fits most bathrooms. The impermanence of the setup may be unappealing to some, but it is helpful if you want to change your bathroom decor later on.
Unlike other floor standing units, this one takes up very little space on the side of your toilet and is easy to disassemble. It's a great option for homeowners looking for an understated aesthetic without committing to a certain style. Because of its adjustable rods from floor to ceiling, you need to measure first to determine how high should the shelf be above the toilet to make sure it fits well in your space.
$62.49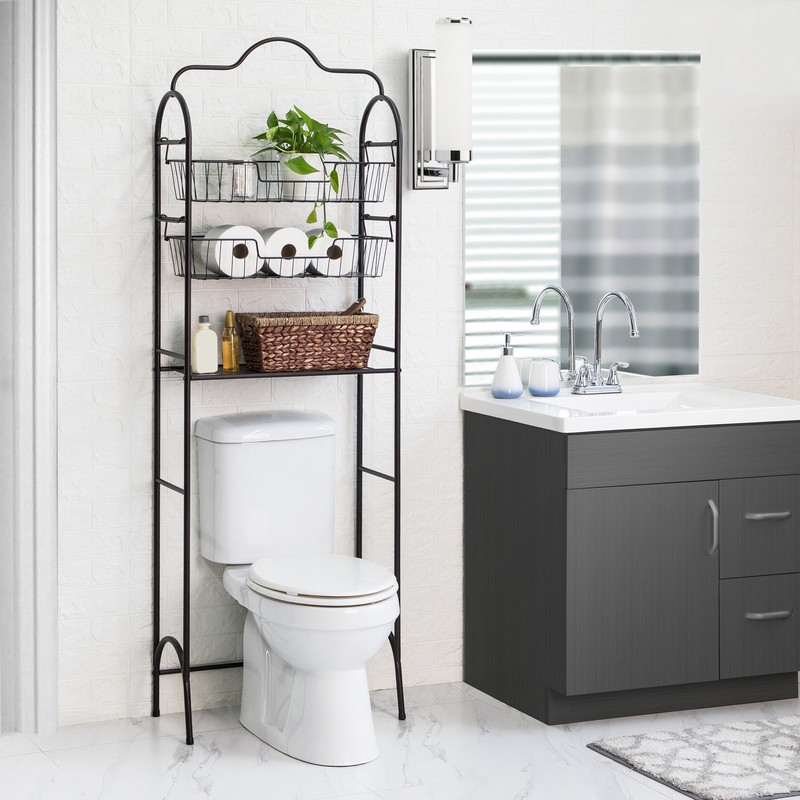 Winston Porter Kulle Over the Toilet Storage

What we like: Two baskets for easy reach
What we don't like: Very basic aesthetic appeal
If you're looking for a unique storage solution for your bathroom, the Winston Porter Kulle Over-the-Toilet unit is perfect. This unit features two hanging baskets to hold all your bathroom essentials, making it easy to remain organized and access what you need quickly. The hanging baskets are what set this shelving unit apart from traditional floating shelves above the toilet. The bottom shelf can be used to display decorative bathroom accessories such as candles or diffusers.
It is made of steel with an oil-rubbed bronze finish to ensure long-lasting durability in high humidity. The design boasts a clean, timeless look that won't overpower the overall aesthetic of your bathroom. Since the baskets and the overall unit can be flimsy, ensure you use the included tip over restraint device that secures the shelving rack to the wall.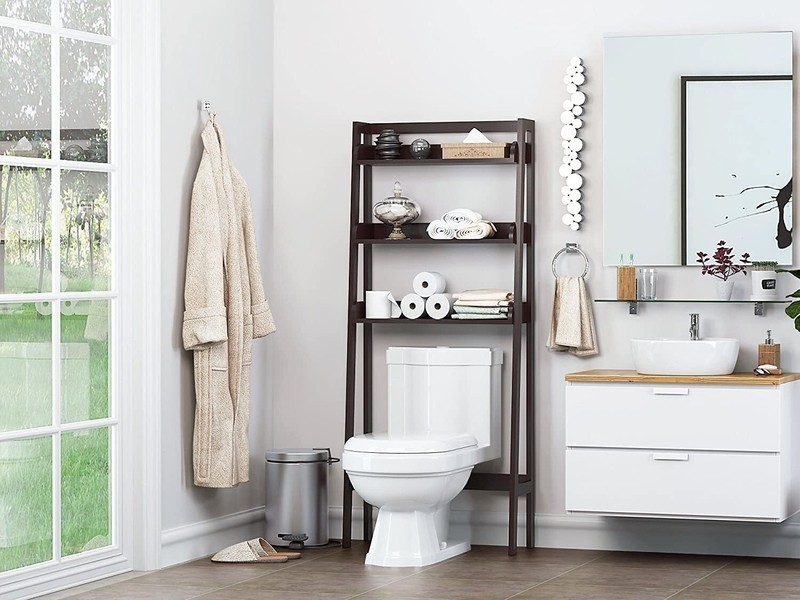 UTEX 3 Shelf Bathroom Organizer Over The Toilet

What we like: Plenty of storage
What we don't like: Takes up floor space on either side of the toilet
The Utex Over The Toilet Space Saver makes it easy to keep bathroom essentials organized and tidy. Its wooden construction makes it sturdy, durable, and aesthetically pleasing. You can choose from gray, white, and espresso finishes to find that look that complements your existing bathroom decor. The three open shelves can hold tons of storage, from towels to extra toilet paper. The sturdy A-frame legs add both durability and elegance.
For a tight space where you want to reduce clutter and have no linen closet, a bold, 3-tier shelf like this can transform the room. The unit fits over most standard toilets and is easy to assemble.
$72.95