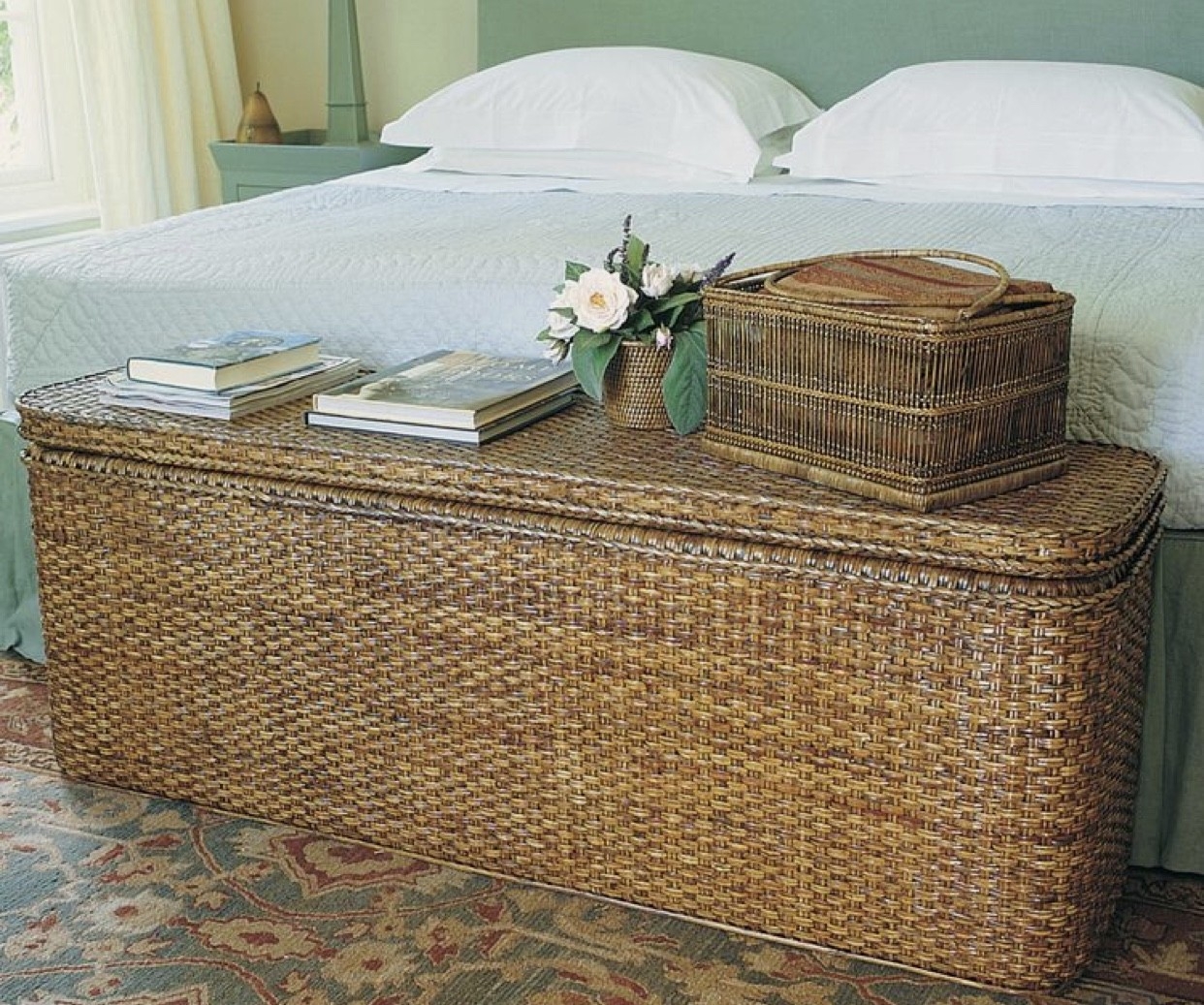 Incredibly beautiful and very functional rattan storage chest is an excellent design element for the bedroom, hallway or living room, the whole made of wicker is durable and permanent, and an ample storage space allows the use of furniture for many interiors.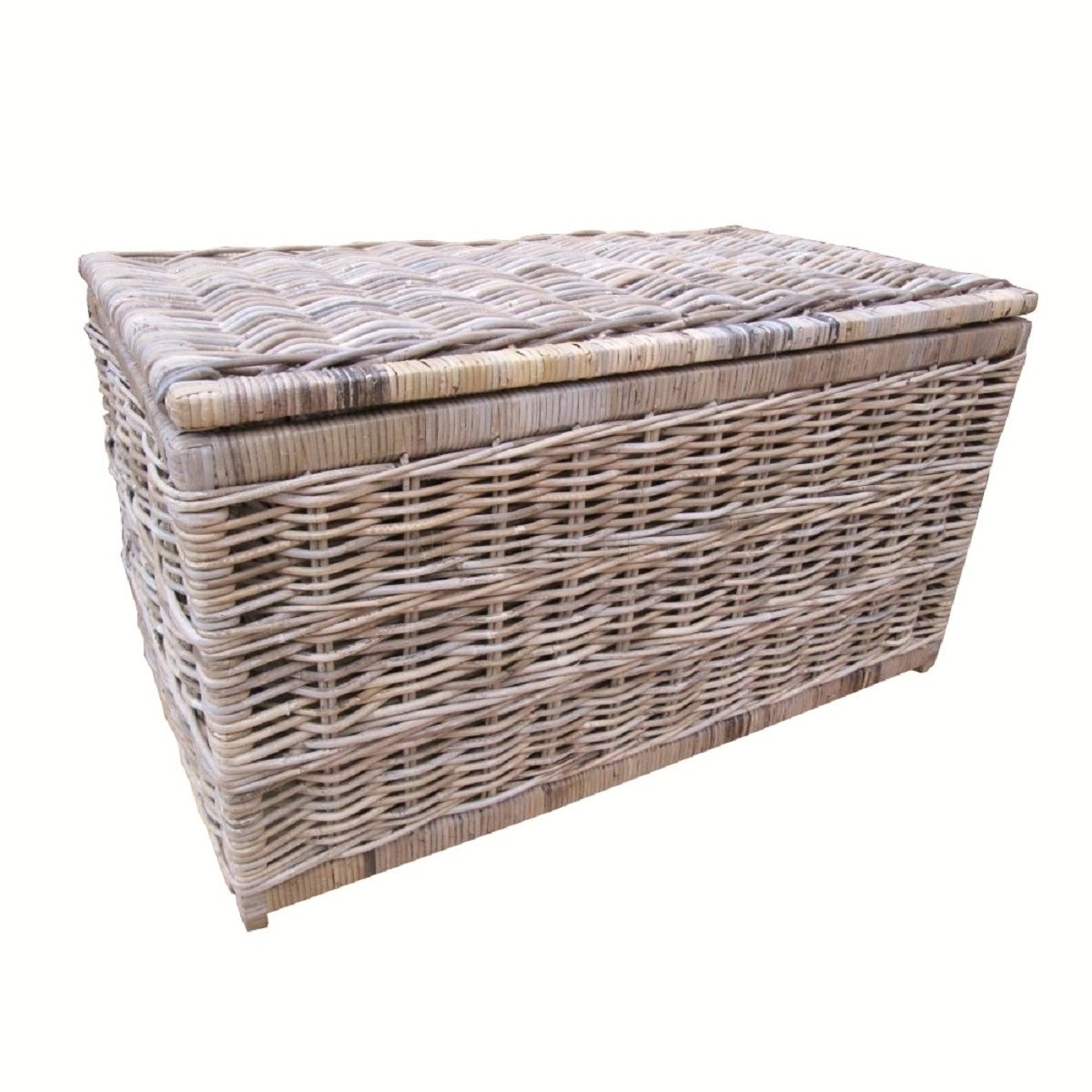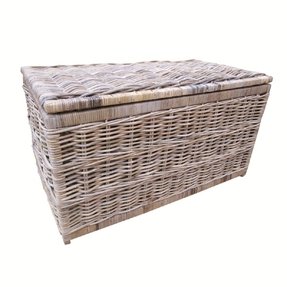 The sturdy construction of this rattan storage chest makes this furniture perfect for any interior and has a broad range of applications. The beautiful gray finish is ideal for the modern interior design.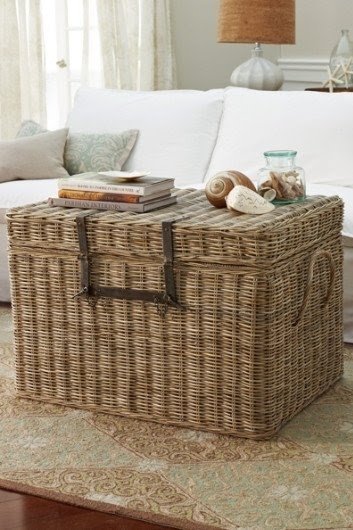 Practical and fashionable, this sturdy trunk is characterized by rattan craftsmanship and cappuccino finish, adorned with rustic metal accents. The basket has a lift-up lid, a capacious storage compartment and a pair of wicker handles.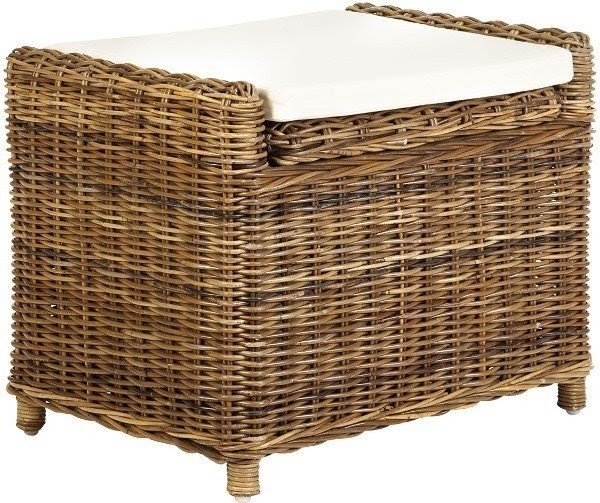 Traditional ottoman mounted on rattan base. Includes removable pillow covered with fabric. Perfect as additional seating or footstool in all kinds of interiors. Neutral design for each home.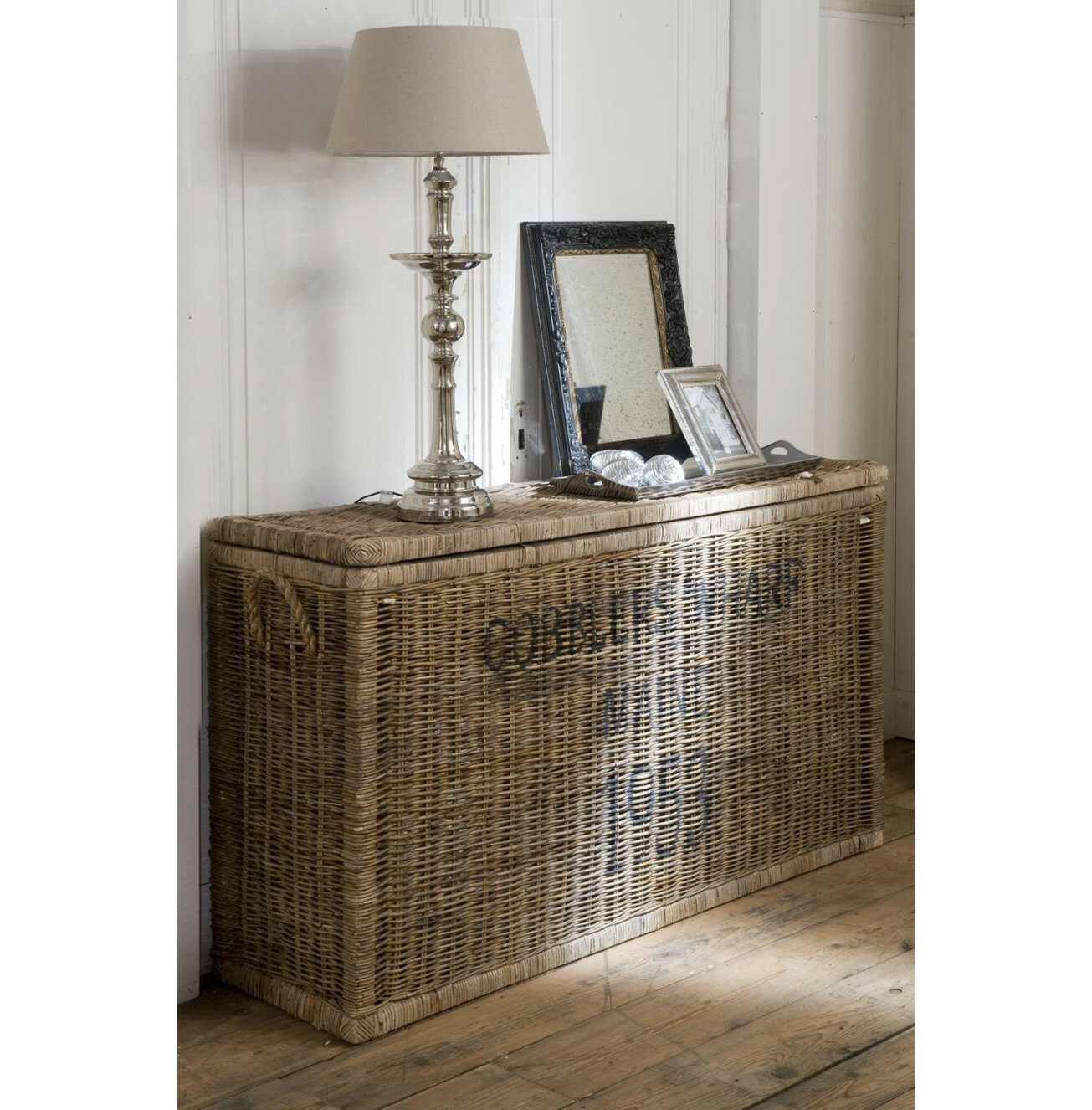 If you're a fan of stylish and intriguing solutions this furnishing are gonna perfectly match your needs. An E Rivièra Maison rattan storage cabinet, divine lamp and rustic mirror looks excellent.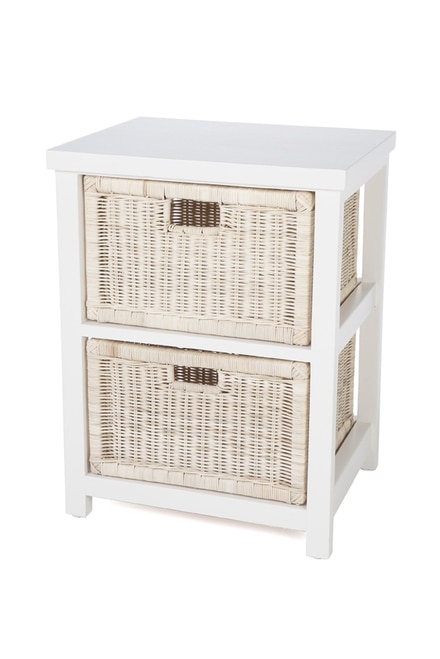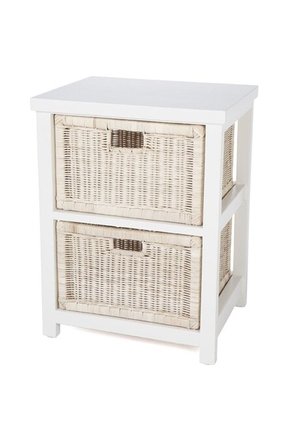 These storage drawers have a very minimalistic design. It has a white color with a glossed finish. The drawers are weaved from rattan and have holes in the space of knobs for easy access.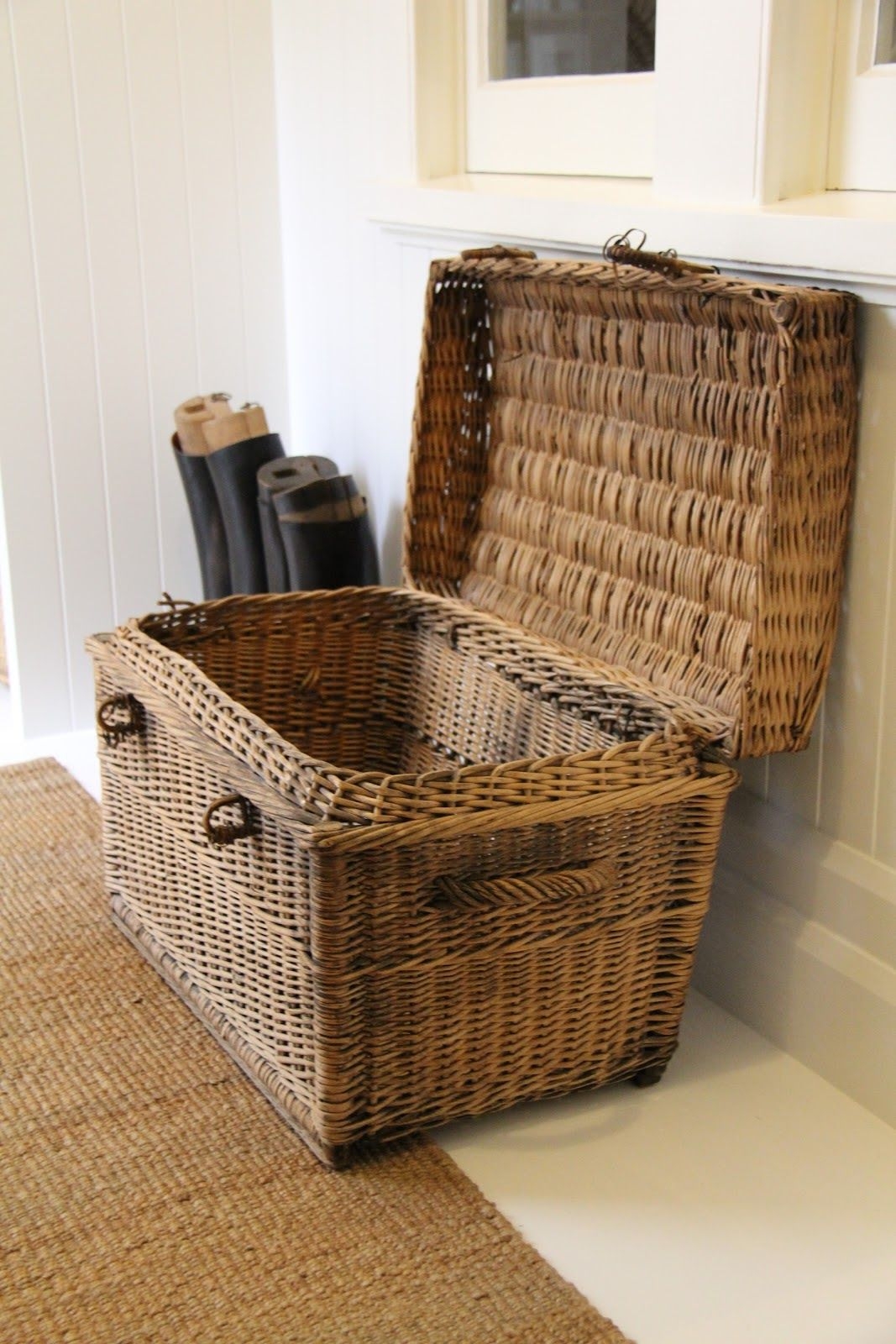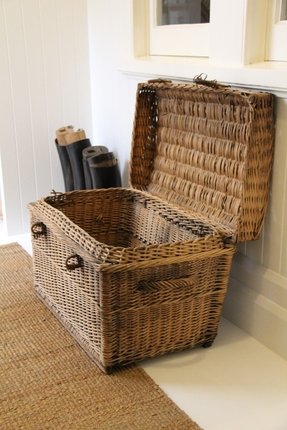 With its rustic looks and charming design this wicker trunk will become one of the finest choices for your household, letting you spruce up the decor, while at the same time providing the perfect place to hide your covers or duvet.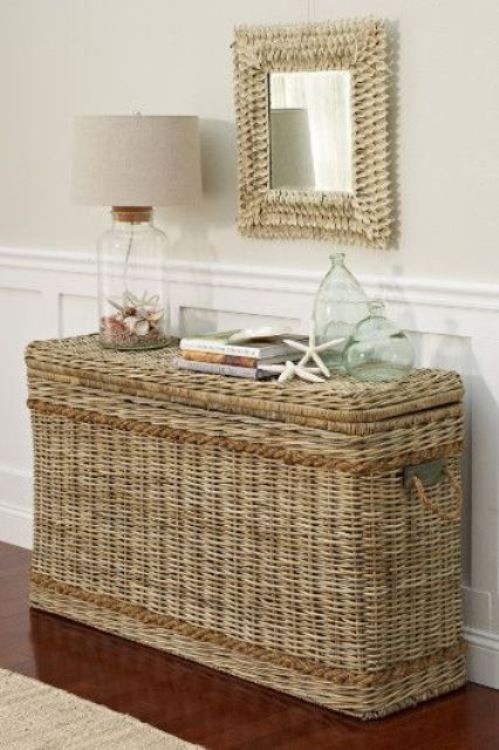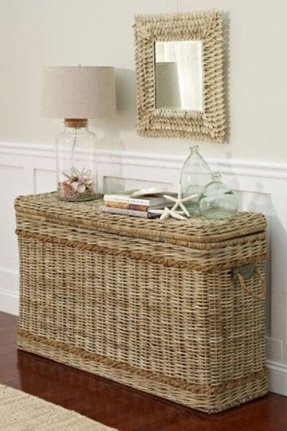 A very interesting console that features a construction based on rattan materials. It looks very natural and nice in any room. This console also offers a storage compartment and it is paired with a square mirror.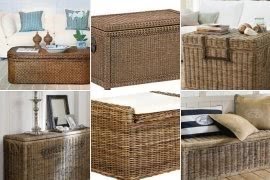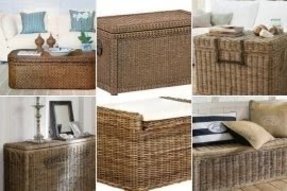 I wouldn't hesitate to suggest that someone buy this storage chest for their home. It features the large size, rattan Indochine construction and deep storage space for magazines, blankets and everything you need.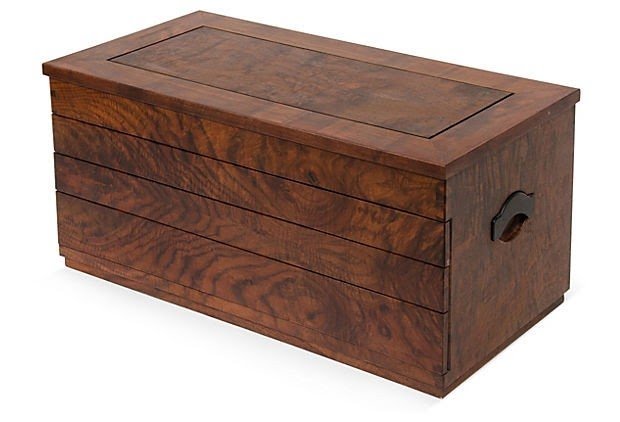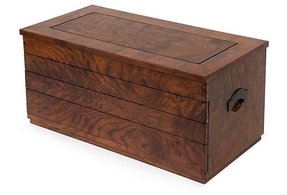 Original storage chest with rectangular shape. It includes two handles on its side walls for enhanced transportation. This durable construction is made of solid rosewood. Its storage compartment provides plenty of practical space.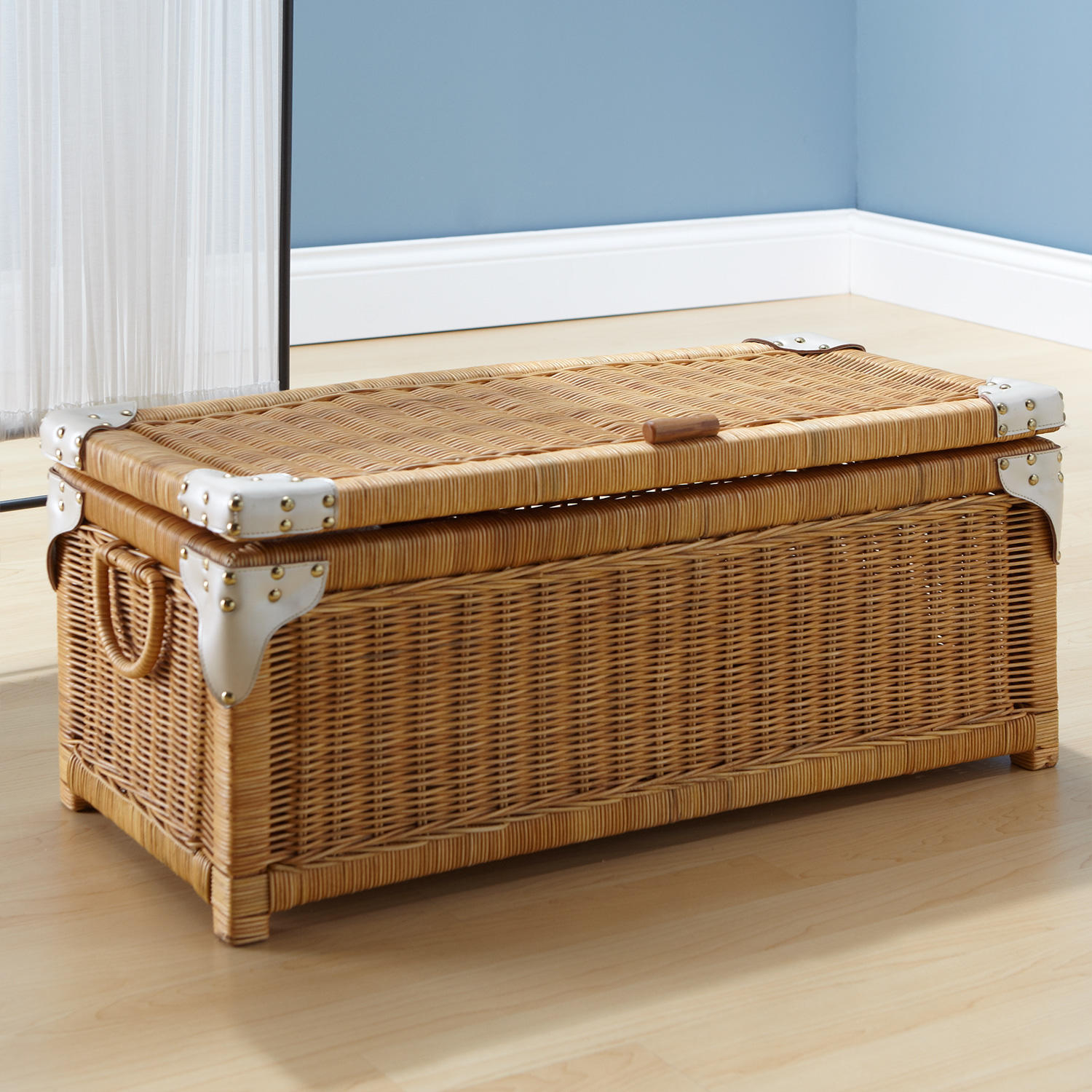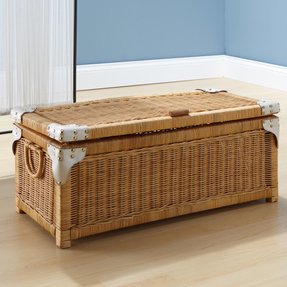 28" Accented Natural Rectangular Rattan Storage Trunk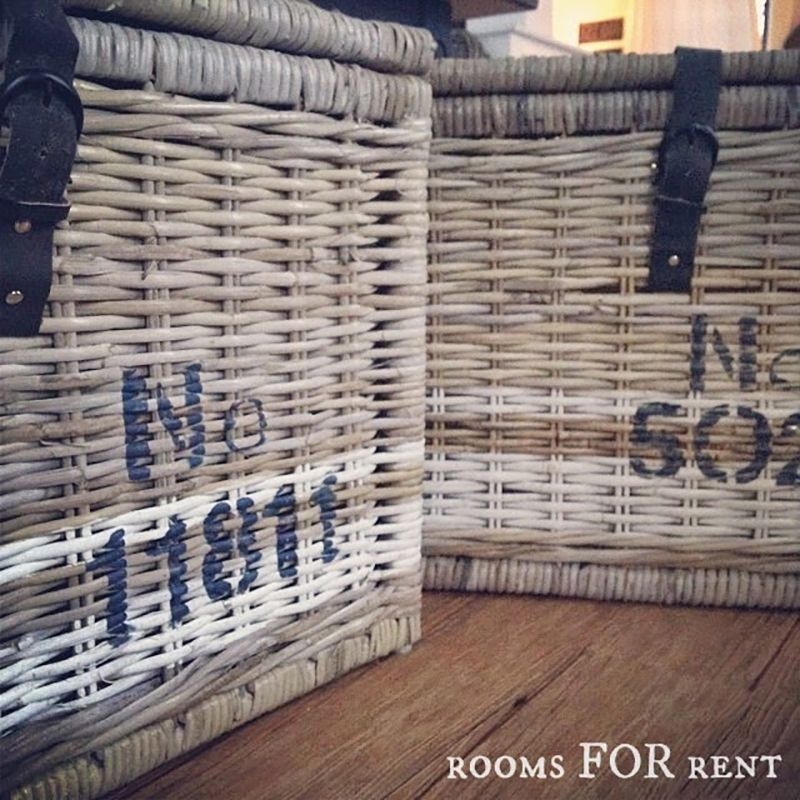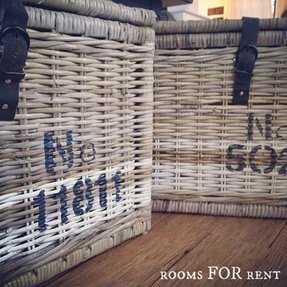 Original multi-functional wicker basket in a shape of cube with lock made of old leather belt. This box can be used as a little coffee table, seat for three people or to storage bedding, clothes or frippery.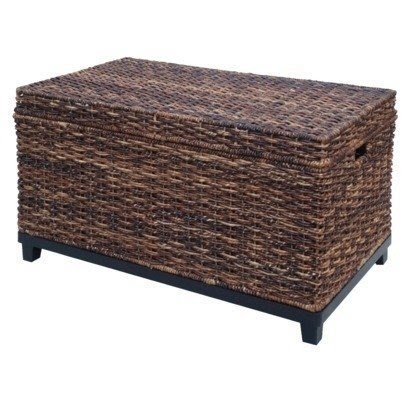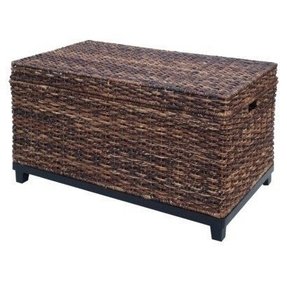 This product joins decorative and storage function in one piece of furniture. The ottoman is made of natural materials that look very attractive. The storage space is quite large and allows for storing many different items.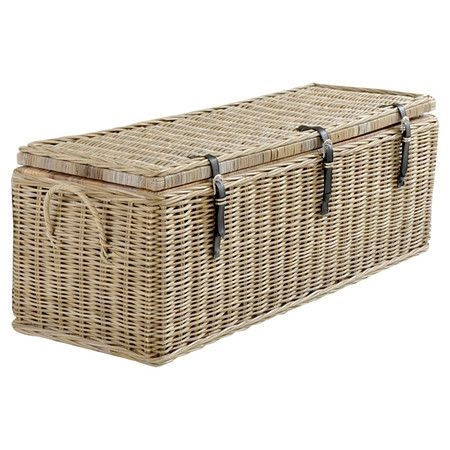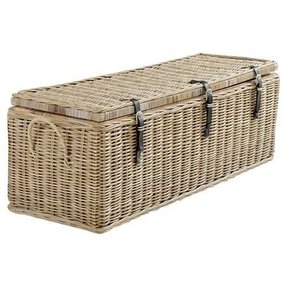 Versatile accents like this woven chest are a fantastic addition to your nautical room.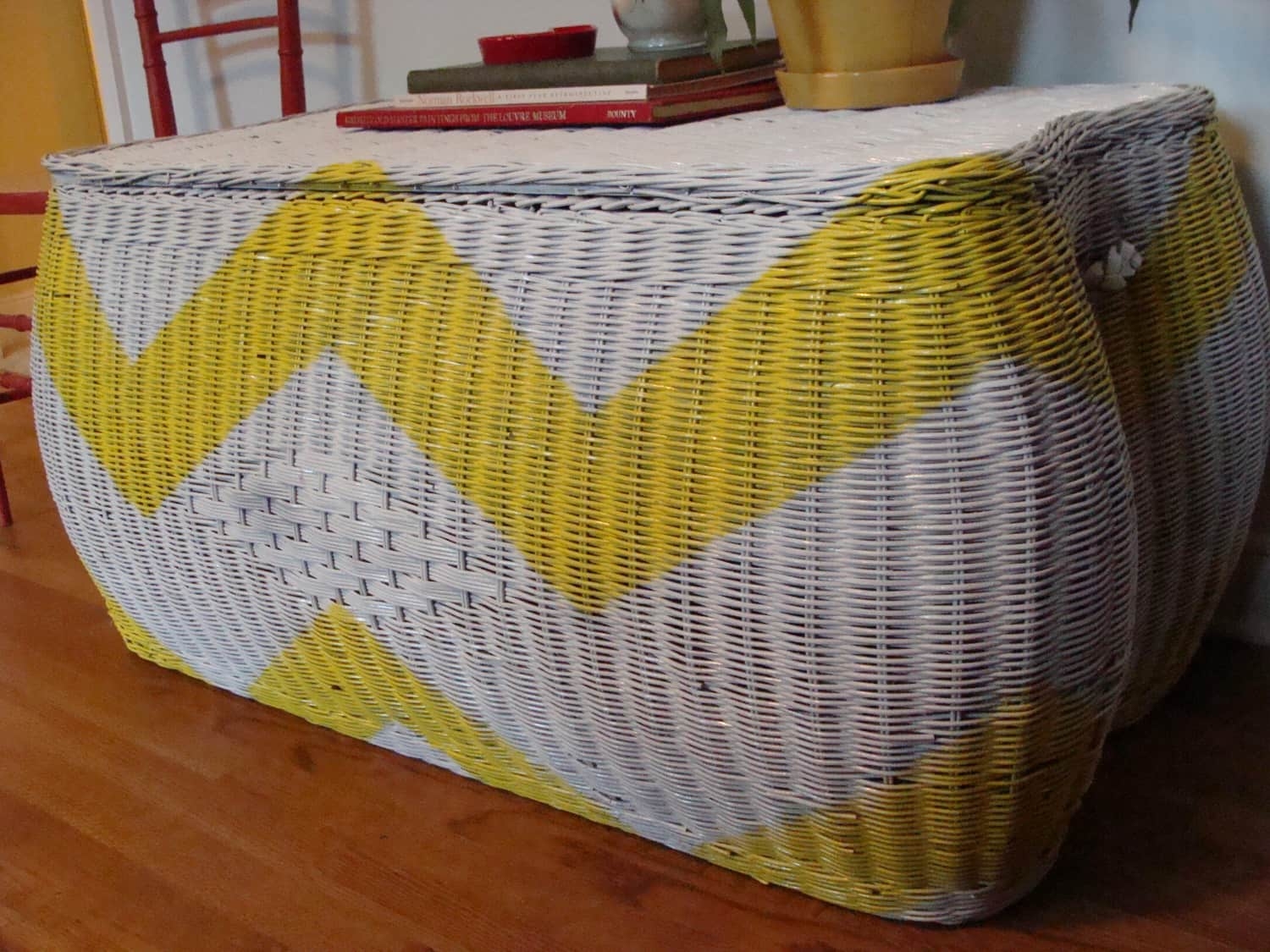 Huge 60s Vintage Rattan Storage Chest / Trunk / Bohemian Coffee Table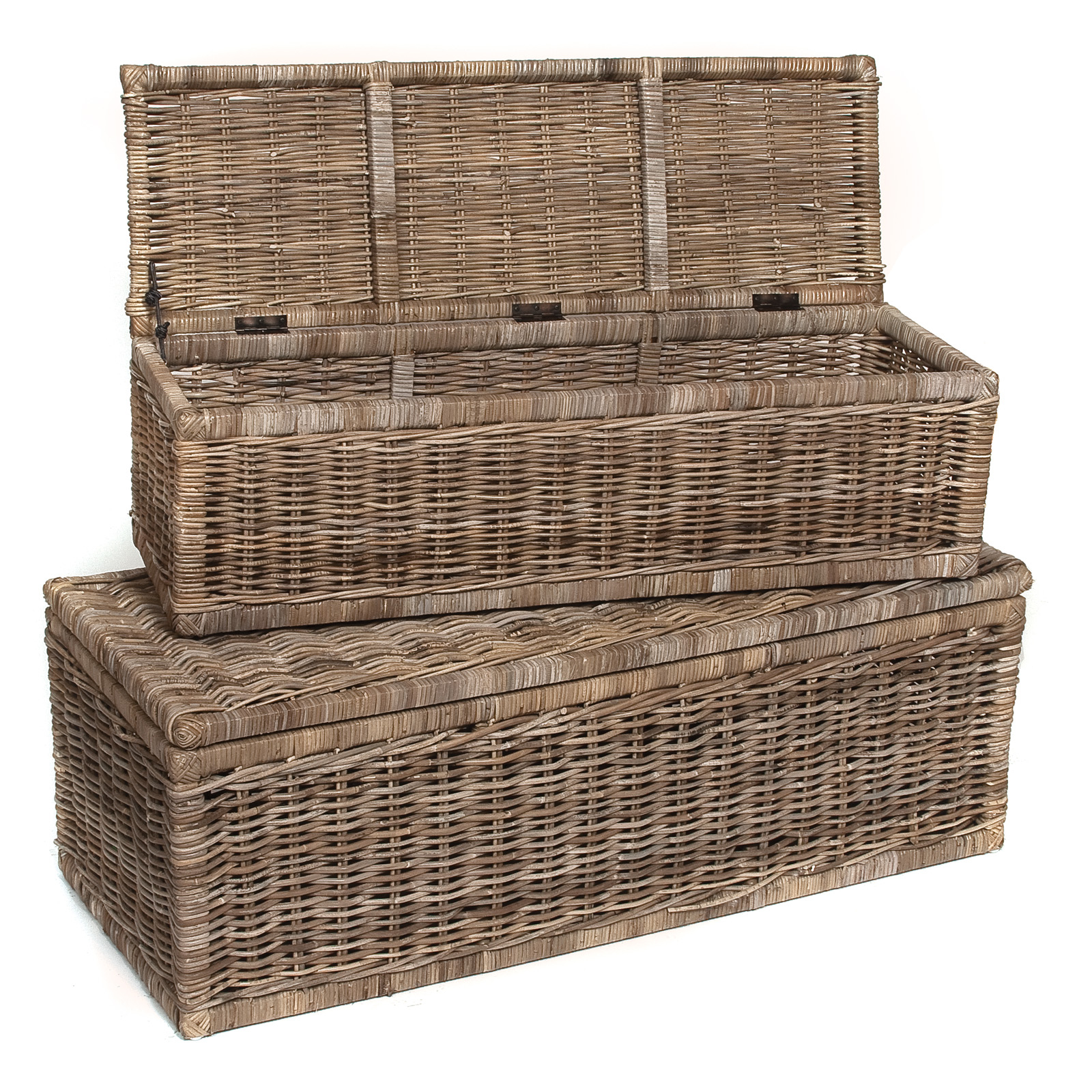 Set of 2 Rectangle Rattan Chests - Kooboo Gray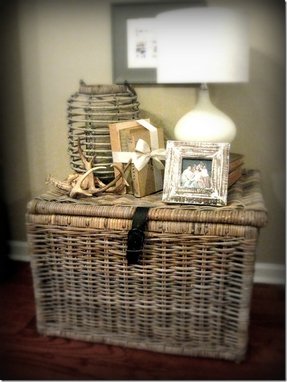 Trunk table with a durable wicker construction that looks very natural in the house. It features a practical, rectangular top and a storage compartment that provides some space for many important items and accessories.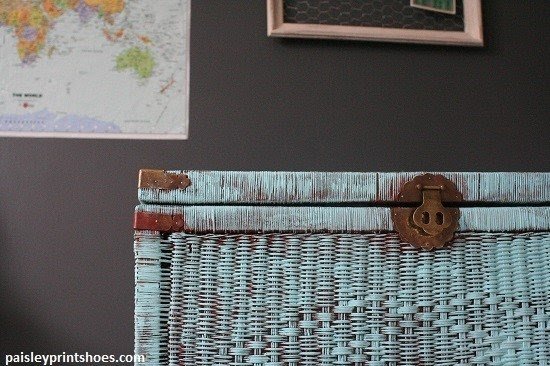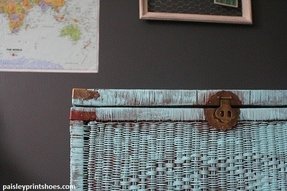 Made from wicker, this trunk smoothly withstood the test of time, being a small vintage masterpiece. It can be used for storing various items, depending on the room you'll place it. Fits well into original living rooms or home offices.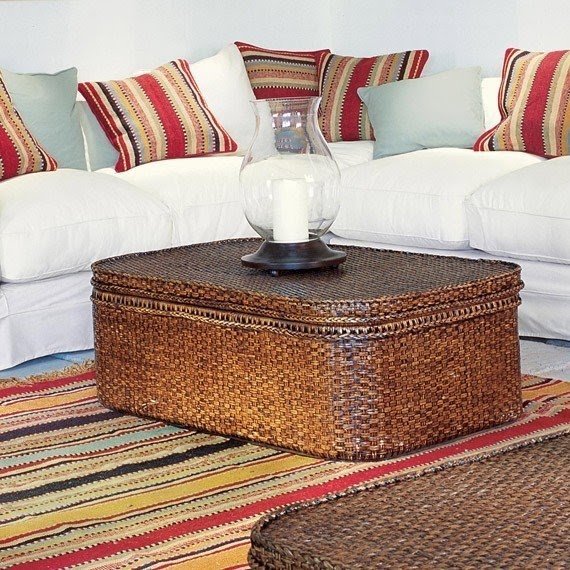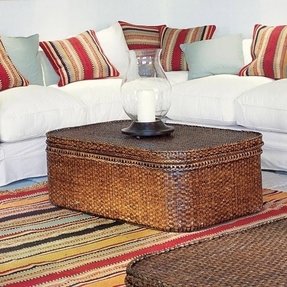 Rattan Storage Trunks and Chests Desk Accessories Waste Paper Bins ...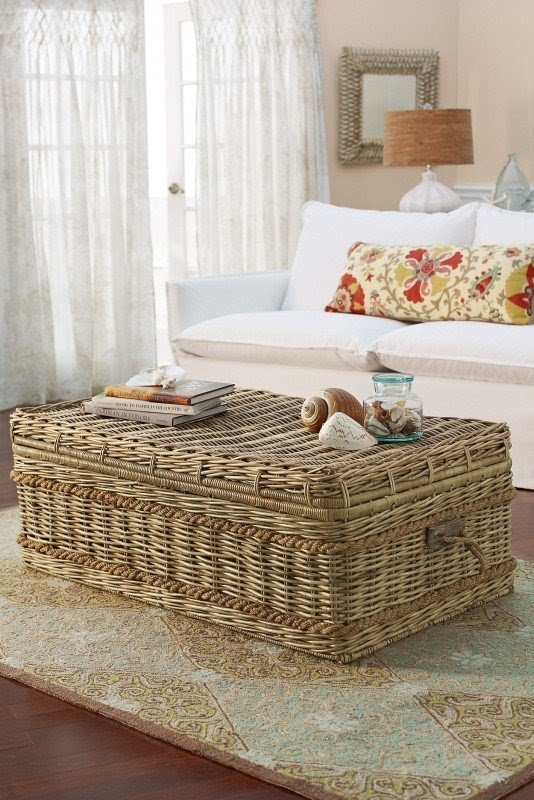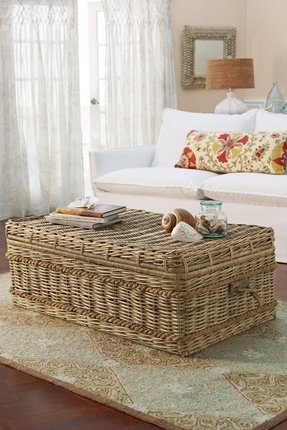 This item is great thanks to its multi-functional character. This trunk includes storage space with plenty of room for different items. Its rectangular shape makes it a perfect coffee table and its natural look matches any decor.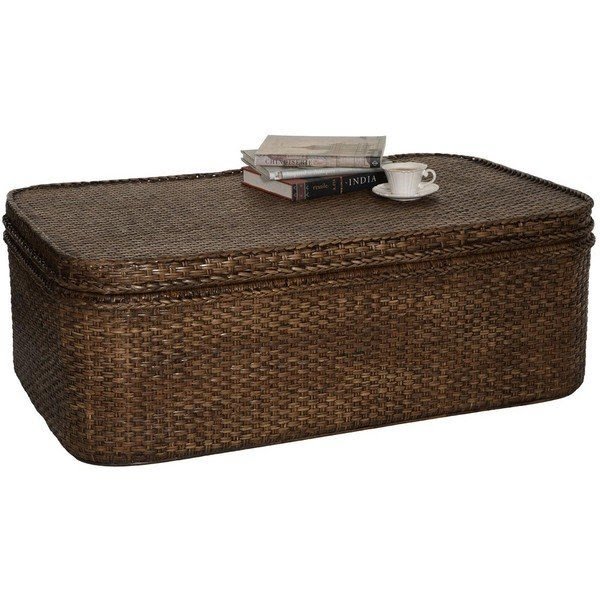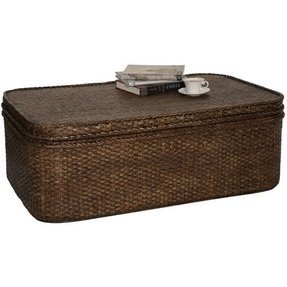 OKA Rattan Indochine Storage Chest, Large found on Polyvore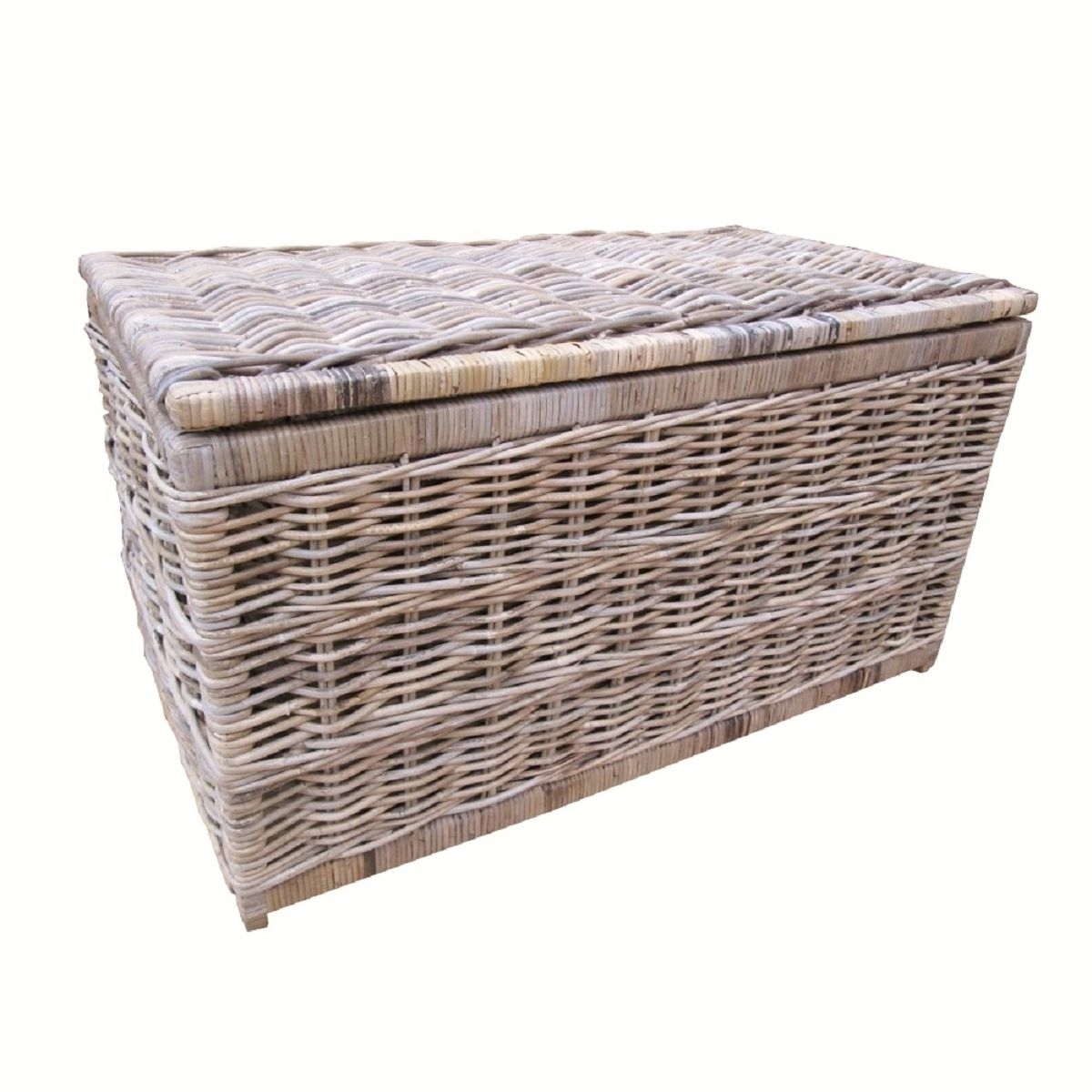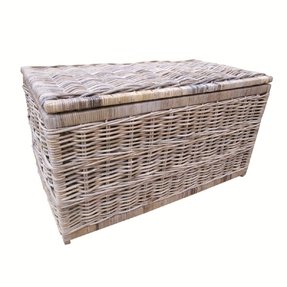 Grey & Buff Rattan Storage Trunk | Chest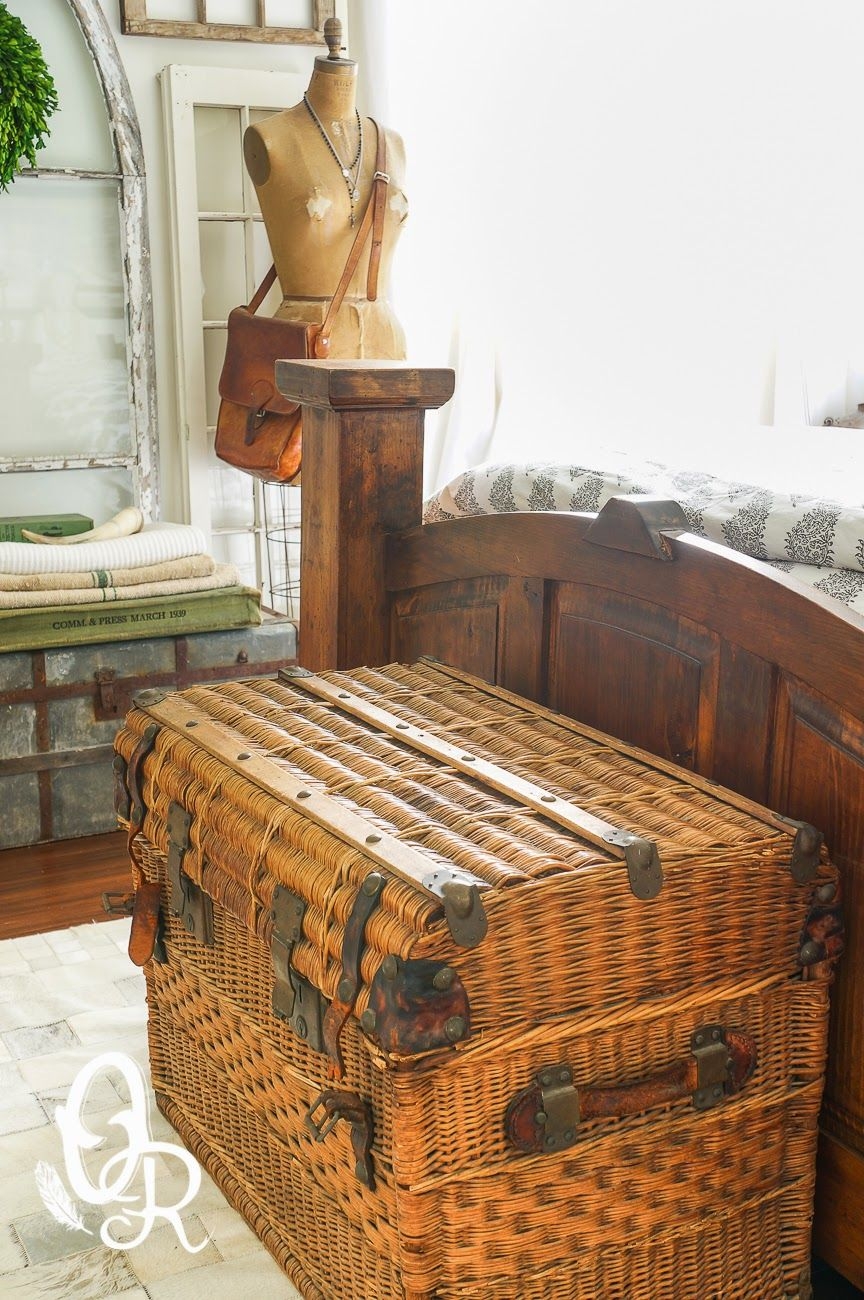 An attractive vintage trunk having a wooden frame and walls woven of wicker in natural shades. It has a rectilinear body, robust brown leather handles on shorter walls, a hinged lid reinforced with wooden slats, hardware of grey coated metal.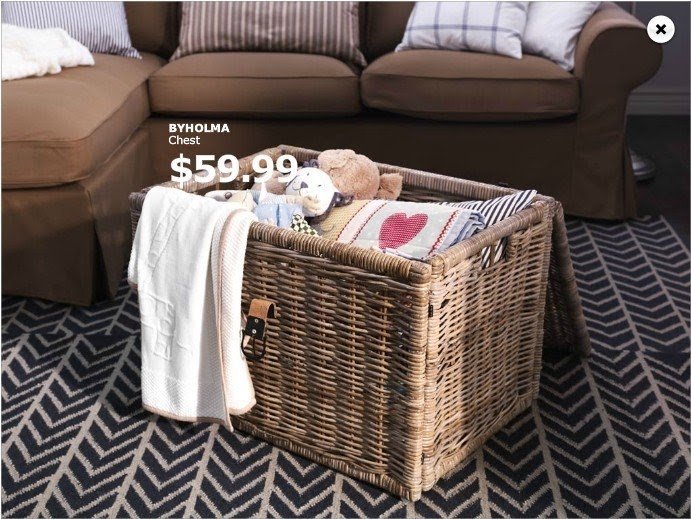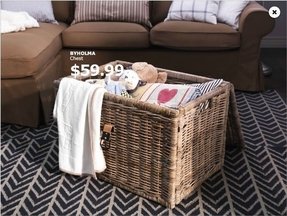 Capacious box for all kinds of interiors according to taste and need. It is made of wicker and closed by belt. It includes convenient handles for easy carrying. Handy gadget for each home.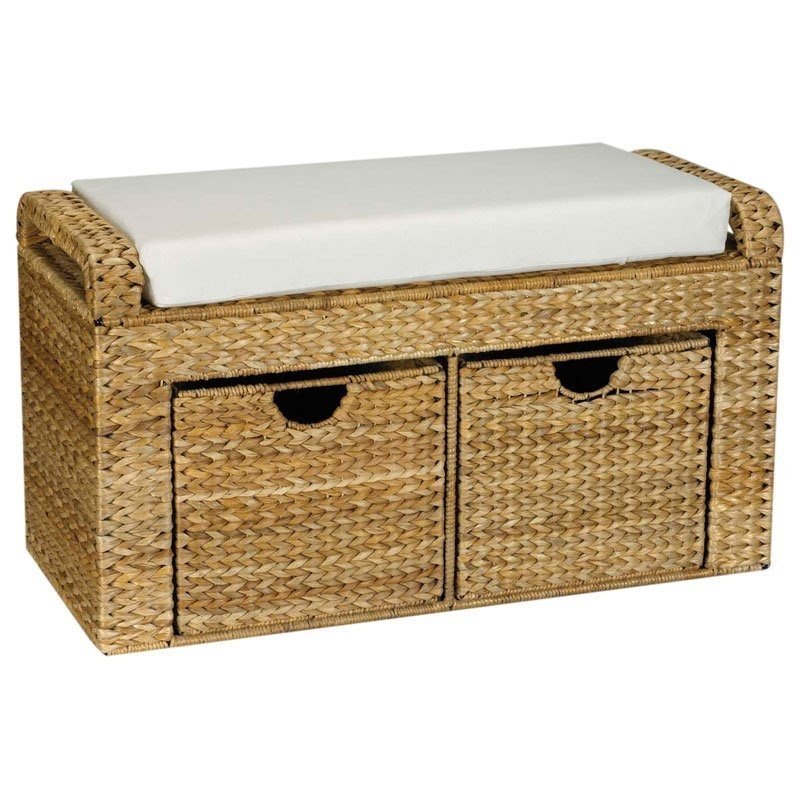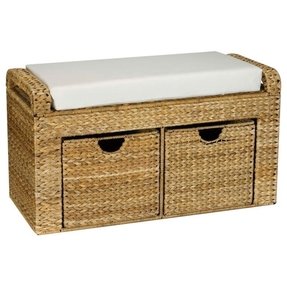 Banana Leaf Wicker Storage Bench - Indoor Storage Benches at Just Storage Benches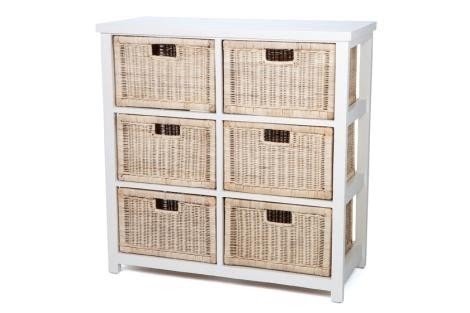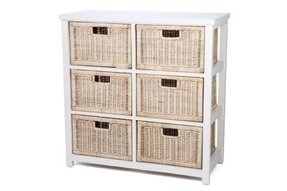 Rattan Storage 6 Drawers High with Natural Baskets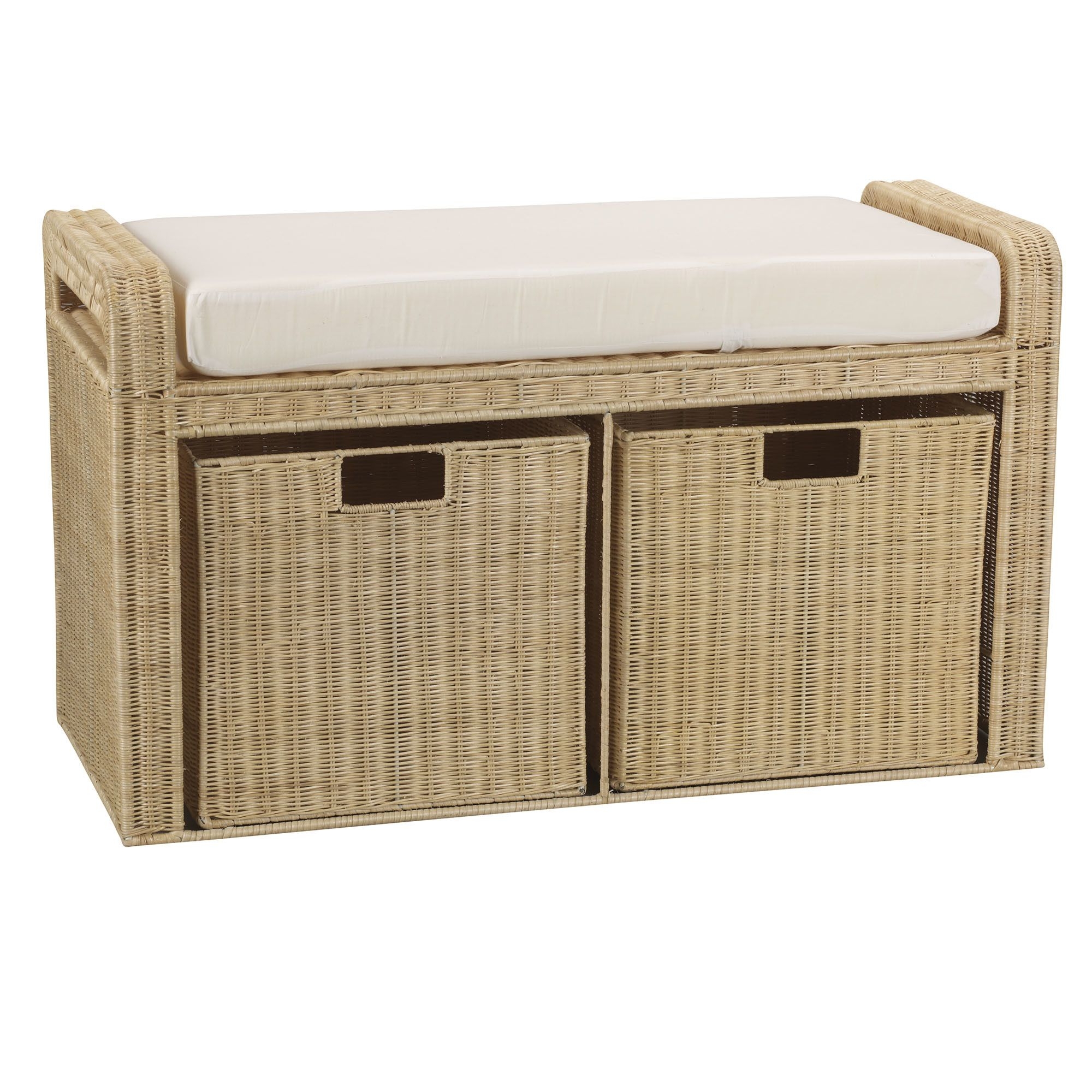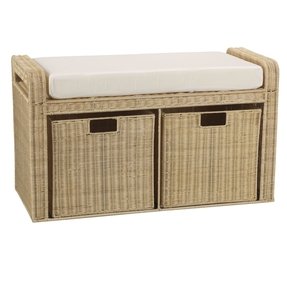 Household Essentials Rattan Natural-Storage Seat & Reviews | Wayfair. $237.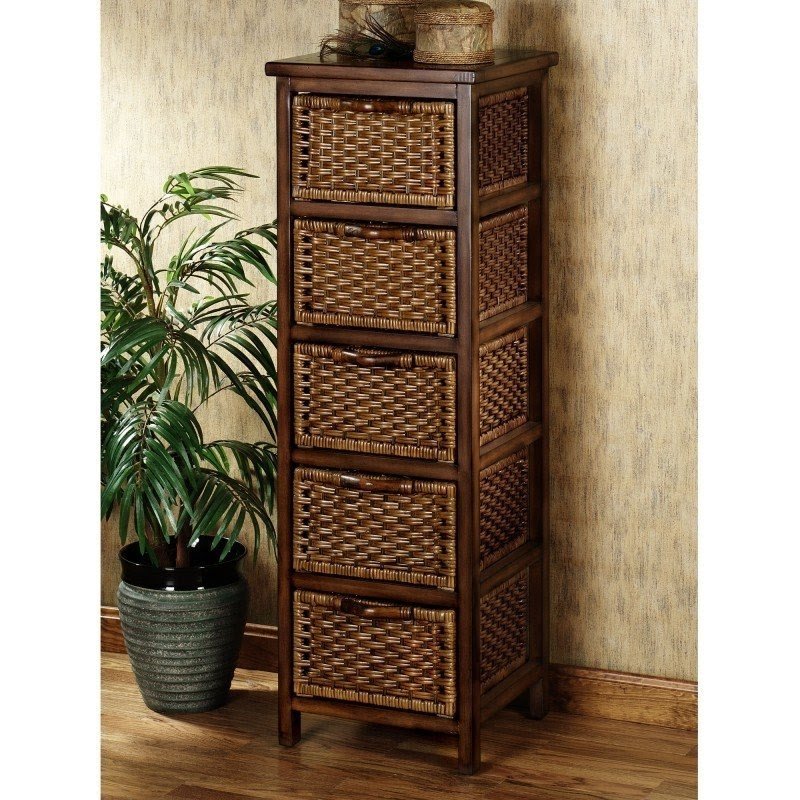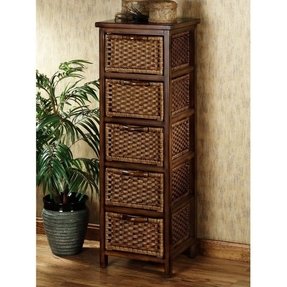 Monrovia Rattan Chest of Drawers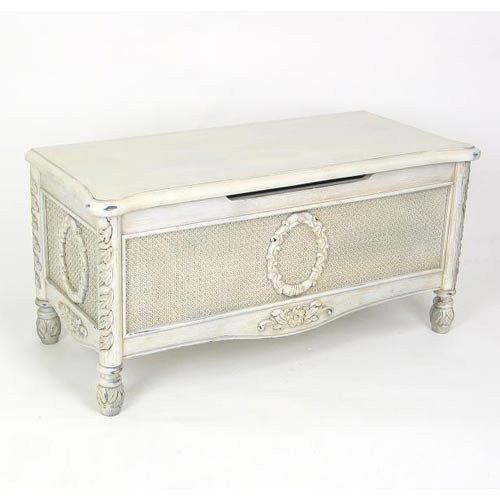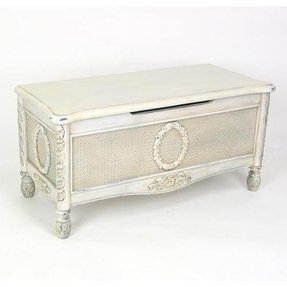 - Antique Rattan Chest - Storage Chests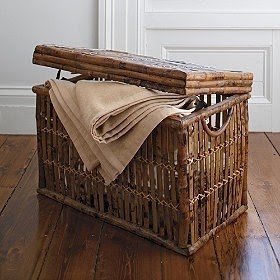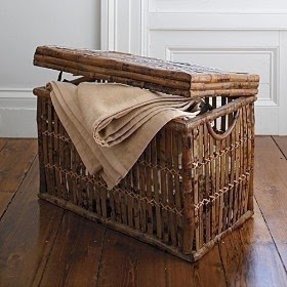 Rattan Chest | The Company Store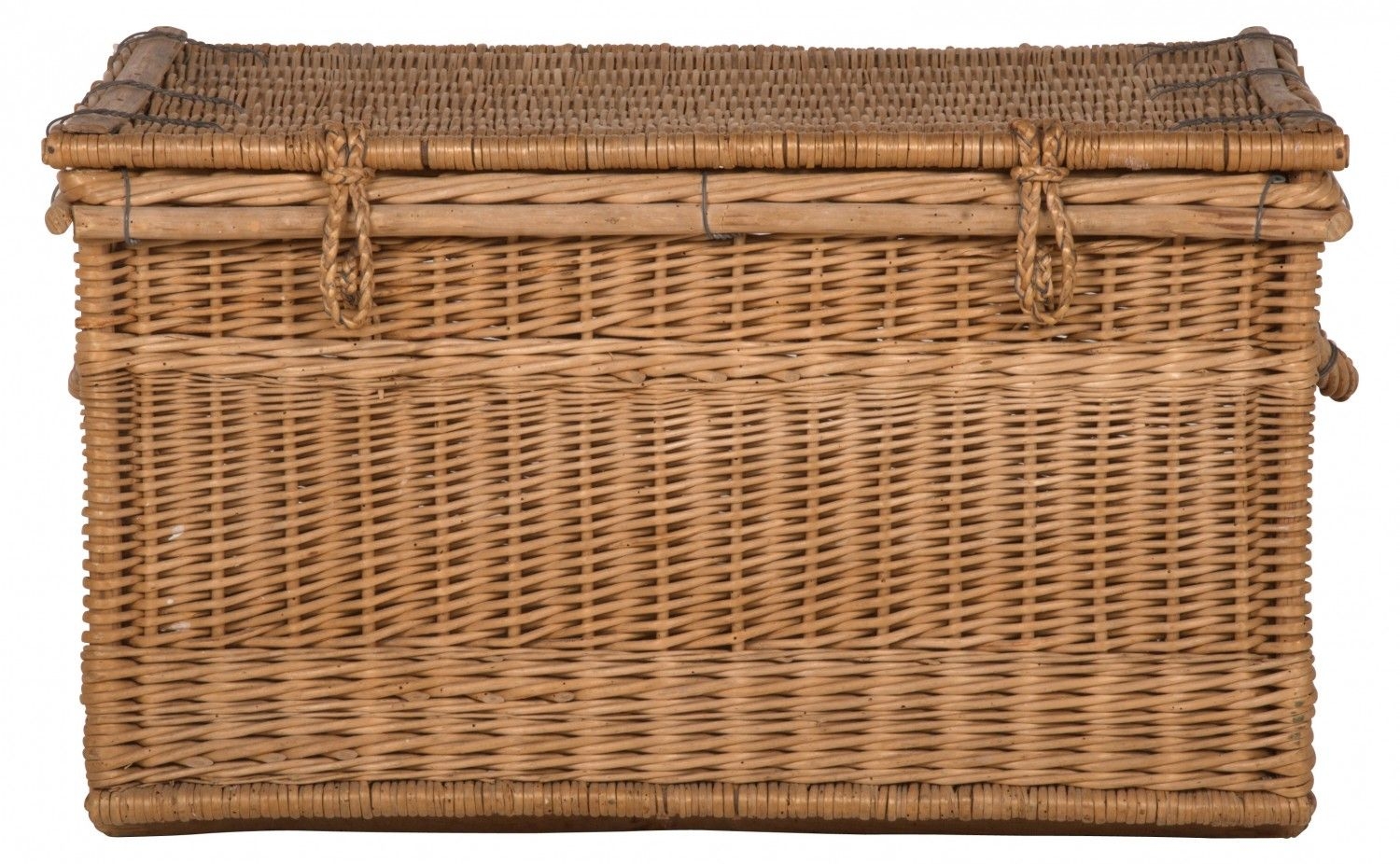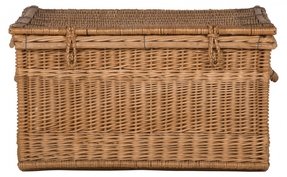 All Products / Storage & Organization / Closet Storage / Storage Boxes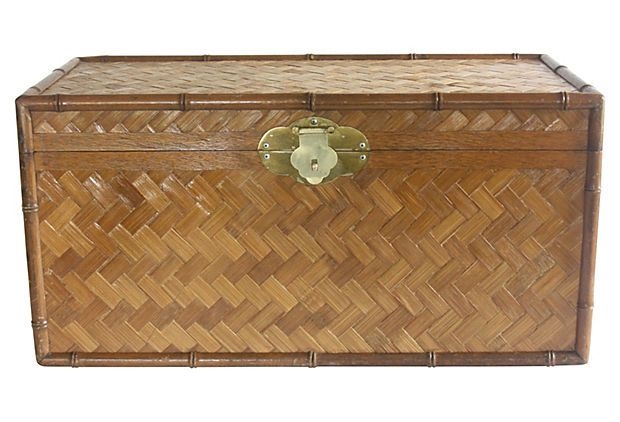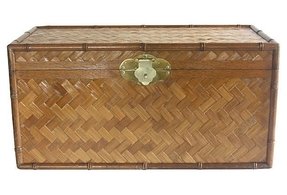 faux bamboo storage chest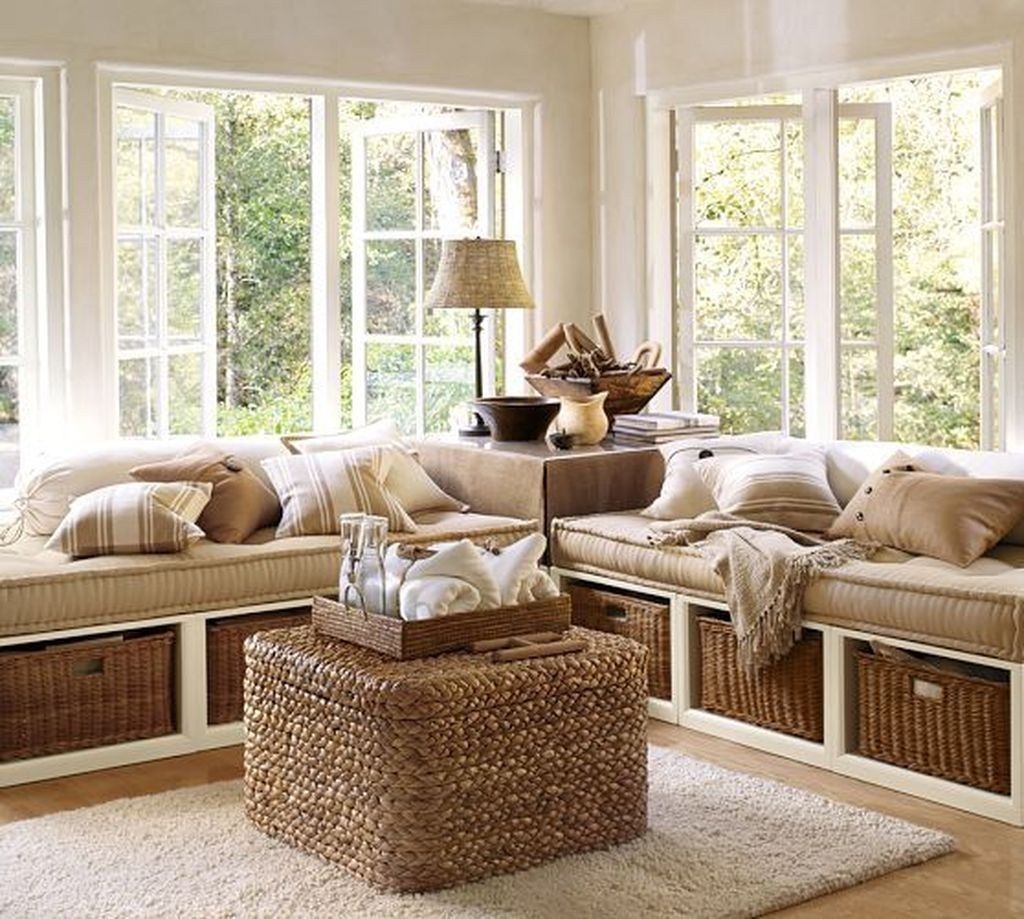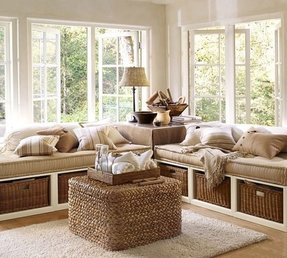 Really like this bench baskets. Would be nice in sunroom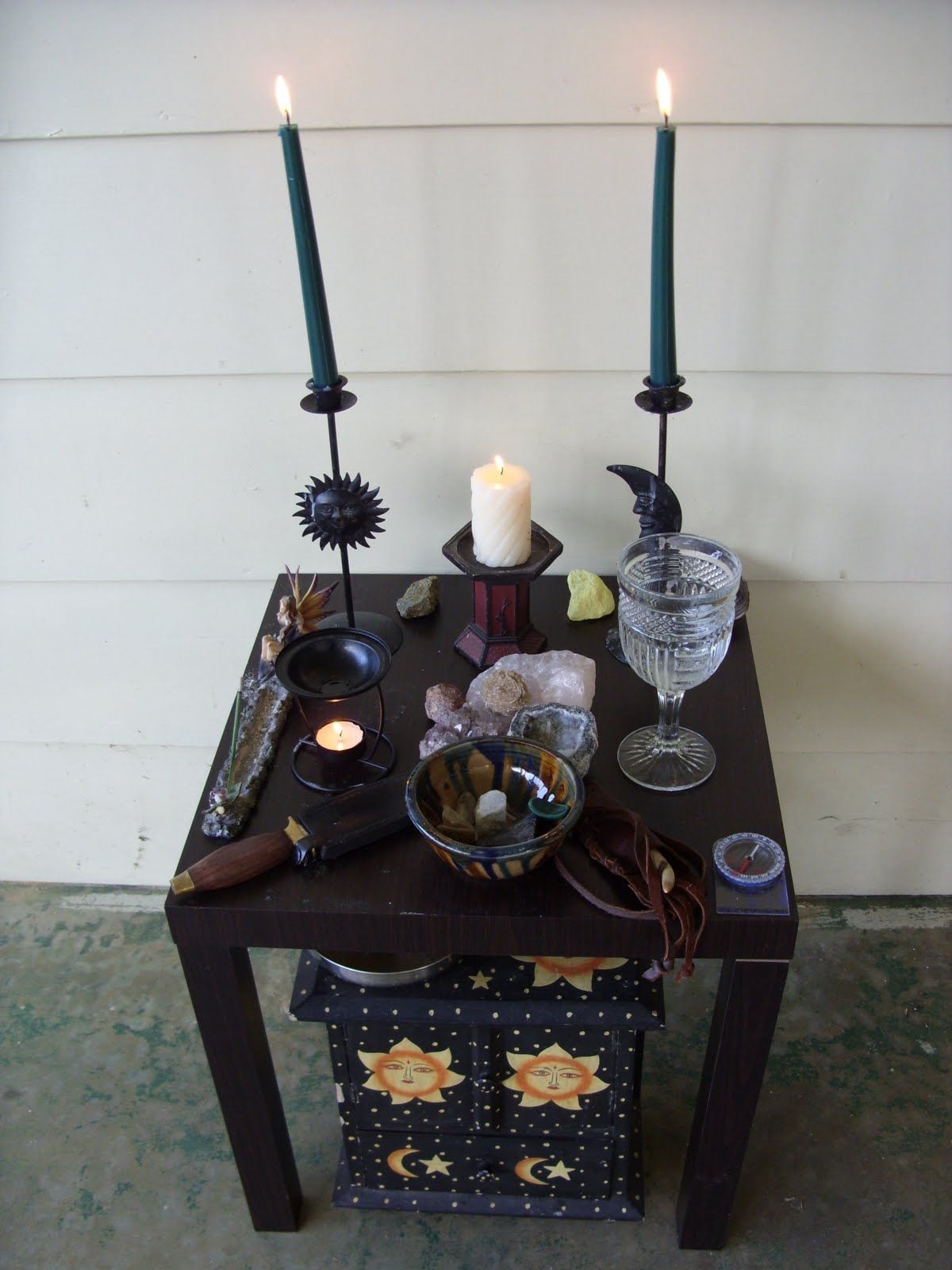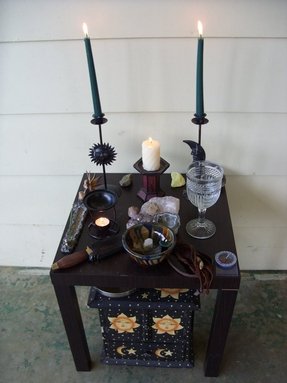 A display accent table stylized as a pagan altar. Extravagant and exceptional, isn't it. Midnight black square table with witchcraft collectibles on it. Black candles on sun and moon detailed holders are a must.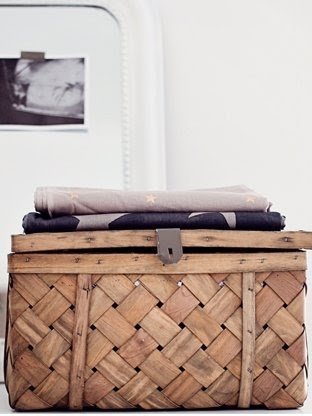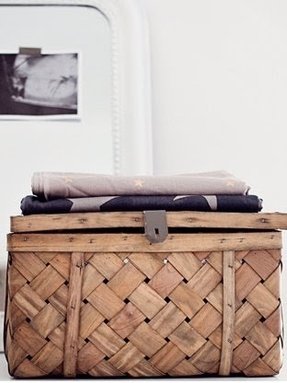 The beautifully made bamboo trunk is a perfect combination of functionality and unique appearance. The whole thing can be used for storage, as well as perfect decoration. An ideal detail that brings coziness to the decor.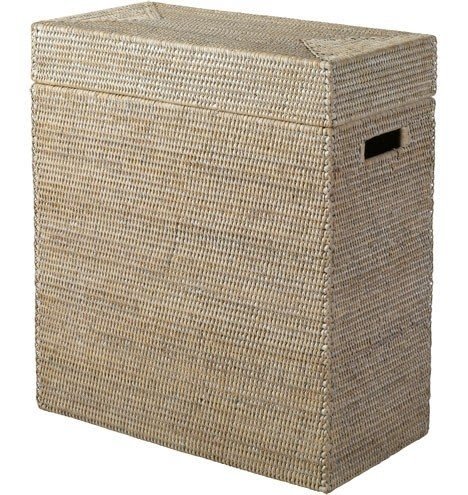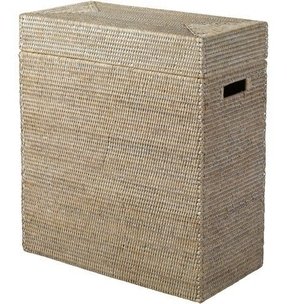 Whitewashed Rattan Storage Chest, H22 W20 D10, $230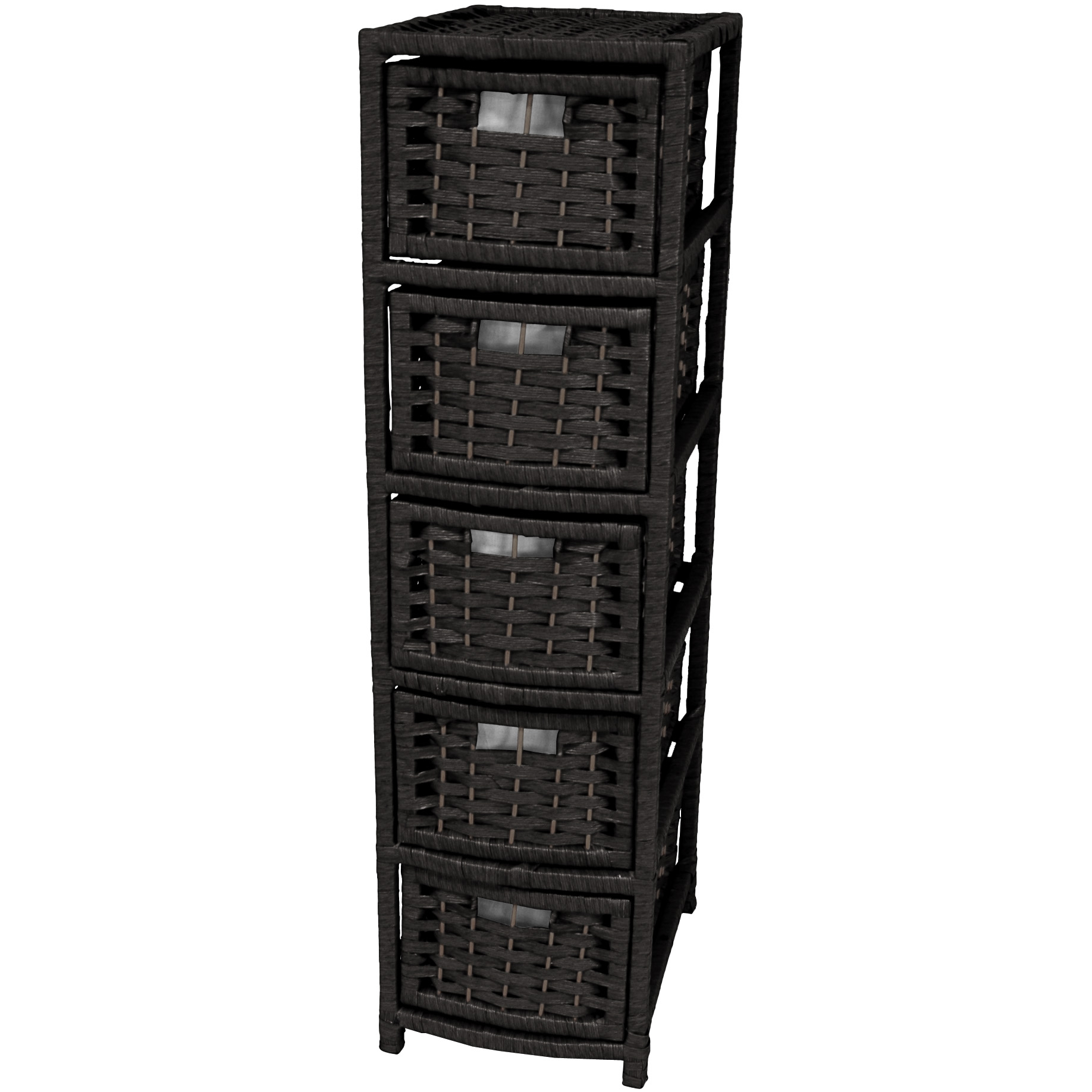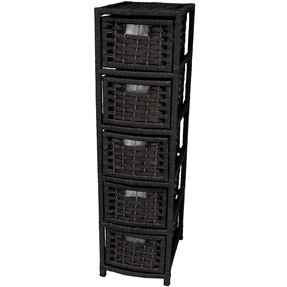 It is a chest that has got five drawers, natural fiber durable construction and five colors to choose: black, honey, mahogany, mocha and white. It is perfect for your bathroom, bedroom and other.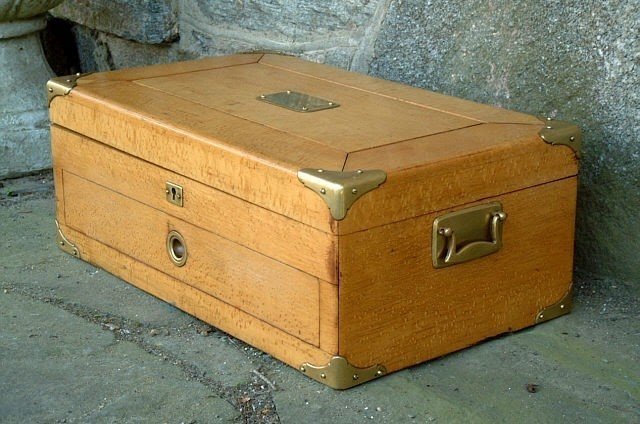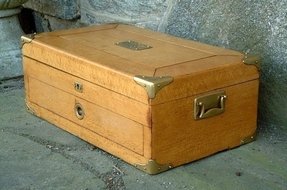 Antique styled case for silverware storage. Of course it is also suitable for other accessories and items. This wooden chest in maple finish also includes metal hardware, hey lock and handle for enhanced transportation.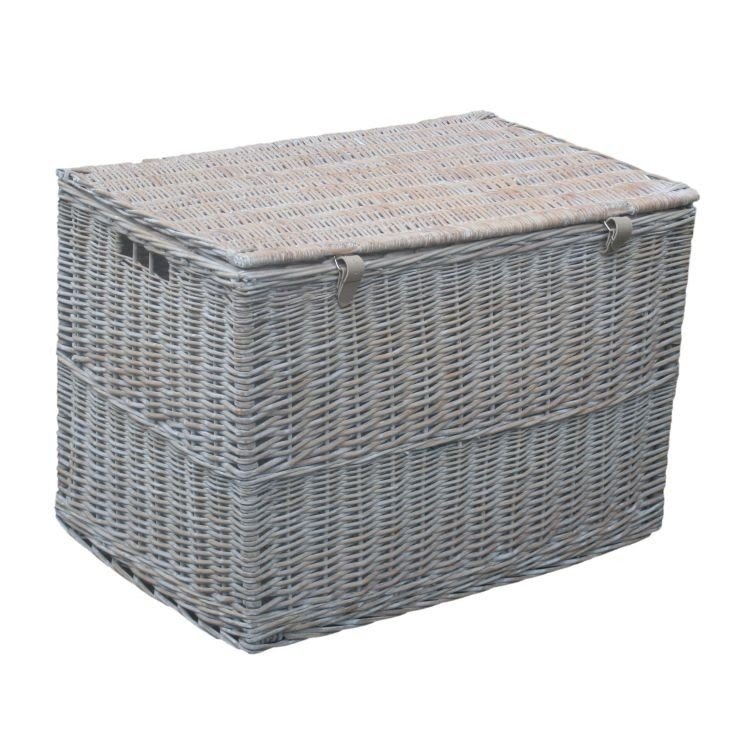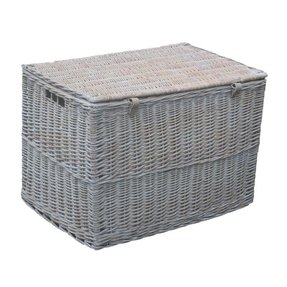 Giant White Wicker Storage Chest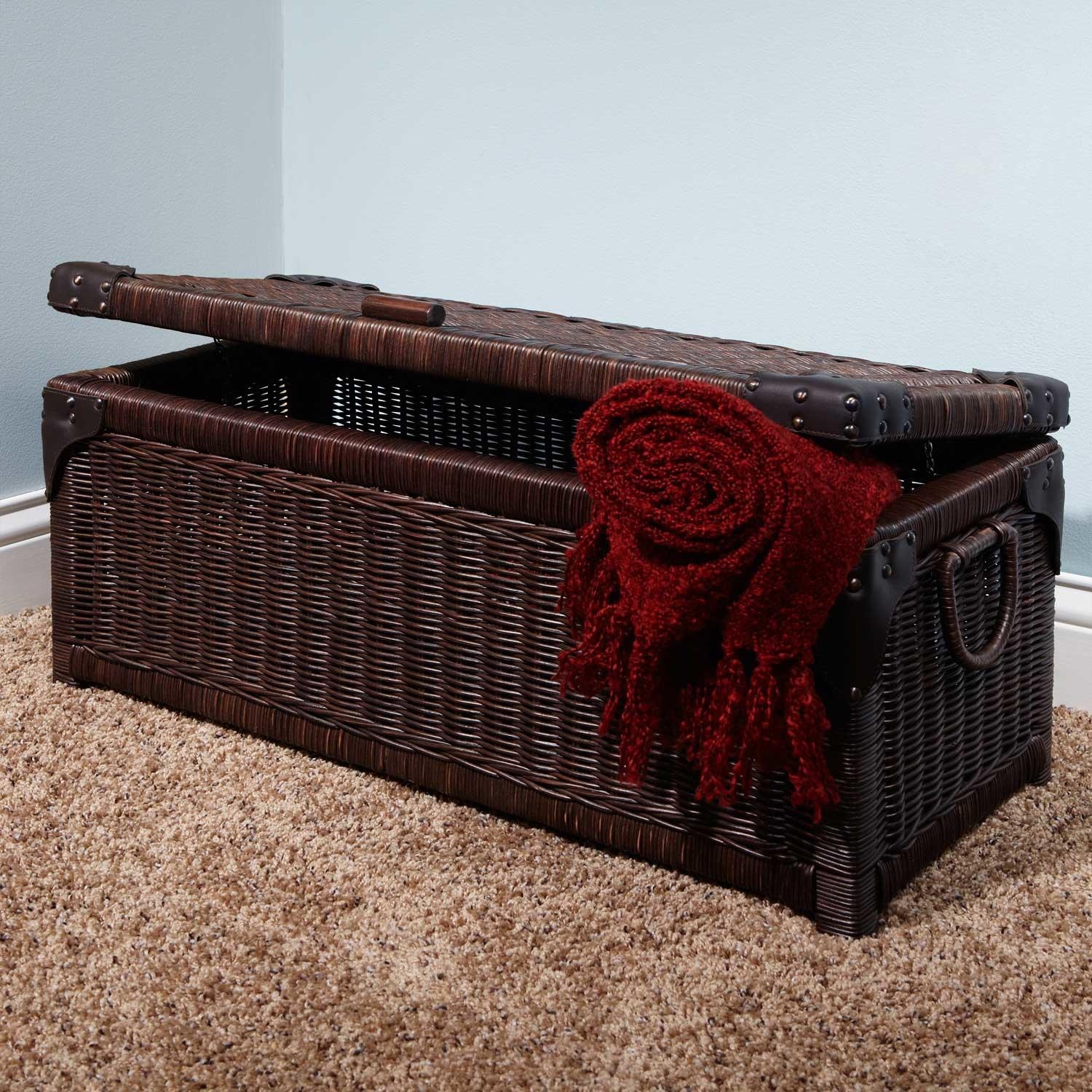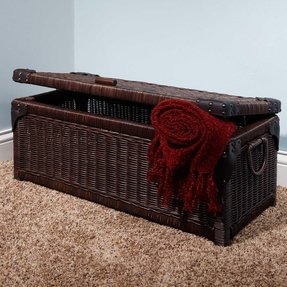 28" ACCENTED DARK BROWN RECTANGULAR RATTAN STORAGE TRUNK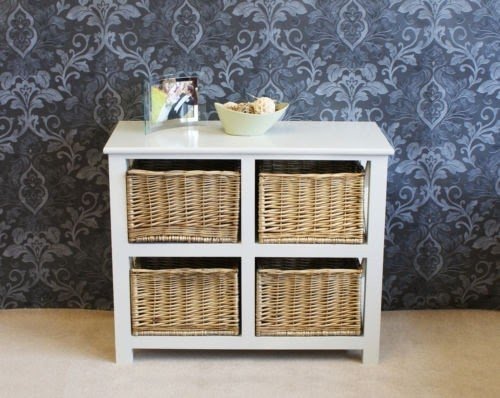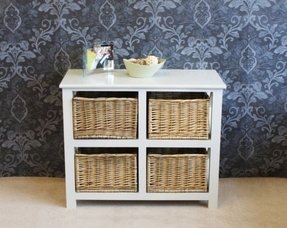 Gloucester-Large-4-Drawer-Storage-Wicker-Rattan-Basket-Drawers-Chest-Farmhouse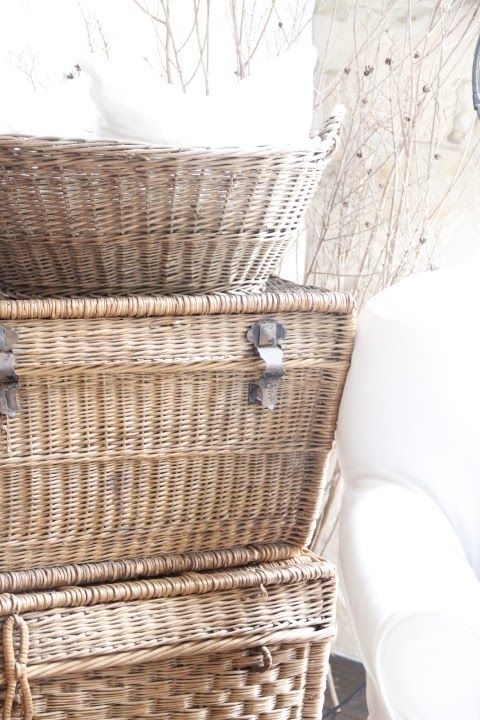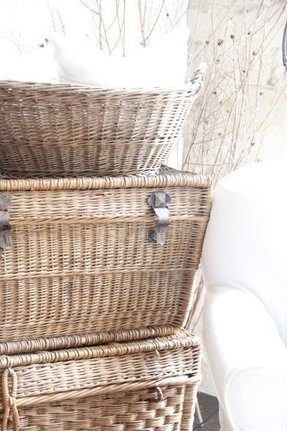 Durable and attractive wicker trunks that bring natural accents into the house. These elements of equipment are resistant to wear and damage. They provide plenty of storage space in different indoors.