End of Bed Storage Chest for Bedroom
An end of bed storage chest for bedroom is a great multifunctional piece.
As well as its obvious storage function, it'll offer you additional seating space (which is always handy when getting ready!), result in a captivating visual flow, and allow you to make a decorative statement.
Before looking at different designs, keep these points in mind:
To maintain a balanced effect, your storage chest should be smaller than the actual bed frame. As a general rule, try leaving between six and eight inches on each sideYou want your new bench to stand out cohesively rather than to blend in with its background. That's why, if you have a wooden frame, an upholstered bench would be a wiser idea, and vice versa. Think of colors, too: a storage bench in your bright accent hue would look great against a frame in a secondary or neutral color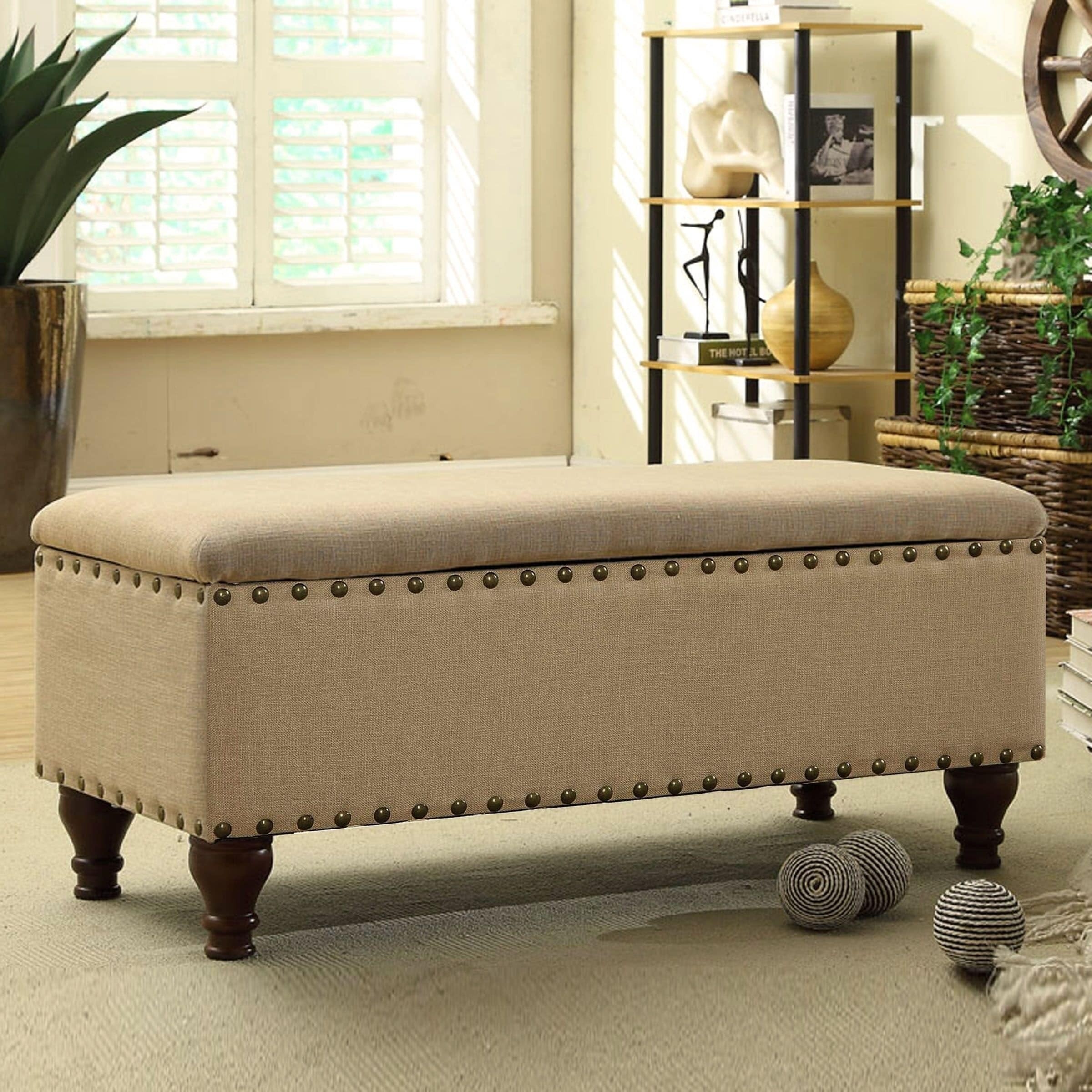 Storage chest for bedroom with a nailhead trim

While colors and designs can make a bold first impression, it's the details that make all the difference.
Choosing an end of bed storage chest that showcases a decorative element (like a stylish nailhead trim) can help you maintain some cohesiveness while still making it stand out.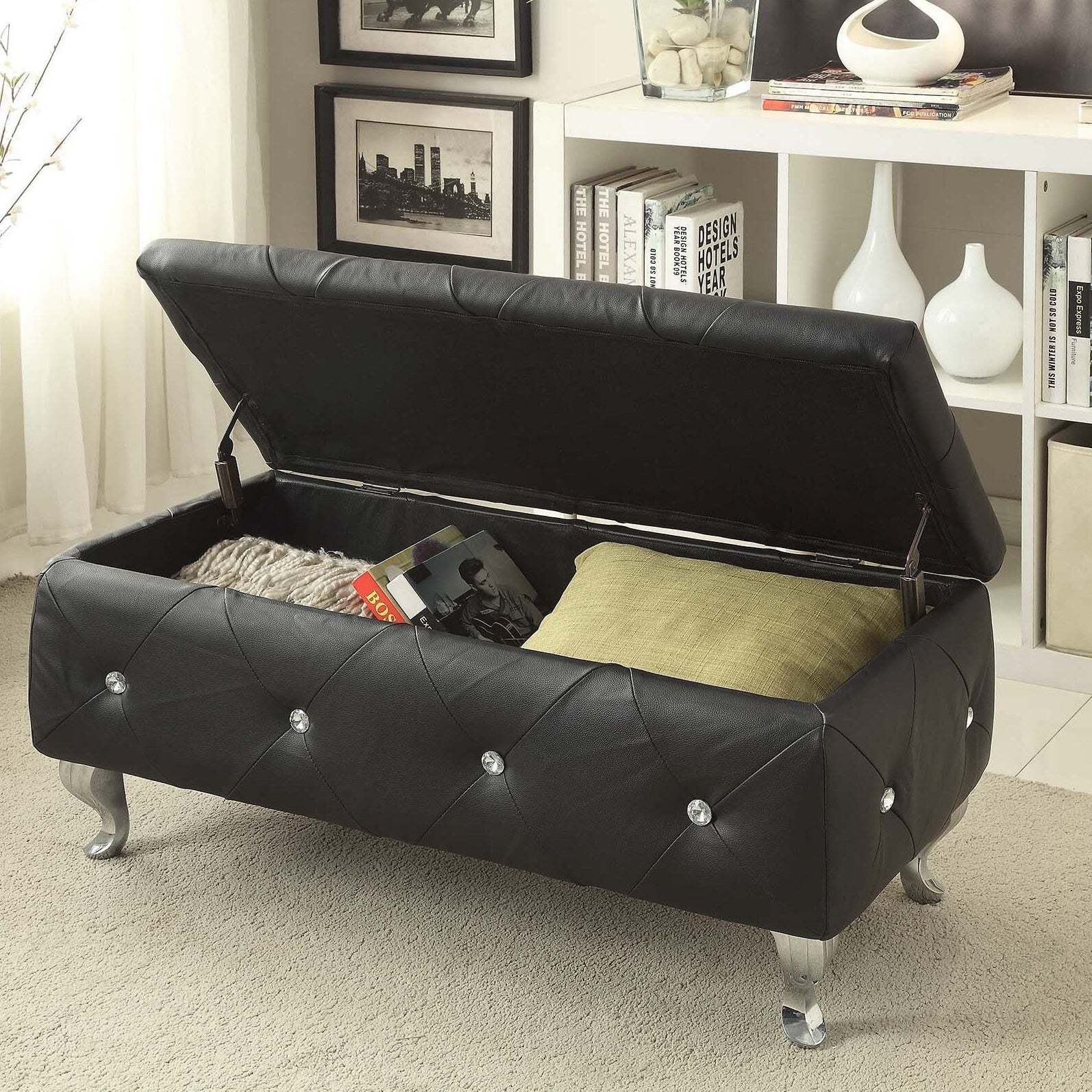 End of bed chest in leather upholstery

Leather always inspires a sense of sophistication, and your new storage chest is no exception.
If that's the vibe that you're hoping to create, you can't go wrong with this material (unless you already have a leather frame: in that case, it could be a bit too much).
We mainly recommend leather storage benches if you have a wooden or fabric upholstered bed or if your bedding usually hides the bottom part of its frame.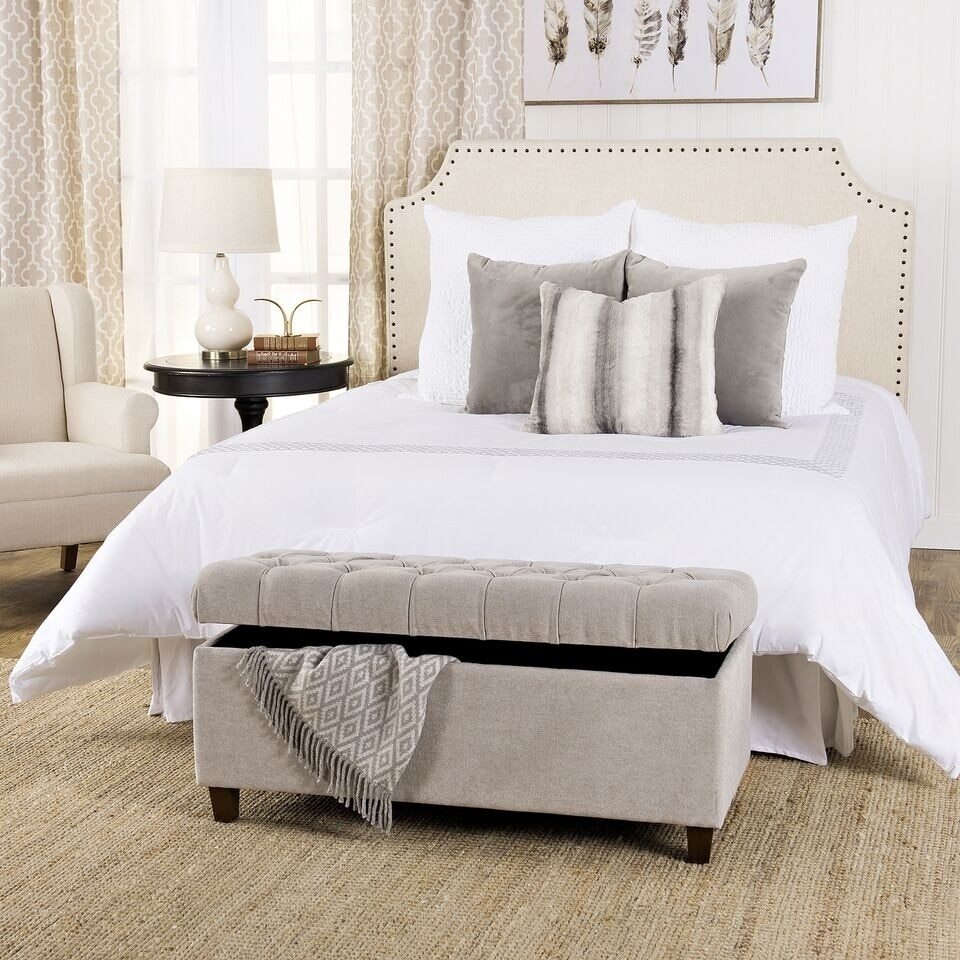 Chest for end of bed with comfy top

Will you be using your end of bed storage chest for bedroom to get ready as well as to store blankets? Perhaps you're already thinking of how handy it'll be to place it next to a tall mirror or your vanity to work on your hair and makeup, too?
Then it'd make sense to choose a model with a comfy upholstered top. Tufted designs tend to be especially popular in this case.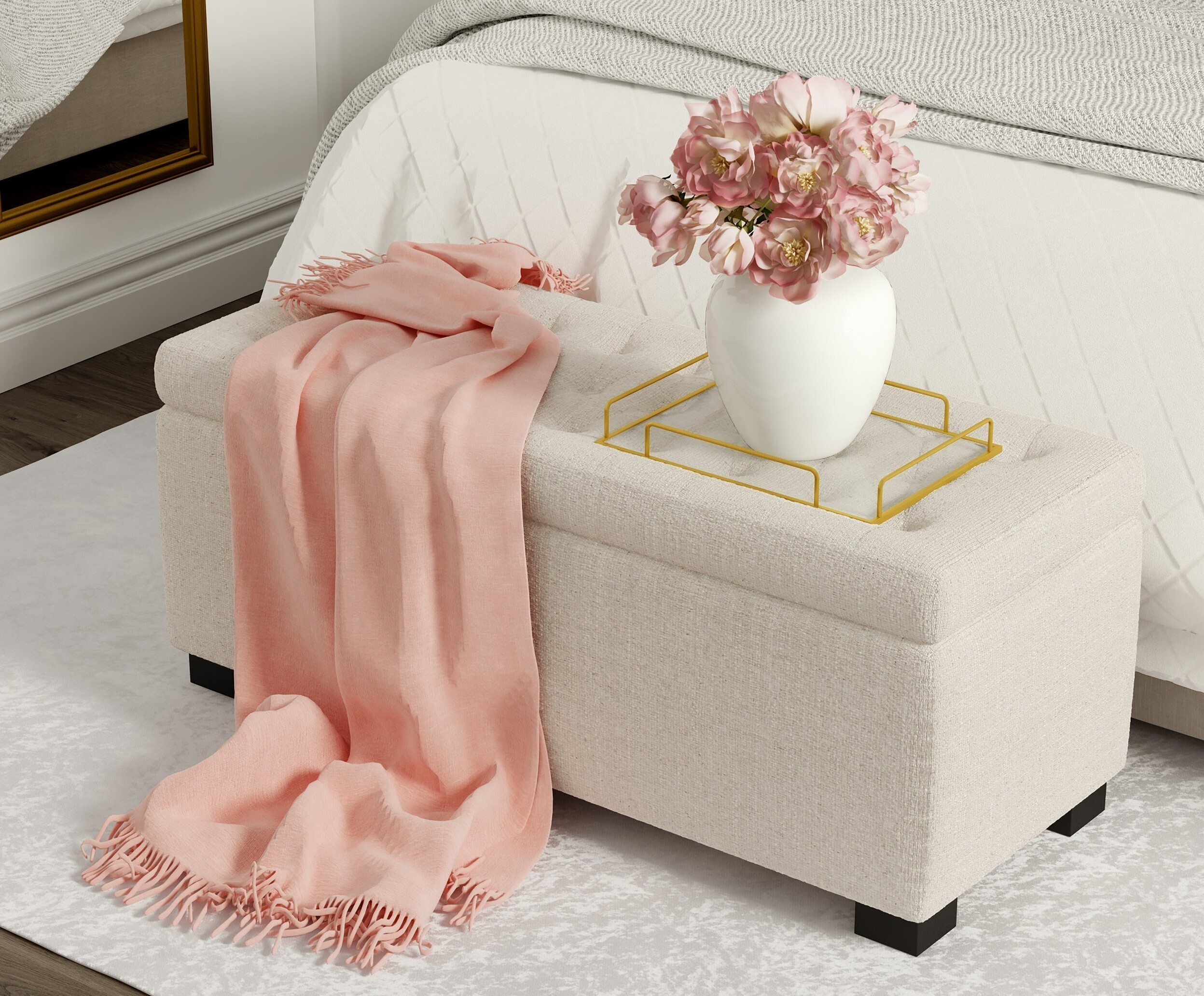 Blanket chest bench in a neutral color

Neutral colors are usually the safest choice when it comes to introducing a new element in a previously furnished room. In our case, they'd make even more sense if your frame or long bedding are already quite eye-catching.
Just don't forget to take your existing palette into consideration, too.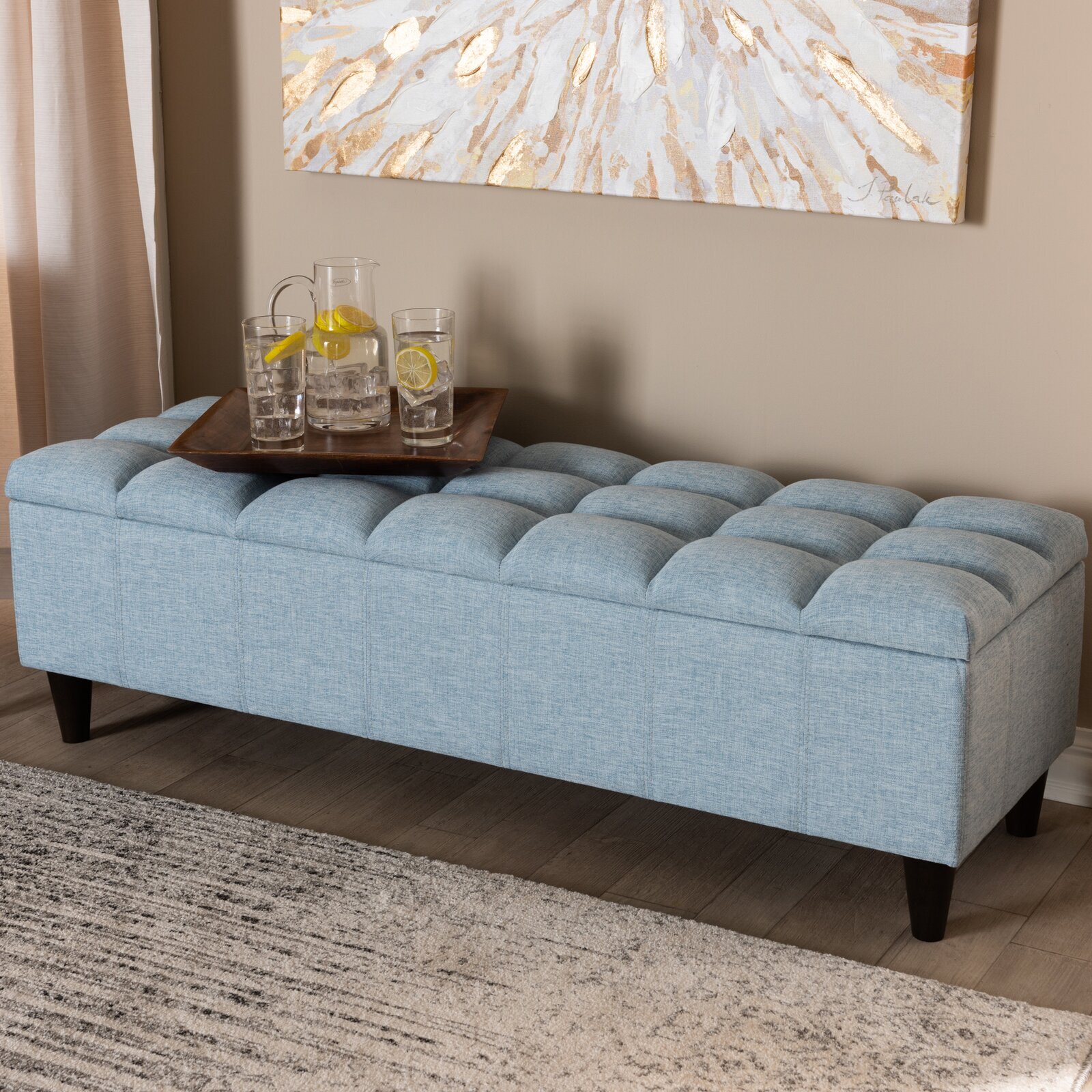 End of bed storage chest in your accent hue

At the same time, if your frame is already neutral, your new end of bed storage chest for bedroom is your chance to add some color: for example, by choosing your bright accent hue.
How about reinforcing it by adding a couple of cushions in the same shade?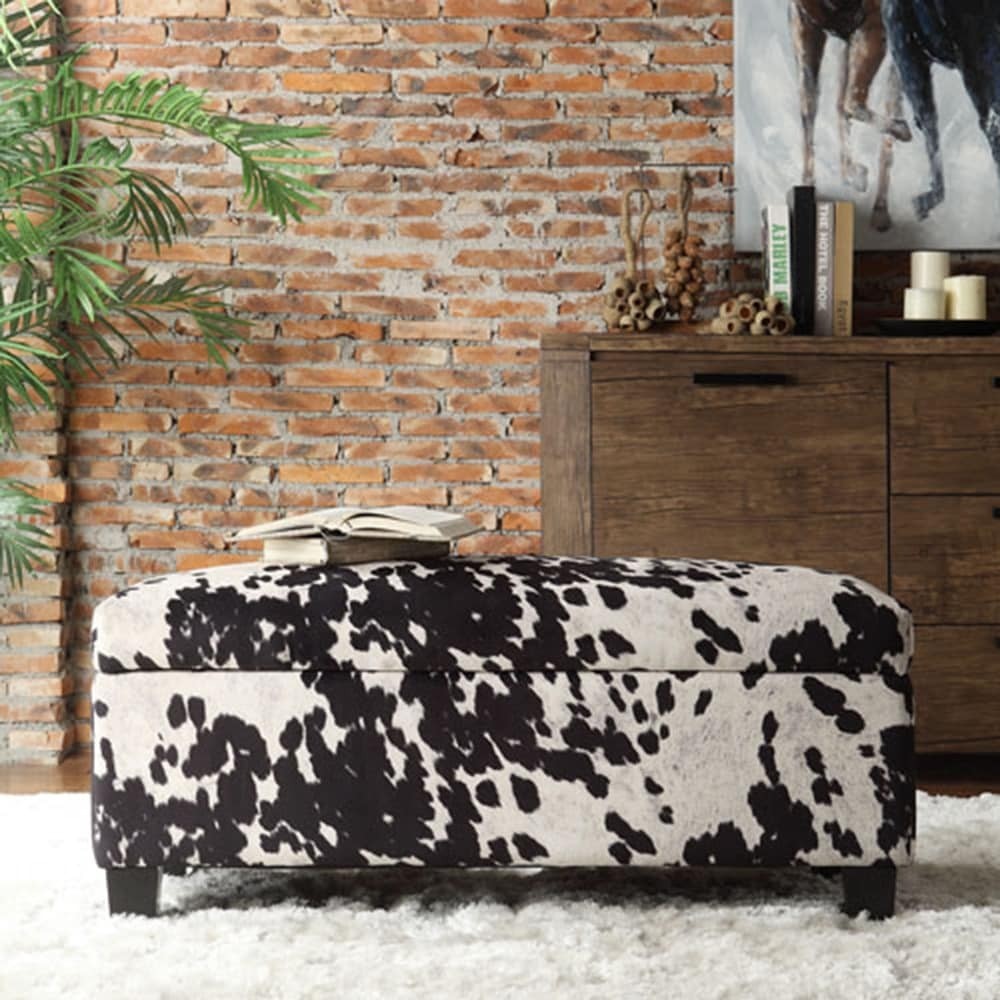 End of bed trunk in a funky finish

While we've mostly looked at monochrome designs, don't forget that there are lots of patterns and prints out there, too!
It's certainly a bolder option for your new end of bed storage chest, which is why we only recommend it if you haven't already got other different ones going on.
At the same time, it can also be a great opportunity to maintain an existing pattern consistent.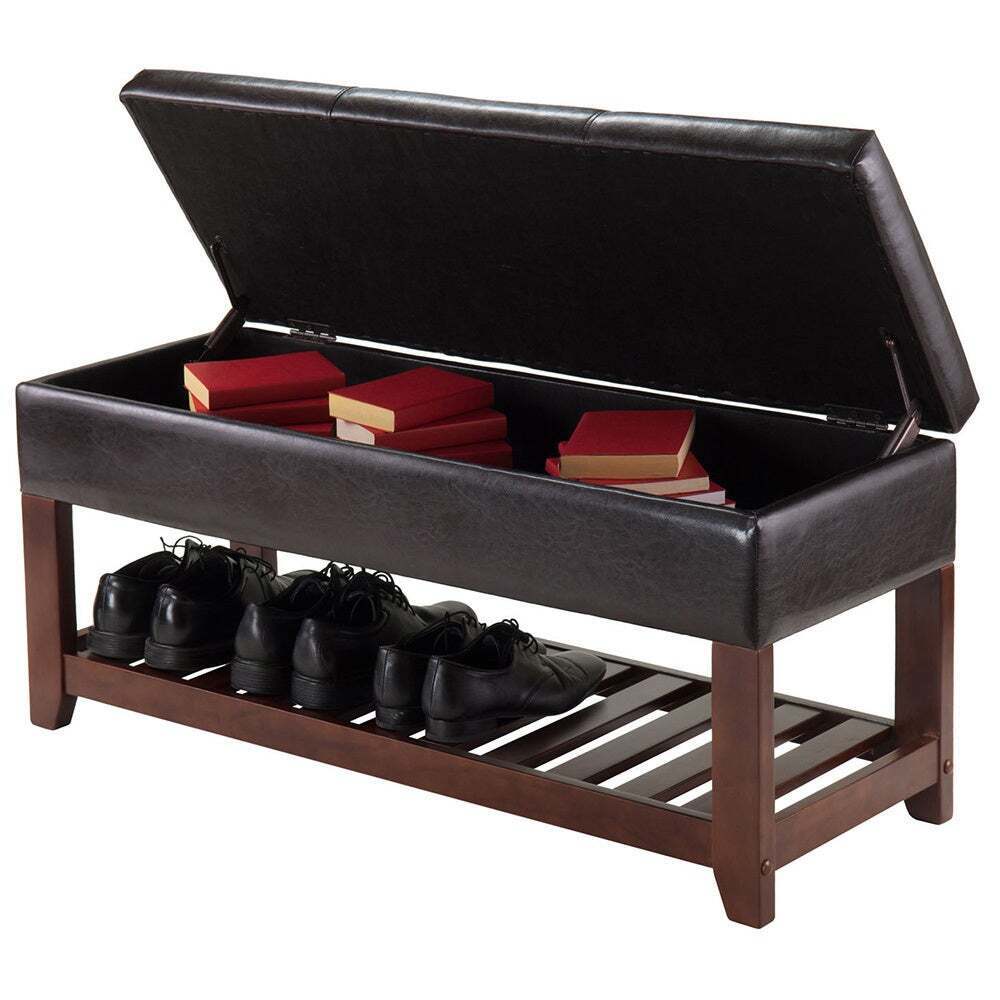 Chest for end of bed with bottom storage

Most end of bed storage chests for bedroom involve a removable or liftable top that hides a compartment for your blankets, clothes, or whatever you wish to place in it.
However, if you could do with even more storage space, look for a lighter design with an open shelf at the bottom. This is a particularly handy spot for shoes and accessories, but you can easily use it for books or decorative items, too.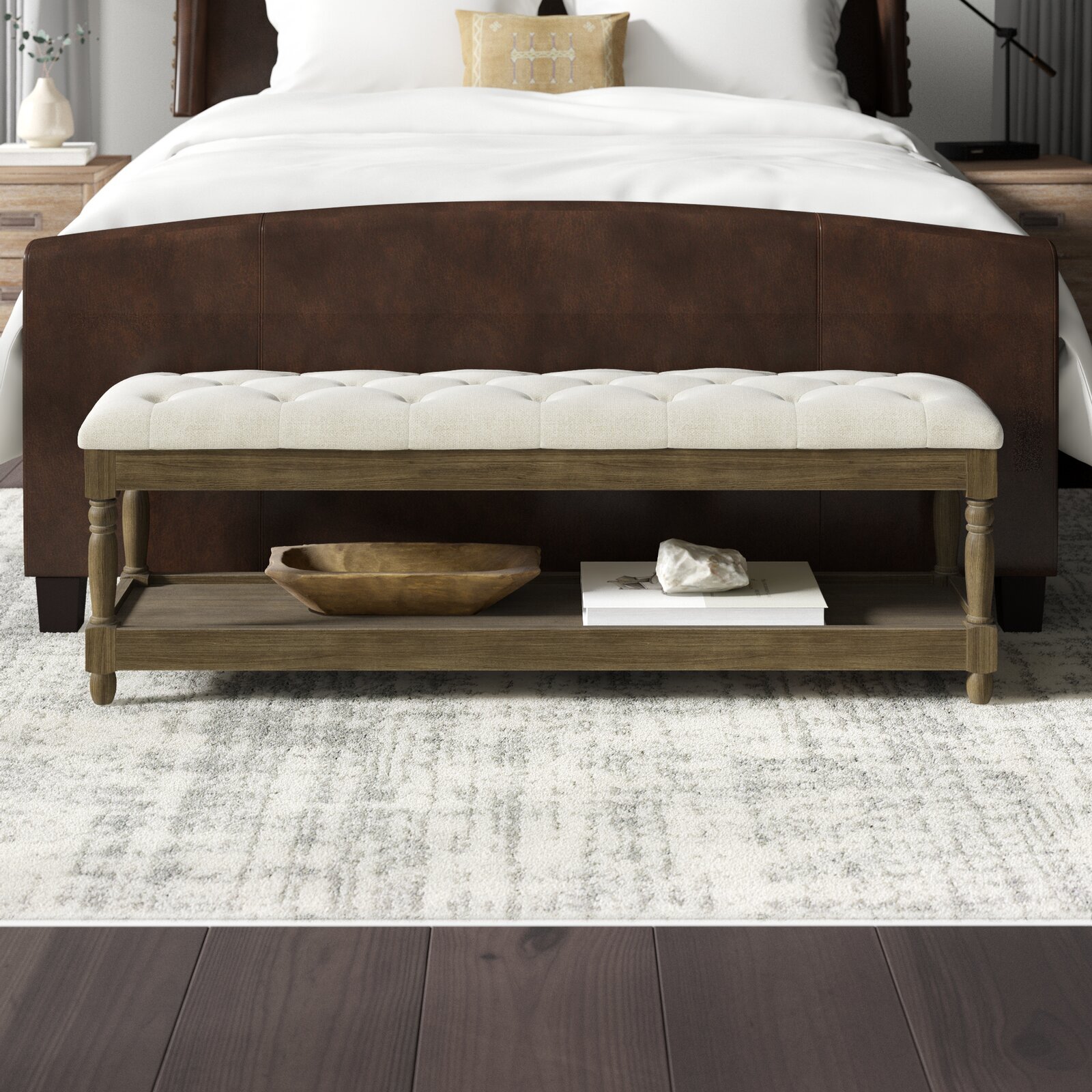 Elegant & cozy blanket chest

A timeless winning combination consists of fabric upholstery and wooden frames.
Not only does it give you two options to match your palette and existing finishes, but it immediately inspires a sense of cozy balance that can work wonders with several decors, from Scandinavian to traditional rooms.
$259.99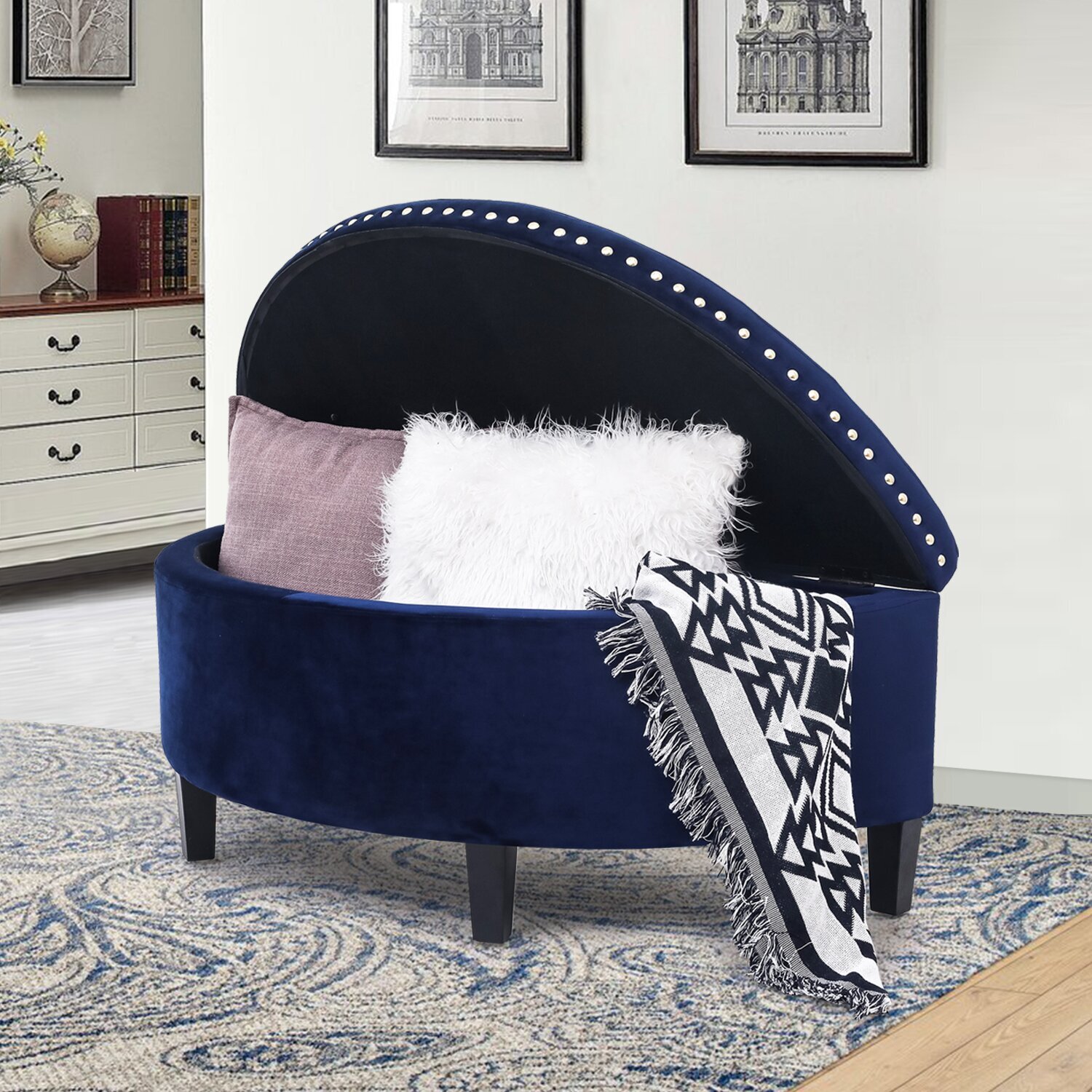 Bed chest storage in a space saving design

Spoiler alert: not all end of bed storage chests for bedroom involve a rectangular design!
In fact, if your room already feels fairly small, it might not be a good idea in the first place.
Instead, look for a chest in a different shape, such as a semi-circular design that will help you maintain a breezy and airy visual flow.
$169.99 $215.99
Wooden end of bed storage chests

Upholstered options tend to be the most popular designs when it comes to storage benches, but wood might easily be a more logical choice for you, and particularly if your bed frame already relies on fabric or leather.
Don't forget that choosing a wooden model also makes it easier to match your existing furniture, reinforcing your room's cohesiveness.