Slim Pantry Cabinet
Is space not a luxury in your kitchen? Or perhaps it was, to begin with, but now you've already filled it with furniture? Nothing that the right slim pantry cabinet can't fix!
From shallow models that optimize depth to 7-inch-wide pantry cabinets that fit in the smallest gaps, these models will work their space-saving magic while still offering you all the storage you need.
Instead of long shelves forcing you to revolutionize your kitchen, they rely on multiple layers that will make it even easier to organize your pantry in a smart way.
Here are fifteen types of thin pantry cabinets to choose from.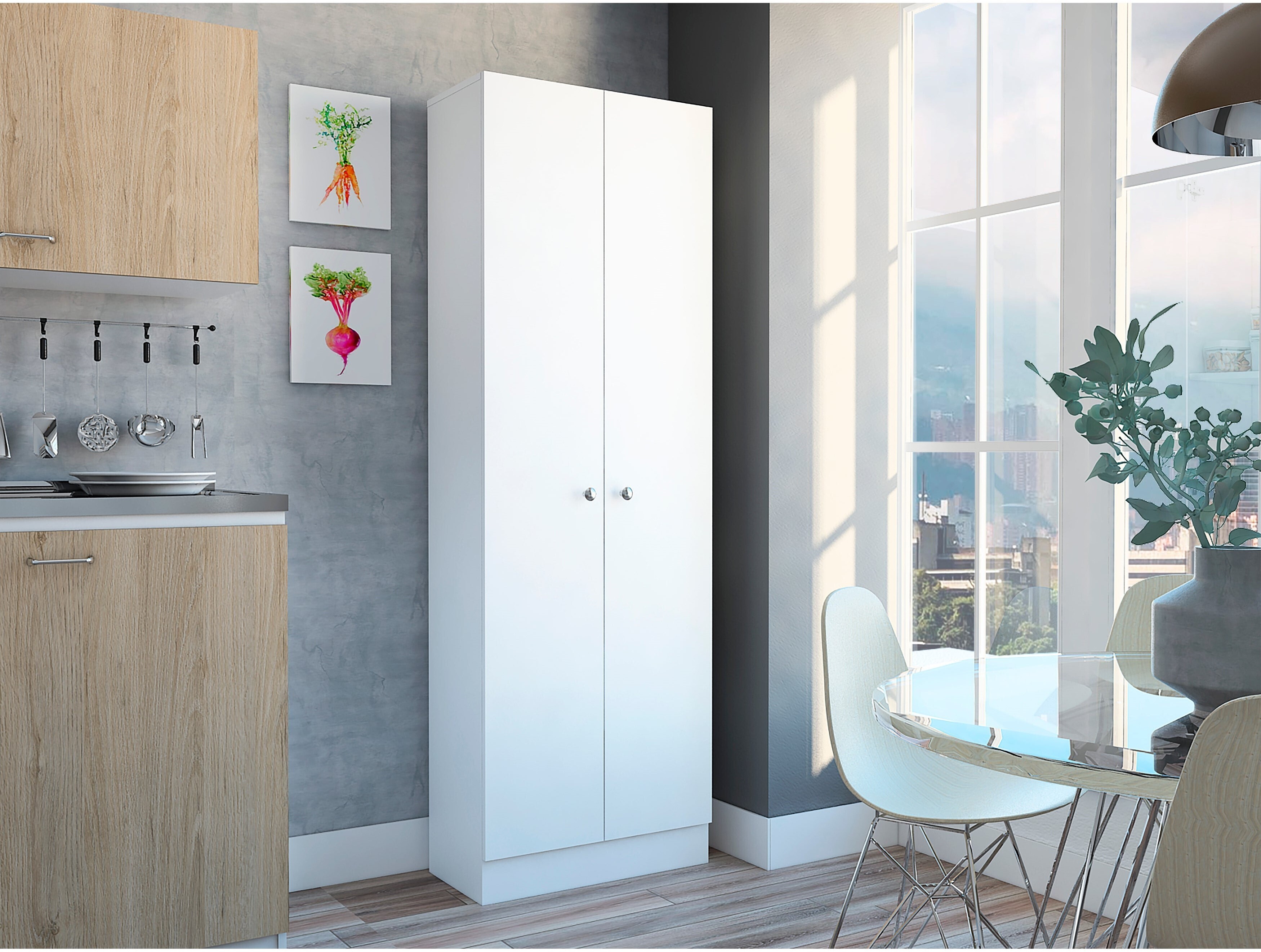 12 inch deep pantry cabinet

When you think that traditional dinner plates are around 10.5-11 inches big, it's easy to see why a 12-inch-deep pantry cabinet will work wonders in your kitchen.
It'll fit your most important items like a glove without taking up more depth than needed.
For example, these fairly shallow pantry cabinets would allow you to store a couple of rows of jars or canisters as well as entire glassware sets, too.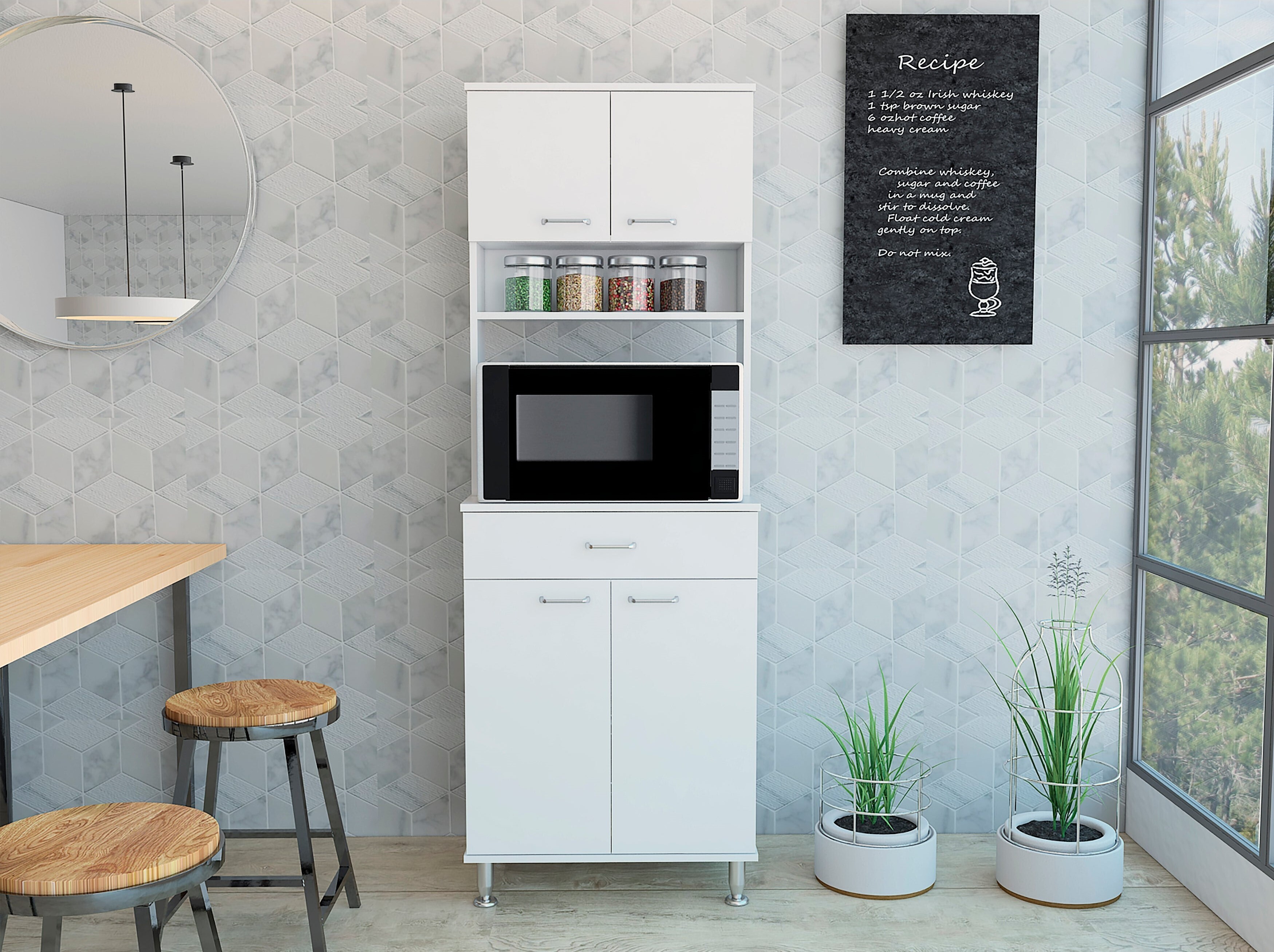 Slim pantry with room for appliances

Hoping to store an appliance but worried that a thin pantry cabinet won't accommodate for it? Think again! You don't actually need that much depth: 14 inches (or even slightly less) will do.
That way, you get to keep your microwave at easy reach or create an entire coffee-making station by showcasing your new machine and cups.
At the same time, a few cupboards, shelves, or drawers (or a mixture of the three!) will help you store your most traditional pantry items and food tidily.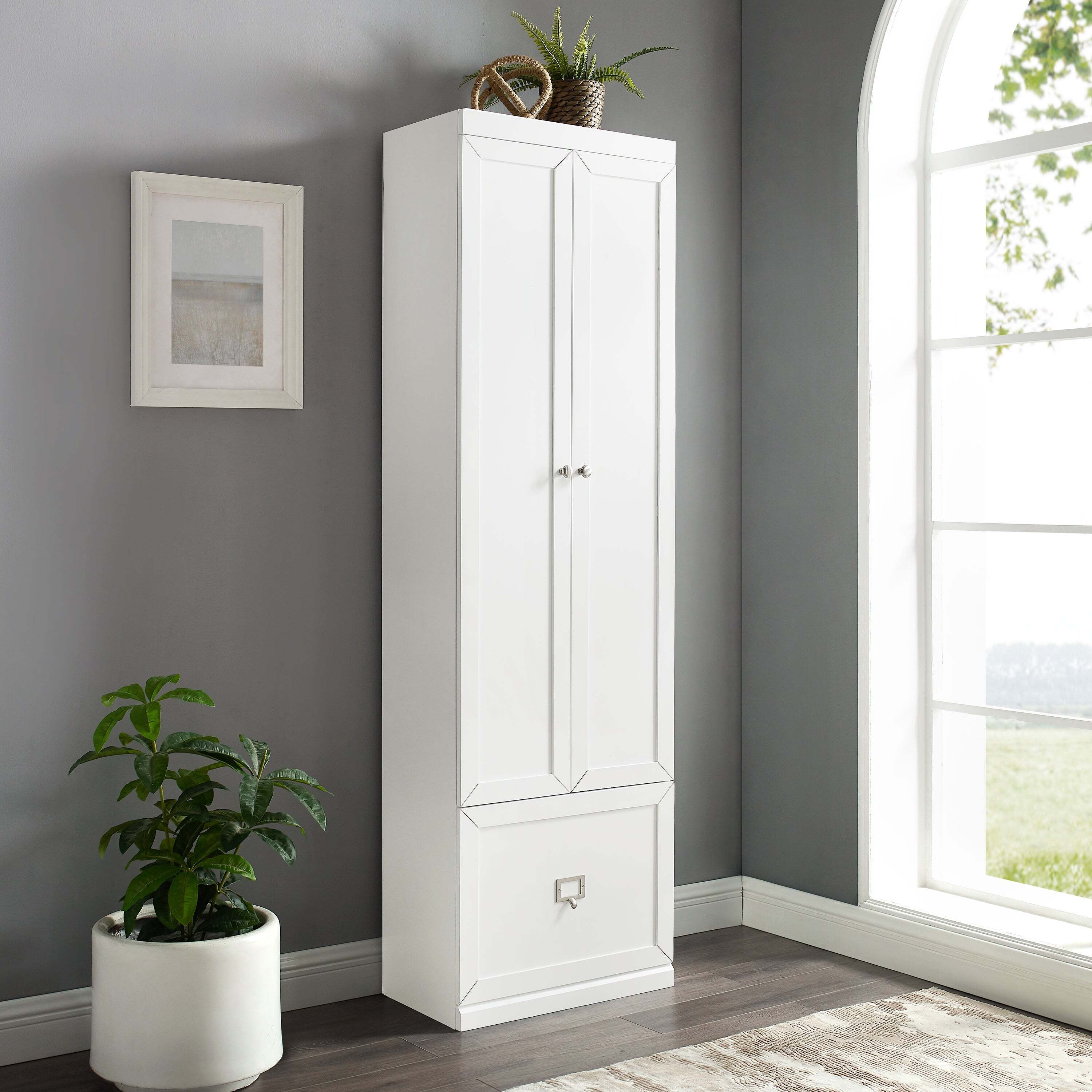 12 inch pantry cabinet with drawer

While open shelves have their own charm, slim kitchen cabinets with a closed design are your best friends if you hate clutter and would rather keep your food items and kitchen equipment behind some cupboards.
But why not add a drawer too? This design is ideal to store items that you tend to pile up, like table cloths, or to get a good one-glance overview of lots of smaller ones, like spices.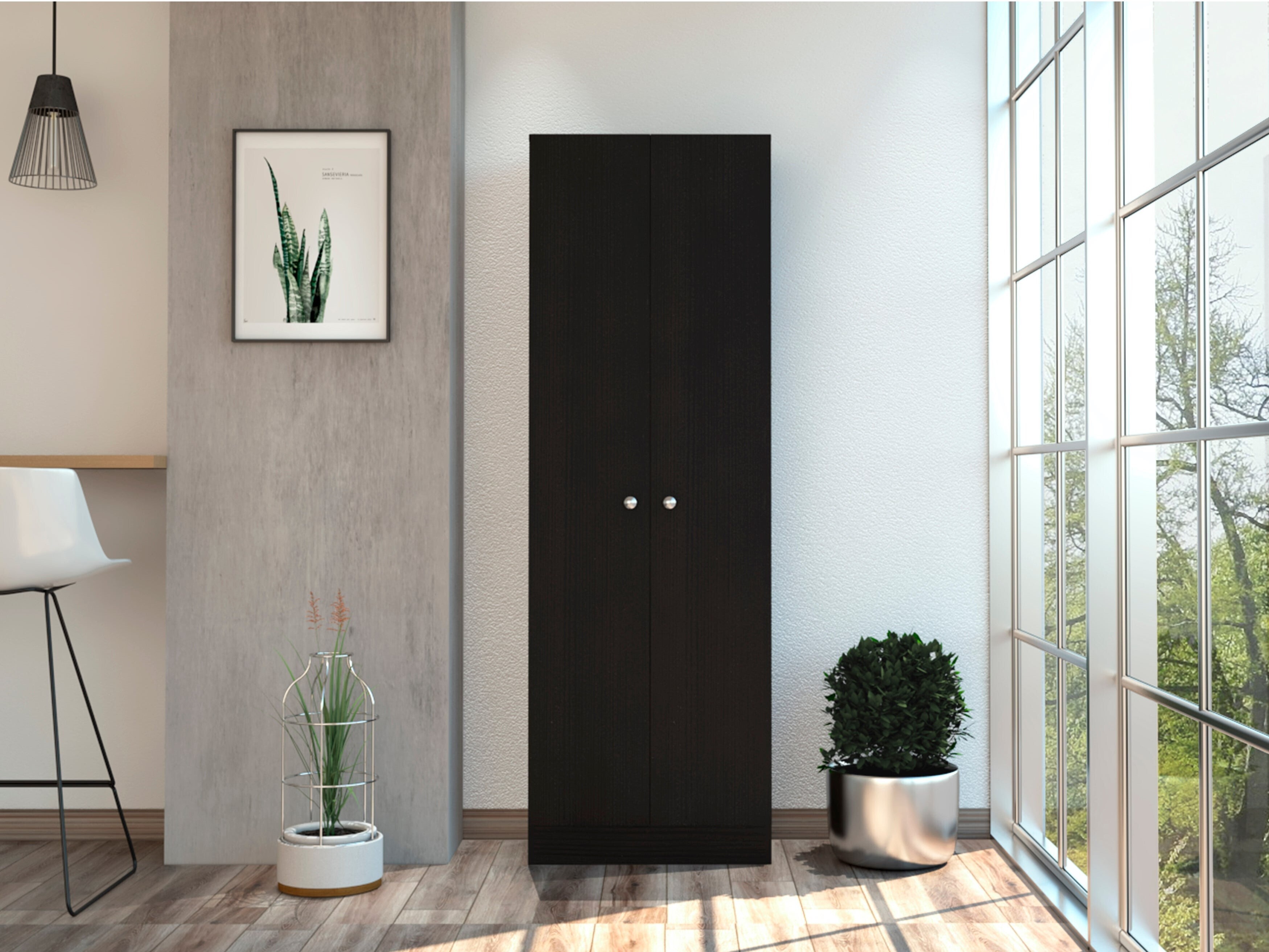 6 or 8 inch deep pantry cabinet

Is your kitchen a bit too narrow? Then look for even more space-saving designs like 8- or 6-inch-deep pantry cabinets.
We especially recommend the former if you'd like to store some 8-inch dinner plates and the latter for smaller items like canister sets, jars, and bottles.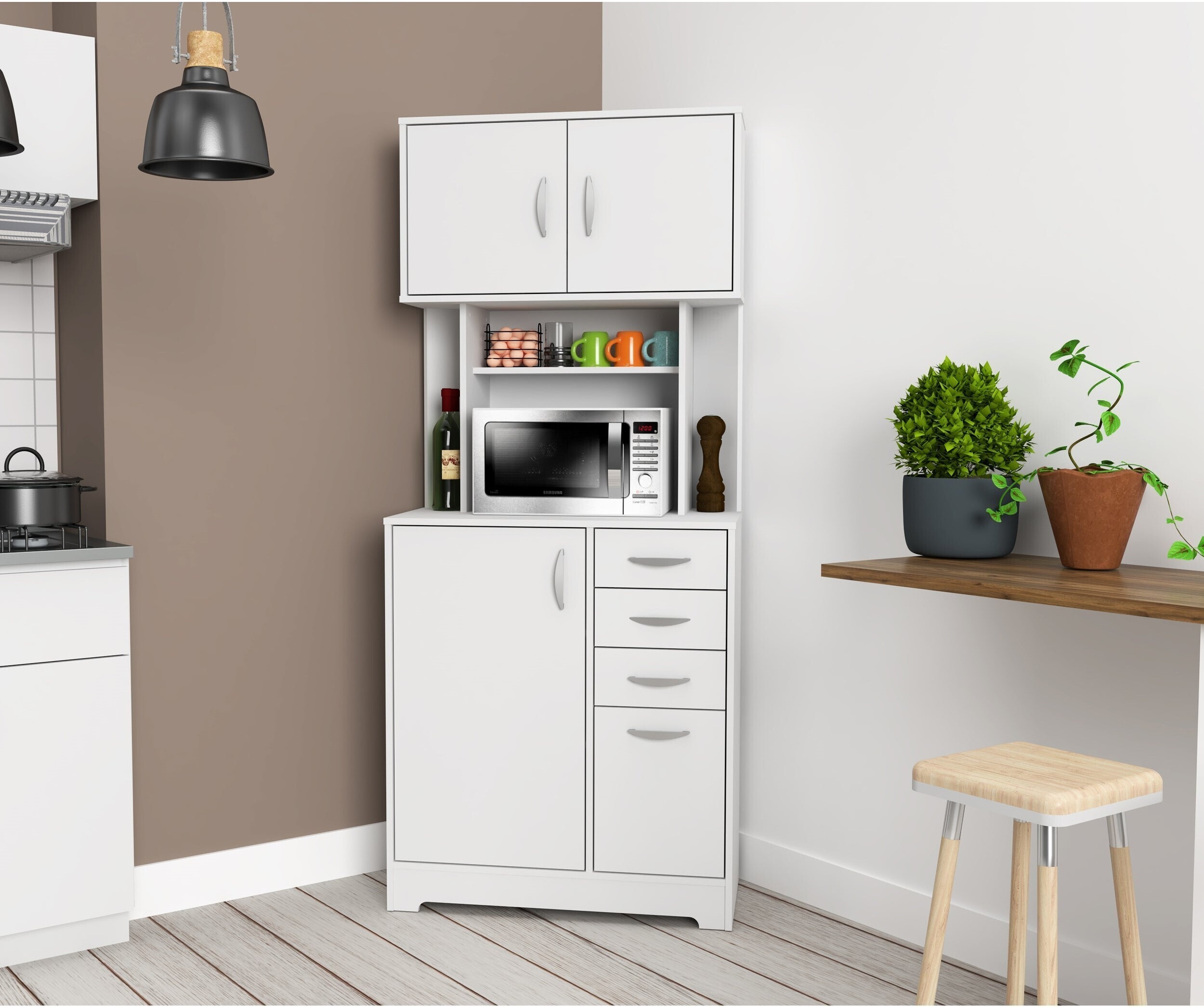 Narrow kitchen cabinets (open corner models)

Another clever way of saving space in kitchens that feel too crowded is to choose a design that matches the angle of your unused corner. Yes, the one where you thought nothing could fit!
Adding a corner twist to a narrow kitchen cabinet will result in extra depth without taking up too much floor space. When opting for an open design, you'll also get to add an appliance or two.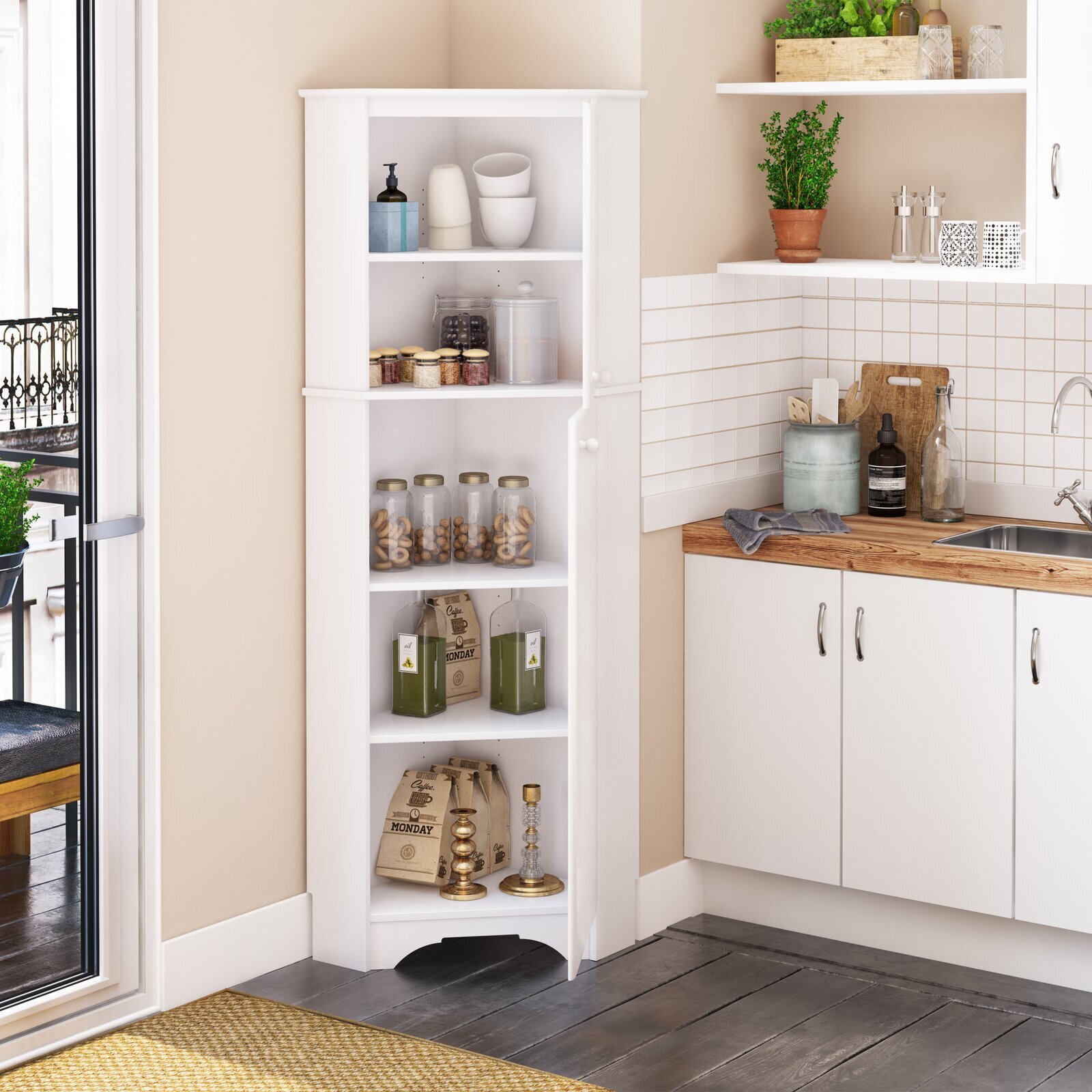 Shallow pantry cabinet as a corner model with closed cupboards

No need to add a microwave or coffee maker? Then save yourself even more precious space by choosing a shallow pantry cabinet with closed cupboards and a thinner design.
This is a proper lifesaver in tighter corners where a traditional slim pantry cabinet would be a bit in the way.
A closed corner model design, on the other hand, will optimize that small space while offering you plenty of layers of storage.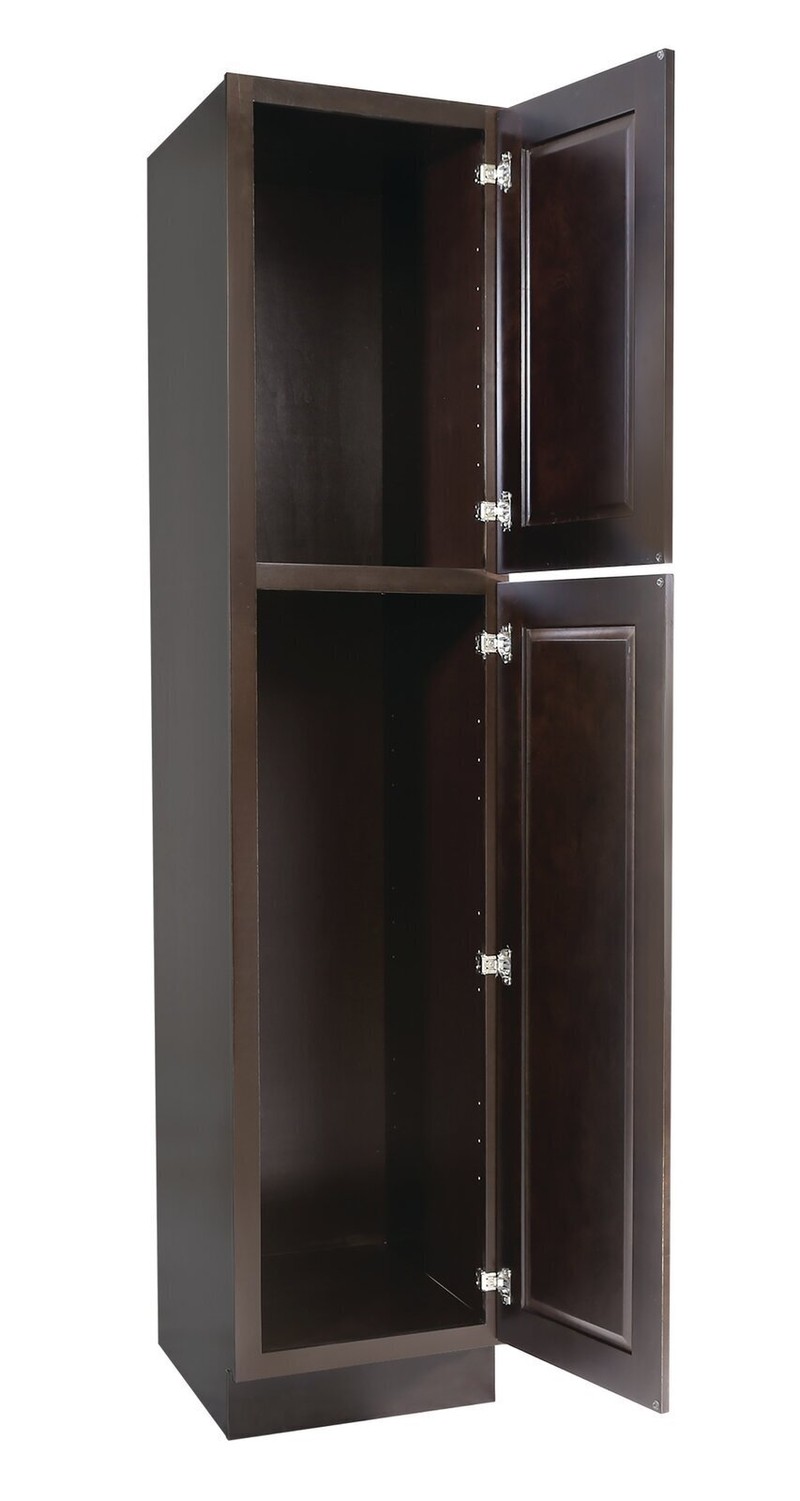 Thin kitchen cabinet for taller items

If you don't think you'll need that many shelves or are worried that your taller items won't fit in traditional pantry models, you can also look for narrow kitchen cabinets with two compartments.
Alternatively, they're super practical if you were hoping to combine them with a pull-out storage solution, too.
$1629.99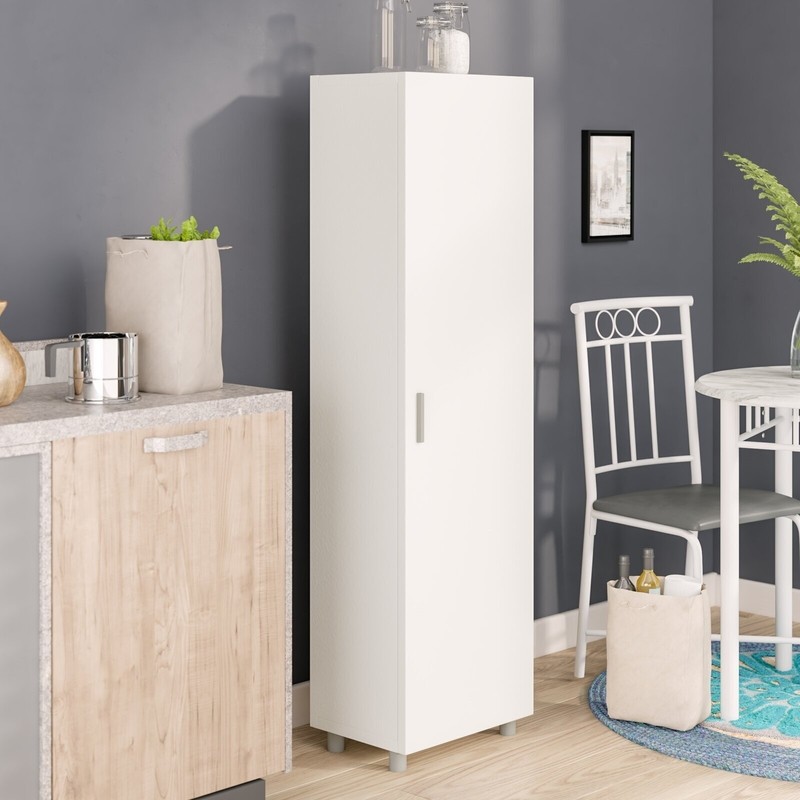 Minimalist narrow depth storage cabinet

Monochrome minimalist designs make it easier to match your slim storage cabinet to the rest of your kitchen furniture.
Plus, a streamlined design is a versatile choice for several interior styles: not only minimalist but contemporary, Scandinavian, and, when opting for natural wood and metal, industrial, too.
$142.99 $214.29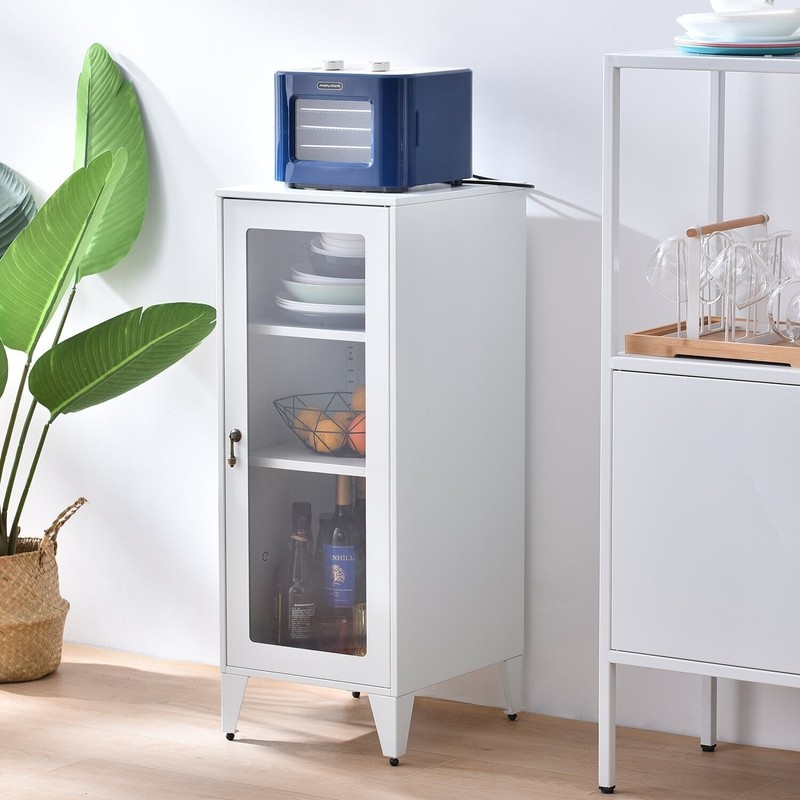 12 inch wide pantry cabinet with a top surface

Think beyond shelves and drawers when choosing your narrow kitchen cabinets!
In fact, a 12-inch-wide pantry cabinet that isn't too tall will allow you to make the most of its top surface, too.
You could use it for practical purposes, such as to store a microwave, or to add a more visually decorative element like a fruit bowl or a pot of flowers.
$209.99 $239.99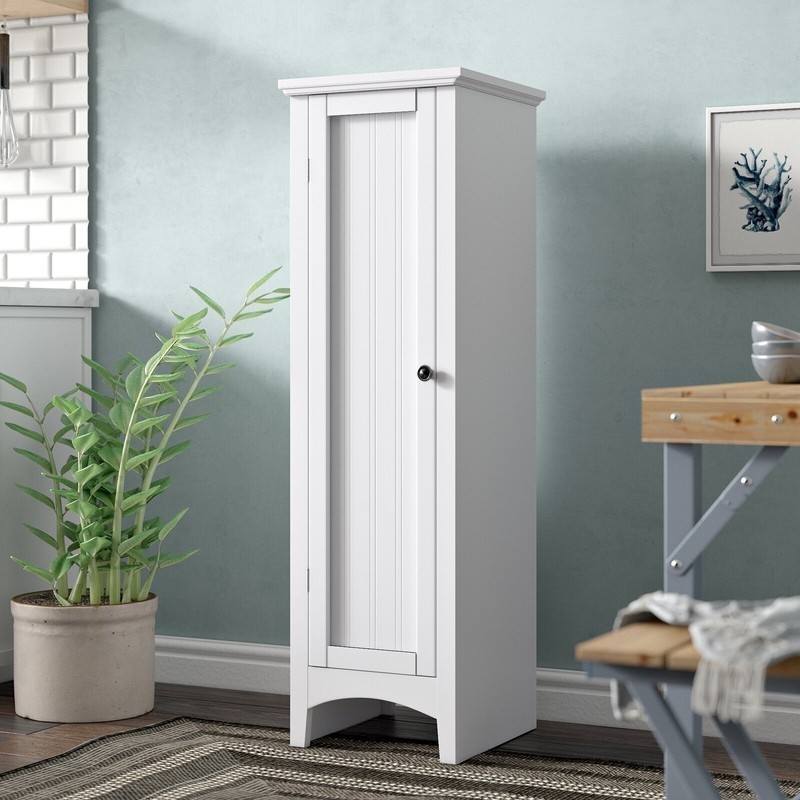 Very narrow kitchen cabinet looking just like traditional furniture

While slim storage cabinets are primarily practical pieces of furniture, that's not to say that they can't look pleasantly decorative, too.
From raised panels to ornate shapes and slatted doors, consider looking for a narrow kitchen cabinet that could easily be mistaken for a traditional furniture piece.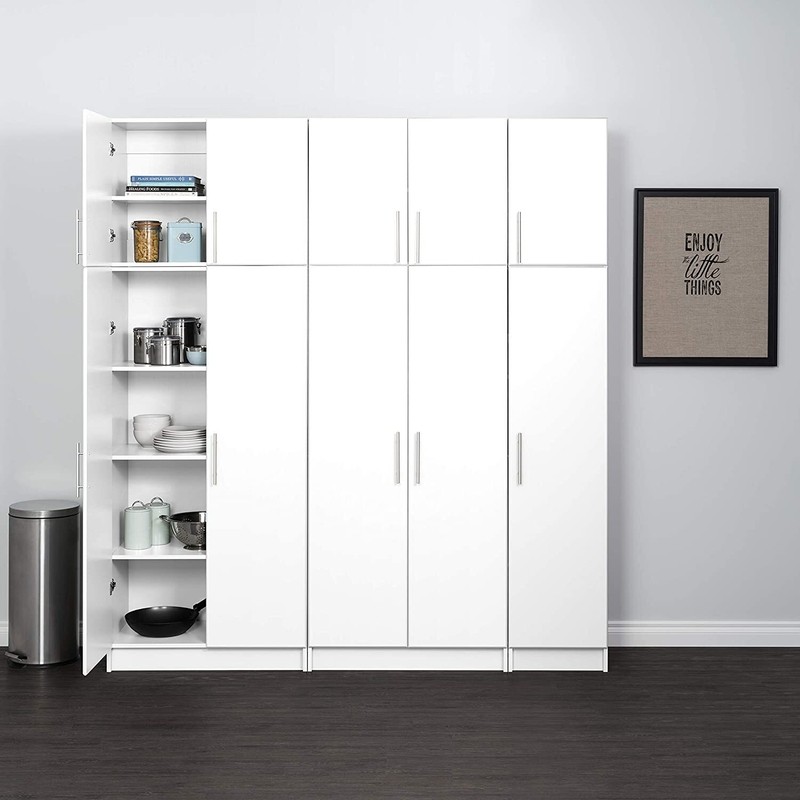 Slim pantry cupboard to match the rest of your kitchen

Unless you're planning on placing your thin pantry cabinet on the opposite side of your kitchen, it wouldn't be a bad idea to match it with the rest of your cupboards and furniture.
Just look for the exact same color or a similar design and details like these matching handles.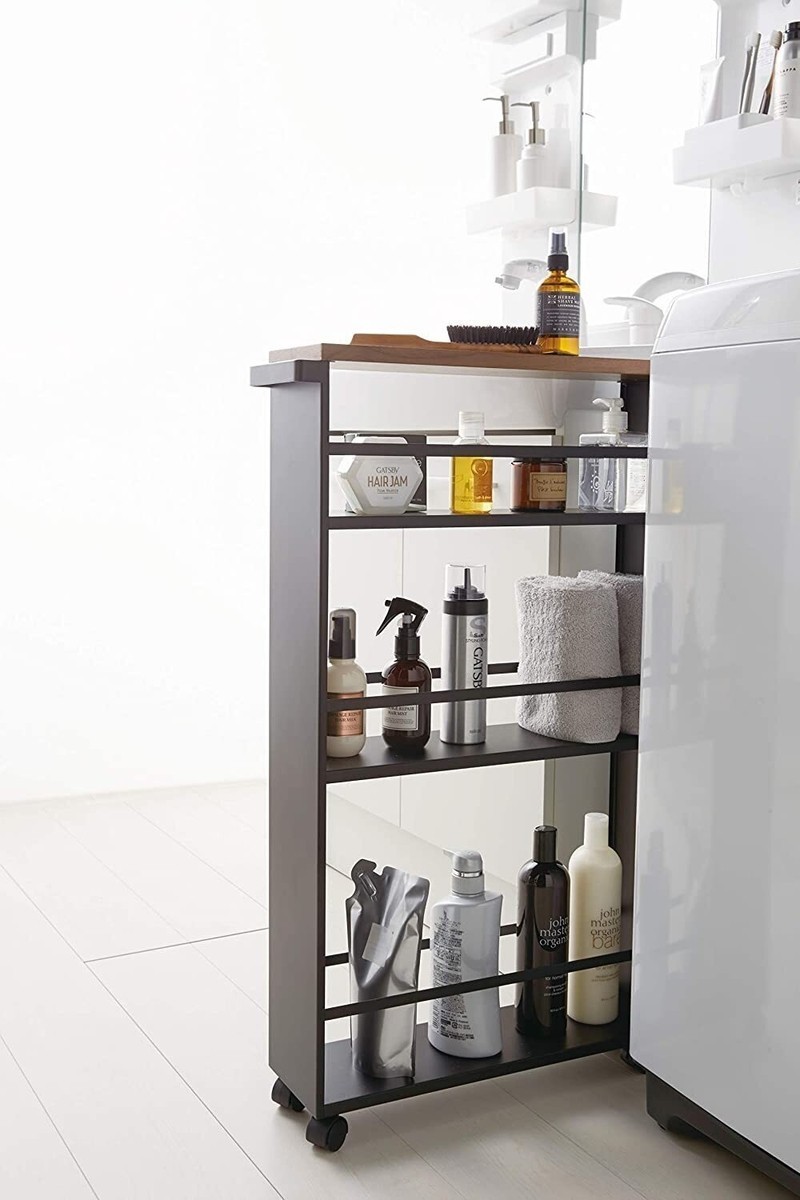 Narrow cabinet next to stove

Did you know that you could find deeper cabinets that are less than 6-inch wide?
This magical trick will allow you to utilize that wasted space in between your stove and another piece of furniture.
By choosing a cart-style cabinet with wheels, you can keep your less glamorous items out of sight but always at hand.
$120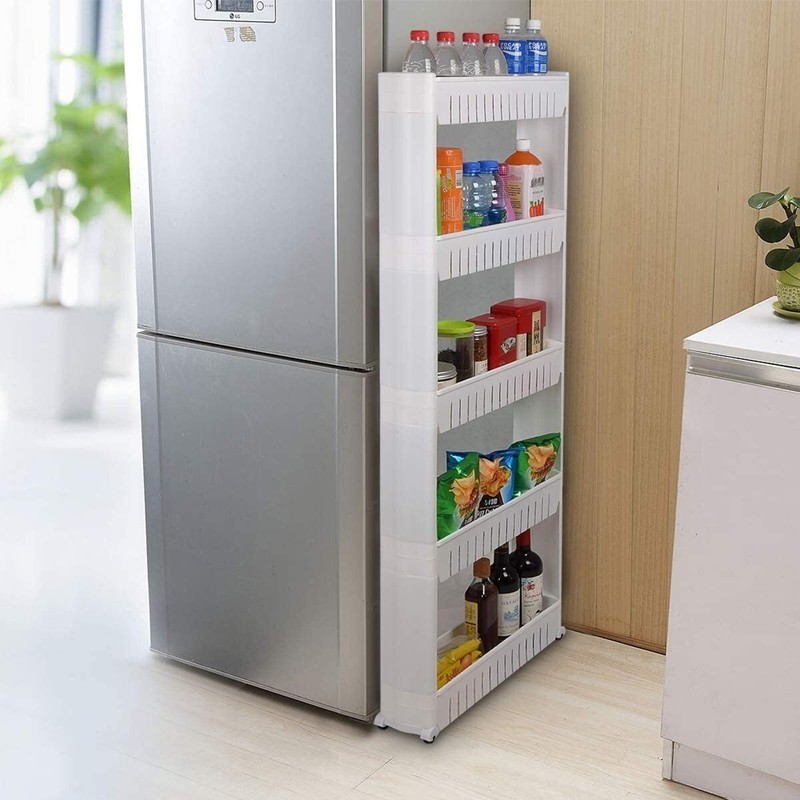 Extremely narrow pull out cabinet in a taller design

Another way of turning that tiny space in between two pieces of furniture into a pantry is to opt for a taller but extremely narrow design. How about one that's under 5 inches in width?
This solution is a gamechanger in modern flats where space is often a hair-pulling problem, and it'll allow you to store a mixture of smaller and taller items, from spices to bottles.
$37.99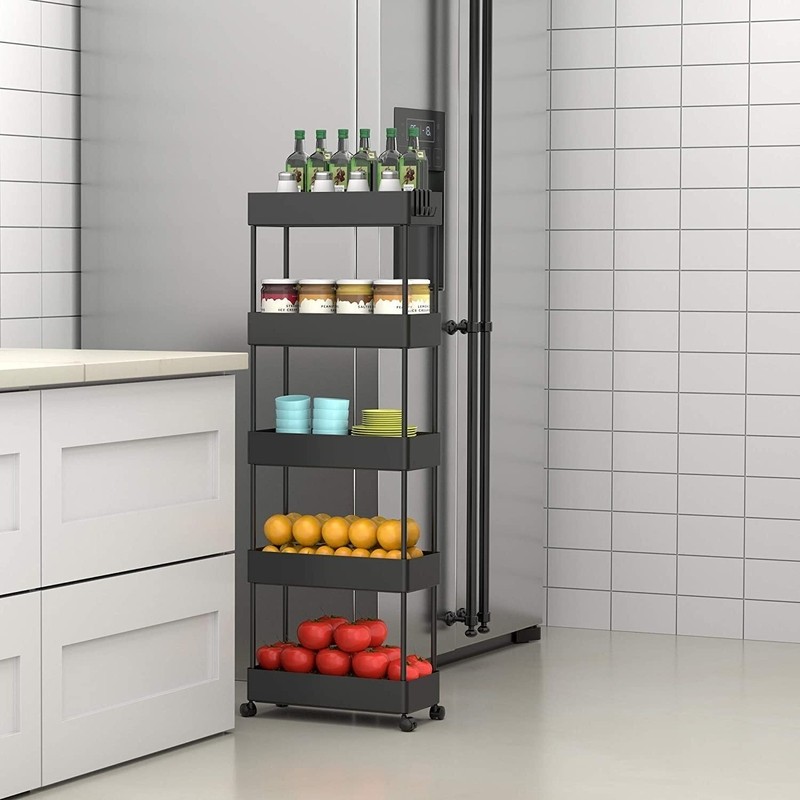 Slim kitchen storage cart style cabinet

This just over 8-inch-wide cabinet with wheels is a flexible, less permanent solution that we especially recommend if you're currently renting.
It'll be a breeze to take it away when you next move and find a new corner for it.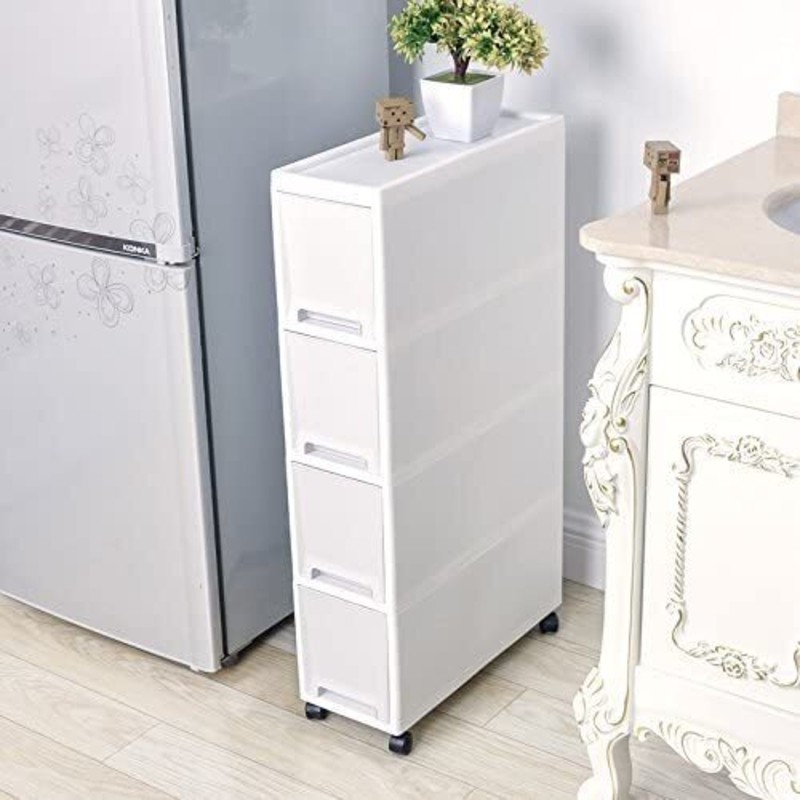 Less than 8 inch wide cabinet with drawers

8-inch-wide cabinets (or even thinner!) will fit virtually anywhere in your kitchen.
While traditional open shelves or cupboards are still popular options, keep in mind that drawers are the most practical storage solution to optimize a slimmer but deeper cabinet.
OUR ADVICE Questions & Answers
I never had a pantry cabinet before… is it worth it?
Certainly! Pantry cabinets are true lifesavers, especially for the owners of small kitchens. That's because of the sizes in which our utensils and kitchen ingredients usually come – bottles, jars and cans are similar in shape, and cabinet pantries are designed to store them in the most efficient way.

What are the main differences between walk-in pantries and cabinet pantries?
While walk-in pantries are bigger and more spacious, they are not always better. Cabinet pantries are more centralized, provide very accessible storage which is always within the reach of your hand and they don't take up much space at all.

What is the usual size of a pantry cabinet?
Cabinet pantries usually measure between 12 and 36 inches width, between 84 and 96 inches height and between 12 and 24 depth, which makes them an excellent storage solution for small and medium-size kitchens. Larger kitchens would probably be better off with a walk-in pantry.

Still can't decide how big my cabinet pantry should be…
Generally, 96 inches high pantry cabinets touch the ceiling, while 84 inches tall cabinets should give you about one foot of free space above. When it comes to depth, 12 inches is used for those without the pull-out function, and 24 inches for pull-out pantries. Finally, 12 inches of width is pretty standard, while 24 inches can be called spacious. 36 inches wide pantry cabinets are the big, heavy-duty ones.

Does a pantry cabinet stand out from the rest of the design?
Not at all! A cabinet pantry can have exactly the same type of front as the rest of your cabinets. However, if you would like to make it stand out on purpose, as a design statement, that's possible – some of them even have chalkboards instead of fronts!