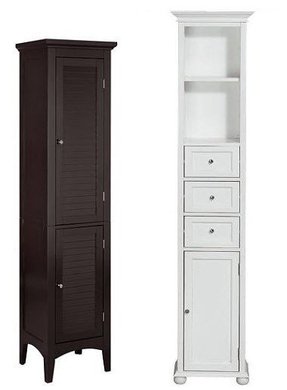 Storage cabinet with a narrow construction suitable for bathroom indoors. These cabinets are made of wood and they include practical compartments and storage drawers. They are finished in dark brown and white colors.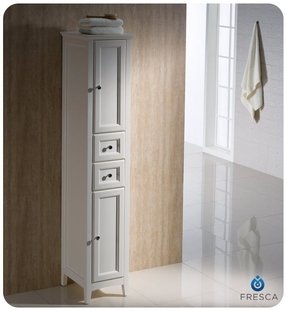 Oxford 14" x 68" Bathroom Linen Cabinet
Bathroom cabinet with four inner shelves and featuring traditional design. The shelves are hidden behind two doors. The furniture is made of solid wood, a durable and solid material which should last for years.
High cabinet with antique finish. It is completely made of wood. It consists of cabinet and a lot of drawers in various sizes. Suitable for storing clothes and other necessities. Neutral design for all kinds of interior.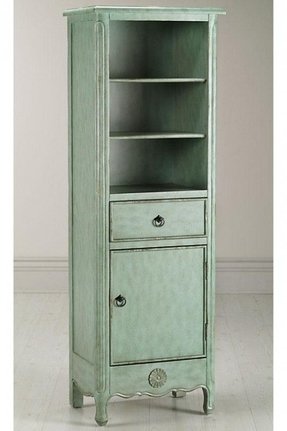 This tasteful cabinet is a subtle combination of functionality and attractive color scheme. Numerous shelves, a drawer and a cabinet based on small legs, charm with the details of the decor and handles. Perfect for the bathroom.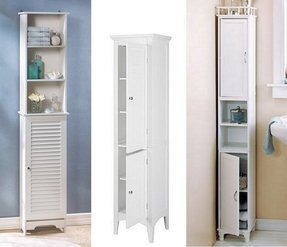 These narrow bathroom cabinets constitute an ideal place for one's linens or towels. SImplistic design of this tall armoires conceals a considerable storage space, divided between 5 or more tiers.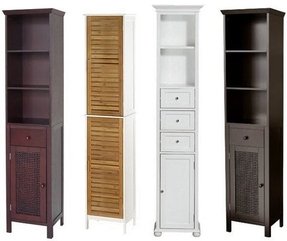 Durable and narrow wooden cabinets with different colors and stylizations. They provide storage space in their compartments, drawers and shelves. Neutral colors look very interesting in any type of home design.
15.75" x 65" Free Standing Linen Cabinet
Solid kiln-dried hardwood construction with a twelve-step, hand-glazed coating. This tall linen cabinet represents quality craftsmanship with an equally impressive look. Its louvred front door conceals 4 storage drawers.

High cabinet made of wood and fitted with glass doors. It includes 2 cabinets and drawer for storing cosmetics, towels, toiletries and more. Received positive recommendations from customers.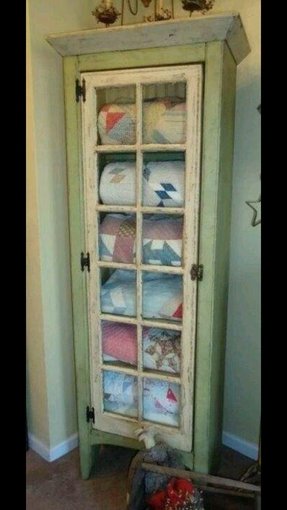 A great embellishment for country decor. This tall and narrow cabinet is capacious and space-saving at the same time, offering you much free space to store your linen that's going to be properly secured by a glass panel door.

Linear Tall Storage Cabinet
Tall narrow cabinet which play its role the best especially in bathroom. Due to its simplicity it will be fit to every style of your interior. It is made of blanched wood and have metal handles. Use to storage towels or bedding!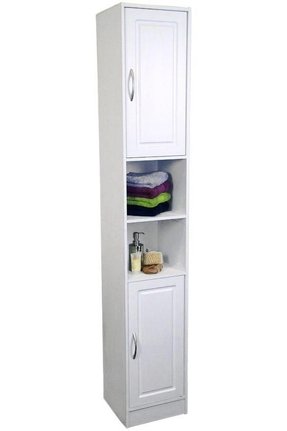 For everyone, who would love to decorate a small-spacious bathroom with fashionable and useful pieces, this linen cabinet would surely be a great solution. The cabinet offers 2 closed and 2 open storage compartments, able to accommodate many smaller necessities.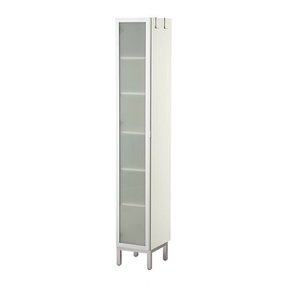 Constructed of aluminum, this high cabinet features 1 door with a blurry panel, which hides 5 adjustable shelves. The whole is resting on a 4-legged, steel base. Measurements: Width: 11 3/4 " Depth: 15 " Height: 76 3/8 ".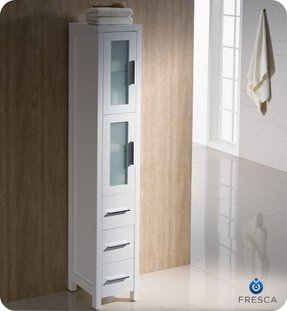 An Italian project, though devoid of the extravagance of Italian designers-a tall narrow linen cabinet with a simple but dignified form.Finished in white and its freshness is even included in the name "fresca".High-quality veneer blends in with frosted glass.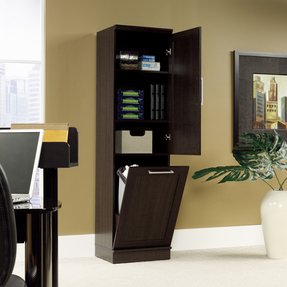 Narrow cabinet fitted with 2 adjustable shelves and trash can holder. Construction is made of wood. It can be used as laundry hamper. Functional furniture for each home. Received positive ratings from customers.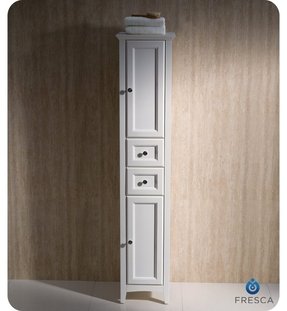 14" Fresca Oxford (FST2060AW) Tall Linen Side Cabinet - Antique White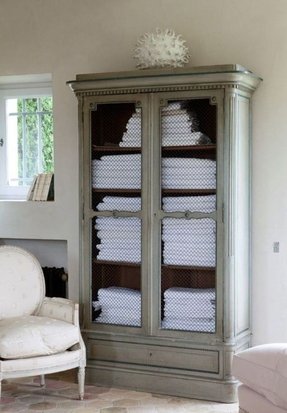 If you look for comfortable and elegant way to storage your bedding and towels, this old-fashioned wardrobe will be very good solution! This rustic cabinet is made of oak, carved wood and it is covered with grey paint.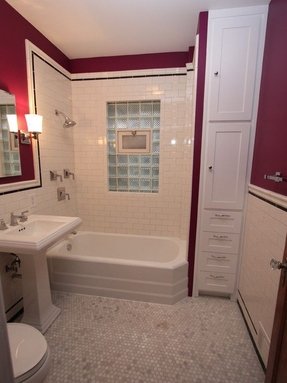 Chicago Bungalow Bathroom Near Montrose And California Craftsman Bathroom Chicago
If you have a small bathroom, this narrow storage unit is going to solve your problems with storing your necessities. Crafted of wood and bathed in a white finish, the unit offers 2 one-door cabinets, and 4 drawers with decorative pull handles.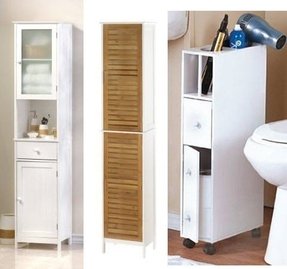 narrow bathroom cabinets pictured left lakeside tall storage cabinet ...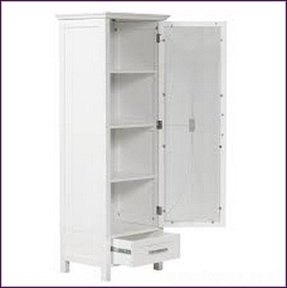 Tall Linen Cabinet For Bathroom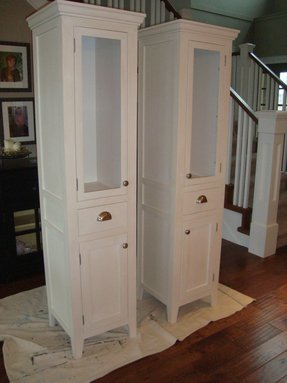 Found on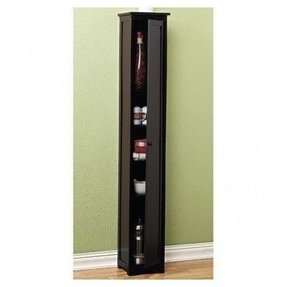 Opt for this tall and slim kitchen pantry that will add some new space for you to storage your dinnerware or collective items. It sports the double functionality of a linen organizer and will fit every corner of your home.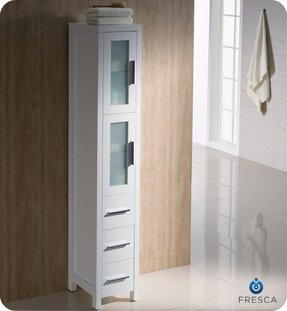 This amazing linen cabinet will finally make for the perfect place to actually store all of your towels with class and keep them at hand's reach at all times, while the simple design and white finish help creating a minimalistic look.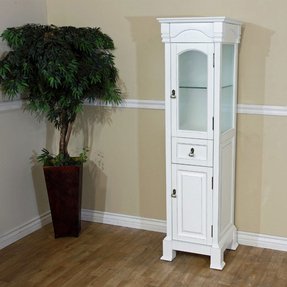 Kendall 18" x 65" Linen Cabinet
Cabinet made of MDF and particle board. It also has full extension ball bearing glides and semi-closing, water-proof finish. The storage space is is hidden behind two doors with hinges. Additionally, the cabinet's shelves are adjustable.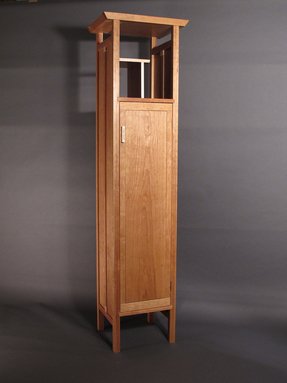 Tall Narrow Armoire Cabinet In Cherry
An elegant 1950's style cabinet of warm brown-finished wood. It has a narrow rectilinear body, straight legs, vertically split side panels, a top with down bevelled edges, an open shelf up. A door cabinet with a vertical pull hides fixed shelves.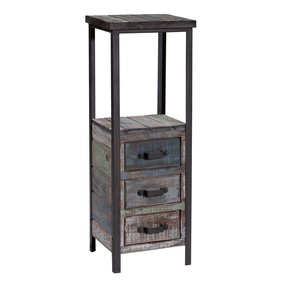 Soho 12" x 33" Linen Tower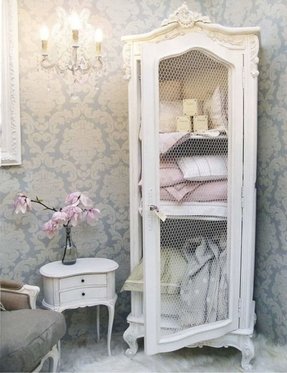 High cabinet made of wood and finished with carvings. It contains 3 shelves arranged vertically. Suitable for stroing clothes, beddings and other necessities. Classic form and elegant design for all kinds of interiors.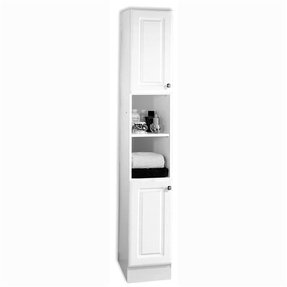 Linen Towers – Tall Narrow Linen Cabinets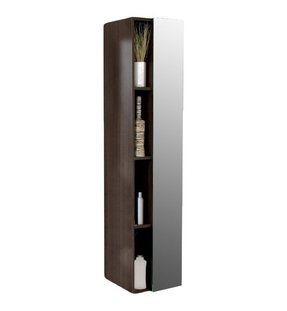 16" x 67" Bathroom Linen Cabinet
The tall linen cabinet for the bathroom is a stylish detail that allows you to accommodate all the little things toilet in your bathroom. Impressively it is made of sturdy and perfect for everyday use.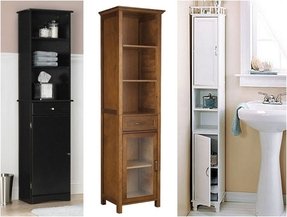 Why not choosing some of those stunning storage cabinets that come with the tall and slim design to fit neatly in your interior and will prove to be real space-savers. They add plenty of storage to your home and can fit in any room.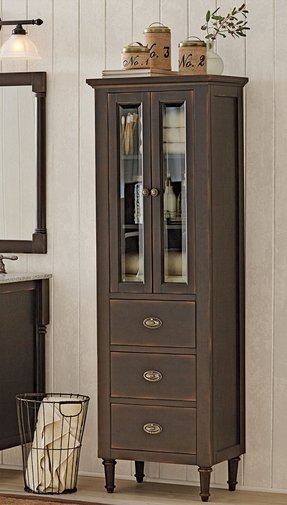 This narrow linen cabinet constitutes a convenient option for tiny bathrooms, where every inch of floor space counts. It will perfectly serve the role of a linen cabinet or bath accessories storage.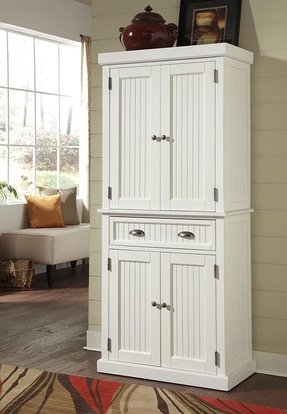 Tall White Wood Pantry Linen Cabinet Kitchen Bathroom Cupboard Storage ...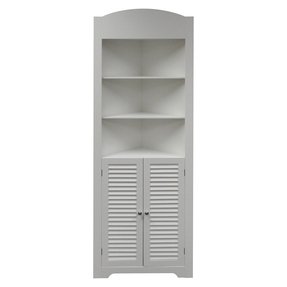 Riverridge Home Products Ellsworth Tall Corner Etagere With Three Open Shelves On Top
This type of product is a spacious tower that was created for storage purposes. It has got a neutral white color, so it looks very stylish in any decor. This contemporary element offers five shelves and two doors.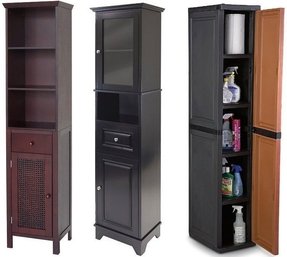 ... Tall Cabinet with Glass Door and Drawer / Right: Keter Slim Storage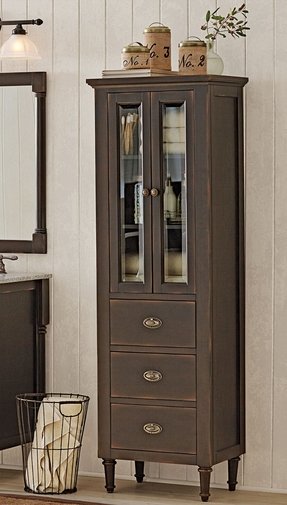 Tall cabinet for all kinds of interiors according to taste and need. Frame is made of wood with antique finish. It consists of 3 drawers and cabinet with double glass doors. Classic form and elegant style.

Presented here tall narrow linen cabinet looks simple and distinguish but most of all - it presents real natural shades of a solid wood. Two parts - upper and lower cabinets are spacious and perfect to storage some beddings set or towels.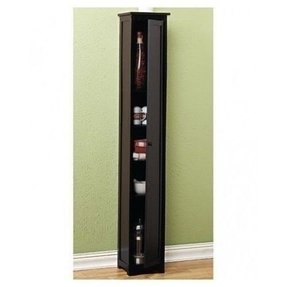 A stylish, yet exquisitely tall and narrow cabinet, which will be an adorable accent in almost any room. It can serve as a tower for linen, a pantry or a dinnerware cabinet, always providing a refined appeal with its glossy, dark wood.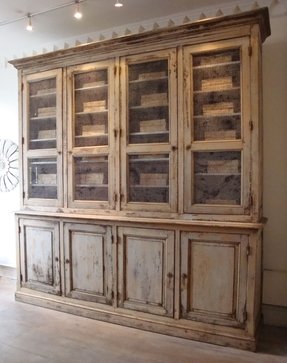 Rustic design for a vintage, 19th-century French linen cabinet with a coat of distressed white paint which gives it an austere detail. The cabinet has a plenty of shelves and cupboards and provides a lot of storage space.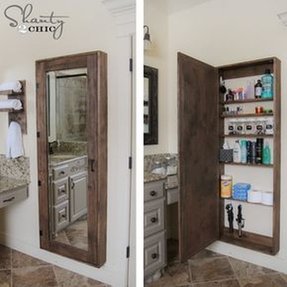 A beautiful linen storage cabinet for elegant bathrooms. Designed in modern style, the cabinet is combined with a tasteful sink, also offering plenty of storage space concealed behind a pair of doors with decorative pull-handles.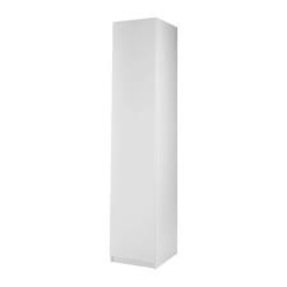 PAXWardrobe with 1 door, white, Ballstad white Ballstad white white 19 5/8x23 1/2x93 1/8 To make my own kitchen pantry?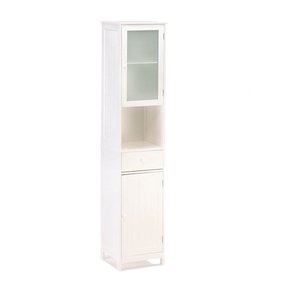 Wholesale Distributor Glass Creations, Vases, Hummingbirds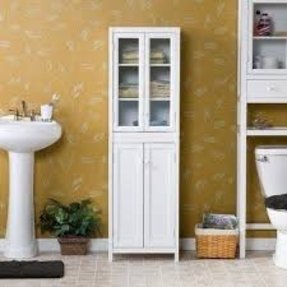 Wildon Home %ae Dryden Deluxe Storage Tower In White
Tall cabinet designed for bathroom. Construction is made of wood and fitted with double glass doors. Great for storing towels, cosmetics and more. Perfect solution for space saving in each home.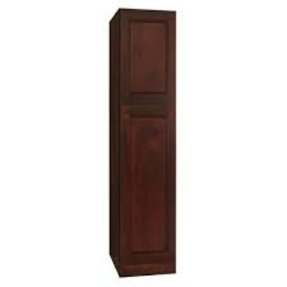 Coastal Collection LUC-1884 Vintage Tall Linen Cabinet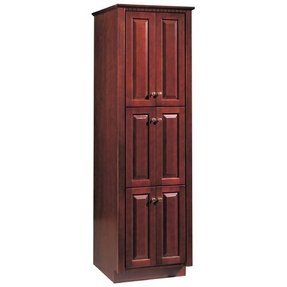 Travello 59.75" x 16.25" Freestanding Linen Tower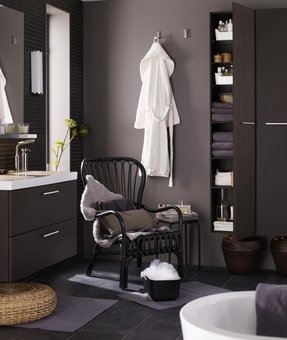 A comfy STORSELE chair in a stylish GODMORGON bathroom means you're always prepared for a few minutes of me-time.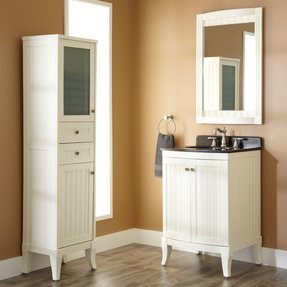 This tall narrow linen cabinet embodies well the contemporary trends in design. Fitting ideally into tiny spaces, it delights with its cottage appeal and considerable storage space.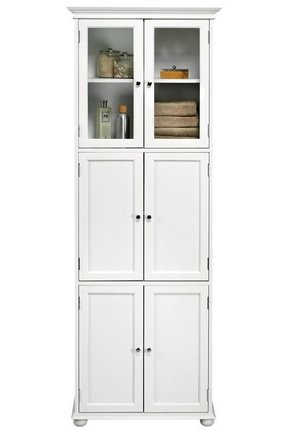 Hampton Bay 6-Door Tall Cabinet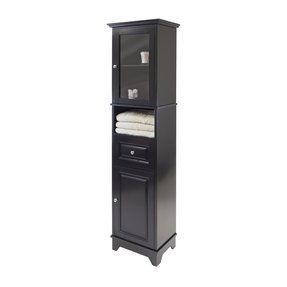 Tall, decorous storage cabinet with two doors; the top one has a glass insert. Besides, it offers a drawer and an open compartment for storage, which gives lots of organizing option even in a tight corner.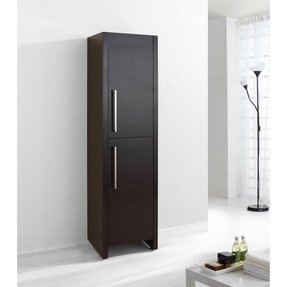 Delano 62.2" x 15.7" Freestanding Linen Cabinet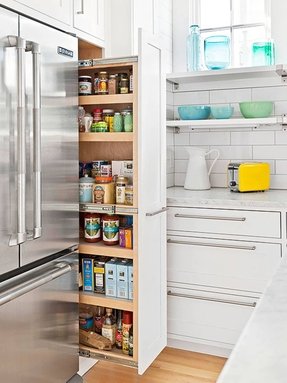 This coordinating cabinetry brings a crisp, modern look to this bathroom without sacrificing storage. The open vanity keeps the grooming space open and bright, while a tall shelving unit adds height and plenty of storage space for toiletries and linens.