Bathroom Tower Cabinets
Bathrooms can be tricky places to decorate. When staging your bathroom, you need to figure out ways to store lots of small, often personal objects, but you need to do so in an aesthetic way (after all, bathrooms are the places in our homes guests have the most time to observe in private!)
Vertical corner, floor, or wall-mounted cabinets take advantage of every inch of space in often-cramped bathrooms. Try one of these lovely ideas out, and you'll be surprised at just how stylish even your smallest bathroom can suddenly be!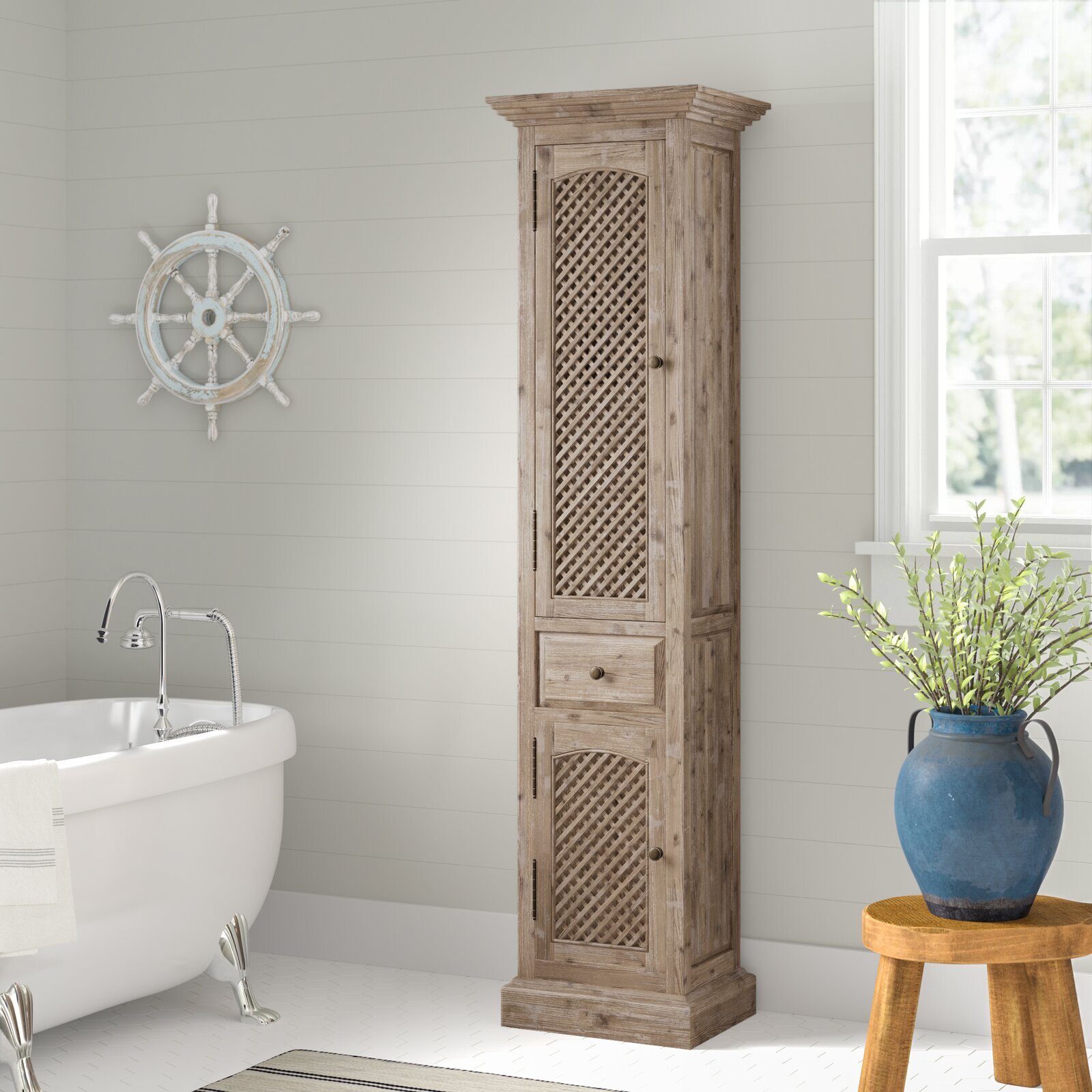 A rustic tower cabinet with lattice doors

You can add both visual interest, ventilation, and a little bit of privacy with a latticed door. This type of criss-crossed slatting looks beautiful and will help your linens dry more quickly—and it'll work nicely with a farmhouse-chic style.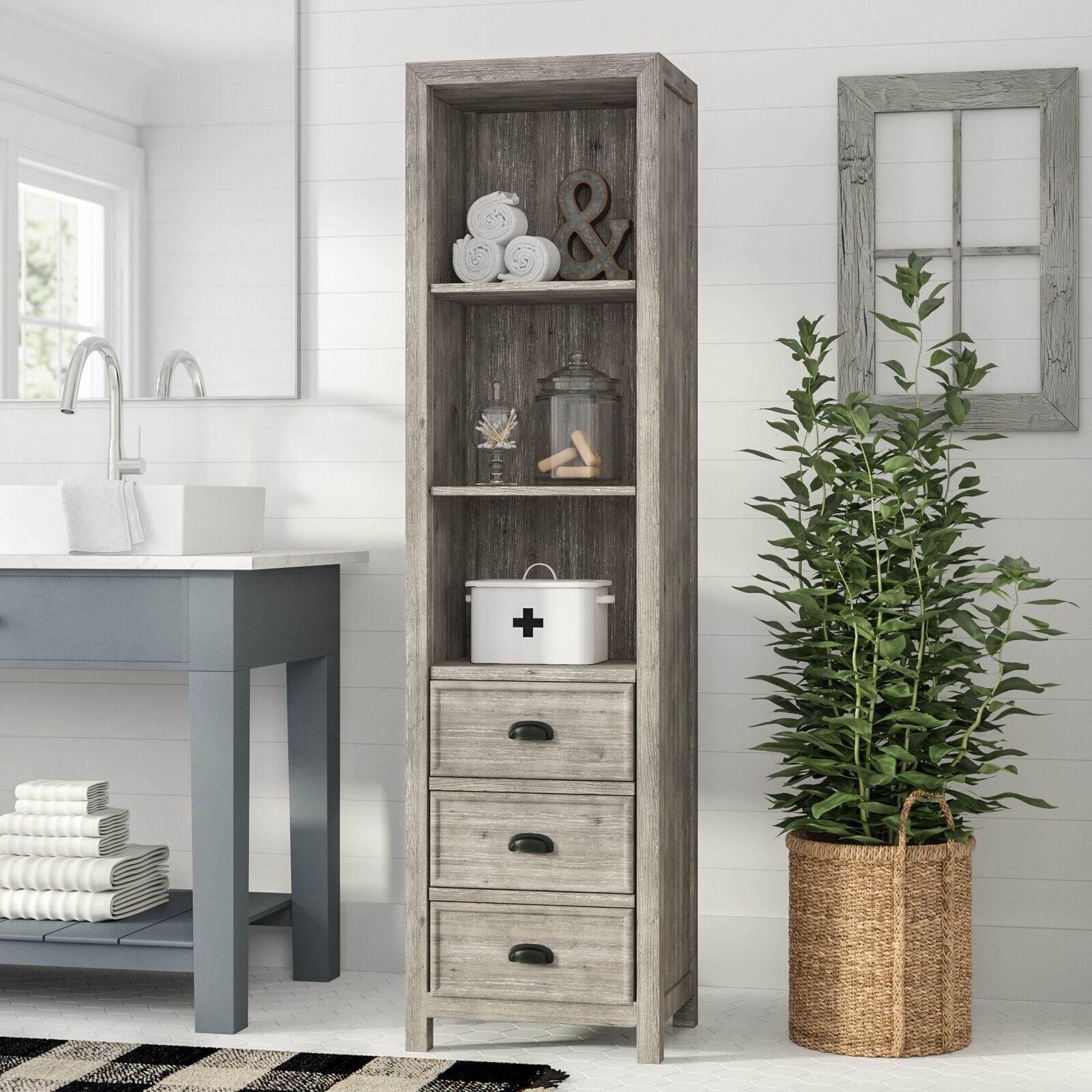 Open shelving and closed drawers: a versatile bathroom cabinet

Got things you want to see—and things you don't? Put some things behind closed doors, and keep your more aesthetic knickknacks out in the open.
Fortunately, with shelving that offers both options, you'll be able to display and hide your belongings as you wish.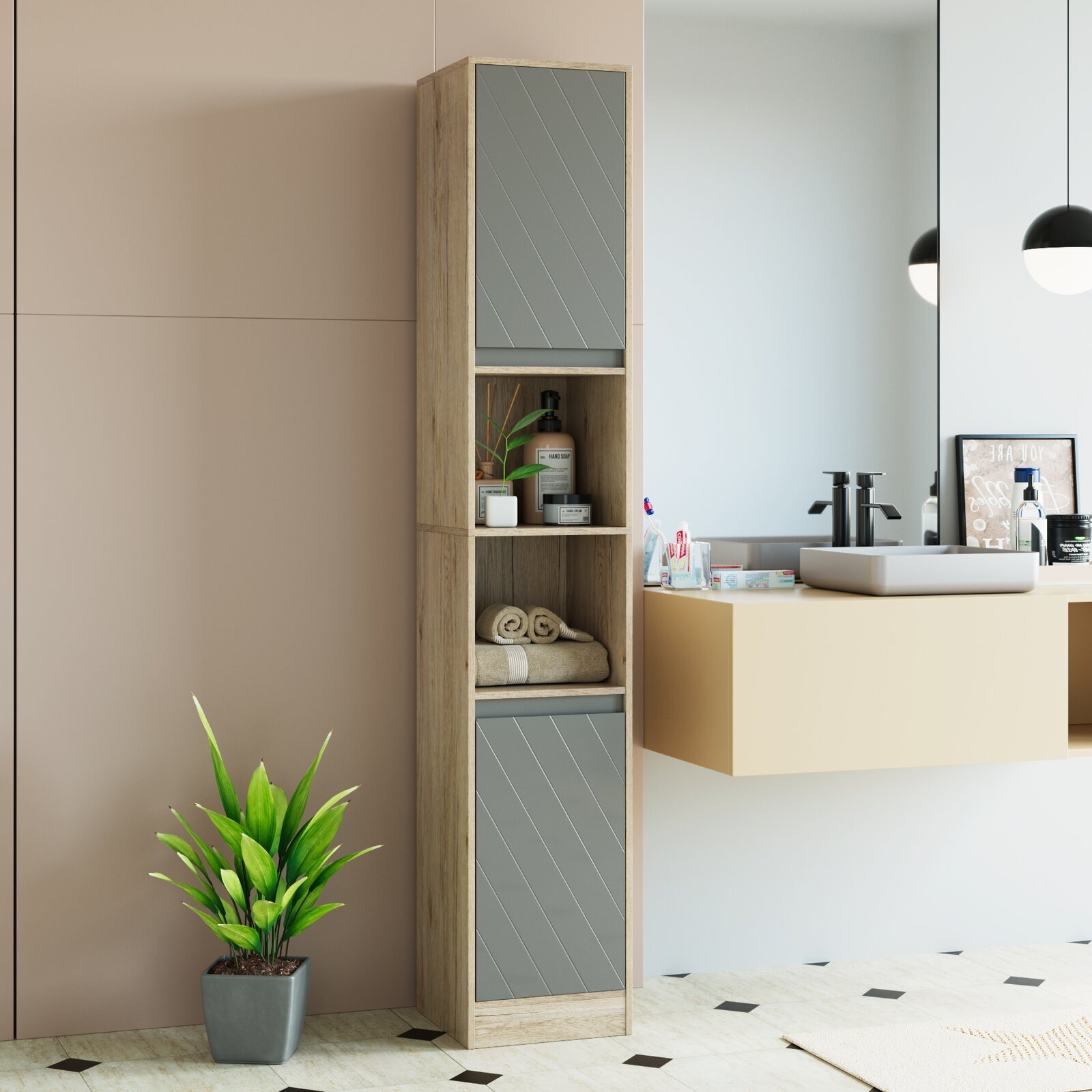 The modular tower cabinet with streamlined doors

If you're interested in a modern look, go for modular, box-like styling and two-toned coloring.
Muted blues, grays, and browns look lovely together and will allow you to shine the spotlight on non-storage furniture in your home!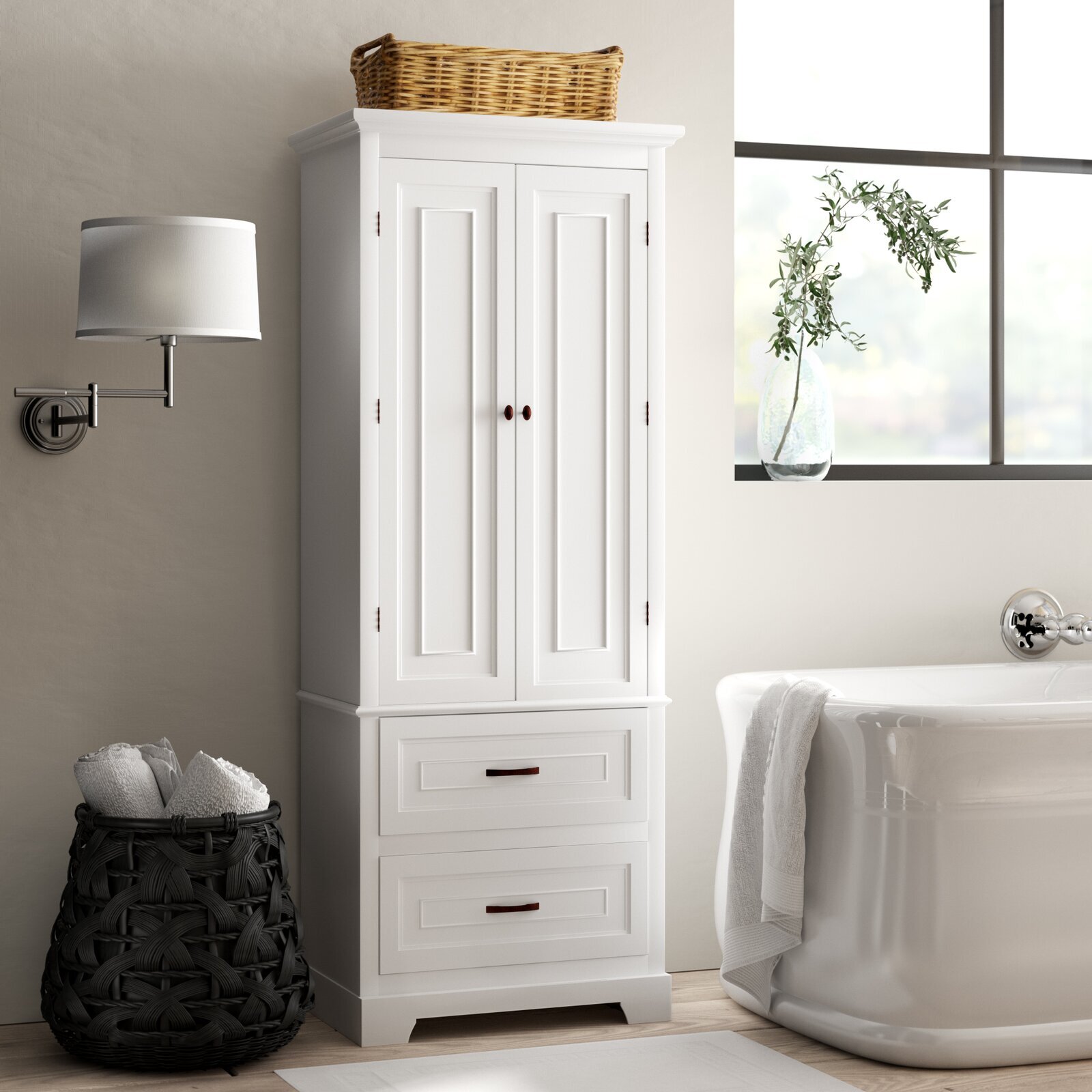 A larger tower cabinet for bathroom linens and more

Gorgeous white inset doors and textured surfaces make for a stately linen cabinet; and the slightly larger space is both practical and formal.
We also love it when a tower cabinet features both vertical door cabinets and horizontal drawers. If you've got the room, this type of cabinet looks great and allows for a lot of storage.
$335.99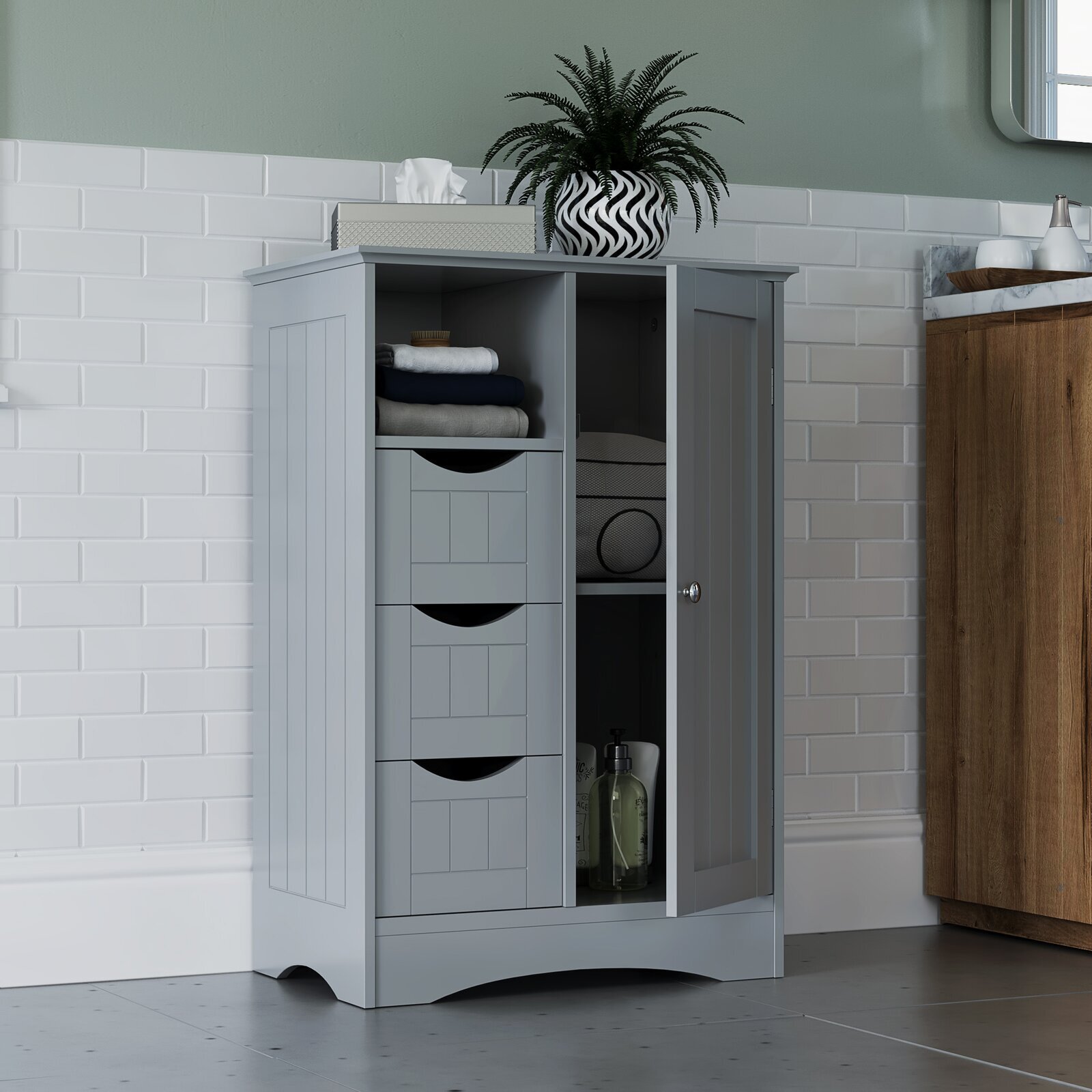 A shorter cabinet with drawers and tall shelving

You can still get a finished look with a neatly-framed, shiplapped cabinet that comes in a clean white or muted gray finish. Negative space handles make drawers easy to navigate, and the half-tower height makes for an extra work or display surface.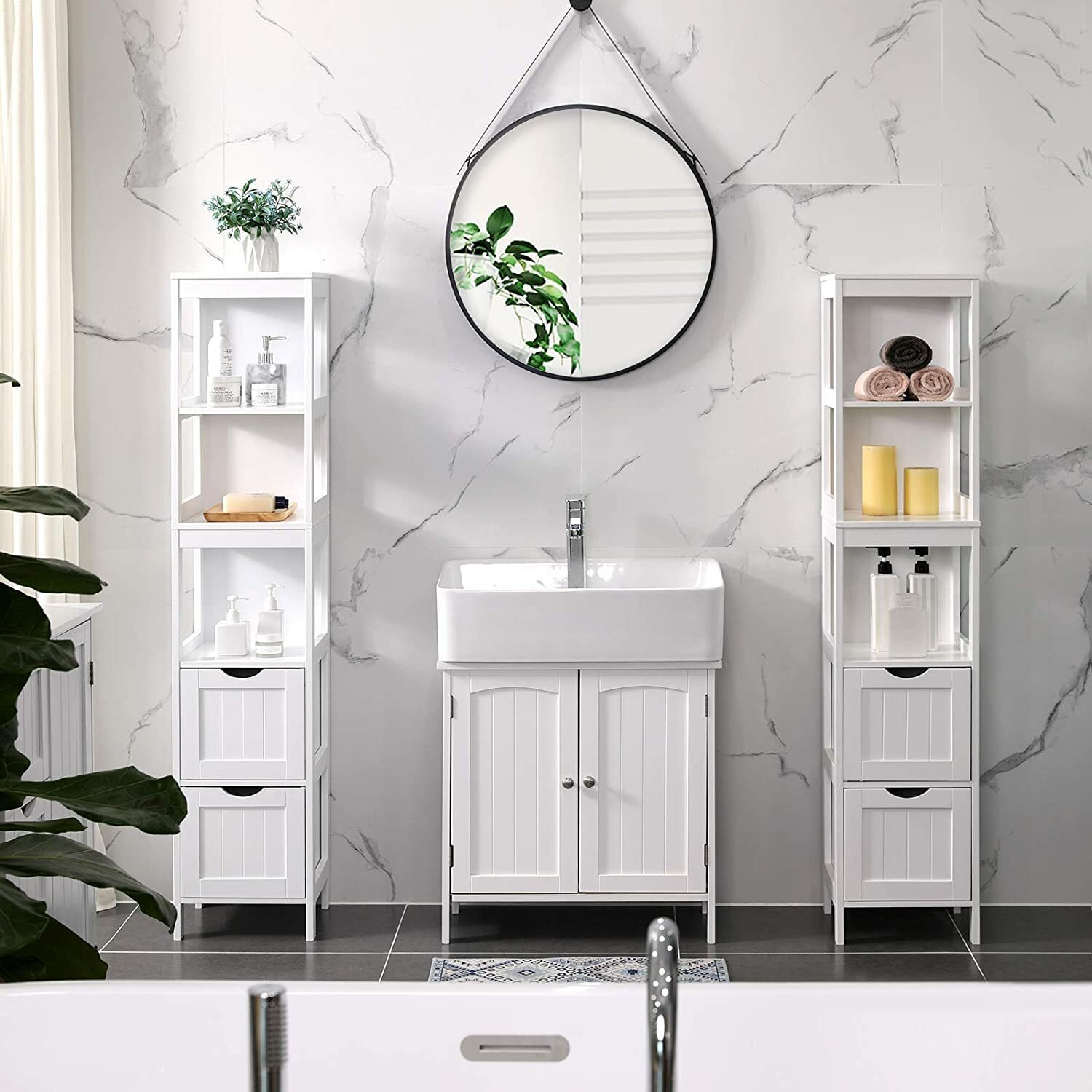 Open concept cabinets for modern shelving solutions

If you're a fan of clean lines and good design, put the structure of your shelf on display. This can allow you to display great wallpaper behind the shelf, frame your shelved objects for great visual effect, or just make your room feel lighter and airier without a lot of opaque, heavy furniture weighing it down.
$109.99 $117.99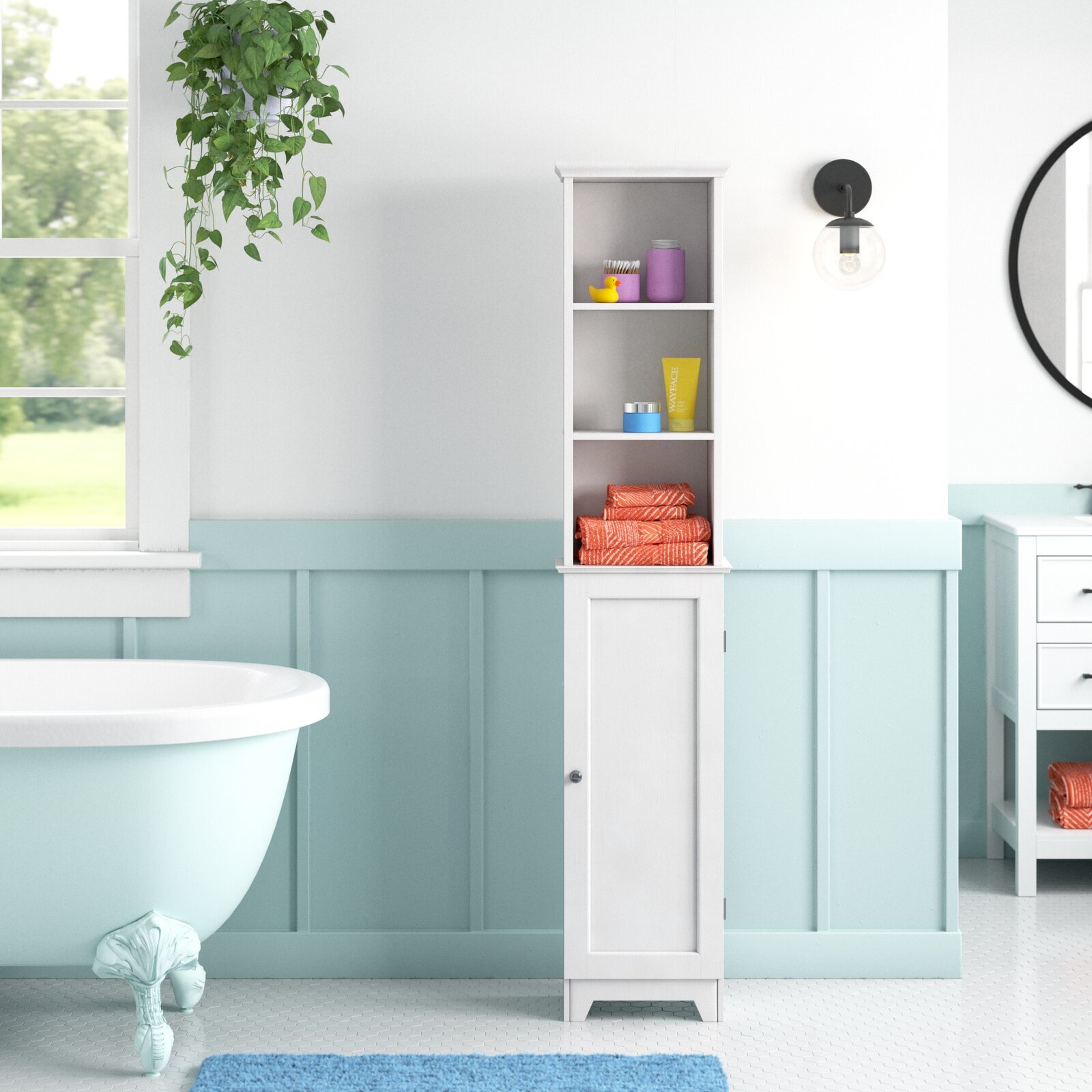 A sleek, slim cabinet for bathroom corners

If your bathroom's a smaller space, it's time to invest in a storage tower that's got a tiny footprint. Organizing your linens and bathroom accessories in a small cabinet will make your life easier—and, if you choose a cabinet with just the right dimensions, you'll find that you're using every inch of your home as wisely as can be.
$69.99 $119.99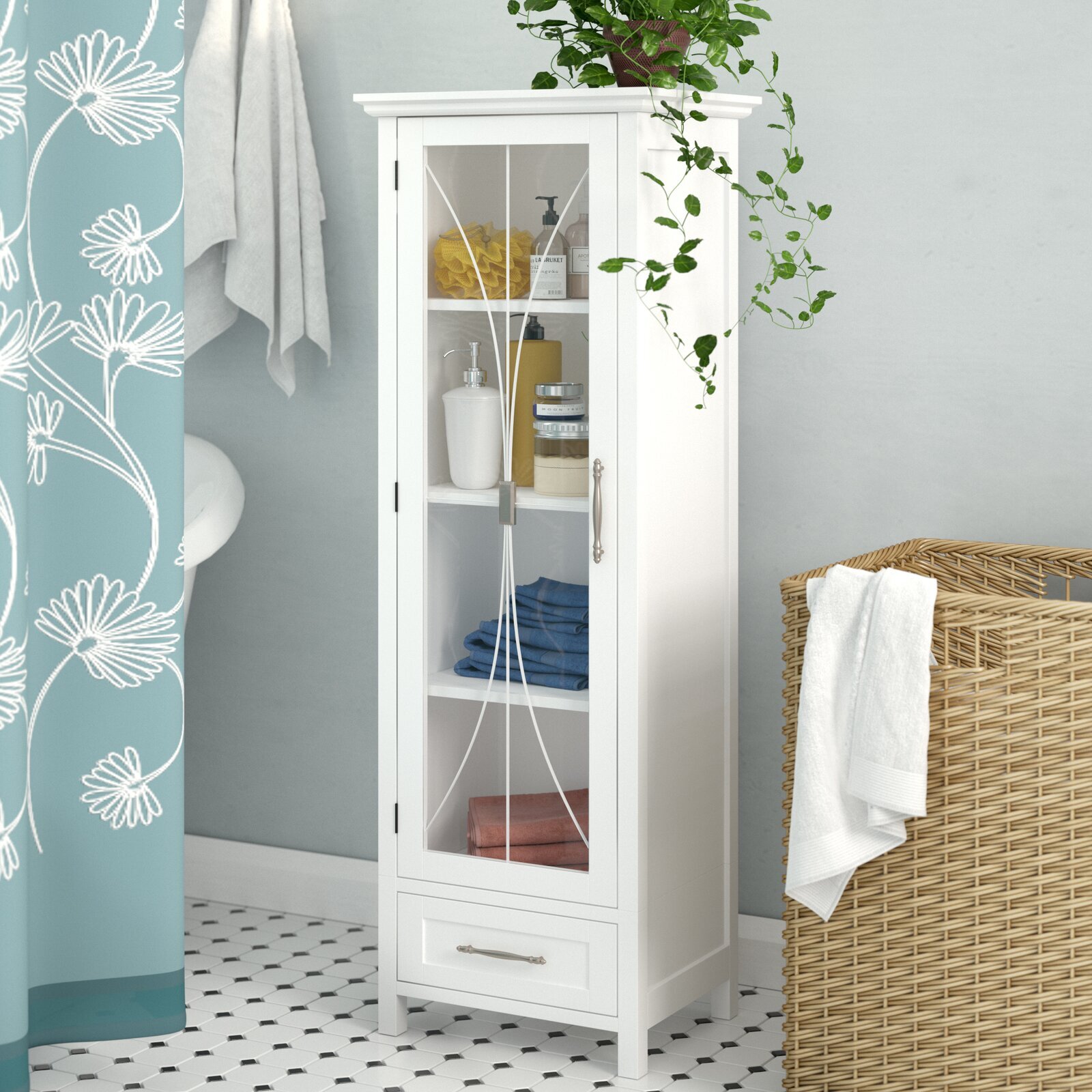 Beautiful glass doors on a bathroom tower cabinet

Imagine this: you don't want dust on your bathroom accessories or nice towels, but you do want to be able to see them at a glance.
That's where decorative glass doors work like a charm. Whether they're perfectly clear, frosted, or have designs on them, glass doors are practical and lovely…and they can make a bathroom look more expensive, too!
$159.99 $192.99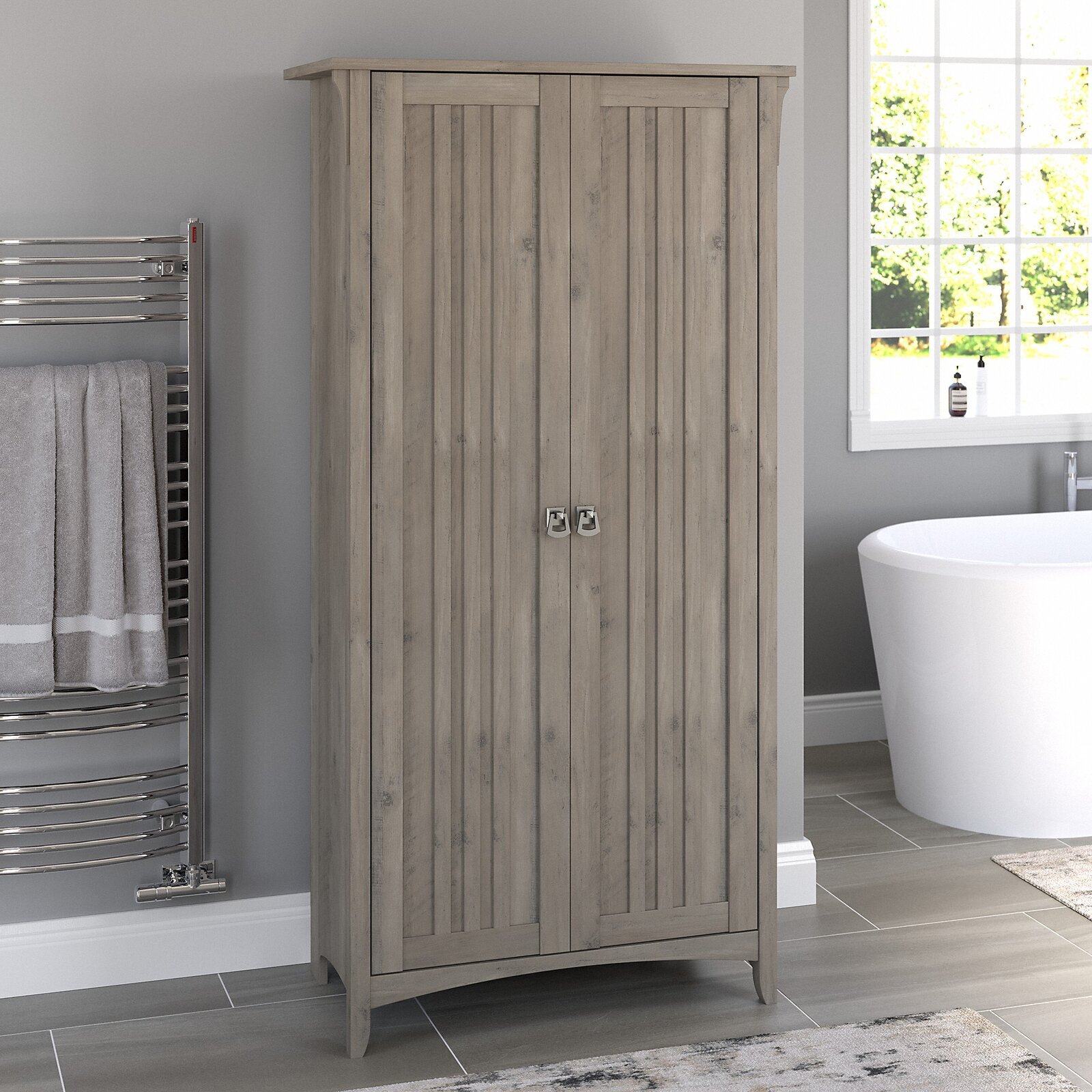 Modern farmhouse grey cabinet with tall tower doors

One door, top to bottom: if a more minimal cabinet that doesn't have multiple drawers to mess with is more your style, select a cabinet that offers one large enclosed storage space.
This also allows for more sweeping detailing on the front of the doors, which can result in gorgeously understated looks.
$279.99 $294.99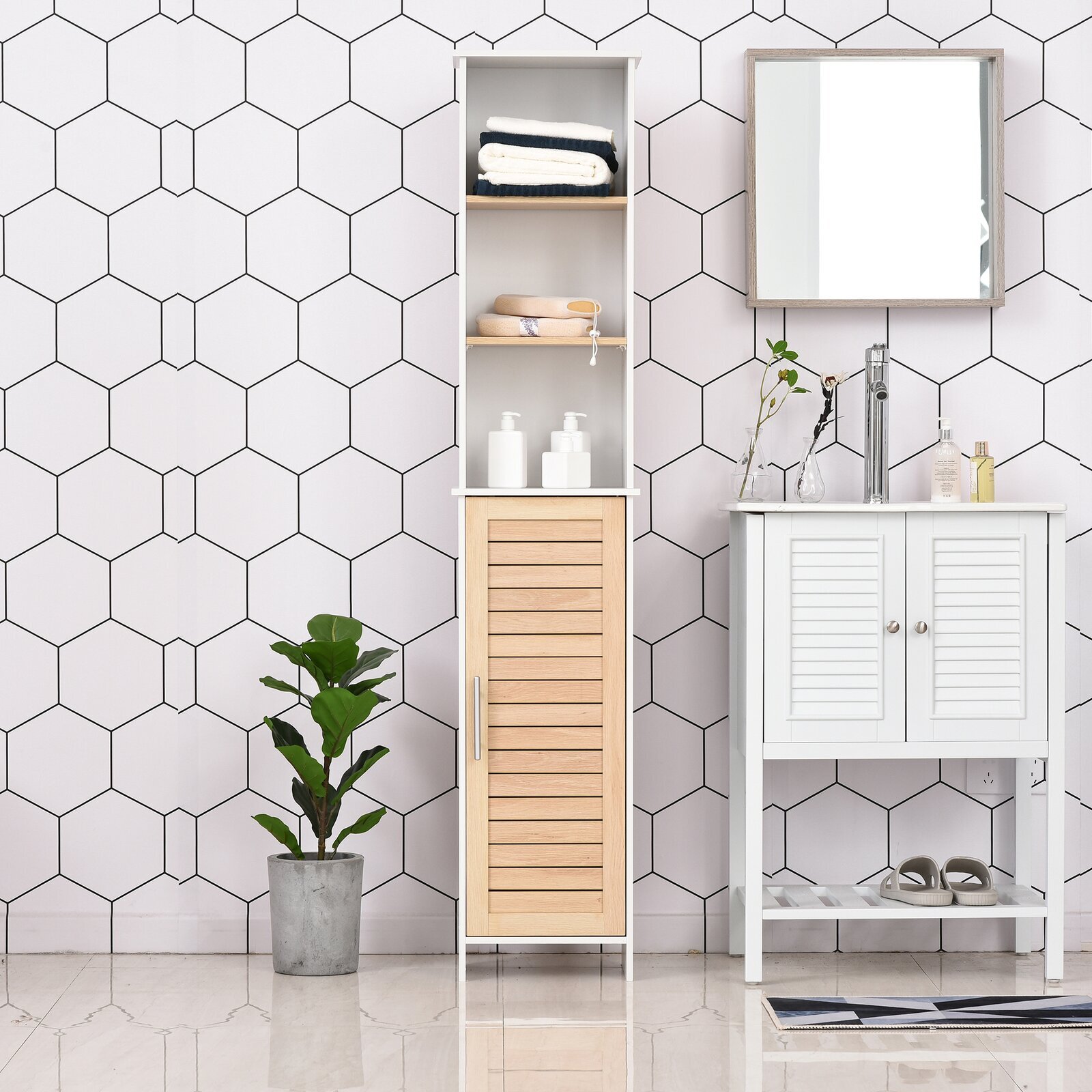 Horizontal pine slats out of natural wood for a minimal tower cabinet

If you're going for a more rustic, cabin-style look, head for minimal trends (simple lines and 90-degree corners) made out of slightly rough or unfinished wood. Wood in its natural state looks good with practically every color, and can look high-end and warm and cozy at the same time.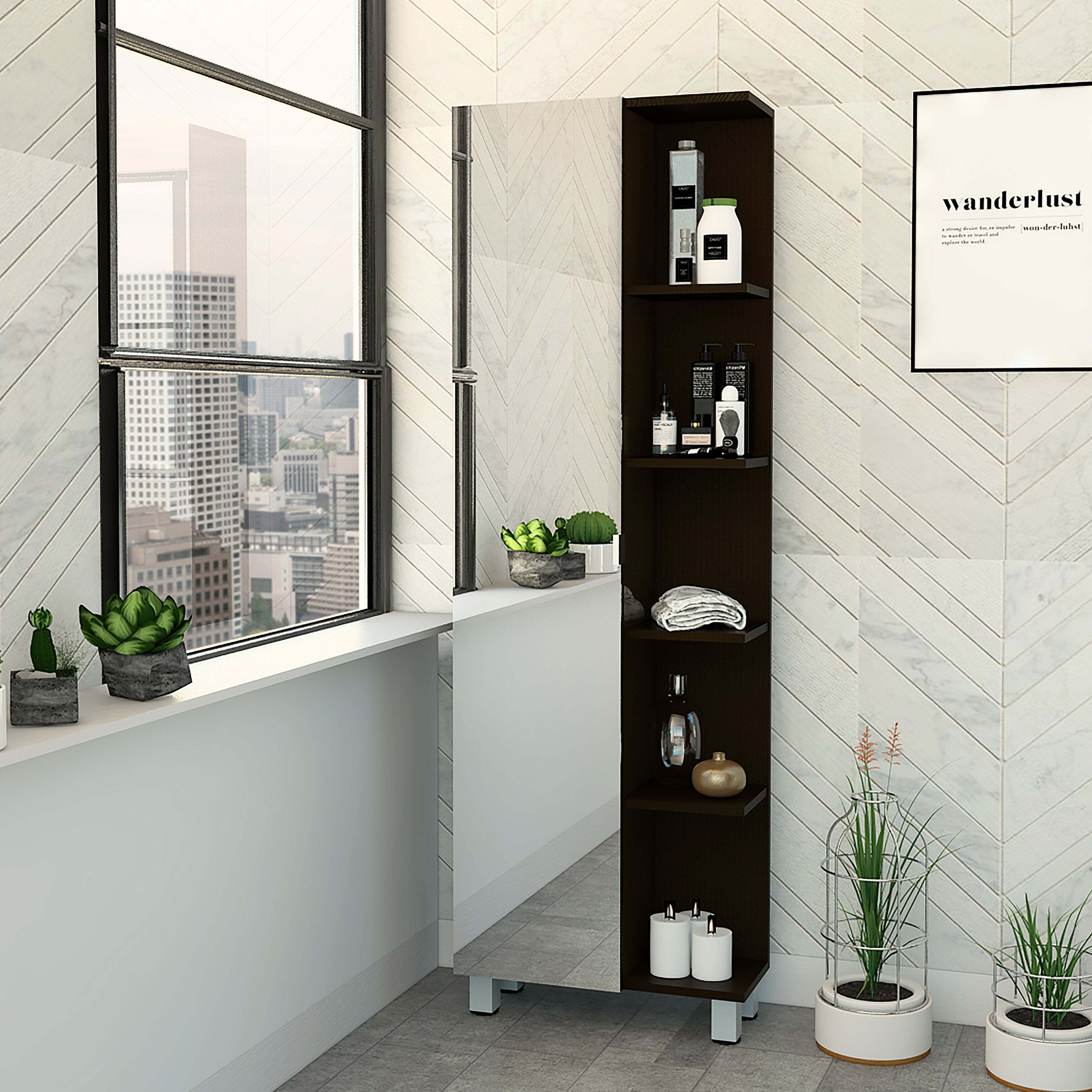 Half open, half closed bathroom cabinet

Selecting a bathroom cabinet with open shelves all the way up and down its height (as well as some closed storage) is a great family solution.
Why?
Your younger, shorter children will be able to have access to the lower shelves easily, and you can simply keep items you don't want them to use on higher shelves or in the closed half of the cabinet!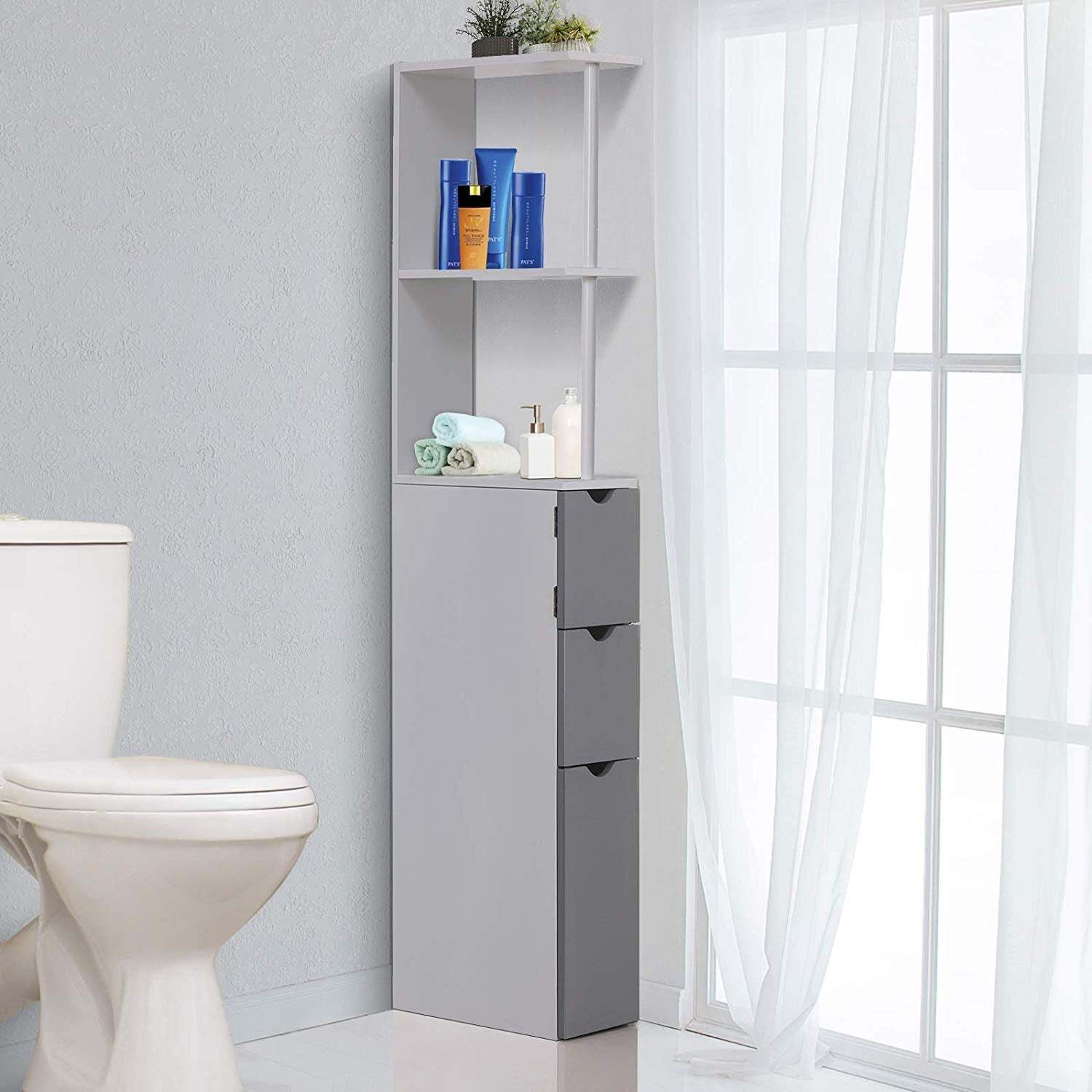 Gray gradient tower cabinet with side mounted drawers

If your bathroom is oddly-shaped or cramped—as many are!—you may not have the easily-accessible space to have a drawer that pulls out into the center of the room.
With drawers that slide along the wall horizontally (much like a slider door), you can have that all-important storage…without compromising the main space of the room.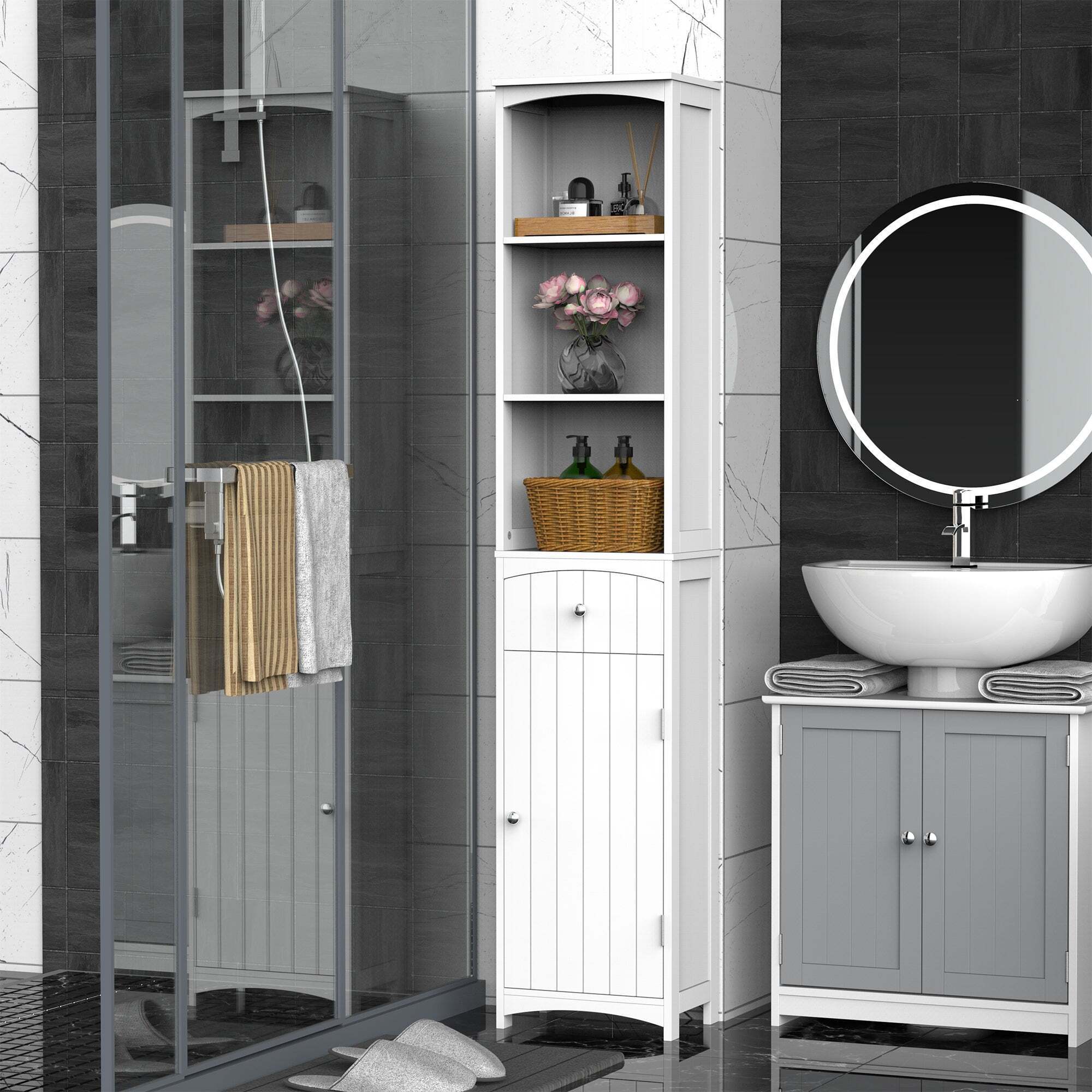 Farmhouse panel cabinet for bathroom corners

Looking to bring soft curves into your bathroom? With a tower cabinet that has gentle arches at the top of its cabinet and shelf areas, you can balance out the hard lines featured in most homes. Go for panelling, too, if you want to enhance your home's farmhouse aesthetic.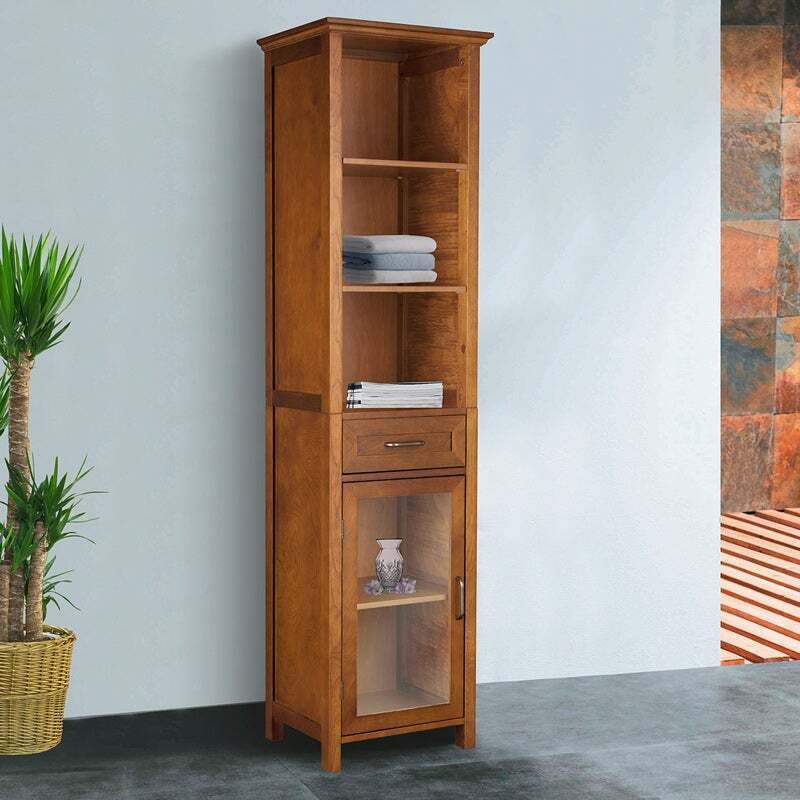 Elegant hardwood cabinet for formal bathroom decor

Simple and solid: real hardwood exudes a definite aura of wealth and luxury. Fill a natural hardwood bathroom cabinet with neatly-rolled linens and gorgeous self-care products and you'll feel like your bathroom is a spa every time you step into it!