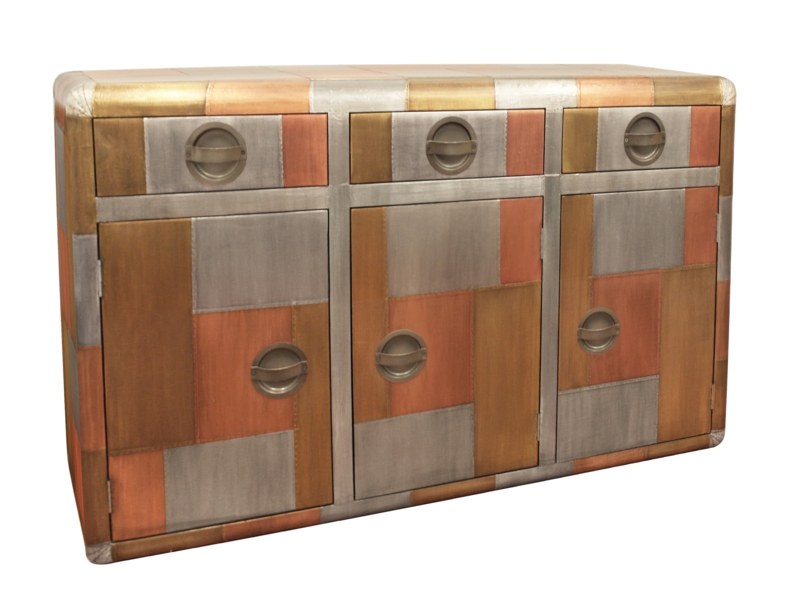 Aerodynamic Patchwork Art Piece
17 Stories
Perfect For: Aviation enthusiasts and eclectic interiors
What We Like: Uniquely designed by skilled artisans
Inspired by the golden age of aviation and the future of high-speed travel, this aerodynamic patchwork art piece features sleek metallic detailing that accentuates its streamlined design. Each piece in this collection is not only a standalone work of art but also harmoniously blends with other eclectic decor items for a truly captivating interior. Expertly crafted by skilled artisans, this art piece showcases a fascinating fusion of past and present through its creative design.
$1462 $1399.99
Designer Advice:
Pair it with other aviation-inspired elements, such as vintage propellers and stylized travel maps, to create a cohesive and memorable display in your living space.
Merchant links are sponsored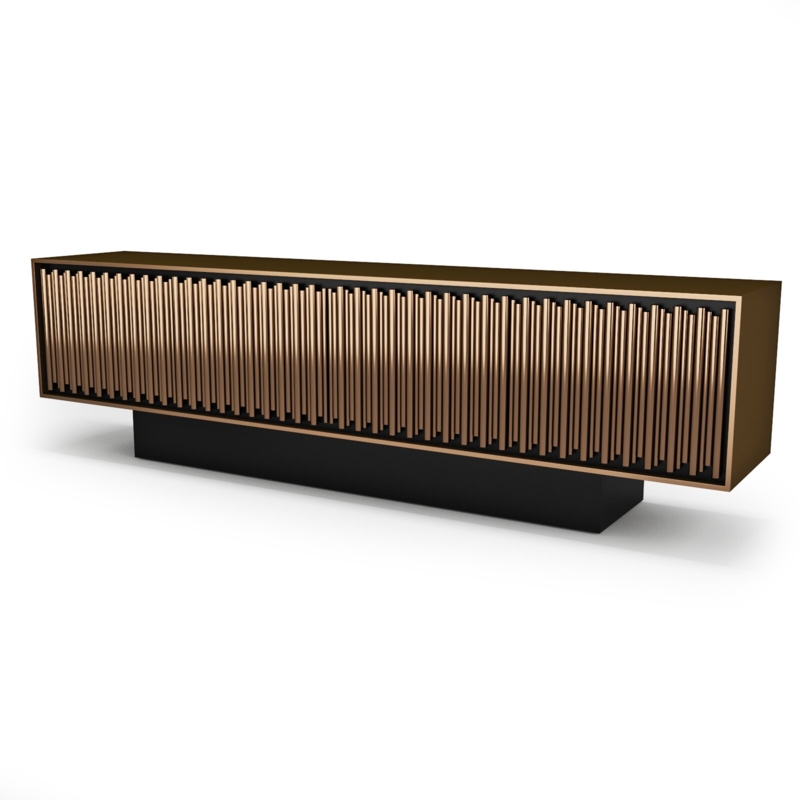 Luxury Handmade Furniture with Epoxy Resin
Arditi Collection
Perfect For: Those seeking unique and custom-made furniture for their home
What We Like: The versatility in design, size, and color options
Arditi Design delivers sophisticated and exclusive pieces of handmade furniture, crafted from the finest walnut and olive wood and paired with high-quality epoxy resin. This blend results in breathtaking, luxury furniture that caters to your personalized needs. Whether it's tables, buffets, TV units, doors, or decorative objects, Arditi Design can tailor-make any item in any color and size, ensuring a truly one-of-a-kind addition to your living space.
$16032 $17681
Designer Advice:
To make the most of these bespoke furniture pieces, choose a design that complements your home's color scheme and style. This will beautifully showcase the craftsmanship and elevate your interior to new heights.
Merchant links are sponsored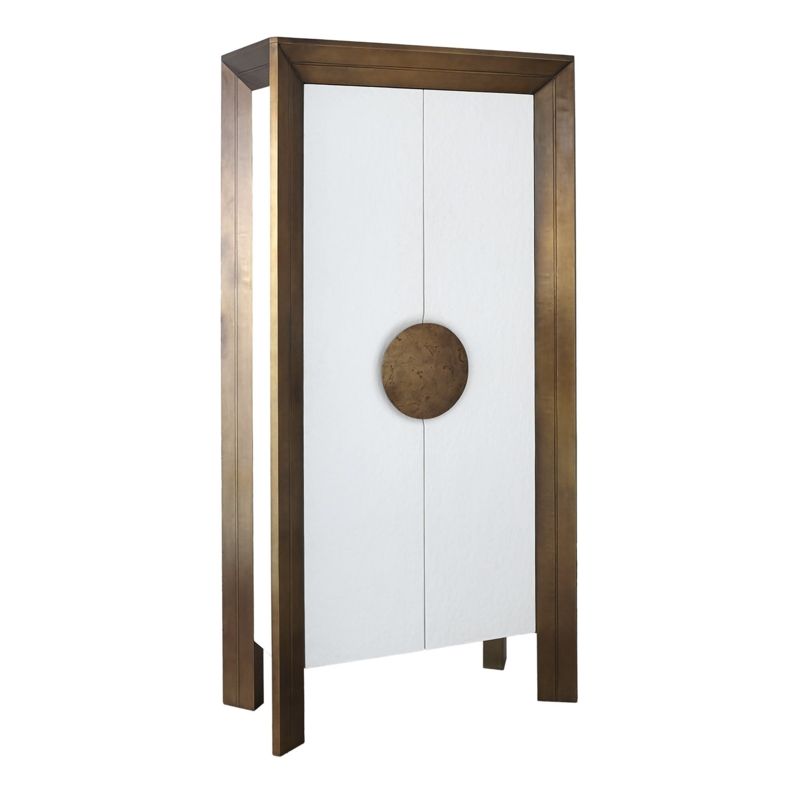 Framed Tall Cabinet with Marble Counter
Global Views
Perfect For: Enhancing sophisticated living rooms or dining spaces
What We Like: Elegant brass sheeting and resin panel design
This framed tall cabinet is a stunning combination of hardwood construction, brass sheeting, and cast resin panels. Lined in American white oak, it boasts a white marble counter and a brass media grommet. The cabinet features 2 adjustable shelves, 1 non-adjustable shelf, and adjustable nylon glides for easy movement. The glass shelves are tempered for added durability. This sophisticated piece elevates any space while providing excellent storage and display options.
$11748
Designer Advice:
To accentuate the cabinet's elegance, place decorative items or a stylish lamp on the marble counter. Opt for brass accents in the room to complement its exquisite design.
Merchant links are sponsored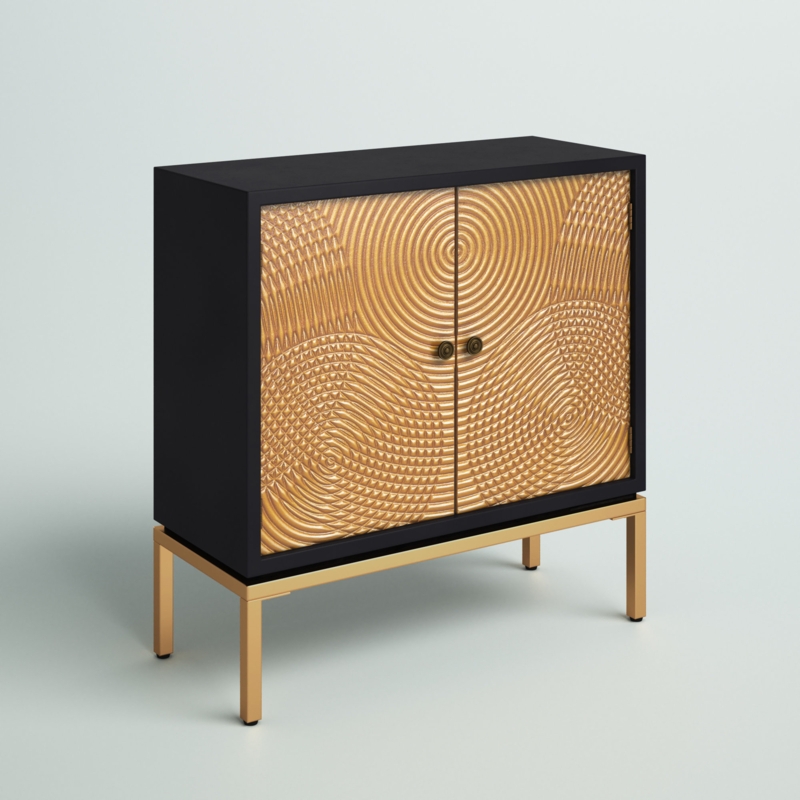 Two-Door Textured Accent Cabinet
Mercury Row®
Perfect For: Adding a touch of sophistication and modern flair in living rooms or bedrooms
What We Like: Unique circular patterns and a combination of metallic finishes
This two-door accent cabinet exudes contemporary elegance with its textured circular patterns and metallic gold finish. Constructed from a blend of solid and engineered wood, this cabinet features a two-toned bronze and black finish, supported by sleek gold legs with non-slip black foot protectors. The half-moon handles open to reveal ample storage for glasses, dishes, and books. Its 30" wide surface provides the perfect space to showcase decor items and fresh flowers.
$439.99 $609.5
Designer Advice:
To create a cohesive, modern space, pair this cabinet with other furniture pieces that feature similar metallic accents, such as a gold-framed mirror or a glass coffee table with gold legs.
Merchant links are sponsored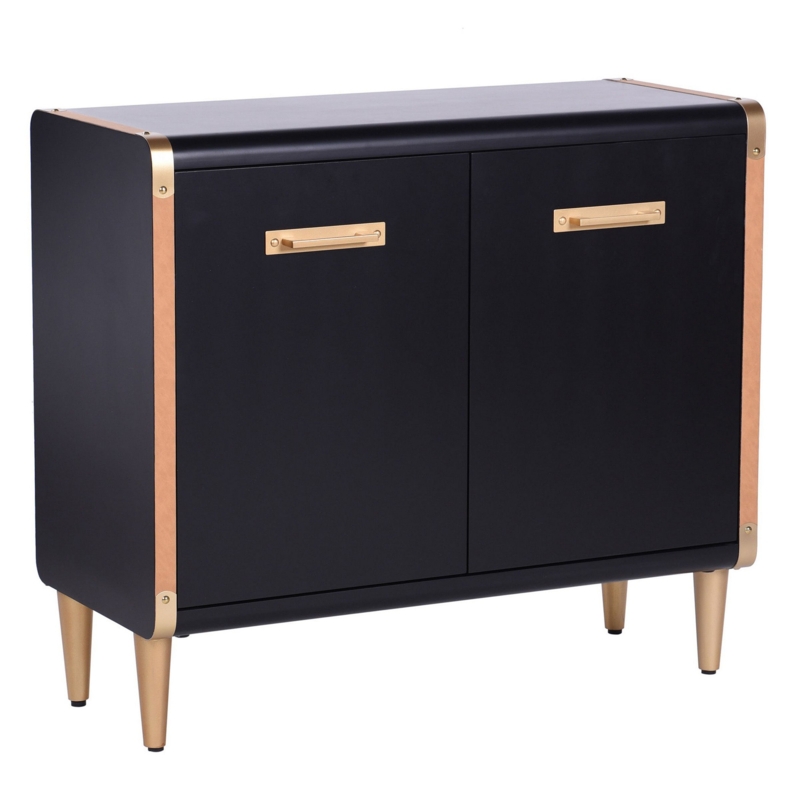 Trunk-Inspired Adjustable Cabinet
Latitude Run®
Perfect For: Versatile storage with industrial elegance
What We Like: Faux leather straps and gold hardware accents
This trunk-inspired cabinet showcases an exquisite marriage of elegance and industrial flair with its faux leather straps and rectangular gold hardware. Each piece, crafted through mass production, offers uniqueness in size, color, finish, and shape. The cabinet comes with one adjustable interior shelf, adapting effortlessly to your storage needs. Rounding out its stylish design are gold accents adorning every corner, seamlessly complementing the gold painted legs.
$679.99 $1049.99
Designer Advice:
Maximize the cabinet's striking appearance by placing it against a neutral-colored wall, and enhance the industrial appeal by incorporating metal and wood accessories nearby.
Merchant links are sponsored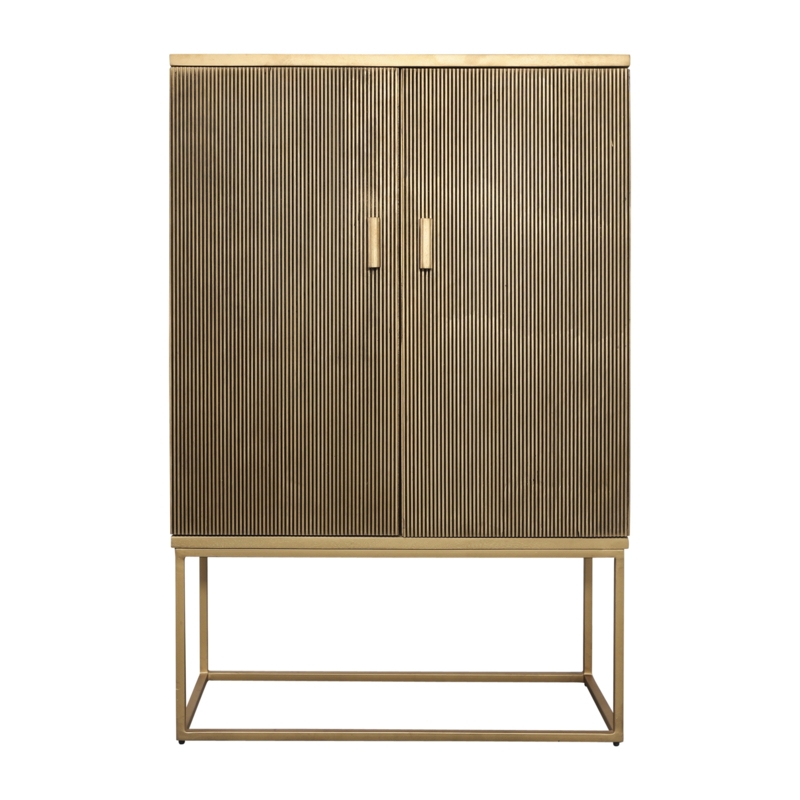 Mango Wood Console Table and Cabinet Set
Joss & Main
Perfect For: Enhancing corners, entryways, or tables in various rooms
What We Like: High-quality materials and versatility
Bring a touch of sophistication to your living room, bedroom, or office with this mango wood console table and cabinet set. Crafted from the finest mango wood, each piece serves as a stunning centerpiece that complements your current furniture. Their versatile design works well in various spaces, making them the ideal choice for those looking to elevate their home decor. With Joss & Main's dedication to quality and fashionable items, you can be confident in the stylish and functional nature of these console tables and cabinets.
$1850 $3561.88
Designer Advice:
To achieve a cohesive look, pair these pieces with other Joss & Main home accessories, textiles, and lighting, creating a harmonious and inviting atmosphere in any room.
Merchant links are sponsored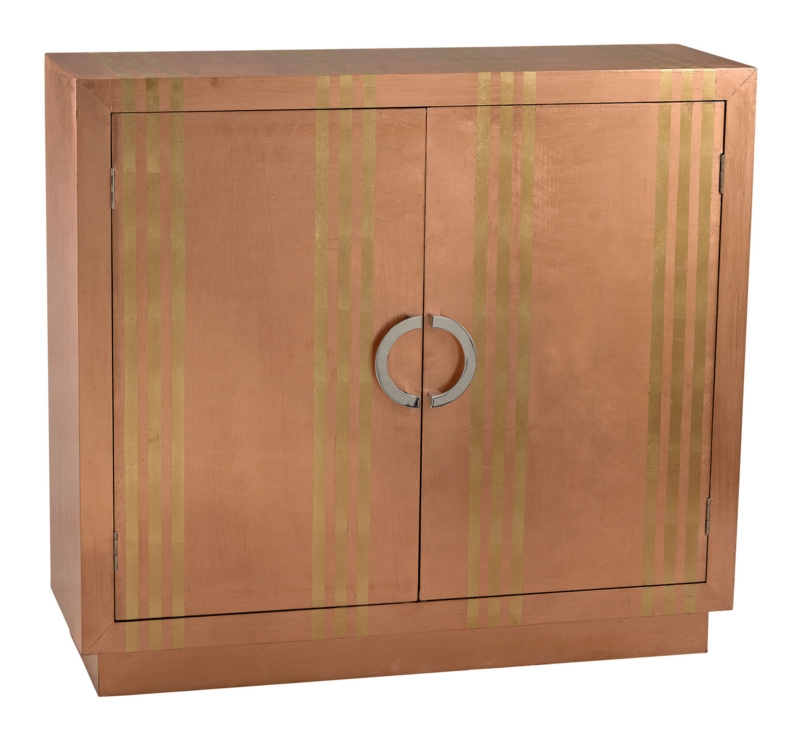 Gold Leaf Box Rings Cabinet
Mercer41
Perfect For: Adding a touch of luxury and functionality to any room
What We Like: Unique design and metallic gold finish
This Gold Leaf Box Rings Cabinet combines elegance, sophistication, and practicality, making it a stunning addition to your living space. The cabinet features two handles for easy access and boasts an eye-catching gold leaf design inspired by the golden world currency. Its excellent conductivity of heat and electricity adds a dynamic, contemporary touch to your home. Perfect for storing various items, this cabinet can serve as a striking yet functional piece of furniture in any room.
Designer Advice:
To accentuate its luxurious appeal, pair this cabinet with other gold or brass accents in your room, such as lighting fixtures or decorative objects. Keep the surrounding color palette neutral to let the cabinet stand out as a statement piece.
Merchant links are sponsored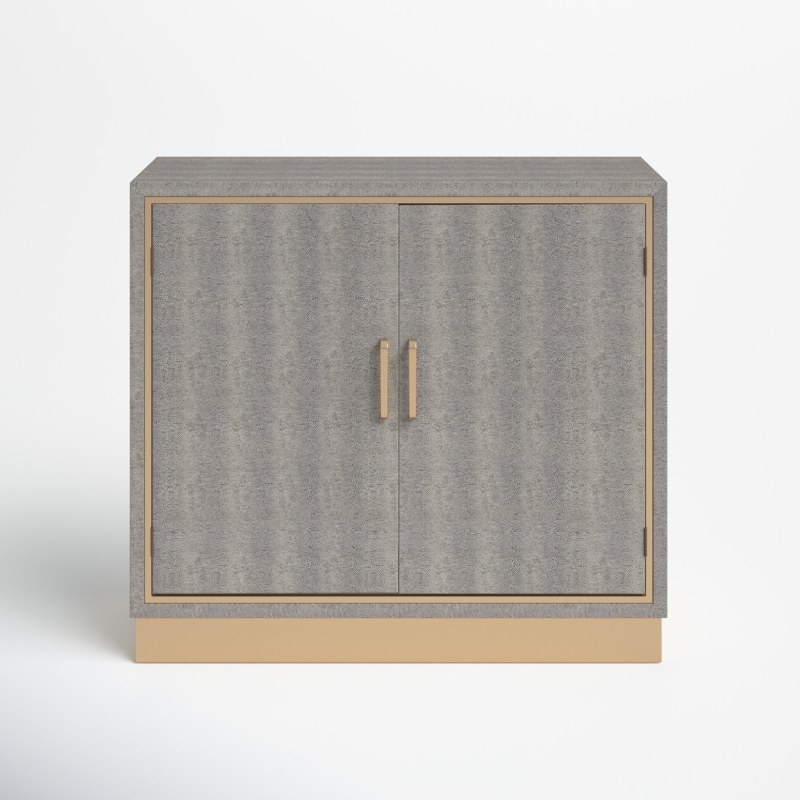 Faux Shagreen Soft Gray Cabinet with Gold Accents
Joss & Main
Perfect For: Adding a touch of sophistication to modern interiors
What We Like: The updated classic design and beautiful gray finish
This cabinet takes inspiration from the early days of book and trunk binding, bringing a timeless style to your modern interior. Made with durable Faux Shagreen, this cabinet features an elegant soft gray finish and an internal shelf with gold handles for added glamour. With its blend of traditional design and contemporary materials, this cabinet will serve as an eye-catching yet practical storage solution for any living space.
$890 $870
Designer Advice:
Position this cabinet in a living room, dining area, or bedroom to display decorative items and store essentials. Pair it with other gray and gold pieces for a cohesive and chic look.
Merchant links are sponsored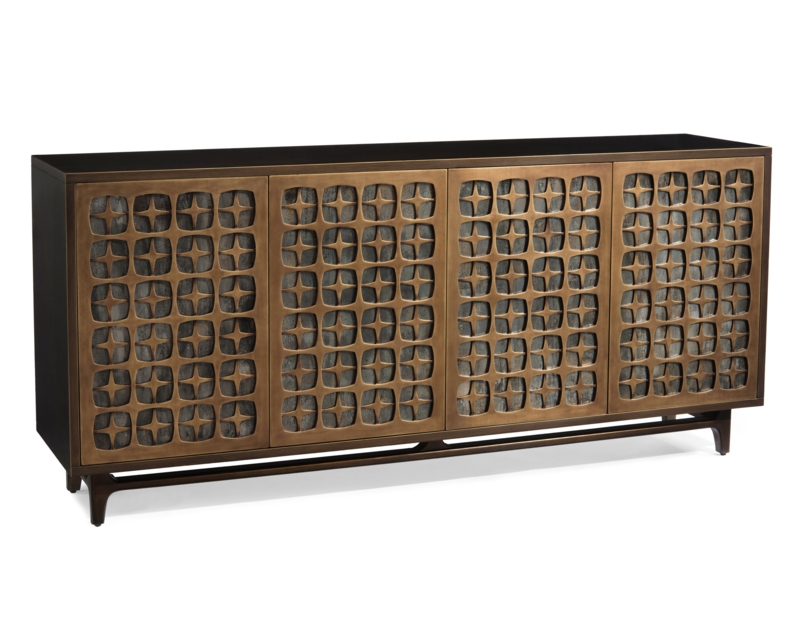 Mayan Bronze Case with Star Pattern and Cirrus Glass
John-Richard
Perfect For: Enhancing elegant living spaces and showcasing décor items
What We Like: The sculpted stool and recessed star pattern
This stunning Mayan bronze case features an intricate recessed star pattern on its doors, with cirrus glass mirrors behind it for a touch of elegance. Raised on a beautifully sculpted stool, this case offers auto-latch doors and an adjustable shelf in each cupboard, providing versatile storage space. The unique design of this case makes it ideal for displaying your cherished items or adding sophisticated style to your living space.
Designer Advice:
For an eye-catching, cohesive look, place this bronze case in a room with warm, rich colors and add complementary metallic accents or decorative pieces featuring similar patterns.
Merchant links are sponsored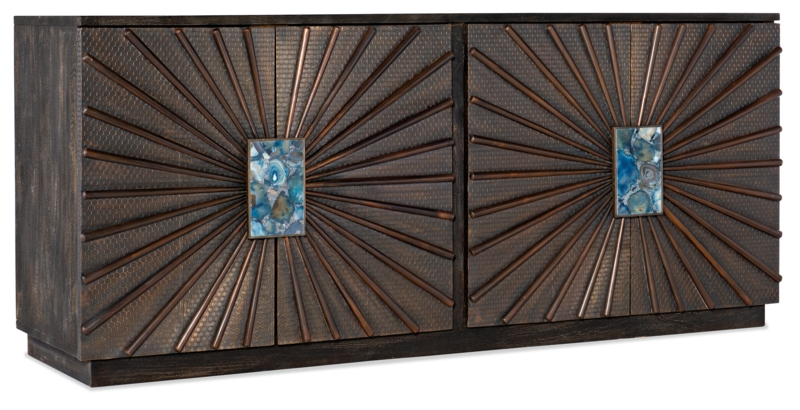 Melange 84'' Wide Sideboard with Brass and Agate Accents
Hooker Furniture
Perfect For: Enhancing your living or dining room with a unique, artistic touch
What We Like: Honeycomb-pattern metal overlay and agate-centered hardware
The Melange 84'' wide sideboard is a stunning statement piece that boasts a blend of mango wood, brass, and agate stone. Its honeycomb-pattern metal overlay and antique bronze-colored starburst on the doors create an eye-catching design. The black case features rub-through finishing, and its one-of-a-kind hardware has turquoise and brown agate centers encased in a metal frame. With the added convenience of adjustable shelves behind each door, this vibrant sideboard is both functional and artistically inspired.
$4079 $7247
Designer Advice:
Emphasize the sideboard's eclectic nature by surrounding it with contrasting textures and materials or by pairing it with other intriguing art pieces, making your space truly feel like a curated gallery.
Merchant links are sponsored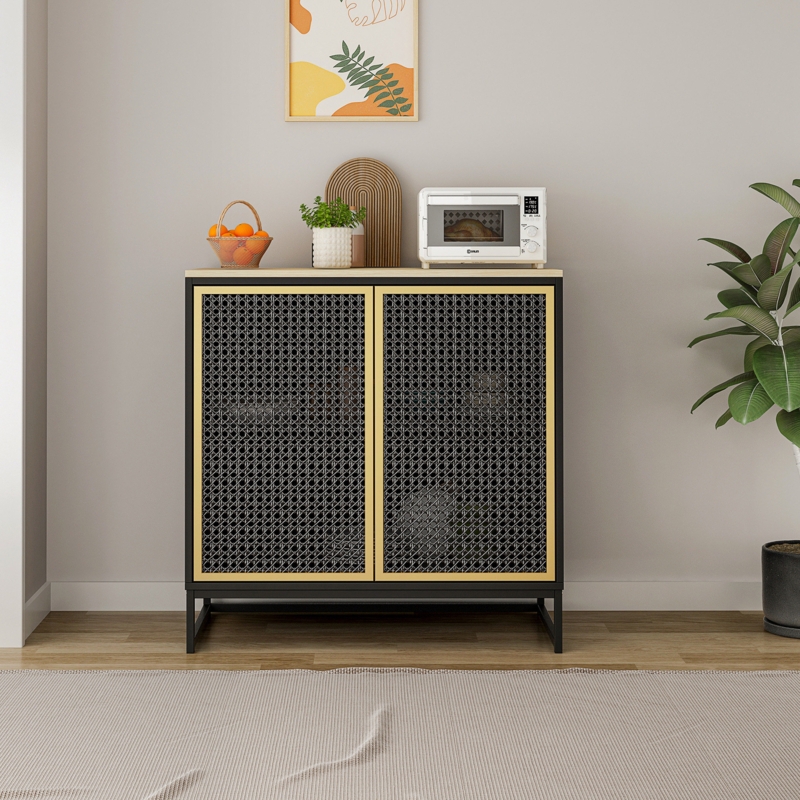 Modern Sideboard with Cabinet Storage
Mercer41
Perfect For: Stylish storage and organization in any room
What We Like: Durable Partical Board and Iron material
This modern sideboard features a high-quality Partical Board and Iron construction for enhanced durability and stability. Measuring 29.45" x 15.36" x 29.93"H, it's both a practical and stylish addition to any space. The sideboard includes two cabinet doors with inner shelves, offering convenient storage and organization options. Its metal base provides strong stability while allowing for easy cleaning underneath.
Designer Advice:
Place this sideboard in your dining room or living area, and accentuate it with decorative items on the top. Opt for matching metal and wood furniture to complete a cohesive look.
Merchant links are sponsored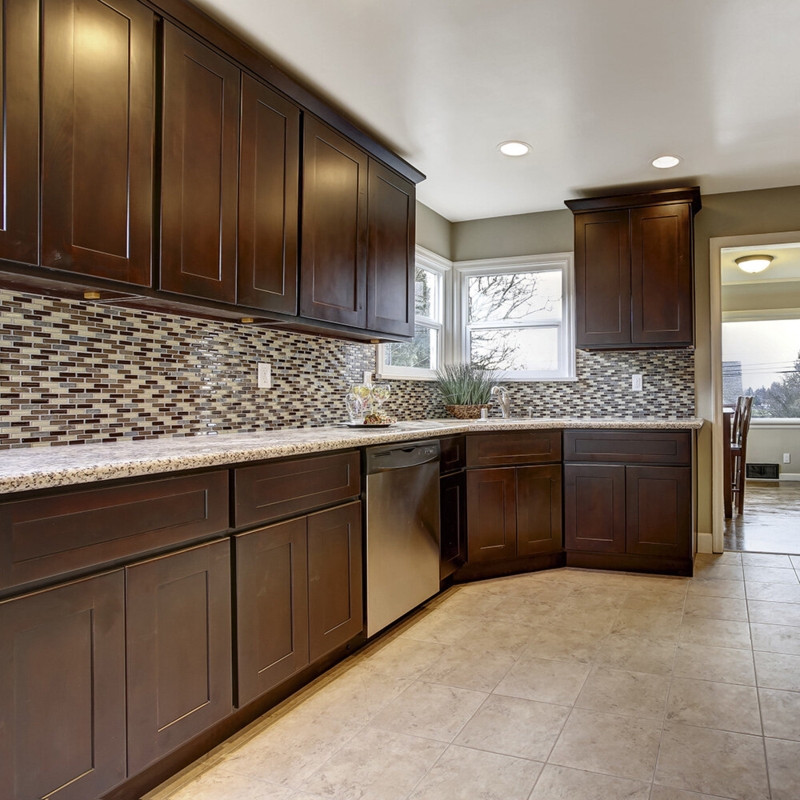 Stylish Kitchen Cabinet with Soft-Close Hinges
Ebern Designs
Perfect For: Easily creating storage solutions in various rooms
What We Like: Fully assembled and ready to install
Transform any room with these stylish kitchen cabinets, designed for significantly less cost compared to competitors without compromising on quality. These versatile cabinets can be used in kitchens, laundry rooms, garages, offices, and more. Equipped with 6-way adjustable soft-close hinges, these cabinets ensure doors and drawers remain quiet, with the option to add slow-close drawer glides. The cabinets come fully assembled, making the installation process fast and easy. Customize your space by purchasing cabinets and accessories separately.
$535.71 $640.95
Designer Advice:
In a kitchen, choose a cohesive color scheme for cabinets and accessories, and consider adding under-cabinet lighting to create a warm, inviting atmosphere.
Merchant links are sponsored