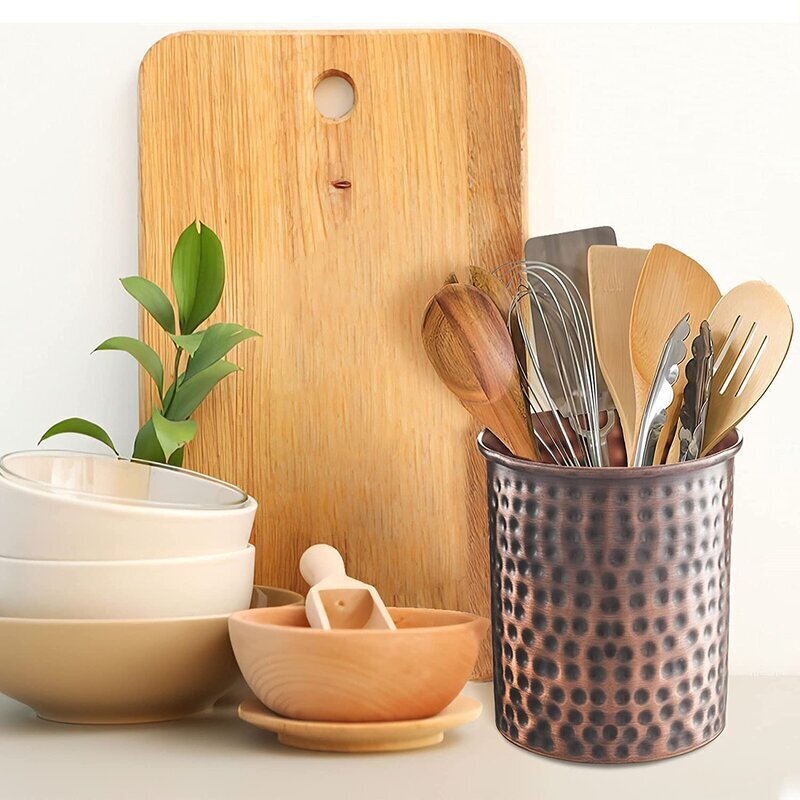 Textured utensil crock
$24.91 $24.81
Textured utensil crock
Monarch Abode
$24.91 $24.81
Practicality meets stylish design with this kitchen utensil holder. Handcrafted from durable metal, each piece has a unique hammered texture and a rounded top rim. You can choose from four neutral finishes with this utensil crock: black, copper, nickel, and white.
Designer Advice:
For a cohesive kitchen décor, match this crock with other pieces in a similar finish, for example, a paper towel holder or hooks on the wall to keep your pans at hand. Consider which color will work best with your existing décor. The white crock will look good in modern minimalist kitchens, while the others are perfect for industrial interiors.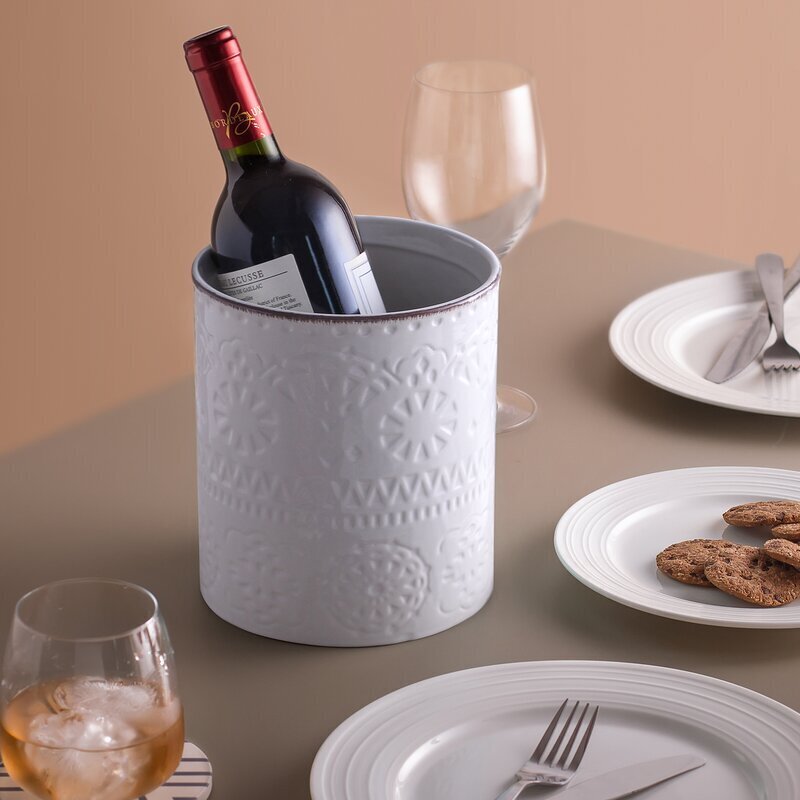 Ceramic crock utensil holder
$23.99 $26.99
Ceramic crock utensil holder
Gracie Oaks
$23.99 $26.99
Available in three light hues, this utensil crock is elegance captured. It showcases a delicate carved pattern and a contrasting brown rim. This utensil holder has a protective cork surface at the bottom and is safe to clean in a dishwasher.
Designer Advice:
Your kitchen doesn't have to be boring to still be functional and organized. This utensil crock will help you add a subtle decorative touch that is both stylish and practical. Use this piece in many ways. Fill it with ice to keep your wine cool during dinnertime. Alternatively, use this crock as a pot planter or a flower vase.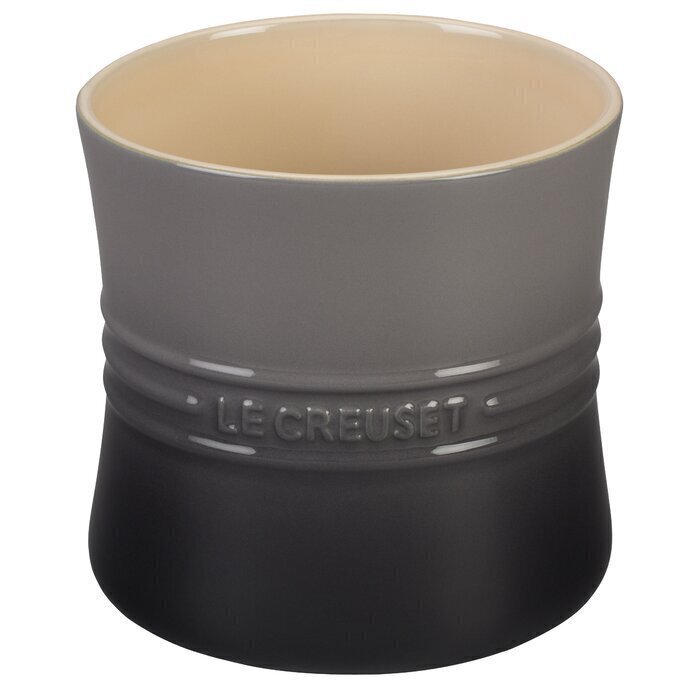 Round Stoneware Utensil Crock
$54.95 $55
Round Stoneware Utensil Crock
Le Creuset
$54.95 $55
Free up drawer space with this stoneware utensil holder. Available in six different colors, this utensil holder suits a modern kitchen with any color scheme. A luxurious glazed paint is added to premium stoneware to create a utensil holder that is dishwasher and microwave friendly and resistant to chips and scratches.
Designer Advice:
This pottery utensil holder serves as a modern centerpiece for your kitchen table. Keep it full of cutlery for easy access during on-the-go meals.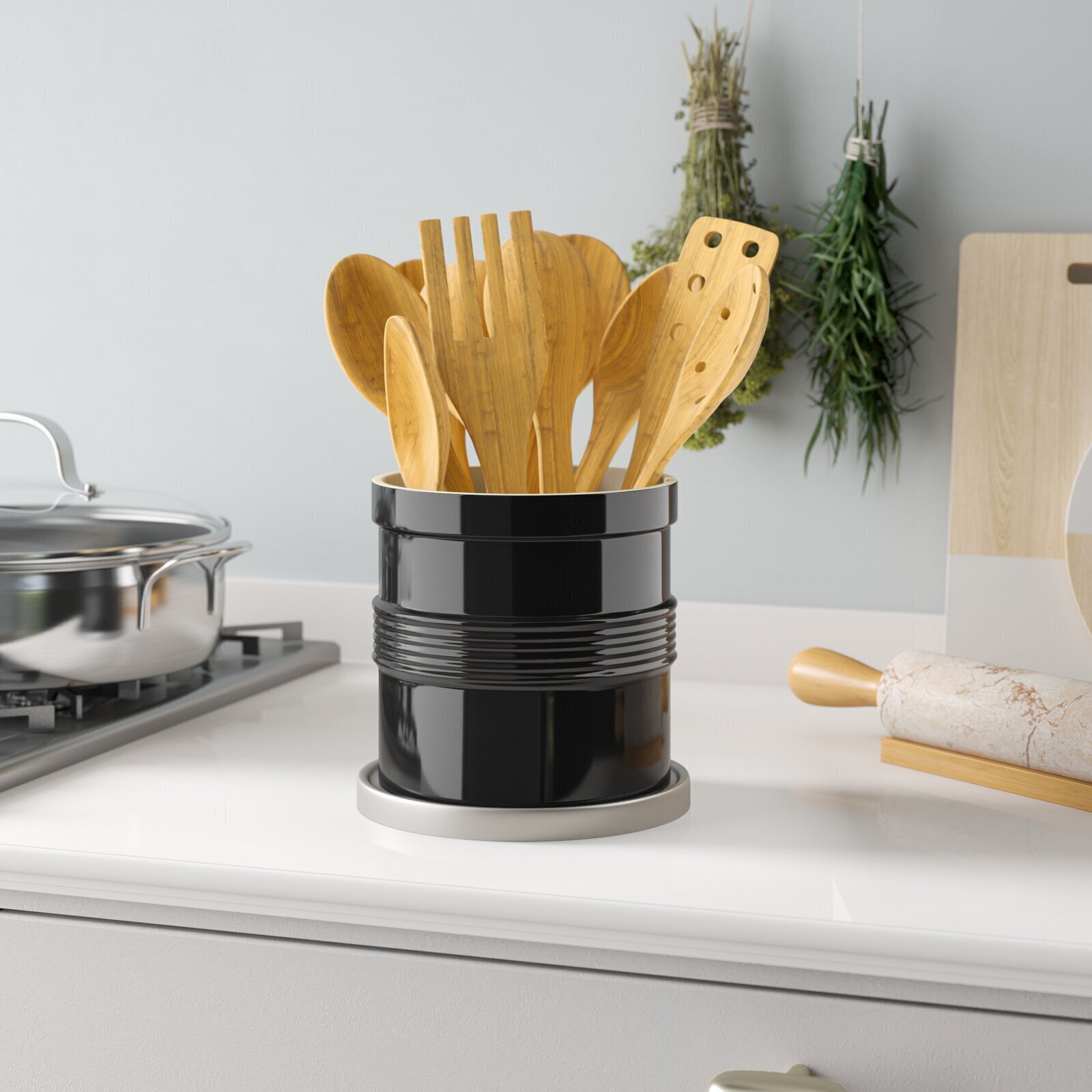 Oversized Utensil Crock
$44.99
Oversized Utensil Crock
Winston Porter
$44.99
This tall utensil holder is ideal for a number of items, and its three-section divider allows for neat storage. Wooden spoons, plastic spatulas, and metallic whisks are available on-demand and in separate compartments for easy access. Available in white, black, and red, the 7.5'' tall crock is adaptable to most kitchen color palettes.
Designer Advice:
The three-section divider allows for creativity with the crock's uses. Keep napkins in one section and cutlery in the other, or use the crock as a stationary holder for pens and pencils.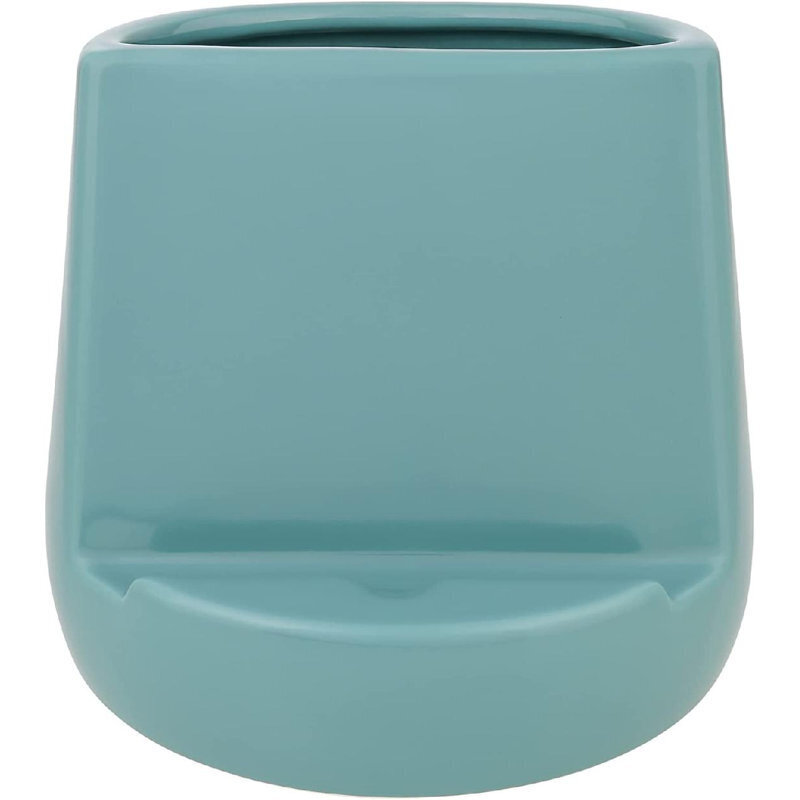 Small kitchen utensil crock
Small kitchen utensil crock
Highland Dunes
Add a pop of color to your kitchen with this blue utensil crock. It features spacious storage space for your kitchen utensils, and a book stand to help you when cooking with a recipe from a cookbook or your phone.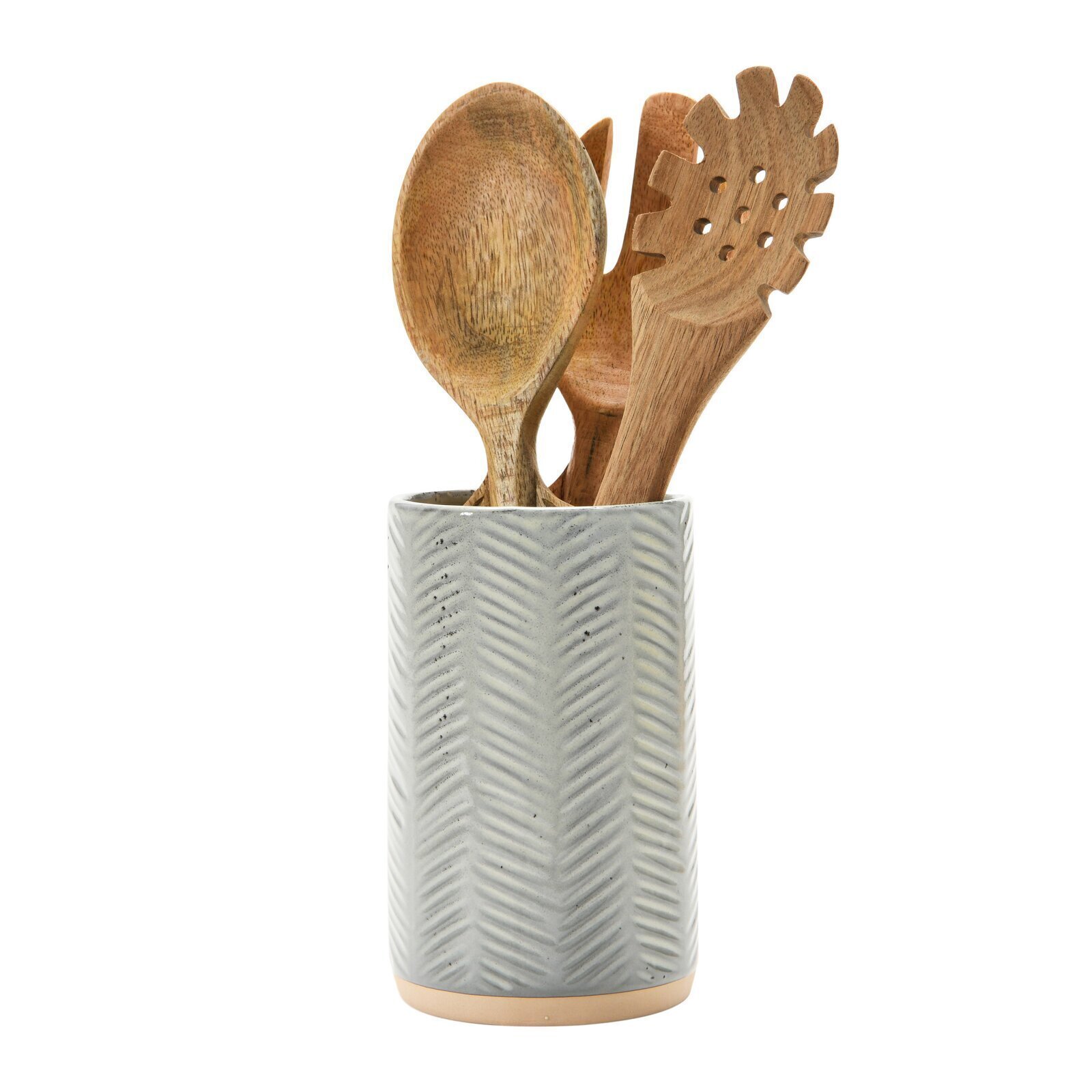 Gray Ceramic Utensil Crock
Gray Ceramic Utensil Crock
Union Rustic
This feather-patterned stoneware crock has a soft gray glaze finish that makes it fit in with any kitchen style. The reactive glazing technique ensures that every piece is unique coming out of the kiln. Its 6.5" height and lightweight feel make it flexible for storing household items besides kitchen implements. Scissors, rulers, and crafting tools will all look appealing when tucked inside this stoneware piece.
Designer Advice:
Use this stunning piece as accent decor for your dining room sideboard or buffet. Add faux pampas grass and group the crock with a scented candle and stack of books for a visually appealing tableau.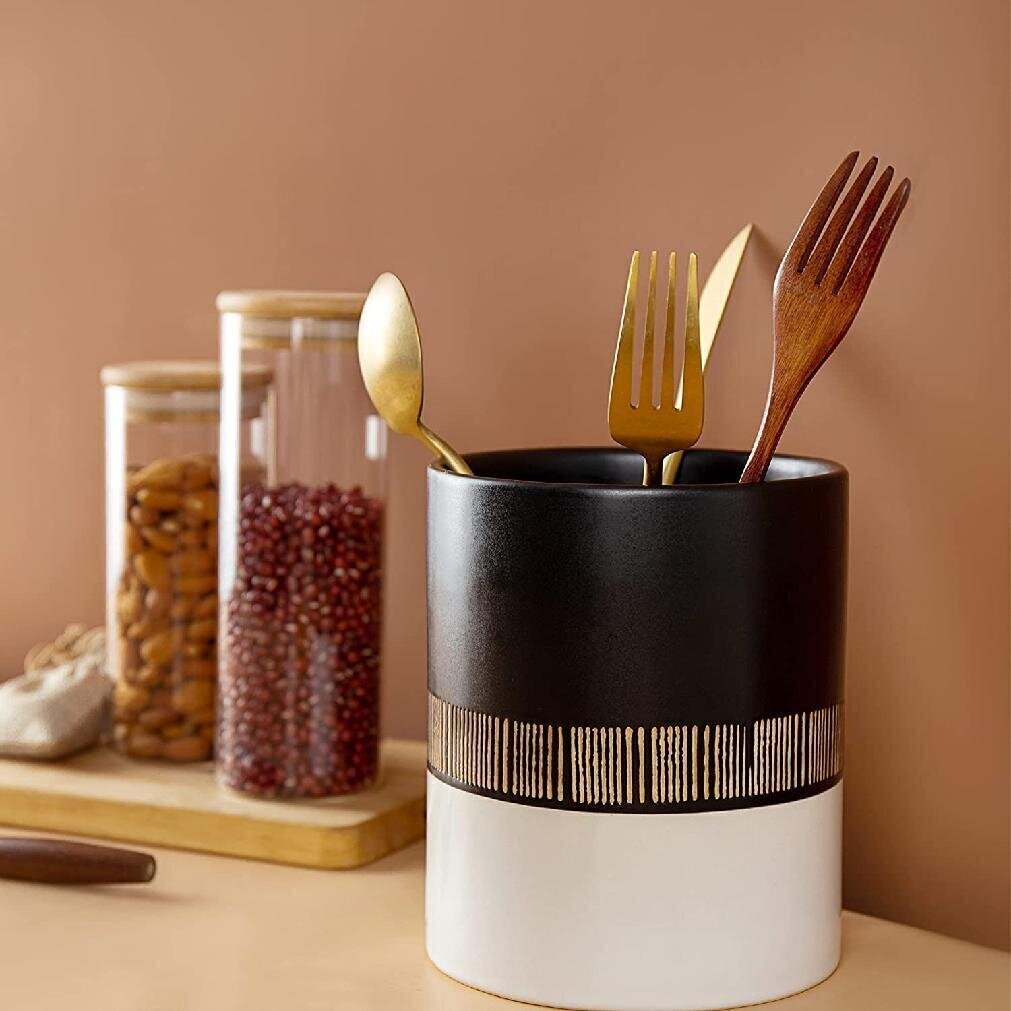 Black and White Utensil Holder
Black and White Utensil Holder
Everly Quinn
When searching for a utensil holder that doubles as a piece of art in your kitchen, this heat-resistant holder fits the bill. It's durable, lightweight, and safe to use in contact with your utensils, food, and beverages. The black and white combine with the brown stripes to give an organic feel that blends well with a modern kitchen as easily as it does with a more classical design.