Wall Mounted Utensil Rack
Are you tired of ransacking your entire kitchen to find that pesky knife or spoon a recipe calls for? Enter a wall mounted utensil rack. Functional and often versatile enough to match any trend, these racks can hold pots, pans, cooking books, and anything else you want them to.
Key factors you'll need to think about are durability, materials and finishes, and exactly how much space you have to hang your utensil rack. If you have small children or pets the above are undeniably important and practical things to consider as you'll need something sturdier and therefore safer than the average person.
Beneath are ten innovative and multifunctional picks.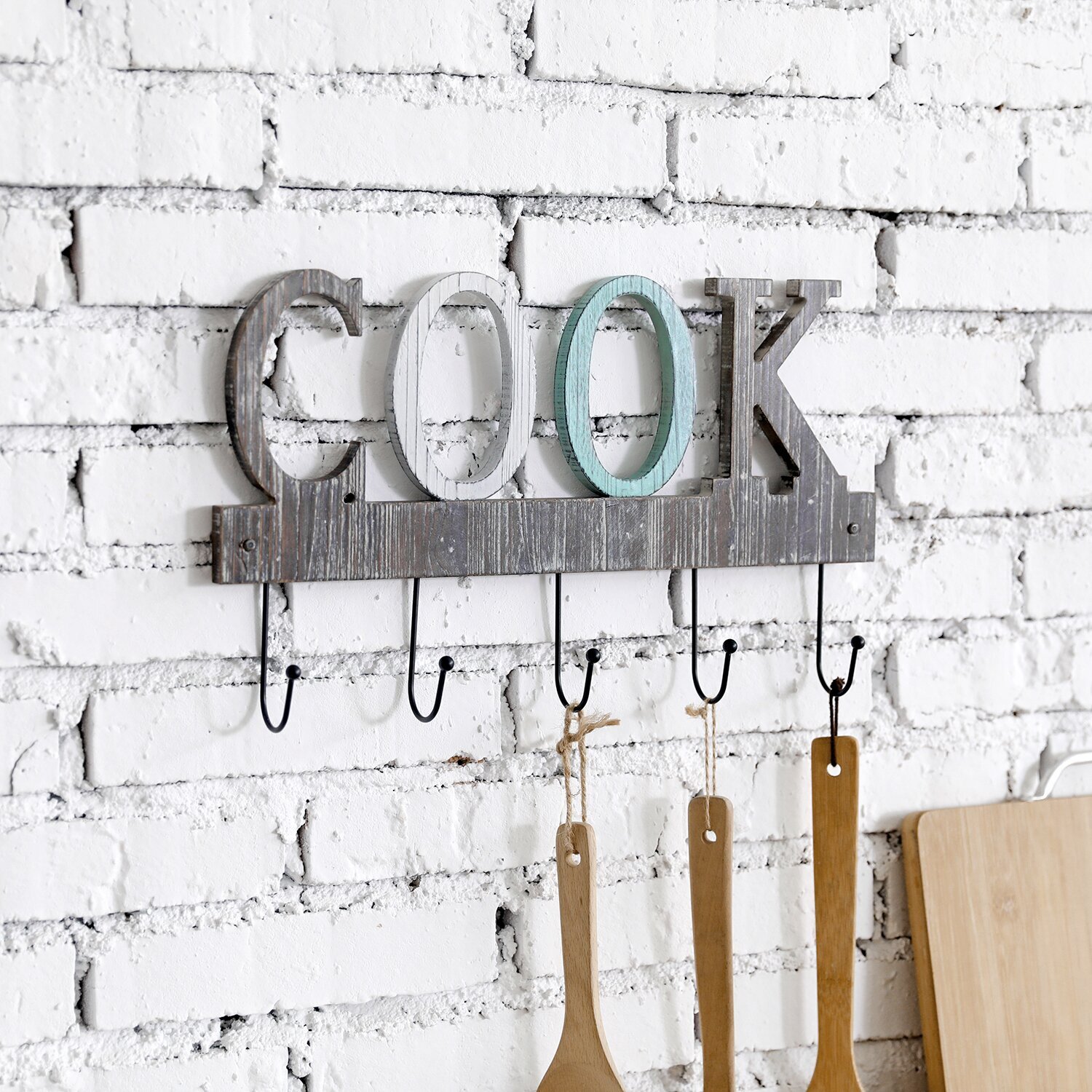 Slogan Utensil Hanging Rack

If you prefer your kitchen décor to look as though it could be part of a barn conversion, this deliberately rustic-looking hanging rack is for you. The contrasting blue, white, and grey letters above will add a subtle accent touch to your kitchen and the five metal hooks are great for smaller kitchens. However, over time the shabby look could deteriorate and look less shabby chic and more in desperate need of a paint job, so it's always good to think about factors that could accelerate this such as damp or scratches.
$19.99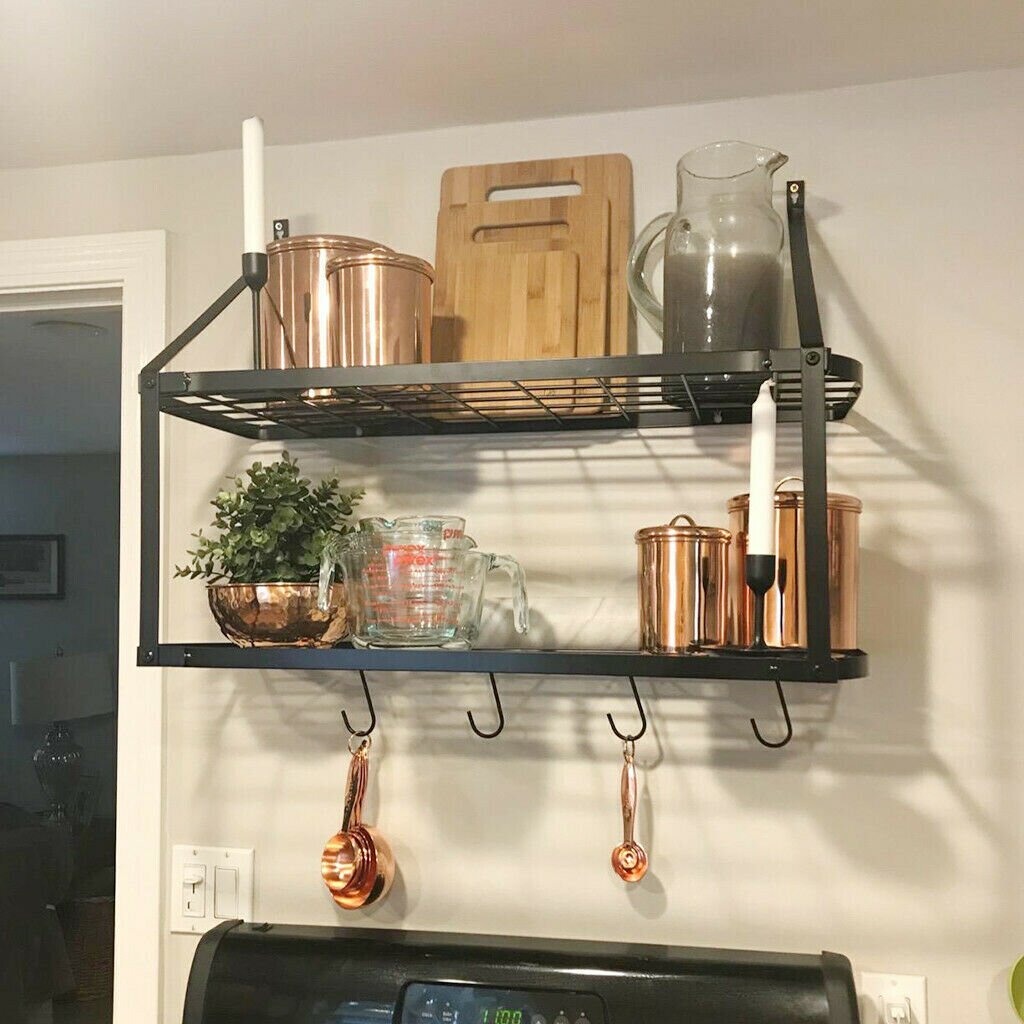 Space Saving Wall Mounted Utensil Holder

This cleverly-crafted holder is a storage solution and a hanging utensil rack in one due to its double shelf design and a generous ten hooks at the bottom. The top shelf could be used for anything from cooking books to chopping boards, or even just as an extra place for nice décor touches such as plants or candles. Additionally, the simple metal finish lets you see and locate items easily, reducing chaos in the kitchen.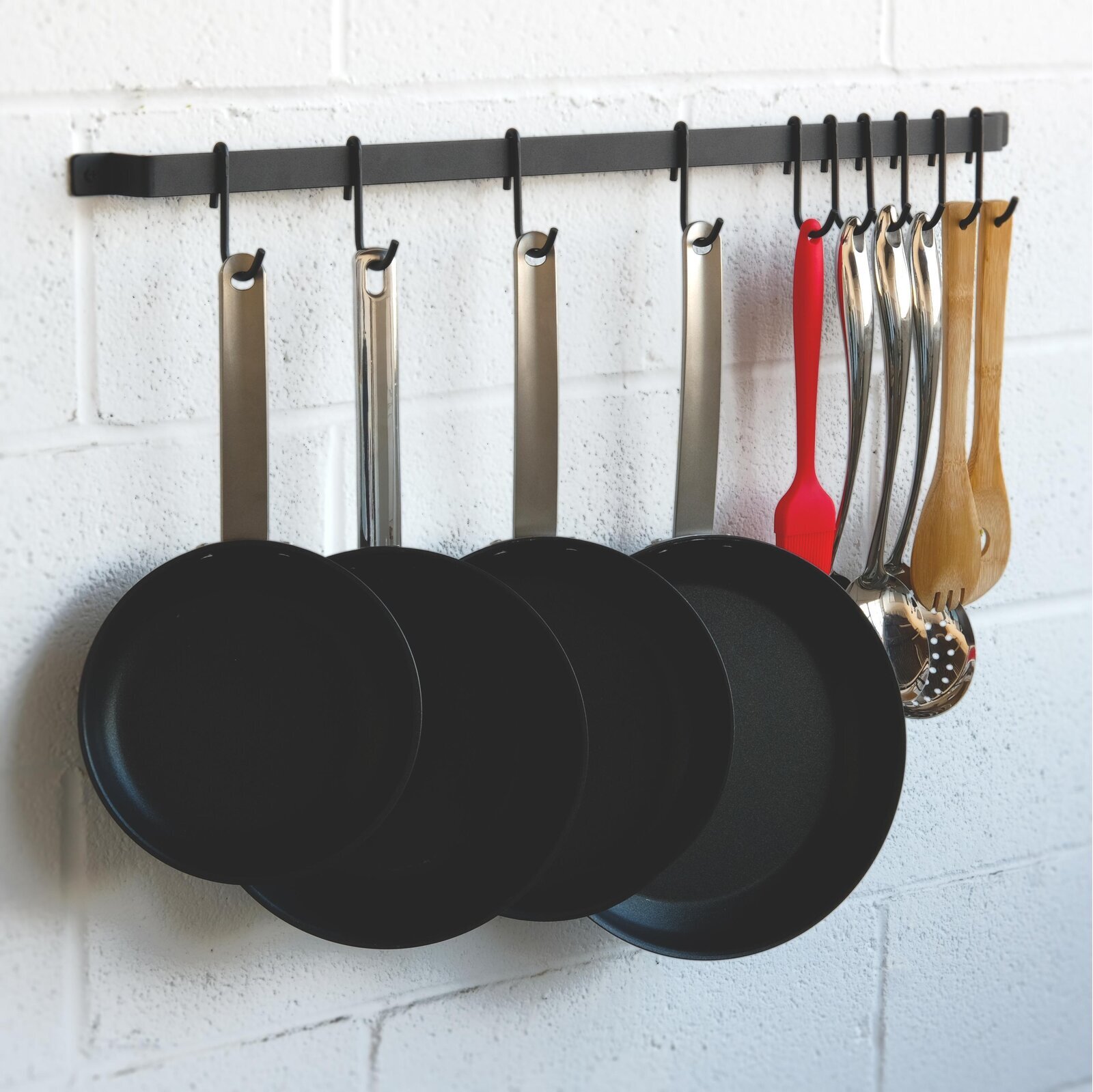 Iron Rail Utensil Rack

Want something that will last for years without any frills? This industrial-style wall mounted bartan stand will hold the things you reach for most when cooking without any fuss. With ten hooks available, this utensil rack will hold a lot more weight due to its iron finish, ideal if you are a bit of a cooking aficionado and own a lot of heavy-duty pots and pans.
$24.99 $27.99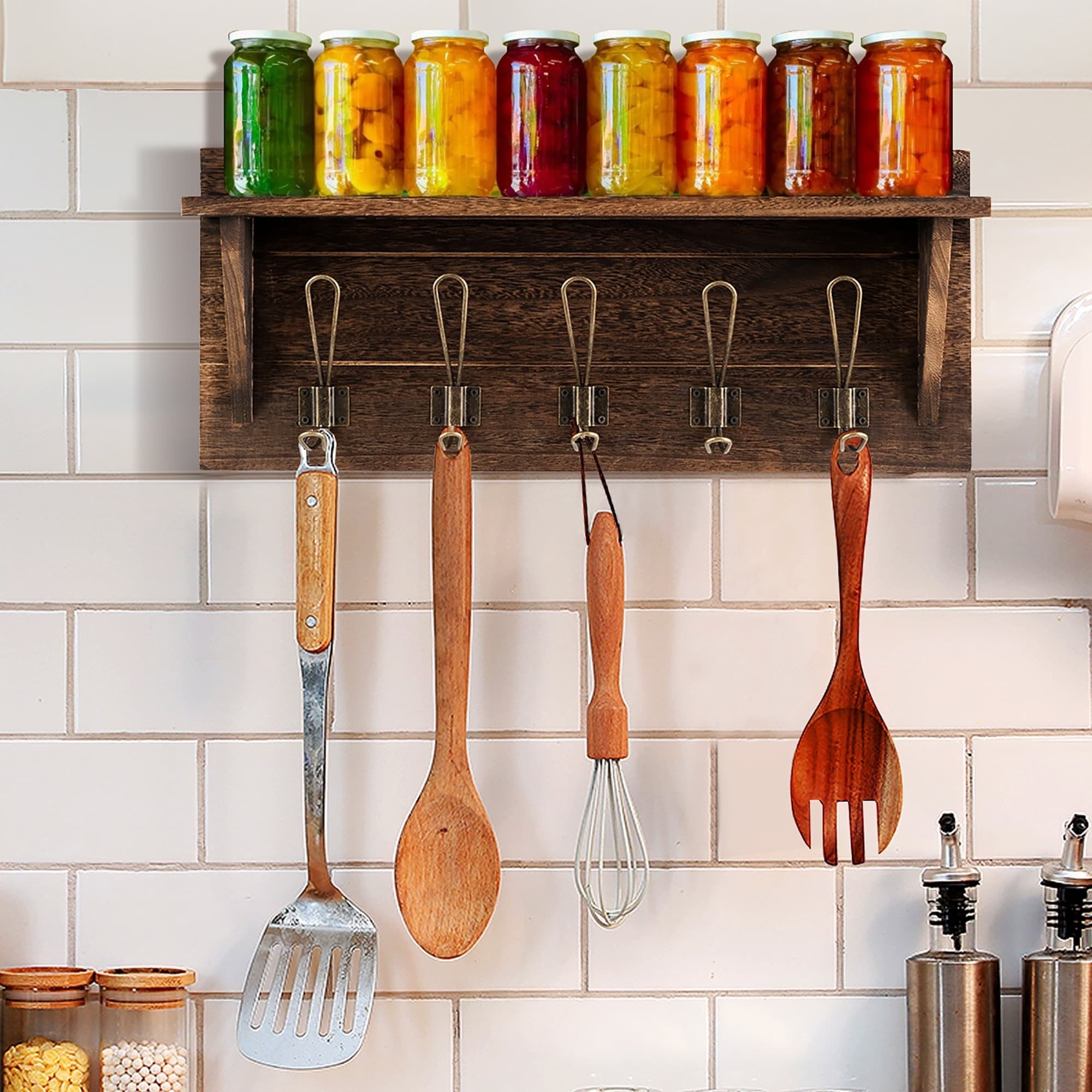 Traditional Utensil Rack Wall Mount

This utensil rack would be a charming addition to any kitchen and will certainly keep your pots, pans, and appliances within eyesight for easy access when whipping up a recipe. The natural wood finish adds to an attractive piece of furniture sure to blend in with most décor. Additionally, shelf storage on top gives you a visually appealing space to place spice jars, soups and much more.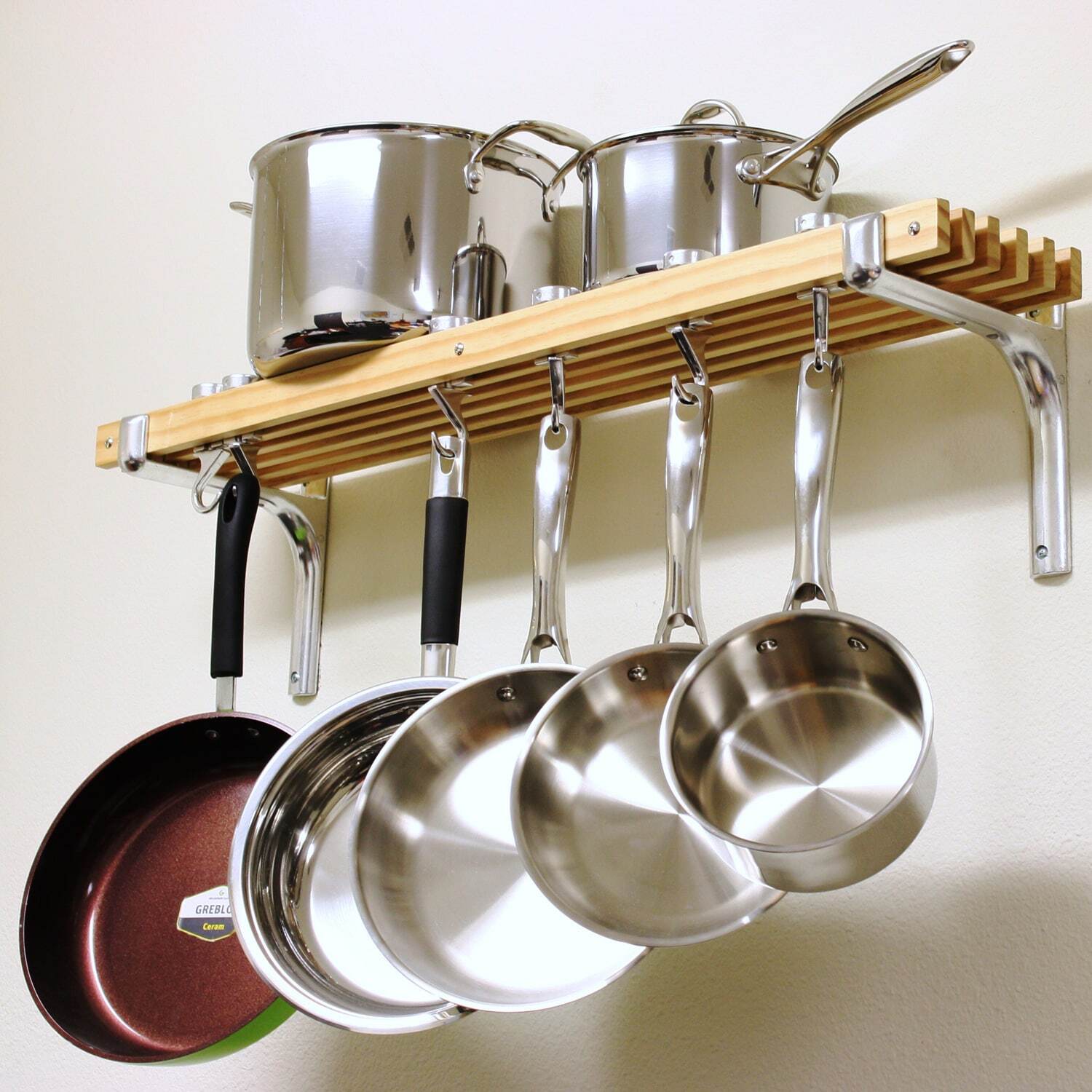 Wooden Utensils Stand On Wall

Is your taste on the simpler side and you want a utensil rack which matches this? This minimalist holder is both practical yet pleasing to the eye. There are four hooks specifically for pans, and a remaining two for anything you wish to place there. As a bonus, it offers easy installation. The only disadvantage of this rack is that it does not hold as much weight as others, so your stainless-steel pans will have to remain in the cupboard.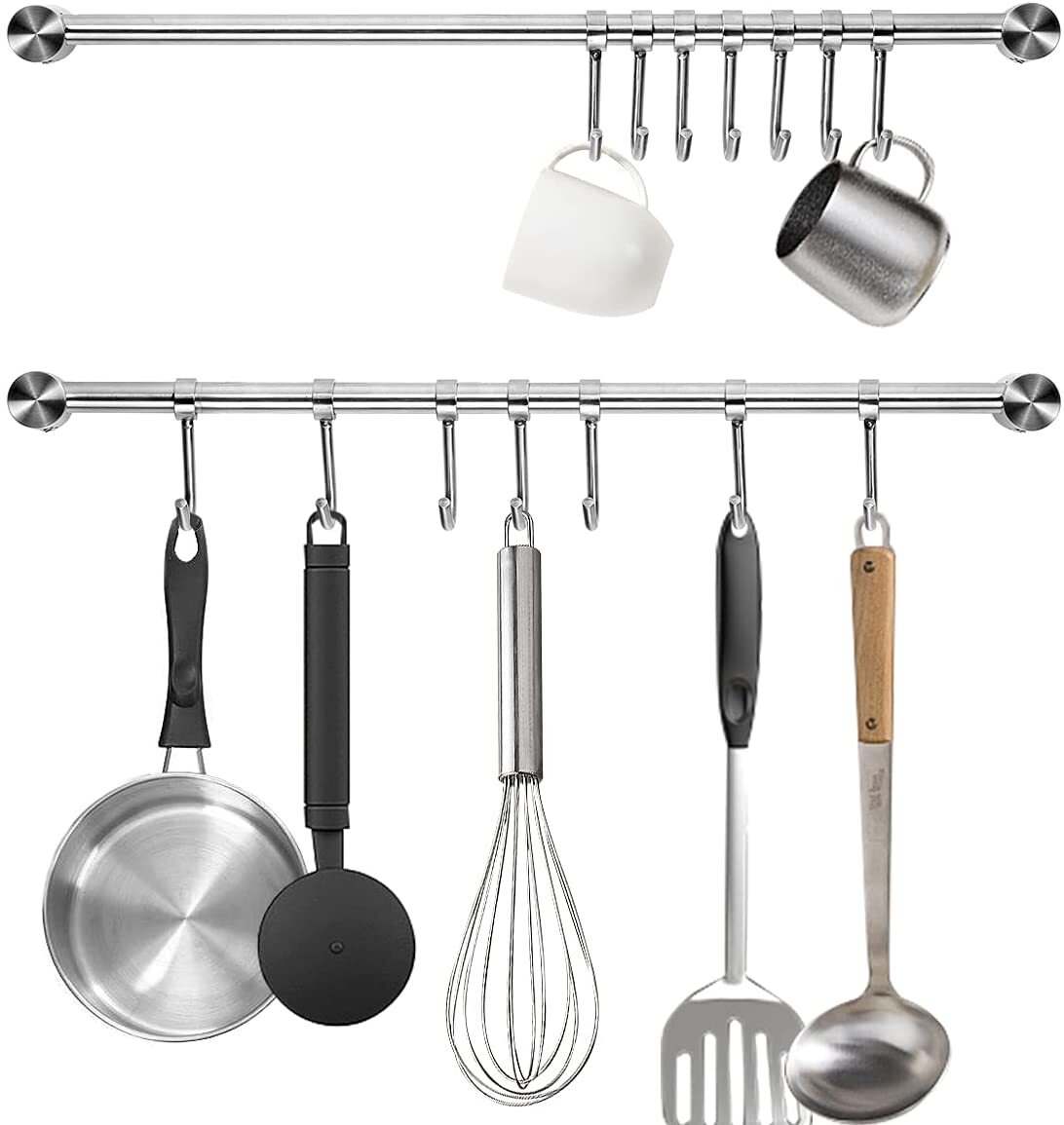 Kitchen Utensil Hanging Rack Stainless Steel

This stainless steel hanging rack is durable enough to last for years. Useful for decluttering your kitchen no matter its size, this stand will hold whatever you place on it without so much as a wobble. Extremely sturdy, it also happens to be rust and water-resistant, making it a great option for a kitchen which gets used a lot. The steel finish means it won't scratch easily, either, which is definitely an advantage for those who have pets or children.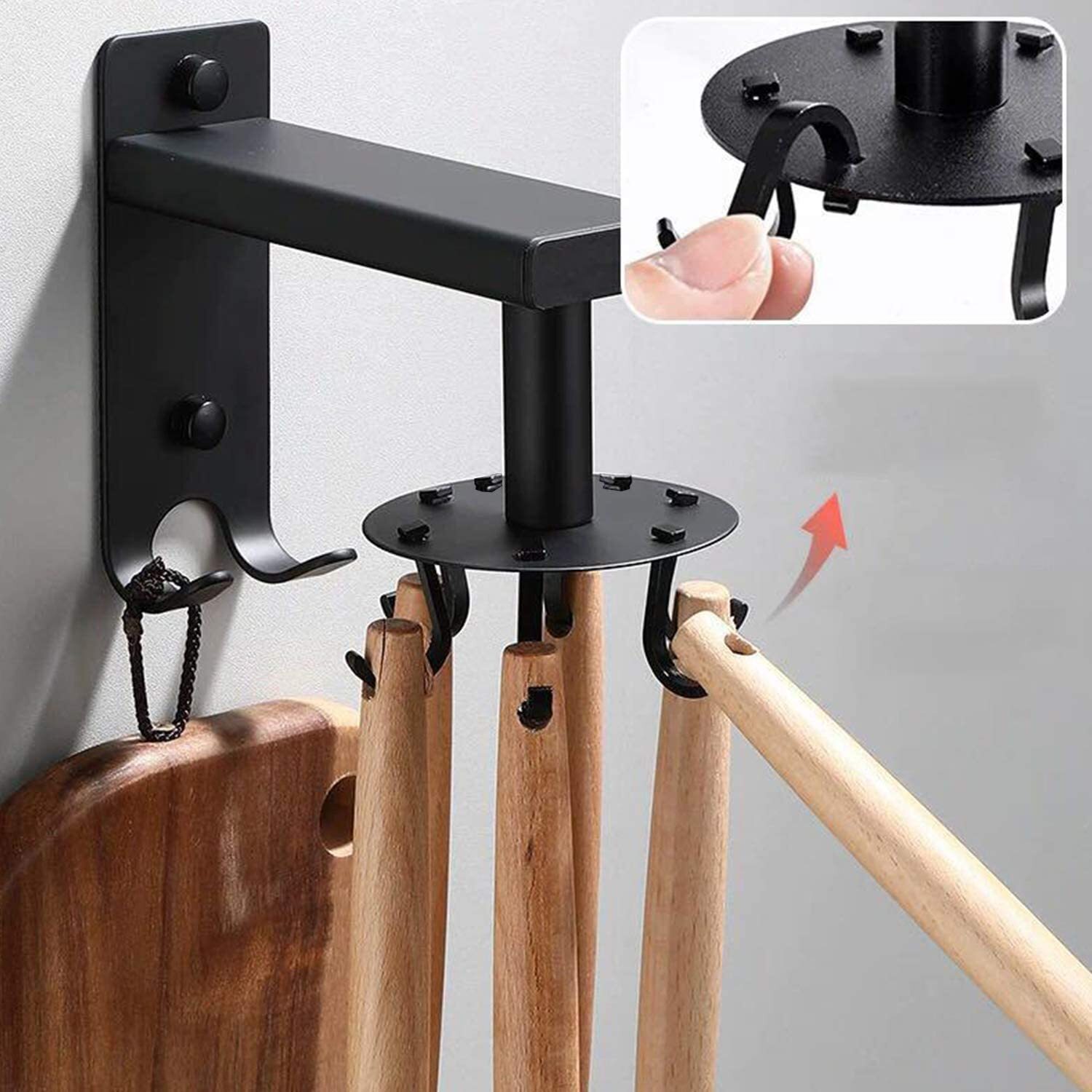 Kitchen Utensil Rack Wall Mounted

Tiny kitchen or not much wall space? This is the smallest utensil rack on the list, but its wall-mounted design means it is very effective for storage. Differing from others in that the hooks hang from a round surface instead of a shelf, you won't get extra storage from this rack. Nevertheless, it makes up for this with eight hooks designed to withstand heavy duty appliances, from your weightiest pot to your myriad of kitchen appliances.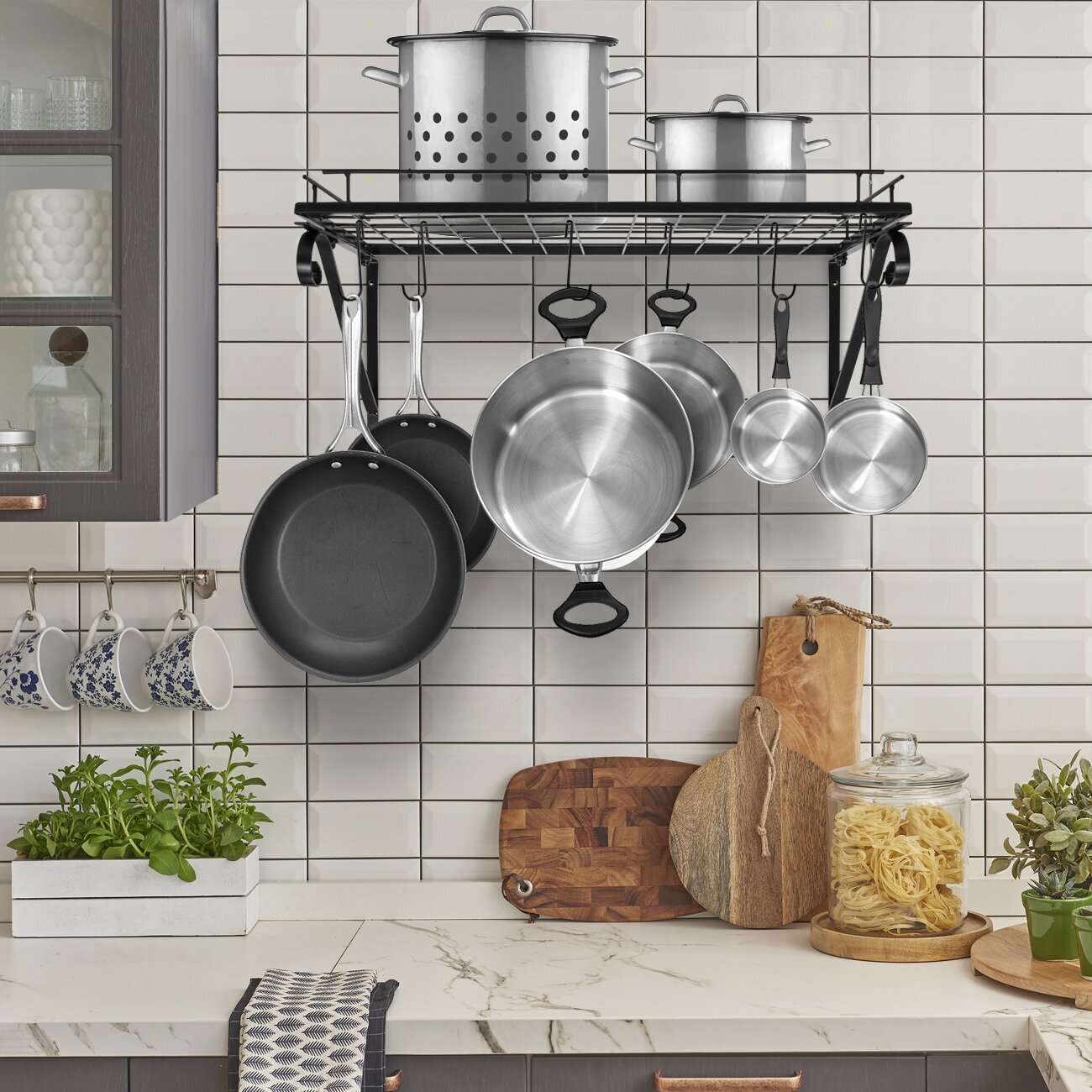 Stylish Hanging Kitchen Utensils Rack

This sleek and stylish utensils rack will blend into any existing kitchen seamlessly without fuss. The curved metal design on either side adds an understated accent touch to the overall look. Moreover, this rack requires minimal assembly if you're in a hurry to add that finishing touch. Coming equipped with ten hooks, the downside of this contemporary style is the potential lack of storage on the top shelf, meaning if you are someone who owns a lot of cookbooks or spice jars this may not be the best choice for you.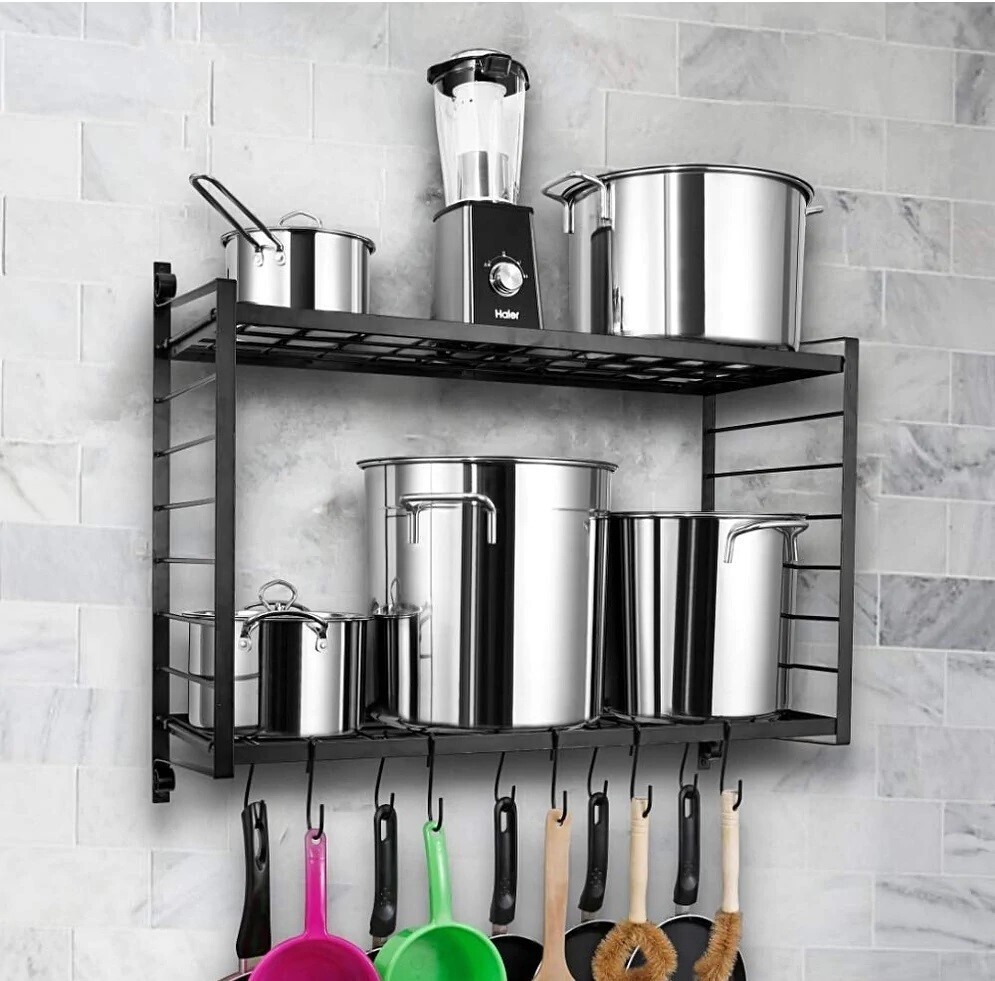 Wall Mounted Utensil Rack For Kitchen

If you have a large family, like to batch-cook, or simply own a lot of pans, this double-shelved industrial-style utensil rack is a solid and versatile choice. Its black exterior will merge with a lot of popular kitchen décor styles, and to top it all off, this style additionally has removable trays for more storage and to free up kitchen space. Ten hooks mean you can place a variety of utensils without hassle and the strong metal framing guarantees durability for larger pots and pans. This is a brilliant utensil rack in terms of flexibility, strength, and storage.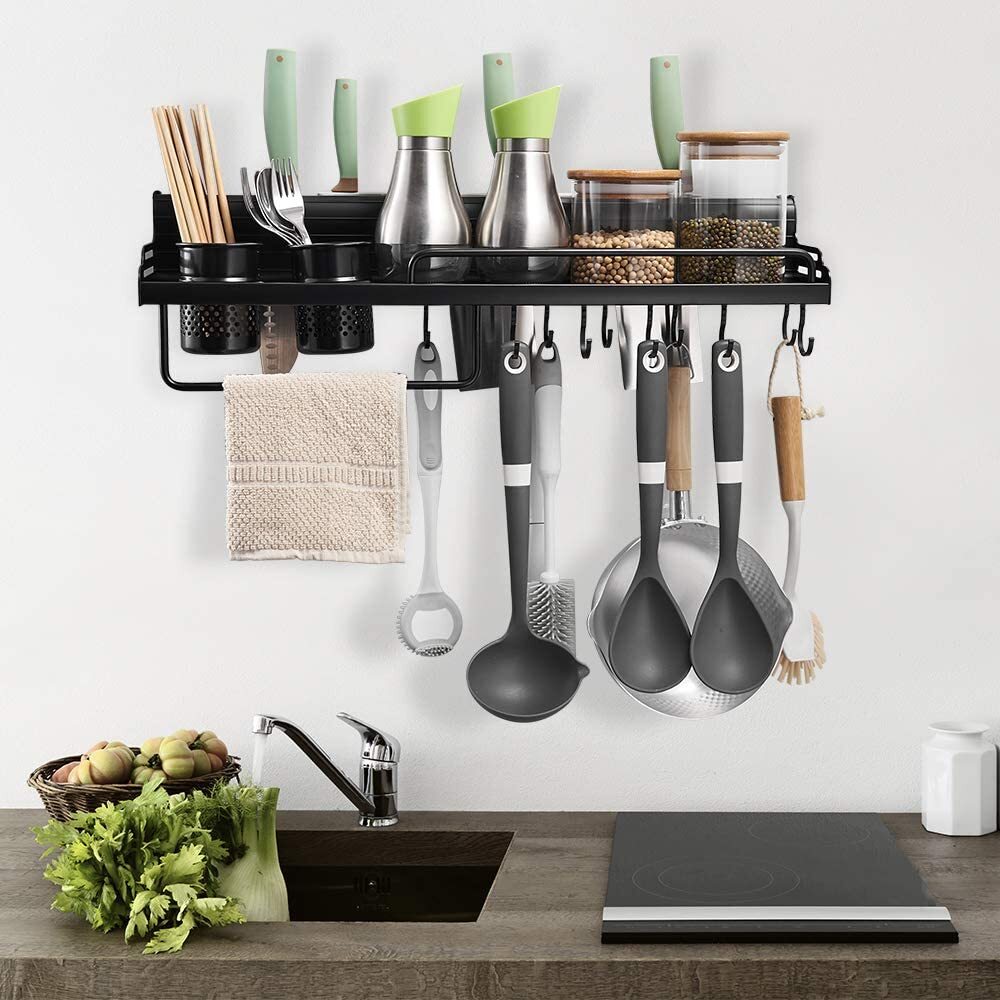 Multifunctional Kitchen Utensil Rack Wall Mounted

Coming in a smooth black matte finish, this utensil rack offers so much more than ten hooks. It happens to be a cooking lover's dream, with features such as knife slots and anti-rust surfaces. Best of all, there are two aluminum cups which could be used to store anything from cutlery to spice jars to salt and pepper grinders. Finally, there's a sliding bar for a dish towel or any spare cloths. Despite all these features, this rack doesn't have as much room for actual pots, so proceed with caution if that would be its main use.