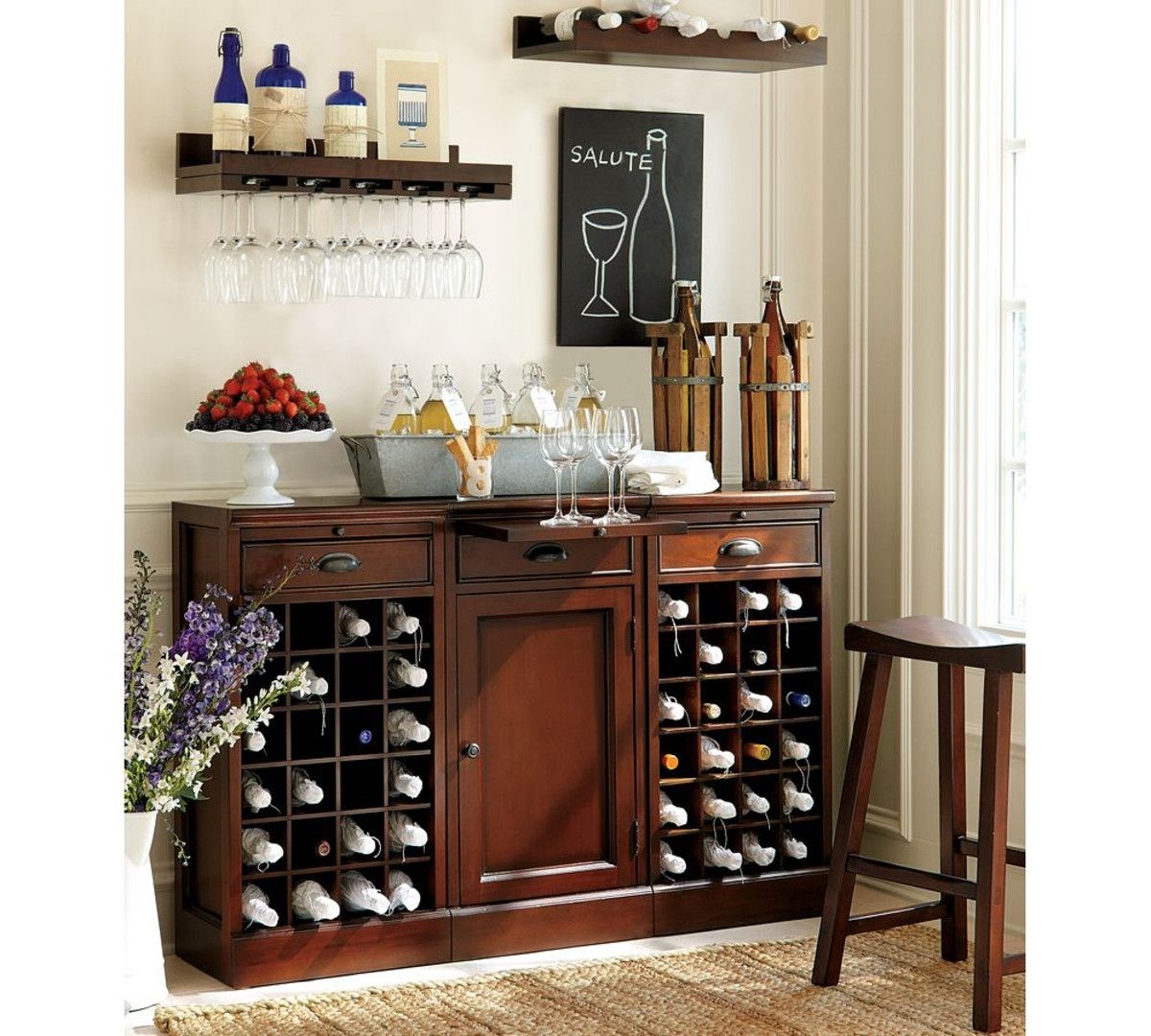 Holman Entertaining Shelves
This type of product is a space-saving solution. The wooden shelve is made of solid materials that are able to accommodate wine bottles, glasses and other products of this type. This element has also got a decorative character.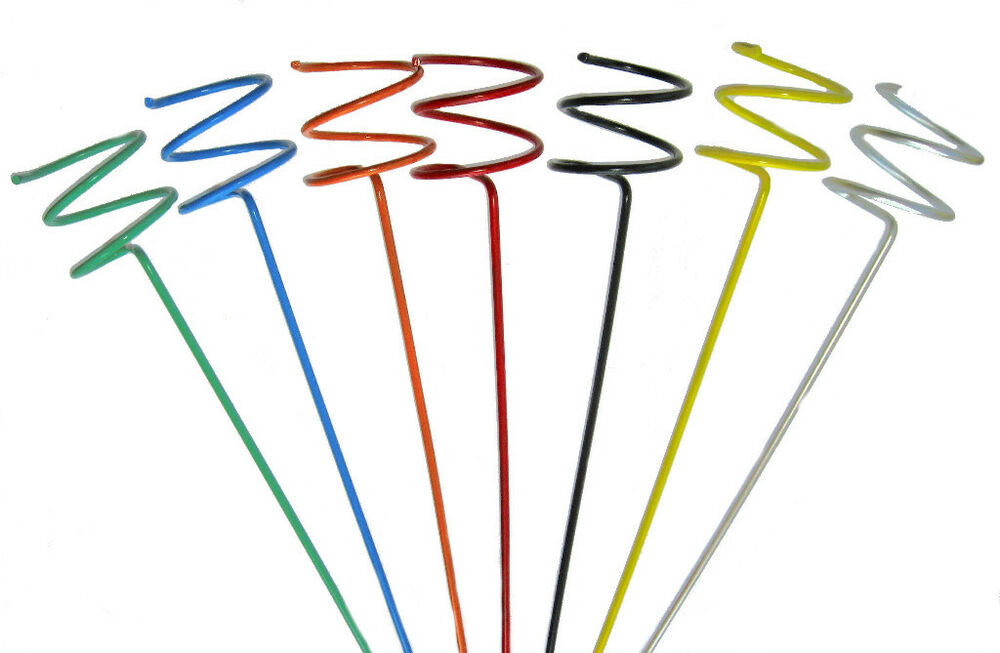 Custom colored yard stake drink holders ot00025
Colorful metal wine holders! I've never seen them before. In different colors: green, blue, orange, red, black, lime green and grey. Cool wine table decoration. Imagine having 100 of them, it would be super cool!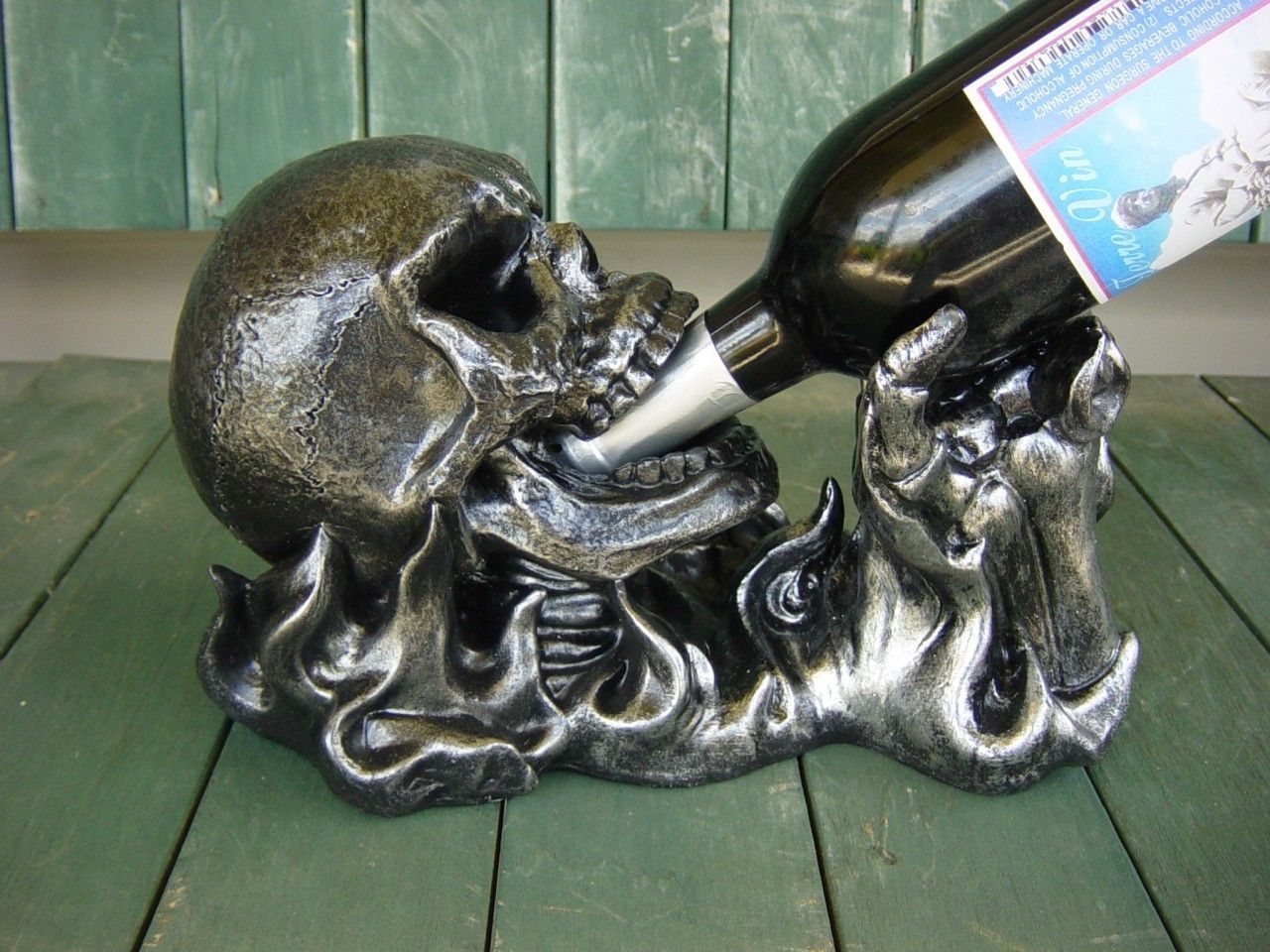 Skull Skeleton Hand Wine Bottle Holder Gothic Halloween House Home Decor Scary
An exceptional and humorous wine holder. It's a solid metal construction in the shape of a skull. It features a gothic and a little bit spooky design, which makes it a perfect accent of a Halloween party.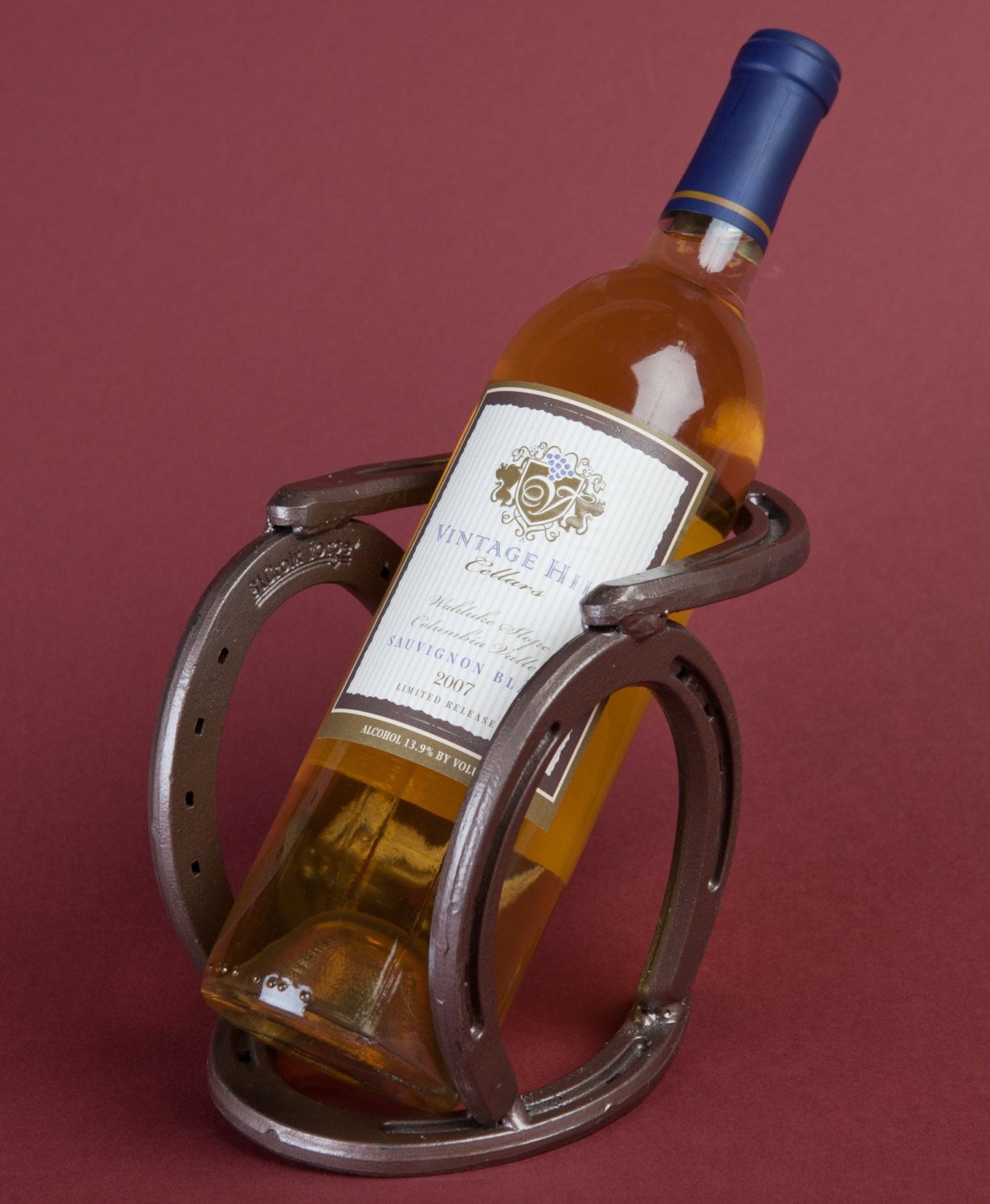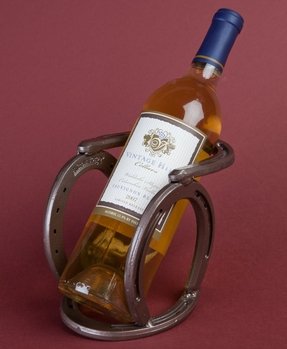 Western horseshoe wine bottle holder
This horseshoe metal wine holder is an ingenuine example of the modern approach to household goods. Original in its form, yet very functional and sustainable, serving its role for many years.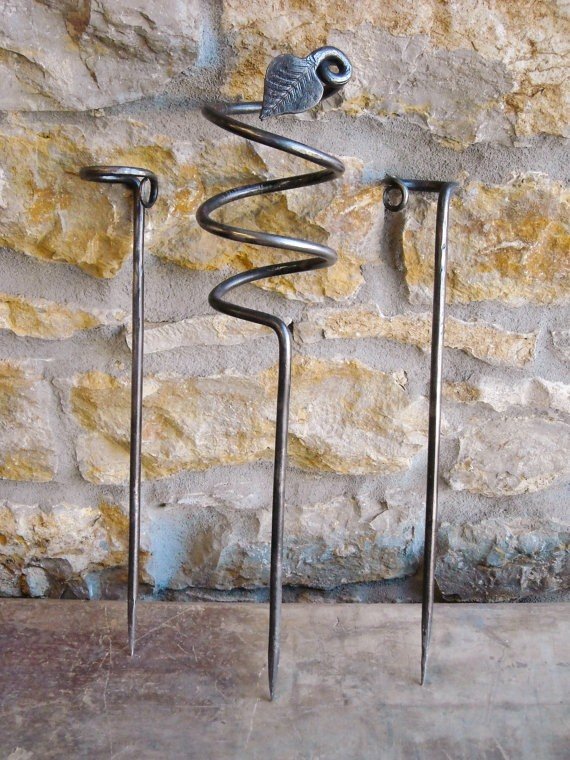 Picnic wine set hand forged blacksmith
Original and practical wine holders made of durable metal. Attractive curves and leaves perfectly match different wine bottles. These practical holders look nice, so they also play decorative roles in the house.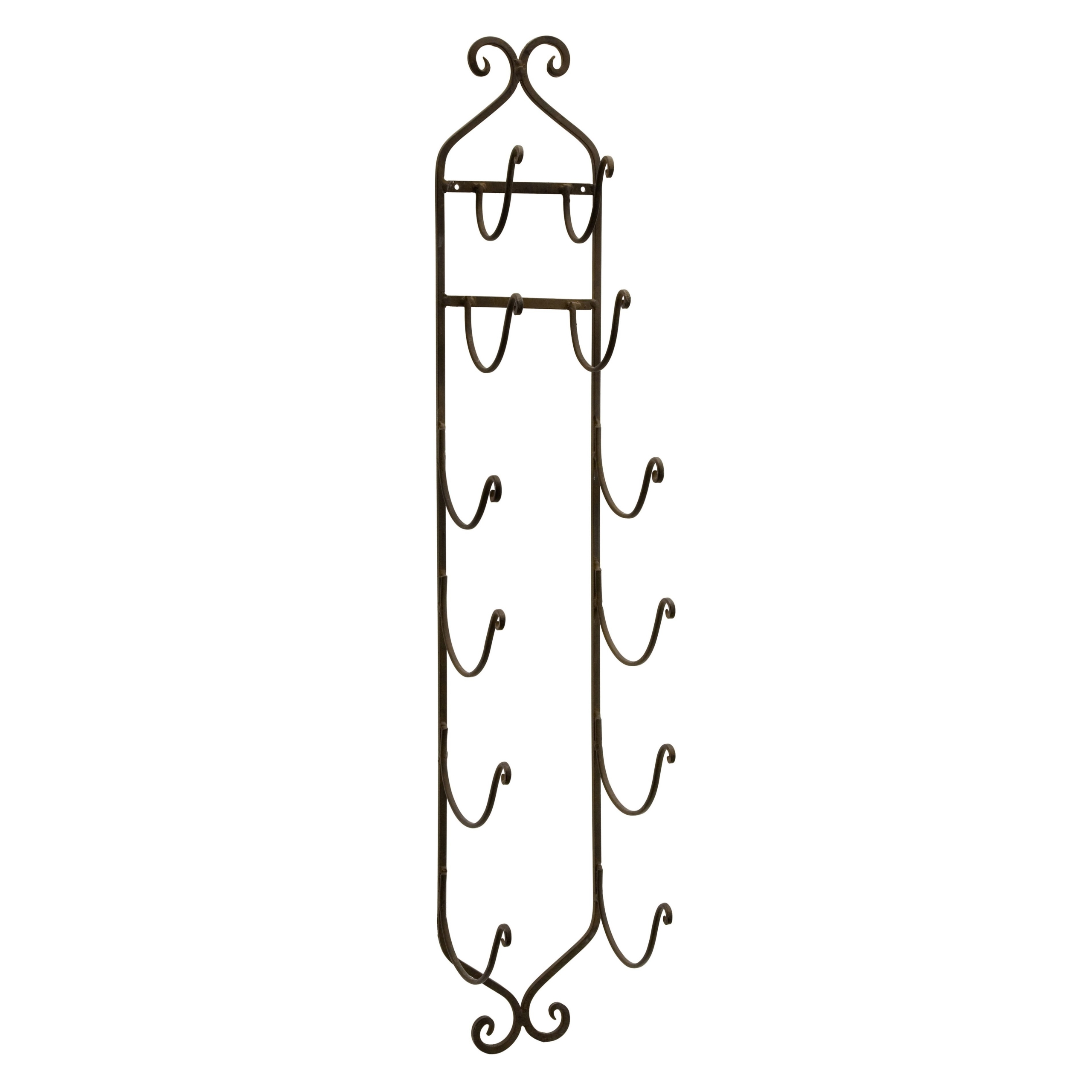 6 Bottle Wall Mount Wine Rack
Wall rack with 12 hooks, all crafted of solid iron with dark bronze finish. The rack may accommodate up to six bottles of wine and four towels at a time. The design pleases the eye with subtle swirls.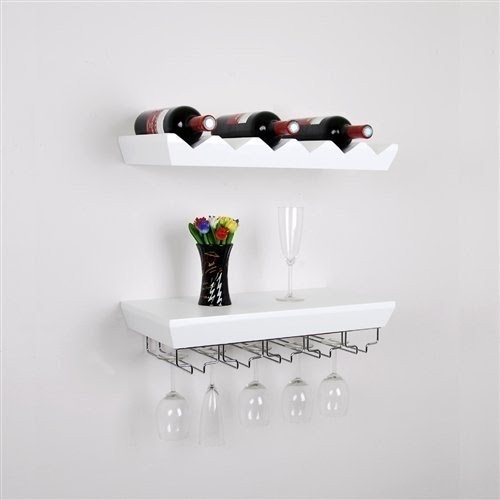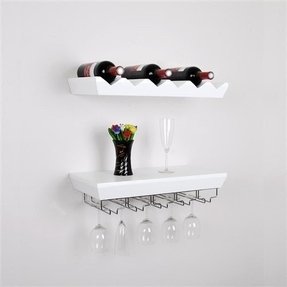 Who doesn't need a proper wine rack? This one here is wall mounted and comes equipped with a glass holder. White colour makes it gentle and appropriate for any interior design style.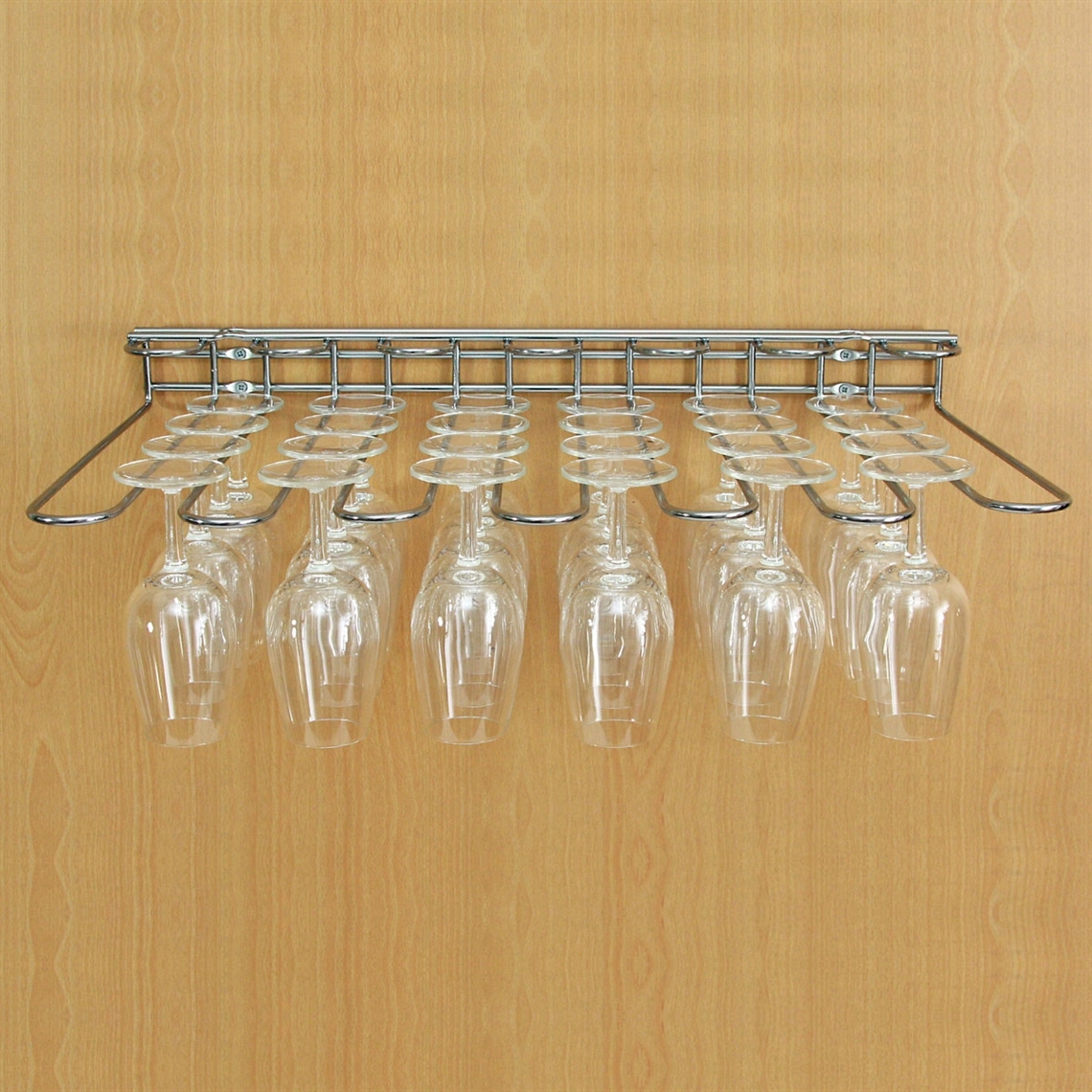 Wall mounted, this wine glass holder is a clever solution, solid and space saving at the same time. It can hold up to 24 glasses simultaneously. A must-have in any well-organized kitchen or dining space.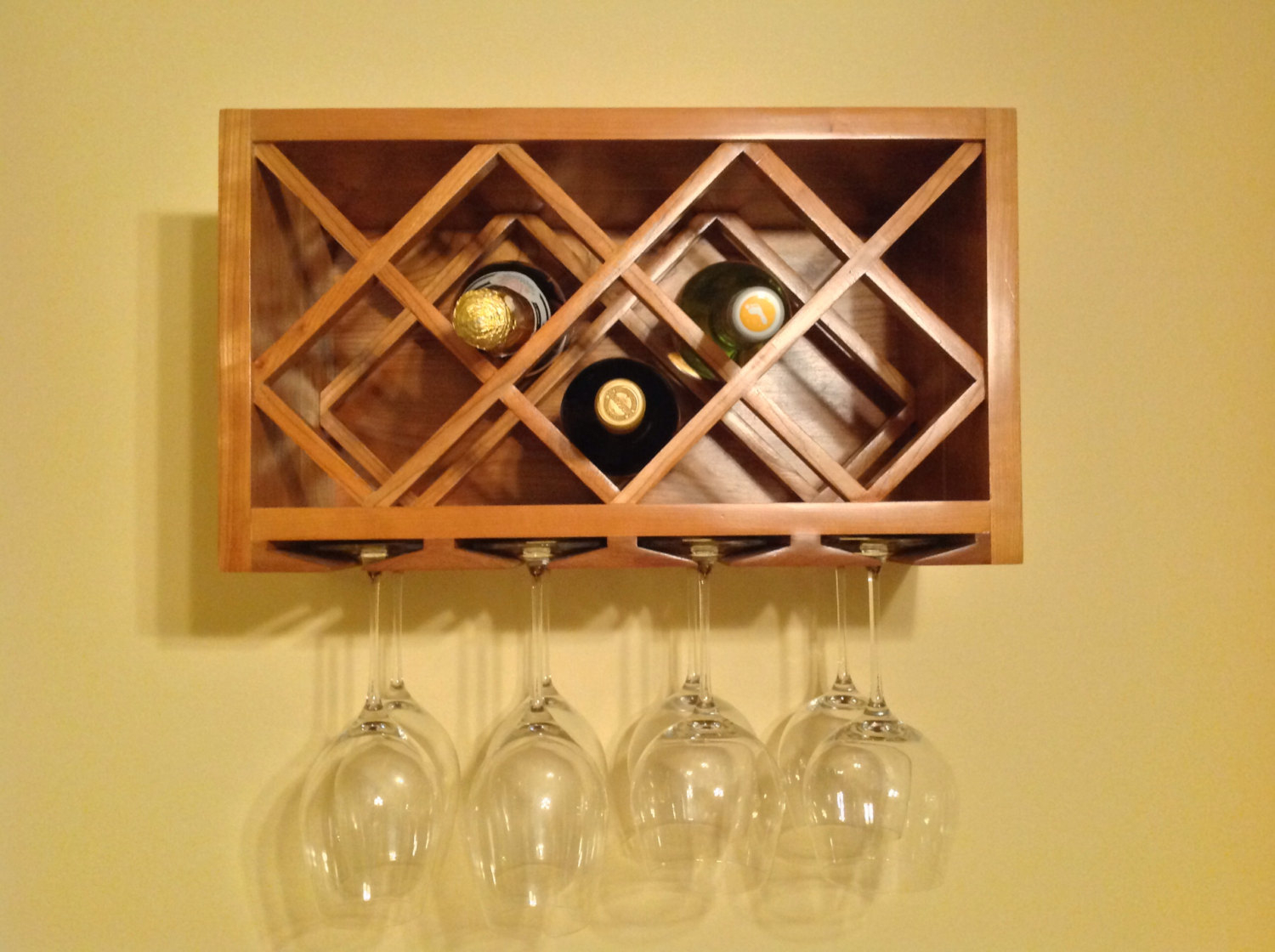 Wine rack consisting of shelves for bottles of wine and glasses holders. It is completely made of wood. Designed for mounting on the wall. Great addition for the kitchen, dining room and more.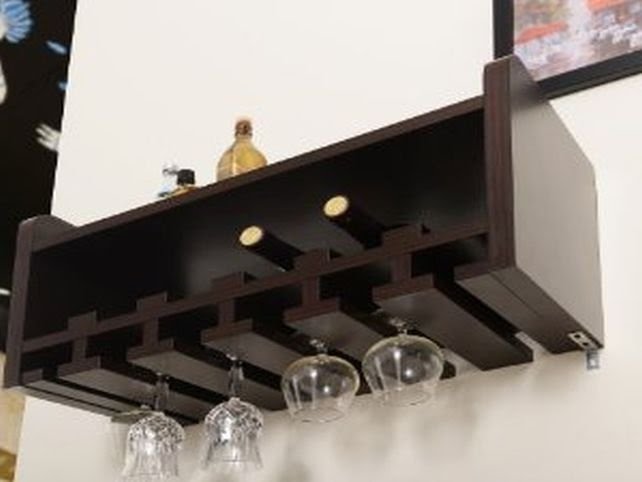 Wall-mounted, this wine rack and glass holder constitutes a smooth proposition to your living or dining room. It comes particularly handy whenever hosting some guests.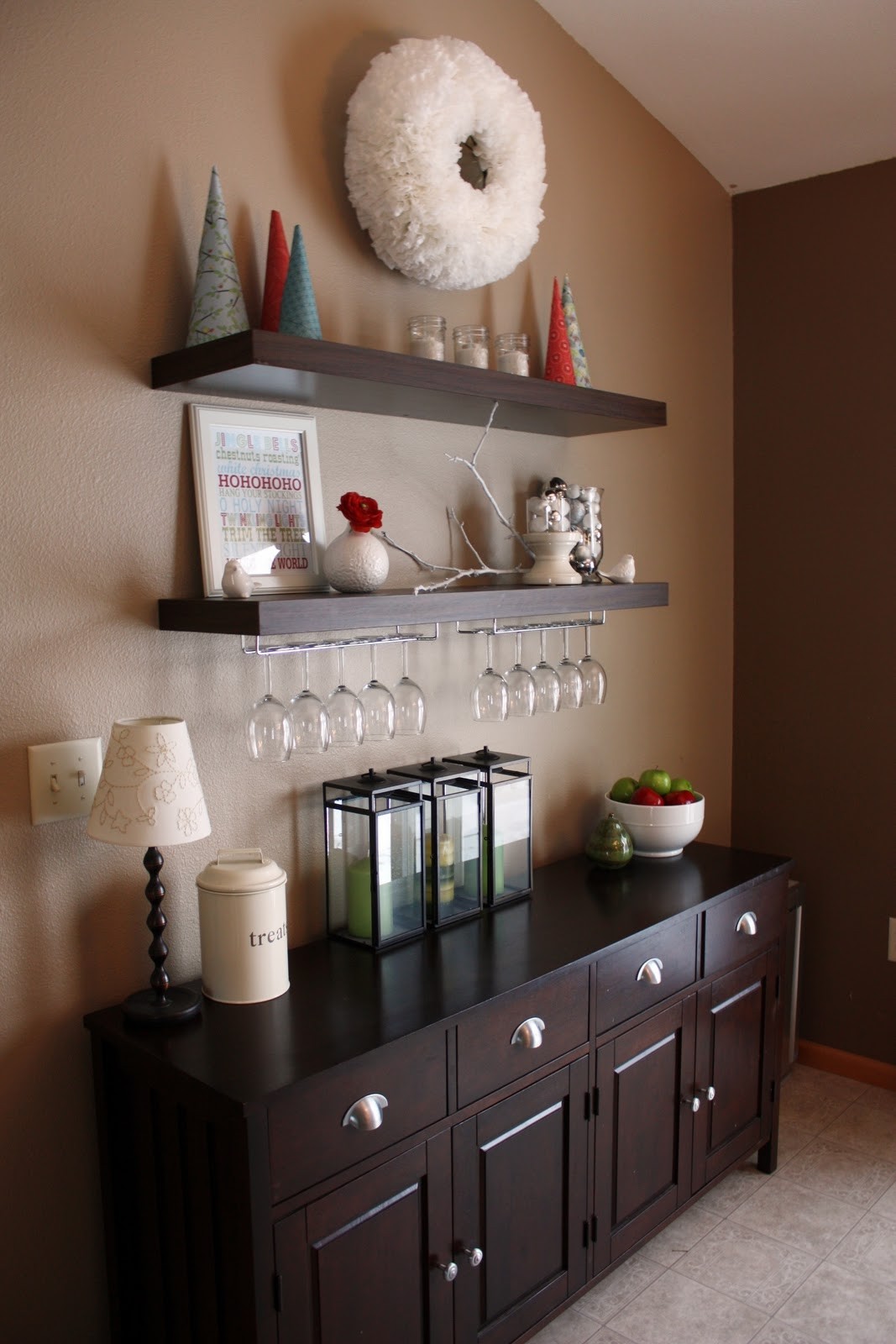 Practical, solid and stylish addition to any home decor. This dark brown wooden buffet cabinet includes top shelves. The lower one serves as a wall mounted glass holder. Simple lines are very aesthetic.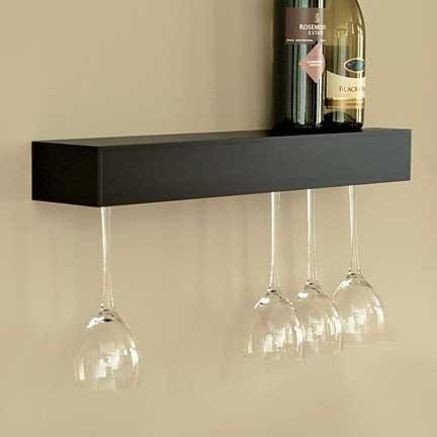 A simple contemporary wall-mounted rack for wine bottles and goblets. Its rectilinear body is made of wood finished in black. It has a rectangular top-shelf and a hanger (for 6 goblets with stems) underneath.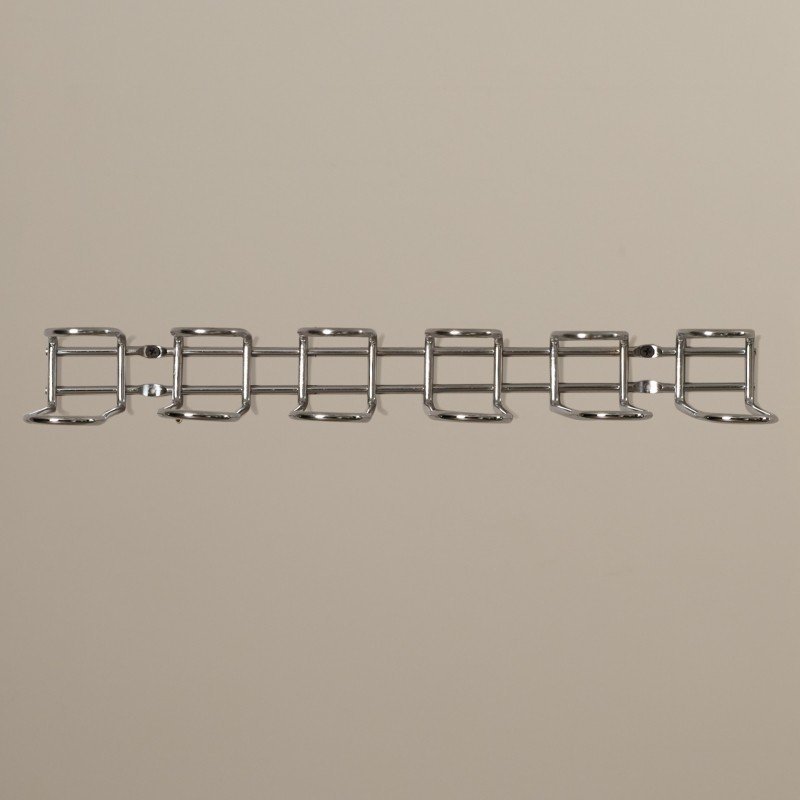 Hawley Wall Mounted Wine Glass Rack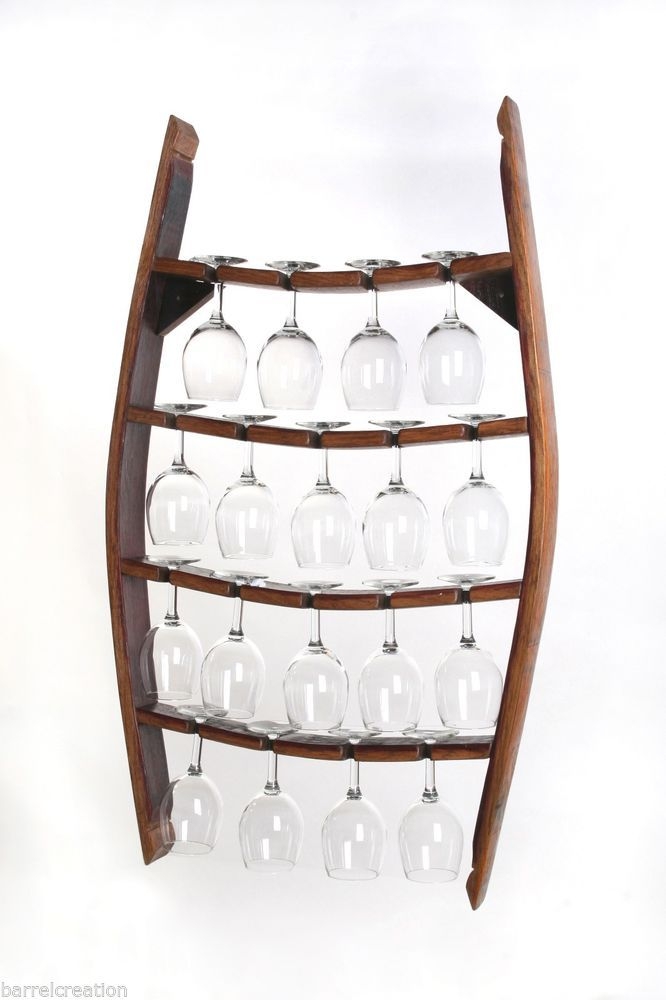 Wine Barrel Stave Wine Glass Rack Holds 18 Wine Glasses , Wall Mount Made By WBC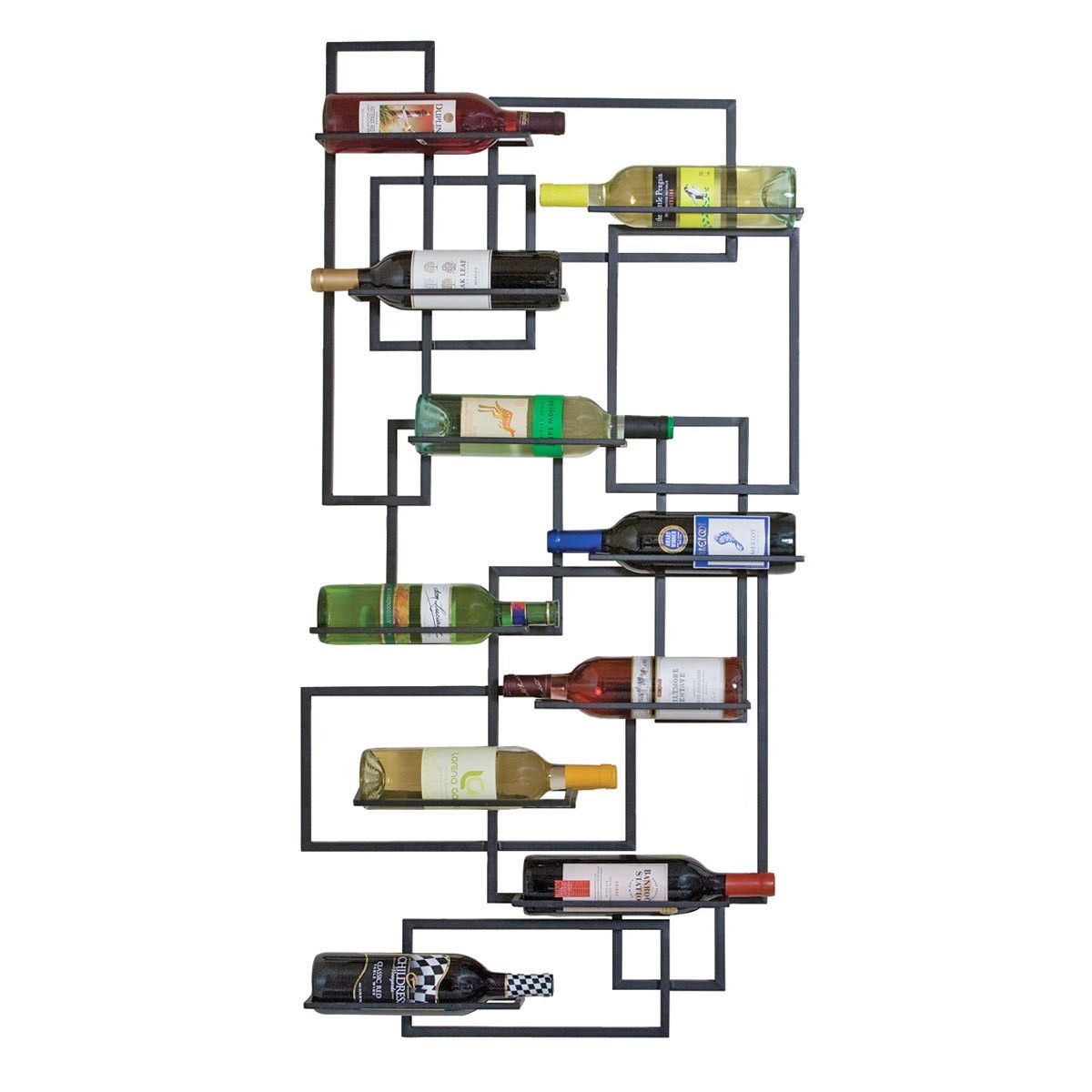 Thanks to its intricate design and durable craftsmanship, this wall-mount wine rack is long-lasting, space-saving and practical. Made of powder-coated metal, the rack holds up to 9 bottles of wine at the same time.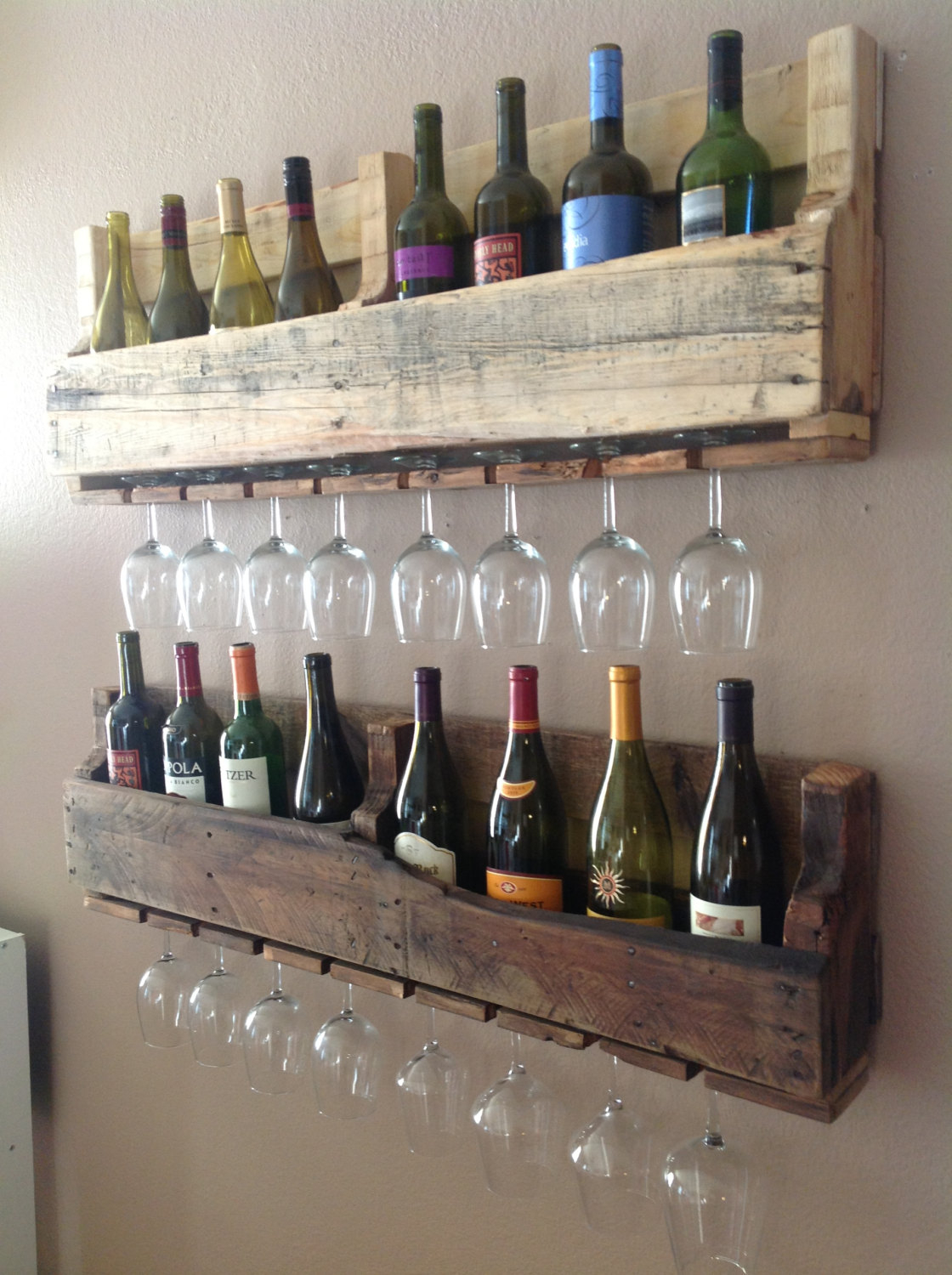 True wine lovers are often associated with nature and enjoy the natural wood elements in their home. Whole bottle of wine - can be stored in two wooden boards attached to the wall. Wall mounted wine rack contains also a glass holder, on the base.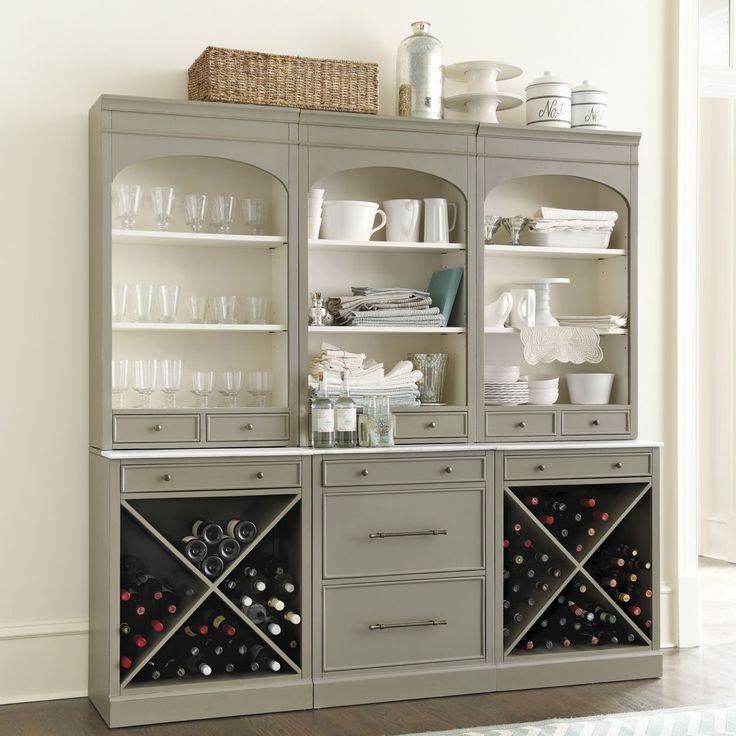 A wonderful shelving unit ideal for a small kitchen. The upper part offers plenty of space for dinnerware in open shelves. The bottom part features special racks for wine, which will accommodate a lot of bottles.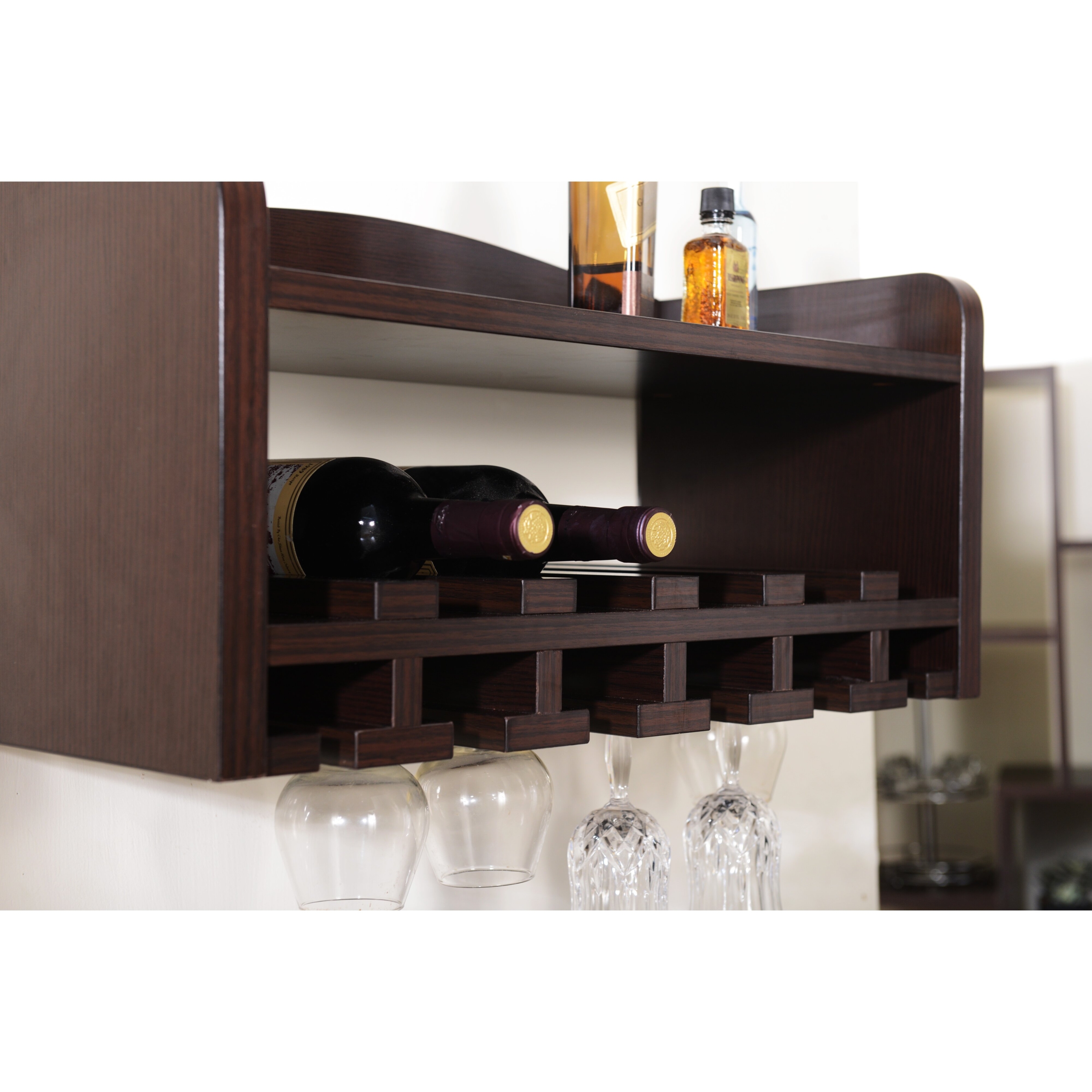 With such a beautiful wine rack, your kitchen will not only become more appealing but also prettier. The rack is made of hardwood in walnut finish, offering 1 open shelf on top, a 4-bottle wine rack, and a glassware rack.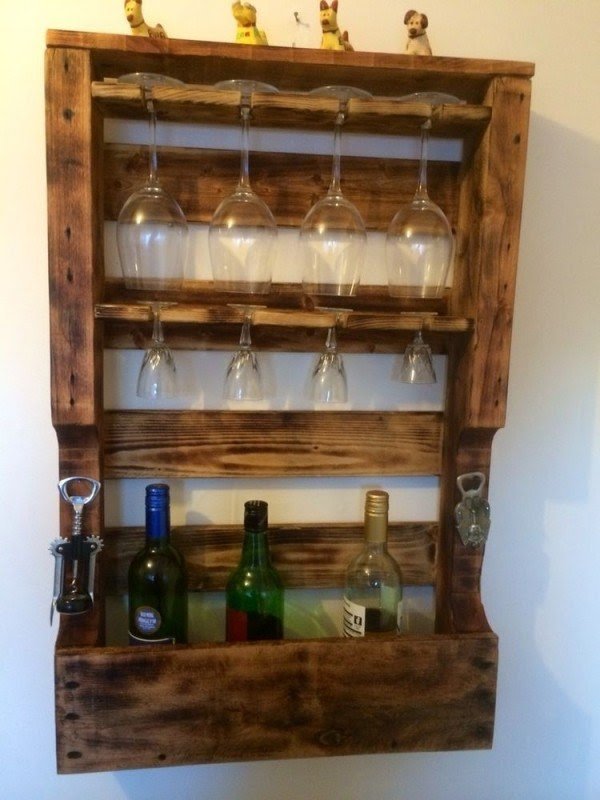 Wine rack designed for mounting on the wall. It is completely made of wood. It consists of glasses holders and shelf for bottles of wine. Great addition to the living room, dining room, bar, restaurant and more.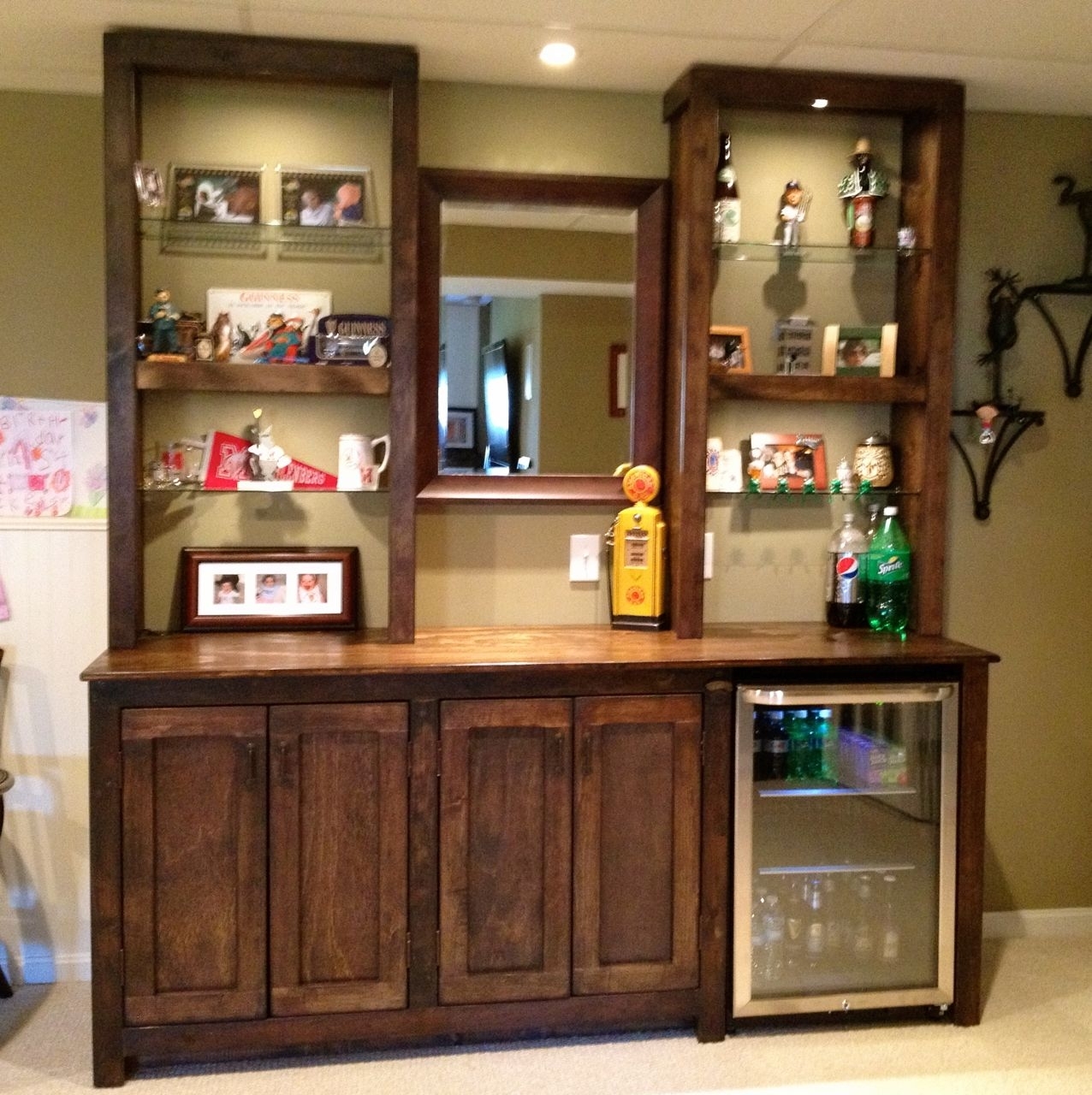 Made from refined dark wood, this wall mounted wine cabinet constitutes a good proposition for all wine enthusiasts. It features a Whirlpool wine cellar, located smoothly between the wooden doors and shelves.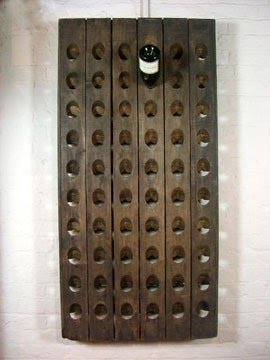 If you often find yourself lacking space for wine bottle storage, take a look at this spacious, oversized design for a large, wall-mounted wine rack with a plenty of room for as much as up to sixty bottles at once.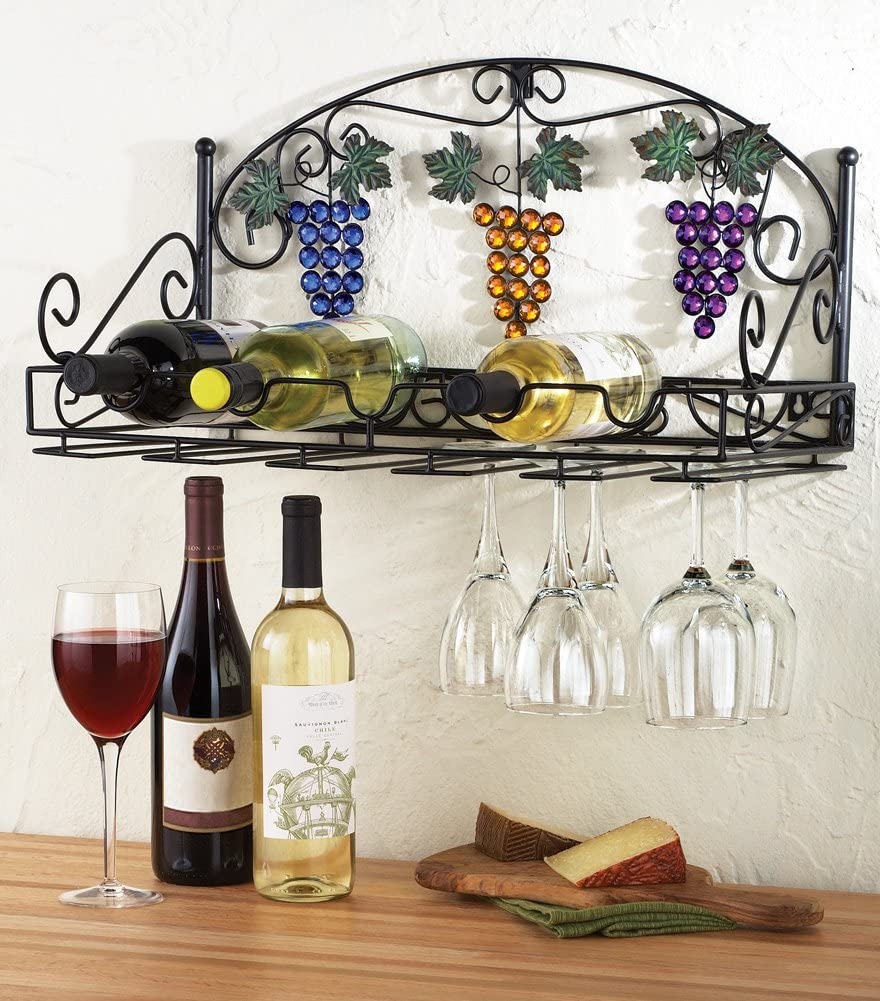 Kitchen Wine Glass & Bottle Display Shelf Vineyard Grape Wall Mount Holder Rack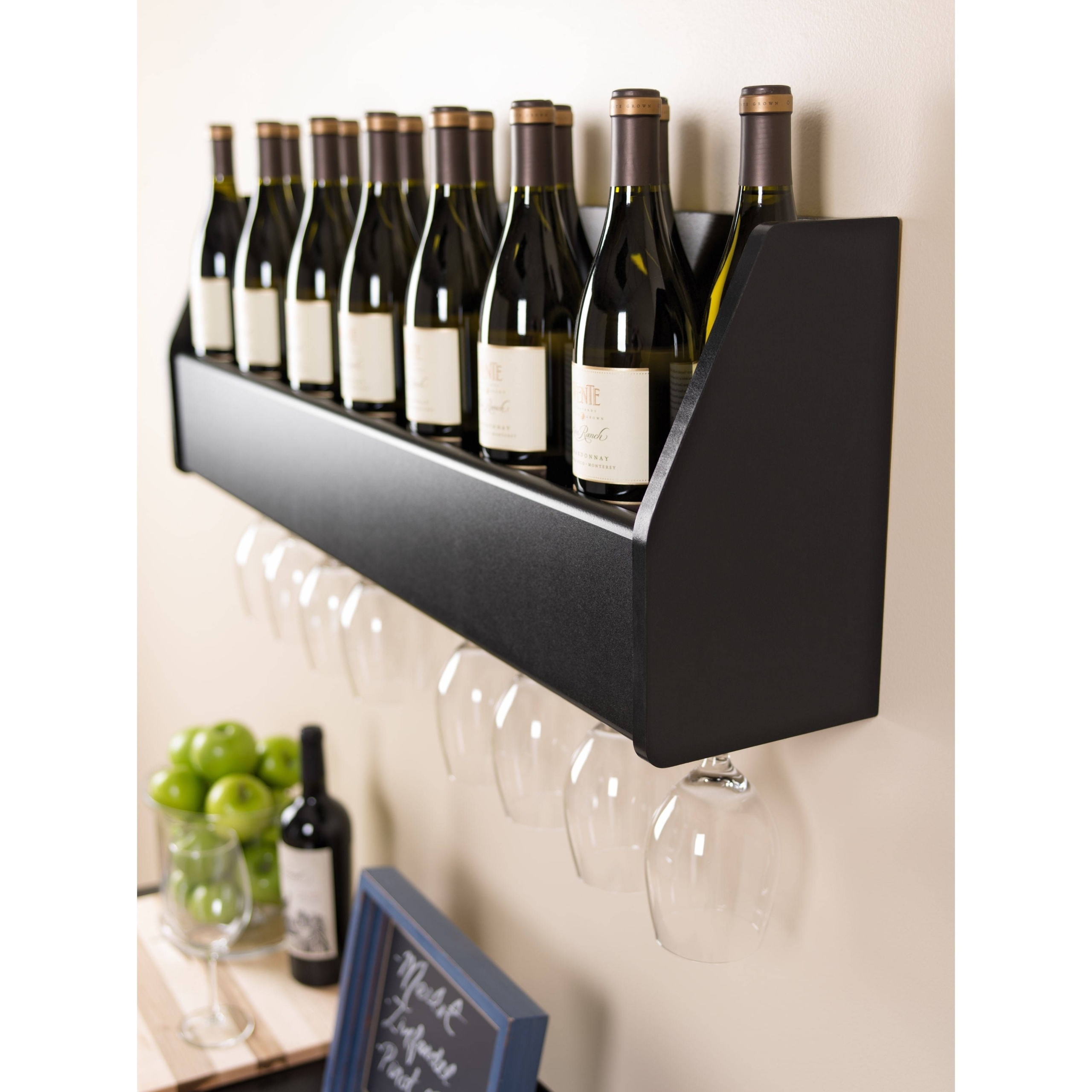 A cool practical wall-mounted kitchen rack made of wooden materials with a dark blue finish. It has elevated both a back wall and slanted sides. It accommodates a dozen or so bottles on a shelf and 8 wine glasses underneath.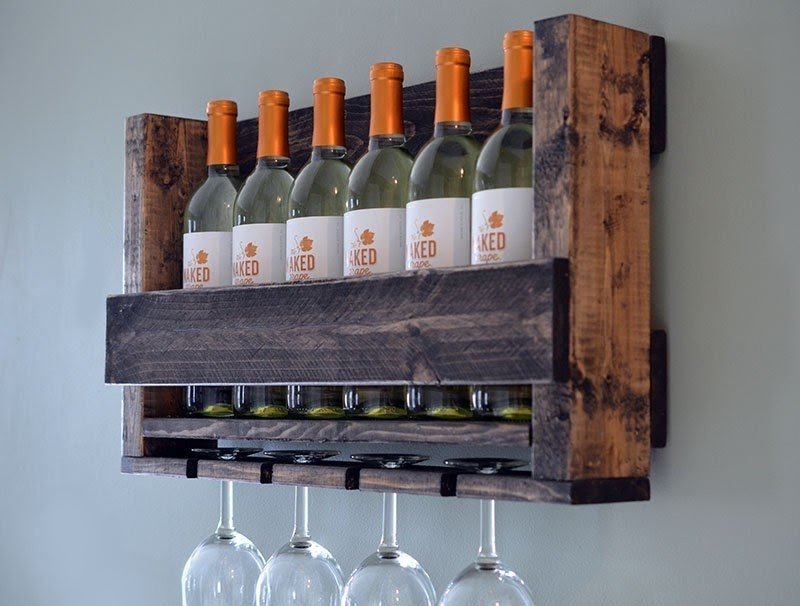 Wine Rack Rustic Modern Wine Glass Holder by RchristopherDesigns, $39.00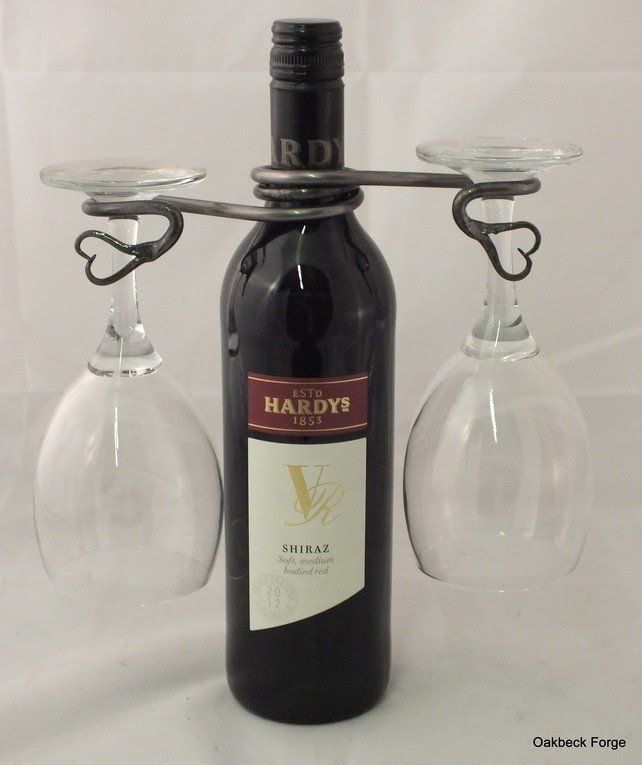 Hand forged heart design wine glass holder. Planning a romantic night out, or you wanna invite your crash home? With this cool and useful thing, you won't have to worry about anything. Two glasses not included! ;)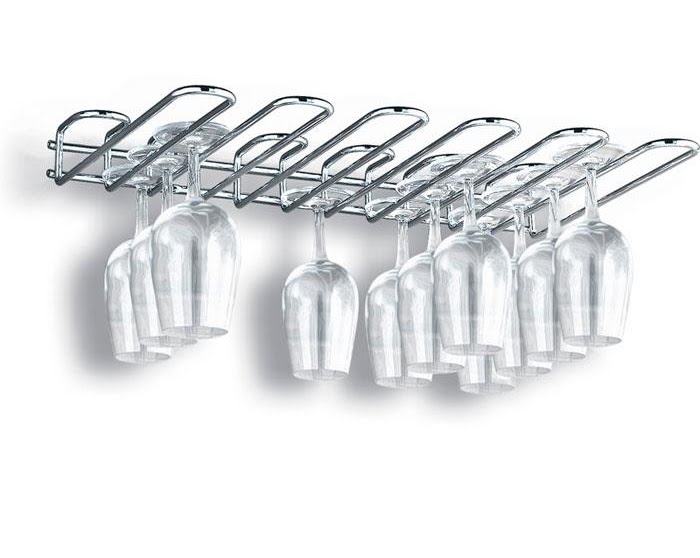 A contemporary-looking, ceiling mounted upside-down storage for glasses, made out of chromed steel with a distinct, reflective finish. The storage makes for a handy addition to a kitchen and holds up to twenty-five glasses.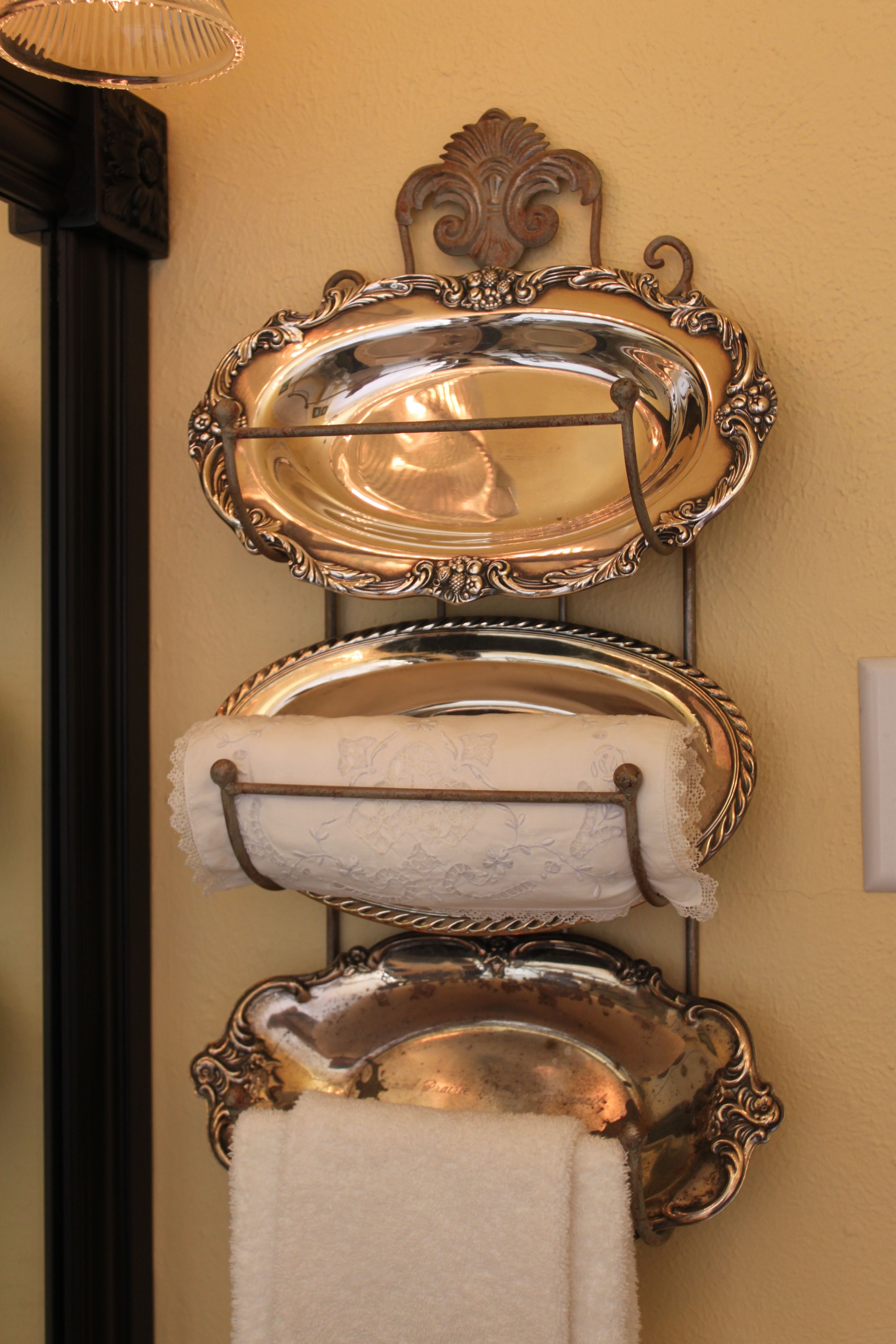 Rack designed for mounting on the wall. It is completely made of metal with antique finish. Includes 3 handles for storing plates, wine bottles and others needed stuff. Handy accent for each home.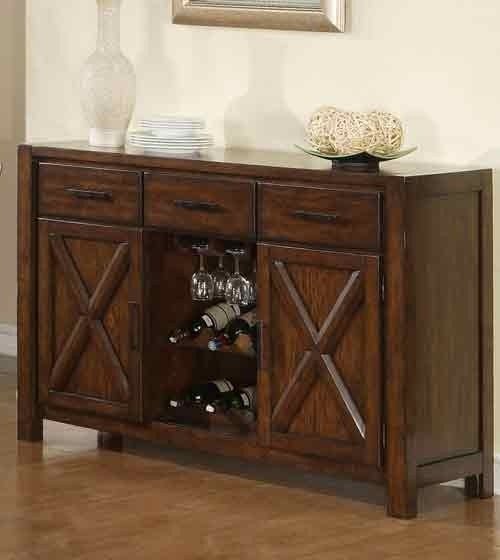 Such a cupboard in the dining room, that contains also a place to store wine - will attract the eye of everyone, not only wine and good taste experts. Interesting finish in exotic mango wood - emphasizes delicate, classic in its own style carving elements.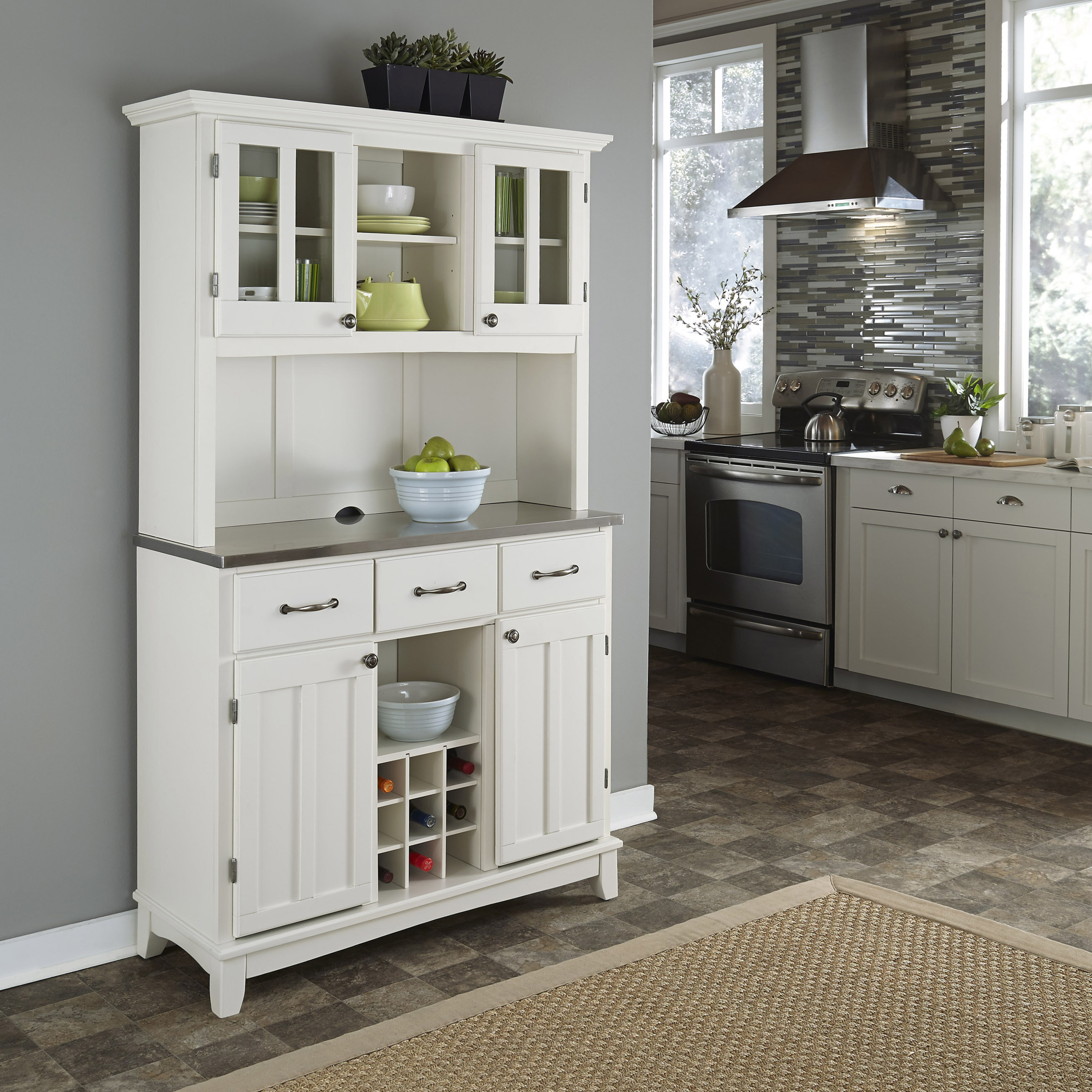 Solid wooden server with storage compartments and wine rack. It also includes three storage drawers. White hardwood frame is also equipped with simple brushed steel hardware. The whole element is neutral, so it matches any kitchen design.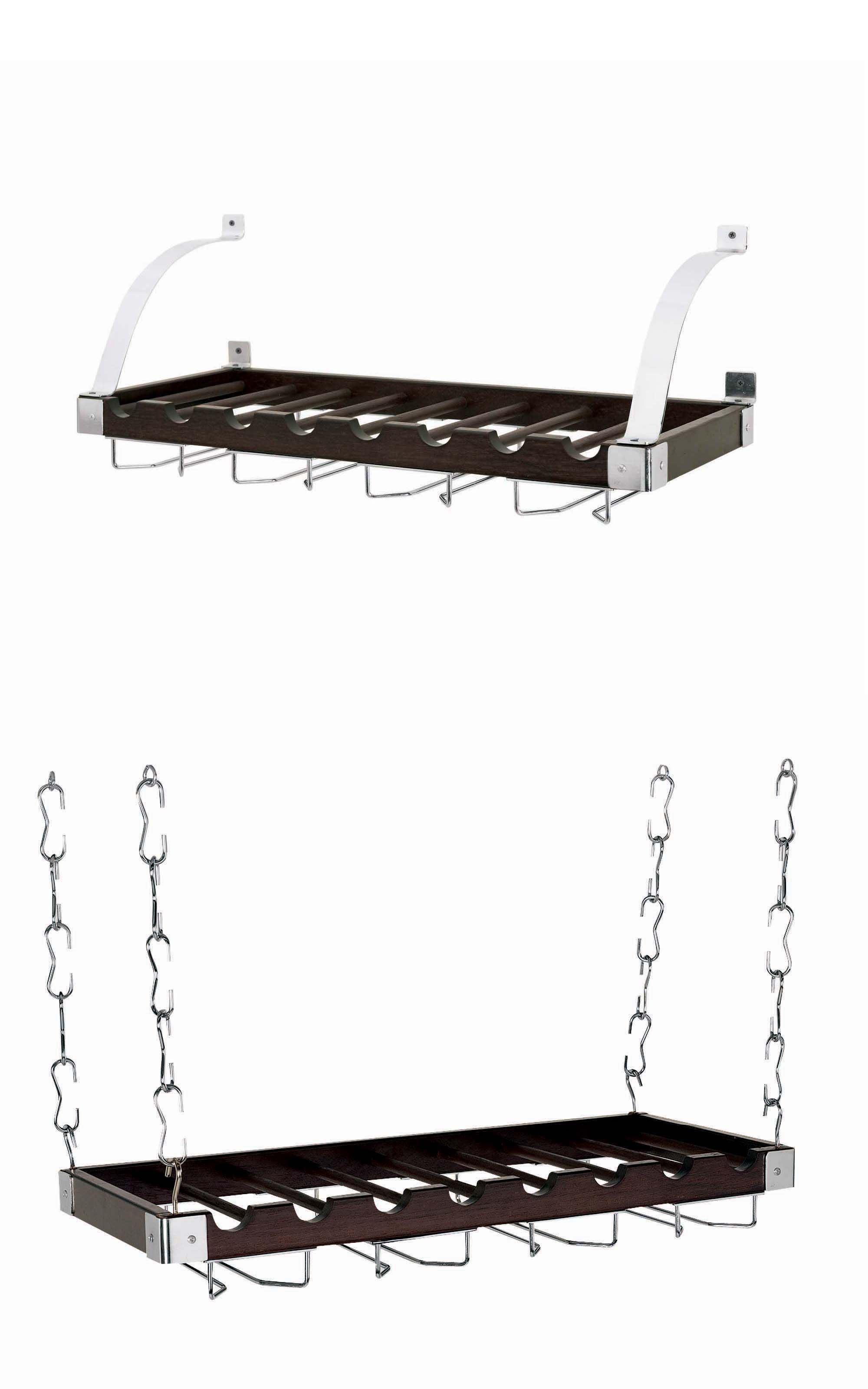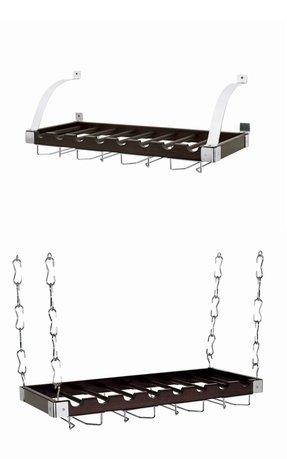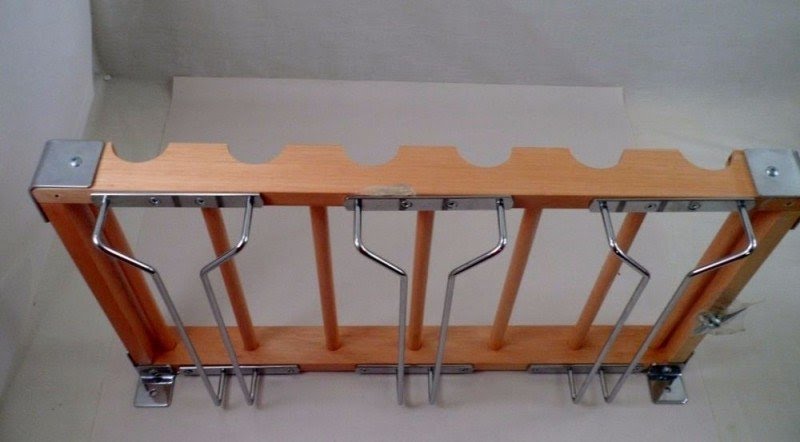 New Natural Wood & Chrome Wall Mounted 6 Bottle Wine Rack & Wine Glass Holder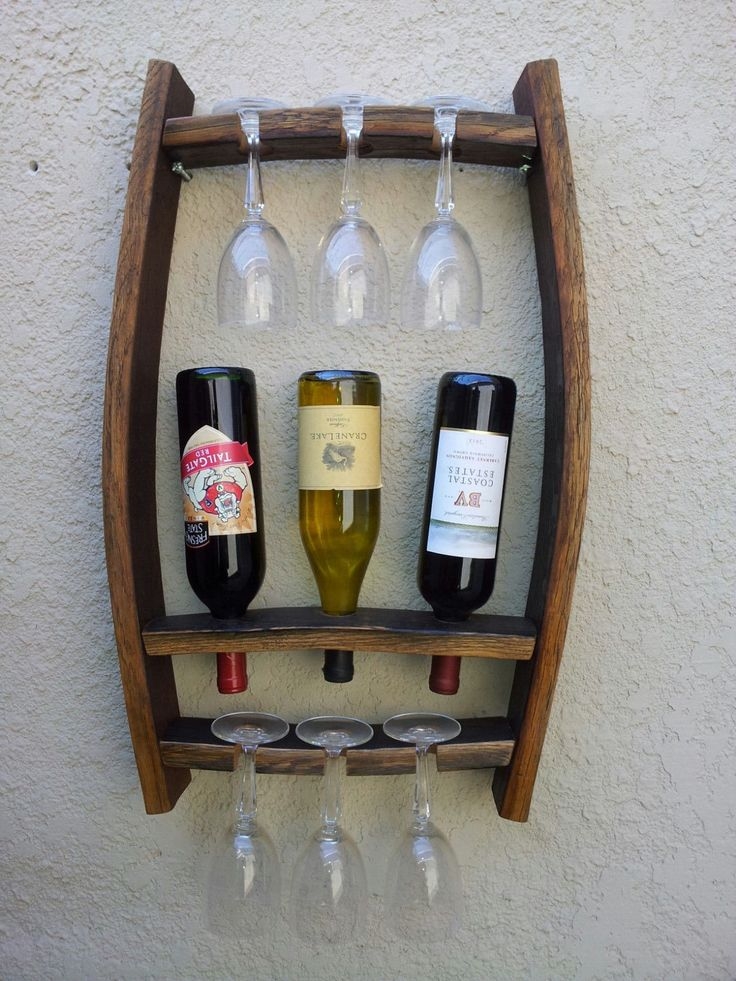 Wine barrel wall mount Wine Bottle and Glass Holder, barrel stave wine rack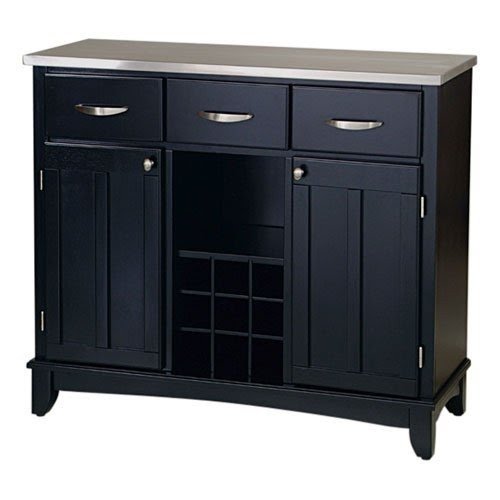 This simple cabinet will be very useful during parties or every day. It has two closets for crockery, three drawers for cutlery and shelf special for wines. It connected function of bar and cabinet. It is made of dark wood and has marble desktop.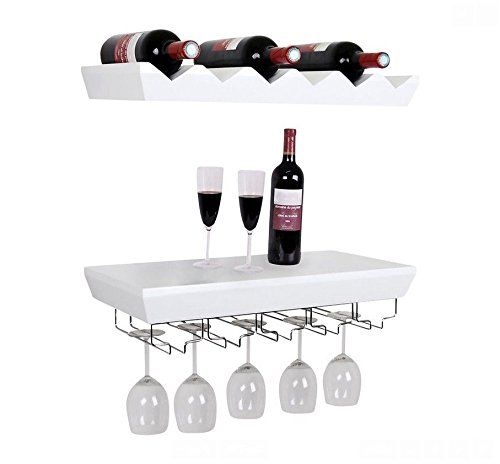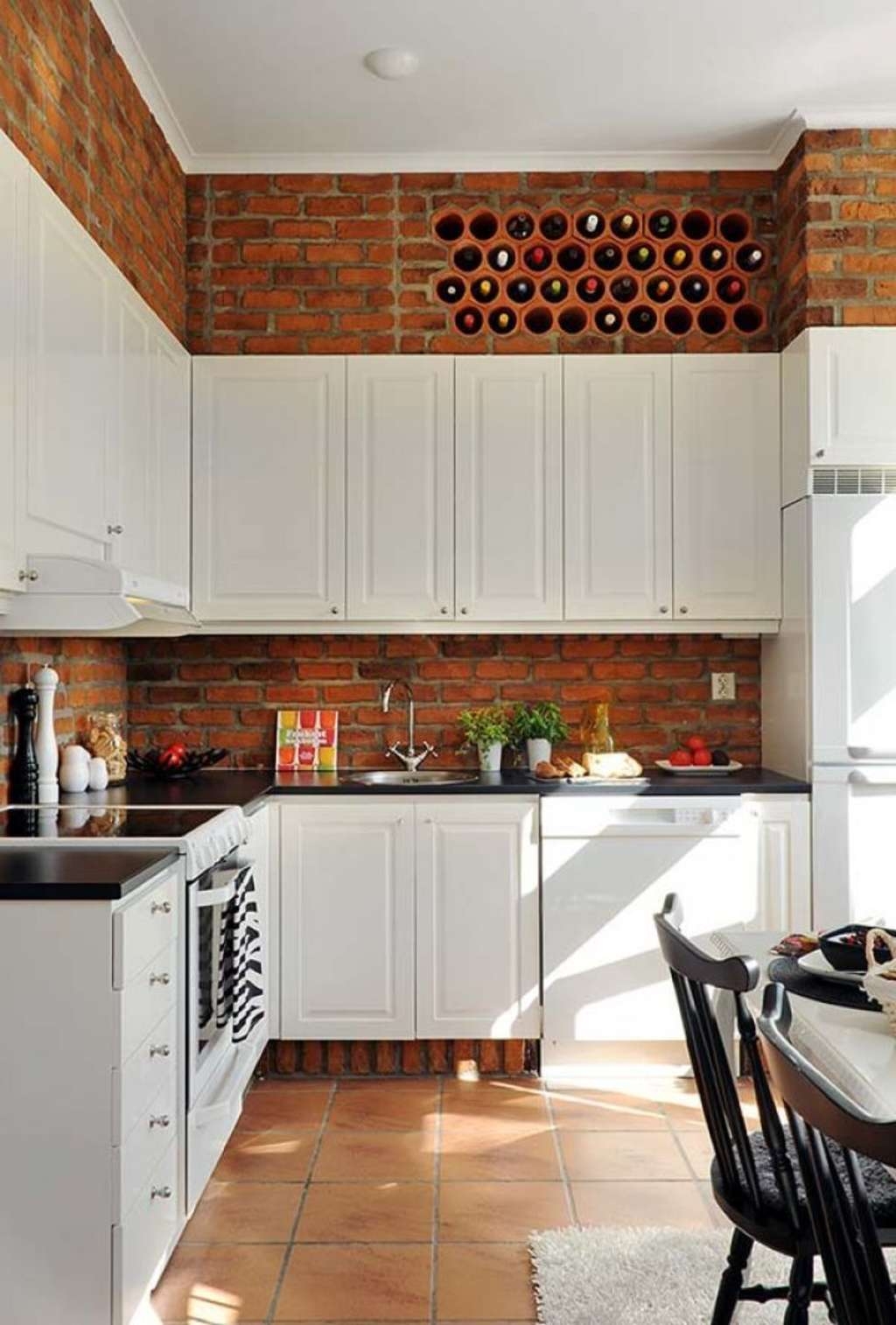 Creative and modern rack intended to storage wine bottles. It is made of ceramic and built-in wall. It is very practical, because it doesn't stake a lot of place. If you love wine, it is must-have in your living room or kitchen.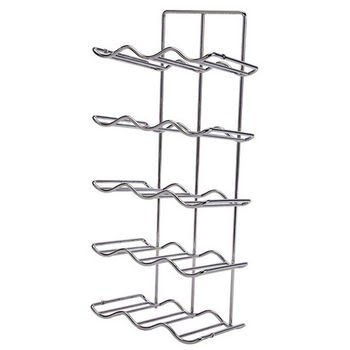 This wall mounted wine cabinet delights with its smooth, minimalistic construction, as well as high-quality aluminium finishing. It offers a place to store up to 15 bottles.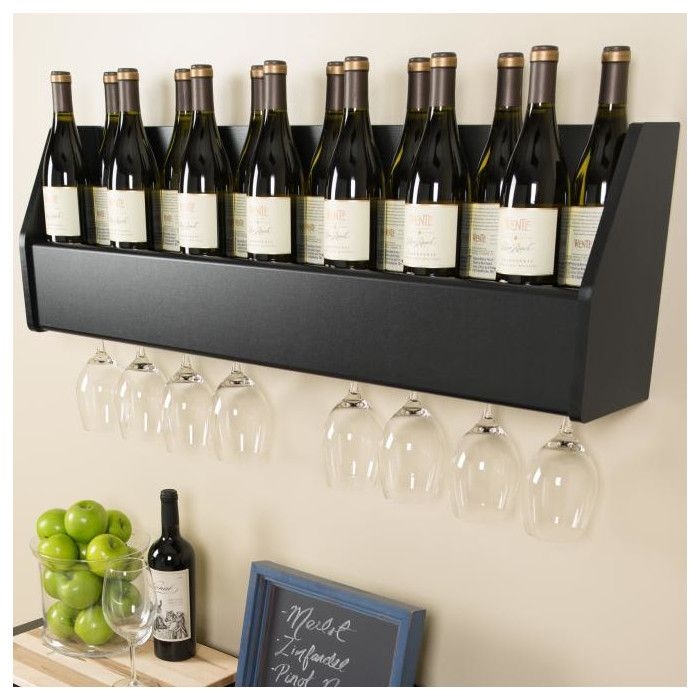 Floating 18 Bottle Wall Mounted Wine Rack