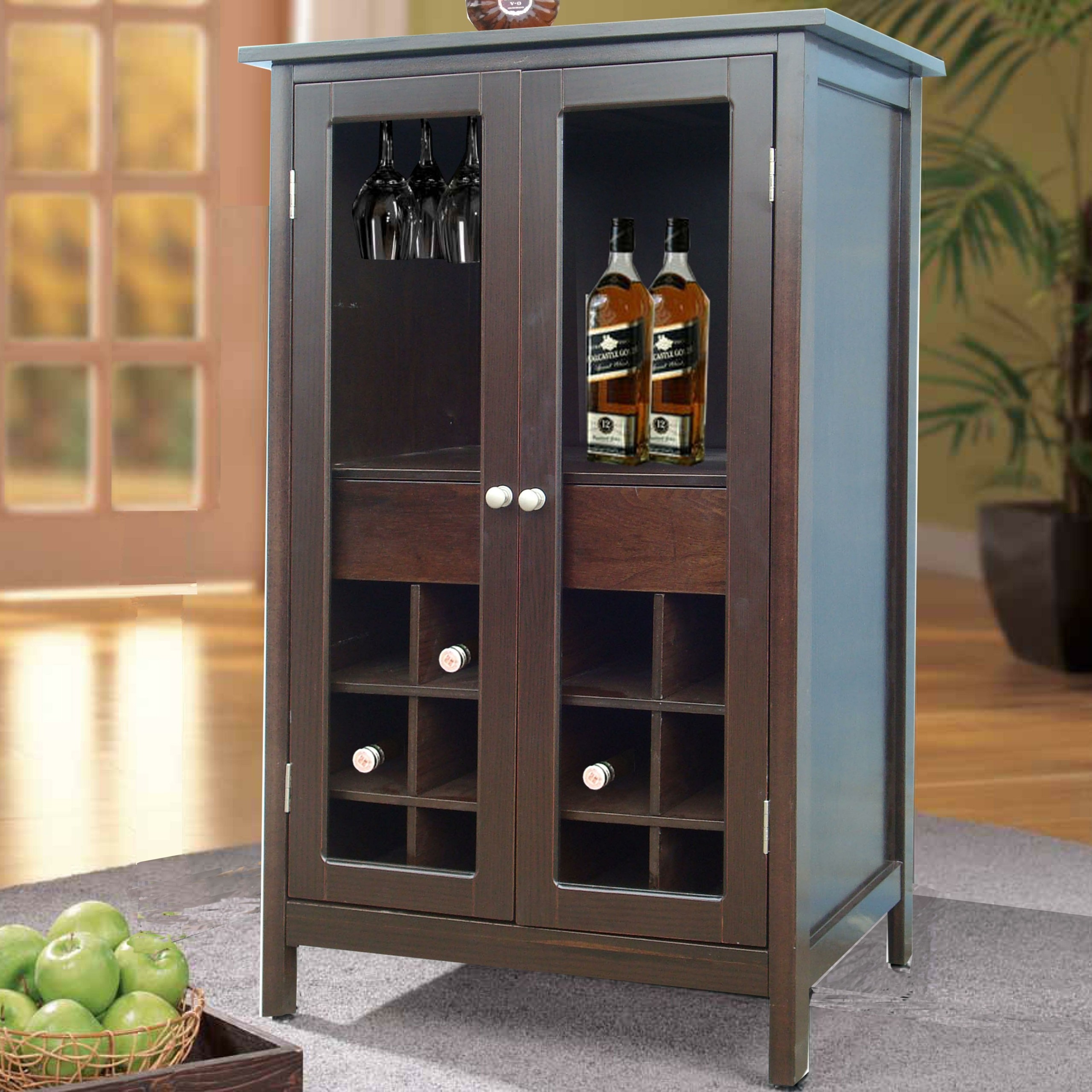 12 Bottle Wine Cabinet
A wine cabinet that will easily accommodate up to twelve bottles and bring you just the right amount of class and elegance to the room with the walnut finish and three rows of stem glass storage, while the sturdy construction ensures years of use.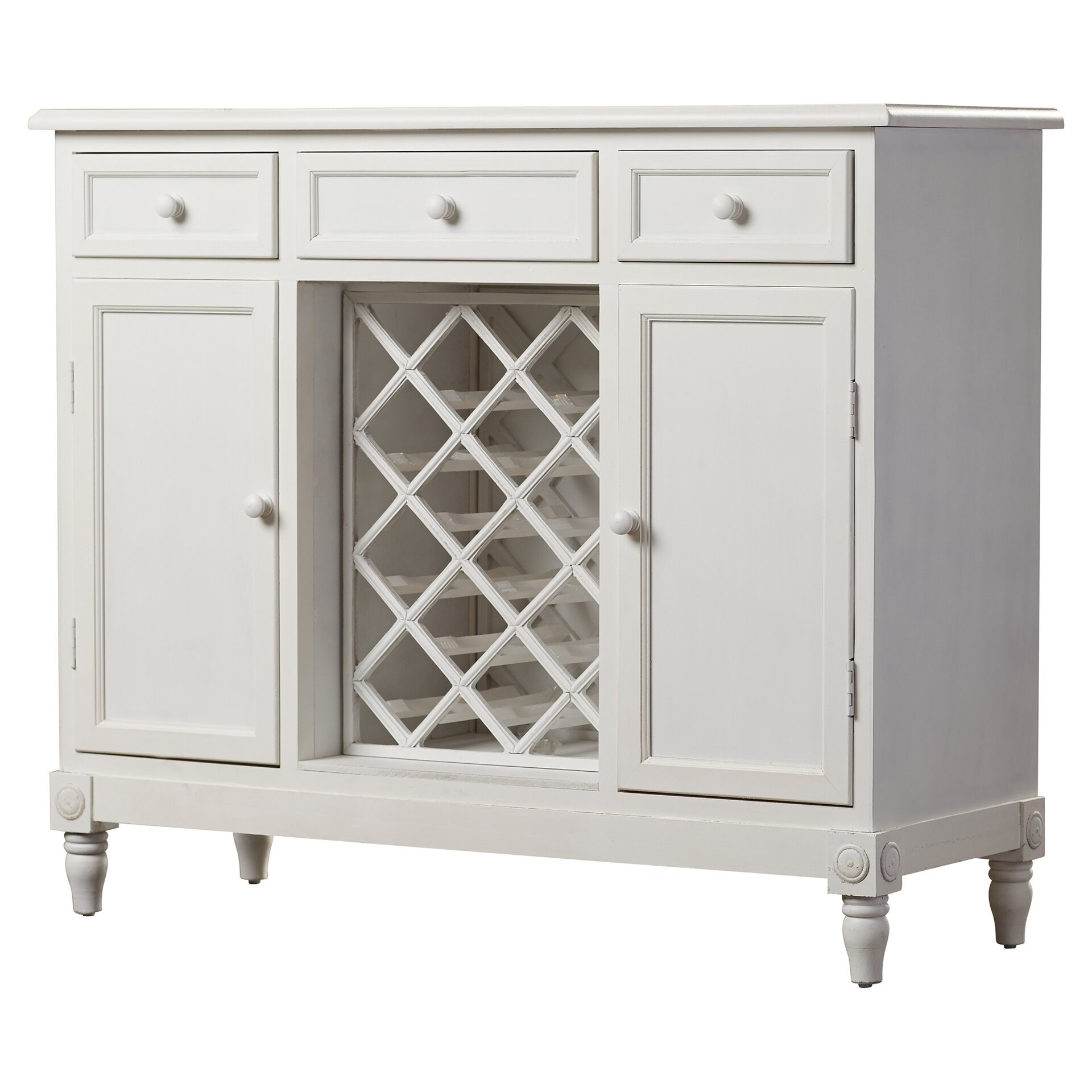 Audra 12 Bottle Wine Cabinet
It is very practical and extremely useful cabinet for wine. In the central part there are special compartments for bottles. Around it, there are drawers of different sizes. This is a practical piece of furniture.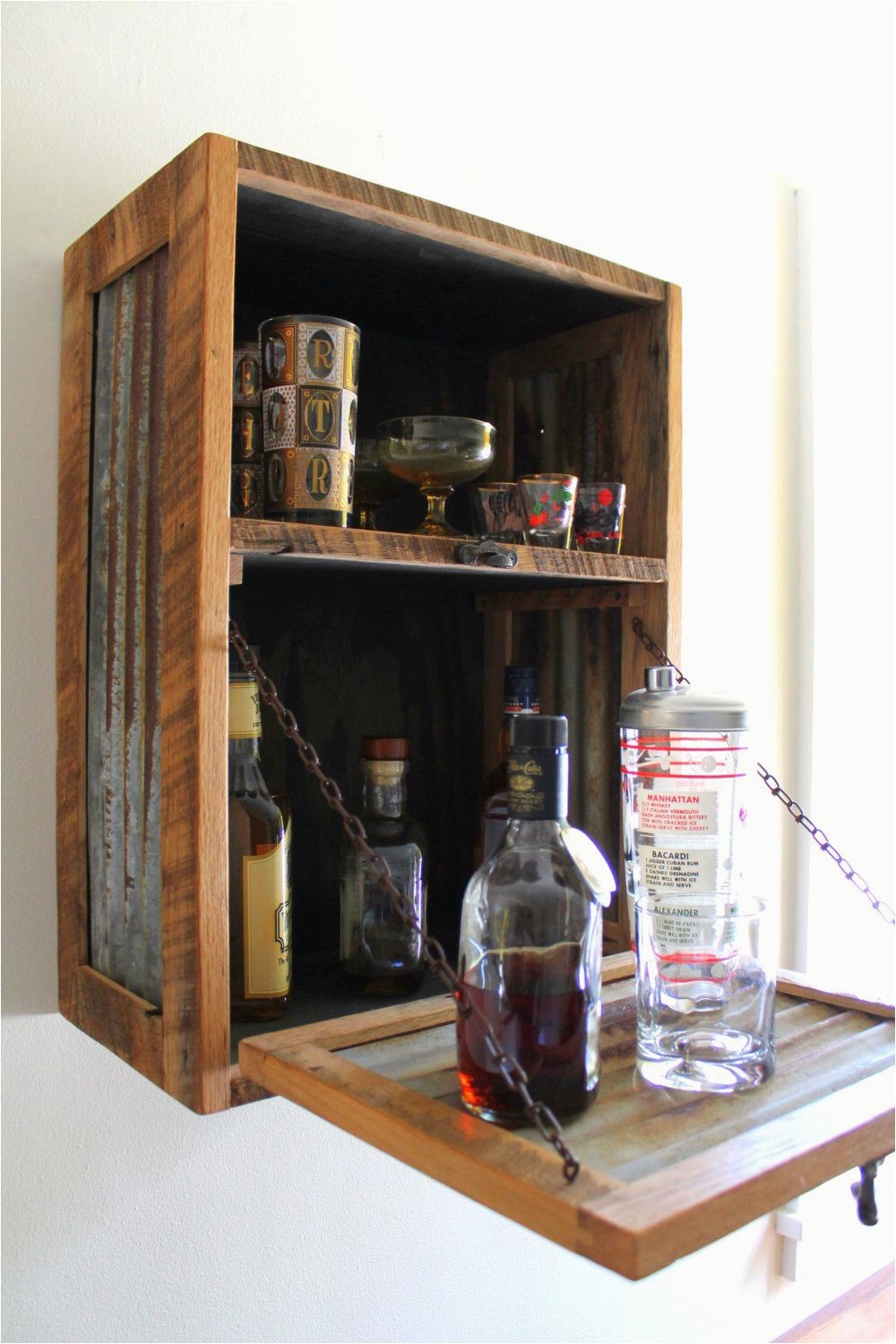 Rustic hanging liquor cabinet murphy bar
With this hanging wine cabinet, you are getting a space-saving and functional addition for your kitchen, dining room, or living room. Its frame is crafted of sturdy wood with metal sheet panels, offering 2 small compartments covered by a matching door that can be used as a convenient tray.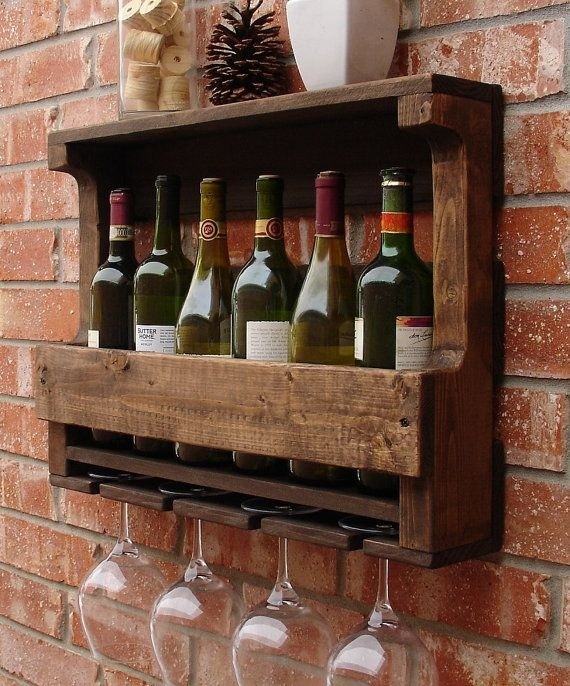 Reclaimed wood wine rack pallet wall
Characterized by reclaimed wood pallet construction and rustic finish, this wall-mount bottle rack is sturdy, capacious, and space-saving. Includes 1 shelf open shelf on top, 1 shelf for shot-glasses, and 1 shelf for bottles of liquor.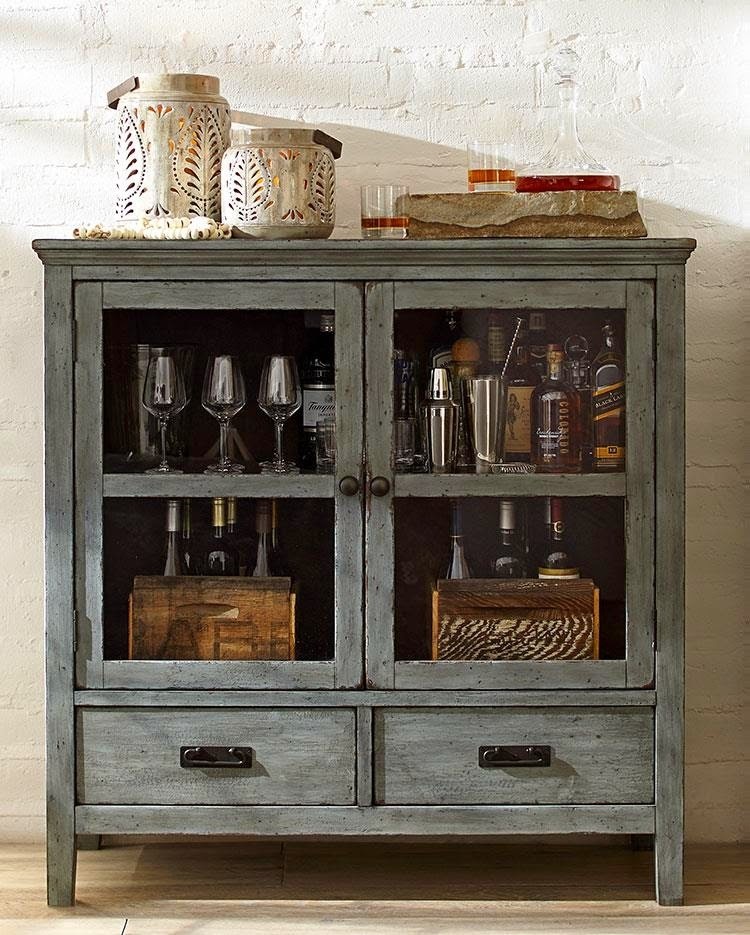 Stylish cabinet with double glass doors and 2 drawers arranged horizontally. It is mounted on wooden frame. Application in all kinds of interiors according to taste and need.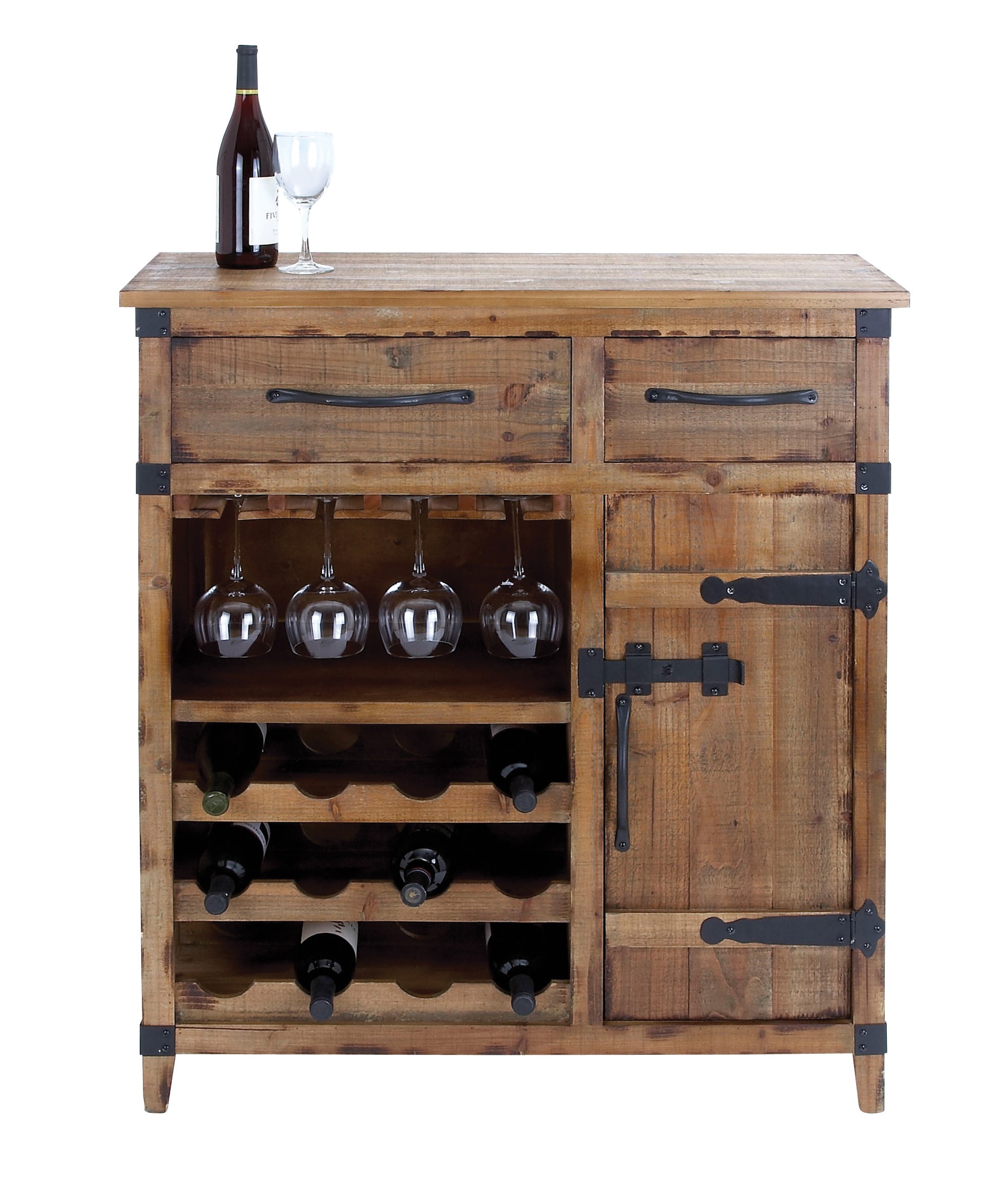 Have ever dreamt about a holiday in French village near vineyard? This rustic cabinet intended to storage vine and chalices give you second best of this dream in your home! Wooden cabinet is a little bit worn-out, so it looks more realistic!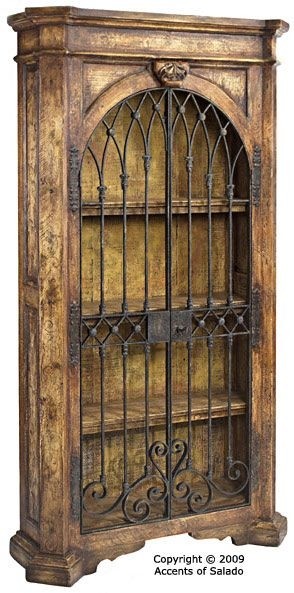 The beautiful and beautifully made old world cabinet is a perfect combination of interesting details in a rustic atmosphere. The combination of wood and iron delights and brings to the room a unique style.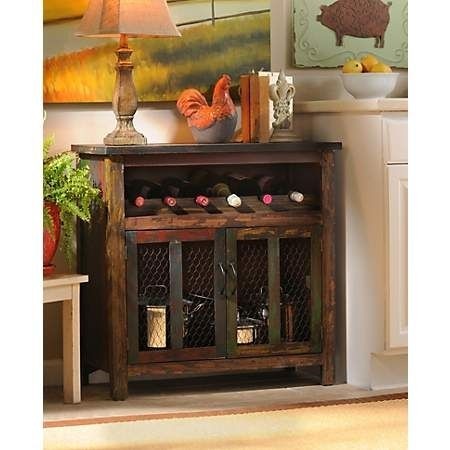 Made in the rustic style of the wine cabinet are a great combination of unique style and interesting decorative details. A practical place for bottles and metal cabinet doors fascinate to create a unique whole.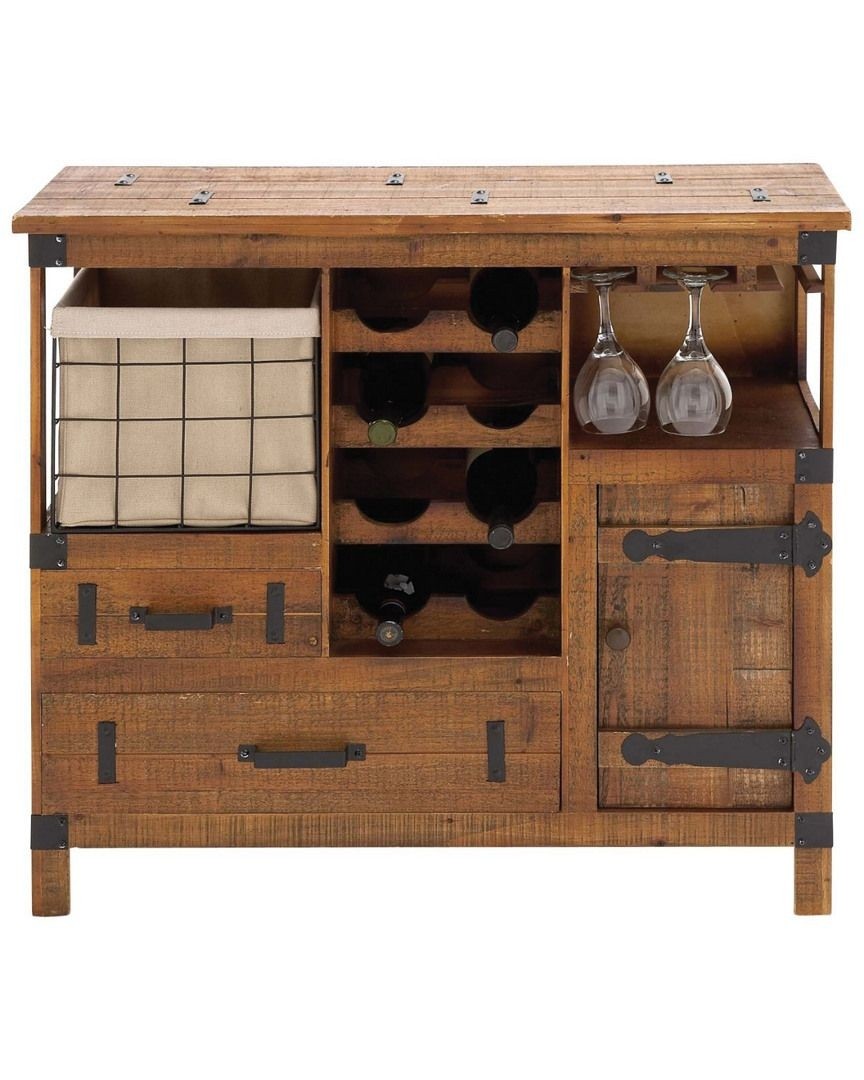 The rustic wine cabinet in a beautiful finish is a perfect combination of solid wood construction and beautiful details. Practical drawers, a bottle of wine and a solid countertop that will serve you when serving.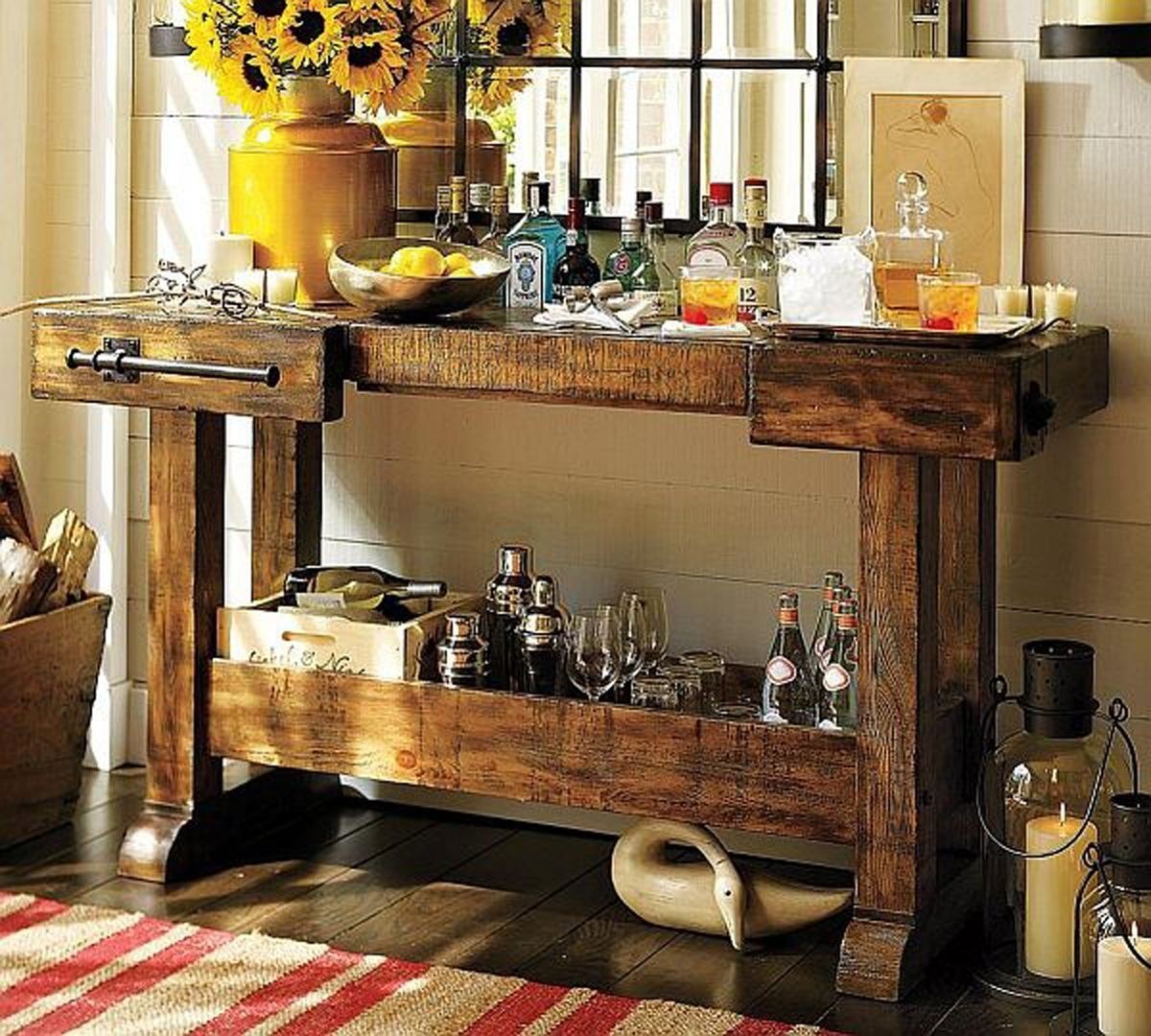 Save that scrap lumber from remodeling or adding on to your home. With a little creative sawing and staining, you can put together a scrap wood sideboard that rivals far more expensive furnishings in appearance. Add collectible bottles or decanters for boho effect.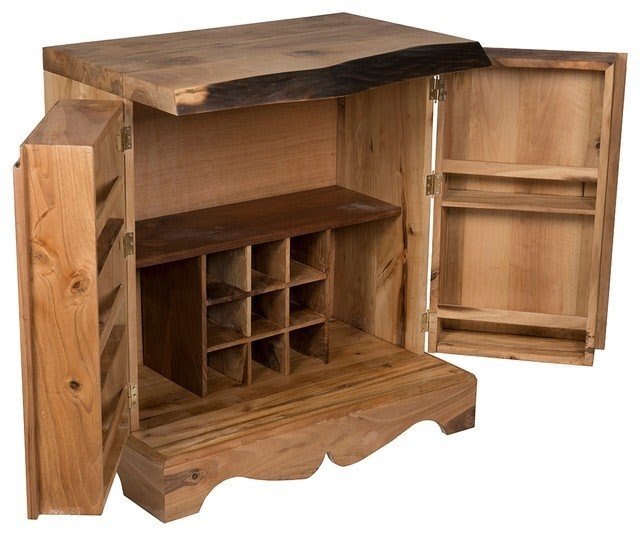 This rustic wine cabinet is pure furnished wood. It has a flat top that's thick and has a reddish-brown color. It allows for an array of activities on it. The cabinet also has a mini wine cellar, a shelf, cup or bottle holders and it has a wooden stand with elegant curve designs.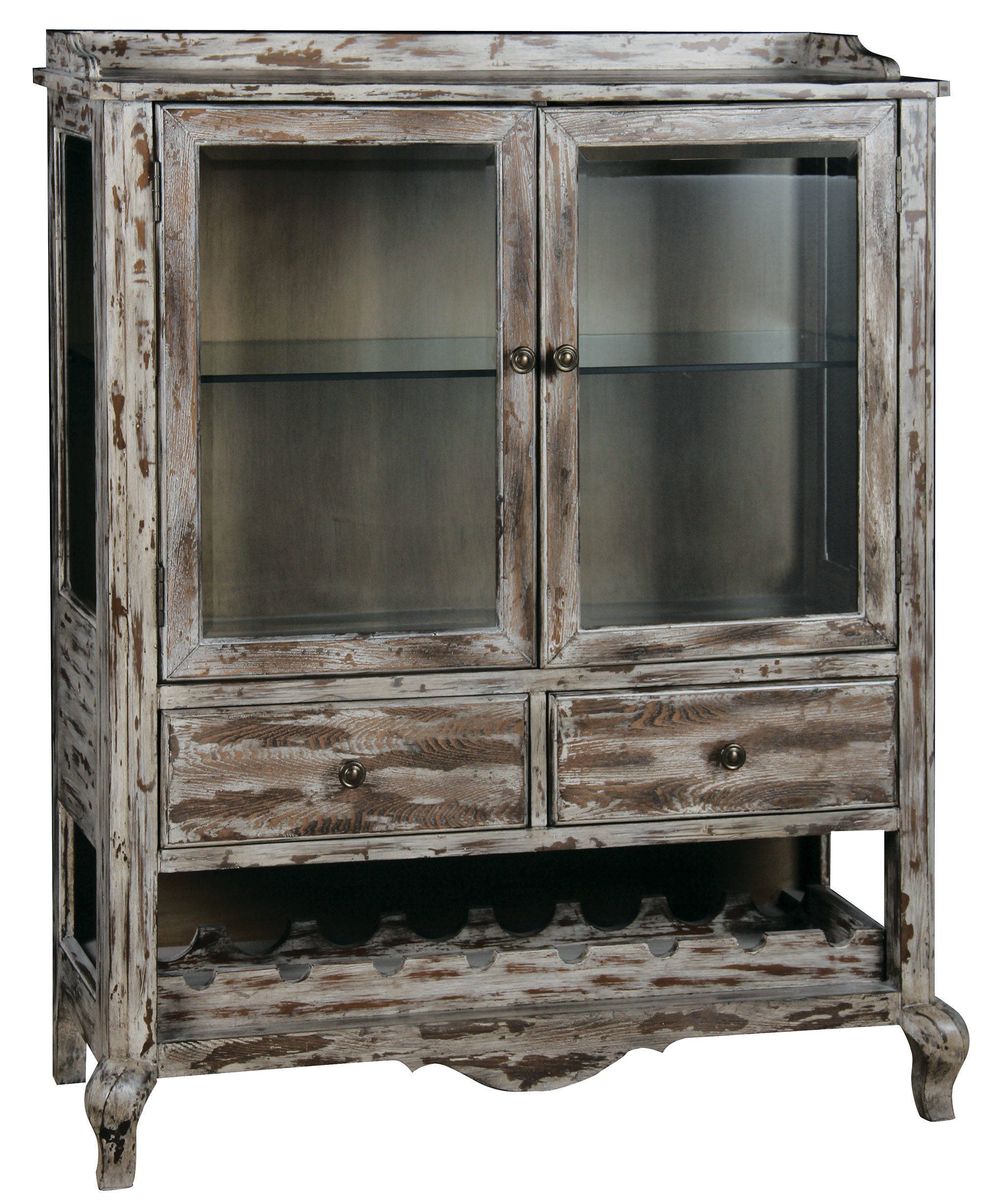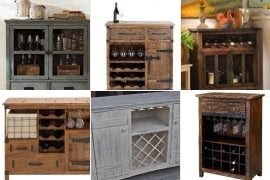 Tree Branch Privacy Screen - 40 Rustic Home Decor Ideas You Can Build Yourself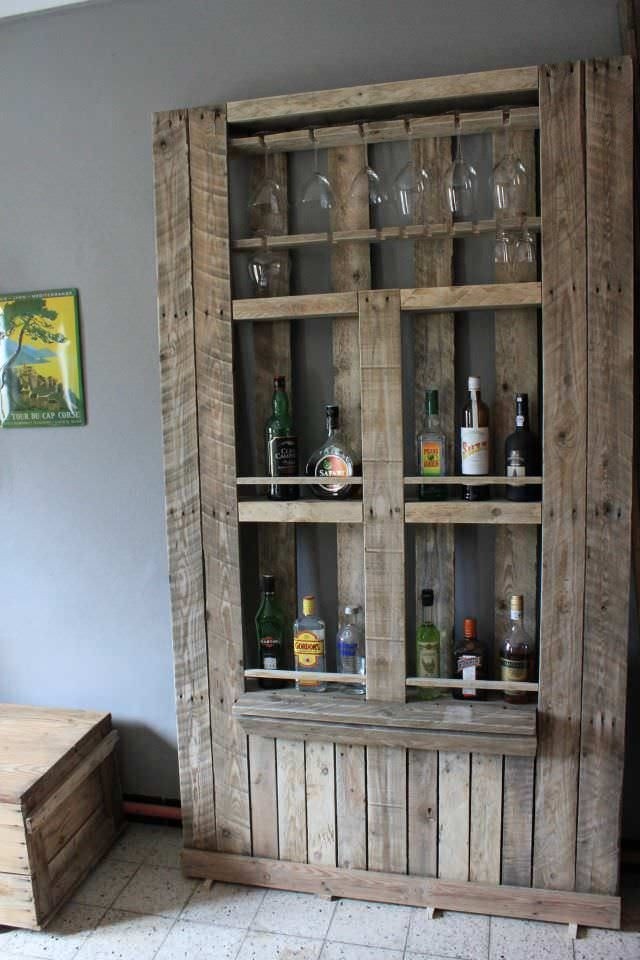 A fine solution for improving your home with country charm and functionality. This rustic wine cabinet is made of recycled wood pallets, including 1 glassware rack, and 2 wood shelves for storing your liquor bottles.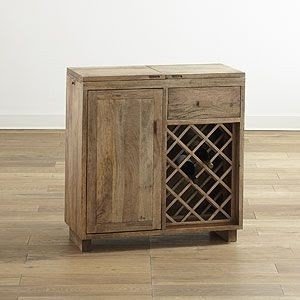 A contemporary liquor cabinet with a built-in wine rack on the side, made out of reclaimed wood with an unfinished, natural look. The cabinet has a compartment with shelves on the side and an additional drawer.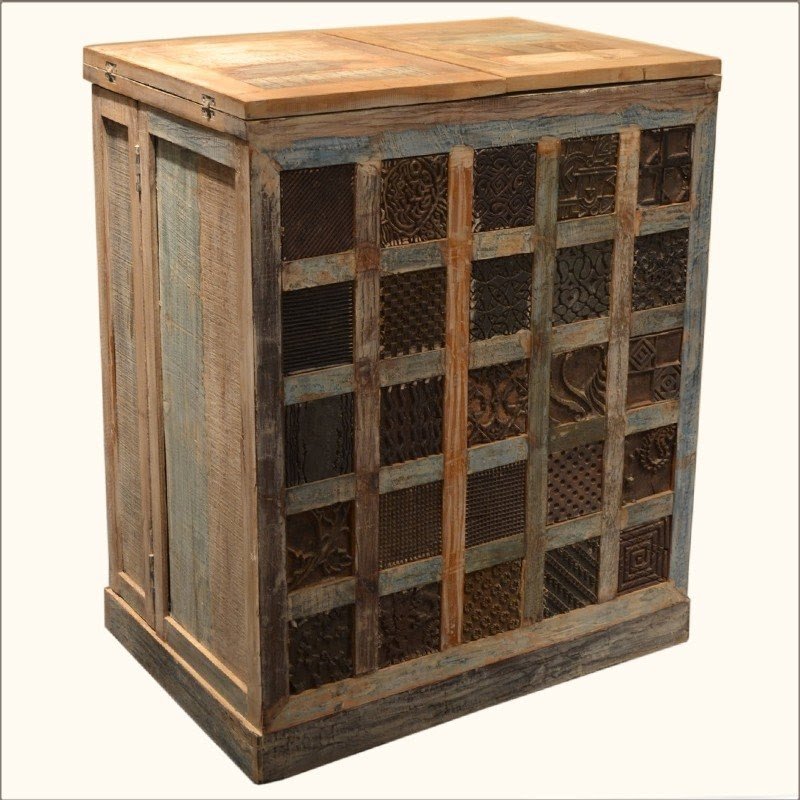 Fremont, CA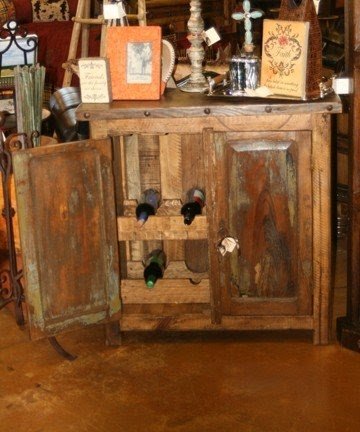 Pretty rustic wine cabinet, I don't believe you can have too much wine ...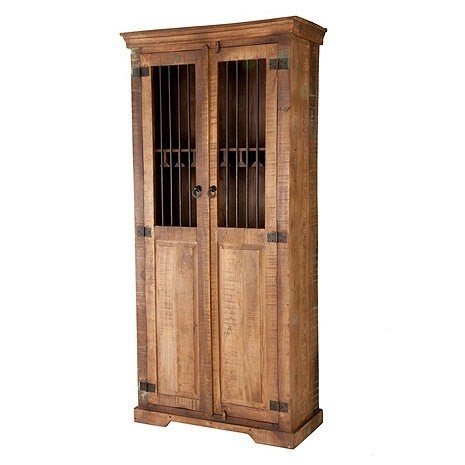 Rustic Double Door Wine Cabinet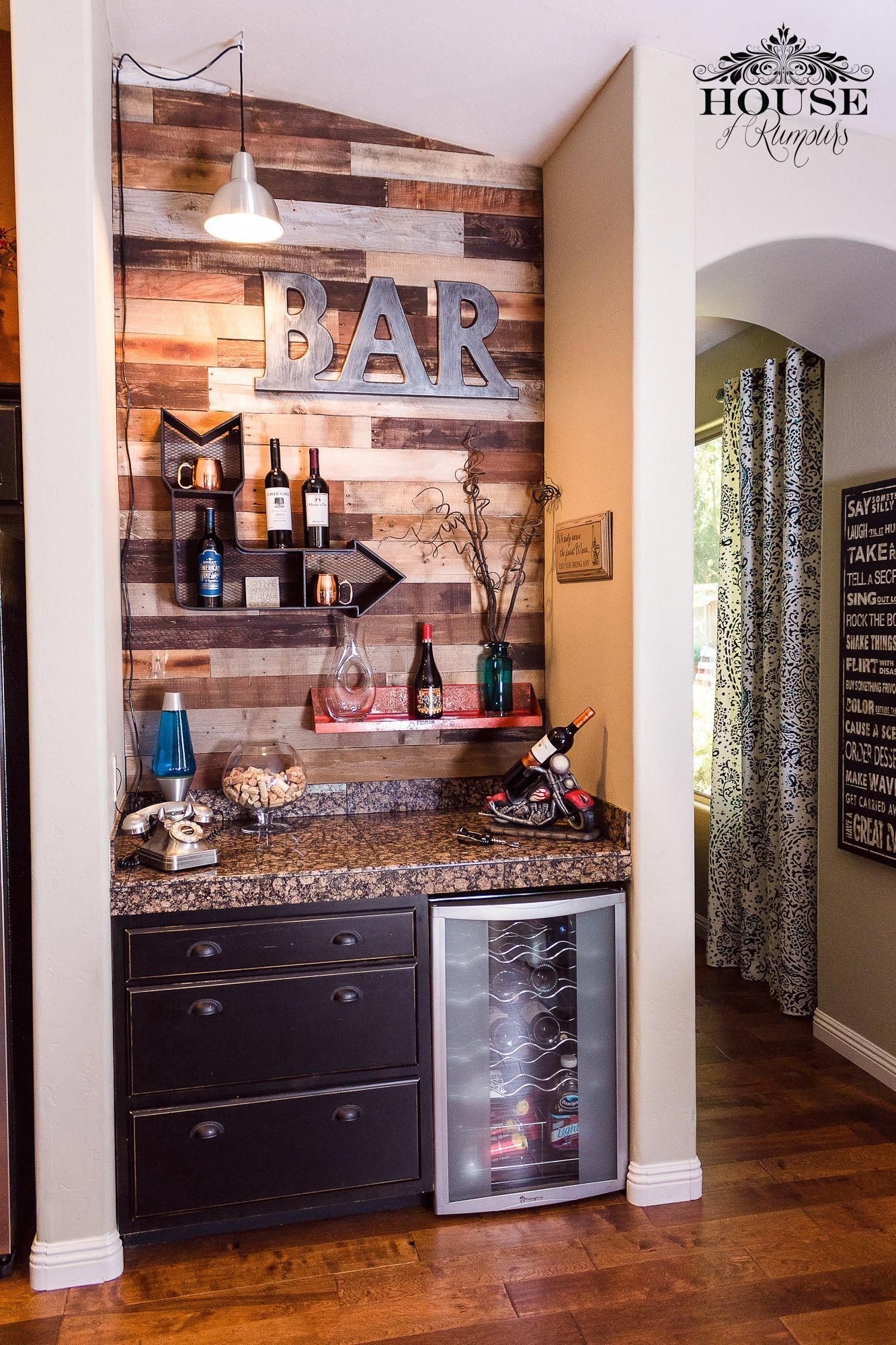 This smoothly designed wine corner delights with its cool and clean finishing, as well as functionality. Covering the wall with shining wooden pallets gave the place a contemporary character. Combining it with marble top represent style and prestige.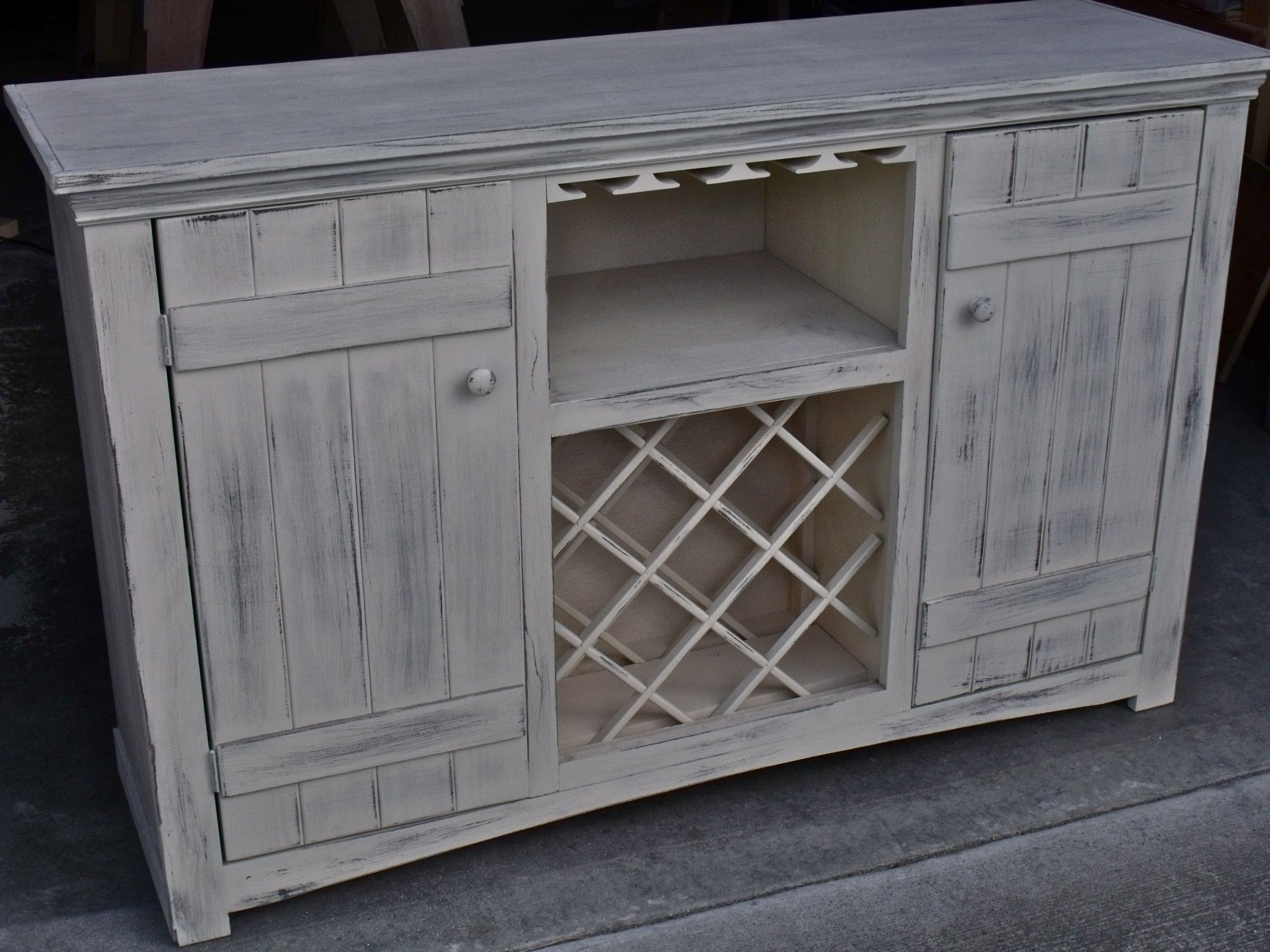 The stylish and rustic wine cabinet is an excellent piece of furniture for every connoisseur of wine. Beautiful craft, attractive finishing details and a lot of storage space creates a unique piece of furniture.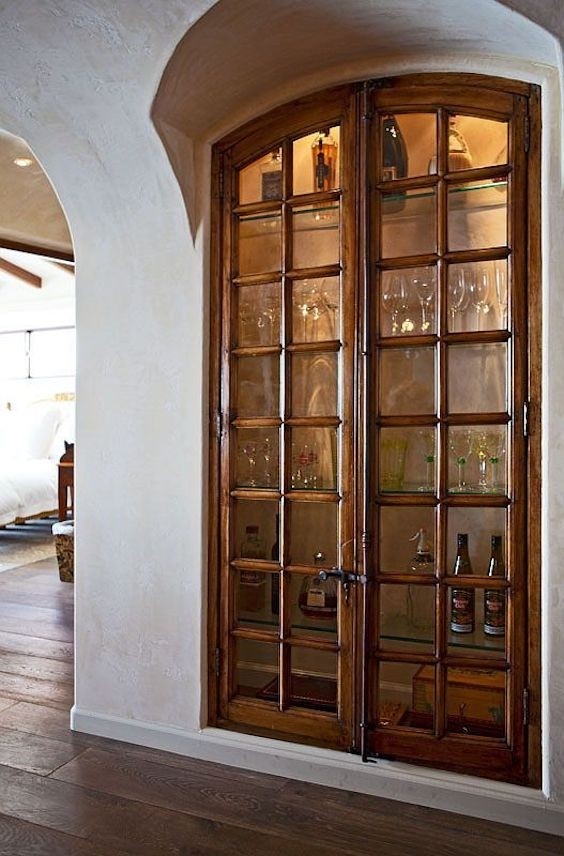 I like this space-saving idea! Gut an indoor wall on one side, put in some shelves, doors to enclose it... and then you get an awesome liquor cabinet that takes up zero floor space.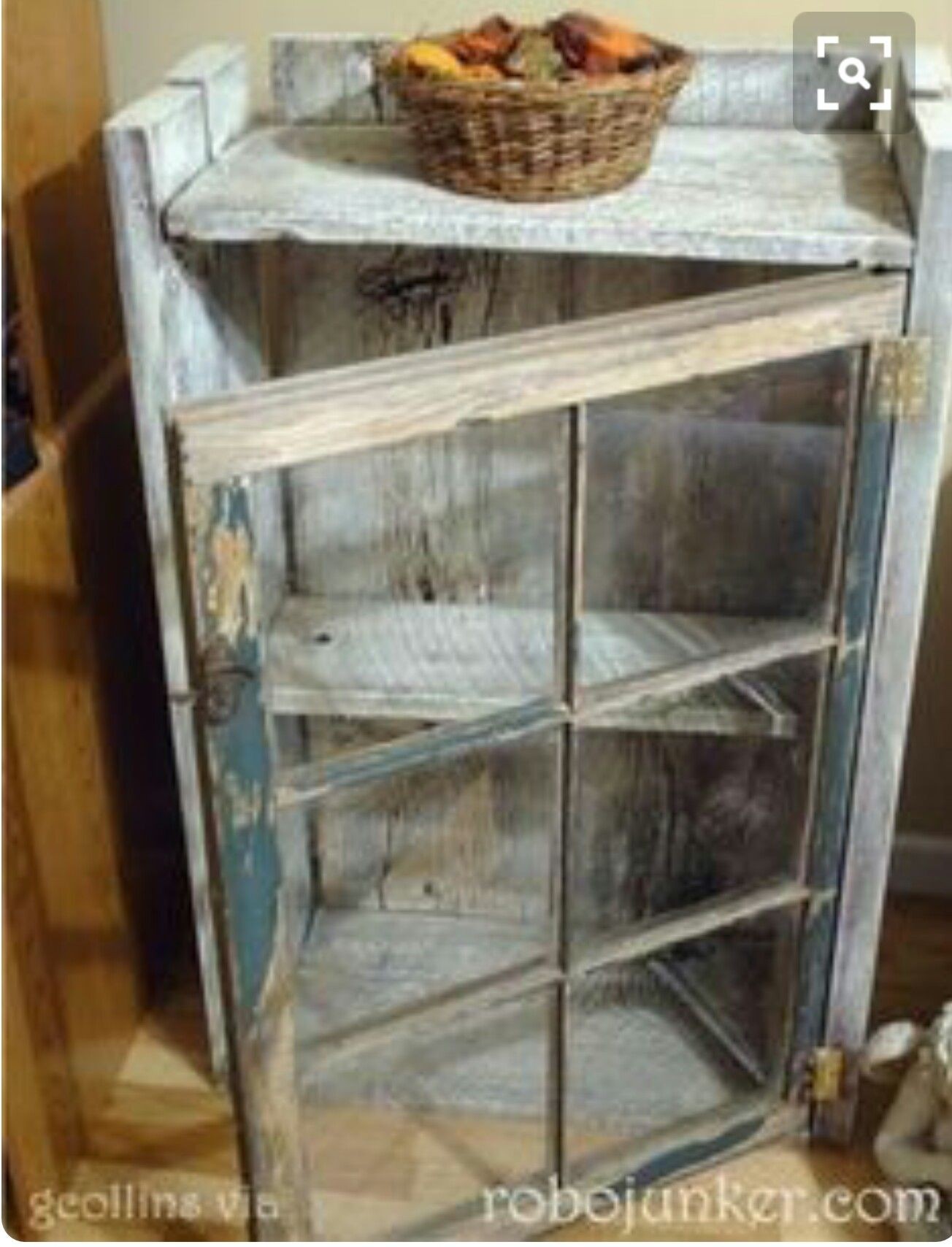 Wine rack in rustic style. Construction is made of wood and fitted with glass doors. Includes 2 shelves for storing bottles of wine, glasses and more. Suitable for residential and commercial premises. Elegant design with antique finish.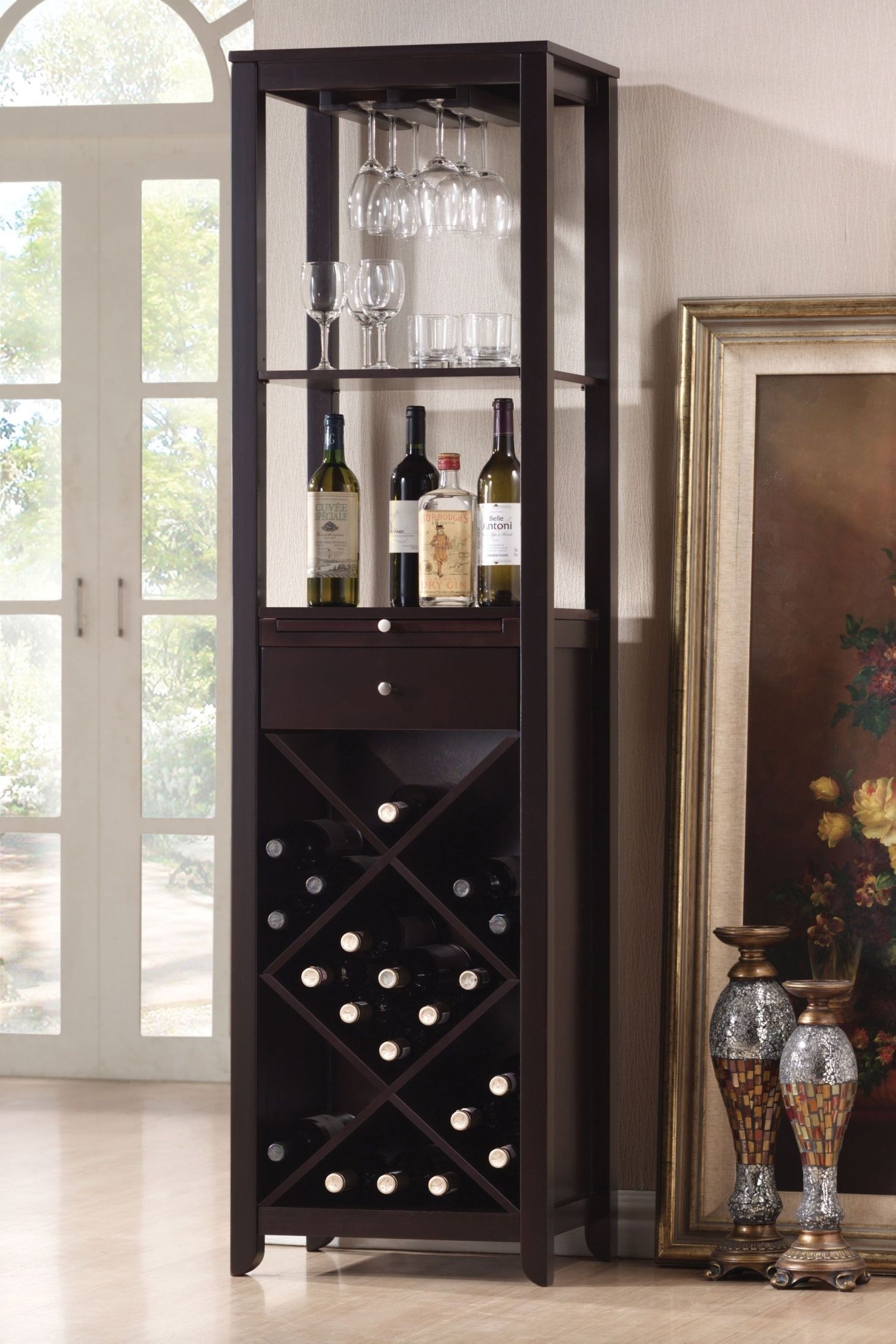 Arles 28 Bottle Wine Cabinet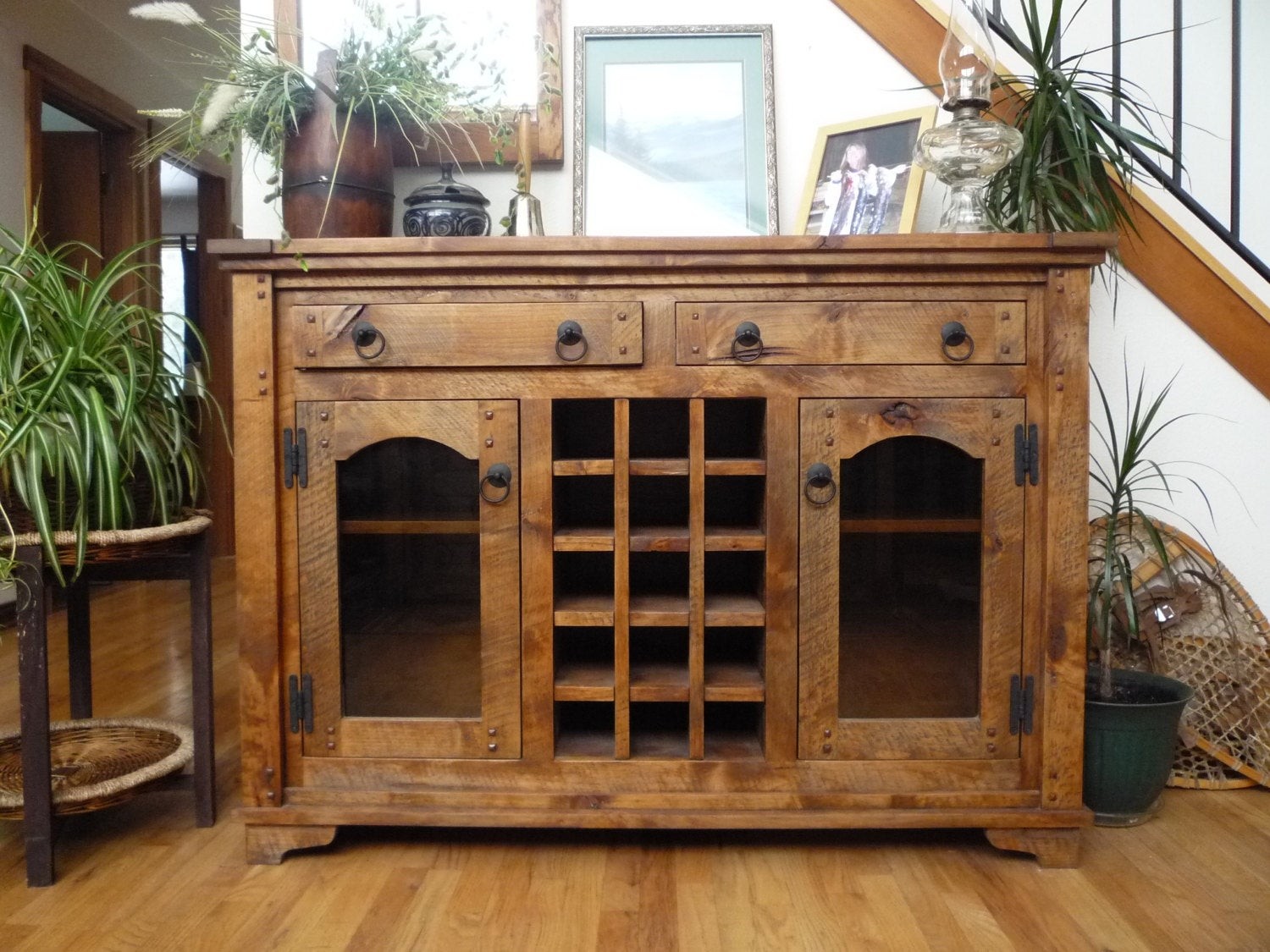 Practical rustic buffet with wine cabinets. It includes two large compartments, space for 15 wine bottles and two storage drawers with metal hardware. Durable wooden construction represents a barn style.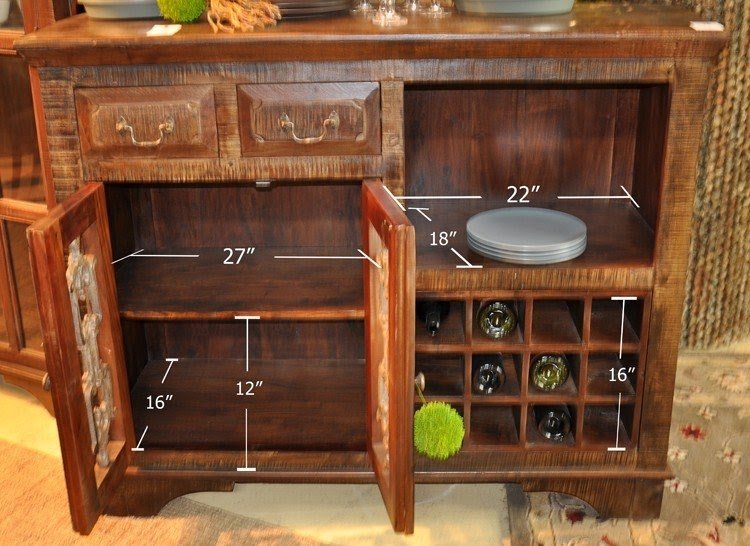 Rustic Reclaimed Wood Wine Cabinet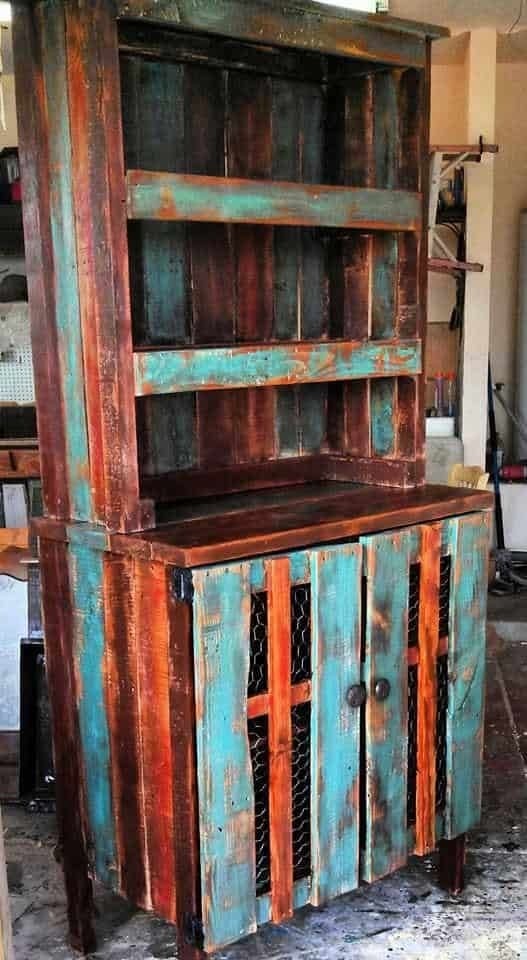 James Plamondon pallet works in furniture pallets 2 with Upcycled Furniture Repurposed pallet arizona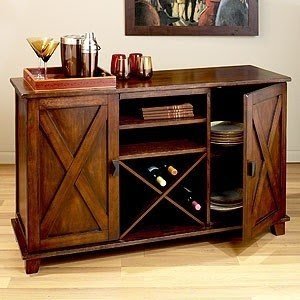 A stunning bar cabinet in a farmhouse style. It's a sturdy piece made of high quality wood in a beautiful, dark hue. It features an open shelf in the centre with a special rack for wine bottles. There are also two closed storage units.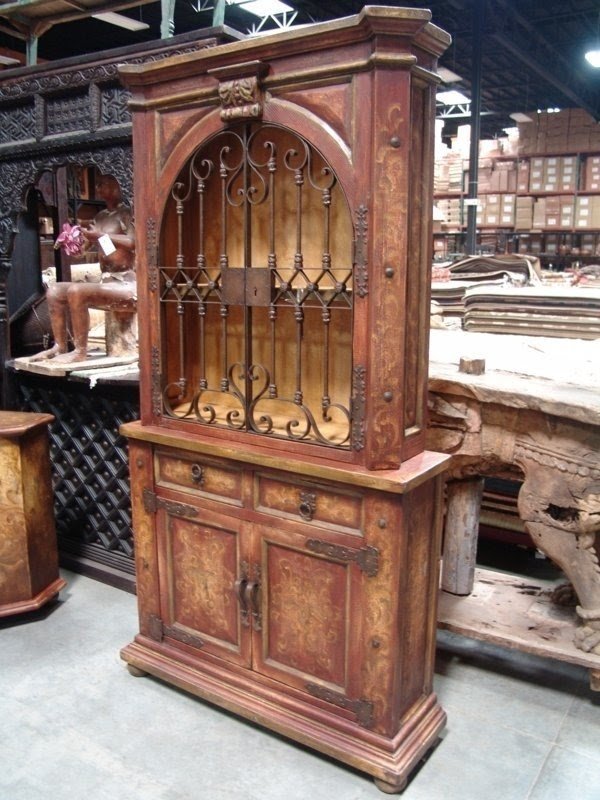 Madison McCord Interiors - Rustic WIne Cabinet - Livermore, CA, United ...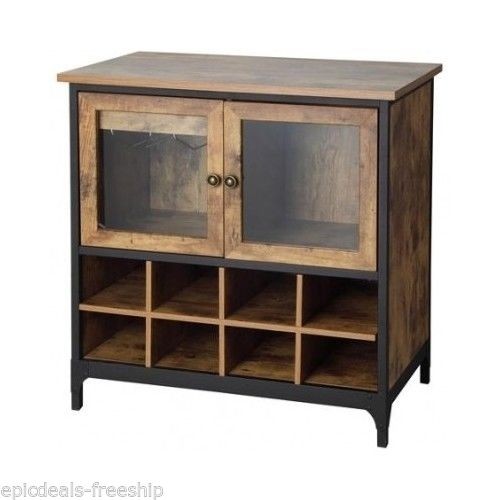 Full of rustic charm and elegance, this wine cabinet is crafted of sturdy wood and covered in distressed oak and espresso finish. Includes a rectangular top, 8 open cubic compartments, and 1 cabinet with a pair of clear glass panel doors.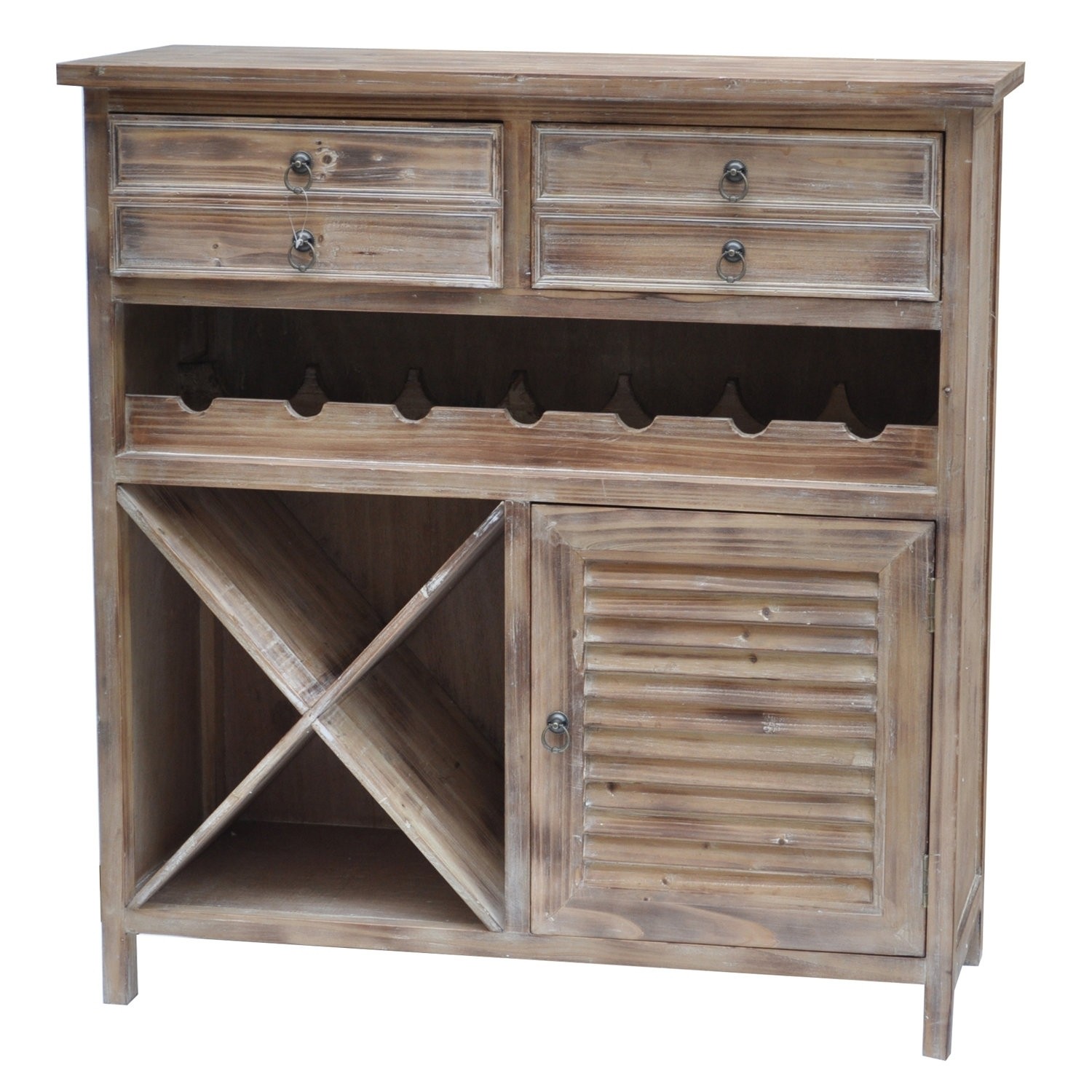 Jackson 7 Bottle Wine Cabinet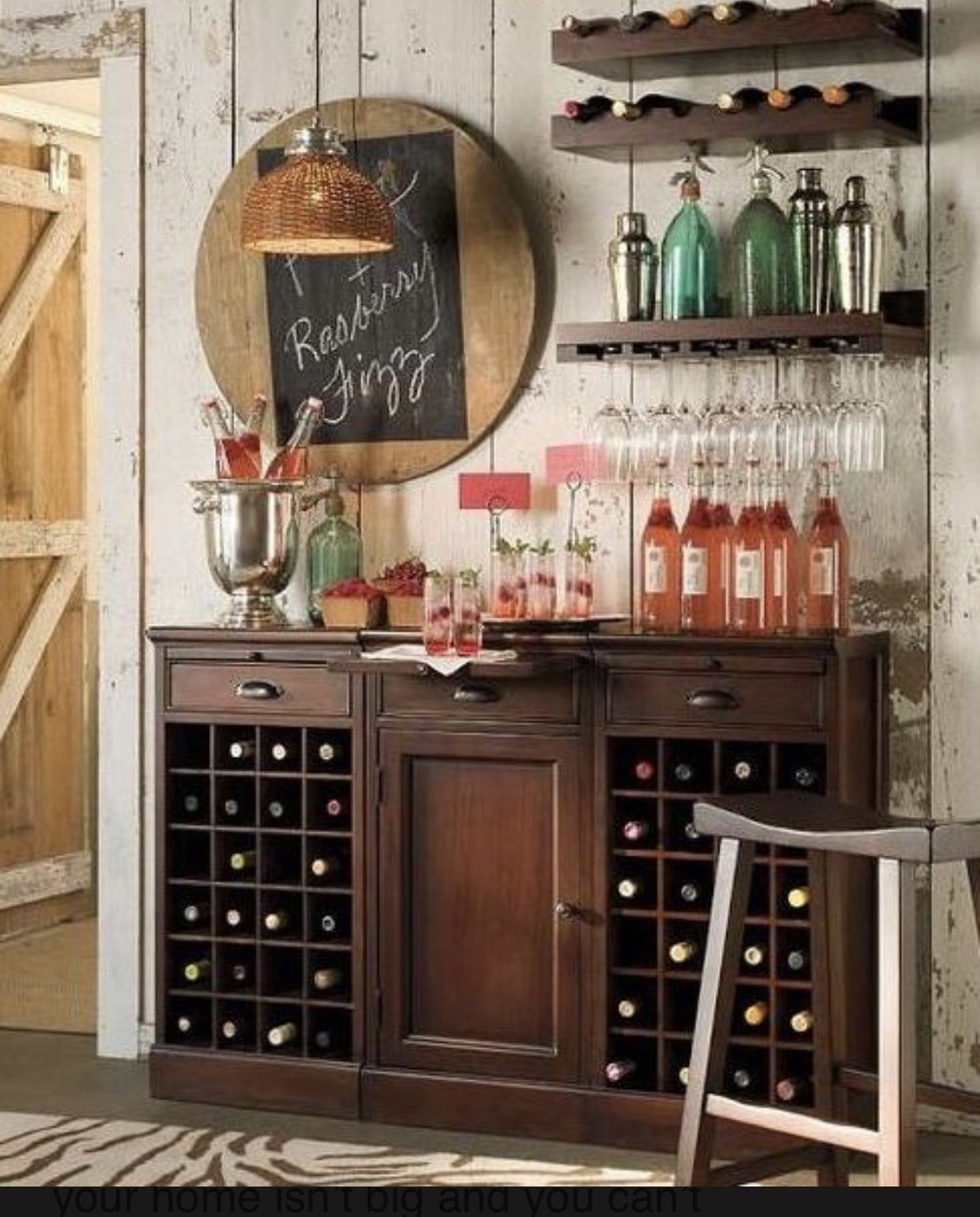 Wine cabinet for kitchen, dining room, bar, restaurant and more. It is completely made of wood. It consists of cabinet, 3 drawers and a lot of shelves for bottles of wine. Classic form and elegant design.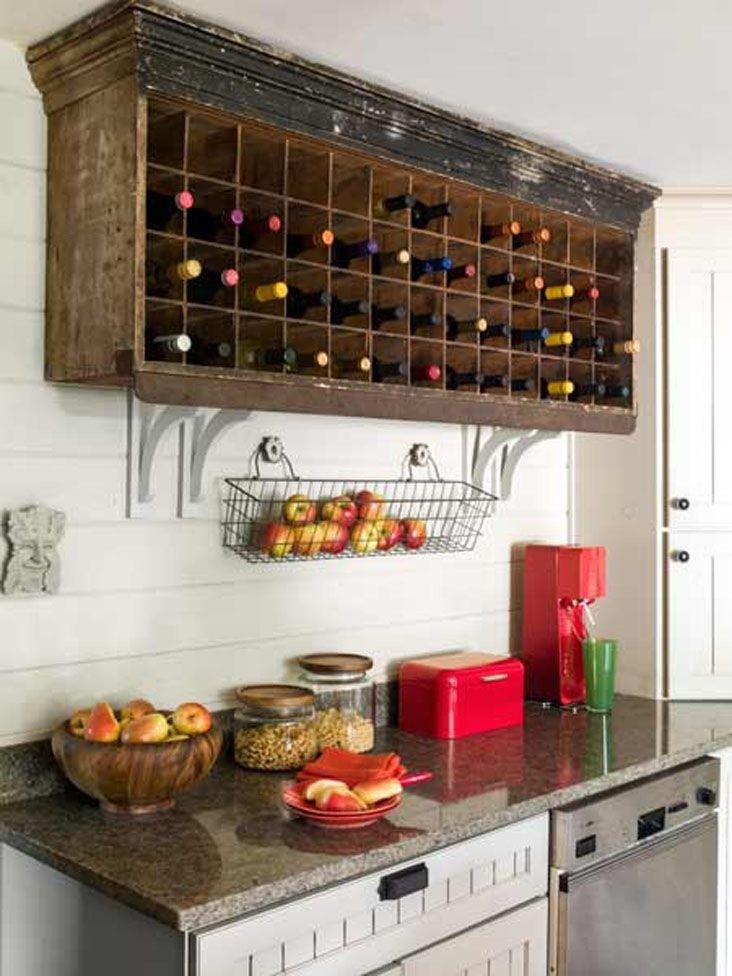 You don't have to be a sommelier to love wine, do you? The older, the better... so you have to have some space to store this phenomenal drink. This antique wooden wine box will definitely fulfil your requirements.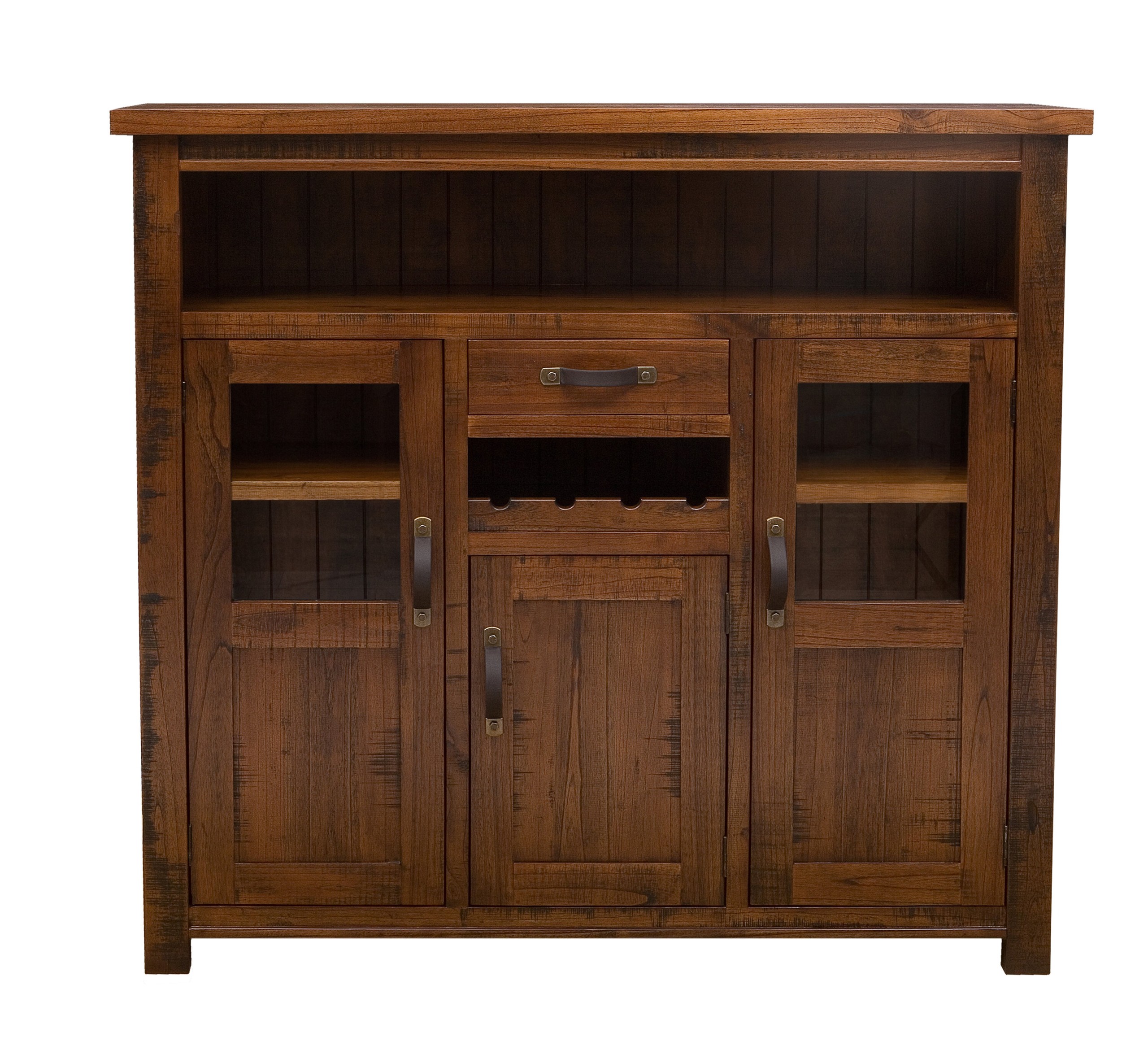 other cabinet outstanding rustic wine rack cabinet with walnut cabinet ...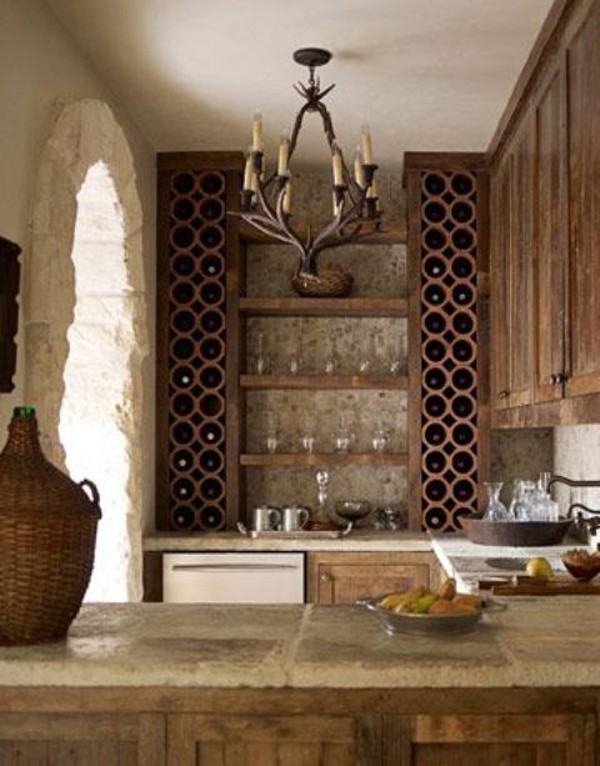 Described the countertops as being zinc, though these look like big, rustic tiles. Love the wine storage too.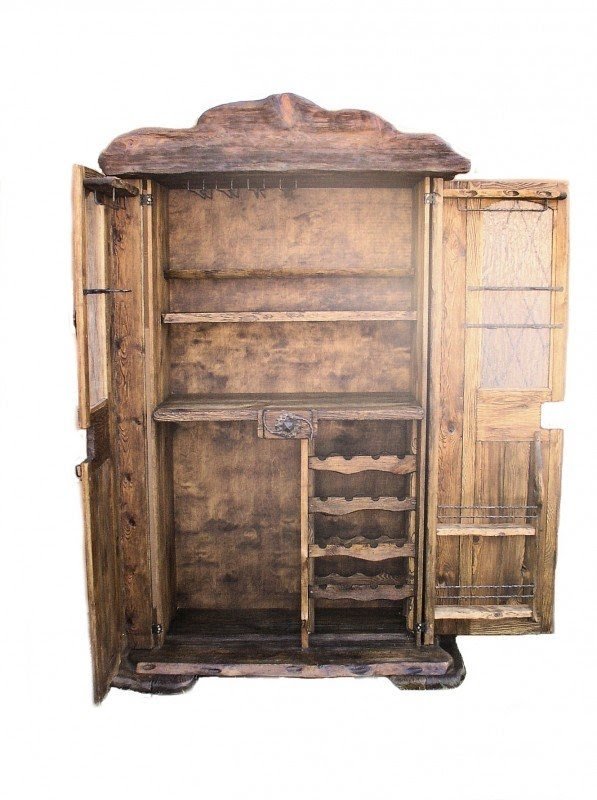 Rustic wine cabinet (Country Log Collection)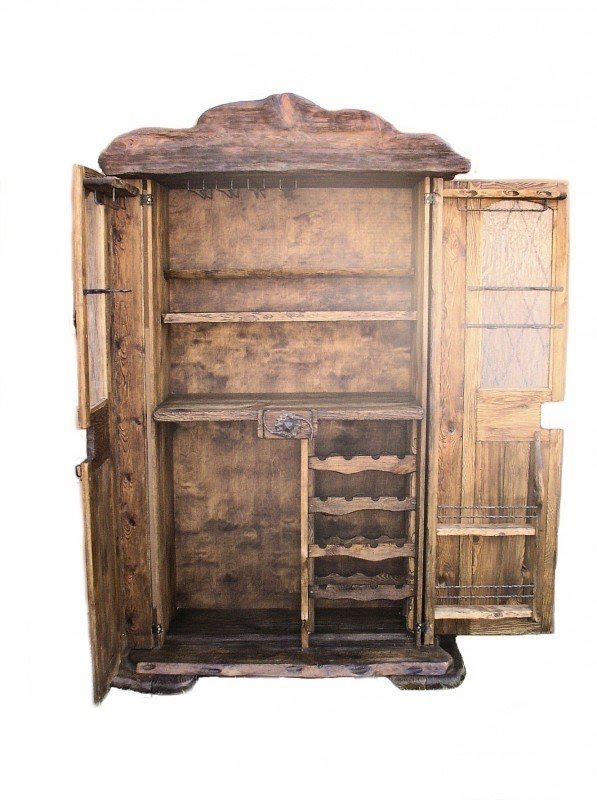 hot damn, lets go collecting pallets (skids for you canadians). reclaimed wood kitchen cabinets Request a custom order and have something made just for you.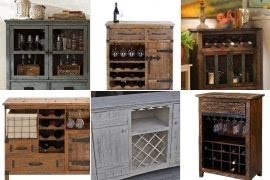 Brown colors create an excellent place for your wines. This wine basement by Philip Gorrivan is absolutely impressive and stunning. There are many shelves and drawers.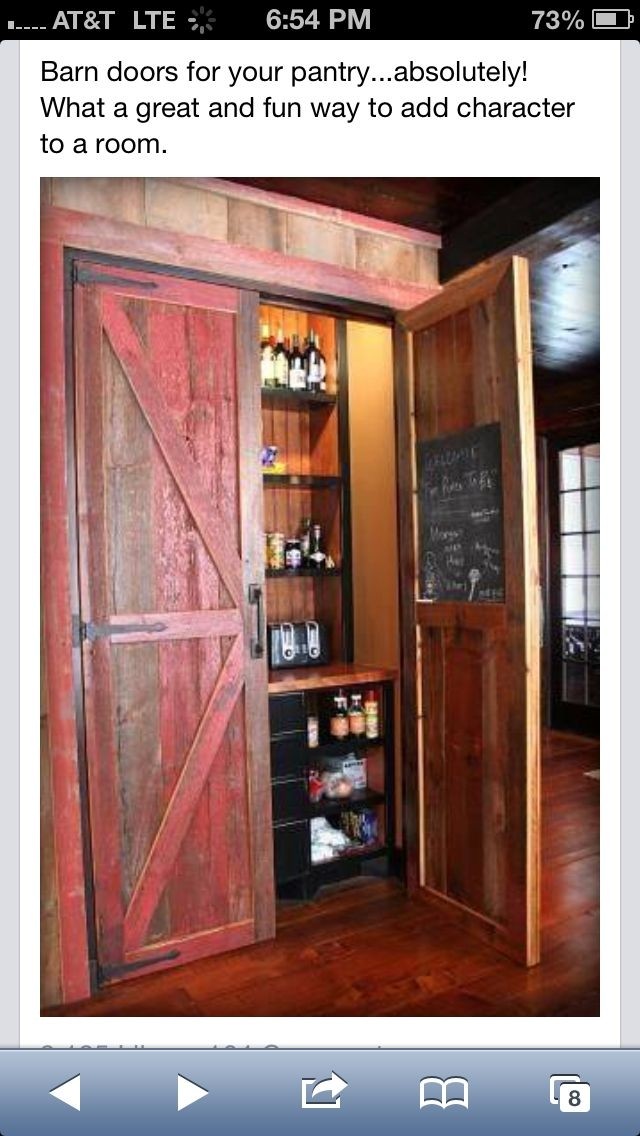 Tall cabinet for the kitchen, dining room and others interiors as needed. Construction is made of wood with antique finish. Perfect solution for space saving in each home.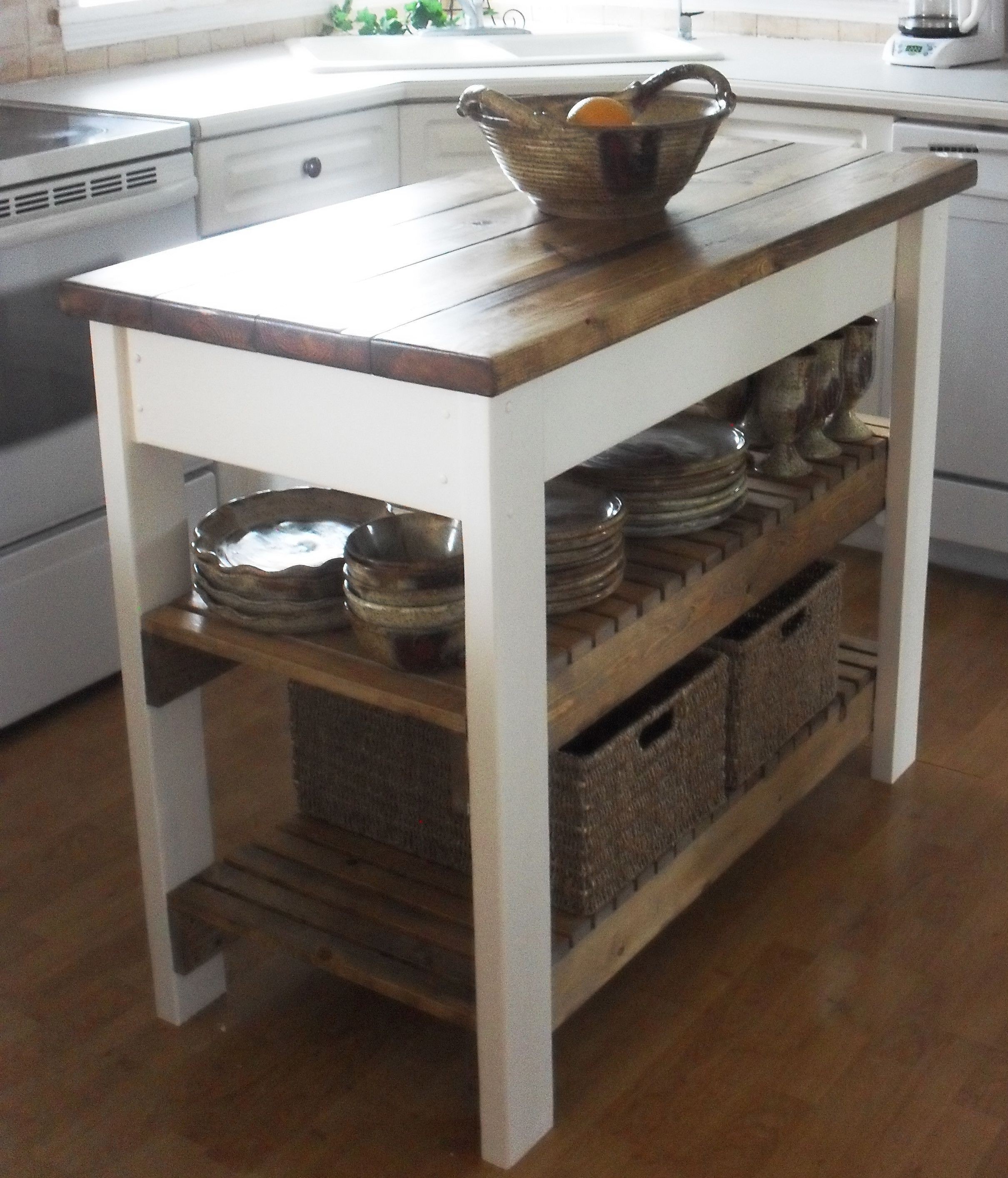 Straight from the vintage vault of functional furniture, this lovely island can be a great booster for your kitchen. Constructed of sturdy wood and covered in black and cherry, it features beautifully turned legs, 1 open shelf, 1 widened top, and caster wheels for easy motion.