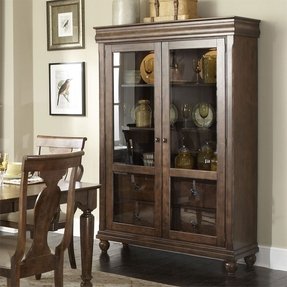 Rustic Traditions Curio Cabinet
Pretty rustic style display unit crafted of wood with a mid-brown finish. It has a crown top, bun feet and a finished back. Two glazed doors have small round brass knobs. It's equipped with 4 adjustable shelves and touch lighting.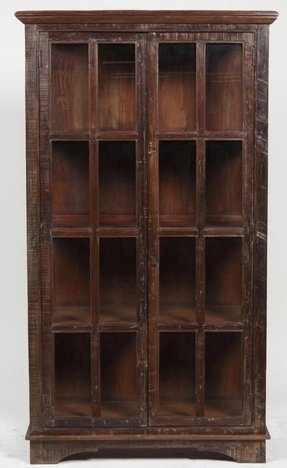 82 H Large Display Curio Cabinet Sun Rustic Finish Solid Reclaimed Wood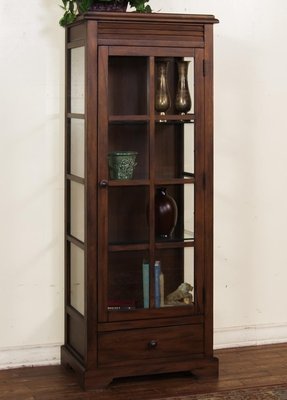 SD-2253AC - Savanna Rustic Walnut Curio Pier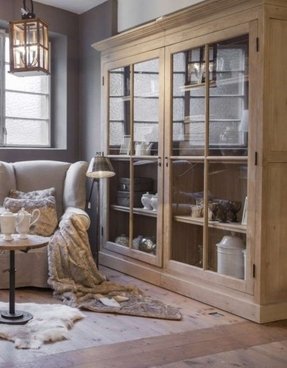 Bring immense shelving space and a splash of vintage French style into your home with this stunning floor to ceiling curio cabinet. The piece is designed with a distressed all-natural wooden frame and features stunning glass doors to deliver the perfect display.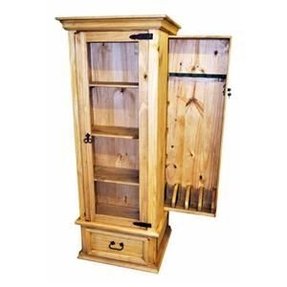 love the displays in the curio cabinet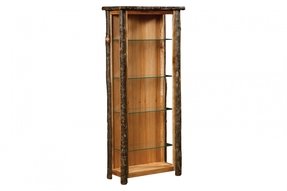 I've seen quite a few rustic curio cabinets, but this one is kind of uber-rustic. The raw, all-natural wooden hickory logs frame is really an eye-drawing accent. The shelving is glass. The background is natural wooden board.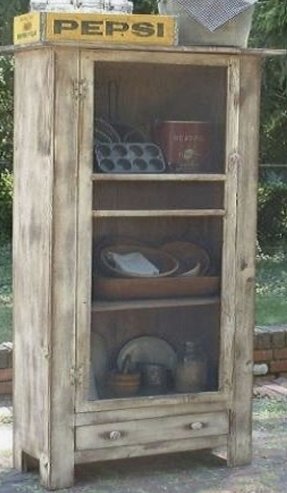 screen door cupboard, classic county look, with a bonus peek at what you have "in-store"! a must have in the home!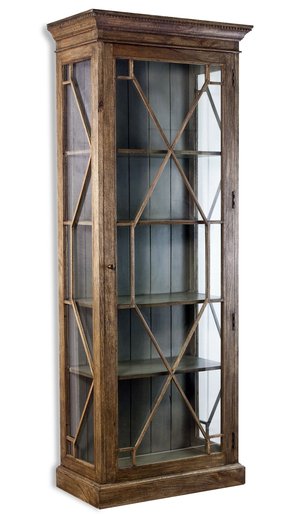 ... Gray Modern Rustic Display Curio Cabinet storage units and cabinets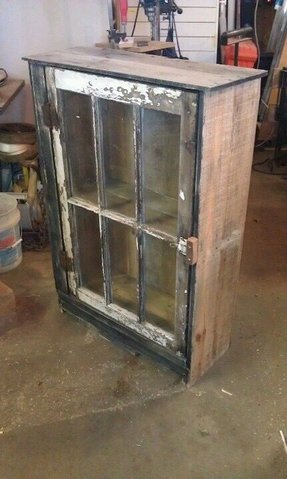 Beautiful rustic furniture, which was born from old wooden pallets and aged window. This curio cabinet is a second life of salvaged barn wood, contains also electric knobs as handles.If you have some old windows, now you know what to do with them.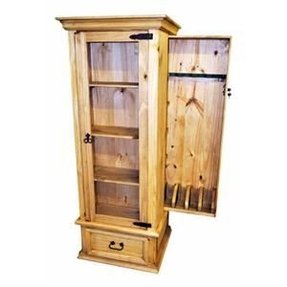 Million Dollar Rustic Mansion Gun Curio Cabinet - 05-1-10-22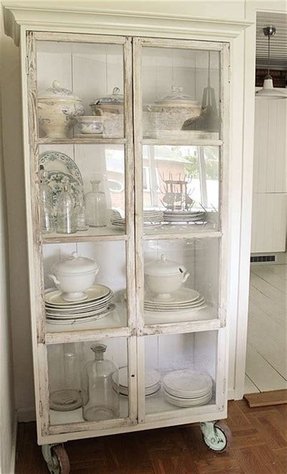 The lovely rustic curio cabinet with glass doors is a perfect combination of beautiful style and interesting details. The whole is based on wheels is mobile. The vintage styling adds all the charm and chic.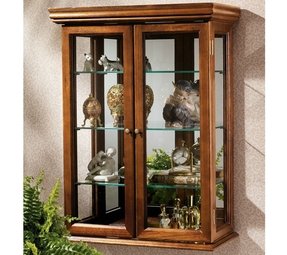 Design Toscano Wall Curio Cabinet
This impressive and very tasteful cabinet is made from high quality materials. Beautiful glass removable shelves and glass door, allow you to expose all the trinkets and souvenirs.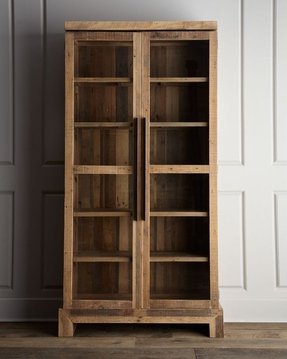 Curio cabinet in neutral form. It is made of wood and fitted with double glass doors. Includes 6 shelves stacked vertically. Suitable for storing book, display decoration and more. Great addition for each home.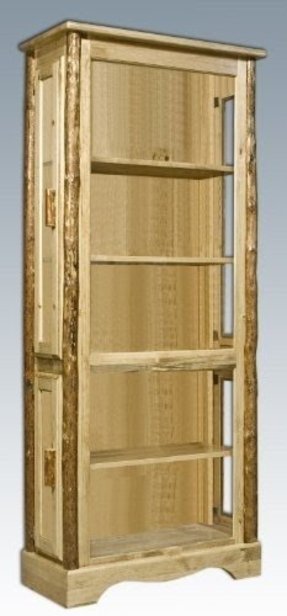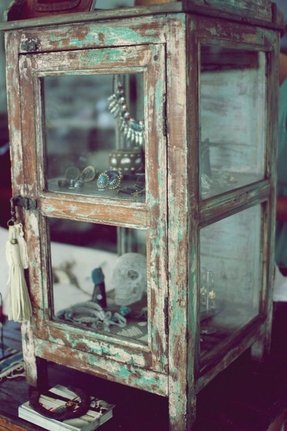 Stylishly weathered and vintage-looking, this small curio cabinet is crafted of solid wood in distressed finish. It offers 2 square shelves - surrounded by clear glass panels and concealed behind a clear glass door with a rustic metal lock.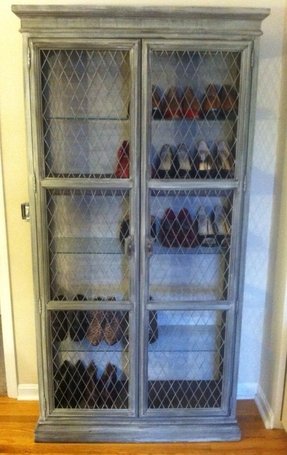 Hey, I found this really awesome Etsy listing at
The unique and very stylish curio cabinet made of wood is a perfect combination of attractive looks and functionality. The glazed doors beautifully display the contents, and the rustic styling captivates and brings to the decor a very pleasing atmosphere.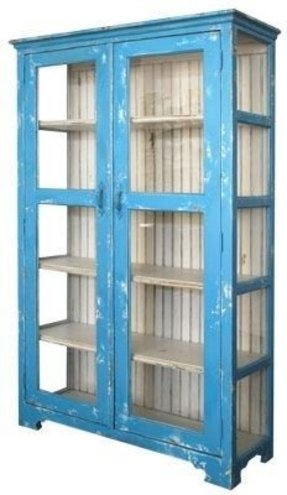 Distressed sky blue painted curio cabinet for an unpretentious beach style that presents cool attitude. Inner shelves are distressed too, painted off-white, exposed beneath glass panel doors on white boards backdrop.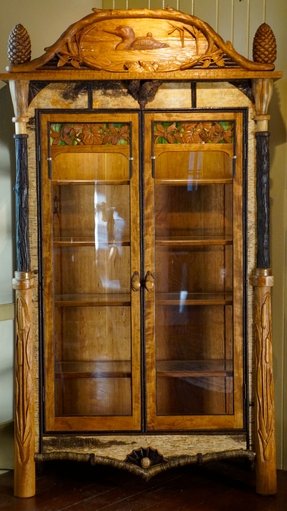 Adirondack Rustic curio cabinet with carvings.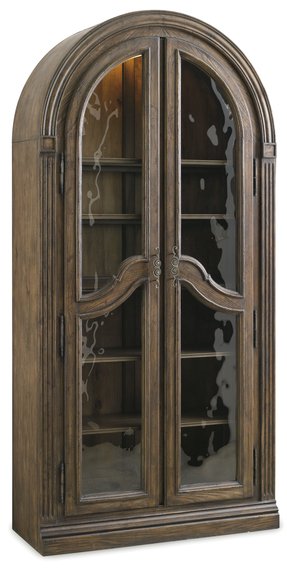 Rhapsody Bunching Curio Cabinet
This is a very nice, stylish and extremely shaped cabinet with glass doors. The upper part of the cabinet is finished in an arc. Glass door make it ideally suited as a dresser. It is very stylish and classy.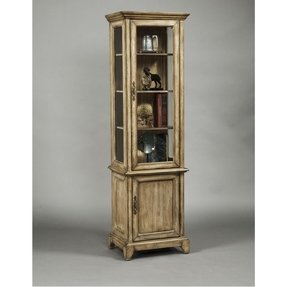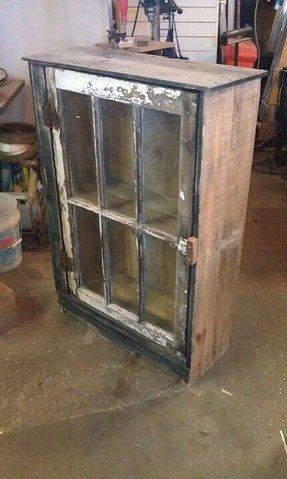 Made from rustic oak, this Sedona curio cabinet delights with its traditional appeal. Its 4 storage tiers create a great display for your books collections, while the bottom drawer will allow you to hide your valuable treasures.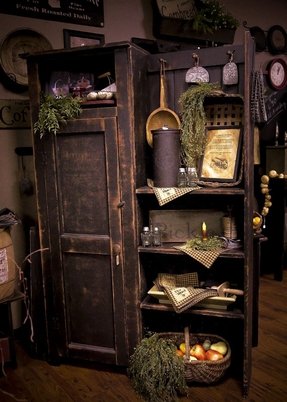 thegildedwoods: Merv Johnstone / Pinterest on We Heart It -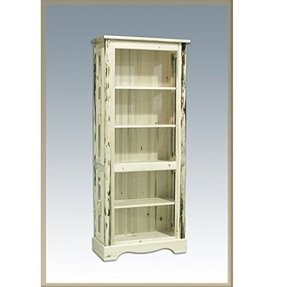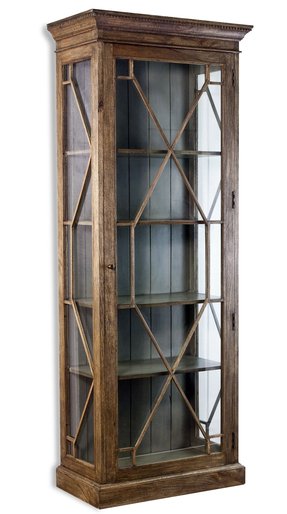 Cielo French Gray Modern Rustic Display Curio Cabinet
Universal Furniture Paula Deen Home Paula Deen Corner Cupboard in Sea Oat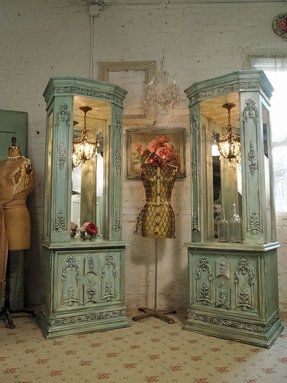 Vintage Painted Cottage Aqua Chic
Such an elaborate vintage curio cabinet could transform any room to a French mansion interior out of hand. A bounty of meticulous carvings comes with light robin egg's blue finish and mirrored backing.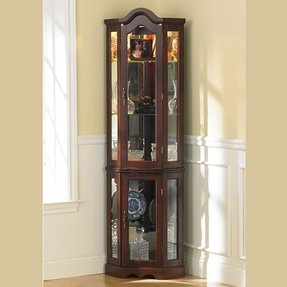 Exposed brick, untreated. Wood floors and curios.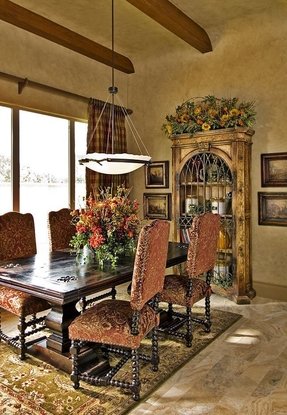 Home Interior Decorator Dallas | Interior Decorating Dining Rooms | Wesley-Wayne Interiors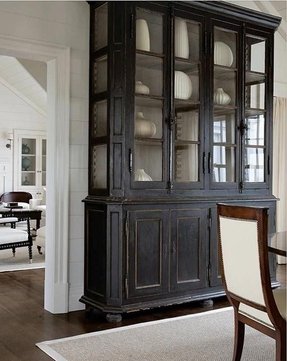 This cabinet perfectly matches different indoors thanks to its neutral black finish. It also brings some antique accents into the house. Its upper area includes shelves with glass doors and the lower part features storage compartments.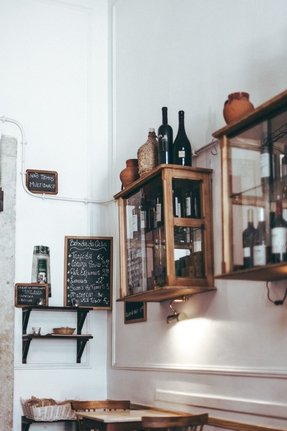 //​Live in Montreal? ​ L​ooking for vintage rentals and handmade items to compliment your wedding? ​Restez a Montreal?​ ​ ​ Vous cherchez de la décor et des accessoires 'vintage' et faits à la main pour compléter vo​tre mariage?
Rustic Traditions Curio Cabinet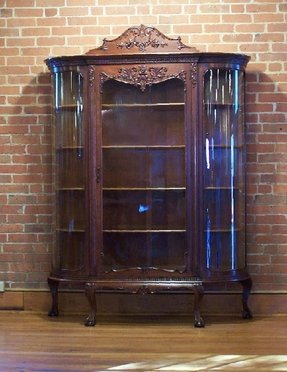 This extraordinary Victorian-style cabinet is an exceptionally stylish piece of furniture for a stylish interior. Beautifully glazed doors, various shelves, and subtle decorations are all captivating details.
We commissioned and approved the new lighting plan incorporating discrete halogen spots. We sourced appropriate vintage, antique and contemporary fabrics for soft furnishings, curtains and floor coverings. We designed the curtains and commissioned curtain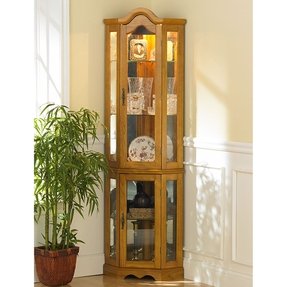 Caldwell Curio Cabinet
This cabinet assures plenty of display and storage space without taking so much space in the house. It is created for corner placement. Its wooden frame includes glass doors and walls. It also features solid glass shelves.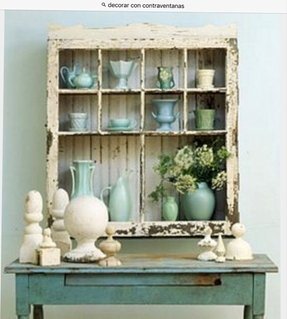 Curio cabinet in rustic style. It consists of a lot of open shelves in various sizes. Suitable for display decoration or storing needed items. Simple form and elegant style.

Ironstone is my thing!! The starfish aren bad either! British Homes & Garden ~ Feb. 09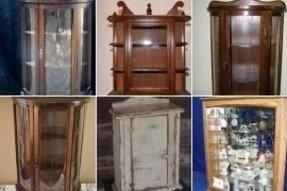 4cdeb1dd715fdddf96cd7fc0fd15c402.jpg 400×599 pixels Recycled display case Boutique display Old windows nightstand small table
Rustic Mesquite Curio or CD Cabinet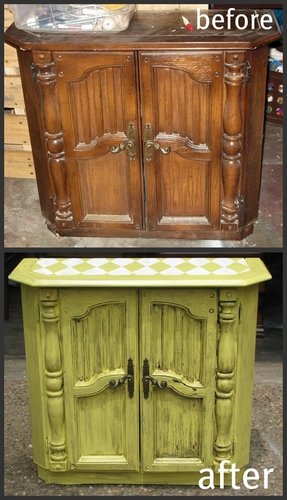 I always see SO many of these types of pieces at garage sales for super cheap! It's such a neat idea to refurbish them and add a little bit of flare to give them new life!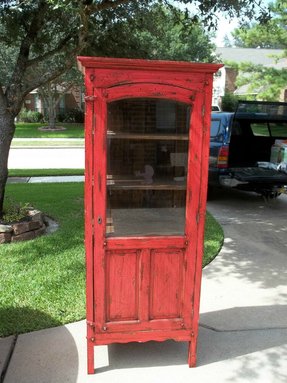 1000x1000.jpg

Superb standing curio cabinet featuring sturdy wooden frame in sleek cherry finish, four tempered glass shelves, additional clock piece on top, and stylish design providing functionality and elegant looks.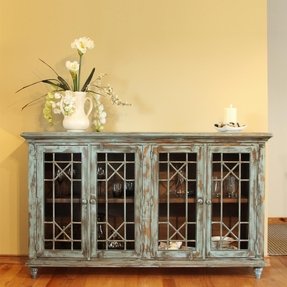 Love this rustic curio cabinet. Could also serve as a dining buffet/china cabinet.