Our Choice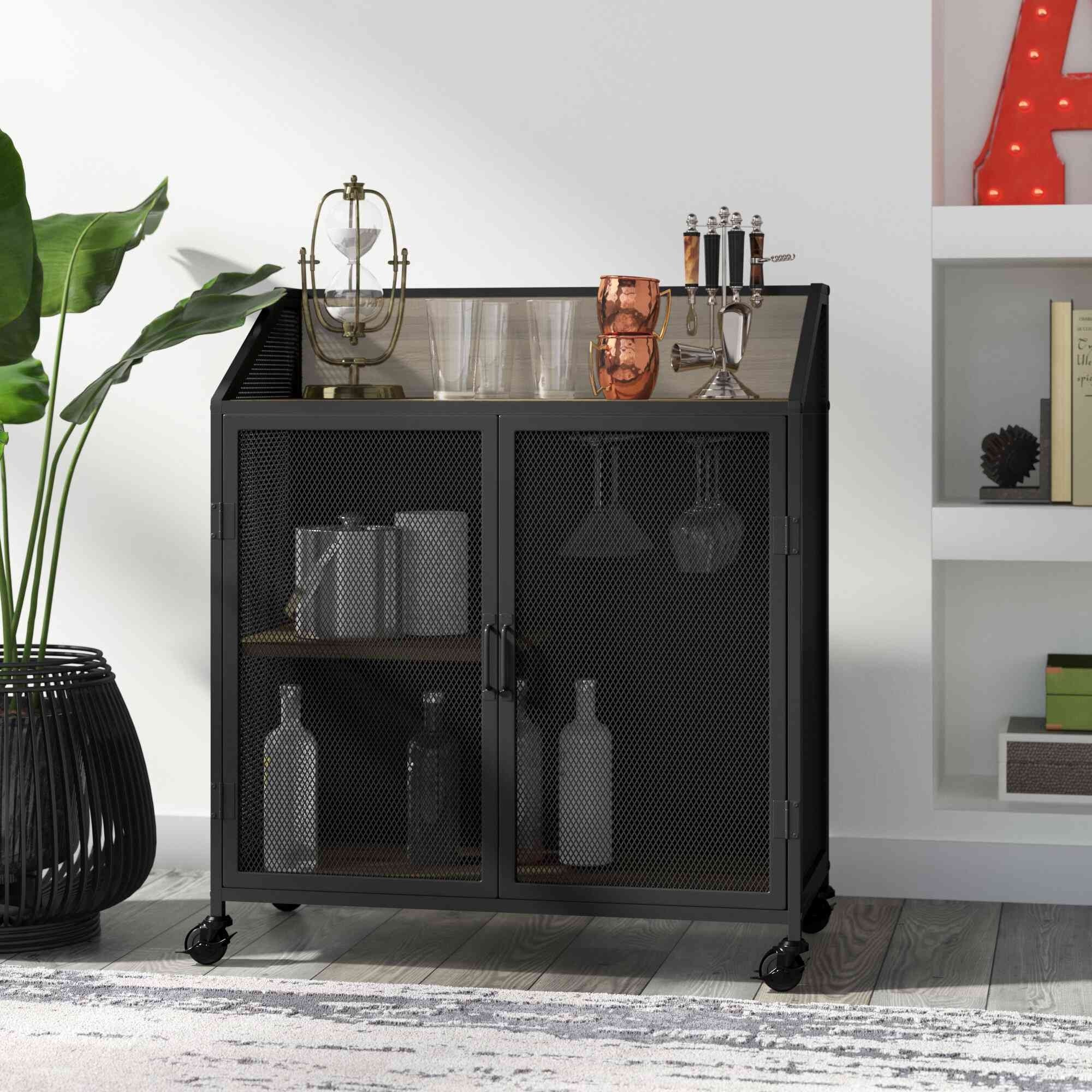 Bowles Bar Cabinet
Perfect for industrial or urban homes, this bar cabinet features a modern, mixed-material finish of wood and metal mesh. The cabinet offers more than enough storage with a stemware rack, countertop, and two interior shelves at various heights to accommodate even the tallest of bottles.
Despite all its storage space, this cart is quite compact – measuring only 38'' from the bottom of the wheels to the very top of the cart so that it can be placed anywhere in the home!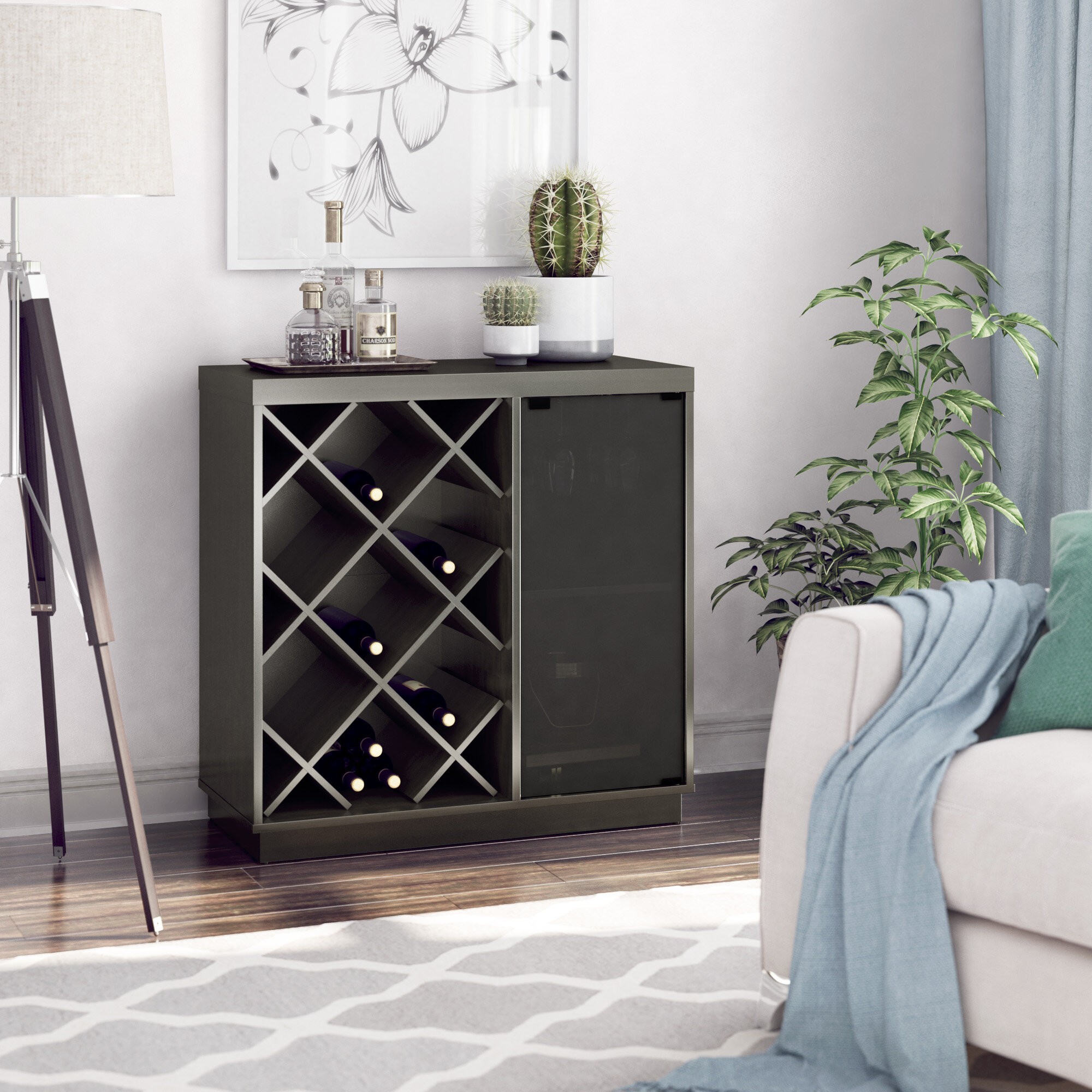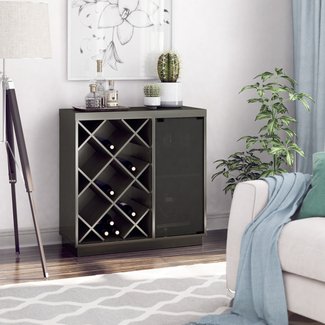 Bueno Bar Cabinet
A modern storage solution for every wine enthusiast, this lattice-style wine cabinet can store over 20 bottles in addition to your favorite stemware.
The black and walnut finishes are perfectly complemented by the smoked glass doors, which open to find three adjustable shelves to accommodate your glassware and additional accessories.
This wine cabinet has tip restraint hardware, so you can be sure your favorite bottles and glasses are safe – no matter what!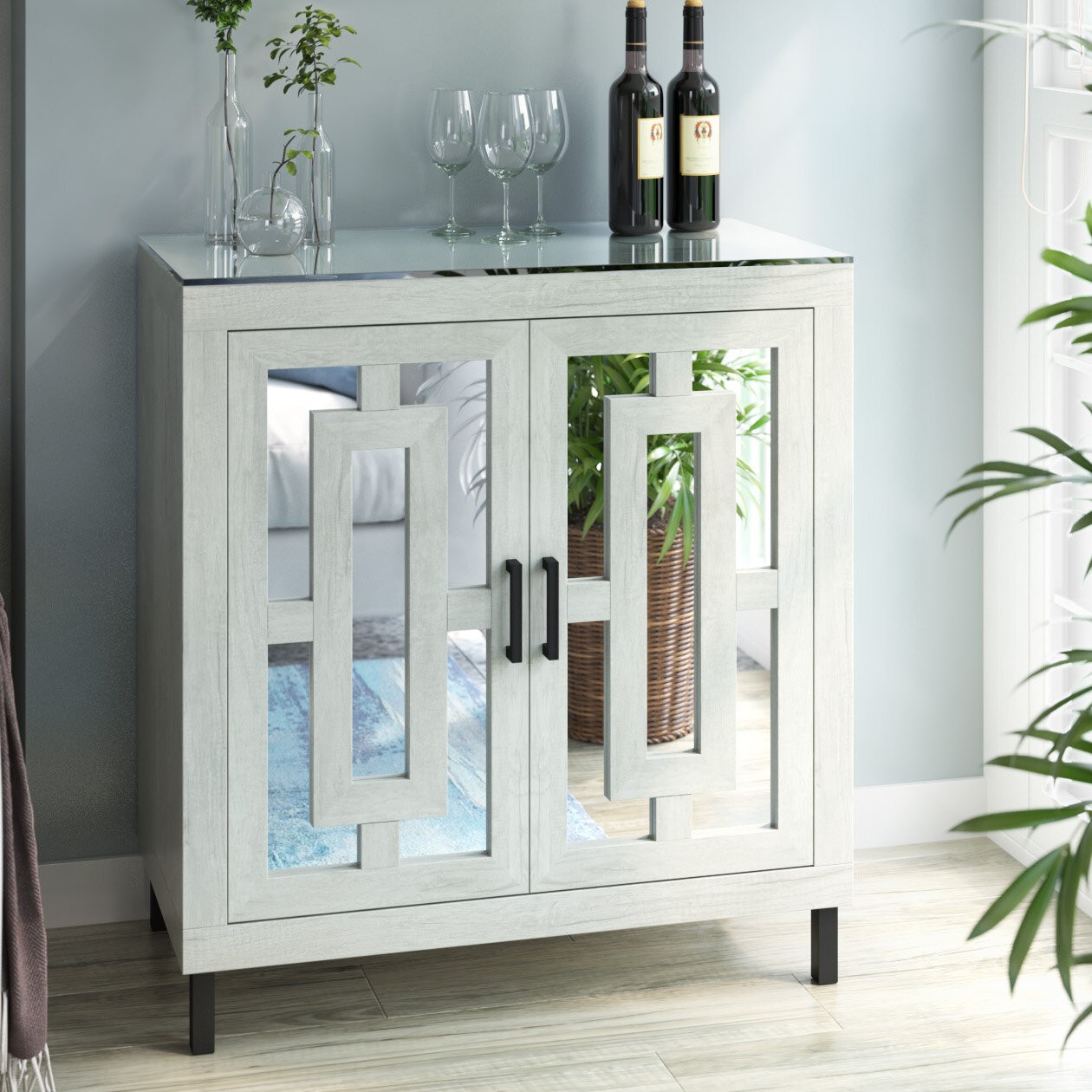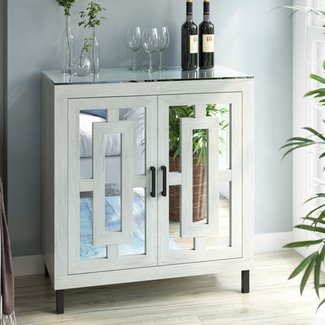 Whitmore Bar Cabinet with Wine Storage
Available in a pine or oak finish, this bar cabinet is a stylish storage option for the modern household. Although this cabinet appears compact, it offers ample storage space for stemware, liquor, and wine bottles.

The mirrored doors with a geometric overlay open to display a hanging stemware rack to protect your glasses from dust and damage while the lattice wine storage keeps up to 12 bottles protected.
This cart's countertop is made from tempered glass to provide a streamlined appearance while providing superior stain resistance for easy clean up after mixing drinks.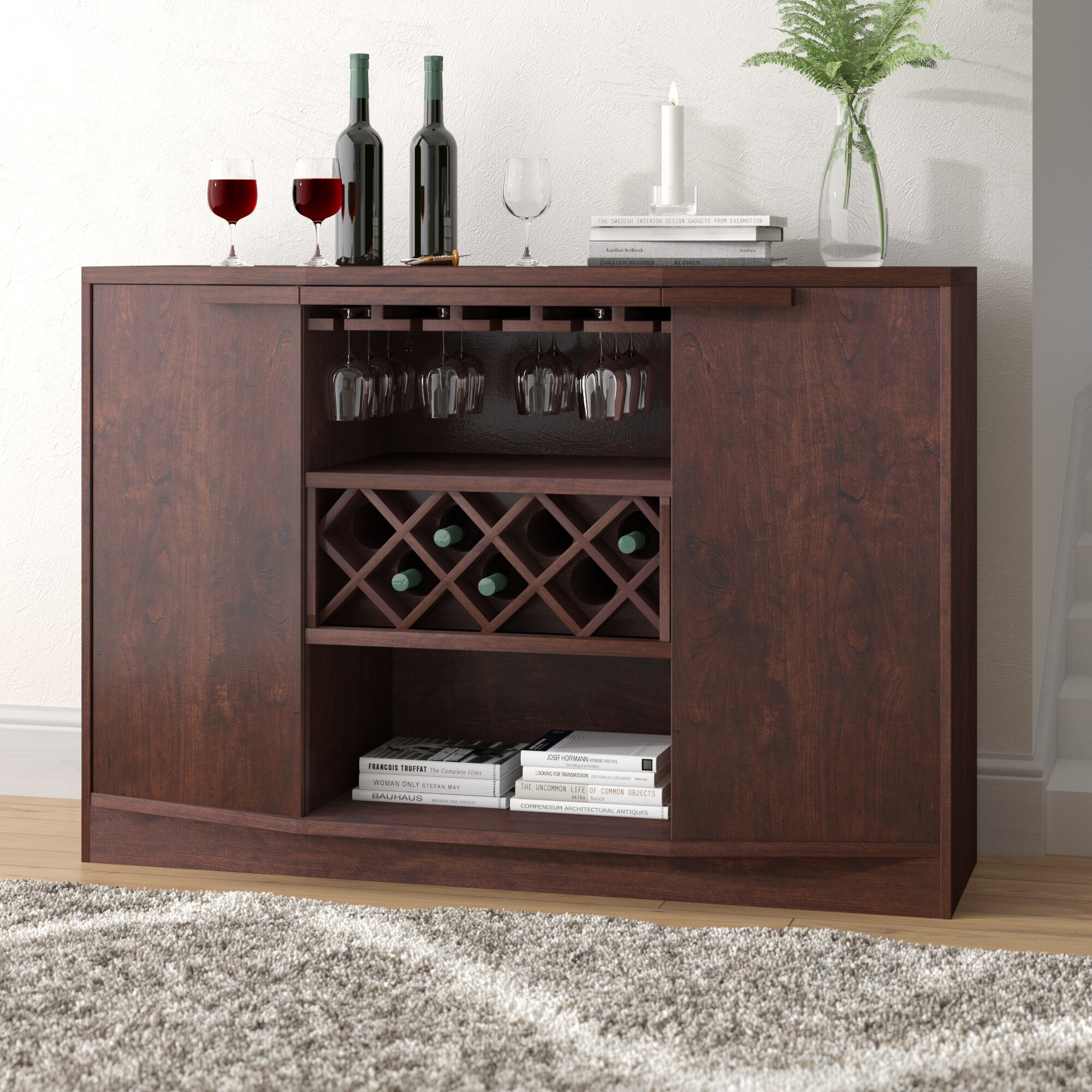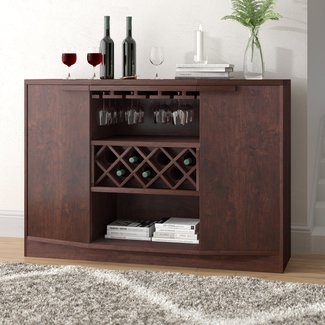 Isabell Bar with Wine Storage
This 35" bar cabinet with built-in wine storage is a simple and elegant storage solution for your den or dining room.
The cabinet is composed of two side doors, as well as open wine and glassware storage. Both cabinet doors are equipped with built-in shelves, and magnetic latch catches for better control and easy opening. The central storage space keeps the essentials within reach, storing up to 7 bottles of your favorite wines and 20 stemmed glasses (not exceeding 7'' tall x 4.5'' wide).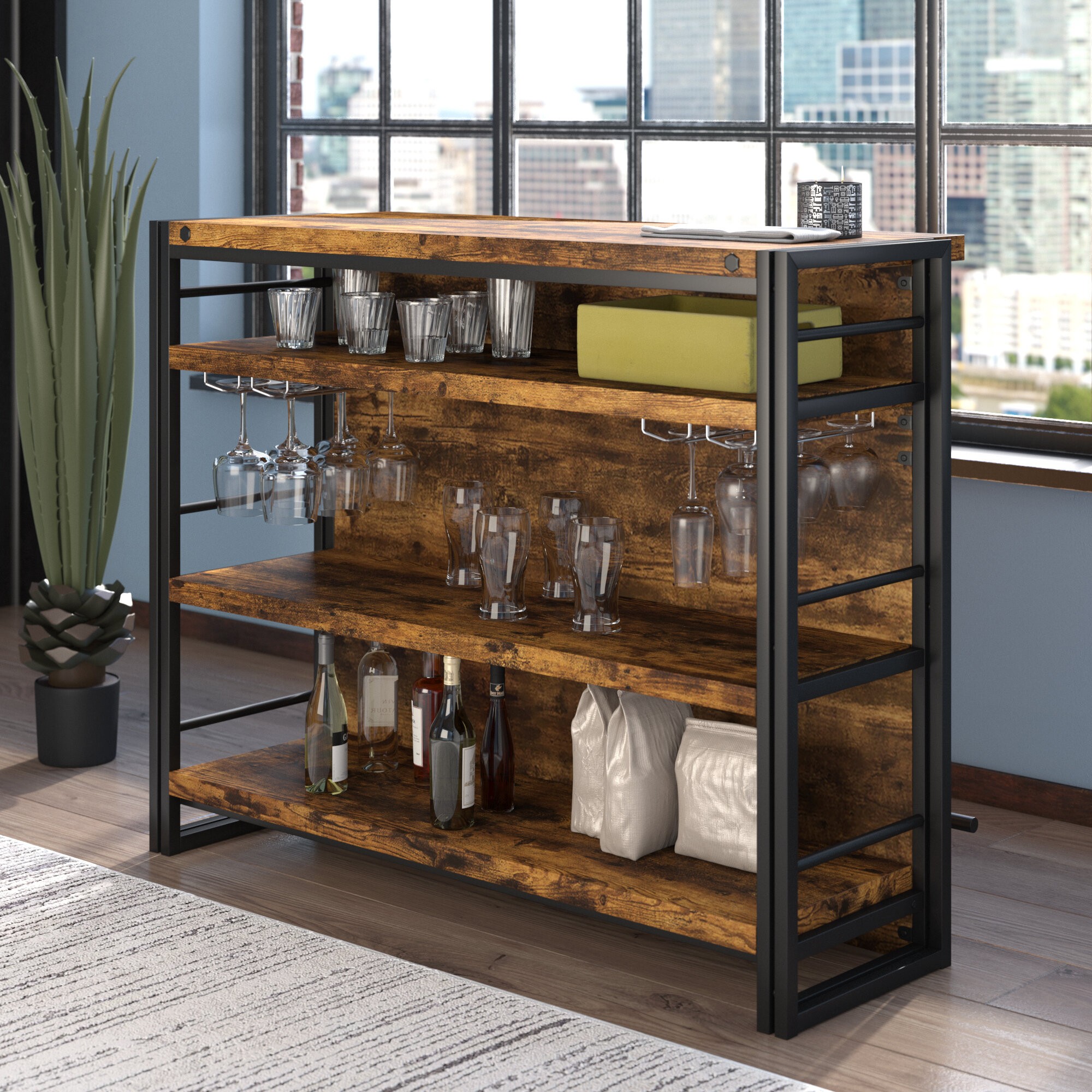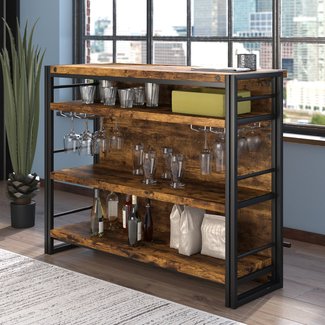 Felicita Bar with Wine Storage
Looking to accommodate guests comfortably at your next get-together? This open-faced industrial bar cabinet with an integrated footrest is the right choice for you!
One side of the cabinet has three interior shelves and four stemware racks for traditional bar storage. The other features an extended countertop with a footrest, so you can entertain guests easily. Not expecting any guests. You can remove the footrest, so the cabinet can be placed flush against the wall.
The sturdy wooden and metal accents ensure this cabinet can be used anywhere – even outside!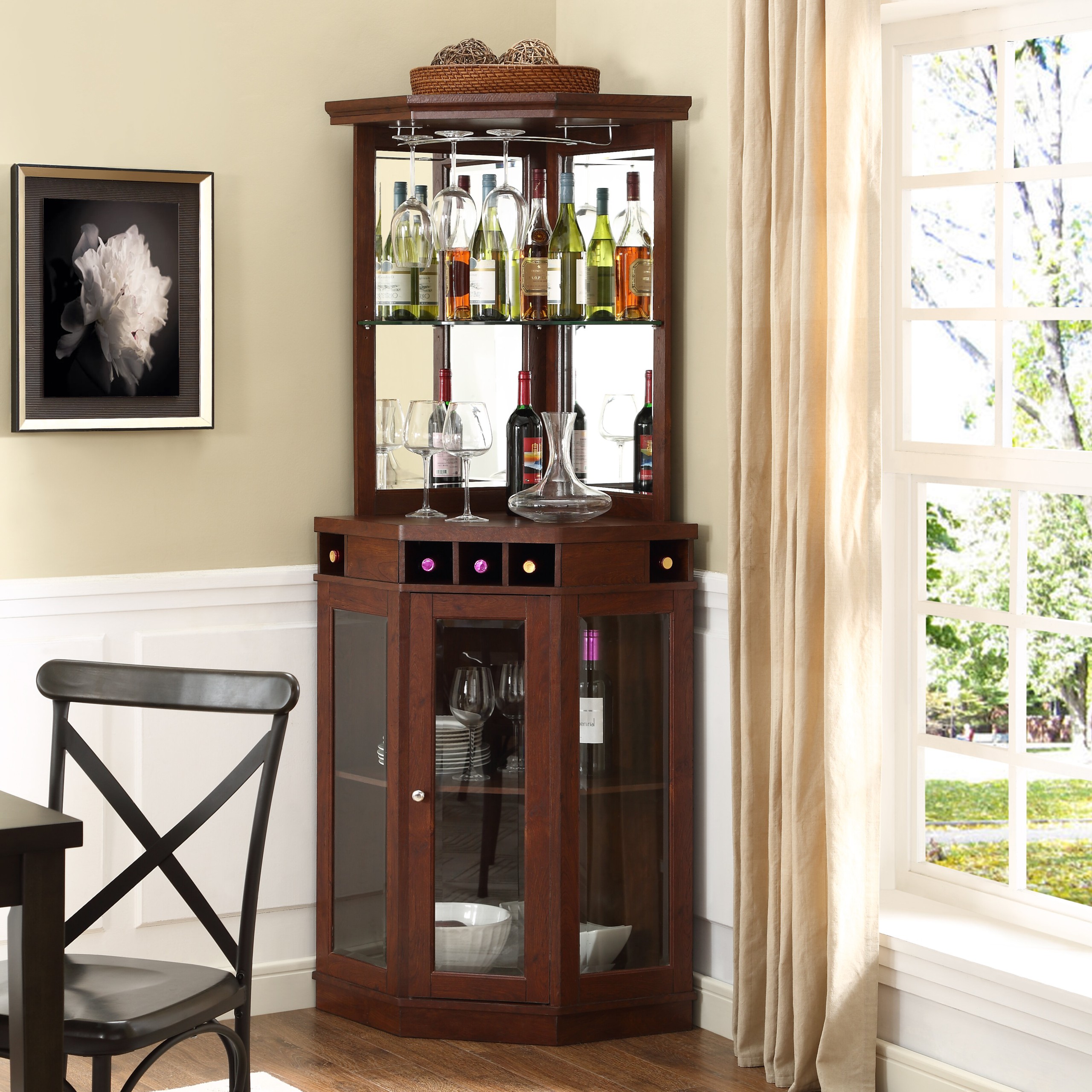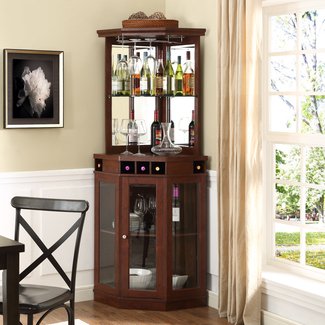 Ashfield Bar with Wine Storage
This corner bar and wine storage cabinet is available in six different hues, so you are sure to find a perfect style match. The mirrored walls give any room in your home the feel of an authentic bar.
This cabinet can house up to four wine glasses and numerous bottles due to its countertop alongside the middle and bottom shelves. The interior wooden shelves can support up to 25 lbs. each, while the middle shelf supports 45 lbs. and the top glass shelf up to 20 lbs. allowing you to store a wide variety of your favorite drinks.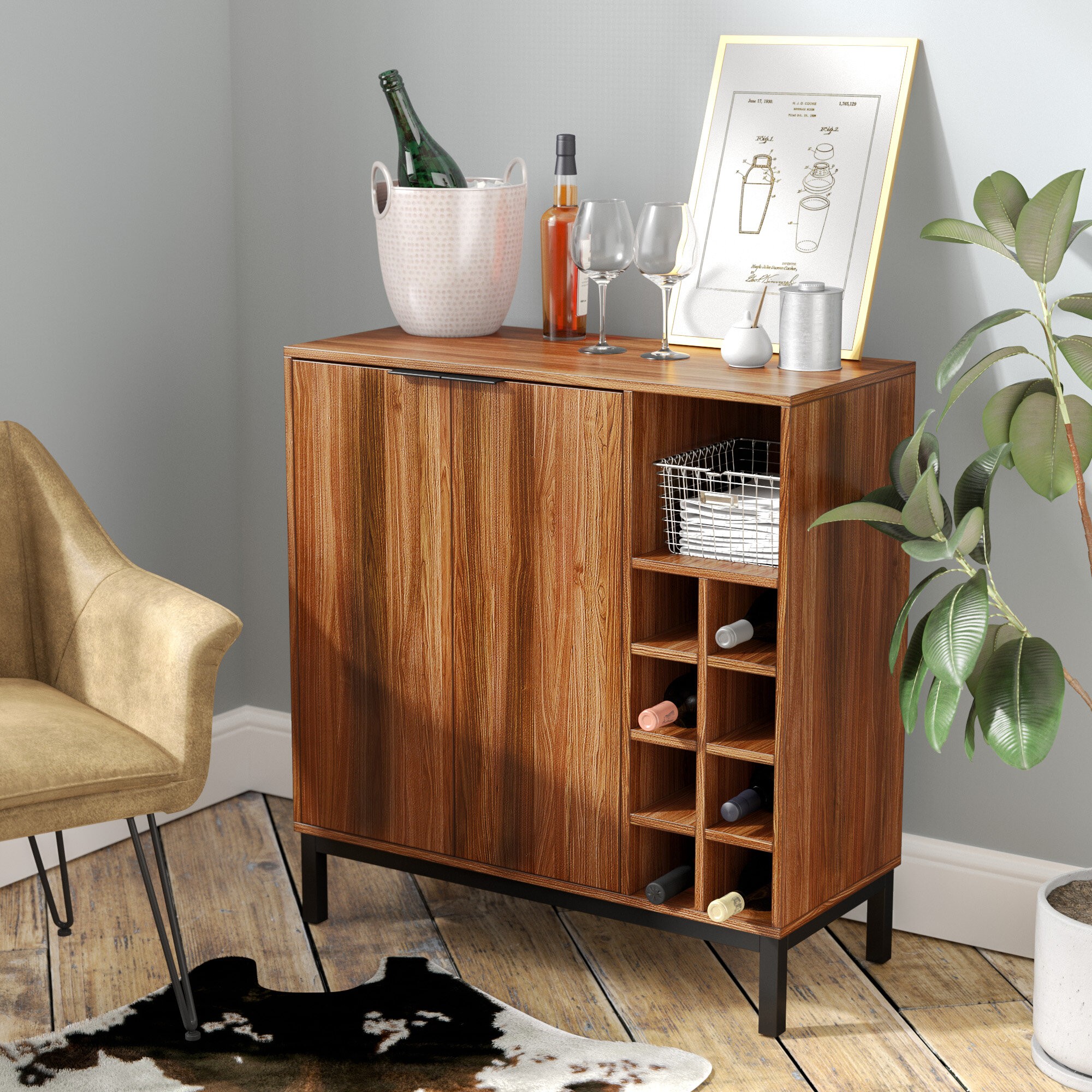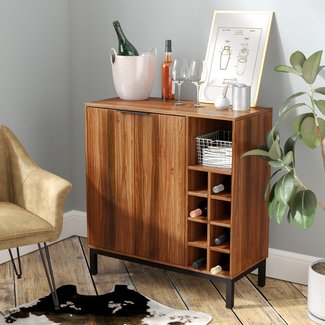 Orion Bar Cabinet
Crafted from manufactured wood, this mid-century modern inspired bar cabinet adds a touch of sophistication to your home.
Featuring two doors which house a 12-glass stemware rack and interior shelf for bottle storage, the cabinet also features an 8-bottle wine rack in a sleek shelved design. The cabinet's overall weight capacity lies around 100lbs, with each interior shelf supporting up to 25 lbs.
The cabinet is positioned 6 inches off of the ground, so cleaning under the cabinet is a breeze.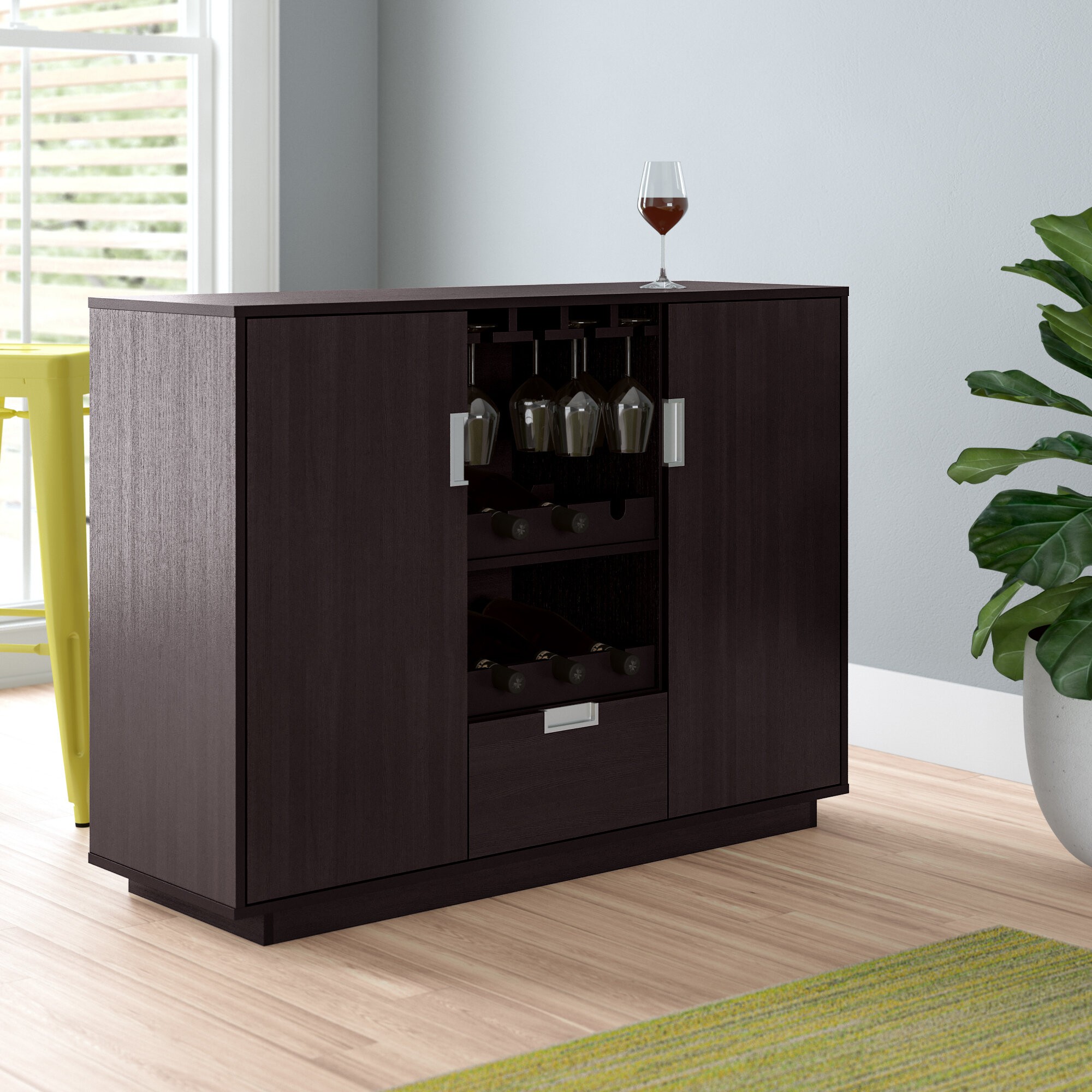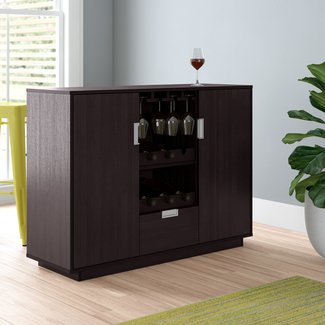 Attica Bar with Wine Storage
This classy modern bar cabinet provides enough storage for your stemware, dinnerware, spirits, and wine bottles. Utilize the rack system, side cabinets, wide tabletop, slide-out wine rack, and built-in drawer to stow away all of your mixology and dinner–related items.
Designed with solid and manufactured wood, this cabinet features an espresso finish with a clean, streamlined silhouette that can complement nearly every interior design style. Its metallic accents give the cabinet a touch of personality you are sure to love.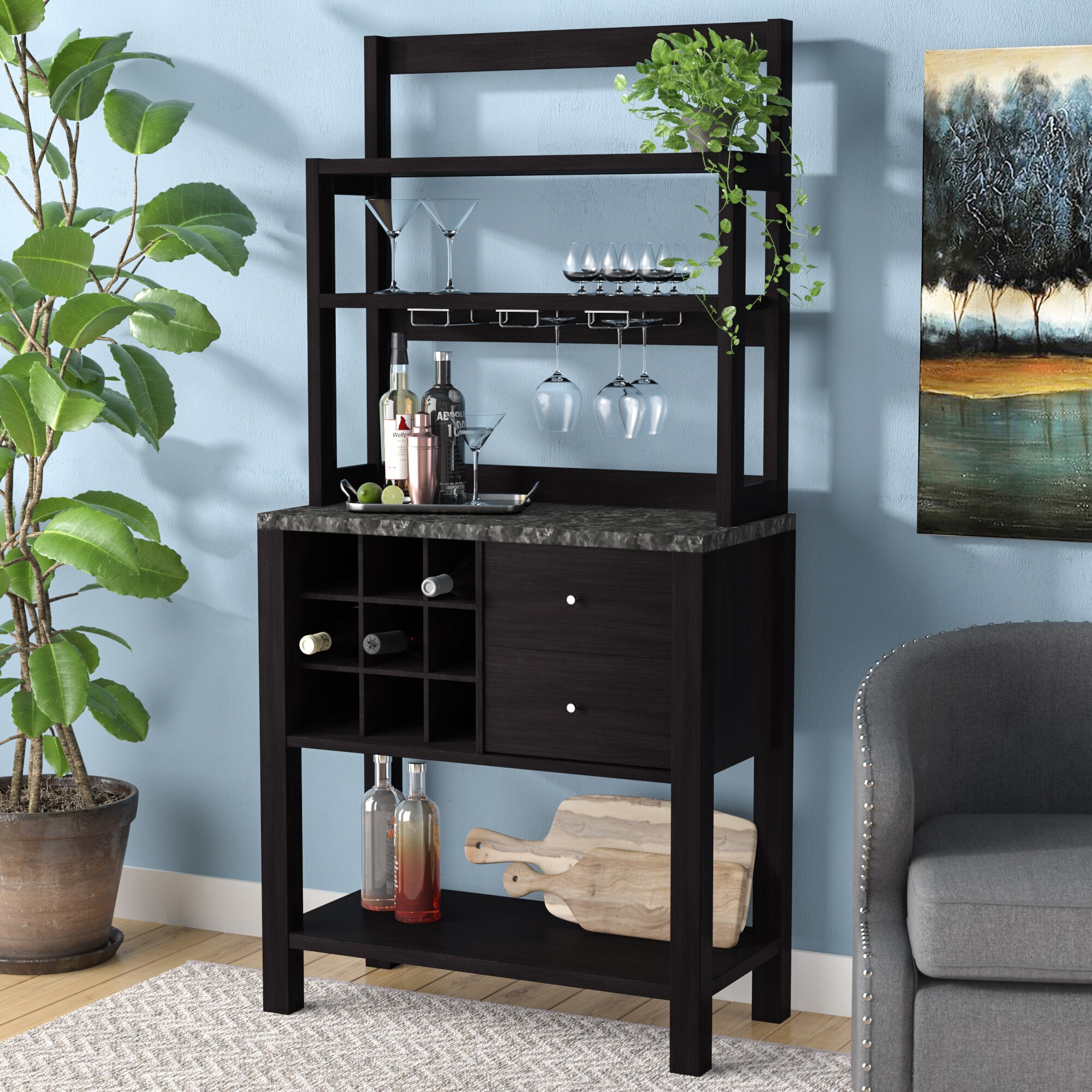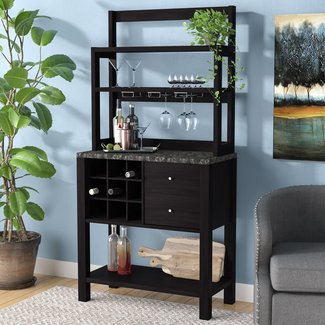 Wes Bar with Wine Storage
Contemporary and cool, this bar cabinet features a black or espresso body topped with a black or white faux-marble countertop.
The cabinet features 4 tiers of open shelving to store your favorite glasses and accessories in addition to your 9 favorite bottles of wine. Leave off the stemware racks to transform this cabinet into a great coffee bar or additional kitchen storage for tight living quarters.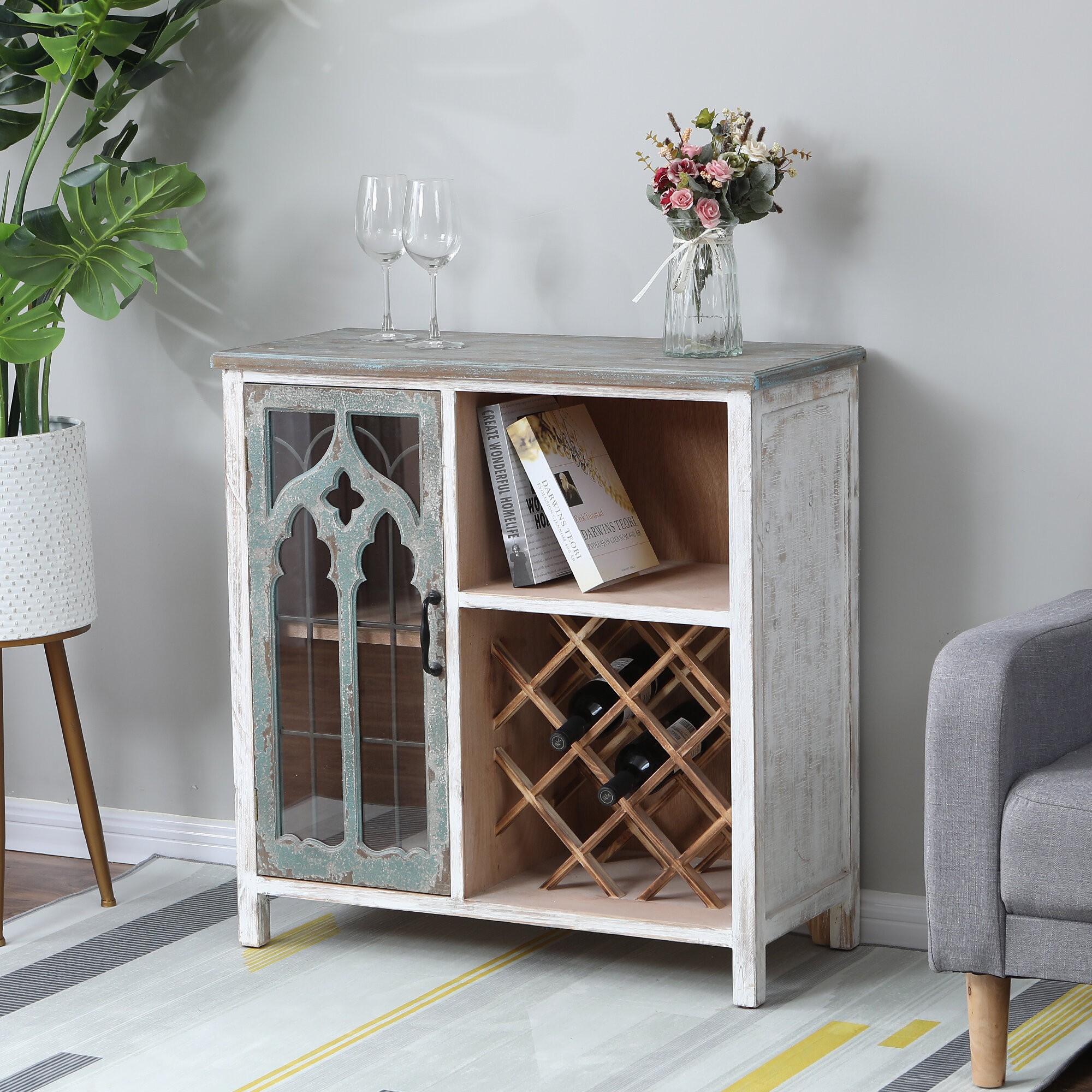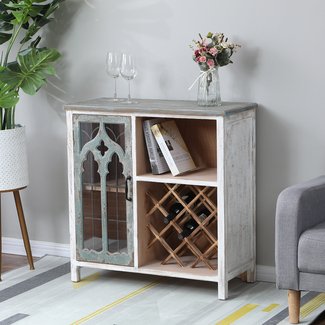 Czaplinksi Shabby Elegance Distressed Bar Cabinet
This bar cabinet is not only a practical storage option but is also a stylish statement piece. The blue and white distressed exterior finish complements shabby-chic and French country fittings perfectly.
Fully assembled at arrival, it is ready to use straight out of the box. Anti-tip hardware is already included, so you don't need any security installations. Do note that due to natural variation in the wood grain, the cabinet could vary slightly from the picture.