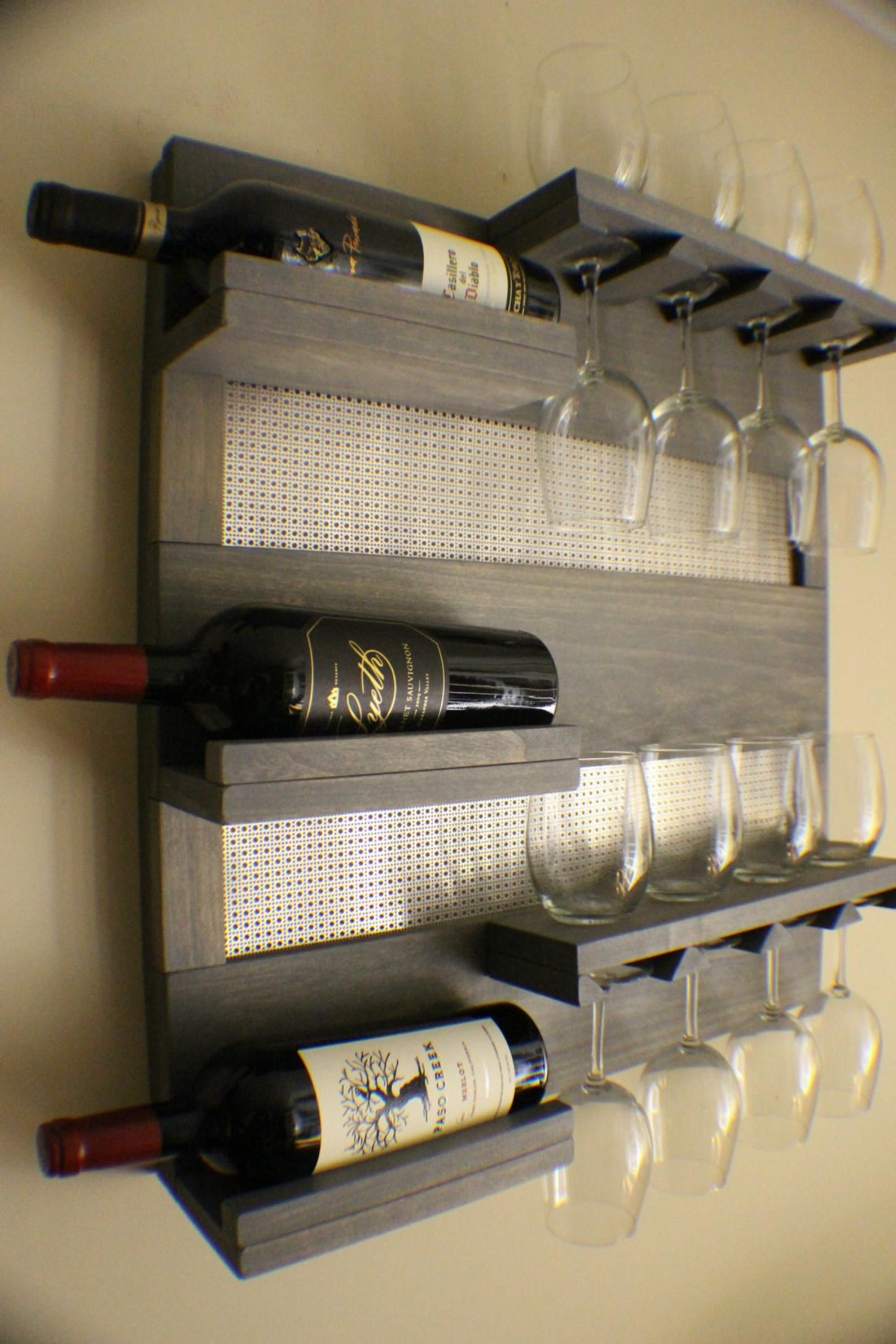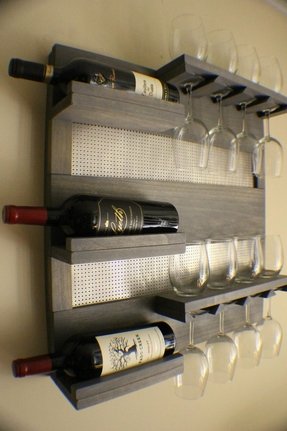 Rustic weathered grey stained wall
Rather simple rustic style wall-mounted wine rack. Its open body is made of wood with a grey-stained finish. It has a decorated back of chromed metal mesh. It has 3 shelves for lying bottles of wine and 2 racks with holes for stemmed wine glasses.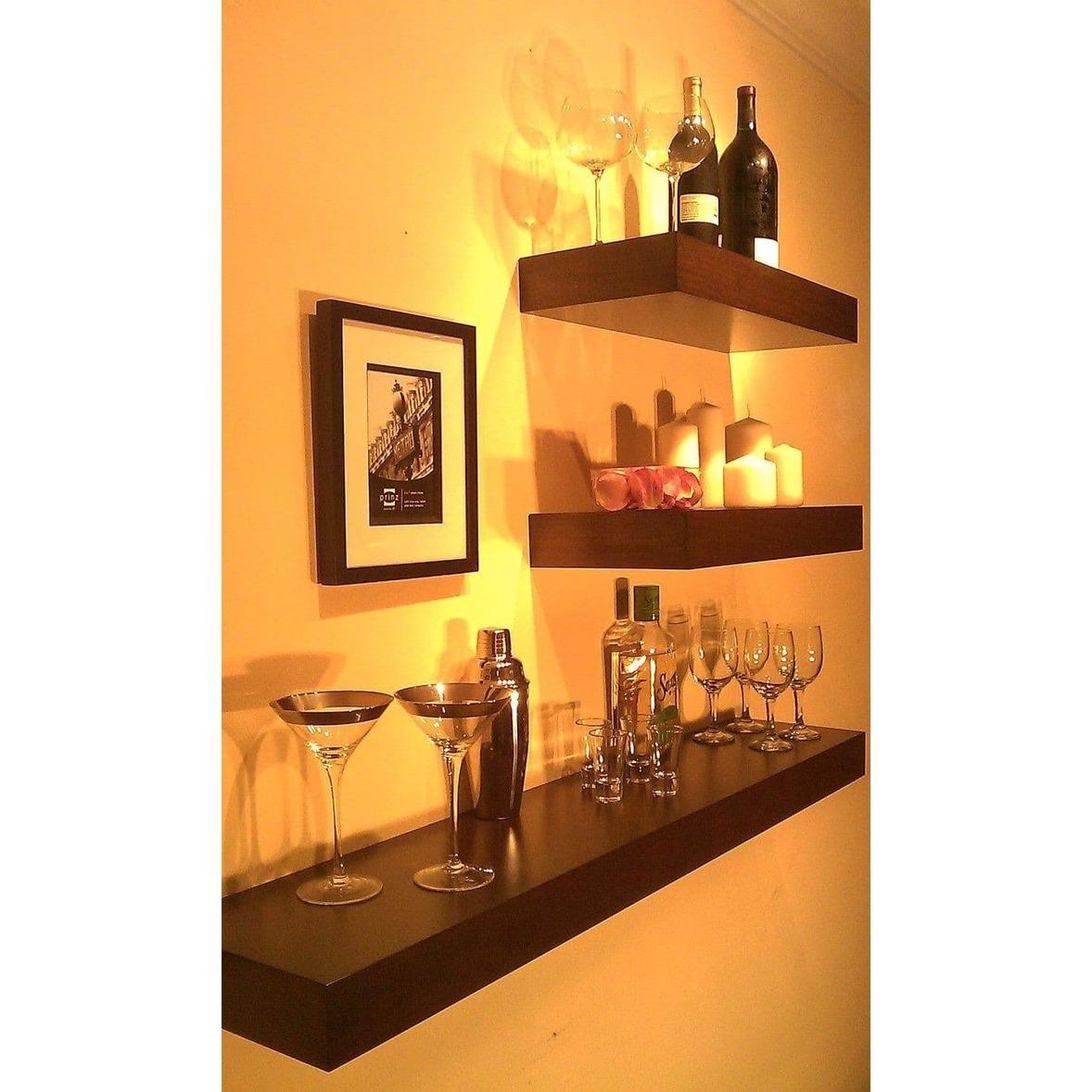 Wall mounted wine rack free shipping
Open shelf designed for wall mounting. It is completely made of wood. Ideal as wine rack, storing books or display decorations. Neutral design for each place as needed.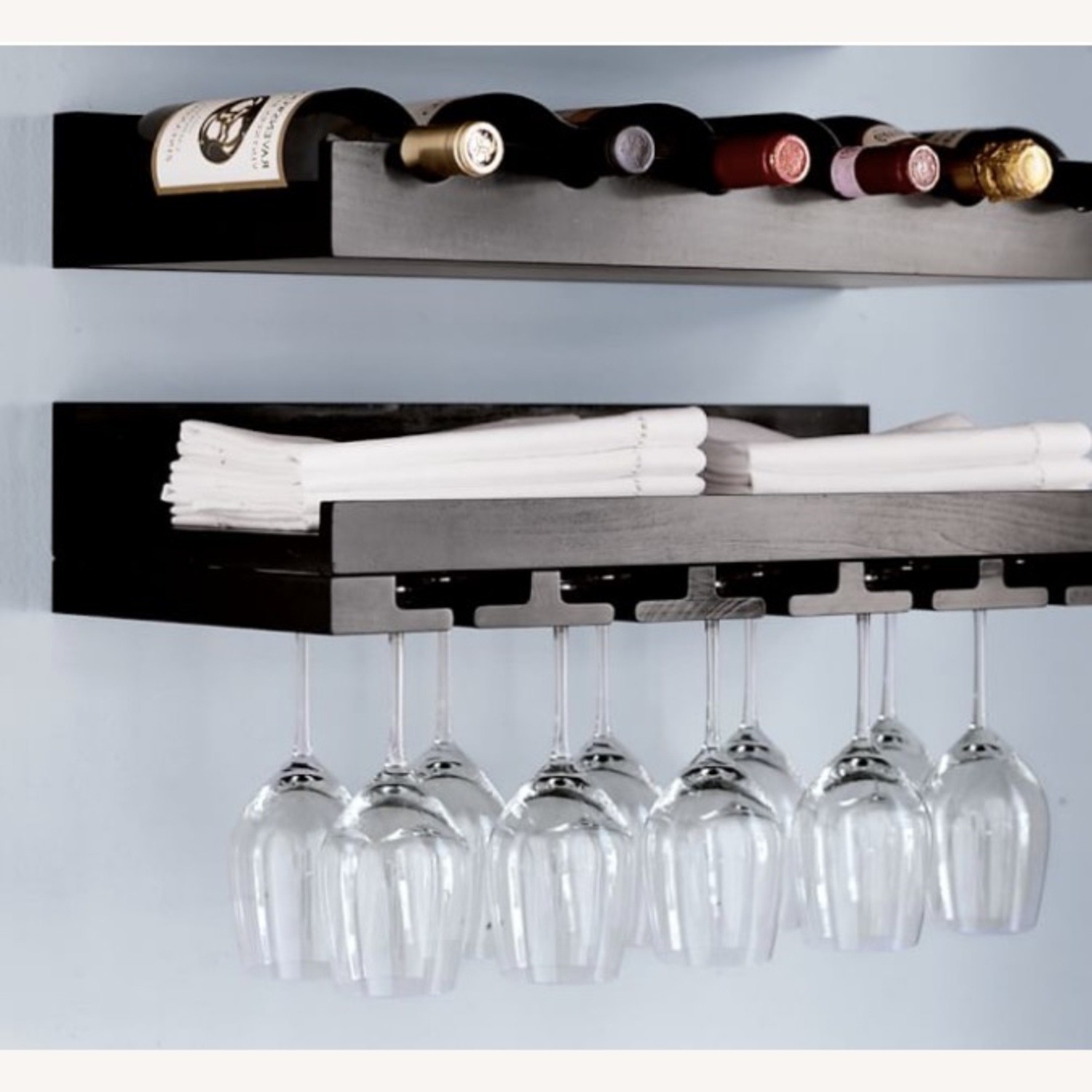 Holman Entertaining Shelves
If you collect kitchen accessories, we found something special- the set of two entertaining shelves for wine bottles and glasses. An attractive addition to home bar and kitchen zone.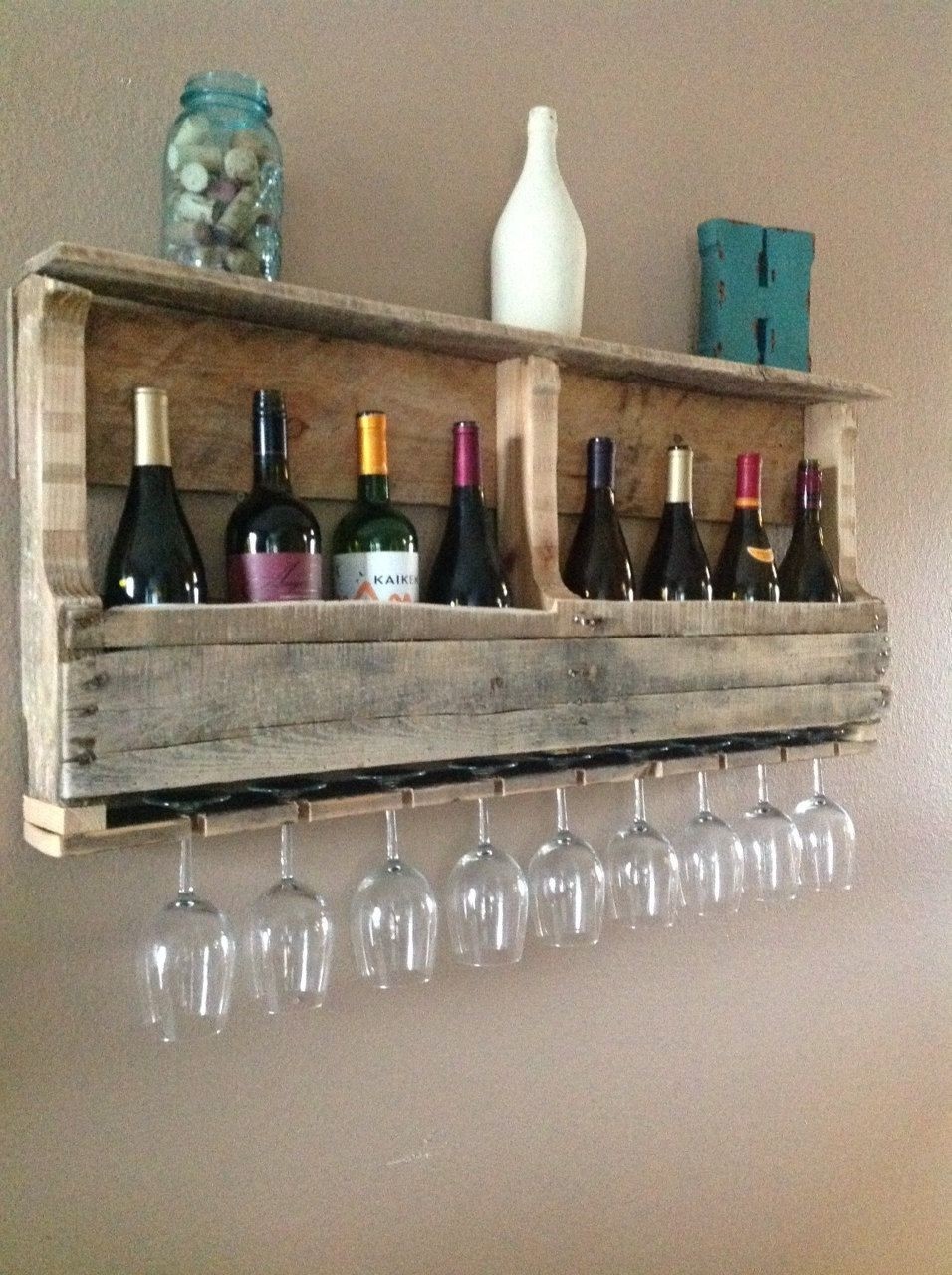 Reclaimed wood wine rack natural
The impressive combination of style and functionality in this wine glass holder shelf captivates the country atmosphere. The whole made of barn wood is tasteful and brings a very cozy country character.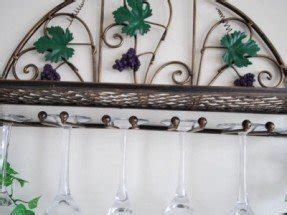 Wrought iron french style wine glass holder wall shelf
Wine glasses holder designed for mounting on the wall. It is made of metal and decorated with grape theme. Elegant addition to the kitchen, dining room and more.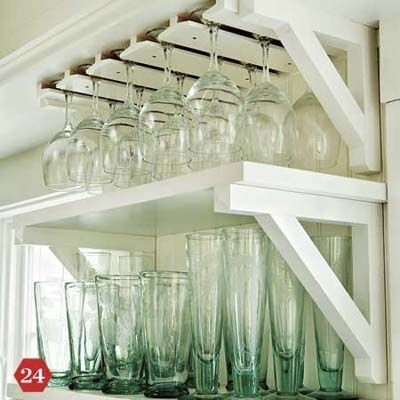 The simplicity of the design and the beautiful white shade make this functional hanging wine cabinet with its glass hangers captivating. The colors of the glitter can be found in the kitchen, pantry or dining room.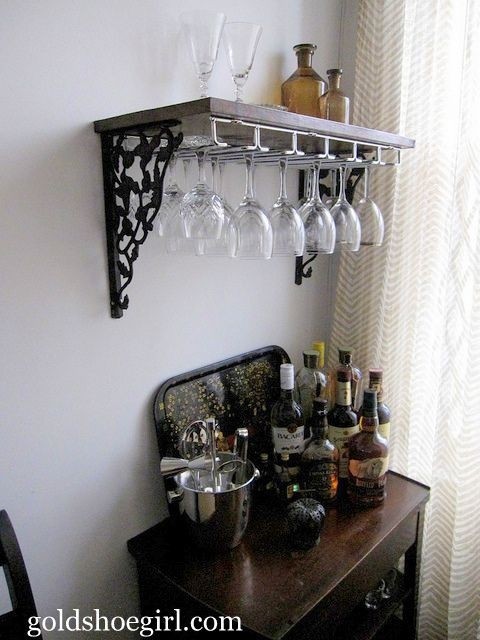 Small bar for alcohol in the corner and horror that there is no space for the glasses. Perfect solution would be wine glass holder. The glass holder allows them to hang the cup downwards.Made of shiny metal, it is a solid and safe construction for your glass.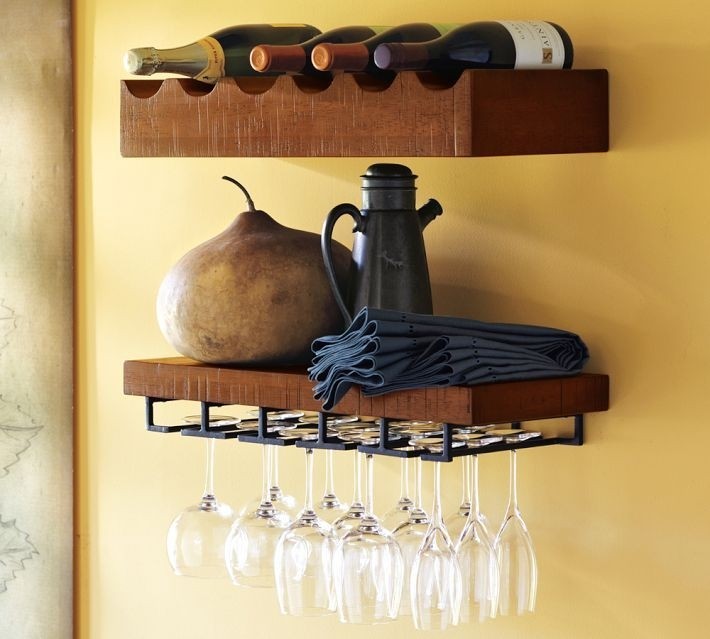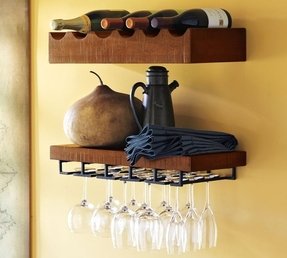 Wine rack designed for mounting on the wall. It is made of wood and metal. It consists of shelves for bottles of wine and glasses holders. Suitable for residential and commercial premises. Simple form and neutral design.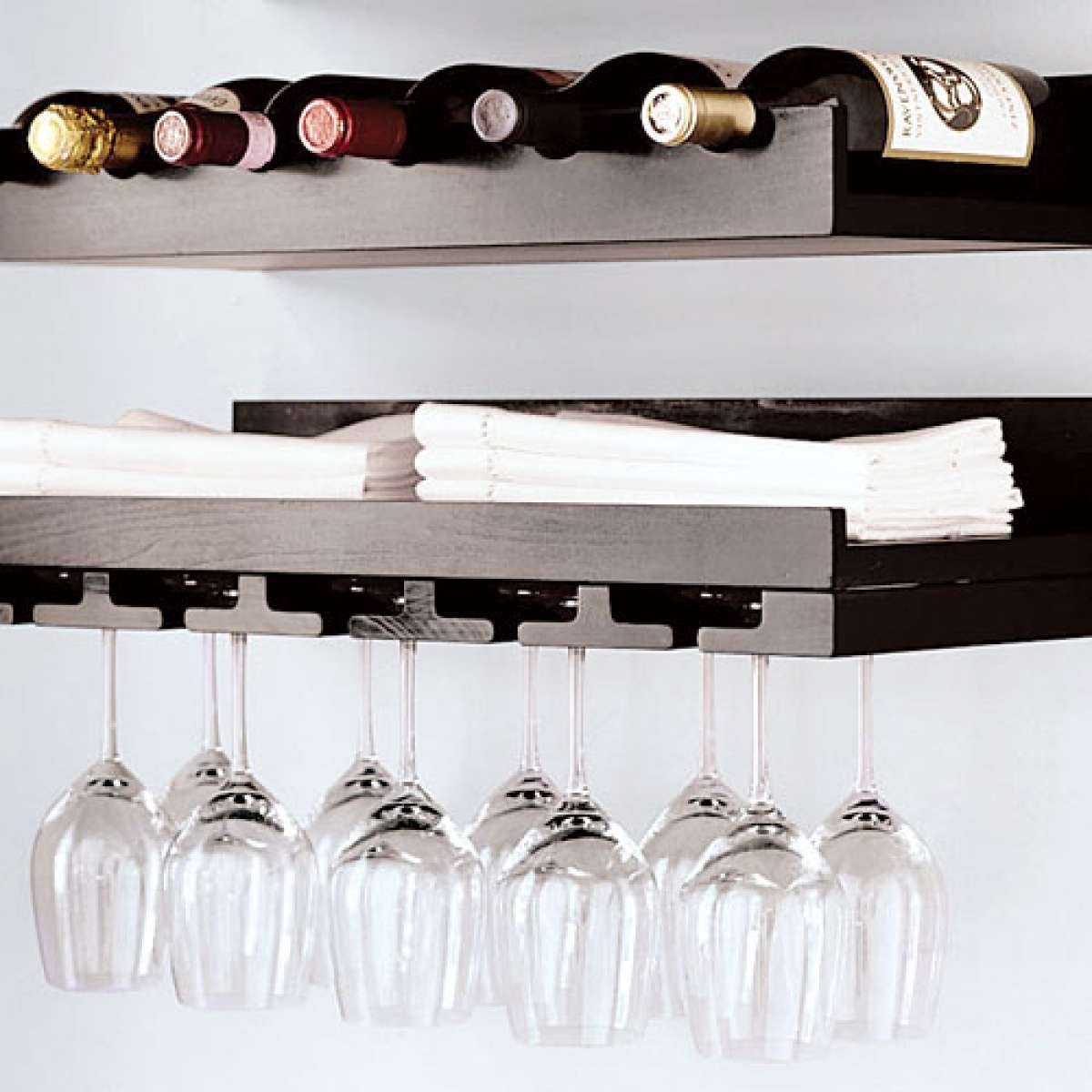 Ideal for a small wine and glass collection, this cleverly designed wall-mounted storage rack will allow you to save floor space, while having the items at your fingertips. Dark wood provides a stylish, refined appeal.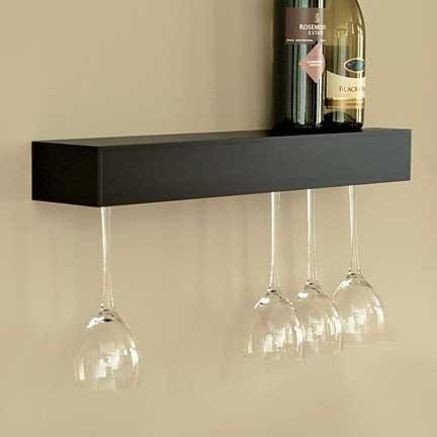 A simple contemporary wall-mounted rack for wine bottles and goblets. Its rectilinear body is made of wood finished in black. It has a rectangular top-shelf and a hanger (for 6 goblets with stems) underneath.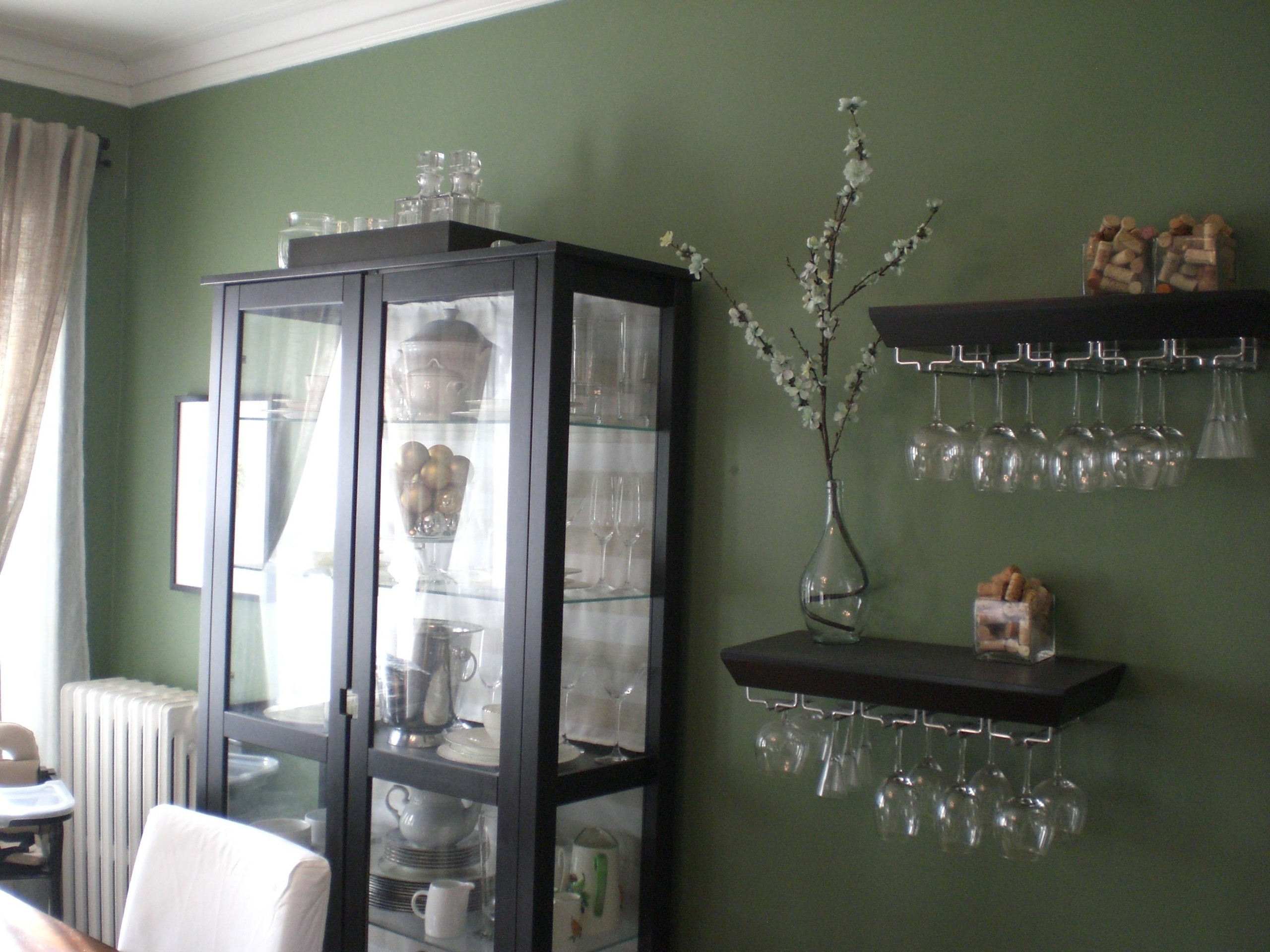 Storage of wine and champagne chalices has never been so easy! You don't need special cabinet or rack, because due to this incredible shelves with metal hangers your chalices don't stake a lot of place and don't get dusty.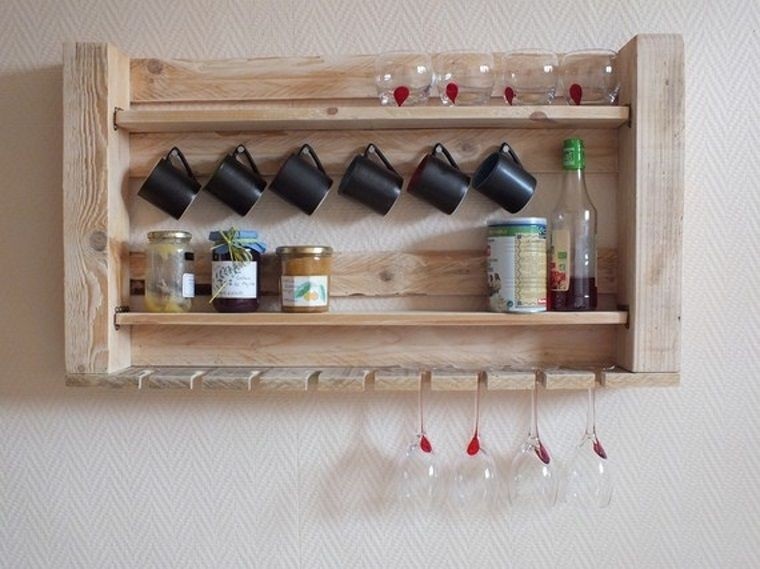 Wood wall-mounted glass rack. A hit in rustic / cottage kitchen. Natural finish exposes the wood grain. Metal racks serve as hangers for mugs. Two shelves can house glasses, spice jars and bottles. Cutout racks for wine glass on bottom.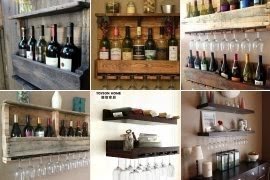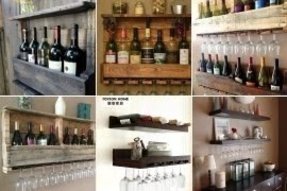 Do you like a tasty glass of wine? So you need the storage space to keep the glass and wine bottles. This rustic wine rack is made of solid wood and has enough space for the collection of wines.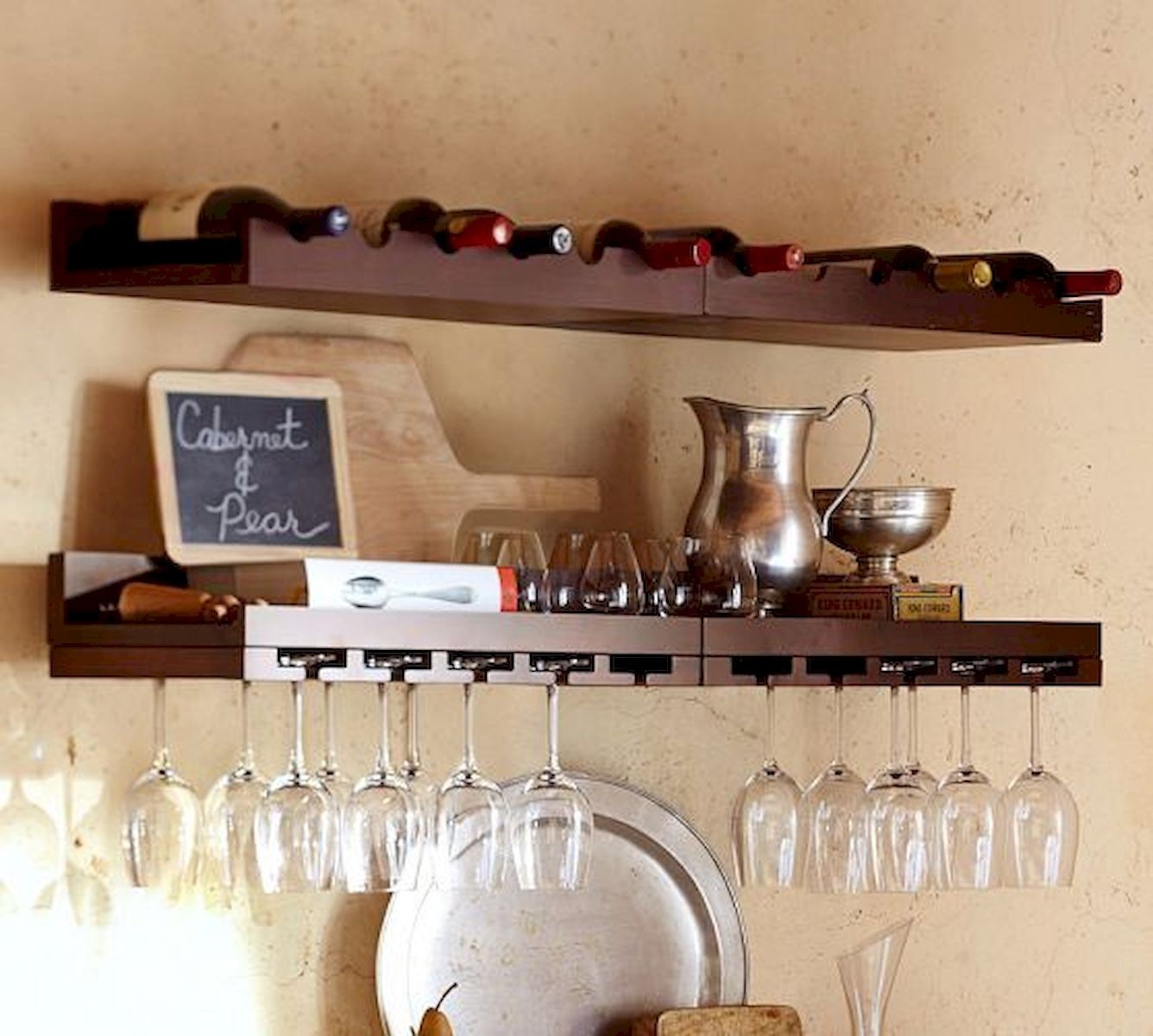 Holman Entertaining Shelves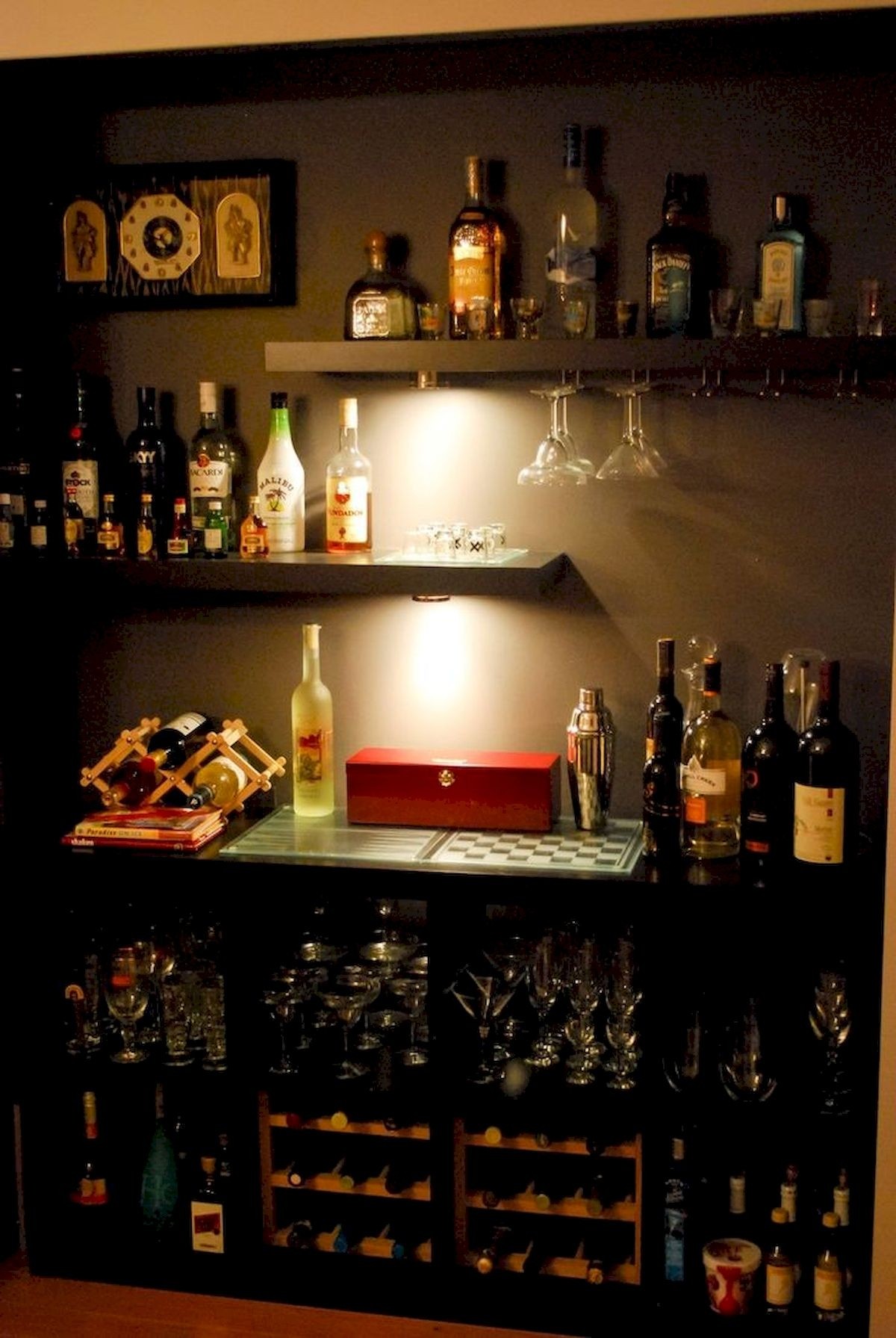 An excellent mini bar for home or an entertainment room. It includes elegant, steel floating shelves with holders for wine glasses. The bar offers plenty of storage space for bottles and glasses and the top features a chess board.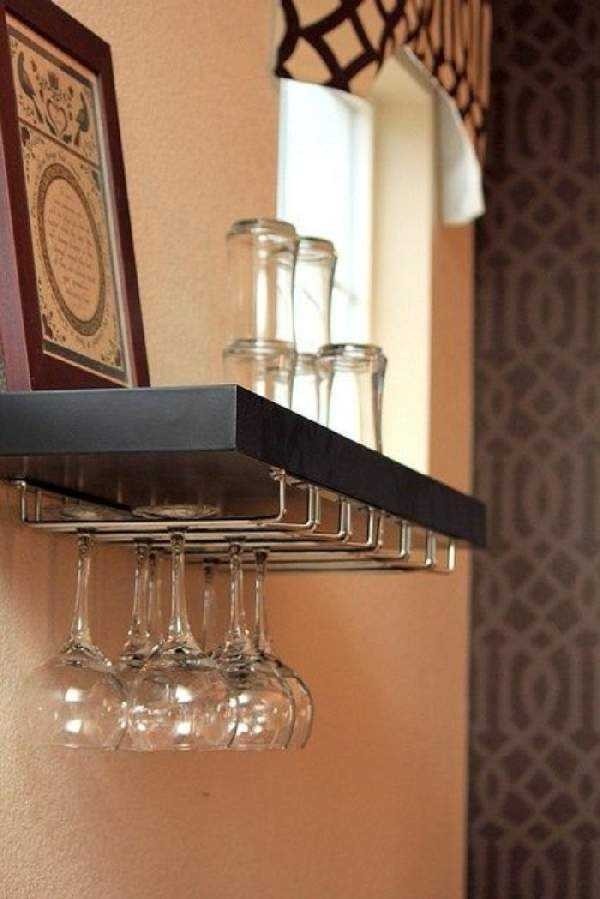 DIY floating shelf wine rack. Rack and shelf both from Lowes. Screw two racks on the underside of shelf, then hang shelf. Easy.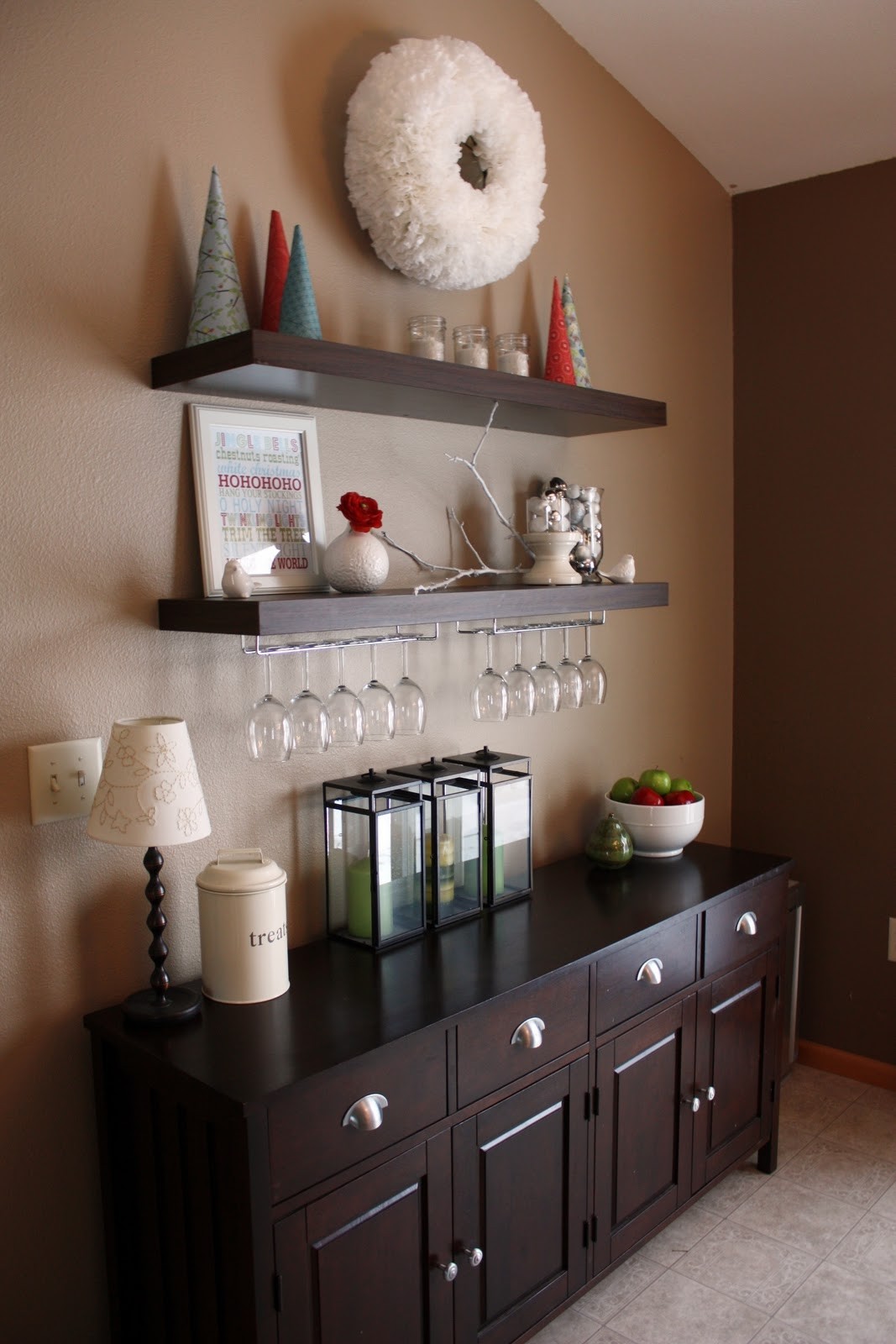 Practical, solid and stylish addition to any home decor. This dark brown wooden buffet cabinet includes top shelves. The lower one serves as a wall mounted glass holder. Simple lines are very aesthetic.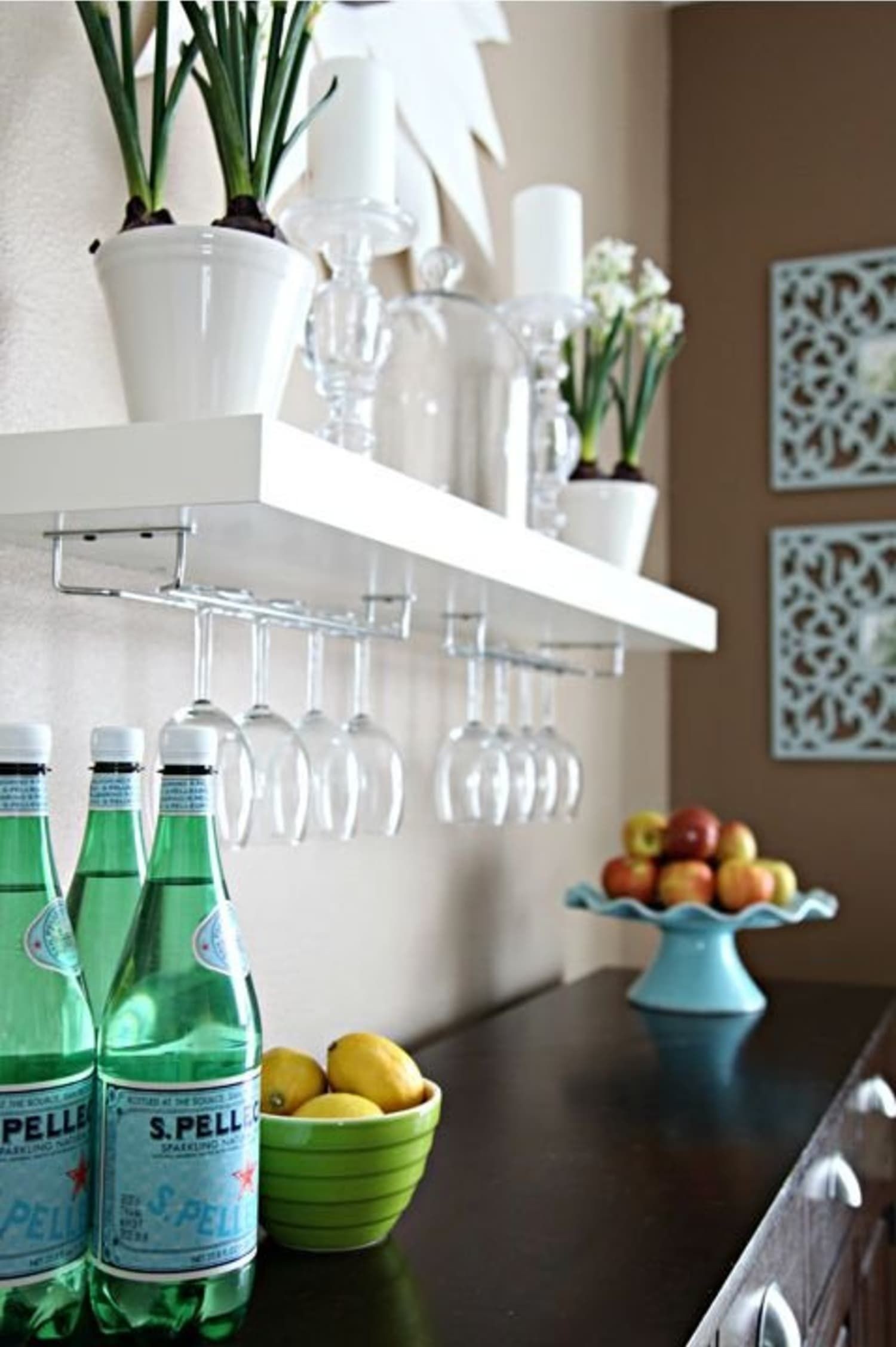 A stylish accessory for any kitchen, that will help your to properly store and display your glassware and few decorations. This floating shelf is made of white-finished sturdy wood, and has a built-in steel rack to hold up to 8 wine glasses.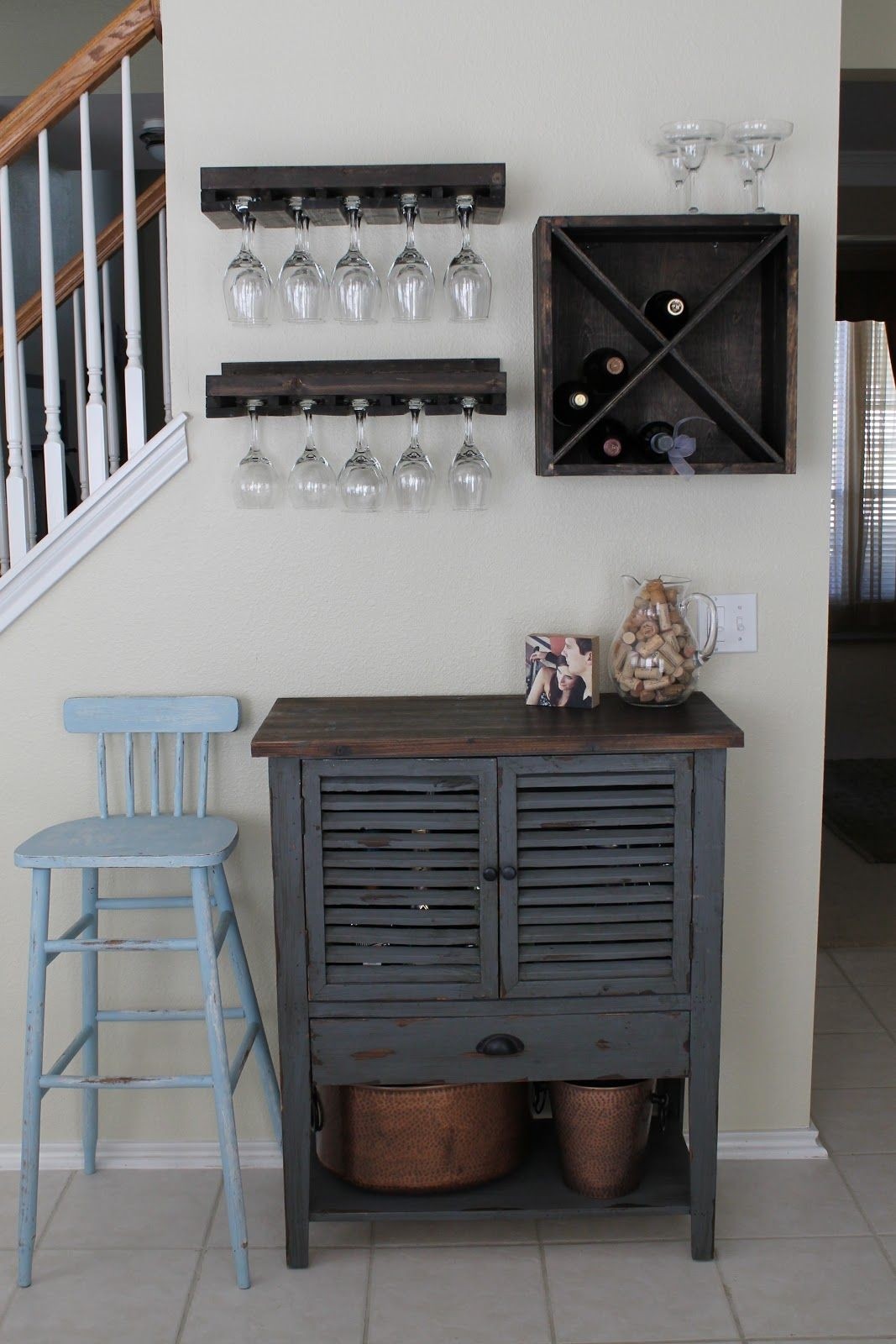 Wine rack designed for mounting on the wall. It is completely made of wood. It consists of shelf for bottles of wine and glasses holders. Tasteful accent for kitchen, living room, dining room and more.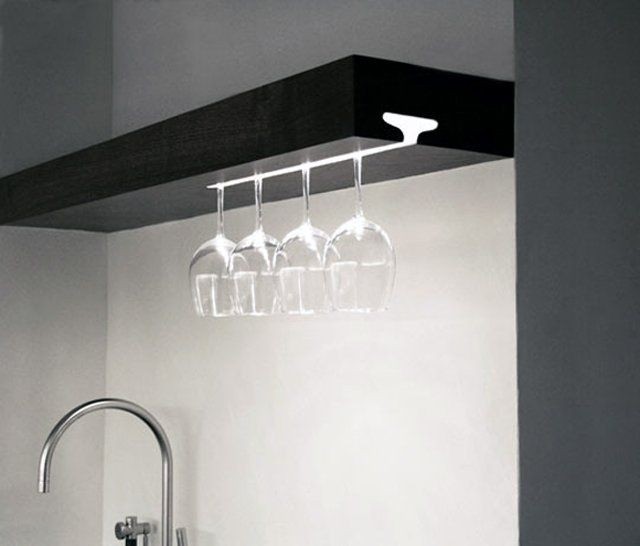 Design:Wineglass Materials: solid walnut, LED strip light, batteries, and wineglasses (provided by owner) Designer: Julian King, Architect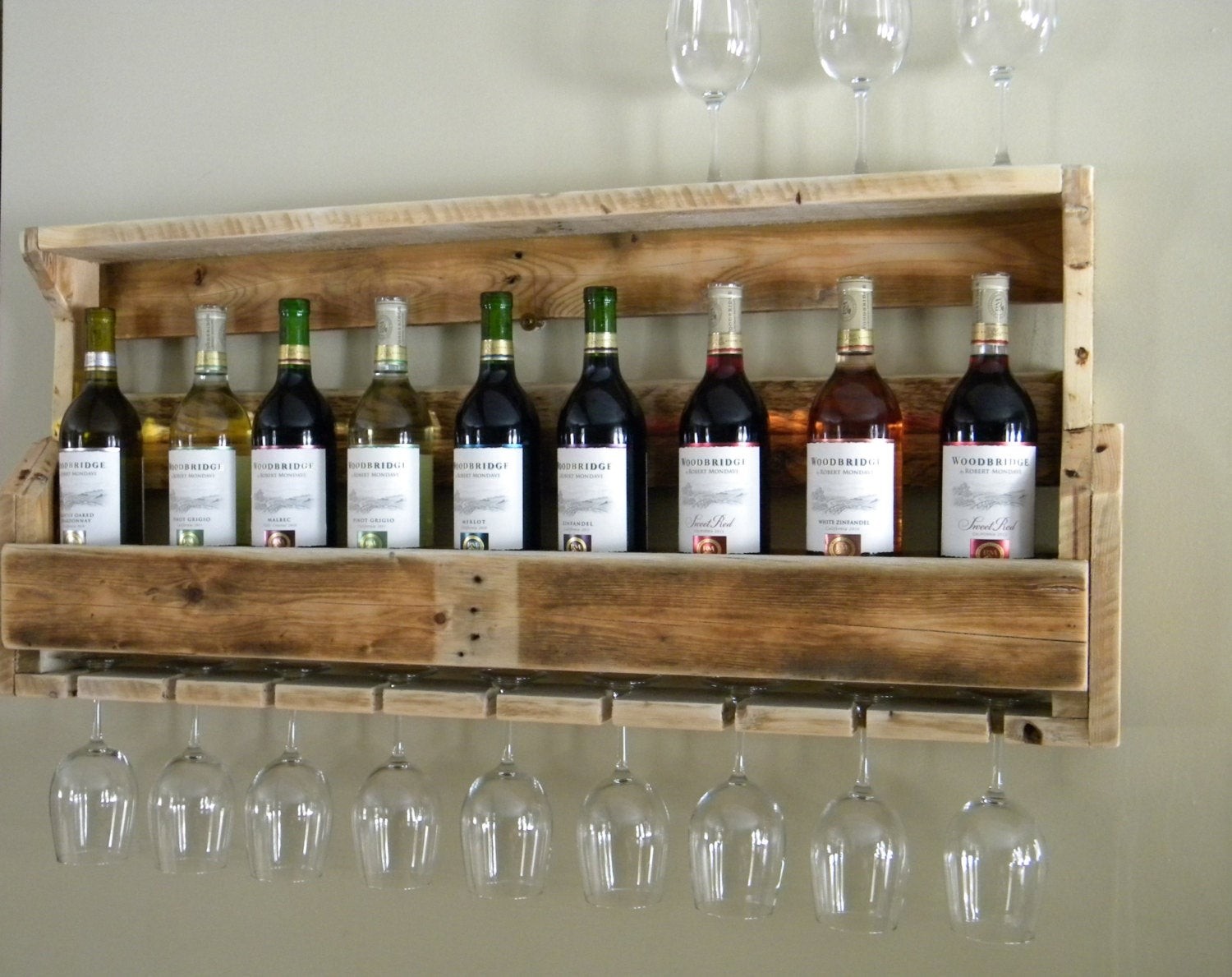 40 Rustic Home Decor Ideas You Can Build Yourself - Page 2 of 9 - DIY & Crafts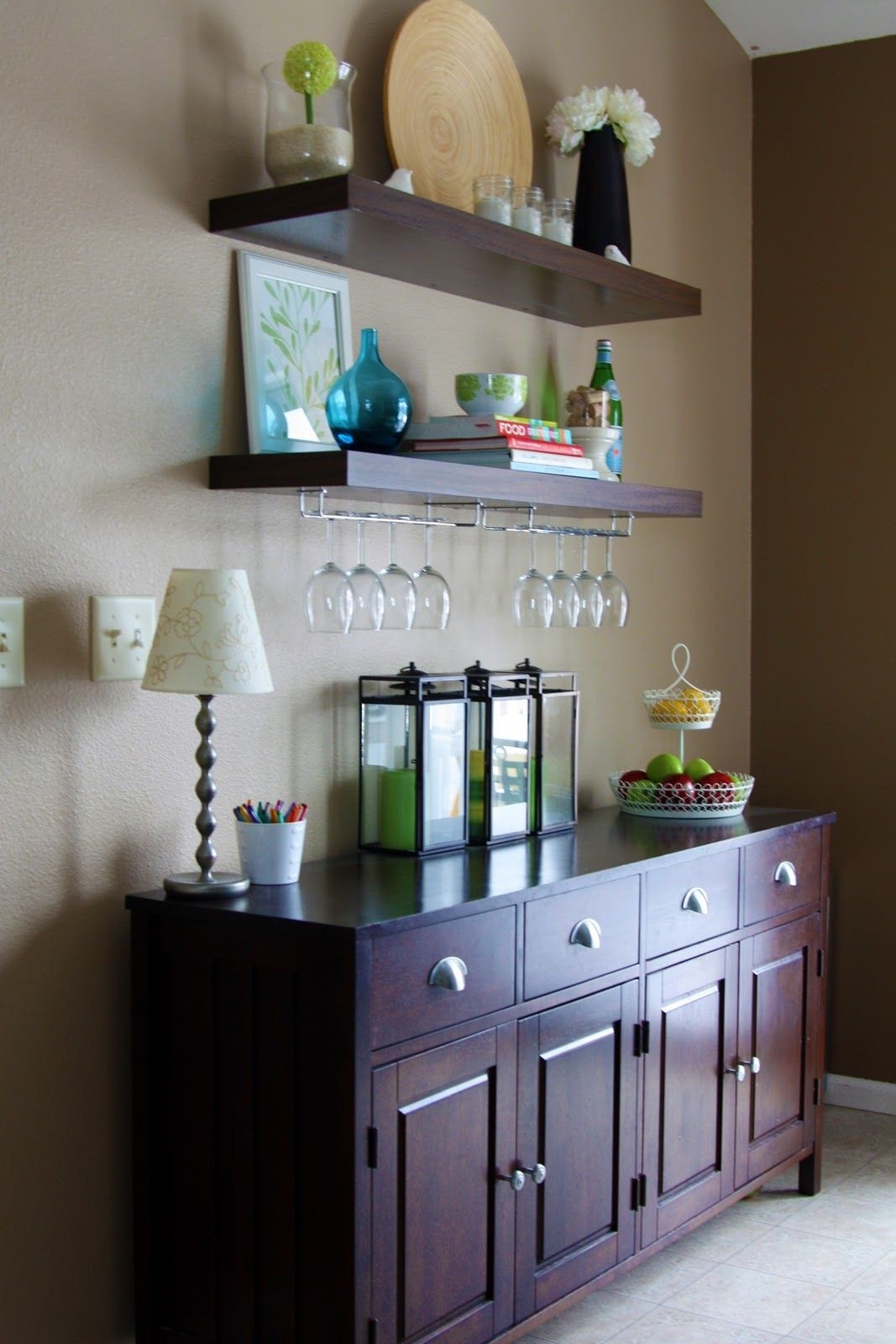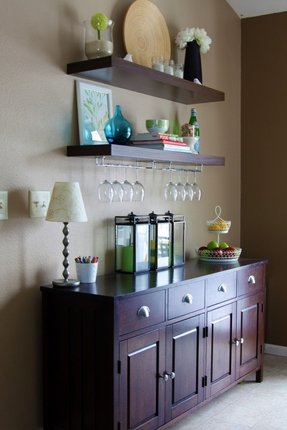 Neatly organized dining room corner with cherry wood sideboard and two floating shelves above - the lower one has metal stemware rack mounted underneath. What more does one need for dinnerware storage.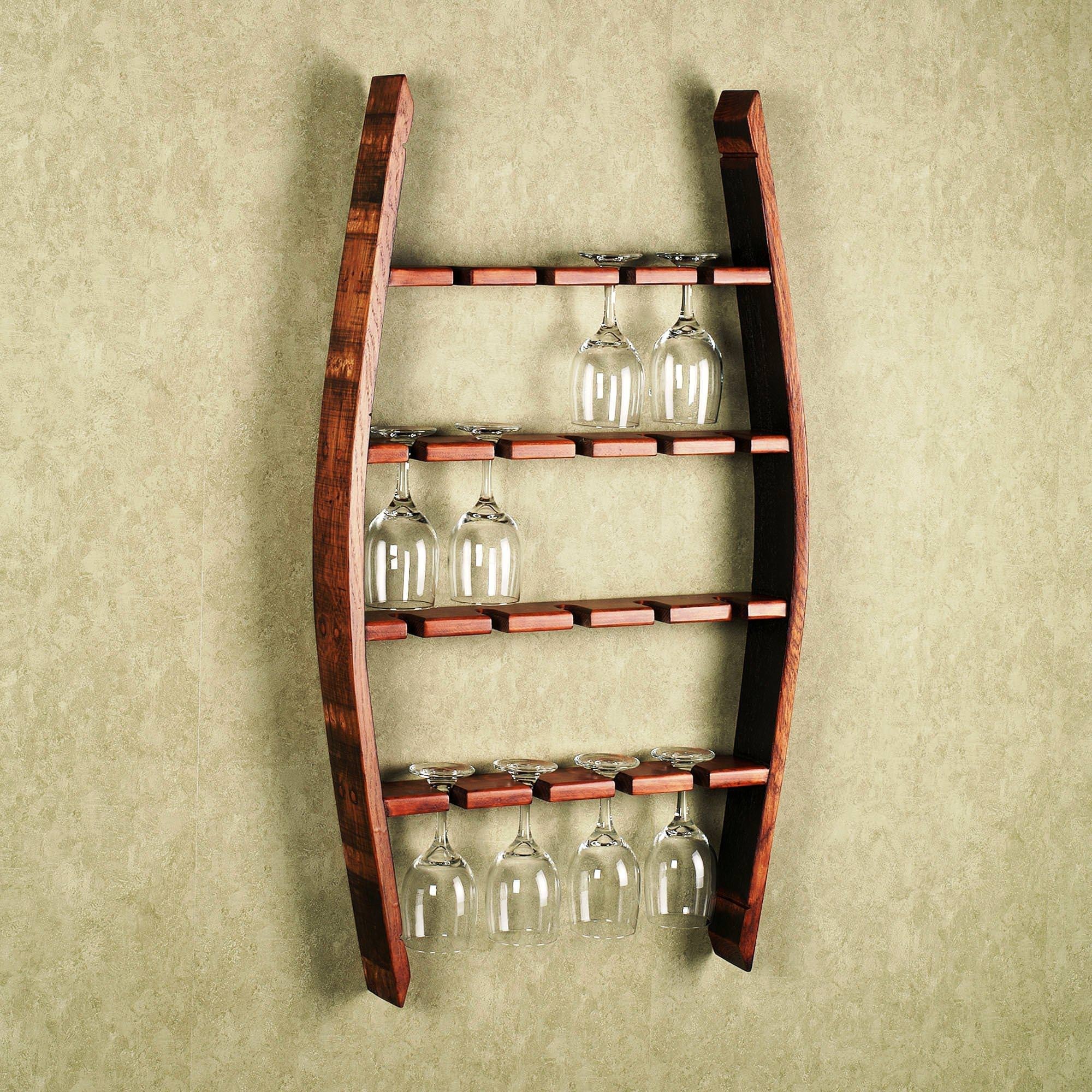 If your wine glass collection just keeps growing (red wine, white wine, champagne flutes, coupes!) you're going to run out of cabinet space soon. One of the best ways to store stemware is by hanging them upside down. Not only does that keep dust and dirt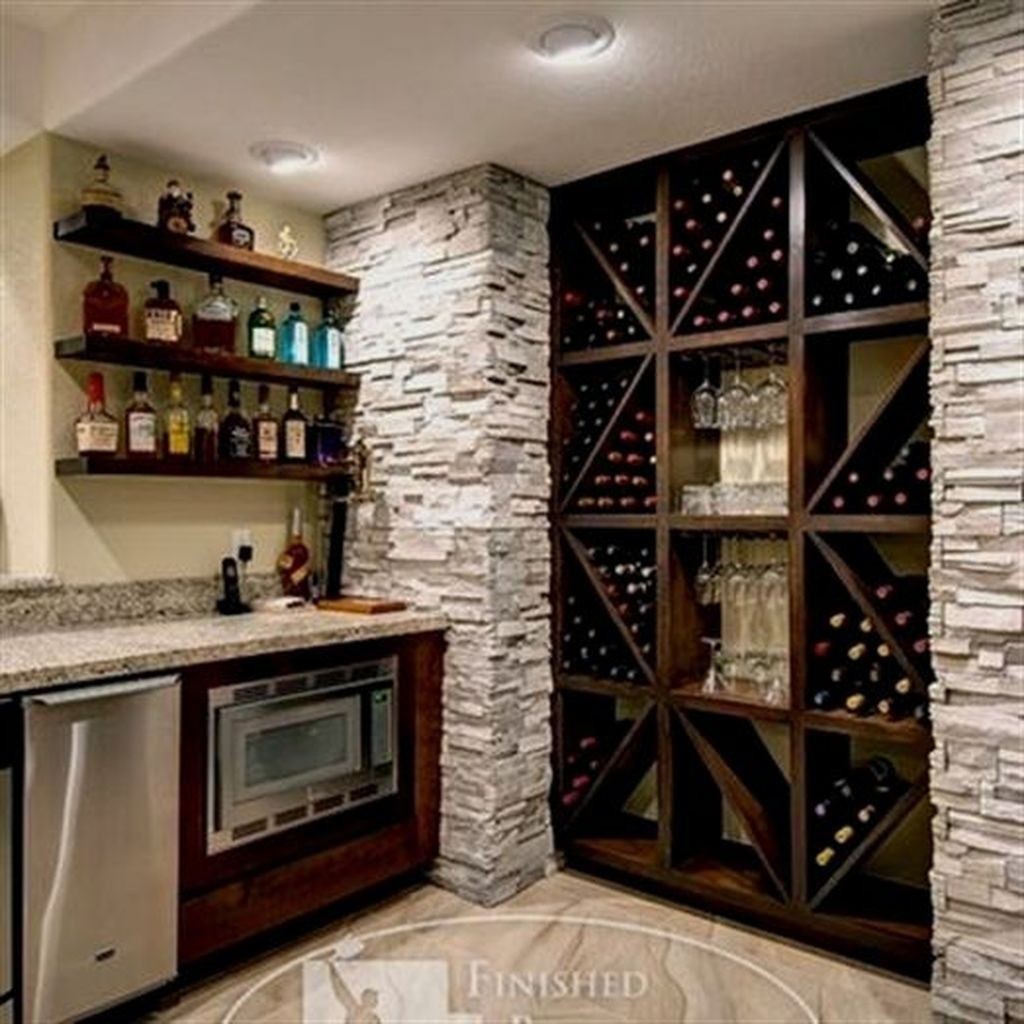 Love the wine wall, I need a place to store my wine and the glass holder and wine prep area is a great idea too!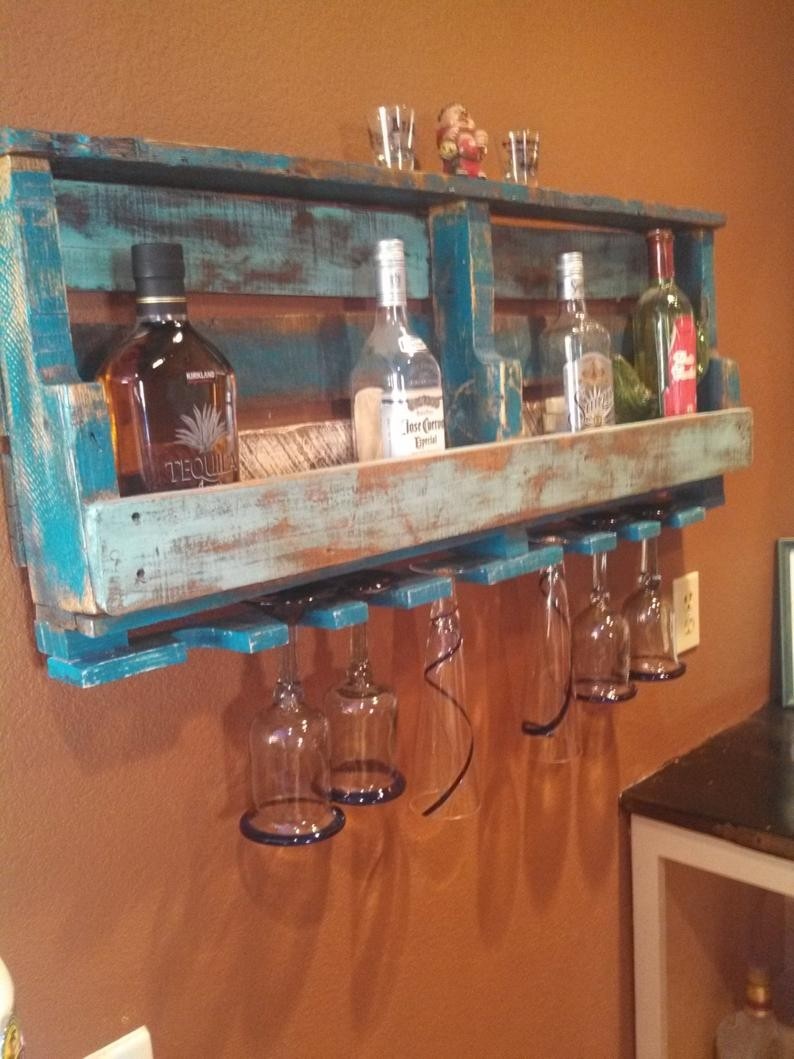 Like the painted version too. rustic pallet wine/liquor rack @Rachel Lubahn YOU could make this!! :)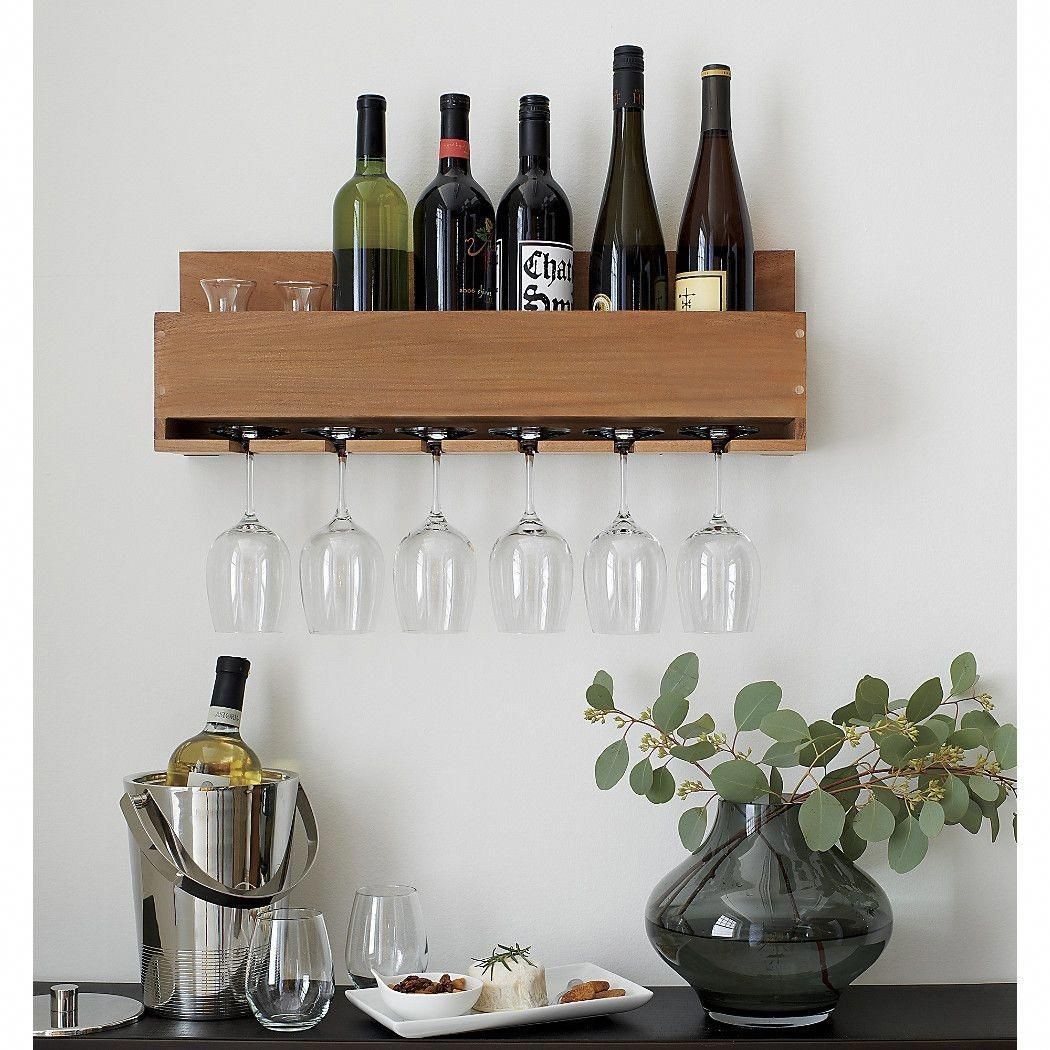 Wine-Stem Rack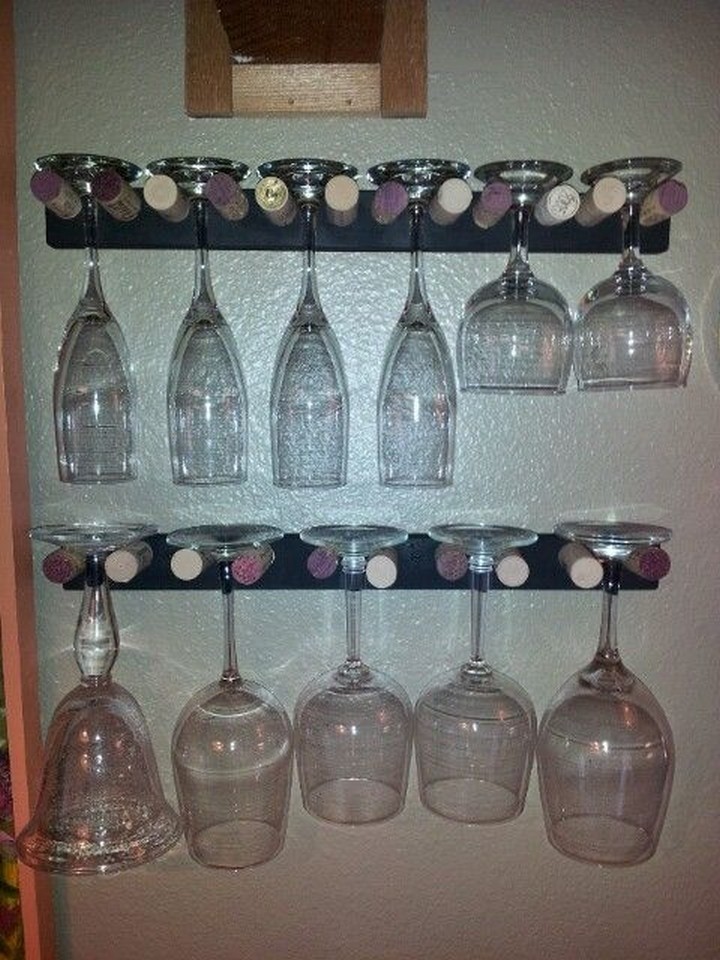 My homemade wine glass holder from wine corks.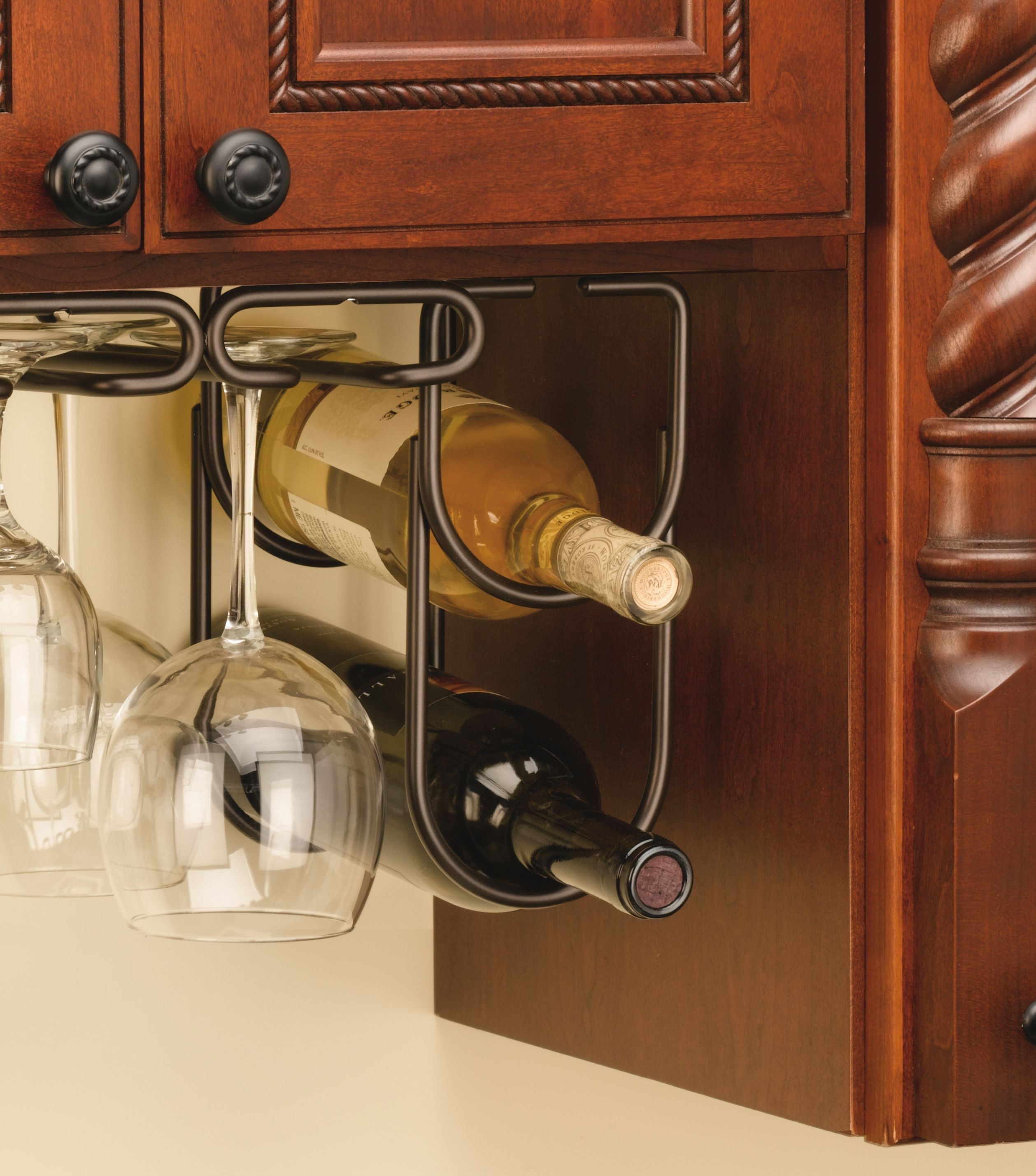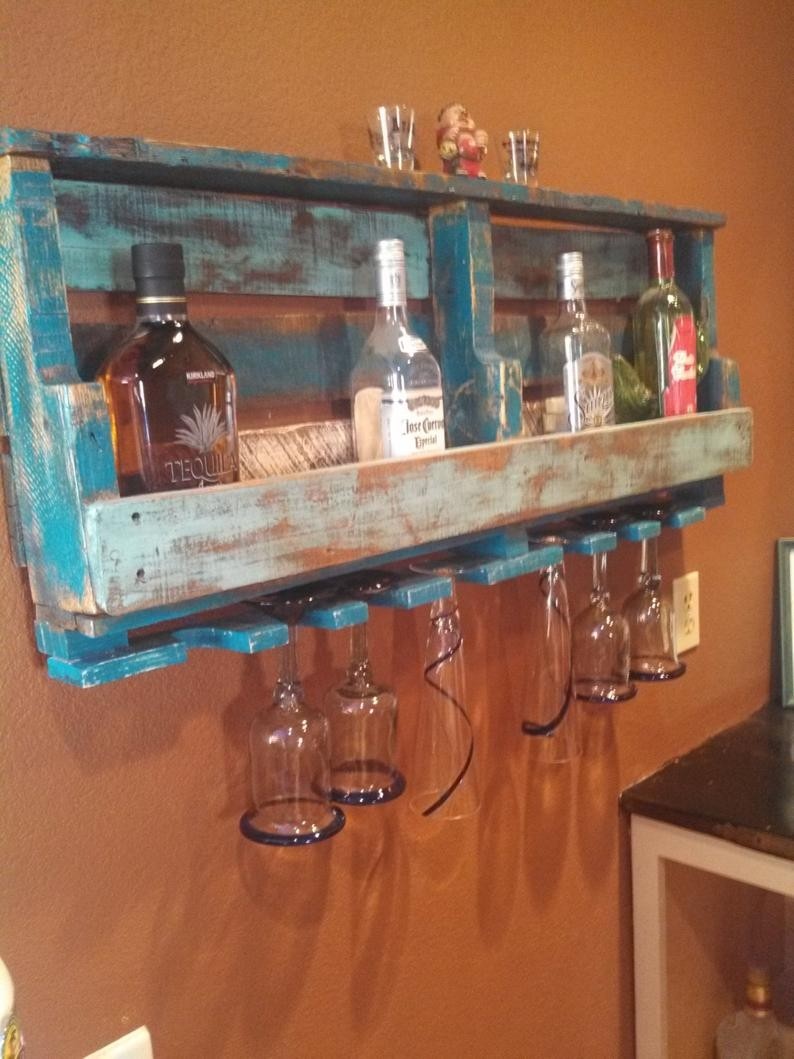 pallet liquor shelf with rake wine glass rack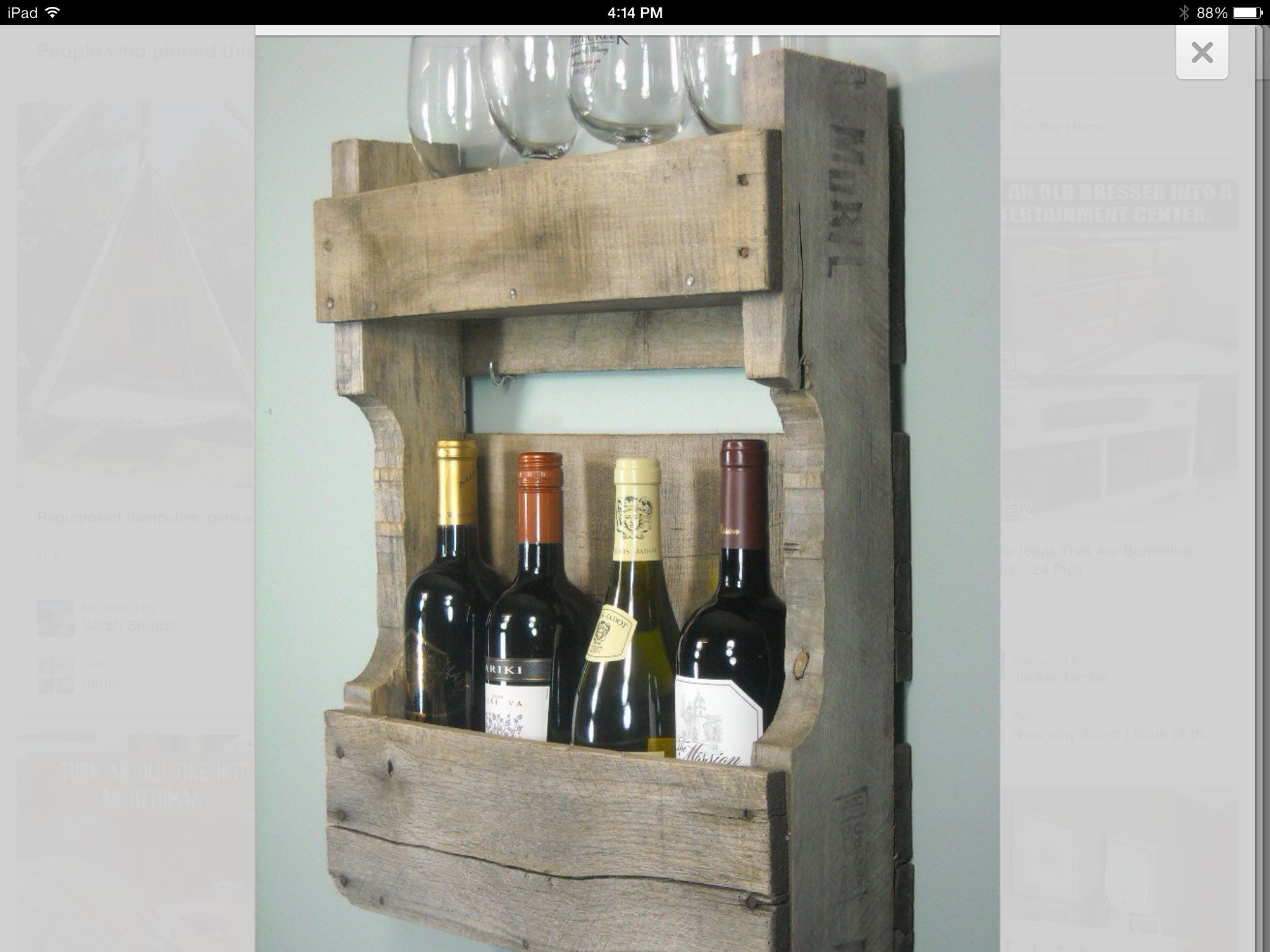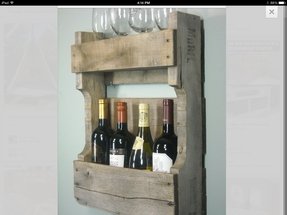 Cute! This would be awesome to display a couple bottles. I usually don't have more than 3 or 4 bottles at a time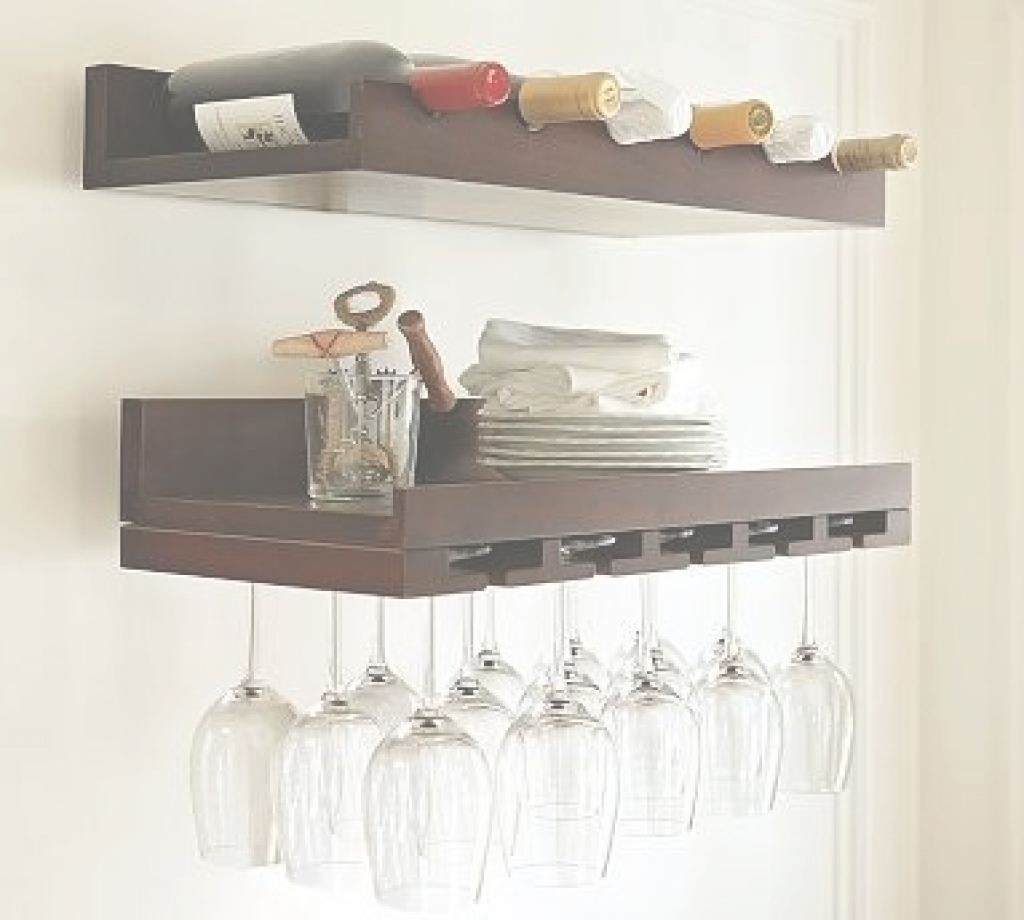 This wine glass shelf shall appear in every wine lover's house. It can collect all the wine essentials in one place, yet neatly accommodated. Two wooden shelves for bottles and plates and 15 hooks for glass.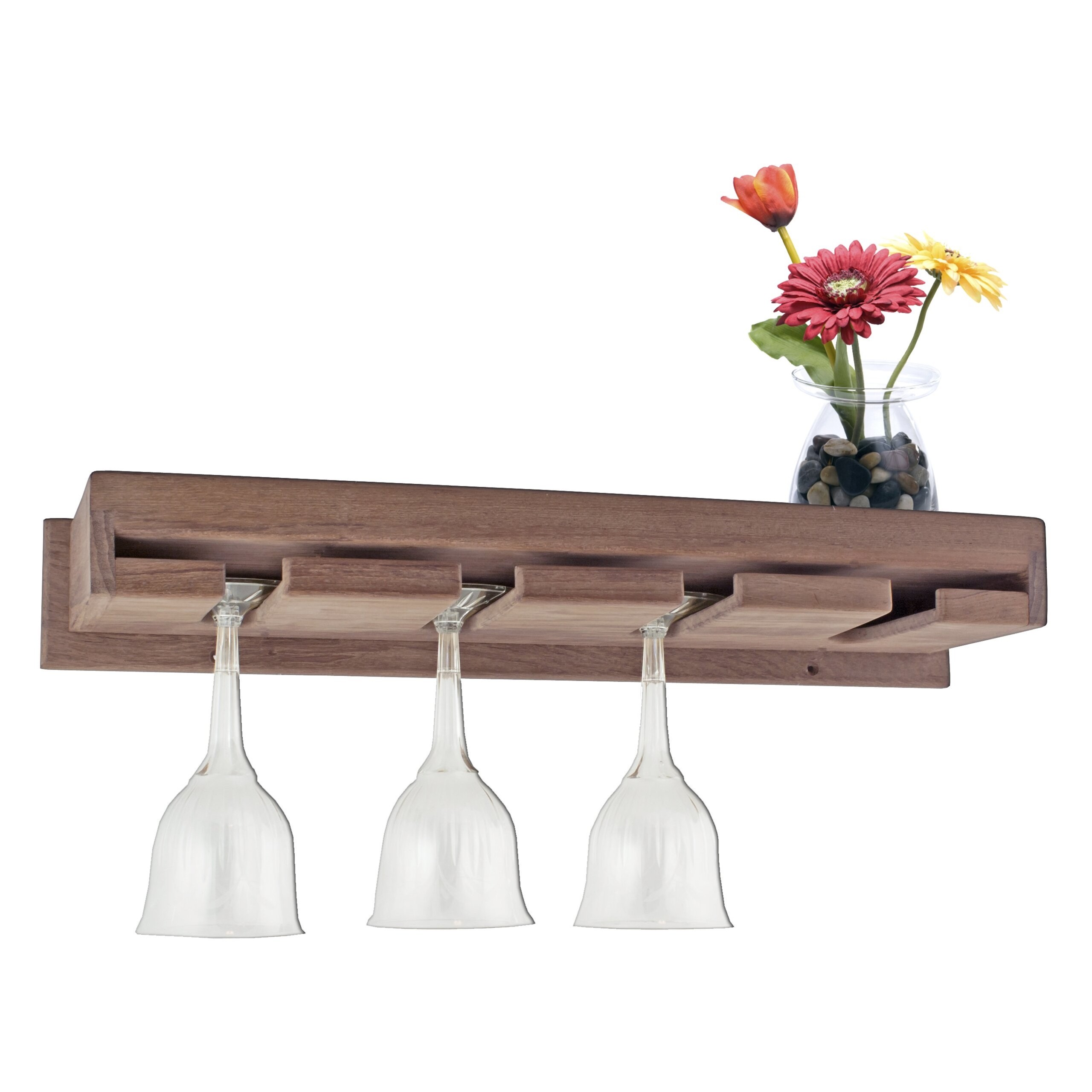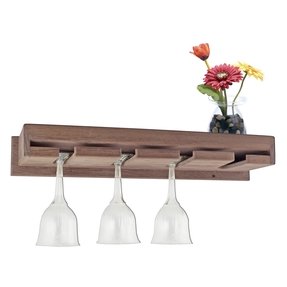 Wall Mount Wine Glass Rack with Shelf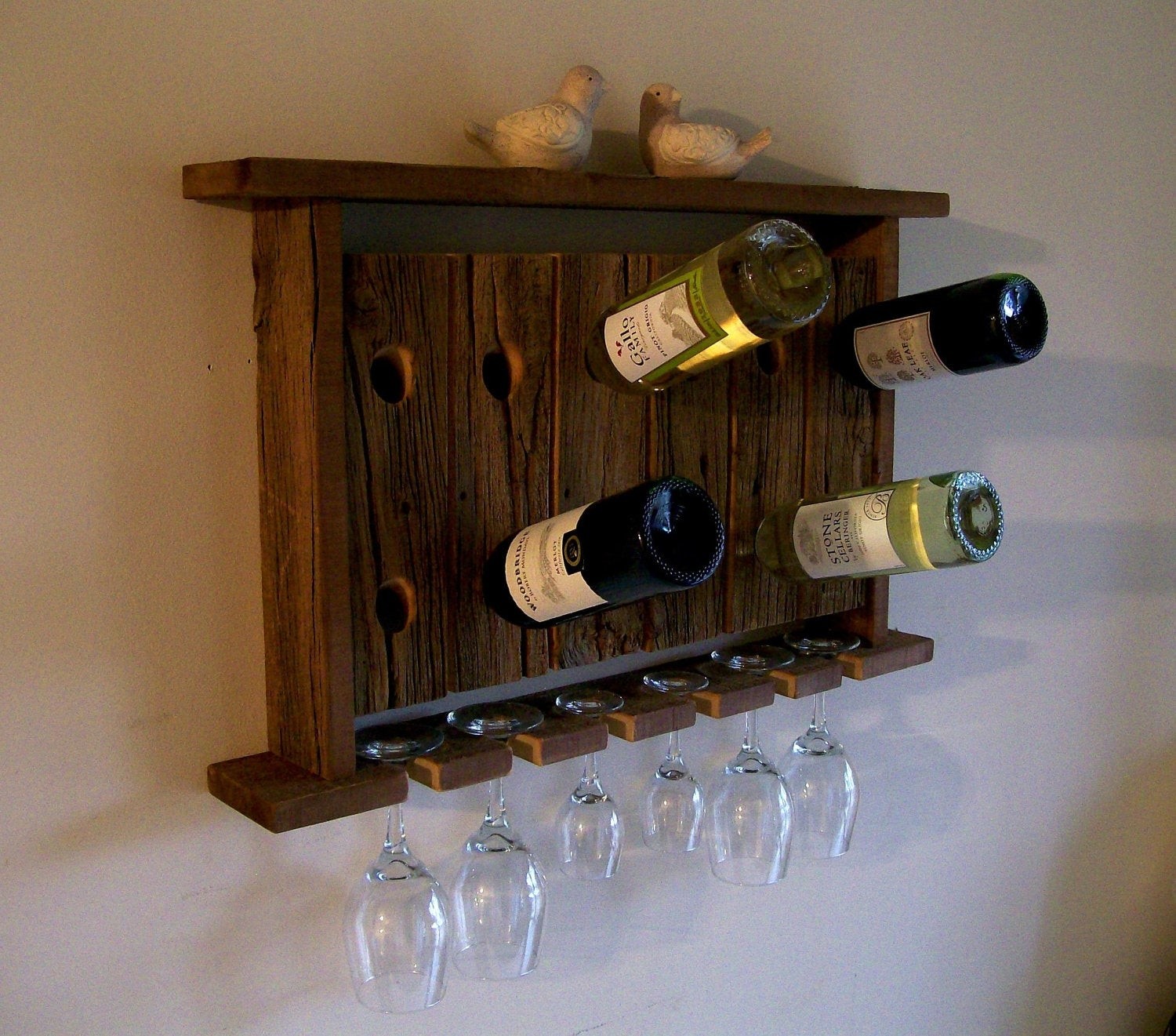 Wine Rack Wine Glass Holder Wall Shelf Riddling by TheBarnYardShop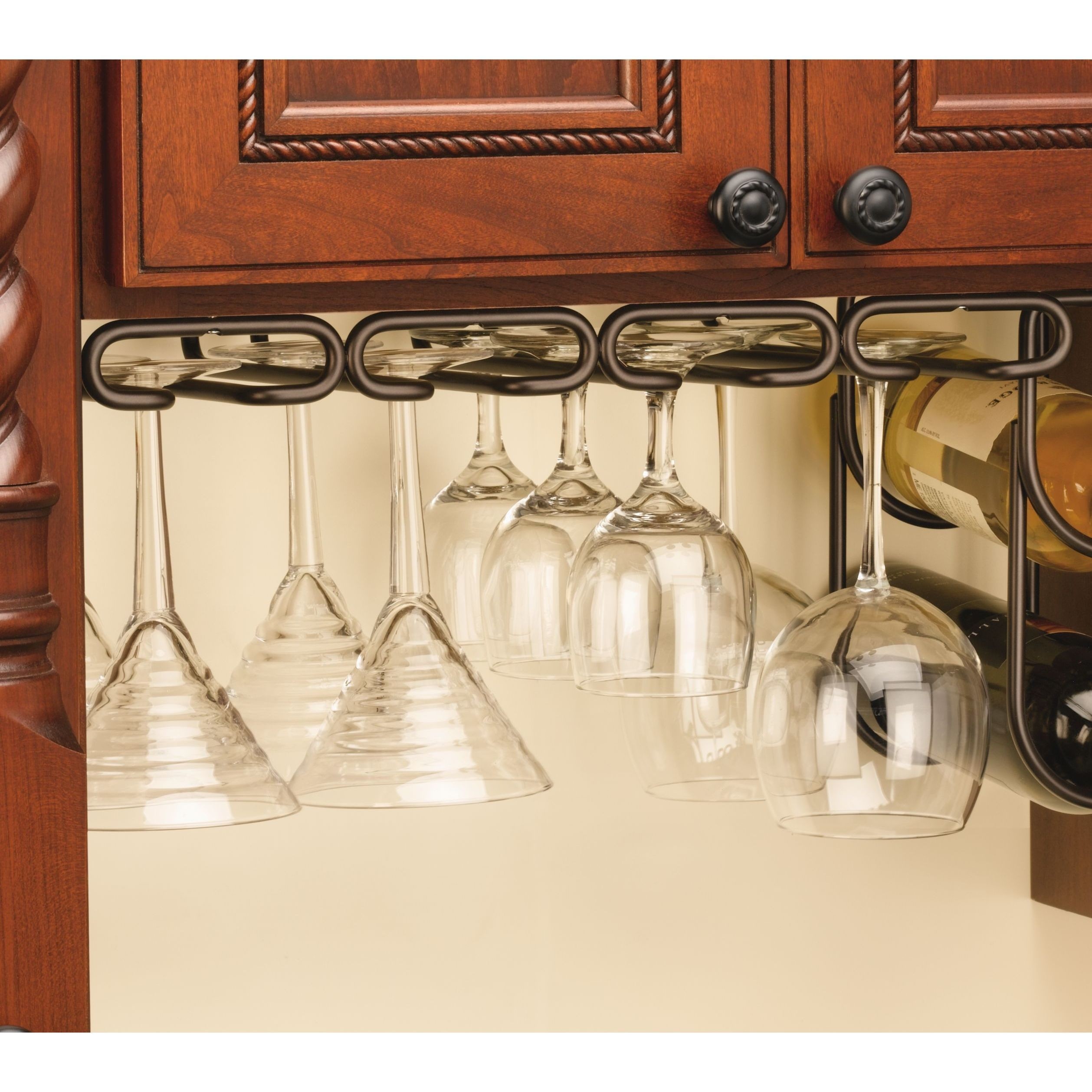 Undermount glass rack helps keep things in sight.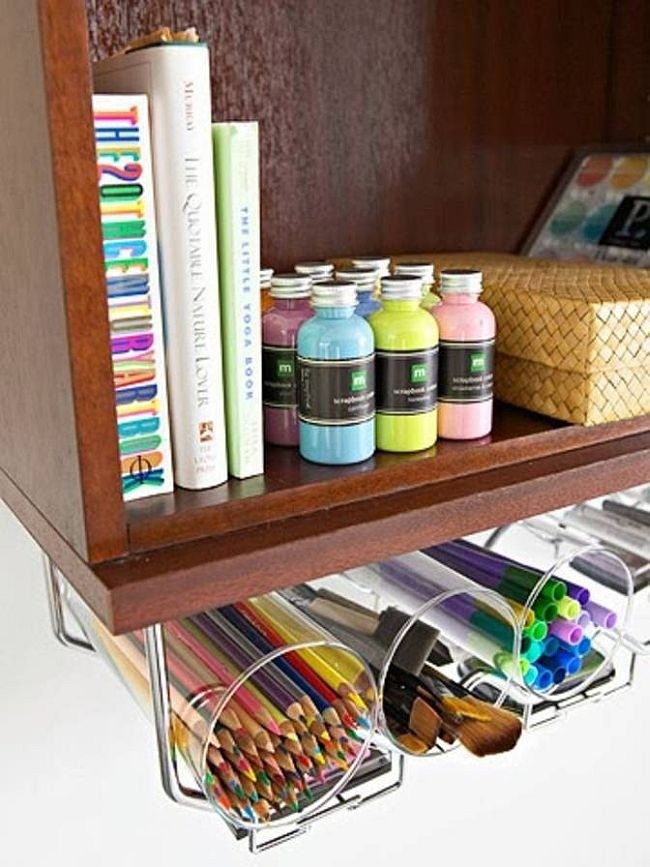 Again, if you're looking to create more desk space, look up, and organize with a wine rack. Attaching under the shelf wine or stemware racks to a wall bookshelf, gives you more room for those everyday supplies. Simply insert glass cylinders in the racks t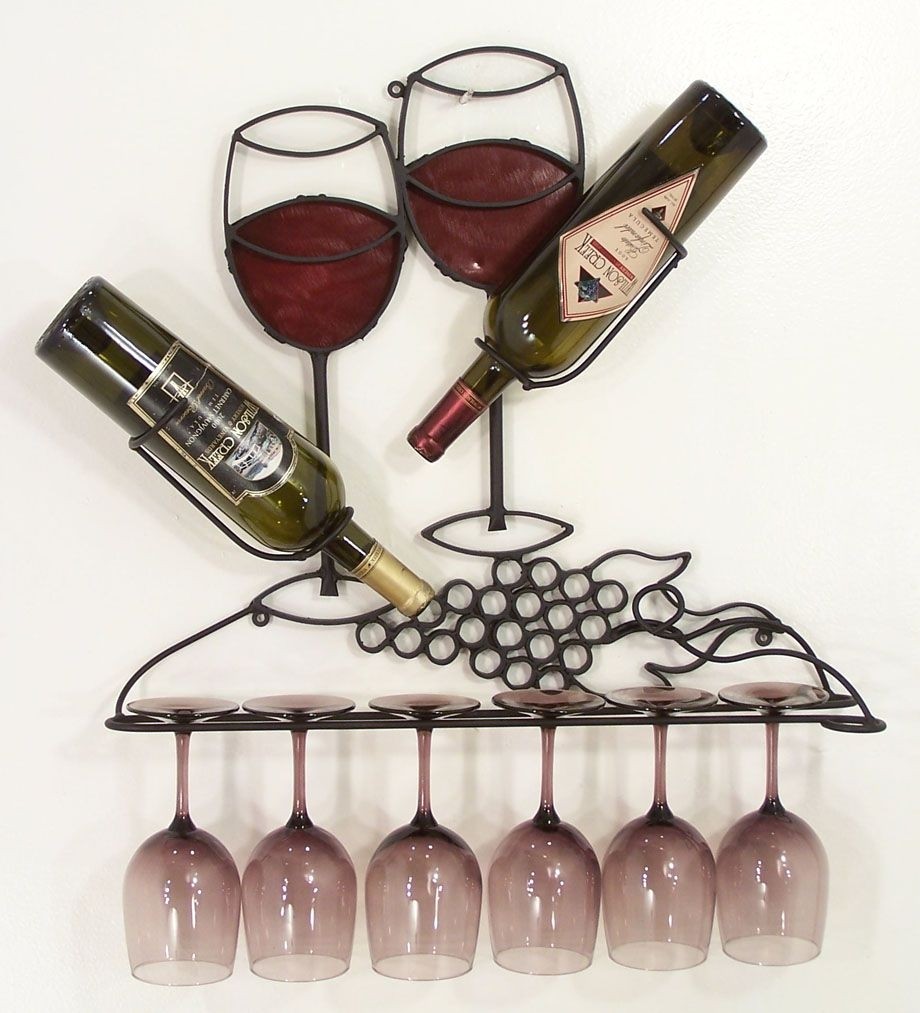 219.99 shipping included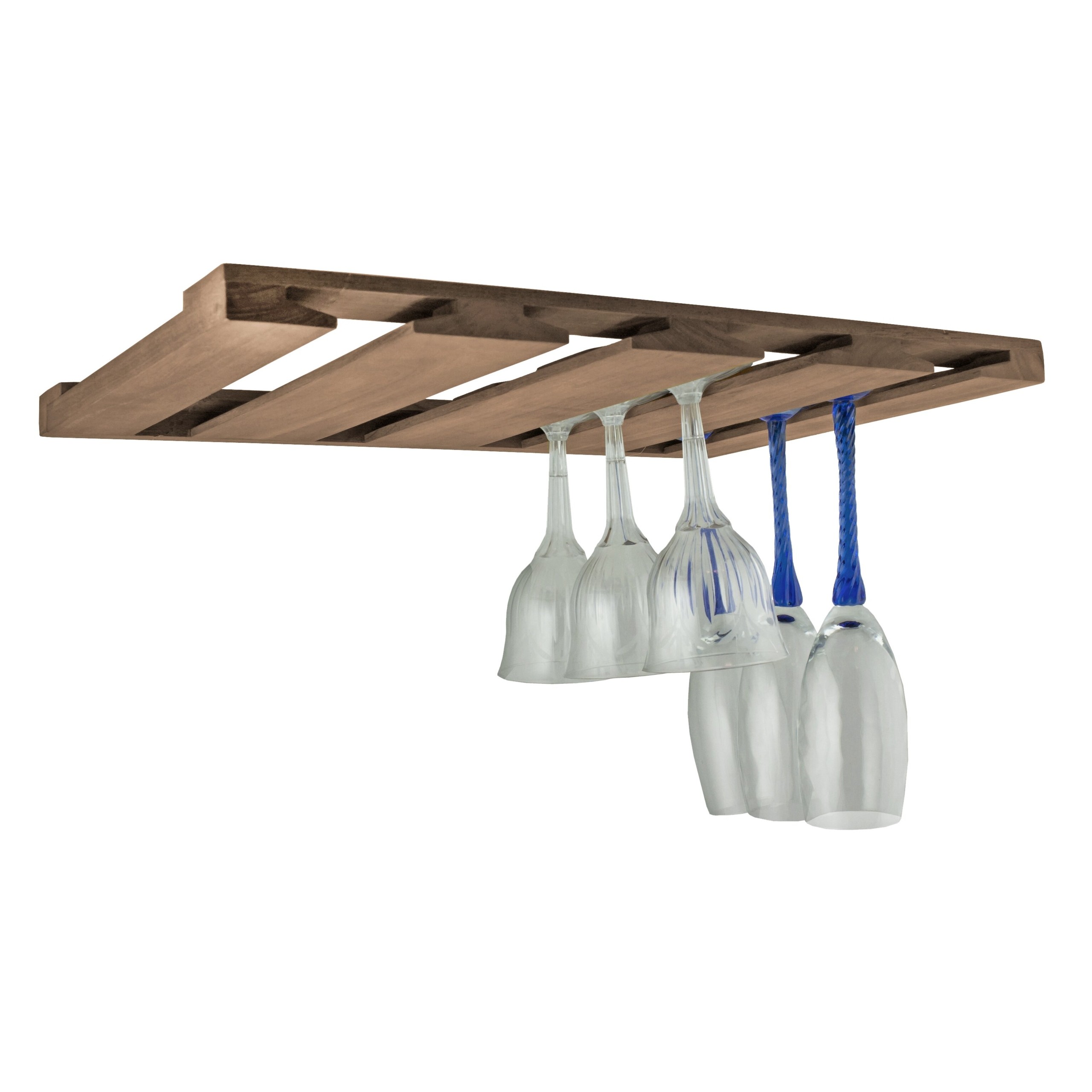 Teak Wine Glass Rack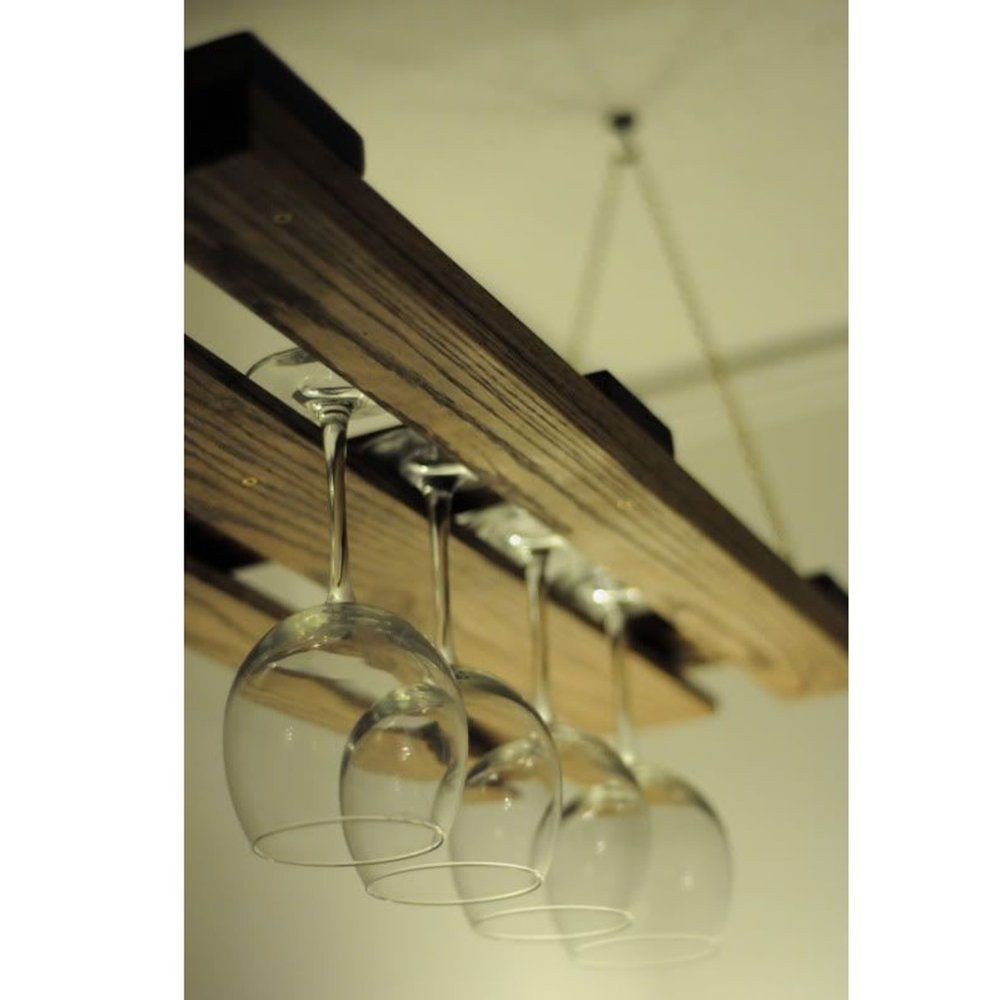 Fashionable and long-lasting, this glassware rack can be mounted above your kitchen island for convenient usage. It's crafted of old wood pallets and covered in an oak finish, firmly attached to the metal fastenings and suspended from strong chains.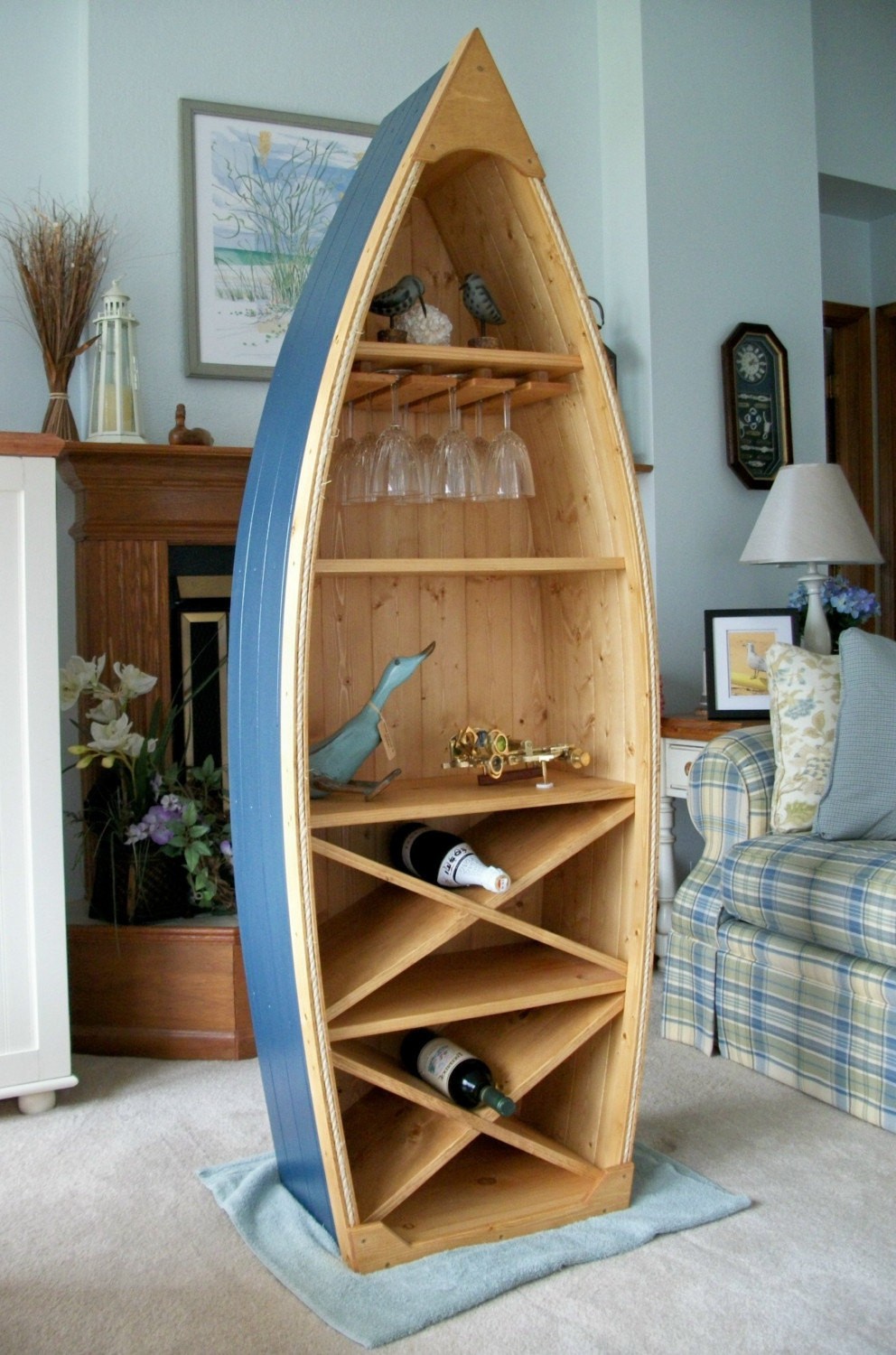 Canoe storage - bar storage, bookshelf, etc.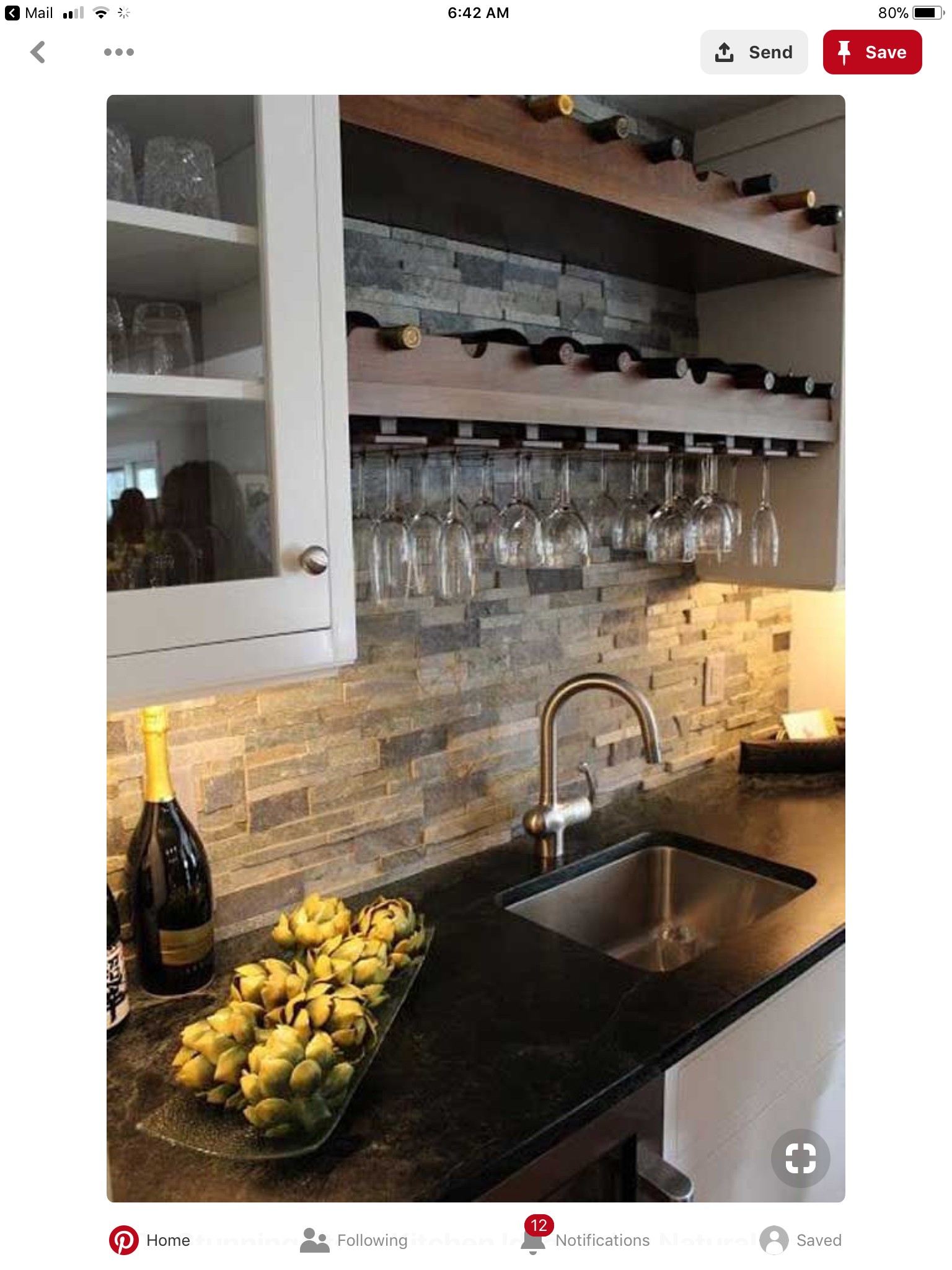 Built in wine rack, this looks like a great remodel idea for our old useless 80's bar
DIY Wall shelves with wine glass holder, made to mount directly to wall with screw and has lip on front.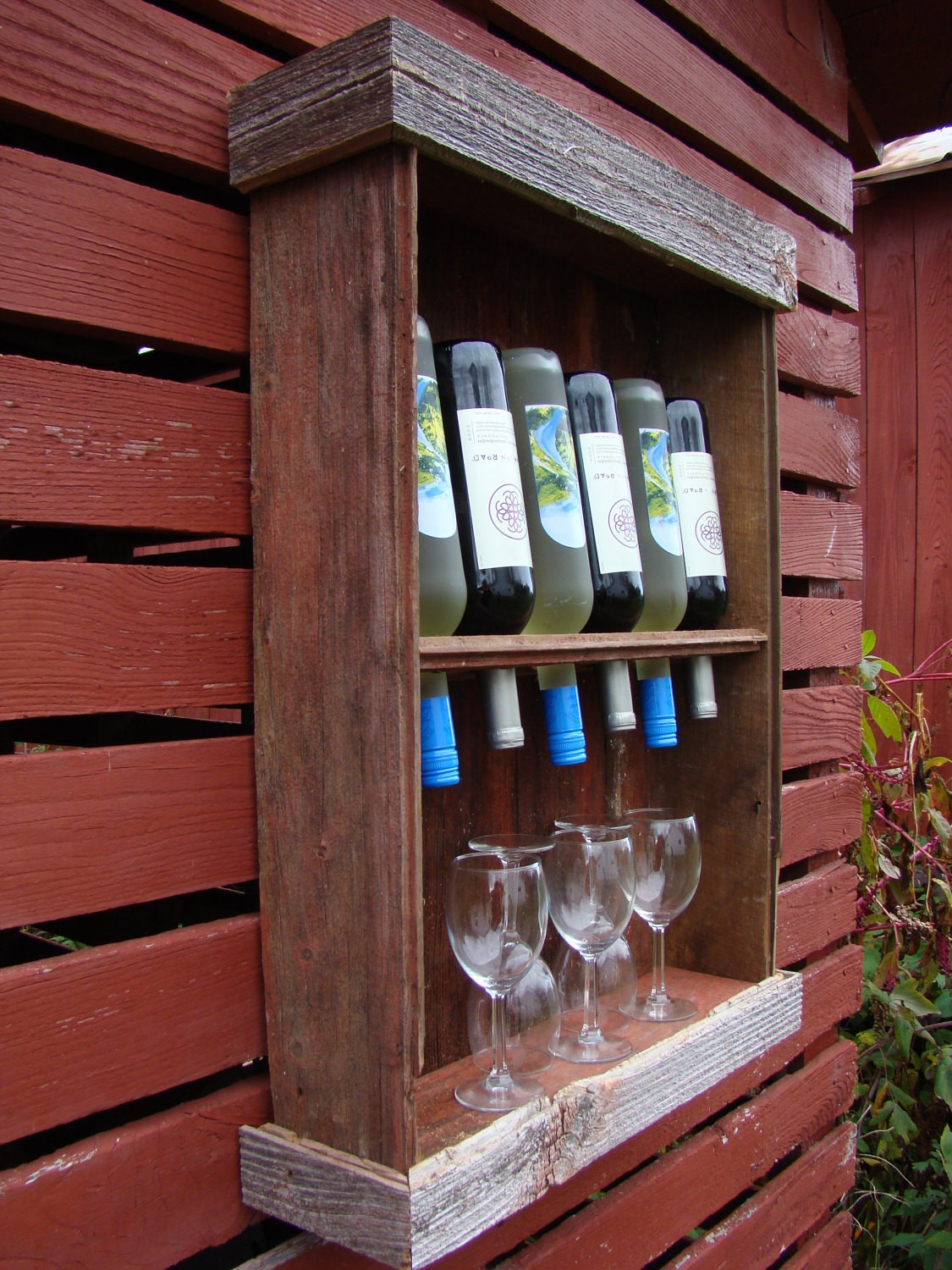 Barn wood wine cabinet. Not sure how you would use this, but I love the idea. Walking around the house, oh, geez, I sure am thirsty, Oh look! wine.