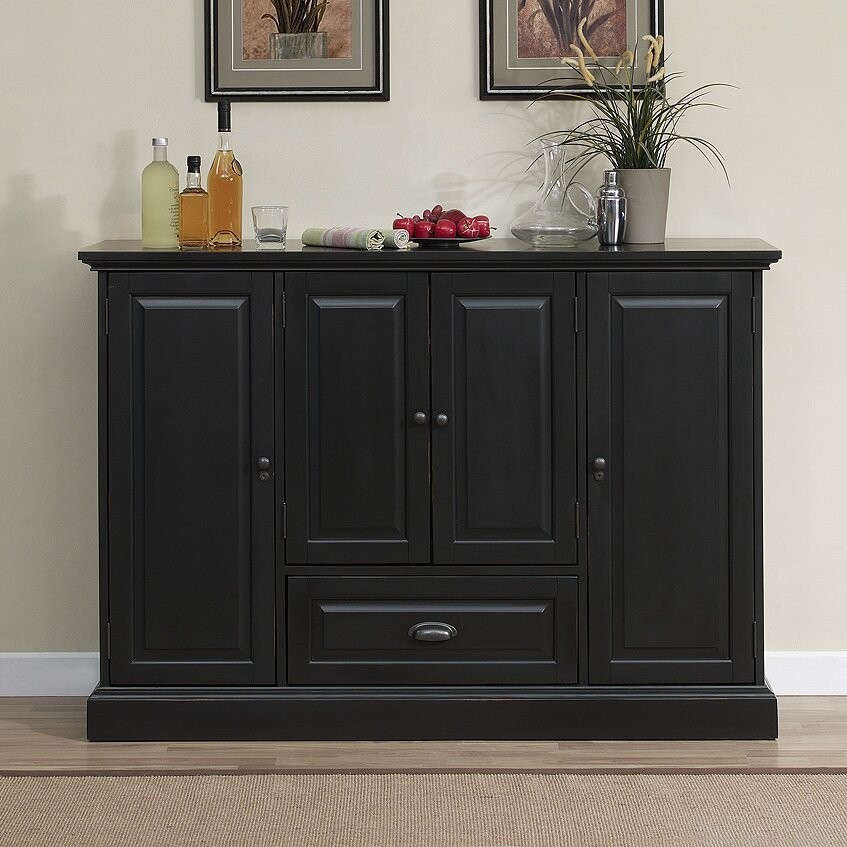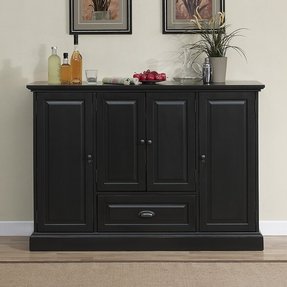 Carlotta Bar Cabinet with Wine Storage
This lockable bar cabinet by American Heritage offers just enough space to store wine and bar accessories. It falls on the side of modern liquor cabinets in terms of style, and it offers a sleek, dark look full of unpretentious elegance.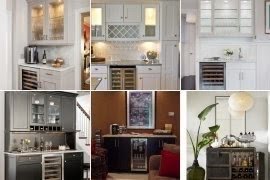 Old-fashioned cabinet made of mahogany wood, which can be used as a liquor cabinet connected with a mini bar. It has built-in rack intended for storage vessels, little fridge and two compartments - must-have during the elegant party in your home.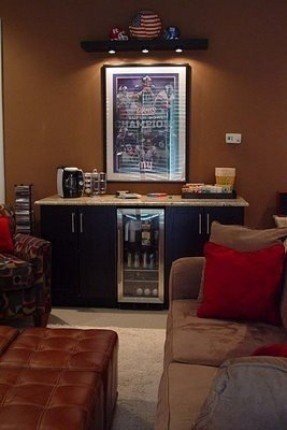 Small cabinet. At the sides, there are two wooden sideboards. Between closets, there is little fridge intended to storage vines. At the top, there is marble desktop. It is must-have in your dining-room.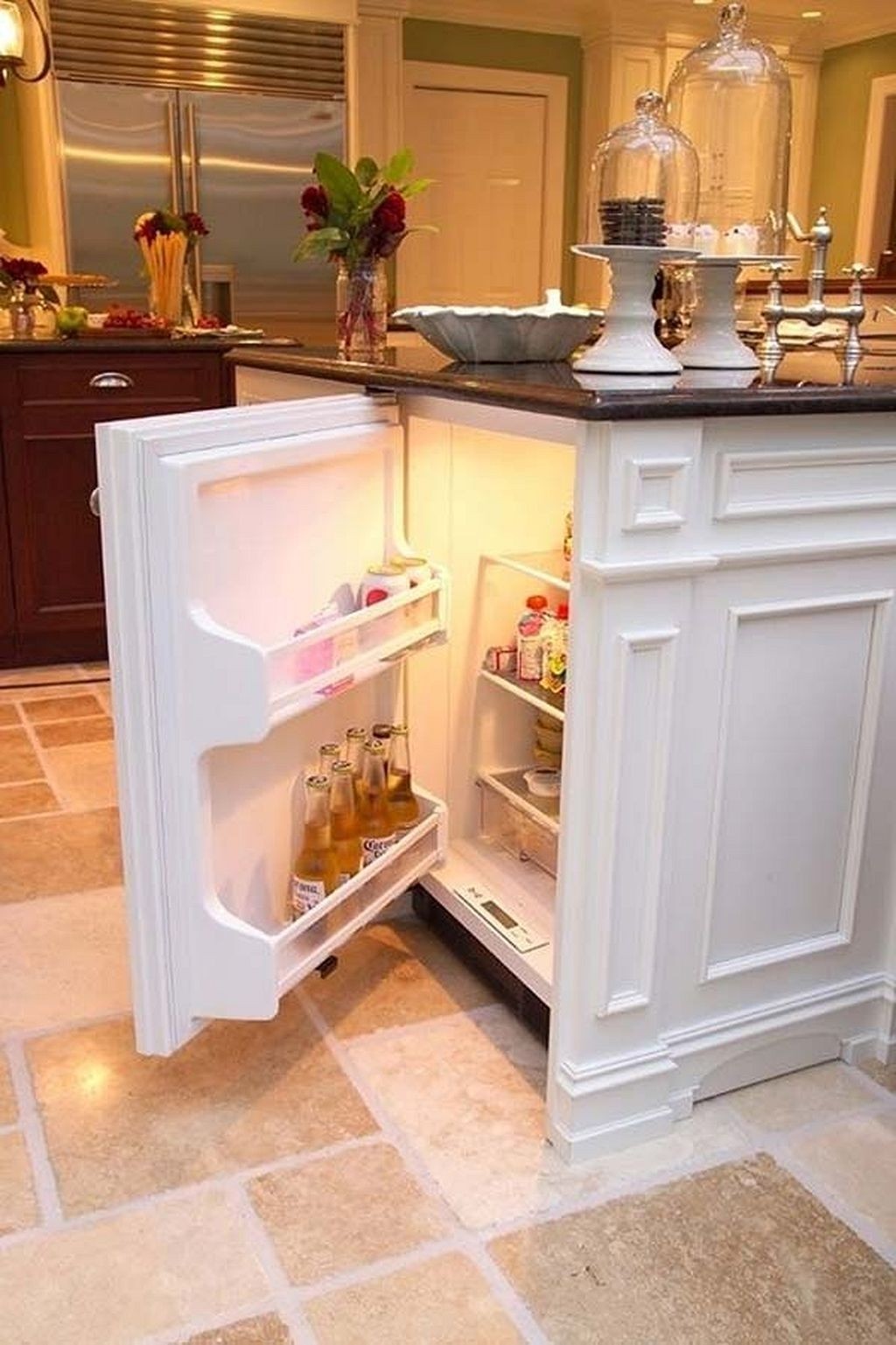 An amazing wine cooler to situate in your kitchen that will allow you to keep your collection beautifully maintained and safe, while at the same time creating more options for when your guests come over.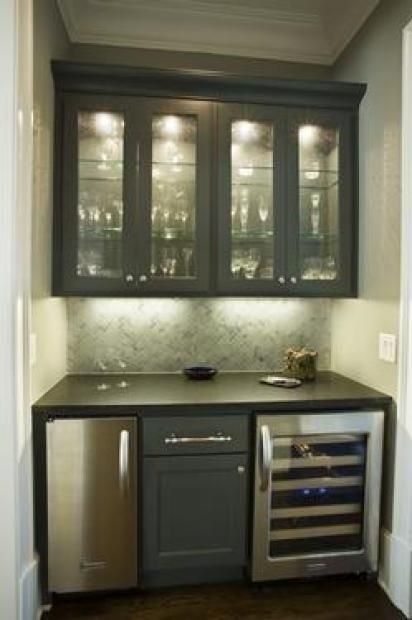 This wet bar features opaque or wire backed glass. Consider wrapping the tile backsplash onto the left and right walls under the top cabinets. (Studio 21 Interiors)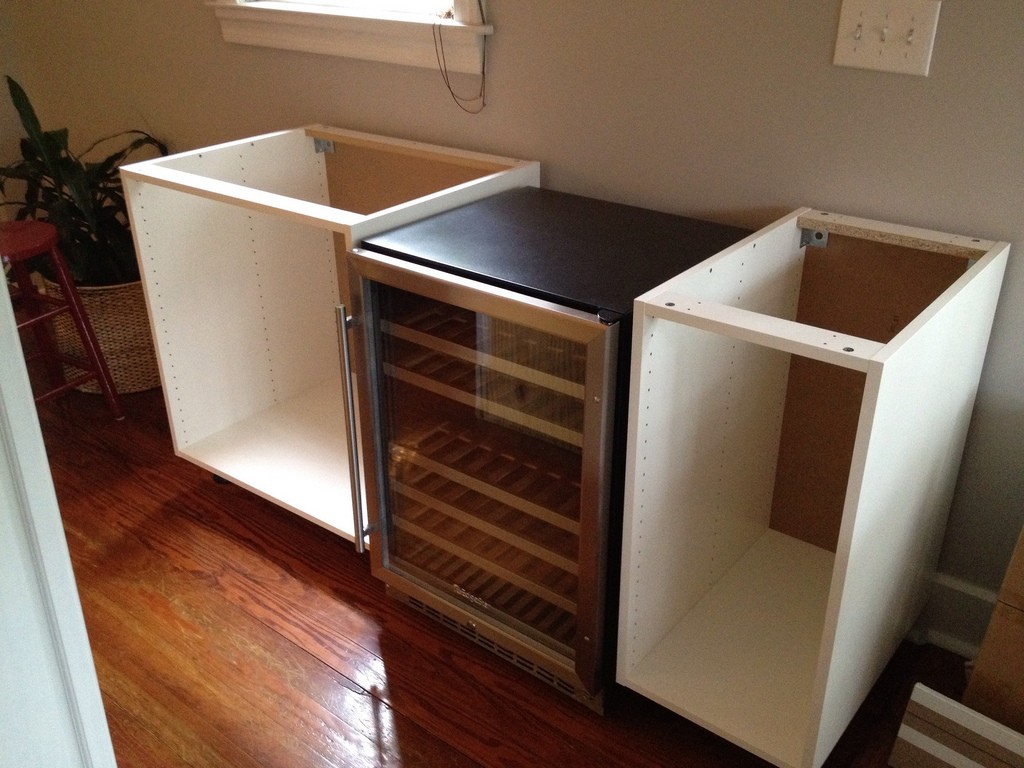 This bar set with wine refrigerator between two cabinets constitutes a perfect proposition for all wine enthusiasts or those, who simply like inviting people for parties.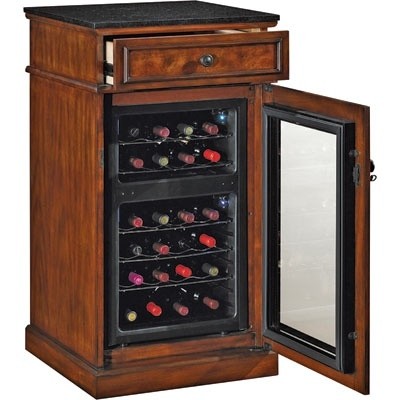 Tresanti Madison Wine Cabinet/Cooler, Model# 24DC997ROS0240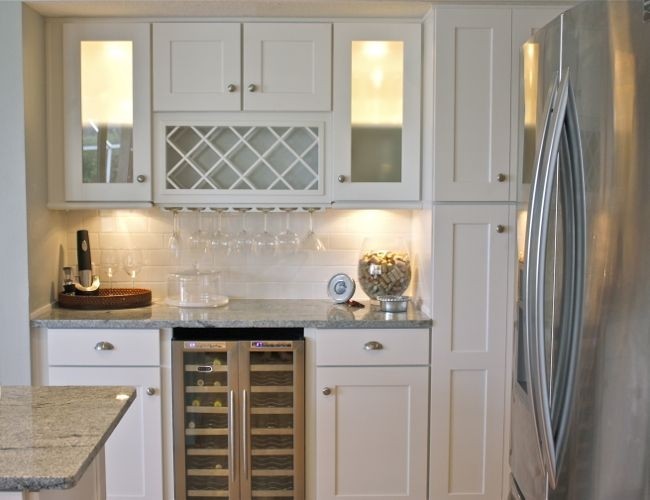 This small white kitchen utilizes warm lighting to avoid the cold clinical look. Wooden cabinets with glass panels are pretty cozy and inviting. The centre was dedicated for a wine cooler and glassware rack.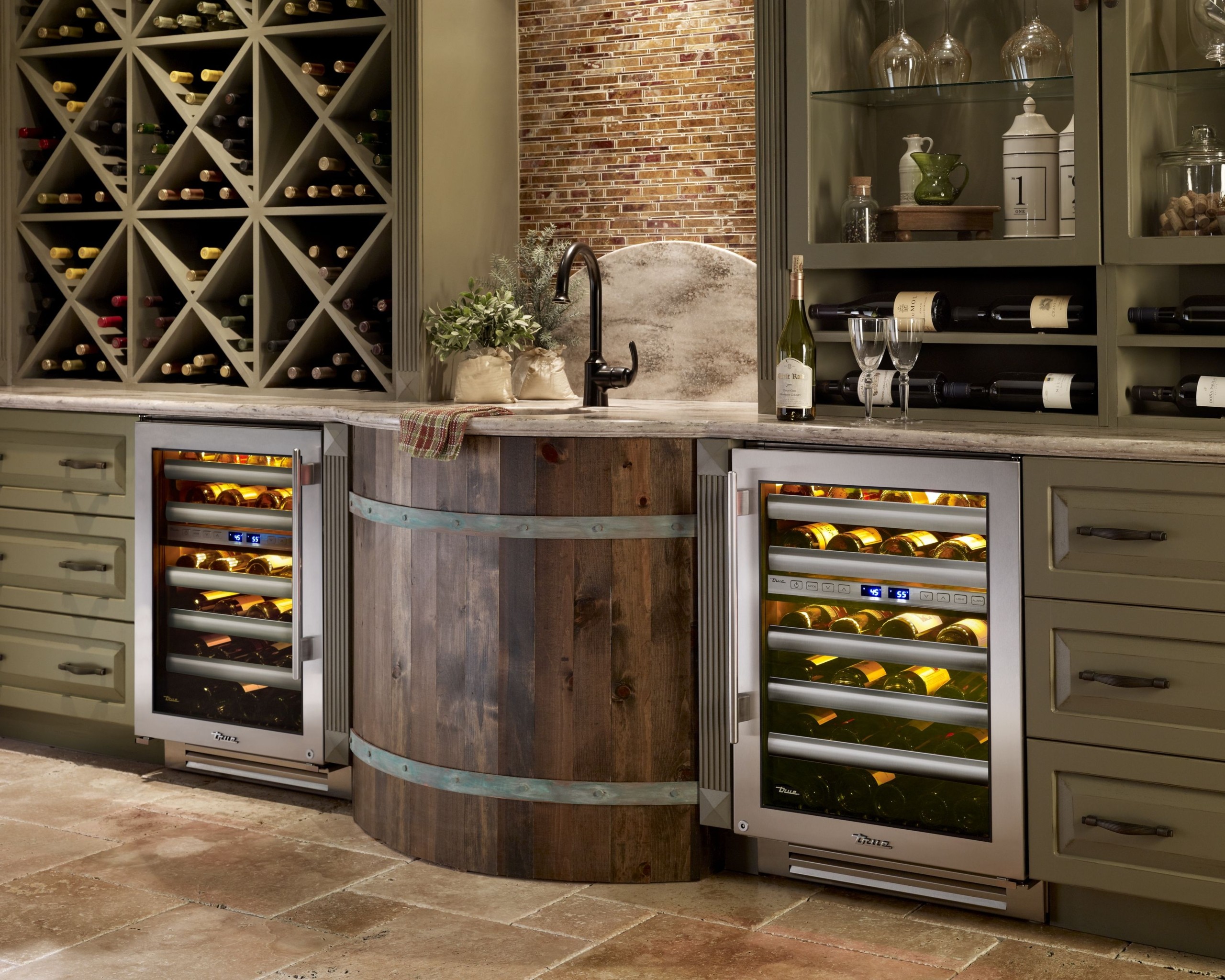 Insert two industrial-style wine cooler cabinets with glass door fronts on either side of a barrel trim sink façade for modern convenience beside decorative references to the history of winemaking. Further flank with shallow drawers for convenience.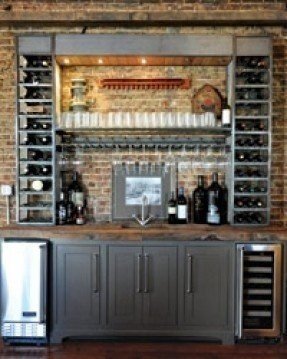 Vintage arrangement for a compact home bar made around a kitchen counter. The bar has a handful of compartments for alcohols, as well as upside-down glass storage and two wine racks on the sides of the piece.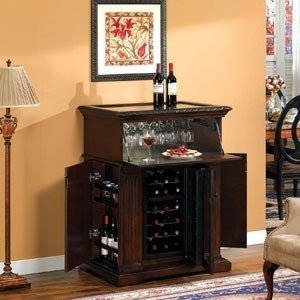 Wine racks and bar stations are even more popular now that people are ...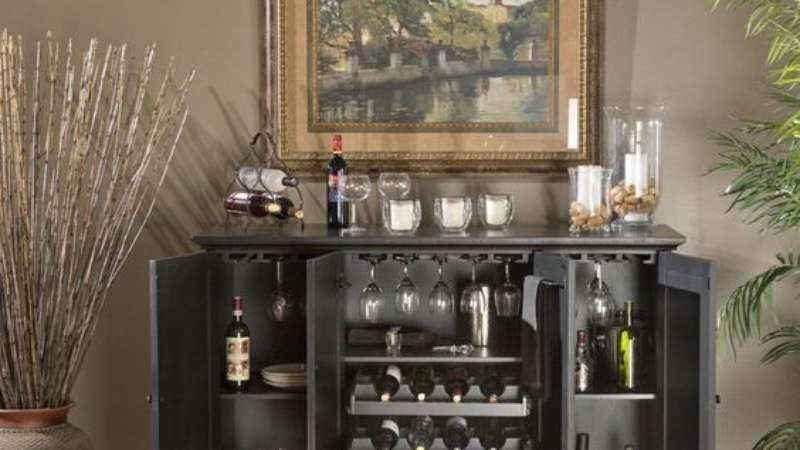 Medium size contemporary home bar with wine cooler cabinet. And ample space to store liquor and bar accessories. Has horizontal rack for wine bottles and also racks for wine glasses. Classic design, sleek black finish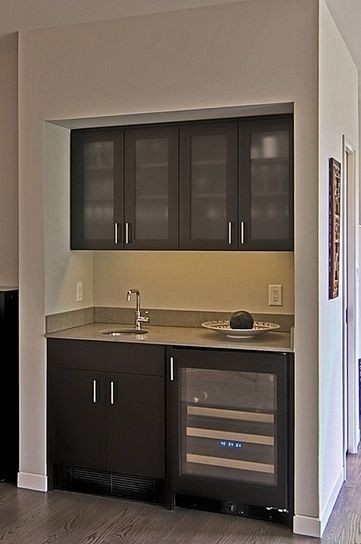 Wet bar......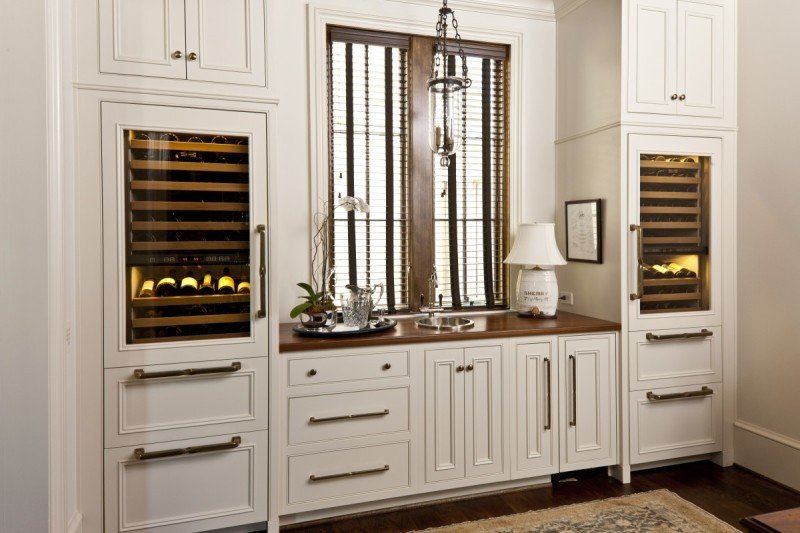 Home > Wine Coolers > Wine Cabinets >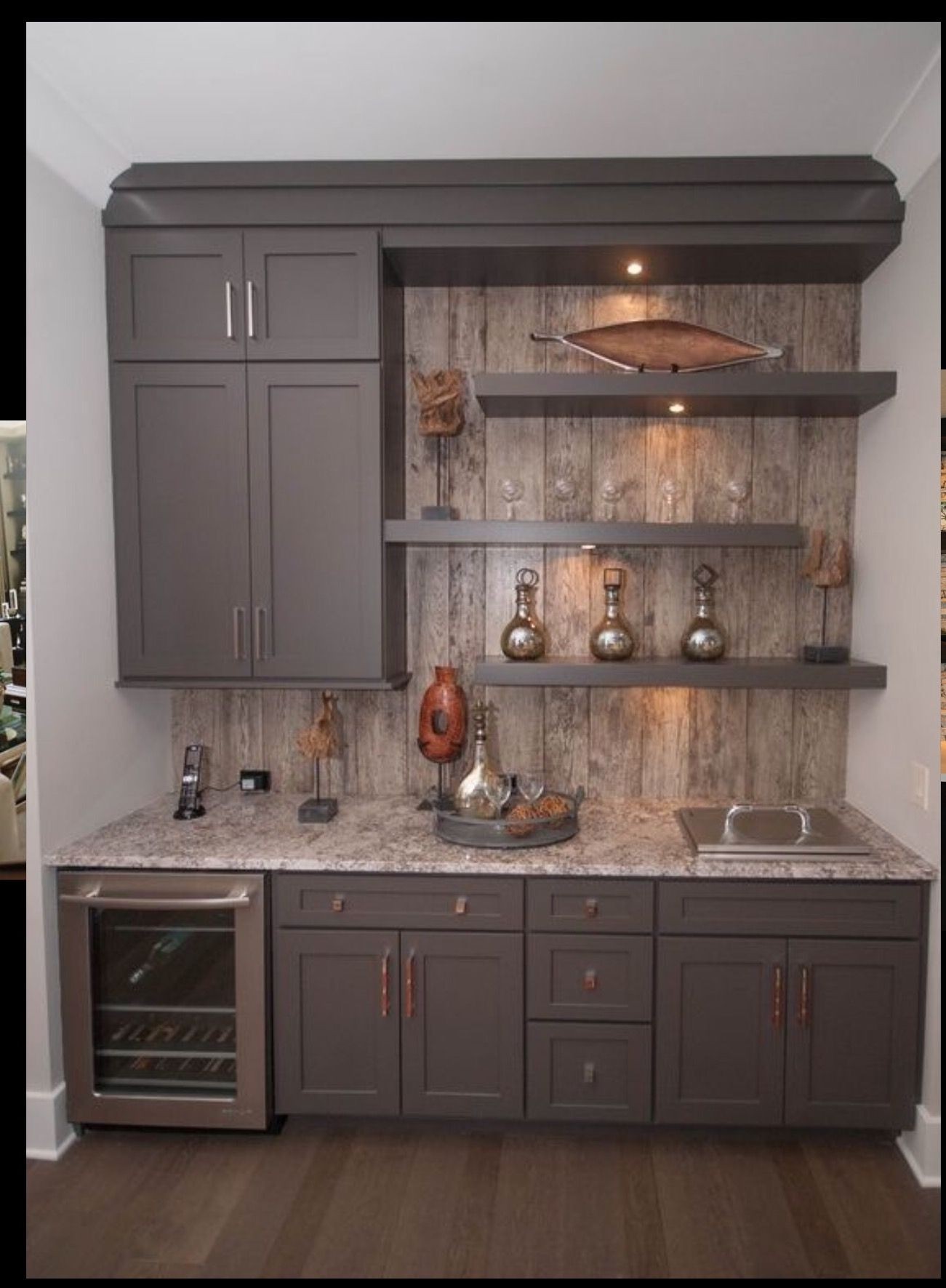 Contemporary Bar with Open shelving, Hardwood floors, Shaker style cabinets, Built-in wine cooler, Complex granite counters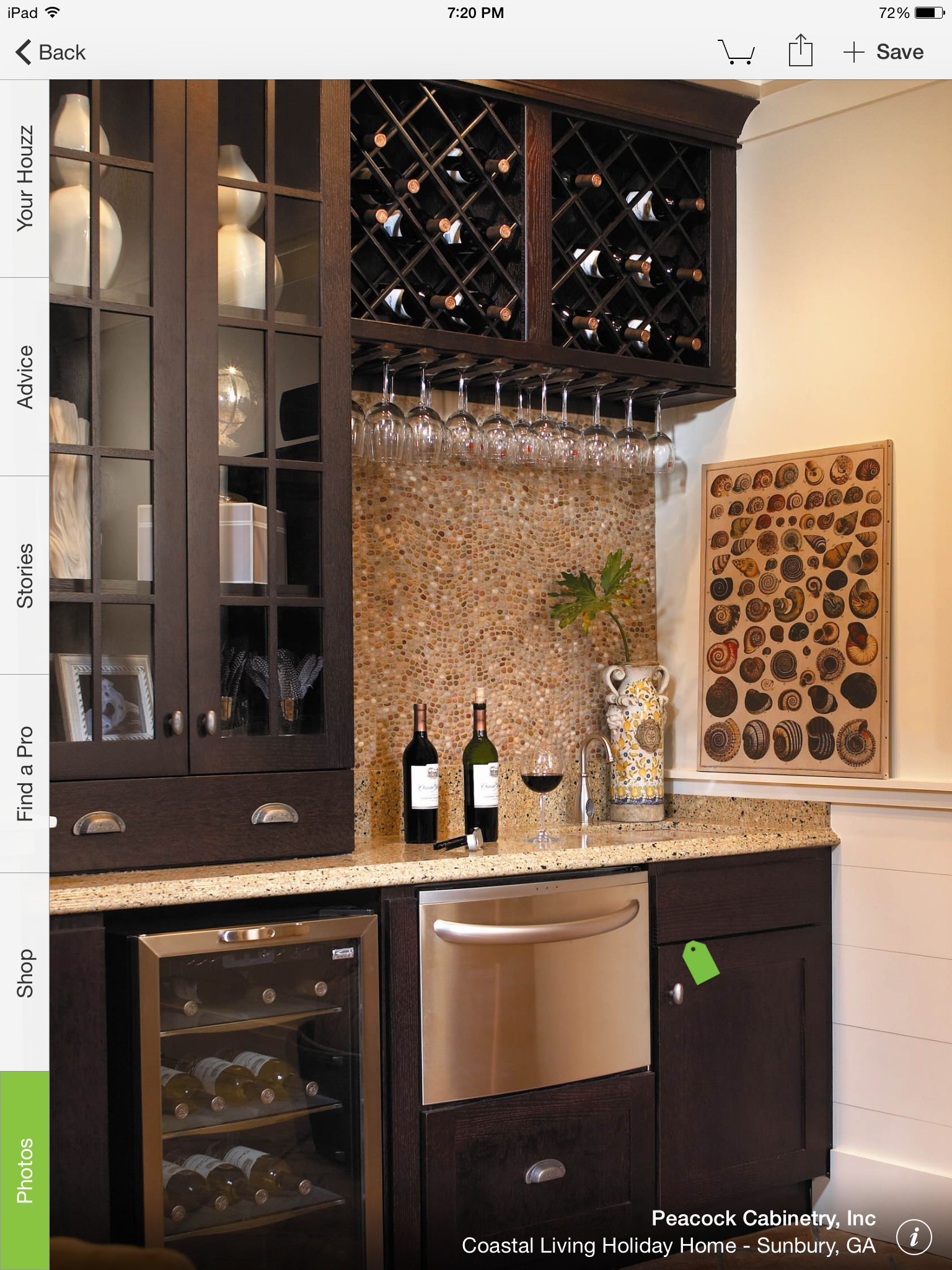 Beverage Bar in Coastal Living Holiday Home in Sunbury, GA. Design by Peacock Cabinetry Bluffton, SC.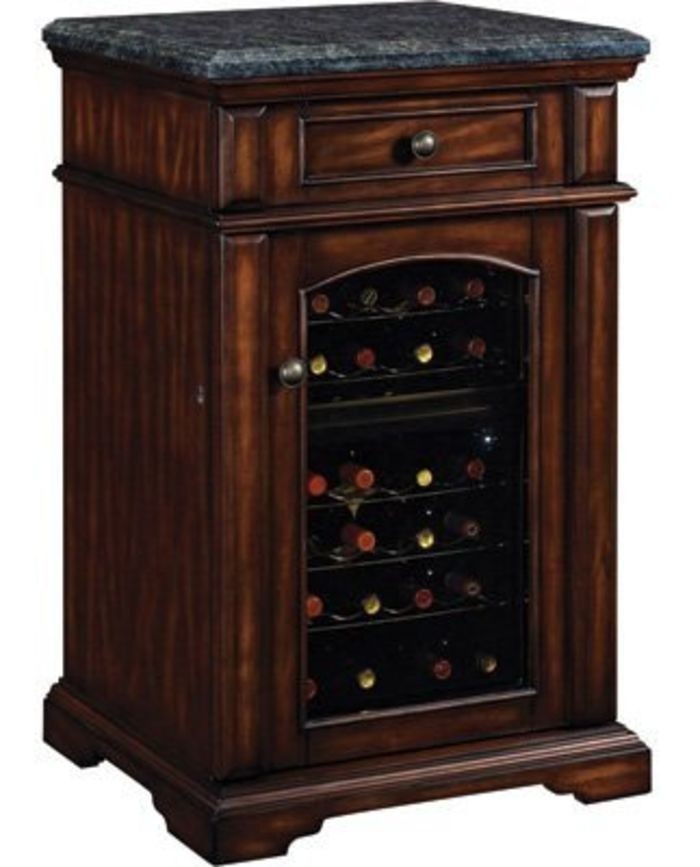 This impressive cabinet cooler refrigerator for wine is the perfect piece of furniture for fans of this wonderful drink. Table top made of granite and base made of birch veneers and rubber wood solids makes it robust and durable.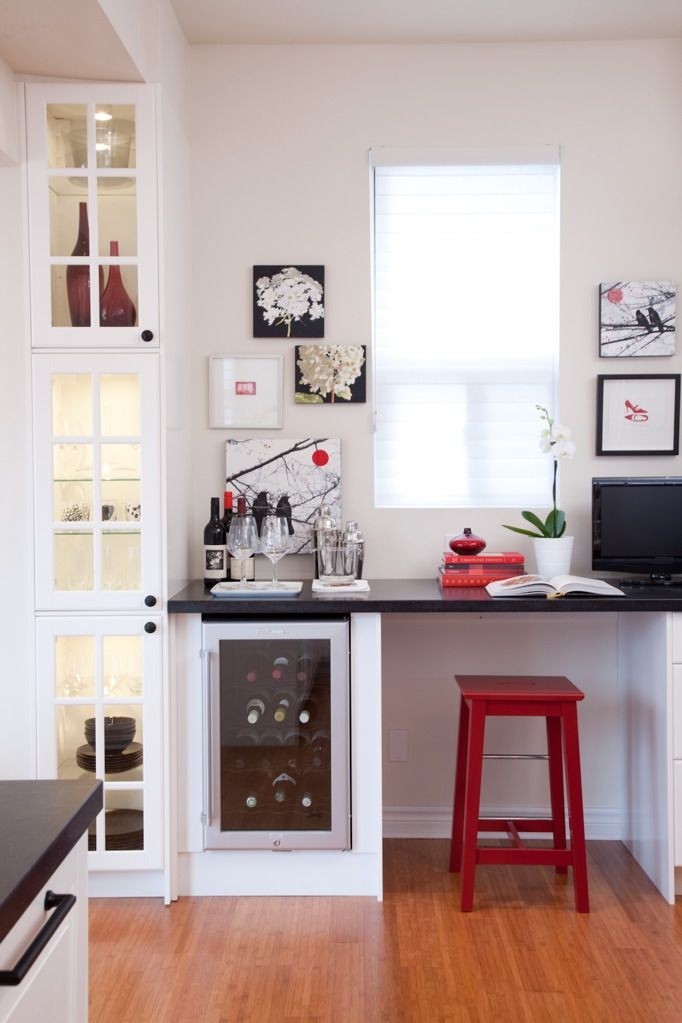 Black, red, and white for kitchen. Maybe some vintagey London pieces, like telephone booths and such?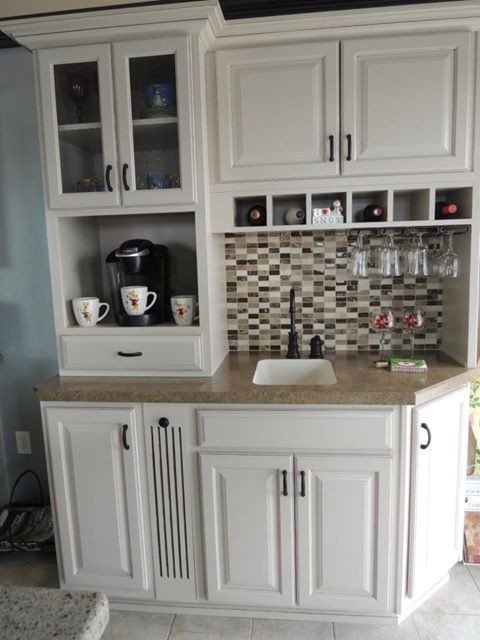 drink station. WOW does this makes sense! Coffee and all the endless drinking cups all over the kitchen!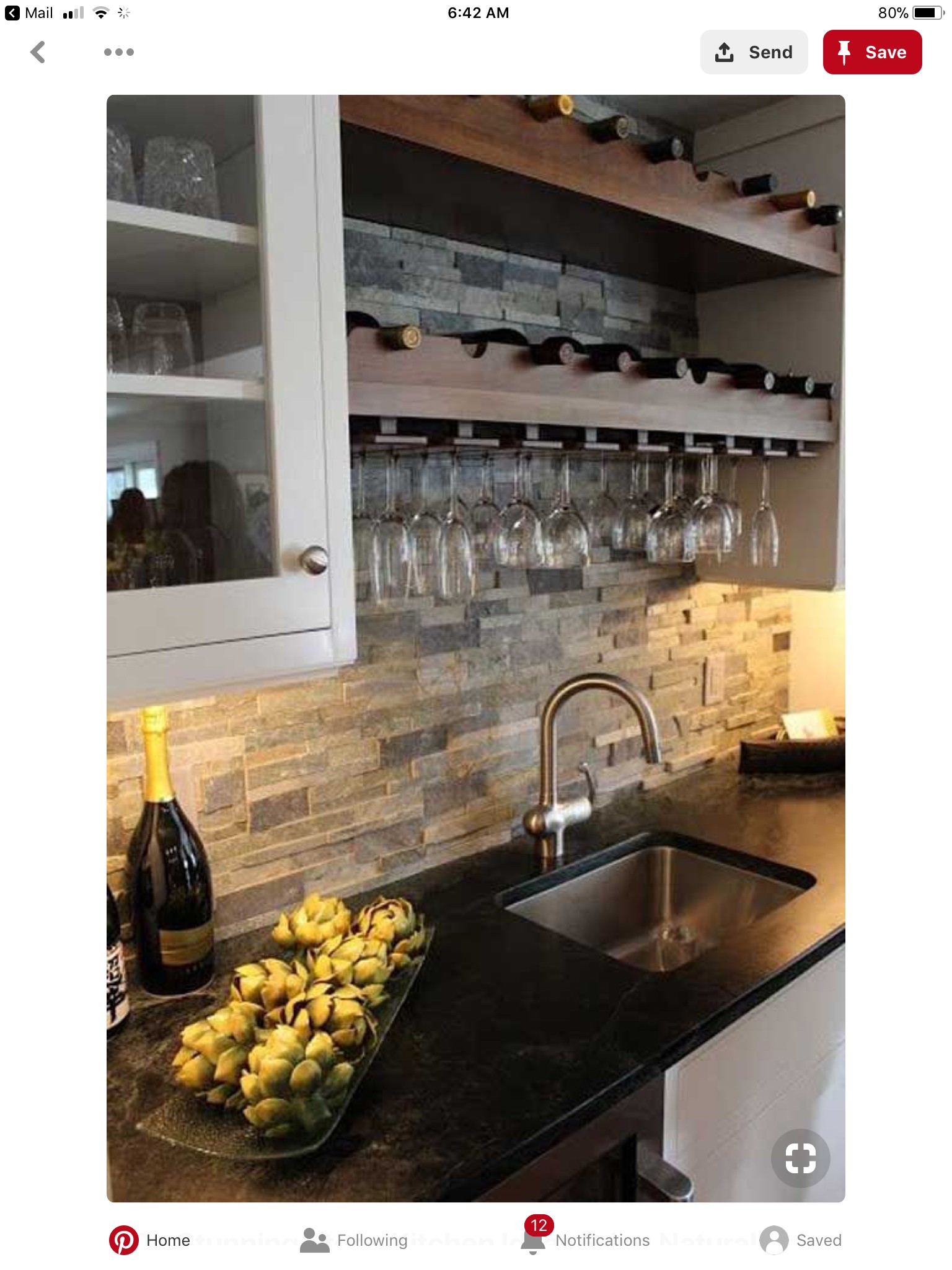 Made in modern style hanging wall cabinet is a perfect wood made that beautifully presented in any decor. Beautiful and functional details captivate you by bringing an interesting note to the decor.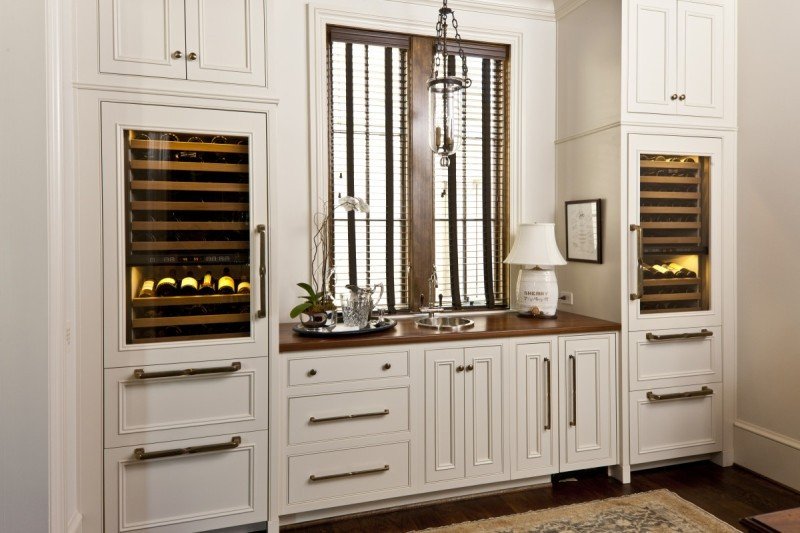 Gorgeous butler's pantry! Take a look at these beautiful kitchens, the work of Birmingham-based Cantley & Company, for some serious style inspiration!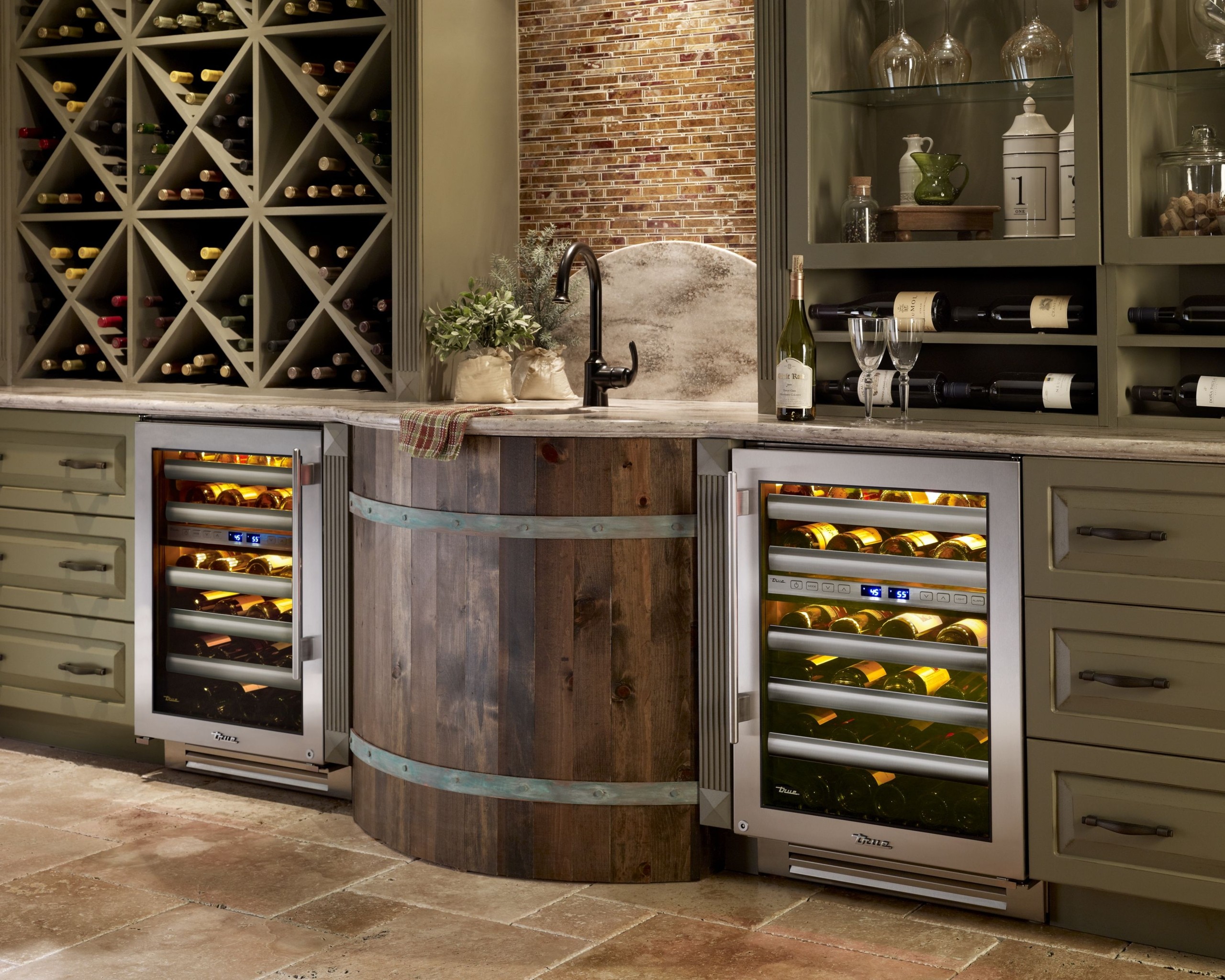 bar / wine cooler / sink / glasses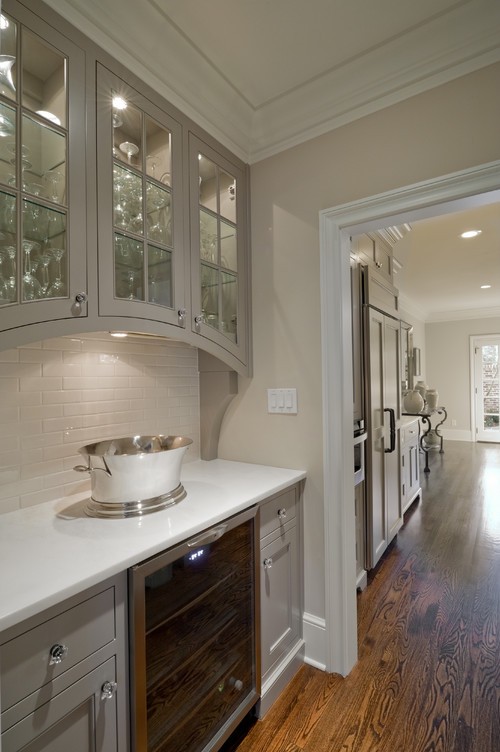 Remodel: Whole House Eclectic Comfort - eclectic - kitchen - charlotte - Andrew Roby General Contractors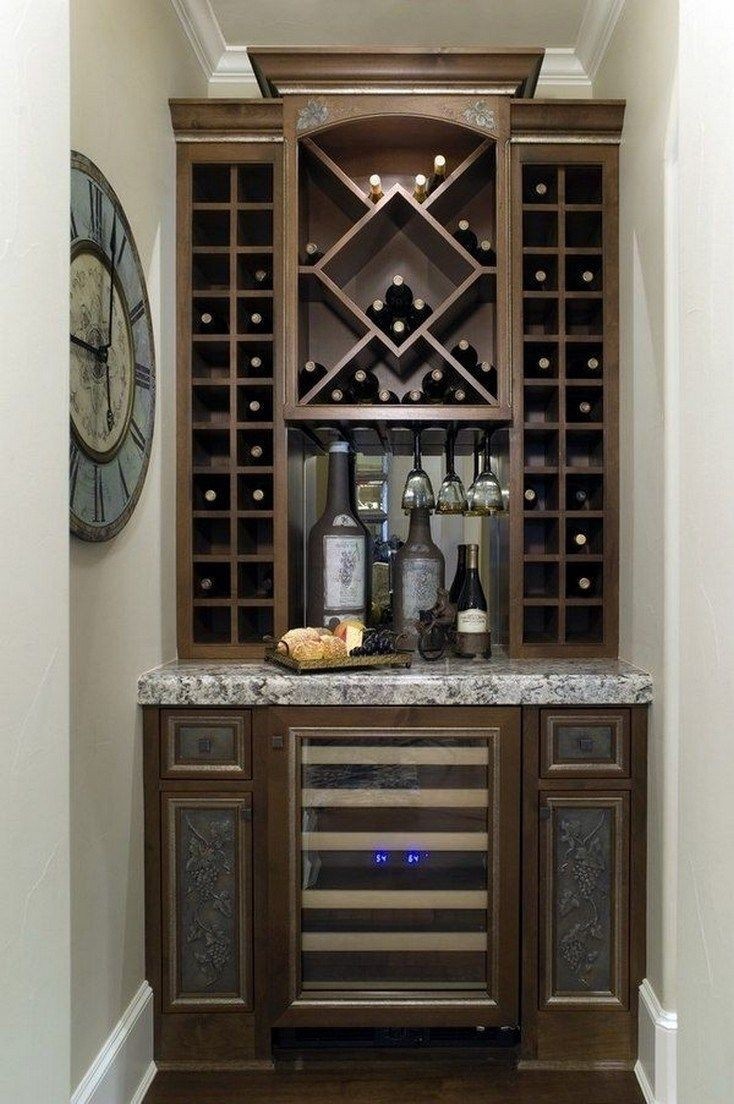 Compact wine bar.leave back open for light...2 rows for glasses,one side for wine...one small cab for liq, and a covered dorm fridge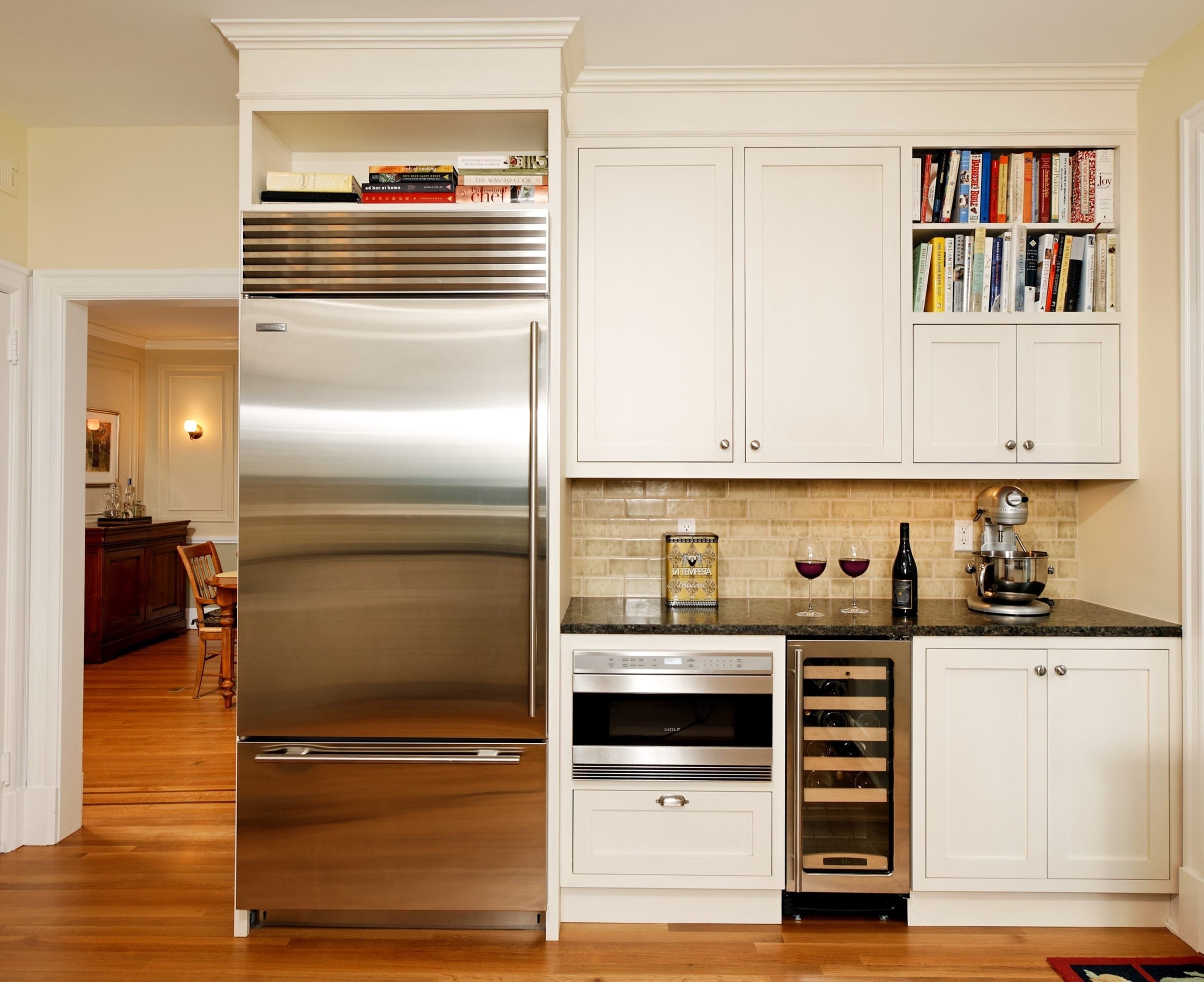 Pretty white cabinets, like the spaces for cookbooks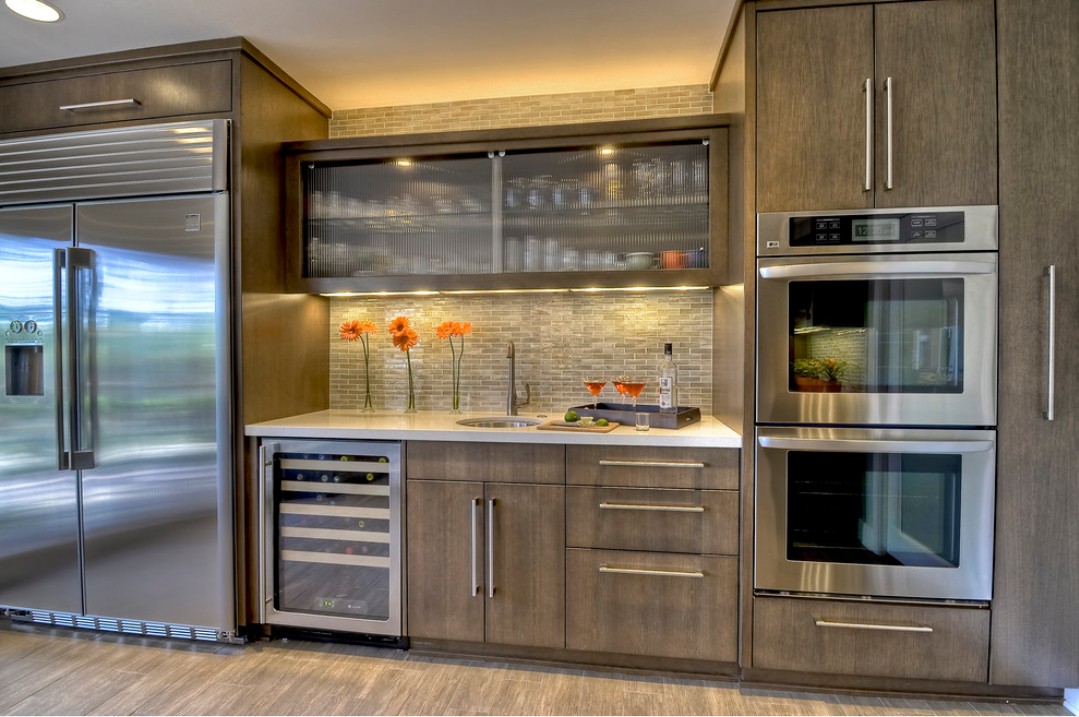 Love:Clean,contemporary white oak slab cabinets with a white Chroma Crystal White countertop. Cabinets are set off with sleek stainless steel handles. The appliances are also stainless steel. The diswasher is Bosch,the refridgerator is a Kenmore professio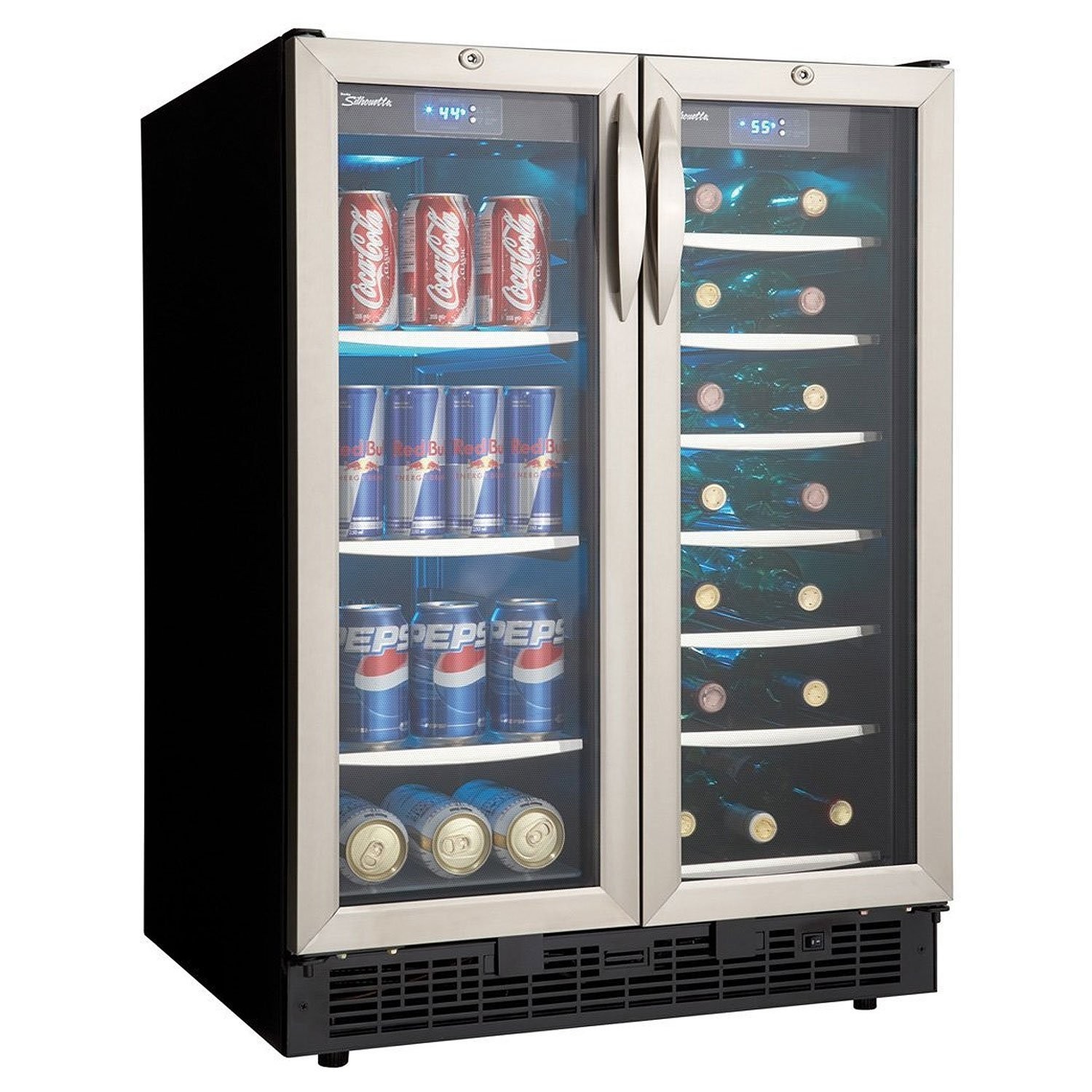 Danby Silhouette 27-Bottle Built-In Wine Cooler and 60-Can Beverage Center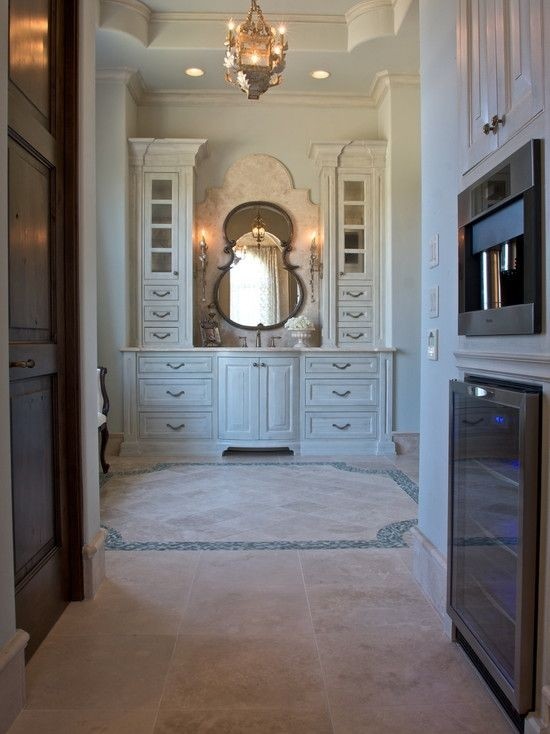 A gorgeous master bathroom with coffee and fridge area. morning drinks in the bathroom? yes please!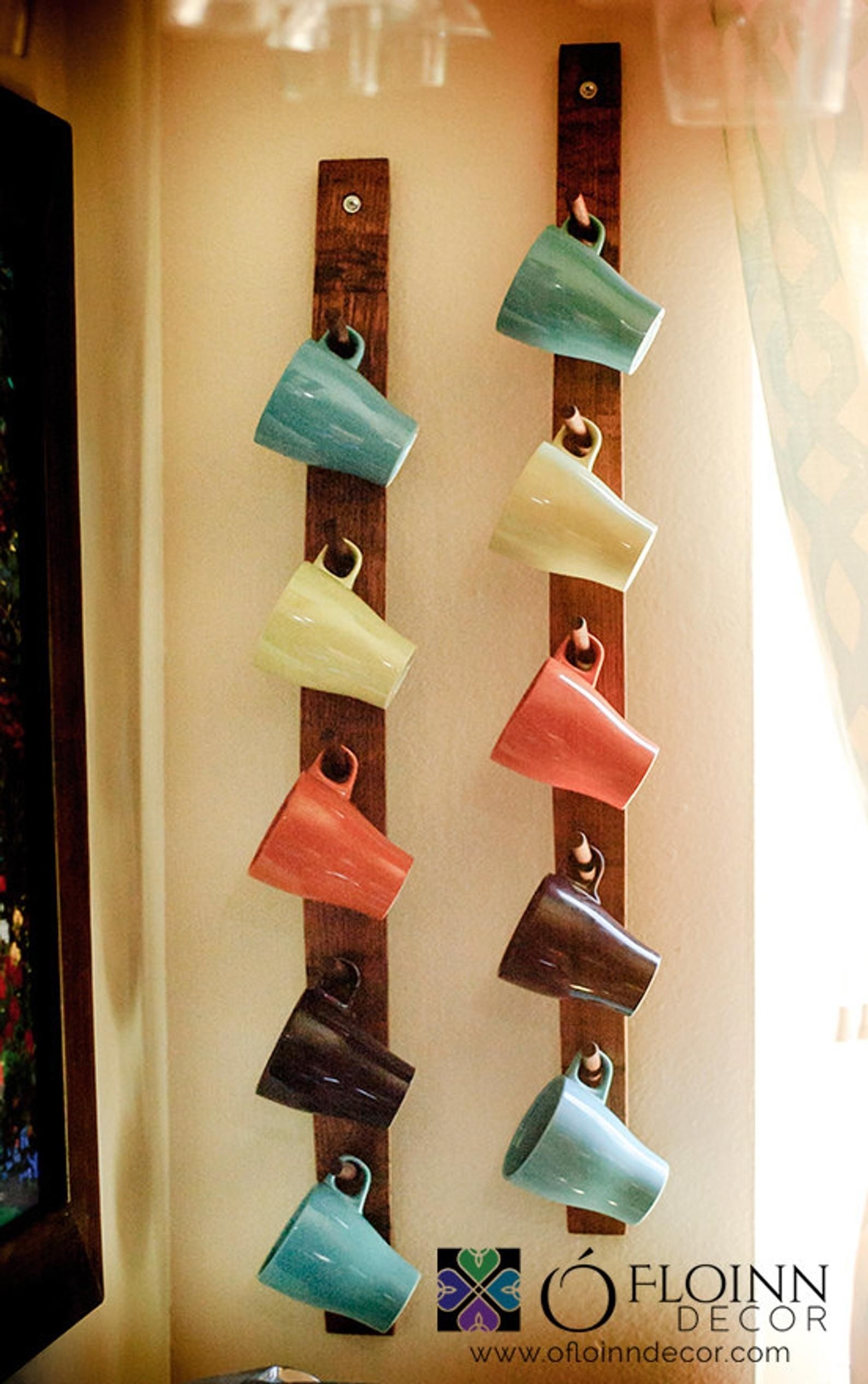 Space saver, good looking rack for cups will be practical furniture in your kitchen. Made from wood, mounted to the wall will be perfect for small kitchens. It's universal design and color makes it perfect match to most decors.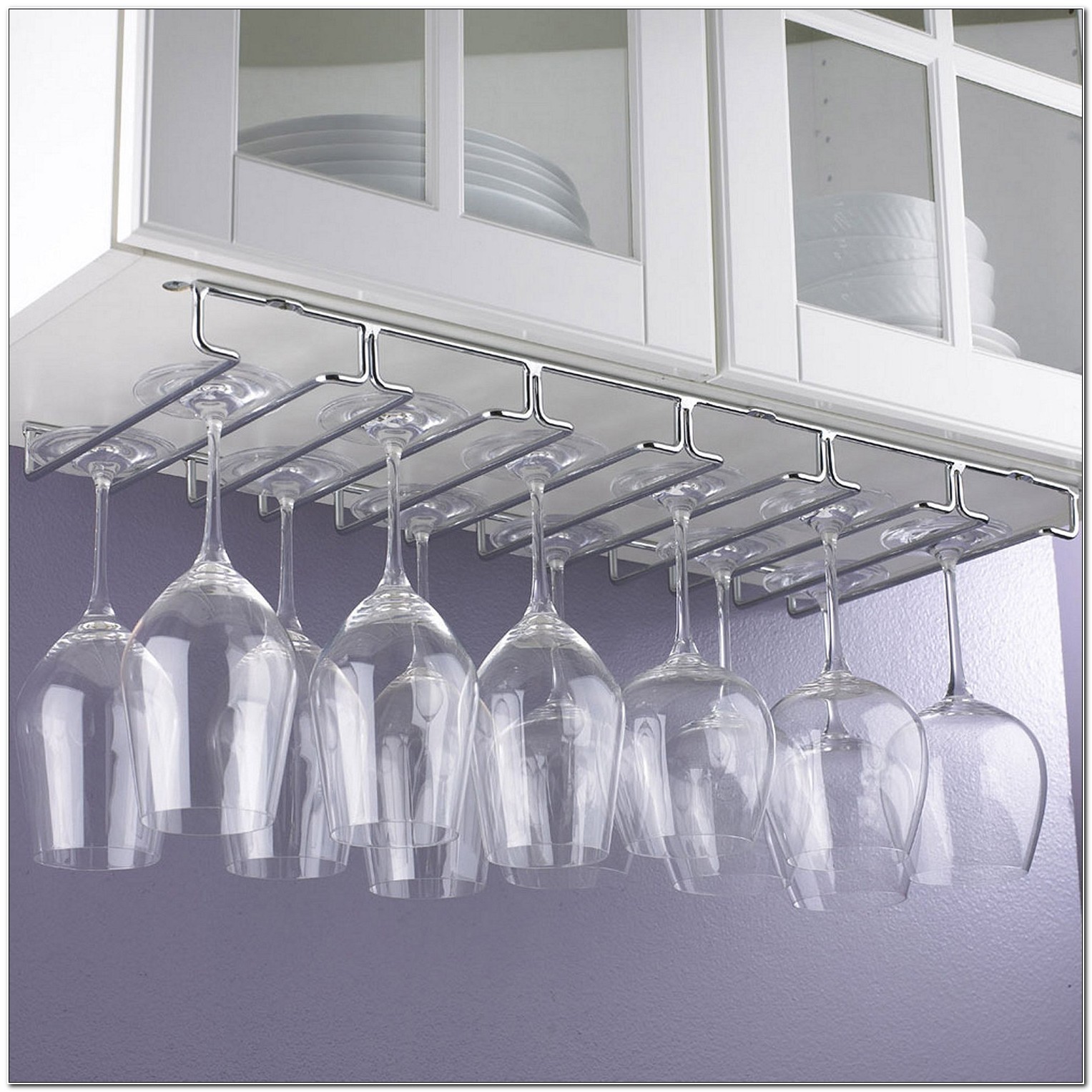 Prevent your wine glasses from becoming clutter with this functional metal rack, designed to be affixed to the underside of a wall cabinet. Bracket shape of the rack exudes modern appeal, and ensures highest functionality possible.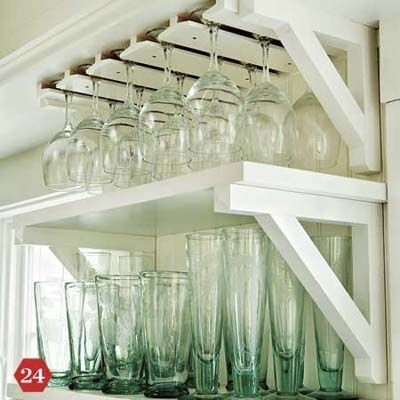 The simplicity of the design and the beautiful white shade make this functional hanging wine cabinet with its glass hangers captivating. The colors of the glitter can be found in the kitchen, pantry or dining room.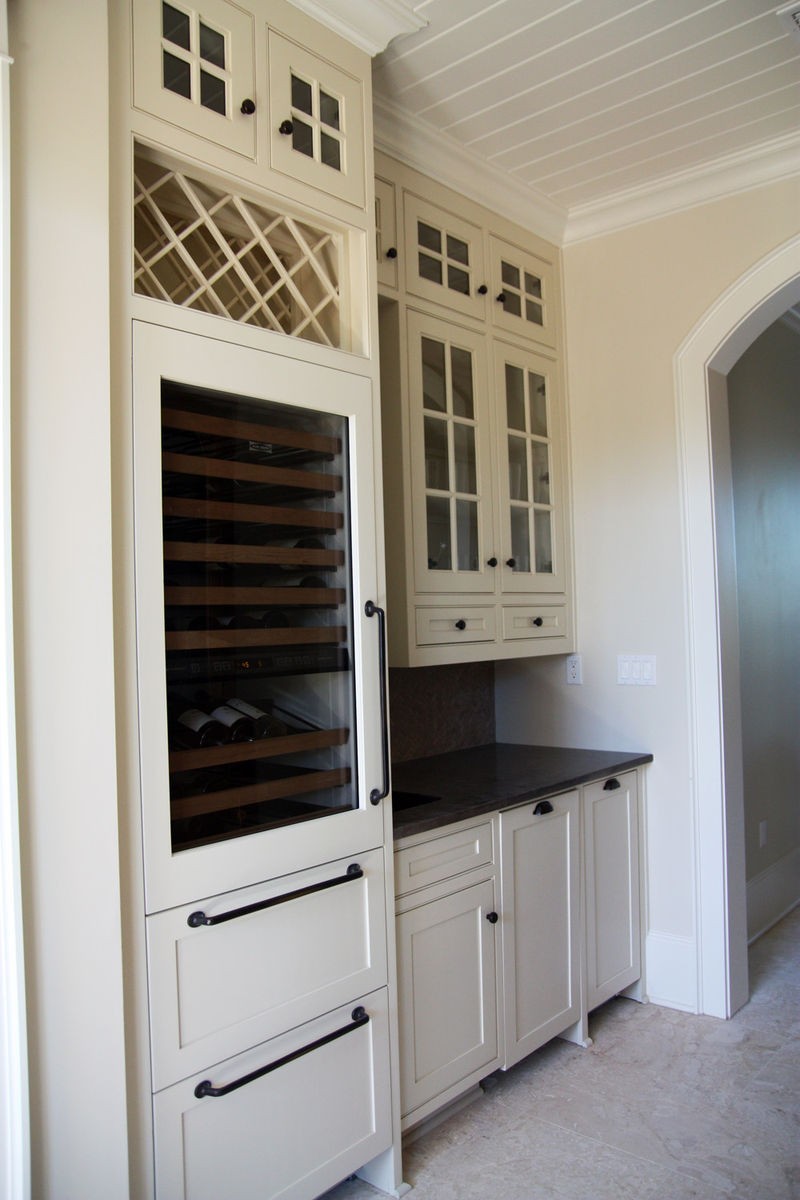 I would like this wine bar in a smaller version for my dining room. Designed by @Erika Powell Urban Grace Interiors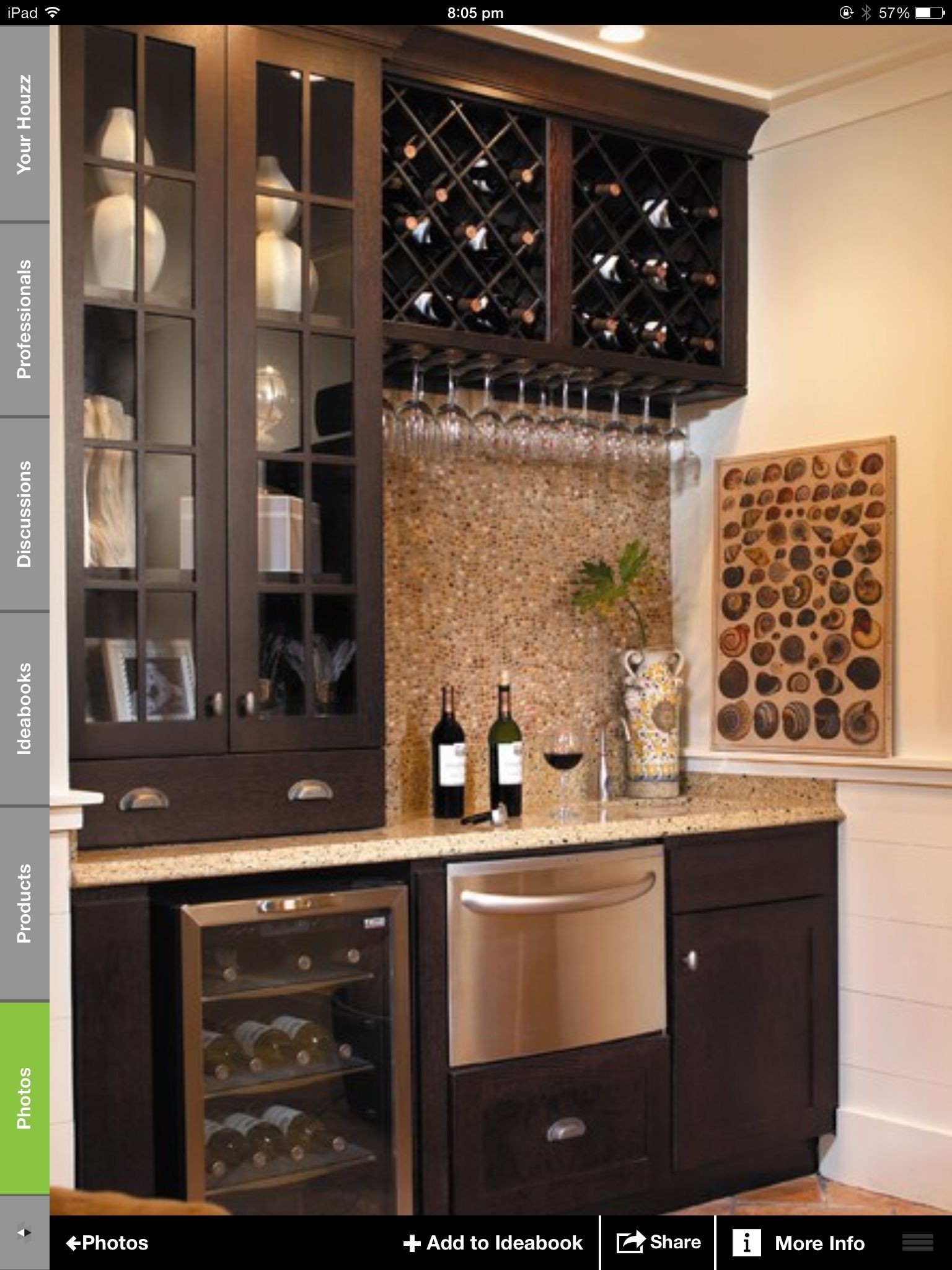 Bar by the fridge. Remove top cupboard doors and add wine rack to replicate this look. #kitchens #dreamkitchen #kitchenremodel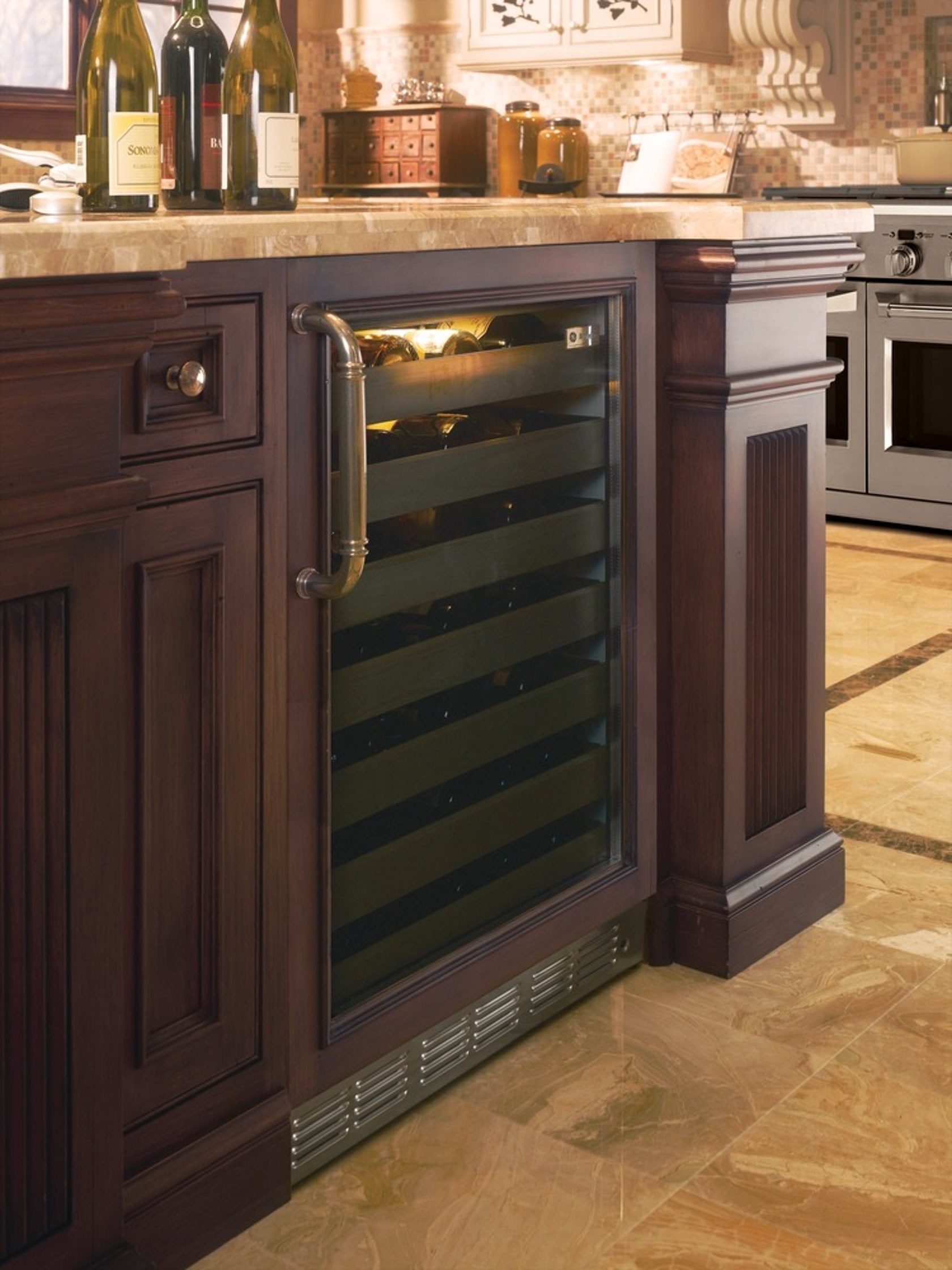 GE Monogram® Wine Reserve refrigerators and freezers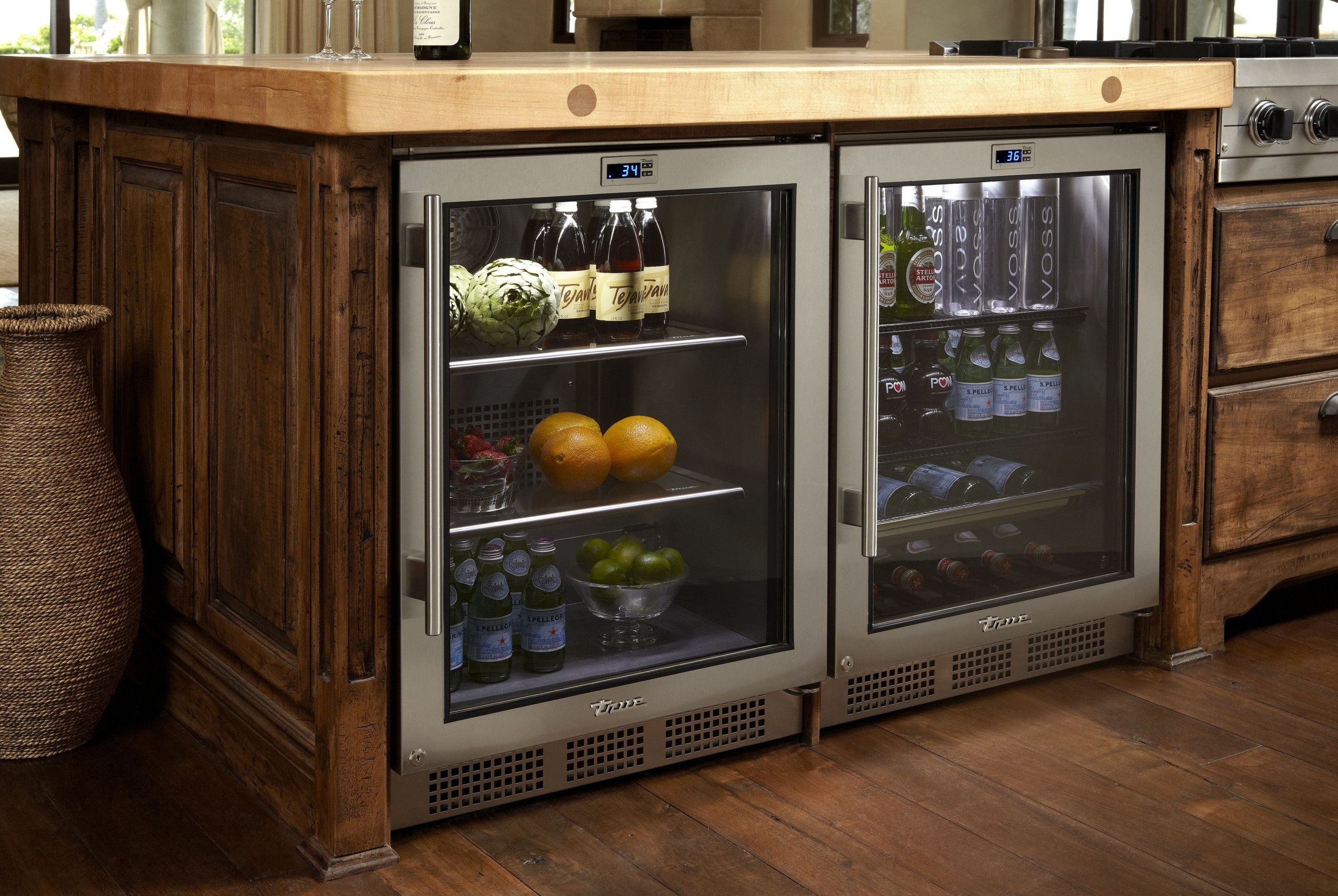 Major Kitchen Appliances #Kitchen Appliances Design Trends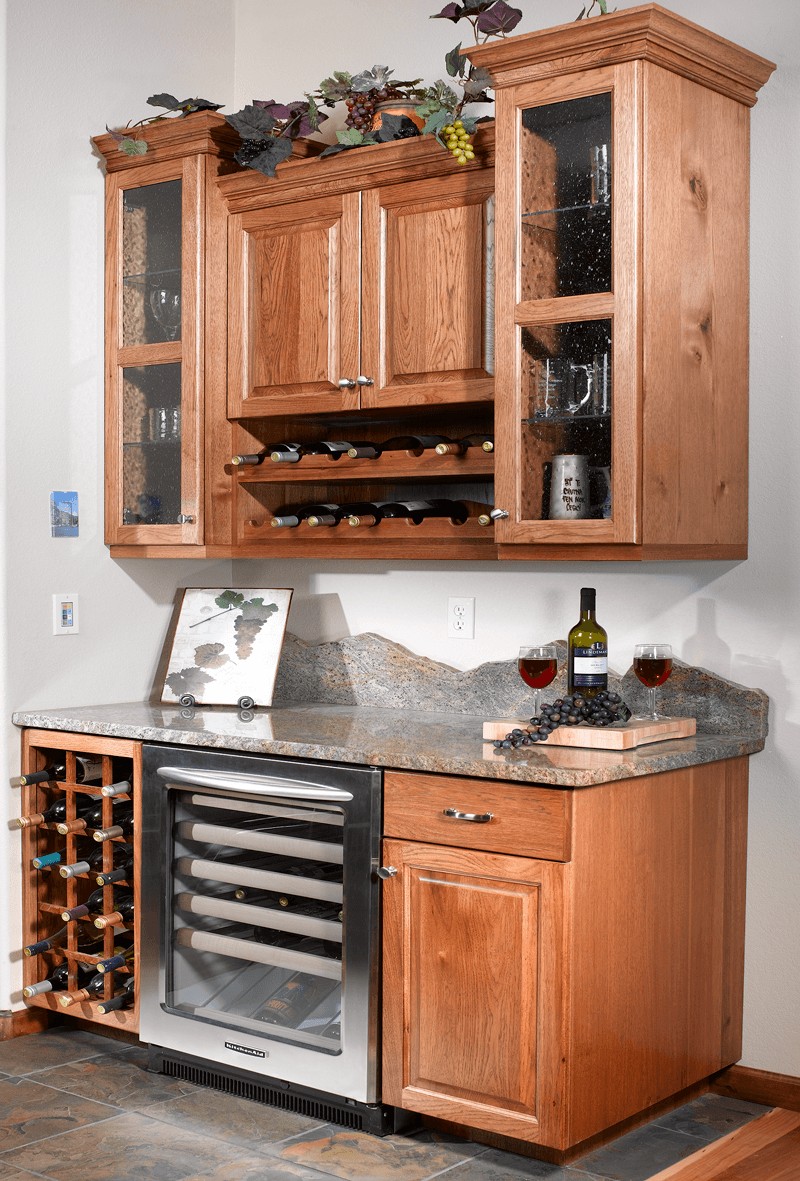 ... Design Gallery for ideas and examples of our high quality cabinets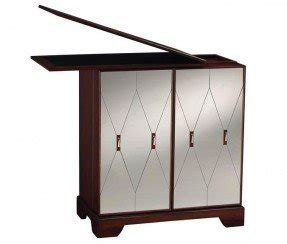 Belle Isle Wine & Bar Cabinet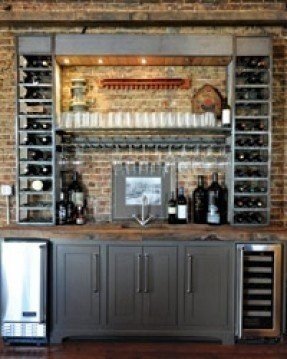 Custom made, this awesome wine bar comprises wine coolers, a mirrored back and lots of drawers and shelves to store your wine and glass collections. The centrally located sink is also a very functonal solution.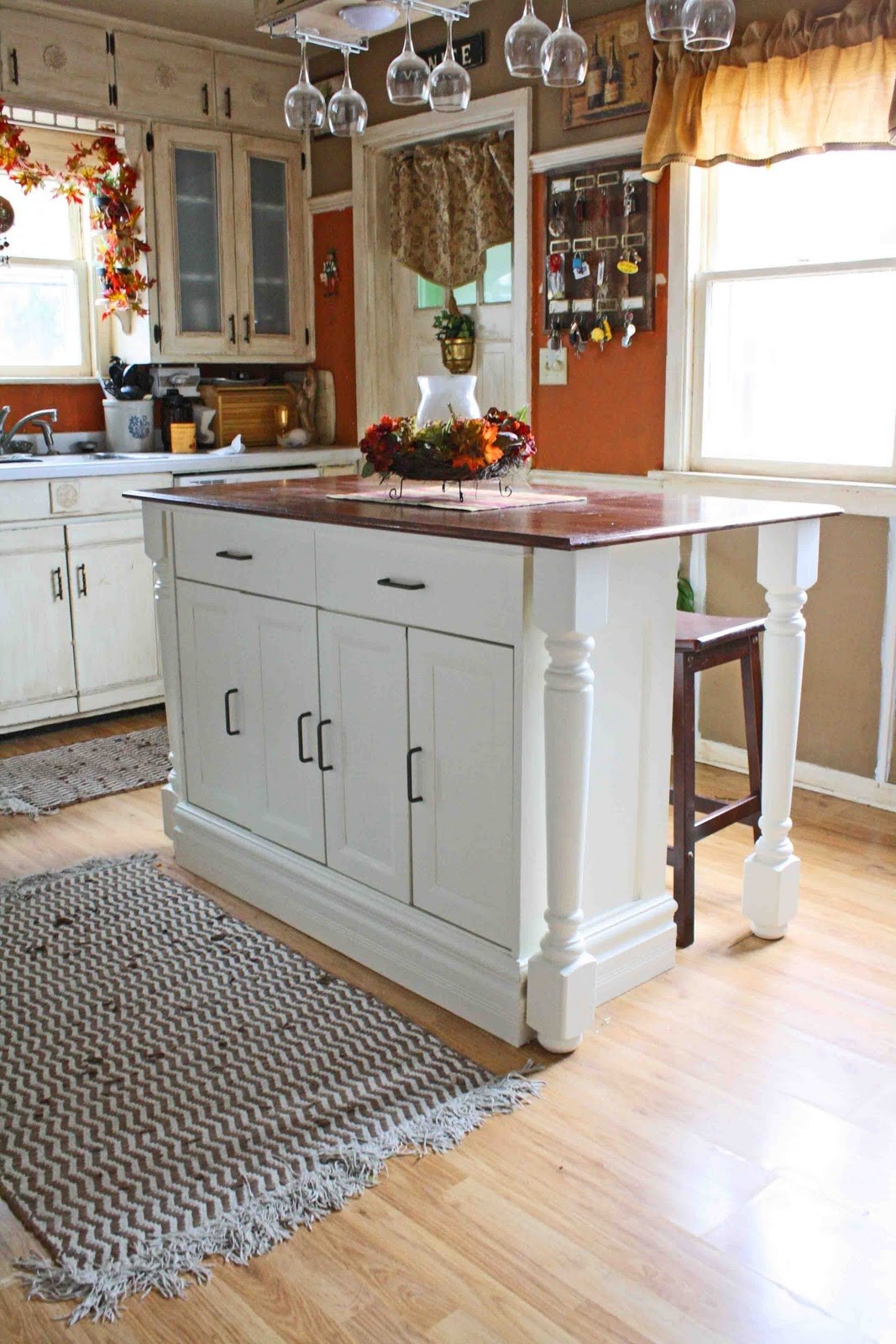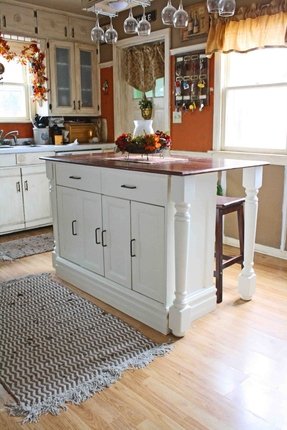 Kitchen island fitted with a lot of cabinets and drawers. It is made of wood in two shades. Neutral and functional design for any kitchen according to taste and need.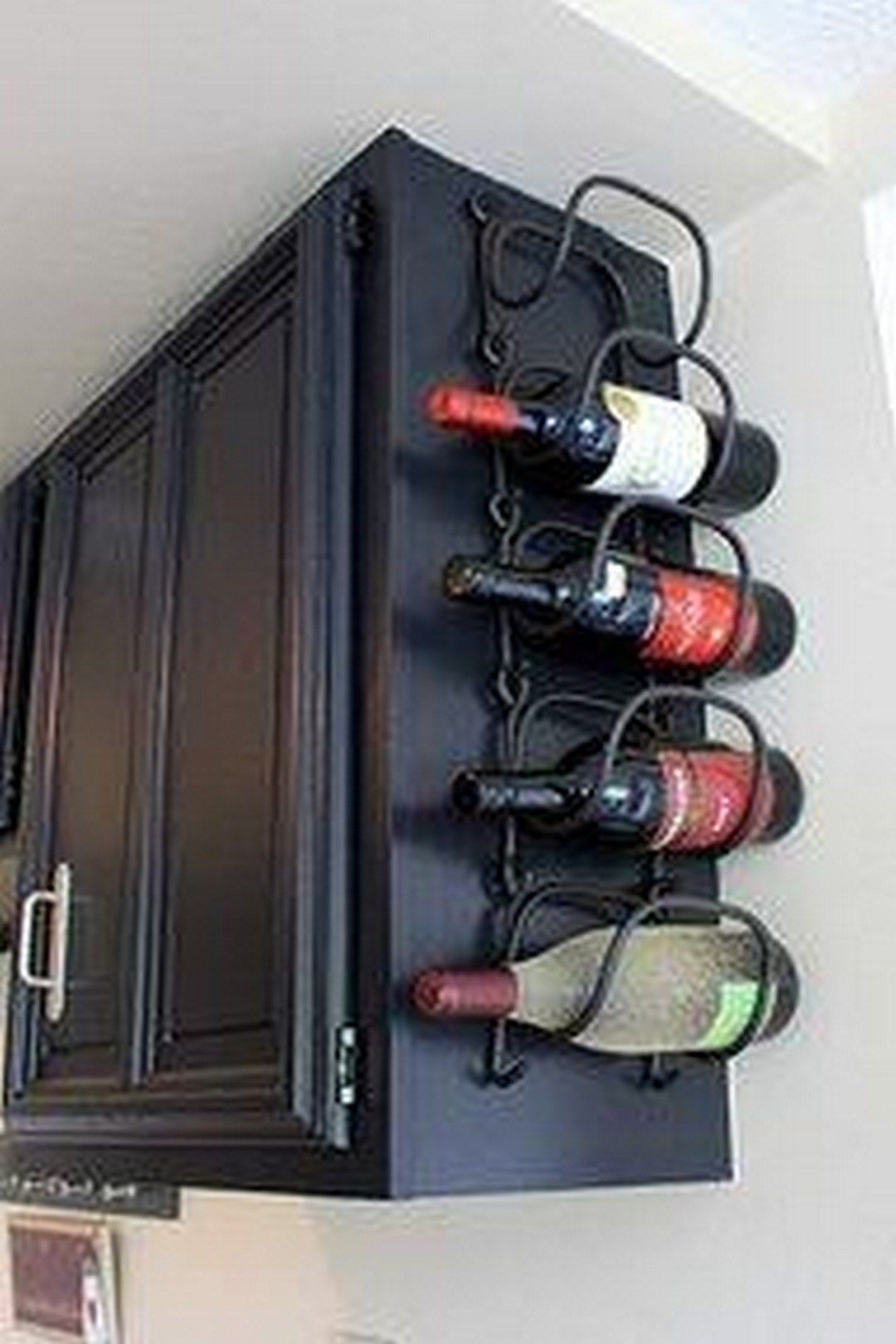 Are you searching for inspirations and tips to refresh your kitchen? The entire process is on the between3sisters.com. From white kitchen to black and contemporary space. I am impressed.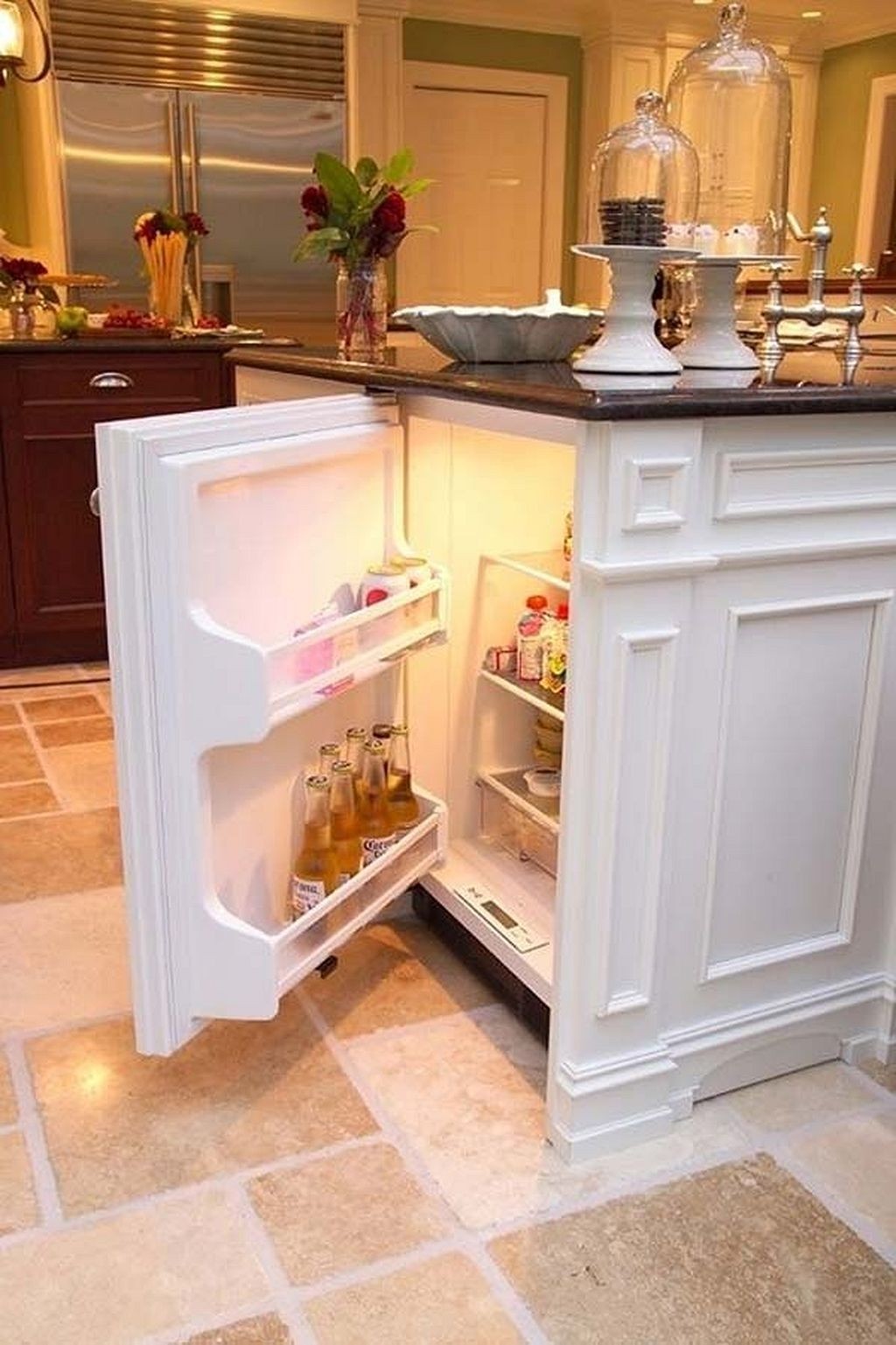 Mini-fridge in island for drinks - Click image to find more Home Decor Pinterest pins