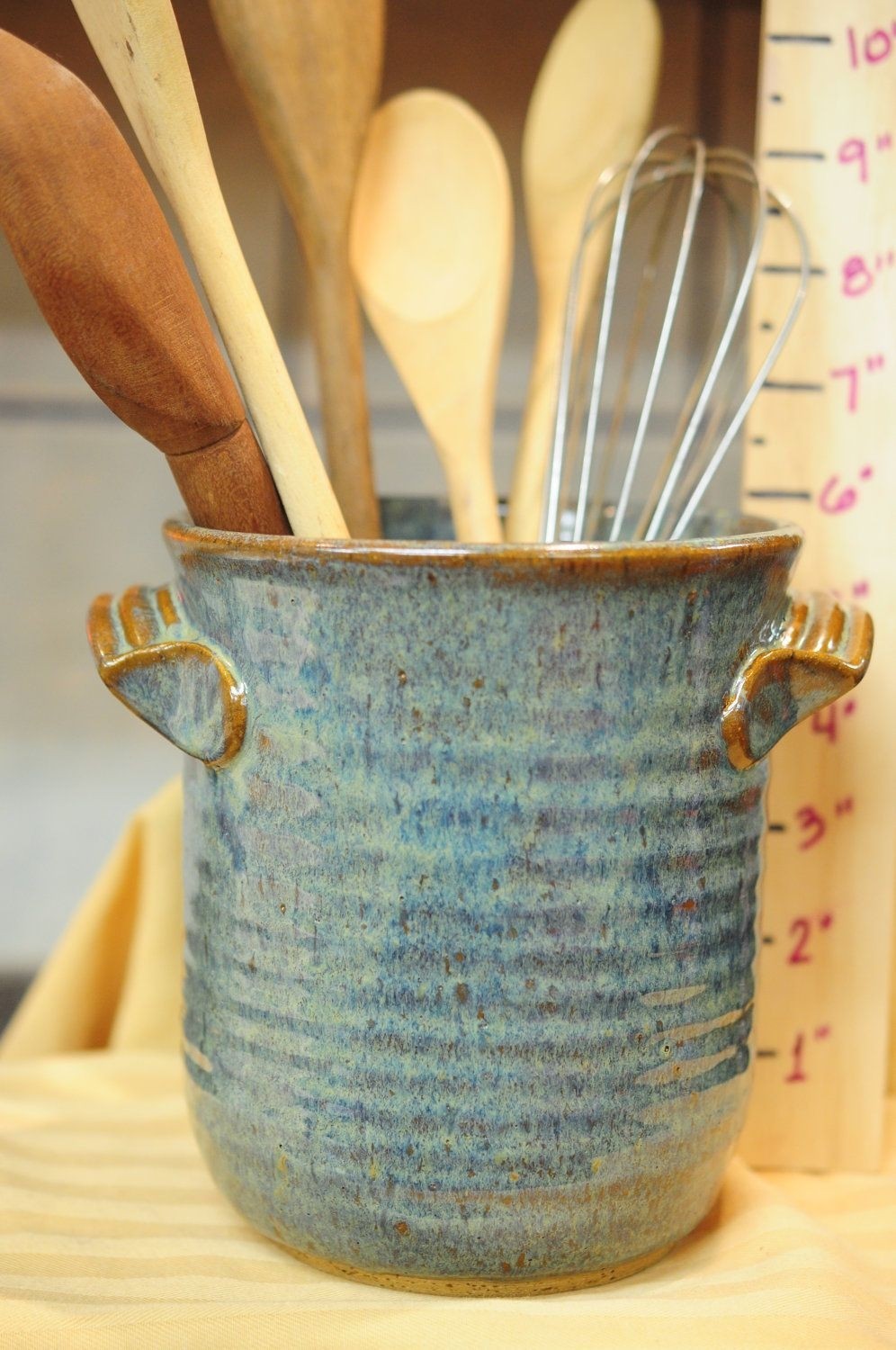 6 tall stoneware pottery utensil holder
Kitchen utensil holder made of stoneware with gloss finish. Handy gadget in any kitchen. Received many positive recommendations from customers for functionality and neutral design.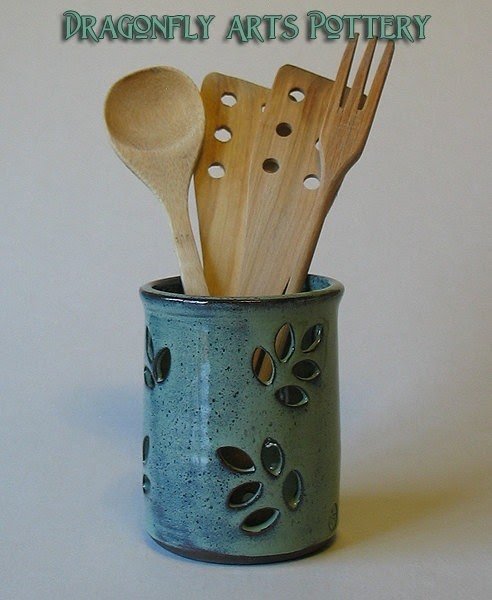 Pottery utensil pot spoon pot candle
We bet - you would like to know from what this ceramic utensil holder - or if you prefer a candle holder was made of? To get this smooth rustical but still elegant blue touch: lay, glaze, stoneware, pottery, ceramics, handmade pottery, kiln fired were used.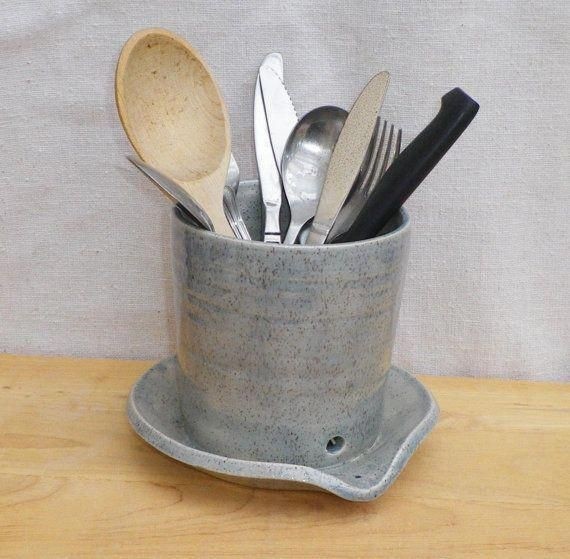 Cutlery drainer utensil jar toothbrush
A stylish and convenient kitchen addition. This ceramic utensil holder can be a great organizer for your cutlery. Hand thrown pottery enchants with its natural character, being a real bargain for those who relish handmade items.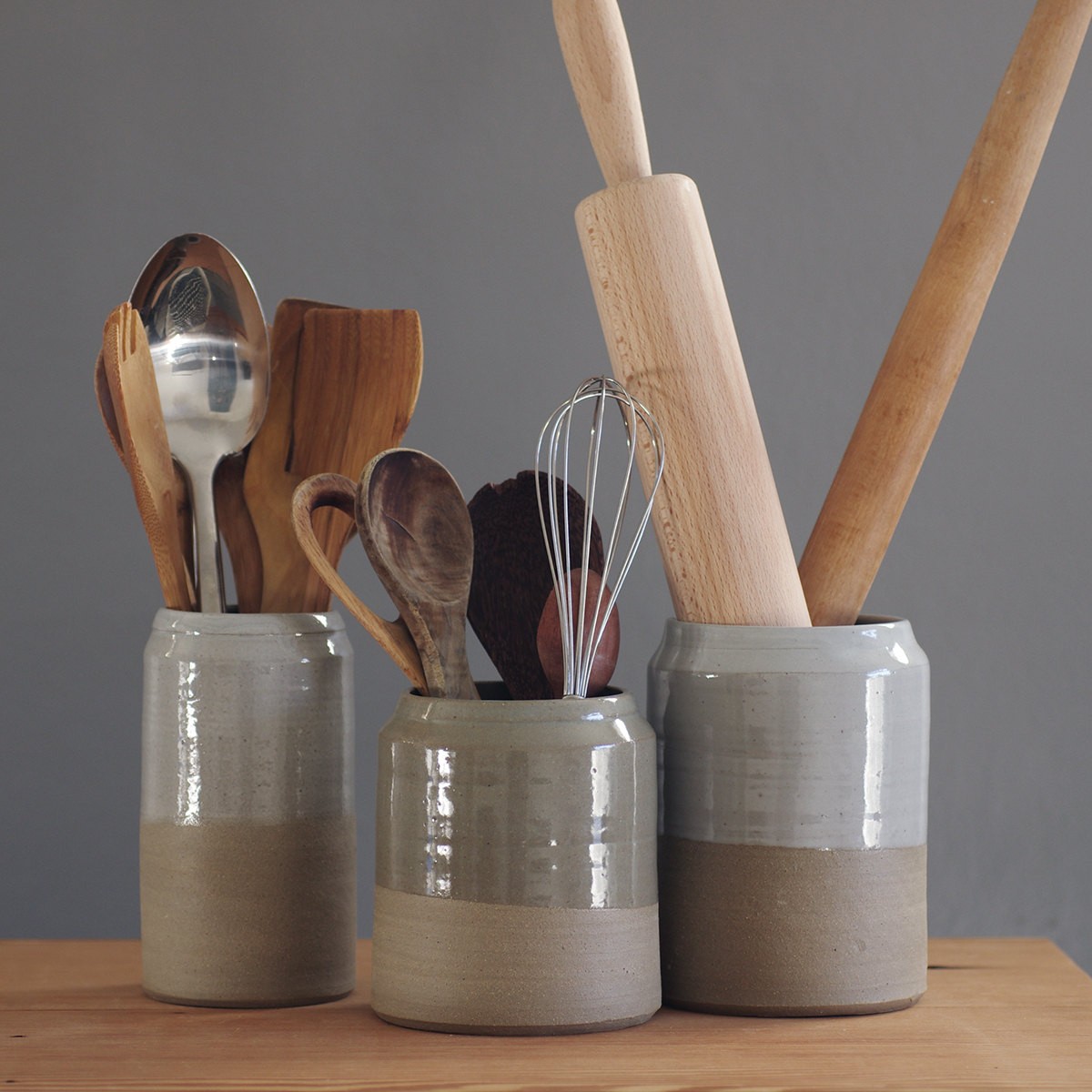 Kitchen utensil holder sand stoneware w
Do you see these subtle lines on these ceramic kitchen storage utensil holders canisters, for accessories such as ladles or spoons? These are streaks of hands, naturally made when ceramic making these simple minimalist gray-brownish containers.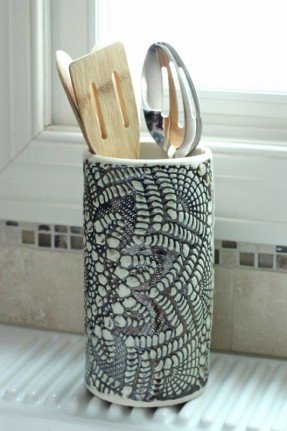 Handmade pottery vase or utensil holder
Go for this beautiful and handmade piece for your utensils in the kitchen or study and choose an addition of pure refineness and utmost quality. It sports the flower pattern of the pottery structure.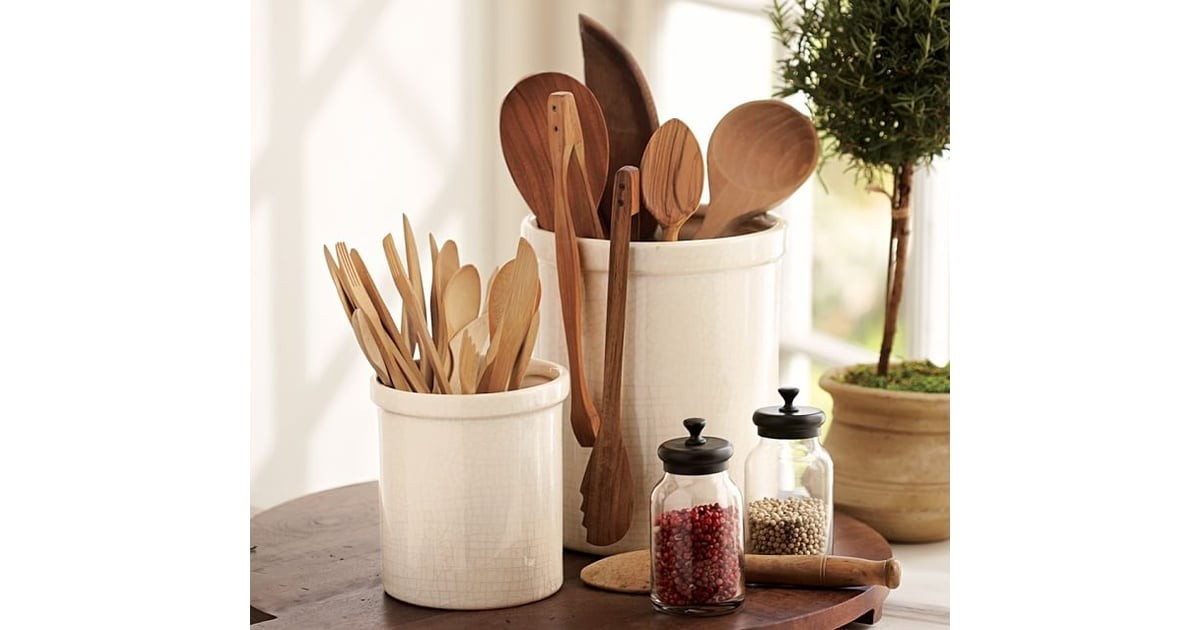 Rhodes ceramic kitchen accessories crock
You can spend hours looking for good containers for small kitchen accessories. Ceramic utensil holders are overwhelming solution. They are not expensive, and they give the impression of a clean kitchen. Hipsters and as well luxury fan kitchen.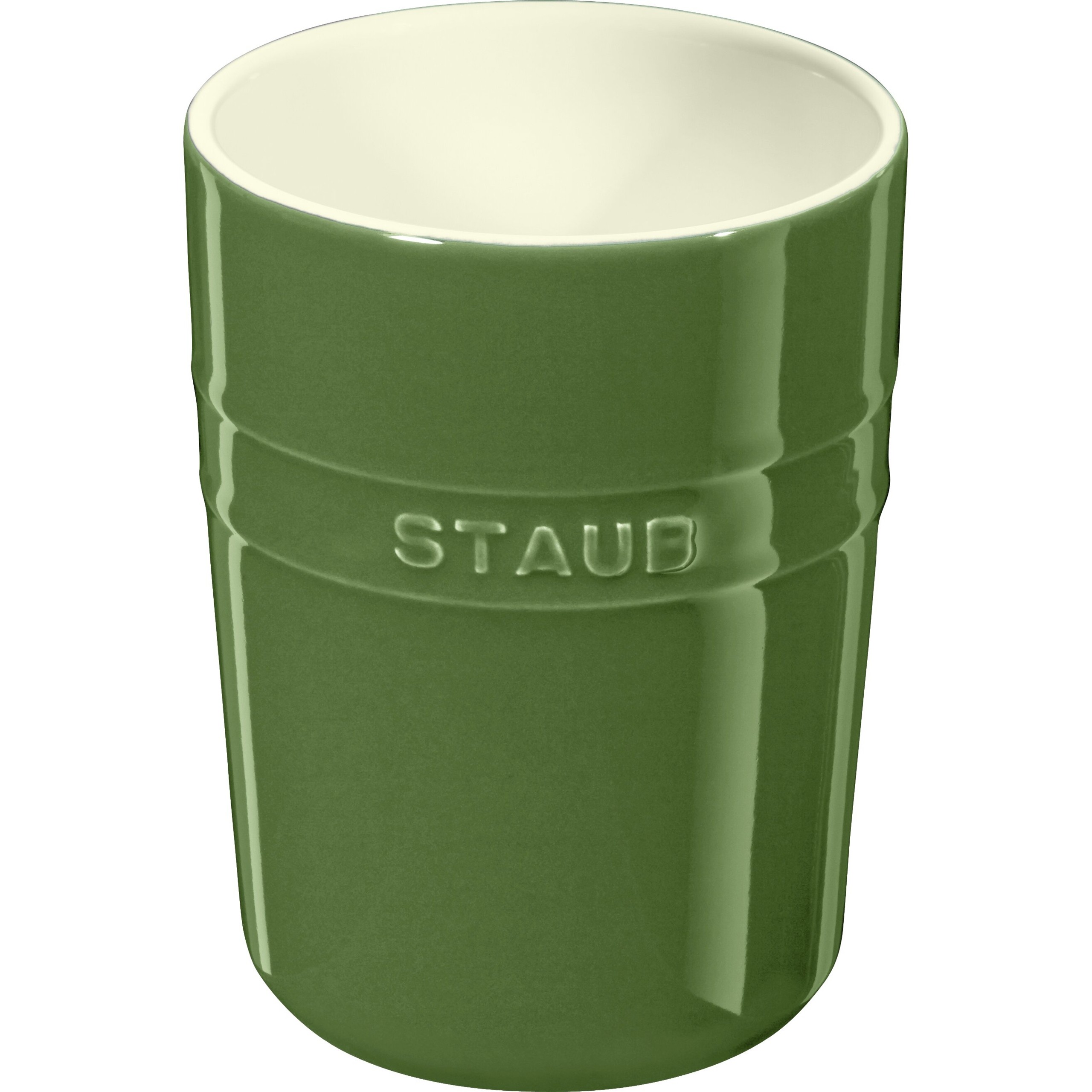 Utensil Holder
This kind of product is a high quality ceramic holder. It is available with a silicone pad. Outside surface of this product has got a green color and its interior is white. Full size of this item is 6'' H x 4.5'' W x 4.5'' D.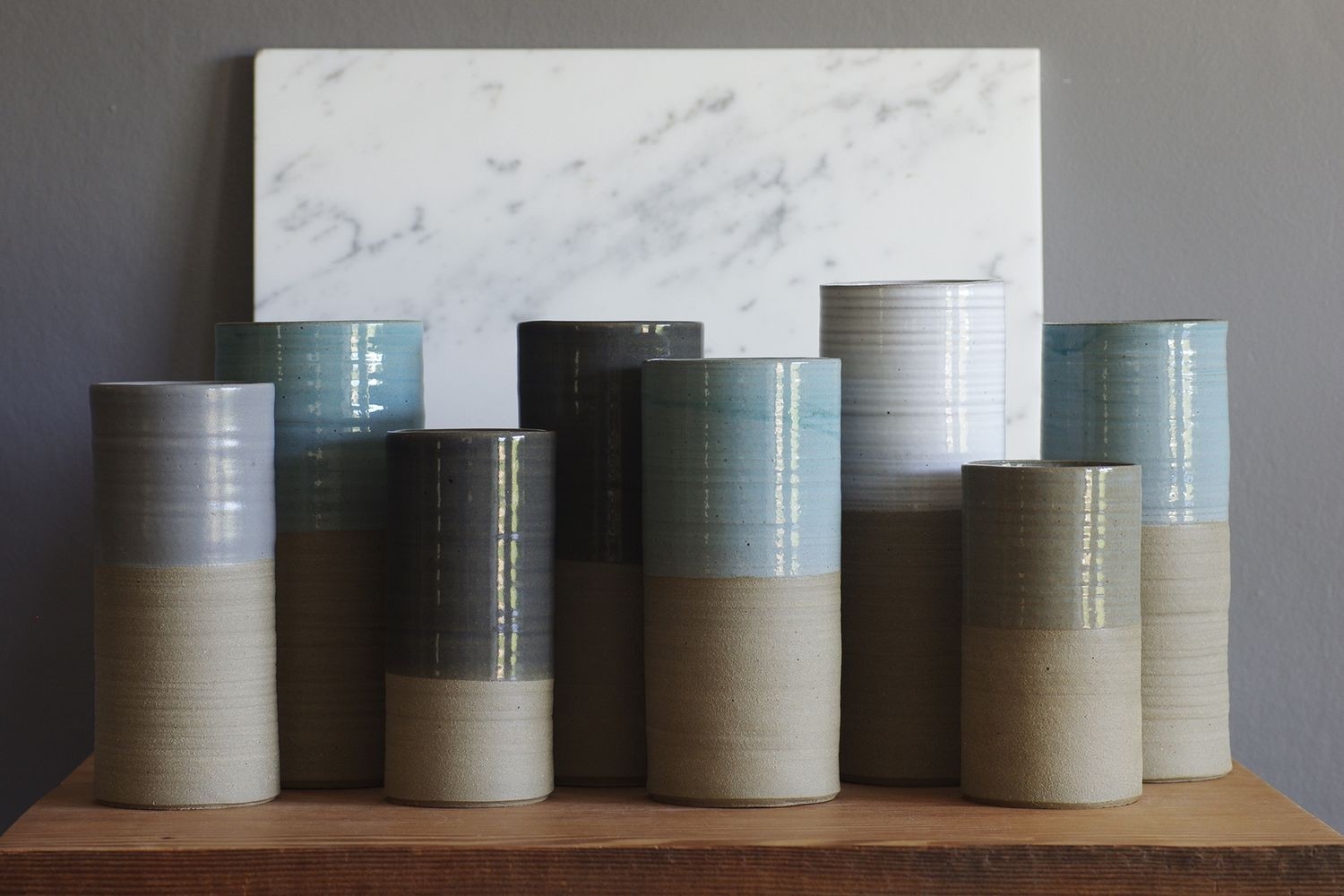 Small dark grey vase modern stoneware
Dark gray, sand-colored clay, all combined with glazed earth-colored glaze - that calms the senses and fits many styles. Different sizes of ceramic containers, holders with due care will store kitchen utensils, flowers and more.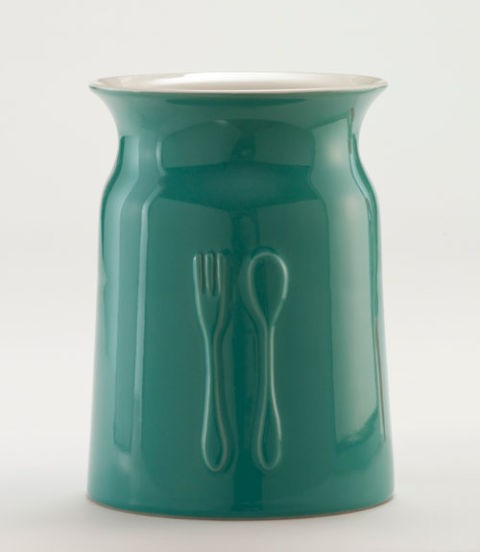 This ceramic utensil holder will your whisks, spatula and other cooking utensils handy on the countertop. Its beautiful aqua ceramic crock shall appeal to all fans or cottage or shabby chic designs.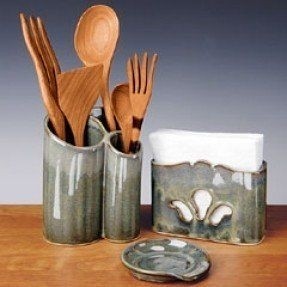 show more than one item at a time - and show clever ways to use an item: I'm thinking of the "coral vase"
Utensil Holder - Medium Size - Aqua Mist - Hand Thrown Vase - Modern Kitchen Home Decor - Ready to Ship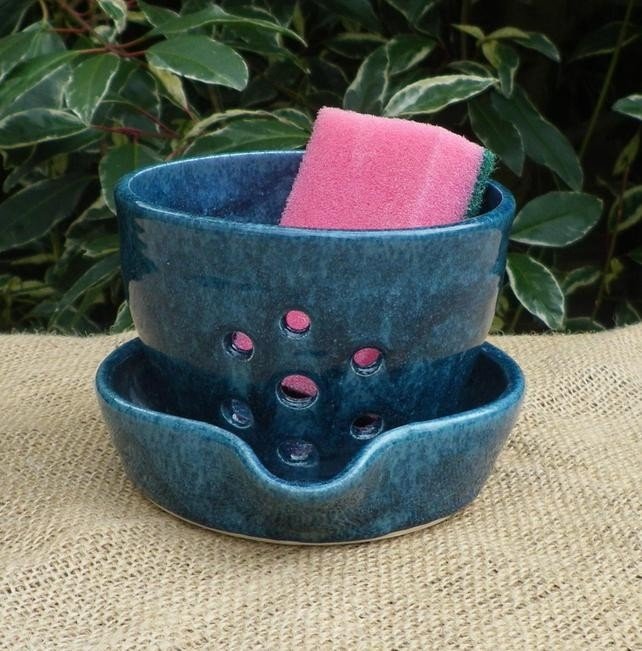 Sponge, dishcloth, scrubby holder drainer hand thrown pottery ceramic small berry bowl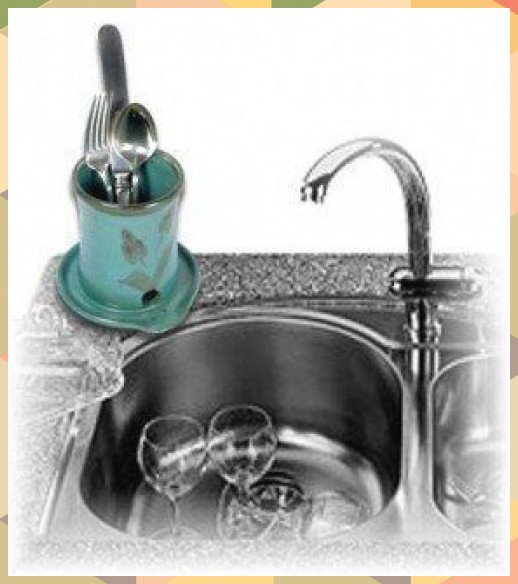 Ceramics have been known for centuries - and the turquoise color that is often combined with it is an extraordinary decoration. That is why this ceramic utensil holder for kitchen accessories by the sink looks so neat with gold frames.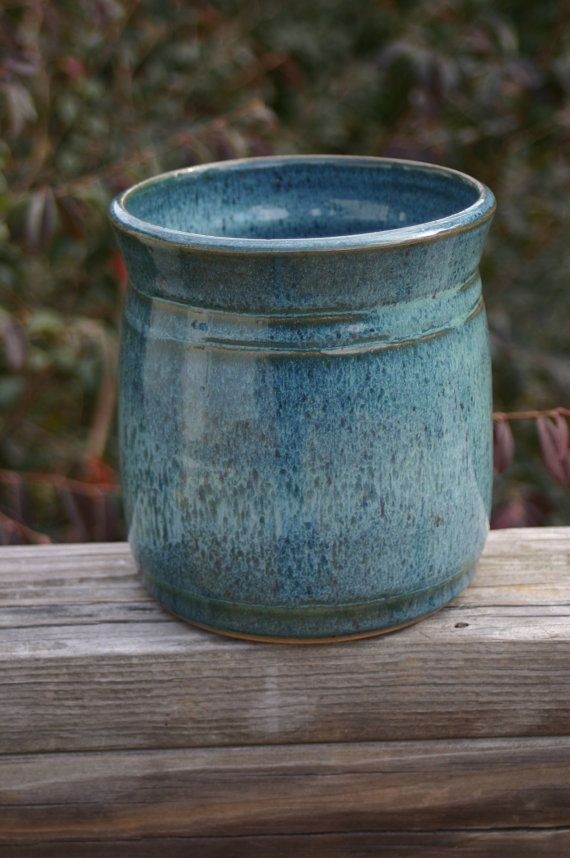 Pottery Utensil Holder Aqua Glaze Seagrove NC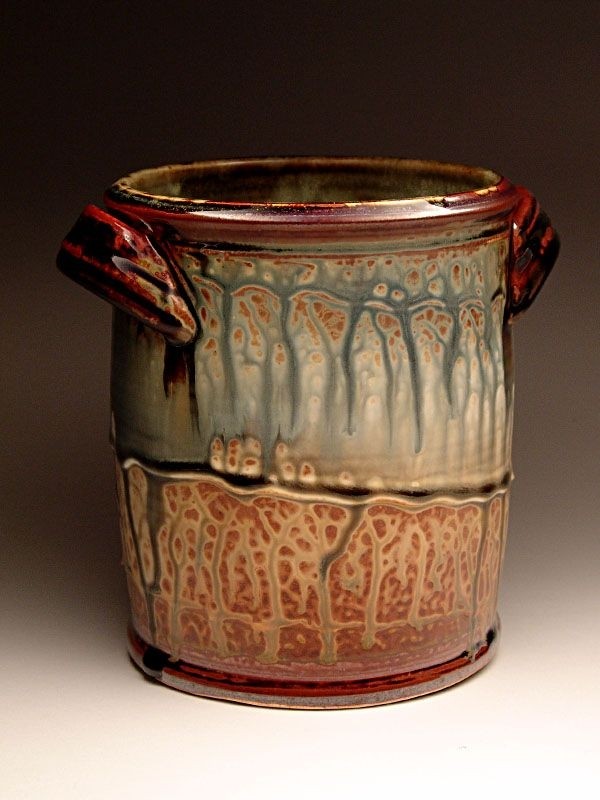 Joey Sheehan Utensil Holder at MudFire Gallery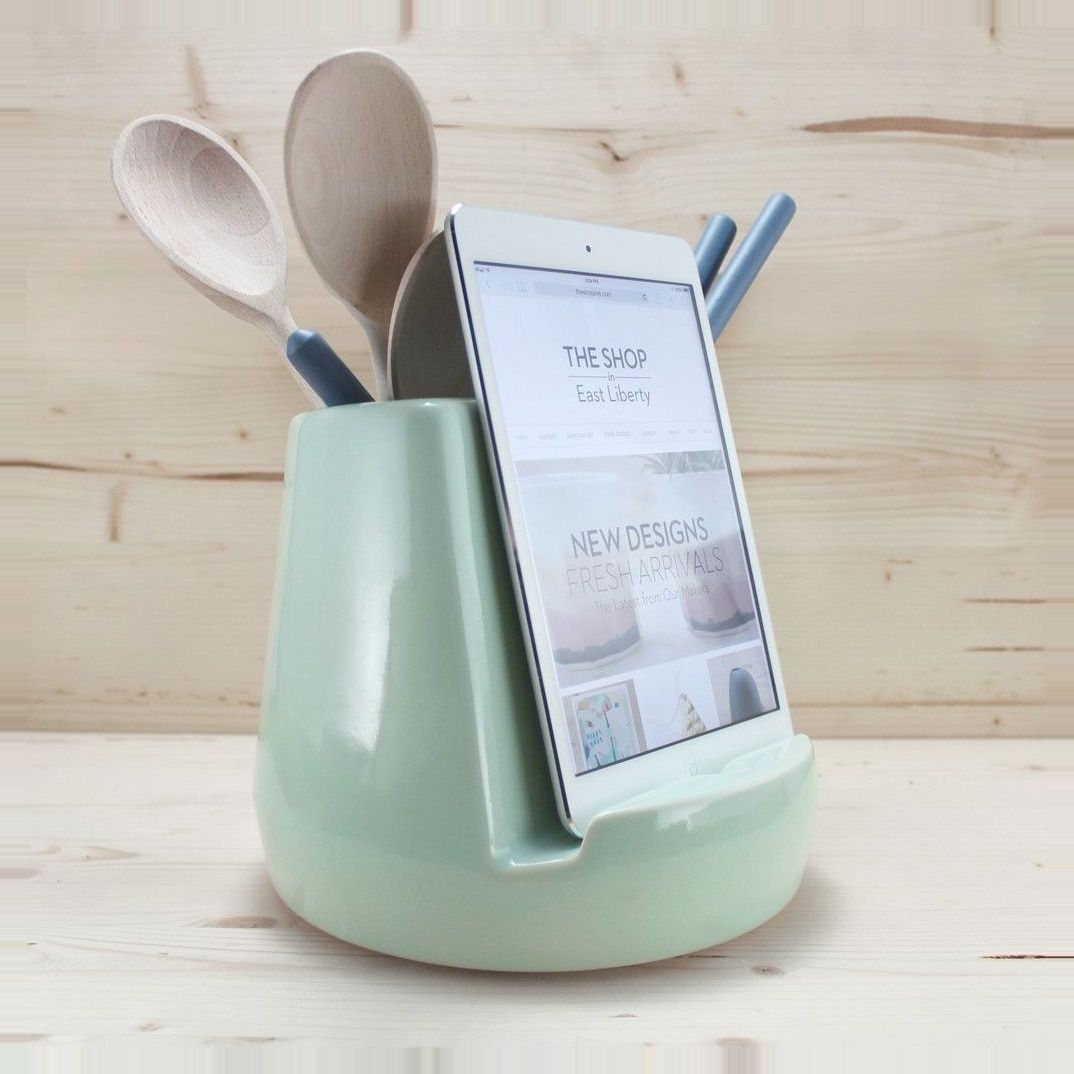 Bring some retro-modern charm into your vintage kitchen, with this streamlined utensil holder. It's designed of quality ceramic and splashed with a minty finish. Plus, you can not only display your utensils, but also have a place to put your tablet or iPad.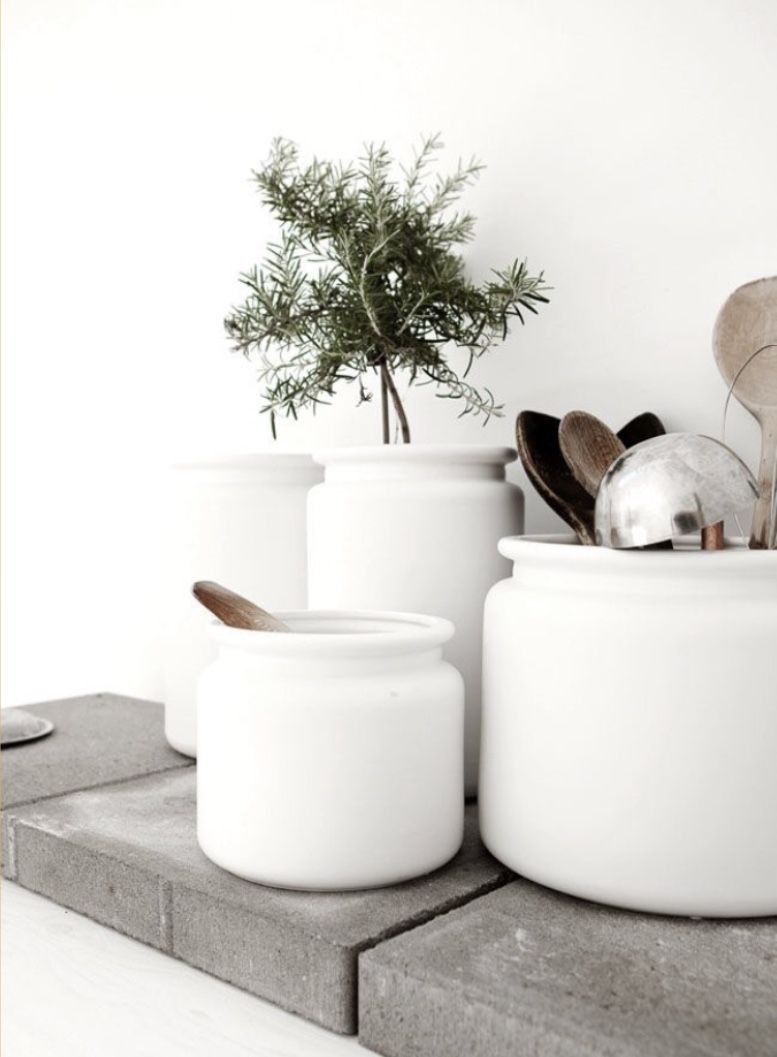 Enchanting with the lovely white colour, this set of ceramics for spoons or spatula's and fresh herbs comes from Sweden and the house of Daniella Witte. It depicts well the contemporary Scandinavian way of design - cool and simplistic.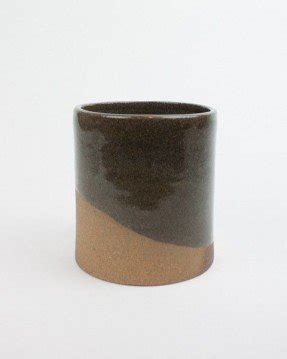 Large Ceramic Utensil Holder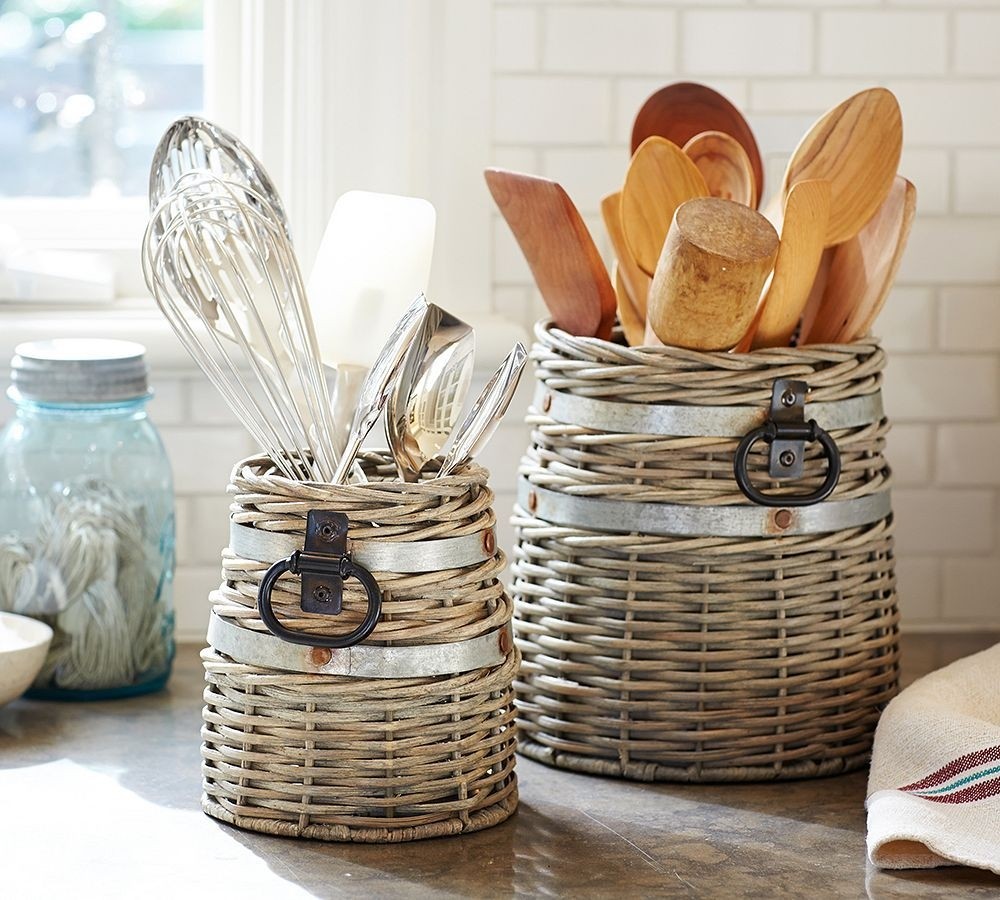 Cask Crocks . I fell in love with these when I saw them at the PB store and got both sizes. They're great for holding cooking utensils or silverware. Love the rustic details on these!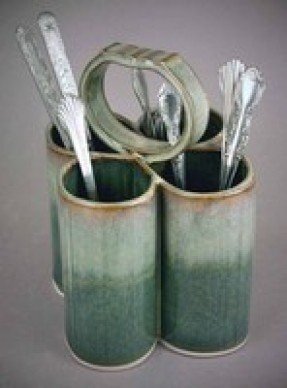 Flatware Caddy. I could use 4 of my favorite mugs, color coordinated twine and, hmmm,,,what for the handle...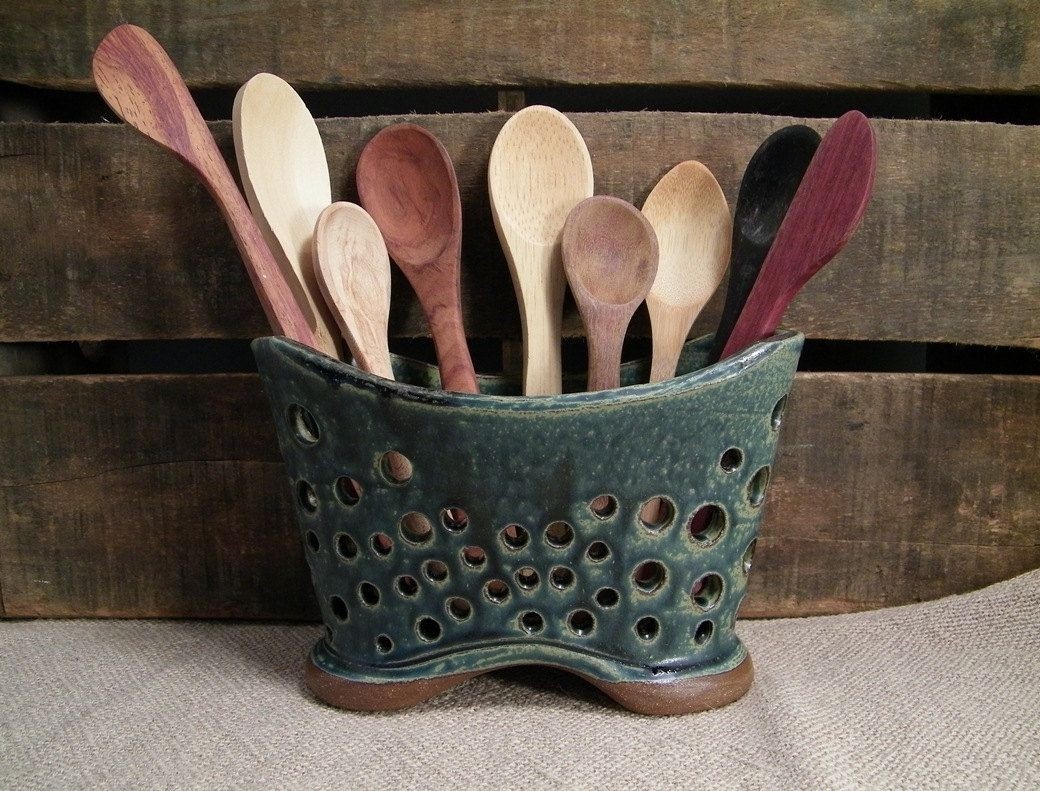 Utensil Drain - Sponge Holder - Toothbrush Holder. $30.00 USD,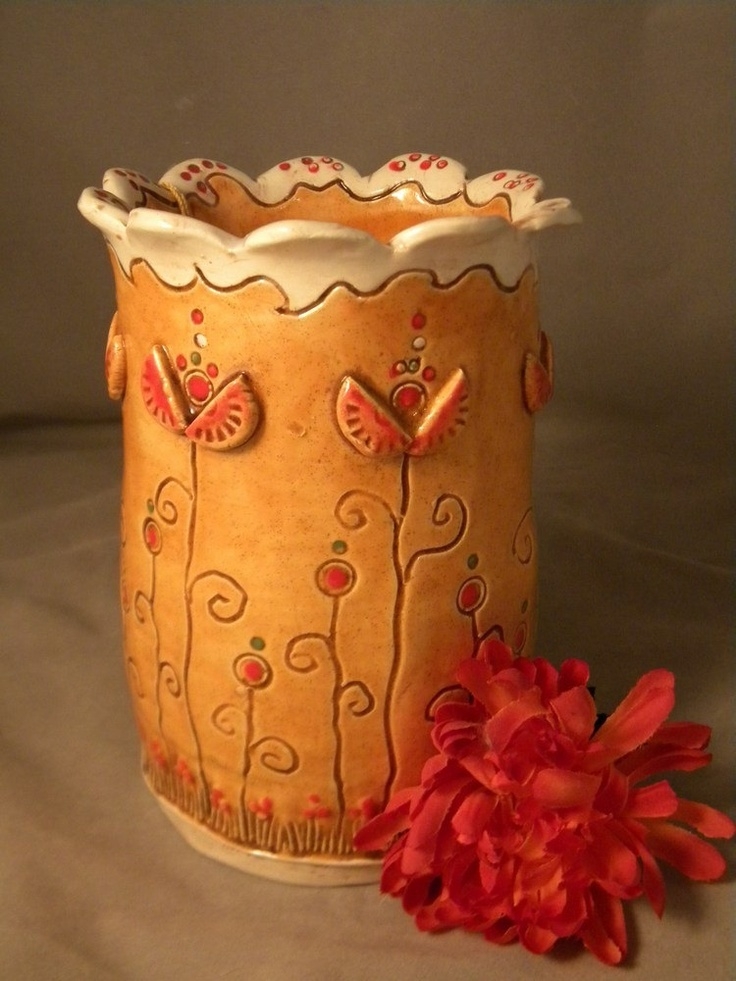 Utensil Holder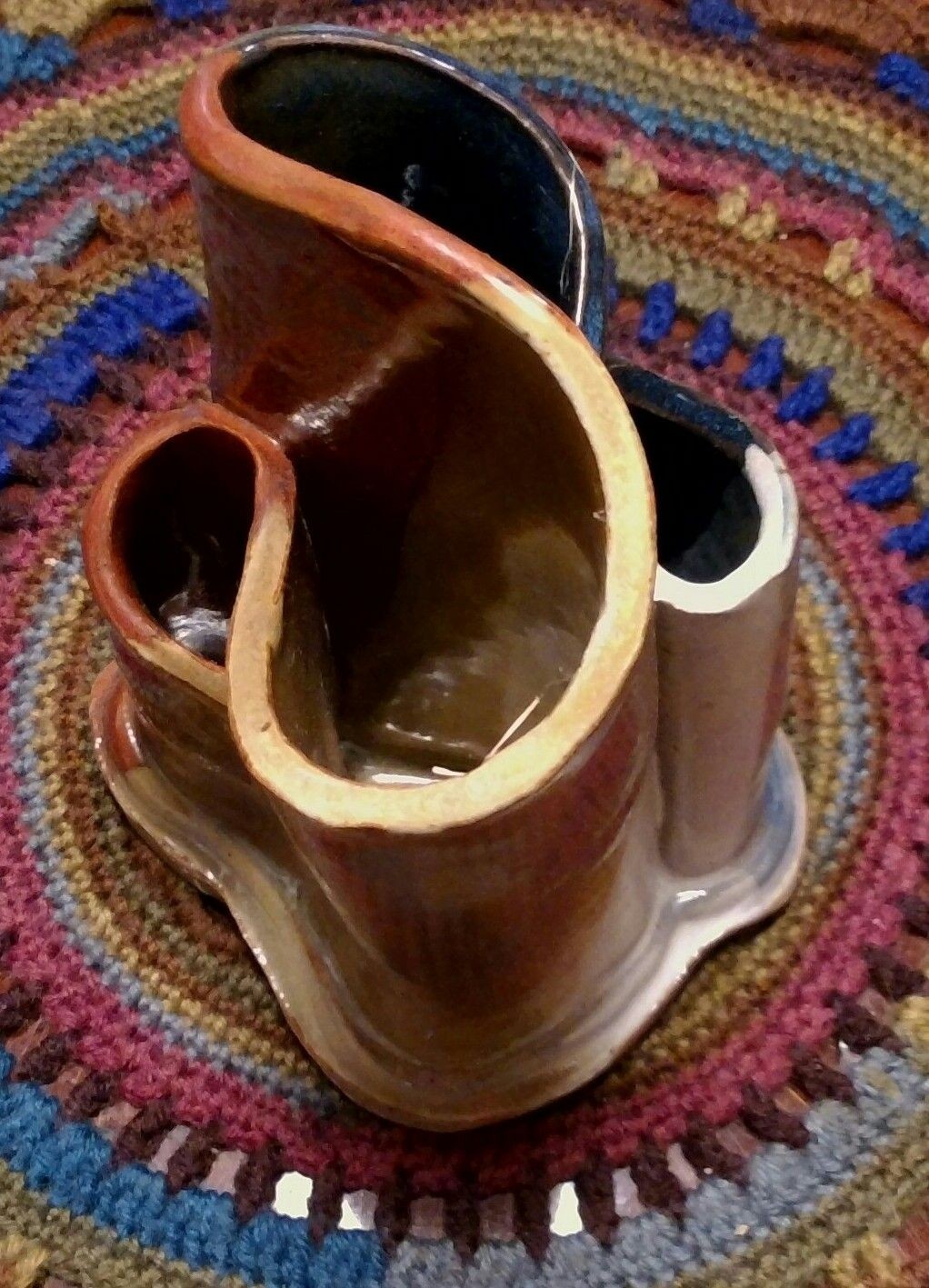 Ceramic Slab Vase | Swirling Slab Vase—5 ½" tall. Item #433. Watertight, dishwasher ...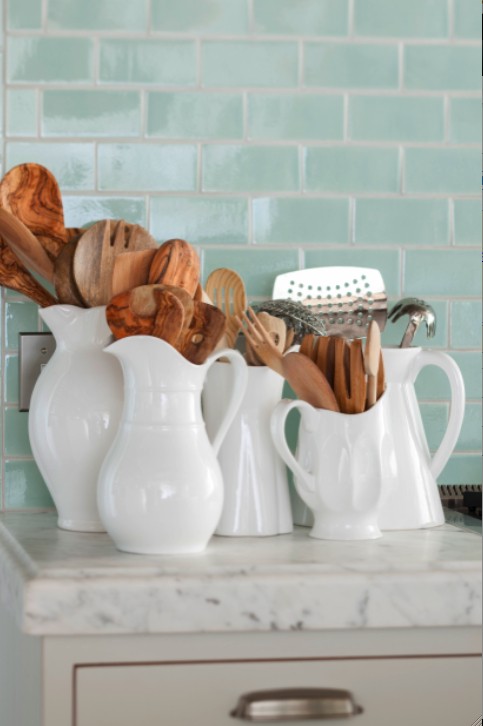 Check out the detail on the marble edge. Décor de Provence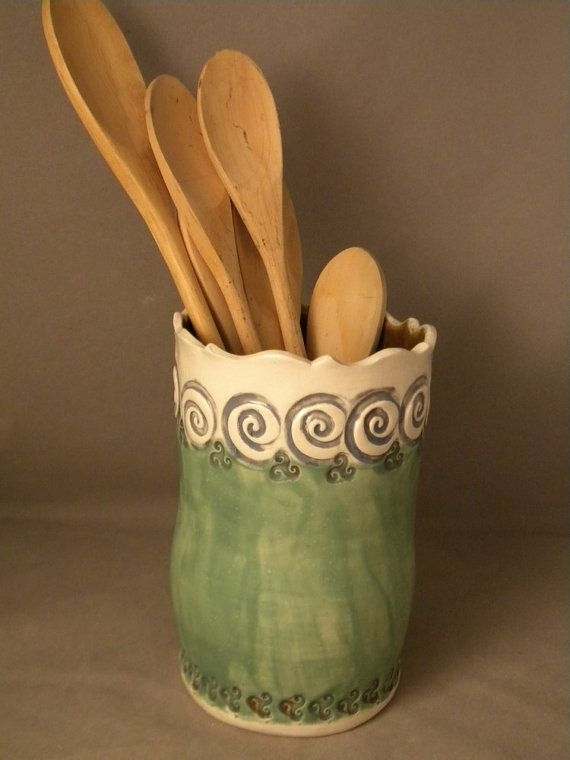 kitchen utensil holder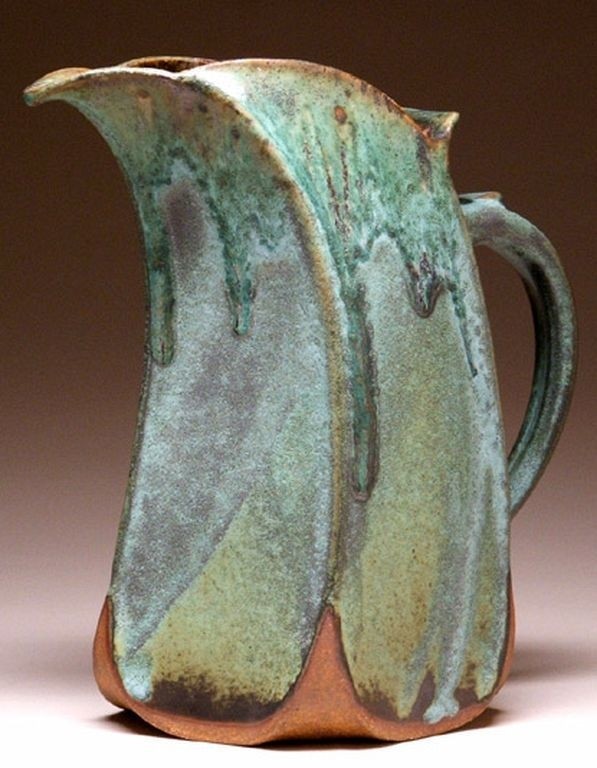 Slab Pottery Ideas | 21.70 $14.70 Slant Pitcher - Green Matte - $120.00 Slant Pitcher ...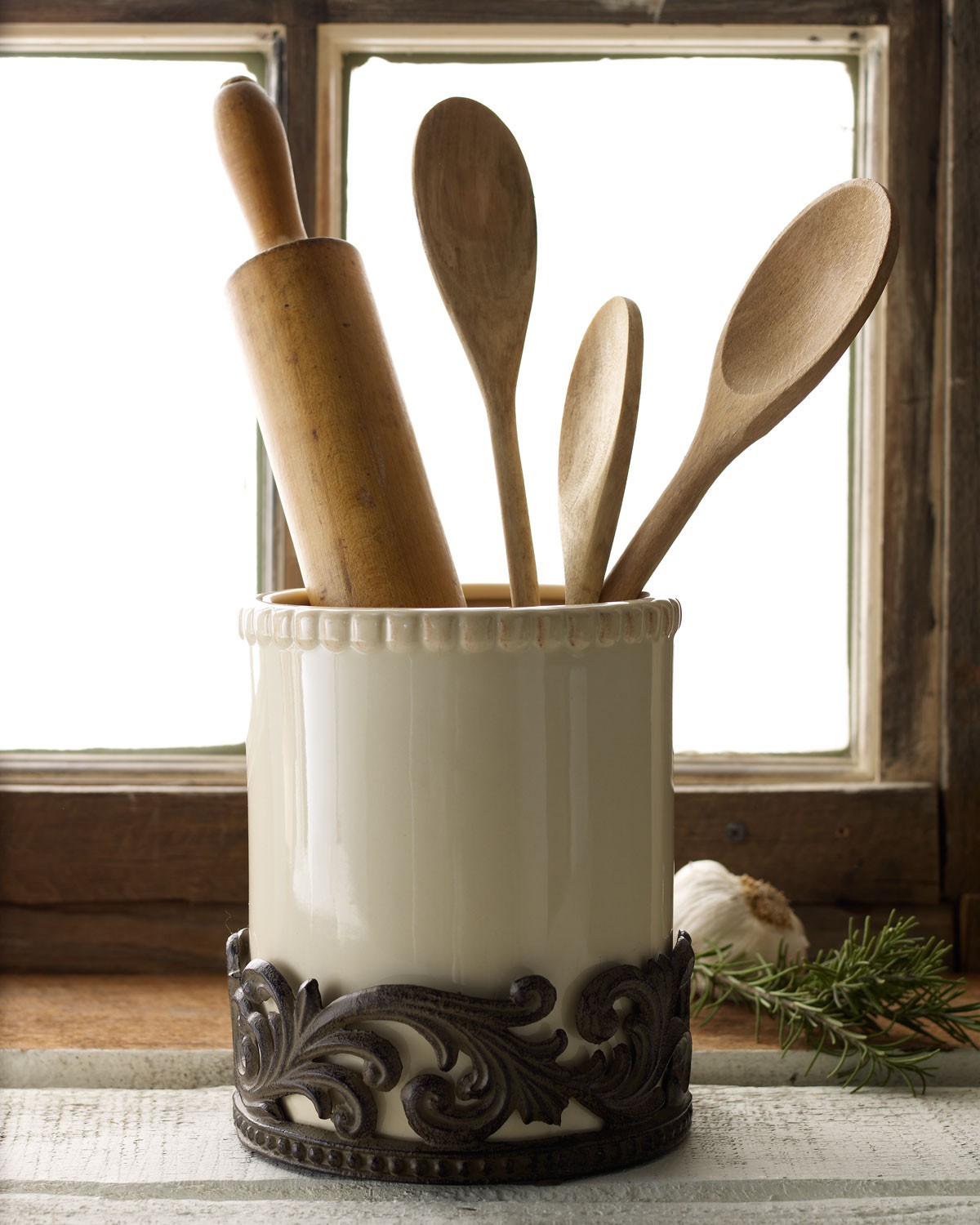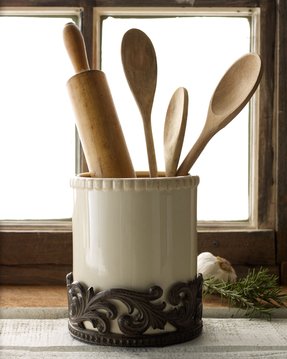 Store your kitchen utensils neatly in a decorous ceramic holder in ecru. Decorous cast aluminium base showcases matching bronze finish and swirly floral motif. The ceramic receptacle is dishwasher safe.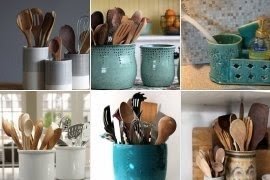 Made of beautiful pottery utensil holder is an excellent way for a stylish and very functional kitchen appliance. The beautiful white shade form is versatile and is perfect for storing buckets and other kitchen accessories.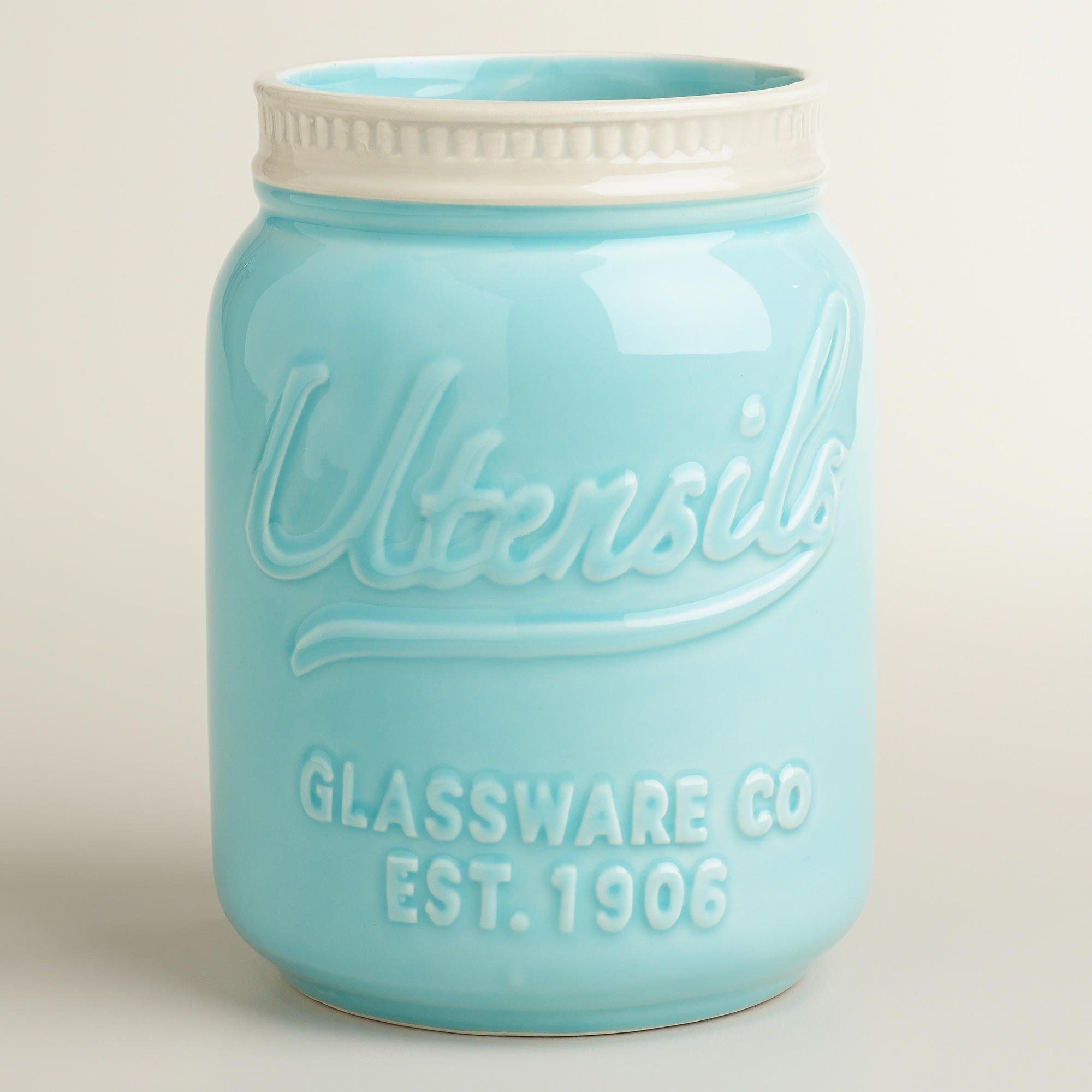 Mason Jar Ceramic Utensil Crock- I need this too!!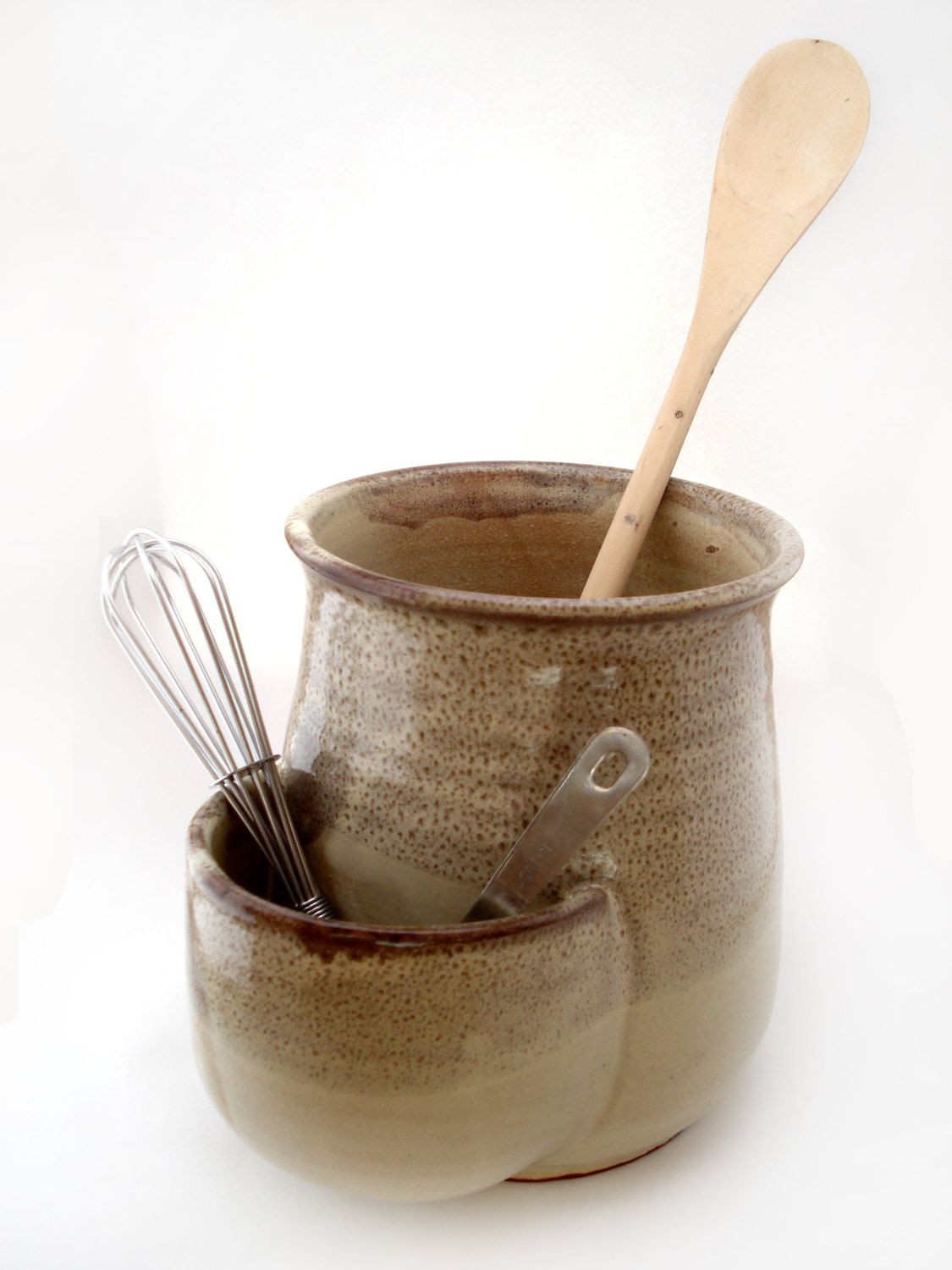 utensil holder with pocket tan utensil crock pottery spatula holder 1 ...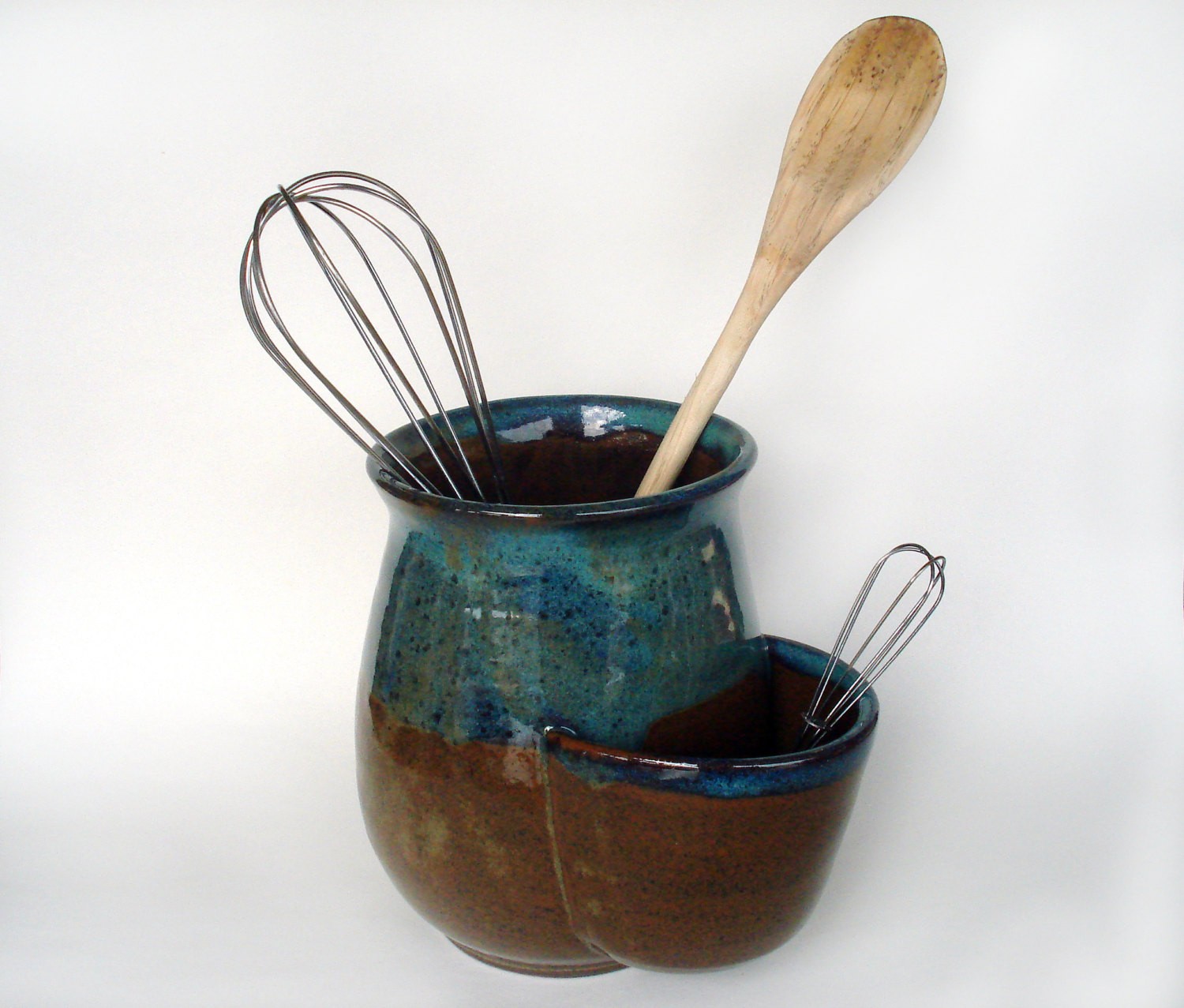 i want to make this for myself! Pottery utensil holder with pocket, Brown and blue stoneware crock, Ceramic spoon organizer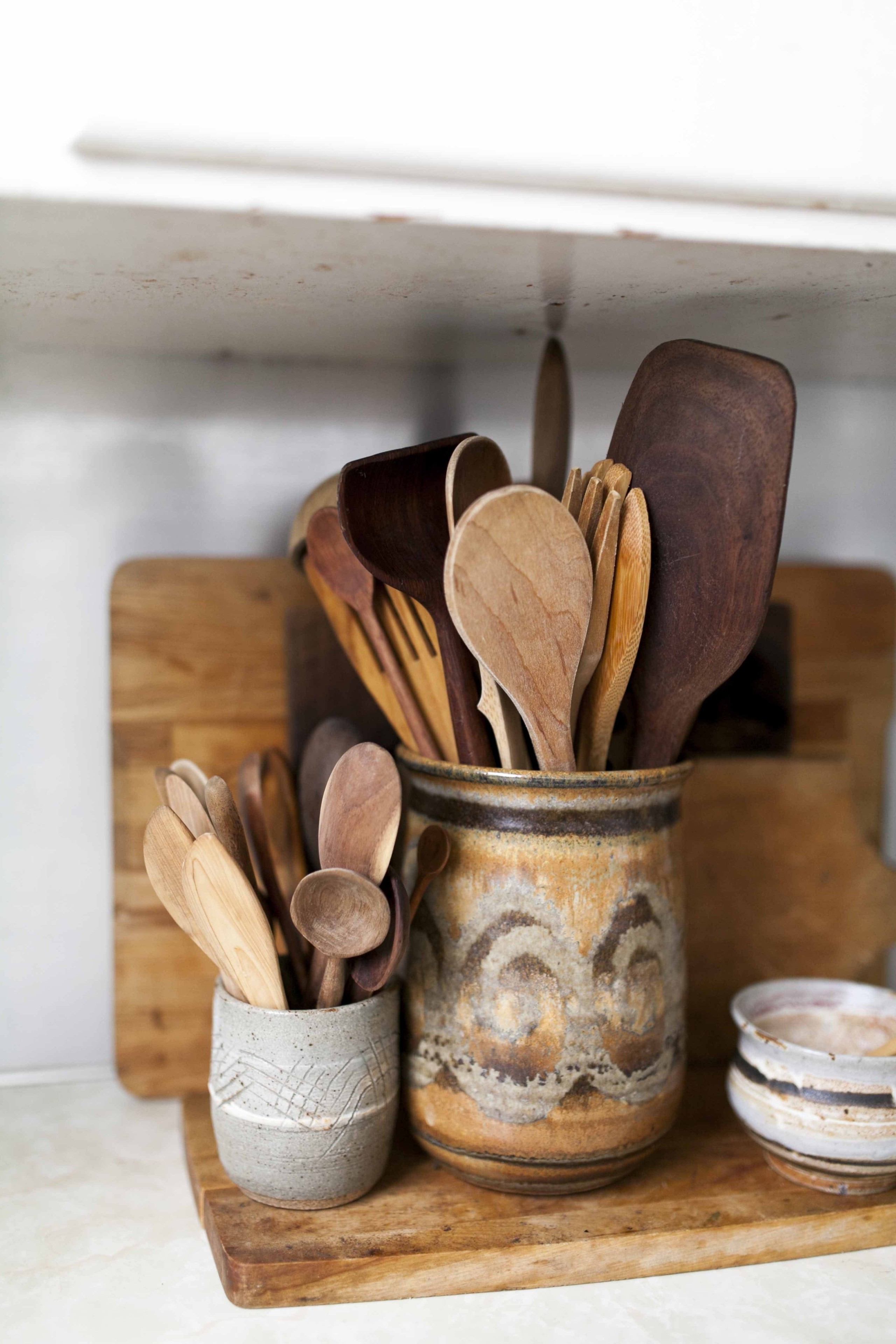 Ceramic trinkets are a great way to create a functional and very impressive interior design element. The jars in a beautiful finish with attractive decorative elements are original and very stylish for what they enchant.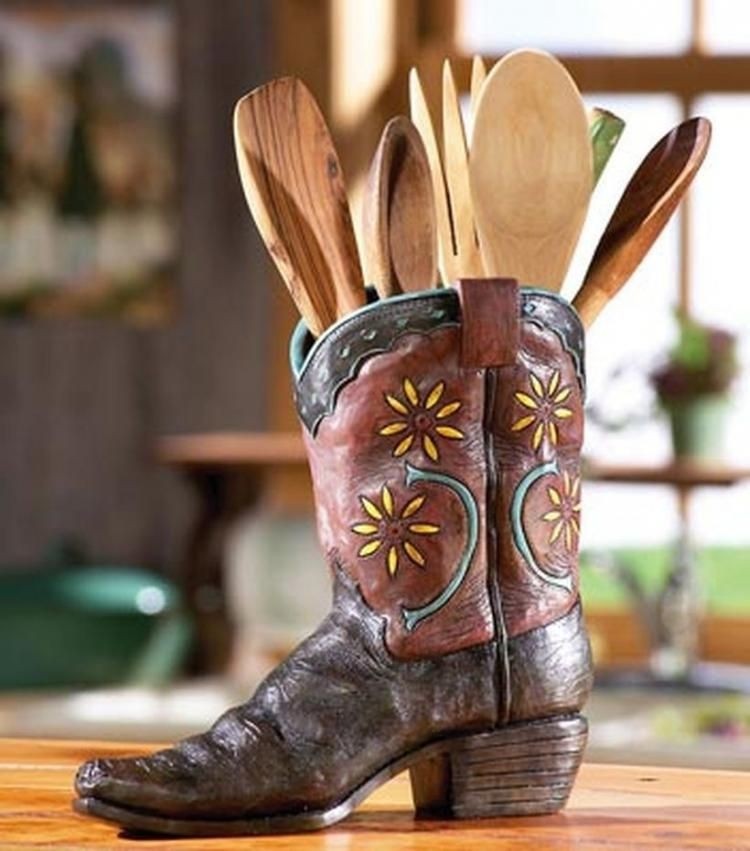 Country Western Cowboy Boot Kitchen Utensil Holder #VT Industries #countertops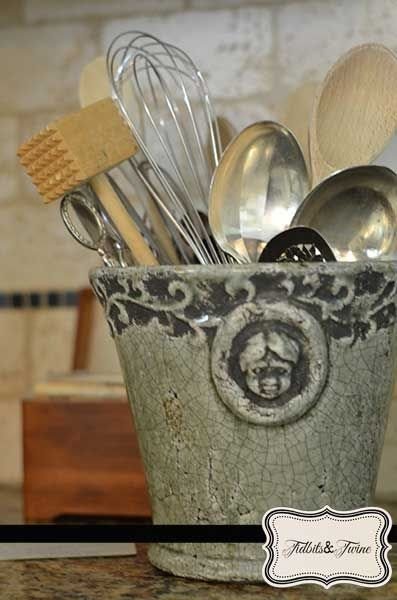 Cracks texture and distressed finish make this kitchen receptacle look like a years-old finding. A ceramic holder seems a tiny detail, but it can tie your kitchen's decor together. And hold your kitchen utensils by the way.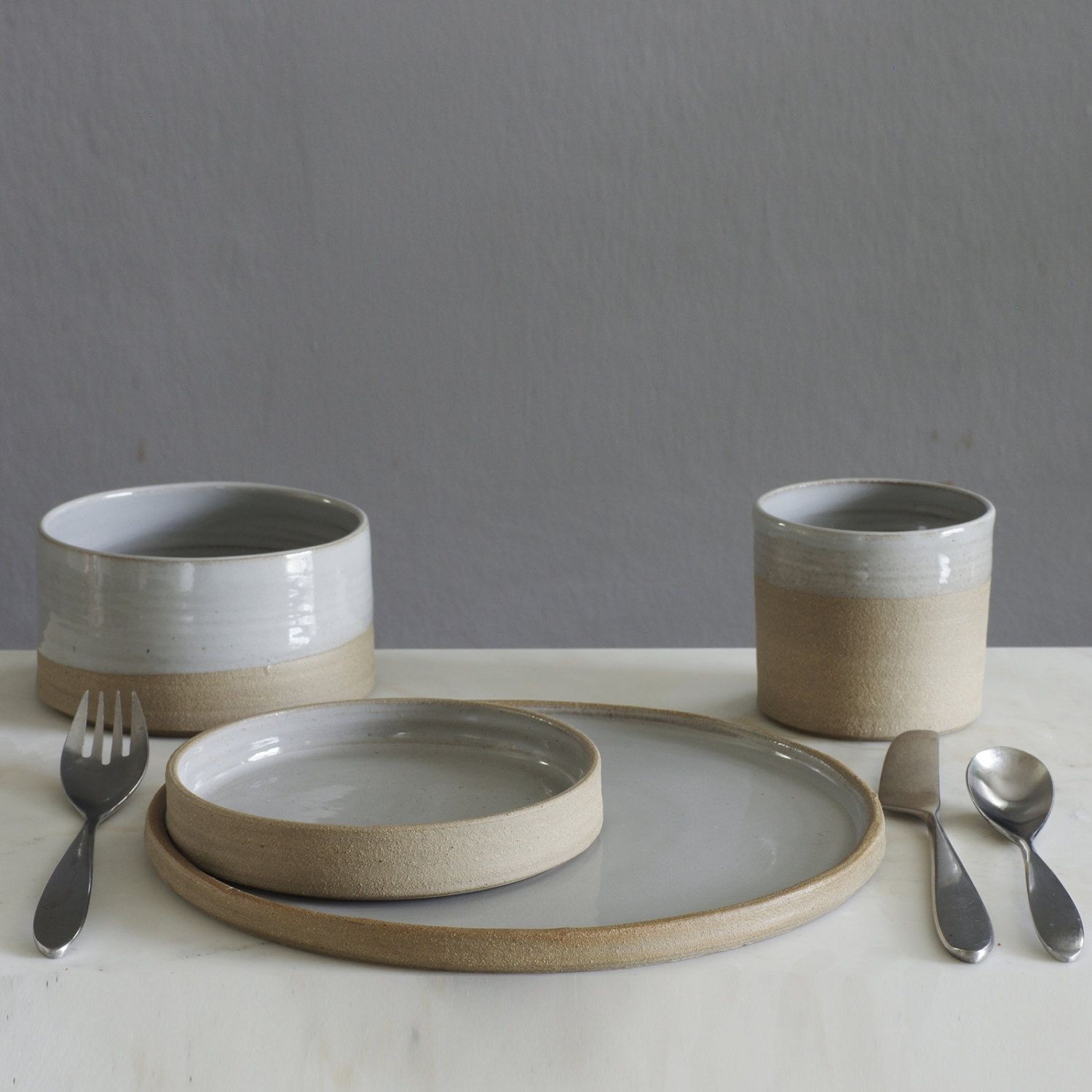 custom dish set. dinnerware pottery. 4 piece 4 by vitrifiedstudio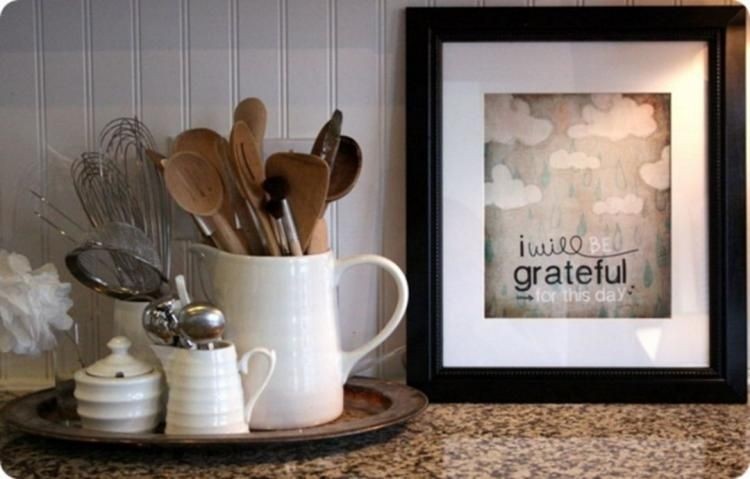 "I will be grateful for this day" frame and utensils in jars on a platter...I am going to do this...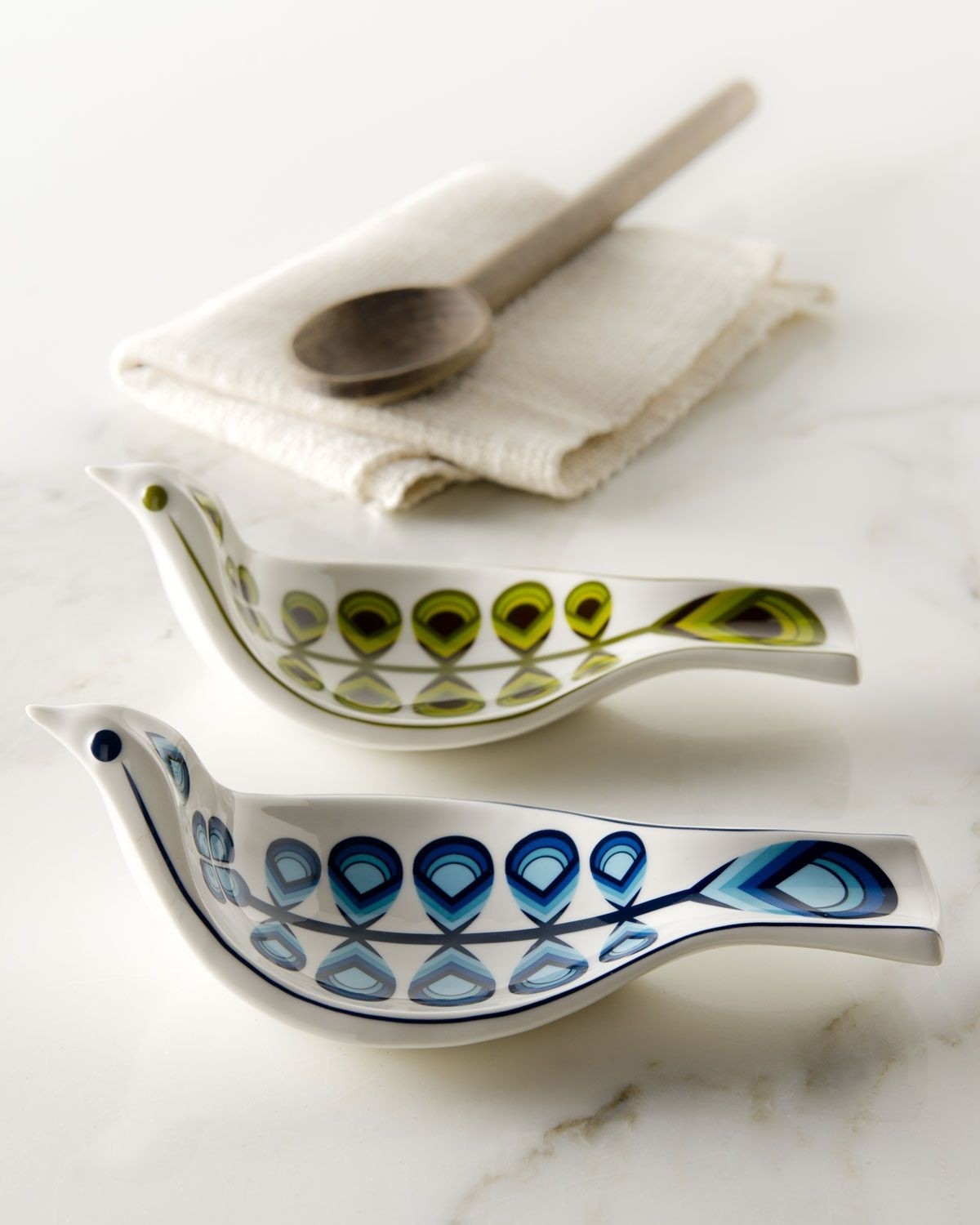 Jonathan Adler "Bird" Spoon Holder - Neiman Marcus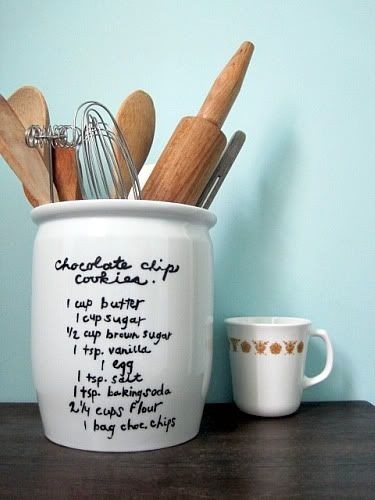 In your kitchen you need to own special holder that help you to keep all your cooking tools clean in one place. This fancy ceramic utensil holder is not only looking nicely but provides space for all your needs.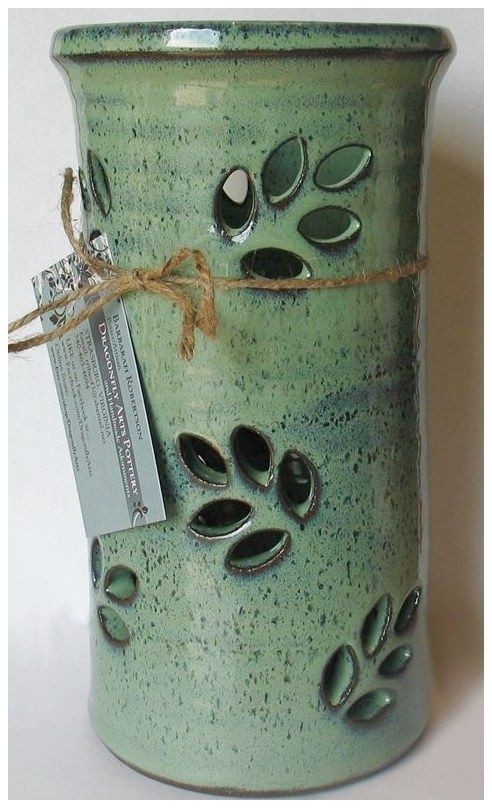 Handmade by a local artist, this ceramic utensil holder will be a beautiful accent in one's kitchen or dining room. Working in clay from the 1993, the artist mastered her craft to perfection.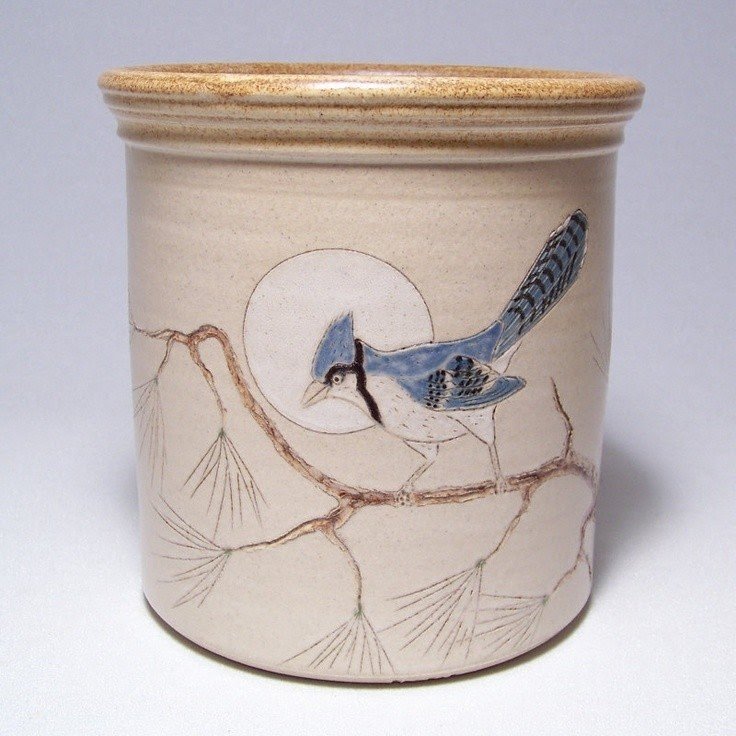 Blue Jay Pottery Utensil Holder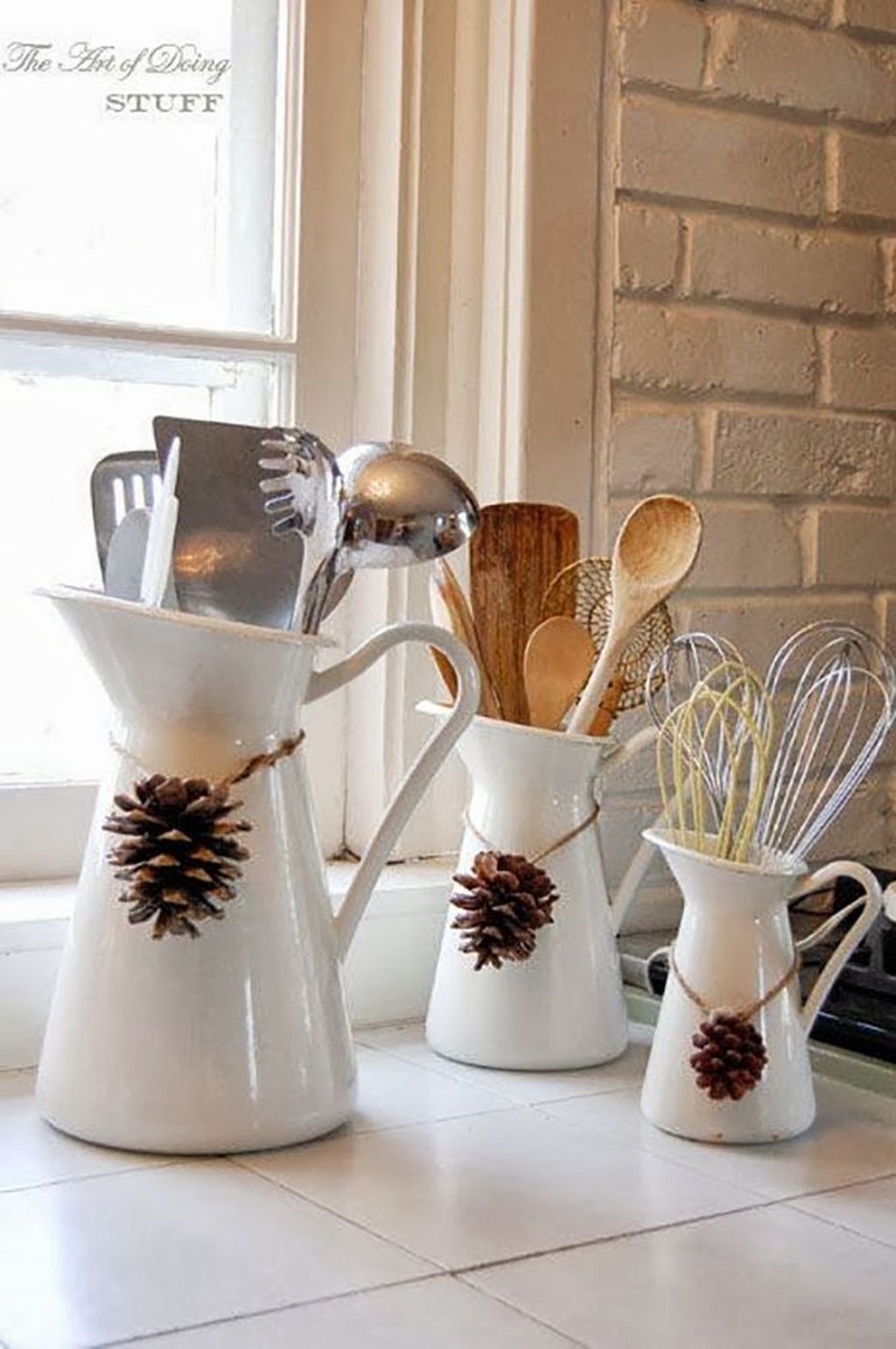 I hate commercial holiday decor, but love rustic homey cozy decor. perfect.