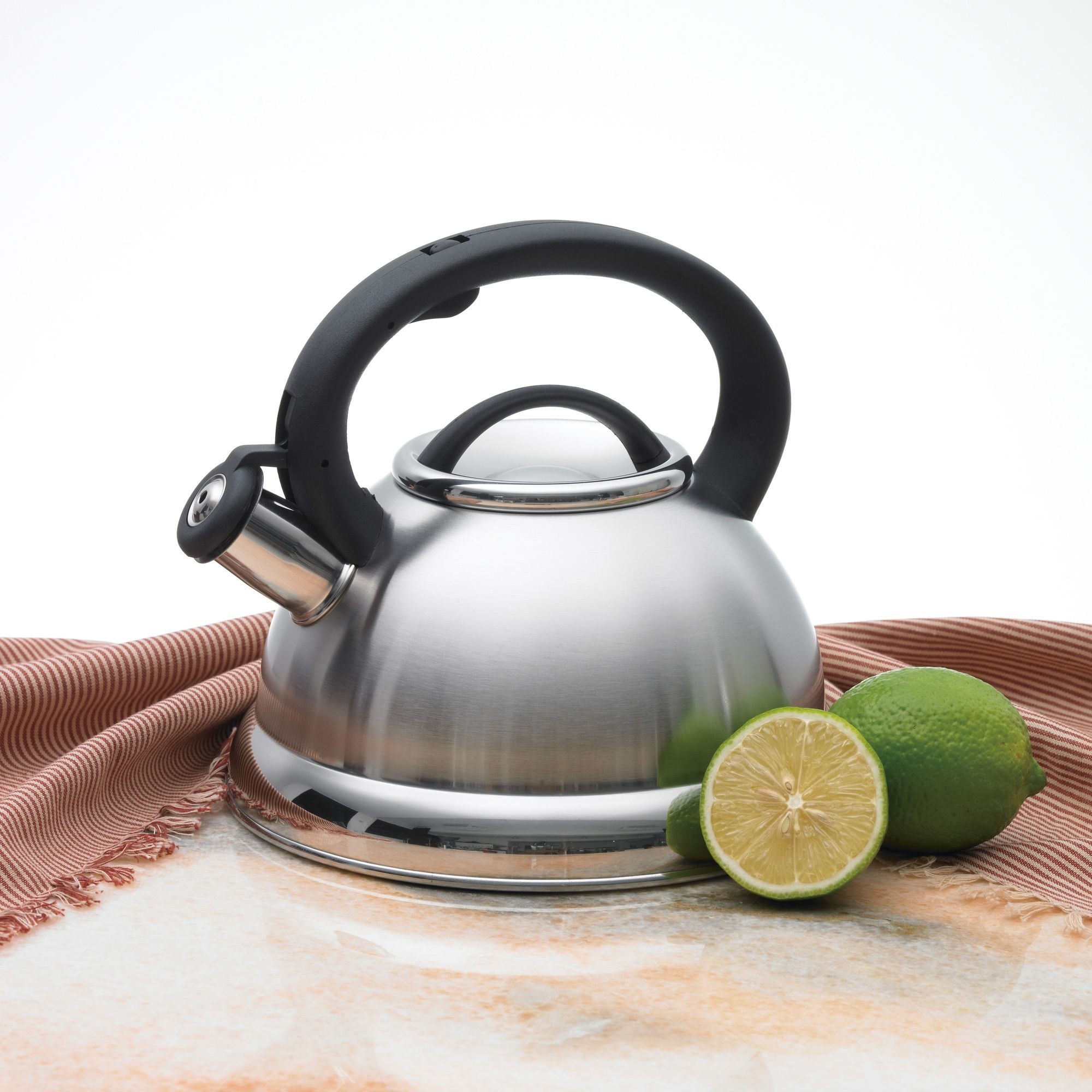 Alexa 3-qt. Whistling Tea Kettle
Cool stylish whistling kettle working on all stovetops. It's made of stainless steel but has an aluminium capsulated bottom. It's round, has a short round spout, a lid with a C-like plastic grip, and a large C-shaped plastic handle.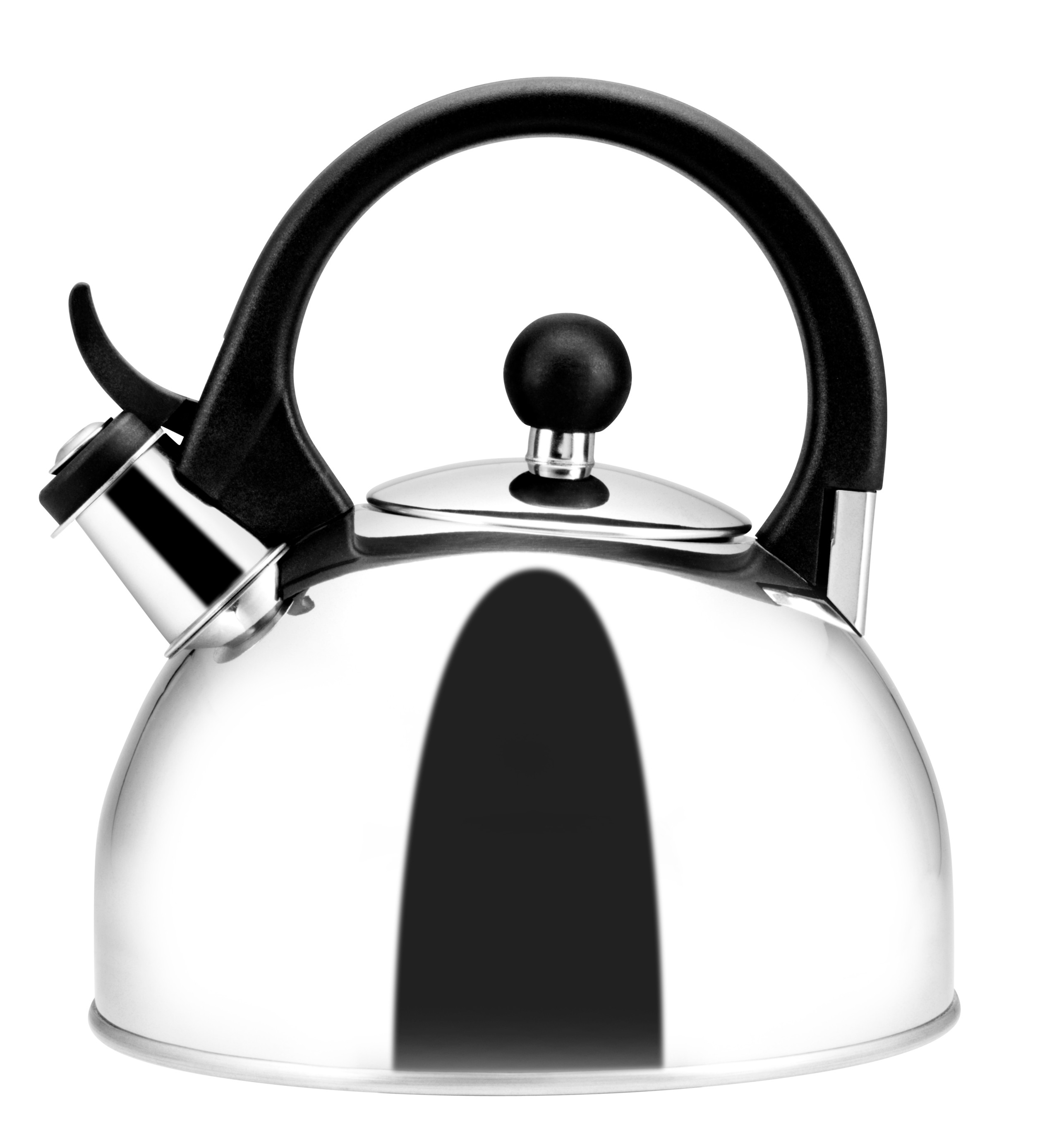 Classic 1.3 Qt. Brooklyn Whistling Tea Kettle
Tea kettle made of stainless steel. It has a plastic handle and whistle to alert when boiling water. High capacity and classic form is an essential addition to any kitchen.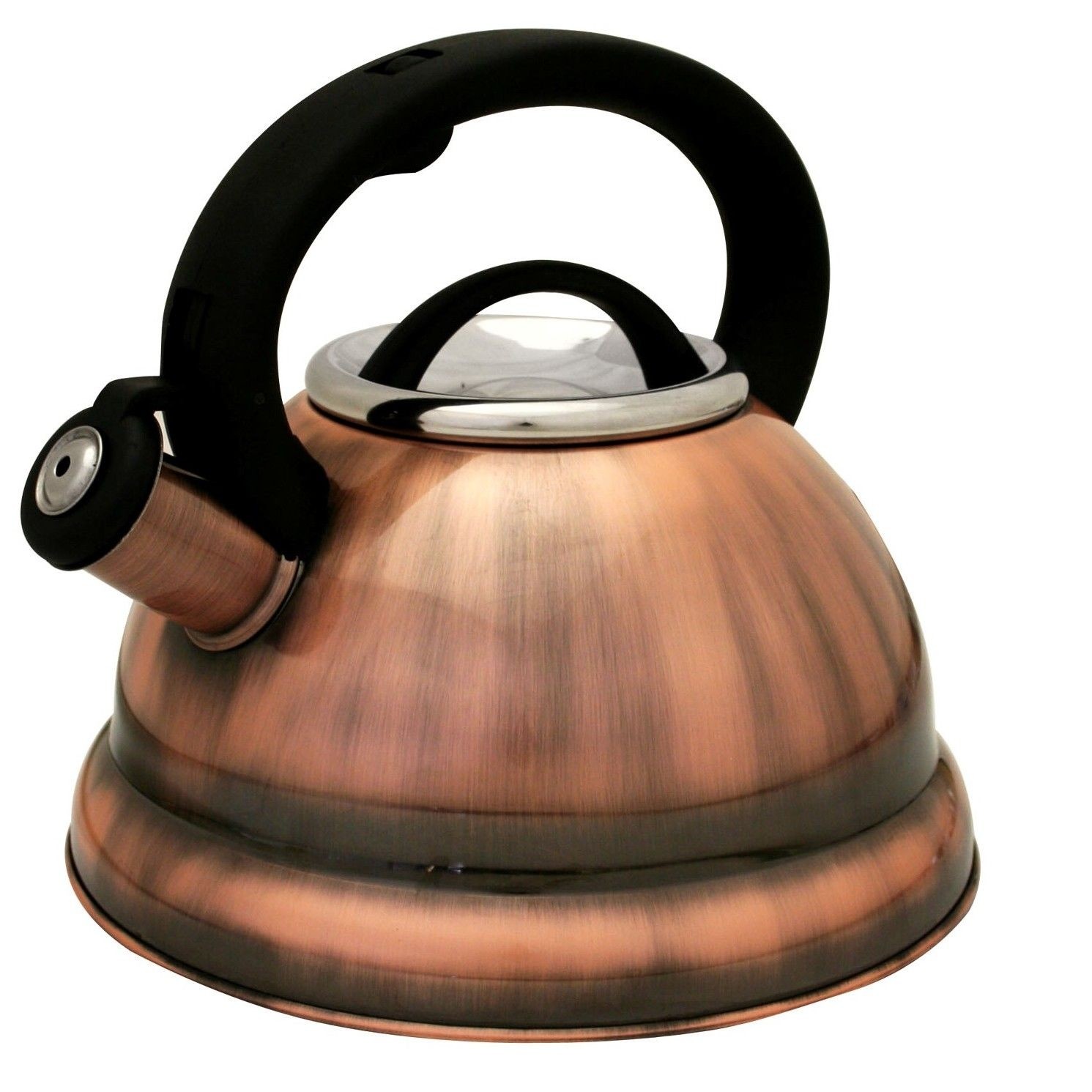 3 Qt. Whistling Tea Kettle
If you want to a kettle which is not only useful but also good looking this one is a perfect choice. Made of solid stainless steal in distressed, gold finish this kettle will last long. Loud whistle provide safety.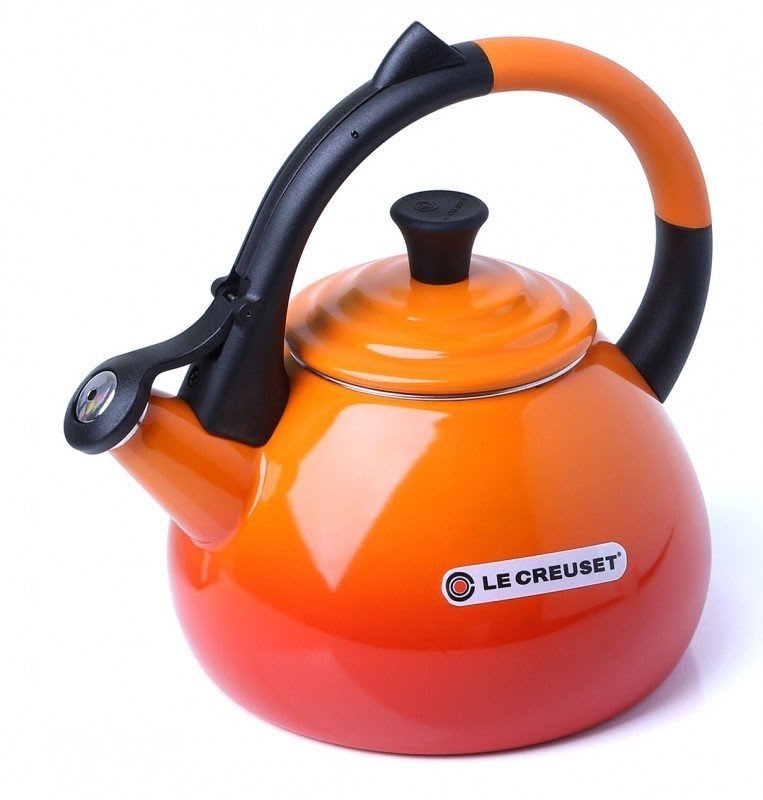 Enamel On Steel 1.6 Qt. Oolong Tea Kettle
Stylish fixed whistle tea kettle with easy grip stainless steel handle and bulky body topped off with vivid orange finish. Other finishes, to be chosen according to one's current kitchen decor, are available.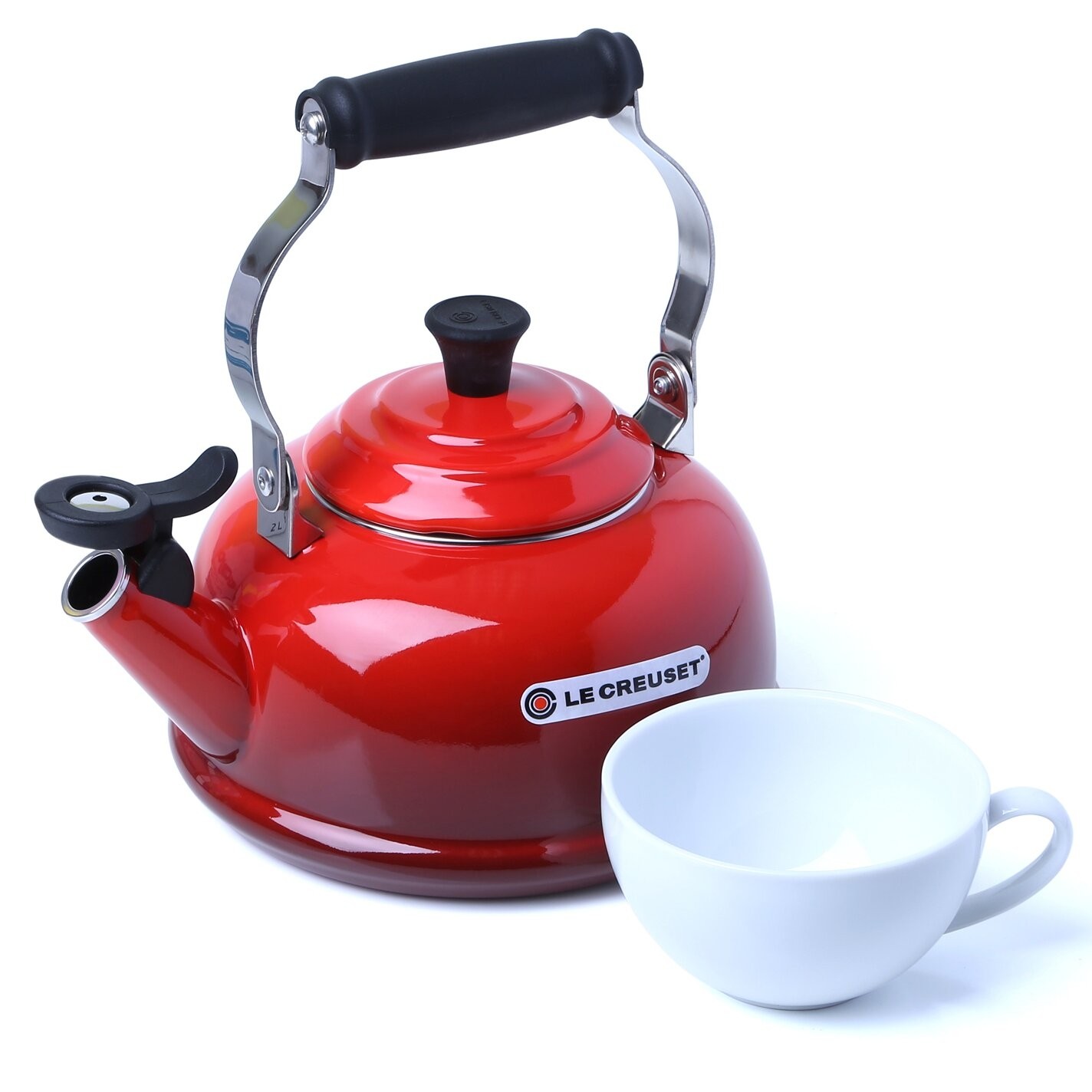 Enamel On Steel 1.8-qt. Classic Whistling Tea Kettle
Pretty classic whistling kettle suitable for all stovetops. It's crafted of stainless steel with a vivid red enamel finish. It's round, has a short round spout with a flip-up cap, a lid with a round knob, a locking handle with a plastic grip.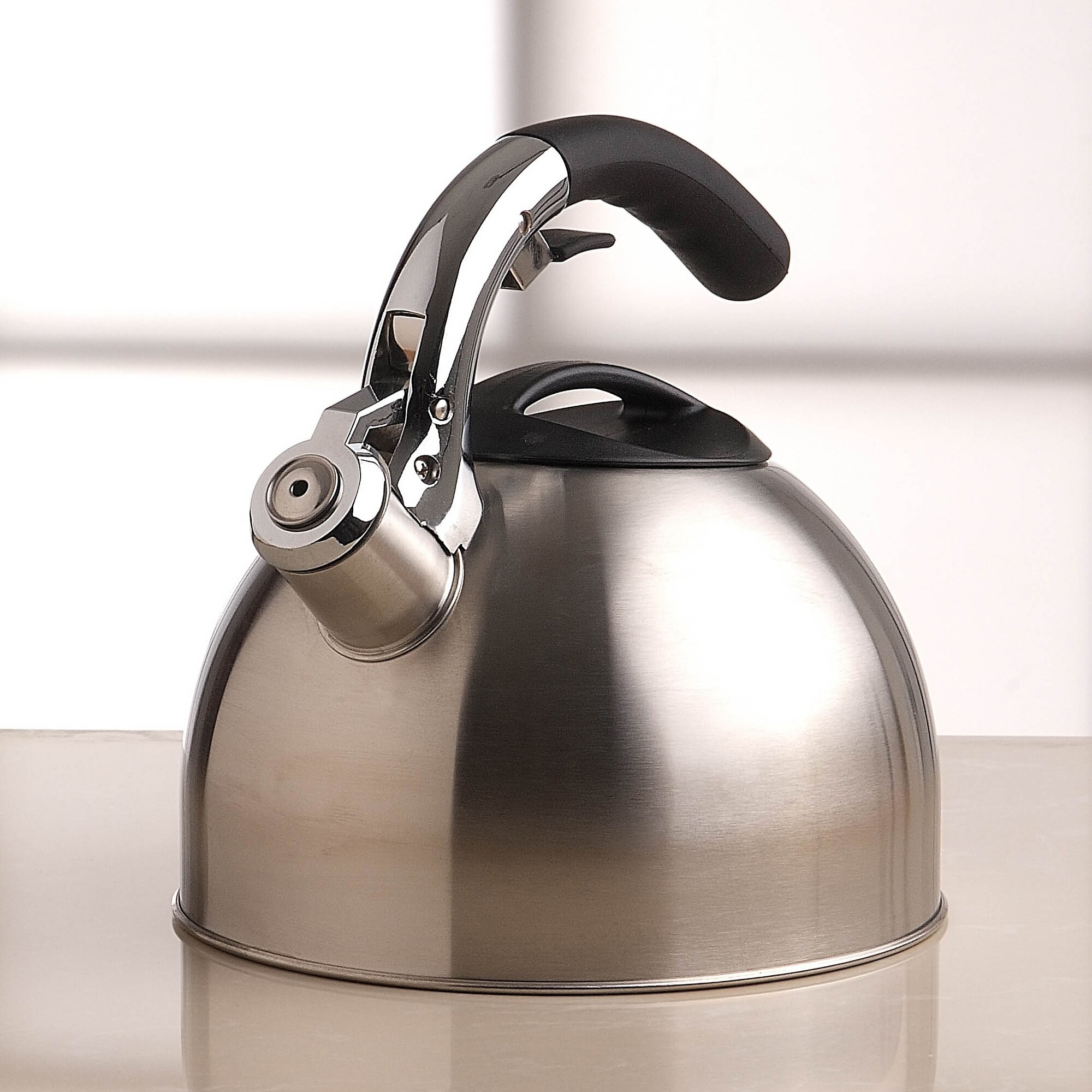 3-qt. Whistling Tea Kettle
Pretty modern 3-quart whistling kettle of quality silvery-finished steel. It has a C-like open end handle with black silicone insulation, a removable round black lid with a grip, is equipped with a trigger-lifted flip-up spout cap and hand washable.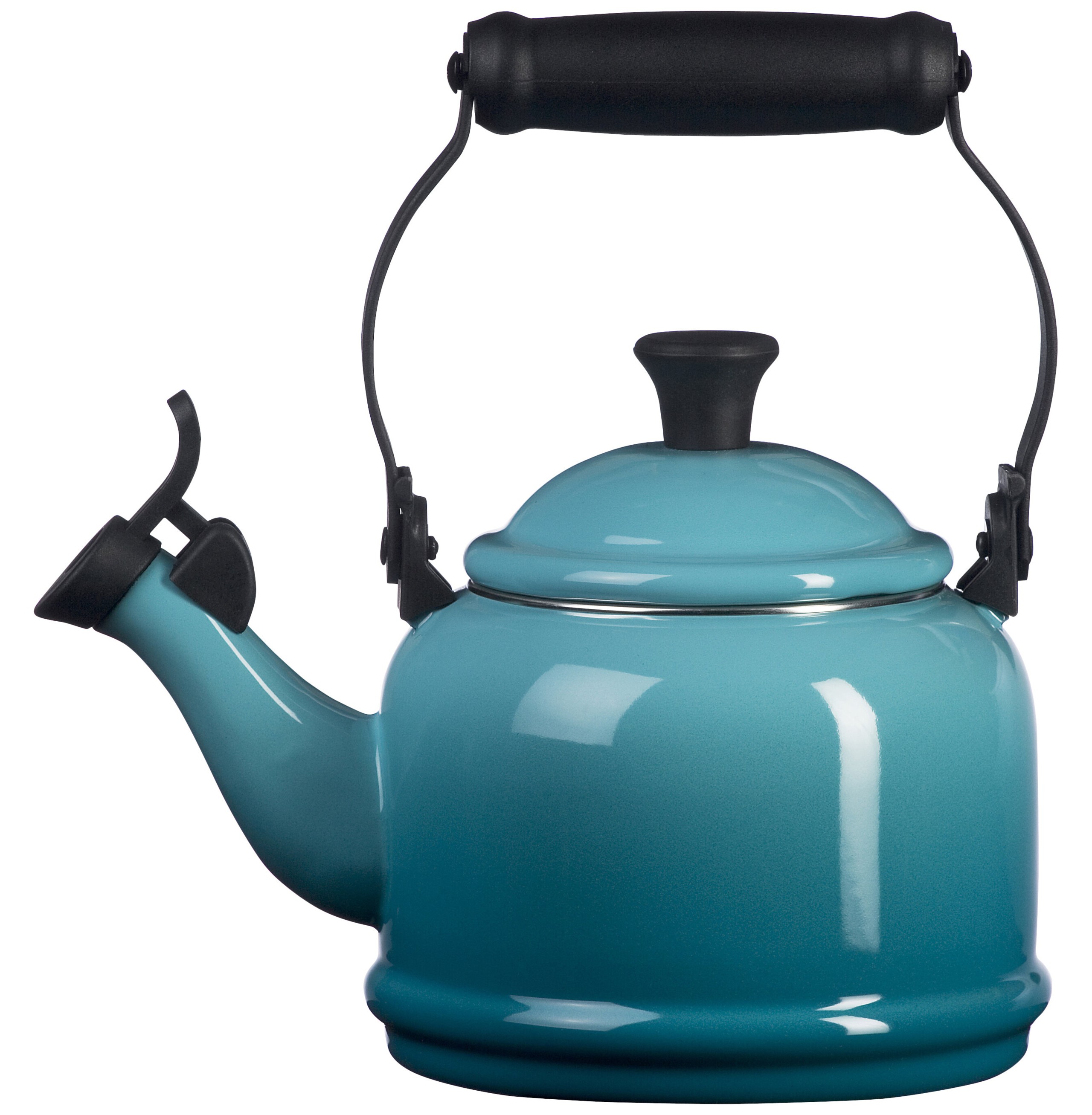 Enamel On Steel 1.25 Qt. Demi Tea Kettle
Cool traditional whistling kettle made of steel with a green enamel finish. It's round, has enemeled interior, a large locking handle and a dashy lid. A handle, a lid knob, a spout lever are of black plastic. It works on all stovetops.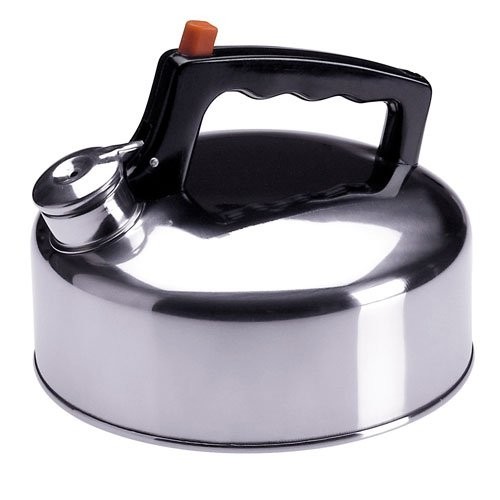 2.2-qt. Tea Kettle
Elegant novelty 2.2-quart lidless kettle of stainless steel with a silvery finish. It has a profiled rectangle-like heatproof handle of black plastic and is equipped with a push button-lifted whistle. It has to be hand-washed.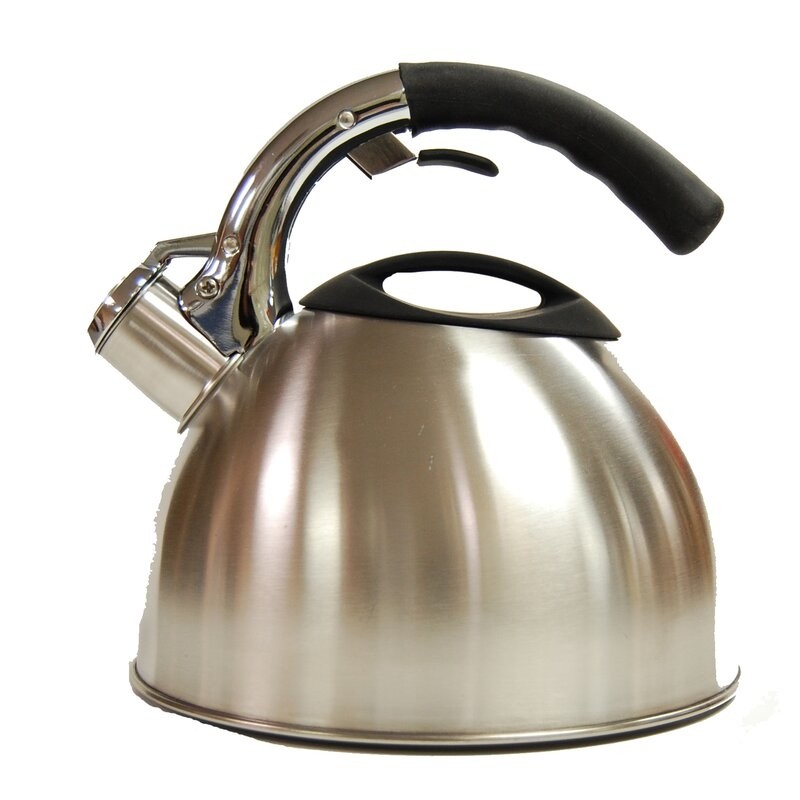 Ellipse 2.8-qt. Whistling Tea Kettle
Pretty tall semi-oval contemporary 2.8-quart kettle crafted of stainless steel and aluminium. It has an ergonomic open end handle with a black plastic cover, a black plastic lid and a loud whistle. It has to be hand-washed.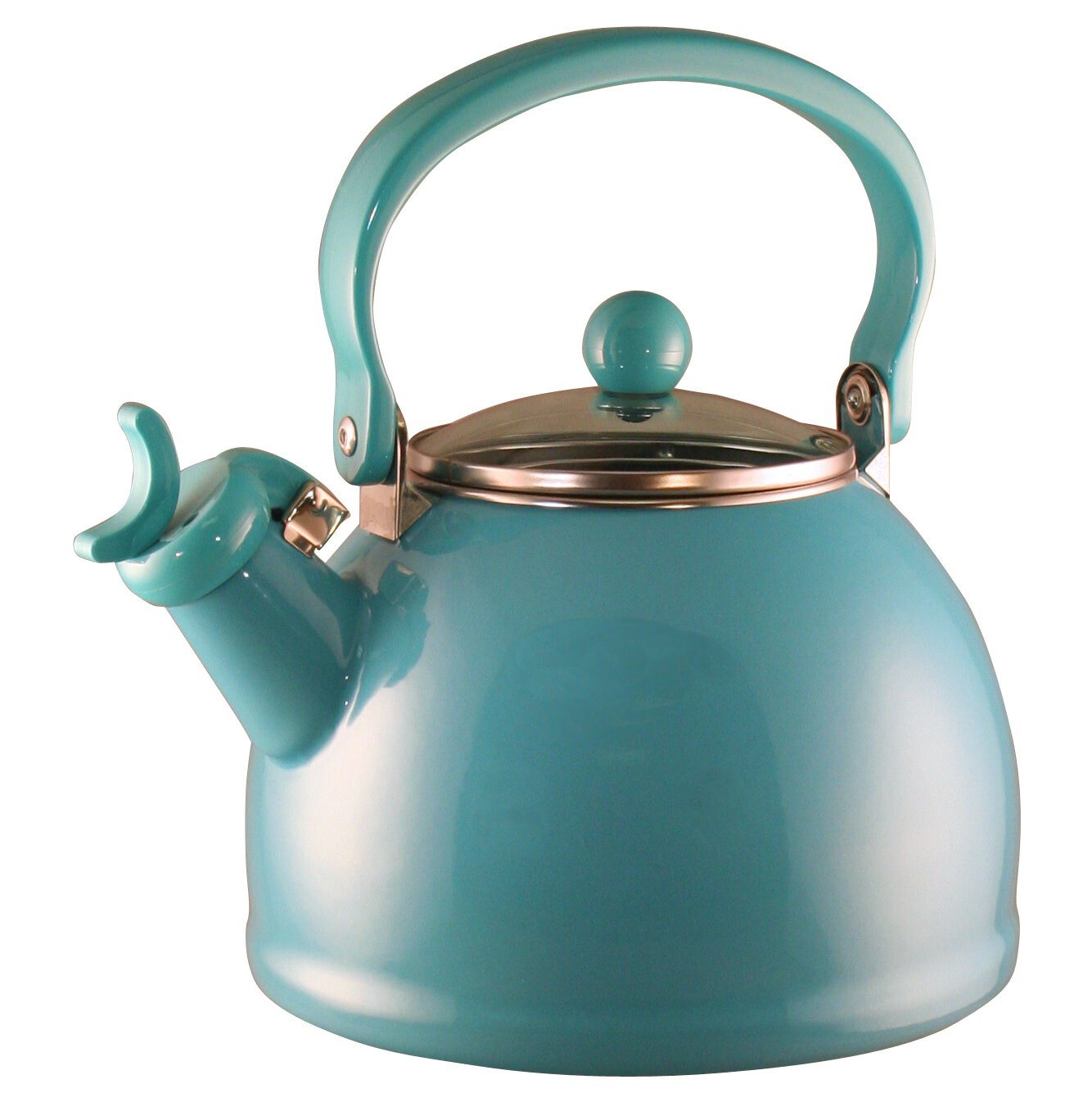 Calypso Basic 2 Qt. Whistling Tea Kettle
This retro styled, colorful and funny tea kettle will bring some colors to your kitchen being a useful gadget at the same time. It has a loud whistle, a folding handle, made of plastic and a golden metal cover.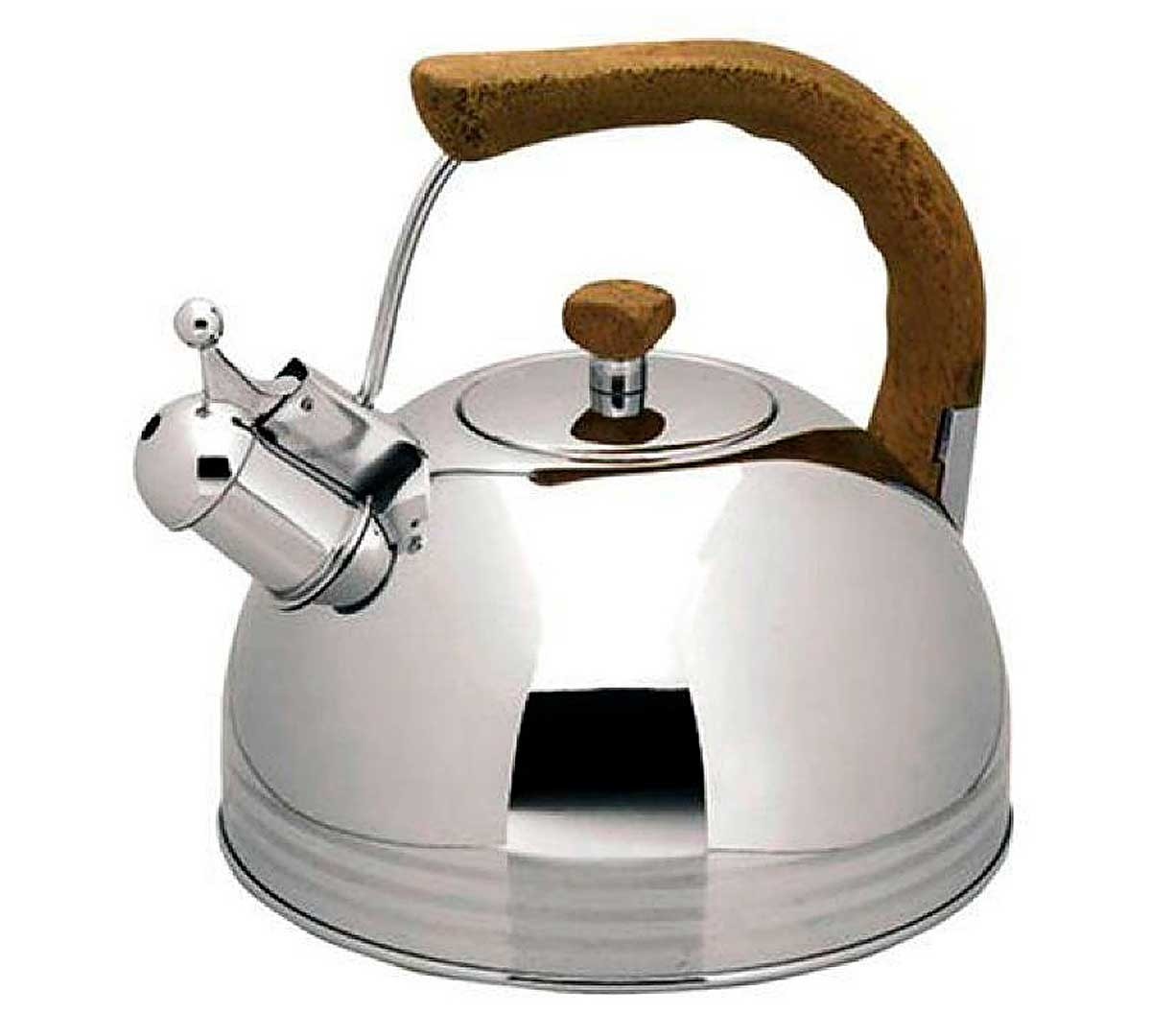 With this whistling kettle you will be able to hear water boiling from the other end of your house. It has stainless steel construction, with a tight lid, a wooden handle, and 2 liters of capacity.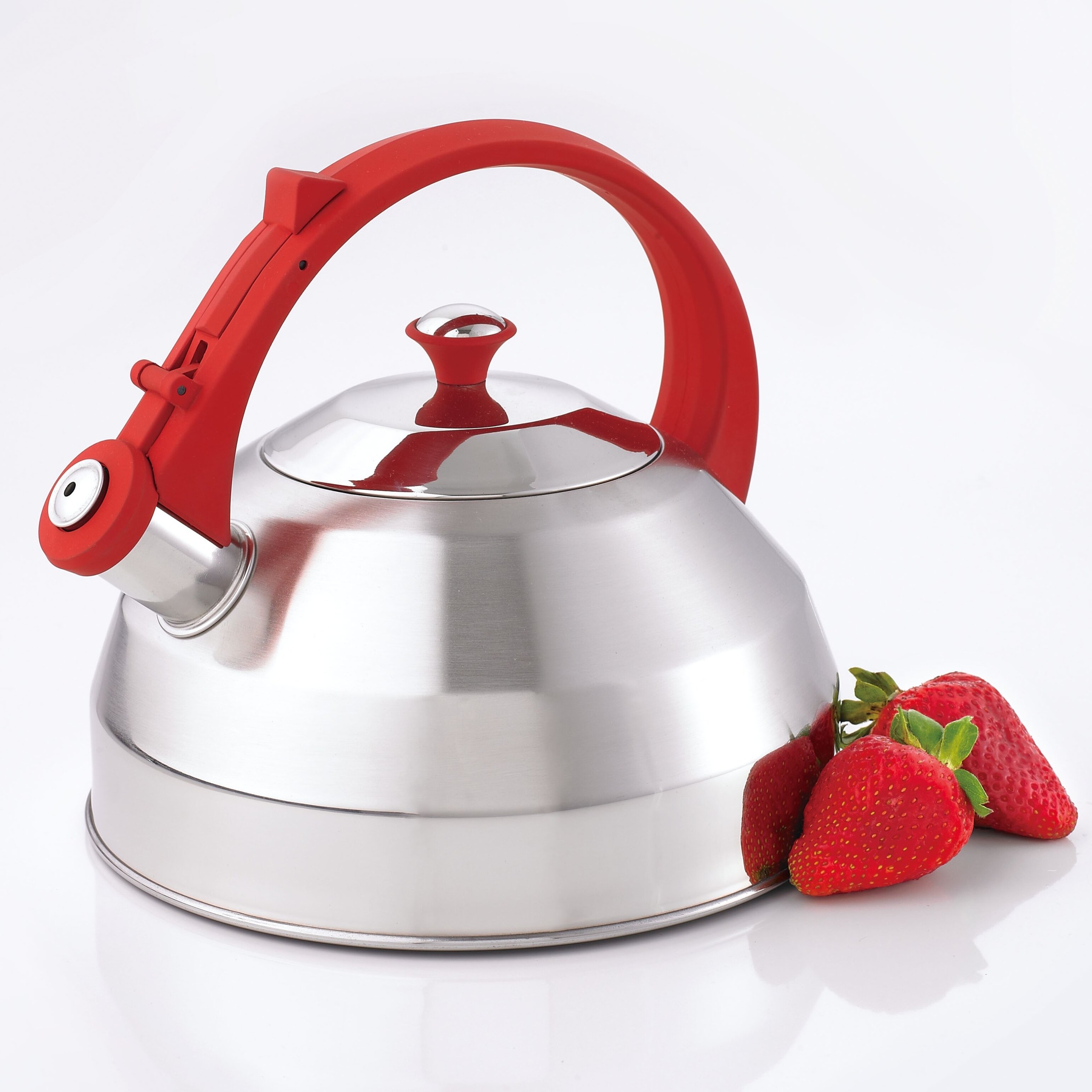 Cute whistling tea kettle straight from USA! Stainless steel with bright red safety handle that always remains cool. It accommodates 11 cups of liquid. The lid is removable - just pull the red knob up.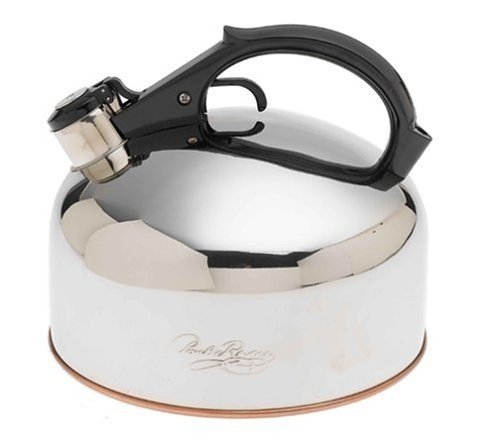 Whistling tea kettle made of stainless steel. It is modern and stylish at the same time. It has a black plastic handle and a name of its creator engraved on one side. It enables you to boil water in a more traditional, non-electrical way.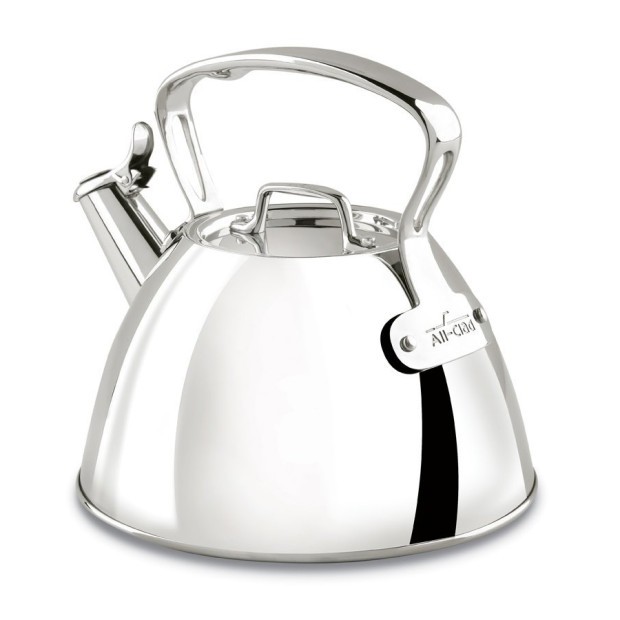 Aesthetic & Efficient Specialty Cookware Tea Kettle in Silver Finish made of quality stainless steel. Features wide, flat bottom, and a tight-fitting lid with secure riveted handle. When water starts boiling, the kettle whistles to let you know its work is done.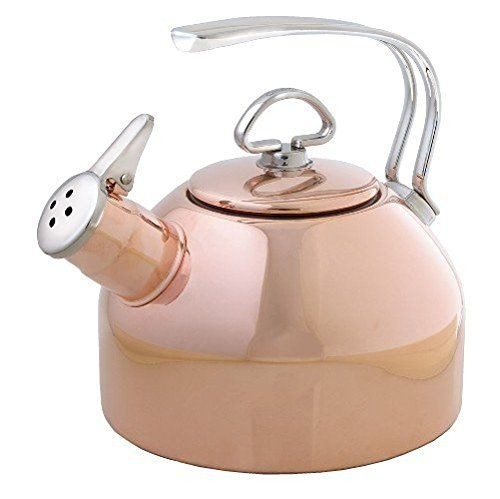 designed in america made in germany 1 year limited warranty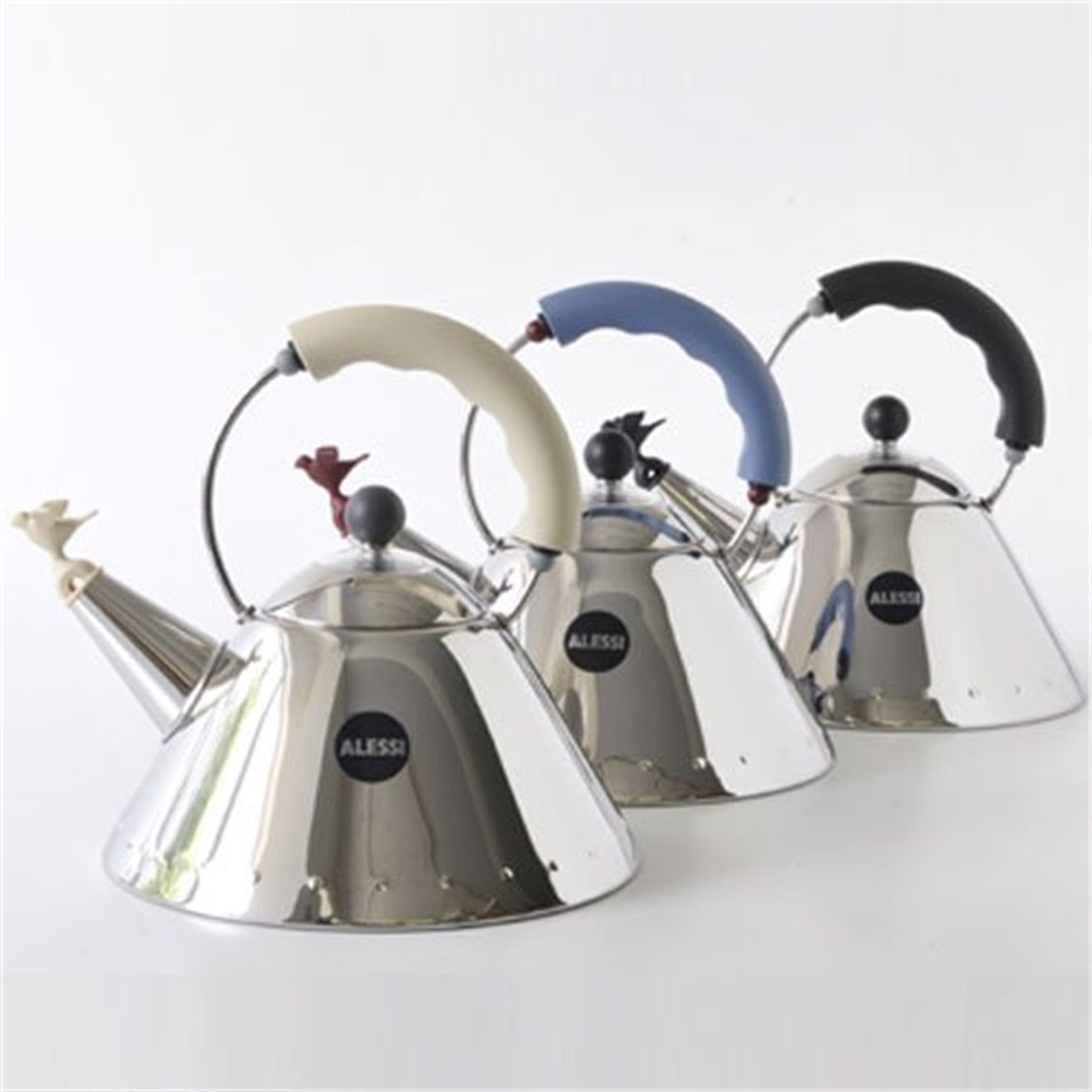 This kettle has got a bird whistle and is available in four colors: blue, white, ivory and stainless steel with black accents. It is adorable and perfect for your everyday tea and coffee.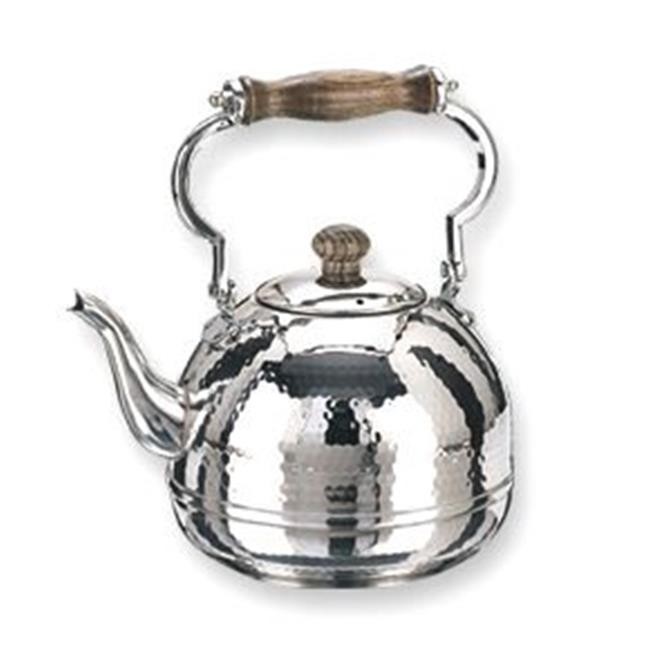 Stainless Steel Windsor Whistling Teakettle with Wood Handle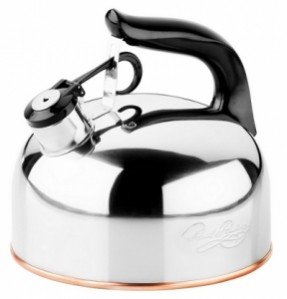 If you like traditional kettles, this whistling one shall appeal to you. Its polished finish combines high-quality ceramic and aluminium. Its white surface features a hand-tooled logo.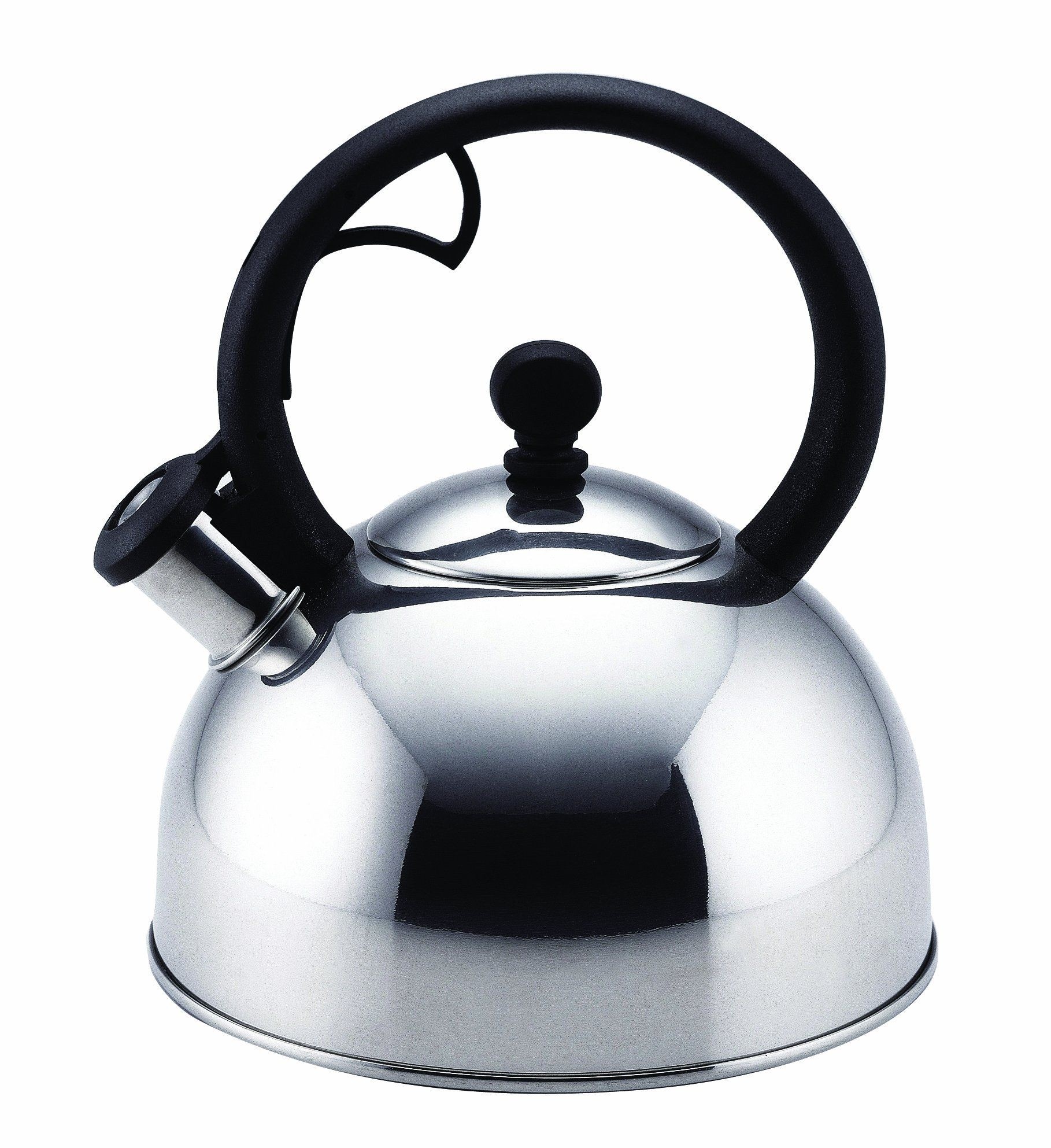 Best Tea Kettles - Made in USA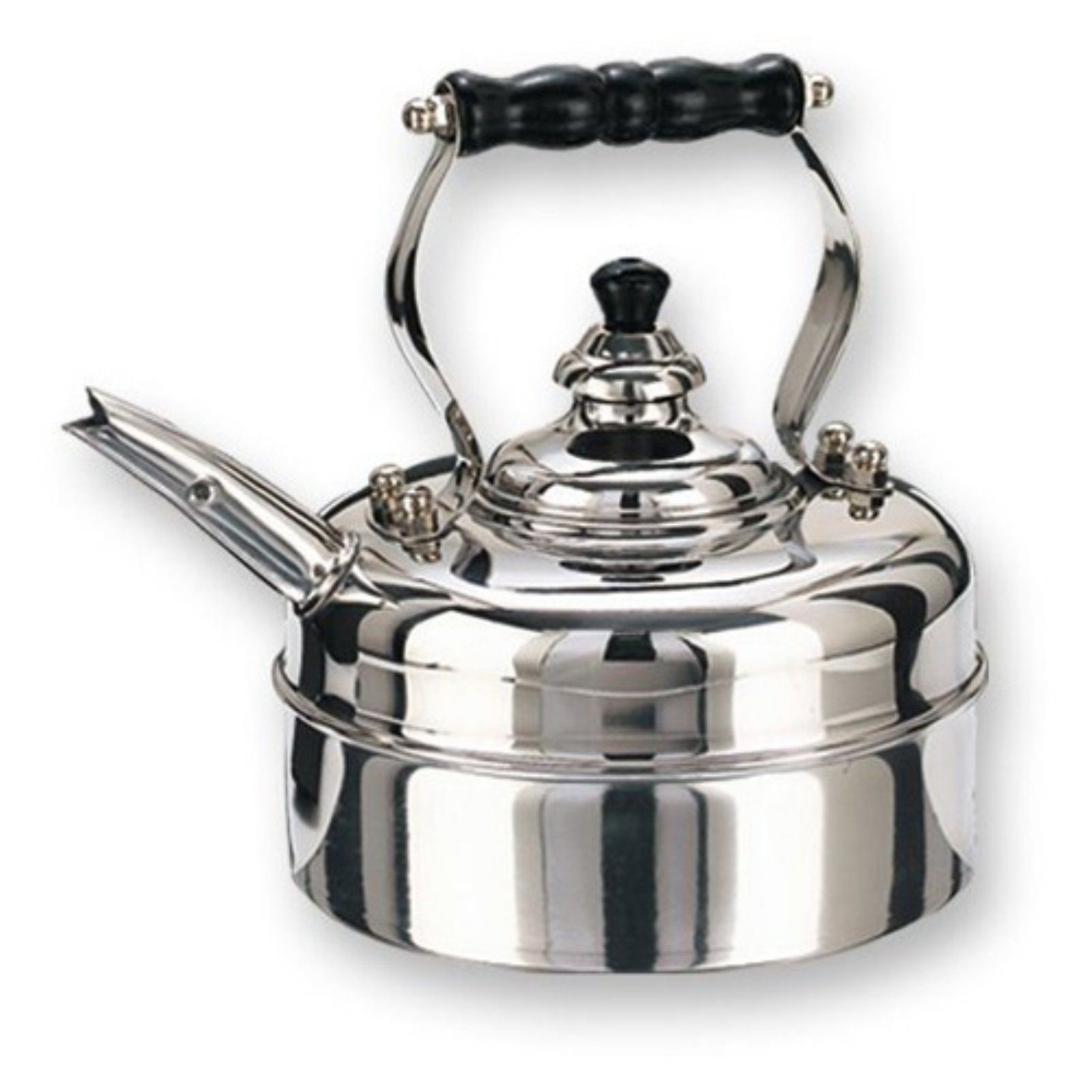 Whistling Tea Kettle has both. This handsome tea kettle is made ...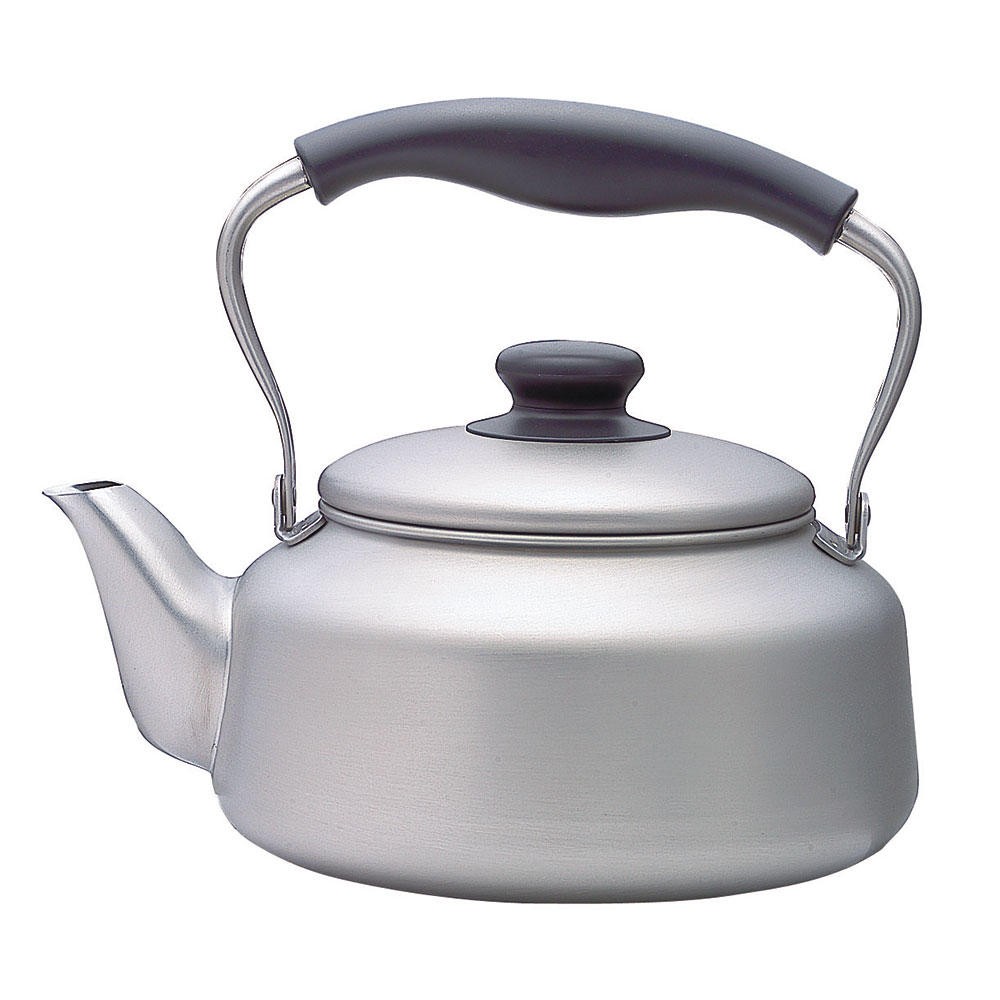 The finished to have a stylish kettle is a work of art made in Japan. Made of solid steel is a very practical yet beautiful element to your kitchen. Comfortable handle and lid allows for comfortable use.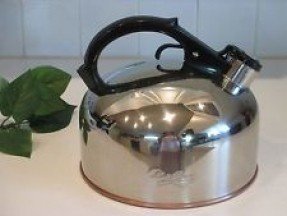 ... ½ Qt Whistling Tea Kettle Stainless Copper Clad Bottom Made in USA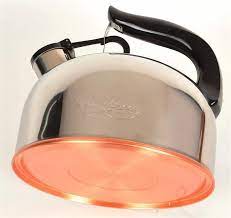 A stylish journey to the past. This silver whistling tea kettle will be a great gift for all, who love vintage accents. Finished with a solid copper bottom, it shall serve for many years.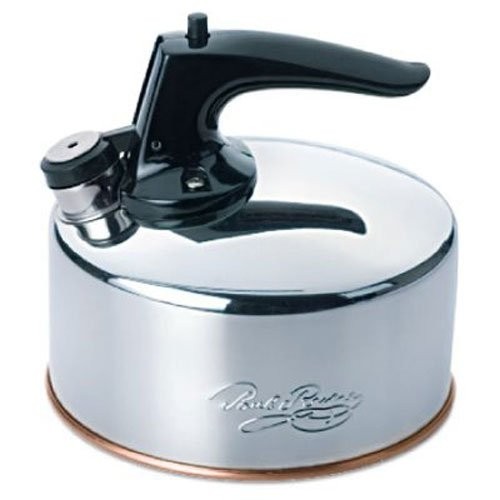 World Kitchen Revere, 6 Cup, Whistling Tea Kettle 3511217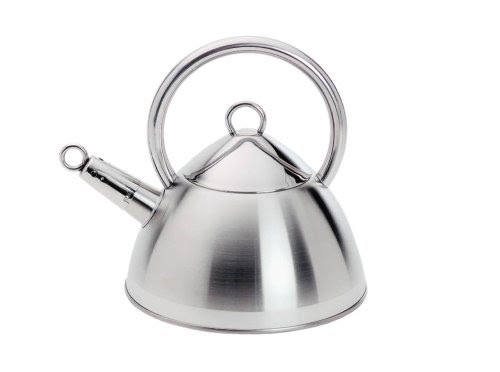 Cuisinox Whistling Kettle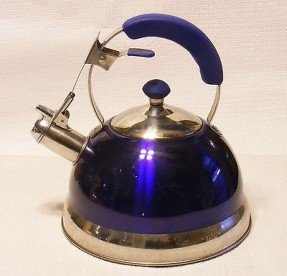 Why not choose a piece of utterly huge practical appeal with this tea kettle that sports the high durability stainless steel structure and the finest cobalt blue finish with a glossy touch to it, adding a slight retro vibe to the overall appeal.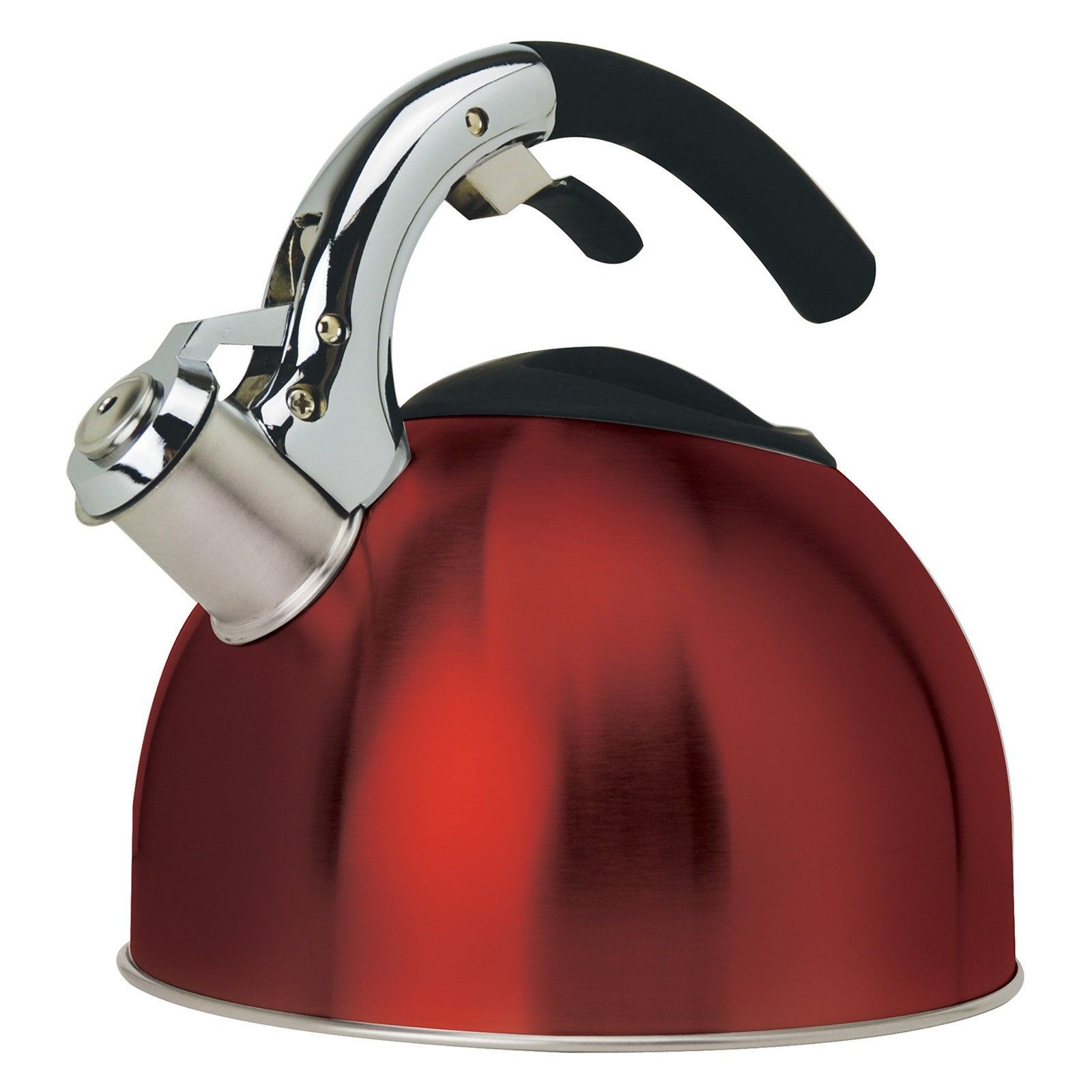 American Store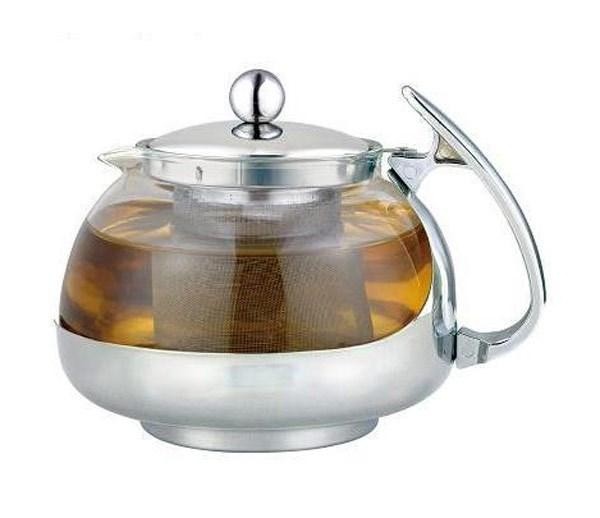 This unique teapot is made of stainless steel and tempered glass. It is an extremely stylish and very practical by what your favorite tea can be always at your fingertips.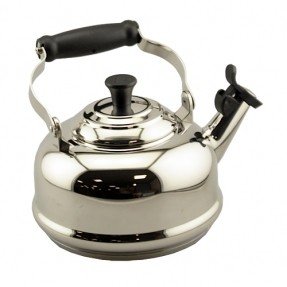 ... Steel Whistling Tea Kettle (SS3102)-- Brand New in Retail Packaging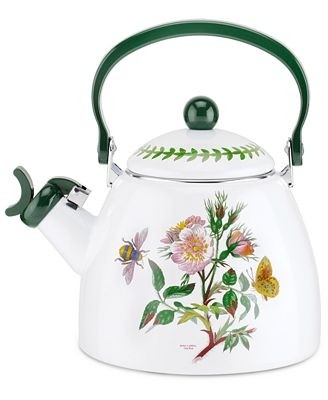 If you dream about cute, rural kitchen inspired of vintage style, this classic kettle is dedicated special for you and your kitchen. It is made of copper and covered with enamel. Kettle is decorated of hand-painted wildflowers.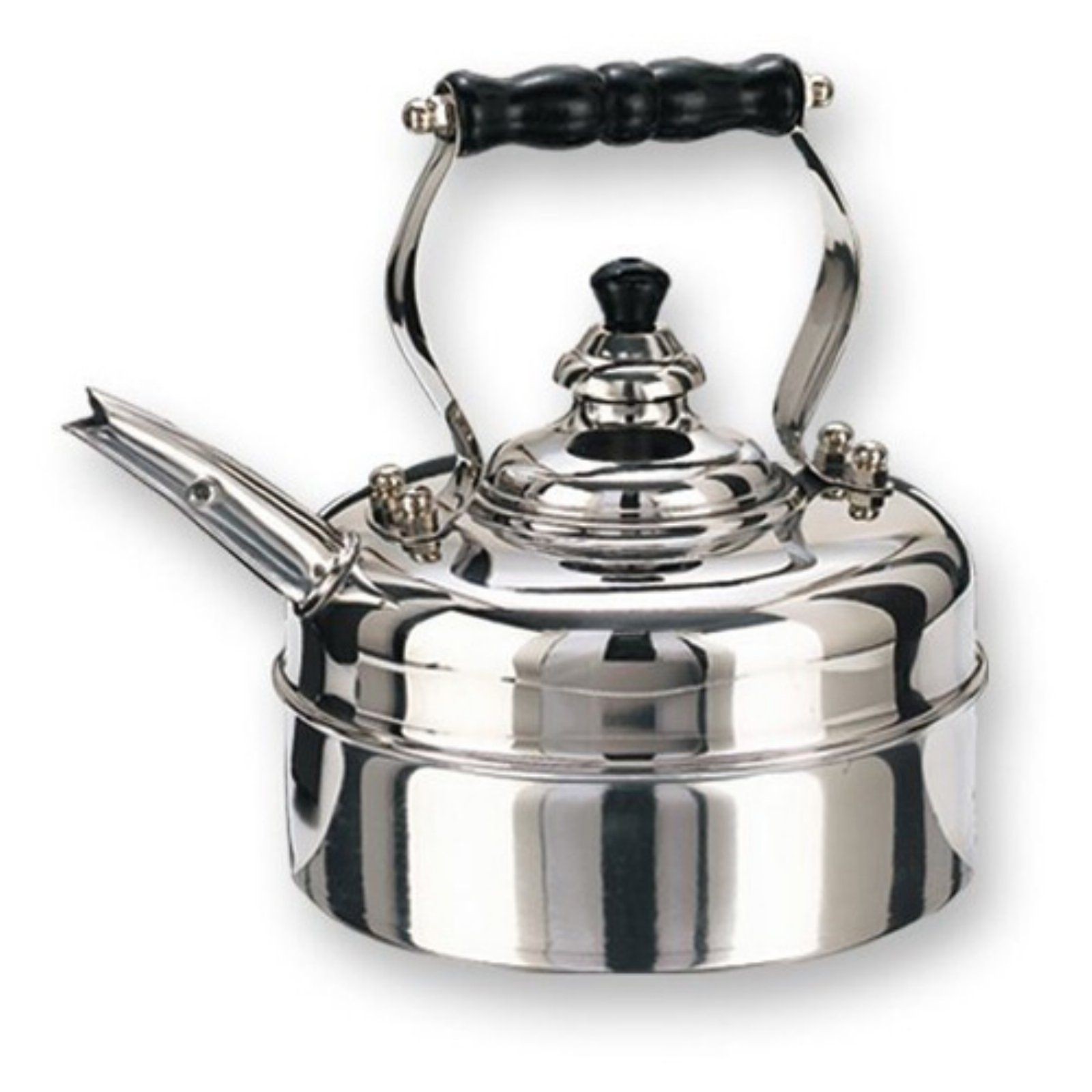 Old Dutch 3 qt. Stainless Steel Windsor Whistling Tea Kettle
Vintage Simplex Chrome Whistling Tea Kettle, Made in England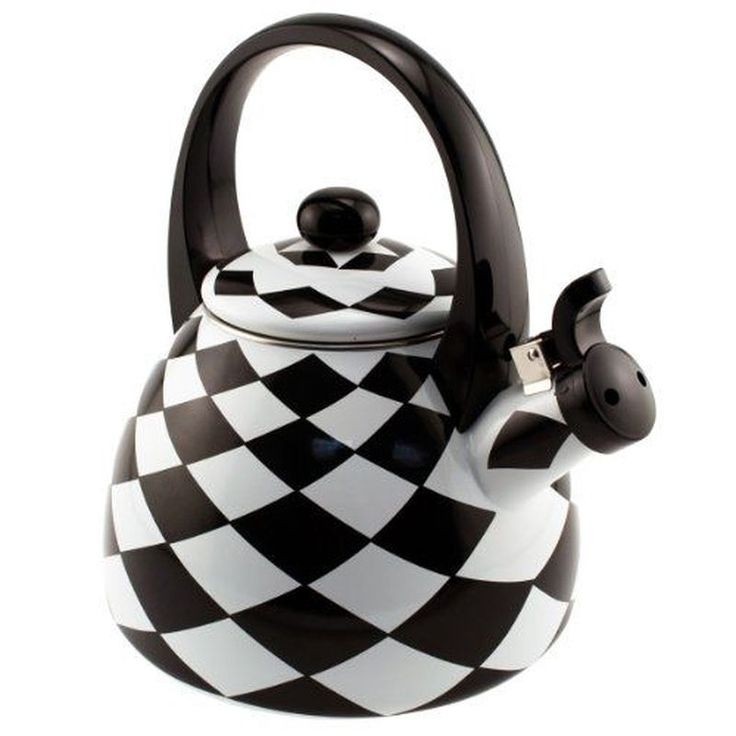 Tea Kettle Made in USA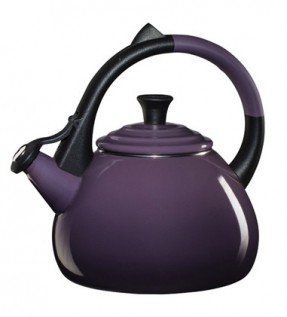 Oolong-Whistling-Tea-Kettle.jpg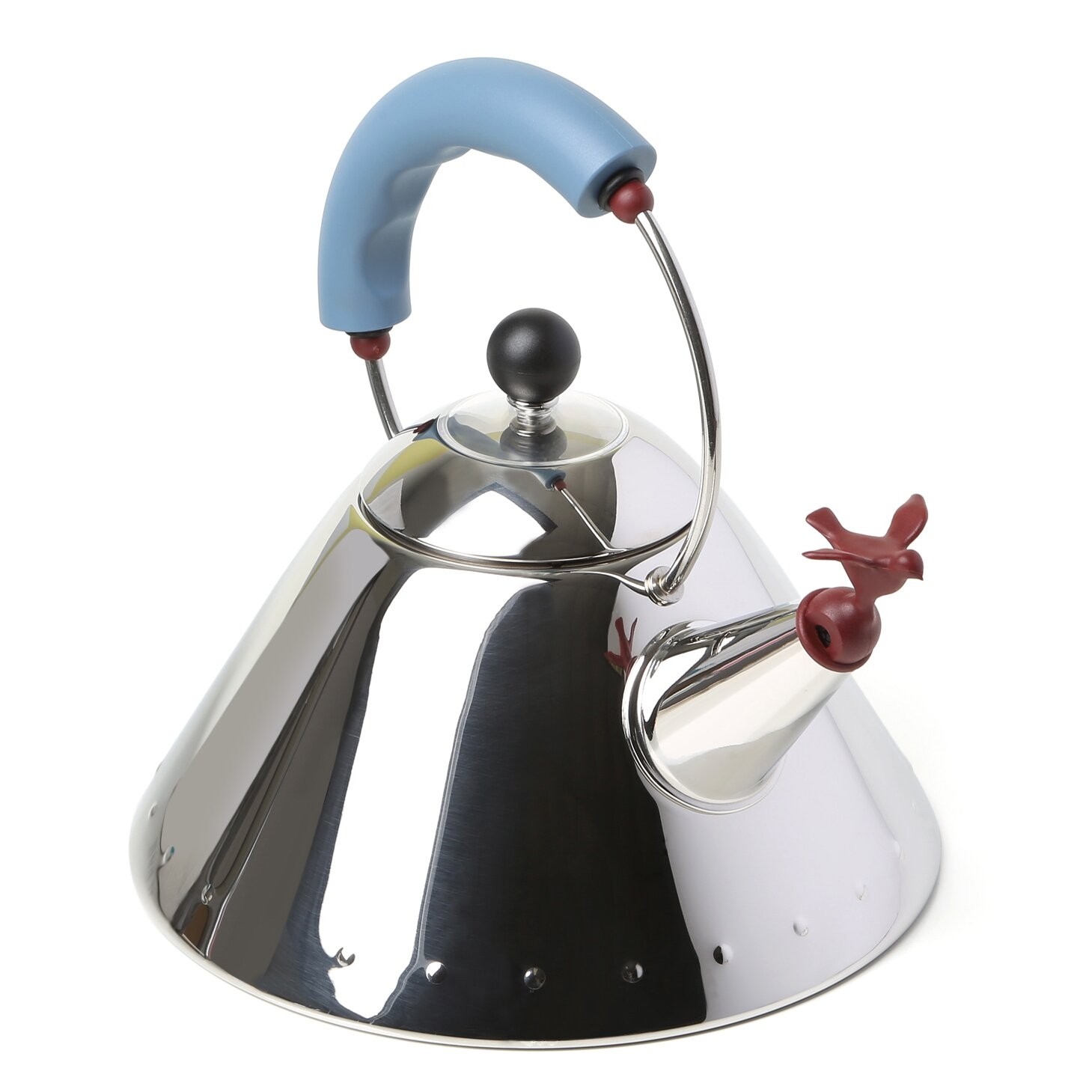 2 Qt. Signature Whistle Tea Kettle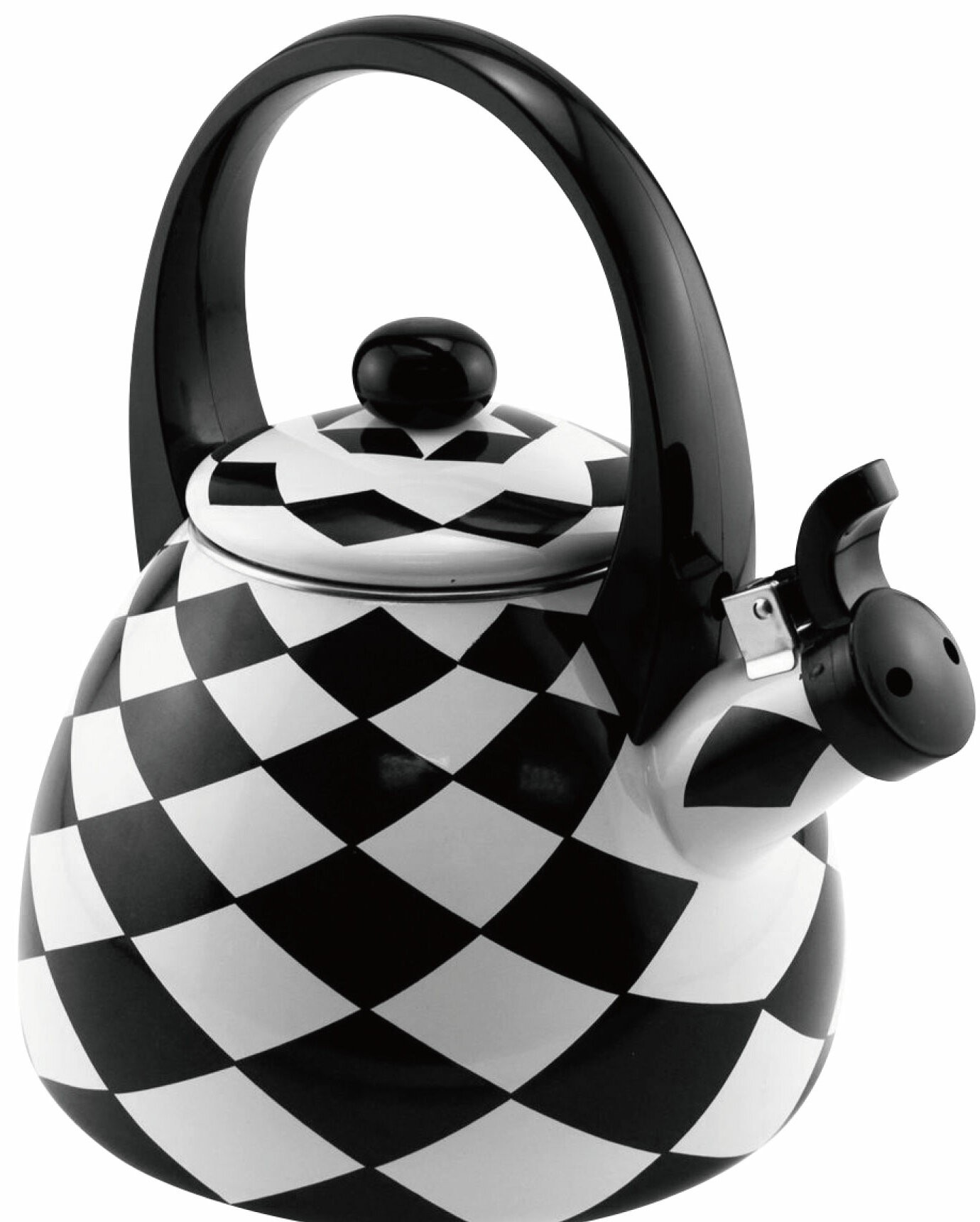 Black and White Diamond Whistling Kettle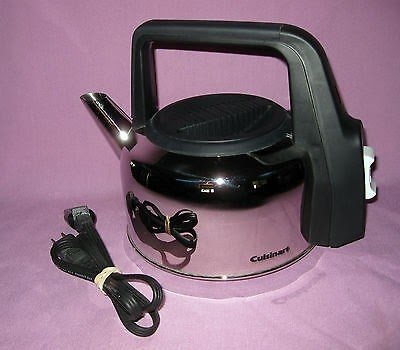 With its highly durable structure and the amazing steel finish this whistling tea kettle will prove to be a fine and functional addition to your interior, providing you with a trouble-free way of preparing your tea.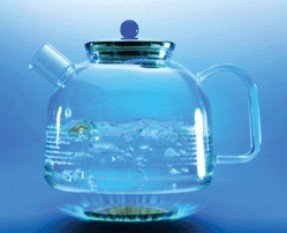 Organic Rice for home made sushi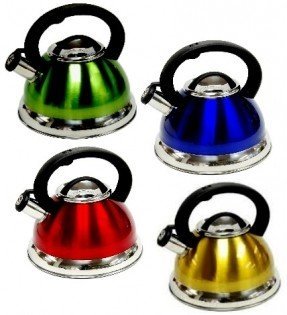 cazos copper cazos stainless steel cazos made in usa 18 10 camping ...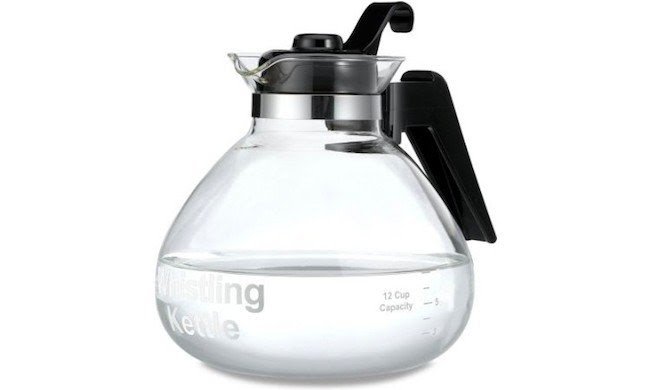 This beautifully made stovetop whistling tea kettle is an excellent performance and functionality. Beautiful form of hardened glass will make everyday tea perfect. Comfortable grip and lid make it easy to use.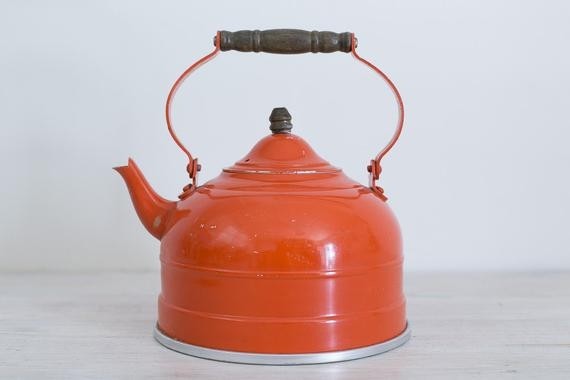 Popular items for whistling kettle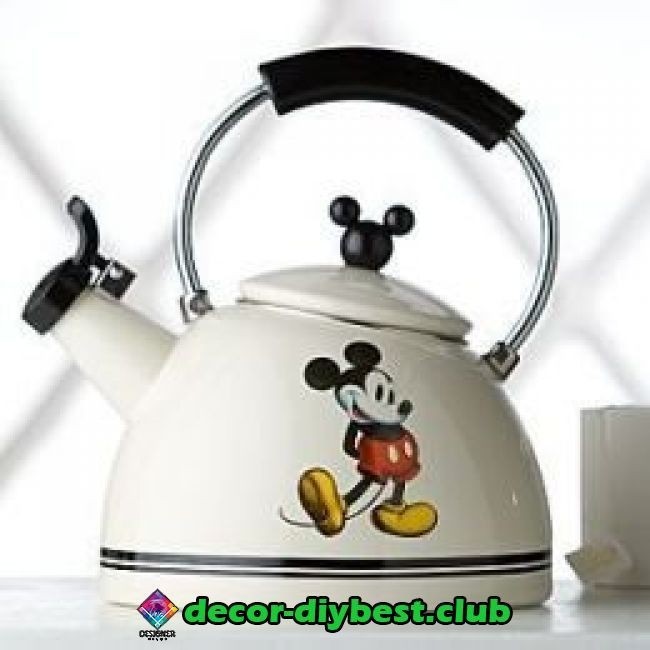 tea kettles | Classic Whistling Mickey Mouse Tea Kettle review | buy ...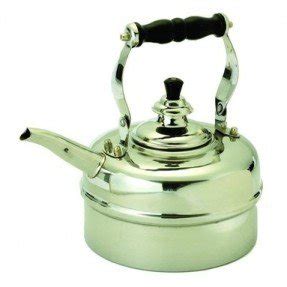 Harmony 2.7 Qt. Whistling Tea Kettle