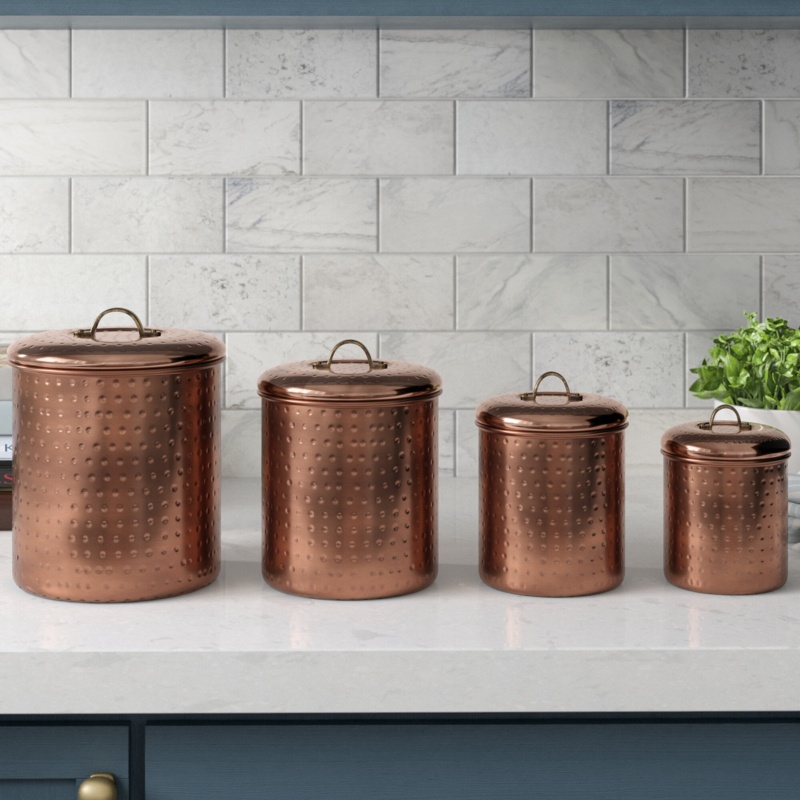 4-Piece Copper-Plated Canister Set
Sand & Stable™
Perfect For: Organizing and storing kitchen staples with a touch of vintage charm
What We Like: Airtight seal and freezer-safe
This 4-piece canister set is perfect for holding baking supplies, coffee beans, pasta, or snacks while adding a traditional and coordinated touch to your kitchen counters. Handmade from copper-plated stainless steel, these canisters feature a vintage-inspired hammered finish that brings a decorative textural element to your space. The airtight seal not only protects your flour or keeps your cookies fresh but also makes these canisters freezer-safe. Although rust-resistant, hand washing and prompt drying are recommended for maintaining their best appearance.
$45.99
Designer Advice:
Place these canisters on a wooden or marble tray and add matching copper utensils nearby for a unified and stylish look in your kitchen.
Merchant links are sponsored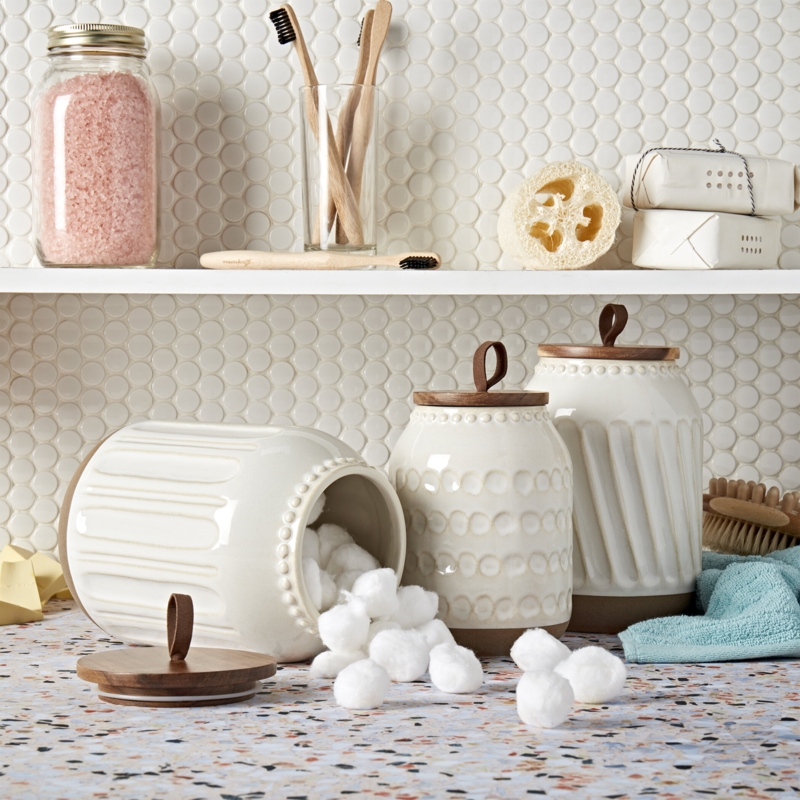 Stoneware Kitchen Canister Set
Tabletops Gallery
Perfect For: Adding elegance and functionality to any kitchen decor
What We Like: Unique color pallets and designs in a durable, non-porous finish
This Stoneware Kitchen Canister Set by Tabletops Gallery features a variety of hand-selected, beautifully designed collections to suit both modern and rustic tastes. Crafted from the finest Stoneware and finished with a natural glaze, these canisters provide a water-tight seal, making them perfect for any use. The non-porous layer ensures they are virtually impermeable to liquid, stain, and odors, keeping your kitchen fresh and stylish.
Designer Advice:
To further elevate your kitchen's elegance, match your chosen canister set with coordinating dinnerware or kitchen accessories to create a cohesive and visually appealing look throughout the space.
Merchant links are sponsored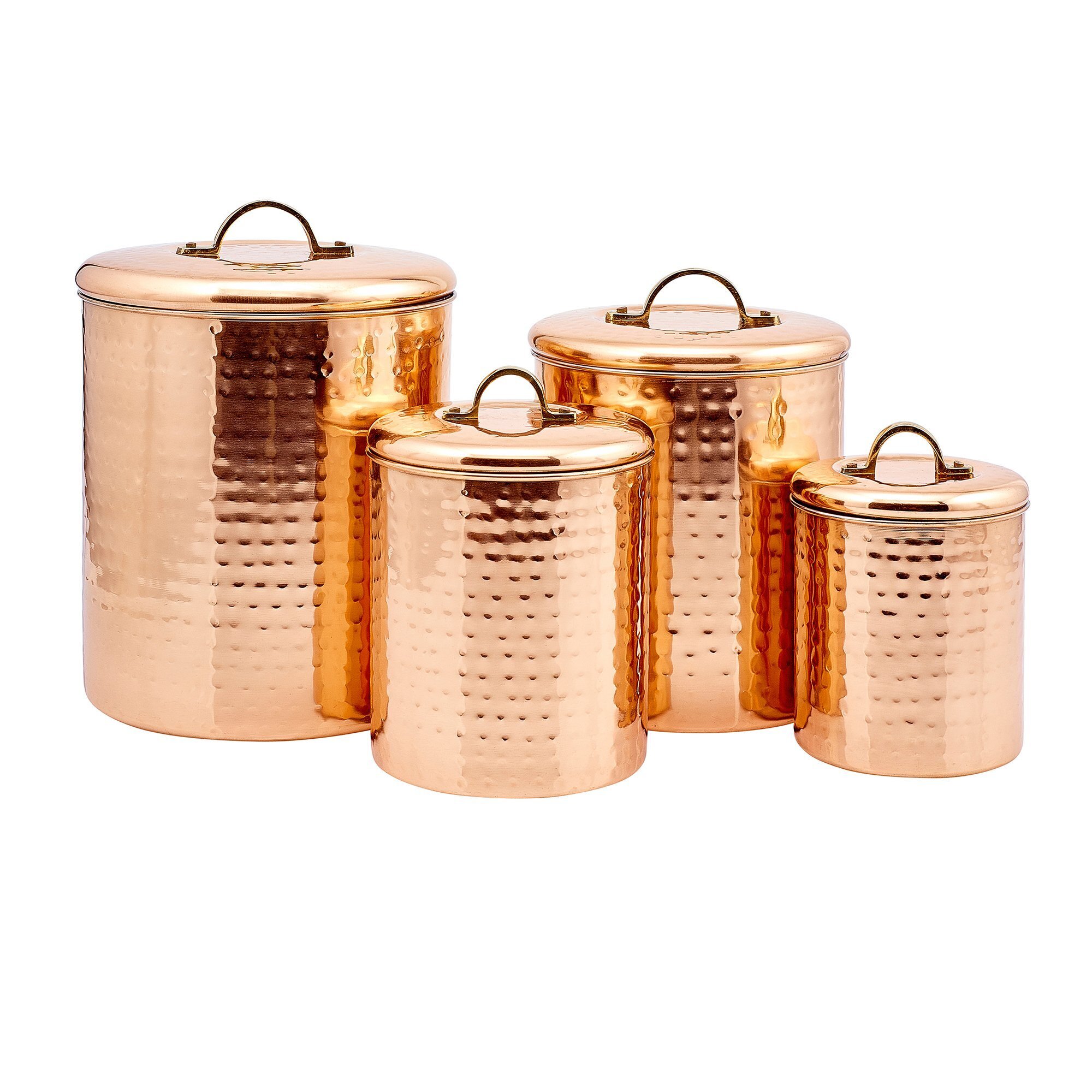 Textured Copper Canister Set x4 Piece
Mercer41
Spruce up your kitchen with this textured copper-style stainless steel kitchen canister set. This unique set has a hammered aesthetic. It would be ideal in a simple white kitchen. It boasts generous storage and its overall size is 6.7'' H x 5.5'' W x 5.5'' D.
$69.99 $62.99
Designer Advice:
This copper shade canister is ideal for a modern home. By pairing it with white crisp backgrounds, the tone will pop. For an added aesthetic element, potted cactus plants will provide style. Furthermore, matching cutlery will be an added bonus and naturally, white marble is a lovely accompaniment for your canister set.
Merchant links are sponsored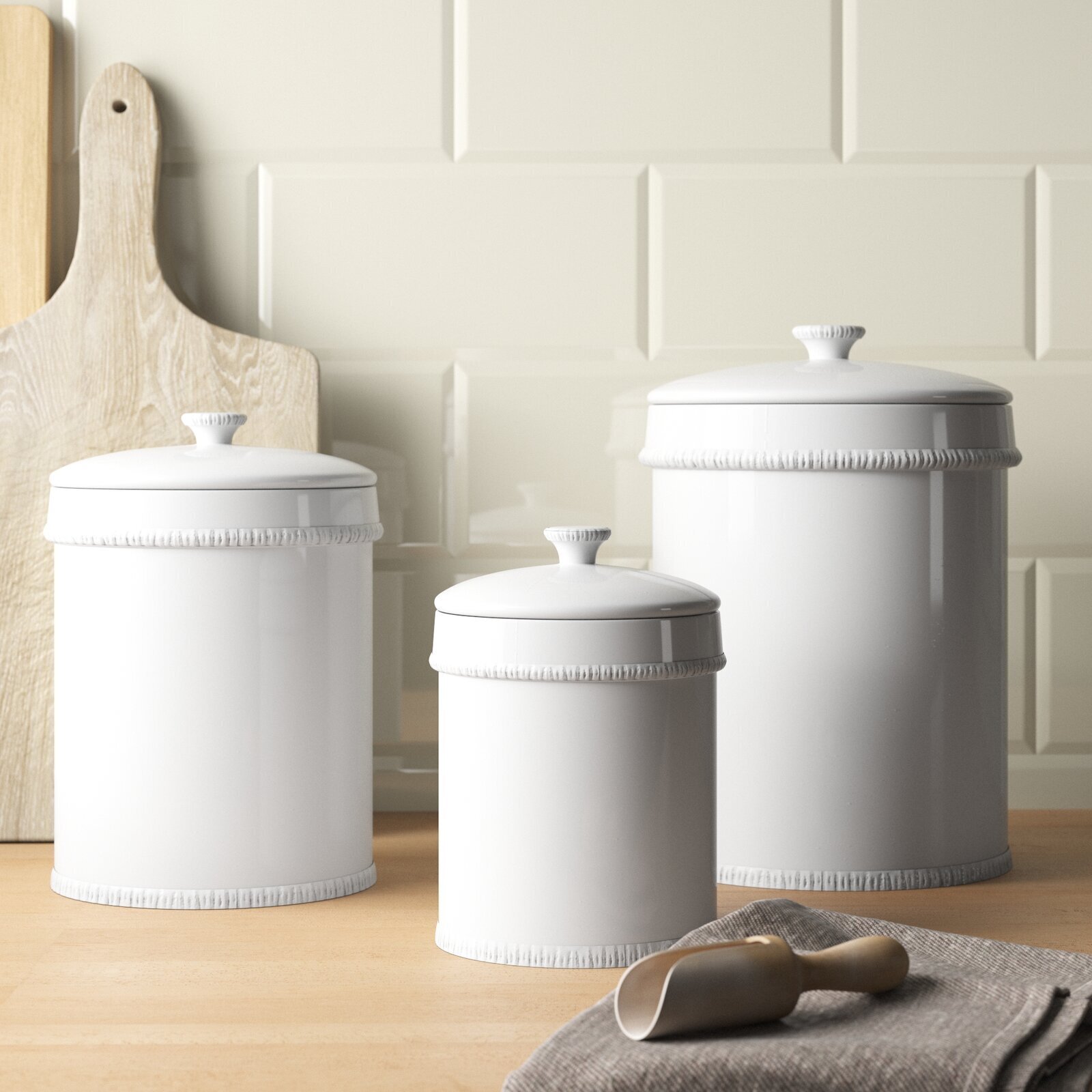 Simple White Ceramic Canister Set x3 Piece
Birch Lane™
Simple, and crisp white, this canister set is crafted from ceramic. It is slime and elegant with a patterned rim for added style. It's ideal for storing tea bags and specialty teas. The largest ceramic canister is 10'' high.
$62 $120
Merchant links are sponsored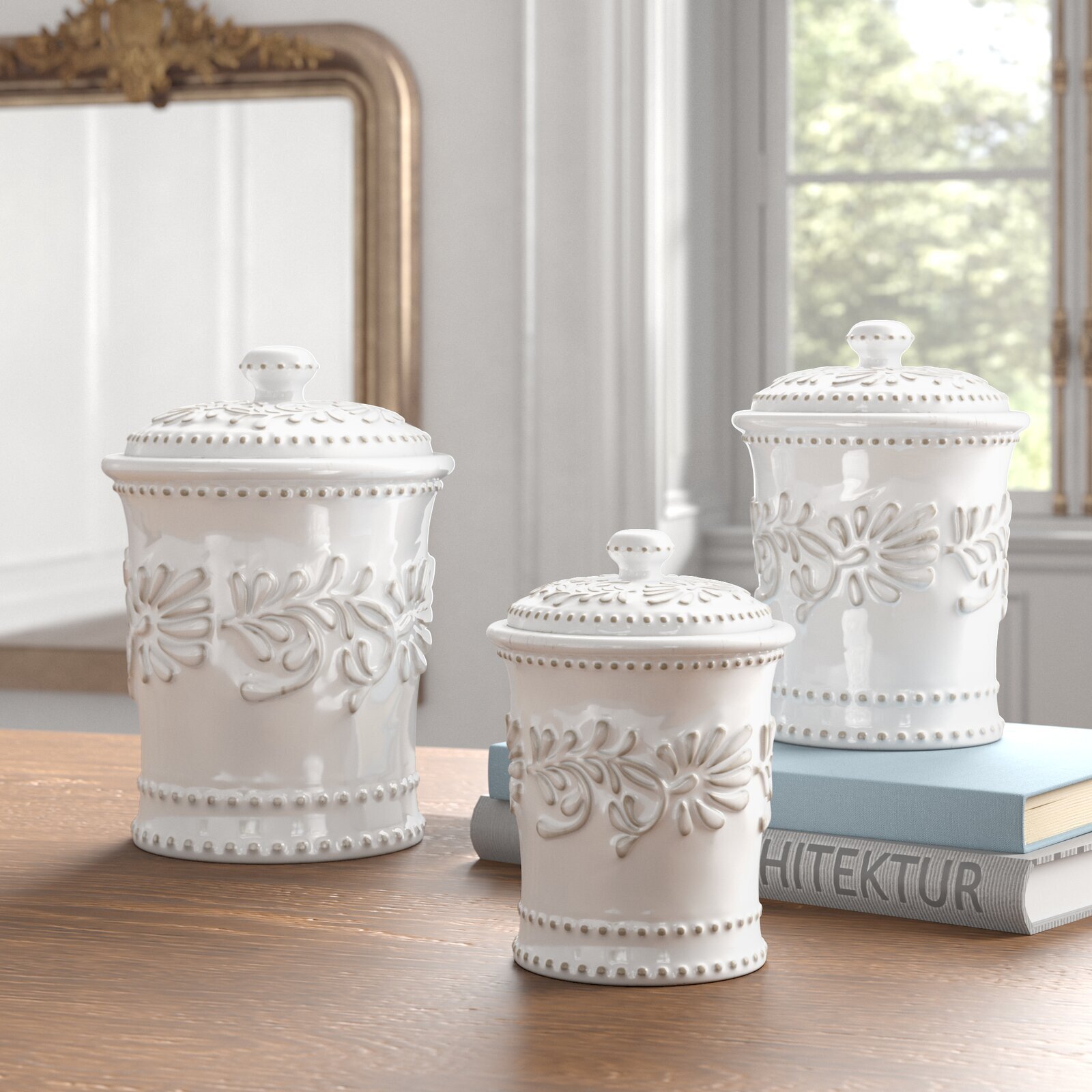 Traditional White Patterned Pottery x3 Set
Kelly Clarkson Home
Traditional in style, this pottery canister set has a French country farmhouse feel. It has an accented pattern and is crafted from Earthenware and is ideal for a family home. It is durable yet delicate and boasts a shabby chic vibe. The largest canister is 10.25'' high.
$55.99 $49.9
Merchant links are sponsored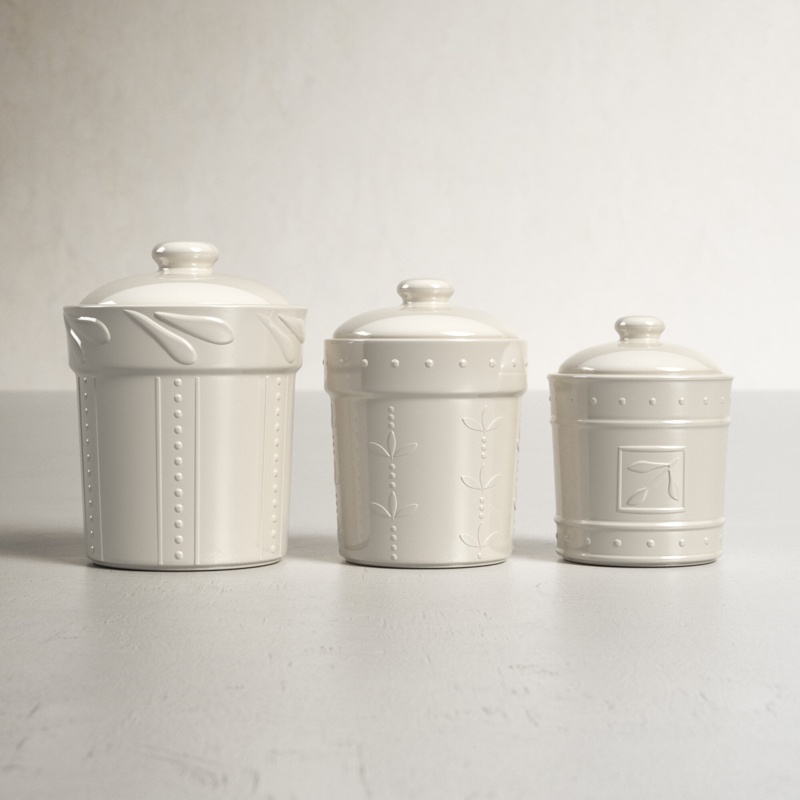 Charming Stoneware Kitchen Canisters Set
Birch Lane™
Perfect For: Organizing and enhancing a stylish kitchen
What We Like: Airtight seal and stylish raised botanical details
Keep your kitchen organized and stylish with this set of three stoneware canisters, perfect for stashing baking essentials and coffee beans. Each canister features a sleek, space-saving cylindrical silhouette, and is accented with beaded and raised botanical designs, adding a charming touch to your countertops. The silicone-lined lids provide an airtight seal, ensuring your goods stay fresh, while the semi-gloss finish prevents scratching and chipping. Capacities include 36, 48, and 80 ounces to fit your storage needs, and they are dishwasher-safe for easy cleanup.
Designer Advice:
Arrange these canisters on open shelves or countertops for optimal visibility and accessibility, and consider displaying other complementary stoneware items for a cohesive, inviting kitchen ambiance.
Merchant links are sponsored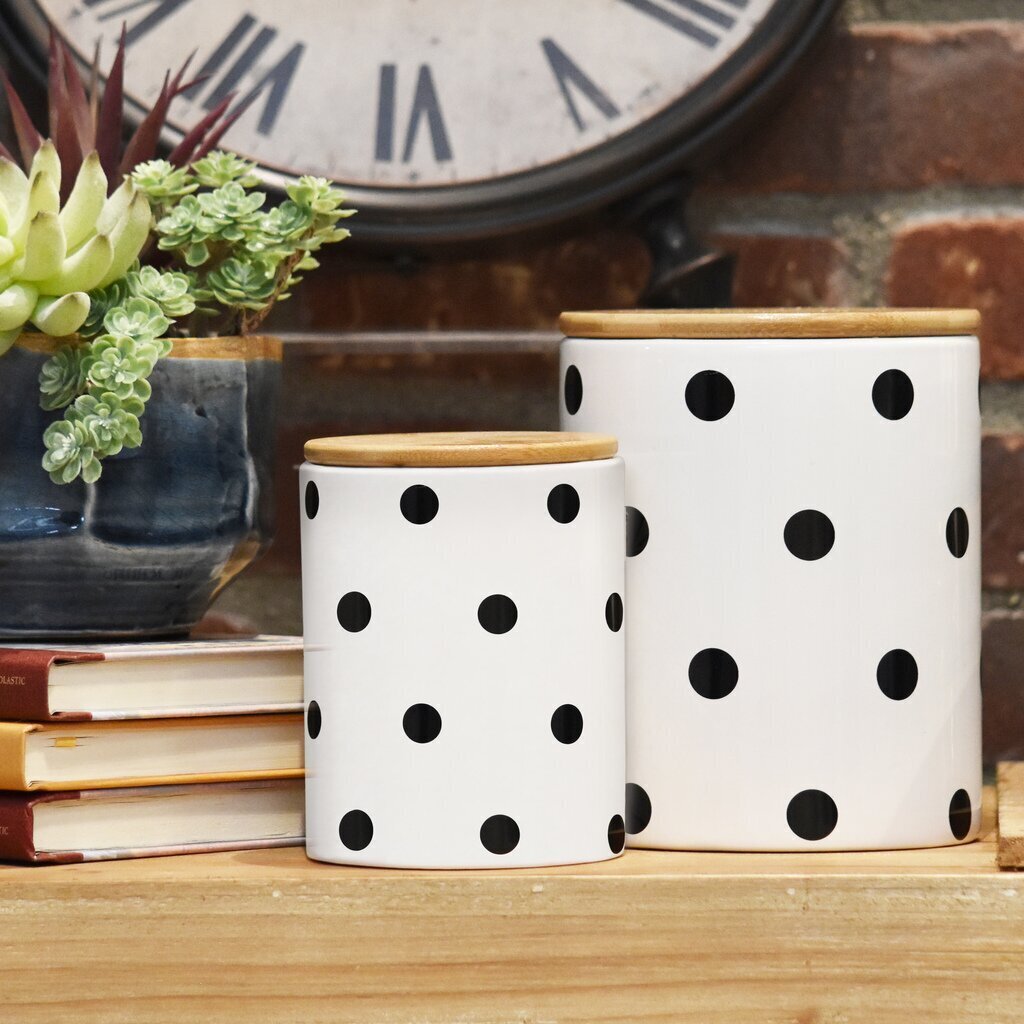 Polka Dot Canister Set x2 Piece
Brayden Studio®
This unusual tea, coffee and sugar jar set is an ideal piece for a feminine home. Polka dots add an element of style and quirkiness and this set is crafted from ceramic and finished with a fitted cork top. The largest pot stands at 6.75'' high.
Merchant links are sponsored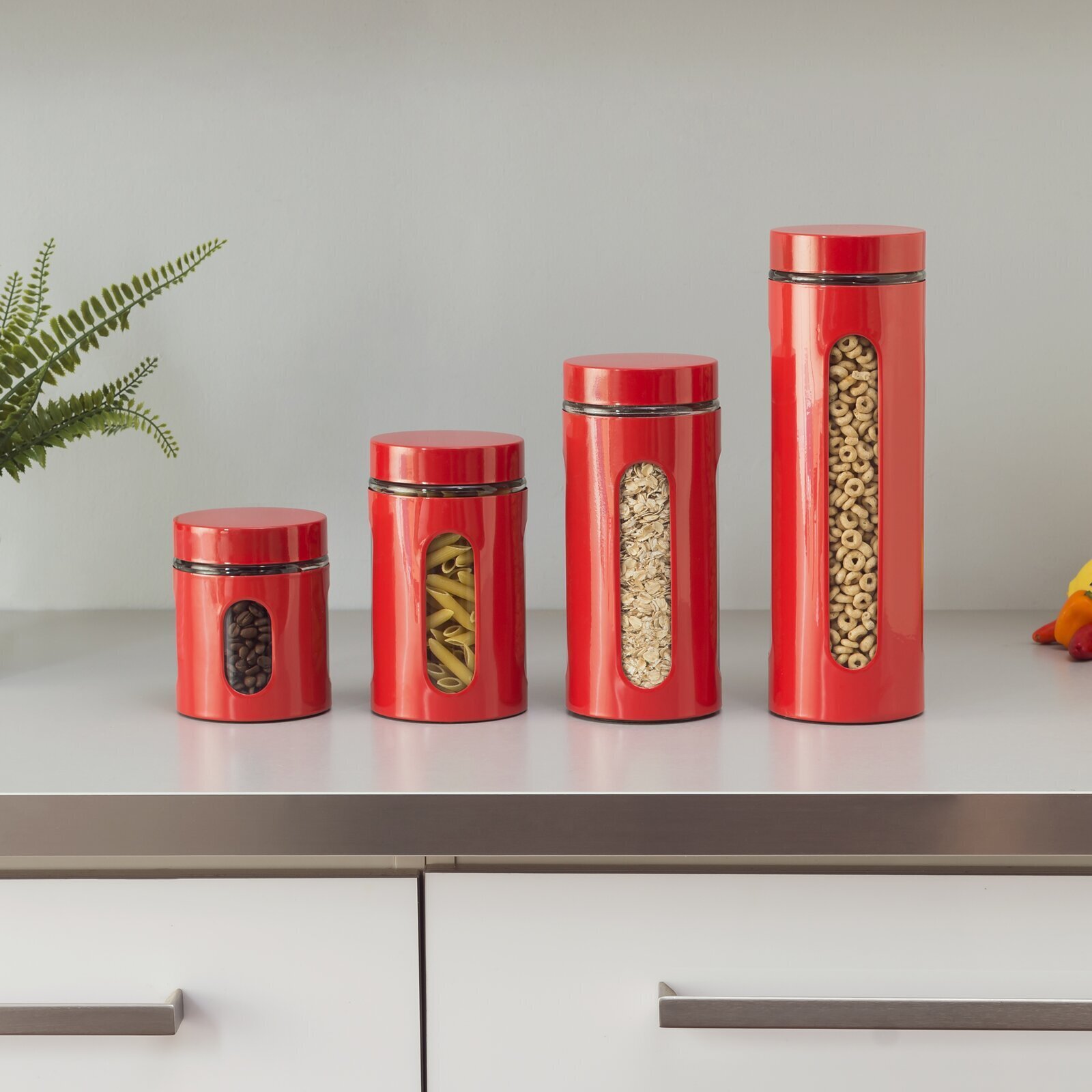 Red Canister Set x4 Piece
Hashtag Home
This set is available in red, silver and turquoise and is a colorful home addition. It boasts transparent panels so you can see its contents easily. This modern piece is crafted from metal and is freezer safe. It is fun and fresh and its overall size is 12'' H x 3.75'' W x 3.75'' D.
$36.99 $49.99
Merchant links are sponsored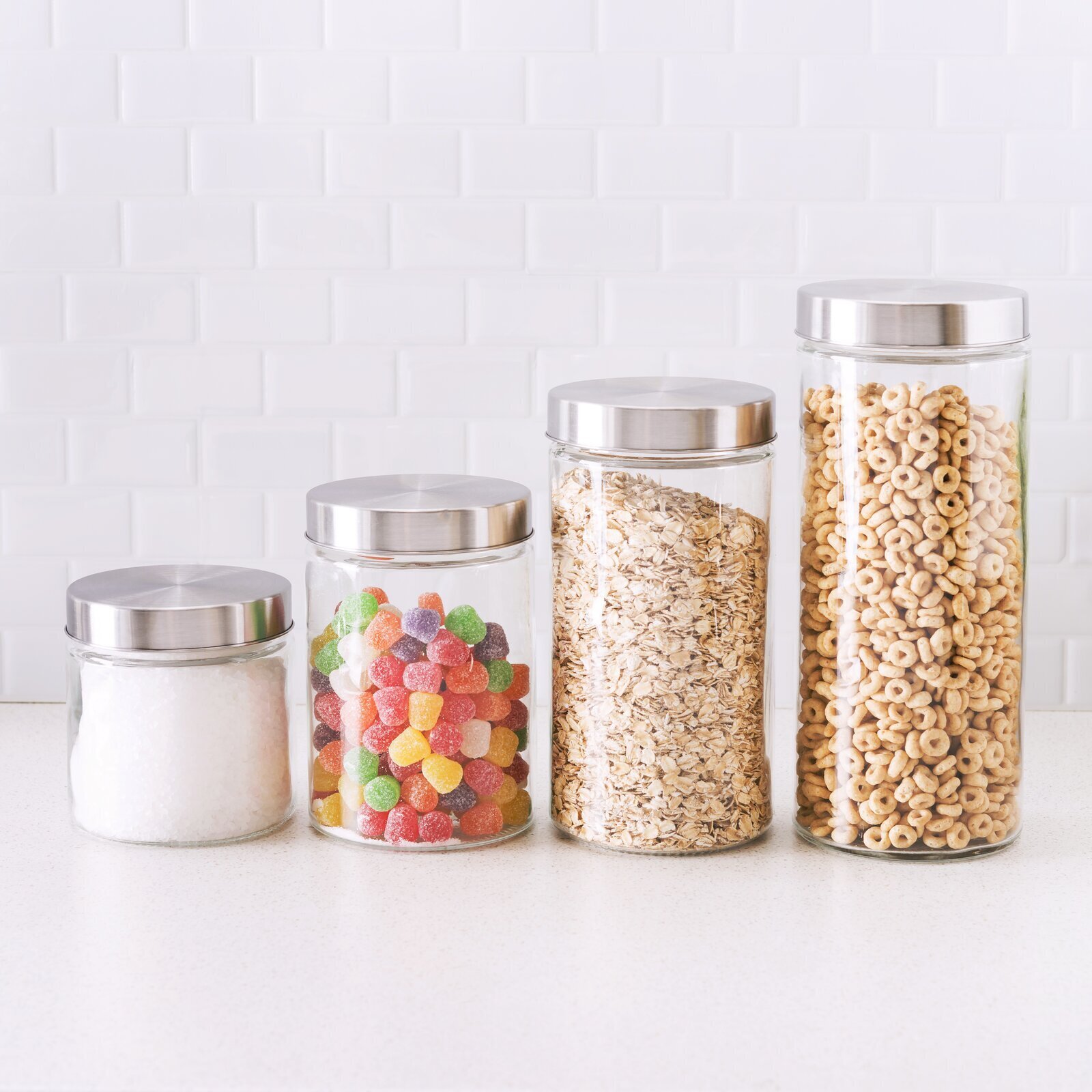 Glass And Silver Simple Canister Set x4 Piece
Home Basics
The simple kitchen canister set is made from glass with a thick metal rim in a shiny silver finish. It is scratch resistant which makes it great for a family. This set of four is a simple yet effective kitchen storage solution and the overall dimensions are 10.75'' H x 4.25'' W x 17'' D.
$22.96 $39.99
Designer Advice:
These canisters are incredibly simple, therefore, you can play them up or down as much as desired. We would highly recommend adding some color to play with Aloe Vera plants or basil which will add a modern twist. You can complement the silver tones with a pale pastel blue or pink crockery set for a delicate added style.
Merchant links are sponsored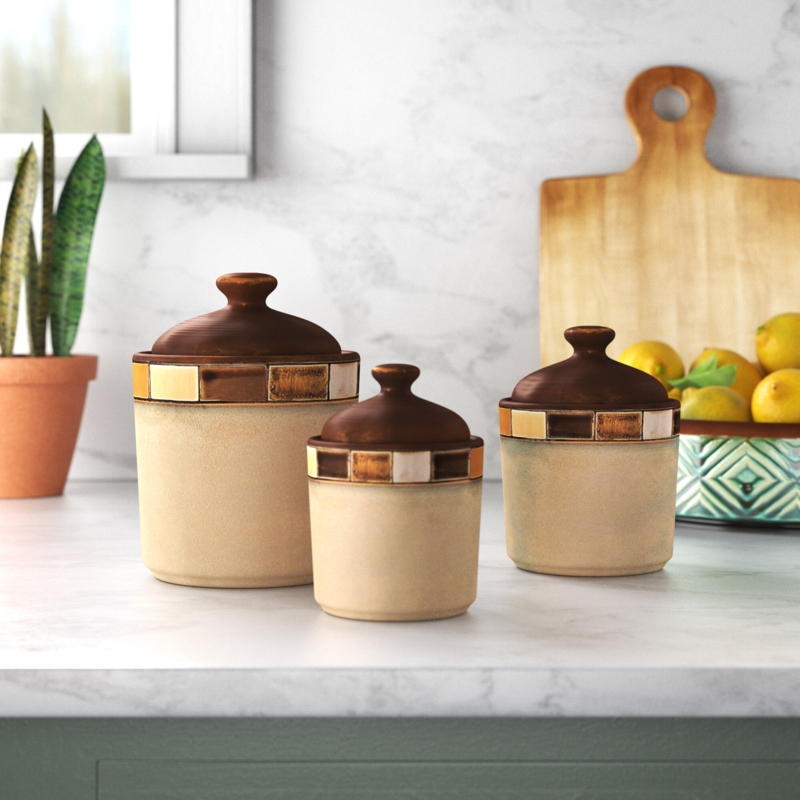 3-Piece Stoneware Canister Set
World Menagerie
Perfect For: Enhancing any table setting with unique style
What We Like: Reactive glaze finish creates one-of-a-kind pieces
The World Menagerie® 3-Piece Canister Set brings an artisan touch to your table setting with its stoneware construction and reactive glaze finish, ensuring no two pieces are exactly alike. This versatile set is suitable for a variety of table settings, and it's conveniently dishwasher and microwave safe. Its traditional finishing techniques result in variations in color, size, and texture, adding to the set's charm and appeal.
$61.99
Designer Advice:
Pair this canister set with coordinating dinnerware or mix-and-match with other styles for an eclectic, curated table setting that showcases your personal style.
Merchant links are sponsored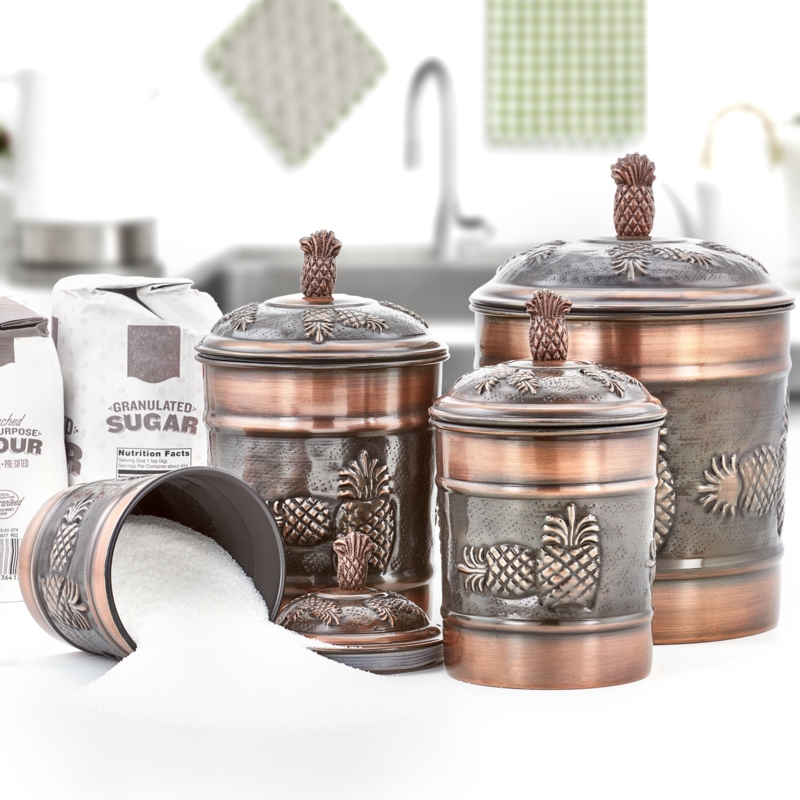 Handcrafted Pineapple Motif Wall Art
Old Dutch International
Perfect For: Adding a touch of tropical fun to any living space
What We Like: Unique design created by skilled artisans
The charming handcrafted pineapple motif wall art is a delightful addition to any interior, bringing a trendy tropical vibe to your home. Meticulously created by skilled artisans, each individual pineapple is truly an original work of art. With its fun and stylish design, this wall accent enhances the atmosphere of your living room, bedroom, or even outdoor area, becoming a delightful focal point of your space.
Designer Advice:
Balance the whimsical pineapple art with neutral-colored furniture and accents to create a visually appealing and cohesive aesthetic that highlights your personal style.
Merchant links are sponsored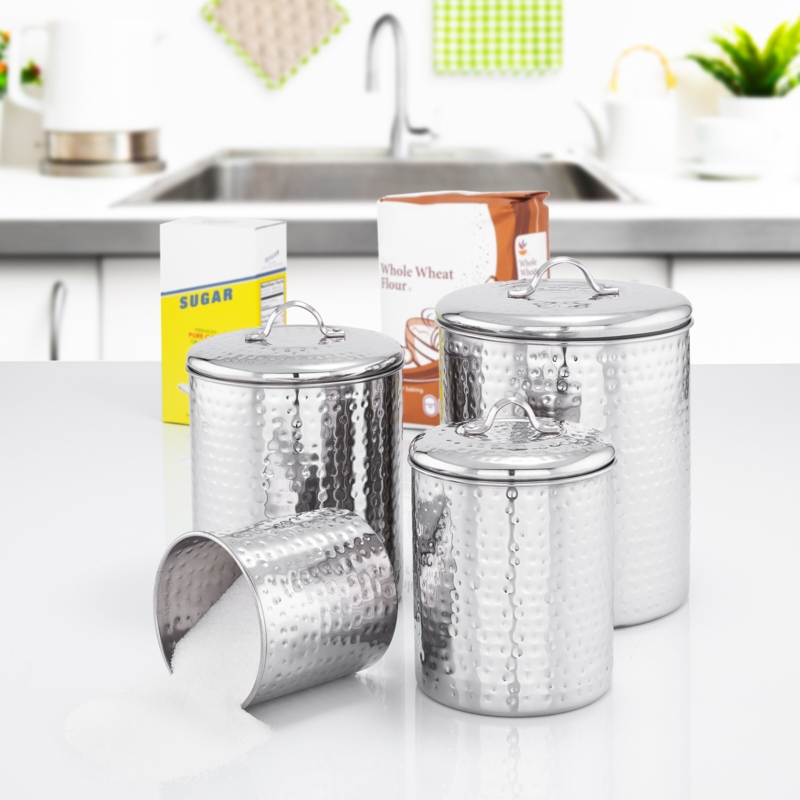 Copper Canister Set with Durable Lids
Old Dutch International
Perfect For: Keeping commonly-used kitchen ingredients organized and fresh
What We Like: High-quality copper construction and various sizes
This Copper Canister Set boasts a simple yet charming design that combines utility and style for your kitchen. Made from high-quality copper, the set is sturdy and durable, ensuring your ingredients stay fresh with snug-fitting lids. Choose from four sizes—4 quarts, 2 quarts, 1.5 quarts, and 1 quart—to suit your storage needs. The canisters are stain, tarnish, rust, and odor-resistant, making them perfect for storing both perishable and non-perishable food items.
Designer Advice:
Hand wash the canisters and dry them immediately to maintain their longevity and shine while ensuring your kitchen remains tidy and stylish.
Merchant links are sponsored